该建筑距离河内30公里,除了连接河内和和平的主干道。这个地区很受公交车和汽车的停留,为了享受和休息一段漫长的旅程,也是人们享受一日游的目的地。
The building is 30 kilometers from Hanoi, except for the main road connecting Hanoi and peace. This area is very popular with buses and cars. It is also a destination for people to enjoy a long day of enjoyment and rest.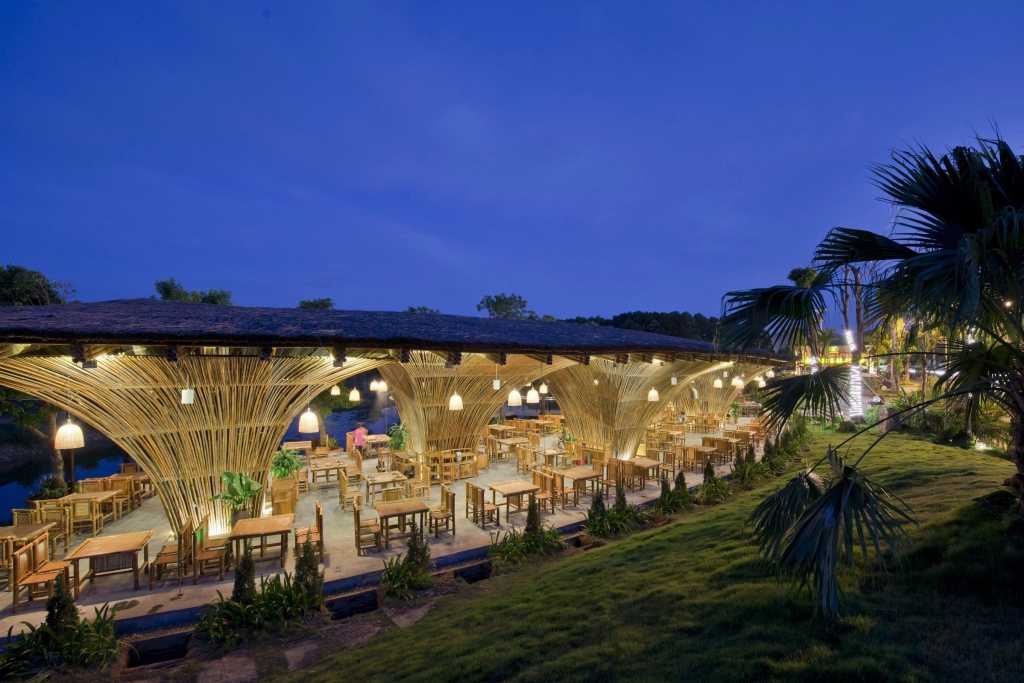 餐厅位于路旁。为了创造一个亲密的空间,保护客人从繁忙的道路,餐厅的设计低于道路。客人从忙碌的路下降到用餐空间后,正面临着一个自然湖泊,竹子拱顶上方。 12个竹柱形状向上扩展,支持半户外用餐区屋顶结构。具有中心舞台的弧形计划是为事件使用而准备的,同时拥有亲密的气氛。
The restaurant is located by the road. In order to create an intimate space that protects guests from the busy roads, the restaurant's design is lower than the road. After descending from the busy road to the dining space, the guest is facing a natural lake, above the bamboo vault. The 12 bamboo columns expand upwards to support the roof structure of the semi-outdoor dining area. The curved plan with the central stage is prepared for event use and has an intimate atmosphere.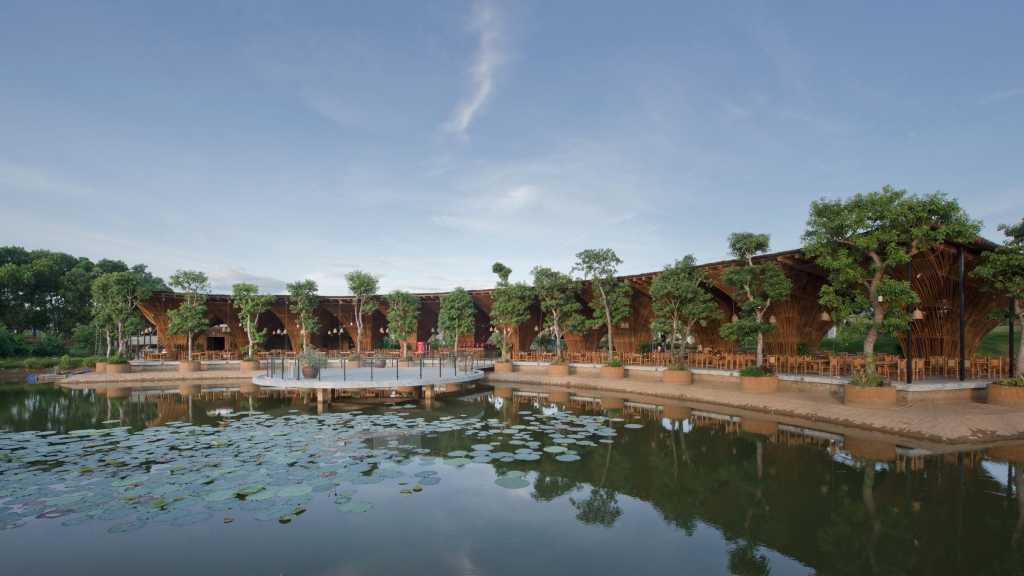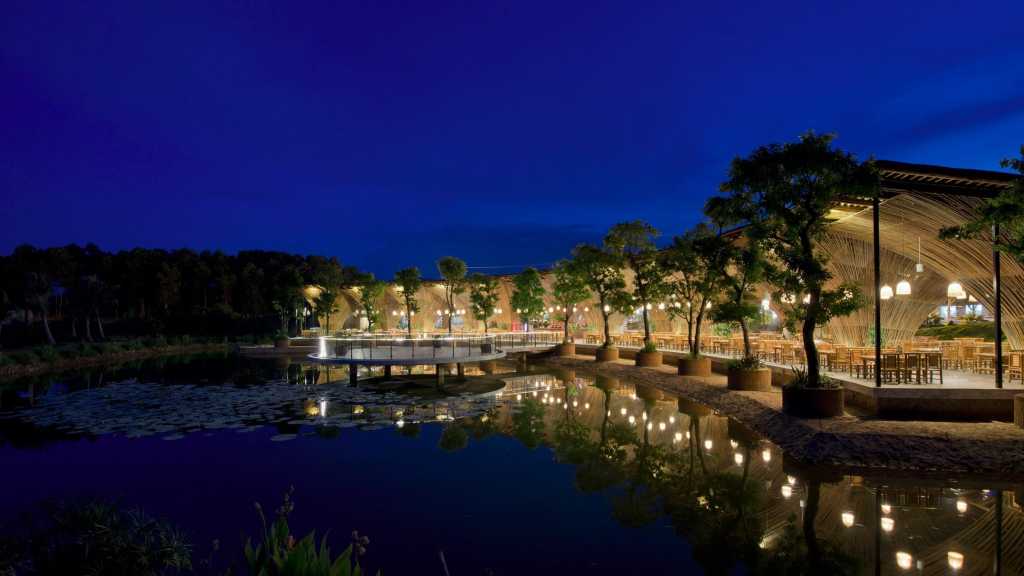 对于竹柱,我们使用了两种不同的竹子 – 谭文荣和罗恩。他们每个都提供不同的材料质量,这对建筑结构至关重要。竹子已被越南天然传统的方法处理,以达到材料的高质量和长期耐久性。自然治疗也有助于建立可持续的建筑方法。
For the bamboo column, we used two different kinds of bamboo – Tan Wenrong and Ron. Each of them offers different material qualities, which are critical to the building's structure. Bamboo has been treated in a natural and traditional way in Vietnam to achieve high quality and long-term durability. Natural treatment also helps to build sustainable building methods.
支撑区域是分开的建筑体积,柱下方的空间自然交叉通风,并通过相邻湖泊的水蒸发而冷却。墙壁由当地材料包裹 – 红土块。这些橙色土块与竹结构一起在该地区表达传统。
这座建筑提供了客人可以感受到与北越当地文化的密切联系的空间。开放空间的应用和天然材料的使用满足所需的连接。
The support area is a separate building volume, and the space below the column is naturally cross-ventilated and cooled by evaporation of water from adjacent lakes. The walls are wrapped in local materials – red clay blocks. These orange clods, along with the bamboo structure, express tradition in the area.
The building offers a space where guests can feel the close connection with the local culture of North Vietnam. The application of open spaces and the use of natural materials meet the required connections.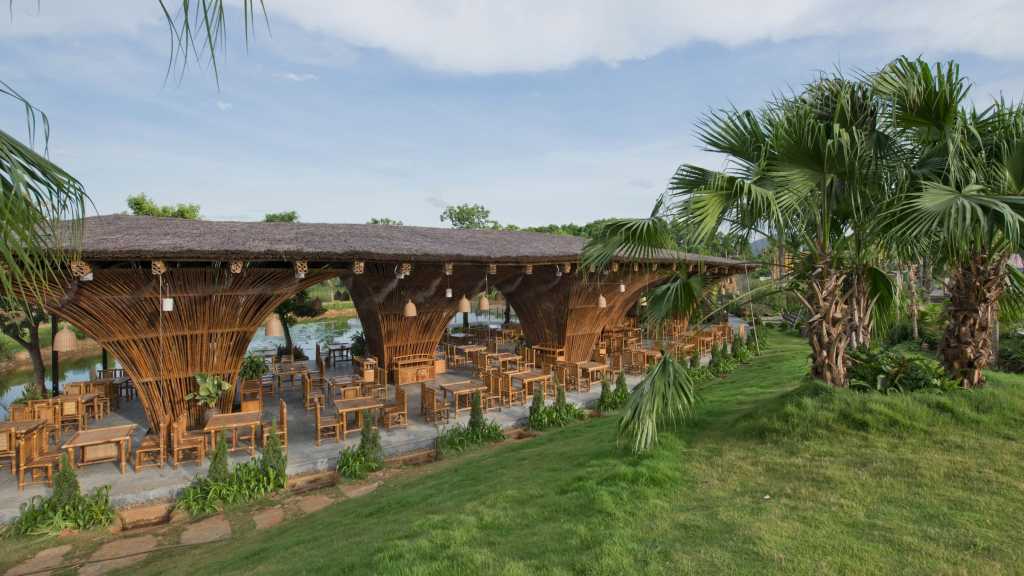 Photos by Le Anh Duc(AIF Studio),Hoang Le .