The Deck Phuket是由泰国著名Shma景观设计事务所负责景观设计。
"deck"公寓是位于普吉岛芭东海滩的低层住宅发展项目,位于泰国南部最受欢迎的旅游胜地之一。
"deck"的建筑设计灵感来自各个山脉拥抱的自然地理。这个独特的景观表明,普吉岛的自然特征是指"武吉",意思是"山"。
The deck phuket is responsible for landscape design by Thailand's renowned shma landscape design firm.
The " deck" apartment is a low-rise residential development project located on Badong beach on phuket island and is located in one of the most popular tourist resorts in southern Thailand.
The architectural design of " deck" is inspired by the natural geography embraced by each mountain range. This unique landscape shows that the natural feature of phuket island refers to " Wu Ji" meaning " mountain".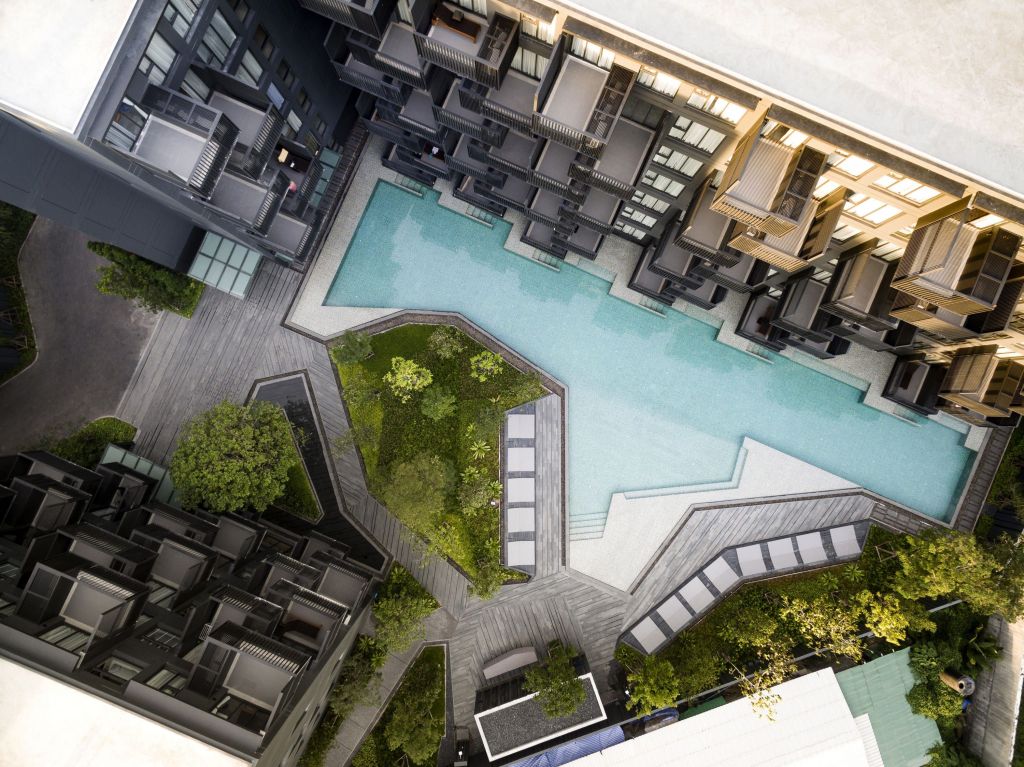 整个景观被设计成围绕着蜿蜒的人行道上种植的各种绿色山丘和高大树木的阴影,类似于水道的自然侵蚀。
从入口进入工地,人行道逐渐升起,穿过甜美的青山,从左向右滚动,最后与50.5米的游泳池汇合。游泳池是根据建筑物的长度形成的,并贯穿每个住宅的私人阳台,方便用户使用。
The whole landscape is designed to surround the shadows of various green hills and tall trees planted along winding sidewalks, similar to the natural erosion of waterways.
Entering the site from the entrance, the sidewalk gradually rises, passing through the sweet green hills, rolling from left to right until finally merging with the 50.5m swimming pool. The swimming pool is formed according to the length of the building and penetrates into the private balcony of each residence, so that users can conveniently use the swimming pool.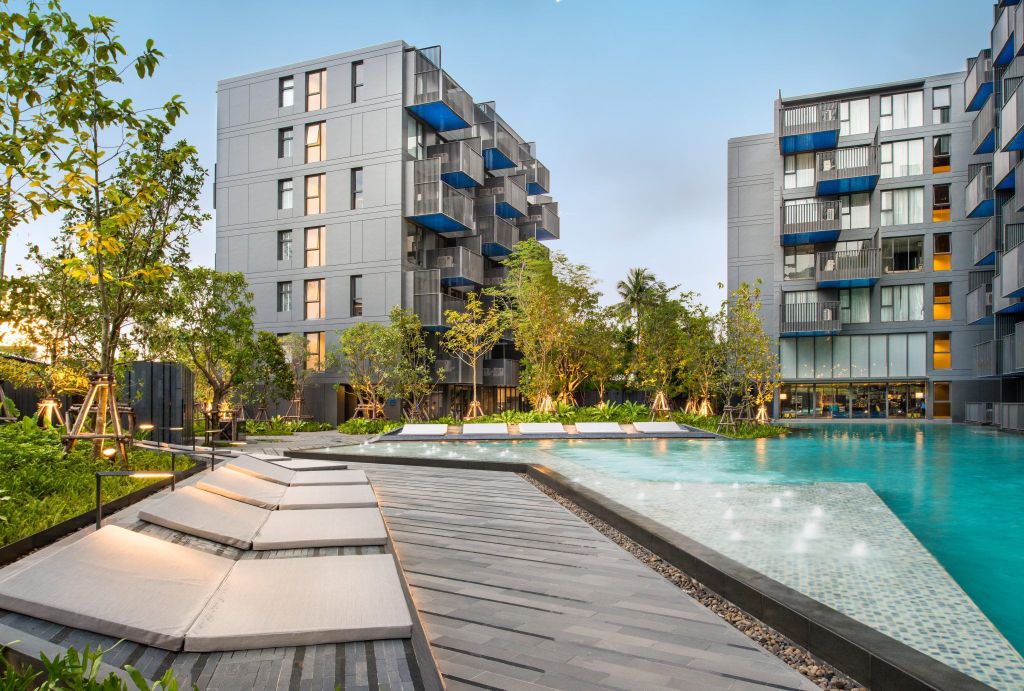 此外,游泳池优美迷人的景观,包括水下座椅和按摩浴缸,融入了游泳池的有机形状。景观设计的一个突出特点是设计成能融入青山的沙发床。这是为了让游泳池和附近的烧烤区对聚会有一个清晰的印象。
In addition, the elegant and charming landscape of the swimming pool, including underwater seats and whirlpool tubs, blends into the organic shape of the swimming pool. A prominent feature of landscape design is the sofa bed designed to get involved in green hills. This is to let the swimming pool and the barbecue area nearby have a clear view of the party.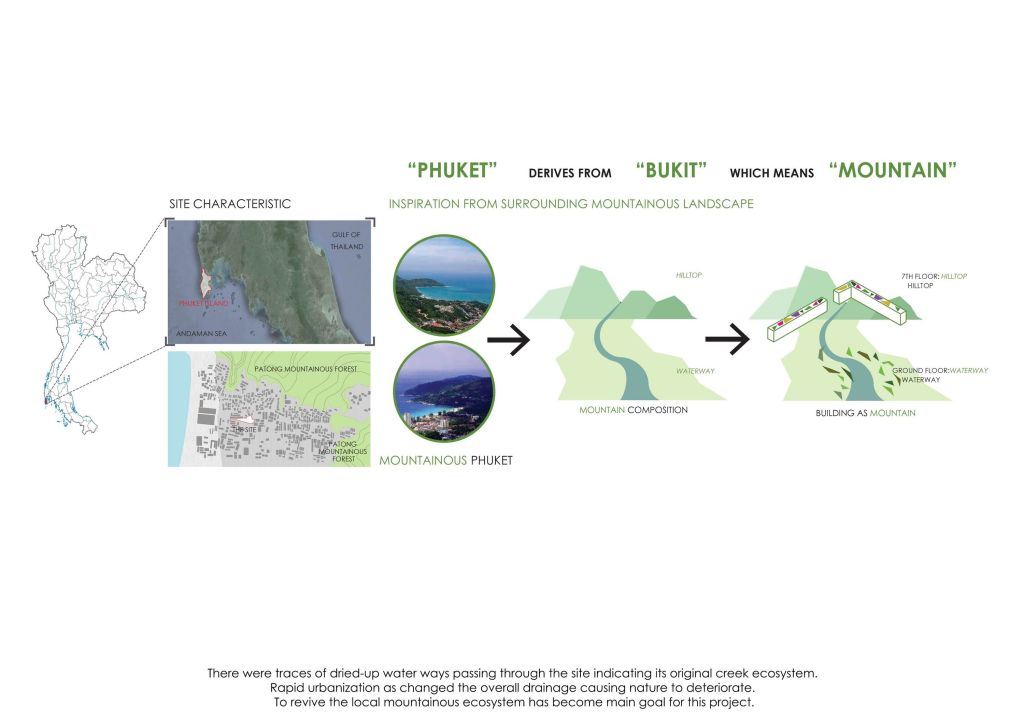 区位及灵感来源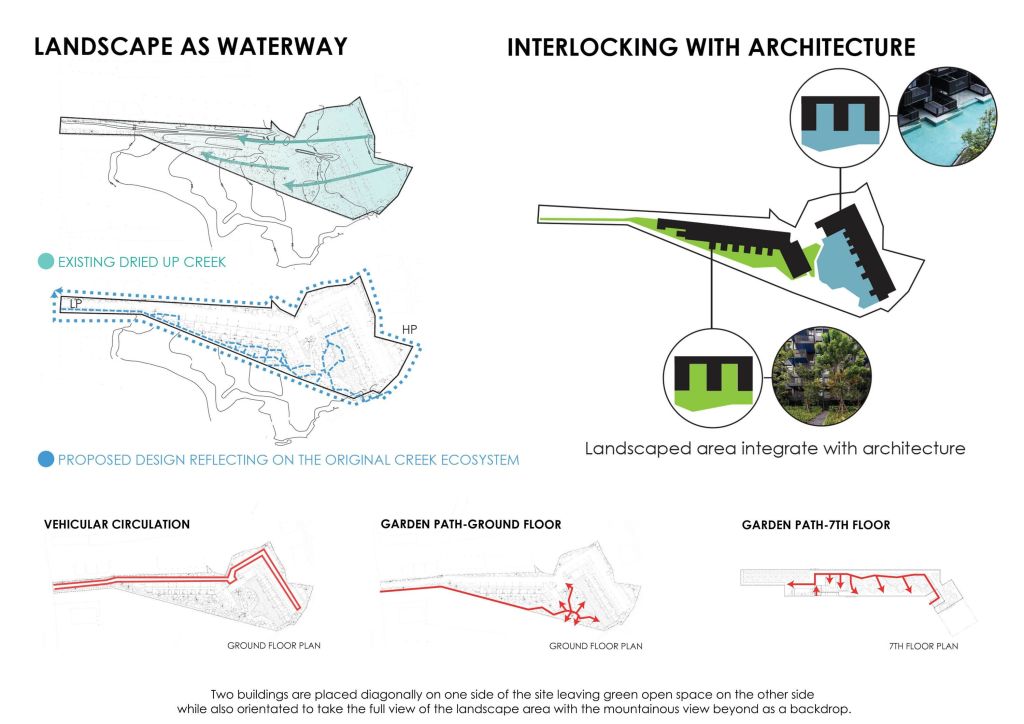 此外,室外景观的设计与建筑内部功能的使用是一致的。建筑之间的外部走道连接到公共区域,邀请住宅出来,在精心设计的绿色景观中放松自己。居民们走在水上人行道上,从大厅和健身室到达特色树木。
Moreover, the design of outdoor landscape is consistent with the use of internal functions of the building. The external walkways between the buildings are connected to public areas, inviting residences to come out and relax themselves in the carefully designed green landscape. Residents walk on the walkway on the water and reach the characteristic trees with the main focus from the lobby and fitness room.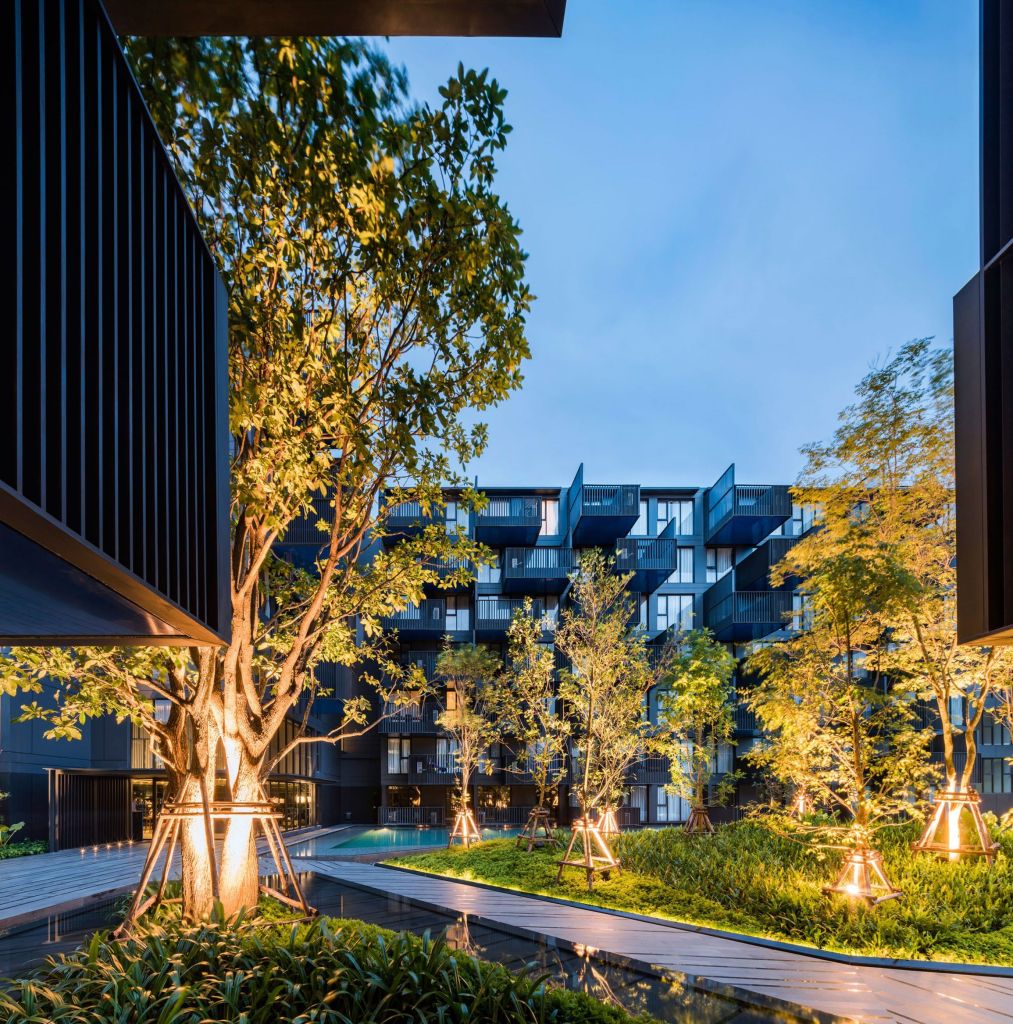 除了一楼,七楼的游泳池可以欣赏180度的风景。28.8米的屋顶游泳池被小心地放置在面向大海和臭名昭著的"巴东海滩"的位置,以便用户充分吸收普吉岛的大气标志。
Besides the first floor, the swimming pool on the 7th floor can enjoy 180 degrees of scenery. The 28.8 – meter rooftop swimming pool has been carefully positioned to face the sea and the notorious " Badong beach" to allow users to fully absorb phuket's atmospheric signs.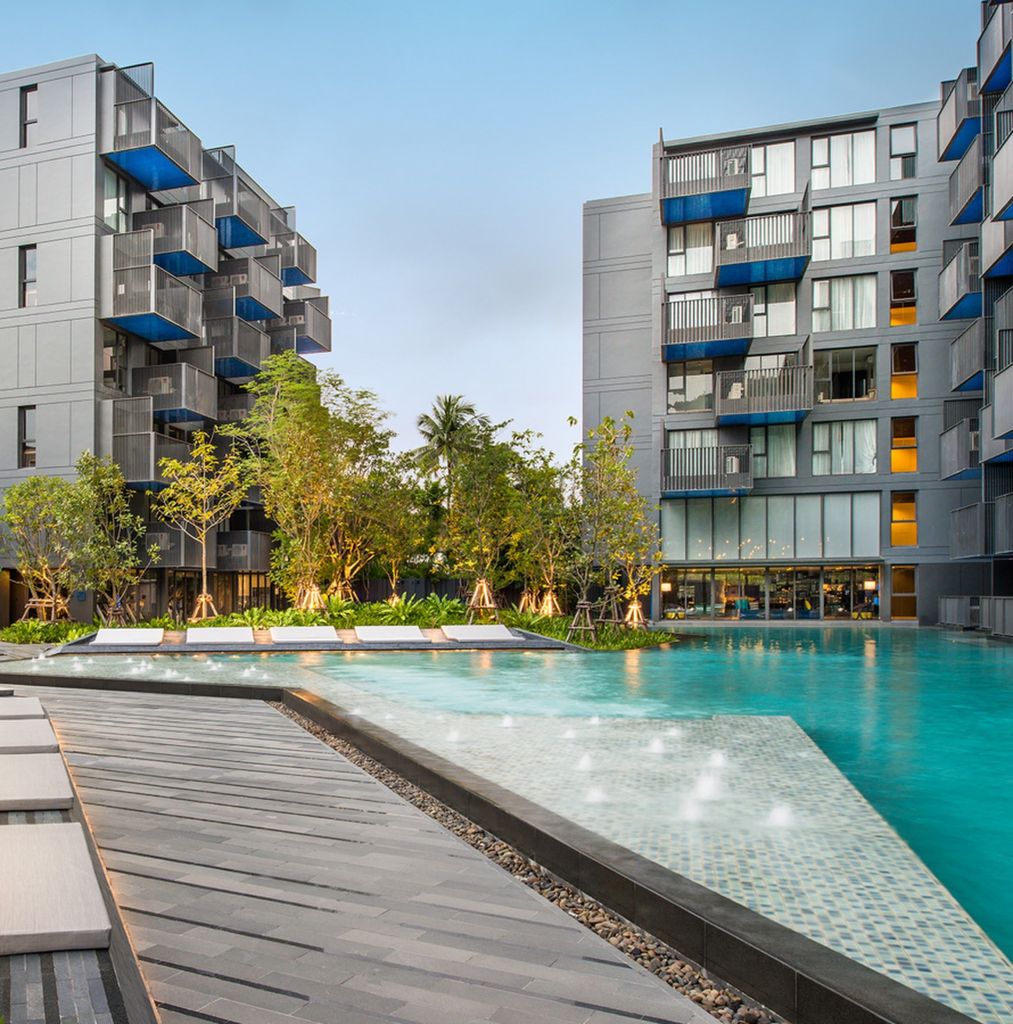 为了实现这一目标,沿着屋顶的栏杆被压下,以便从木质甲板上不受阻碍地看到。普吉岛山峰的自然景观令人赞叹,沙发床和座椅相辅相成。总之,"甲板"公寓的景观设计考虑了周边环境条件,突出了普吉岛的特色。
To achieve this goal, railings along the roof were pressed down to allow unobstructed view from the wooden deck. The natural landscape of phuket island's peaks is admirable, with sofa beds and seats complementing each other. In short, the landscape design of the " deck" apartment takes the surrounding environment conditions into consideration to highlight the characteristics of phuket island.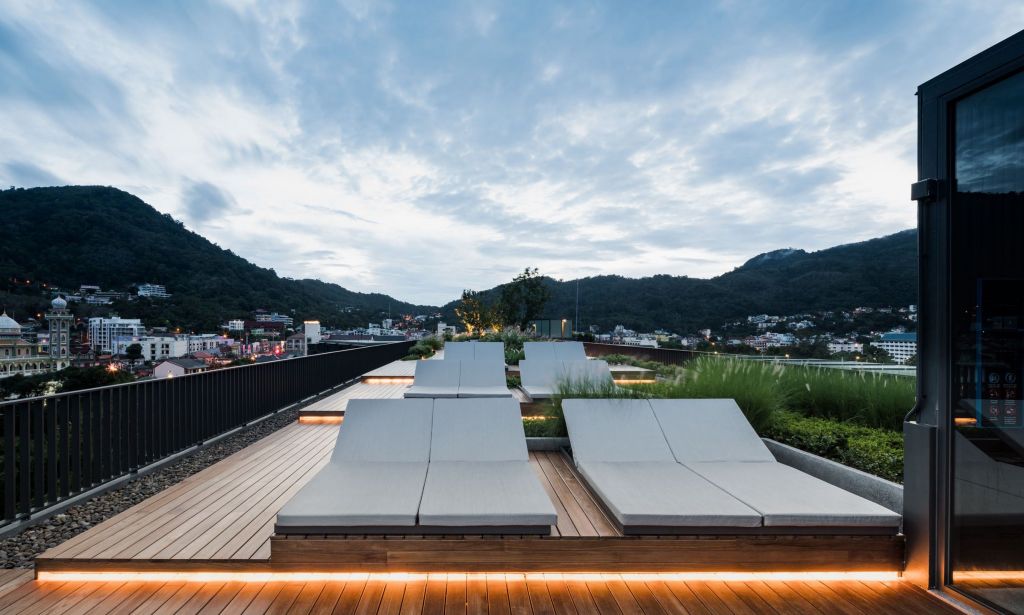 项目名称:Line Condominium销售中心
项目类型:售楼部展示区
位置:泰国
完成年份:  2015
顾客: 上思睿 PCL
景观设计:Shma
建筑设计:松顿建筑有限公司
M&E :  V. Group 工程
Project name: Line Condominiumum Sales Center
Project type:Display Area Of Sales Department
Location: Thailand
Completion Year:  2015
Client: Sansiri PCL
Landscape:Shma
Architect:Somdoon Architects Co., LTD
M&E :  V. Group Engineer
摄影:维森通古尼亚
Photograph Credit: Wison Tungthunya
更多:Shma