本文由 DELVA Landscape Architects 授权mooool发表,欢迎转发,禁止以mooool编辑版本转载。
Thanks DELVA Landscape Architects for authorizing the publication of the project on mooool. Text description provided by DELVA Landscape Architects.
DELVA Landscape Architects:DELVA与未来的居民、社区和建筑合作伙伴一起,在荷兰皮尔默伦德Genuahaven创建了一个生活护理综合体"Heel Europa"的庭院花园。这是一个特殊的由年轻初创企业投资的老年人或受扶养人居住的综合体,儿童保育设施也在整个系统中占有一席之地。
DELVA Landscape Architects:DELVA has created, together with the future occupiers, neighbourhood and building partners, the courtyard garden of live-care-complex "Heel Europa" on the Genuahaven in Purmerend. A special complex where young start-ups come to live by the elderly or dependant. Child-care facilities will also be given a place within the ensemble.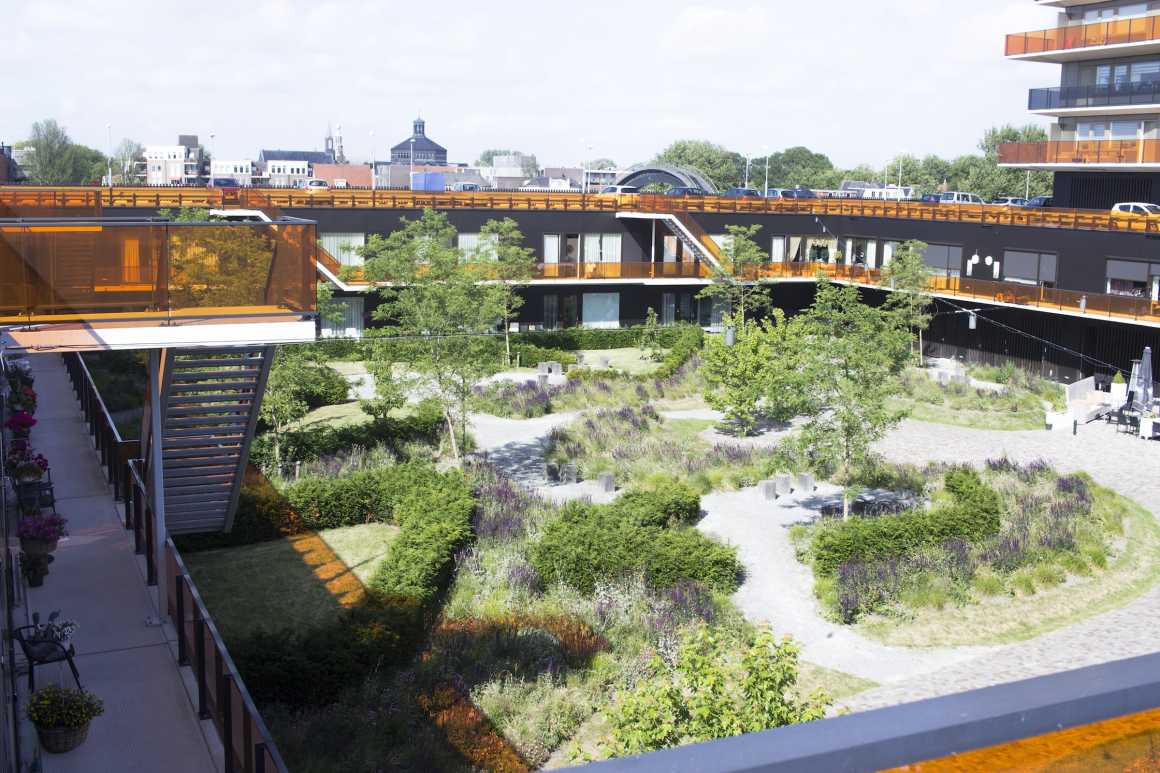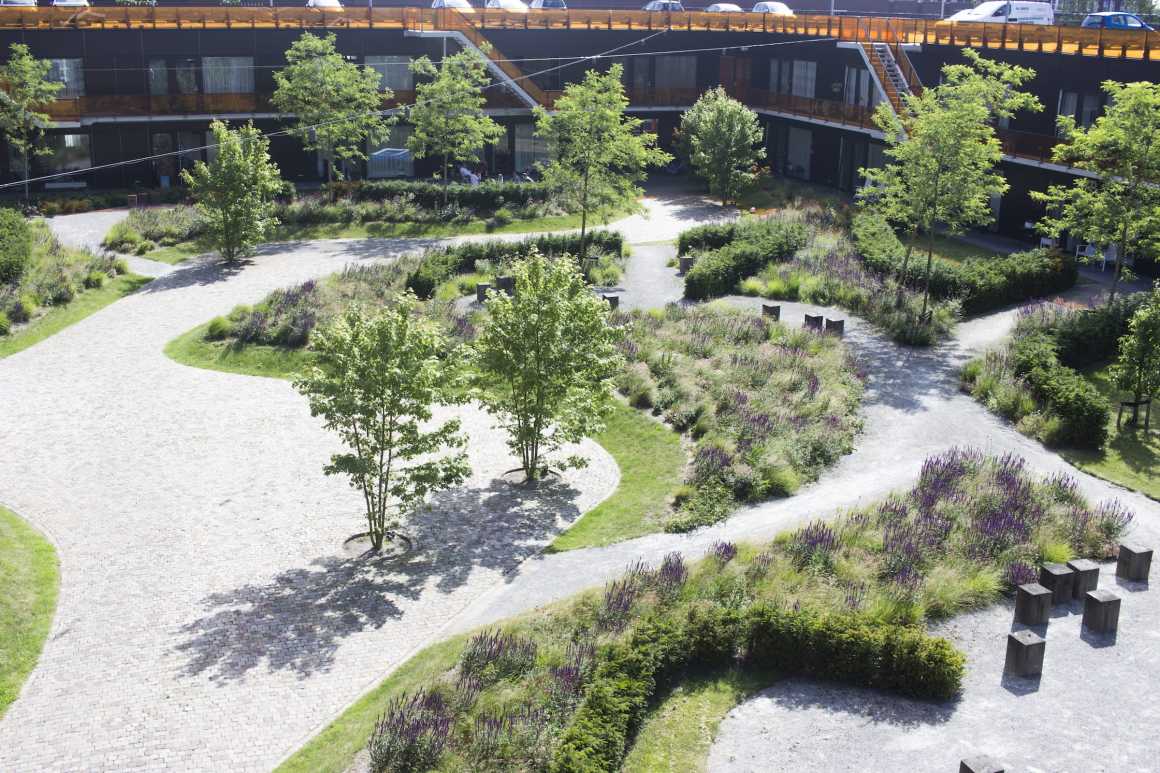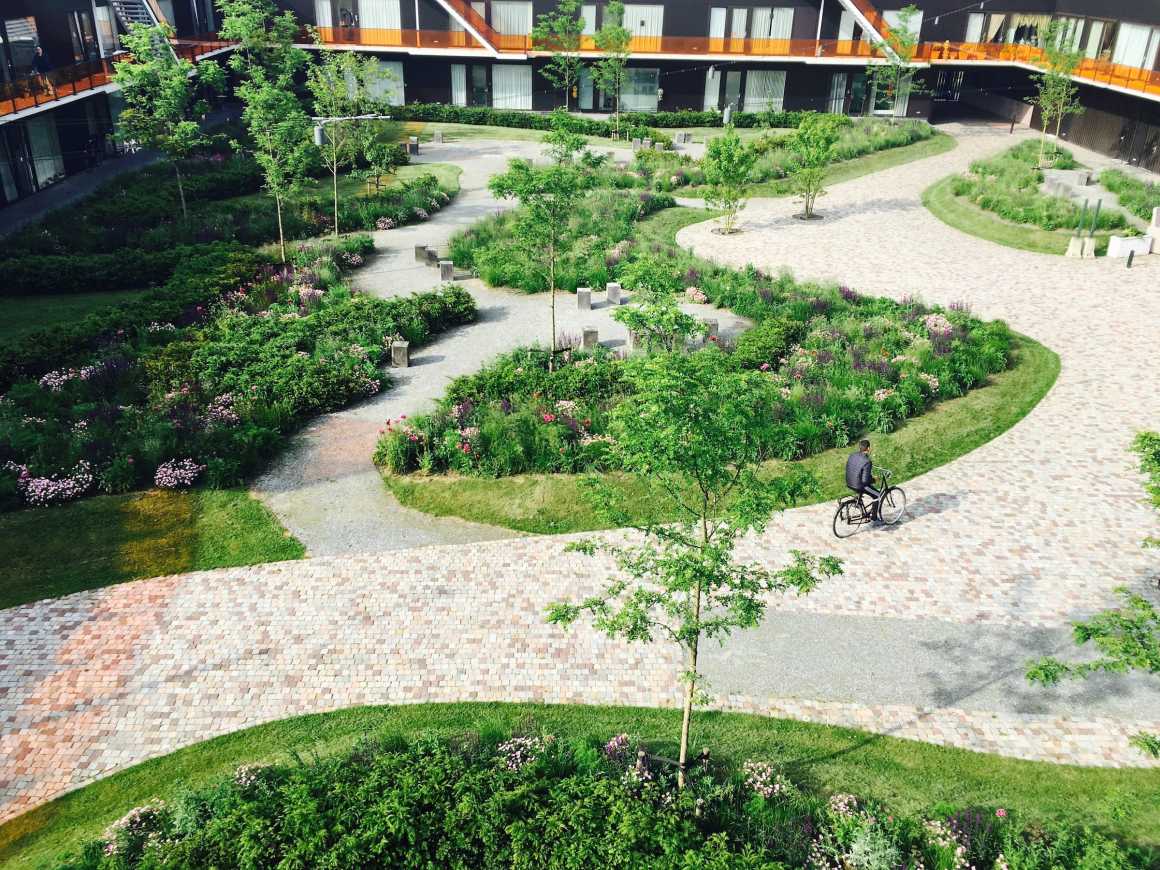 这个封闭的花园是整个韦德文南(Weidevennen)社区的活跃中心,只在白天对公众开放。年轻的成年人、痴呆患者和生活能力较差的人会通过娱乐活动,如掷球游戏、园艺,或只是坐在位于花园的餐厅的露台上相见放松。这个综合体起到了一个很好的枢纽作用,位于韦德文南的新建区域和历史悠久的皮尔默伦德城市中心之间。连接这两个实体建筑之间的人行道贯穿整个公共花园。
The enclosed garden is accessible to the public during the day and functions as the active heart of the neighbourhood of Weidevennen. Young adults, dementia sufferers en less able people will meet each other through recreational activities such as petanque, gardening, or just sitting on the terrace of the restaurant located within the garden. The complex functions as a pivot point, lying as it does between the new-build area of Wiedevenne and the historical city centre of Purmerend. Footpath connections between these two entities run through the public garden.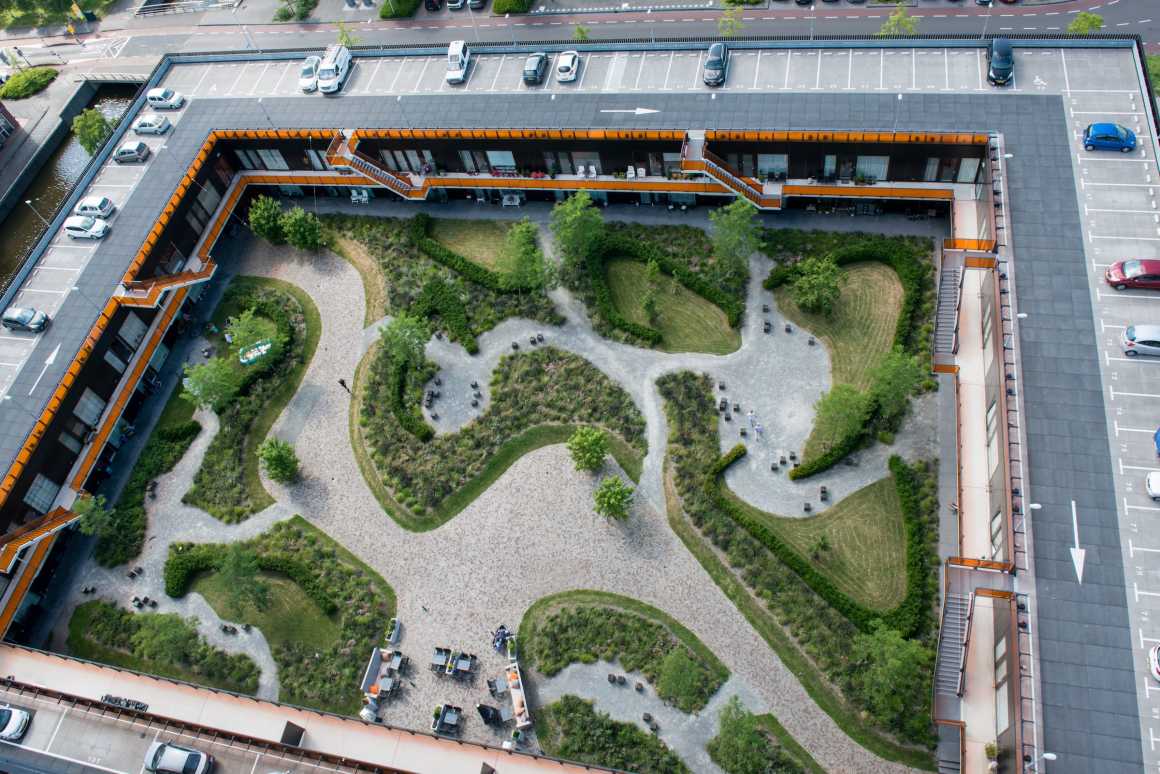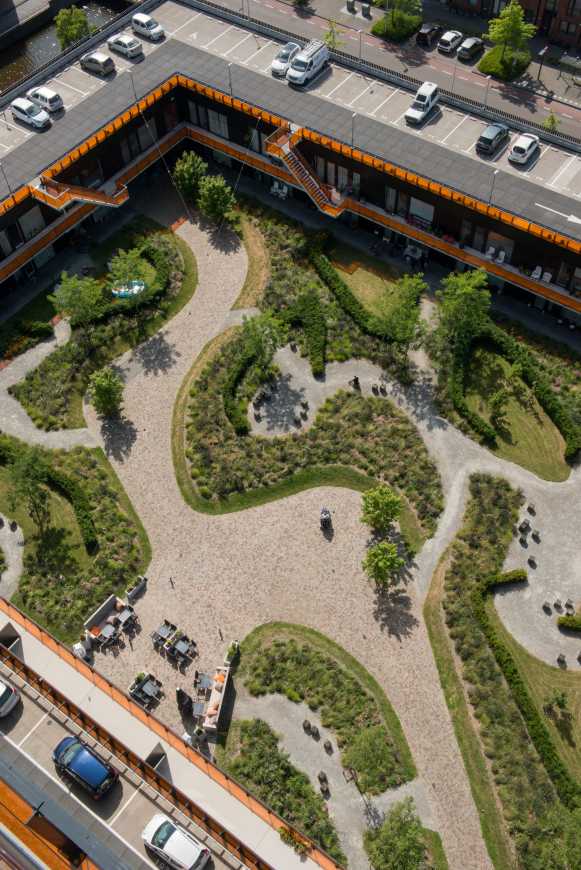 经过深思熟虑后的设计以及步行路线的定位,最终在繁忙的场所旁边创造出了一片宁静的空间。该设计的基础是让居民参与活动,然后让他们保持活跃。这也使得各代人之间的自发和有价值的接触成为可能。这个花园有自己的温室、鸟舍、花瓣庭院、棋盘、运动和娱乐机会,还有一个大型的植物花园。
Through a thoughtful and sophisticated design and the positioning of walking routes, peaceful areas are created next to busy places. The basis of the design is to bring the inhabitants into activity and then to keep them active. This, together with making possible the spontaneous and valuable encounters between different generations of people. The garden contains its own greenhouse, aviary, petanque court, checkersboard, sport and play opportunities and a large flower garden.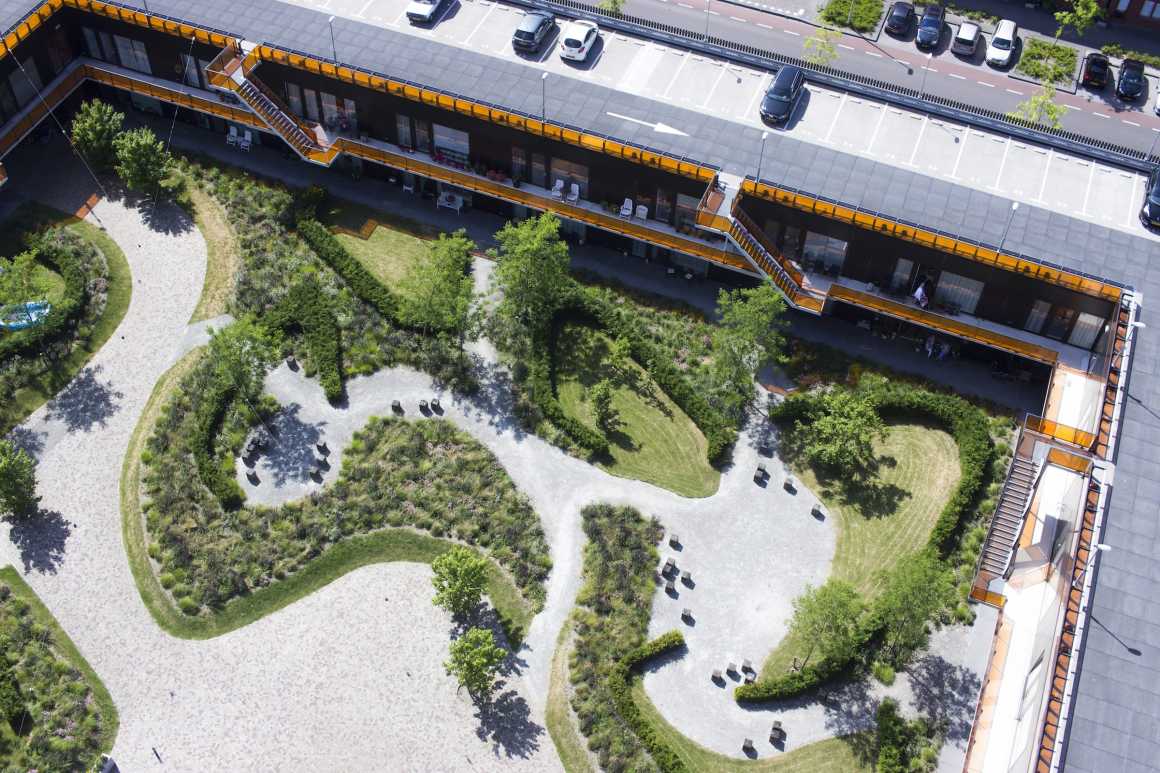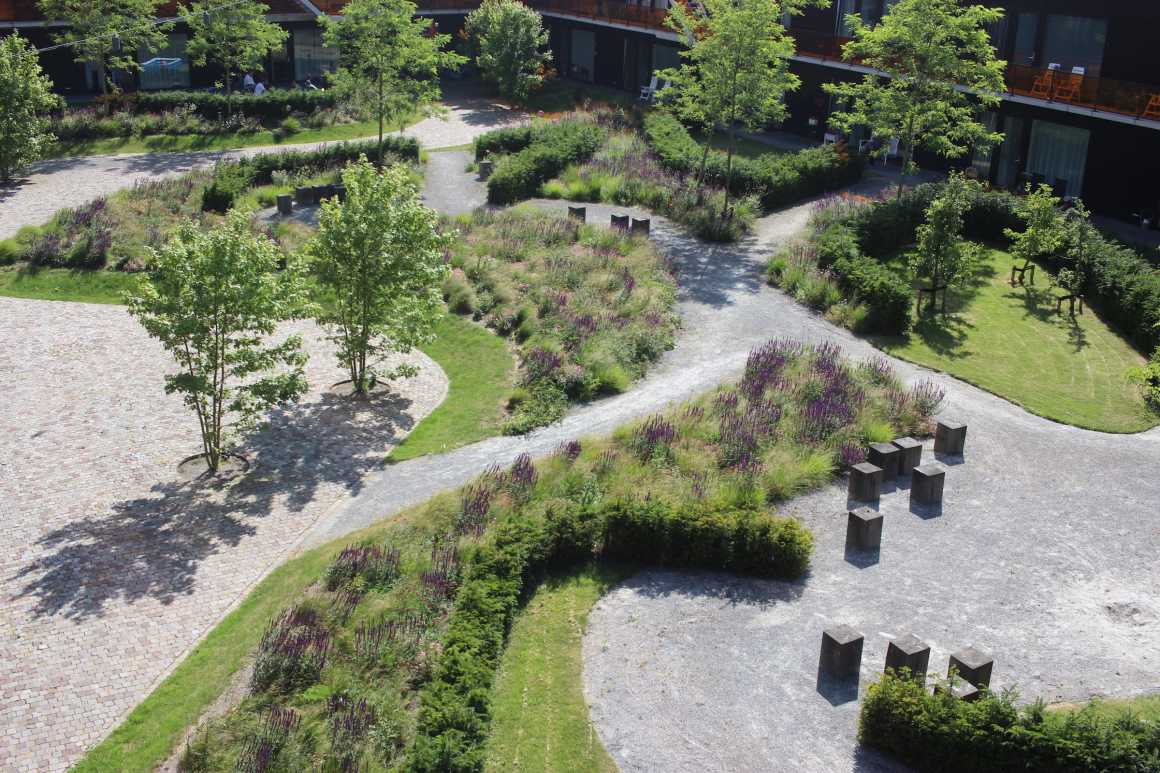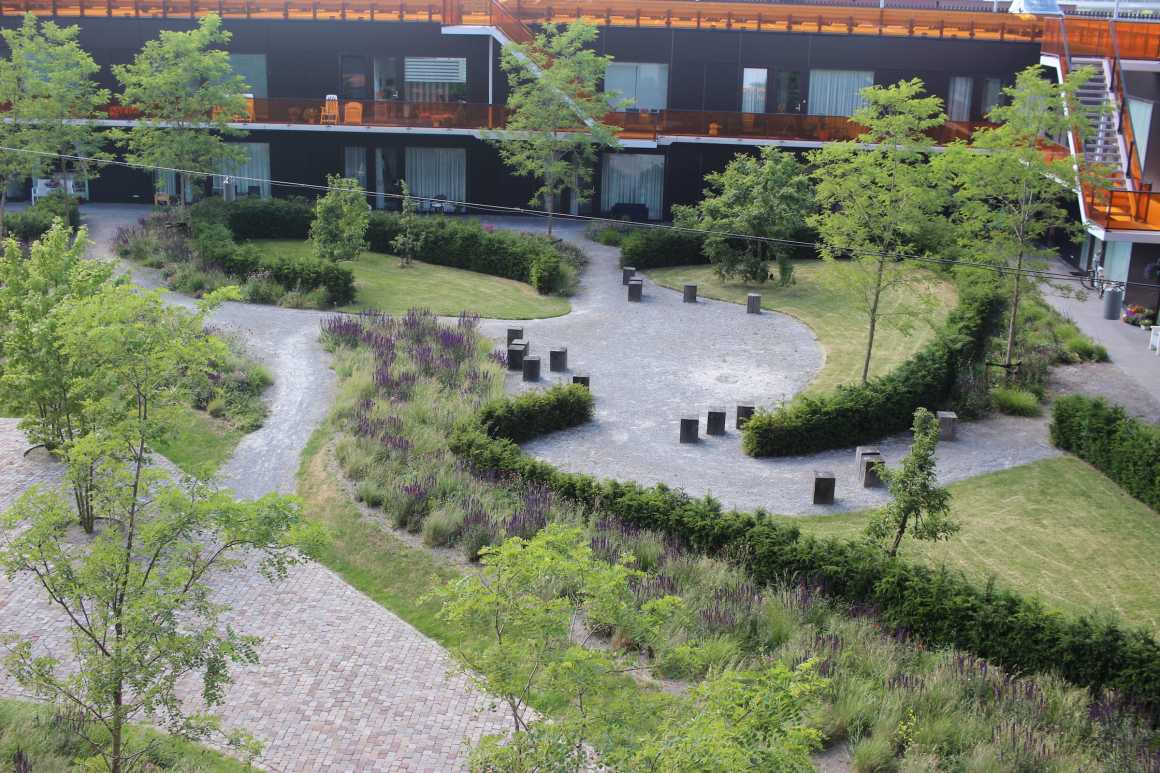 该设计为庭院提供了许多功能,如掷球区、露天象棋、花园、菜园、露台和座位区,此外,该设计还提供了可以由居民自主填充的空间。居民可利用树篱自己决定什么是需要的以及它应该在花园的什么地方。在这一过程中,DELVA景观公司组织了各种各样的参与活动,让附近的学校居民参与进来,因此,我们可以说这个设计是与未来的居民共同合作开发的。
The design provides a number of functions such as a jeu de boules area, open air chess, flower garden, vegetable garden, terrace and seating areas. In addition, the design provides spaces that can be filled in by residents initiatives. Hedges ensure that residents themselves decide what is needed and where it should be in the garden. During the process DELVA Landscape Architects organized various participatory moments with residents and schools from the neighbourhood. Thus we can say that the design was developed in collaboration with the future residents.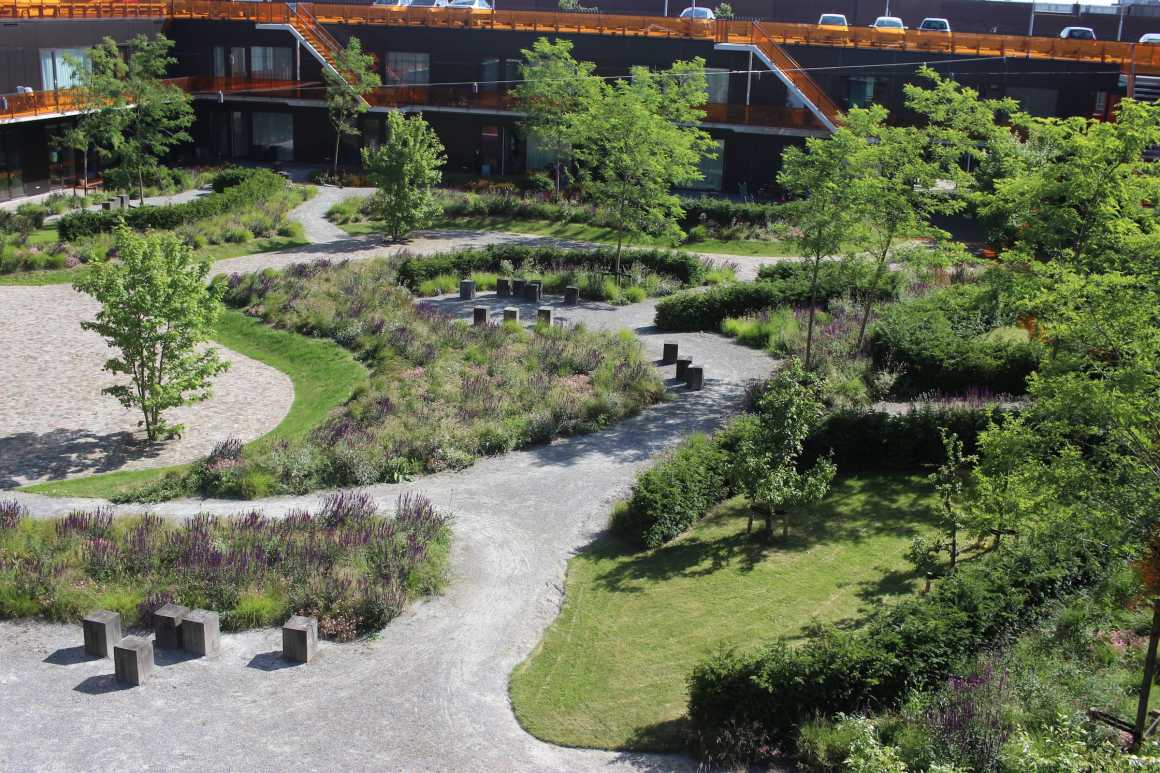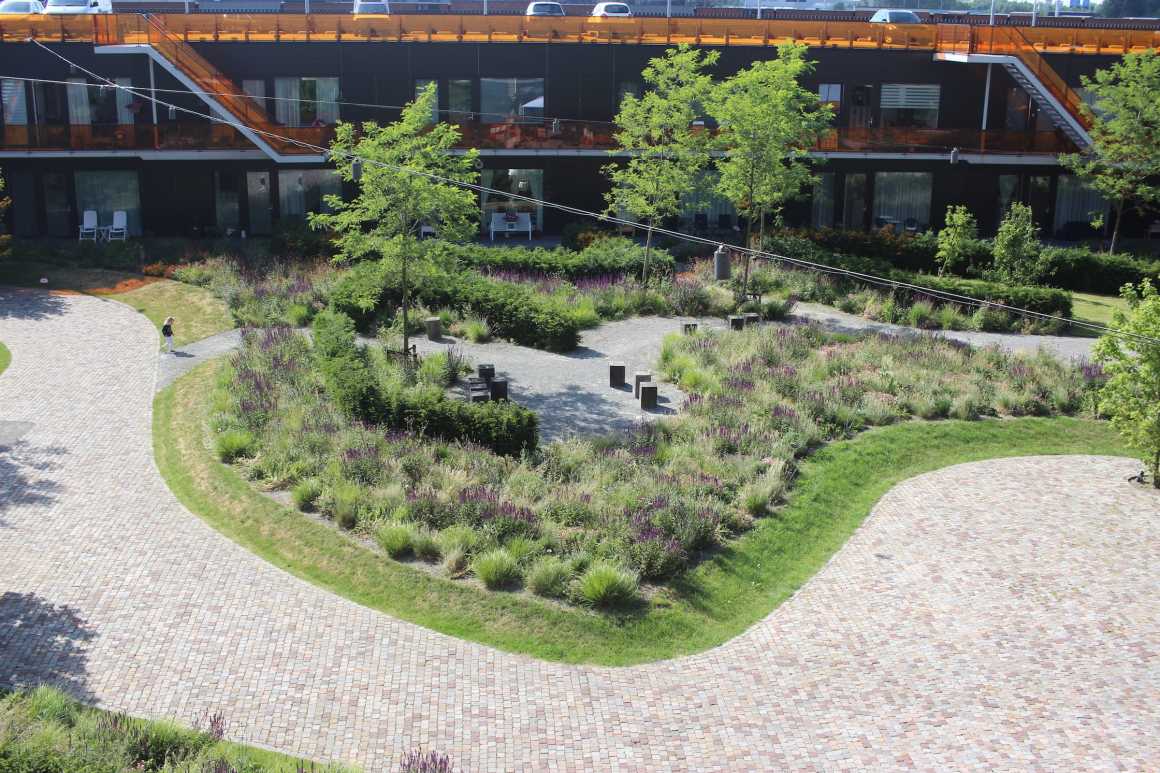 ▼自然围合的游戏空间 Natural Game Space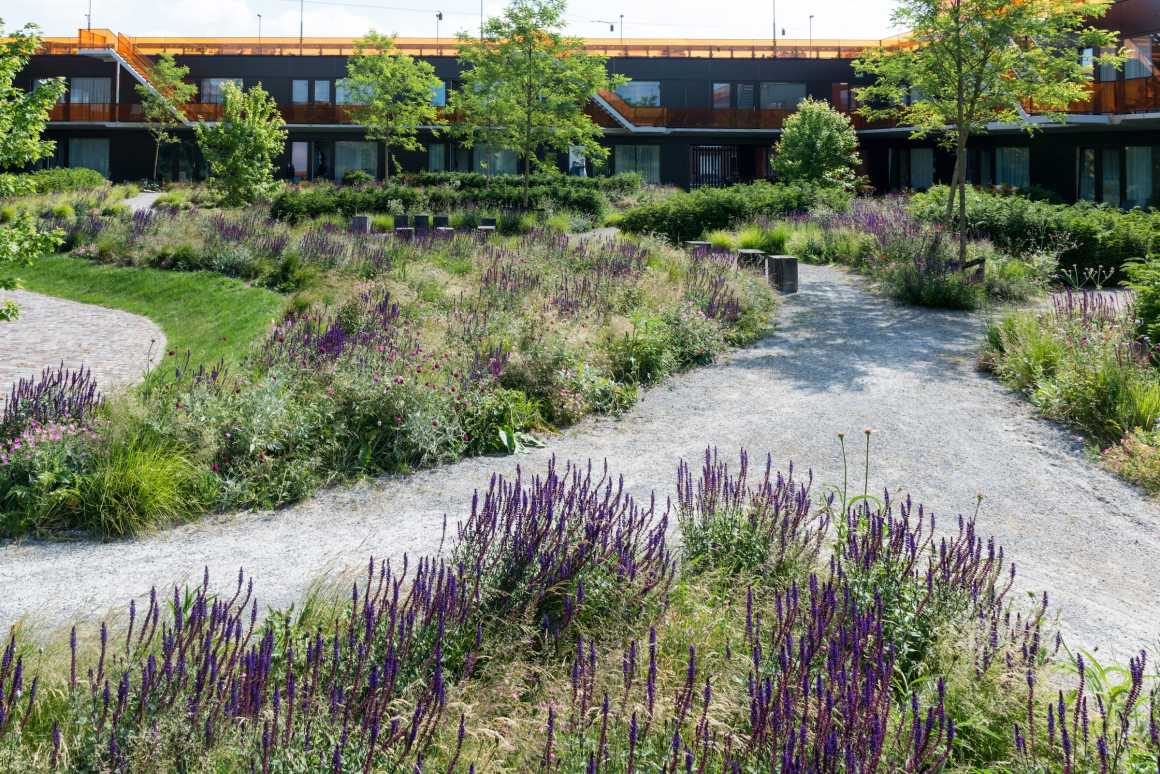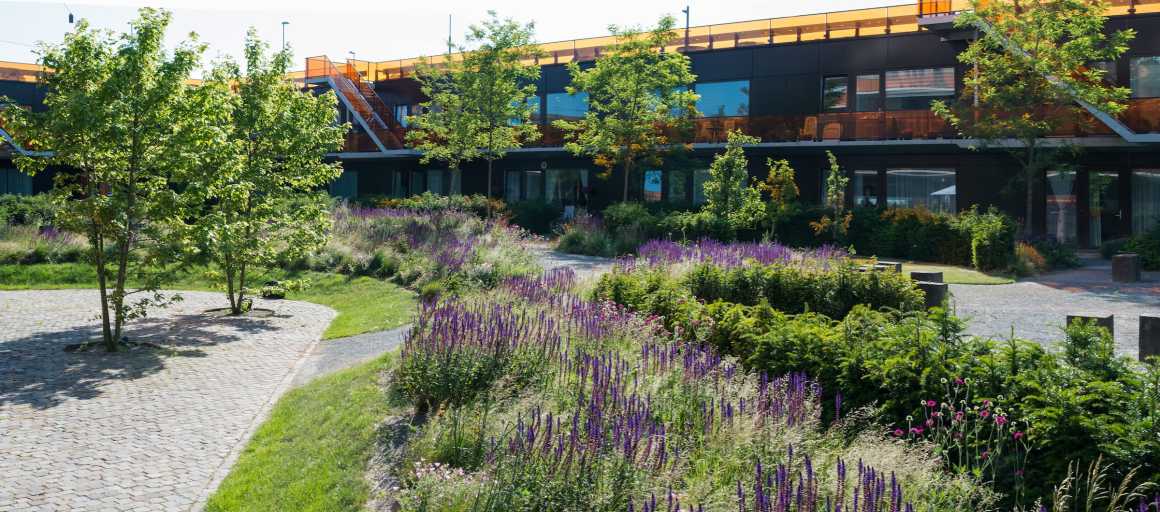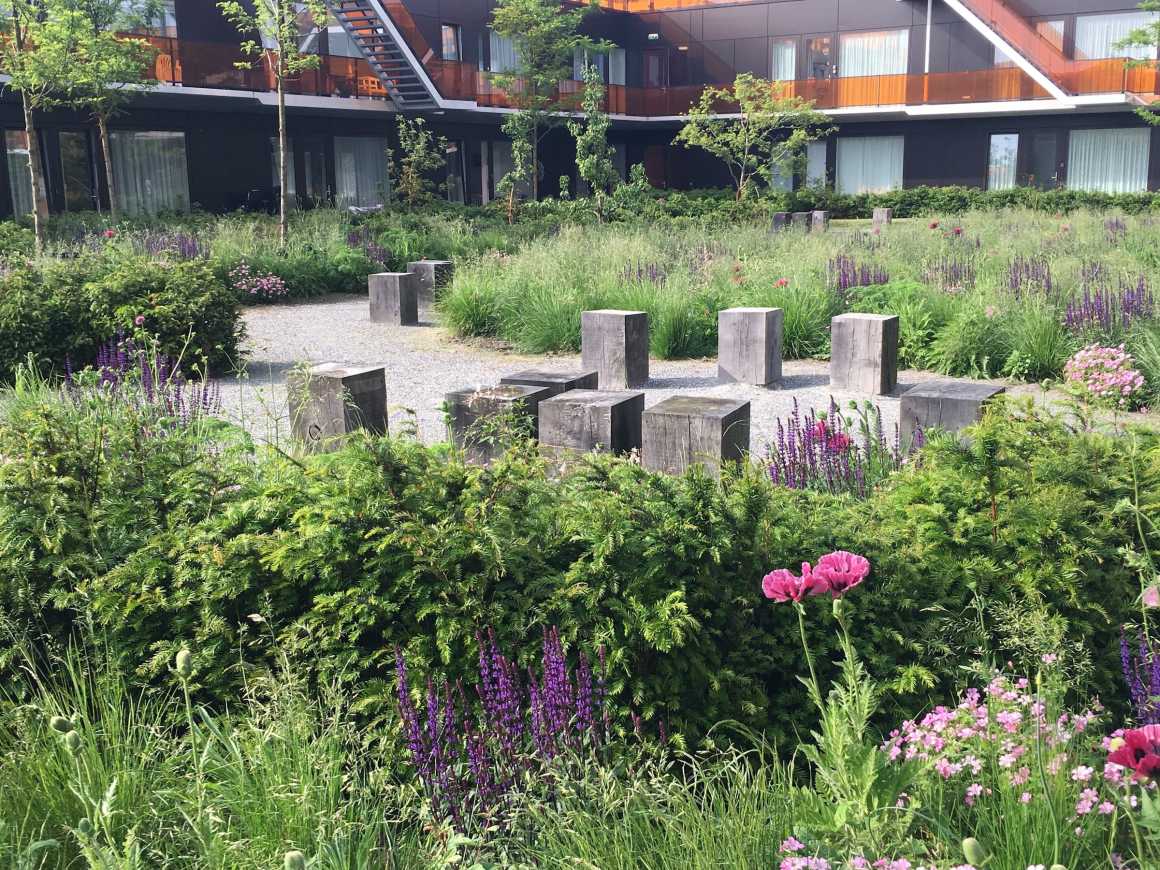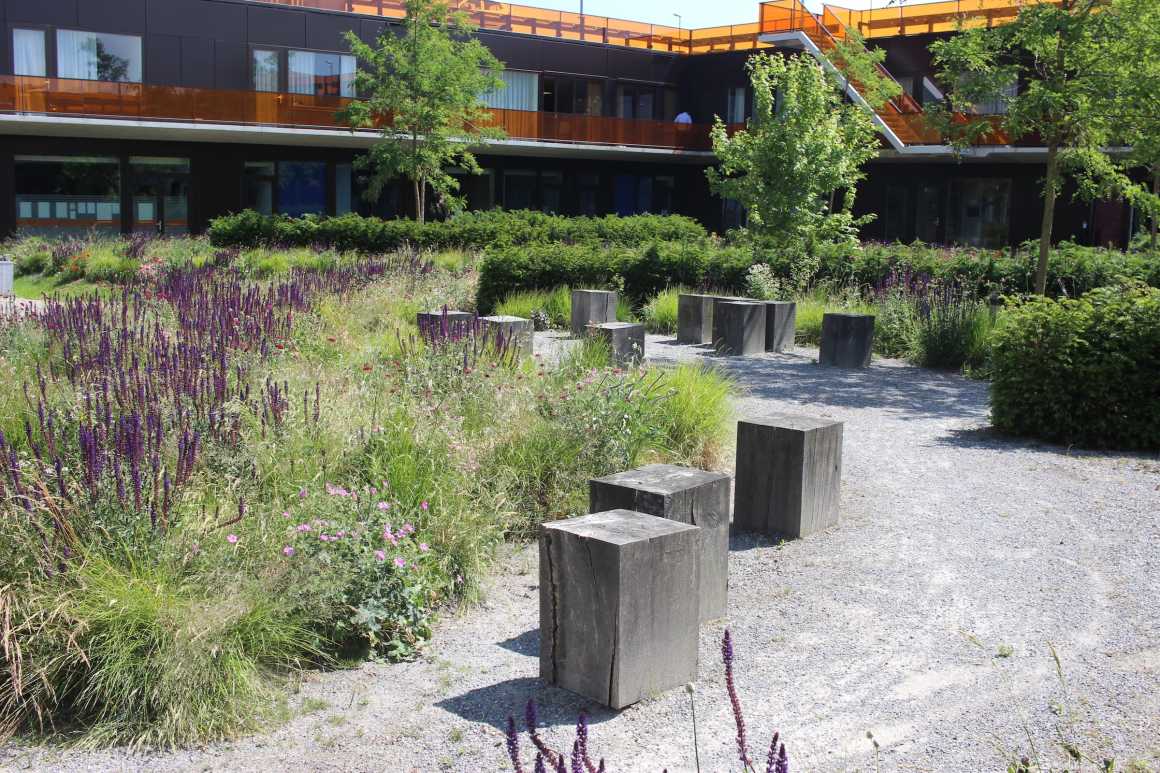 ▼不规则的曲线路径  Irregular curve path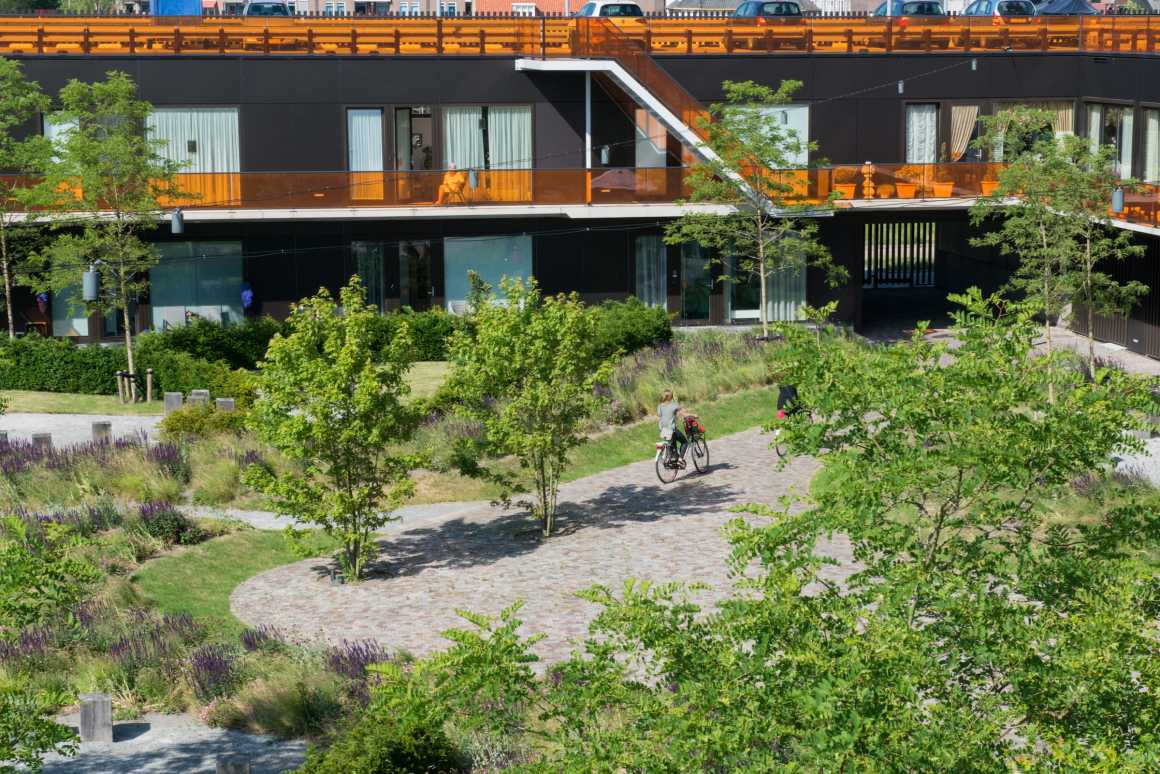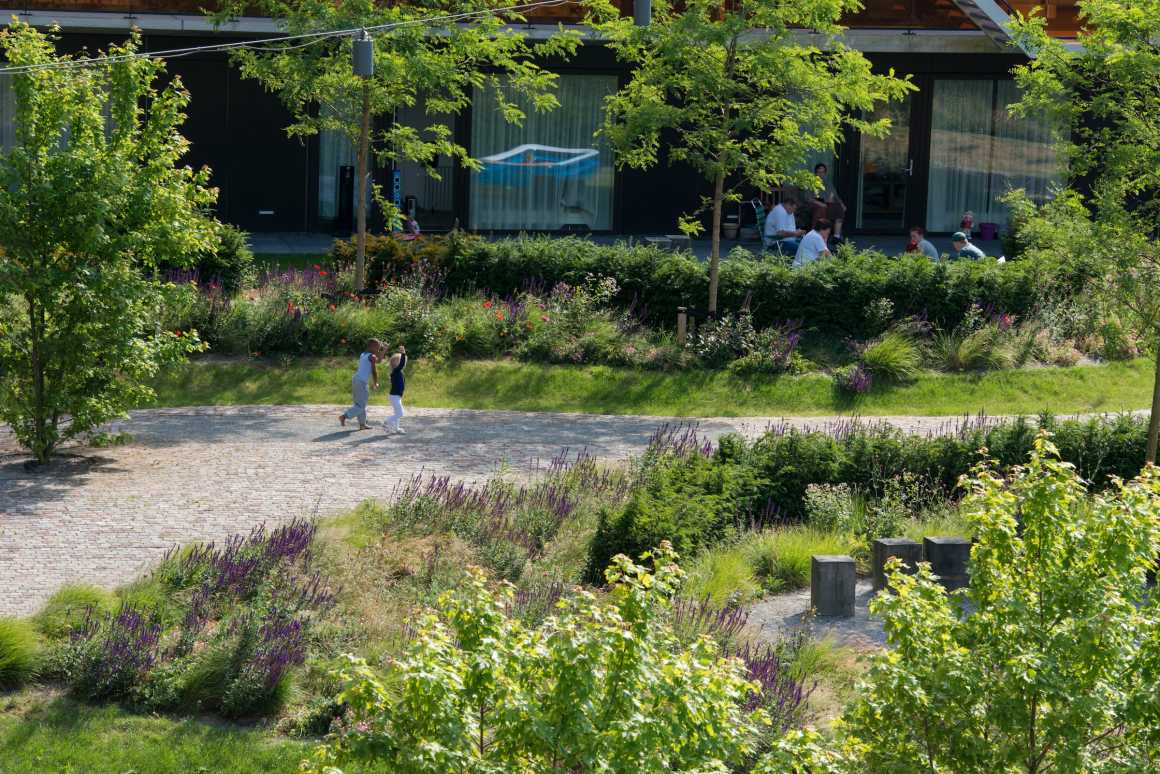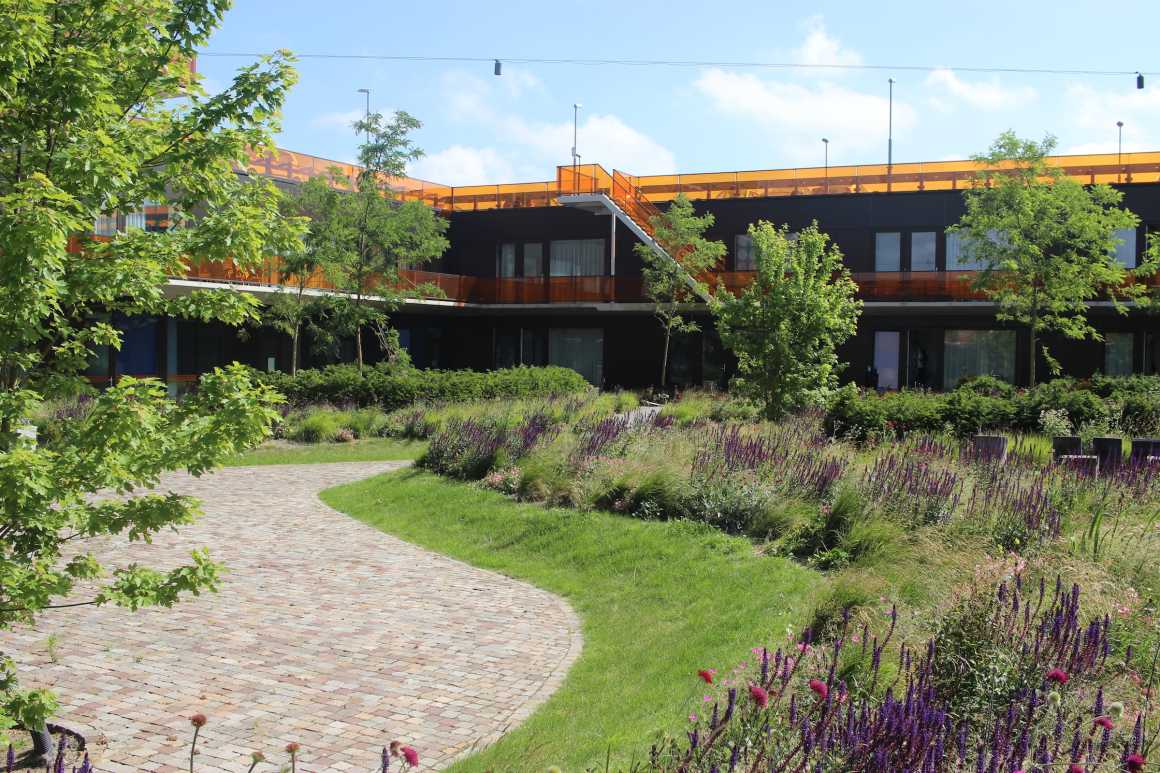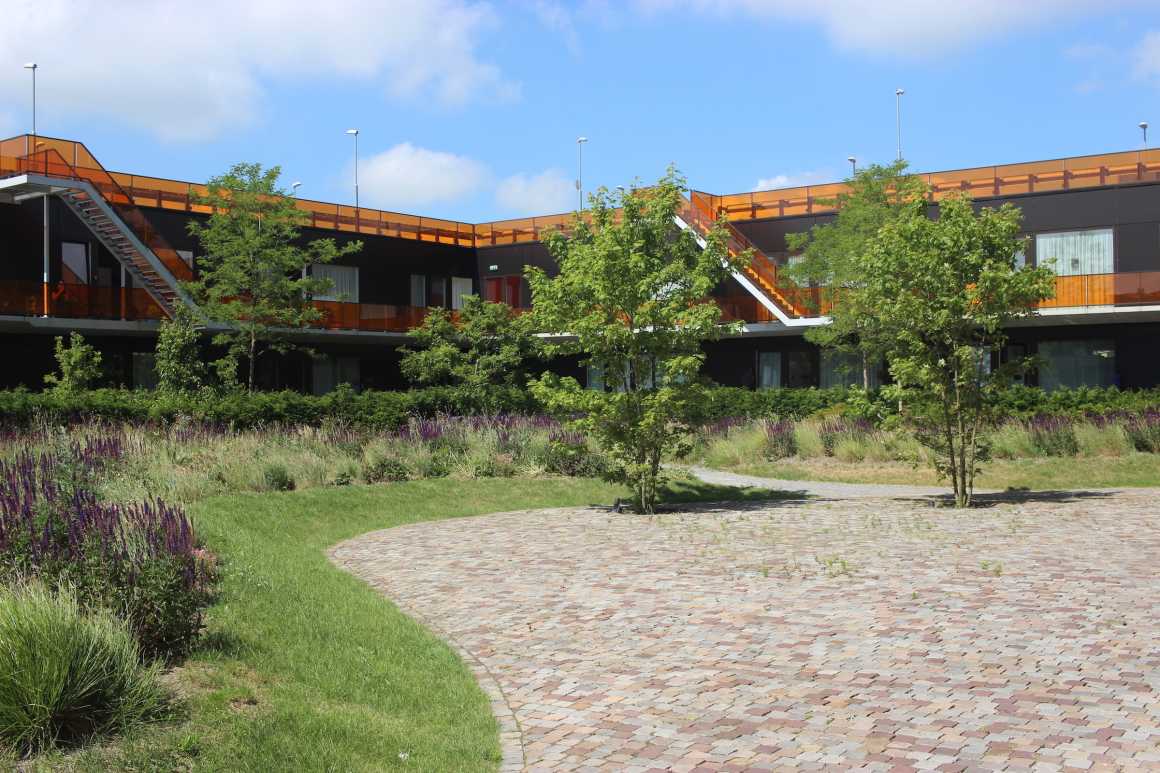 ▼自然生态的细节体现 Details of natural ecology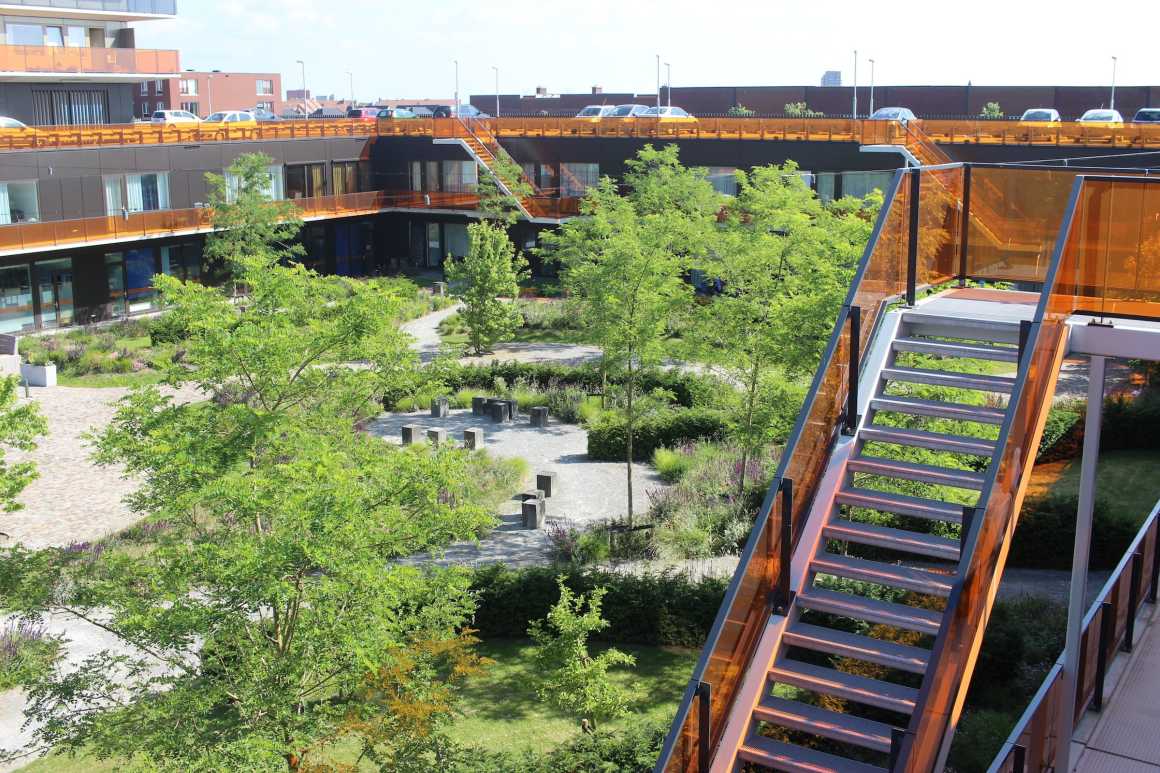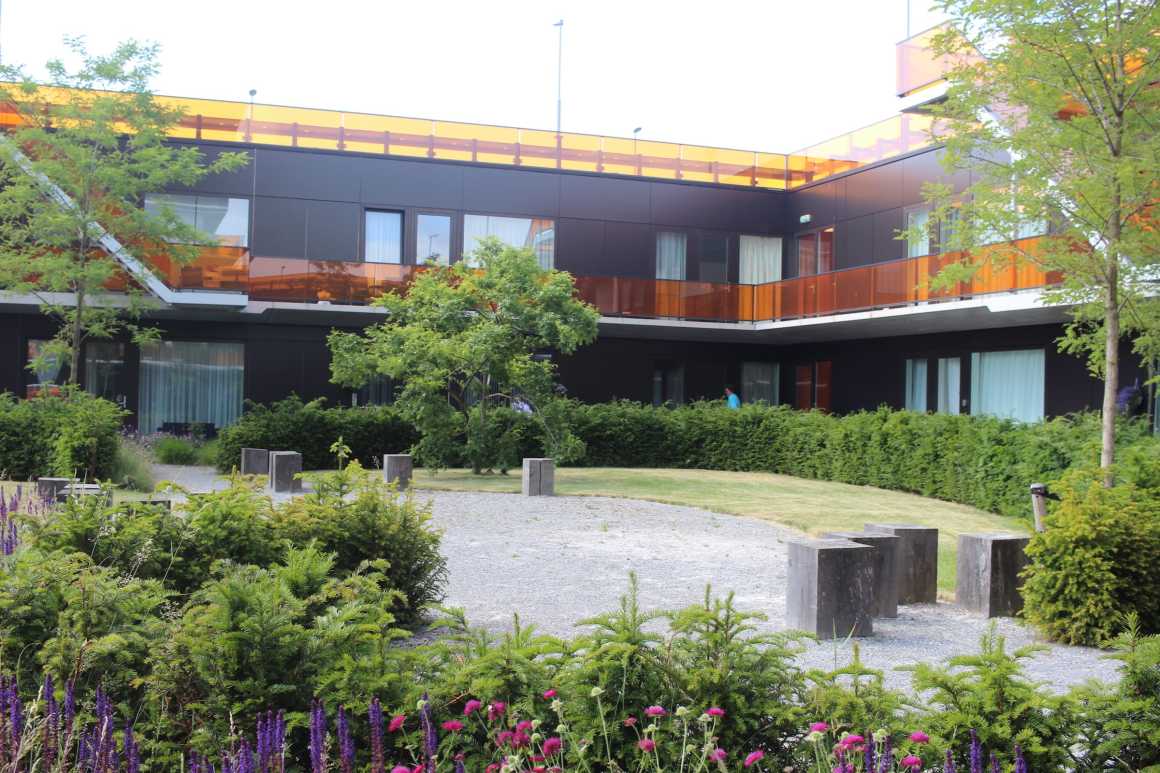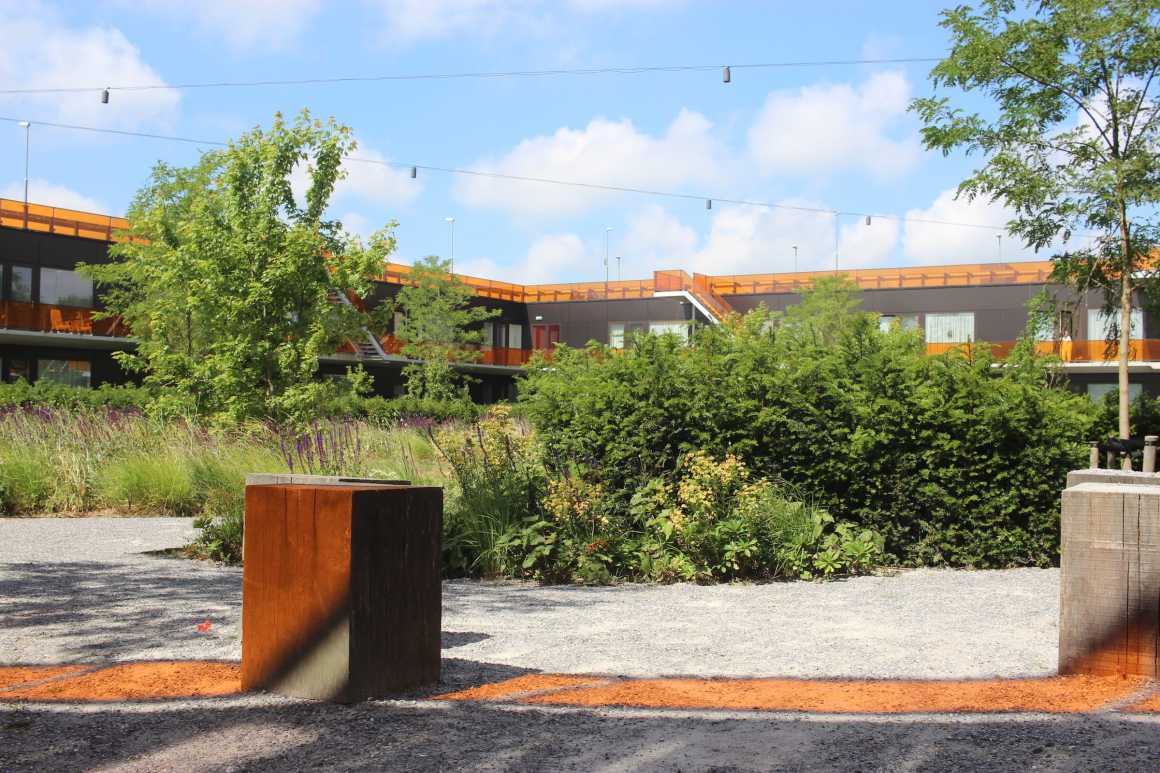 ▼自然丰富的植物种植 The flower garden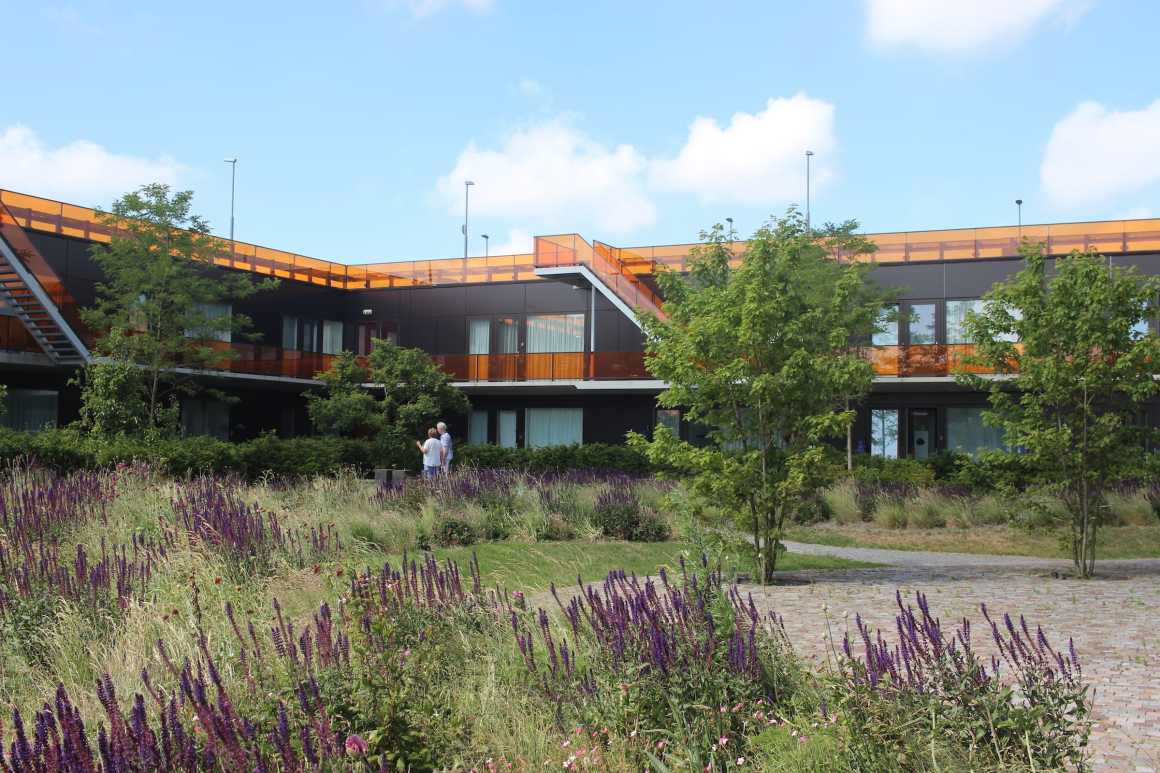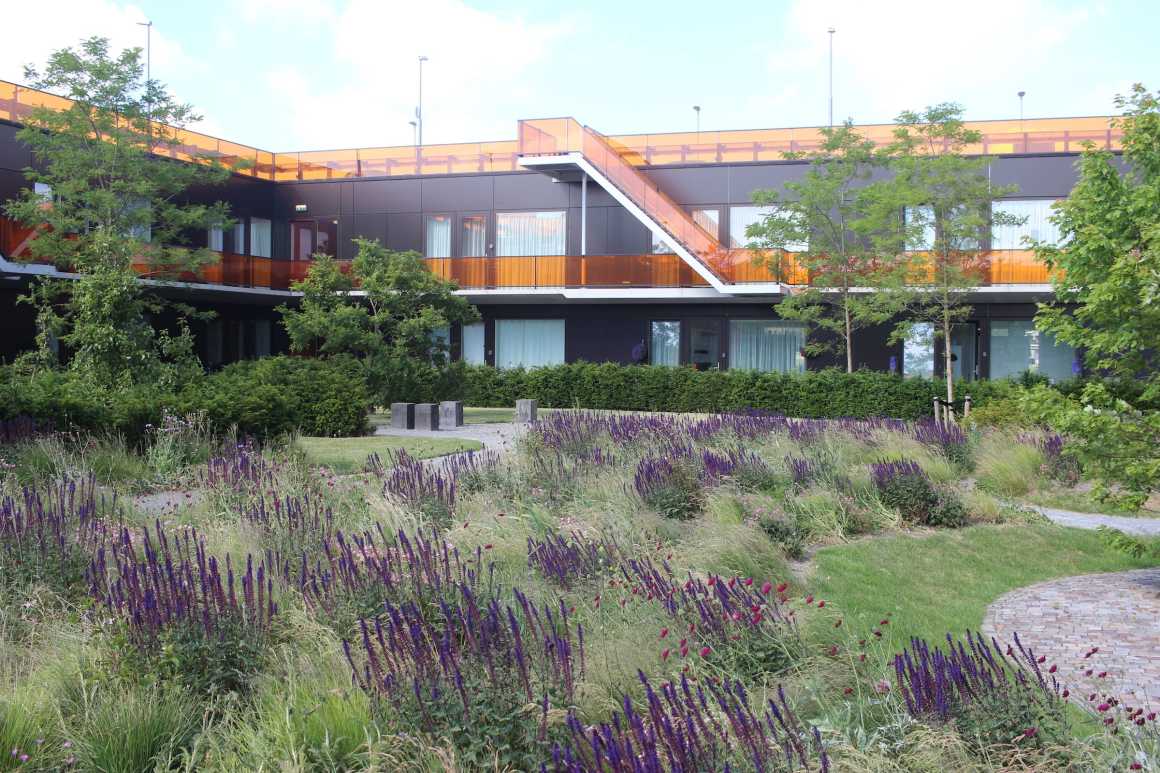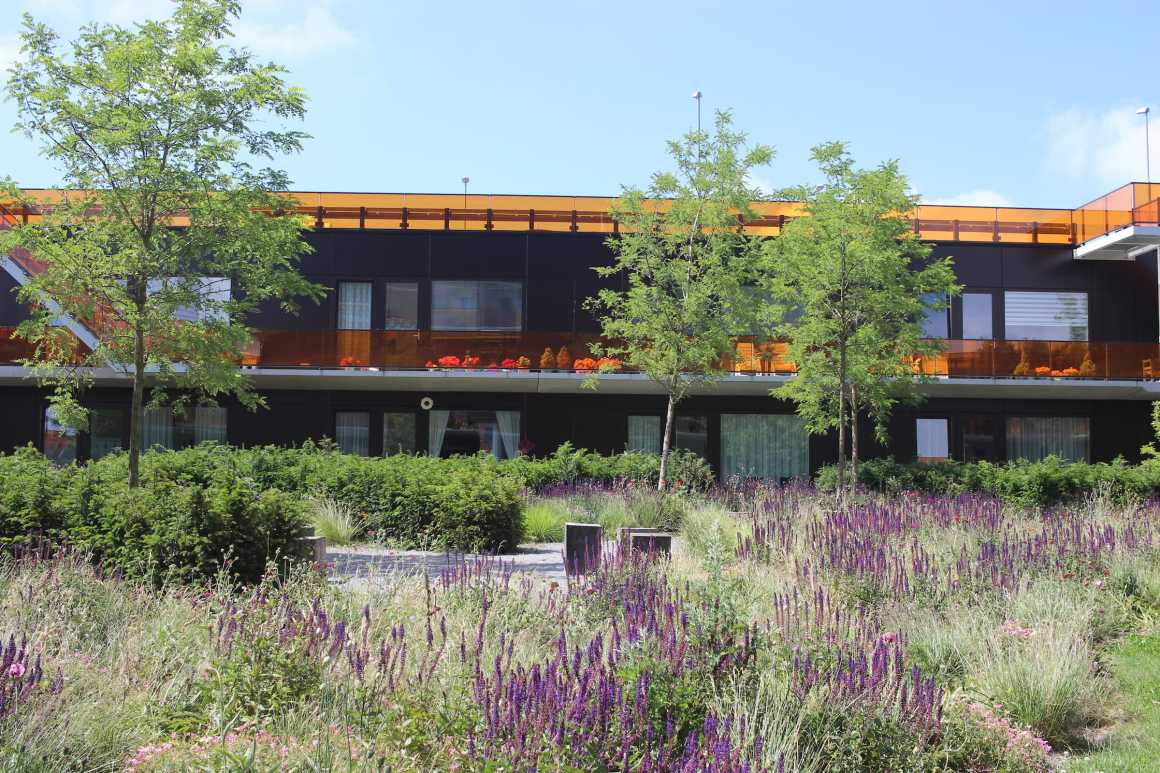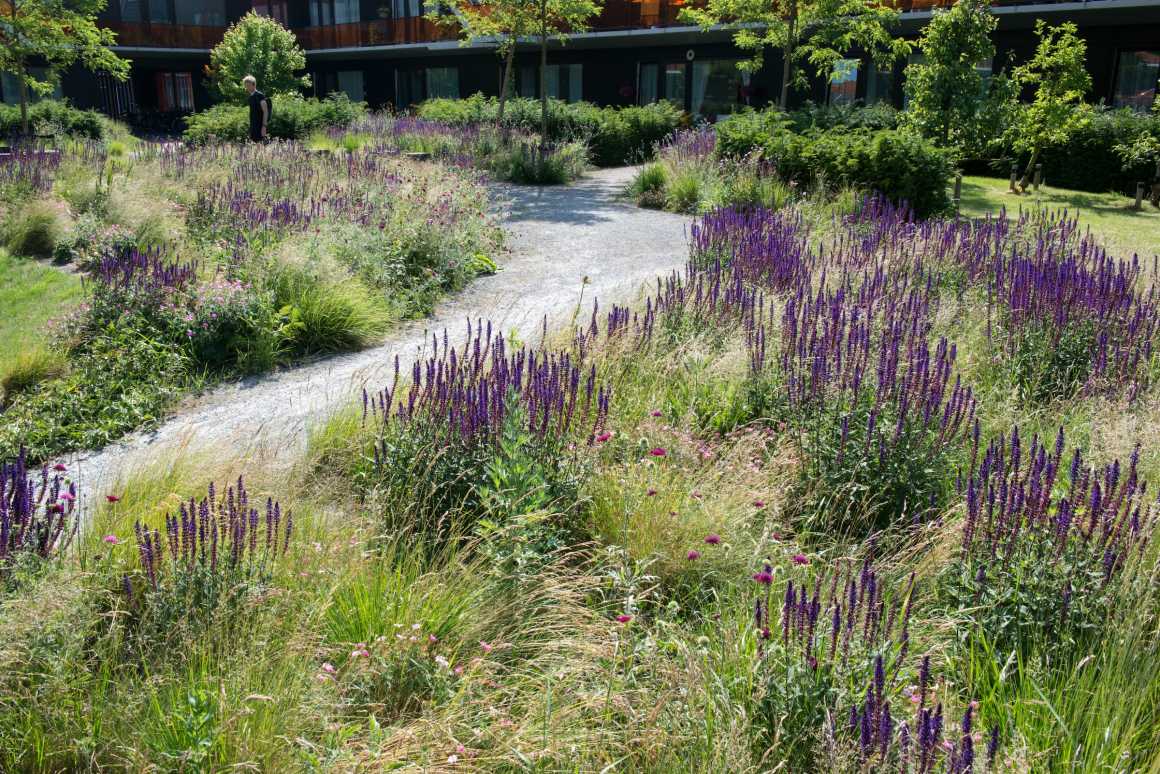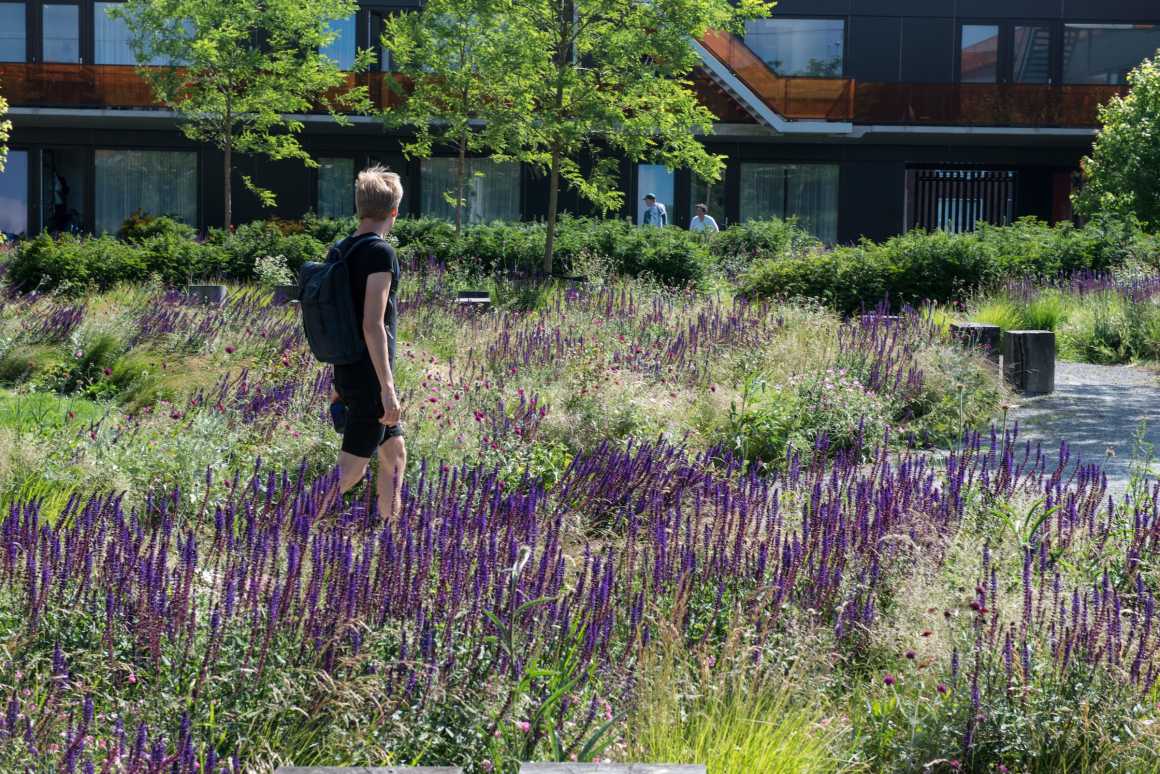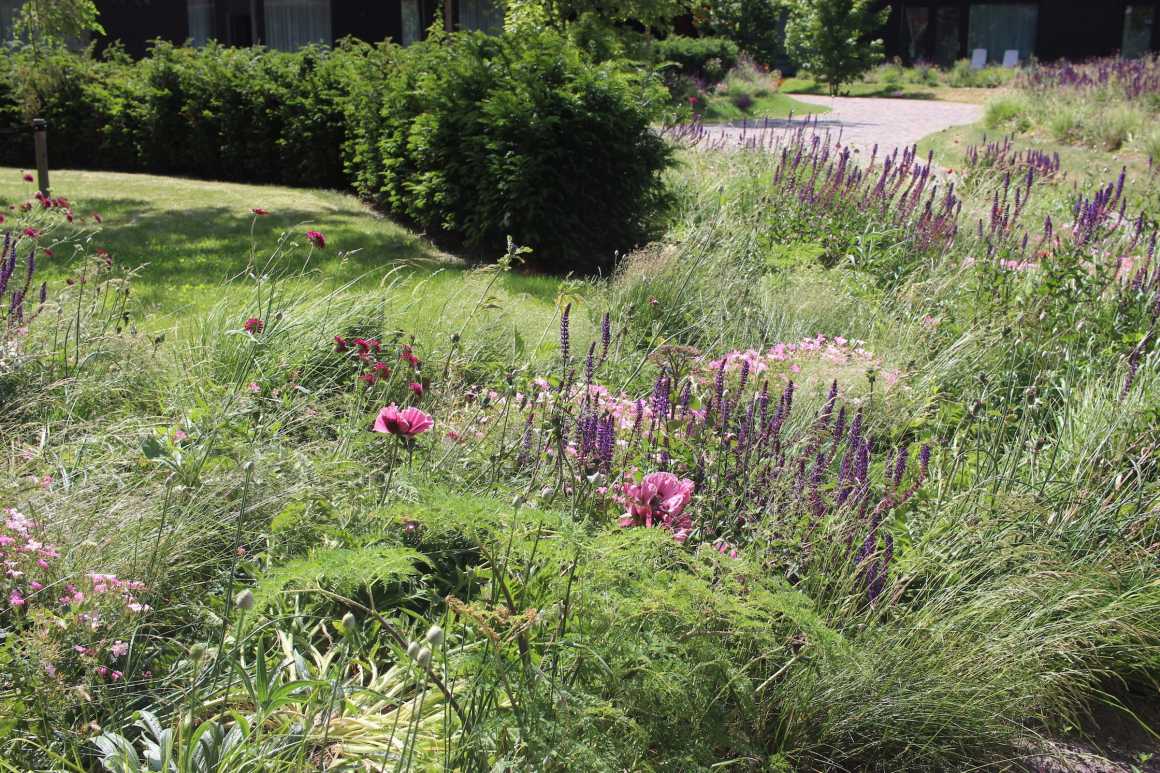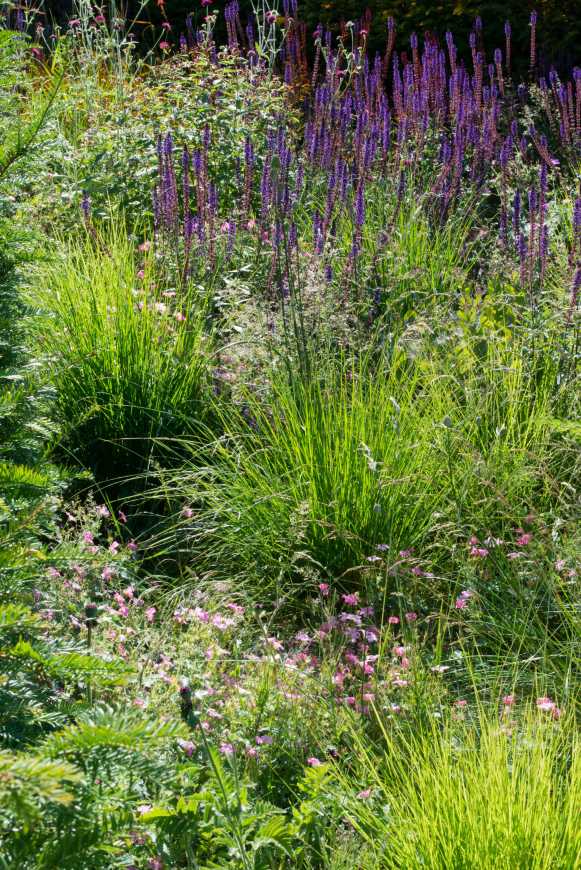 ▼施工过程 The process of construction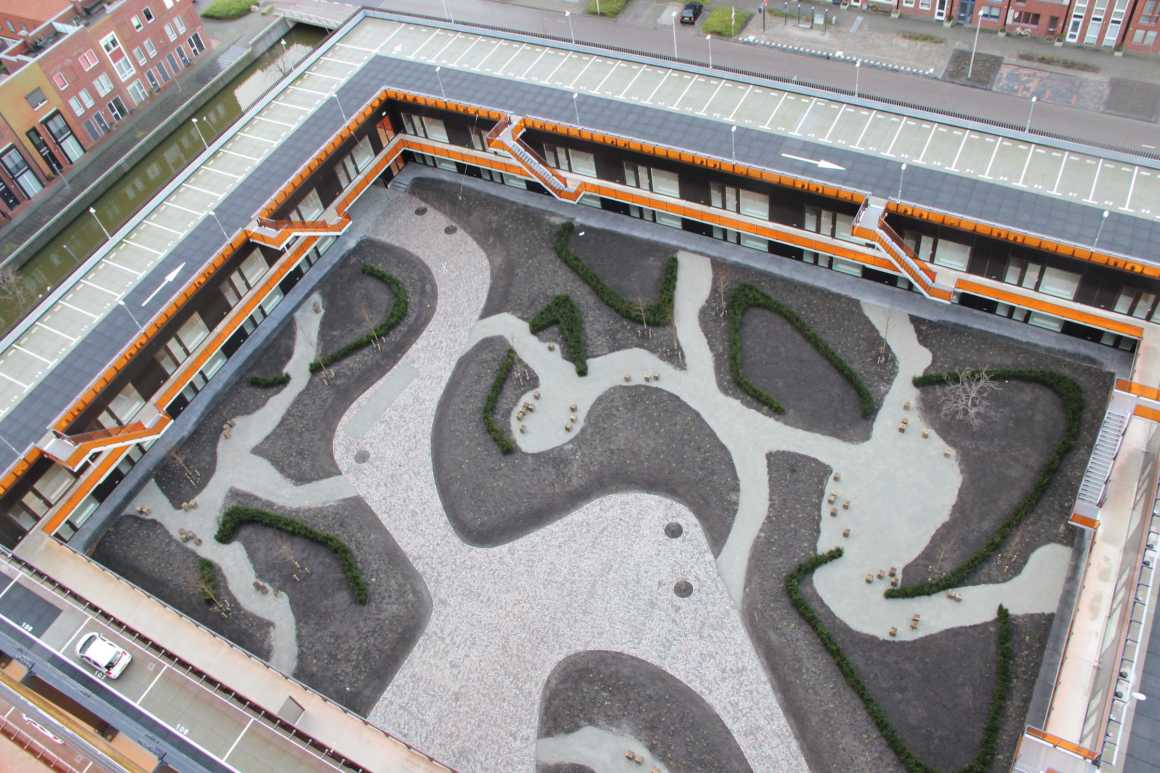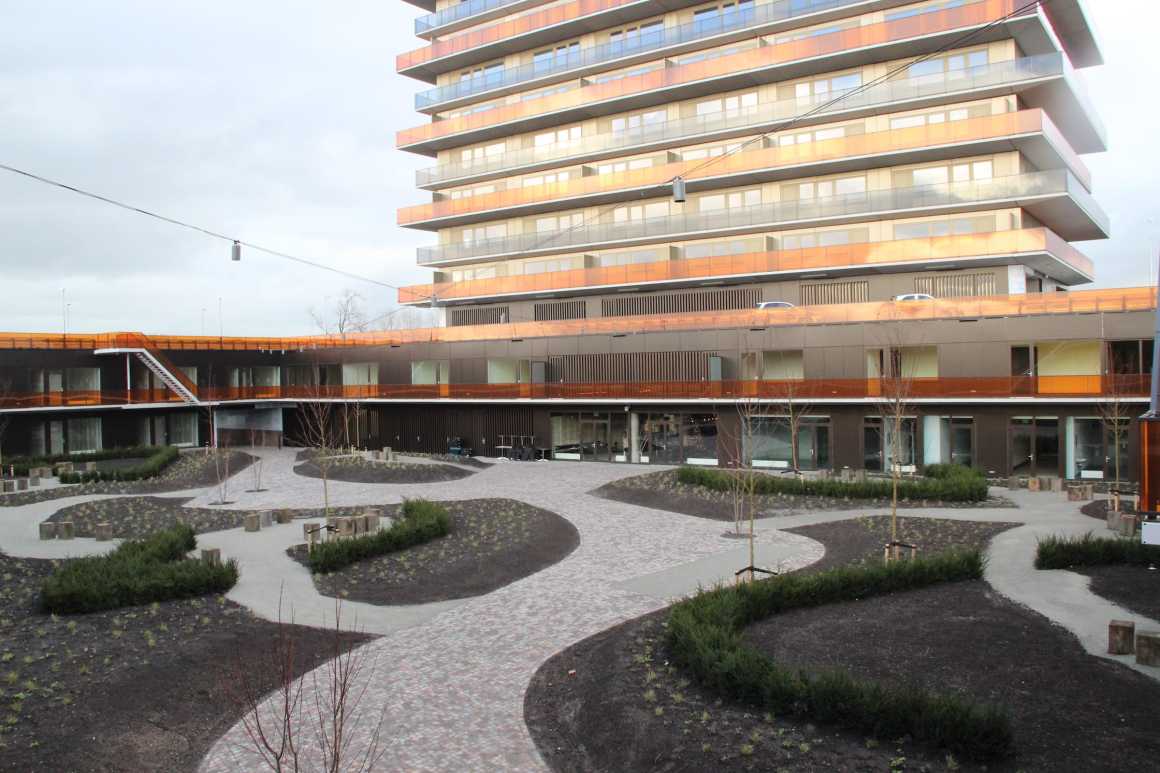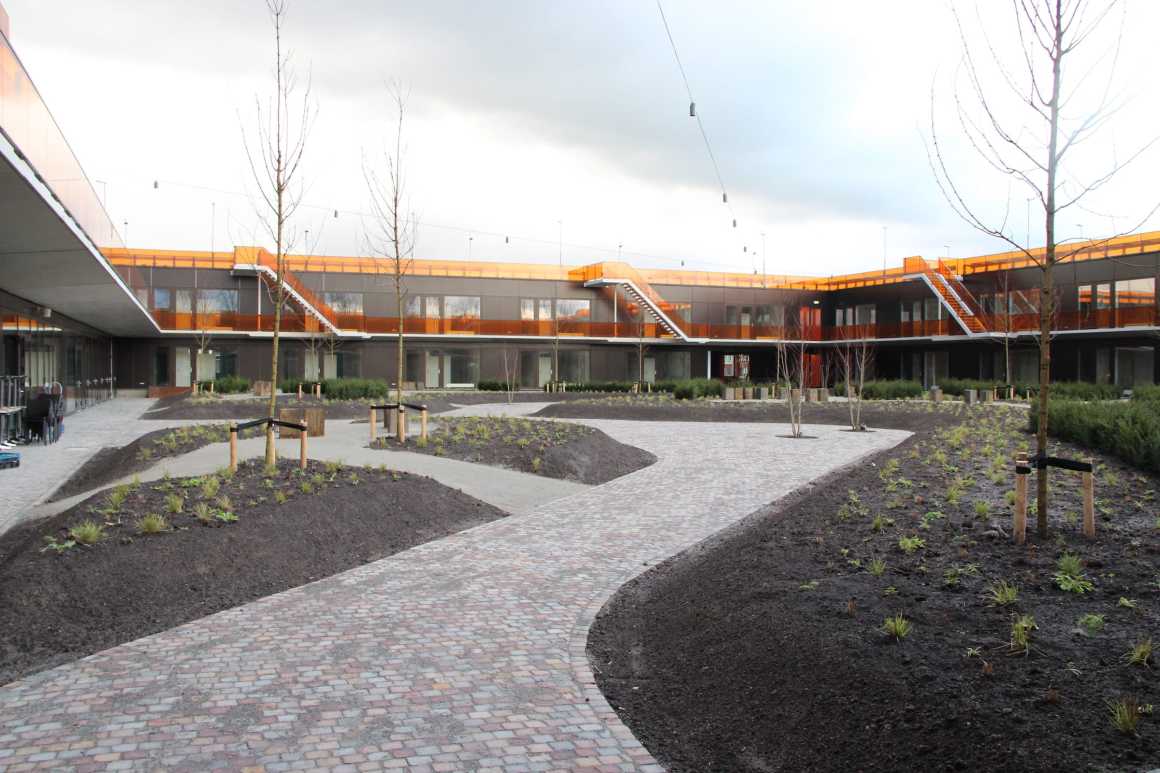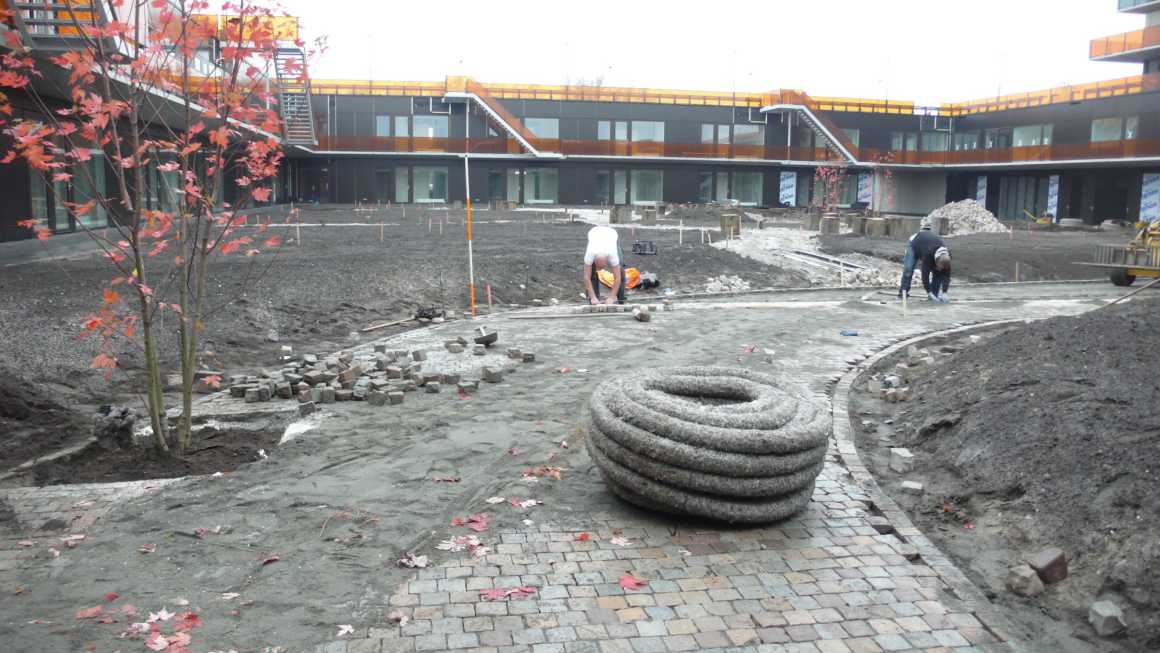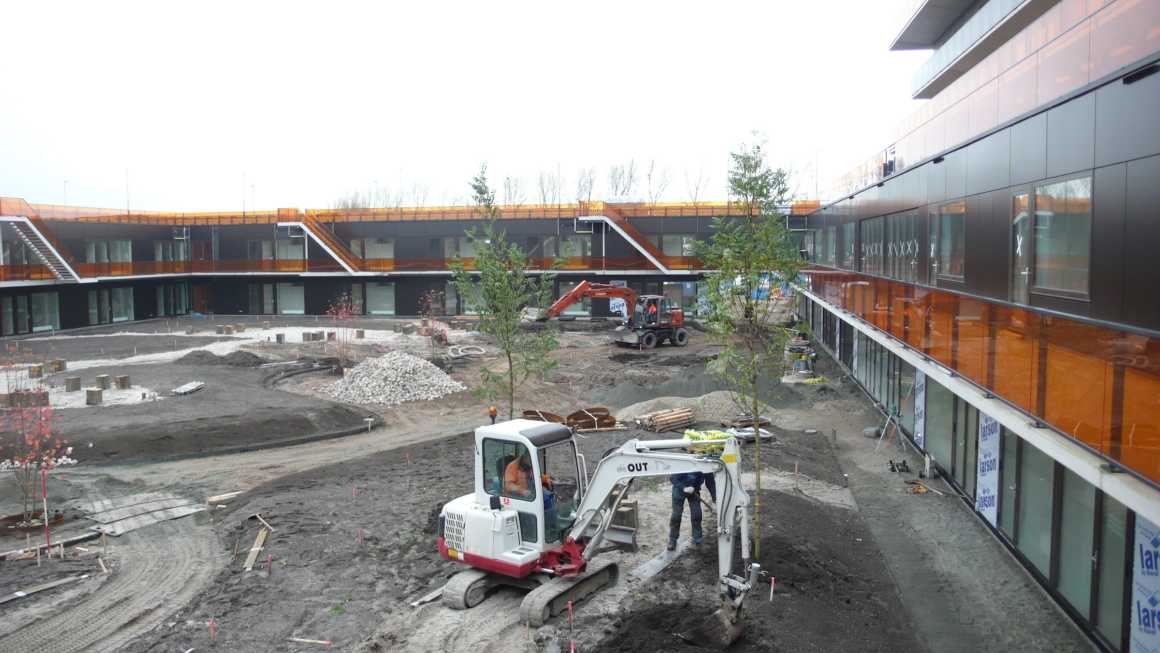 ▼设计图 Drawings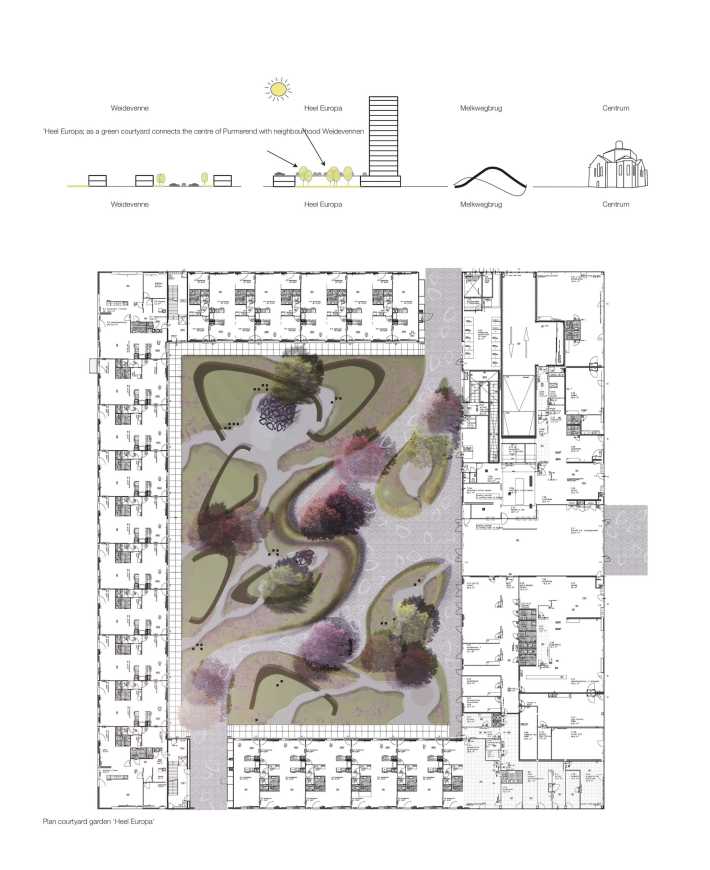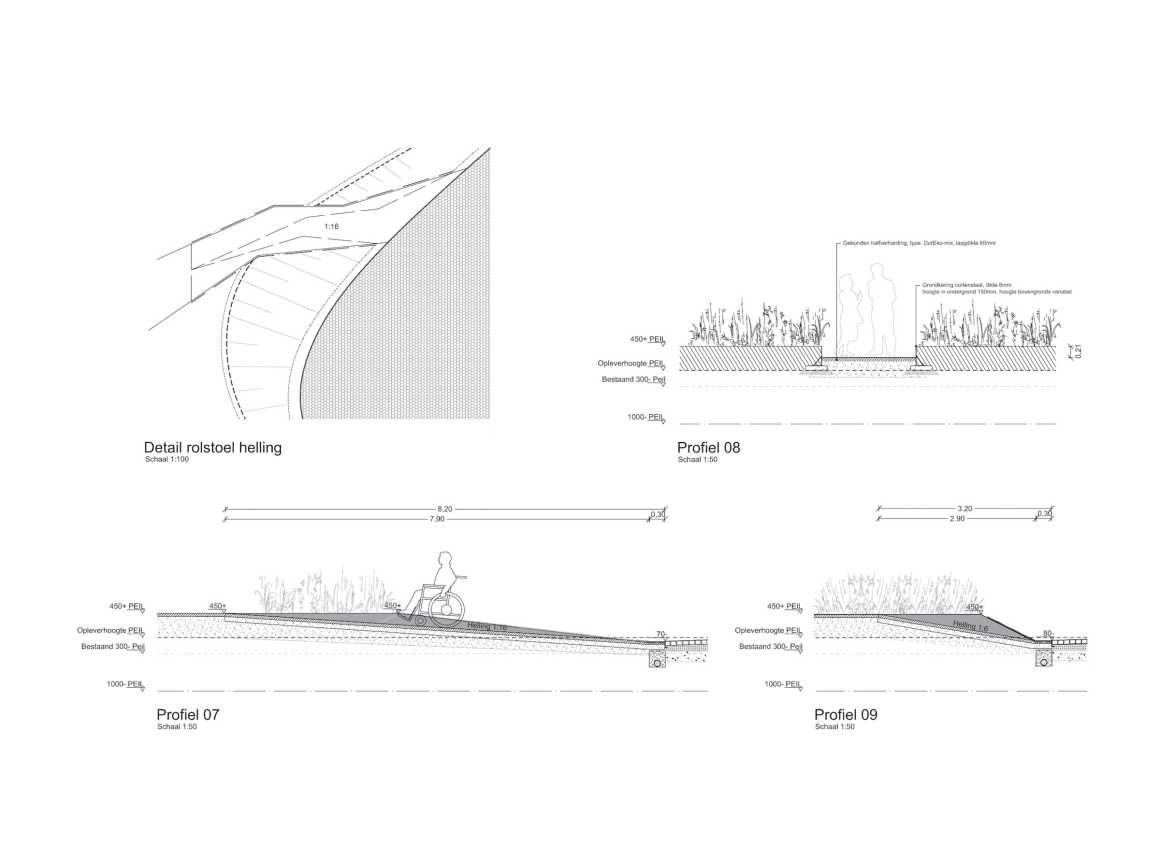 项目年份:2013 – 2014年
客户:Wooncompagnie
面积:2400平方米
Project year: 2013-2014
Client: Wooncompagnie
Area: 2400 m2
更多 Read more about: DELVA Landscape Architects