Caprini & Pellerin Architectes:从Esterel到阿尔卑斯山积雪覆盖的山脉,俯瞰着戛纳海湾,像一艘高高的船,矗立在大海之上。这座当代别墅由Caprini & Pellerin Architectes事务所建造,是一首对元素生活艺术的颂歌。
Caprini & Pellerin Architectes:Standing tall like a ship above the sea and overlooking the bay of Cannes, from the Esterel to the snow-capped mountains of the Alps, the Villa Up is a tribute to transparency and light beneath its monolithic looks. Built by the firm Caprini & Pellerin Architectes, the contemporary villa stands as an ode to the art of living with the elements.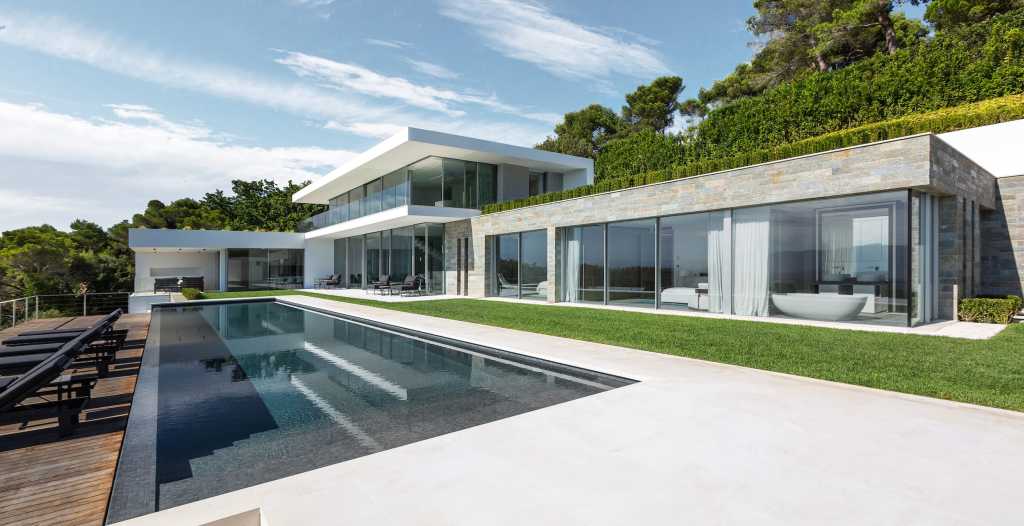 看着这个房字,就能感受到凯文·卡普里尼(Kevin Caprini)和杰瑞·佩尔兰(Jerry Pellerin)这两位建筑师的技巧。他们在陡峭的土地上工作,俯瞰着邻近的房子,受到项目挑战的启发,合作伙伴们设法设计出一个巧妙的布局,既包含了土地的陡峭倾斜,又优化了房产的景观和隐私。
One look at the property is to sense the skill of the two architects Kevin Caprini & Jerry Pellerin, who worked with the constraints of a steep land and overlooking neighboring properties. The partners, inspired by the challenges of the project, managed to set out an ingenious layout that embraces the steep inclination of the land whilst optimising the views and privacy of the property.
这栋面向南的L形别墅建有两层,由大块的整块建筑组成,这些整块建筑有时呈悬臂状,或者用屋檐延伸以缓解夏日的阳光,或者用完全可伸缩的窗户和植被覆盖。建筑技术可以调整光线,增强视野和与景观互动,从而给建筑带来失重感。
Built on two floors, the South facing L shaped villa, is made of an assemblage of monolithic blocks that are at times cantilevered, or extended with caps to sooth the summer light, or encircled with fully retractable windows and terraced with vegetation. Architectural techniques that tame the light, enhance the views and interact with the landscape, thereby giving a sense of weightlessness to the building.
内部和外部之间的边界被大量的开放空间和高科技窗户所抹去,这些窗户的金属部件都被彻底地去除了。极简主义的窗户面板完全滑入墙壁,将房间变成开放的露台。阳台栏杆也用玻璃制成,以最大限度地增加视野。
Borders between interior and exterior are erased by numerous openings and high-tech windows, whose metallic parts are fully disguised. The minimalistic window panels slide entirely into the walls to transform the rooms into open terraces. The balcony railings are also made of glass to maximize the views.
虽然完全由Caprini和Pellerin设计,该团队也使用了诸如天然石头、实心橡木、大理石之类的高贵材料来设计所有内部,这些材料为这座简约的别墅带来了额外的灵魂和温暖。
Entirely though out by Caprini & Pellerin, the team also designed all the interiors using noble materials such as natural stone, solid oak, marble, that breath extra soul and warmth into the minimalistic Villa.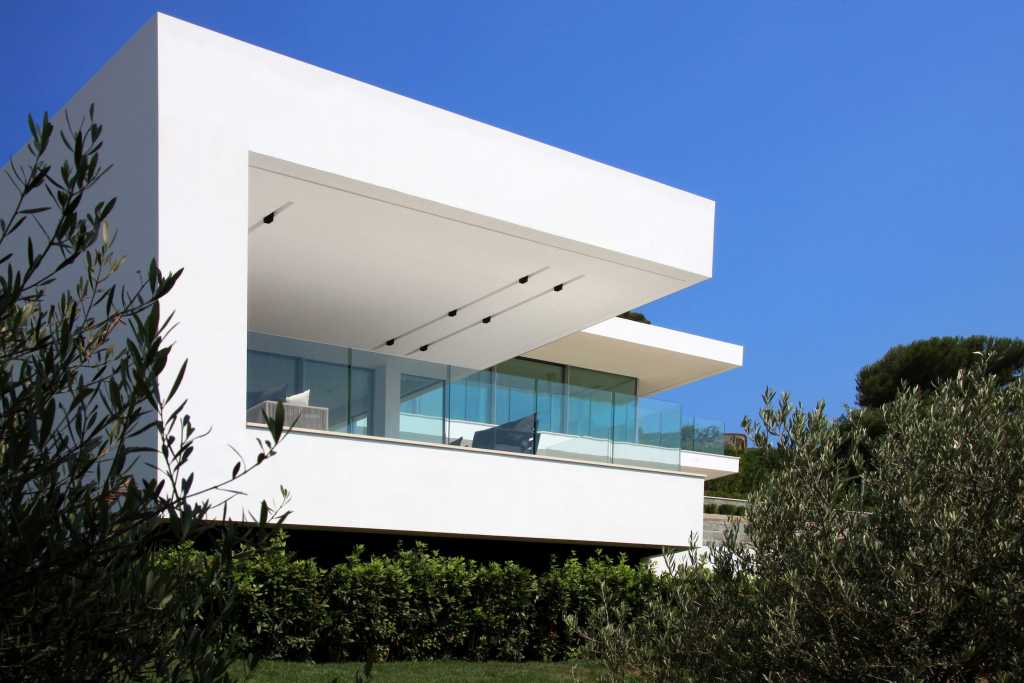 绿色的屋顶和一个种植着地中海植物的花园,橡树,松树,橄榄树,月桂树,薰衣草,黄杨木,茉莉花和野草,放大了这个建筑天堂,向环境和自然开放。
Green roofs and a garden planted with Mediterranean essences, oaks, pines, olive trees, laurels, lavender, boxwood, jasmine and wild grasses, magnify this architectural haven, that stands open to its environment and nature.
设计团队还负责花园的景观美化工作,他们喜欢将房子的后部布置成有水上走廊的地方,并将南立面布置成20米长的无限泳池。一条长长的绿草带将室外厨房和桑拿区与游泳池分隔开来,带有日光浴床的休闲平台悬挂在泳池下,这样卧室就看不见了,只能看到蓝色的地平线。
Also responsible for landscaping the garden, the design team enjoyed staging the back of the house with aquatic corridors and the South facing front with a 20 meter long infinity pool. A long green strip of grass separates the outdoor kitchen and sauna areas from the swimming pool and the relaxation deck with the sun beds is suspended under the pool to remain invisible from the bedrooms which have eyes only for the bluish horizon.
悬浮的中央楼梯设置在一个玻璃笼子里,展示用实心橡木包裹的台阶。壁炉的全玻璃罩、天窗和窗缝随处可见,也作为一种透明的赞颂。
The levitating central staircase is set in a glass cage that reveals steps hemmed in solid oak. The all glass hood of the fireplace and skylights and window slits created here and there, also act as a eulogy of transparency.
巧妙的材料选择和从未真正封闭的房间布局,提供了多重视角和沐浴在面向地平线的光线中的交叉空间。
An ingenious choice of materials and skillful distribution of rooms which never appear really closed, provide multiple perspectives and crossing spaces bathed in light facing the horizon.
概念/项目管理: Jerry Pellerin / Kevin Caprini
项目: 现代别墅的新建筑
地点: 法国超级戛纳-阿尔卑斯-马里泰兹
面积:   500平方米;土地: 5000平方米
施工长度/完工时间:  1年- 2016年7月
家具设计: Collection Privee Décoration,3 rue des Etats Unis
照片来源: Royalty-Free images
Conception / Project Management:Jerry Pellerin / Kevin Caprini
Program:New Build of a Contemporary Villa
Location:Super Cannes – Alpes Maritimes – France
Area:Area: 500 sqm; Land: 5000 sqm
Construction Length / Completion:1 year – July 2016
Furnishings:Collection Privee Décoration,3 rue des Etats Unis
Photo Credits: Royalty-Free images
更多 Read more about: Caprini & Pellerin Architectes