LANDPROCESS 景观设计事务所 是一家致力于解决或应对城市气候变化问题、改善城市生态的泰国景观设计公司。自2011年创立以来,LANDPROCESS一直坚守尊重自然、造福于民的设计初心,聆听社会需求,通过设计建立自然与人类之间的和谐关系,做真正可回馈社会的公共景观。2019年,他们的抗洪生态公园获得了WLA、ASLA等多项景观设计大奖。之后的生态城市绿地空间设计更是层出不穷,不仅拓展了景观行业的设计思路,也为人们应对气候变化提供了新策略。
mooool聚焦景观设计行业,致力于传播全球优秀设计理念,本期mooool专辑带来的是泰国LANDPROCESS公司创始人Kotchakorn Vorkaakhom的专访。欢迎业界同行跟我们分享更多的经验和想法!
Landprocess is a Bangkok-based landscape architecture and urban design firm founded in 2011 by landscape architect Kotchakorn Vorkaakhom. Since its establishment, LANDPROCESS has always adhered to the design concept of respecting nature, listened to the needs of the society, and established a harmonious relationship between nature and human beings through design, so as to create a public landscape that can really give back to the society. In 2019, their Chulalongkorn Centenary Park won many landscape design awards such as WLA and ASLA. After that, green space design of ecological cities emerged one after another, which not only expanded the design ideas of landscape industry, but also provided new strategies for people to deal with climate deterioration.
We focus on landscape architecture industry and devote to spreading the excellent design ideas around the world. In today's interview, we introduce Kotchakorn Voraakhom, Founder of LANDPROCESS.
总策划:陈科君 / Producer: Kejun Chen
主编辑:陈科君、王兰芳 / Editor: Kejun Chen,  Via Wang
Interview: Mooool x Kotchakorn Voraakhom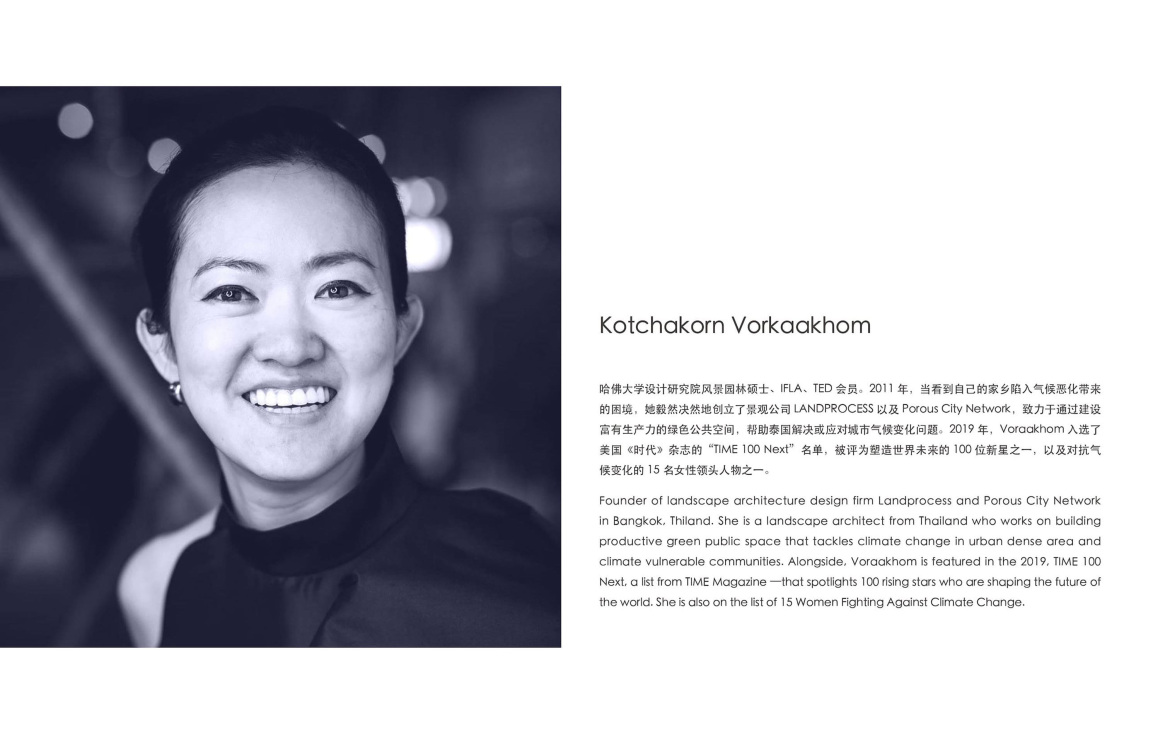 专访内容:
Q:请向中国的读者们简单的介绍一下您的工作经验和背景?
Please briefly introduce your work experience and background to Chinese readers.

我是一名来自泰国的景观设计师,目前正致力于通过建设富有生产力的绿色公共空间,来解决或应对城市气候变化问题。
创立景观公司的初衷是因为在2011年,泰国遭遇了史上最严重的洪灾,许多家庭都被困其中,包括我的家人。以前我从未想过我童年最喜欢的玩耍方式(和伙伴们在自家房前的洪水中划船),有时会是一场毁灭性的灾难。自那以后,我就开始在曼谷建设能够适应气候变化的绿色公共空间,希望将其作为城市缓冲地带,帮助抵御一年一度的风暴气候。而后来建设的朱拉隆功百年纪念公园,也不负众望,创造了一种新型景观设计策略,让曼谷面对未来环境的威胁时,重燃了希望之火。
朱拉隆功百年纪念公园是曼谷三十年来的第一个公共公园(基于泰国目前政策,土地为私有制),我们在这儿建造了一个面积约11英亩的"储水"空间,其倾斜式花园、湿地和蓄水池的组合,能够帮助吸收到近100万加仑的水,而且今年(2019)下半年,我们公司还将开放另一个面积达36英亩公共公园,它将打破记录成为亚洲最大的城市农业绿色屋顶公园。
建设公园可能听起来容易,但在曼谷建公园却并不容易。尤其我们在曼谷价值连城的核心商业地带,建设的防洪保水公共绿地——朱拉隆功百年纪念公园,还荣获了2019WLA、ASLA、德国设计委员会颁发的最佳地标建筑奖等各种奖项。
为了帮助自己的家乡改善洪水灾害、海平面上升及气候变化等不利环境,我创立了两个景观设计公司:Landprocess和Porous City Network。致力于通过帮助、参与和教育容易遭受气候变化影响的社区开发富有生产力的景观,提高东南亚城市生态恢复弹性,做能够解决城市环境问题的企业来回馈社会。
Kotchakorn Voraakhom is a landscape architect from Thailand who works on building productive green public space that tackles climate change in urban dense area and climate vulnerable communities.
Voraakhom never thought her childhood playtime favorite–boat paddling with friends in the floodwaters in front of her house–would later become a catastrophic disaster: In 2011, Thailand suffered its worst flooding in its history, stranding families, including Voraakhom's. In response, Voraakhom set out to populate the Thai capital with climate-resilient green spaces as buffers against the annual tempests. This park, the Chulalongkorn Centenary Park gives Bangkok a spark of aspiration of how the city can choose to address its threatened future while allowing new landscape architecture strategies to emerge.
After winning a contract to build Bangkok's first public park in three decades, she created an 11-acre "thirsty" plot capable of absorbing one million gallons of water through a combination of sloped gardens, wetlands and a retention pond. Later this year, her firm Landprocess will open a second 36-acre park featuring the biggest urban farming green roof in Asia.
Building a park may sound easy, but not in Thailand's capital, where Voraakhom and her team has turned an invaluable commercial property in the heart of the city, into a flood-proof, water-retention public green space, the Chulalongkorn Centenary Park, which won the 2019 World Landscape Architecture Award, American Society of Landscape Architects, The Best of the Best Award from Iconic Architecture by German Design Council and many more.
On a mission to save her hometown from floods, rising sea levels and climate change, Voraakhom founded landscape architecture design firm Landprocess and Porous City Network, a social enterprise working to solve urban environmental problems and increase urban resilience across Southeast Asia by aiding, engaging and educating climate-vulnerable communities about productive landscape design.
▼LANDPROCESS部分作品展示(点击阅读更多) Click here to read more projects of LANDPROCESS on mooool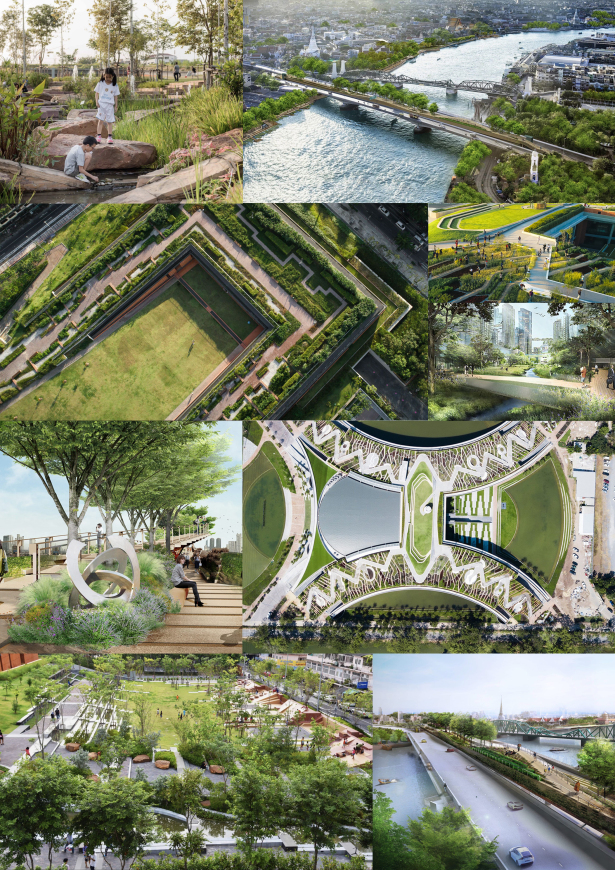 Q:在您的求学和工作经历中,有没有哪件事或哪位人,对你影响深刻,让你在回国后的设计中有所启发?
In your study and work experience, is there anything or someone that has had a profound impact on you and inspired you in your design after returning your country?
泰国人的传统用水方式带给了我很多景观设计的灵感。
我相信我们可以通过学习古人的智慧创造未来——要真正了解我们是谁,我们现在在做什么,就要了解过去以及过去的我们是如何悠然生活的。而从前我们是水陆两栖国家,我们的基础交通设施是自然运河系统,主要交通方式是划船。
国外的工作和学习经历,让我对我成长的故乡有了更好的理解和新的视角。事实证明,我们除了要不断追求创新以外,还要在古人的智慧中寻找答案——不是在我们过度发展的工业时代,而是在我们从前那个与自然和谐相处的阶段中寻找。而且我坚信,有行动才有未来。
如果一定要我选出一个激励我的人,那一定是我们敬爱的已故泰国国王普密蓬·阿杜德(Bhumibol Adulyadej)。他的许多皇家项目都与水和农业有关,这些项目也体现出了他理解的延续我们文化和福祉的重要方式,而不是一味地无限发展、重复浪费。尽管这些系统很复杂,但国王陛下总是能够很好地理解自然的概念,并以简单的释义教导我们。我从陛下那里学到了很多,他不仅激励了我,而且将永远激励整个国家。
I get a lot of my inspiration in landscape design from Thais' traditional way of living with water.
I believe the future is in the past–to really understand who we are and what we do here and right now, we need to learn who and how we were back then and there. Before, creating a life on a land that switched between wet and dry seasons, our culture was amphibious. Our infrastructure was natural canal systems and our main mode of transportation once paddle boats.
After returning from my work and study abroad, I've gained a better understanding and newfound perspective of the place I grew up in. It turns out that, above our constant yearn for innovation, the answers lie in our ingenious past–not in the history of our excessive industrial development, but in the ways we lived harmoniously with nature. I strongly believe needs to be realized into action.
And if I had to choose a person who inspired me, it would be our beloved late King Bhumibol Adulyadej of Thailand. Many of his royal projects were associated with water and agriculture, demonstrating the ways in which he understood their significance in our culture and well-being instead of copy-wasting unlimited developments. Even despite the complexity of these systems, His Majesty was always able to digest the concepts of nature and teach it to us in simple definitions. I've learned so much from His Majesty, who was not only an inspiration to me, but forever an inspiration to the whole nation.
Q:LNDPROCESS一直致力于城市生态恢复,在泰国打造了一系列的抗洪公园,在建筑物和城市农场上建造更多的绿色屋顶,在这一些列的设计内容中,有没有一个共同点,是你一直在项目中所追求的?
As we all know, LANDPROCESS has been committed to restoring urban ecology. You have built many flood prevention parks, green roofs on buildings and urban farms in Thailand. Is there any common point that you have been pursuing in this series of design works?
我们所有的设计都体现了"与水共存"的重要性,当然体现与水和谐共处是一方面,另一方面自然也包括应对紧急气候下的未来不确定性。快速化的现代进程,已经让我们的城市变得像瘫痪的身体,不再具有适应灾难,甚至是季节变化的弹性和灵活性,土地不再具有渗透性,所有的农田不能吸收任何多余的气体和水分。
为了解决这些问题,我正在努力创造一种结构式设计解决方案,来帮助恢复土地渗透性,促进可持续发展,改善人民生活环境以及加强人类与自然之间的交流和理解。
All our work demonstrates the significance of "living with water", not only in the sense of harmonious coexistence, but also in terms of handling its future uncertainties during this climate emergency. In our modern world, our cities have become like paralyzed bodies, no longer resilient or flexible to seasonal changes, let alone disaster. Our lands are no longer porous, all our agricultural fields unable to breathe any air or absorb any water.
To address the issue, I am working with the land to bring back its porosity and create a language of physical design for development which offers a solution to more sustainable development and improved well-being, as well as communication and understanding between humans and nature.
▼可呼吸可渗透的绿地公园 Pathumwananurak Park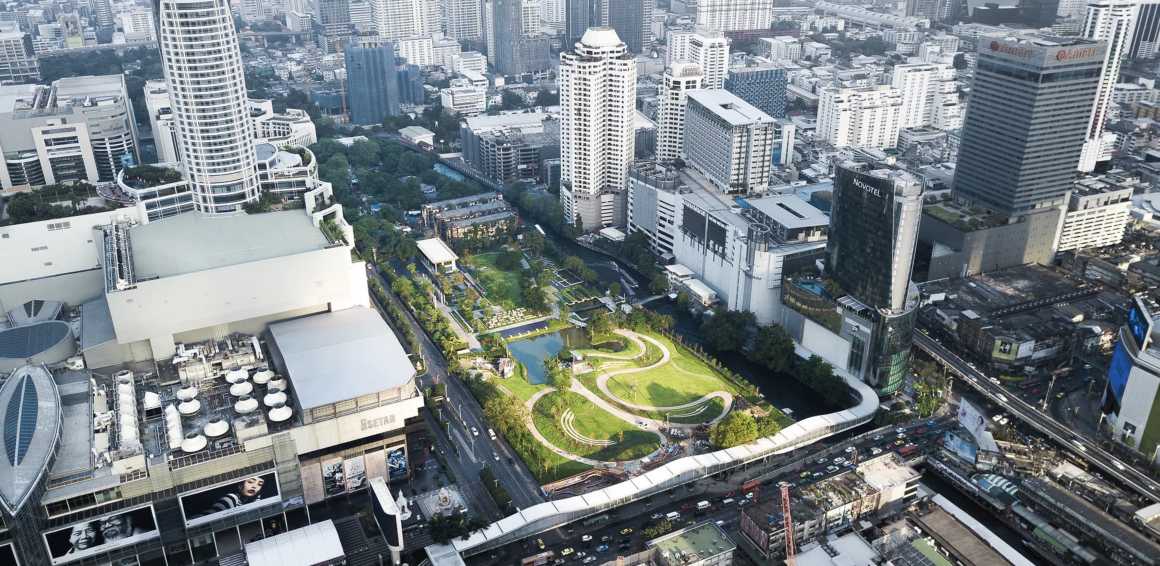 ▼曼谷屋顶康复疗养花园——将盐水袋转变为可循环利用的容器,用于垂直绿化 Sookwana Healing Garden – The saline bags switch from disposable to recyclable containers for planting to create a tree wall
Q:去年您向我们深度分享了朱拉隆功百年纪念公园,有读者问,储存雨水过后的绿地多久可以恢复使用呢?
Last year, the Chulalongkorn Centenary Park project, which your company deeply shared with our website has been favored by many readers. Some readers also asked, how long will it take for people to reuse the green Spaces after storing rainwater?
这就需要公园的维护人员来管理了。可以在储存水后,等待雨水自然渗入地下,也可以在公园储存了过多的水时,等到公共污水处理系统可用时将其排放出去。
该公园实际上遵循的是"猴脸"的设计概念。"猴脸"是泰国国王普密蓬·阿杜德(Bhumibol Adulyadej)首先提出的一个术语,是他为"新理论农业"其中一部分而创新的蓄水系统。就像猴子将多余的食物储存在脸颊中,当它们饿了的时候再拿出来咀嚼吃掉——公园也可以储存洪水,供以后需要的时候使用。
That is up for the park's maintenance crew to manage. They can choose to store the water and wait for it to seep into the ground, or if the park holds too much water, they can also wait to drain it out into the public sewage system when it's available.
The park actually follows a concept called the "monkey cheek", a term coined by King Bhumibol Adulyadej of Thailand for water retention systems he innovated as part of the "New Theory" agriculture. Just like monkeys when they fill up their cheeks with excess food–in which they keep, then chew and eat later when they're hungry–the park stores the water for later use whenever it's needed.
▼朱拉隆功百年纪念公园 Chulalongkorn University Centenary Park
Q:你在15年设计的暹罗绿色天空的屋顶农场,现在怎么样了?据了解,是您促成了这个项目,为什么要在繁华的购物中心设计城市农业的试点?
How is the Siam Green Sky that you designed in 2015 working now? It is understood that you contributed to this project, why did you design the pilot of urban agriculture in the bustling shopping center?
暹罗绿色天空是位于曼谷市中心商业区的一个城市农业学习中心。作为一个城市农业模型,它通过将农业引入人口密集和高度发达的城市地区,向人们展示如何充分利用城市屋顶上的灰色空间来减少城市热岛效应。
泰国起初是一个农业型社会,如今的城市发展,帮助我们脱离了这种农耕式过去,该农业中心项目就是基于这种现代城市化现状,向人们展示了城市中未利用空间创造绿色环境的潜力。
这里的户外公共露天剧场同时具有娱乐、教育和宣传的作用,可以用于举办各种研讨会,让人们了解食物是如何从土地中来到餐桌的。还可以种植各类蔬菜瓜果农作物,吸引当地的鸟类和昆虫传粉,这些鸟类和传粉昆虫连同他们的食物来源原本是根本不可能出现在现代城市中的。暹罗绿色天空距离市中心的高端商场和超市仅几步之遥,它不仅改变了城市居民对农业和饮食的一贯看法,也帮助将景观设计纳入了改善这座不断发展的混凝土城市的环境解决方案中。
Siam Green Sky is an urban farming and agricultural learning center in a commercial district at the heart of Bangkok. It serves as a model showcasing a way to reclaim unused spaces on concrete roofs to reduce urban heat island effect, as well as introduce urban agriculture to densely-populated and highly-developed urban areas.
Originally formed upon an agrarian society, Thailand has today drifted and grown disconnected from its humble past. This project demonstrates the potential of wasted spaces in the city to create greenery in an urban environment, in this case as an urban agricultural center.
The place also provides recreation, education, and advocacy. With an outdoor amphitheater, the center is open to the public to attend workshops and learn about how food gets from the ground to the table. Also home to a variety of edible plants, it also attracts native birds and pollinators which have become a rare find in the city along with their food sources. Just steps away from high-end malls and supermarkets in the city's heart, Siam Green Sky has brought about a change in general perception on agriculture and diet among urban dwellers, putting landscape architecture design in an unfolding solution for this growing concrete city.
▼将农业引入城市,城市灰色空间变生态农场 Siam Green Sky: Introducing Agriculture into Cities, Changing Urban Grey Space into Ecological Farm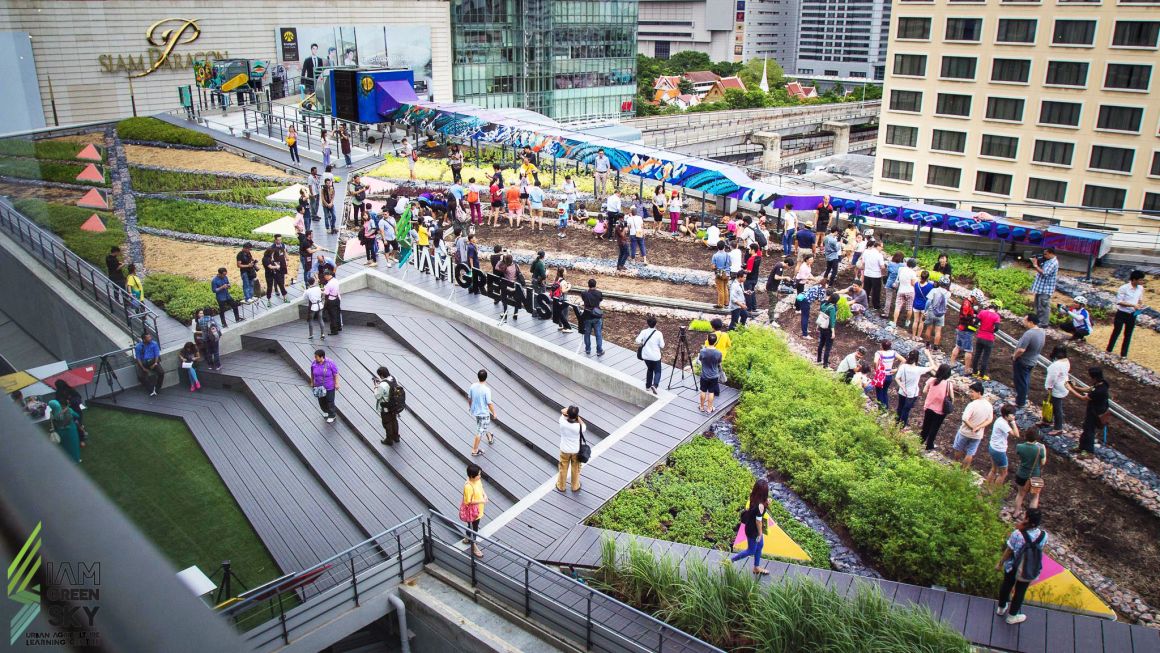 Q:公园作为绿色城市基础设施,在做这类大型的综合型项目时,您是如何展开您的工作的?能否举例说明?
As a green infrastructure of the city, how do you carry out your work in this kind of large-scale comprehensive park project? Can you give an example?
在项目中,景观通常是作为规划的一部分,建筑的一部分,或工程的一部分而出现,它们是综合的,而不是互相独立的。景观设计师不仅要学习整个系统,还要学会适应变化,保持灵活性。我非常认同我们需要进行系统性地思考,但实际上真正做起来取决于设计师如何看到这个机会,以及选择以何种方式执行,而这,就叫做设计。
基础设施就是一种系统。因此,我设计公园所做的景观干预,与其所在城市周围的所有混凝土建筑相比是非常小的——只是用绿色来对抗灰色。我这里所说的大小,不是指实际大小,而是指它们所带来的影响。它可以是很小的东西,但它必须对整个系统泛起影响的涟漪。
In a project, landscape architecture is part of the planning, part of the construction and also part of the engineering, integrative rather than segregating. Not only learning the system, but also adapting to changes and staying flexible is in the job description of landscape architects. I do agree that we need to think systematically but implementations are really dependent on how one can see the opportunity and choose to execute it. Yes, it's called design.
An infrastructure is a system. So compared to all the concrete buildings we have going on around the city, my park, my implementation is really small–in order to fight the gray with the green. When I speak about big or small, I don't mean the size, but instead, the impact. It can be something small, but it has to leave an impact that ripples throughout the entire system.
Q:作为影响泰国社会变革的最佳建筑师之一,您认为您的作品对社会变革带来了哪些影响?
As one of Thailand's best architects of impacting social change. What impact do you think your works have on social changes?
作为建筑师,我们如何做设计、使用什么材料以及如何延续我们所作,确实会对社会产生很大的影响。毕竟,建筑师为人们留下的可能会是不朽的建筑,甚至远远超过了他们的时代,这可能是双向的,或好或坏,但我会尽我所能保持它更好的一面。多考虑生态,多种植本土植物总是不会错的。
人们的健康幸福与生活环境息息相关,居民的健康侧面反映了城市的环境状态。我希望我们能通过景观设计这种以自然为中心的生态式解决方案,在我们现在人口密集的工业化城市中,为大家,也包括我自己和我所爱的人带来更好的生活环境。
同样,我们也要记住那些受气候变化影响最大的人群的声音。为气候正义而战,缩小日益扩大的不平等差距,是我们共同的奋斗目标。
As architects, we really do have a lot of impact on the society based on how we design and what materials we utilize and how our work will last through time. After all, architecture leaves everlasting structures behind for people throughout their lifetimes and well beyond their generation. That can go both ways, for the better or for worse, but I try my best to keep it on the better side. And you cannot go wrong with planting more trees. Native one.
People's well-being are inevitably connected with their environment and their health is a reflection of their cities' state. I want my work to leave the kind of impact that will better the quality of living for people, and that includes myself and my loved ones, by embracing natural and ecocentric solutions in the dense and industrialized cities we now live in.
Just as important, is to remember the voices of those most affected by climate change. And so, it has become part of our job description to fight for climate justice and narrow today's growing inequality gap.
▼Kotchakorn Voraakhom TED演讲:如何将下沉的城市改造成能够抵御洪水景观 Kotchakorn Voraakhom TED Talks | How to transform sinking cities into landscapes that fight floods
Video copyright TED: https://www.ted.com/talks/kotchakorn_voraakhom_how_to_transform_sinking_cities_into_landscapes_that_fight_floods
Q:在泰国由城市居民和保护主义者发起的一系列公共运动,要求当局为公园和娱乐场所提供国有土地,您也参加了这项运动。可否跟我们聊聊你对这件事的看法?
You have also participated in a series of public campaigns in Thailand by urban residents and conservationists to require the authorities to provide state-owned land for parks and entertainment places. Can you tell us your opinion on this matter?
公共空间应该是为公众服务的,当企业囊括这些公共财产为己有去建造更多的混凝土建筑时,我们把这些土地还给人民变得比以往任何时候都重要。尤其我们快速的城市发展使我国的城市每天都在下沉,总有一天会没有立足之地。
增加公共绿地不仅对城市居民有好处,对商业也有好处。让自然回归城市有助于人们与自然重新建立联系,也会提高城市生产力、增加美感,改善城市肌理等等。
作为一名景观设计师,我只是在为解决城市问题贡献自己的一份力量。无论是在应对气候危机还是解决社会不平等问题上,任何行业的任何人都可以利用自己的技能和知识为每个人创造一个更美好的世界。
Public space should be for the public, and so as corporations take up these properties to build more concrete buildings, it's become more crucial than ever for us to give back these lands to the people. Our rapid urban development is sinking our cities everyday, and one day there will be no ground left to stand on.
While turning increasing public green space is good for urban dwellers, it's also good for business. Returning nature to the city helps reconnect people with it, but it also boosts productivity, adds aesthetics, improves city mapping and lots more.
I am only doing my part in contributing to the solution as a landscape architect. Whether it's in confronting our climate crisis or tackling social inequalities, anyone in any profession can use the best of their skills and knowledge to create a better world for everyone.
▼把土地还给公众——在朱拉隆功大学百年纪念公园举行的音乐活动 Give back these lands to the people – A music activities held in Chulalongkorn University Centennial Park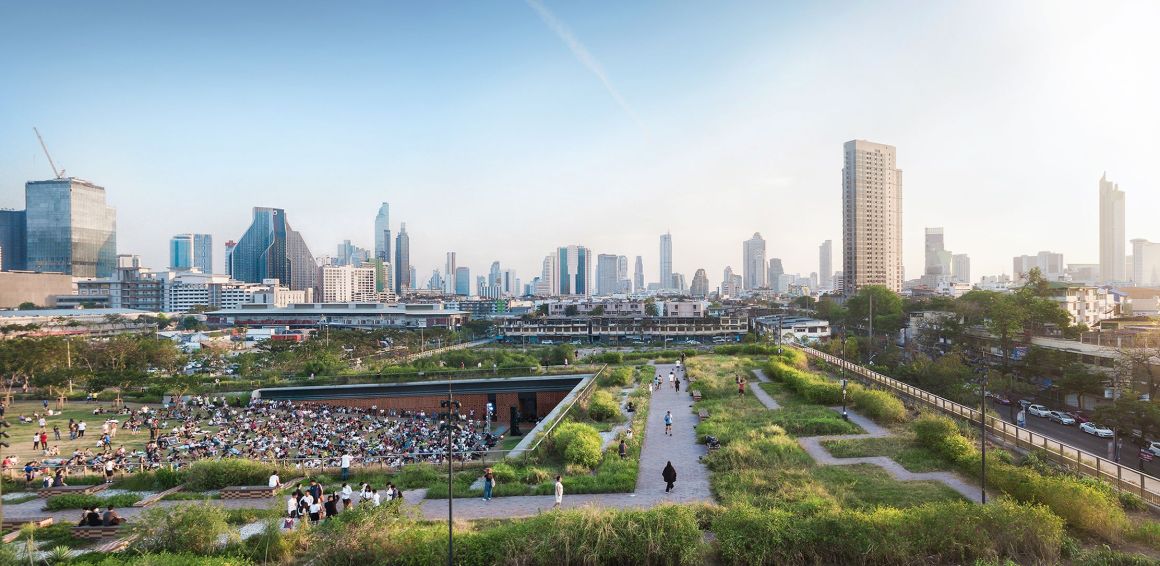 Q:在工作期间,您还一直在朱拉隆功大学担任客座讲师,您是从哪方面引导和培养学生?
We understand that during your work at LANDPROCESS, you have also taught landscape design at Chulalongkorn University since 2010. So, which aspect do you pay more attention to guiding and training students?
我们的青年是我们的未来,所以我认为,如果我不参与塑造新一代的年轻设计师,那么我作为一名景观设计师的人生将是不完整的。每当我把学生带到易受气候影响的地方、了解和学习邻国的环境,再回来探索我们自己的城市,发现更多其隐含的风险,我都感到很幸福、很满足。
当然我认为我们还需要一种特殊的设计学术体系,让学生们学会掌握新技能的同时,开拓他们的思维,让他们变得更敏锐,成为新一代更慷慨、更勤奋的景观设计师。我希望他们可以潜心钻研自己热爱的职业,也希望他们记住,随着一代又一代的变化和发展,这个世界除了他们所学的领域之外,还有无数的挑战等着他们去参与。
Our youth are our future, and so I don't think my work as a landscape architect would be complete if I am not part of shaping the new generation of young designers. It's always fulfilling to bring my students to climate-vulnerable communities and teach them about our neighboring countries, while enabling to come back to explore and learn more about their own city and its risks.
I do think there needs to be a particular design academic system which equips students with news skills that open up their minds to become not only sharper, but also more generous and hard-working landscape architects on ground. While they can dive deep into excelling at the professions in which they're passionate about, I also want them to remember that the world, as it changes and unfolds from generation to generation, holds endless challenges outside of what they learned about their field for them to take part in.
Q:你们最近是否有参与什么有趣项目,能否给大家分享?
Have you participated in any interesting projects recently? Could you share them with us?
我们在泰国国立法政大学的Puey学习中心一经建成,将是亚洲最大的绿色屋顶项目。这同样是一个坚持以人为本和可持续性发展设计原则的项目,位于曼谷北部,原场地是一片沼泽和洪泛平原,设计旨在恢复过去"兰西特沼泽"的生态及其生物多样性,供下一代学习。
Our Puey Learning Center at Thammasat University, once it's completed, will be the biggest green roof in Asia. The Rangsit Campus where it's built is designed under the core values of people and sustainability. Located in Upper Bangkok, originally filled with marshlands and floodplains, the Thammasat University Park aims to reclaim the ecology of the "Rangsit Swamp" of the past, and revive its biodiversity for the next generation to learn from.
▼亚洲最大的绿色屋顶-泰国法政大学Puey学习中心 The biggest green roof in Asia – Thammasat University Rooftop Farm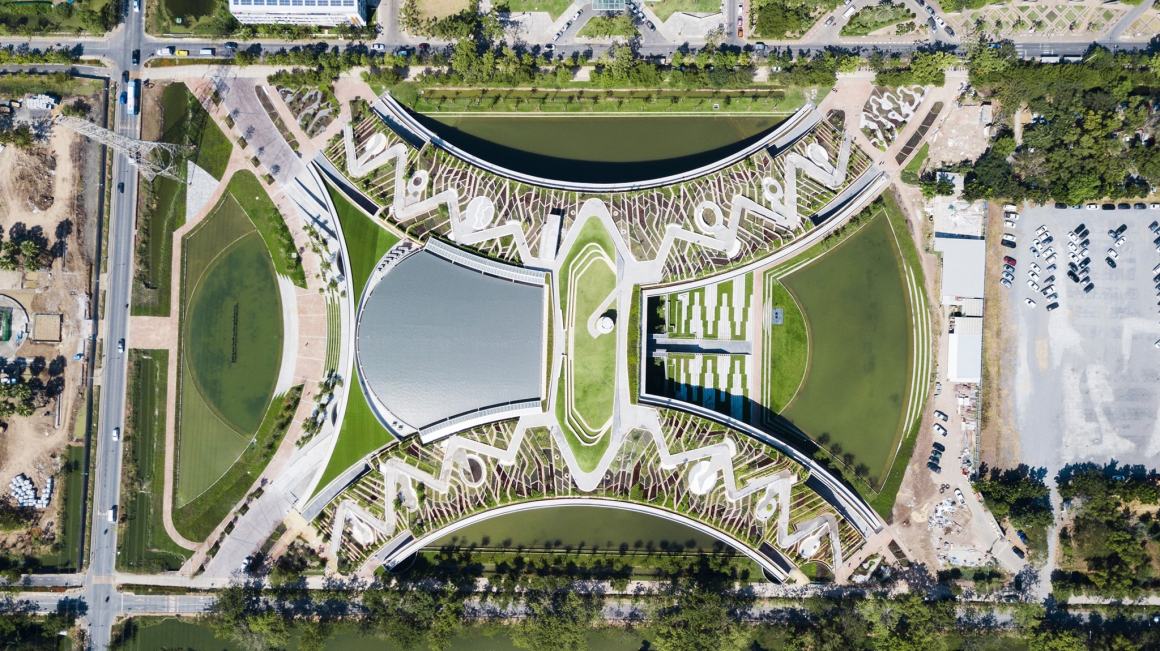 ▼项目视频 The Video from Youtube: https://www.youtube.com/embed/gxP3rhLl_iA
我们把这个36英亩的地块变成了一个能够储存超过250万加仑水资源的建筑公园。设计把建筑看作是一座山,建筑表面是水稻梯田,我们模仿农民的农作方式,在陡峭的地形上种植粮食,从而减缓降雨径流。公园里由四个蓄水池组成的水循环系统,分别在绿色屋顶的每一个翼面上容纳四个方向的径流和洪水。
该屋顶的层叠梯田同样也可以服务于社会,增加校园生活和活动空间。公园的温室开发段已于2019年12月结束。
To do so, we turned a 36-acre plot into a structure incorporating a building and park able to store more than 2.5 million gallons of water. The design concept resembles the architecture as a mountain, whose skin are the rice terraces mimicking farmers' agricultural methods of slowing rain and runoff to grow food on steep terrains. With a water system of four retention ponds, the park holds runoff and floodwater in all four directions at each wing the green roof.
The cascading features were also meant to serve social functions and increase life and activities on the campus. The greenroom phase will finish in December 2019.
▼泰国法政大学Puey学习中心平面图 Master Plan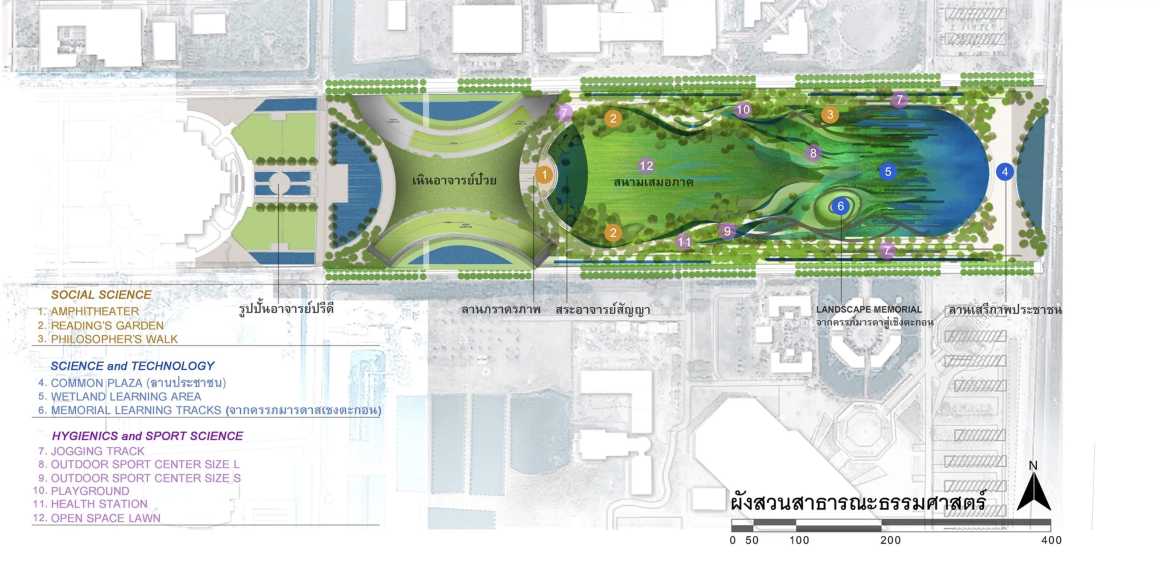 ▼屋顶雨水径流管理 Roof Rainwater Runoff Management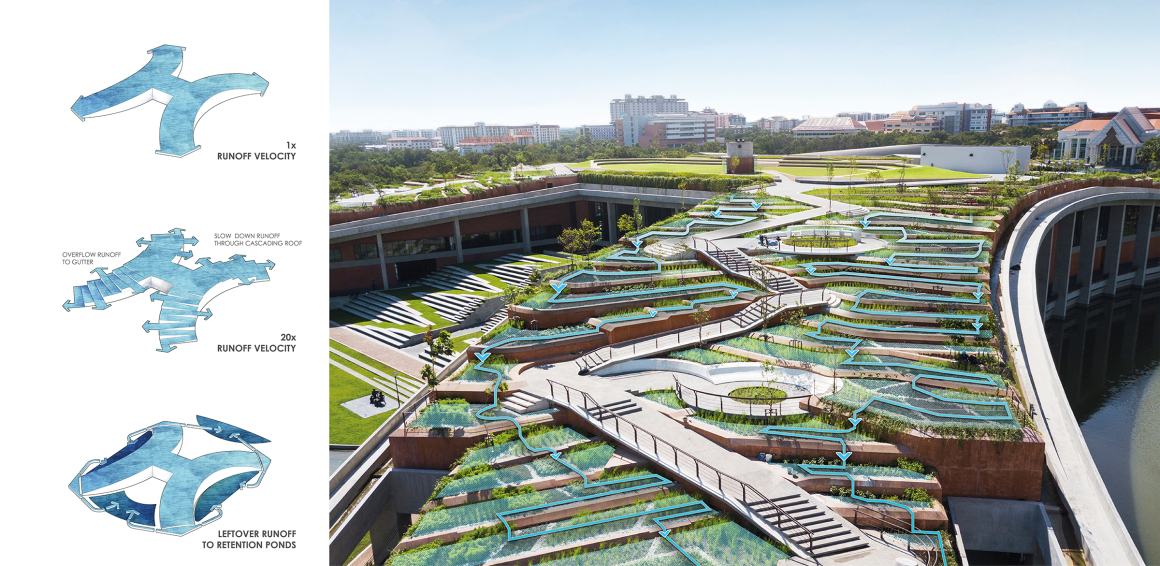 ▼水稻和蔬菜的种植加强了土壤的肥沃度,减少了暴雨期间的水土流失,并有效防止从排水系统和自然水体中进入的污染径流和空气中的毒素。The cascading layers of rice and vegetable plantations enrich the soil's nutrition, reducing the amount of soil mass lost during heavy rainfall. This prevents polluted runoff as well as particulate airborne toxins from entering drainage systems and natural water bodies.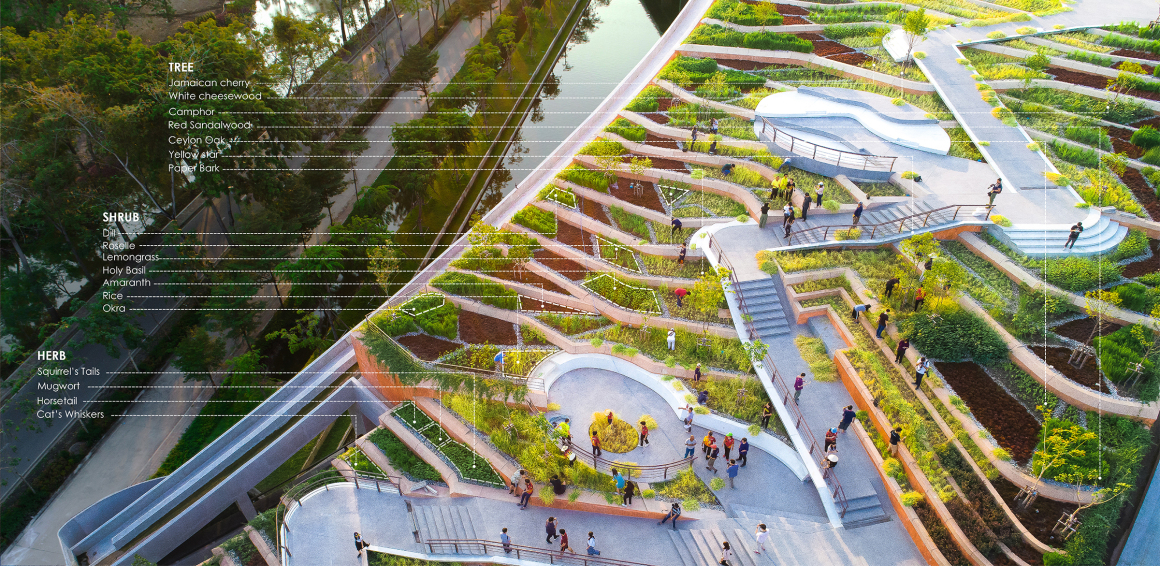 还有,我们另一个即将完成的激动人心的项目是,一个根据失败的政府大型基础设施项目更新改造而来的绿色人行天桥。该项目与BMA(曼谷都市管理局)和UDDC(城市设计和发展中心)、当地社区,以及其他几个合作伙伴一起合作开发,它将是泰国的第一个桥梁公园项目。这座城市新地标也预计在新年前揭开面纱,敬请关注!
Another exciting project we're about to complete is a green pedestrian bridge, which we created by revitalizing a failed government mega infrastructure project. Collaborating with the BMA (Bangkok Metropolitan Administration) and UDDC (Urban Design and Development Center), along with several other partnerships and local communities, this project will be the first bridge park in Thailand. The city will unveil this new landmark by New Year's. Stay tuned!
▼新作:泰国的第一个桥梁公园项目-连接城市两岸的新曼谷公共绿色空间 Phra Pok Klao Sky Park-New Bangkok Public Green Space Connecting the Two Sides of the City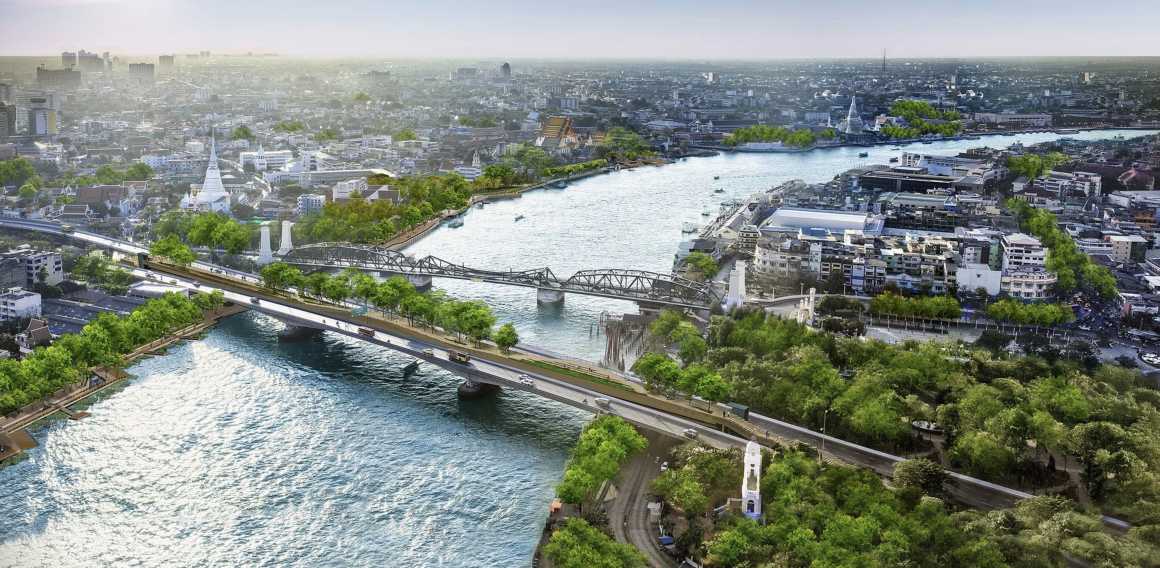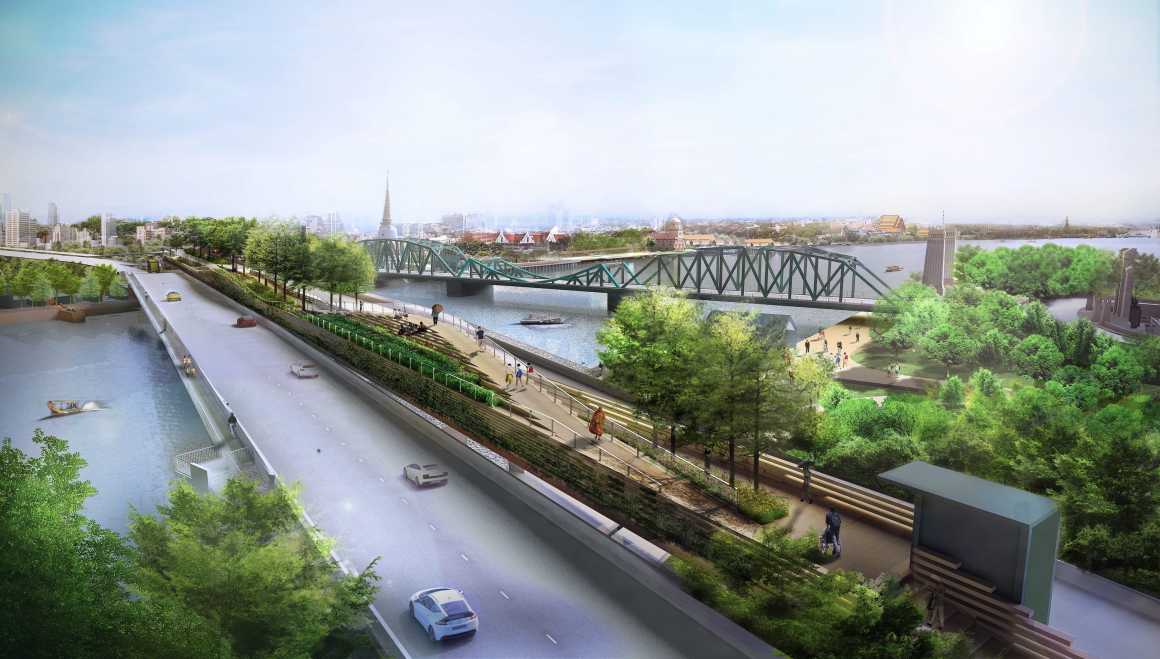 Q:作为城市景观人,您的忧虑是什么?
As an urban landscape architect, what are your worries?
我担心的是我们留给下一代的世界。我担心他们会面对像今天气候变化这样的挑战,以及如果我们现在不改变,它们还会加剧多少。既然所有这些问题都是人类造成的,那我们也应该尽最大努力来解决它。但恐怕我们很多人已经忘了这一点。
I am worried about the kind of world we'll be leaving for our next generation. I'm worried about challenges like our changing climate and how much they can exacerbate if we don't adapt today. And since humans have caused all these problems, we, too, should be the ones doing our best to fix it. I'm afraid we are forgetting that.
感谢LANDPROCESS 团队对本次采访的深度配合!Thanks to the LANDPROCESS Team for their deep cooperation in this interview!   
更多 Read more about:LANDPROCESS