本文由 John Wardle Architects 授权mooool发表,欢迎转发,禁止以mooool编辑版本转载。
Thanks John Wardle Architects for authorizing the publication of the project on mooool, Text description provided by John Wardle Architects.
John Wardle Architects:位于悉尼市中心齐本德尔(Chippendale)的凤凰中央公园是一个艺术表演空间,杰出的艺术慈善家Judith Neilson期望这里是建筑与艺术的交融地,让空间相互协同,使视觉艺术与表演艺术相互交织。两家建筑设计事务所将设计结合在一起:John Wardle Architects设计了东翼的画廊,Durbach Block Jaggers设计了表演空间,各部分由庭院和花园集中连接。
John Wardle Architects: Phoenix Central Park is a gallery and performance space located in Chippendale, in inner-city Sydney. The vision of remarkable arts philanthropist Judith Neilson, the building is a partnership of architecture and artistic fields. The intention is to have the spaces working together, to have visual arts interwoven with the performing arts. Two architects bring the design together: John Wardle Architects designed the gallery in the east wing and Durbach Block Jaggers designed the performance space. The components are linked centrally by a courtyard and garden.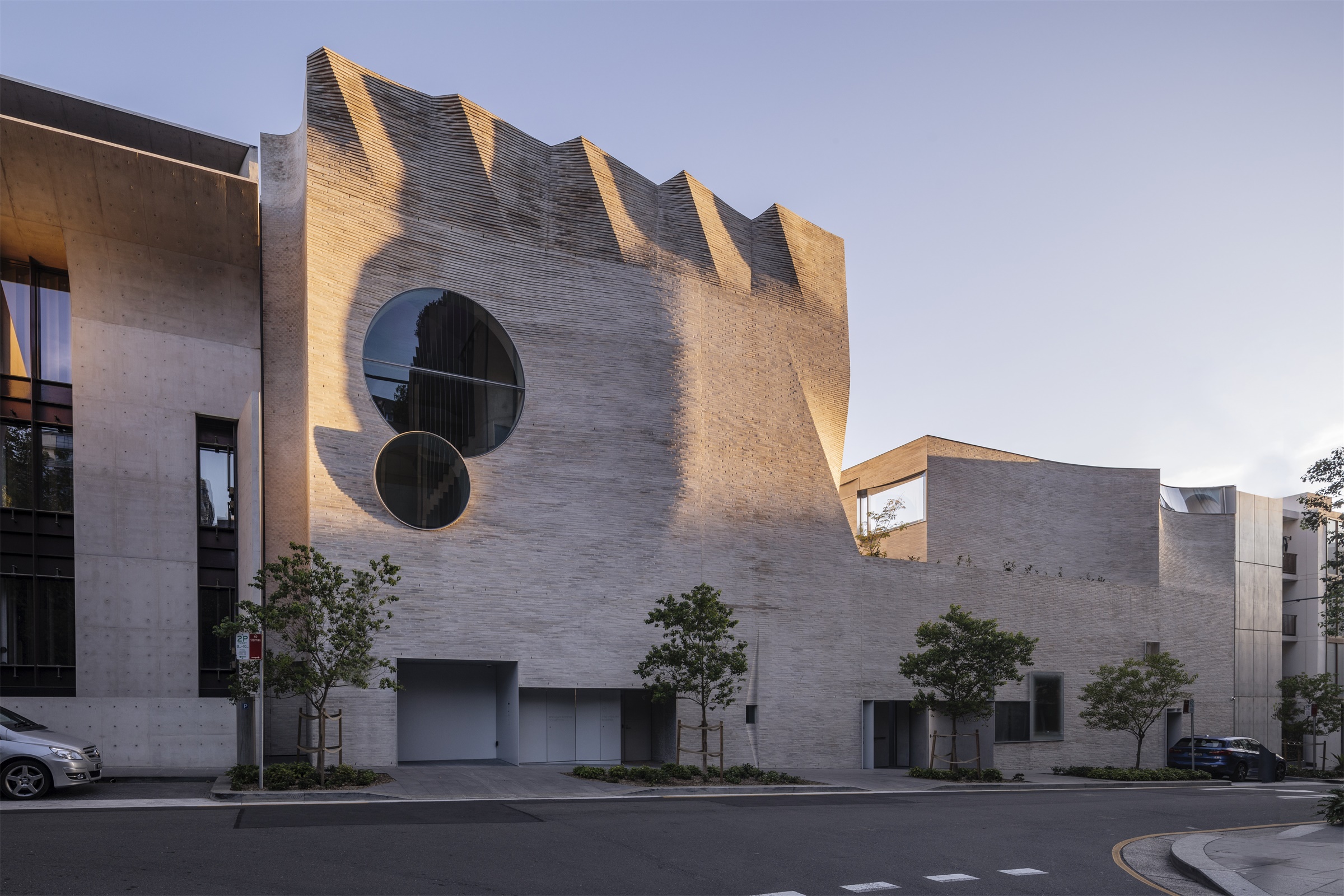 本质上来说,为控制光线、湿度、温度和声音,画廊和剧院都需要与外界分开,这使得每位建筑师都能在自我世界中探寻属于自己的材料和形式语言。因此,画廊和剧院通过它们的功能和接近度而处于永久的对话之中。一层包罗万象、连续不断的砖砌外墙将画廊和剧院紧密联系起来,这层建筑表皮由两位建筑师一起设计。经过不断交流和讨论,反复碰撞推敲,整个过程既严谨又不失风度,带有不敬却又相互尊重、幽默风趣。
这个外表面将建筑内部的特质显露出来,并在窗户、门廊和入口处更加凸显。画廊和剧院内外之间的对话中有一个关键元素,即探索一座建筑如何同时成为两种事物,可以说是两者兼而有之。
Inherently, both gallery and theatre need to be separated from the outside world to control light, humidity, temperature and acoustics. This allowed each architect to explore their own language of material and forms within their interior worlds. As such, gallery and theatre are in perpetual dialogue through their function, and their proximity. They are bound together by a continuous external skin of brickwork that encloses everything – a skin that was designed by both architects working together, iteratively, with conversation and debate, both rigorous and polite, with irreverence, humour and respect.
Through this exterior surface the idiosyncrasies of each interior emerge and erupt in windows, doorways and portals. A defining element exists in the dialogue between gallery and theatre, inside and outside – an exploration in how a building can be two things at once, both/and as it were.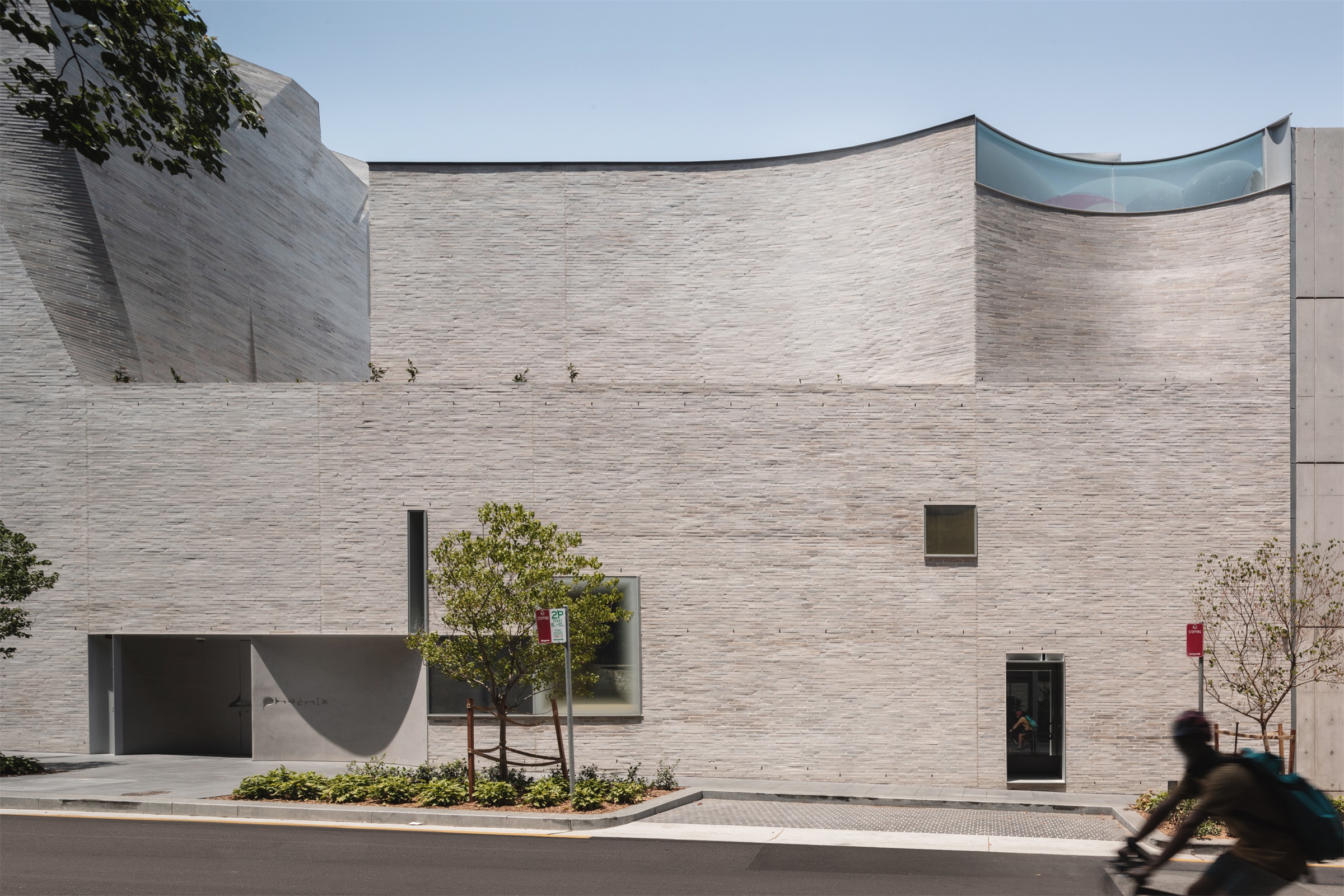 画廊 The Gallery
这既不是住宅博物馆也不是公共画廊,这一系列空间编排了这样一段鉴赏旅程:从展示单个作品的私密房间到展示收藏品的开敞区域。它由现浇混凝土墙和被楼梯和桥互联的一堆不同的体块空间构成,每个体块都作为一个为艺术而设的个体,但也保留了整体的意识。从上面引下的自然光是一处惊喜,楼梯所使用的创新材料吸引着好奇的人前来参观。穿过低宽空间的一片天窗在黑暗氛围中提供了戏剧性的宣泄,天窗棱角分明,它将光线反射并过滤成柔和的"模糊"光。
Neither house museum nor public gallery, this sequence of spaces choregraphs a journey from intimate rooms for the display of single works to expansive areas to showcase collections. Cast with walls of concrete painstakingly made on site, it comprises a complex stack of differing volumes interconnected by stairs and bridges. Each volume acts as an individual setting for art but also retains an awareness of the overall ensemble. Unexpected views, natural light drawn from above, and stairs of material inventiveness attract the curious. A field of skylights set across a low wide space provide dramatic release from the darker atmosphere of its lower realm. Angular and sharp, they reflect and filtering the light into a soft, 'fuzzy' glow.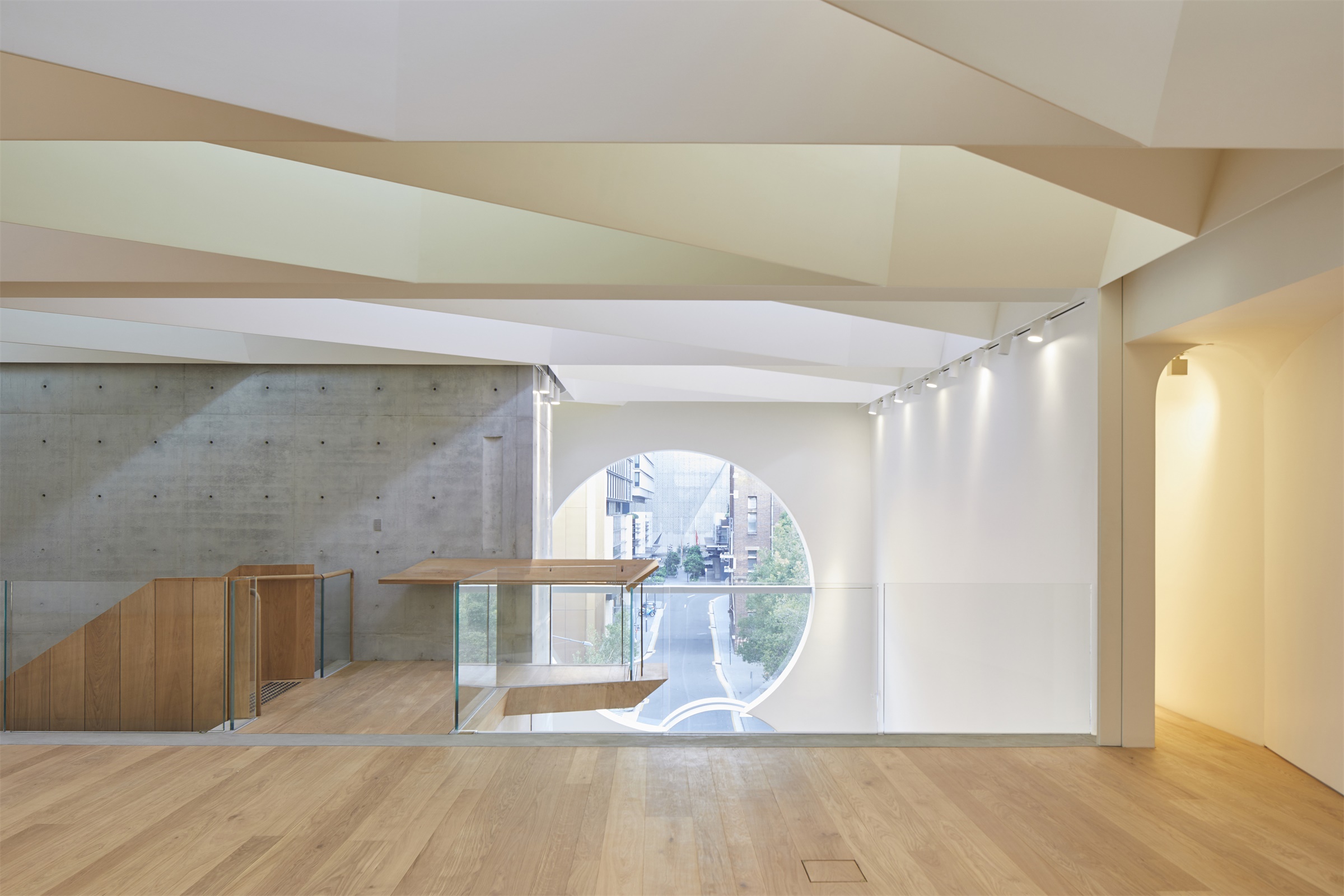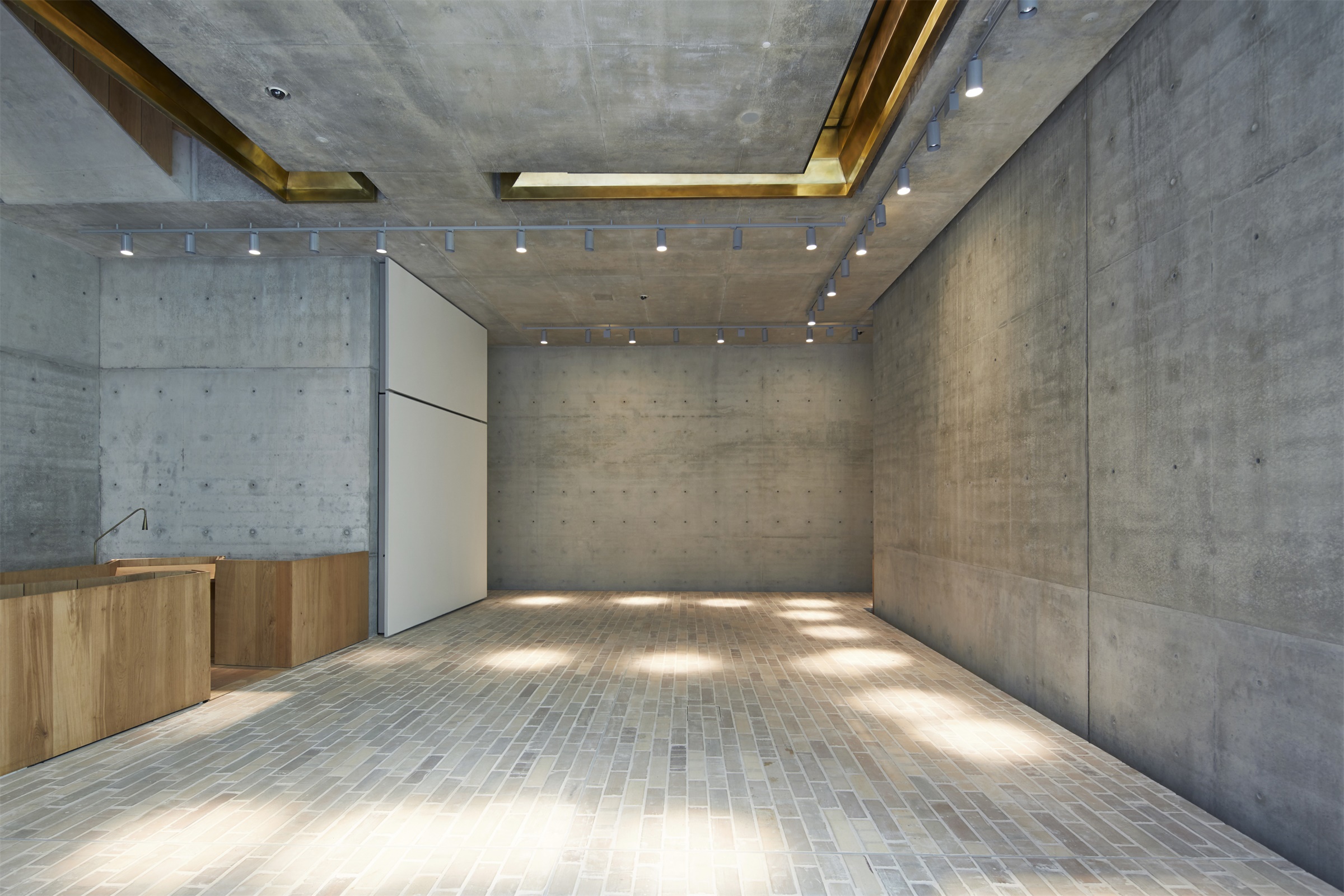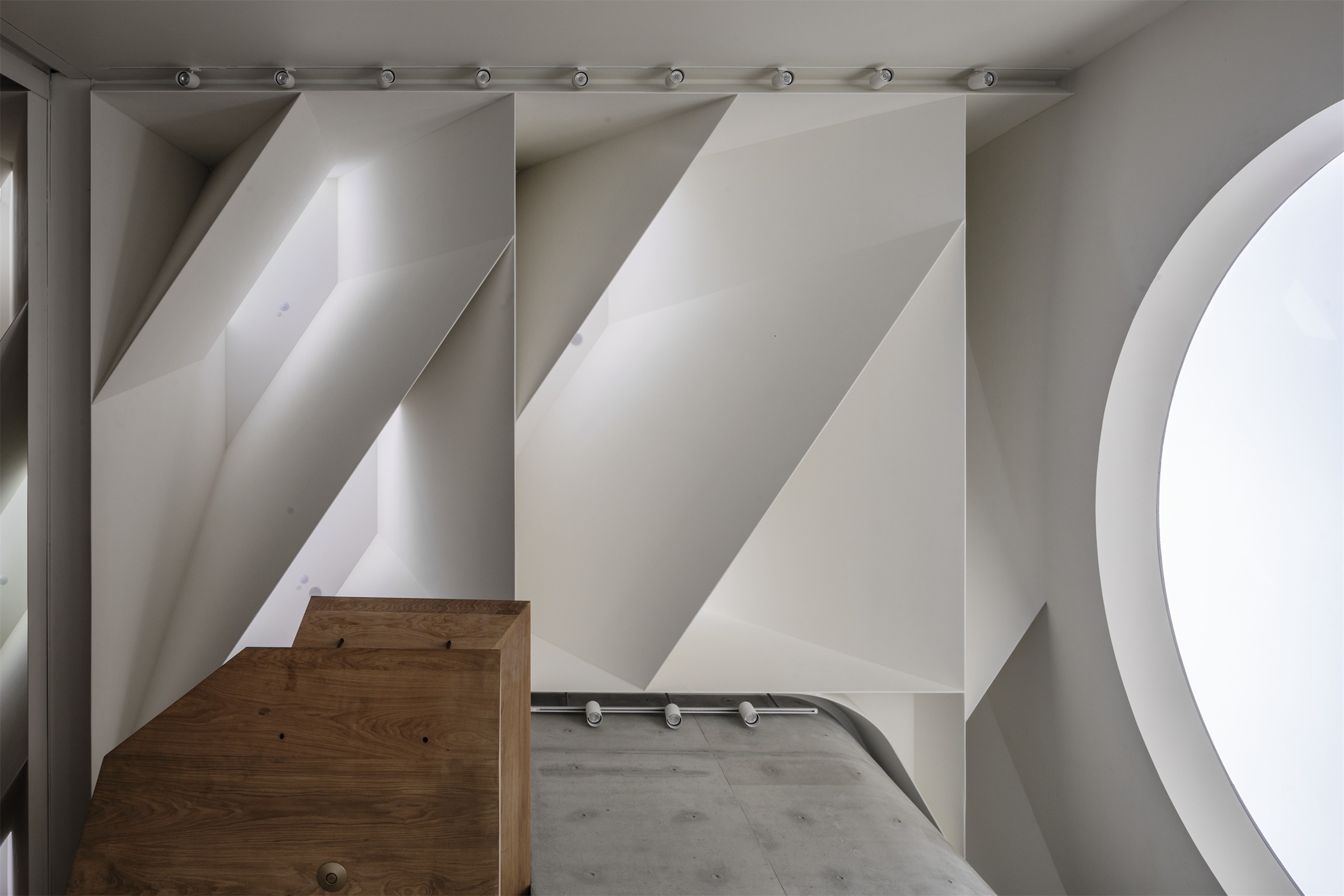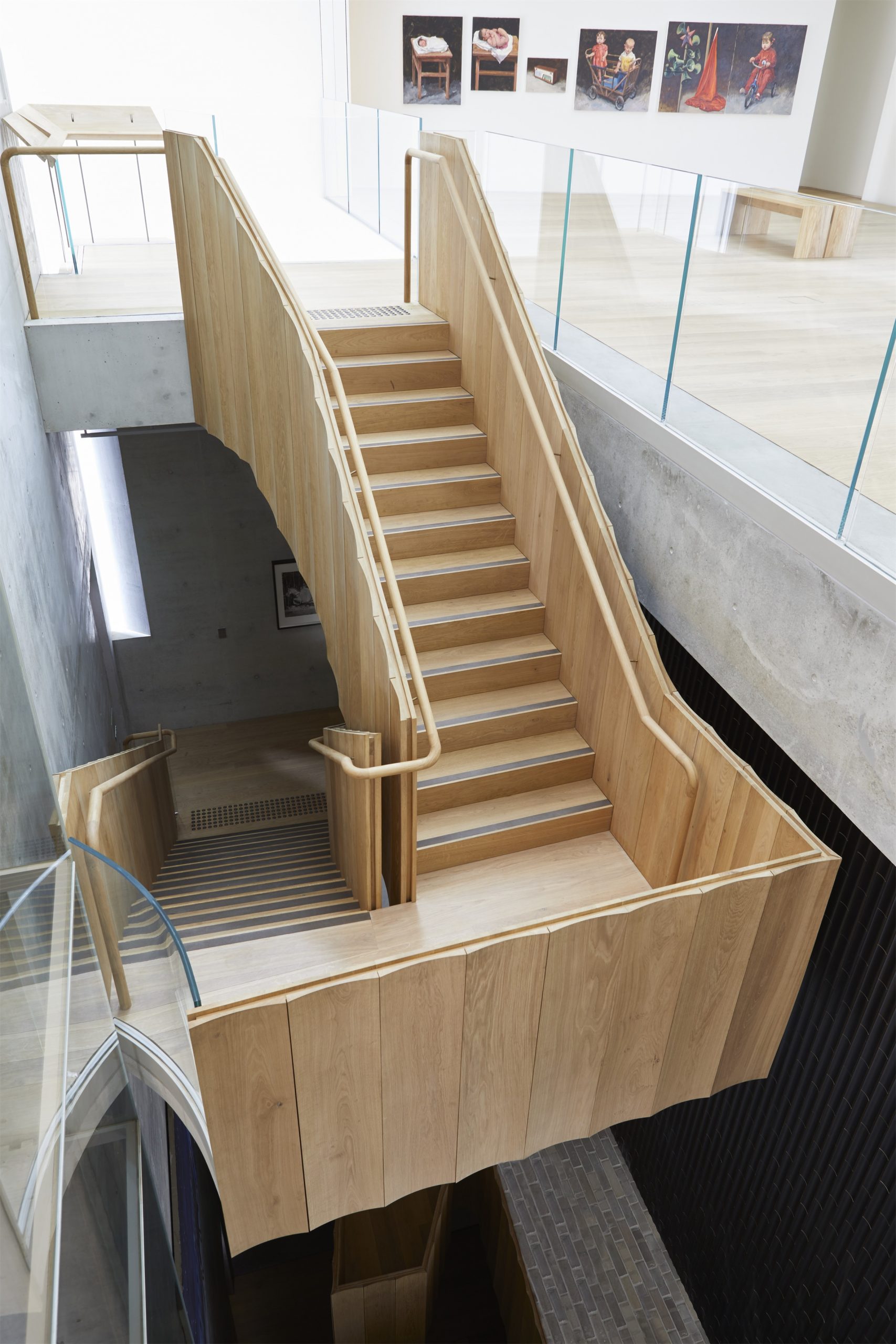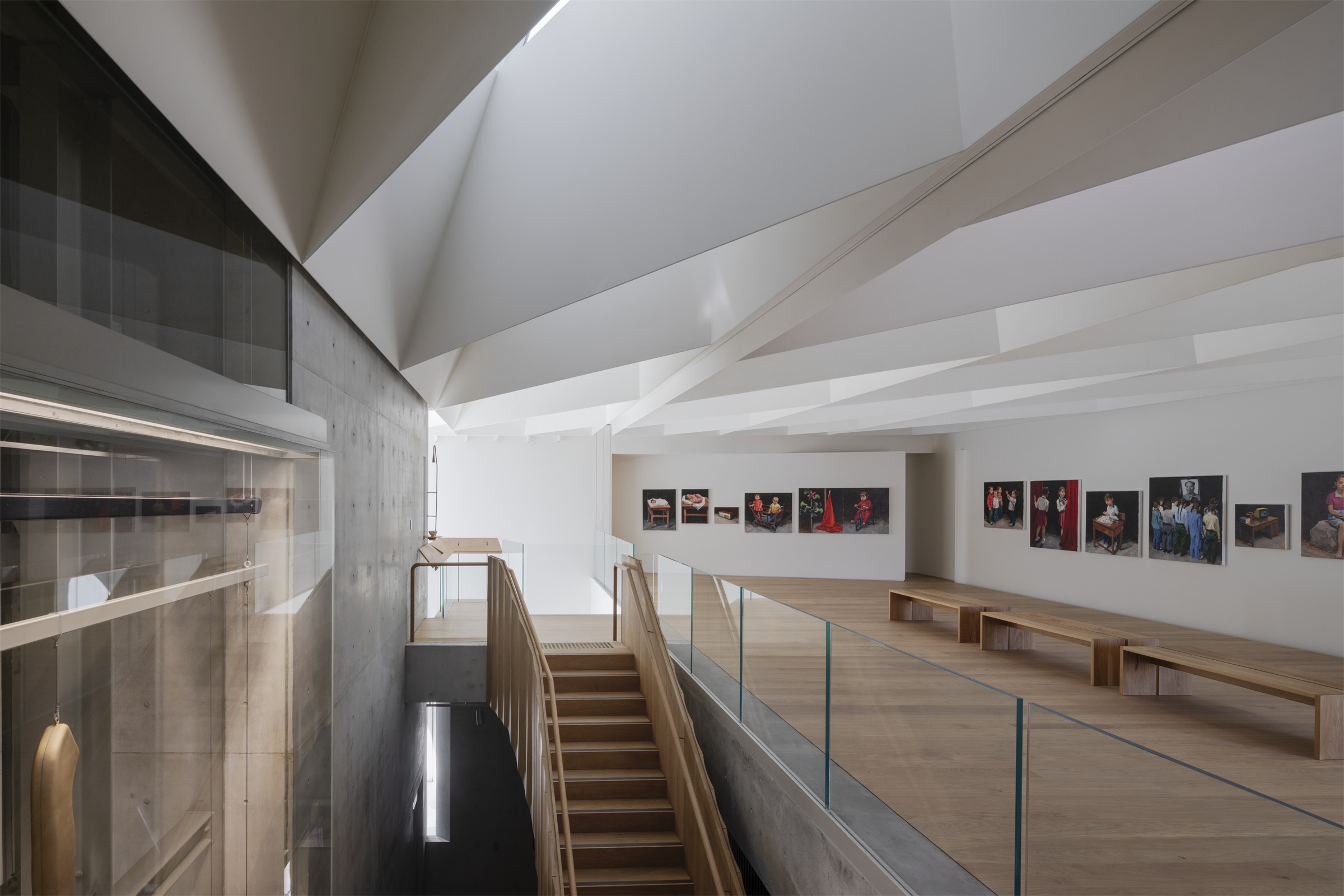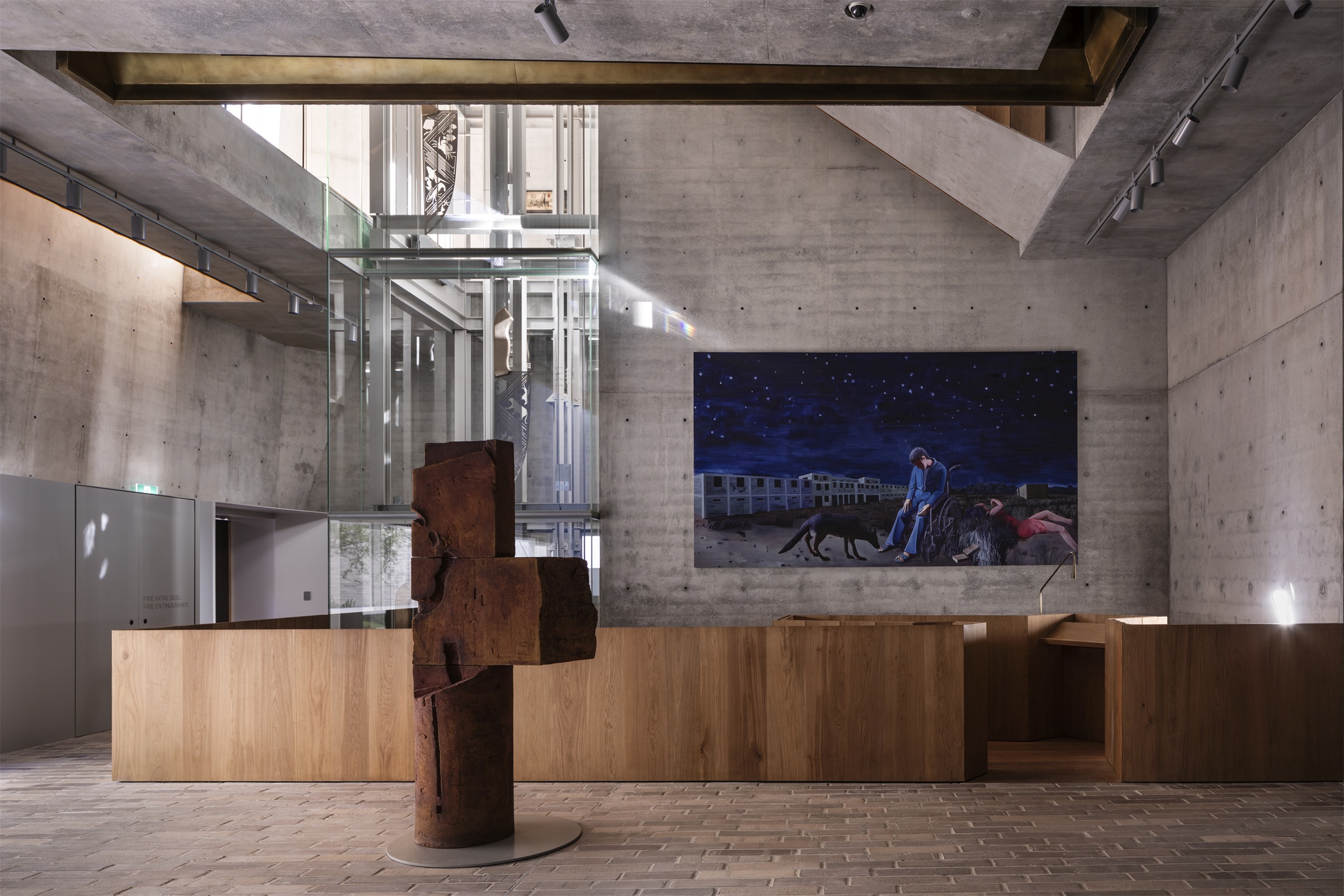 画廊中关于抑制和释放的两个重要时刻围绕着圆形窗户而设,眼是内部空间的焦点。在画廊的对面,花园下面是一个洞穴状的小房间,房里有一个可以看到上面世界的单眼天窗。这是一个静思作品的私密空间,同时与上面外界的变换保持着微弱的联系。面朝街道的砖面被向内挤压,形成一个圆形凹坑,凹坑的中心是一个大的眼窗口和一个较小的侧窗。内部来看,凹陷的墙主要集中在这个对外敞开的形状上。
Two prominent moments in the gallery, of containment and release, are set around circular windows, oculi that are the focus of internal spaces. At the opposite reaches of the gallery, below the garden is a small cave-like chamber with a single ocular skylight to the world above. It is an intimate space for quiet contemplation of a work whilst maintaining a tenuous link to the fluctuations of the day above. The brick surface facing the street has been pressed inward to create a circular dimple at the centre of which is a large oculus window, and a smaller offset companion window. Internally, the dimpled wall concentrates attention on this figured opening to the world beyond the gallery.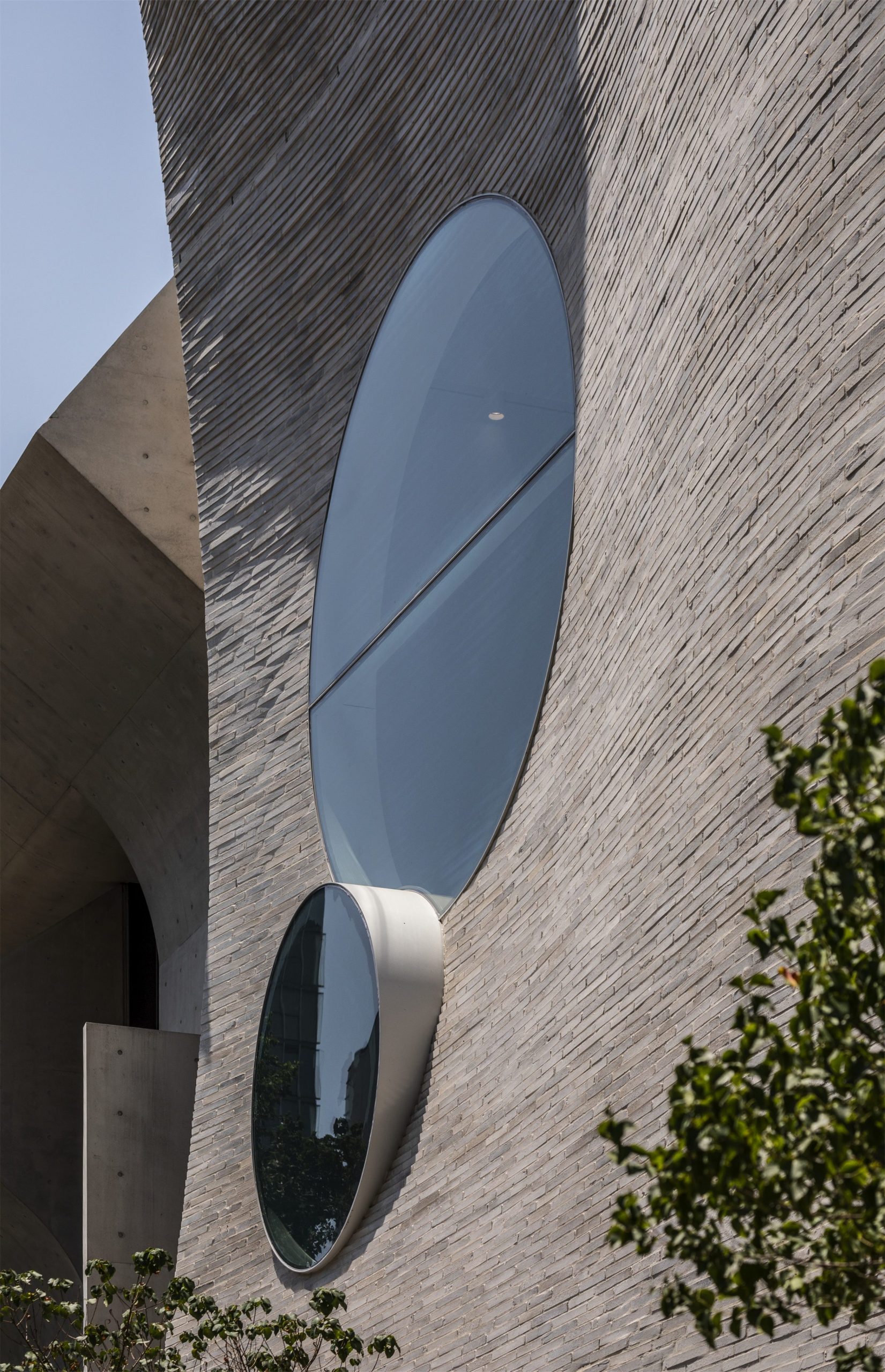 表演空间 Performance Space
表演空间是一个独特的钟状空地,由起伏的阶梯式木条构成,嵌入大厅和环线的肌理之中。从许多优势角度来看,就如伊丽莎白时代的剧院一样,在这里表演是全方位展示的。一个突出的楼厅环绕在空间中,形成了交替式舞台或观景台。环路是直接或通过一系列雅致的阶梯到达地面,引导人们放缓脚步并纵观眼前之景。
The performance space is a singular bell-shaped clearing, made by stepped and contoured timber ribs, embedded in a fabric of lobbies and circulation. Like an Elizabethan theatre, the action is in the round, seen from many vantage points. A projecting balcony loops into the volume, creating an alternate stage or viewing box. The circulation is direct or via a gracious set of stepped landings, scaled for arresting movement and inviting overview.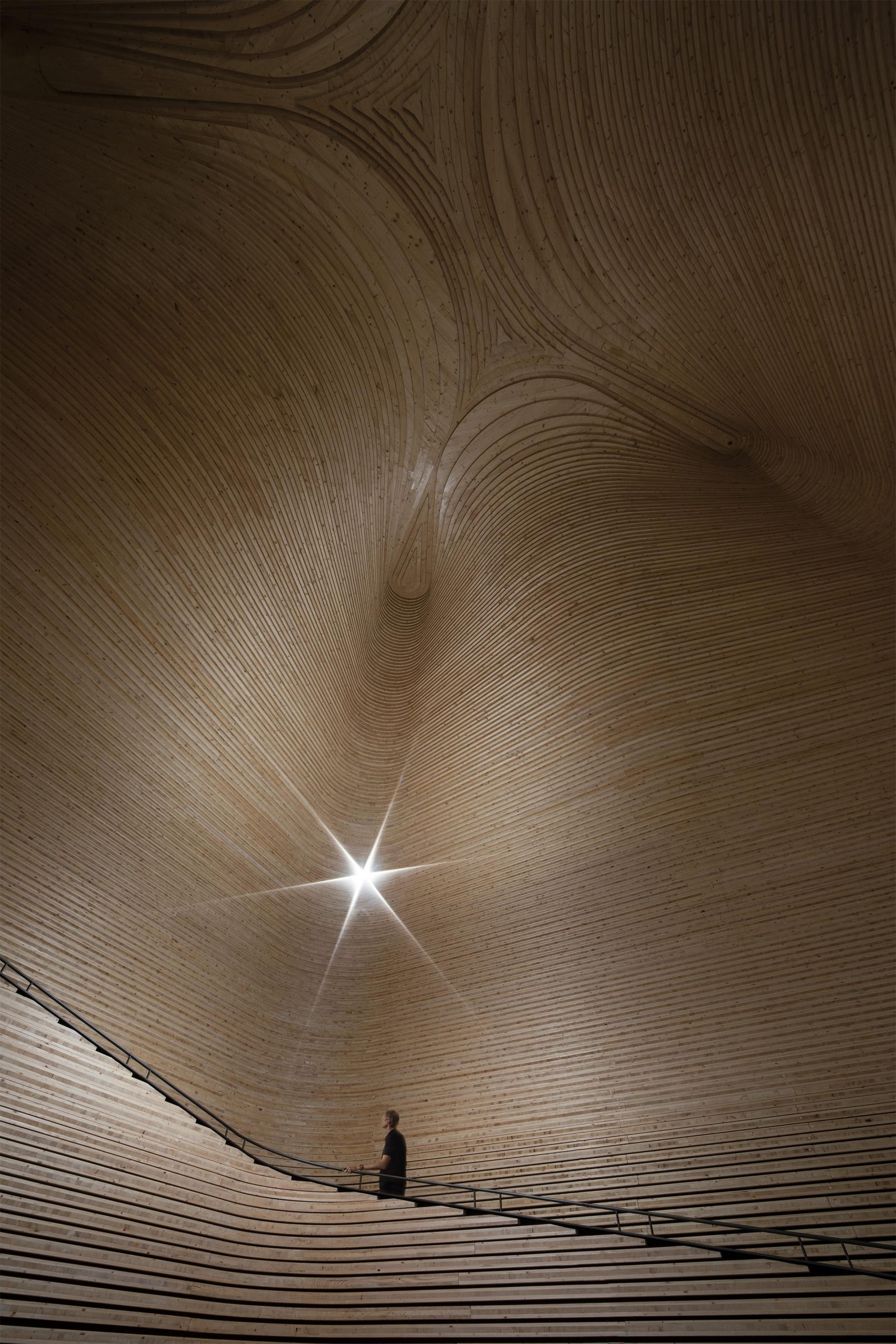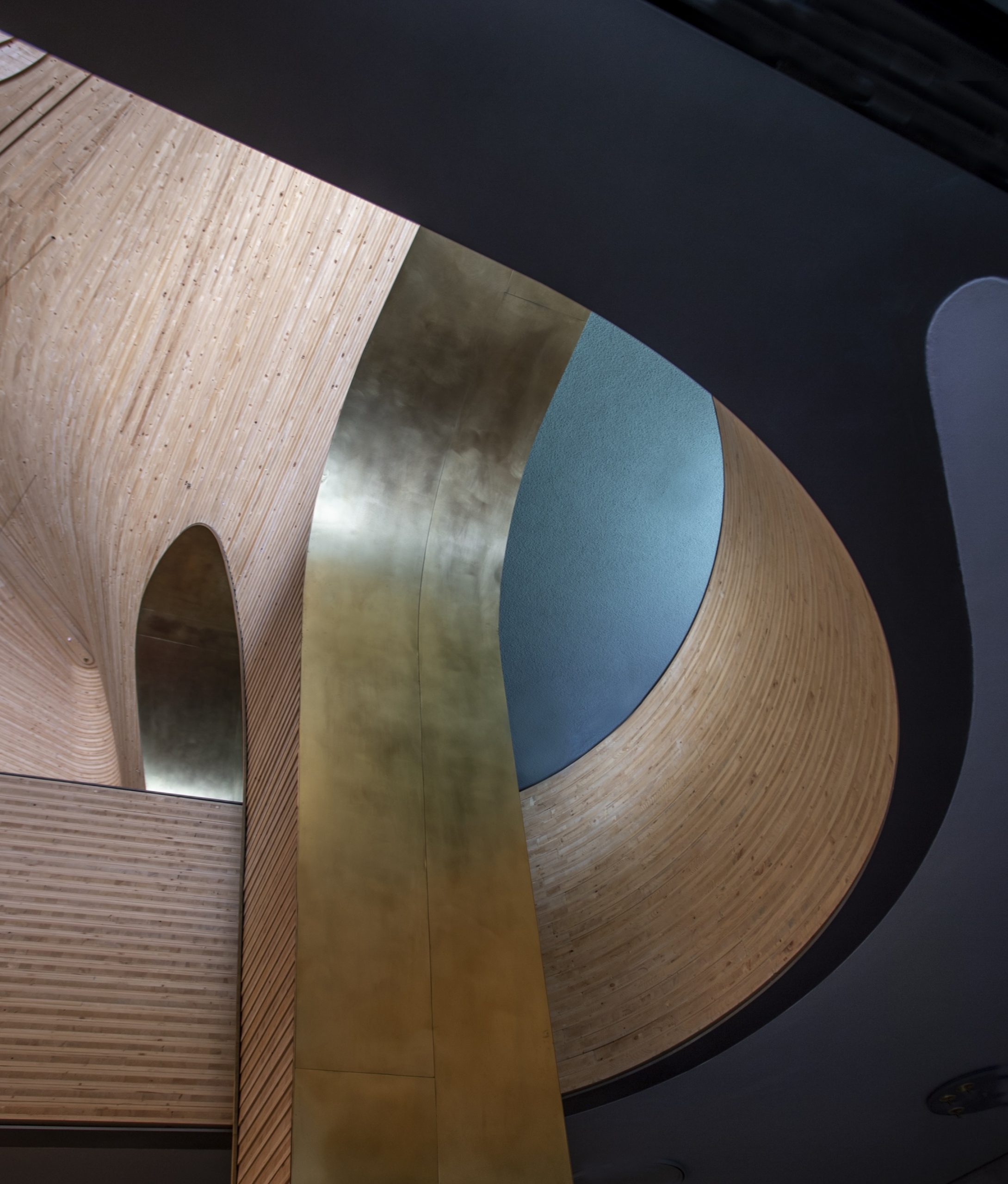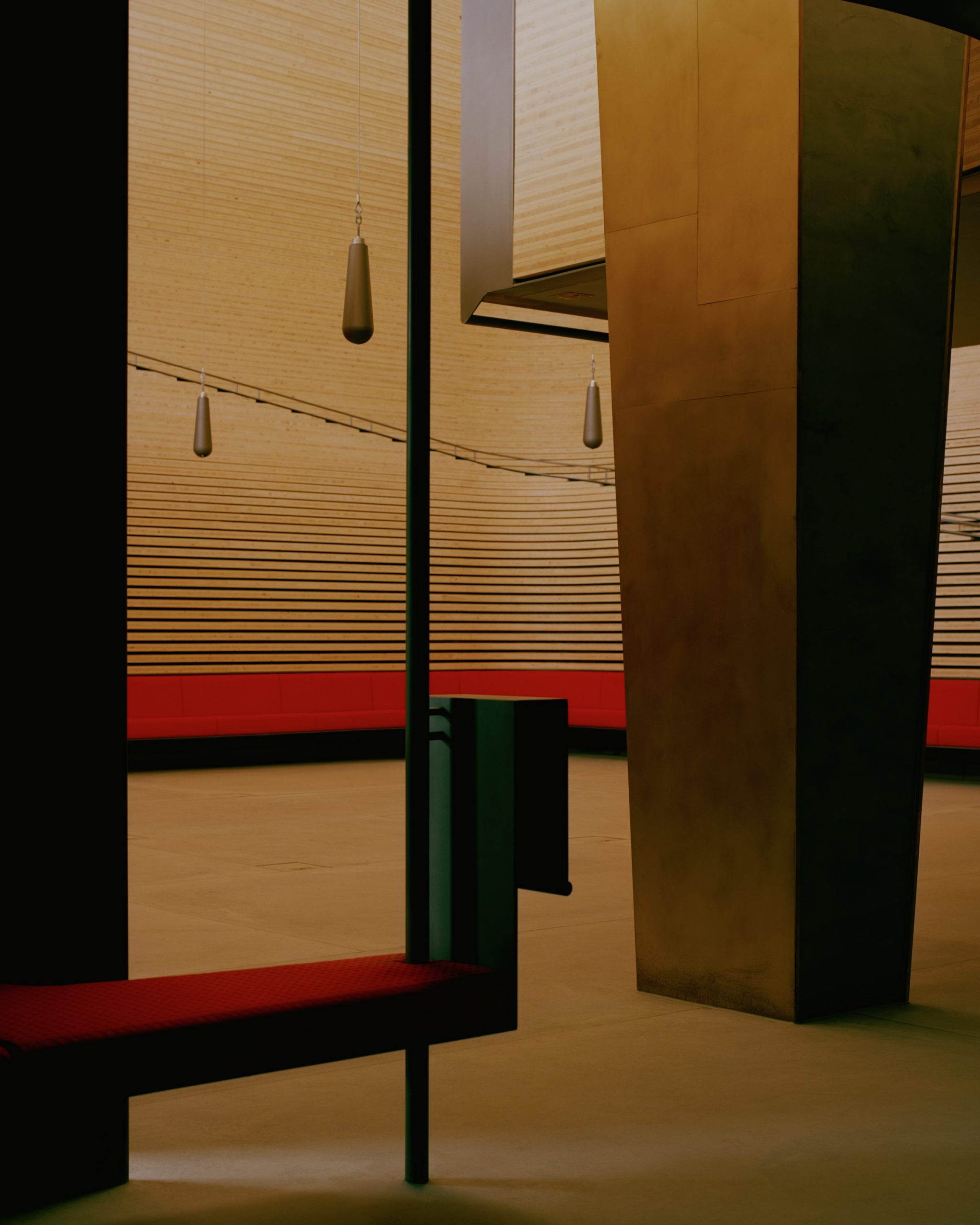 超大的金色窗户可以让你在黑暗的空间里瞥见街道上的灯光,剧院的内衬是用工厂里的数字模板制作并现场组装的木材。
The over-scaled gold window allows glimpses and light from the street in an otherwise dark space. The theatre is lined with timber fabricated from digital templates in the factory and assembled on site.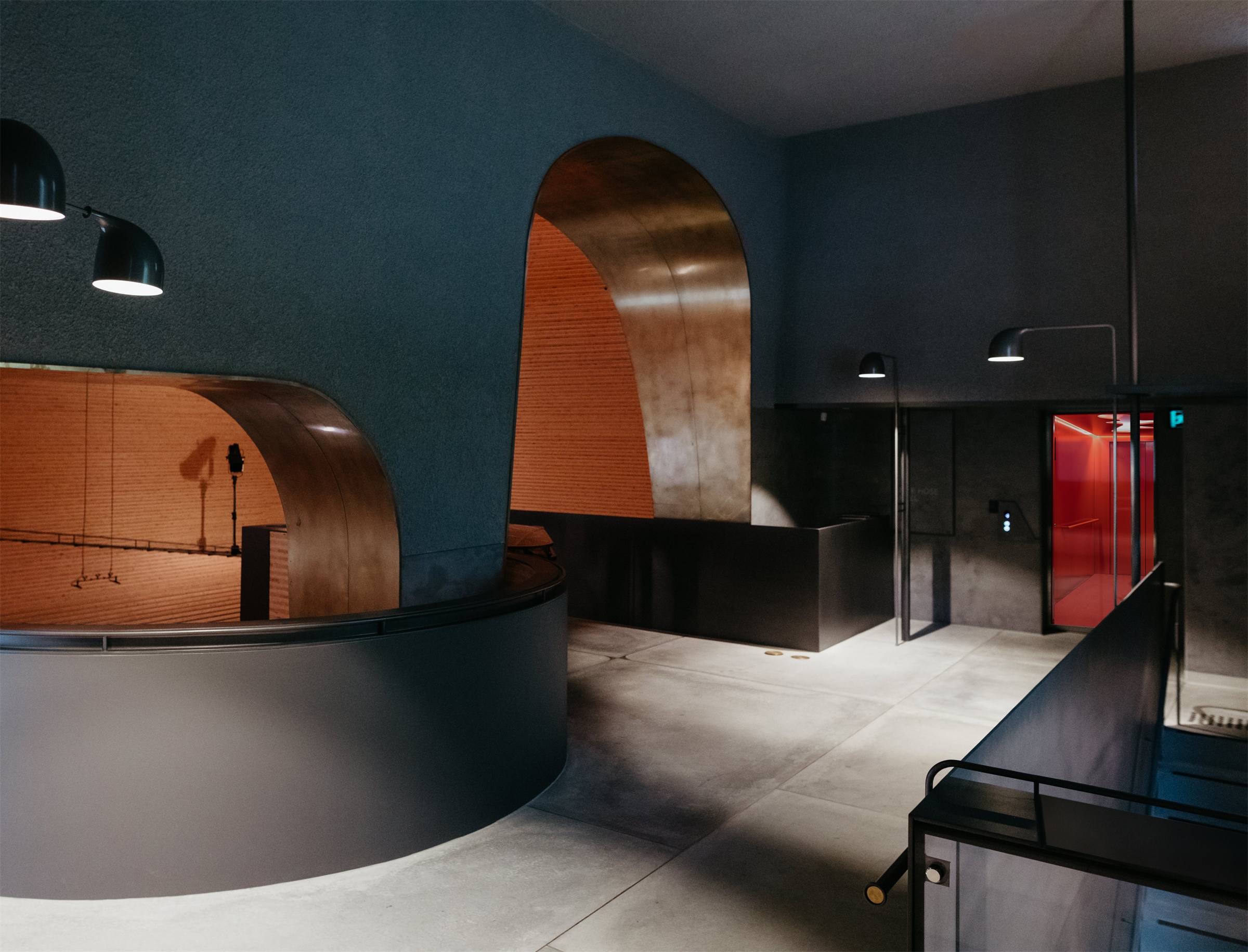 上面是艺术家们的会场,配套的花园庭院以明亮和白色为主调,容纳了令人惊喜的植物种、当地小品和天空美景。
Above, a meeting space for artists and its companion garden courtyard are modelled in brightness and whiteness, capturing unexpected planting, local vignettes and sky views.
外部砖面是整个建筑的一个包裹元素,寻找一种独特的表达方式来包含多样的内部世界。街道花园的墙面、曲线和台阶以及多种图案的"云窗"来自DBJ。砖块独特地呈现出长而平的形态,类似于一块堆叠的石头,从灰缝中突出出来。一层薄薄的灰浆覆盖在砖块上,以夸大表面的连续性。然后这个表面在内外交汇的开口处周围形成凹陷、扭曲、破口和拱起。
The outer brick surface is a binding element of the overall building, finding a singular expression to contain the diverse interior worlds within. DBJ's wall cants, curves and steps for a street garden and multi-figured 'cloud window. The bricks themselves are unusually long and flat, akin to a stacked stone and emphasising the mortar joints. A thin veil of mortar has been washed over the bricks to exaggerate the continuity of surface. This surface is then dimpled, twisted, cut and vaulted around openings where inside and outside worlds meet.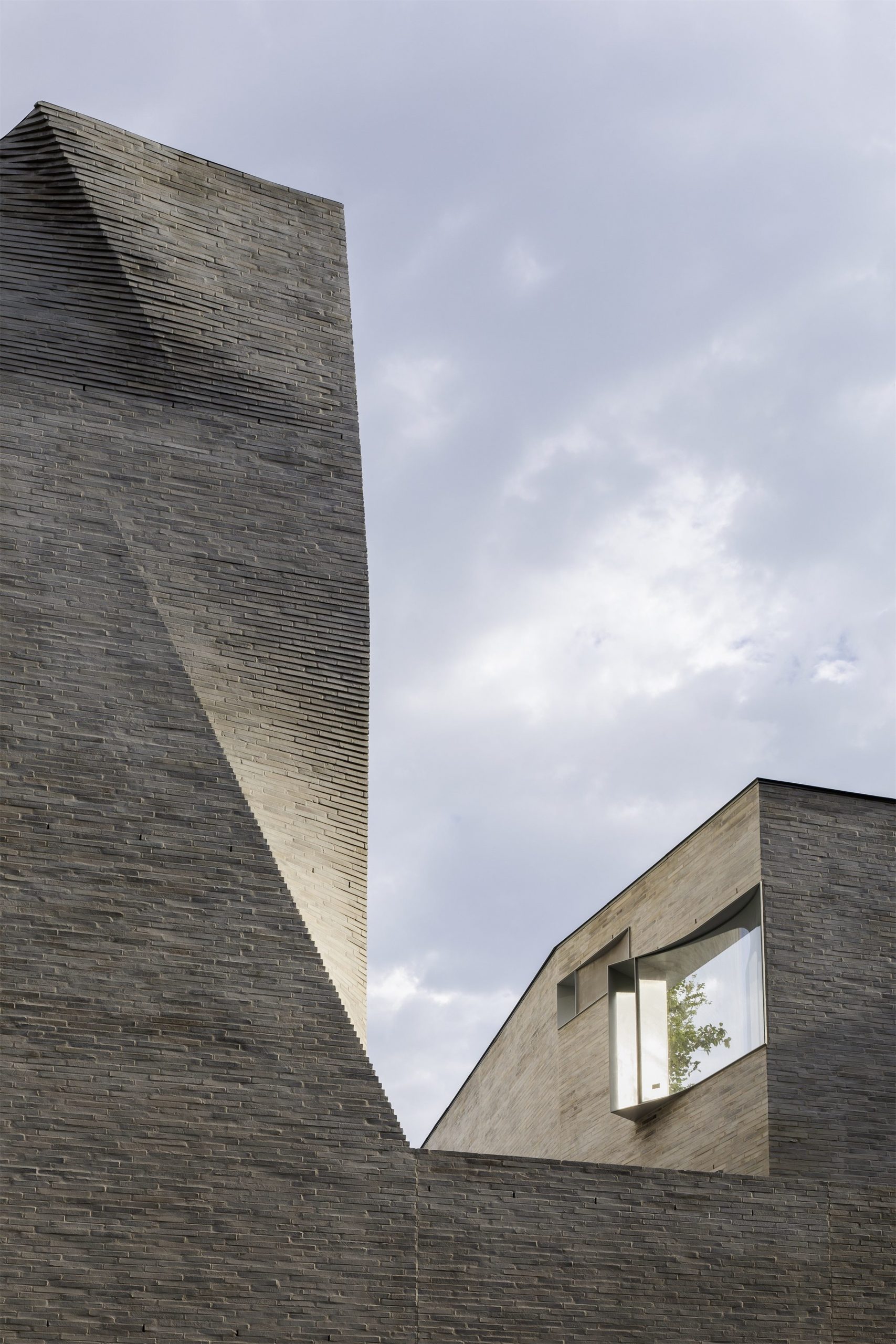 项目由两个建筑公司共同开展讨论和协作,对于另一方的意见和见解来说,这个项目也许是一个更具说服力的提议。这一想法大致与凤凰中央公园的建设初衷相呼应:成为一个艺术中心,在这里视觉艺术和表演艺术不断地相互对话。
The co-authored project has been guided by open discussion by both architectural firms. The project is perhaps a more compelling proposition for the input and insight of the other. This idea seems to echo the primary intention of Phoenix Central Park: to be an artistic hub where visual and performing arts are in constant dialogue with one another.
▼平面 Plan
项目名称:凤凰中央公园
完成日期:2019年12月
设计公司
[表演空间]:Durbach Block Jaggers Architects
[画廊]:John Wardle Architects
项目团队
画廊:John Wardle Architects – John Wardle, Stefan Mee, Diego Bekinschtein, Alex Peck, Luca Vezzosi, Adrian Bonaventura, David Ha, Ellen Chen, Andy Wong, Manuel Canestrini, Meron Tierney
表演空间:Durbach Block Jaggers Architects – Neil Durbach Camilla Block, David Jaggers, Simon Stead, Anne Kristin Risnes, Deb Hodge, Xiaoxiao Cai, Adam Hoh
地点:澳大利亚悉尼齐本德尔
项目规模:场地面积717平方米;建筑面积1185平方米;六层- 三层地面上,三层地下室
项目类型:公共/商业
顾问
项目经理:Aver 2015-2017; Colliers 2017-2019
策划:Mersonn
结构工程:TTW
土木工程:TTW
岩土工程:Pells Sullivan Meylink
建筑服务工程:Evolved Engineering
交通和行人建模:GTA Consultants
消防工程:Affinity Fire
声学顾问:Marshall Day
景观设计:360º
标识和导向:Studio Ongarato
建筑勘测:Philip Chun & Associates
无障碍顾问:Philip Chun & Associates
立面工程:Inhabit
照明设计:Bluebottle
承包商
Bellevarde Construction 2016–2018 [早期工程和上部构造]
FDC Group 2018–2019 [结构和装配]
Project Name: Phoenix Central Park
Completion Date: December 2019
Designer/Architect
Attribution: Phoenix Central Park by Durbach Block Jaggers Architects/ John Wardle Architects
Durbach Block Jaggers Architects [Performance Space]
John Wardle Architects [Gallery]
Project Team
Gallery: John Wardle Architects – John Wardle, Stefan Mee, Diego Bekinschtein, Alex Peck, Luca Vezzosi, Adrian Bonaventura, David Ha, Ellen Chen, Andy Wong, Manuel Canestrini, Meron Tierney
Performance Space: Durbach Block Jaggers Architects – Neil Durbach Camilla Block, David Jaggers, Simon Stead, Anne Kristin Risnes, Deb Hodge, Xiaoxiao Cai, Adam Hoh
Location: Chippendale, Sydney Australia
Project Size: 717sqm site area; 1185sqm GFA; 6 levels – three above and three basement levels
Typology: Public / Commercial
Consultants
Project Manager: Aver 2015-2017; Colliers 2017-2019
Planner: Mersonn
Structural Engineer: TTW
Civil Engineer: TTW
Geotechnical Engineer: Pells Sullivan Meylink
Building Services Engineer: Evolved Engineering
Traffic and Pedestrian Modelling: GTA Consultants
Fire Engineer: Affinity Fire
Acoustic Consultant: Marshall Day
Landscape Architect: 360º
Signage and Wayfinding: Studio Ongarato
Building Surveyor: Philip Chun & Associates
Accessibility Consultant: Philip Chun & Associates
Façade Engineers: Inhabit
Lighting Design: Bluebottle
Craftspeople
Custom Bricks: Krause Bricks
Bricklaying: Favetti bricklaying
Architectural steelwork and art hanging doors: TILT; All styled, Active Metal
Off form concrete: Hi-Form
Gallery Roof: ARC roofing with ARMA
Timber Source: Dinesen
Timber and Joinery: Top Knot Carpentry and Joinery
GRP Ceilings: Shapeshell with DDI
Stone Seat: Sourced from Hendersons Quarry in Harcourt and worked by Studio 2
CLT (Cross Laminated Timber) Performance Space Ceiling: Hess Specialty Render: CoverUp Dynamics
Brass basins: Bespoke House
Brass Linings: Bronzeworks
Tiling: Nash
Joinery: Debrich
Commercial Kitchen: Austmont
Speciality Glass: Ozsea; Definitive Glass
Brass DBJ Hardware: Chant
Hardware : Keeler
Joinery and Upholstery: Infracraft
Specialty Composite Fabricators: Shapeshift
Custom emergency luminaires: Bluelab Design
Contractor
Bellevarde Construction 2016 – 2018 [early works and superstructure]
FDC Group 2018 – 2019 [structure and fitout]
奖项/Awards
1. NSW Architecture Medallion – NSW AIA Awards 2020
2. Sir Arthur G. Stephenson Award for Commercial Architecture – NSW AIA Awards 2020
3. John Verge Award for Interior Architecture – NSW AIA Awards 2020
更多 Read more about:John Wardle Architects