ASPECT Studios 是一支由多位全球知名的设计师、景观设计师和城市规划设计专家组成的跨学科设计团队。他们的目标是创造具有挑战性、愉悦感和启发性的景观、体验和环境,同时以一种可持续的方式改善人类生活和自然系统。
mooool聚焦景观设计行业,每季度约访全球知名设计公司,传播全球优秀设计理念!本期mooool专辑为您带来的是ASPECT Studios工作室总监Stephen Buckle的专访。欢迎业界同行跟我们分享更多的经验和想法!
ASPECT Studios globally acclaimed Designers, Landscape Architects and Urbanists. Driven by their purpose to create landscapes, experiences, and environments that challenge, delight and inspire, whilst enhancing the lives of people and natural systems in an enduring way.
mooool focuses on landscape architecture industry. We interview the prestigious design company around the world every quarter with the passion for showing the excellent design ideas. In today's interview, we speak to Stephen Buckle, Studio Director and creative lead at ASPECT Studios.
总策划:陈科君 / Producer: Kejun Chen
主编辑:王兰芳、陈楠 / Editor: Via Wang, Nan Chen
Interview: Mooool x Stephen Buckle
专访内容:
Q:能介绍一下您自己,您的职业背景以及加入ASPECT Studios的经历吗?
Can introduce yourself, your career background and journey to joining the team of ASPECT Studios?
我是一名受英国教育且热衷于创造具有应对性的特色现代城市景观的景观设计师。近年来,受我所处环境的影响,我的设计思维已经逐渐转向为,在亚洲密集且高度城市化的城市所面临的复杂挑战中,实现人与自然之间的平衡发展。我认为将城市项目与商业和可持续需求相结合,创造令人愉悦鼓舞的空间,这种密集城市发展的平衡之法,是维持我们在这个星球上生存的关键和基础。
这个职业为我提供了参与世界各地不同文化、气候和地理环境中的多样化景观设计的机会。
I'm British trained landscape architect, passionate about creating responsive, unique, contemporary urban landscapes. A creature of my environment, in recent years my thinking has orientated towards the complex challenges faced in achieving balanced humanistic and natural systems in the densely urbanised cities across Asia. The combination of satisfying, commercial, and sustainable needs of urban projects, that create moments of delight and to inspire. I see this balanced approach to dense urban development as a critical foundation for sustaining our existence on this planet.
My career that has provided me the opportunity to be involved in the design of a diverse and varied range of landscapes across very different cultures, climates, and geographies around the world.
▼ASPECT Studios部分作品展示(点击阅读更多) Click here to read more projects of ASPECT Studios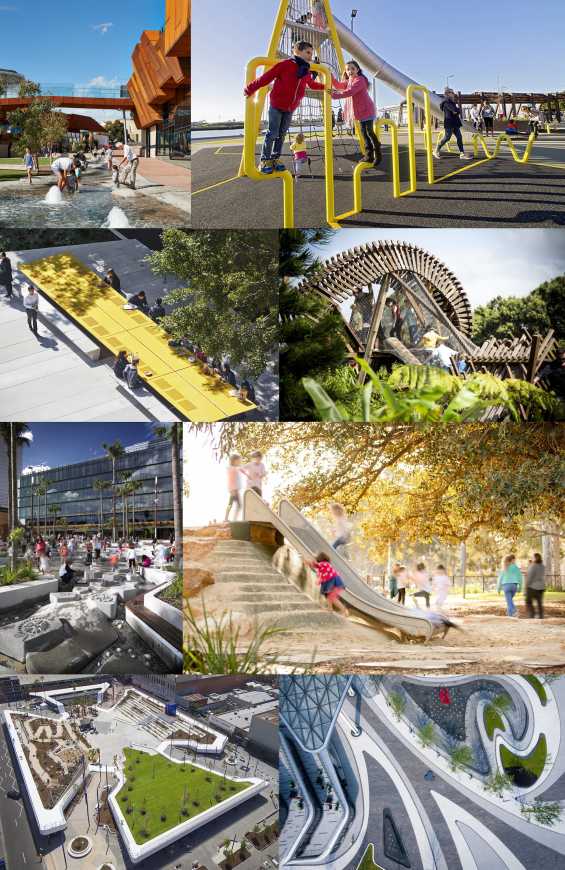 作为一名阅读障碍症患者,进入景观设计行业,实属偶然。在我很小的时候,我就发现自己在需要阅读和内容学习的科目上受到了极大的阻碍,但是我却十分喜欢且擅长创造性的科目,如艺术、绘画、陶艺和设计工艺等。对我来说,创意领域就是一个能够让我沉浸在自我表达和协作练习中的完美领域。
那时我就知道了我想走一条创造性的道路,而且作为年轻人,我感觉自己属于叛逆艺术型,但具体该走哪个方向,我却不清楚。彼时,我姐姐已经完成了景观专业的学习,当我看到她令人惊叹的设计作品和她参与的项目时,我便坚定了我要走的路,我知道这个职业会激发我的创作热情。我姐姐她,过去、包括现在仍然是我的灵感来源。
在英国曼彻斯特城市大学学习的期间,我比别人多花了一年时间才拿到学位。很多人可能会认为这是一个负面的事情,但我却认为,我所花的额外时间却给了我一个更加坚实的专业基础和鉴赏力。我认为学习景观专业的基础知识和发展自己的思维及创造性探索能力一样重要。
毕业后,我曾在英国南部几家知名的设计公司工作,参与了伦敦和南海岸的一系列密集城市改造项目。对我来说,这是一个大量积累的时期,我从事的项目从宏观(城市设计和地域影响、总体规划、系统和战略设计)到微观(人体尺度、细节和施工图设计),应有尽有。这些项目带给了我许多经验,让我初步了解了如何同时在多个尺度上创造性地解决问题,也是我第一次认识到景观设计师的工作是多么的广泛和具有影响力,以及它在我们日常生活和居住城市的发展和环境中所发挥的关键作用。
My journey into landscape architecture, was kind of by accident. I am dyslexic, and as a youth found myself very extremely hampered when it came to subjects that required reading and content learning, but excelled and enjoyed the creative subjects, art, drawing, pottery and design technology. For me, the creative fields were a perfect realm for me immerse myself in both self-expression and collaborative exercises.
I knew I wanted to follow a creative path, and as a youth saw myself as a rebellious arty type. But I didn't have a clue which direction to head. My elder sister had completed studies in Landscape Architecture and it was only upon seeing her amazing design work and the projects she was involved in that I could see a path for me to follow; a profession that would fuel my creative passion. She was and still is as a real inspiration to me.
I studied Landscape Architecture at Manchester Metropolitan University, UK. This time was as much to me about learning the fundamentals of the landscape architecture as the development of my own thinking, creative exploration. Those that knew me back then might say that one side outweighed the other, and as a result it took me an additional year to achieve my degree. While many might see this as a negative, I believe the additional time spent gave me an even stronger grounding, appreciation and foundation for the profession.
After graduation I worked with several recognised design firms in the south of the UK, working on range of intense urban regeneration project across London and the south coast. This was an informative time for me, working on projects a Macro level-designs of Cities and district influence, masterplans, systems and strategies, to a Micro level – 1/1 human scales, development of details and construction packages. This exposure gave me experience and an initial understanding how to creatively address problems at multiple scales simultaneously, but also was also my first introduction of how expansive and influential the work of landscape architect is, and the critical role it needs to play in the development of our cities and the environments we engage and inhabit daily.
▼英国伦敦Stonebridge改造项目 Stonebridge Regeneration, London UK
后来,受城市快速发展的影响,我搬到了中东,当地的城市正处于疯狂发展的阶段,这也是我第一次接触到国际设计舞台。这段时间,我第一次认识到城市融入文化的重要性。在考虑如何设计之前,我会先思考人们生活在其文化中的重要性,只有这样,设计师才能真正开始触及理解的表面,然后用自己的方式去使用和回应它。与此同时,我还接触到了另外两种给我带来重要影响的项目类型:"高周转"项目和"大规模"项目。前者有助于我清晰地思考,明确创作思路,后者则代表超大规模、高度复杂和多元化的项目。这些影响和经历,奠定了我的职业道德、设计思维和设计方法的基础。(除了"灵感迸发式"的设计意识,这两者锻造了我对工作近乎痴迷的热情)。
Inspired by the vision of rapid growth within cities, I had the opportunity to relocate to the Middle East; my first taste of the international design arena at a time when cities across the region where in a frantic growth stage. During this time got my first exposure and appreciation of the importance of connection to culture. I could see the significance of living within in a culture, before considering how to design for it. Only in this way, can a designer truly start to scratch the surface of understanding and then use and respond to it in their own way. I was also exposed to two other kinds of projects which proved critical influences; "Intense timelines" – helped the developed of my clarity of thought, defined my creative process, and "mega scale", super large scale, highly complex and multi-faceted projects. The combination of these influences and exposures, set the foundation of my work ethic, design thinking and approach. (in addition to the awareness of "design adrenaline", the combination forged my borderline obsessive passion for the work).
▼卡塔尔教育城公园 Interpretive Native Park – Education City Qatar
在中东待了几年,我建立了我的家庭以及我的设计方法和思维以后,我认为是时候让自己融入另一种新的文化中,去进一步挑战自己,体验新的事物了。所以,我们搬到了中国,和两个亲密的设计伙伴以及我的家人一起,我们在广州生活和工作了几年,后面又搬到了上海,并担任了ASPECT Studios中国区的设计总监。加入ASPECT Studios对我来说是一次完美的决定,迄今为止,我在ASPECT Studios领导团队已近六年。
来到中国不仅加深了我对设计中文化重要性的欣赏和理解,而且还增加了关于高密度城市景观设计这一我之前没有经历过的额外层面。近十年来,我都在中国人口最稠密的城市中心生活、工作、旅行和设计,体验其生活和文化。 这种接触让我对密集的城市环境的积极效果和消极因素有了广泛而详细的了解,同时也让我更加深刻地认识到设计师和开发商对我们所影响的社会、环境、社区和人民的责任和义务。
Having spent several years in the Middle East and grown my family as well as my design approach and thinking, it was time to immerse myself in a new culture, to challenge myself further to experience new things. So, we made the move into China, and along with two close design partners and my family we lived and worked in Guangzhou for a number of years, before moving to Shanghai and taking on the role of leading ASPECT Studios. Joining ASPECT Studio was a perfect alignment for me. I have been leading the team at ASPECT Studios in China for nearly six years now.
My move to China not only deepened my appreciation and understanding of the importance of culture in design, but added an additional layer that I hadn't previously experienced in ''Density''. For nearly a decade I have lived, worked, travelled and designed while experiencing life and culture in some of the most densely populated urban centres across China. This exposure has given me a vast and detailed insight into both the positive effectiveness and negative considerations of dense urban environments, while at the same time providing me with an even deeper appreciation of the duty and responsibility designers and developers have to the society, environments, communities and people in which we influence.
▼苏州科技城源宿酒店 Element Eco Hotel – Suzhou
▼合肥皖投万科天下艺境 Pomegranate Place, Hefei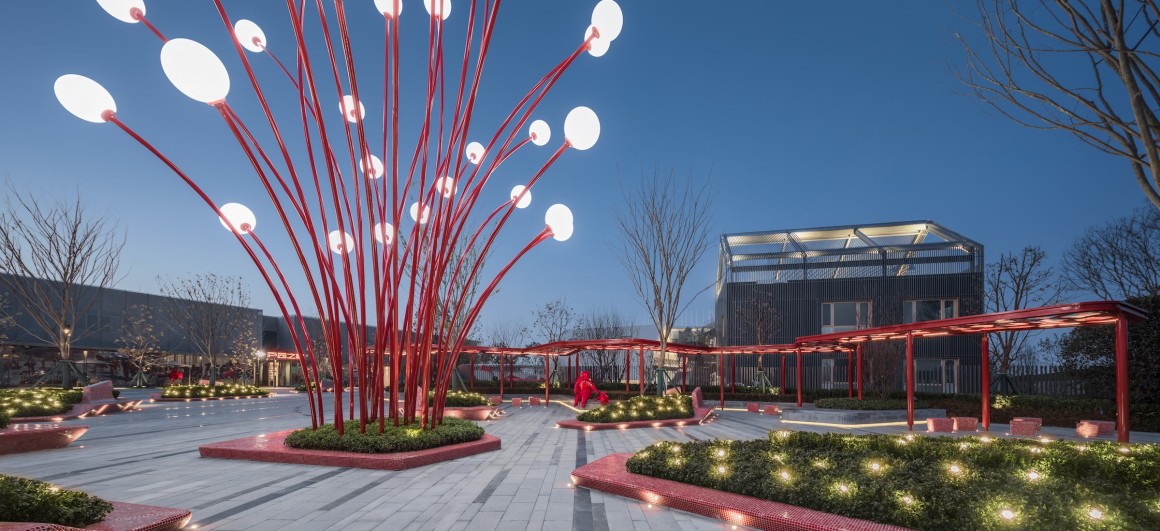 Q:ASPECT在2006年进入中国市场后,建成了不少质量可观的作品,请问你们是怎么把控施工品质的?
Since ASPECT entered the Chinese market in 2006, many quality works have been built. How do you manage to control the quality of construction?
这是个好问题!与西方国家相比,在中国开展项目可能会遇到不同的障碍。但不管怎样,设计就是解决问题,异国的挑战实际上也是提供更多解决问题的机会。
This is a good question! Delivering a project in China offered may different hurdles compared with a western country. Regardless, design is problem solving and the challenges in different countries are indeed just opportunities for more problem solving.
▼重庆万科西九广场 Xiuju Plaza – Chongqing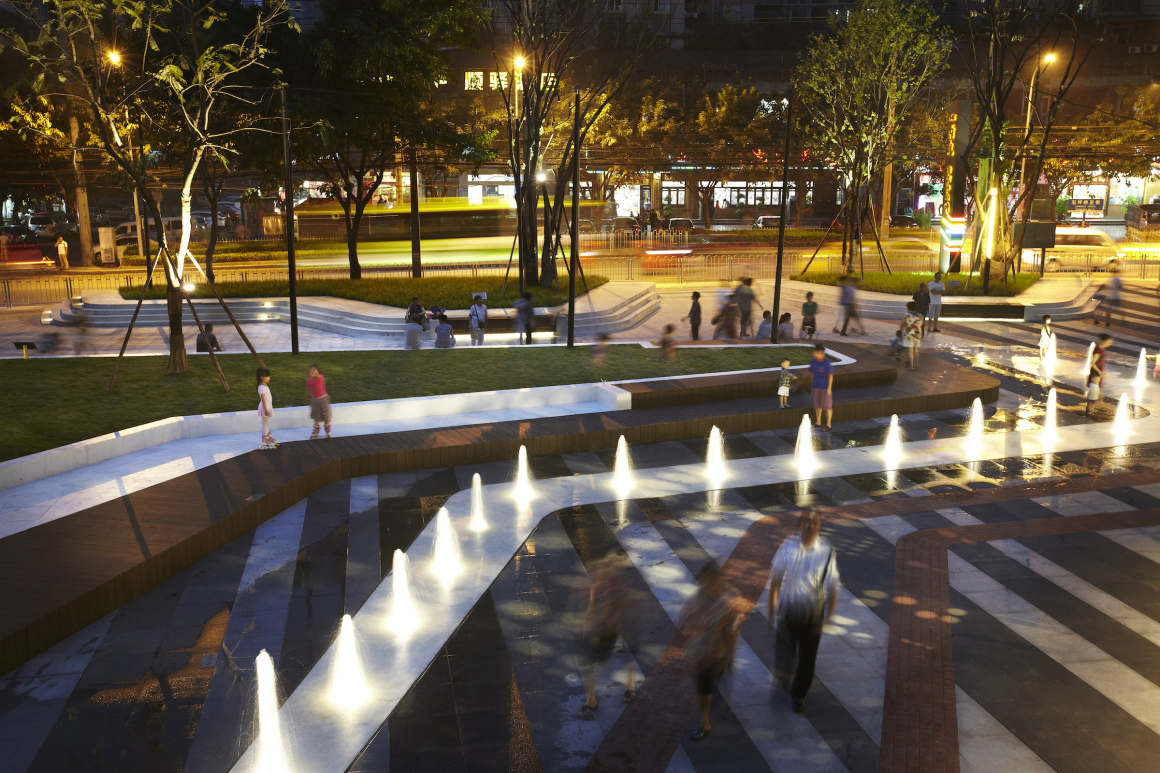 ▼成都HyperLane超线公园展示区 Urban Gallery – HyperLane Chengdu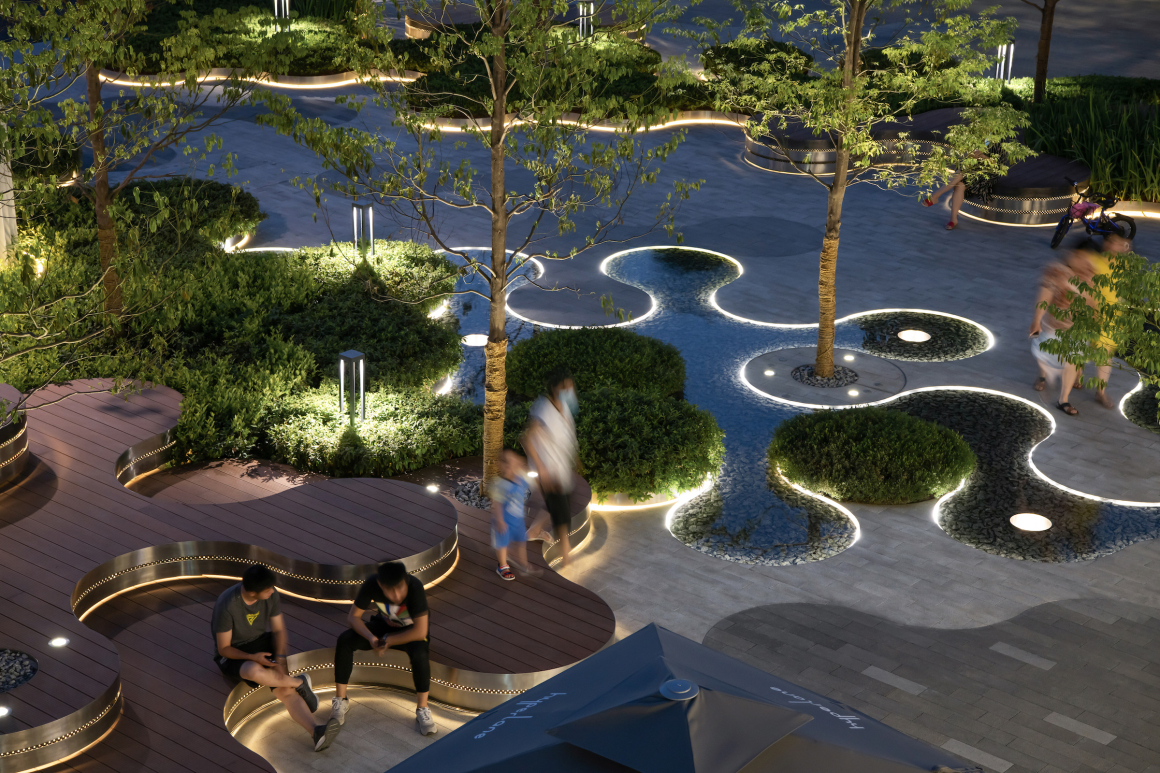 我坚信,无论你前期"思考"有多好,概念和渲染有多美,叙述有多诗意,这些都无关紧要!如果你不能控制细节和最终施工的质量(我不会回避这一点,这在亚洲市场确实是一个挑战),那么这便是一个毫无价值的努力,你最好在一开始就不要费心了,因为这意味你就是失败了!我说的这些与在亚洲开展项目有着密切的联系,因为我在这个过程中经历了很多失败和调整。
I'm a fanatical believer that its irrelevant how well considered your 'thinking'' is, how beautiful the concept and renders are, or how poetic you bloody narrative is! If you can't control the details and the quality of the final built outcome ( I wont shy away from stating, this is really challenge in the Asian market) then it's a worthless endeavour and you may as well have not bothered in the first place. You've failed! I say that with a strong connection to realising projects in Asia as I learnt the hard way, failed and adapted many times along the journey.

我相信在这个市场上有许多因素影响着这个结果,它本质上与决策有关,而且涉及到项目的各个阶段,不仅仅是后期施工阶段,所以,我会试着从头开始总结。
I believe there are numerous factors that influence this outcome in this market, its essentially about decisions, and this relates to stages of a project, not just the back end. So, I'll try and summarize starting at the beginning.
客户伙伴——与有着同样的动力和奉献精神去追求卓越的客户合作。
设计团队——我很庆幸我拥有一个了不起的创意设计师团队,他们在每个阶段都会考虑可建性和可行性——无论设计语言或形式如何,在比例、系统和模型甚至在概念上,他们的所作都有助于项目的整体控制。在项目的每一个步骤中控制和保护关键的、特色的细节。
狂热的痴迷——仔细推敲每一个细节、材料、界面,以及思考如何将每一个方面、每一个面和每一种材料有效结合在一起。
当地设计合作伙伴——与愿意充分协作,且业务熟练有经验的当地设计机构合作,寻求共同设计的权利,并与我们的设计团队、客户和施工方合作,维护设计的完整性。
施工方——与能够尽最大努力且有责任感将设计变为现实的施工方合作。定期到施工现场,进行施工审查,与施工团队进行沟通和讨论。
学习——每个项目都是学习、发展和成长的机会。
Client partnership – Alignment with the right client, that has a same drive and dedication to strive for excellence.
Design Team – I am blessed with an amazing team of creative designers that look to consider buildability and feasibility at every stage – regardless of the design language or form, working within ratios, systems, and modules even in concept can help this control. Control and defend the critical, character defining details at every step of the project.
Fanatical Obsession – Obsession of detail, materials, interfaces and how every facet, face and connection of every material comes together.
Local Design Partners – Alignment with a skilled and experienced local design institute that understands the word collaboration, looks to take joint ownership of the design and work with both our design team, client and contractor upholding the integrity of the design.
Contractor – Working with a contractor that takes pride and has a dedicated sense responsibility for bringing the design to life to the very best of their abilities.
Regular attendance on construction sites, undertaking construction reviews, communication and discussion with the contractor's team.
Learning – each project is the opportunity to learn, develop and grow.
说到这里,我必须要说,我非常尊敬,甚至在某种程度上会羡慕一些当地的设计公司。现今亚洲各地涌现出了越来越多的具有极高才干和才华的本土公司,虽然没有得到应有的更大规模的曝光和关注,但他们每一个都有自己独特的设计风格,且具有控制施工品质的精湛能力。
Whilst on the topic, I would note, I have great respect and indeed jealousy at times for some of the local design companies. There is a growing collection of extremely high calibre and talented local firms across Asia, that often do not get the wider exposer and attention they deserve. Each bring their own flavour of design, with the exquisite ability to control construction quality.
Q:面对中国这样完全不同的设计语境,作为一名外籍设计师,您认为中西方在项目设计中最大的差异是什么?
In the context of having worked in many different cultures, when faced with the setting of design in China, do you have any observations or thoughts relating differing approaches?
我所发现的不同之处并不一定体现在设计或设计过程中,而是在项目交付,以及融合不同观点的过程中。
在西方国家,一个项目可能主要与来自社区、政府和庞大顾问团队的几方利益相关。然而在中国,虽然我们有时也会与各种大型顾问团队合作,但有些客户团队结构复杂,层级、报告流程和利益相关者众多,很难与实际决策者直接进行沟通。所有这些额外的利益相关者(有时)同样不清楚项目愿景或最终的决策者的期望,虽然他们乐于提供自己的主观意见和评论,试图增加价值,但这最后往往会被证实是具有误导性,而非有益的。
经过这么多年我们发现,最成功的项目往往是那些我们可以与客户团队进行协作,可以直接进行有效对话和沟通的项目,在沟通中我们可以提取出他们希望通过项目实现的基本目标,且各方都清楚自己在流程和项目中的角色和投入。我们的客户非常尊重我们的设计过程,他们知道我们会对"设计"负责,所以当他们参与并给出反馈时,会更注重实用、功能和量化方面的问题,而不是单纯的个人主观看法。
Where I do find differences is not necessarily in the design or designing, but in the process of delivering projects and the engagement of different perceptions.
In Western countries we find that projects may have multiple layers of stakeholders, from the community, government, and a vast consultant teams. While we still sometimes work with vary large consultant teams in China, in addition, some client teams are structured with so many, layers, lines of reporting and stakeholder its very hard to have direct communication with the actual decision maker. All of these additional stakeholders are (sometimes) equally unclear as to the project vision or the ultimate decision makers aspirations, and whilst they are happy to provide comments of their own subjective opinion, in attempt to add value, more often than not these turn out to be misleading rather than helpful.
Over the years we have found that the most successful projects are ones where we can engage collaboratively with a client team, have direct and meaningful dialog in which we can extract the fundamental objectives they look to achieve with the project and where each party is clear as to their role and input into the process and project. Our clients are very respectful of the design process, and while they input and give feedback, they understand that we are responsible for the 'design' and their input focuses on practical, functional, quantitively input, rather than personal subjective whims.
▼近期ASPECT团队与客户默契协作的案例——成都hyperlane超线公园 The HyperLane in Chengdu-the most successful projects are ones where we can engage collaboratively with a client team, have direct and meaningful dialog.
Q:对于中国景观行业的发展,有哪些令您印象深刻的事?可否跟我们聊聊?
What impresses you most about the development of China's landscape industry? Can you talk to us?
我喜欢中国市场中设计和景观中所蕴含的能量和激情。这是一个可面向未来又能连接过去,同时对每一个项目抱有越来越高的期望,不断努力创造"从未见过或经历过的"的独特市场。虽然这与我们对场地特色和真实回应的看法是一致的,但同时这也为我们带来了更多的挑战。
近几年,人们的态度发生了惊人的转变,从简单地将景观视为一种观看和欣赏的美学,转变为了将景观视为一种重要的、可以帮助实现城市环境的平衡,同时影响社会和环境系统的城市塑造因素。中国"海绵城市"倡议的发展和应用及开发要求给我留下了深刻的印象,尤其是政府在全国范围内推动积极变化的速度。我还记得在十年前我与一些公司的谈话,当时他们努力让客户将水敏性城市设计(WSUD)原则融入到他们的项目中,却难见成效,而现在,它已是所有项目中的一个基本系统和考虑因素,这非常好!不过,虽然这种变化发生的速度和影响的地域范围是惊人的,但这仅仅是走向一个更加可持续发展国家的第一步。
另一点是中国开发商思维模式的转变,他们意识到一个成功的项目不仅仅是由短期的商业收益决定的,可持续的成功来自于对以社会和环境为导向的公共空间的关注,这就需要把"人"作为优先考虑的对象。这也为城市环境提供了有意义的补充,它需要考虑到用户的舒适性、安全性、可达性、规模和方案,如此才能为所有人的社区日常生活带来真正的价值。
这个行业有了一种觉醒和意识,那就是对人的关注会无意中带来商业上的成功。那种没有树木和树荫,只是为了实现商业立面开阔视线的大型空旷广场设计的日子已经一去不复返了。
作为设计师和开发商,我们对受邀进行开发的社会和社区负有责任。在这个关注人和多样化城市体验的新时代,更重要的是我们能否为人们带去兴奋、愉悦、参与和激励的体验。这便是ASPECT所热衷的:"打造具有幸福感的场所!"
I love the energy and passion that design, and landscape architecture holds within the domestic Chinese market. It's a future facing, conscious of it past, whilst carrying an ever increasing level of expectation on each project, a constant drive to create the ''never seen or experienced before''. While this aligns with a unique and authentic response to a site, at the same time it challenges us to go further.
In more recent years, it has been amazing to see the transformation of attitude, from landscape seen simply as an aesthetic which is viewed and admired, to appreciation of landscape as an essential city shaping factor that can help achieve a balance to urban environments, and simultaneously consider social and environmental systems. I'm practically impressed at the development and application of the "sponge city" initiatives and development requirements, and more importantly the speed in which government direction can influence and activate positive change on a countrywide level. I recall talking with companies ten years back, who were struggling, trying to have clients embrace WSUD (Water Sensitive Urban Design) principles into their projects, with no immediate commercial gain. Now, it's a fundamental system and consideration within all projects, which is great! But the speed and geographic range at which this change took place is remarkable, this only the first step towards a evermore sustainable development country wide.
Another observation is the change in developer mindset and a realisation that a successful project isn't solely defined by short term commercial gains, that sustained success comes from attention to socially and environmentally orientated public space, that considers people as the priority. It provides a meaningful additional to the urban environment and considers human comfort, safety, accessibility, scale, and programme that can bring true value to the daily lives of all the community, covering people of all ages and status.
There is an awakening and consciousness in the industry, that a focus on people will inadvertently bring commercial success. Gone are the days of large empty paved plazas void of trees and shade just to achieve unhindered sight lines to commercial facades.
As designers and developers, we have a responsibility to the society and communities in which we are 'invited' to develop, In this new era which focuses on people and a diversity of urban experience, it is important that we can bring excitement, delight engage and inspire. This is everything that ASPECT is passionate about, "Creating places where people want to be!".
Q:ASPECT承接项目类型多元,有商业类项目,也有公共项目,有医疗景观,也有游乐景观。您有什么擅长的项目类型或是偏好吗?
ASPECT undertakes a variety of project types, including parks, public realm and urban space, infrastructure, hospitality, commercial, and mixed-use landscapes. Do you have any project types or preferences?
我想说,无论从企业或个人角度,我们都没有任何特定的类型或偏好。虽然我们常因某些类型的项目而被大家认可,但是我们一直都在努力保持我们项目作品类型多样化,也一直在寻求支持我们这一想法和目标的机会。
我们这个时代的机遇,对社会和环境都有着积极的影响。我们所有的工作室,都以我们的宗旨为指引,寻求挑战和快乐,这个原则也是贯穿我们的文化、工作室、设计师和项目的统一因素。
虽然目标统一,但同时作为一个团队,我们中的每个人也是多元化的,也正是这种多元化为我们应对每个项目的个人方法和方式赋予了独特的特色和能量。
As a business and personally, I'd say we don't have any particular typology or preference. We are recognized for some types of projects , but we try to keep our portfolio diverse and not scripted. We look for opportunities that support our thinking and our purpose.
Opportunities that are of our time, contemporary, and have positive impact both socially and environmentally. Across all our studios, we are guided by our purpose and seek opportunities that challenge and delight. This principle is unifying factor that flows through the DNA of ASPECT, our culture, studios, designers, and projects.
While unified by our goal, as a team we are equally diverse, and it's this diversity that brings a unique character and energy to our individual approaches and the way we respond to each project.
▼阿德莱德Hart's Mill儿童游乐项目 Harts Mill – Adelaide
▼珀斯雅干广场 Yagan Square – Perth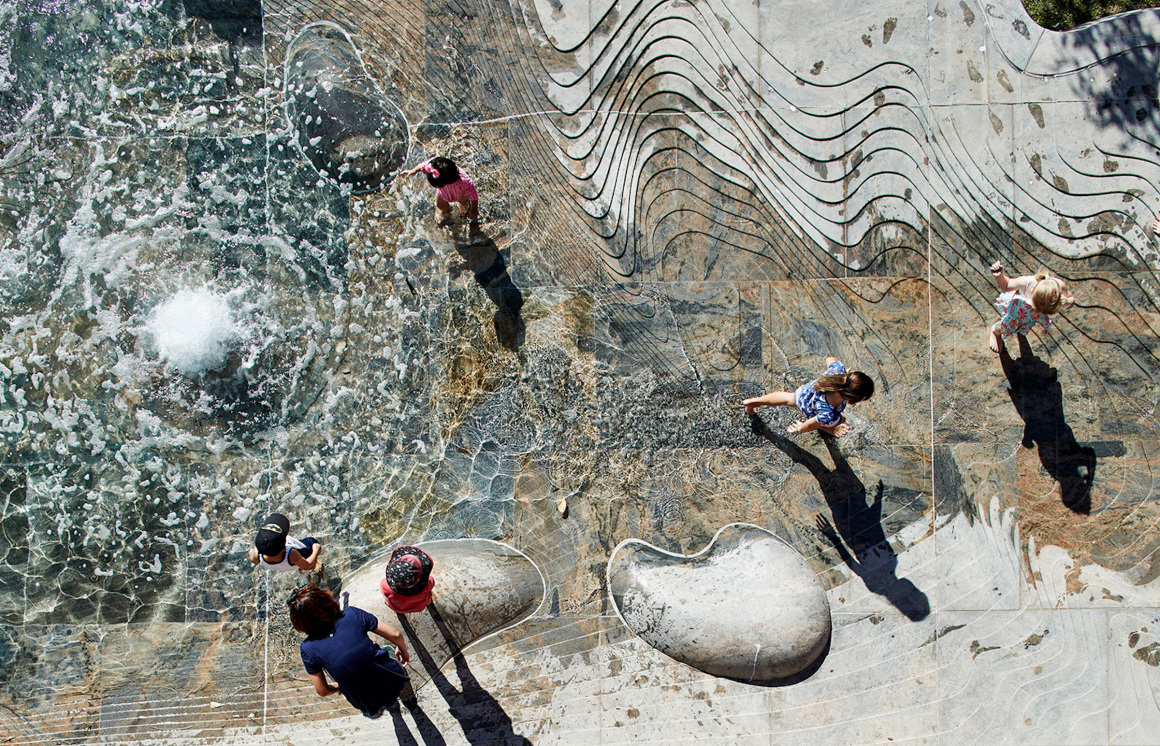 ▼悉尼达令广场蒸汽磨坊巷 Steam Mill Lane – Sydney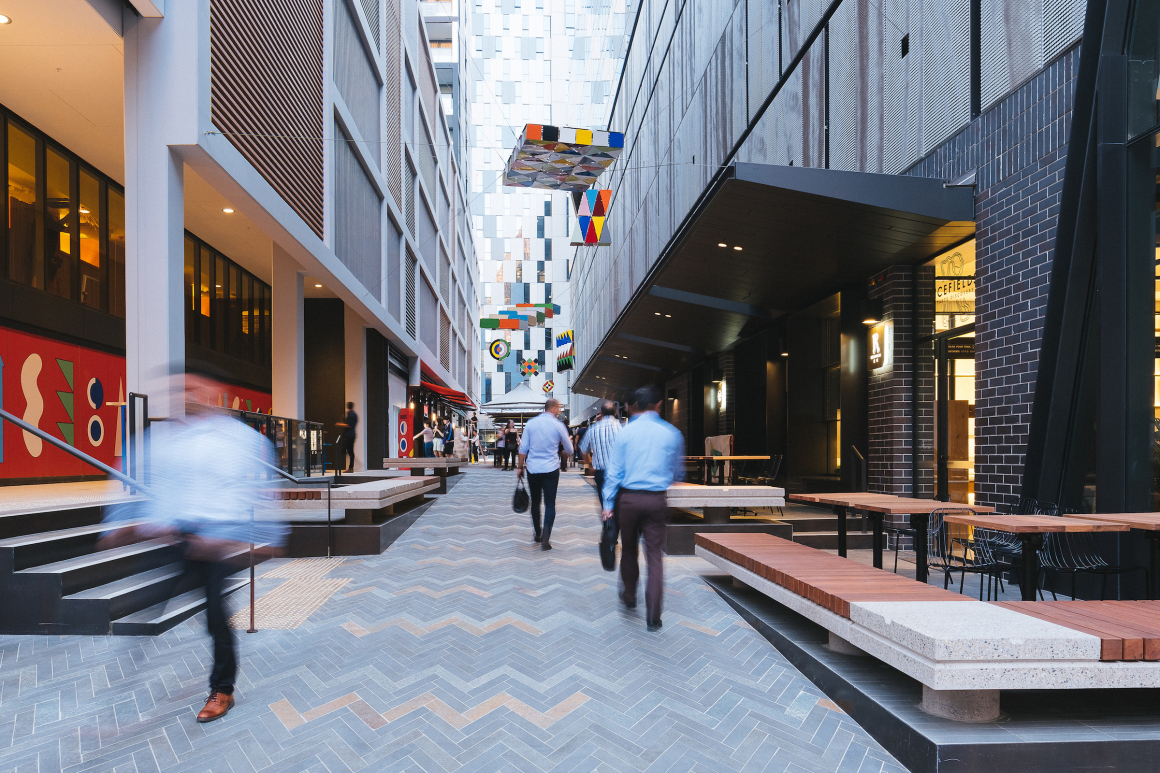 景观所影响的范围是深远的,正如我们的团队,我们有能力在不同的地区开展业务,吸引不同领域的专家和领导者,来支持单个项目的特定需求和复杂性。虽然我们常被称作是一家大型企业,但我们的思维方式、方法和运营仍保留着强大的工作室文化。这种"一体化工作室"的理念带来了一种集体的力量,让我们的团队可以在任何地点、任何类型、规模和复杂性的项目上进行创造性的合作。
近几年,为了将自己完全融入当地的文化中,与我们的客户合作伙伴密切合作,我们在许多新地区开设了工作室。目前我们共有九个工作室,其中五个在澳大利亚的主要城市,两个在中国,还有两个是最近分别在越南胡志明和阿联酋迪拜成立的工作室。
The scope of landscape is far reaching, as are our teams. We have the ability to operate across our different locations and pull in specialists and leaders from different fields to support the specific needs and complexities of an individual project. This 'OneStudio' philosophy brings a collective strength and allows our teams to collaborate creatively across all our locations on a diverse variety of project typologies, scales and complexities.
Over recent years we have been able to position ourselves in number of new geographies, imbedding ourselves in the cultures we are working within and in close collaboration with our client partners. Our studios currently stand at nine. Five across all the major cities of Australia, two in China and more recently Ho Chi Minh, Vietnam and Dubai, UAE.
Q:ASPECT作为行业的创新者,获奖无数,你们称获奖的原因不单单是因为设计而是你们与众不同的思考方式,我们想知道您在面对不同的项目时,通常有哪些思考的关键点?
ASPECT, as an industry innovator, has won numerous awards. You claim that the reason for winning the award is not just because of the design, but your unique way of thinking. What are the key points of your thinking when facing different projects?
虽然我们常在不同的地域和文化中开展业务,但整个公司都有一个强大的统一目标指引着我们进行项目实践。而思考的关键点便在于实践中我们对如何能为当地带来进步和积极的影响,并开发出具有创造性的具体解决方案,来解决人民、环境、文化与所有的复杂性和独特性。这也是我们从公司战略方向到单个项目设计,做决策和选择时的自我检查和参考点。
As a practice, while we operate across different geographies and culture, there is a strong unifying purpose throughout company, this drives us. It is our point of self-checking and reference when making decision and choices, from strategic company direction to individual project designs. It's about how can we bring progressive change, positive impact, and develop creative and innovative project specific solutions and ideas that address people, environment, culture, with all the layers of complexity and uniqueness that come with these considerations.
▼悉尼高线公园(左); 墨尔本维多利亚DeSal生态公园 The Goods Line – Sydney(Left);  Victoria DeSal and Eco Park – Melbourne
▼悉尼达令广场 Darling Square – Sydney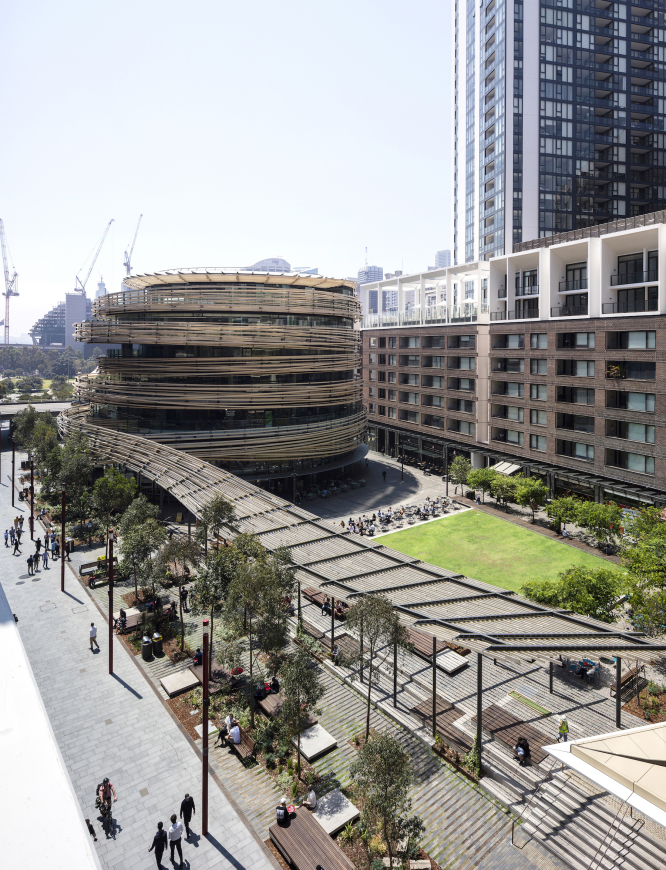 无论我们处理的是大尺度的城市空间,还是小尺度的人体空间——让场地、人、社区、文化和环境引导我们找到解决方案——这一直都是我们许多作品得以成功的支柱。我不相信有一个单一的ASPECT思维方式或项目方法可适应于所有项目。我们所有的工作室、团队和设计师都会切实根据场地环境条件来对待每一个项目。
于我而言,我总是会从"人"开始去了解一个项目特有的目标客群和文化——他们是谁,我的设计如何能为他们带来一些积极的影响。这可以延伸到探索更广泛的社区、文化、习俗、地域、背景、城市乃至全球区位。这种探索是为了理解和欣赏显而易见及隐藏的问题可能是什么。场地、气候、环境、技术只是一般的商业考虑。我觉得,作为城市和城市环境的设计者,我们有独特的职责和社会责任去尝试和解决一些更细微的问题。
Whether we are dealing with larger scale urbanism, or smaller scale people spaces – letting the site, people, community, culture and environment lead us to the solutions – this has been the backbone to the success of many of our works. I don't believe there is one singular "ASPECT'' way of thinking or approach to projects, aside from the fact that all our studios, teams and designers approach a project with a site responsive mindset.
For myself, I will always start with people, understanding the unique demographic and culture specific to a project; who are they and how can my design actions bring some positive impact or influence. This would then expand to explore wider community, culture, habits, place, context, city or even global position. This exploration is to understand and appreciate what the obvious and hidden problems maybe be. Site, climate, environmental, technical are the just the general business considerations. I feel there are finer grain issues that we as designers of cities and urban environments are uniquely positioned and have a social responsibility to try and address, or at least go some way to consider.

我相信我们每个人每天都被我们所处的环境影响着。单一庸碌式的修复工程所营造出的城市环境,正从生理和心理上对整个社会产生深远的影响。不可否认的是,不断增加的城市密度也给人们带来了许多心理健康相关的问题,如抑郁、焦虑、孤独、孤立和压力。而我们作为这些密度逐日增加的城市的设计者,可以更多地考虑我们内心的潜在影响,就算只能带来一些小小的改变。
一个小的设计,可以拉近人与人之间的距离,也可以制造一些阻碍,帮助人们从手机上抬起头来,这样他们就有可能进行真正的社交互动,去认识新的朋友,进行交谈或参与。
I believe that as humans, each and every one of us is critically defined and influenced by the environments we exist within daily! The reparative mediocrity of mundane engineering defined urban environments is having a profound influence on society as a whole, physically and psychologically. There is a undeniable connection between the increased density of cities and the increase in mental health related issues, depression, anxiety, loneliness, isolation and stress. As designers of these increased density cities, we can look to consider the unspoken impacts more within our even if in a small way.
A small gesture within a design, that physically forces people closer together, or creates a obstacle making them look up from phones, so that they may have a real social interaction, potentially meet someone new, have conversation and engage.
▼珀斯雅干广场 Yagan Square – Perth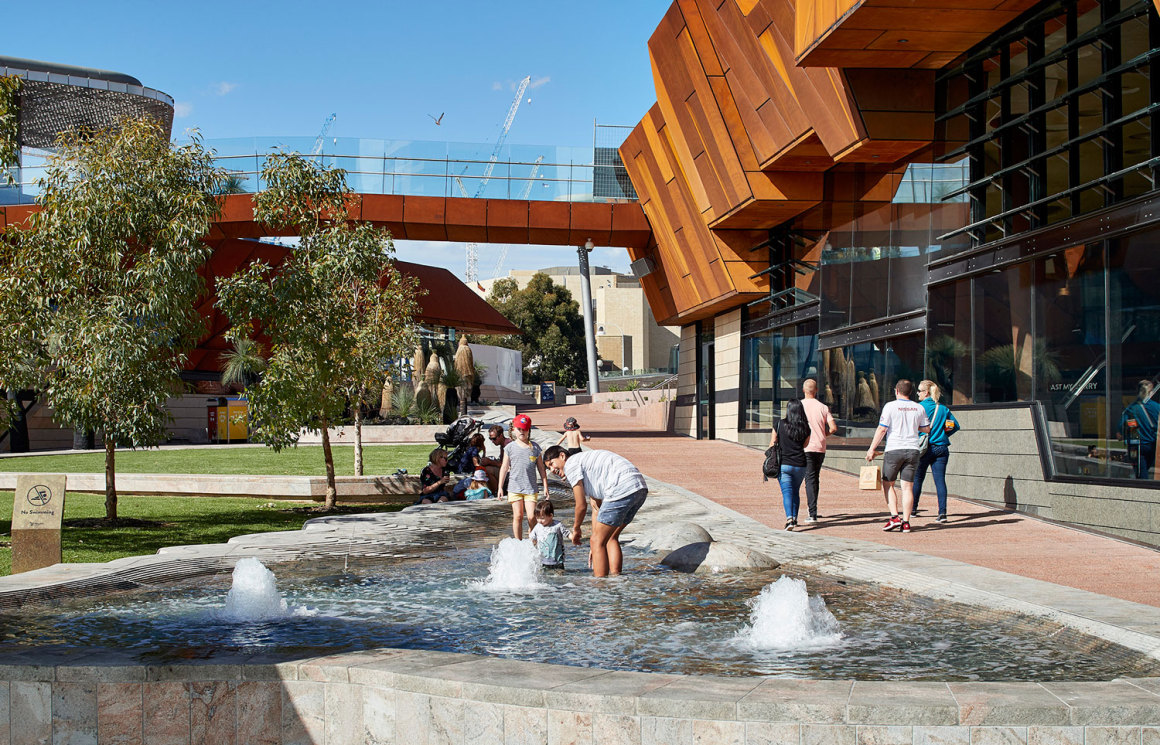 ▼悉尼高线公园 The Goods Line – Sydney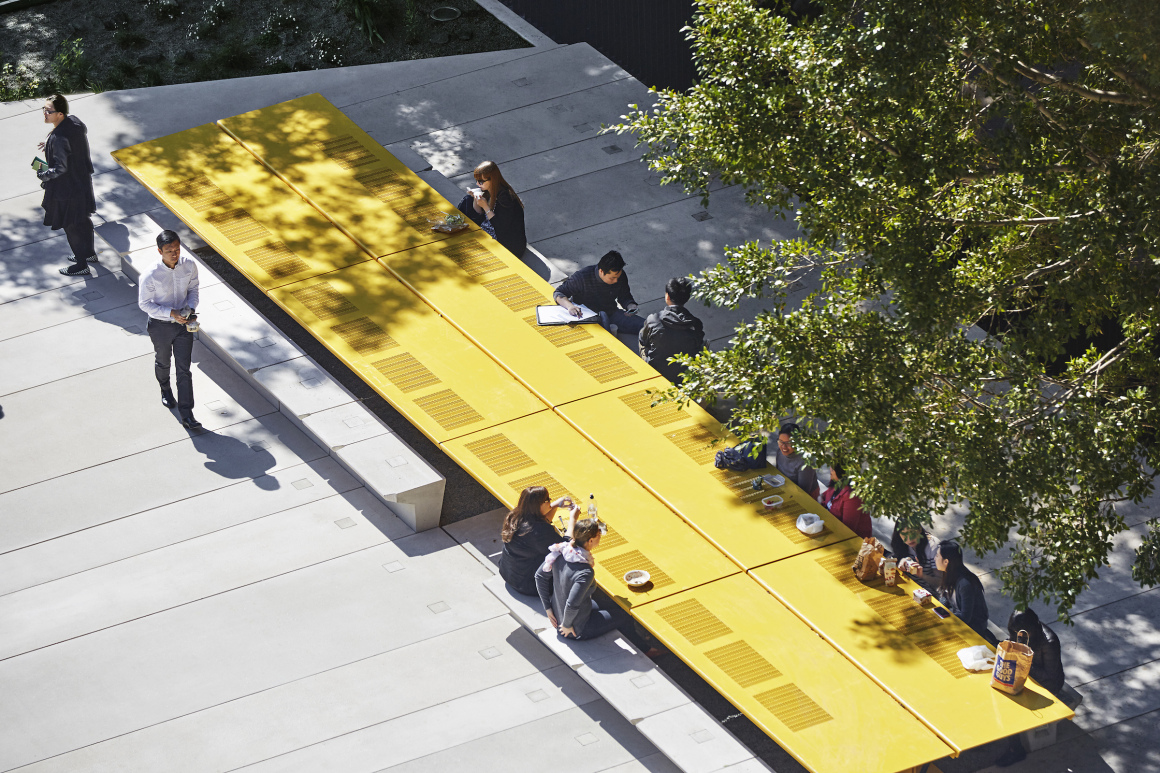 当然,每个的设计师都希望自己的设计能对所有人奏效,并被所有人喜爱,但也许更重要的是你让他们感受到了"某种东西",或者是某种体验性的空间,这种体验空间设计要源自对他们来说最独特和特别的东西,且能以顺其自然的方式促进当地社区居民交流。
Obviously, all designers wish to feel that their designs speak to everyone and loved by all. But maybe it's more important that you make them feel 'something' rather than nothing, or that the experience of being in a space which speaks to the people of that place and community in a way that could not be planned and is inspired by something unique and special to them.
▼19号公园活动中心 Pityarilla (Park 19) Activity Hub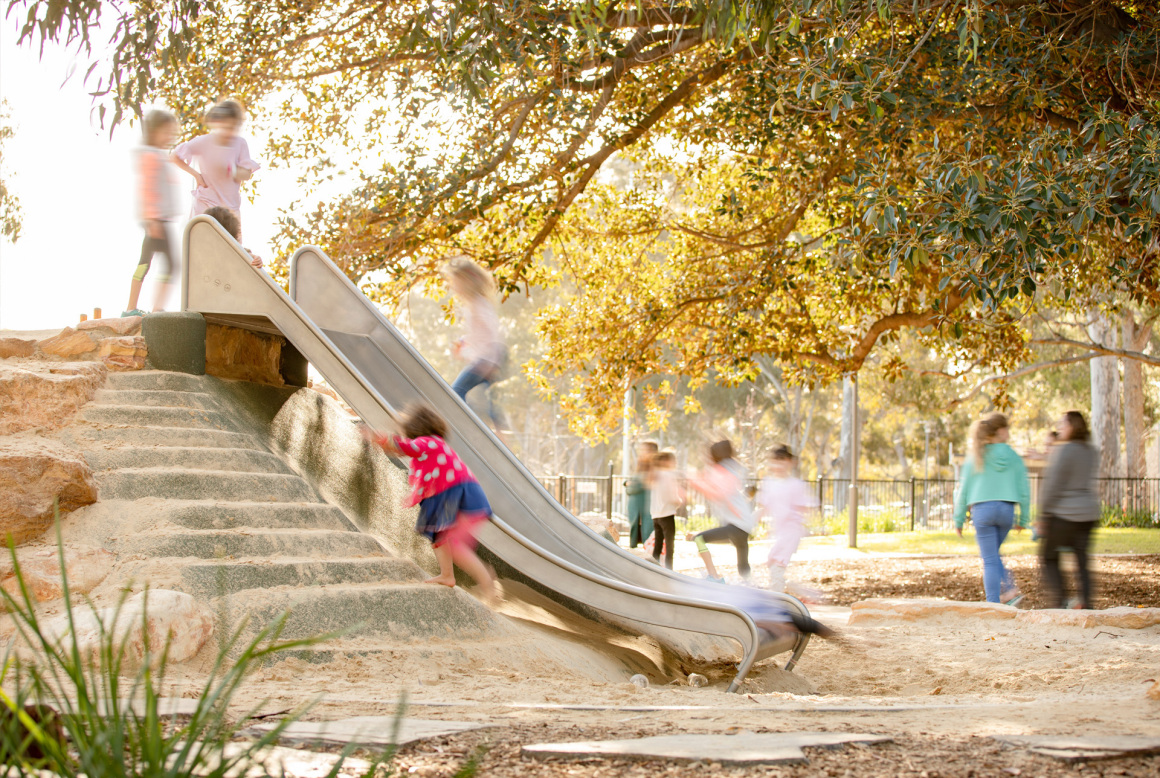 Q:您从业20多年,项目遍布世界各地,被誉为国际景观设计大师,在参与不同国家的项目设计时,您是如何在项目中体现在地性?
Since you have been in the designing for more than 20 years, your projects spread all over the world, as an foremost landscape designer with a portfolio of works gaining international acclaim and recognition, when you participated in the project design of different countries, how did you reflect the locality in the project? 
对于每个项目,我们都力求创造出独特而有意义的设计,因此,每一个项目,其中的人、历史、社区、文化或环境都是我们设计解决方案的关键。每个场地都有自己独特的历史,有时候这个历史对于观察者来说是显而易见的,有时候则是非常微妙的(尤其对于设计者来说)。我喜欢思考我们的设计与时间、地点和人之间的联系,同时它们(从本质上来说,是由我们设计的)也是我们对文化或地点的感受的个人表达和对场地的回应。
我有两个处理设计过程的基本方式,而且我发现我会有意无意地将这一方法应用到任何规模的任何设计中。一个是理性分析型,一个是感性情绪型。
第一种方式是将场地和项目需求、影响和考虑因素结合在一起的逻辑分析过程。它广泛地收集了有关城市、地区、背景、人口结构、历史、习俗、阳光、风力、降雨、海拔、微气候和栖息地、可达性、活动、视觉构成、人流和人数、规模、组成和序列、灵活性、功能性和程序的相关数据。最终得出结果将引导我们找到一个人与环境系统的设计框架,我们再对其进行分析并挖掘其中互补、矛盾和有利的条件。
第二种方式是寻求真实的回应,或者说是叙事。它将从体验和研究当地明显的、微妙的事物开始,而且这些事物本身就是独特的,它是关于这个地方,它的人民,它的过去,它的文化,城市特色,建筑或自然环境的。总之,这是一次对"场所"的真实和意义所在的探索。
我们是我们集体生活经历、影响和体验的总和,总有一个独特的思考点能够提供一个指引和解决方案,引导我们将脑海中的想象,通过颜色、肌理、形式、特色、体验来叙述表达,建成能够真实回应场地特色的东西。
With each project we strive to create a unique meaningful design response, and as such each project, its people, past, community, culture or environment hold the key to our design solutions. Each site has its own unique journey to take us on, sometimes this journey is obvious to the observer other times more subtle (personal to the designer). I like to think that our designs speak to time, place and people, whilst (by their nature, being designed by us) they are also a personal expression of our feeling of culture or place and a response to the site.
I approach the process of design with essential two 'roads' and have found that I consciously or subconsciously would apply this process to all designs, at any scale. One analytical and the other more emotional.
The first road is an analytical logical process that draws together site and project requirements, influences and considerations. Its extensive and pulls in relevant data on the city, district, context, demographic, experience, habits, sunlight, wind, rainfall, levels, microclimate and habitats, accessibility, movement, visual composition, people flow and numbers, scale, composition and sequence, flexibility, functionality, and progamme. The end result moves us towards a design framework of human and environmental systems which we analyse to extract synergies, conflicts, and opportunities.
The second road, the quest for authentic response, or narrative would start with experiencing and studying both obvious and more subtle things that are intrinsically unique and special about the place, its people, its past, its culture, urban character, architecture or natural environment. A search for an authentic, meaningful reflective of 'place'.
As people we are the sum of our collective life experiences, influences and exposures, having a singular point of reflection offers a guide and solutions to lead us away from what might simply be imagined, but to something that strives to be a unique and authentic response to place, with colour, texture, form, character, experience reflective of this narrative.
▼武汉金地中法仟佰汇 One City Development – Wuhan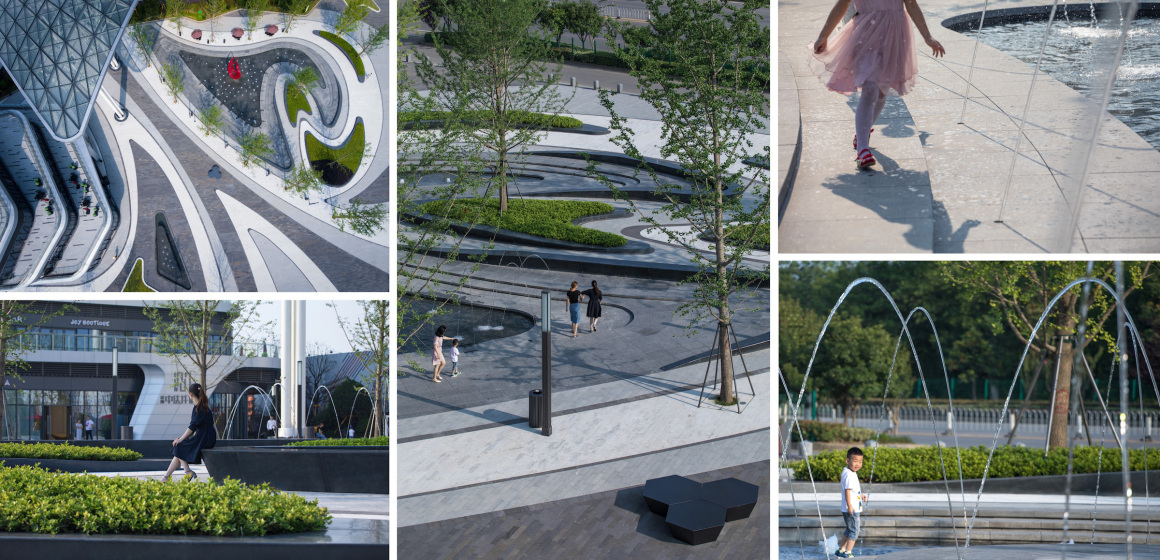 ▼成都hyperlane超线公园-城市灵感空间展示区 Social Gallery – HyperLane Chengdu
Q:去年,ASPECT与Lava合作赢得了越南胡志明中央公园的竞赛,这个项目在当地和全球范围内收获了极大的赞誉和关注, 作为项目的主持设计师,可以跟我们聊聊这个项目吗?
ASPECT in collaboration with Lava won the Central Park competition in Ho Chi Minh, Vietnam last year. The project received great acclaim and attention locally and globally. As the principle landscape designer, could you share with us some design details of the project?
这个项目位于城市中心的"核心开放空间",我们也因此意识到了它存在的意义、重要性及潜力。对我们来说,重要的是要去了解这个空间该如何贡献和增加真正的社会、文化和环境价值。设计旨在将这个世界上发展最快的城市之一融入其复杂多变的密集城市结构,同时为这个城市成为亚洲目的地之一起到增值作用。我们深知这个中央公园的目标是站上世界的舞台,并向游客和当地居民释放出一个强有力的信号。
城市的空间和场所是塑造个性、独特性和帮助创造记忆和体验的必不可少的一部分。这也是一个关键的推动因素,考虑到公园将作为该城市在全球舞台上的未来标志,潜力巨大,它将"远不止是一个公园",更代表着城市对如何在紧张的城市环境中进行可持续生活的前瞻性思考。因此,我们决定设计一个通过经验、技术、敏感性创造特色的场所,并提供一个强有力的叙事来呈现客户对该城的未来愿景。
This project is situated as "The" core open space at the center of the city, so we recognized its significance, importance and potential. For us, it was important to appreciate how the space would contribute and add true social, cultural and environmental value. We endeavored to create a design that integrated into one of the fasted developing cities in the world within complex and ever-changing dense urban fabric, we also appreciated the city's role as a destination in Asia. We understood that the central park needed to perform on the world stage and carry a strong message for both tourists and visitors as well as local residents.
The spaces and places of our cities are one of the essential ingredients in forging the character, uniqueness and in helping to create memories and experiences. This was a key driver when thinking about the park as a future icon of the city on the global stage. The vast potential for the project deemed it to be ''much more than a park''. It needed to represent the cities forward-thinking on sustainable living in an intense urban environment. We needed to design a place that created identity through experience, technology, sensitivity, and to provide a strong narrative that represented the client's future vision of the city.
▼越南胡志明市-中央公园 Central Park – Ho Chi Minh City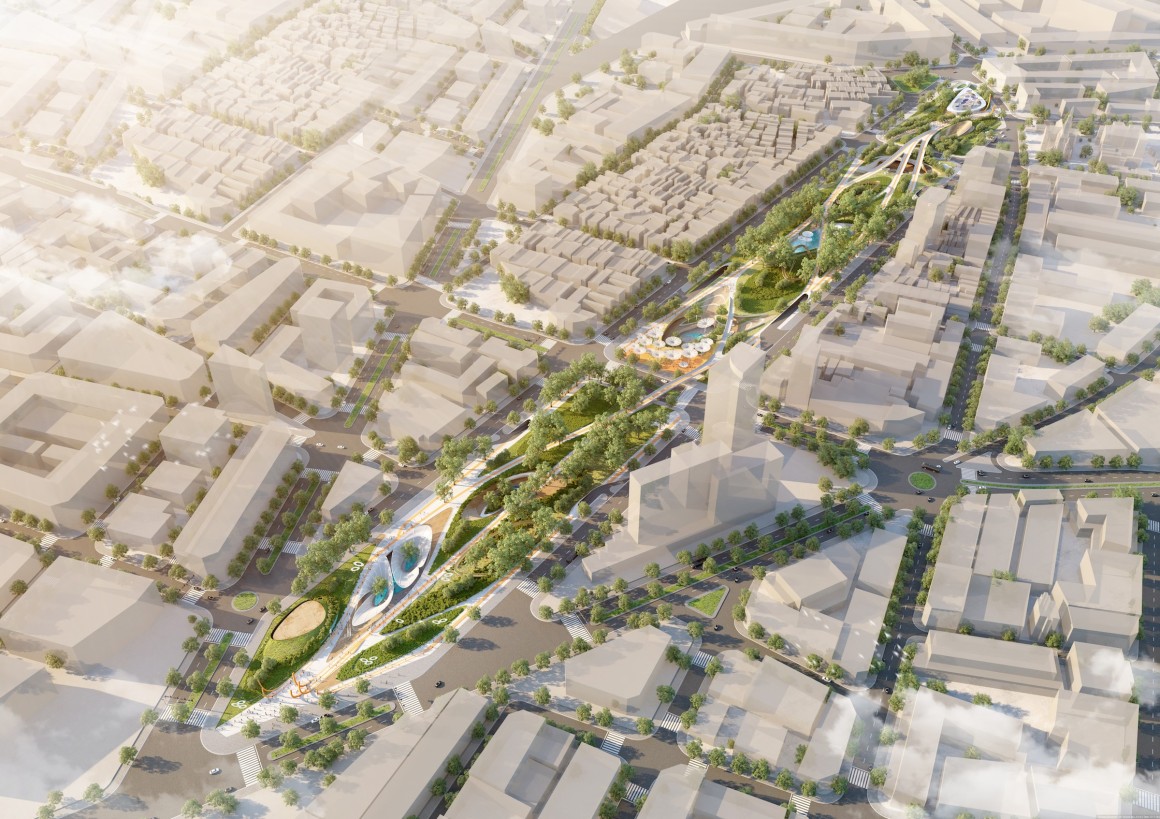 项目基地整合了现有的废弃城市公园,这个公园可以追溯到殖民时代,而其中三个主要地块都被密集的市中心道路网络给隔开。我们设计的一贯原则是将场地内部以及场地与城市之间连接起来,因此,我们开发了一种用流动的桥梁网络连接每一块土地的逻辑,帮助将行人和车辆流线分离开来。
作为回应,我们也采取了一种全新的方法来思考,让场地本身、它的历史和现在的特征来指导设计决策,开发一个具有影响力、深思熟虑、规划和体验的层叠景观框架,每一层分别代表和支持连接过去、未来、人与自然的四个导向系统。
The site was a combination an existing and rundown urban park that dates back to colonial era, with three primary plots of land segregated by a network of intense downtown roads. A consistent principle of the design was to bring connectivity within the site and between the site and the city. As such, we developed the logic of connecting each parcel of land with a flowing network of bridges, allowing separation between pedestrian movement and vehicular movement.
In response, we applied a ground-up approach to our thinking, letting the site itself, its past history and current day attributes guide and inform the decisions. A adaptive layered framework of landscape of influence, consideration, programme and experience was developed, each layer representing and supporting one of the 4 guiding systems connection between past, future, people and nature.
▼越南胡志明市-中央公园 Central Park – Ho Chi Minh City
这是我们在越南的第一个项目,它将代表我们所带来的价值能够产生的有意义的影响以及激发的积极变化。本着在设计中融入当地文化的基本原则,我们现在在胡志明市开设了一个工作室,期待着与政府、私人开发商和社区合作实现这一目标,并塑造出更多的其他城市形象项目。
This will be our first project within Vietnam, representing the values we bring can have meaningful impact and activate positive change. Following the principles of being present in the cultures we look to design in, we now have a studio in Ho Chi Minh City, and look forward to working with the government, private developers and community to realize this and many other city shaping projects.
Q:前面了解到,ASPECT在很多国家都开设了工作室,那么作为一家大型的跨国际事务所,您认为ASPECT有什么值得称道的公司文化吗?
ASPECT has grown to more than 200 people in recent years. As a huge firm, do you think ASPECT has any commendable company culture?
我之前提到过这个。虽然我们现在是一家相当大的企业,且在多个地区设有工作室,但每个工作室我们都保留了ASPECT Studios的内在DNA。我们的工作室有着强大的学习、协作和互联的工作室文化,且拥有成熟的内部结构系统,支持我们作为"OneStudio(一体化工作室)"无缝地工作,帮助我们汇集最新的全球思维和技能,进行全球协作。与此同时,对于我们的成功也同等重要的是,我们拥有超过200种思想,在我们设计的文化中心,提供多样的本地人才、鉴赏力、观点、知识和经验。
Think I touched on this a little earlier. While we are now a sizable business, and located across multiple geographies, each studio retains the intrinsic DNA of ASPECT Studios. Our studios' operate with a strong learning, collaborative and connected studio culture, and have structured internal systems that support us to work seamlessly as "OneStudio" allowing us to pool our latest global thinking and skills to collaborate globally. At the same time, and of equal importance to the success. We have over 200 minds, we are also located within the heart of the cultures we design within, bringing a wealth of local talent, appreciation, perspective, knowledge and experience.
Q:ASPECT鼓励设计师走出办公室,参与教学、参与更多社区项目、甚至推动环境政策的改善,不仅仅局限于设计,这更多的是在选择一种生活态度, 你认为这对于公司的发展有什么方面的帮助呢? 这是否会成为未来设计师的发展趋势呢?上海的公司分部是否遵循这样多元化的发展模式呢?
ASPECT encourages designers to go out of the office, participate in teaching, participate in more community projects, and even promote the improvement of environmental policies. It is not just limited to design. This is more about choosing a life attitude. What do you think this is for the company's development? How about help? Will this become a trend for future designers? Does the company branch in Shanghai follow such a diversified development way?
的确,这是我们DNA的一部分。作为关注未来的一群人,我们需要专注于扩展知识、分享信息和学习、开发和创造新的思维和设计方式。ASPECT一直与教学和学术界保持着紧密而积极的联系。我们鼓励我们各级团队走出去寻找机会参与学习项目、融入学校和大学。
我们对这一目标的倡导来自于领导层集体一致的责任, 一种支持景观专业和下一代的责任和愿望,希望看到它成长和加强,并在我们这一代最大的"气候变化"挑战中发挥领导作用。在应对气候变化、创造弹性和可持续性方面,现在比以往任何时候都更需要多系统思维,而景观设计师正处于一个独特的位置,我们有能力发挥积极和领导作用。
Indeed, this is part of our DNA. As future focused people, we need to be obsessed with expanding knowledge, sharing information and learning, developing and creating new ways of thinking and designing. ASPECT has always had strong and active relations with teaching and academia. We encourage all our teams, at all levels to seek opportunity to engage with learning programmes, schools and universities.
Our advocacy for this comes from a responsibility that is collectively aligned across the leadership; a responsibility and desire to support the Landscape Architecture profession and the next gen-LA's, to see it grow and strengthen to take a leading role in the biggest challenge of our generation, "climate change". The need for multi-system thinking in battling climate change, creating resilience and sustainability is essential now, more than ever before and Landscape Architects are uniquely positioned, skilled to take active and leading role.
Q:ASPECT在实践的同时还保持着创新精神,在不少新兴话题下都有自己的研究, 能介绍一下最近都有哪些方面的研究吗?现在澳洲都关注什么话题呢?
ASPECT keeps the spirit of innovation while practicing and has its own research on many emerging topics. Can you tell us what kind of research you are working on? What topics is the office in Australia focusing on now?
前几年,我们建立了一个创新实验室,并为其提供资金和支持。虽然目前的工作仍处于保密状态,但我可以说,其核心基础是着眼于更广阔的解决方案,推动学习、理解、解决问题和知识共享,专注于与行业相关的创新,它将支持和影响整个行业,而不仅仅是我们的项目实践。
创新实验室的范围没有界限,其创意来自公司的各个层面。它囊括了分享、过去的学习和项目数据、设计思考和材料运用。我们专注于参数系统、数据分析和景观集成BIM、城市水敏性设计、未来制图系统、大数据分析和使用评估学习。这将帮助我们的设计师获得可量化的数据,并通过不同的设计解决方案来帮助宣传社会和环境成果。
For the few year we have setup and funded and dedicated Innovation Lab. The current works are still under wraps, but I can say that the core foundation of this is in looking at bigger picture solutions, to drive learning, understanding, solving problems and knowledge sharing with a dedicated focus on industry related innovation, that will support and impact the industry as a whole rather than just our practise.
The scope of the Innovation Lab has no boundaries and ideas come from all levels of the company. These will range from sharing, past learning's and data from projects, approaches to design thinking and materials. We are focusing on tools which are founded in parametrical system, data analysis and integrated BIM in landscape, WSUD , Future mapping systems, Big Data analysis and post occupancy learnings. This will allow our designers to have access to quantifiable data to assist with advocacy towards, social and environmental outcomes through differing design solutions.
Q:最后,你们目前在做什么有趣的项目,以及你们和谁合作,可以提前跟我们透露一下吗?
Finally, what interesting projects are you currently working on that we should look out for in the near future, and who your collaborating with.
目前,我们在工作室和现场都有各种各样令人兴奋的项目,对于我们来说,这将是一个激动人心的时期。我可以简单阐述一些关于它们的内容:
We have a diverse range of really exciting projects on the boards and on site at the moment, and its a going to be an exciting upcoming period for the studio. I'll give you a little insight into few of them:
成都hyperlane超线公园,这是一个位于四川音乐学院旁边,总长2.4公里的三层空中公园和生活方式开发项目,一个充满活力、趣味和动态的线性连接项目。这个项目我们正在与由我的好朋友温子先博士领导的Aedas北京工作室合作,目前,第一期的城市灵感空间展示区刚刚开放。
The HyperLane in Chengdu, a three level, 2.4km long skypark and life style development. It is vibrant, fun and dynamic linear connective development that is the core of the University of Music and Art in Chengdu. We are collaborating with Aedas, lead by my good friend Andy Wen in Beijing and the initial phase urban social gallery has just opened.
▼成都hyperlane超线公园设计过程 Design Process
▼成都hyperlane超线公园实景 The HyperLane in Chengdu
位于浦东的新上海东方图书馆目前也正在建设中,预计将于明年开放。这是上海的一个标志性项目,也是一个以市民、社区和人民为中心的品质项目。它坐落在世纪公园冷藏库上最令人惊叹的独特位置,其景观设计旨在将周围的特色融入设计的每个角落。这个项目是我们与Chris Hardie领导的SHL团队一起合作的。
The New Shanghai Library East in Pudong, is currently under construction and set to open next year, a landmark project for the city and an amazing civic, community and people orientated project. It's in the most amazing unique location on the fridge of century park, and the landscape design looks to bring the surrounding character to every corner of the design. Collaborating with Chris Hardie and the team at SHL.
▼上海图书馆 Shanghai New Library
The Roof,是一个位于上海新天地中心地段的人文商业项目。这个项目反映的是上海传统的街道,它以红砖、盆栽和植被为特色,并有醒目的垂直绿化。该项目由我们与Ateliers Jean Nouvel合作设计。
The Roof, a human scale cultural commercial project in the heart of Shanghai (XintianDi) . The project is a reflection of the traditional streets of Shanghai, and embraces the character of red brick, plant pots and vegetation, with an eye catching green façade. In collaboration with Ateliers Jean Nouvel.
▼上海新天地The Roof精品商业项目 The Roof, Xintiandi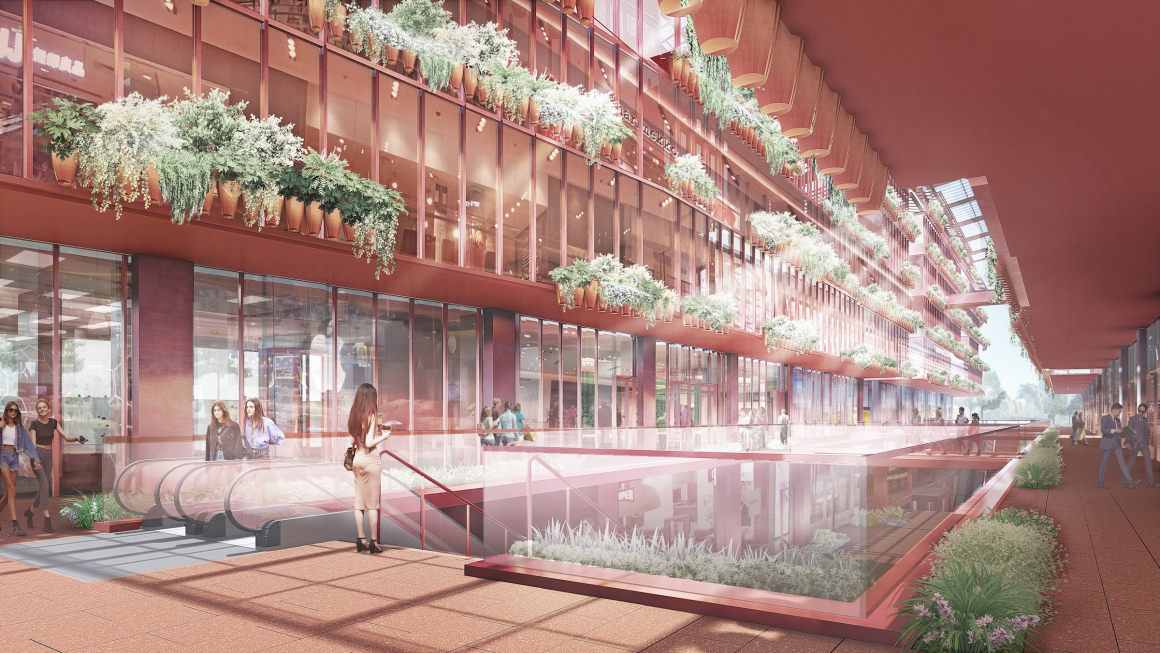 ▼正在建设中的新天地The Roof精品商业项目,马当路视角照片 Under construction, photos from Madang Road, Xintiandi
另外,最近我们与香港置地在重庆也有合作一个非常棒的项目——The Ring。我对这个项目非常感兴趣,因为这是一个可以帮助倡导人们保护我们的自然环境,以及让城市居民自我发挥巨大影响的机会。这个项目目前也正在建设当中。
A amazing experience based project with HKLand in Chongqing, The Ring. A project I'm very passionate about this as it's a opportunity to help spread a important message relating to protecting our natural environment, and how even city people can have a big impact. This project is currently under construction.
▼香港置地约克郡光环购物公园 HKLand The Ring Shopping Park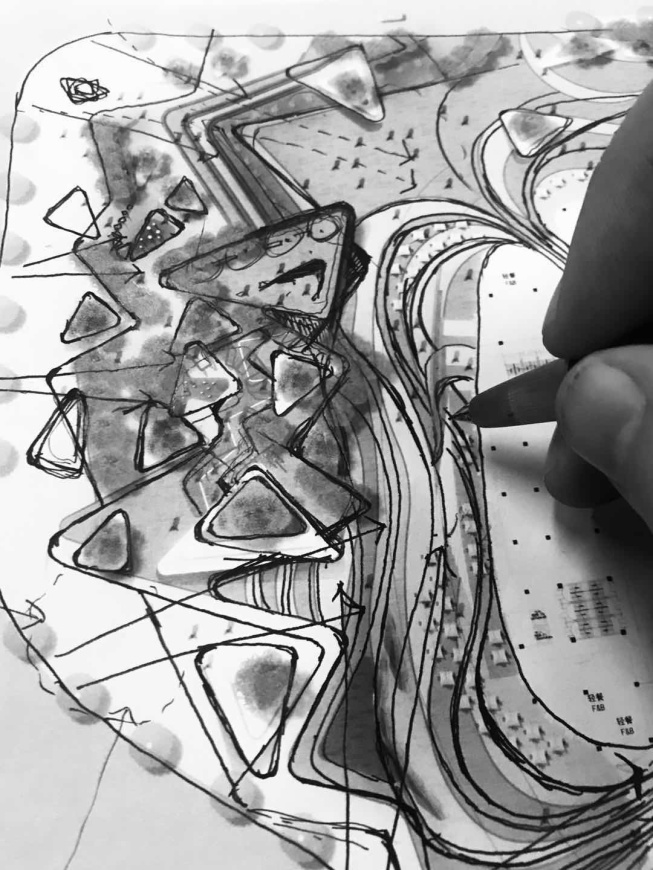 感谢ASPECT团队对本次采访的深度配合!Thanks to the ASPECT Team for their deep cooperation in this interview!   
更多 Read more about:ASPECT Studios