本文由 DS+R(Diller Scofidio + Renfro) 授权mooool发表,欢迎转发,禁止以mooool编辑版本转载。
Thanks DS+R for authorizing the publication of the project on mooool, Text description provided by DS+R.
Diller Scofidio + Renfro:2019年6月4日,纽约高架线性公园为其最新开放的支线部分举行了开业庆典,该支线部分于今年6月5日正式向公众开放。
Diller Scofidio + Renfro:New York, NY (June 4, 2019)  the High Line hosted an opening celebration for its newest section, the Spur. The Spur officially opens to the public tomorrow, June 5.
▼今年正式开放的线性公园支线段 The Spur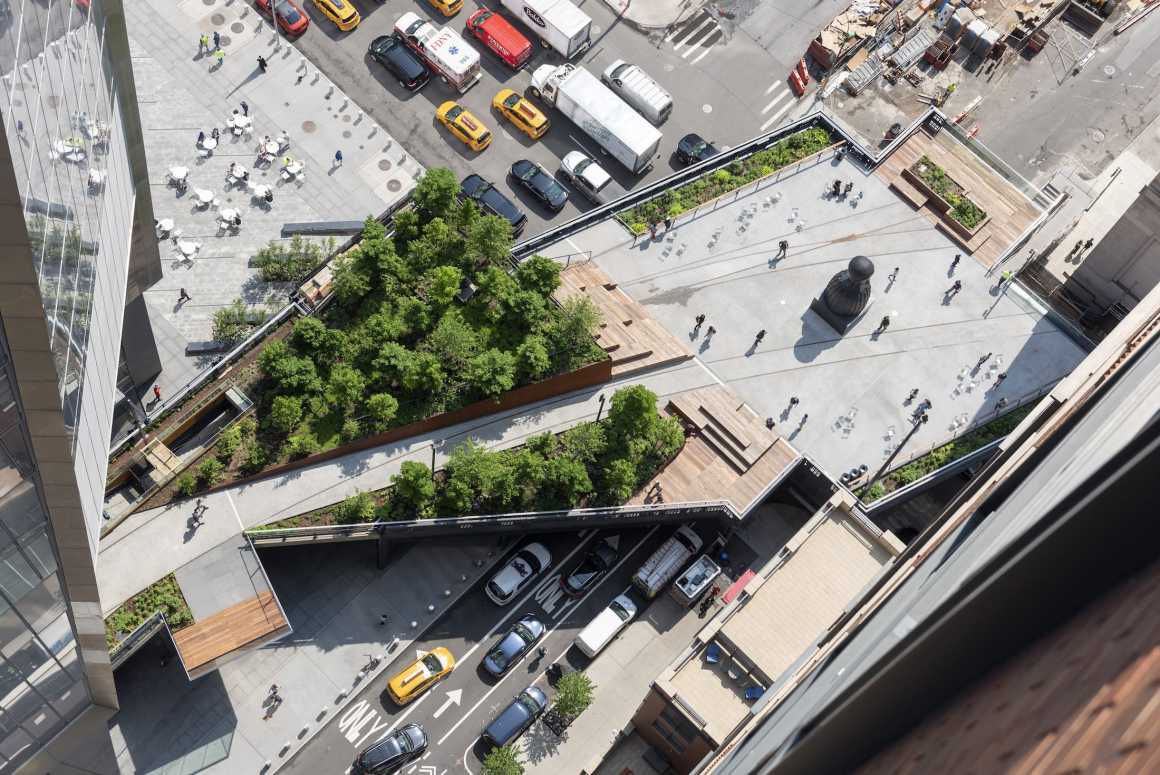 高架线性公园 THE HIGH LINE
High Line是DS+R与James Corner Field Operations和Piet Oudolf合作设计的,这是一个建在一条废弃高架铁路上的公共公园,从肉类加工区一直延伸到曼哈顿的哈德逊铁路站,全长1.5英里。新公园的设计灵感来自这座后工业时代废墟的忧郁不羁之美,通过将那些被破坏的生物多样性转化为高架沿线的一系列特定的城市微气候(包括阳光充足、阴凉、潮湿、干燥、多风和有遮蔽的空间)景观,自然又重新占据了这个曾经至关重要的城市基础设施,为旧工业遗址带来了新定义。
Designed in collaboration with James Corner Field Operations and Piet Oudolf, The High Line is a 1.5–mile long public park built on an abandoned elevated railroad stretching from the Meatpacking District to the Hudson Rail Yards in Manhattan. Inspired by the melancholic, unruly beauty of this postindustrial ruin, where nature has reclaimed a once vital piece of urban infrastructure, the new park interprets its inheritance. It translates the biodiversity that took root after it fell into ruin in a string of site–specific urban micro-climates along the stretch of railway that include sunny, shady, wet, dry, windy, and sheltered spaces.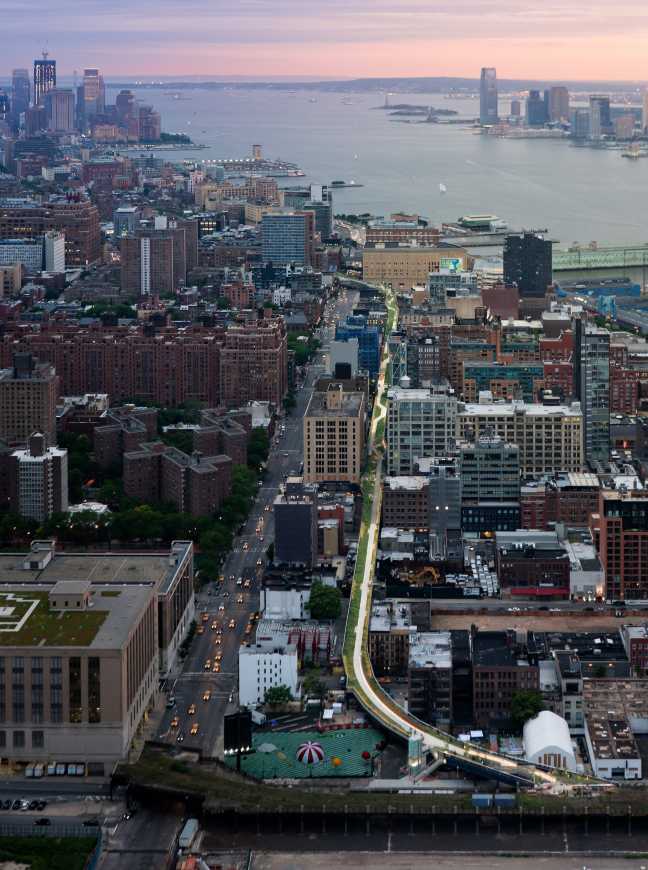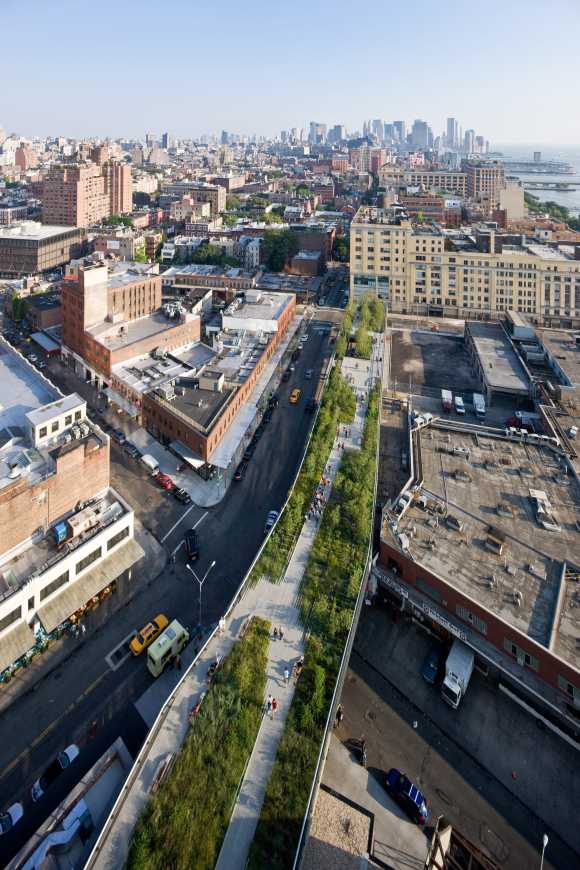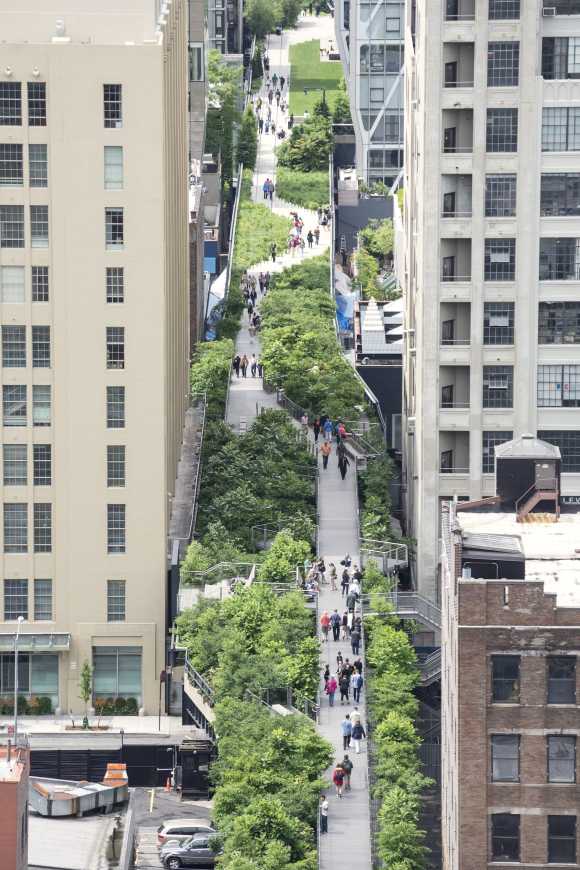 农业-建筑 AGRI-TECTURE
通过农业-建筑(部分农业,部分建筑)策略,将高架线性公园数字化分割成离散的铺装和种植空间,这些独立的单元沿着1.5英里长的公园组合成各种包括全硬化、全绿化、植被丰富的生物群落梯度空间。铺装系统由单独的预制混凝土板组成,这些混凝土板的接缝开敞,以便野草穿透人行道裂缝自由生长。长长的铺路单元末端呈锥形,融合种植空间,形成了纹理化的"无路"式景观,人们可以在这里随意漫步。整个公园将野生与栽培植物、私密和社交空间完美融合在一起。
Through a strategy of agri–tecture—part agriculture, part architecture—the High Line surface is digitized into discrete units of paving and planting which are assembled along the 1.5 miles into a variety of gradients from 100% paving to 100% soft, richly vegetated biotopes. The paving system consists of individual pre–cast concrete planks with open joints to encourage emergent growth like wild grass through cracks in the sidewalk. The long paving units have tapered ends that comb into planting beds creating a textured, "pathless" landscape where the public can meander in unscripted ways. The park accommodates the wild, the cultivated, the intimate, and the social.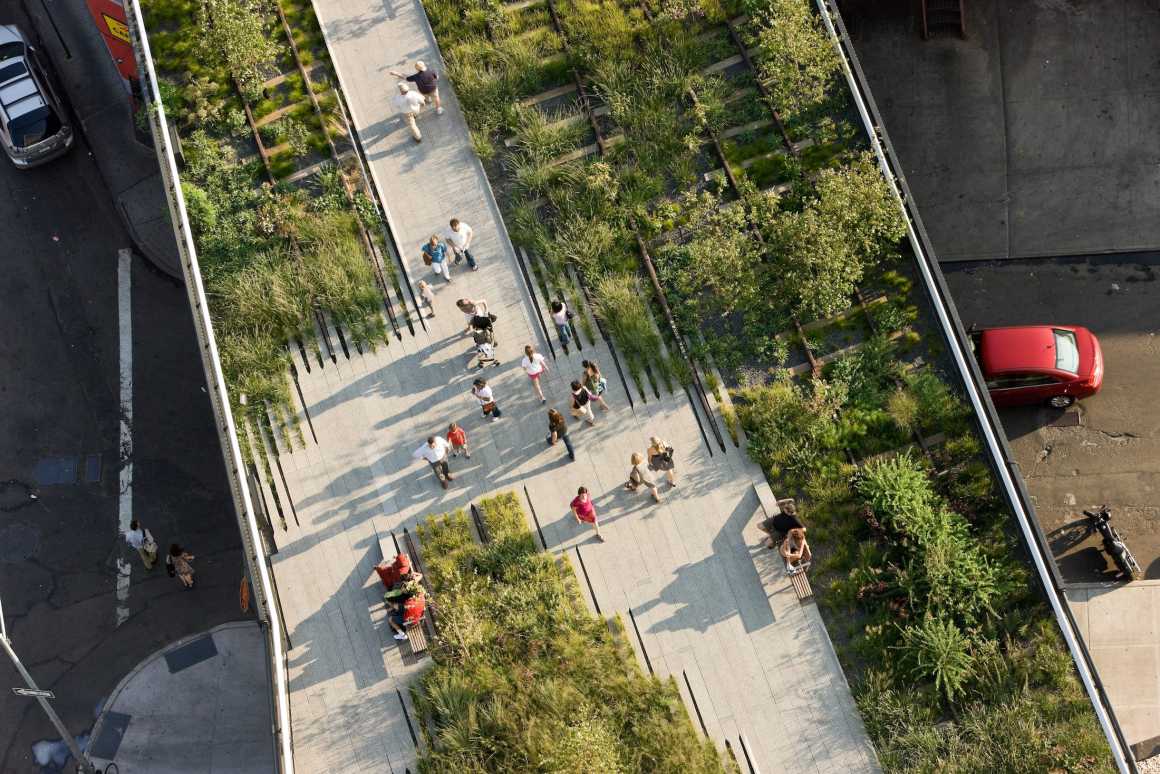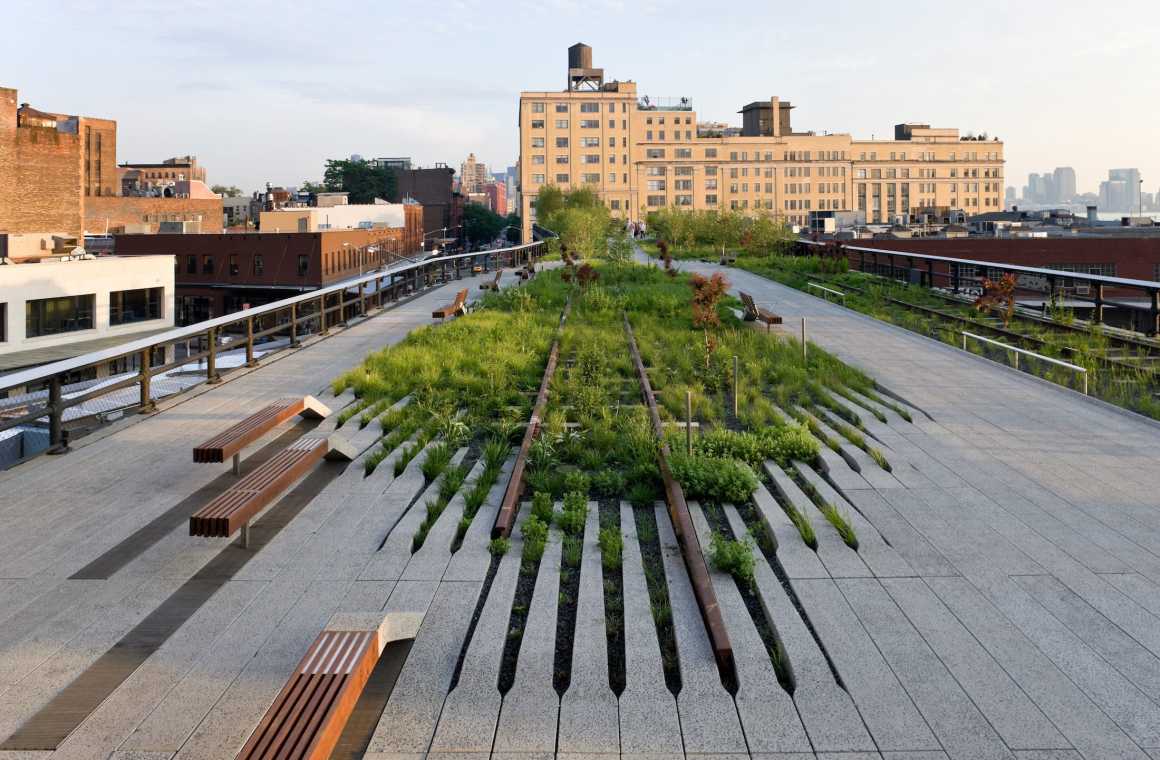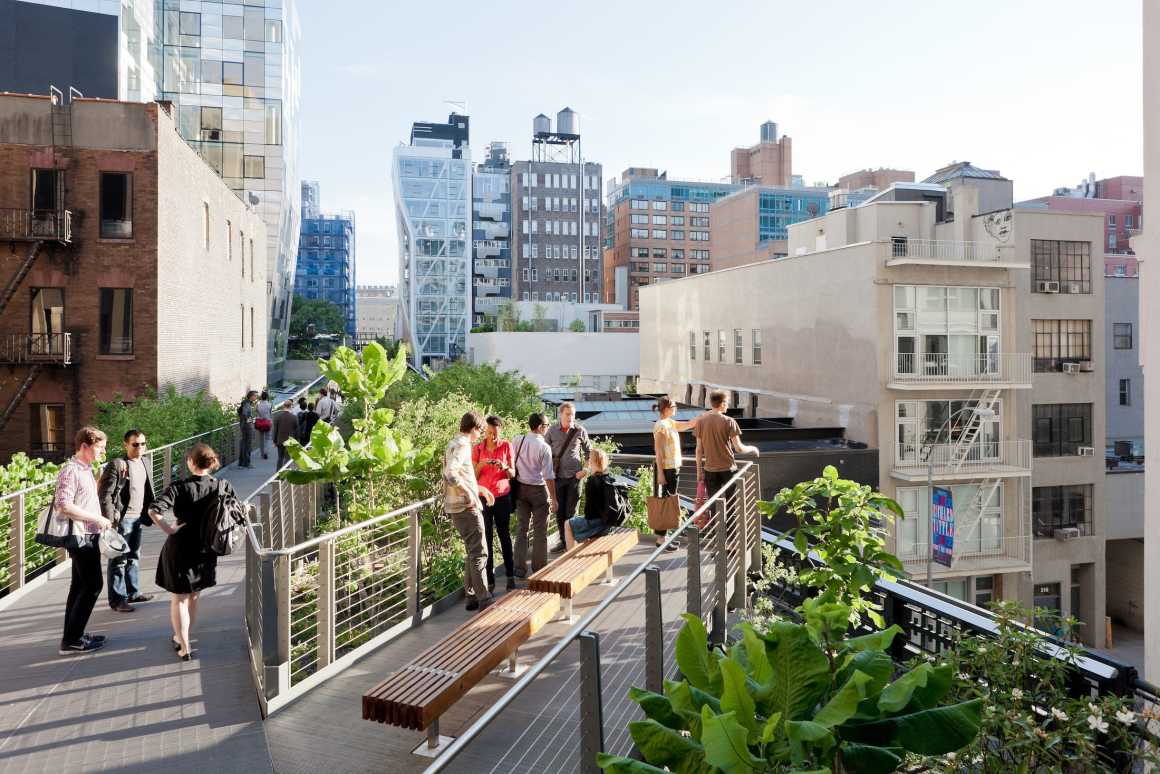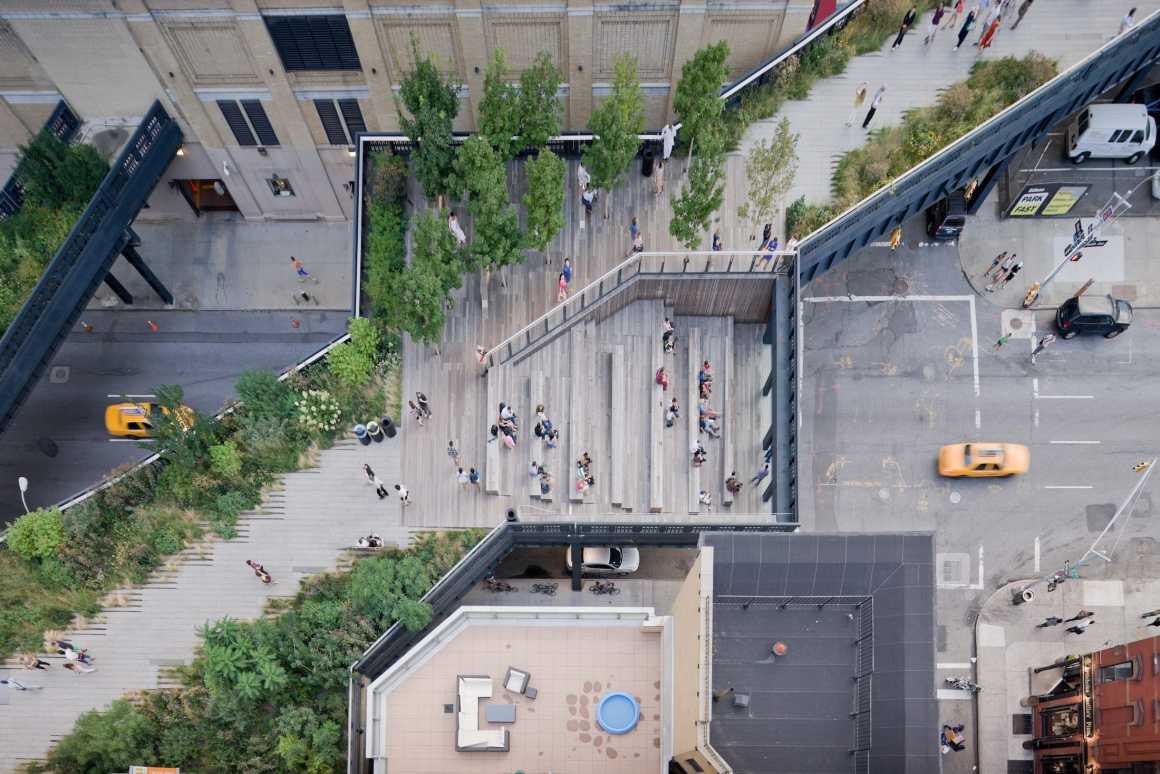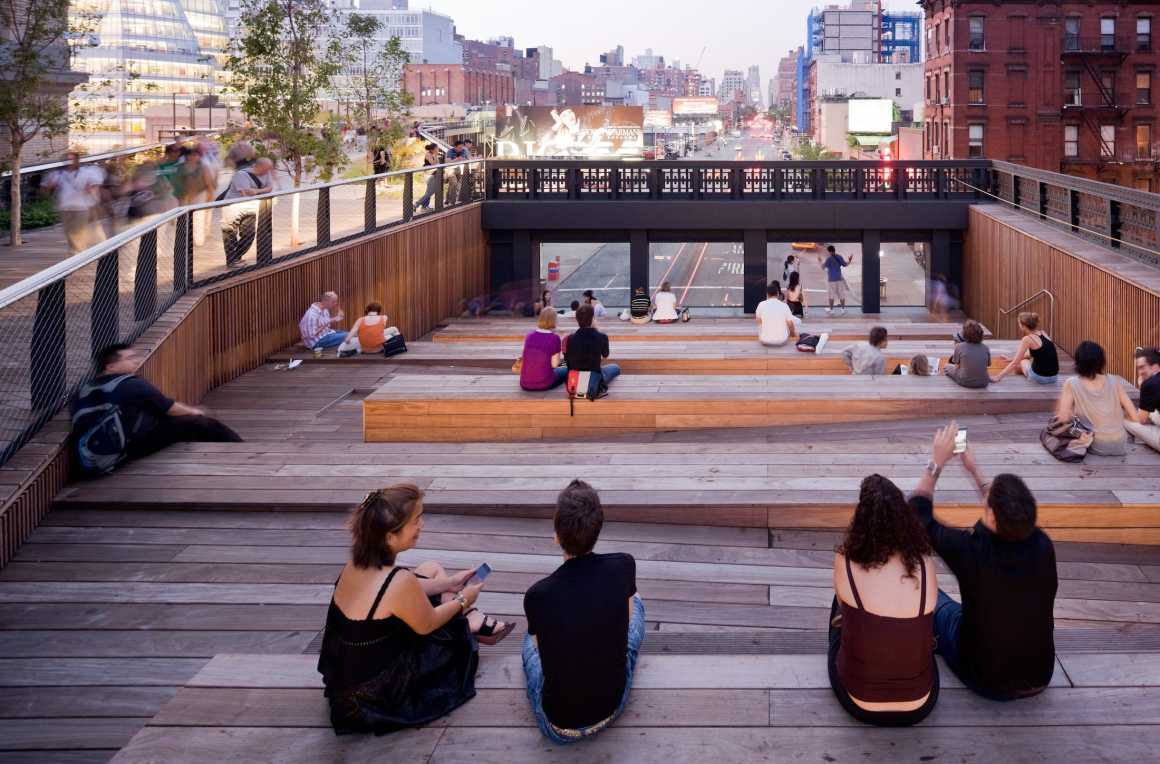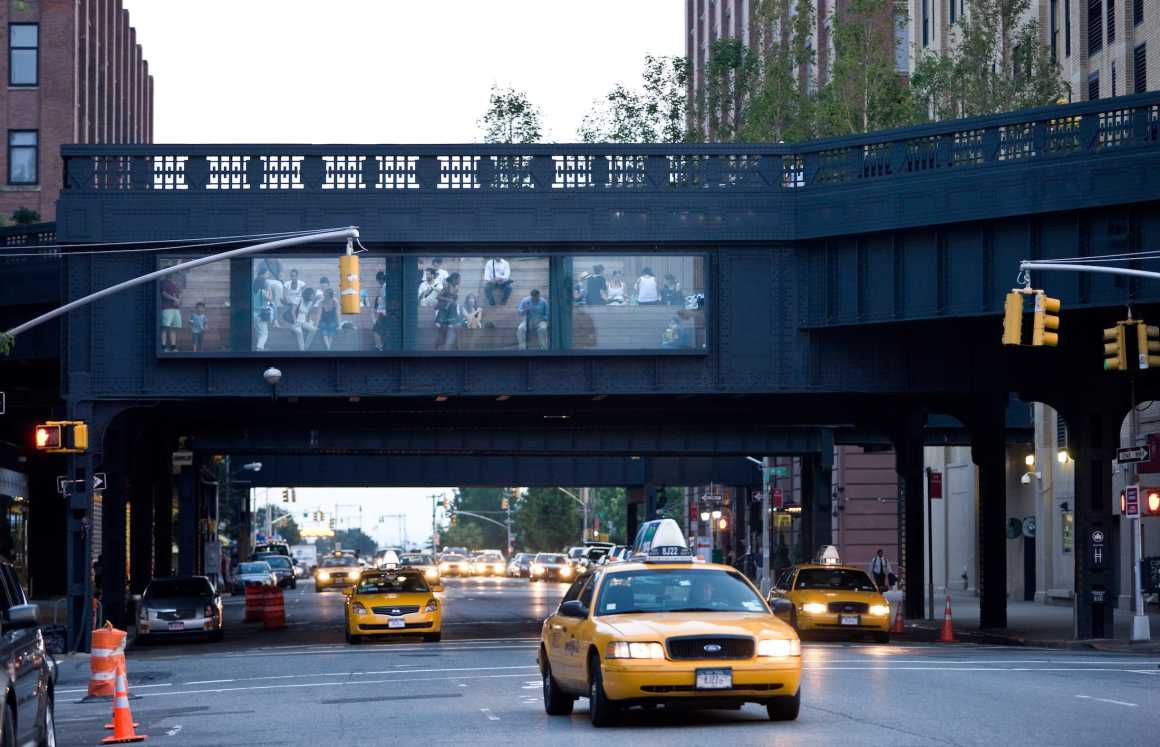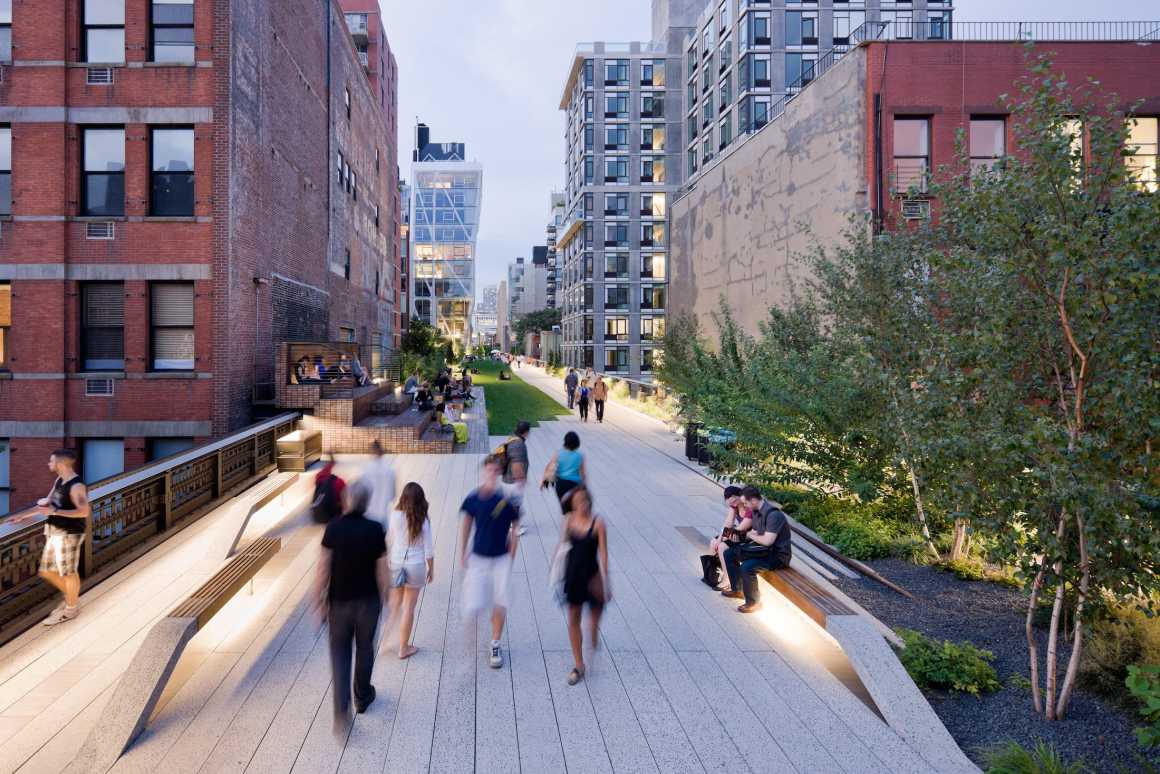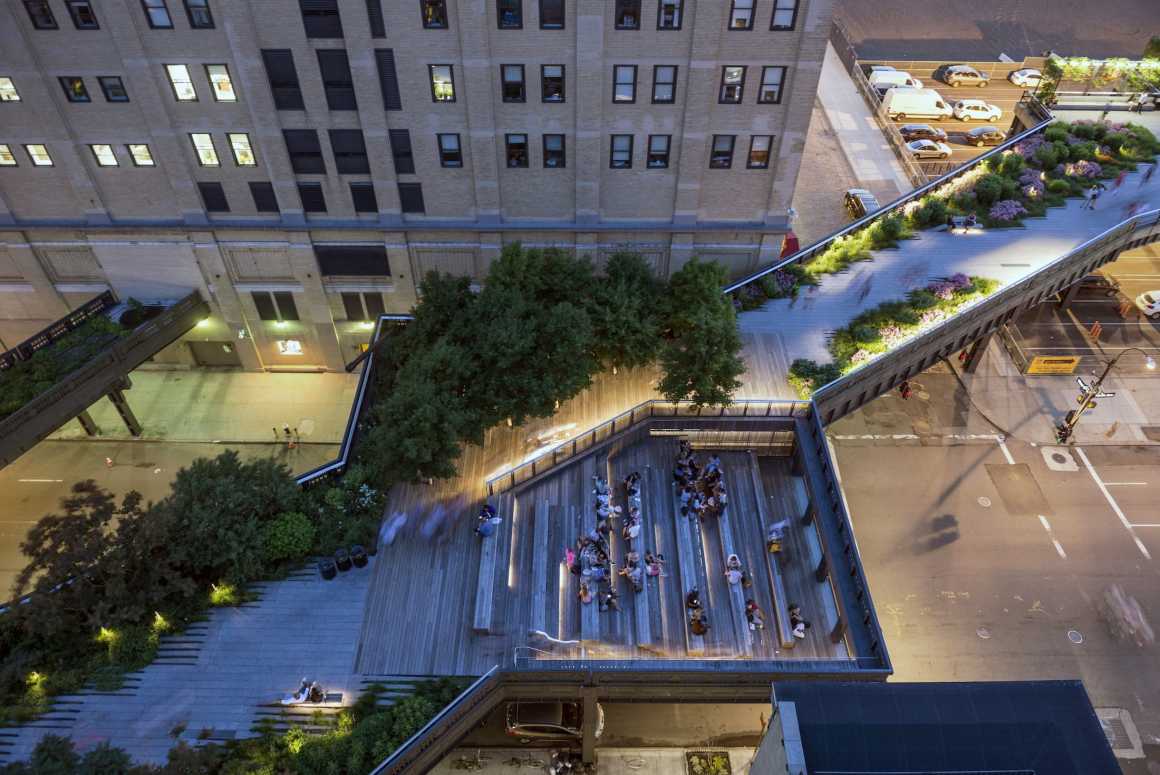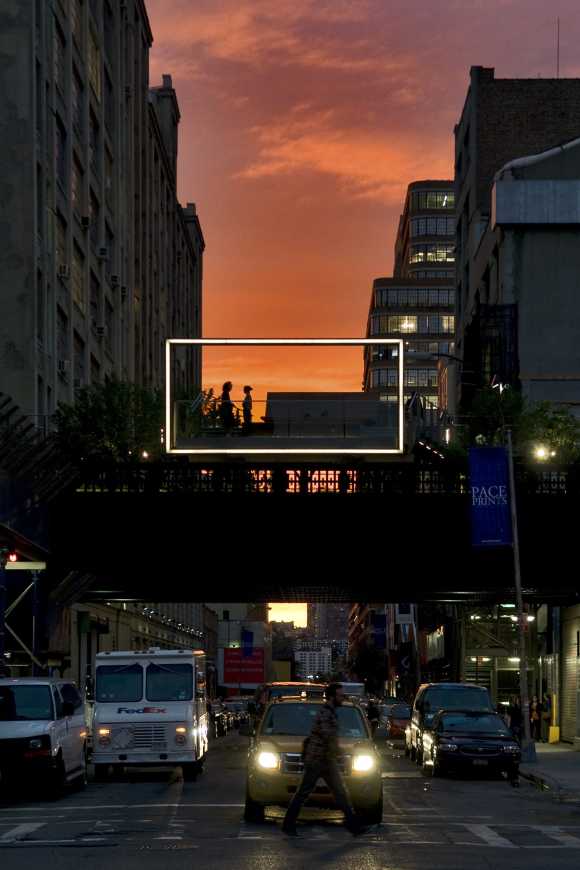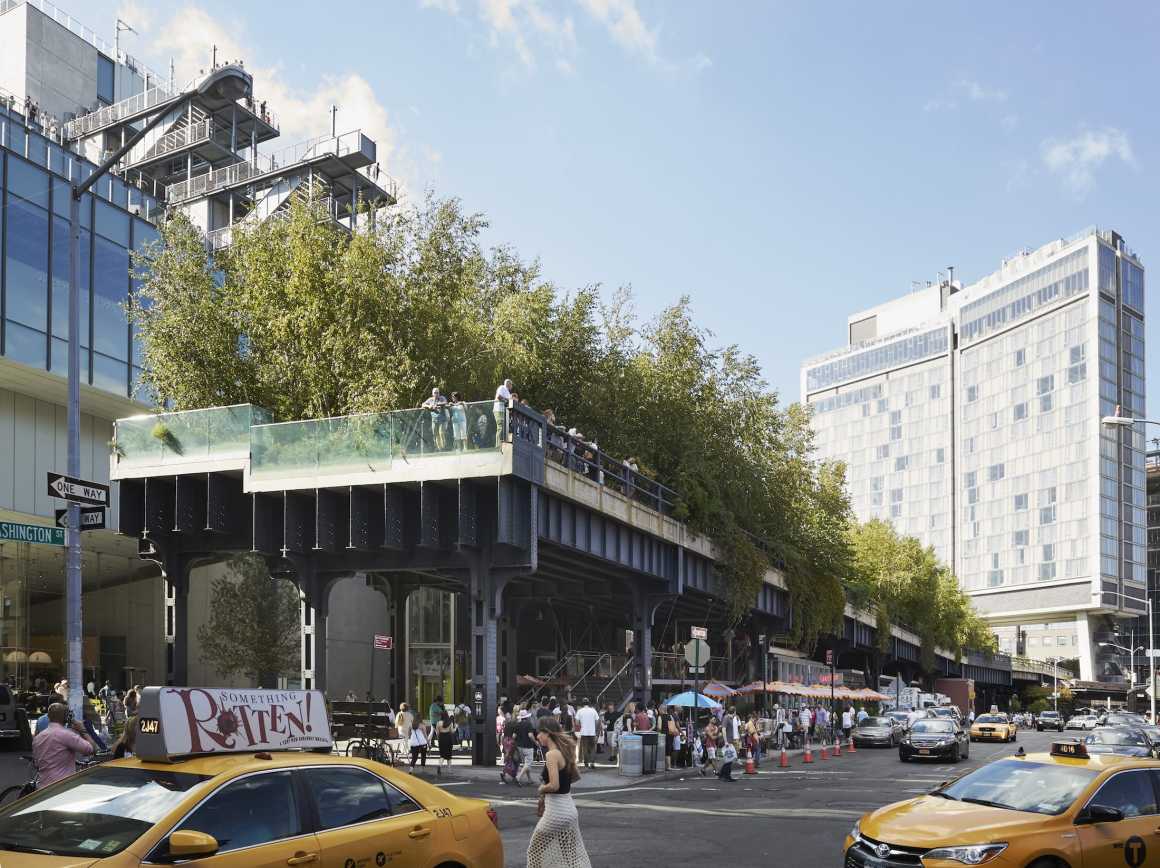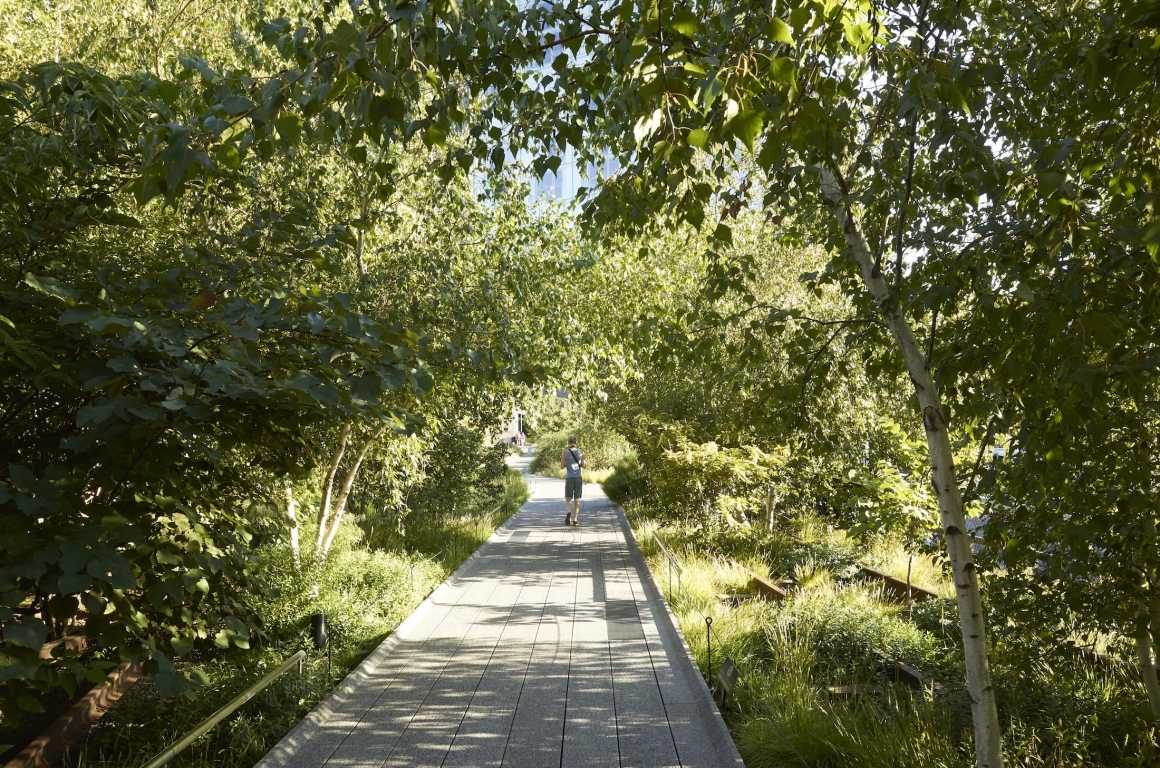 线性公园支线段 THE SPUR
这条沿第大30街向东延伸至第10大道,将公园和哈德逊庭院连接起来的支线是高架线性公园的最后一段。其亮点是一个大型的公共艺术广场、座位和聚散区,以及两个超大的,郁郁葱葱营造出沉浸式森林环境的"倾斜"种植园。
The Spur, the last section of the High Line that extends east along 30th St. and terminates above 10th Ave., uniting the park with Hudson Yards. It features a large-scale plaza for public programming and art, areas for seating and gathering, and two oversized "tilted" planters that features a lush, immersive woodland environment.
▼艺术广场 The plaza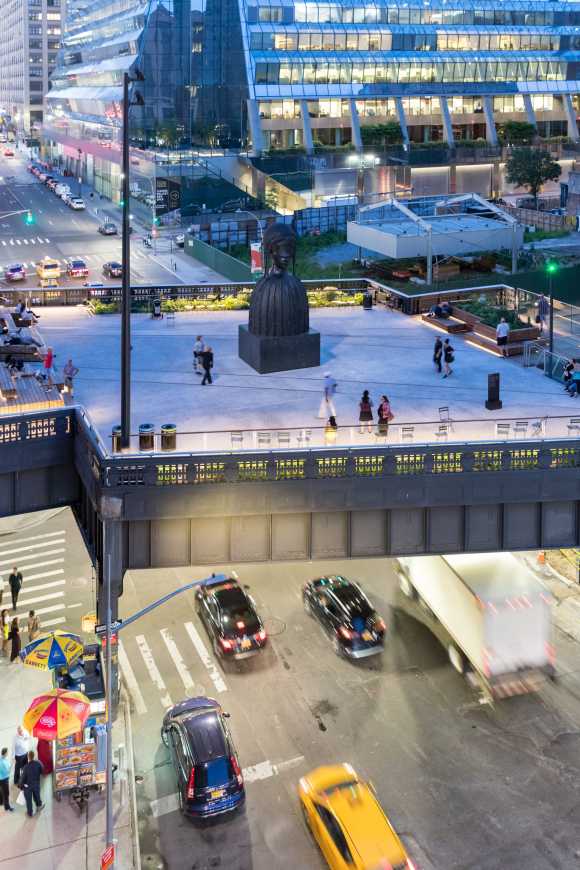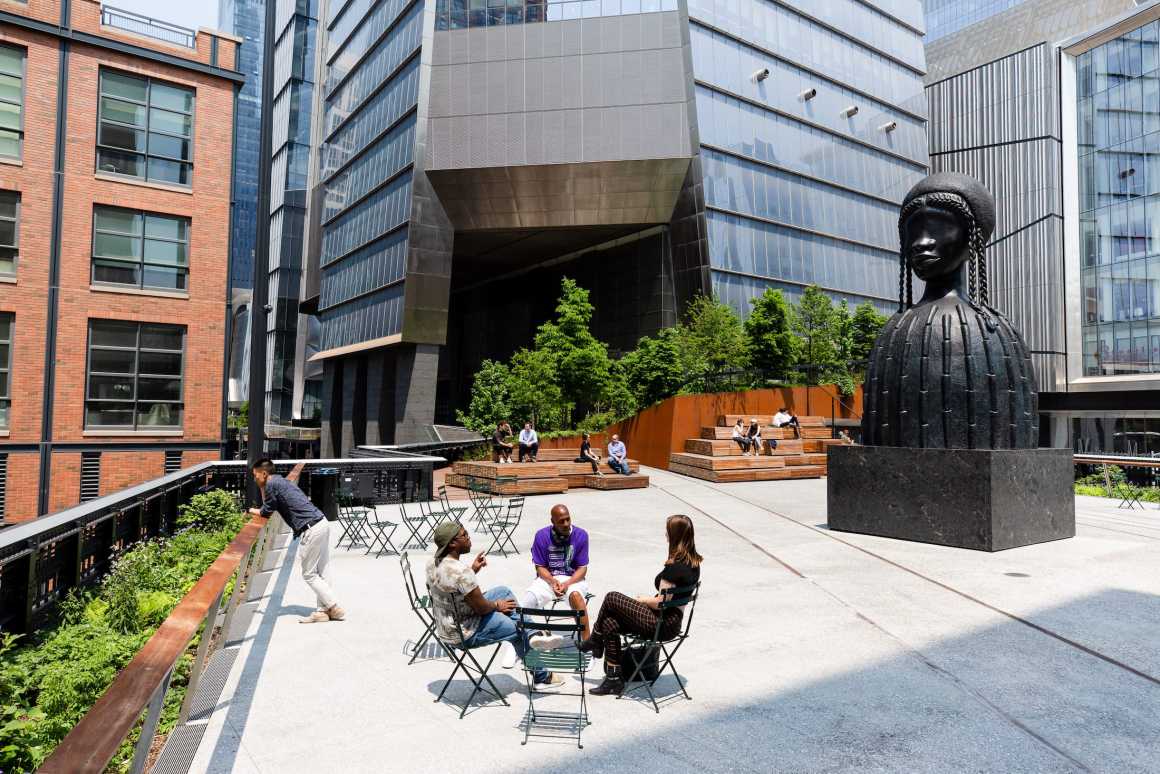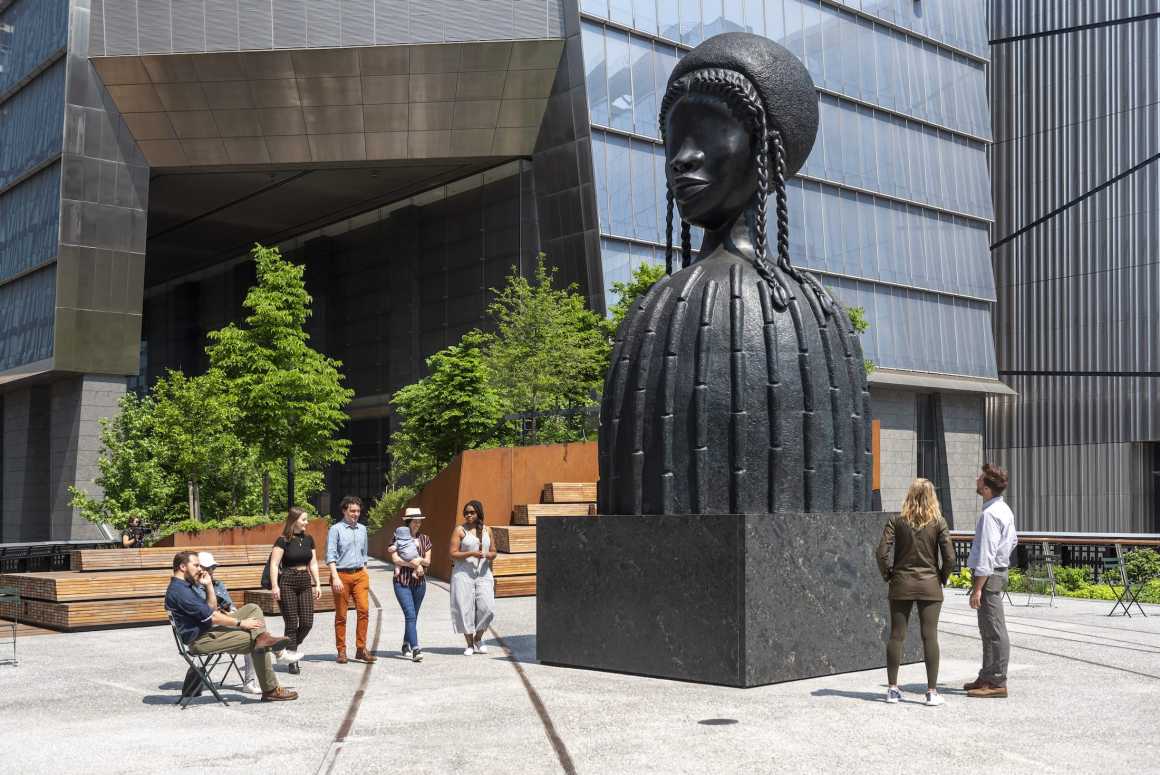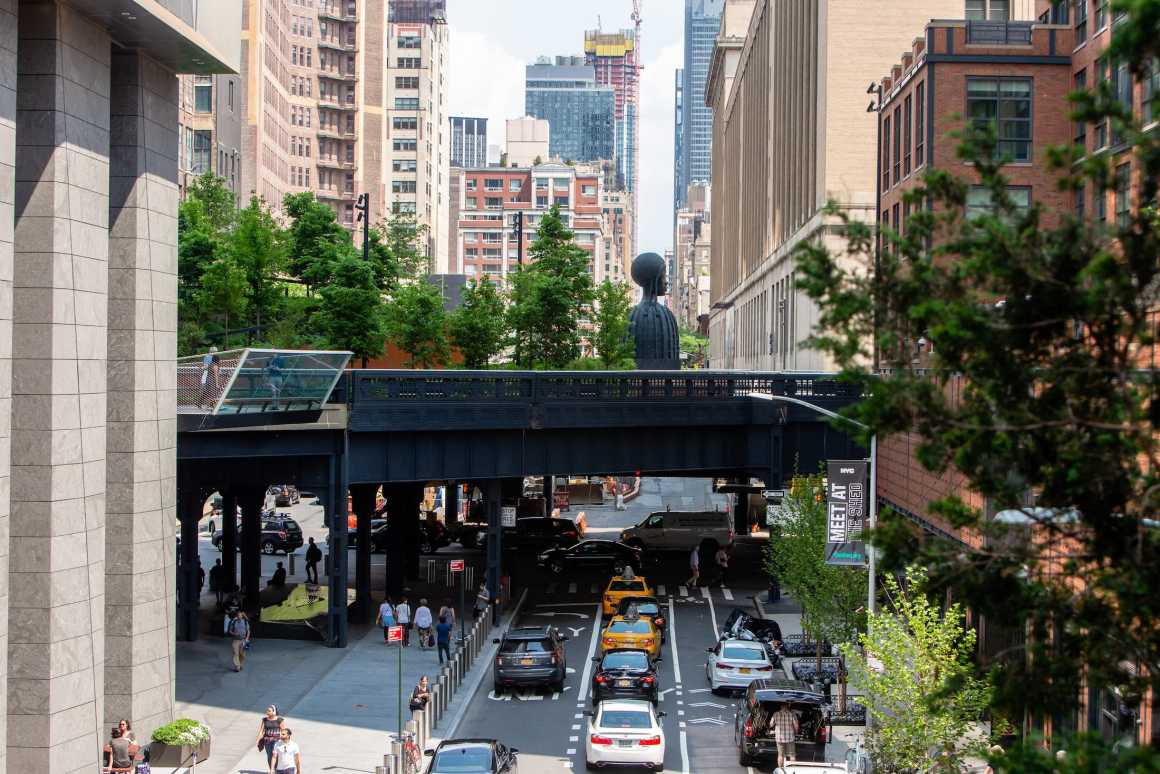 ▼高架上的座位集合空间 Seating and gathering area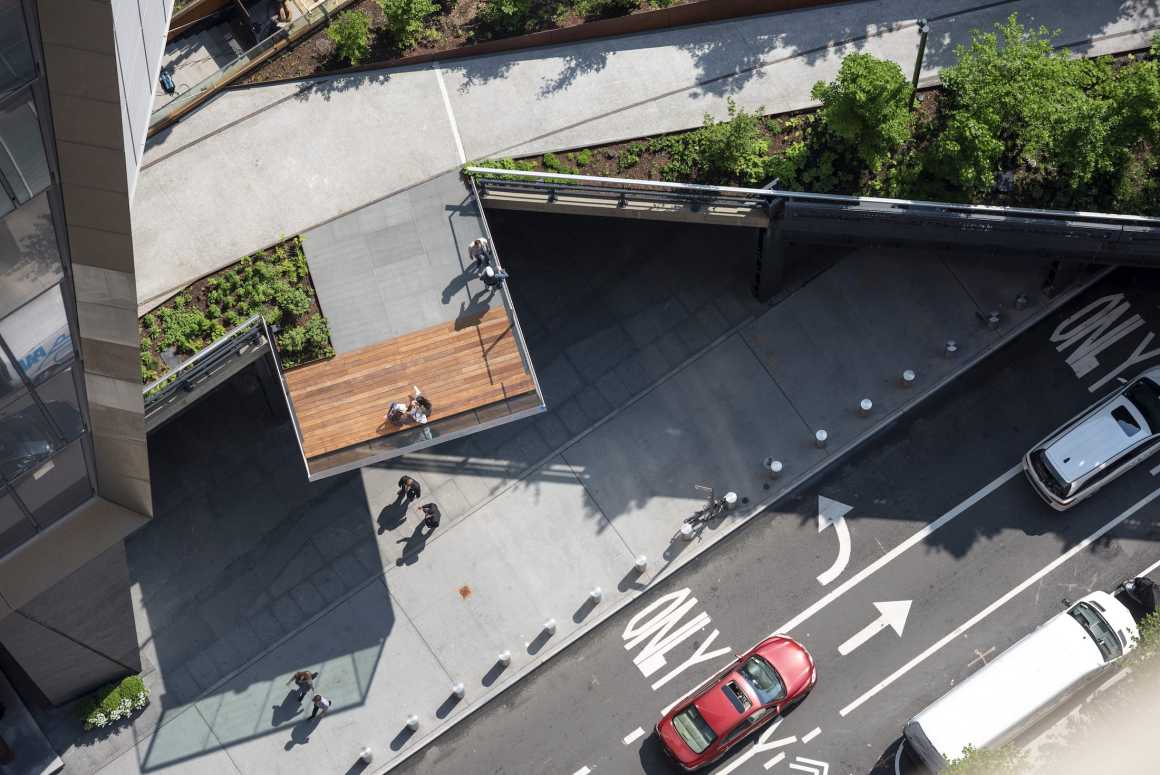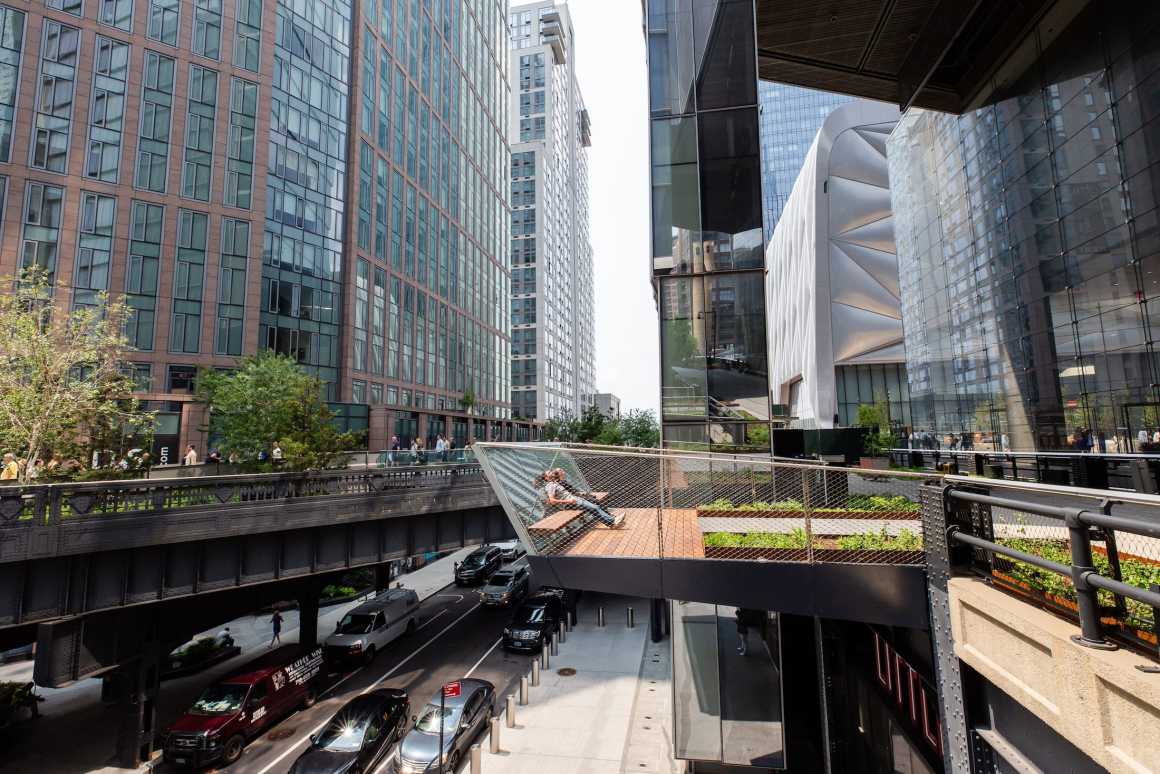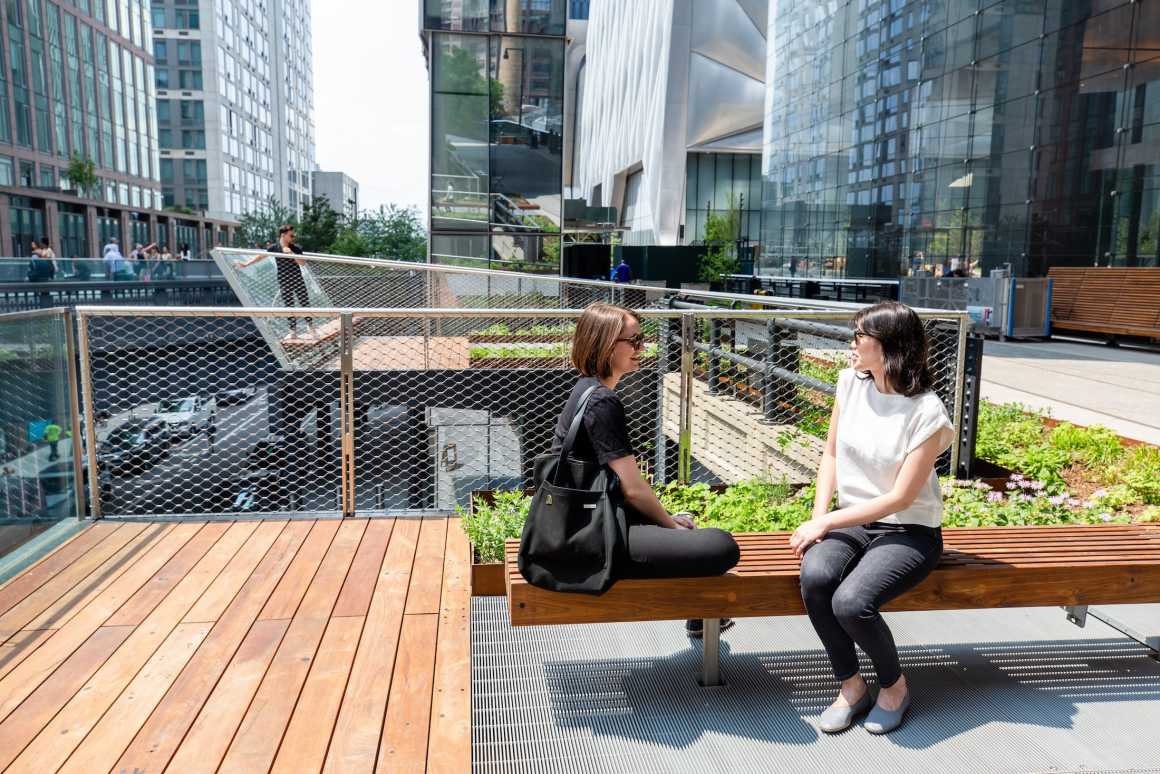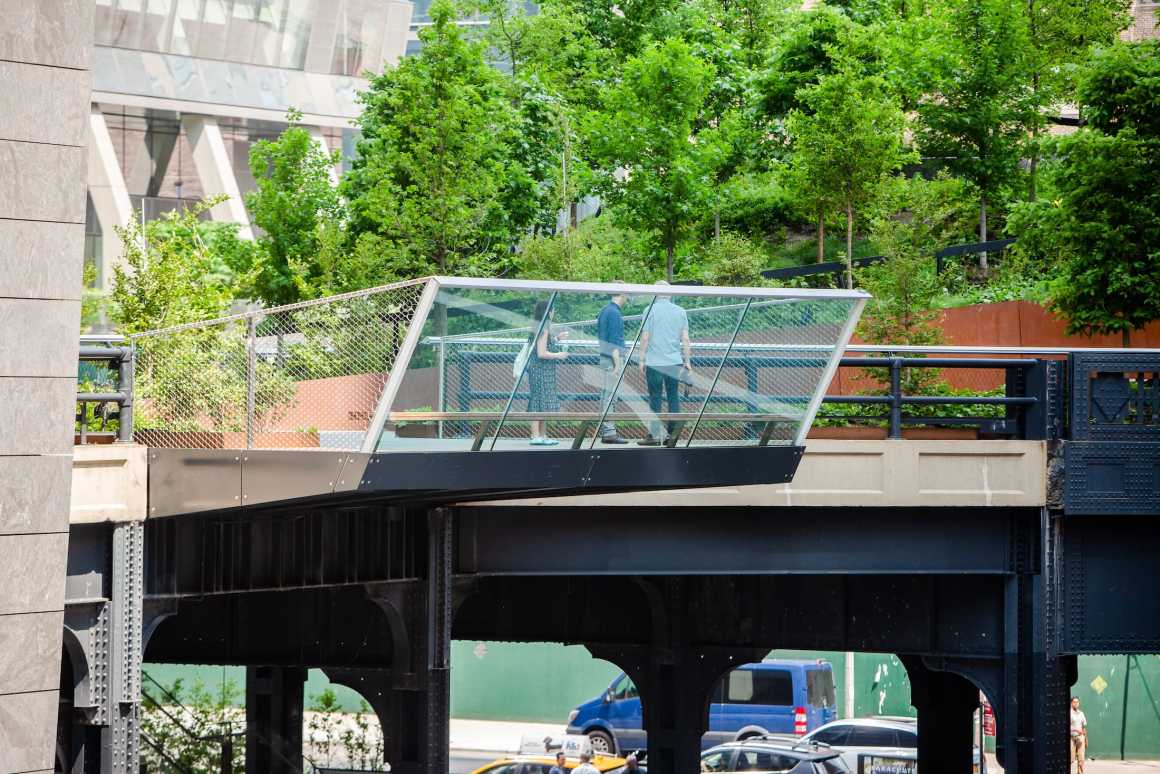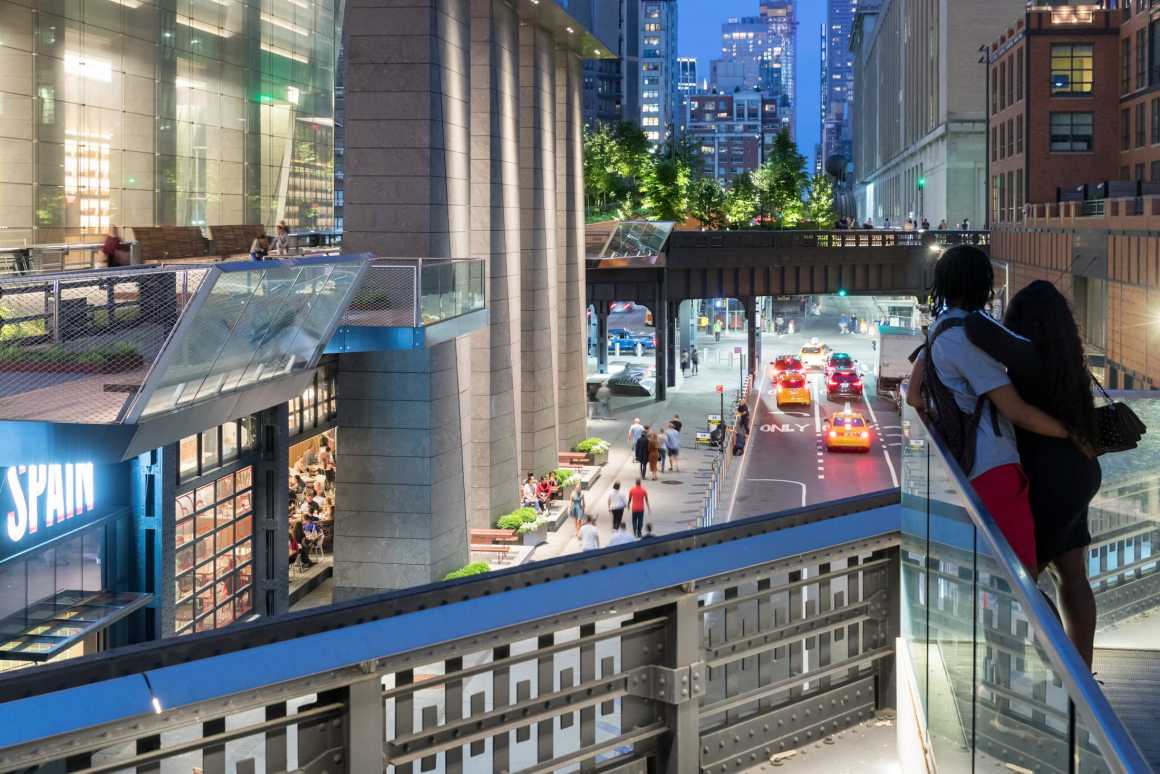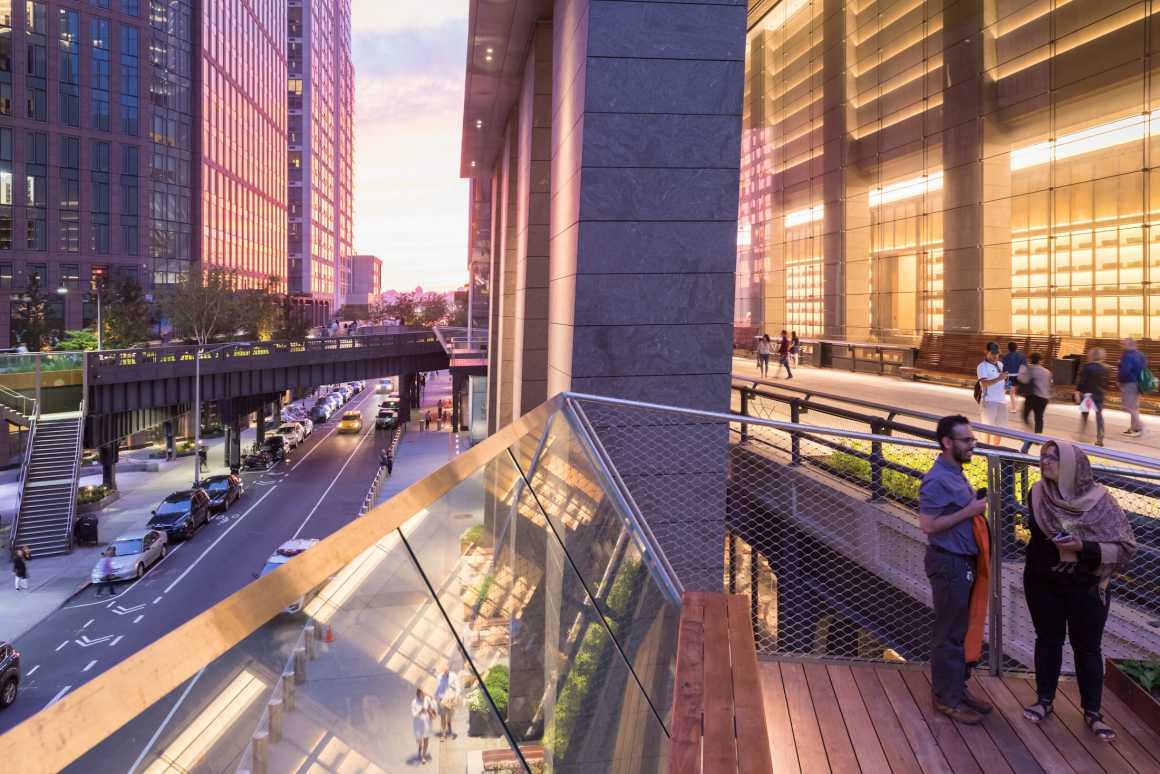 ▼"倾斜"种植区 The "tilted" planters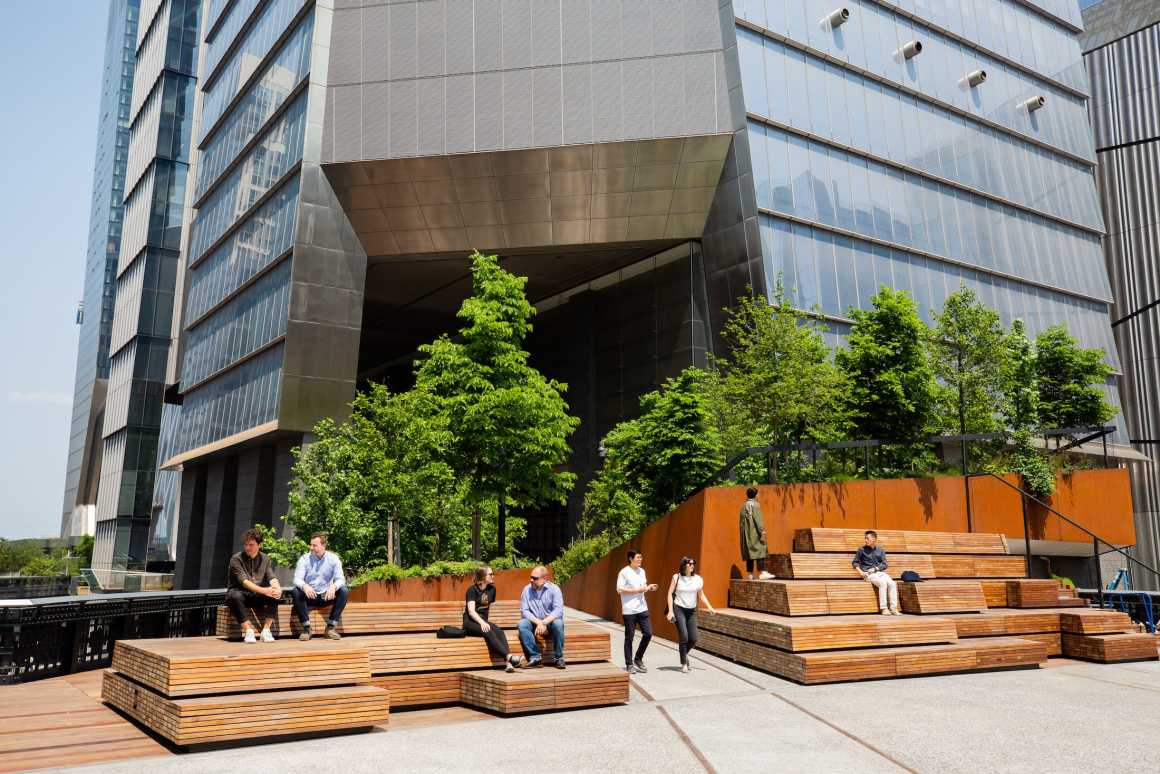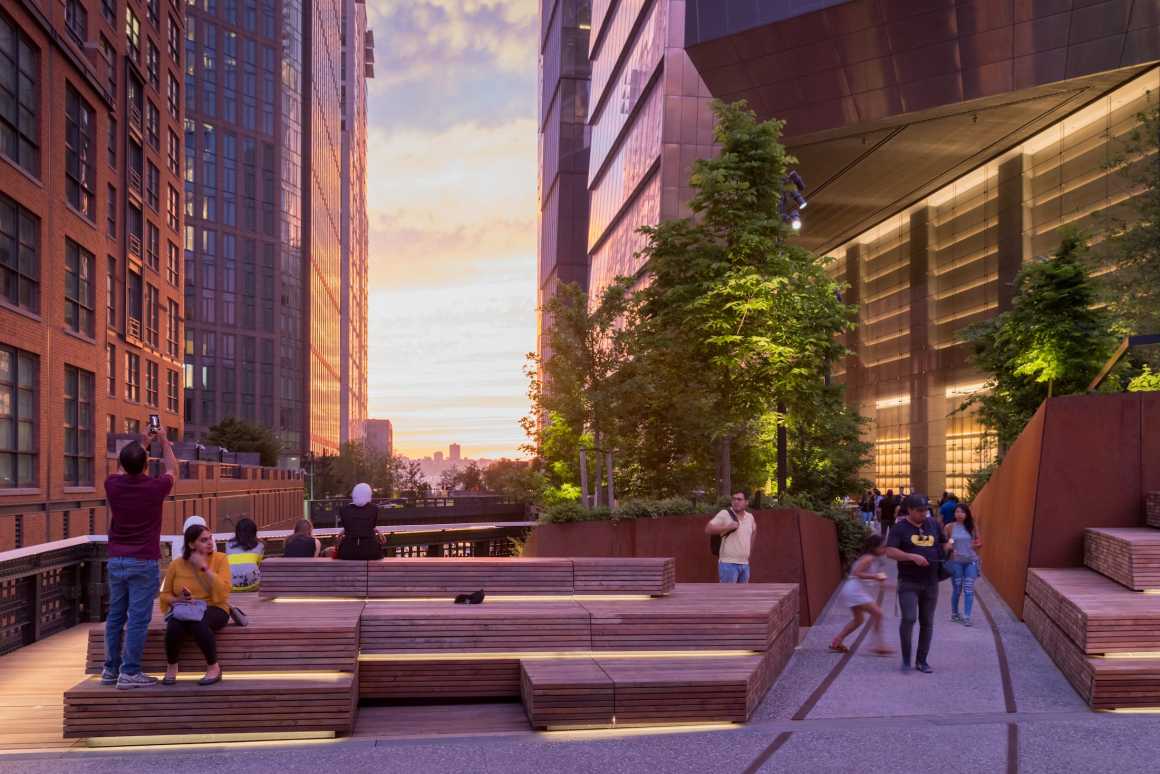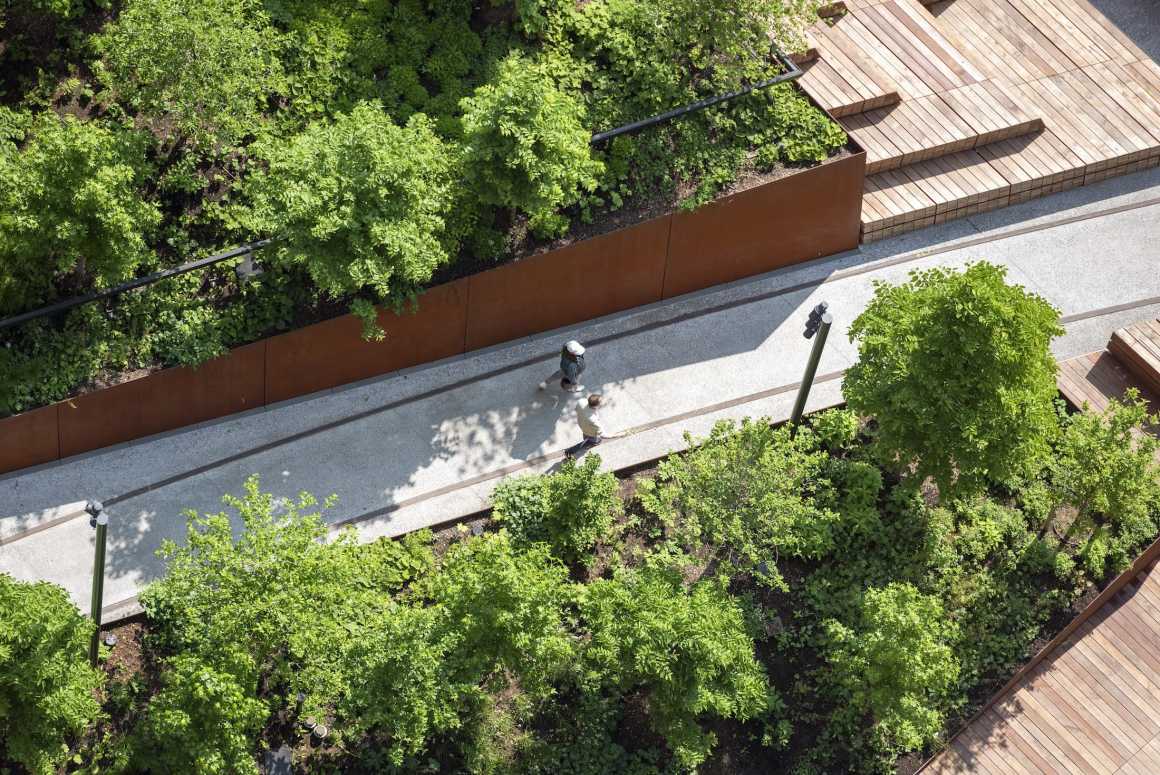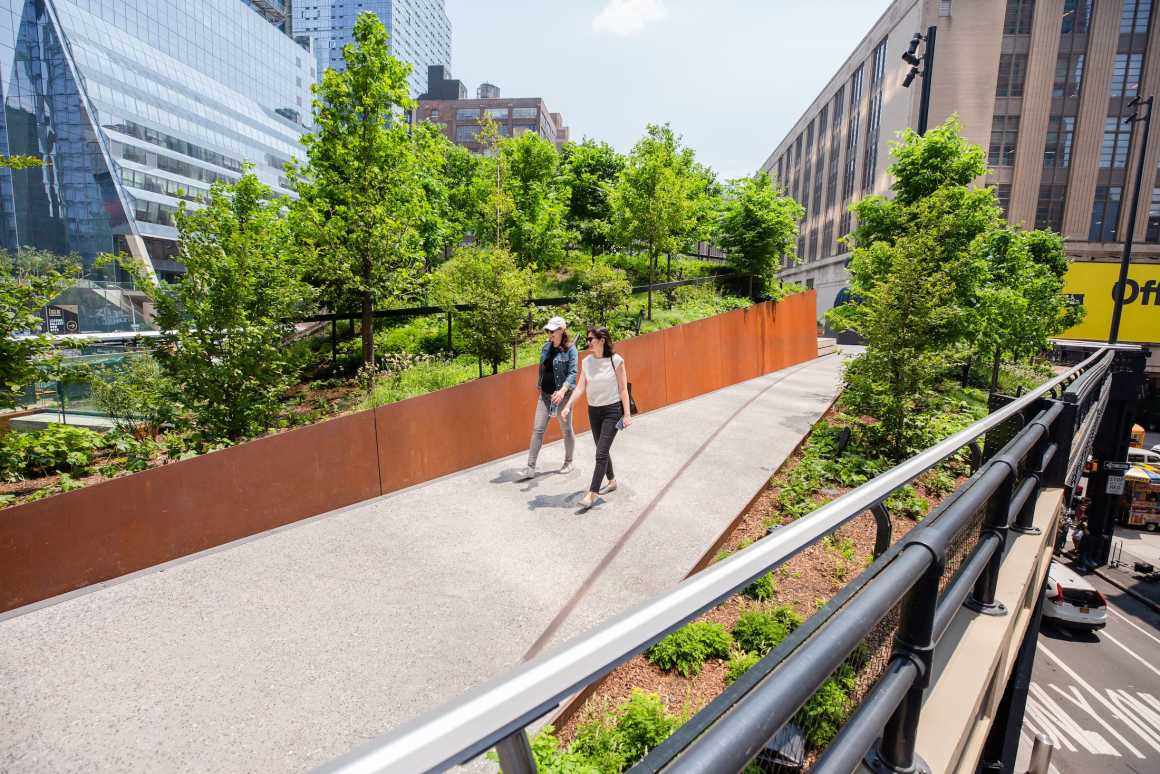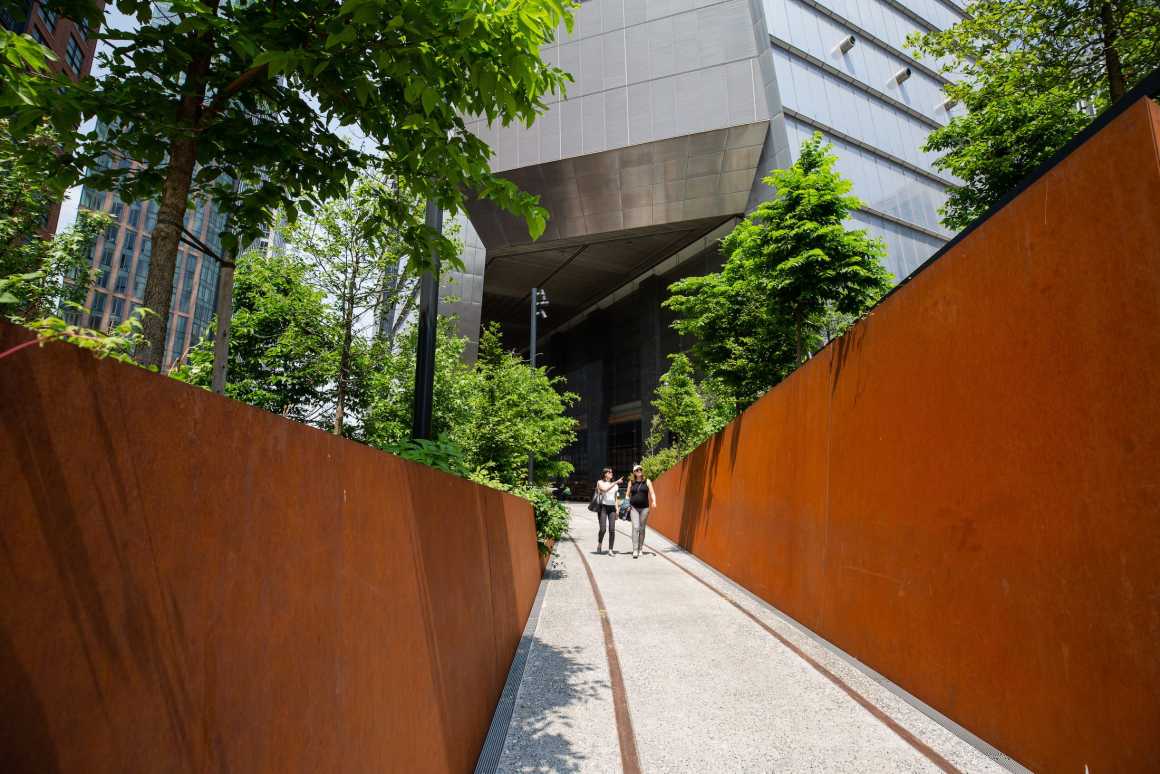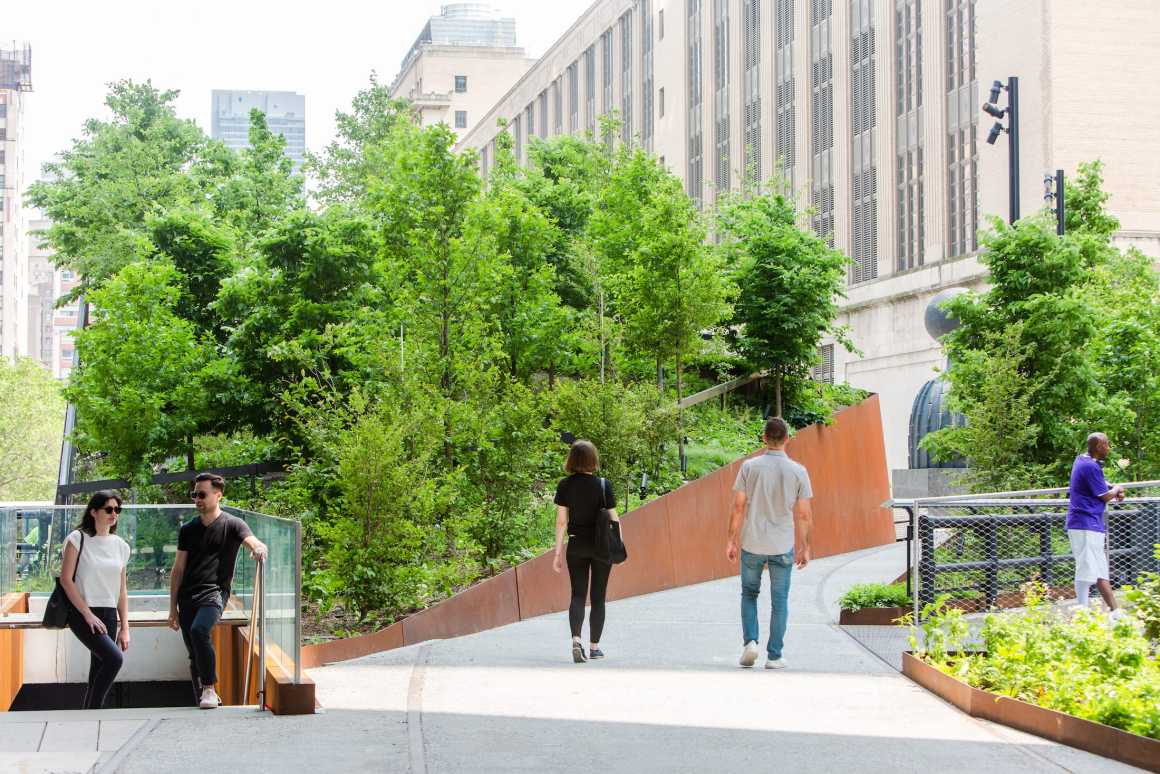 ▼支线段效果图 Renderings of Spur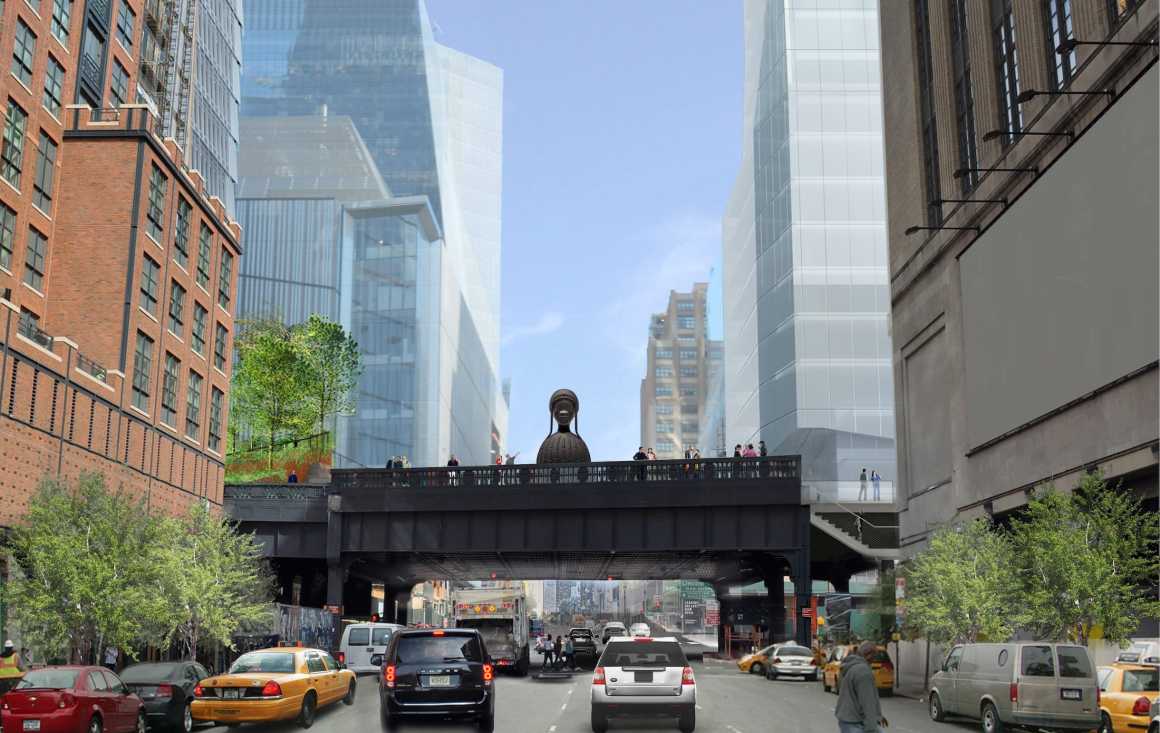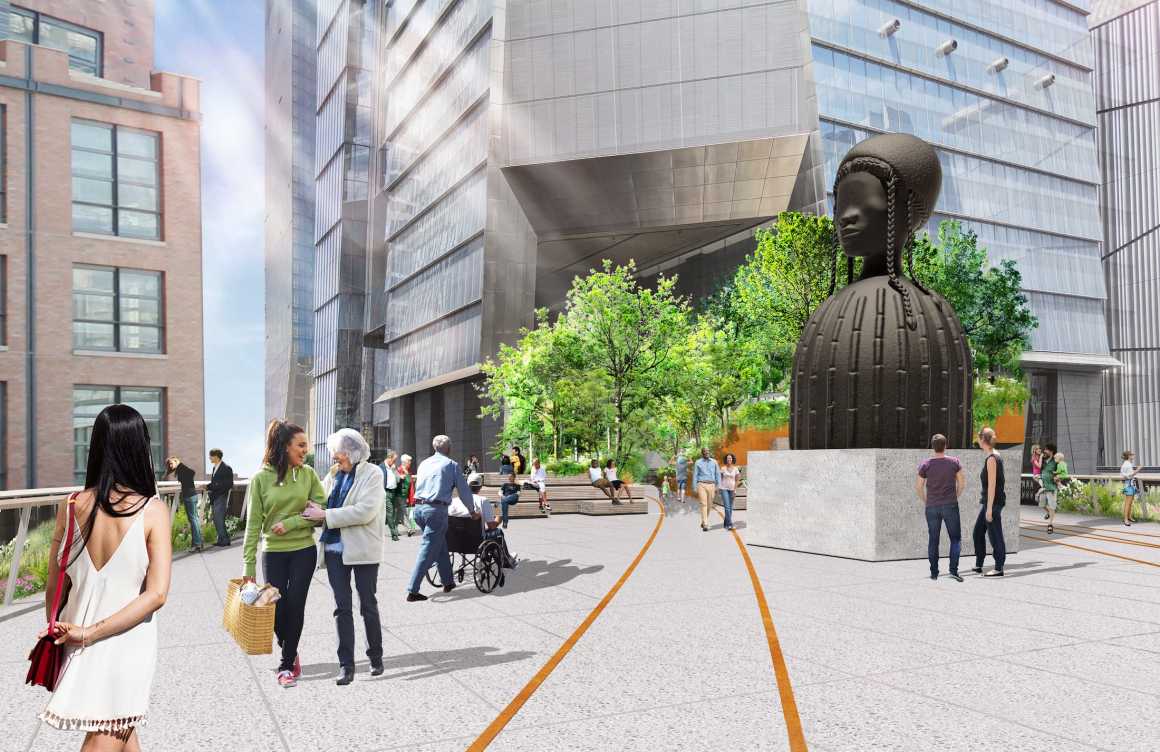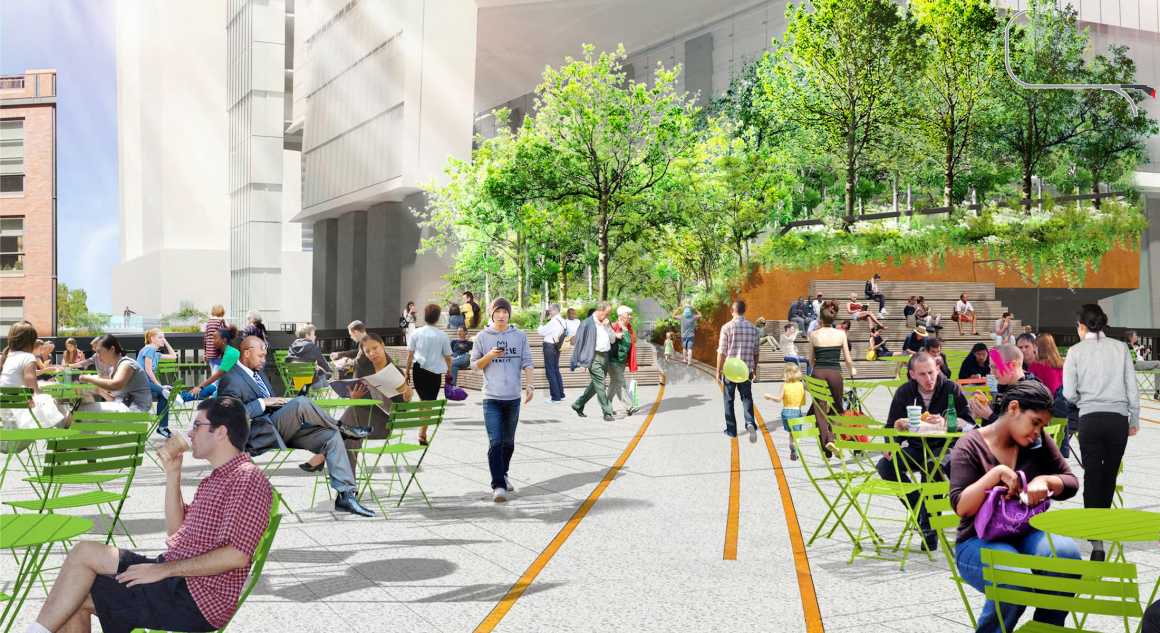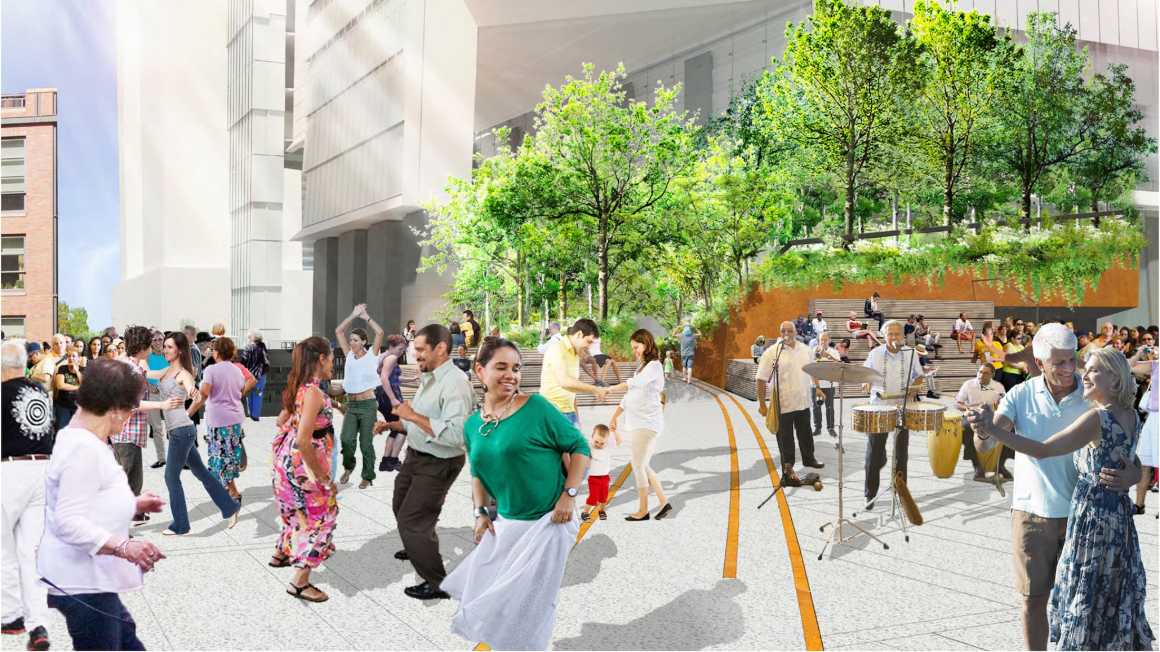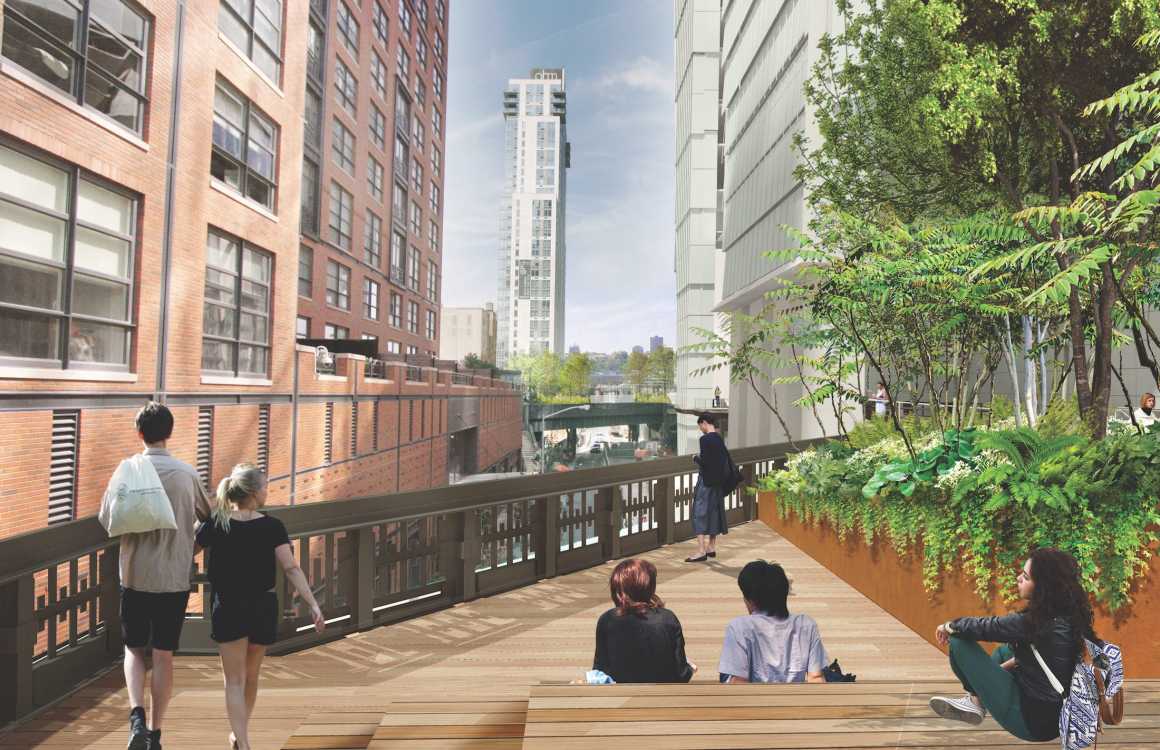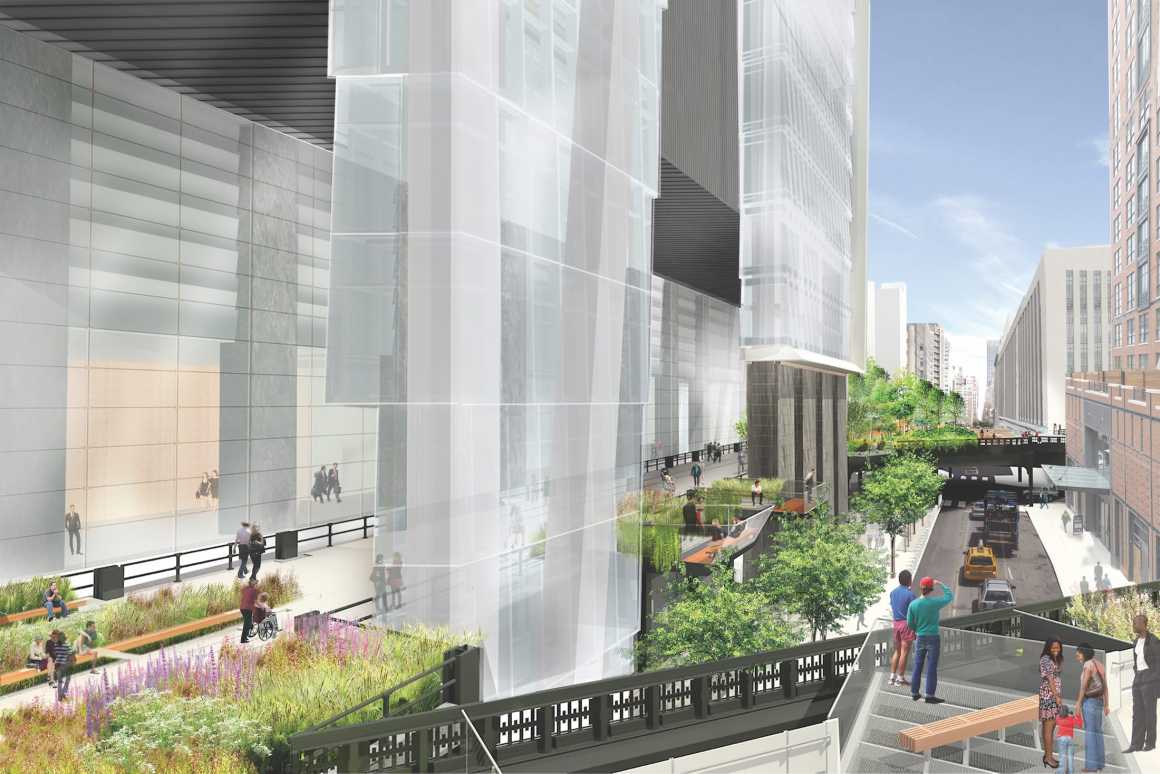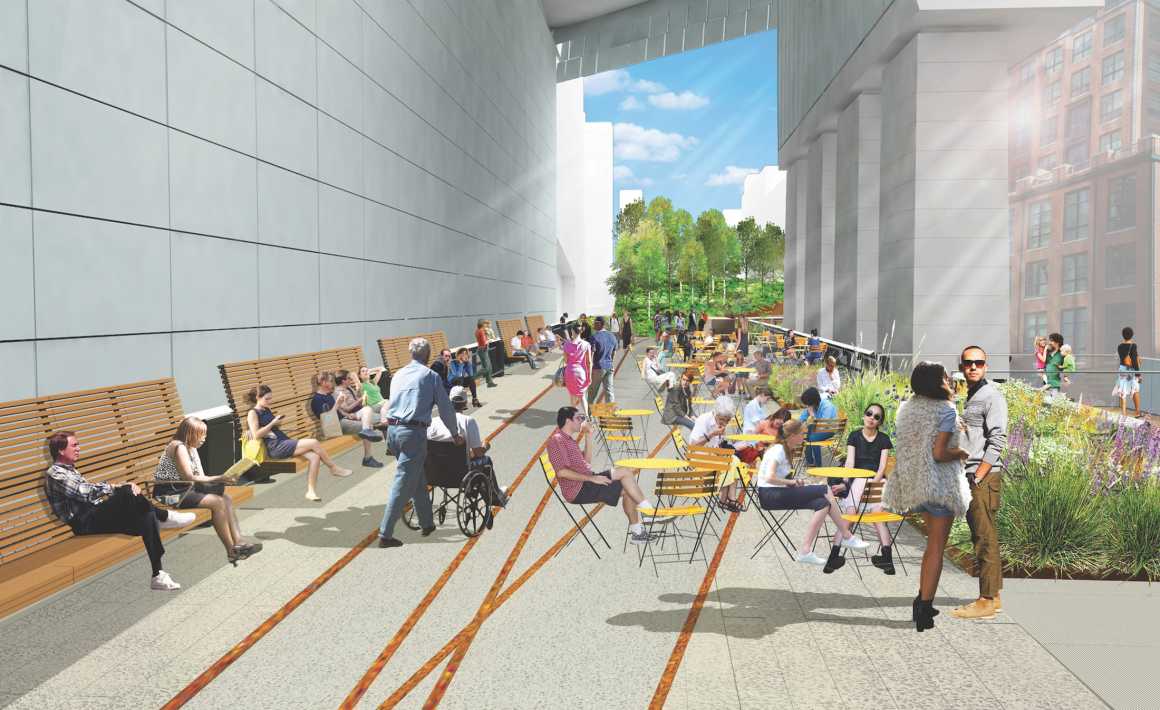 ▼场地平面图 High Line Site Plan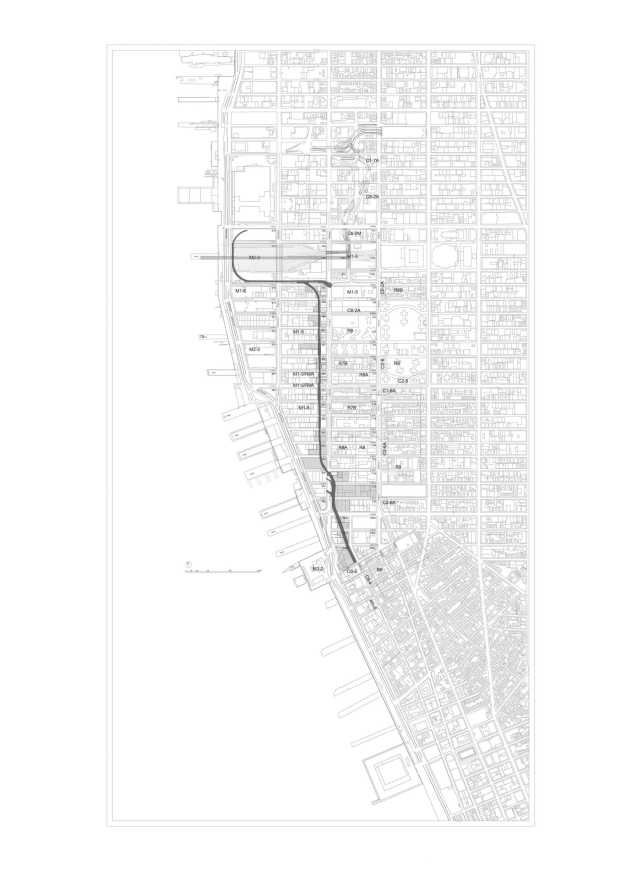 面积:310000平方米
地点:美国纽约
第一阶段完成:2009年
第二阶段完成:2011年
第三阶段完成:2014年
支线完成年份:2019年
合作伙伴负责人:Ricardo Scofidio
合作伙伴:Elizabeth Diller,Charles Renfro,and Benjamin Gilmartin
项目负责人:Matthew Johnson
团队领导:Tobias Hegemann,Miles Nelligan,Ben Smoot,and Trevor Lamphier
完整设计团队:Chiara Baccarini、Robert Condon、Hayley Eber、Gaspar Libedinsky、Jeremy Linzee、David Newton、Dan Sakai、Don Shillingburg、Flavio Stigliano、Brian Tabolt、Dustin Tobias和Alex Knezo
景观与城市设计:JAMES CORNER FIELD OPERATIONS
种植设计:PIET OUDOLF
结构与MEP工程:BUROHAPPOLD
结构工程与历史保护:ROBERT SILMAN ASSOCIATES
照明设计:L 'OBSERVATOIRE INTERNATIONAL
标识设计:PENTAGRAM
Size (GSF): 310000
Location: New York, United States
Phase I complete: 2009
Phase II complete: 2011
Phase III complete: 2014
Spur complete: 2019
Partner in charge: Ricardo Scofidio
Partners: Elizabeth Diller,Charles Renfro,and Benjamin Gilmartin
Project Leader: Matthew Johnson
Team Leaders: Tobias Hegemann,Miles Nelligan,Ben Smoot,and Trevor Lamphier
Full Team: Chiara Baccarini,Robert Condon,Hayley Eber,Gaspar Libedinsky,Jeremy Linzee,David Newton,Dan Sakai,Don Shillingburg,Flavio Stigliano,Brian Tabolt,Dustin Tobias,and Alex Knezo
Landscape Architecture and Urban Design: JAMES CORNER FIELD OPERATIONS
Planting Design: PIET OUDOLF
Structural and MEP Engineering: BUROHAPPOLD
Structural Engineering and Historic Preservation: ROBERT SILMAN ASSOCIATES
Lighting Design: L'OBSERVATOIRE INTERNATIONAL
Signage: PENTAGRAM
更多 Read more about: Diller Scofidio + Renfro