本文由 Royal Architectural Institute of Canada (RAIC) 授权mooool发表,欢迎转发,禁止以mooool编辑版本转载。
Thanks Royal Architectural Institute of Canada (RAIC) for authorizing the publication of the project on mooool, Text description provided by RAIC.
RAIC:该项目建筑师们在圣地亚哥附近建造了一个极具挑战性和规范性的Bahá'í寺庙,其创意的外观宛如一颗宝石,在戏剧性的自然环境中形成了一个新地标。一名RAIC的陪审员将远处寺庙的景象比作游客第一次看到Ronchamp的样子,它让游客们在接近和到达的体验中产生了一种行进感和高度的期待感。
RAIC:The architects resolve a challenging and prescriptive program for a new Baha'i Temple near Santiago with a powerful form that creates a new landmark – a jewel – in a dramatic natural setting. One juror compared the sight of the temple in the distance to a visitor's first glimpse of Ronchamp, creating a sense of procession and heightened anticipation in the experience of approach and arrival.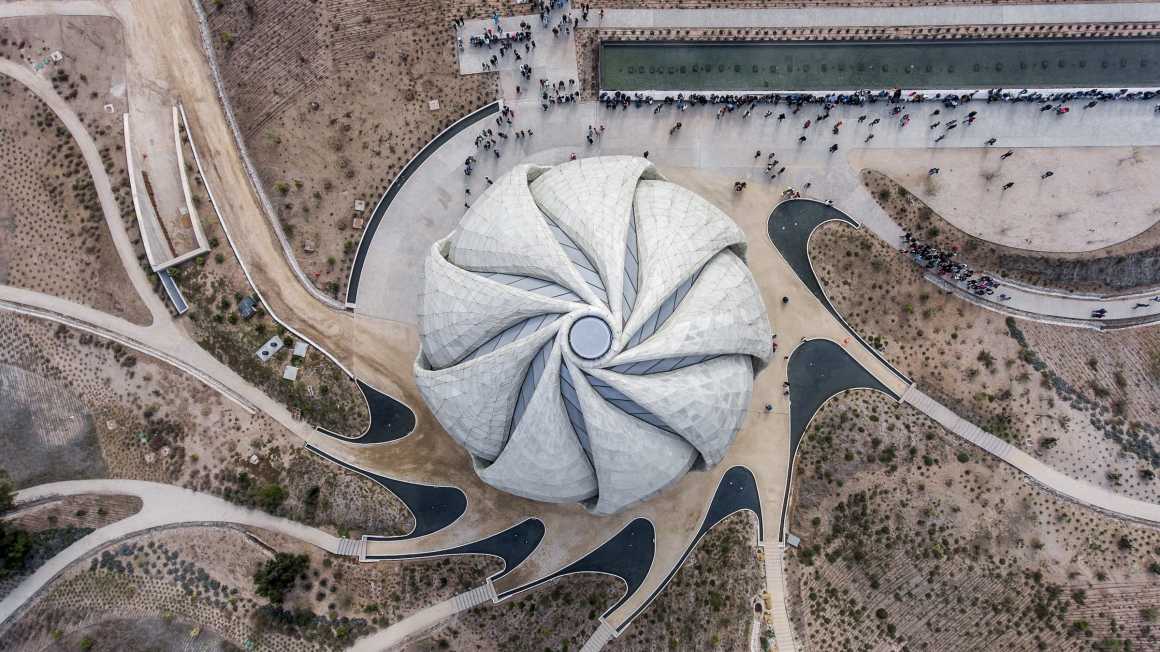 ▼项目视频 Video © Hariri Pontarini Architects
该建筑在工艺和细节上都有明显体现出"手"的概念形态。建筑表面的材料和微妙对比给周围的地形和地质景观带来了意料之外的重要参照。白天,建筑柔和的旋转曲面上的光影变化使其引人注目的外观变得更加生动,晚上,它又像一盏灯笼,由内而外地散发出柔和的光芒。
The sense of 'the hand' is evident in the craft and detailing. The materials and subtle modulation of the building's surfaces make important and unexpected references to the topography and geology of the surrounding landscape. During the day, the striking form is animated by the variations of light and shade on the building's softly turning surfaces. At night, it stands like a lantern, softly lit from within.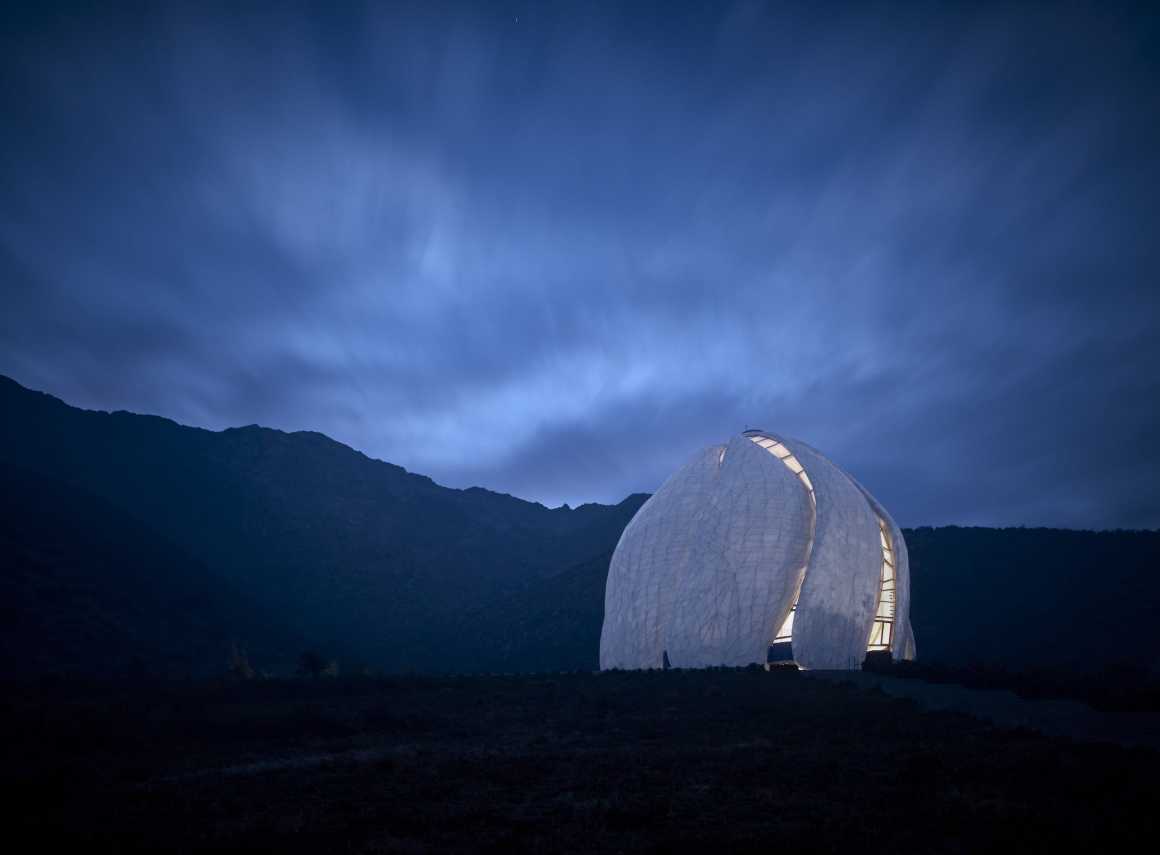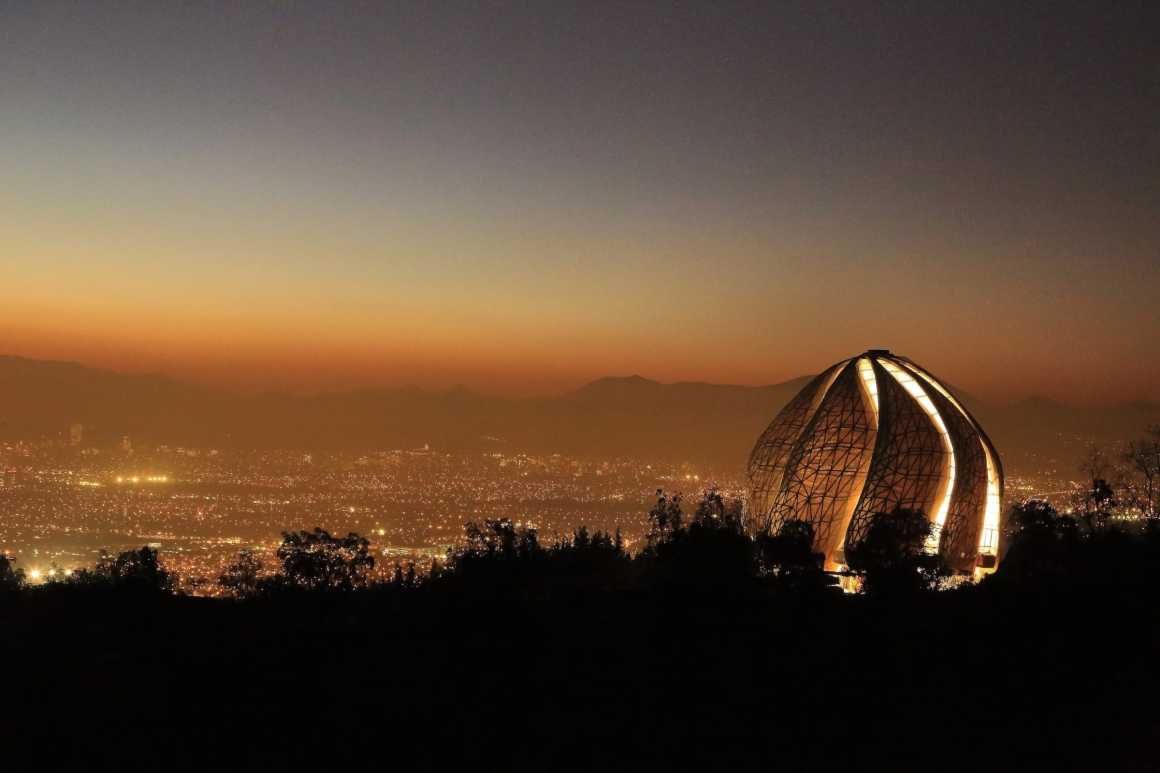 半透明的铸型玻璃结合大理石外立面,以及分隔九个"花瓣"的透明开口,使得内部空间的光影变幻多端。建筑外立面的三角形几何结构在折叠的大理石衬里后面和表面的反射光线中若隐若现。
The combination of the translucent cast glass and marble of the skin with the clear openings that separate the nine 'petals' enables a play of light and shade in the interior space that is constantly changing. The triangulated geometry of the skin is revealed both behind the folded marble lining and in the light reflected on its surface.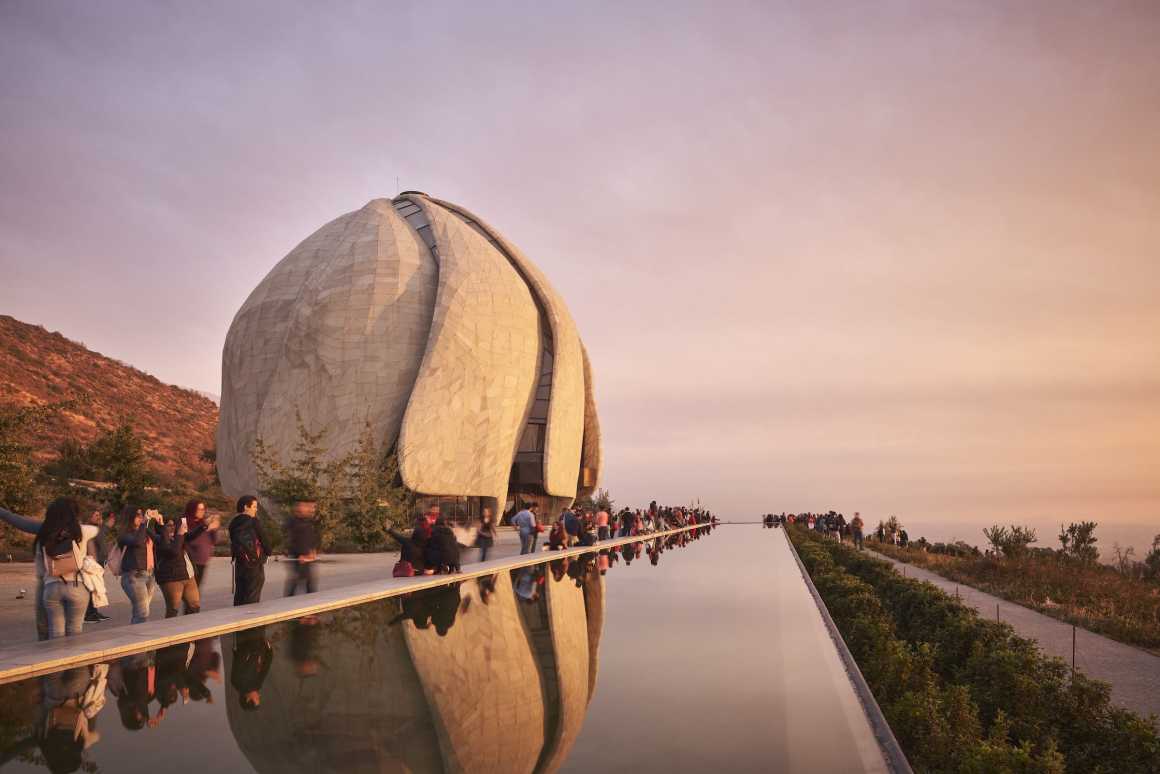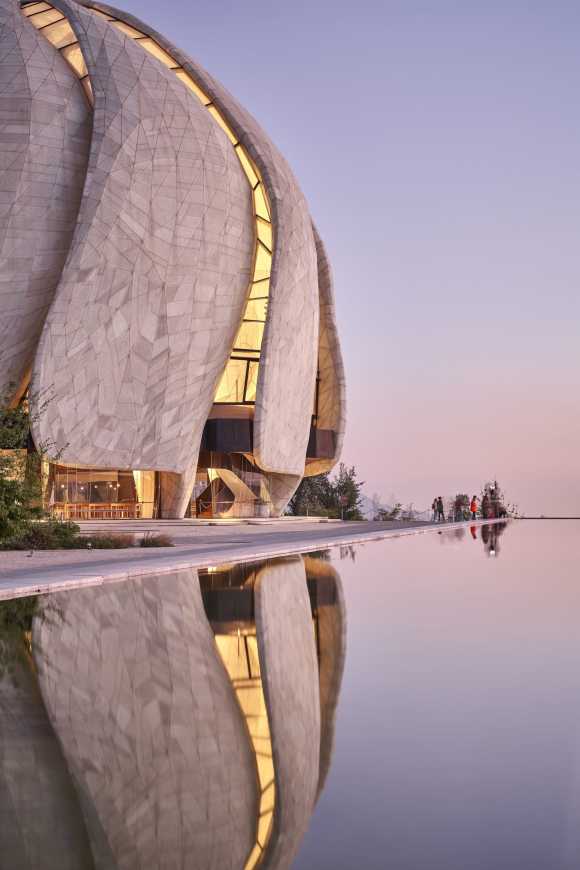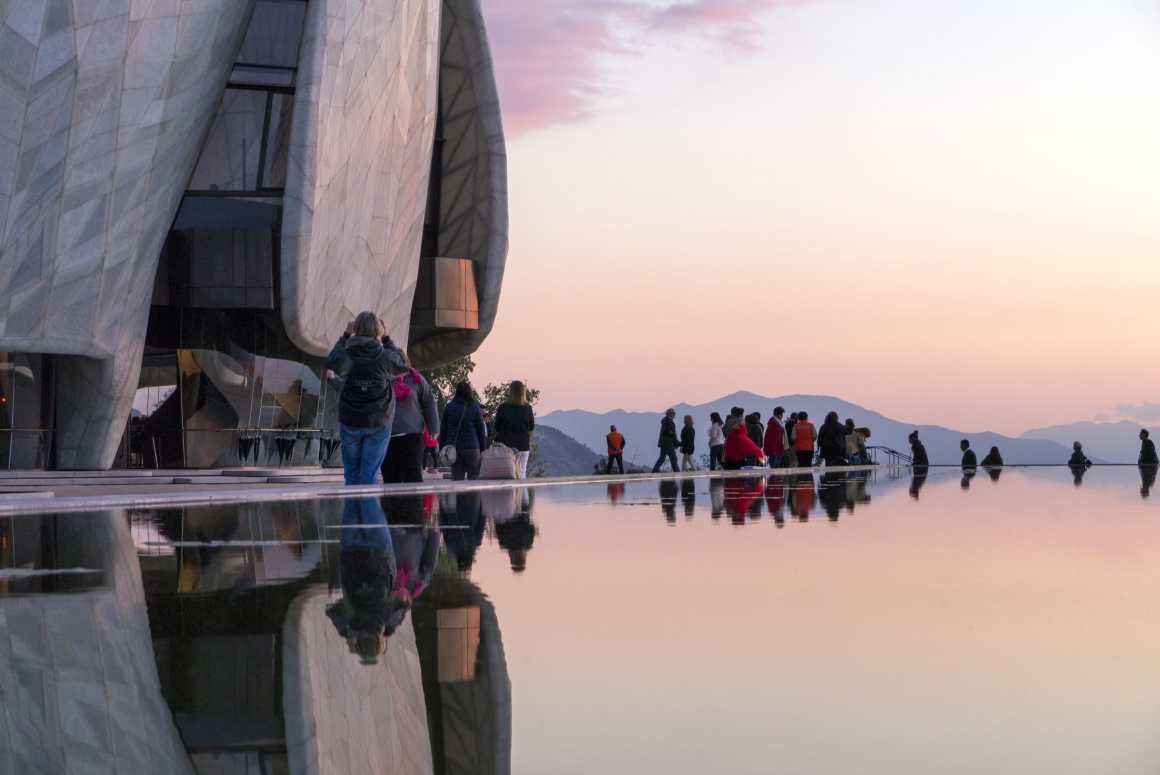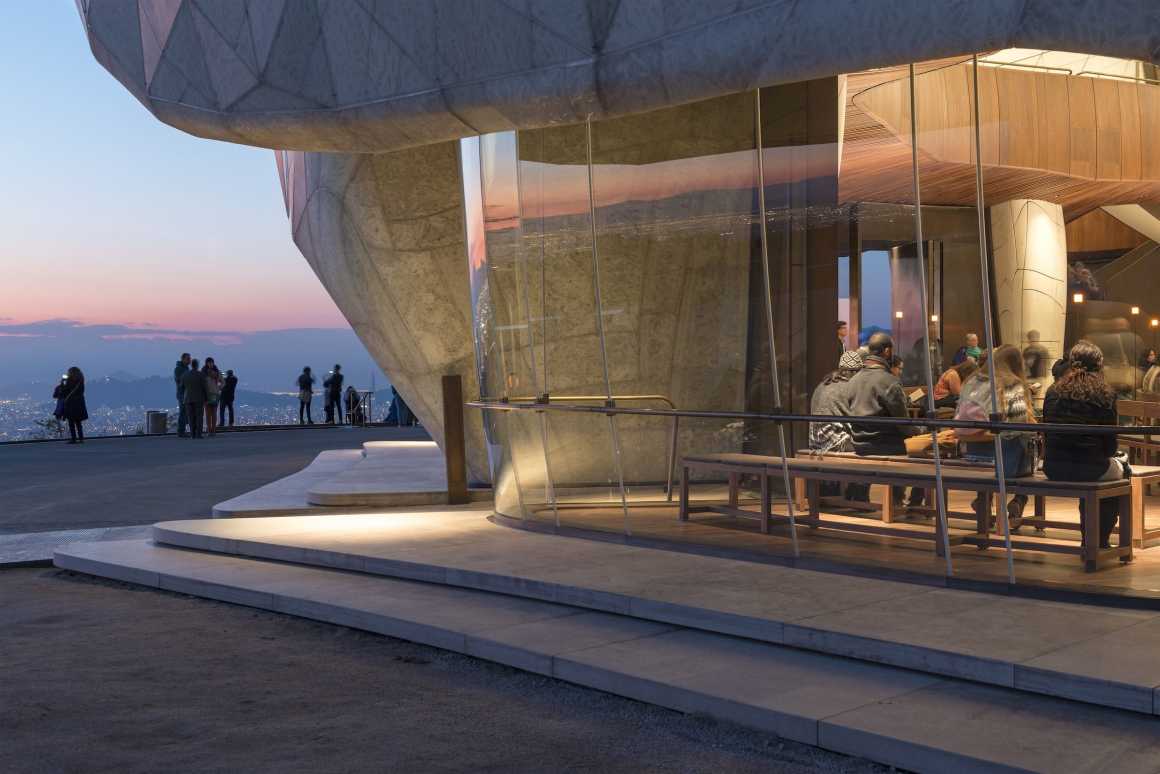 这样一座永恒和鼓舞人心的,使用空间和光、形式和材料语言来表达对巴哈伊哲学和教义诠释的建筑,通过其共享的精神和情感体验而使得大众能够普遍接受。
The result is timeless and inspiring, a building that uses a language of space and light, form and materials, to express an interpretation of Baha'i philosophy and teaching that becomes universally accessible as a shared spiritual and emotional experience.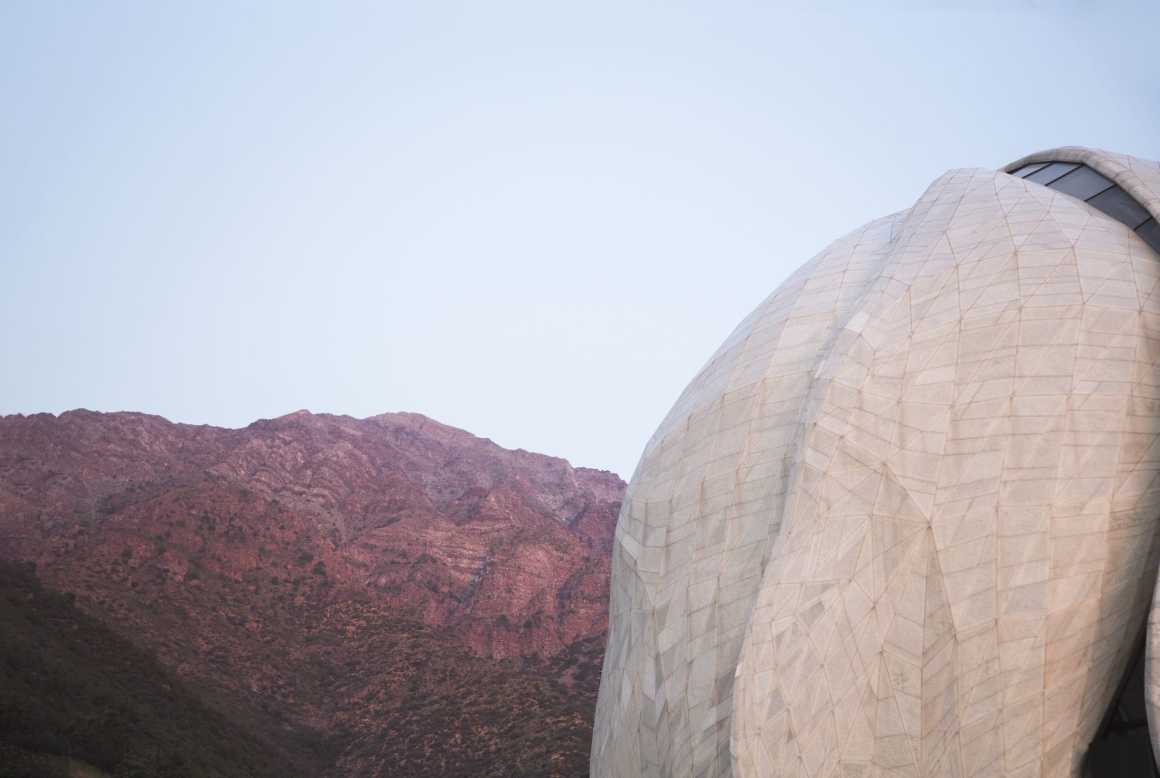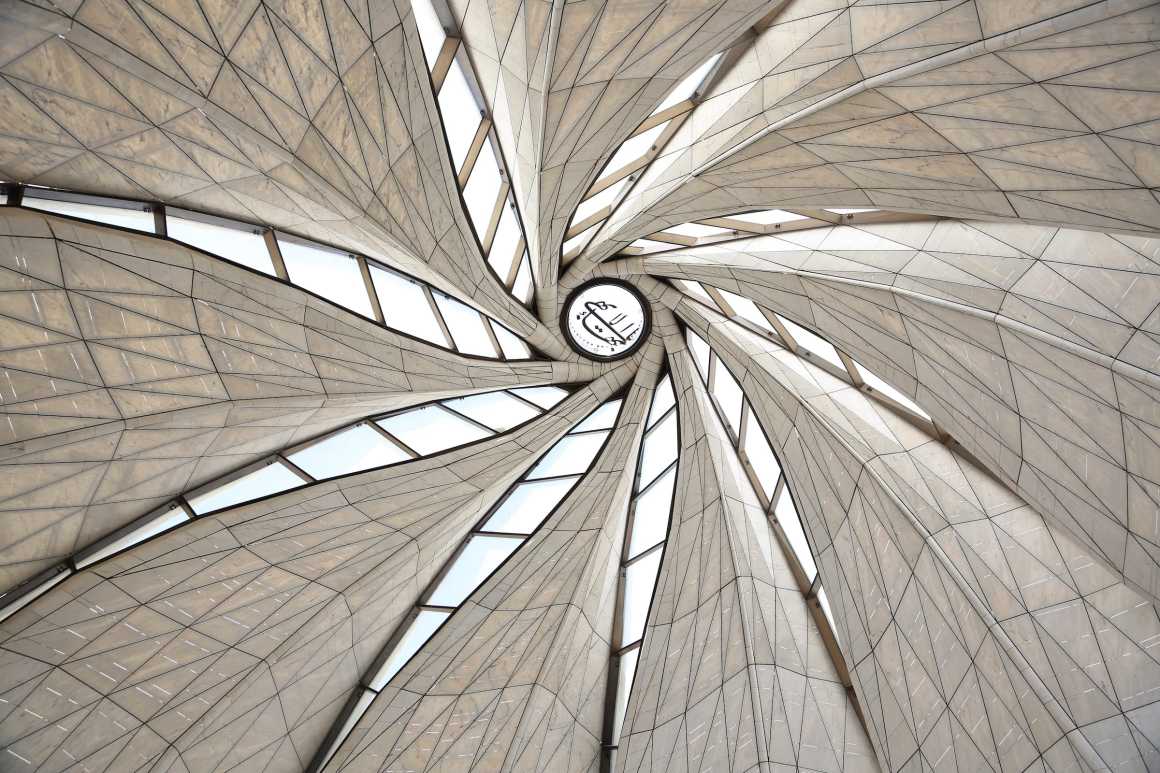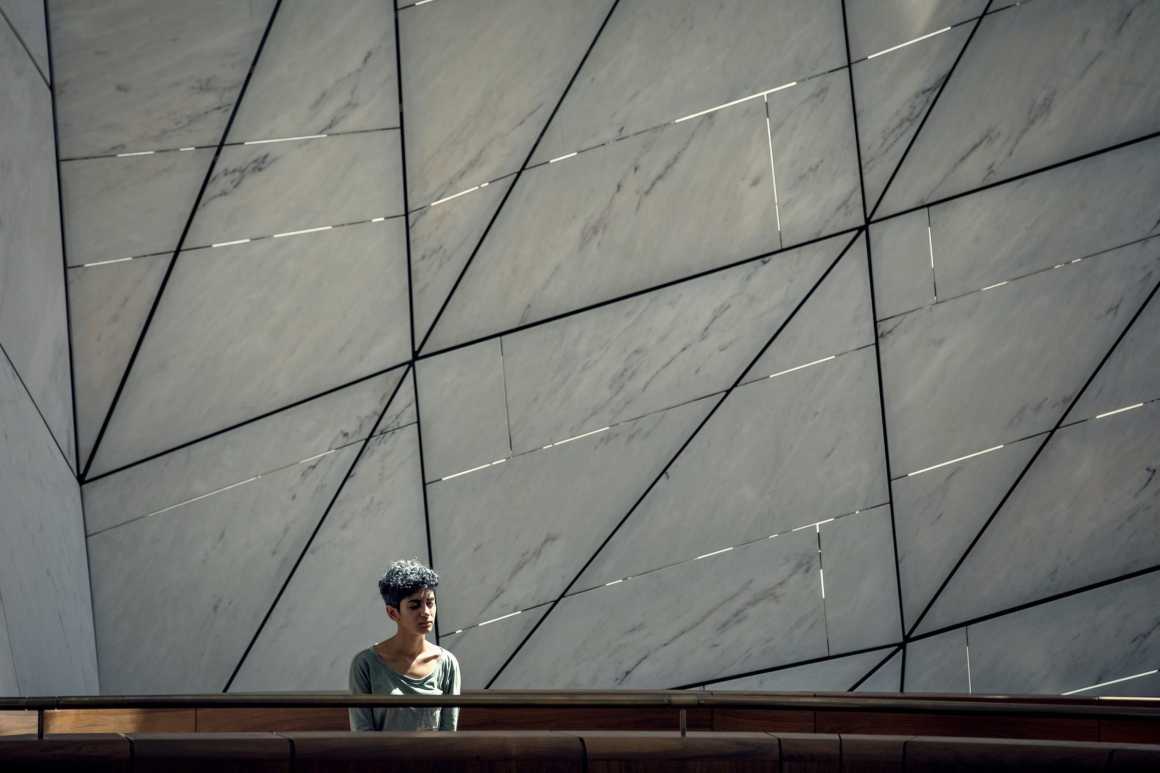 ▼寺庙内部空间 Interior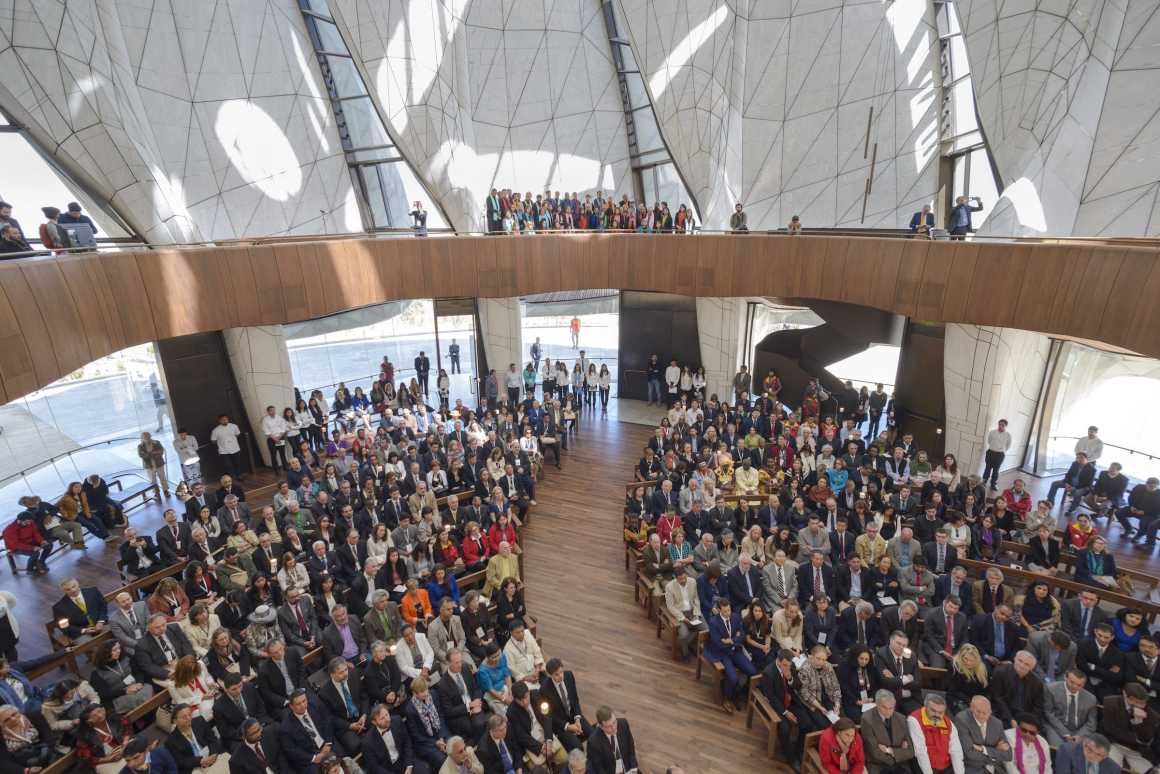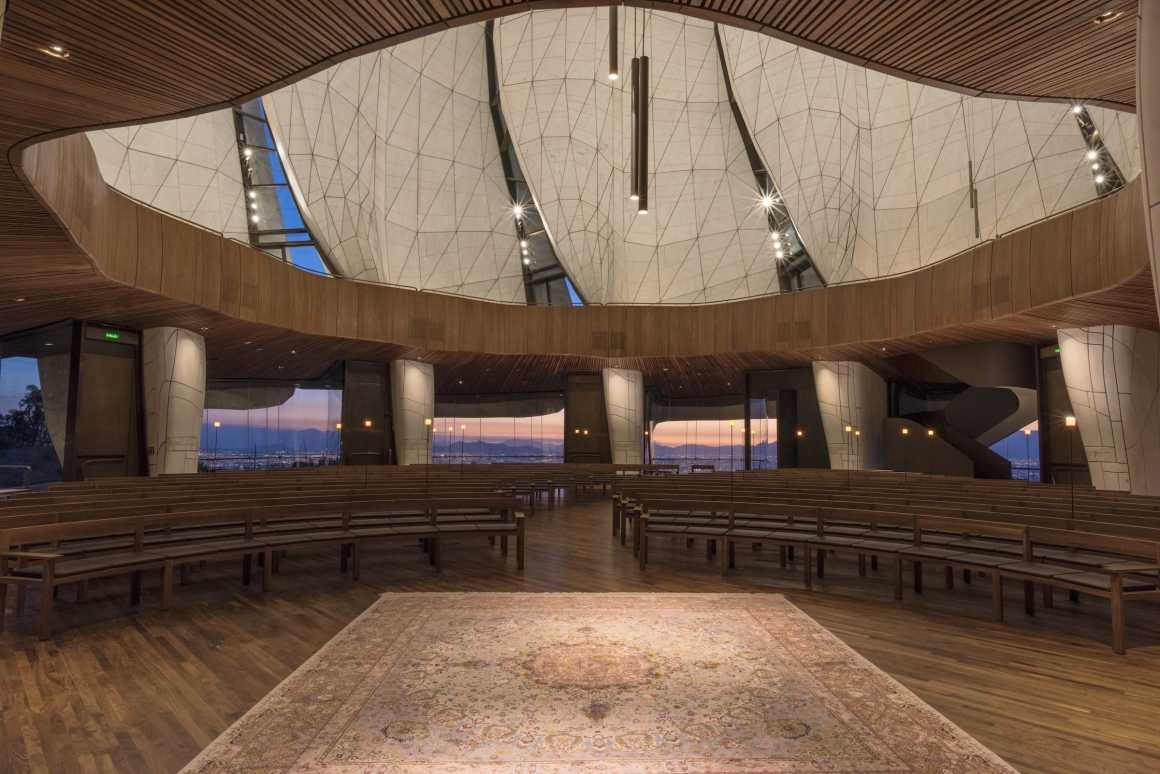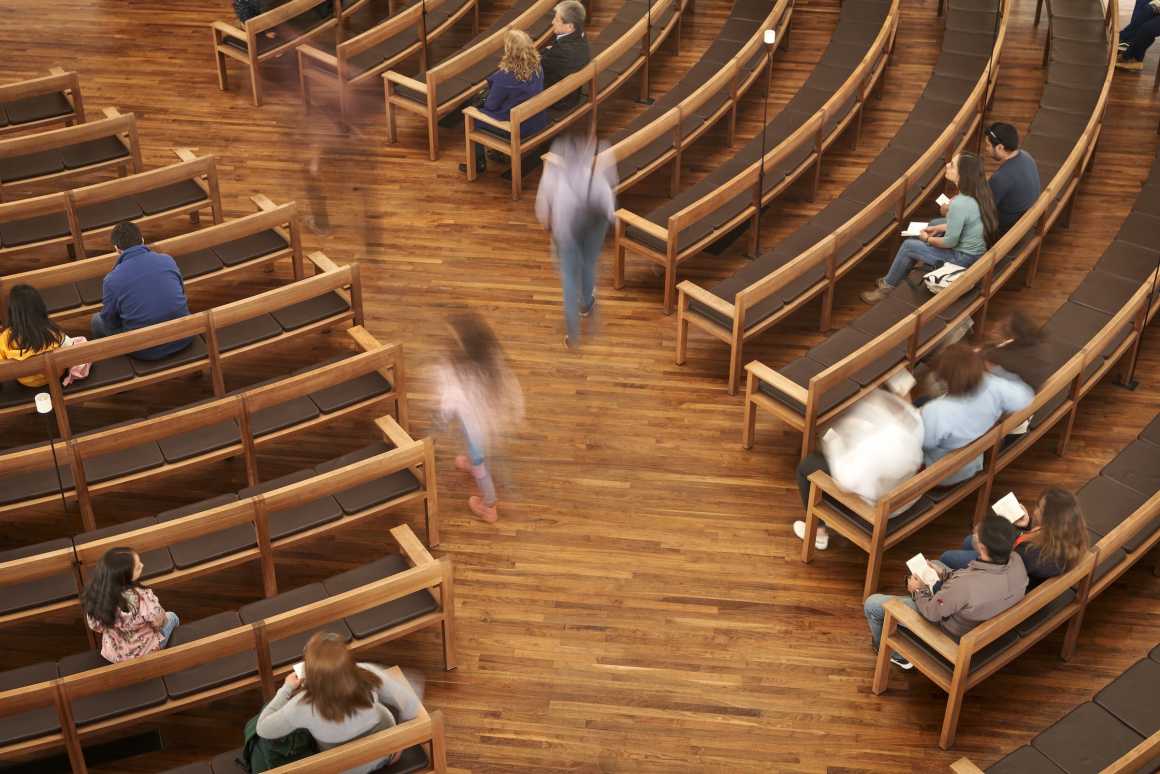 ▼寺庙立面细节 The facade details
▼寺庙施工过程 The construction process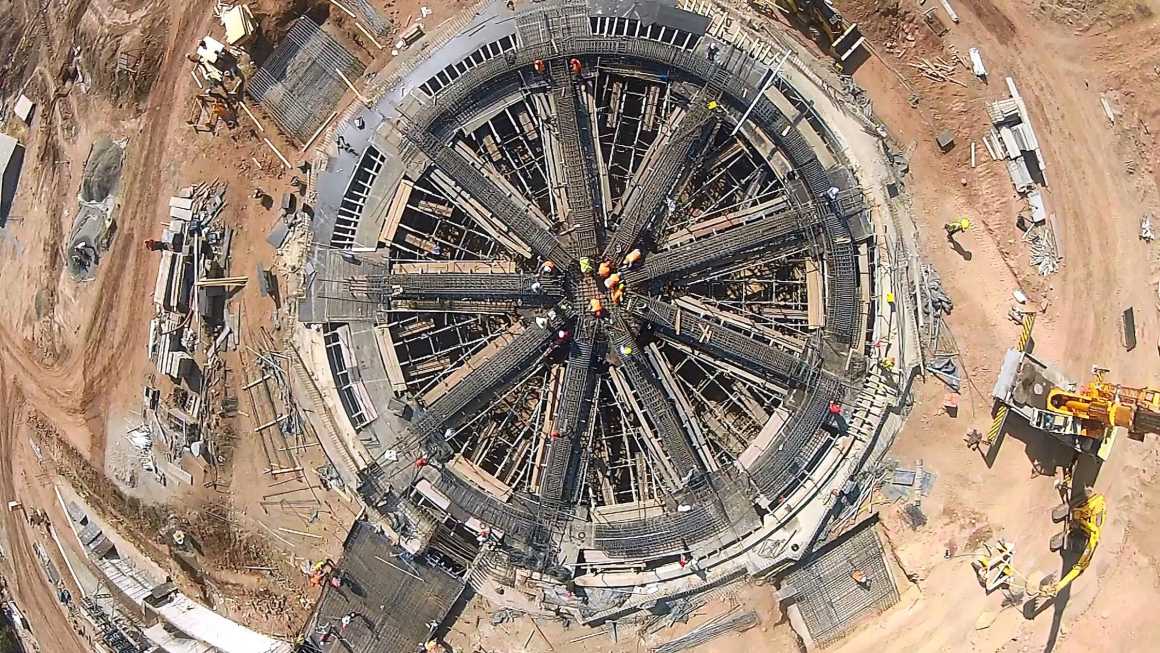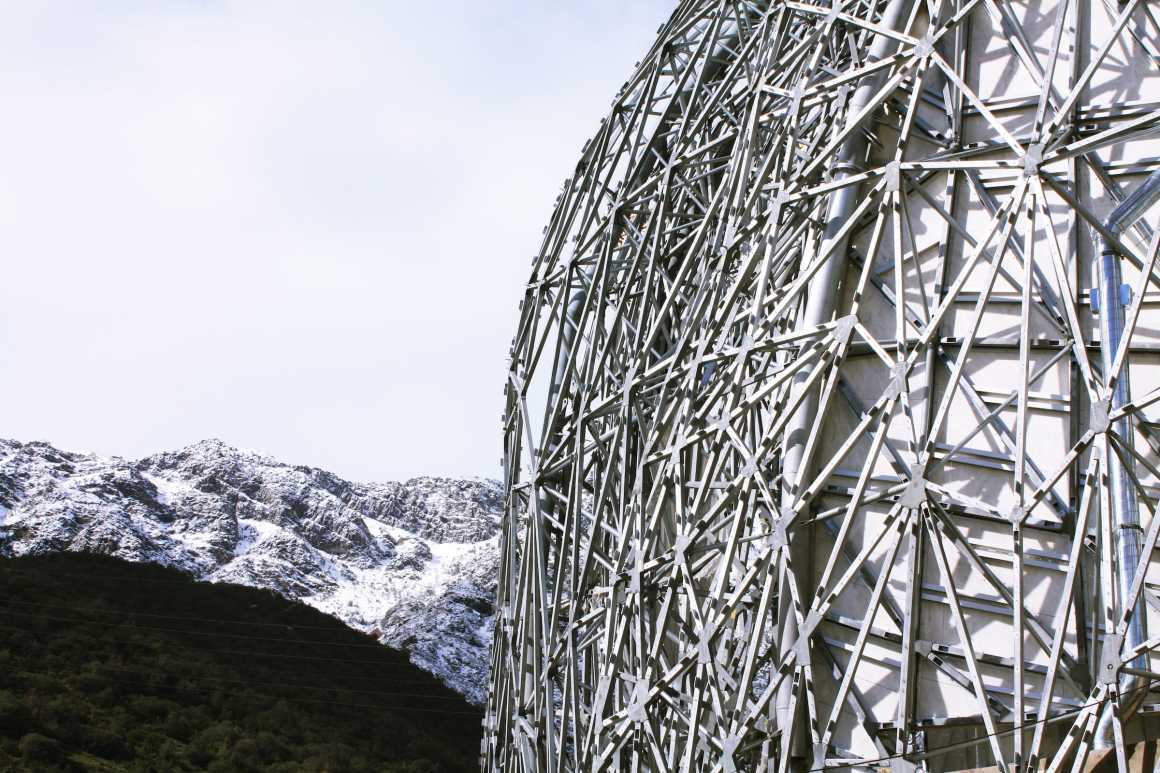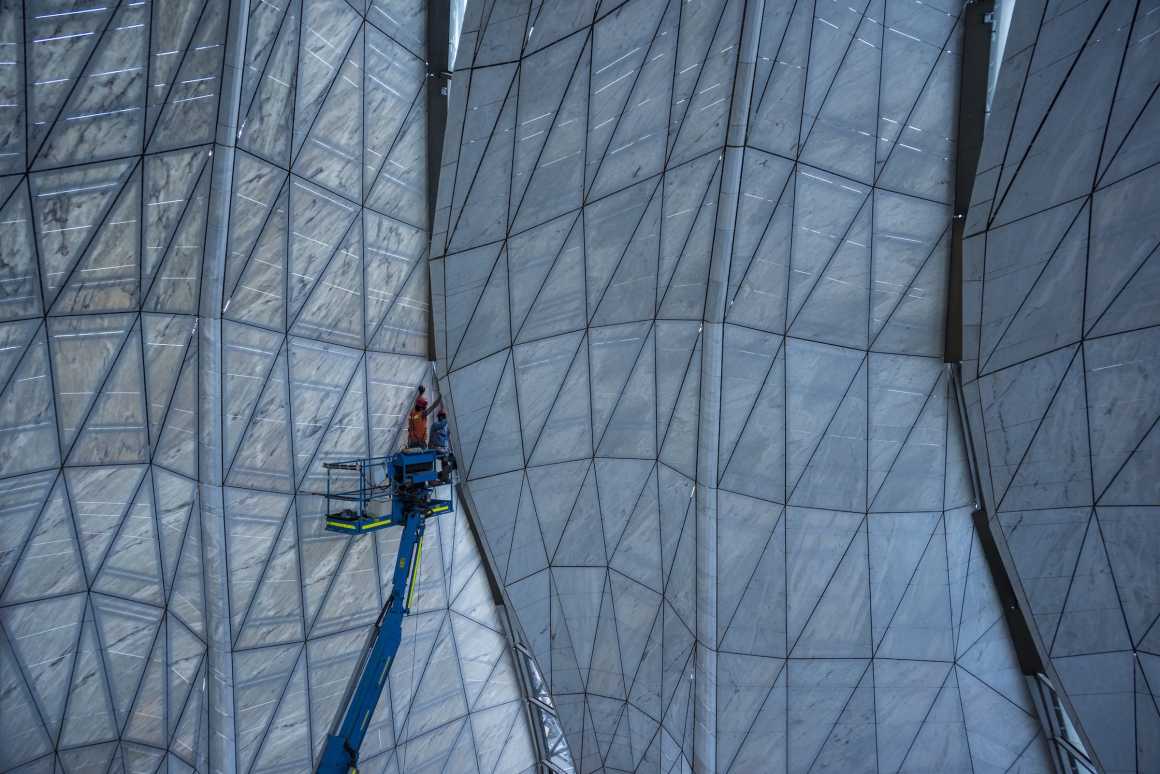 ▼项目平面图 Plan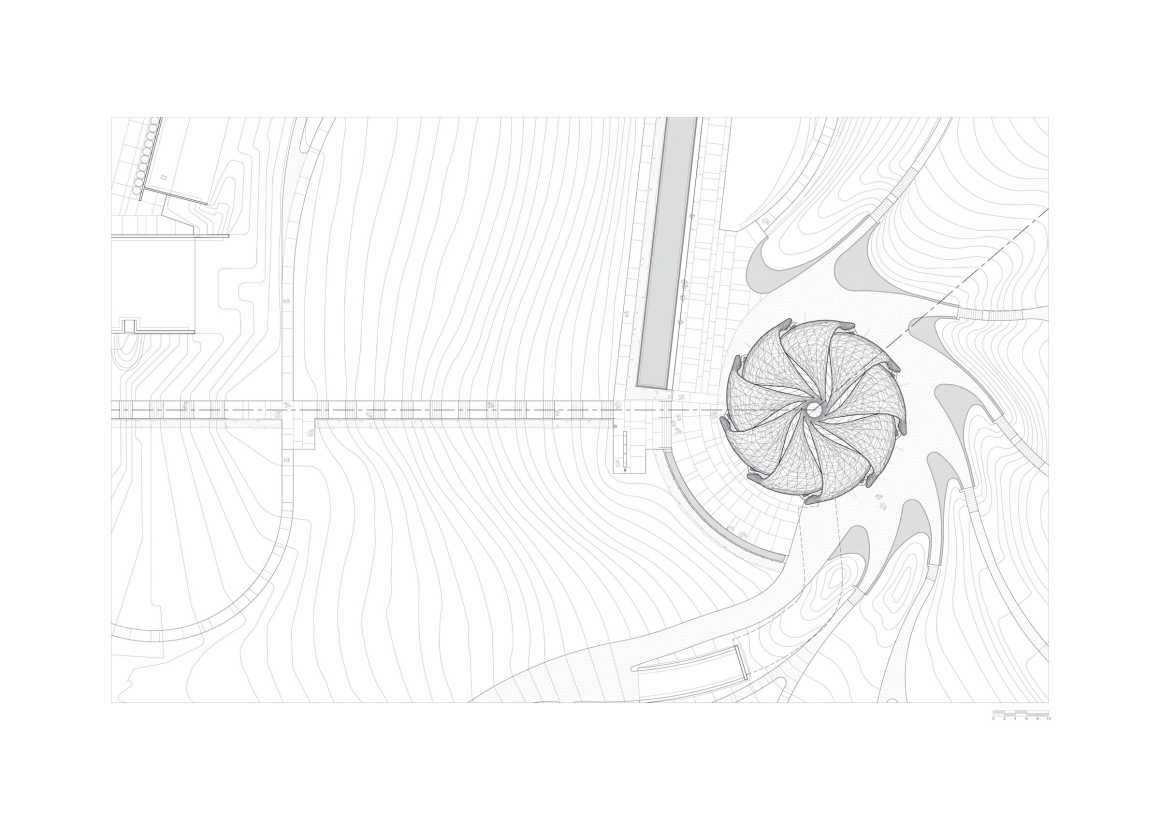 ▼项目立面图 Elevation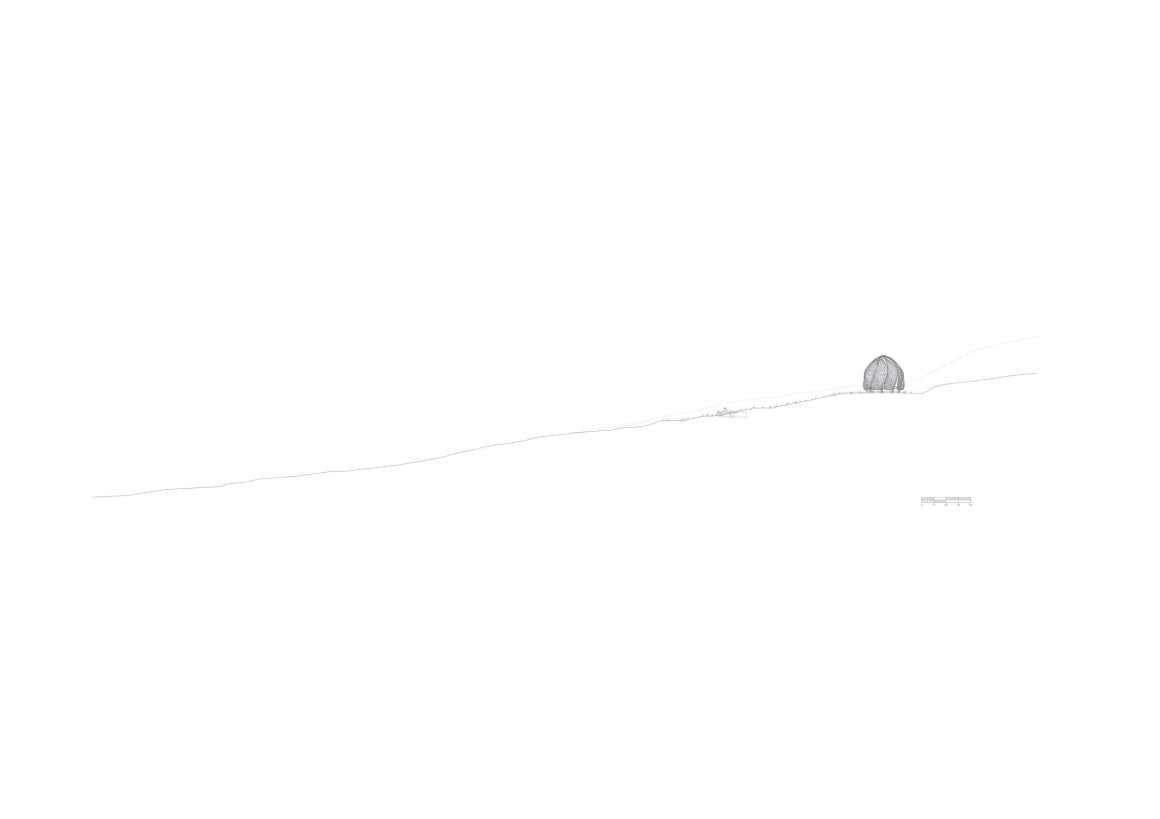 ▼建筑模型图 Model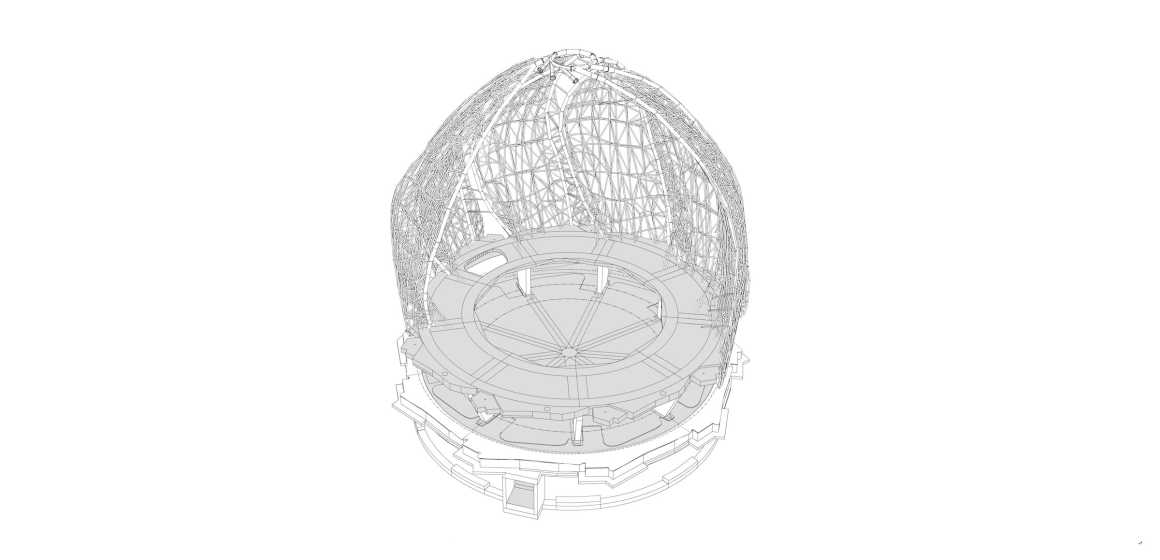 项目名称:Bahá'í Temple
客户:智利巴哈教派全国精神大会
地点:智利 圣地亚哥
状态:2016年完成
面积:26000平方英尺
建筑设计:Hariri Pontarini Architects
合作伙伴:Siamak Hariri
奖项:
2019年——加拿大皇家建筑学院(RAIC)国际大奖
2018年——安大略省建筑师协会(OAA)设计优秀奖
2018年——广域网奖地区奖-美洲最佳民用建筑奖
2017年——美国建筑奖:建筑设计/文化建筑
Project name:Bahá'í Temple
Client: The National Spiritual Assembly of The Bahá'ís of Chile
Location: Santiago, Chile
Status: Completed 2016
Size: 26,000 Sq. Ft.
Architects: Hariri Pontarini Architects
Partner: Siamak Hariri
Awards:
2019 – Royal Architectural Institute of Canada (RAIC) International Prize
2018 – Ontario Association of Architects (OAA) Design Excellence Award
2018 – WAN Awards Regional winner – Best in Americas, within the Civic Buildings
2017 – The American Architecture Prize Architectural Design / Cultural Architecture
更多 Read more about: RAIC、Hariri Pontarini Architects