本文由 LJ-Asia 授权mooool发表,欢迎转发,禁止以mooool编辑版本转载。
Thanks LJ-Asia for authorizing the publication of the project on mooool, Text description provided by LJ-Asia.
LJ-Asia:如果说机场成为了一个到处都可以体验到同样宏伟建筑的最典型场所代表,那么我们很高兴能有这个机会接受这一挑战,并通过设计金兰国际机场室外空间项目为机场空间带来新的定义。芽庄以其宁静的度假胜地和海滩而闻名,该机场每年接待超过480万游客来到芽庄地区,而新加坡的CPG公司设计的新客运站,将使这一运力翻番。该项目的独特之处在于它是世界上第一个委托对其室外空间进行适当景观设计的机场之一。
LJ-Asia:If airports became the most emblematic representation of non-places, where one can experience everywhere the same grandiose architecture of being nowhere, we enthusiastically saw the occasion to challenge this fact and set new standards with the project to design the outdoor spaces of the Cam Ranh International Airport. The airport welcomes more than 4,8 million visitors per year to the region of Nha Trang, known for its peaceful resorts and beaches. The new passengers terminal, designed by Singapore-based CPG, will allow to double this capacity. Exceptionality of the project: it stands as one of the first airports in the world to have commissioned a proper landscape design for their outdoor spaces.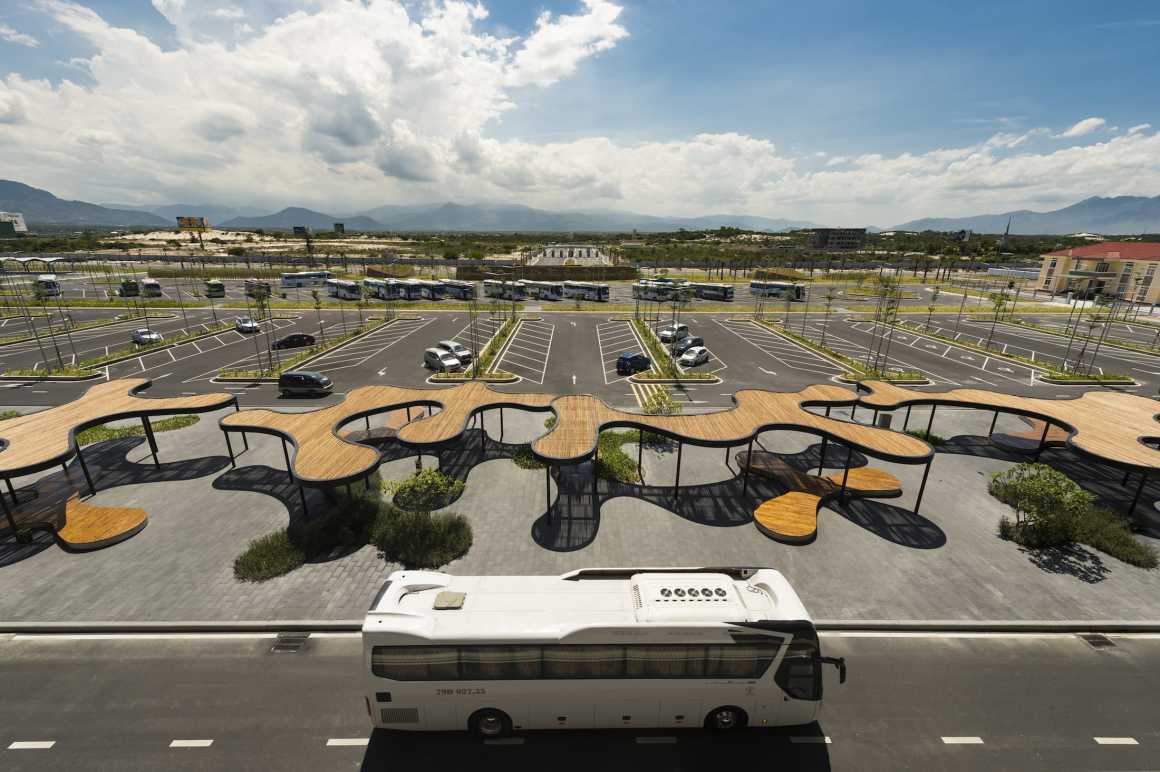 这个10公顷的大场地,以三种不同的尺度迎接着到达的乘客:从着陆的飞机处,开车到停车场,或者步行到航站楼,人们可以在这里欣赏体现庆和省迷人气候的建筑形态。
On a 10-hectare large site, different volumes greet arriving passengers at three different scales: from the landing airplane, the car driving to the parking lot, or as a pedestrian walking to the terminal, one can appreciate original shapes that start conveying the enchanting climate of the Khanh Hoa Province.
这个项目最独特的是专门为行人设计的部分。着眼于人性化舒适体验的尺度,我们在航站楼前设计了一个合适的公共空间:当人们在机场来来去去时,一个宽敞的迎宾开放空间给他们提供了第一次接触金兰、聊天或在轻松的气氛中说再见的机会。
The most unique part of this project is yet the one dedicated to pedestrians. Focusing on the small scale of the human experience, we designed a proper public space in front of the terminal: as people come and go to the airport, a generous, welcoming open space offers them to have a first contact with Cam Ranh, to wait, chat or say goodbye in a relaxed atmosphere.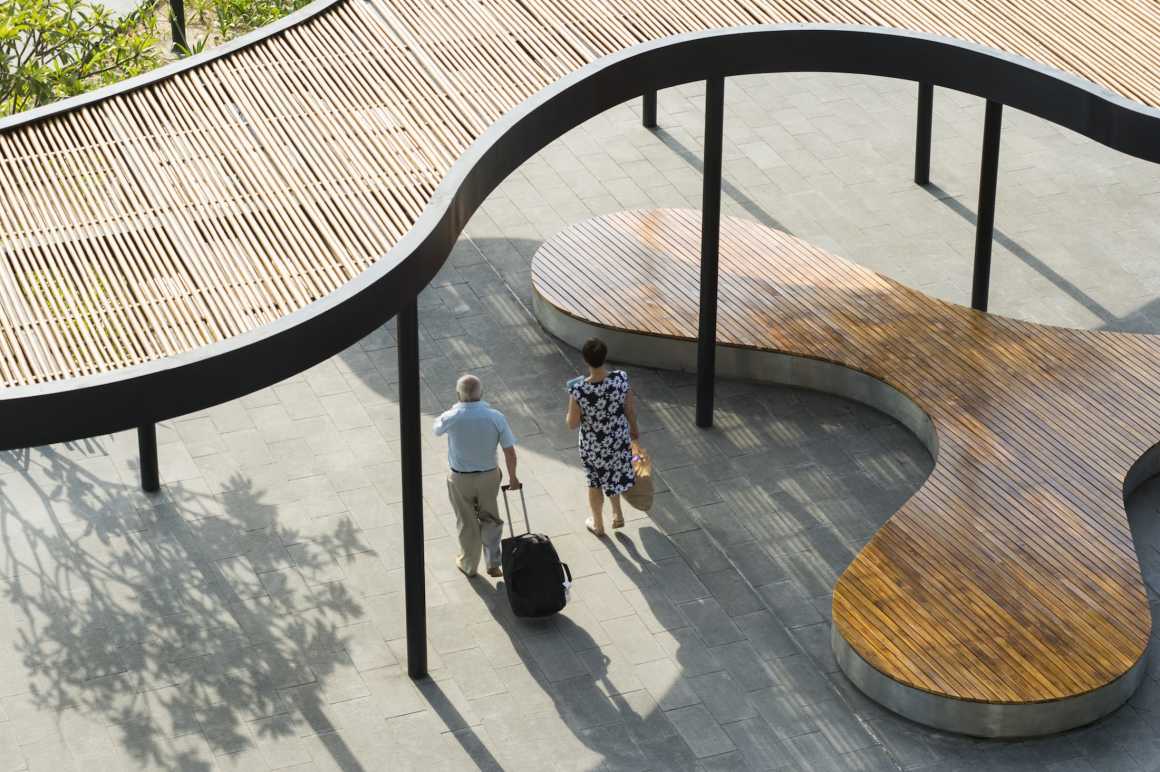 巨大的曲线形状看似随机地排列在场地上,却创造了一个非常通透的空间。事实上,虽然机场预计每年接待800万名乘客,但该设计充分考虑到了客流量,考虑不同节奏的人的使用舒适度,也保留了一些空间。
Large curvy shapes are arranged over the space in a seemingly random configuration, creating a very permeable space. In fact, while the airport is expected to receive 8 million passengers a year, the design gives full priority to circulation flows, but it also retains pockets of space for people evolving at different rhythms to coexist.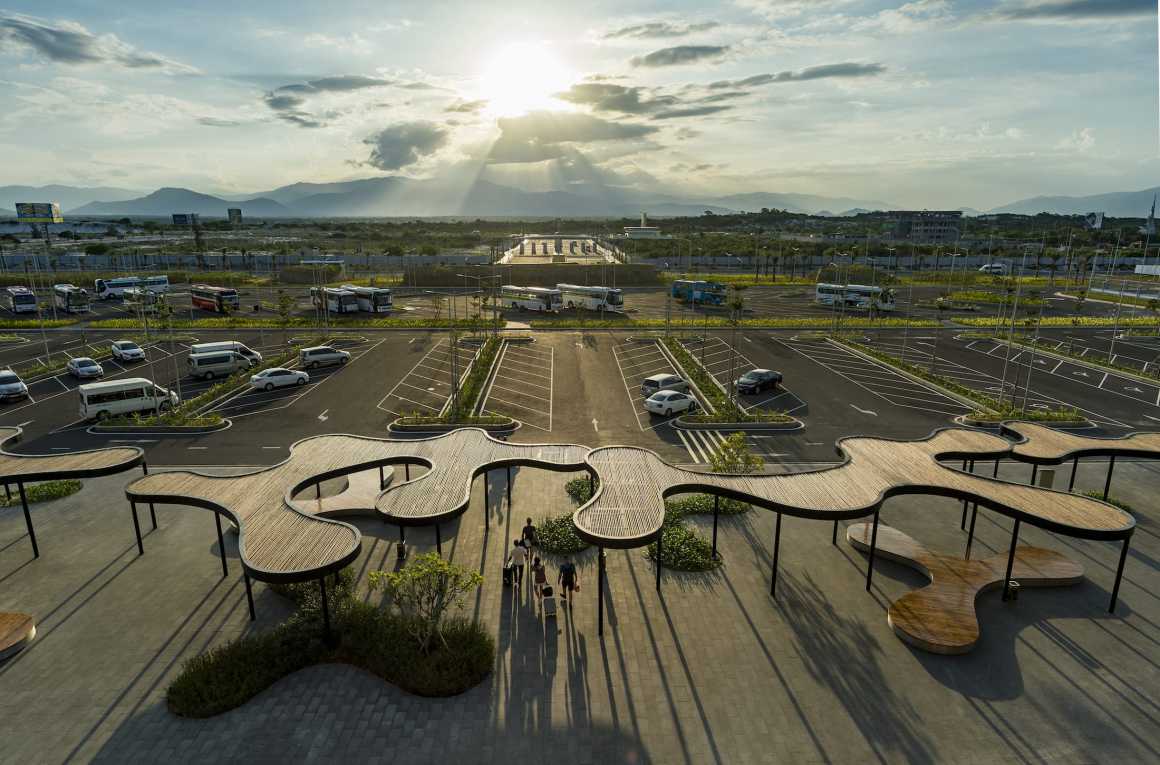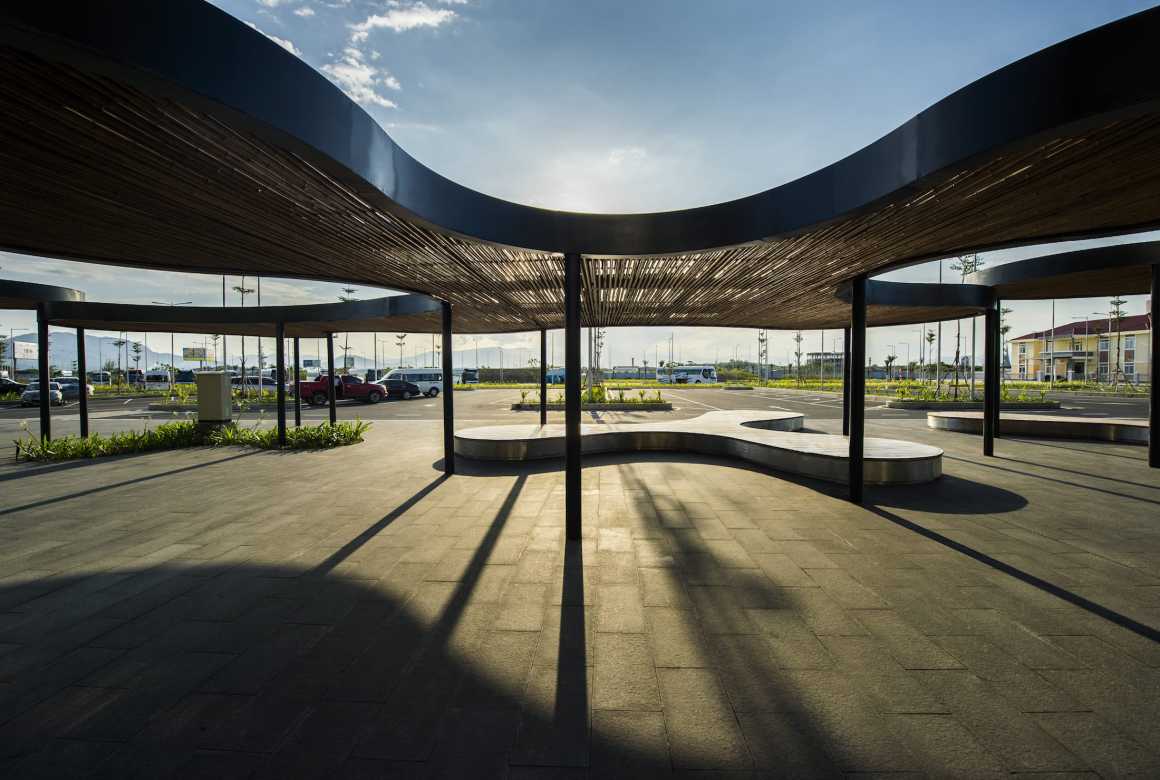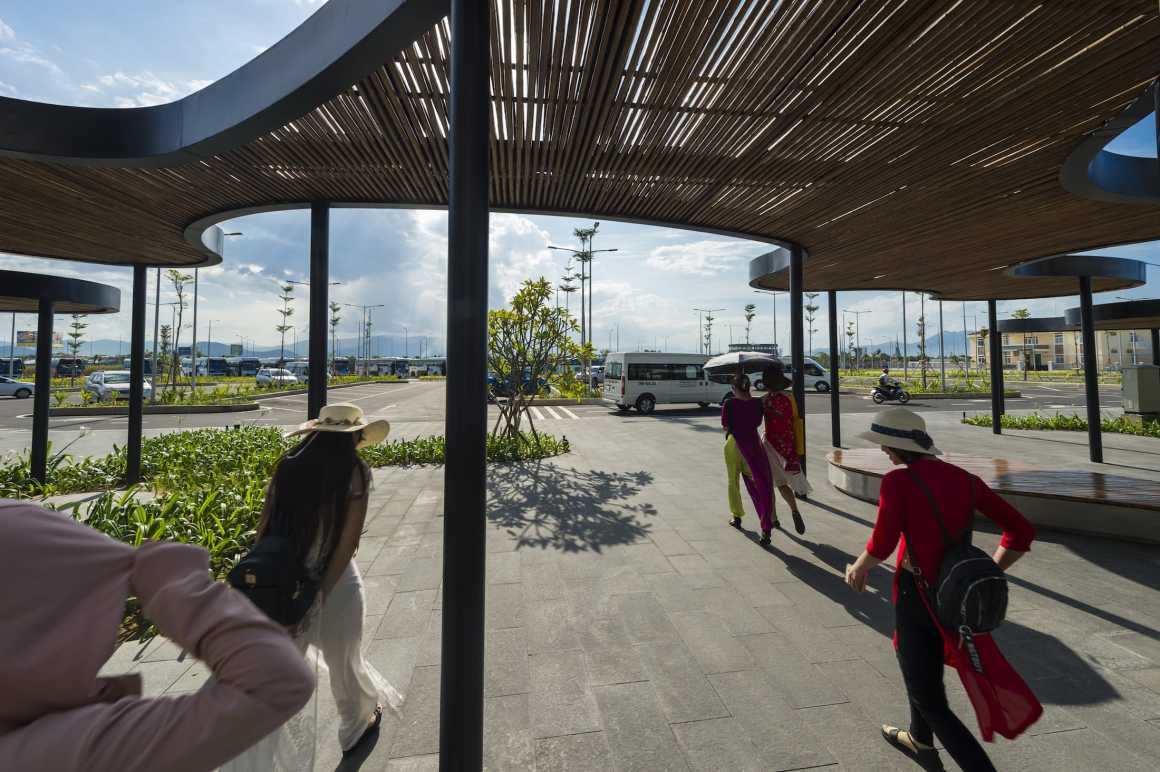 它是一个由竹子、金属和种植池组合而成的遮阳座位结构,阳光会在座位上投下各种不同的阴影,但长椅总会有一部分会暴露在阳光下,无论何时何地,这些光影图案都会给人一种"错觉",迫使人们去看,去发现合适的位置,去欣赏设计,从趣味性来看,它能使人与场所之间产生更多的互动。
The shapes are seating and shading structures made of bamboo and metal, and planted areas. The shades are placed over the seating blocks in a mismatched manner, always leaving parts of the benches out in the sun. In and out all the time, the patterns create a 'sense of wrongness' that forces people to see, search for the right spot and appreciate the design. From playfulness, interaction between people and places can happen.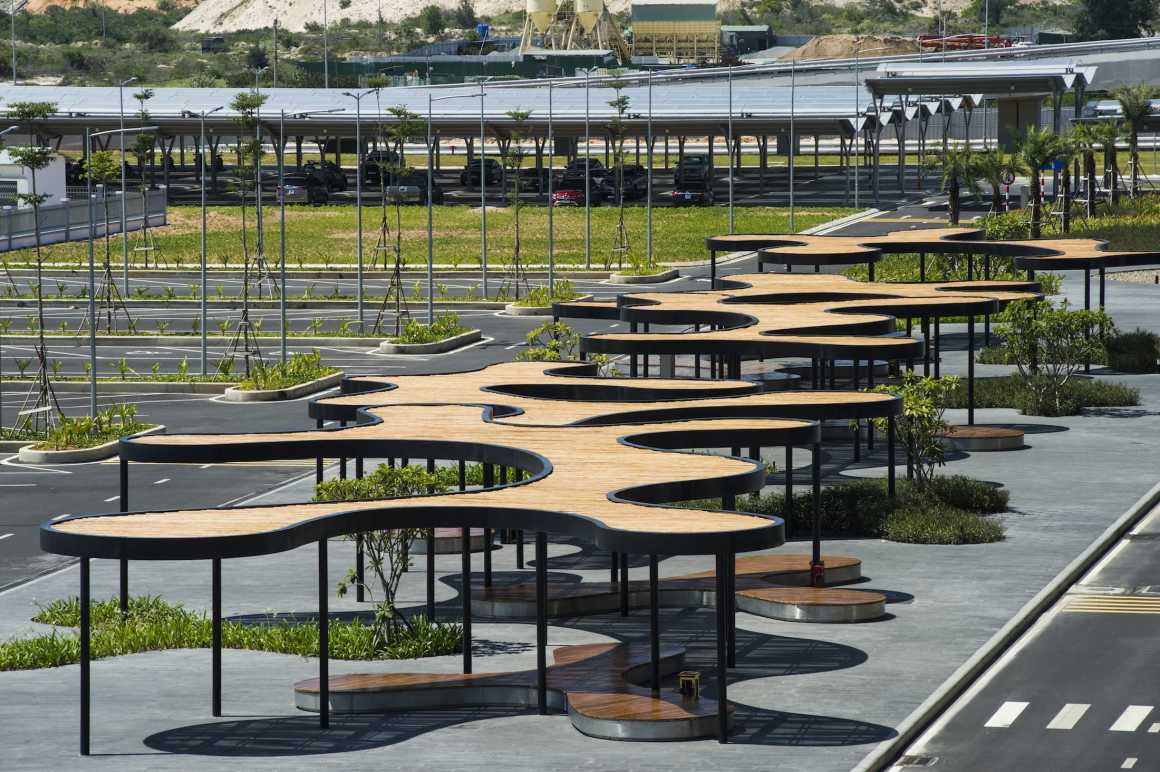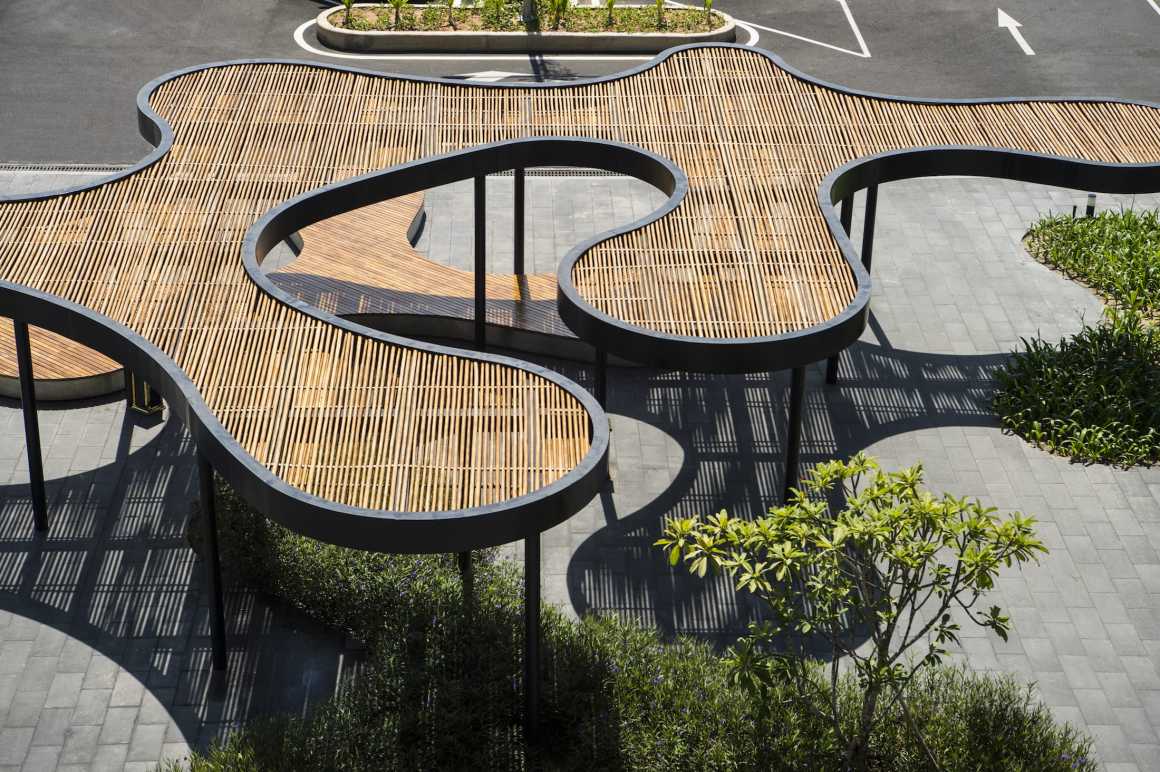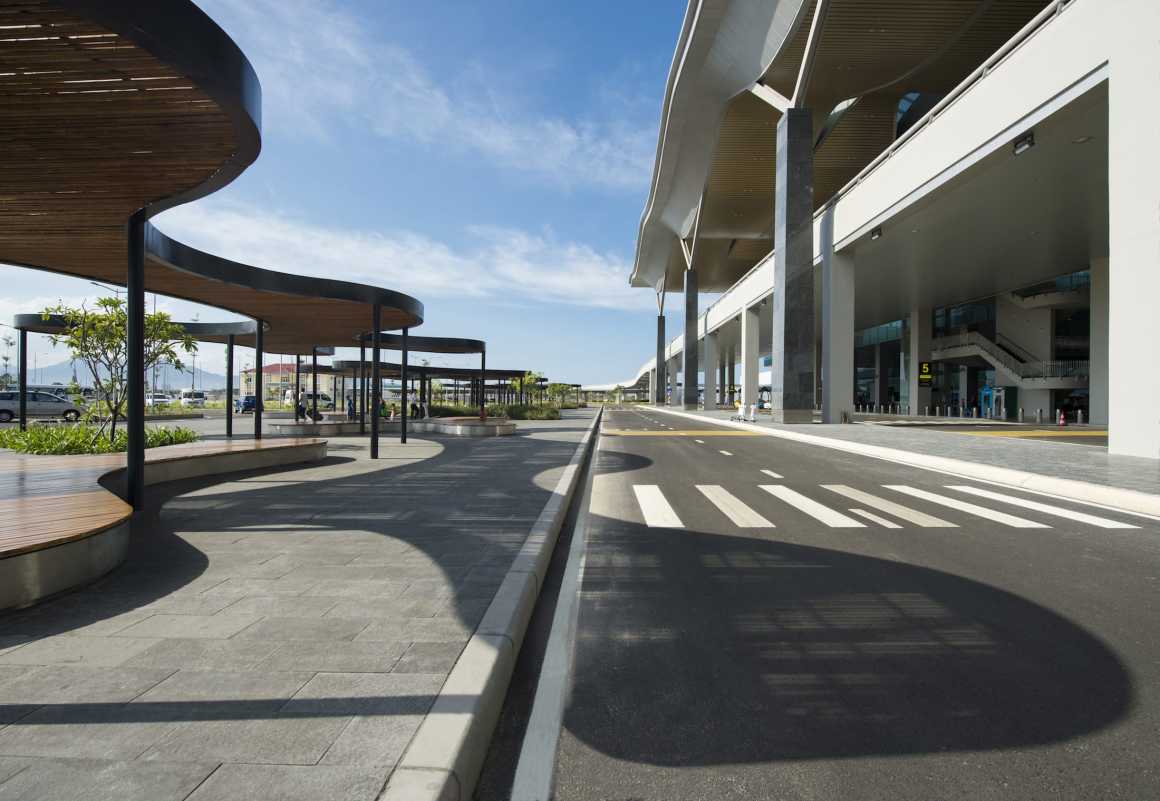 出于对功能和宽敞空间的考虑,在从航站楼入口到摩托车停车场的道路将两旁我们精选种植了许多海边植物。
Following similar considerations of functionality and generosity of space, a path extends the spirit from the terminal's entrance to the motorbike parking with a selection of sea-side plants.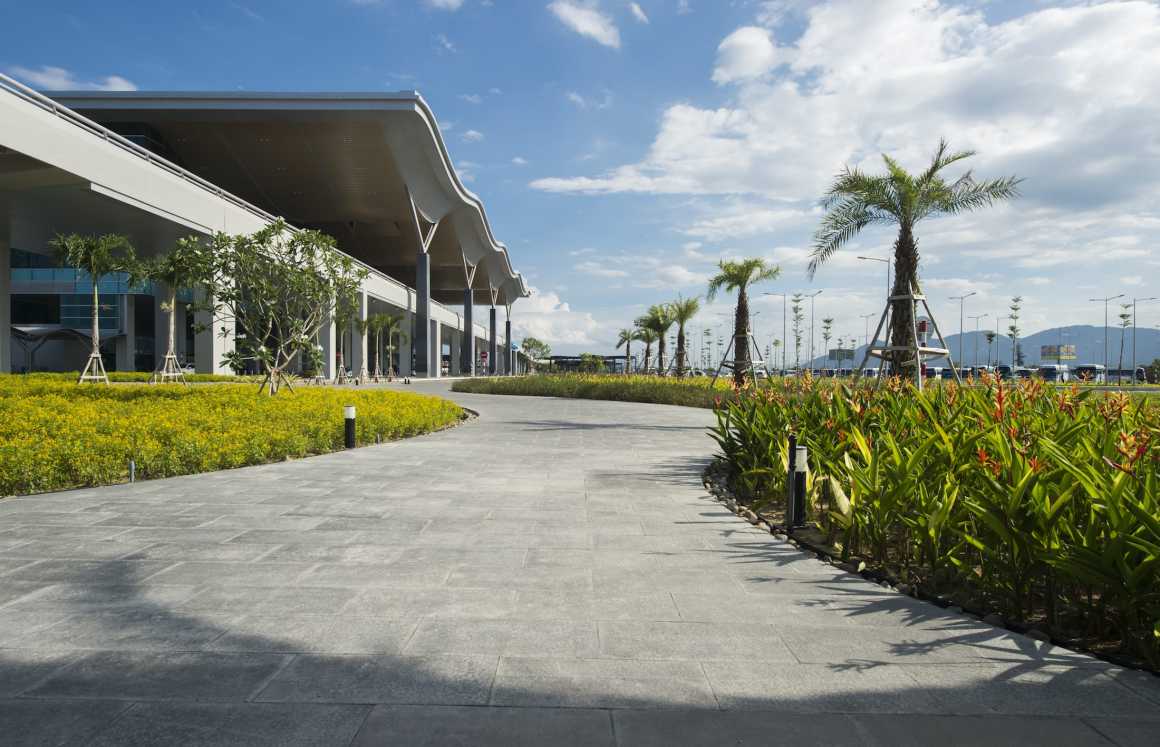 在充分尊重基础设施和交通要求的同时,金兰的户外空间打破了单调的机场设计传统,为人们创造了一个美好而愉快的人性化场地……
While fully respecting infrastructure and transport requirements, Cam Ranh's outdoor space breaks away from the monotony of airport design traditions and shows a care to make good and enjoyable places for people…
▼场地平面图 Site Plan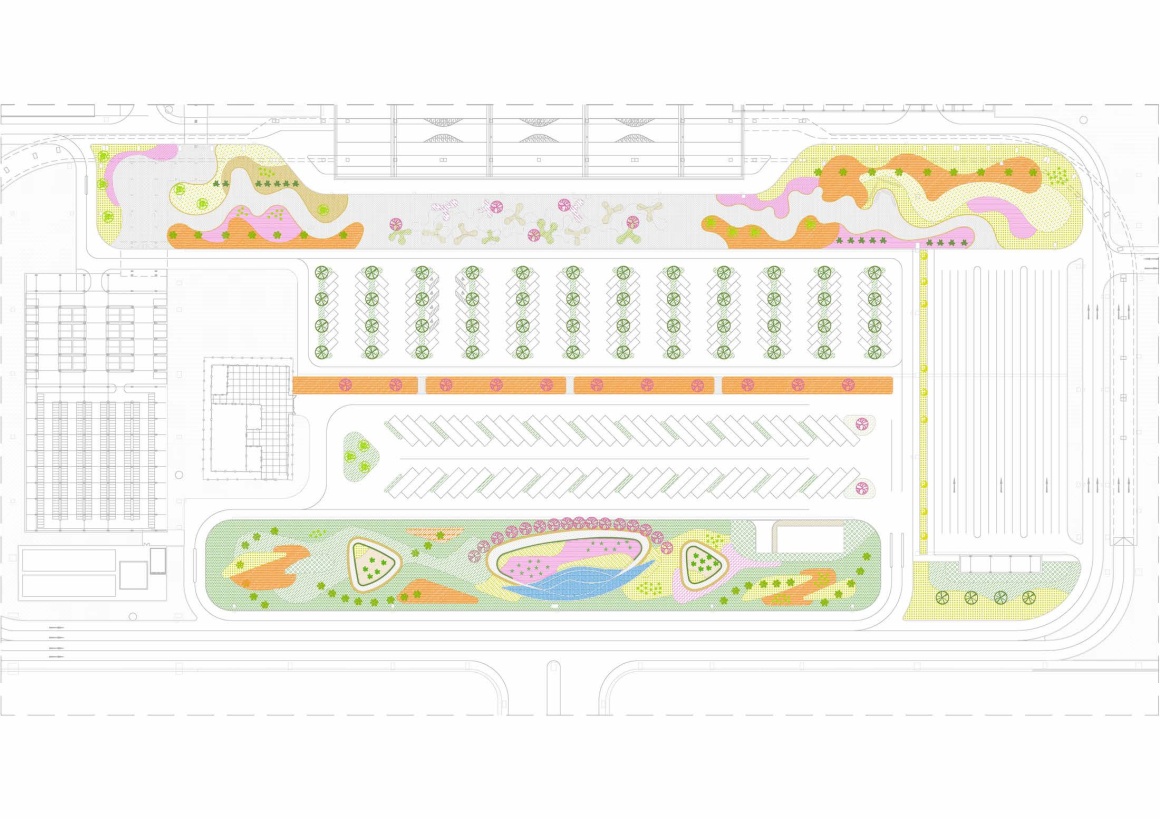 项目名称:金兰国际机场
完成:2018 – 2018
景观设计:LJ-Asia
设计团队:Pedro Pedalino, Daniel Alonso
地点:越南 庆和省 金兰
景观面积:23000平方米
图片:Brice Godard
客户:CRTC
Project name: Cam Ranh International Airport
Completion: 2018-2018
Landscape Design: LJ-Asia
Design team: Pedro Pedalino, Daniel Alonso
Location: Cam Ranh, Khanh Hoa province, Vietnam
Landscape Area: 23,000 m2
Photo credits: Brice Godard
Clients: CRTC
更多 Read more about: LJ-Asia