本文由 SWA Group 授权mooool发表,欢迎转发,禁止以mooool编辑版本转载。
Thanks SWA Group for authorizing the publication of the project on mooool, Text description provided by SWA Group.
SWA Group 在德州高地岛的史密斯奥克斯保护区 (Smith Oaks Sanctuary) 设计的景观装置,把一个偏远的后工业化地区变成了一个更可达的观鸟者天堂。
SWA Group's landscape "intervention" for the Smith Oaks Sanctuary in High Island, TX, transforms a remote, post-industrial site into a more accessible birder's paradise.
▼项目视频 Video © SWA-Jonnu Singleton
▼保护区区位 Sanctuary location
▼平面图 Site plan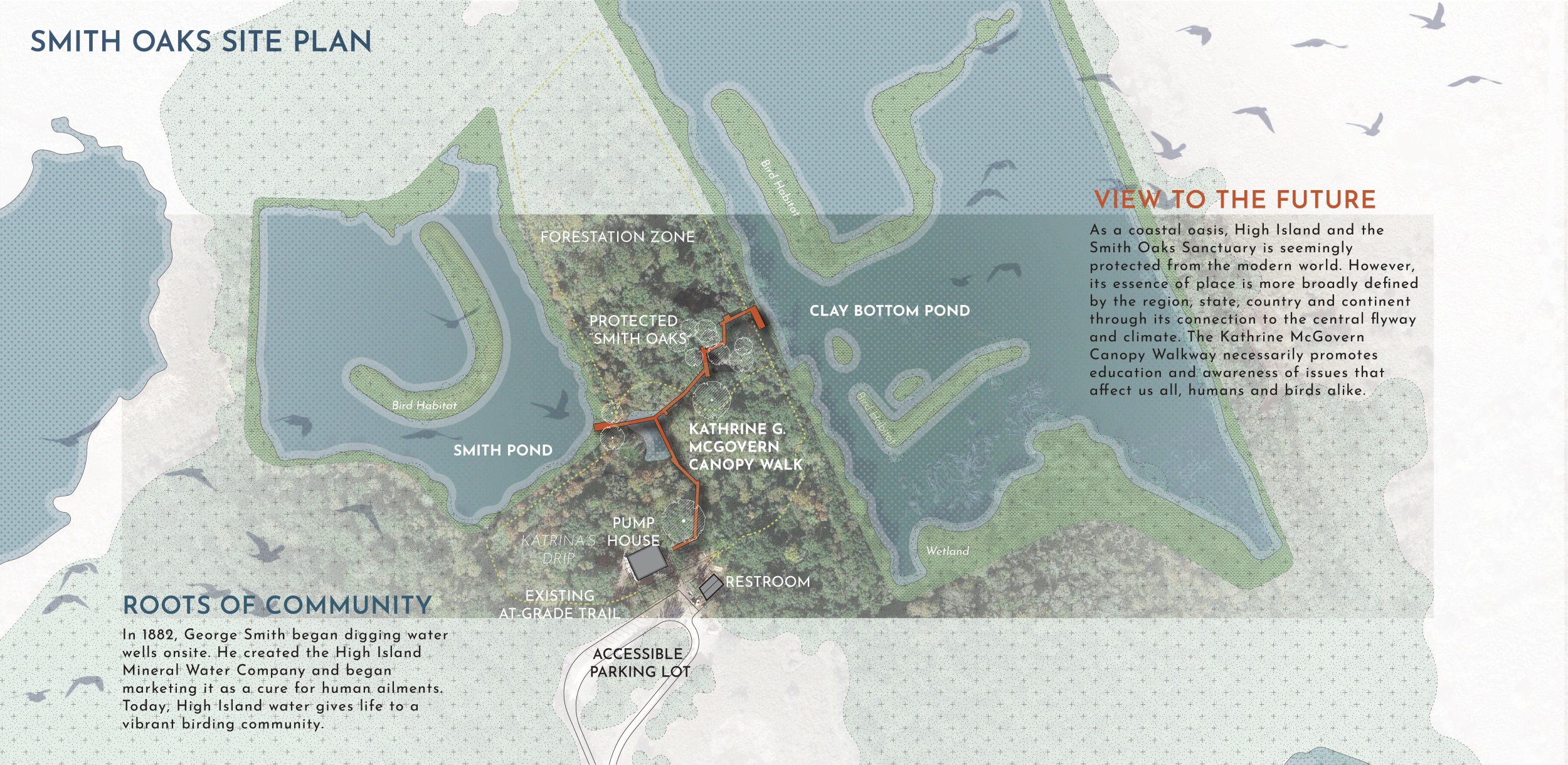 设计的核心是引入林冠步道,这是一条213米长、5.4米高的木栈道,将游客带到高处并穿过一个林冠庇护地,这个候鸟聚集地长期以来一直为观鸟群体所熟知。
Central to the design is the introduction of Canopy Walk, a 213-meter-long, 5.4-meter-high boardwalk that elevates then threads visitors up into and through a canopy refuge long-known to the birding community as an important stopover for migratory birds.
▼林冠步道鸟瞰 Aerial view of the Canopy Walk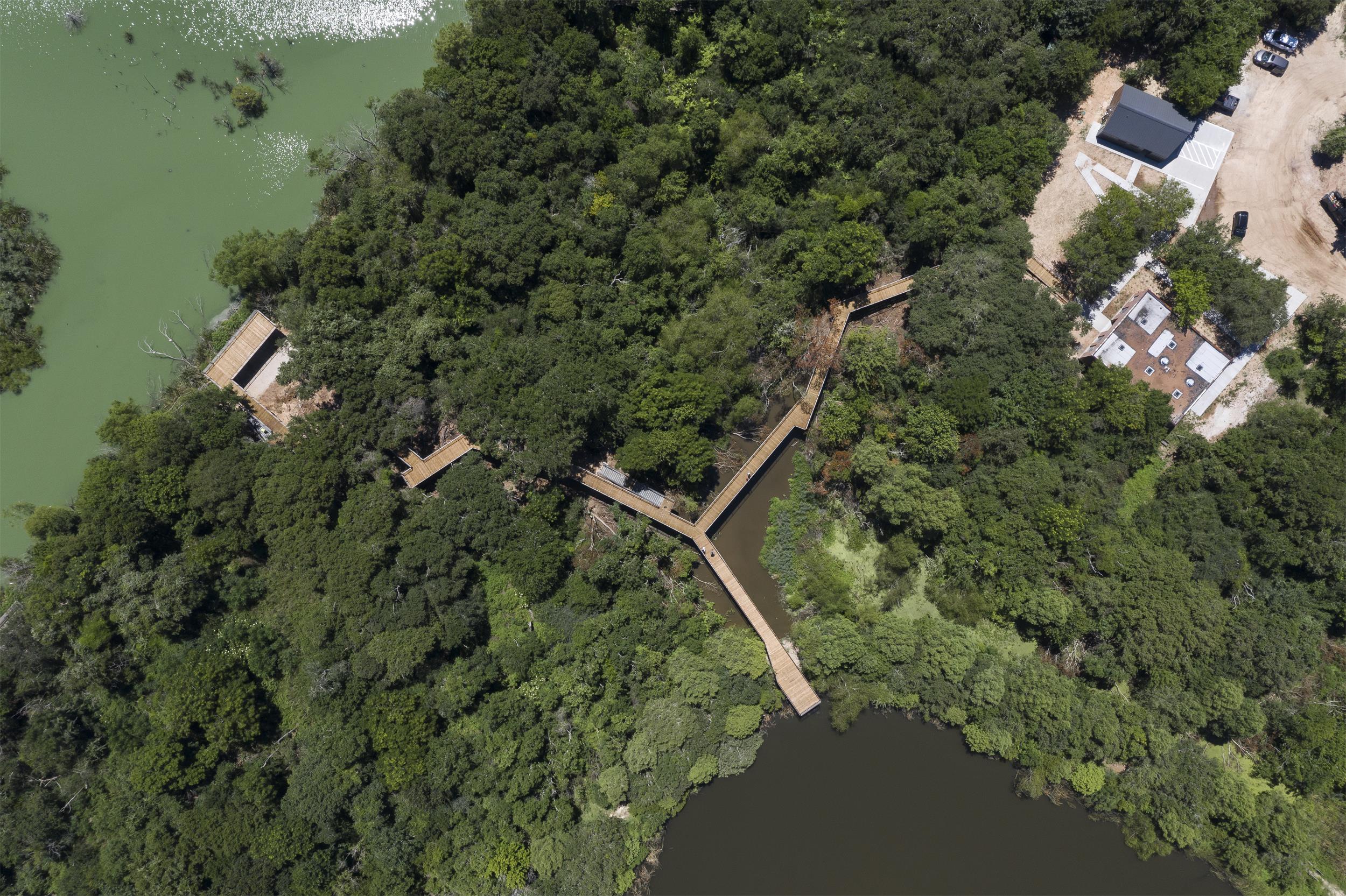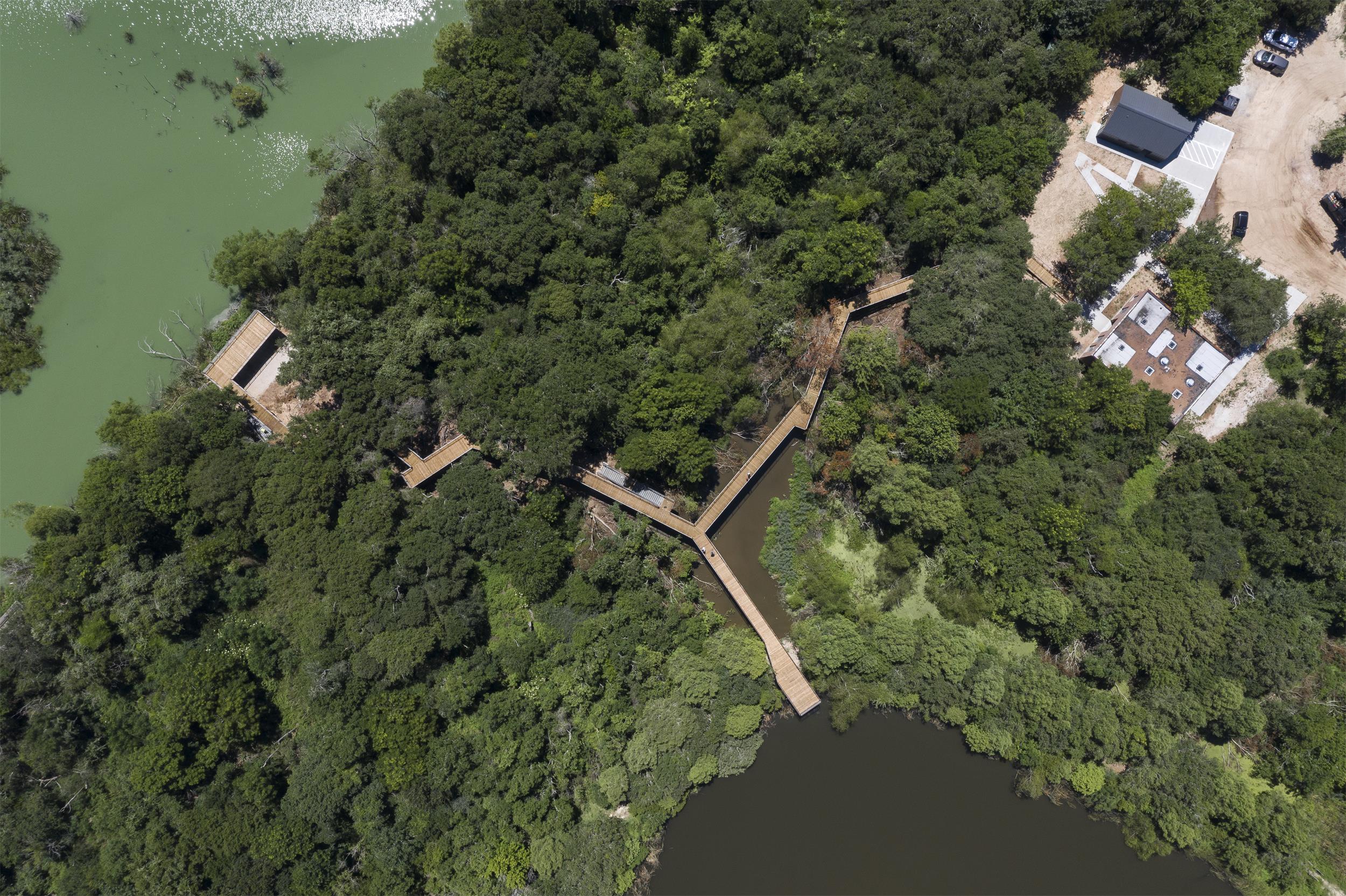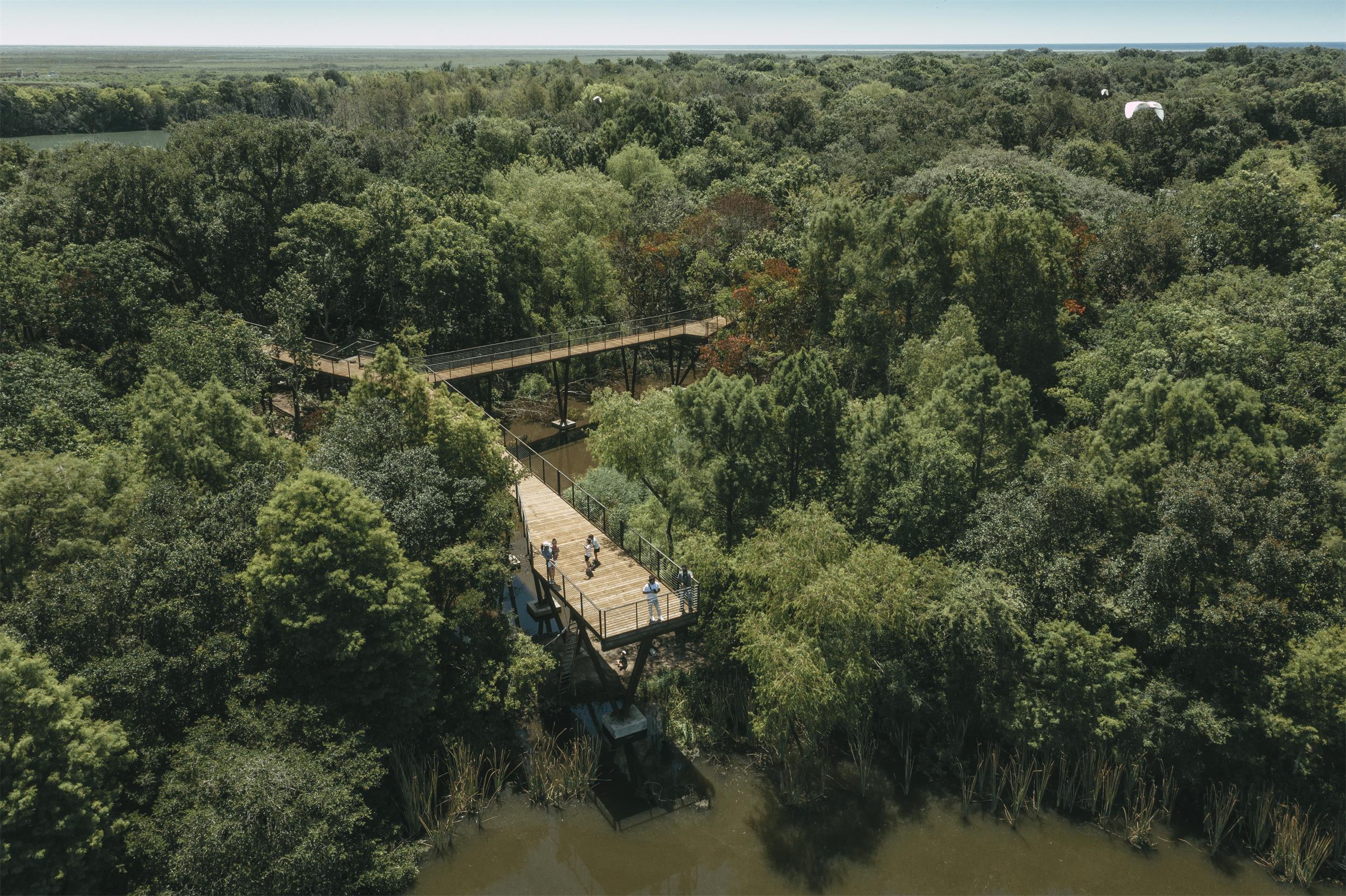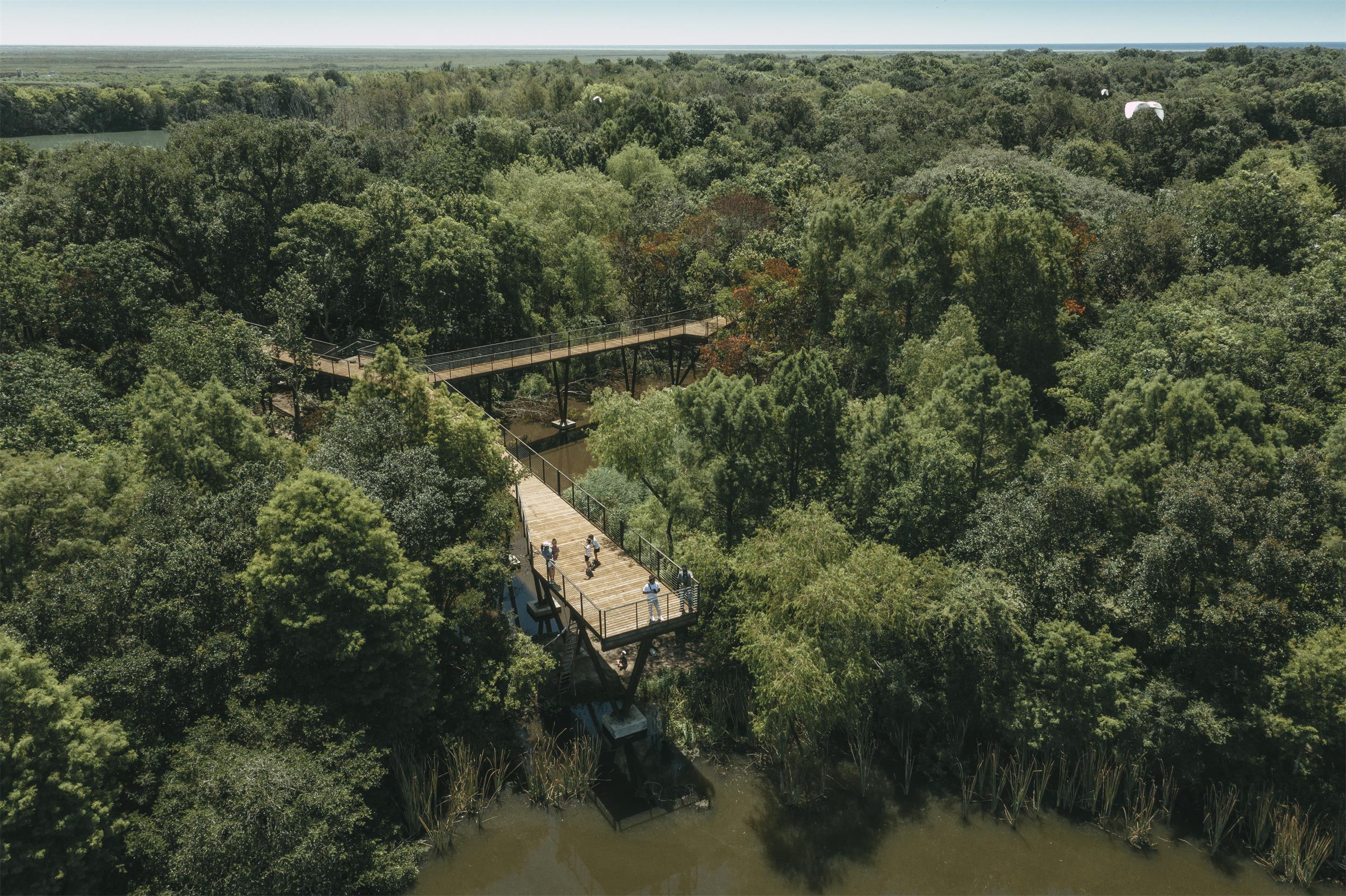 在这里,石油工业的遗迹为该岛独特的生态和地质环境增添了工业特色:盐丘从原本平坦的咸水沼泽表面升起,足以将动植物抬升到一层淡水中,免受潮汐和风暴潮的侵袭。
Here remnants of the oil industry add industrial character to the Island's distinct ecology and geology: a salt-dome that rises enough from the surface of an otherwise flat saltwater marshland to lift the flora and fauna into a layer of fresh water, protected from tides and storm surge.
▼高地岛地层剖面 High Island strata-scene
虽然盐丘在德克萨斯州东南部很常见,但这个特殊的盐丘使地面高出周围海岸线9.7米,支撑着树木的生长,并使它成为鸟类迁徙到中部和密西西比候鸟走廊的指引。
While salt domes are common to Southeast Texas, this particular salt dome elevates the ground 9.7 meters above the surrounding coastline, supporting the growth of trees and rendering it a beacon for birds migrating up the Central and Mississippi Migratory corridors.
▼在保护区聚集的候鸟 The birding community for migratory birds
在这个项目中,设计师们谨慎地对待土地,利用现有的废弃基础设施,并让远处的史密斯奥克斯保护区更有辨识度,这是高地岛及其周边的四个保护区之一。
In the Canopy Walk project, landscape architects at SWA sought to tread lightly on the land, leveraging existing abandoned infrastructure, and distinguishing the remote Smith Oaks Sanctuary, which is one of four sanctuaries in and around High Island.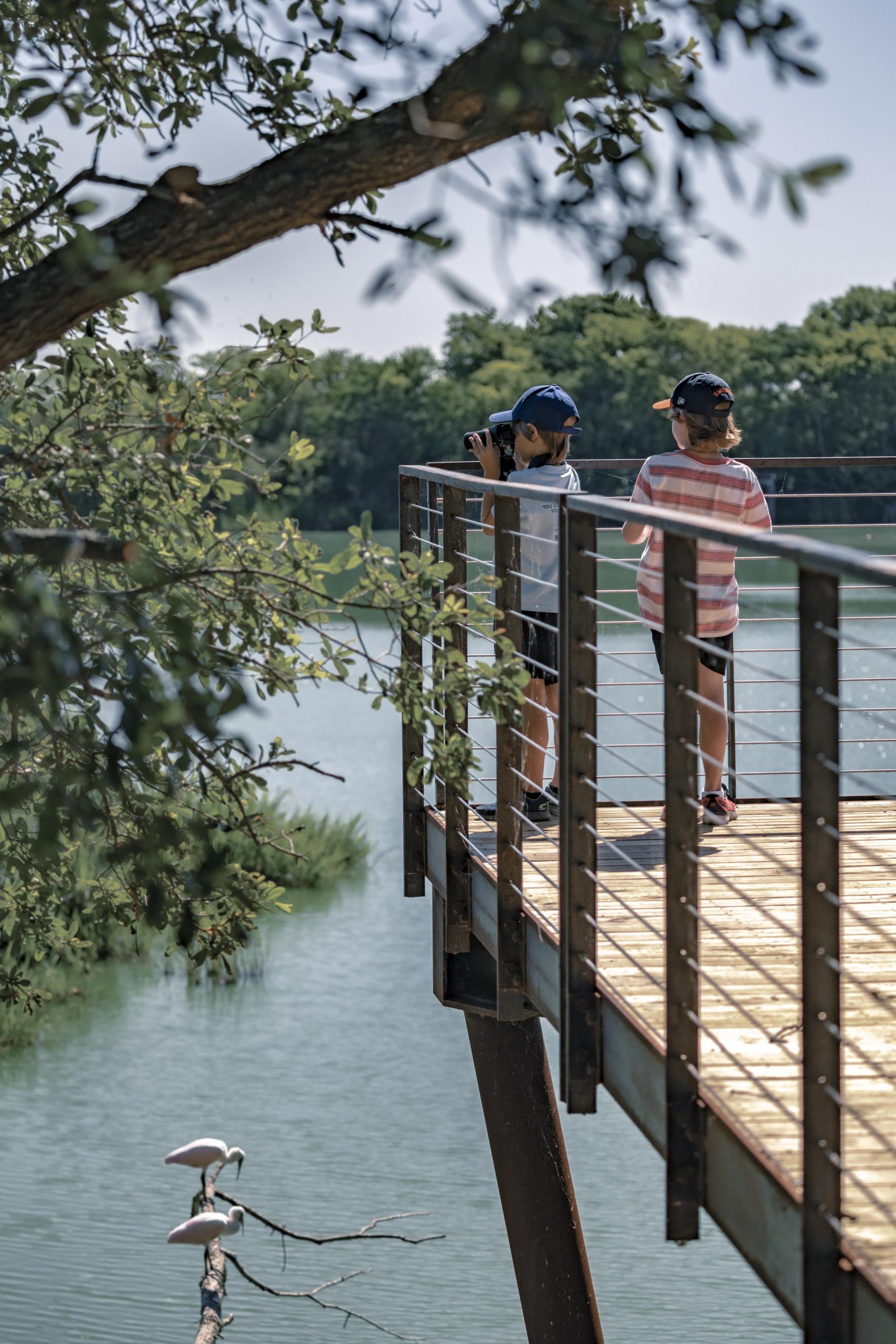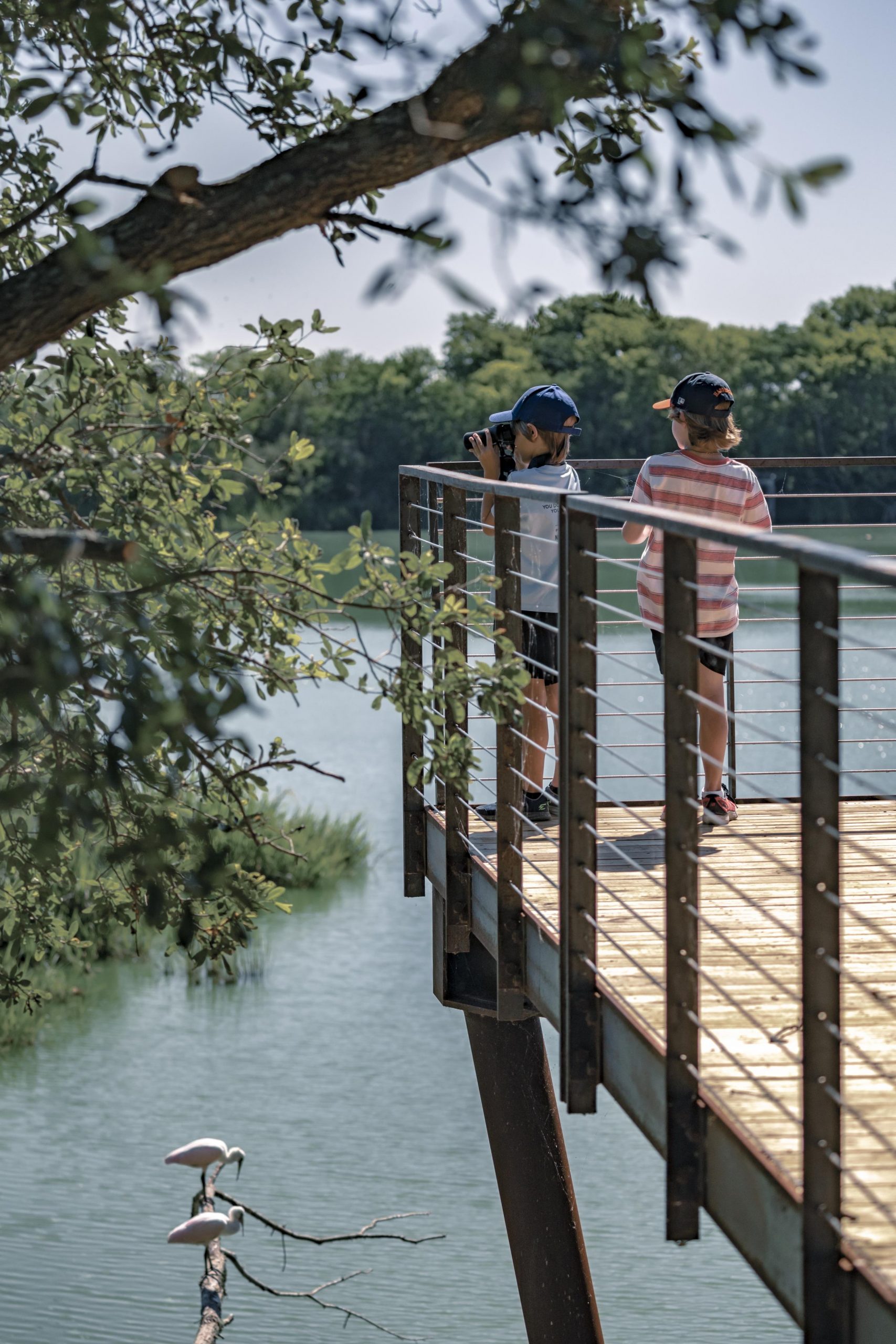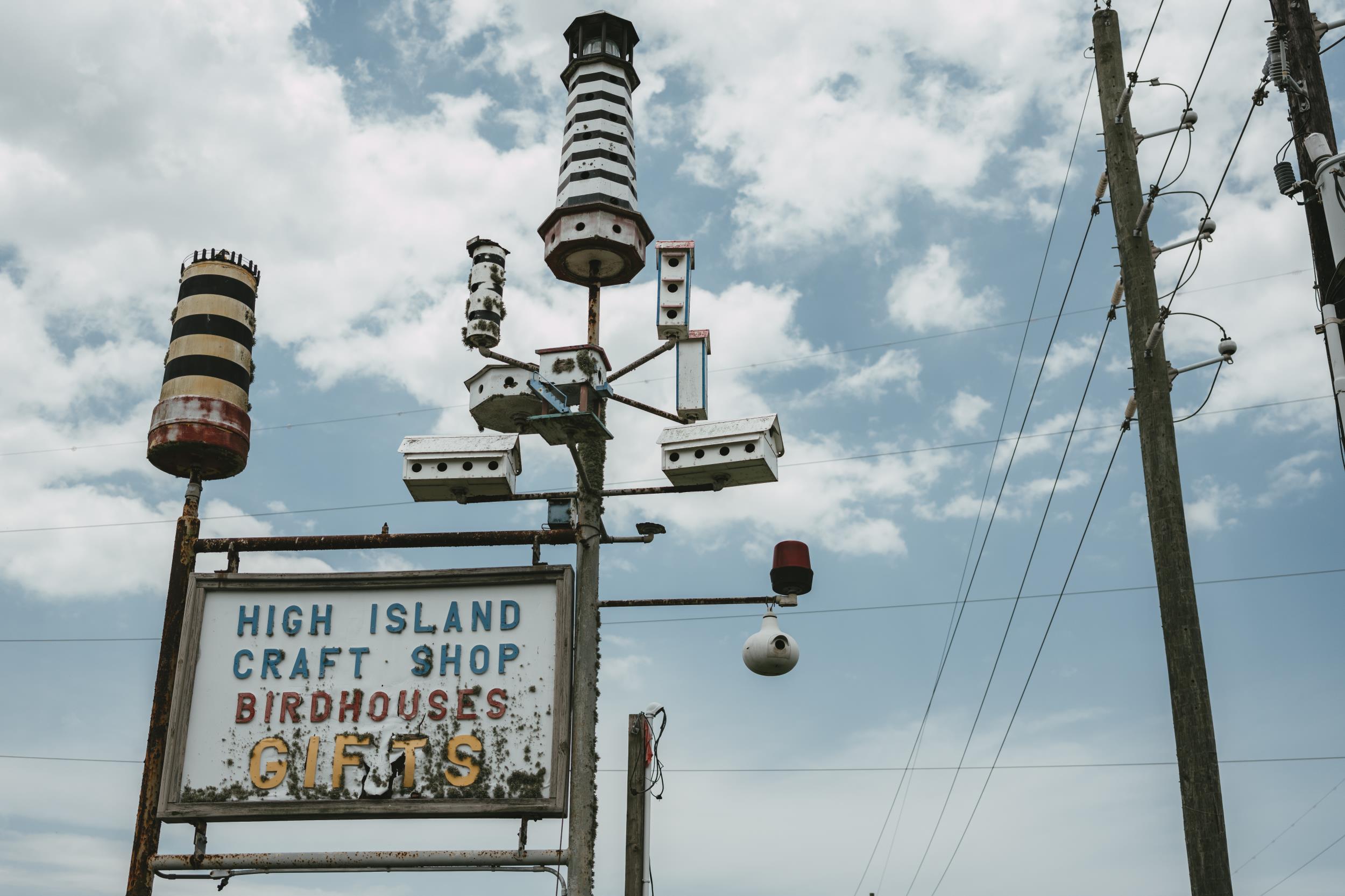 林冠步道由风化的钢管支撑,与场地历史上的石油和天然气基础设施相呼应,同时也融入了丰富的林地栖息地和标志性的橡树群。步道作为提供该地区体验的新支柱,让所有热爱大自然的人都能更容易到达这里。
The Canopy Walk boardwalk is supported by weathered steel pipes that speak to the site's historic oil and gas infrastructure while also blending into the rich woodland habitat and iconic live oaks.  It serves as a new backbone to experience the area, and makes the site more accessible to all nature enthusiasts.
▼由风化的钢管支撑着的林冠步道 Canopy Walk boardwalk is supported by weathered steel pipes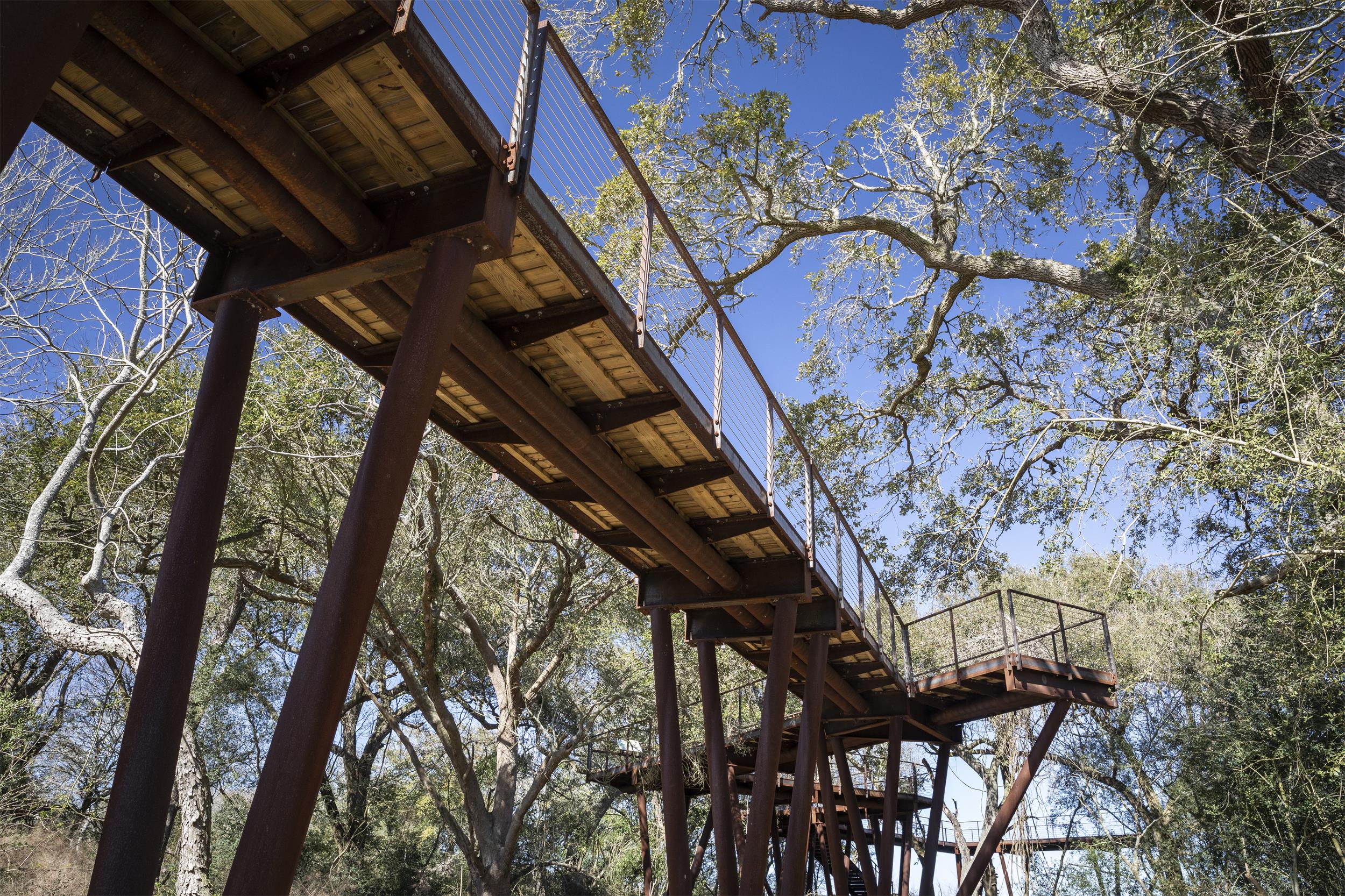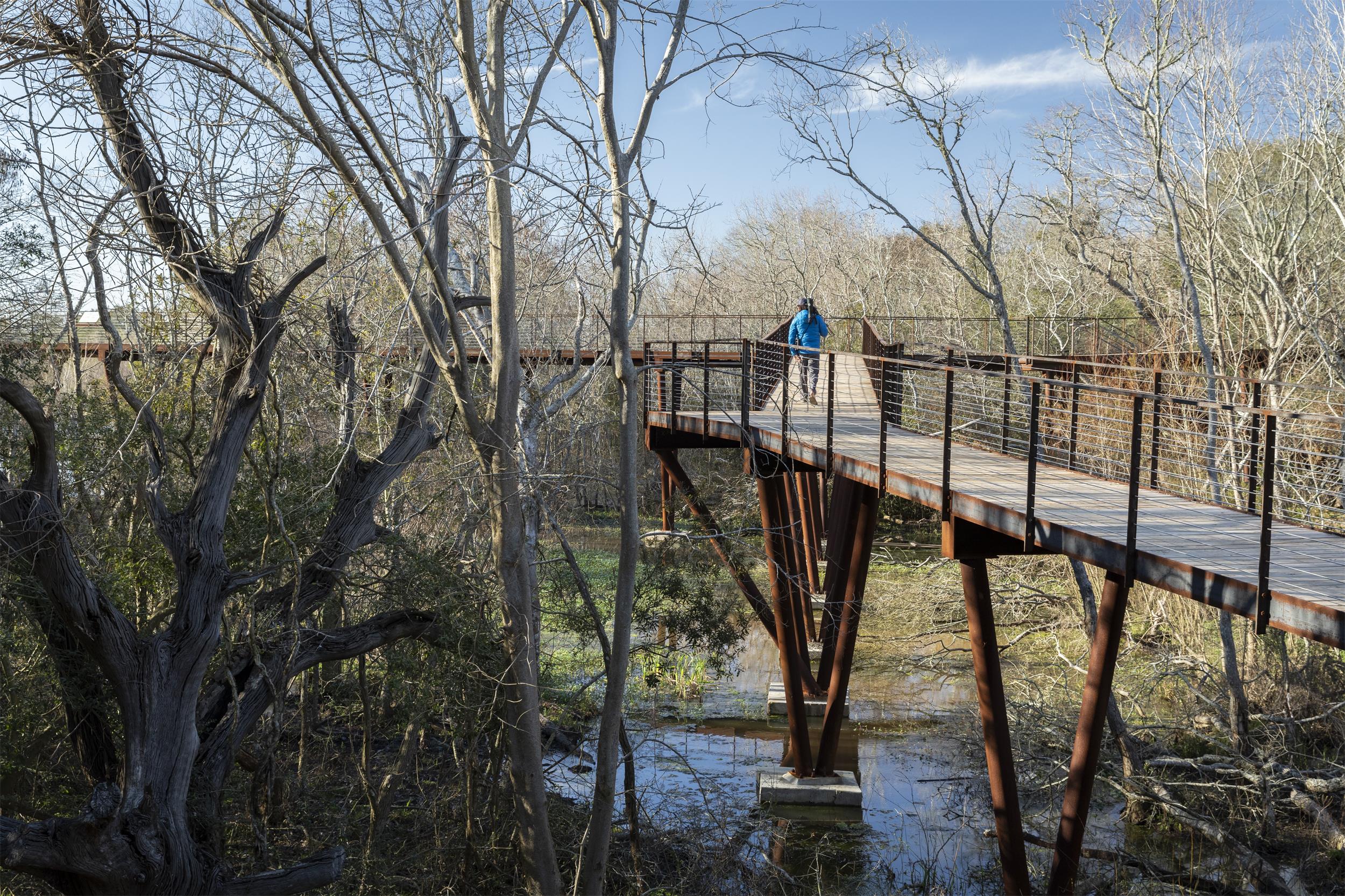 该景观装置的开放日恰逢候鸟的数量激增,也与奥杜邦鸟类协会对访客们的承诺相符:把过去在泥泞和蚊子遍布的沼泽中艰难跋涉的观鸟体验,转化成更能够吸引缺乏经验的和行动不便的观鸟者的美好的体验。
The structure's opening coincides with a surge in birding's popularity, and a strong commitment from the Audubon Society to make the past-time, which is often characterized by slogging through muddy and mosquito-filled marshes, more approachable to the uninitiated or less mobile.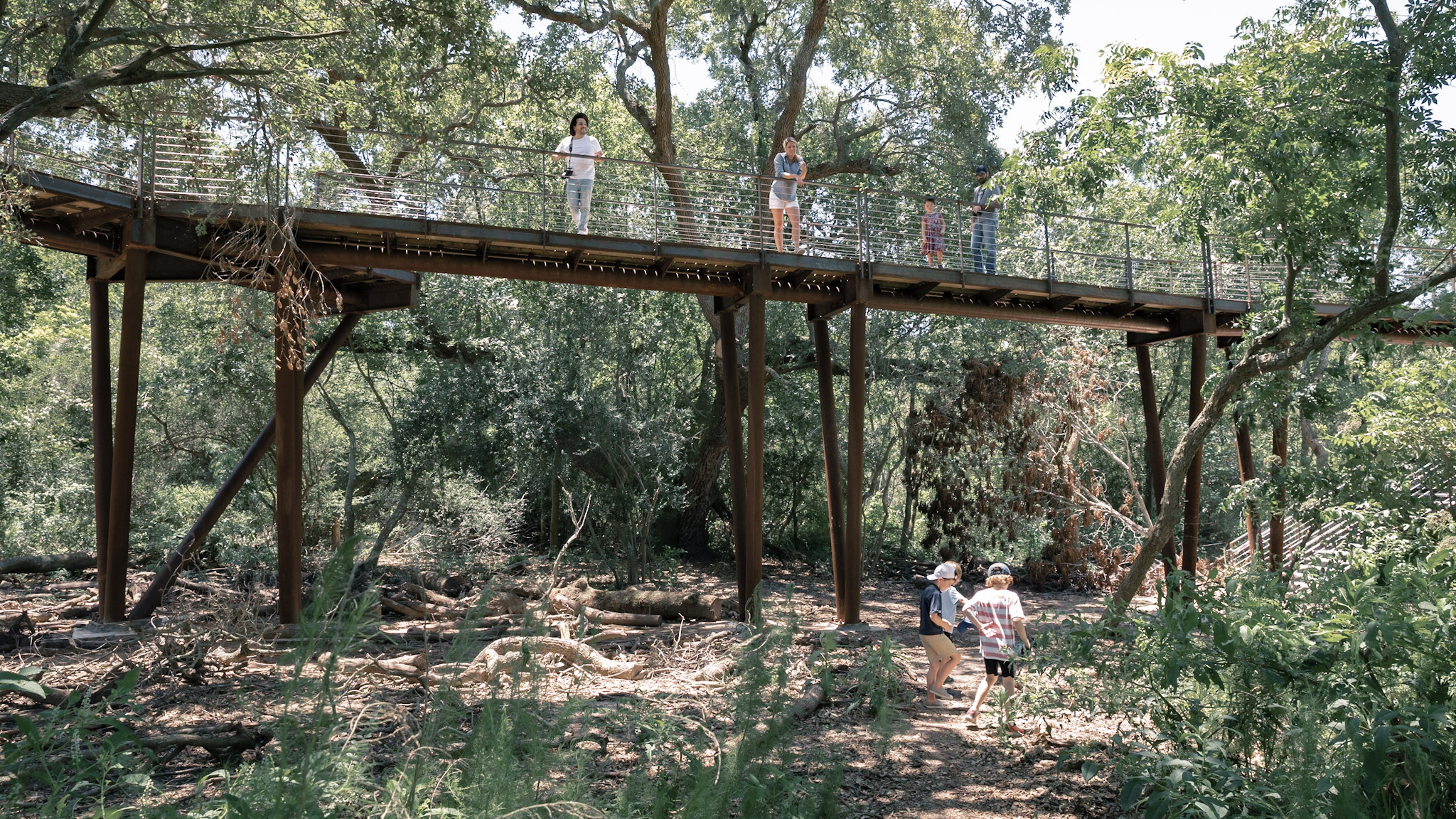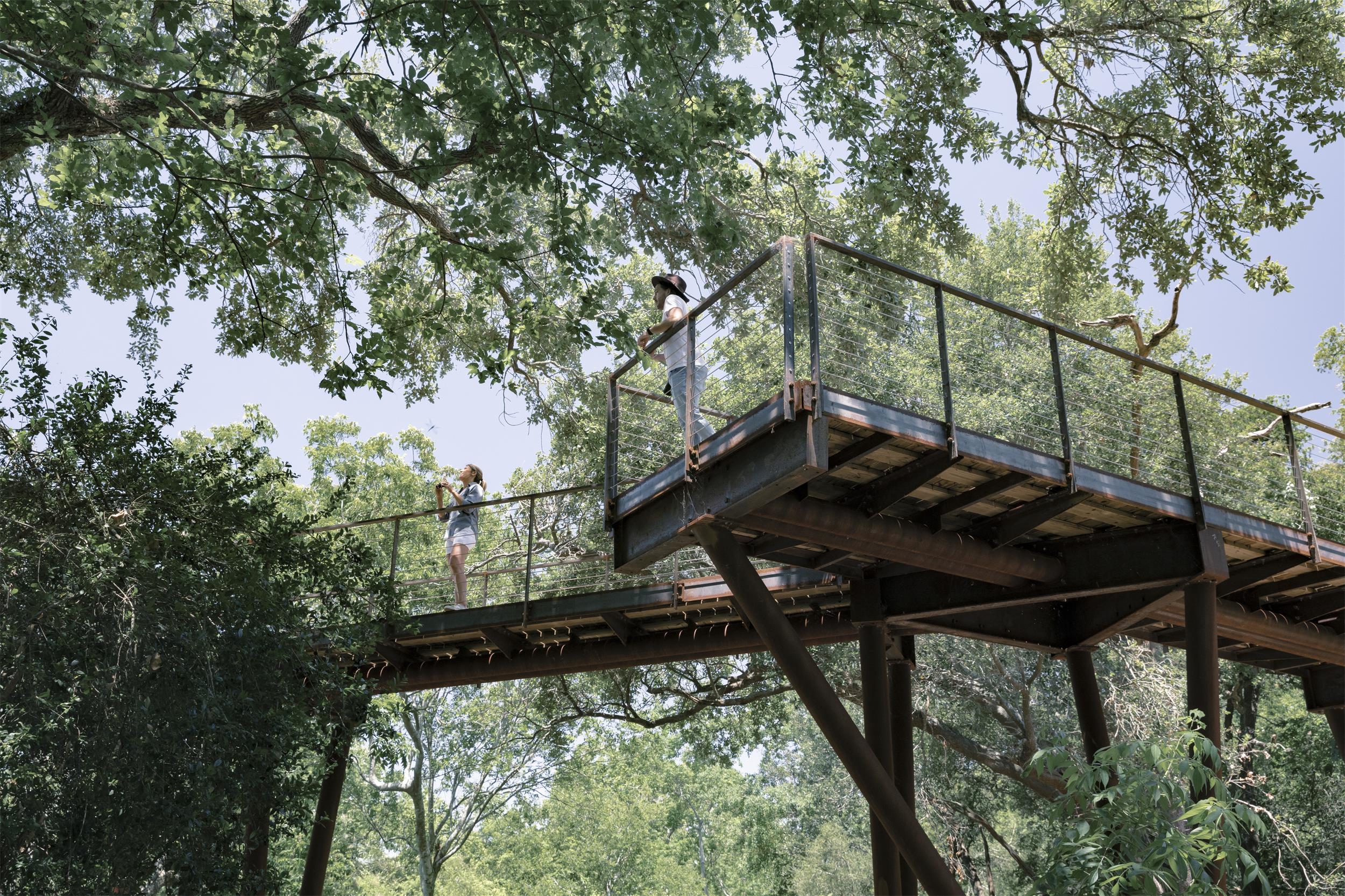 林冠步道被设计得足够坚韧,能经受住浓密植被的严酷环境,同时又能保证陆地上的光照,保持其生态,其中包括潜伏在岛上白嘴鸦水域内的鳄鱼种群。
The Canopy Walk was designed to be robust enough to weather the harsh environment full of dense vegetation yet light enough on the land to retain its ecology, which includes a resident alligator population lurking within the island rookery waters.
▼潜伏着的鳄鱼种群 A resident alligator population lurking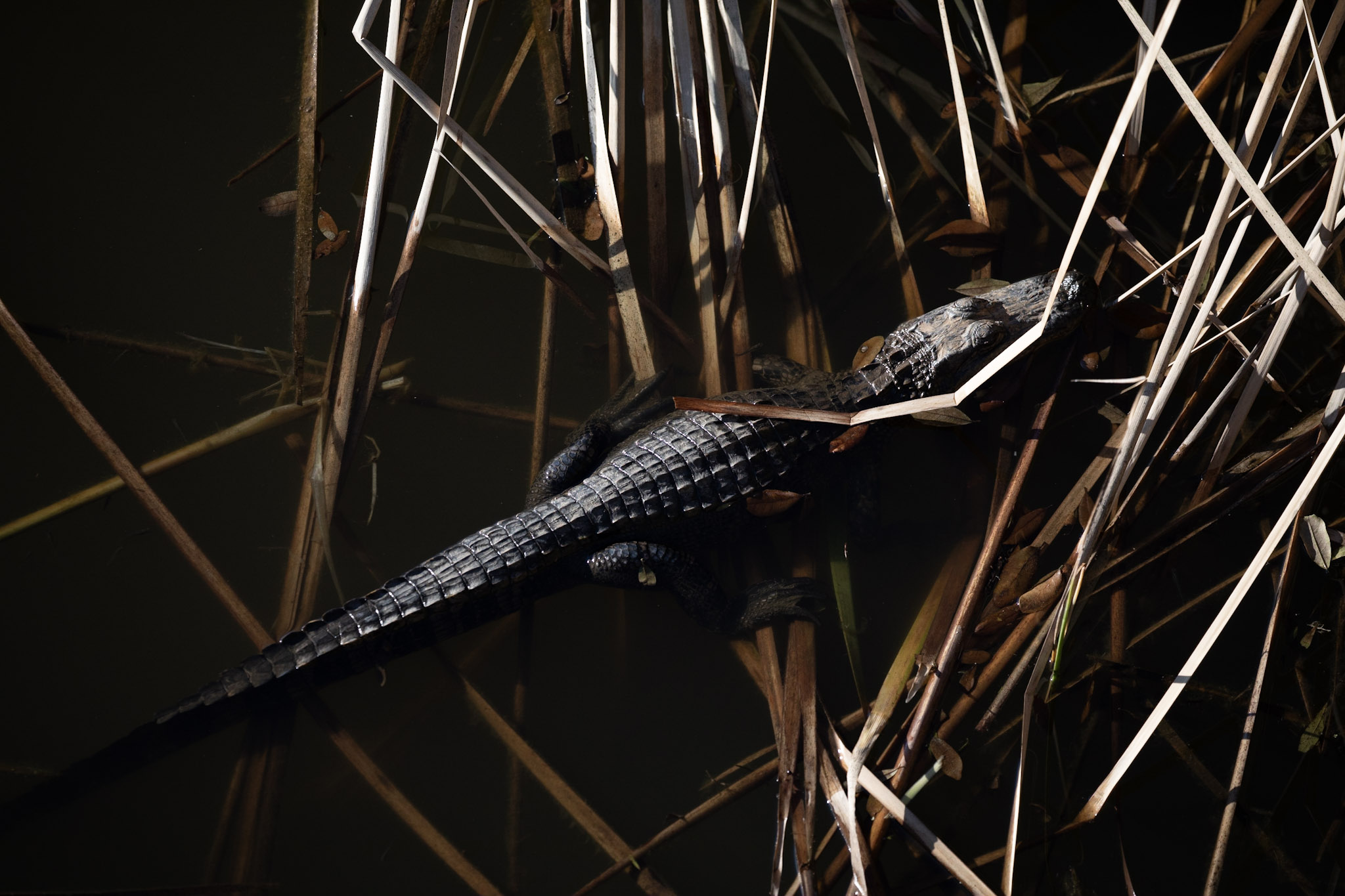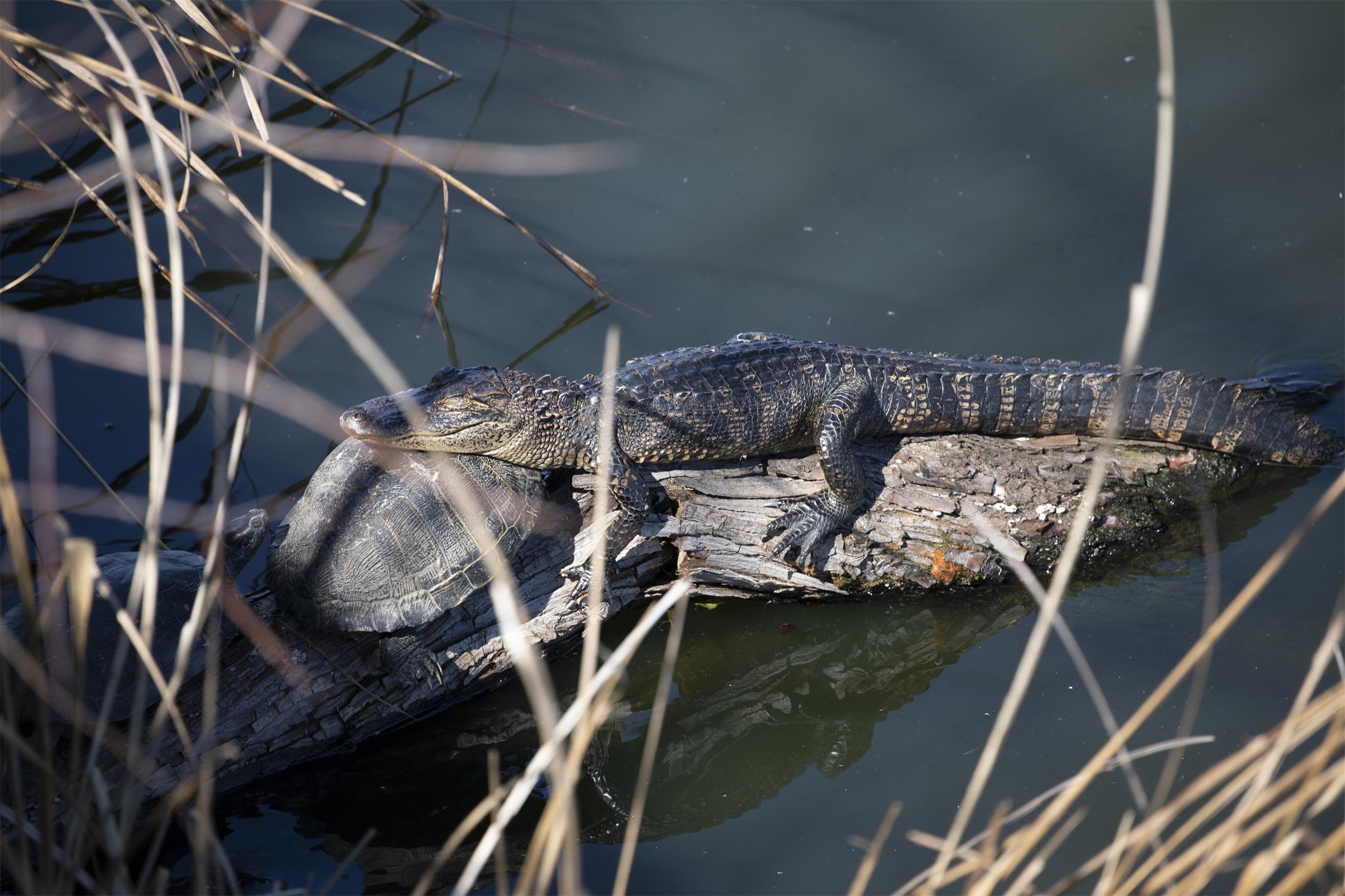 林冠步道也为访客们提供了庇护,让他们可以观察候鸟群在长途迁徙途中休息或到高地筑巢繁殖的活动。
The Canopy Walk also shelters visitors who can experience the birds as they take a break from their long migratory paths to nest and breed in High Island.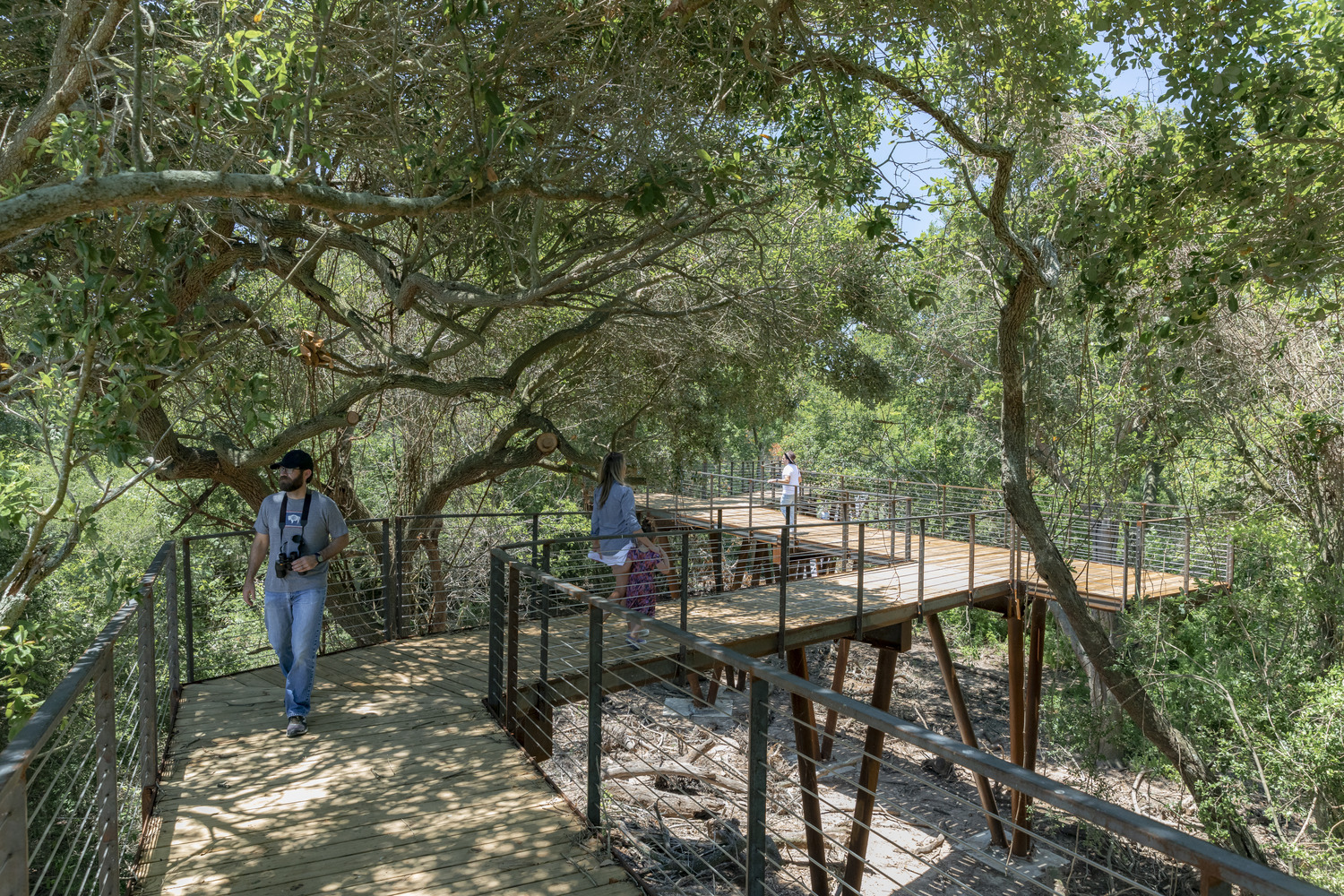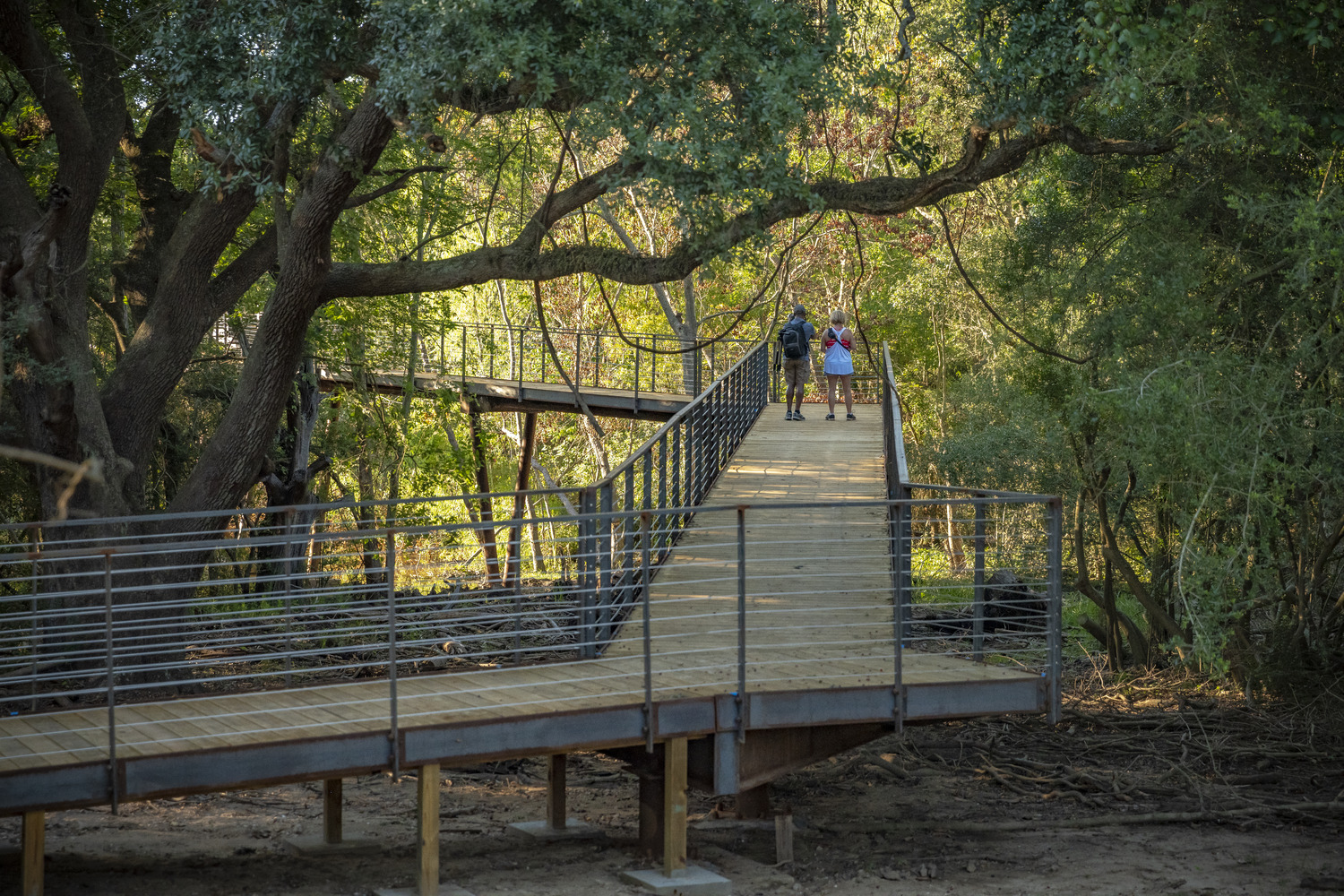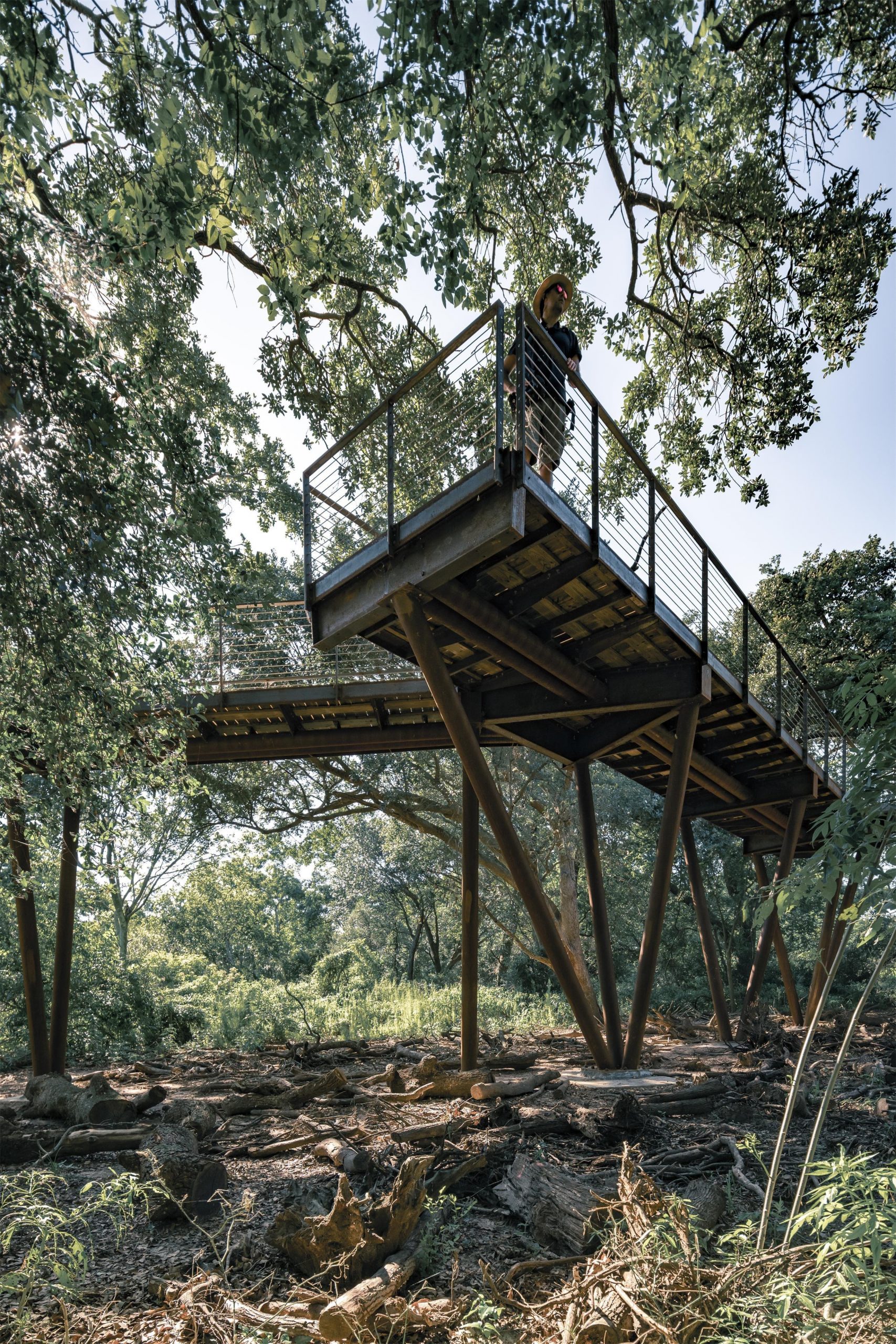 "我无法想象出更好的设计,更好的施工、更好的外观,最重要的是,能更好地运转的鸟平台。" 克莱·泰勒声称。他是一个狂热的观鸟者,同时也是施华洛世奇光学的博物学家和市场经理,他们正在考虑如何在场地上添加一个ST Vista望远镜,这将会唯一一个在北美安装的。"我知道这将是一条空中木步道,但这远远超出了我的预期。在候鸟迁徙的景象中,你会看到鸟群与你擦身而过。"
"I can't imagine a better design, better engineered, better looking and, most importantly, better functioning bird platform," asserts Clay Taylor, an avid birder who is Naturalist and Market Manager for Swarovski Optics, which is considering how to add an ST Vista spotting scope on the site, the only North America location to accommodate one. "I knew it would be an aerial boardwalk, but this far exceeded my expectations. You'll be able to get up there and see the birds wash by you in the migratory spectacle."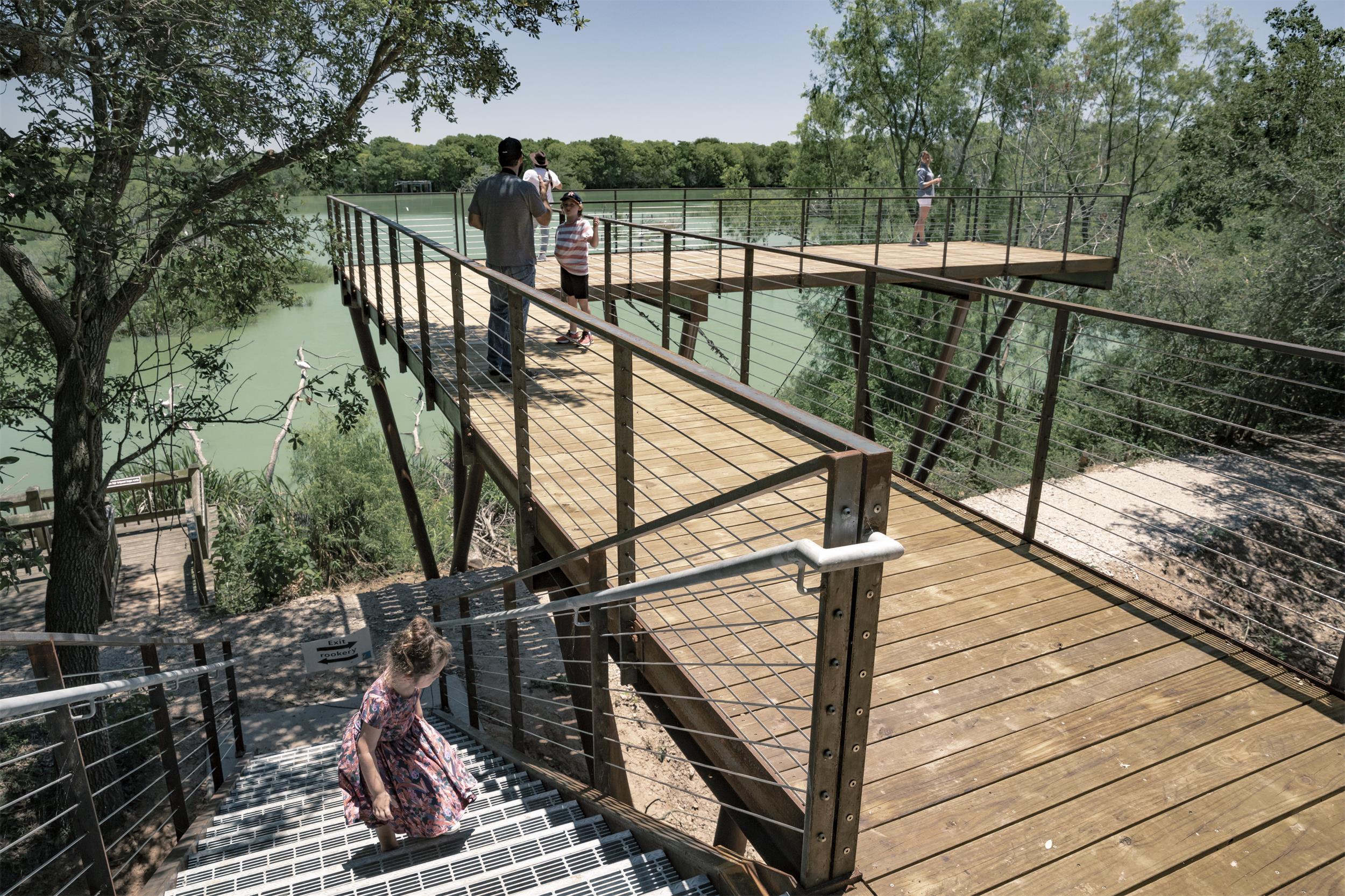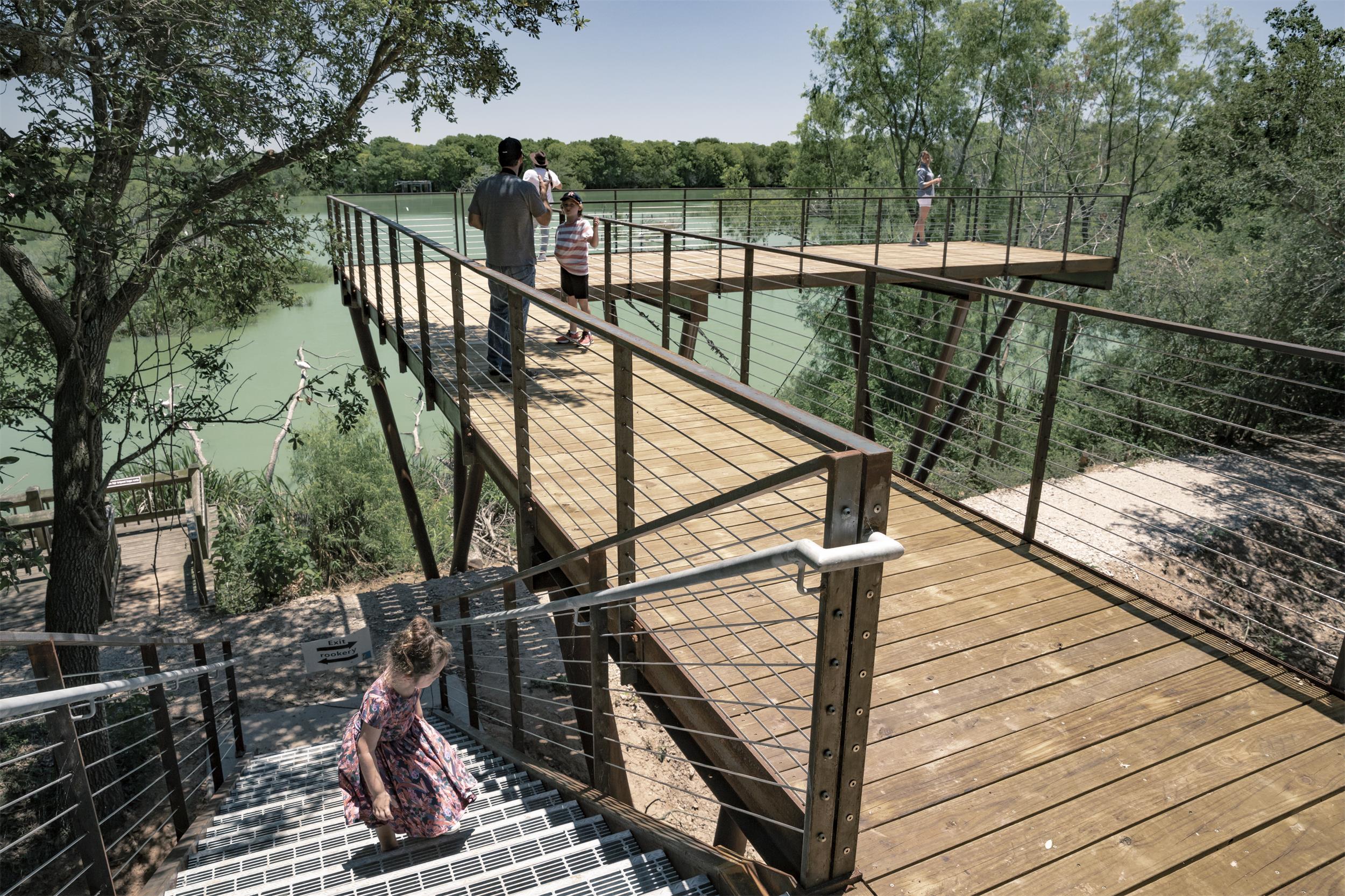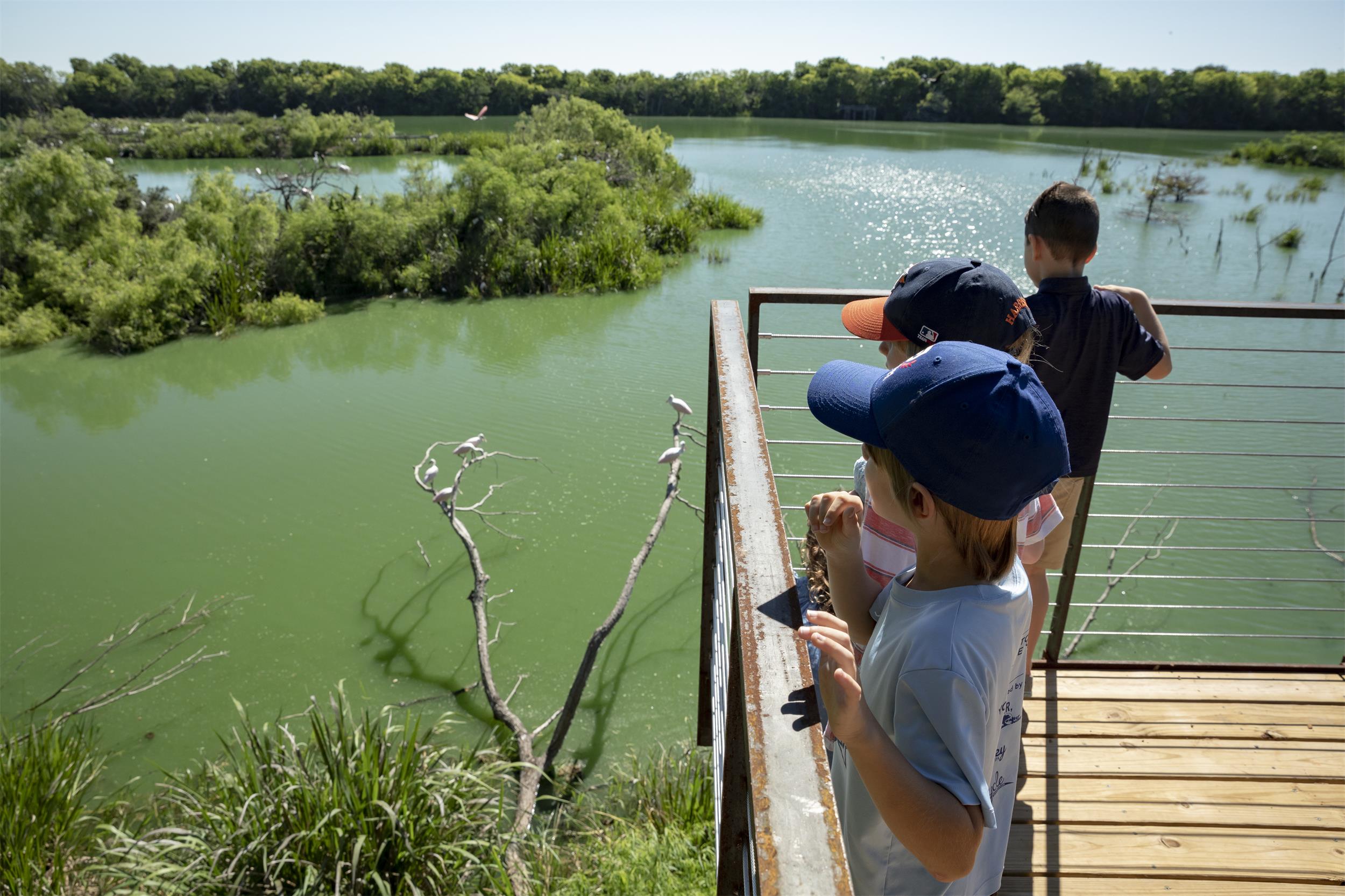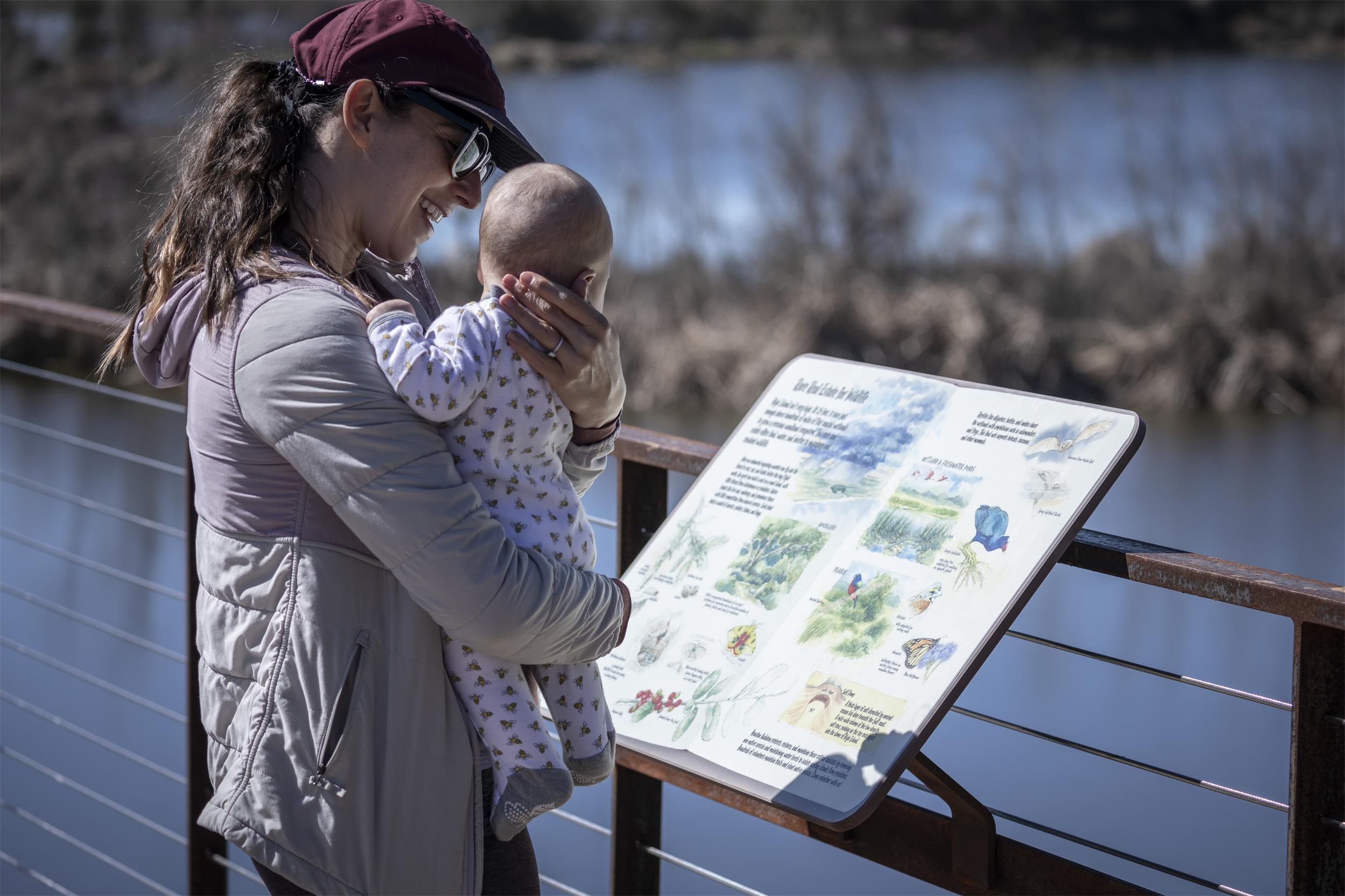 这是一座优雅但无法使用的混凝土和砖块泵房,是20世纪30年代石油开采时代遗留下来的,由SCHAUM/SHIEH的建筑师合作设计的,作为游客的展馆。混凝土浇筑的天花板和历史悠久的砖砌立面已经被清理和重现,揭示了这个社区的小型公共基础设施的历史,并将其重新用于这个新的观鸟中心。
An elegant but inoperable concrete and brick pump house, leftover from an age of oil extraction in the 1930s, was designed by collaborating architects at SCHAUM/SHIEH to serve as a visitors' pavilion. The cast-concrete ceiling and historic brick façade has been cleaned and exposed to reveal the history of the small-scale public infrastructure of this community, repurposed to this new center for visiting birders.
▼遗留的混凝土和砖块泵房作为游客展馆 An inoperable concrete and brick pump house serves as a visitors' pavilion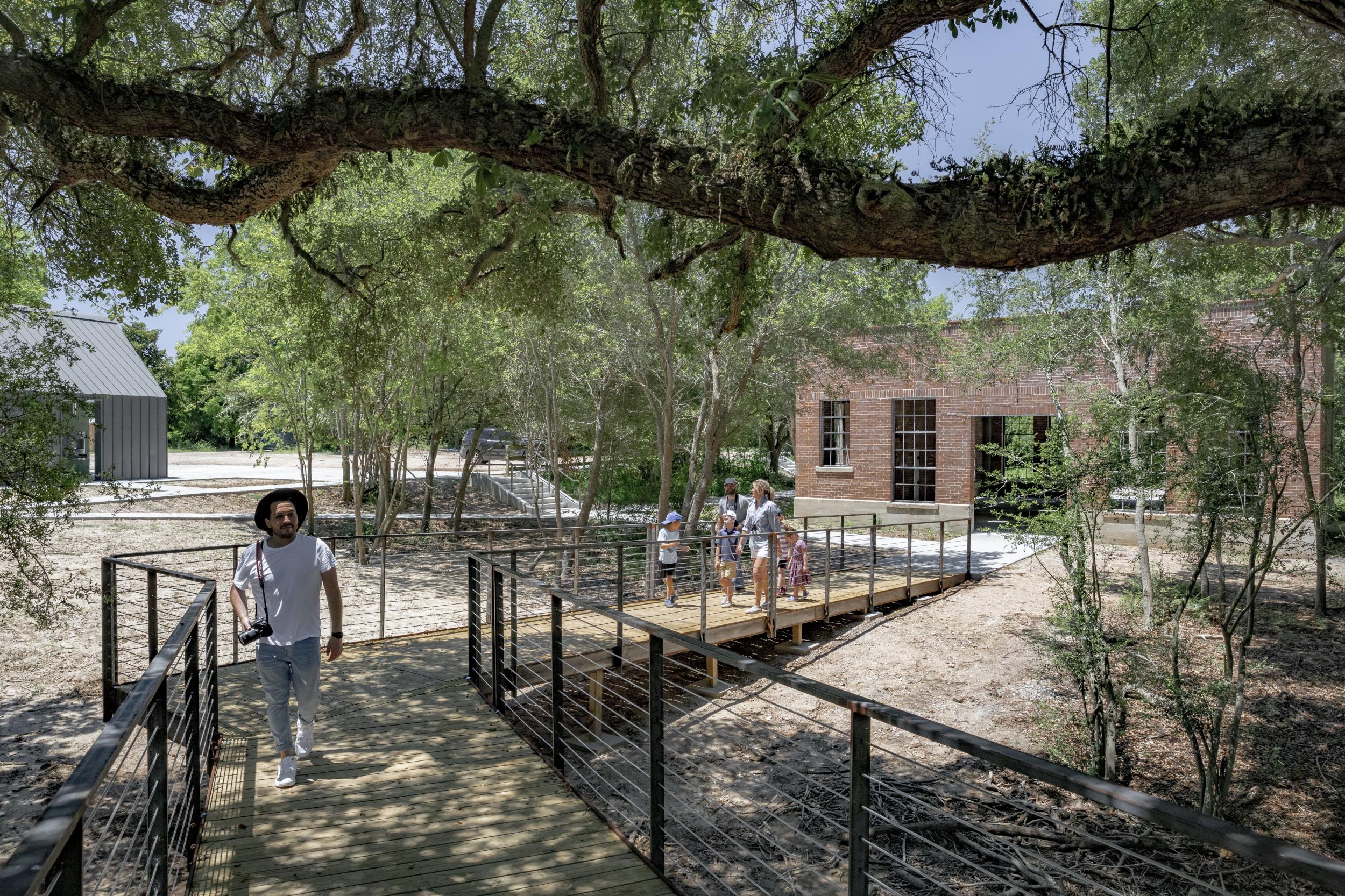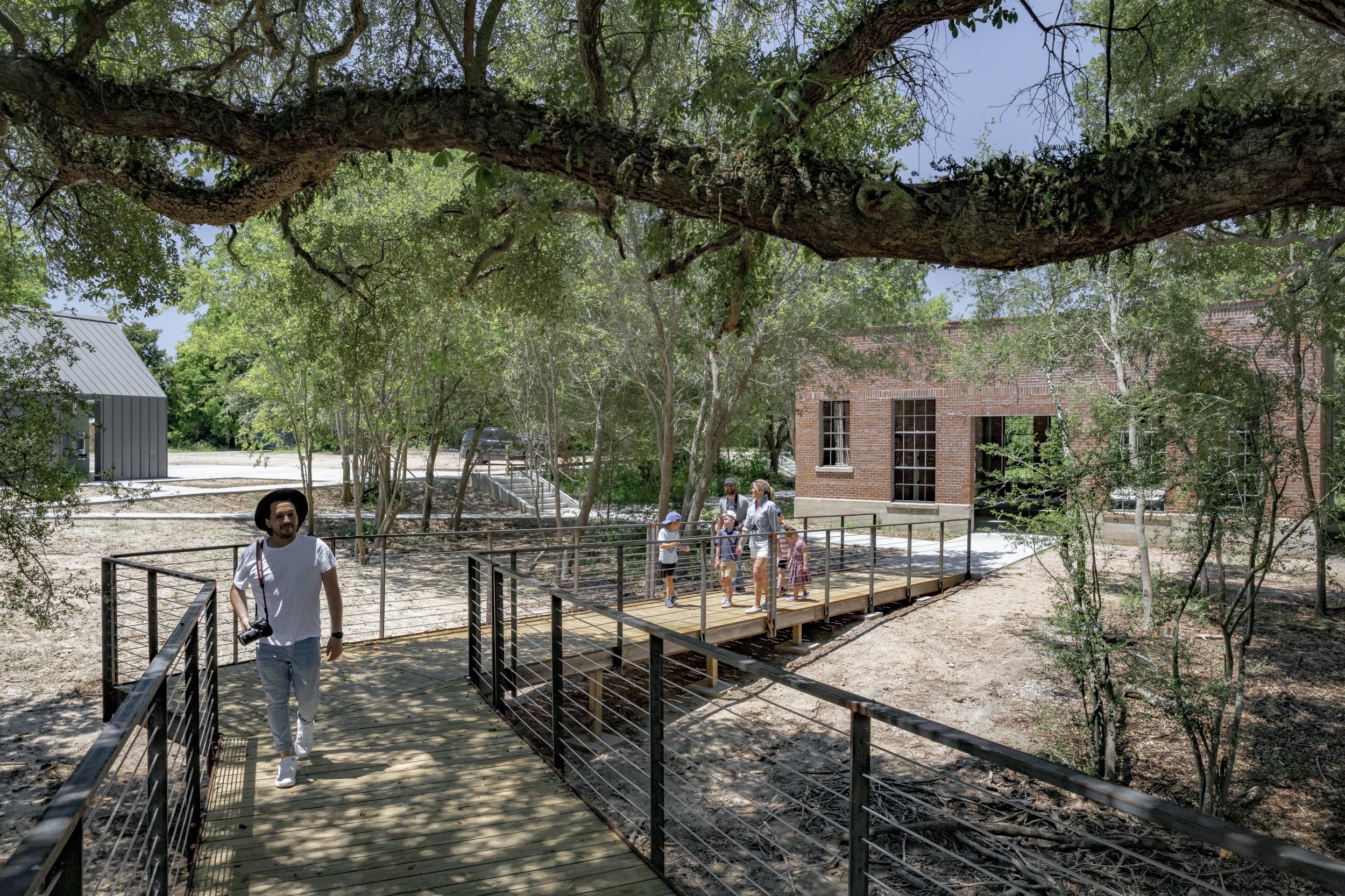 公共洗手间带有一个简单的山形屋顶,一个强有力的 "奥杜本-绿色" 图形立面标志着进入场地的大门。
The restroom building with a simple gabled roof but a strong graphic "Audubon-Green" façade marks a gateway into the project.
▼公共洗手间 The restroom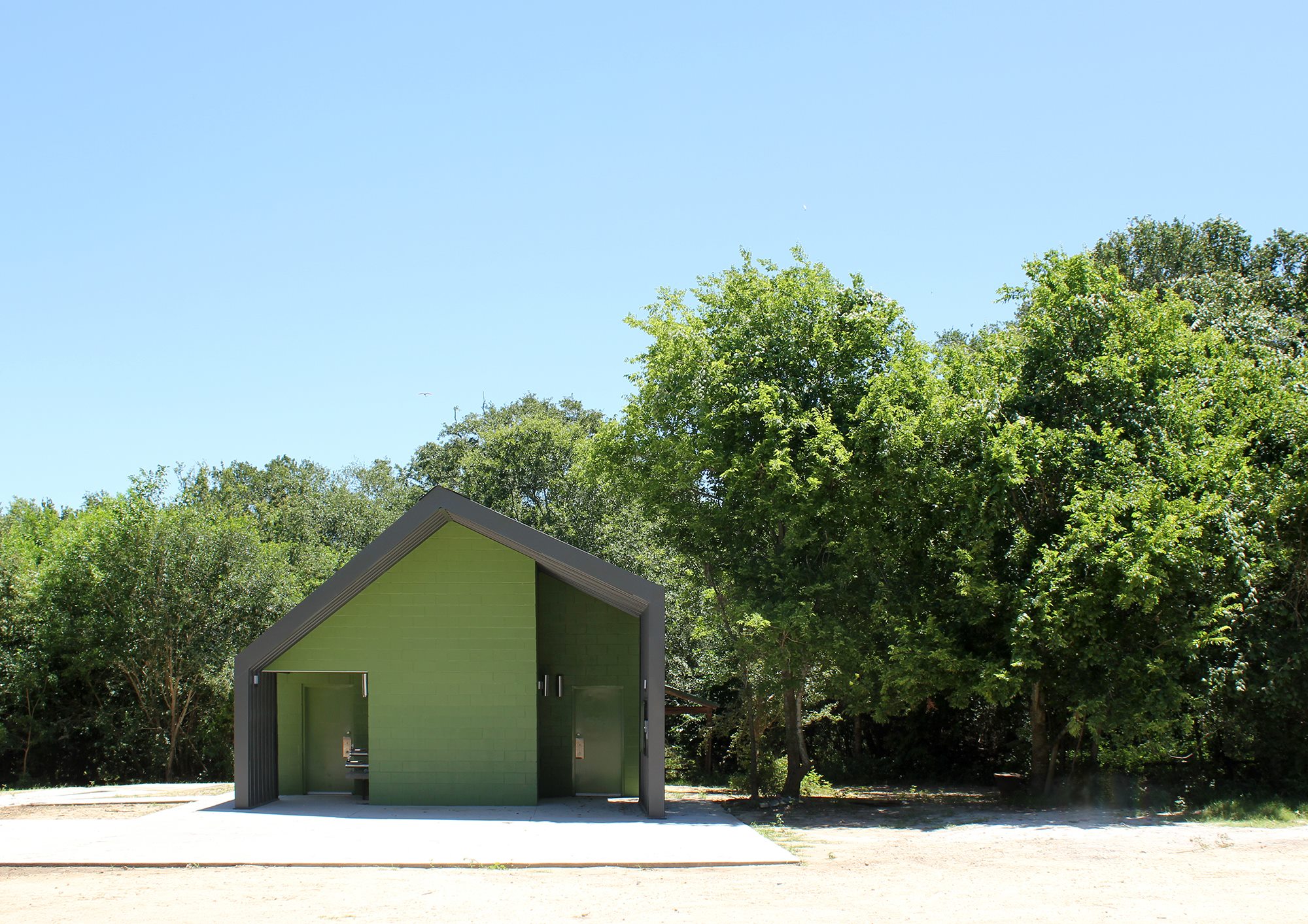 今天,高地岛为观鸟者提供了一个新的视角,那里的土地生产力曾经用桶来衡量。尽管德州在理解其伤痕累累的景观时曾有断续,但高地岛的林冠漫步提供了一个具有多层历史的地点,这些历史碰撞支持着一个独特的生态,尤其有利于鸟类及其观鸟爱好者。
Today, High Island offers a new perspective for birders where the productivity of its land was once measured in barrels. While Texas has a spotty history when it comes to understanding its scarred landscapes, Canopy Walk at High Island offers a site with layers of history that collide to support a unique ecology, especially conducive to the avian their birder fans.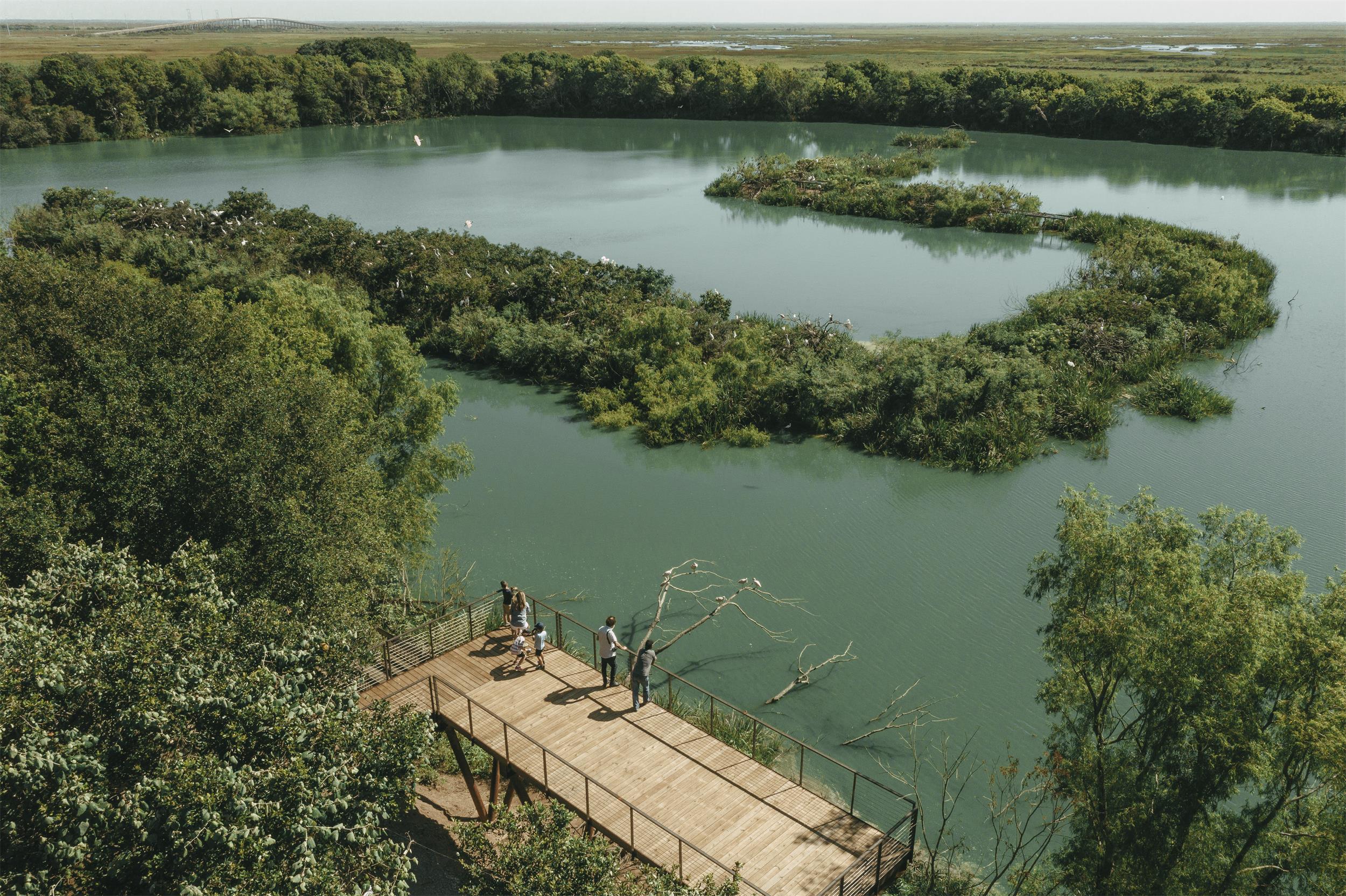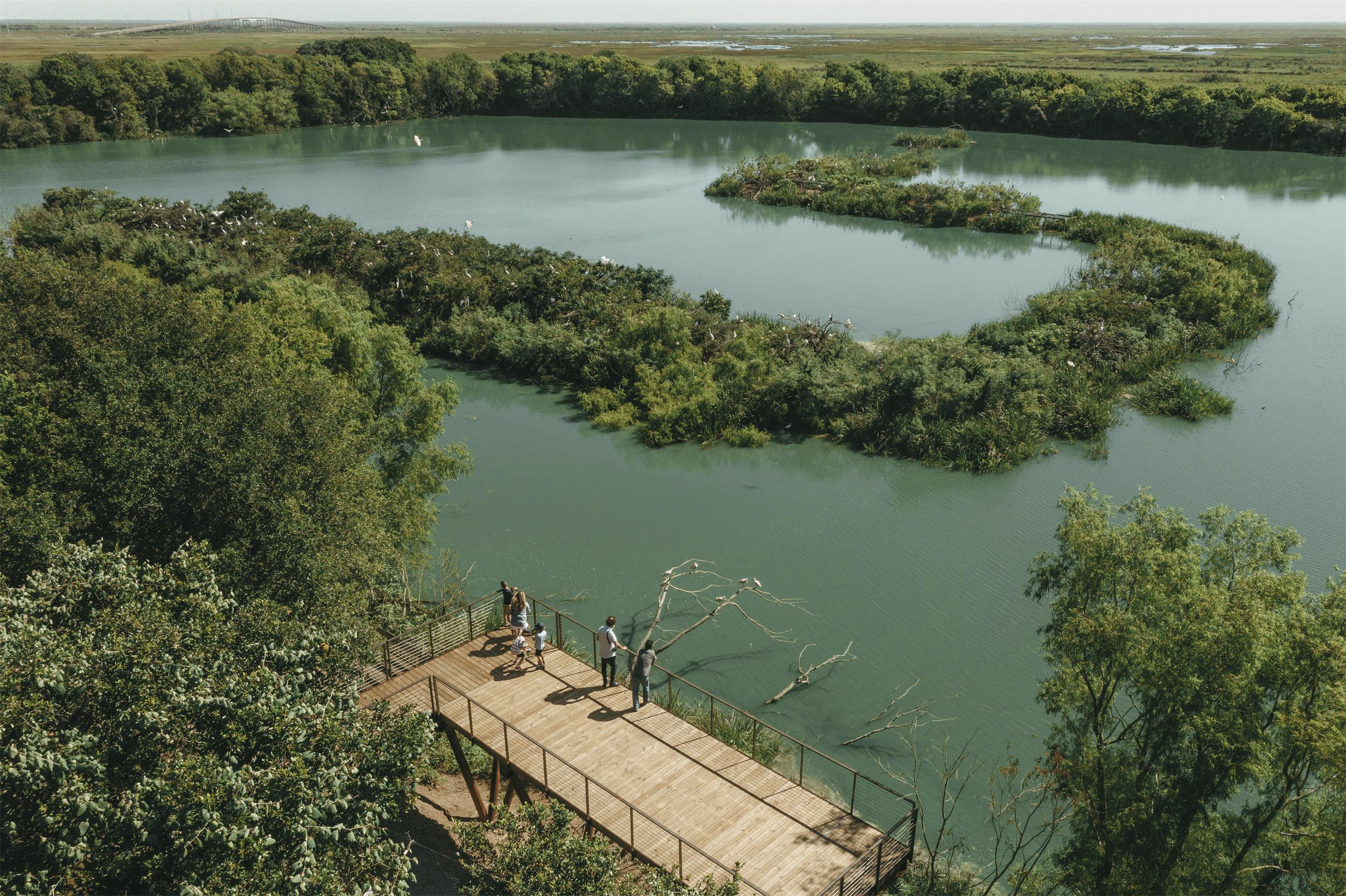 项目名称:德州高地岛林冠步道
完成年份:2020
项目面积:213米长的林冠步道,位于177英亩的史密斯奥克斯保护区内
项目地点:德克萨斯州高地岛
设计公司:SWA Group
公司网址:www.swagroup.com
SWA设计团队:Natalia Beard, Matt Baumgarten, Andrew Gressett, Rhett Rentrop
客户/开发商:Houston Audubon Society
摄影师:SWA Group-Jonnu Singleton
合作方:
SCHAUM/SHIEH Architects – 公共洗手间/游客中心建筑设计
CSF Consulting LP – 结构/土建
Hunt & Hunt – 机电
Millis Development – 总承包商
Renfro & Company – 金属加工
Linda Feltner – 解说展览
Project Name: Kathrine G. McGovern Canopy Walkway at Smith Oaks Bird Sanctuary
Completion Year: 2020
Project Area: 213-meter-long elevated boardwalk set within the 177-acre Smith Oaks Bird Sanctuary
Location: High Island, Texas
Design Firm: SWA Group
Company Website: www.swagroup.com
SWA Design Team: Natalia Beard,Matt Baumgarten, Andrew Gressett, Rhett Rentrop
Client/Developer: Houston Audubon Society
Photographer: SWA Group-Jonnu Singleton
Consultants:
SCHAUM/SHIEH Architects – Architecture for Re-stroom/Visitor Center
CSF Consulting LP – Structural/Civil
Hunt & Hunt – MEP
Millis Development – General Contractor
Renfro & Company – Metal Fabrication
Linda Feltner – Interpretive Exhibits
更多 Read more about: SWA Group