Grant Associates是被选中设计和实施新加坡技术教育学院新总部和学院中心的优胜团队的一部分。项目是新加坡一个公立职业教育机构,为中学毕业生和继续教育和工作人士提供就业培训。学院中心是第三所也是最后一所理工学院,专业是创新与创新学院。建筑与景观紧密结合,层层叠加,保证了校园的空间效率。一层楼的飞机支持通道、停车场和服务要求,而一层楼的"脊柱"提供了关键的定位和社交空间,连接了几个空中人行道和露台,通往12个教育街区。这个校园的设计对象是10,400名学生和850名员工。新界西资讯科技总部已精心整合进校园,容纳550名员工及会议设施。
Grant Associates was part of the winning team chosen to design and implement the new Headquarters and College Central for the Institute of Technical Education in Singapore (ITE).College Central is the third and final ITE College, specialising as a college of creativity and innovation. The building and landscape is closely integrated and built up of various layers to ensure the spatial efficiency of the campus.The ground floor plane supports the access, car parking and service requirements whilst the first floor level known as the 'Spine' provides a key orientation and social space, which connects to several aerial walkways and terraces to 12 educational blocks.The campus has been designed for a student population of 10,400 and 850 staff. The new ITE Headquarters is carefully integrated into the campus, accommodating a total of 550 staff plus conference facilities.
设计细节:
书脊是校园的灵感之源,以一系列的花园为特色,种植了包含标本树和色彩丰富的"铁丝树"的"基座",花园和基座在垂直堆叠的空中步道周围创造出独特的空间和关键的循环节点,一个连续的水特征从源花园流到到达花园,创造了凉爽的座位区域在荚园的阴影下,一系列的静修梯田和沉陷的花园为学生和职员提供了一系列的空间,连接到更广阔的校园景观。
Design details:
The Spine, the inspiration zone for the campus, features a series of gardens and planted 'plinths' containing specimen trees and colourful 'wire trees'
The gardens and plinths create distinct spaces and key circulation nodes around the vertically-stacked aerial walkways
A continuous water feature flows from the source garden down to the arrival garden, creating cool seating areas within the shade of the pod gardens
A series of retreat terraces and sunken gardens provide a range of spaces for students and staff, connecting out into the wider campus landscape.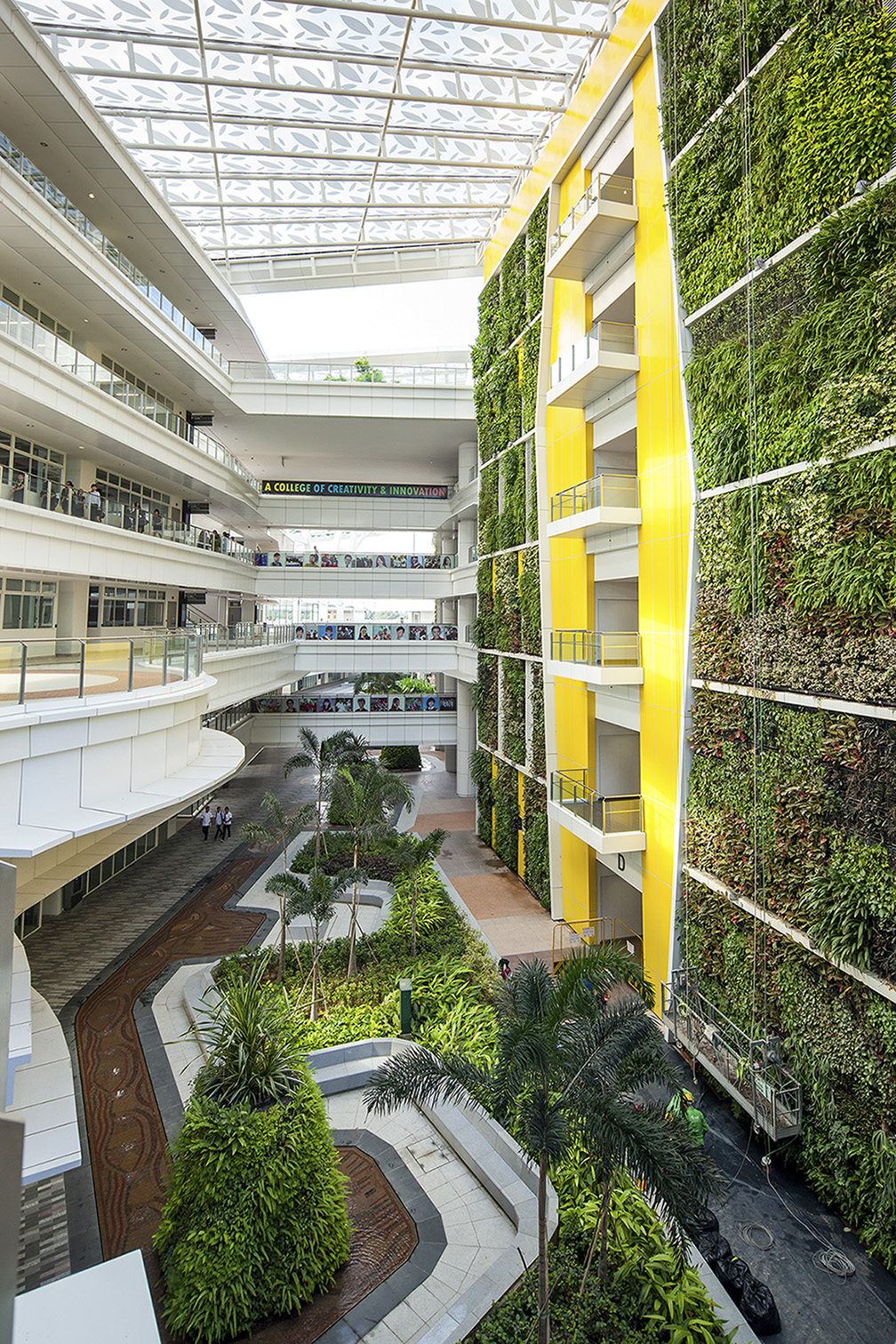 项目名称:工艺教育学院内庭景观
项目类型:庭院景观
位置:新加坡
完成年份:2013
面积: 106400平方米
景观设计:Grant Associates
建筑师:RSP建筑师、规划师和PTE工程师
Project name: Institute Of Technical Education
Project type: Courtyard Garden
Location: Singapore
Completed: 2013
Area: 106400㎡
Landscape: Grant Associates
Architects:RSP ARCHITECTS, PLANNERS AND ENGINEERS PTE