本文由 GND杰地景观 授权mooool发表,欢迎转发,禁止以mooool编辑版本转载。
Thanks GND for authorizing the publication of the project on mooool, Text description provided by GND.
GND杰地景观:互动 · 生长 · 融合
广州南沙民心港人子弟学校位于粤港深度合作园广州南沙庆盛起步区港式国际社区内,毗邻香港科技大学(广州),邻近庆盛高铁站,距离高铁香港西九龙站仅需35分钟车程。
GND: Interaction · Growth · Integration
Minxin Hong Kong School (Guangzhou Nansha) is located in the Hong Kong-style international community of the Qingsheng start-up area of Guangdong—Hong Kong Deep Cooperation Park, Nansha District, Guangzhou. It is adjacent to the Hong Kong University of Science and Technology and borders Qingsheng High-Speed Rail Station, with only 35 minutes' driving distance from the Hong Kong West Kowloon High-Speed Rail Station.
▽天空庭院 Sky Courtyard
林 —— 同心之林 Forest—Forest of One Heart
根 —— 同源之根 Root—Root of One Origin
广州南沙民心港人子弟学校是由全国政协副主席梁振英先生牵头成立,采用香港学制,与香港本地课程实现无缝衔接。秉承香港教育理念,为港人子女及其他非内地籍子女提供优质教育。办学机构是在香港注册,并已取得香港税局免税地位的非牟利公益团体,是中国内地首所非营利12年制港人子弟学校。
学校由南沙产业园区开发建设管理局投资建设,占地面积约93亩,总建筑面积7.6万平方米,学校共计36个教学班,提供1600多个学位,已于2022年9月正式投入使用并迎来首批师生。校名取意"民心相通",意在深化推动香港融入国家发展大局,鼓励香港同胞用好国家发展大机遇,增强香港与内地人民的人文交流和民心相通,培养香港青少年的爱国、爱港精神,培育"香港根、中国心、世界观",是深化粤港澳全面合作的重要成果。
Minxin Hong Kong School (Guangzhou Nansha) was founded under the leadership of Mr. Liang Zhenying, the vice chairman of the CPPCC National Committee. It ceaselessly connects the Hong Kong schooling system and Hong Kong's local courses. Upholding Hong Kong's educational concepts, it provides quality education for Hong Kong children living in the mainland and other non-Mainland children. The school has registered in Hong Kong and is recognized as a tax-free, non-profit public-welfare organization by the Inland Revenue Department. It is the first non-profit, 12-year school for the children of Hong Kong people in the Chinese mainland.
The school was funded and constructed by the Development and Construction Administration Bureau of Nansha Industry Park, covering about 93 mu of land and a construction area of 76,000 m2. This school consists of 36 classes and has an estimated student population of 1,600. It was officially put into use in September 2022, welcoming the first batch of teachers and students. The school's name took the idea from friendly exchanges between people, aiming to facilitate Hong Kong's integration into China's macroscopic development layout, encourage Hong Kong compatriots to seize the significant opportunities presented by China's development, enhance the cultural and people-to-people exchanges between Hong Kong and mainland people. Meanwhile, it intends to foster Hong Kong teenagers' patriotism, love for Hong Kong, and "Hong Kong root, the heart of China, and world views". It's a critical achievement in deepening comprehensive cooperation between Guangdong, Hong Kong, and Macau.
▽整体鸟瞰 Overall Bird's-eye View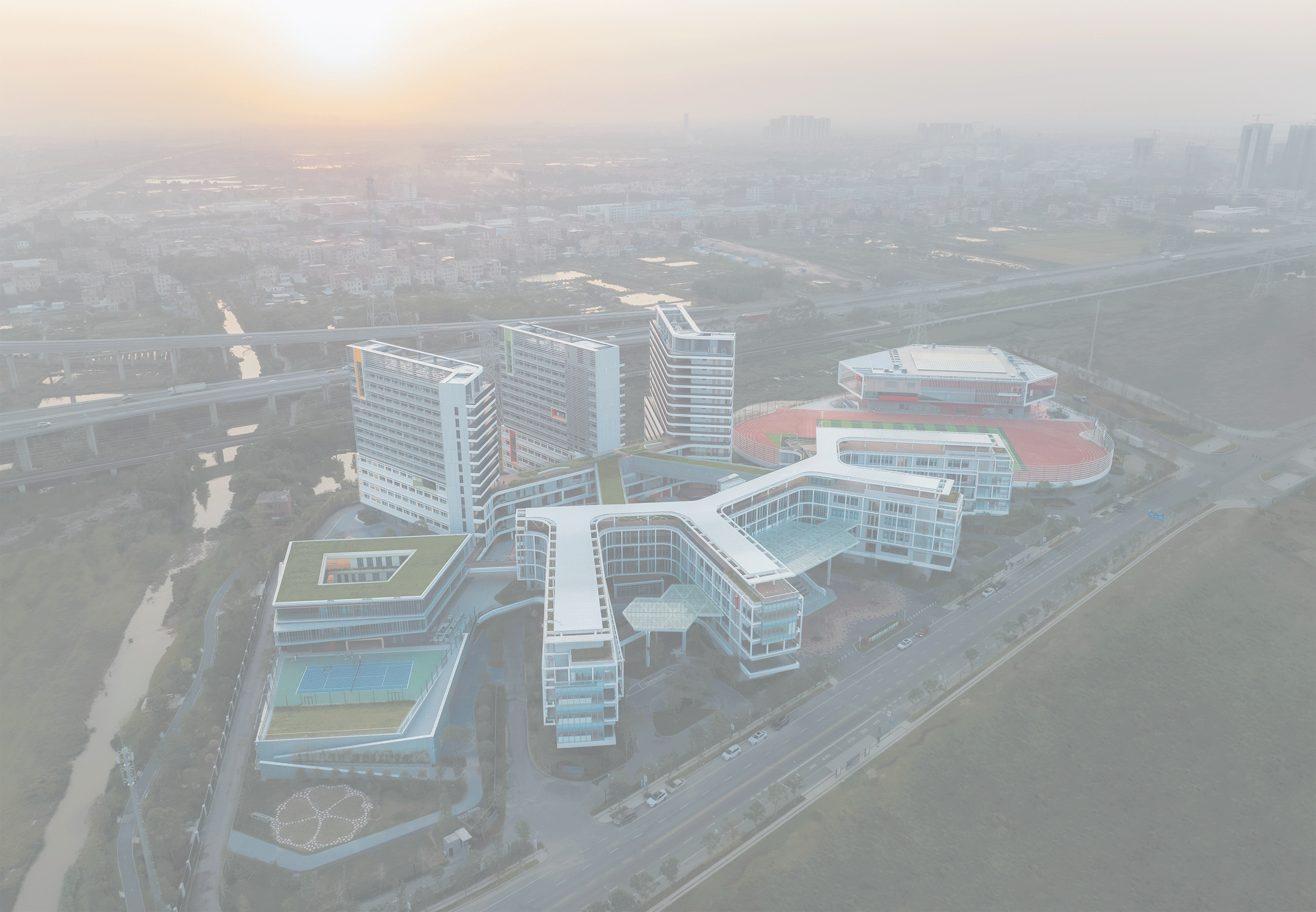 多方共建 Co-construction by Multiple Parties
该项目是重大的粤港合作成果,也是国家持续改革开放的重要体现。面对紧迫的建设周期,为了解决过程中所遇到的问题,设计师近乎突破了项目可行性界限。项目由华工设计「华南理工大学建筑设计研究院」中国工程院院士何镜堂领衔3家设计事务所和全国工程勘察设计大师方小丹领衔的设计团队协作完成。在短短2个月内,跨学科团队完成了从规模论证、梳理需求、多方案比较后确定方案,再到完成规划报建的设计流程。华工团队在施工阶段还组织各专业团队交叉作业,紧密联动,在设计、施工、控价并行的情况下,用时不到9个月顺利完成了建设交付任务。
This project is a major achievement in Guangdong-Hong Kong cooperation and a critical manifestation of China's continued reform and opening-up efforts. Owing to the urgent construction cycle, designers nearly broke the project's feasibility boundaries to solve all problems encountered in the construction process. The project was chaired by Jingtang He, dean of the Architectural Design and Research Institute of SCUT and the Chinese Academy of Engineering, and completed through the joint efforts of three design institutions and the design team led by Xiaodan Fang, a national-level engineering surveillance design master. Within only two months, the interdisciplinary team completed the design procedures, from determining the construction plan to the planning and construction application, based on demonstrating the scale, examining demands, and comparing several schemes. The SCUT team also organized several professional teams to conduct overlapping operations. With close linkage, the team carried out the design, construction, and price control tasks simultaneously, smoothly completing the construction task and delivering the project within less than nine months.
▽多学科团队协作 Multidisciplinary Team Cooperation
设计理念 Design Concept
文化是建筑的灵魂。港人子弟学校的办学宗旨是培育中国香港青少年拥有"香港根、中国心、世界观"。 基于此,多学科设计团队梳理提炼出"同心同根"的概念,通过建筑设计、景观设计、室内设计层层深入,将这一概念强化、放大,力求让使用者感受并产生共鸣,达到环境育人的目的。
GND杰地景观在广州南沙民心港人子弟学校的景观打造中,秉持"同根同心"的核心理念。基于对城市文脉、场地条件、功能需求和生态适应性的深入思考,延续建筑"立体游园"设计概念。以"两轴一廊多节点"规划,结合后期多种教学使用场景和互动共享生活空间,共同构成一个有机体。整体景观序列依托周边生态景观资源优势,呼应建筑及室内空间功能,打造兼具岭南风格和国际特色的美丽校园。
Culture is the soul of architecture. Minxin Hong Kong School (Guangzhou Nansha) is founded to foster "Hong Kong root, the heart of China, and world views" for Hong Kong teenagers. On this basis, the multidisciplinary design team reviewed and extracted the concept of "one heart and root". With the architectural, landscape, and interior designs linked layer upon layer, this concept is strengthened and enlarged, striving to resonate with the user's feelings and educate people through the environment.
GND Landscape upheld the core concept of "one root and heart" when creating the landscape for Minxin Hong Kong School (Guangzhou Nansha). It continued with the design concept of a "three-dimensional garden" based on thorough thinking about the city's cultural veins, site conditions, functional demands, and ecological adaptability. Guided by the planning of "two axes, one corridor, and multiple focal points", diverse teaching application scenarios and the interaction-sharing-living space are combined into an organic whole. The overall landscape sequence echoes the architectural and interior space function based on surrounding ecological landscape resources to build a beautiful school with a Lingnan style and international features.
▽空间策略Spatial Strategies
▽空间序列Spatial Sequence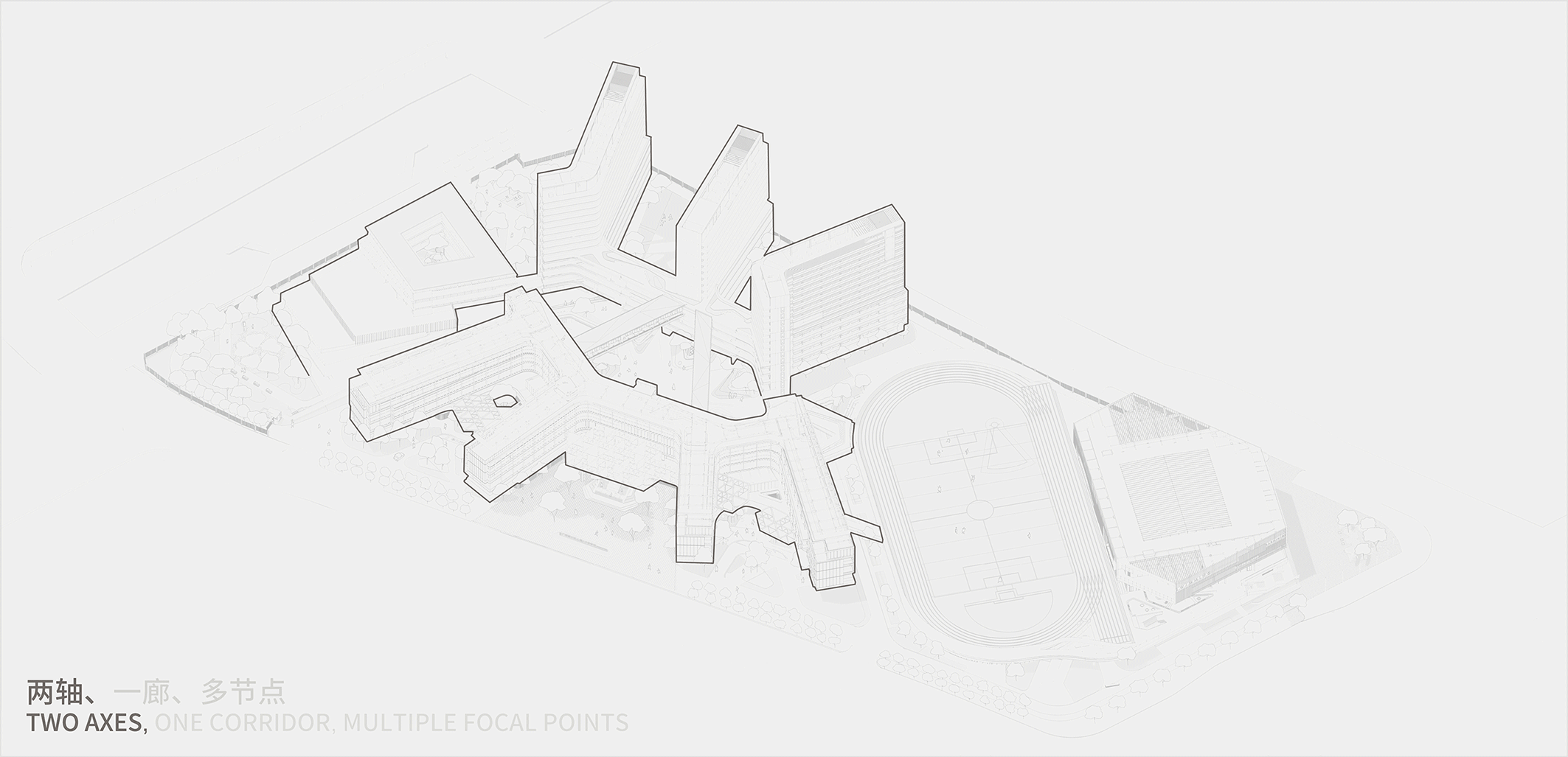 生态设计 Ecological Design
根据光影日照条件分析,划分出各个区域适宜种植的植物。以功能需求和生态美观为出发点,确定全园基调植物和各分区的主调植物、配调植物,打造绿意盎然,自然舒适,生物多样性融合以及可持续发展的生态校园。校园内共种植了140 种植物,其中有药用价值的乔木共计17 种,果树乔木19 种,有药用价值灌木7 种,果树灌木6 种,药用大灌木及地被共计44 种,加之无明显药用价值的景观乔灌木及地被品种共计47 种。
Firstly, the ground was divided into several zones for growing different plants according to the analysis of the light/shadow and lighting conditions. Next, the principal plants for the whole garden and the principal & supporting plants for each divided zone were selected to create an ecological schoolyard featuring luxuriant greenness, comfortable nature, biological diversity, and sustainable development. A total of 140 species of plants are grown in the school, including 17 species of trees with medicinal value, 19 species of fruit-bearing trees, seven varieties of shrubs with medicinal values, six varieties of fruit-bearing shrubs, 44 varieties of medicinal large shrubs and ground cover plants, and 47 varieties of landscape, trees, shrubs and ground cover plants without significant medicinal value.
▽种植策略Planting Strategies
▽剖面图Profile
硬质景观色彩搭配以简约高级的灰色系与温柔雅致的粉色系碰撞,并选用一系列生态友好铺装。消防通道选用高耐久性且适合慢跑的透水沥青,主园路及活动广场则以透水混凝土和陶瓷透水砖结合铺设,特殊透水保水性,雨水能迅速透过地表渗入地下,回收成为地下水,极大地改善了校园的生态和生活环境。庭院空间则以坚固耐气候性的生态竹木、红砖配合PC仿石砖,视觉上精致、清新、稳定,与错落有致的软景搭配,营造极具特色性、文化性和互动性的生态空间。
Regarding color matching, the hard landscape creates a contrast between simple, advanced gray colors and gentle, elegant pink colors. Meanwhile, it adopted a series of ecologically-friendly mat formations. The firefighting access is paved with permeable, concrete, ceramic bricks suitable for jogging. The main garden path and activity square are paved with permeable concrete and ceramic-permeable bricks, which are special, permeable, and moisture-holding, allowing water to quickly permeate into the underground and gathered as underground water, considerably improving the school's ecological and living environment. The courtyard space uses solid, weather-resistant ecological bamboo and matches red bricks with PC ashlar bricks, which visually appear elegant, fresh, and stable. When combined with a well-spaced soft landscape, it creates a characteristic, cultural, and interactive ecological space.
▽场景营造Scenario Creation
▽轴测图Axonometric Drawing
#首层空间 First-floor Space
绿林繁茵, 向心而生 Luxuriant Forest, Born Out of Hearts
设计致力于通过优质的庭院空间、自然教育以及园艺艺术来启发学生们的好奇心和创造力,增强学生们的学习生活体验。同时满足未来教育需要创新、多样化、个性化等的育人目标和多元化教学方式,创造一个具有生态生产力和可持续性的校园。
This design is dedicated to inspiring students' curiosity, stimulating their creativity, and enriching their living & studying experience with an outstanding courtyard space, natural educational, and gardening art. Meanwhile, it's in line with the educational goal that future education must cultivate students through innovations, diversity, and individuality. As a means of diverse teaching, it aims to create an ecologically-productive and sustainable campus.
民心广场 Minxin Square
入口广场环抱式设计,两侧列植澳洲火焰木,舒朗大气。Logo绿岛、特色铺装、点植铁冬青和生态树池,增强空间韵律感,为师生及来访者创造绿色舒适的驻足、停留、休憩空间。
At the square's entrance is an enveloping design, with one line of grand, towering Brachychiton acerifolius trees on either side. The logo green island, characteristic mat formation, independently planted Ilex rotunda and ecological tree pool jointly enhance the space's rhythmical image and provide students, teachers, and visitors with a green, comfortable space for pausing, hanging out, and resting.
特色铺装取意"粤港同根、湾区同心",以"心"为原型,红色陶瓷透水砖深浅渐变铺设,于景观细节延承整体设计理念。
The characteristic mat formation takes meanings from "Same Root for Guangdong and Hong Kong, Same Heart for Bay Area" and uses the "heart" as its prototype. The red ceramic, permeable bricks with gradient shades are laid to continue the overall design concept through landscape details.
为了提高用地效率,拓展功能空间,在建筑与景观体量交接处巧妙运用了尺度与层高的变化,创建了一个连通上下层的垂直空间系统,形成多重地面场所。多功能台阶不仅作为空间的过渡,也可作为户外课堂、观演空间、休憩空间。
To raise the efficiency of land utilization and expand the functional space, changes in measure and story height are exquisitely used at the junction between architecture and landscape. Eventually, a vertical spatial system connecting the upper and bottom hierarchies is built to create a multiple-floor ground site. The multi-functional stairs not only serve as a spatial transition but also functions as an outdoor classroom, performance viewing space, and a place for relaxation.
紫荆广场 Zijing Square
设计采用欲扬先抑的手法,穿过林荫夹道,随着画卷展开,迎面而来的是空间的开阔感。林荫绿岛错落有致的植物组团与建筑树型艺术构架交相辉映,透现出空间的美感与立体之感。寻一处静逸的空间塑造亲自然的林下空间,满足休憩、嬉戏、交流,享受大自然带来的恩赐。
To accentuate the effect, the design intentionally reveals the landscape bit by bit. Walking through the tree-lined path, one sees an unfolding painting and is greeted by the openness of space. The well-spaced plant clusters on the shady green island radiate with the architecture's tree-shaped art framework, reflecting the beauty and stereoscopic feel of the space. Find a tranquil space, and you can turn it into a nature-friendly world under the forest. Here you are allowed to rest, have fun, communicate, enjoying the gift brought by nature.
点植一棵洋紫荆与环形楼梯相结合,掩映在树冠中的环形楼梯变身成一个完美的观景台,在这里,师生们能够从不同高度尽赏庭院美景。一刚一柔,在形式与美学之间,营造设计与自然交融相生的空间意境。
An independently planted Bauhinia blakeana is combined with the circular stairs. Set off by the canopy, the circular stairs are turned into a perfect viewing platform, where teachers and students can admire the courtyard's scenery at different heights. With a contrast between rigidity and softness, the form is combined with aesthetics to create a spatial image where design and nature are harmoniously integrated.
开放交流阶梯,材质运用可塑性高,自然朴素的生态竹木,以满足低维护、低成本、艺术赋能的实施策略。结合高差、功能与植物造景,营造具有独特场景记忆的景观空间与视觉体验。
The open circular stairs use highly-plastic, natural, unsophisticated, ecological bamboo to meet the implementation strategies for low-maintenance, low costs, and artistic empowerment. The height difference, function, and plant landscaping are combined to create a landscape space and visual experience carrying unique scenario memories.
盒子剧场 Box Theatre
景观空间结合建筑功能,充分利用建筑灰空间,拓展户外功能空间。互动阶梯串联艺术舞台、共享平台、户外剧场,形成丰富有趣的公共空间系统,也为孩子们创造了更多的室外活动空间。
The landscape space is combined with architectural functions. Aside from fully using the architecture's gray space, the outdoor functional space is extended. The Interactive Stairs are linked with the Artistic Stage, Sharing Platform, and Outdoor Theater to form a diverse, attractive public space system and provide children with more spaces for outdoor activities.
带状的互动阶梯,它将架空层、庭院连接起来。设计融合了剧场座位和楼梯,乔木的位置经过校准,为户外休息区提供遮荫,灌木的野生生长融合了软景观和硬景观的边缘,在这里可以享受小型活动、户外教学、交流和休息。
The ribbon-shaped interactive stairs connect the open space and the courtyard. This design integrated theater seats and stairs. Each tree's position was calibrated to provide shade for the outdoor relaxation zone. The wild growth of shrubs integrates with the edges of soft and hard landscapes, allowing people to enjoy small-scale activities, outdoor teaching, communication, and relaxation.
架空层景观设计巧用建筑结构拓绿,丰富的灌木和地被打底,点植大乔木,使上下空间相互穿插、渗透,形成丰富的空间层次和视觉景观。
The landscape design of the empty space artfully uses the architectural structure to expand the green coverage. Luxuriant shrubs and ground covers serve as the background, and large trees are planted independently. Thus, the upper and bottom spaces overlap and penetrate each other, forming diverse spatial hierarchies and visual landscapes.
#天空庭院 Sky Courtyard
绿林繁茵, 向心而生 Luxuriant Forest, Born Out of Heart
天空庭院以"在运动中享受健康生活"为设计理念,配置了满足教学及锻炼的足球场、篮球场、环形跑道等运动场地,让师生们在紧张的工作学习之余,享受运动之乐,保持身体健康。并搭配有互动设施和休闲场所,风格自然而质朴,运动和休闲方式多样化。为师生创造可游乐、休憩、锻炼、观景的亲自然空间,促进人与人之间的交流,同时丰富学生们的课余生活。
The Sky Courtyard is designed under the concept of enjoying a healthy life in sports. It is equipped with sports venues for teaching and exercising, such as a football field, basketball court, and annular tracks, allowing students and teachers to enjoy the fun of sports and maintain physically healthy after busy work and studies. It's also matched with interaction facilities and recreation sites, creating a natural, unsophisticated style, as well as diverse sports and recreation means. This courtyard aims to provide students and teachers with a nature-friendly space for recreation, relaxation, exercise, and viewing, facilitate people-to-people exchanges, and enrich students' extracurricular life.
起伏丘陵 Undulating Hills
利用地形高差打造微地形游玩区,学生们在游玩的过程中不仅可以锻炼身体的协调能力,还可以在游乐中亲近自然,在探索中激发思考力、创造力。
A micro-topographical playground zone is built based on the terrain's height difference. It allows students to practice their physical coordination skills through play, get closer to nature during recreation, and develop their thinking and creativity through explorations.
活动天地 Activity Space
中庭慢跑环线将多个小型庭院、多功能阶梯和广场连接起来,邀请每个人出来休憩、漫步或跑步。
The circular jogging path at the atrium connects several small courtyards, the multi-functional stairs, and square, inviting everyone to relax, jog or run outdoors.
区域通过布局组合的创新,面积上满足后期教学多层次的活动需求。学生们可以在庭院进行小型的乐队、话剧、歌舞演出、电影播放、演讲等形式多样的活动,丰富和活跃了校园文化生活,也为学生们课余活动创造了更多的可能性。
With innovative layout combinations, this region offers an adequate area for multi-level teaching activities. Students can form small-scale bands, participate in dramas, perform dances and singing, play movies, and give speeches in the courtyard. By enriching and invigorating the school culture and life, it provides students with more possibilities for their extracurricular activities.
自然课堂 Natural Classroom
设计将自然教育融入景观,量身定制教材,将课堂教学和课外实践相结合,为师生打造环境教育"自然课堂"。 学生们亲生参与药用植物种植,通过观察了解种植的每个步骤,学习简单的劳动技术,感受植物的生长变化并体验自己动手的乐趣和成功的喜悦,后续进行跟踪观察记录,促使学生们更关注科学探究的过程和事物的变化,培养求实、严谨、细致的学习态度。
This design incorporates natural education into the landscape, formulates textbooks accordingly, and combines classroom teaching with extracurricular practices, providing teachers and students with a natural classroom for environmental education. Students can participate in growing medicinal plants. By observing and knowing each planting procedure, they can grasp simple working techniques, experience the changes in plants' growth, enjoy the fun of hands-on practices, and taste the delight of success. Subsequent tracking, observations, and records motivate students to pay more attention to scientific explorations and changes in things, as well as foster their rigor, strictness, and carefulness in studies.
药用乔木、药用灌木、药用地被和果树乔木是中药园的基础。结合场地的植物生境引入华南本土药用植物,丰富的品种也为后期自然教育提供了参考依据和实践场所。
Medicinal trees, shrubs, ground covers, and fruit-bearing trees constitute a basic component of the Chinese medicine garden. Local medicinal plants are introduced into the site according to local conditions. These wide varieties provide a referential basis and practice site for subsequent natural education.
▽中药园种植策略 Planting Strategies for Chinese Medicine Garden
天空农场 Sky Farm
结合不同学生群体对课堂需求的差异,对空间进行设计和功能规划,创造出丰富多彩屋顶活动空间,如屋顶种植区、围合绿篱、阅读花园、户外静思场等,可以让孩子们用体验探索来感知教育。屋顶绿化通过空气流动和蒸发,能吸收阳光,隔离强紫外线,为屋顶降温,一定程度上保护屋顶不受自然危害。同时在有限的空间中增加绿化面积,给空间带来生机和活力。
The space is designed and functionally planned based on considering different students' demands in class to create diverse roof activity spaces, such as the roof planting zone, enclosed green fences, a reading garden, and outdoor thinking yard. It allows children to perceive education through experiences and explorations. The roof greening absorbs sunlight and isolates ultraviolet rays through air flows and evaporation to lower the temperature on the roof and protects the roof from natural damage. Meanwhile, a greening area is added to the limited space to bring vitality and vigor into the space.
结语 Summary
在广州南沙民心港人子弟学校设计建设中各团队通力合作,该项目突破了设计、结构工程、材料和施工技术的边界。跨专业的合作与配合就能在一些不同的视角找到一些独特闪光点,给对方的设计效果都有很大的加持,项目做到了建筑、景观、室内多维度的完美融合,空间具有交互、感知、主动、趣味、亲和等特性,可以更好地服务于人。
All teams cooperated wholeheartedly in the construction of Minxin Hong Kong School (Guangzhou Nansha). This project broke the boundaries of design, structural engineering, materials, and construction techniques. Interdisciplinary cooperation and coordination create unique shining points from different angles to support respective design effects considerably. The project has perfectly integrated architecture, landscape, and interiors on multiple dimensions, endowing the space with interactions, perception, activity, interest, and affinity to serve people better.
▽总平面图 General Layout
▽施工过程Construction Process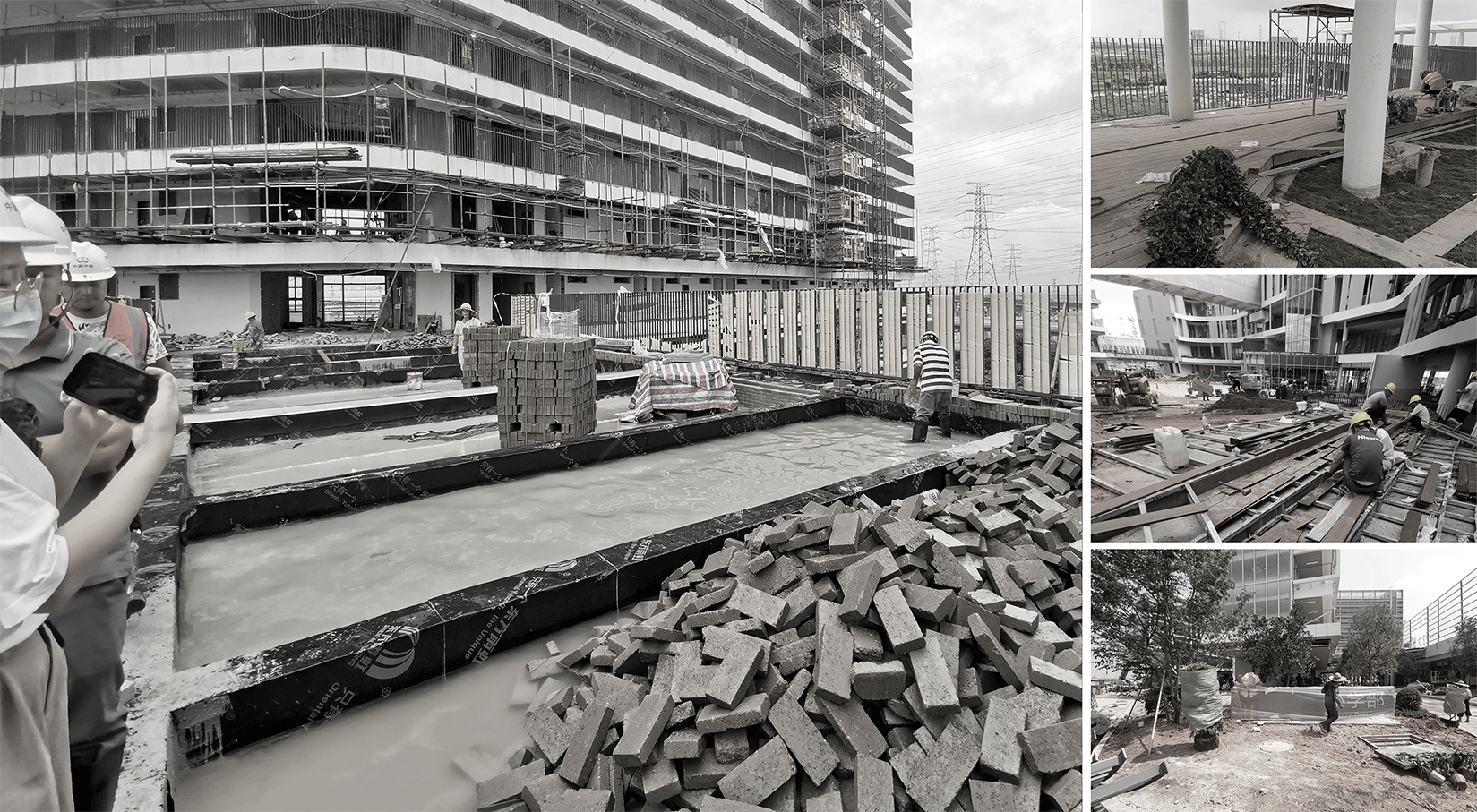 项目名称:广州南沙民心港人子弟学校
代建单位:中国中铁庆盛枢纽项目联合体成员中铁二局
使用单位:广州南沙民心港人子弟学校
建设单位:广州市南沙新区产业园区开发建设管理局
建筑设计:华南理工大学建筑设计研究院有限公司
景观设计:GND杰地景观
设计内容:学校景观全周期设计
项目地点:广东 广州南沙
设计时间:2021年10月
竣工时间:2022年8月
景观面积:52000㎡
主持设计:钟永成、丘戈、李冰
研发设计:周江、周文
方案设计:刘云、潘晓、龚颖姗、刘志锋、赖桂龙、廖嘉丽、杨镇榜、钟华艳、袁学培、郭舒琪、罗峰、叶雪瑞
园建设计:张灿杰、黄娟、刘志翔、钟明君、欧雪霞、何居易
植物设计:曾凤玲、红歌
景观施工:中国中铁庆盛枢纽项目联合体成员中铁二局
室内设计:广州东三室内设计有限公司
项目摄影:日野摄影、山间影像Inter_mountain
策划/视效:iDEER LAB
公司网站:www.gnd.hk
联系邮箱:gnd@gnd.hk
Project Name: MINXIN HONG KONG SCHOOL(GUANGZHOU NANSHA)
Construction company: China Railway Second Bureau, a member of China Railway Qingsheng Hub Project Union
Employer: MINXIN HONG KONG SCHOOL(GUANGZHOU NANSHA)
Construction unit: Guangzhou Nansha New District Industrial Park Development and Construction Administration
Architectural design: South China University of Technology Architectural Design and Research Institute Co., Ltd.
Landscape Design: GND Landscape
Design content: school landscape full-cycle design
Project Location: Nansha, Guangzhou, Guangdong
Design time: October 2021
Completion date: August 2022
Landscape area: 52000㎡
Lead Design: Zhong Yongcheng, Qiu Ge, Li Bing
R & D design: Zhou Jiang, Zhou Wen
Schematic design: Liu Yun, Pan Xiao, Gong Yingshan, Liu Zhifeng, Lai Guilong, Liao Jiali, Yang Zhenbang, Zhong Huayan, Yuan Xuepei, Guo Shuqi, Luo Feng, Ye Xuerui
Garden Architecture Design: Zhang Canjie, Huang Juan, Liu Zhixiang, Zhong Mingjun, Ou Xuexia, He Juyi
Plant design: Zeng Fengling, Hong Ge
Landscape construction: China Railway Second Bureau, a member of China Railway Qingsheng Hub Project Union
Interior Design: Guangzhou Dongsan Interior Design Co., Ltd.
Project Photography: Riye Photography, Inter_mountain Image
Planning/Visual Effects: iDEER LAB
Company website: www.gnd.hk
Contact email: gnd@gnd.hk
---
" 景观依托周边生态景观资源,呼应建筑及室内空间功能,打造兼具岭南风格和国际特色的美丽校园。"
审稿编辑:Maggie
更多 Read more about: GND杰地景观