本文由 太研规划设计顾问有限公司 授权mooool发表,欢迎转发,禁止以mooool编辑版本转载。
Thanks Motif for authorizing the publication of the project on mooool, Text description provided by Motif.
太研规划设计顾问有限公司:「不只是图书馆,而且有花园。」——和花园来一场只属于自己的对话。
Motif Planning & Design Consultants: "It is not just a library but a garden as well."  Have a private talk with a garden.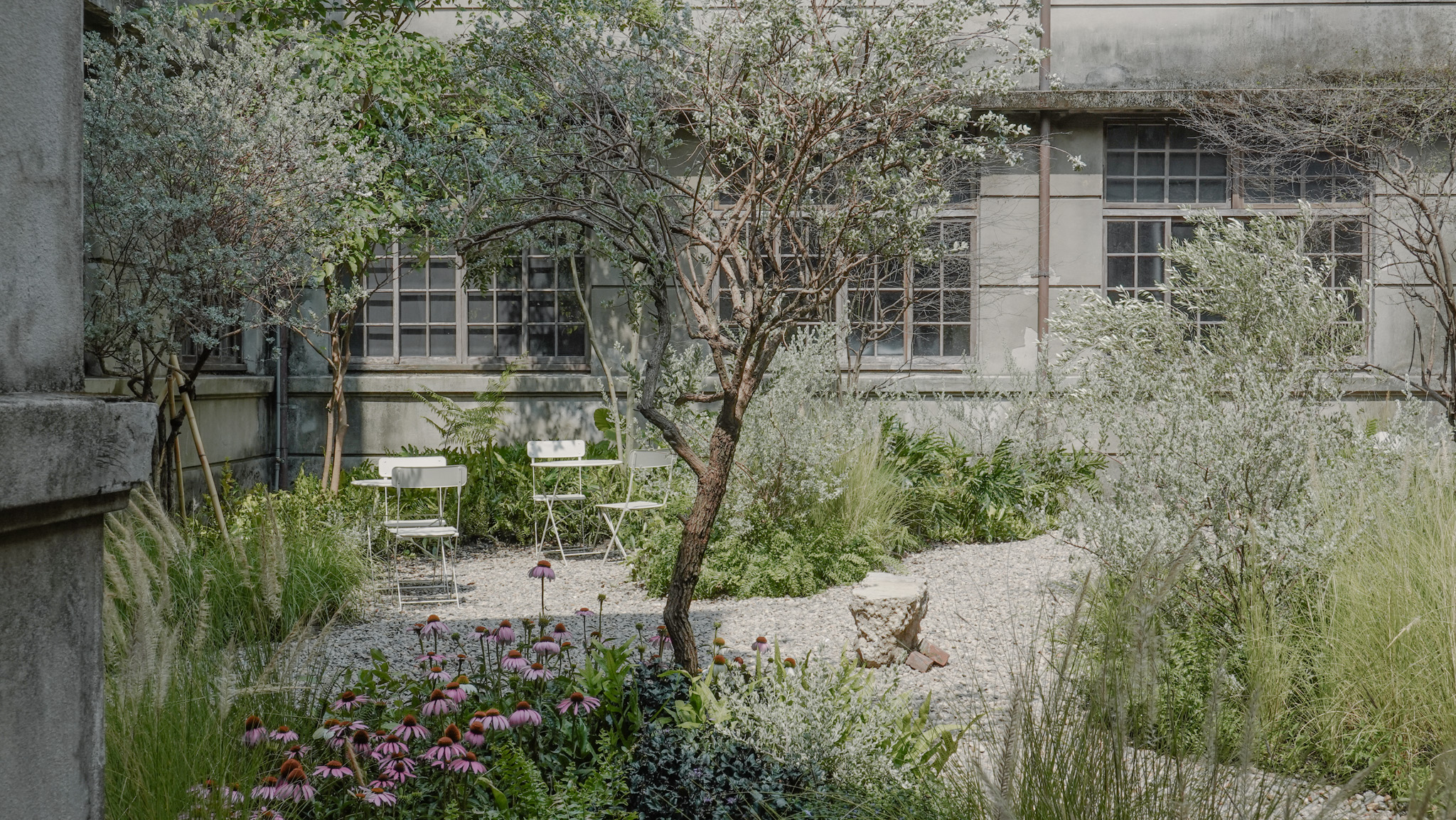 随着「不只是图书馆」搬迁至制烟工厂北侧的女澡堂,在那厚实的历史墙后,透过半圆形的澡堂窗户看出去,有个微微下沉的绿洲花园。
Located in the north of the tobacco factory, "Not Just a Library" is set in a renovated women's bathhouse. As you look through the semicircular window, a sunken garden stands ahead of you.
▼平面图 Plan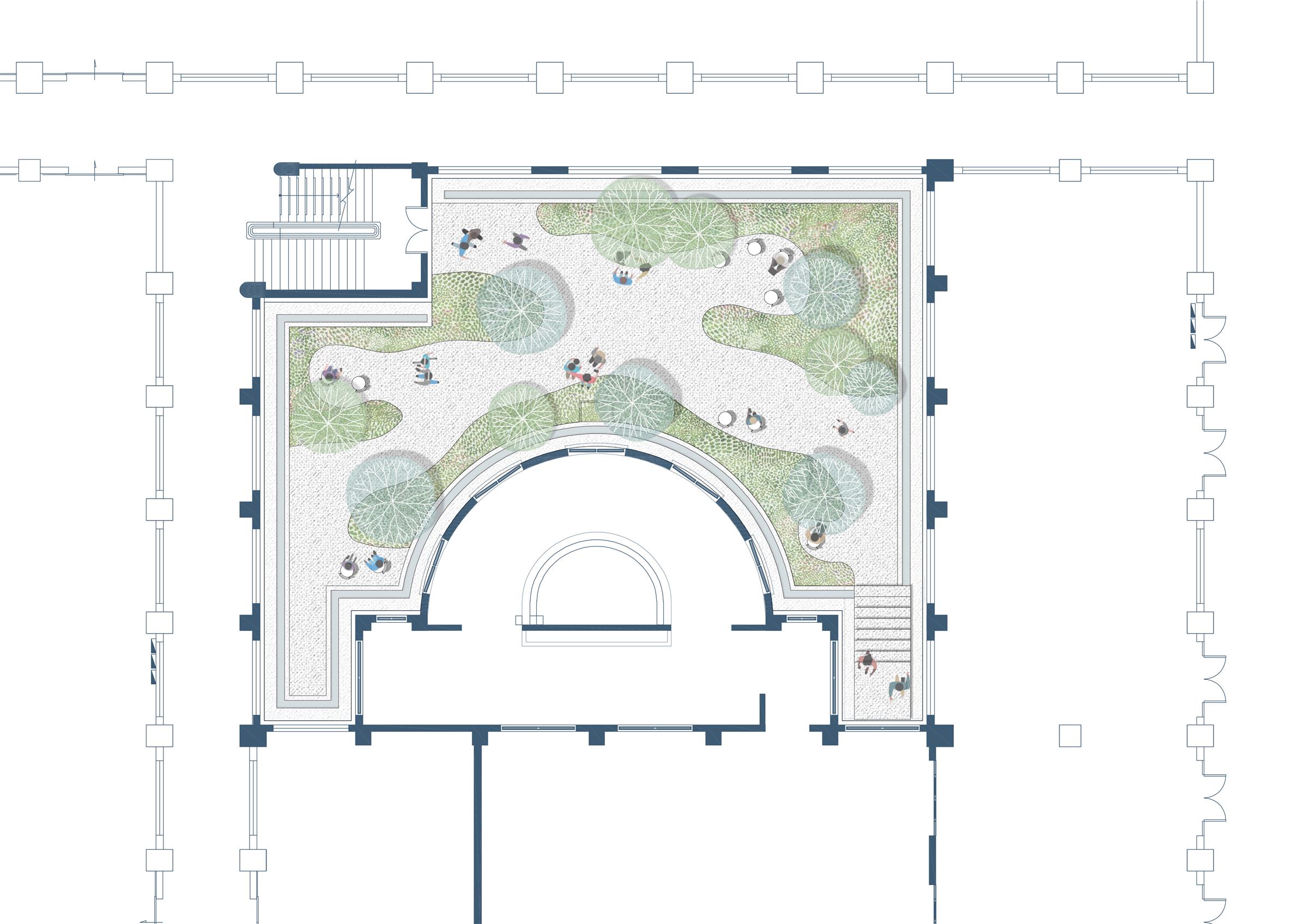 ▼改造前 Before transformation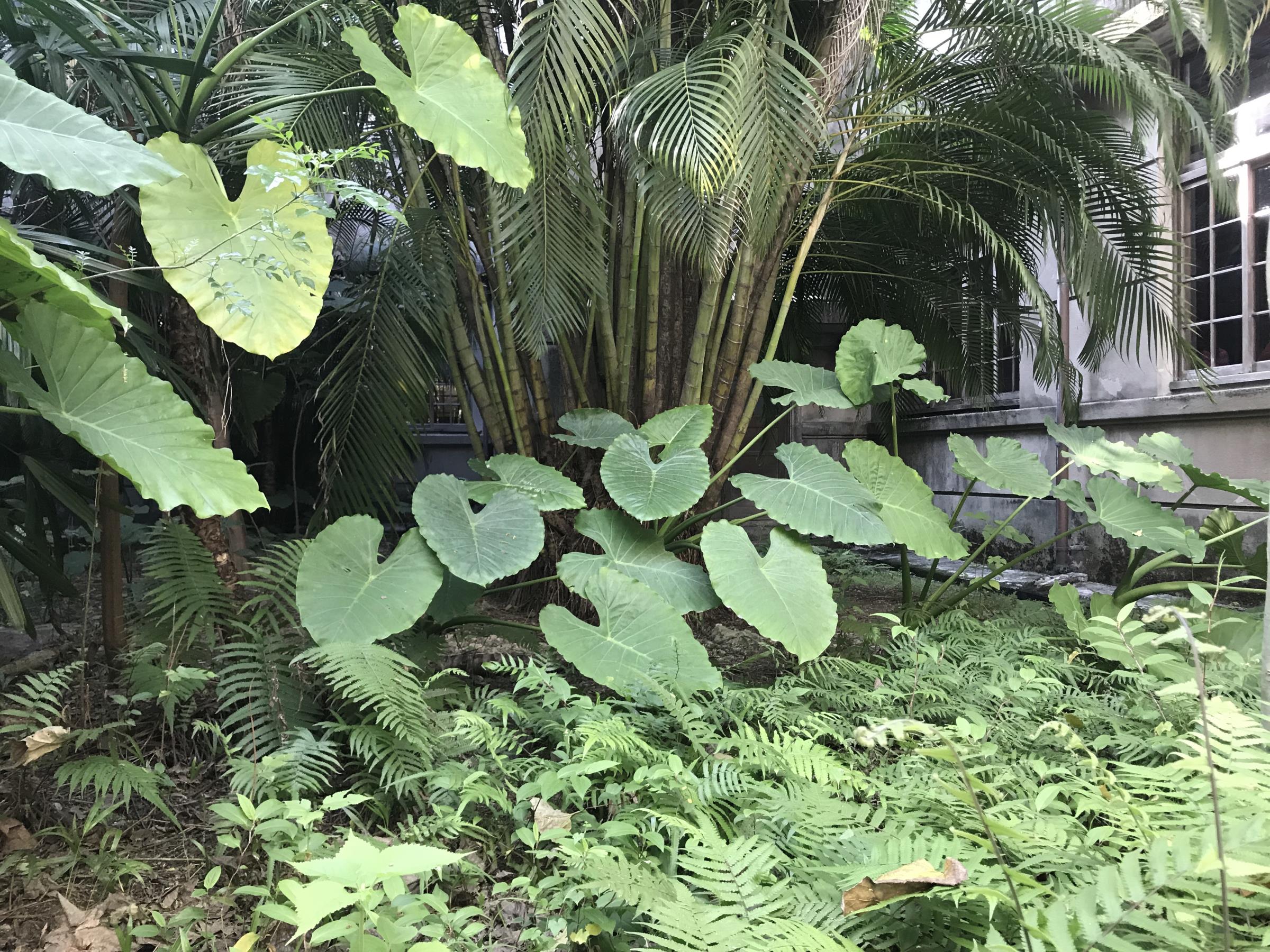 ▼改造后,平静如画的花园 After transformation, a peaceful and picturesque garden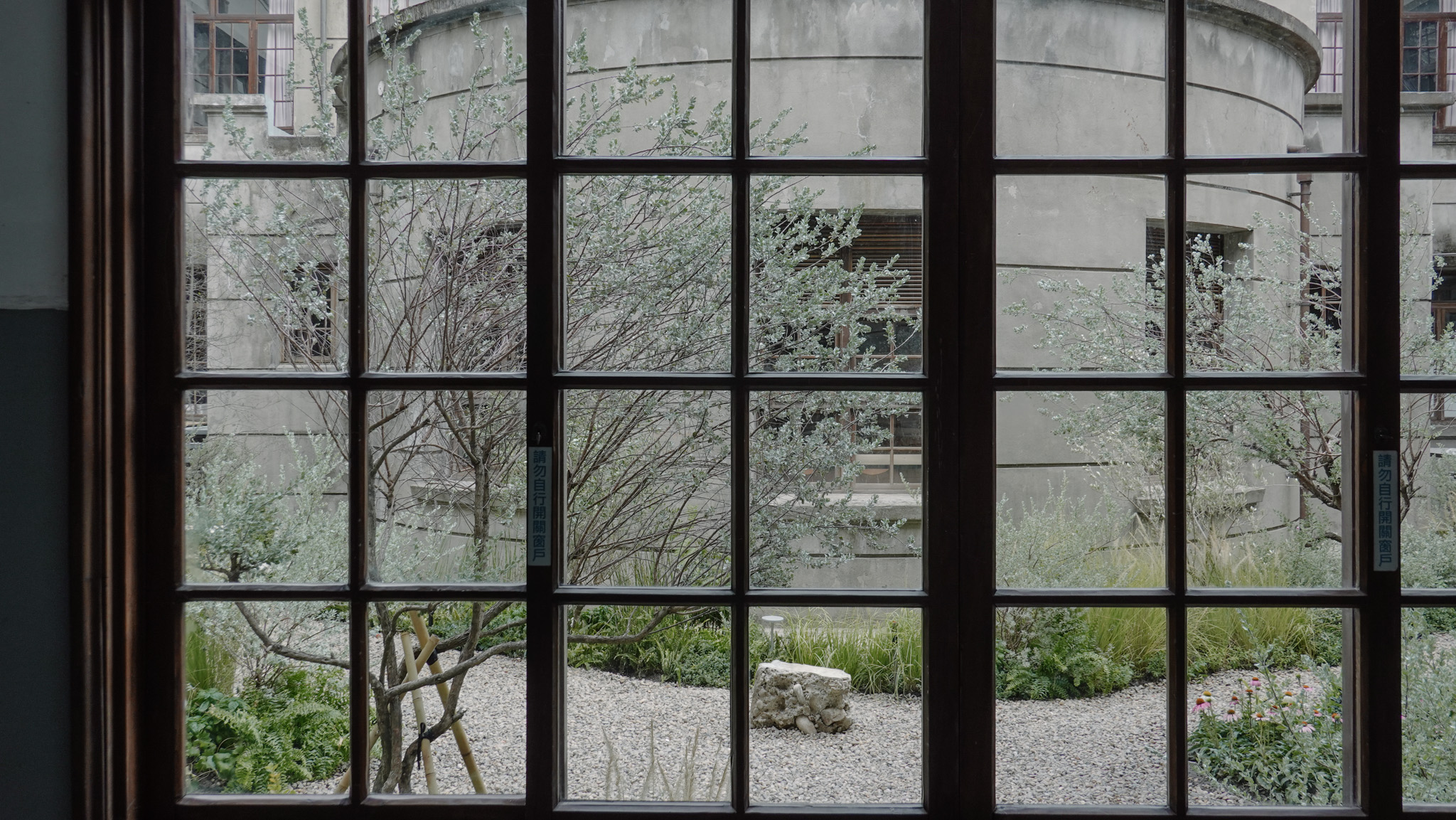 自1998年制烟工厂关厂后,历经时间更迭,花园内满是自由生长的椰子,其根系已生长如混凝土块坚硬,与地底下来自不同年代的加建结构,这些留下的时间痕迹与自然历程,我们期望以不同的方式重新与空间的肌理发生关系,带来不同的感官体验—与时间、空间的亲密接触。
Since the factory ceased to produce cigarettes in 1998, a large area of the garden has become dominated by volunteer coconut trees. As hard as concrete, their roots are intertwined with underground structures from different eras. We hope to employ a different method to build a connection with past textures of space and bring a new sensory experience — a close contact with time and space.
▼混植的植栽与历史墙面并置、揉合 The mixed vegetations collocate and merge the historical wall together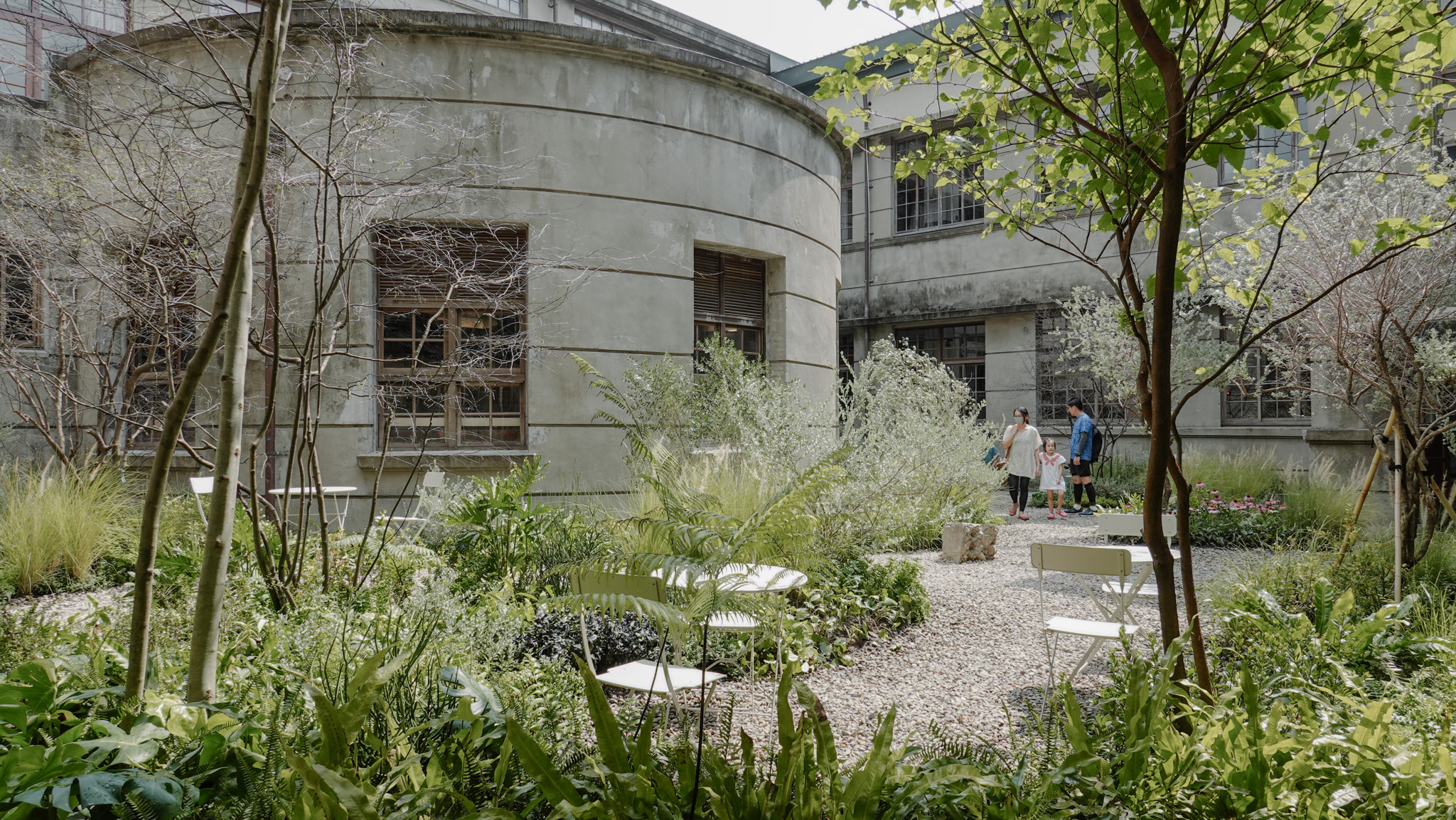 ▼不同层次的绿意衬映着清碎石的灰 Different layers of greenery is appropriate with the grey color of the crushed stone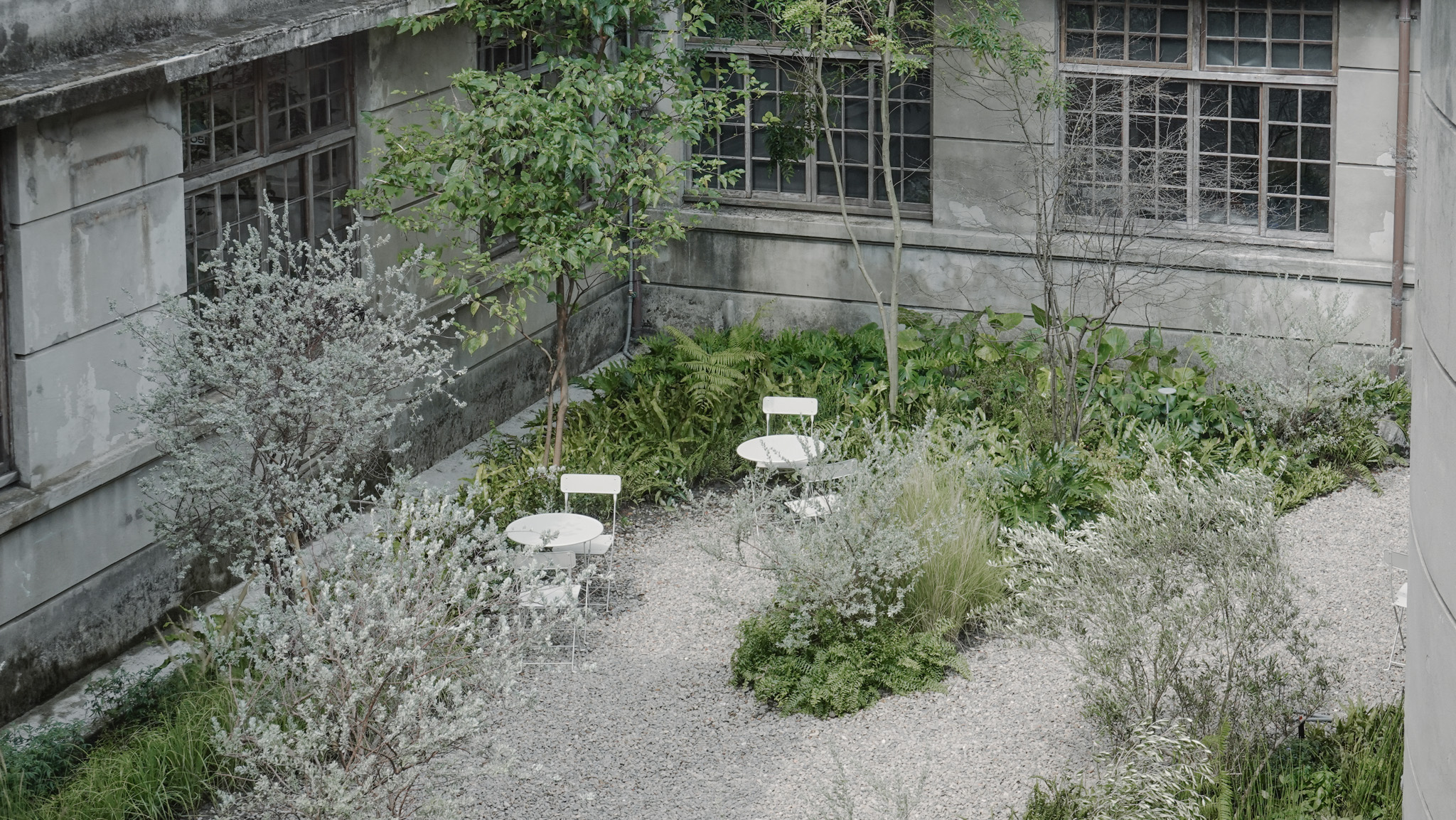 改造后的花园其内部空间有着私密而宁静的氛围,时间的肌理印刻在四周墙体上,我们自然地放下了多余的表现,不浮夸的材料令人有意识地摒弃多余事物。既有的小叶桑枝叶往上开展,向上挺高四米,展开一抹夏之绿荫,阳光洒落,在树梢半透明的绿叶间闪闪发光。混植的植栽与历史墙面并置、揉合,不同层次的绿意衬映着清碎石的灰,在这个朴素、和谐的空间里,光影和形式无不展现着优美的气质。
The interior of the renovated garden provides a private and peaceful atmosphere and the walls show the traces of time. Employing plain materials, we naturally give up redundant design. The small-leaved mulberry reaches 4 meters tall and the sunlight filtering through the leaves sparkles. The juxtaposition of plantings and historic walls brings the effect of layers of greenery corresponding to gray stone walls. The light shadow and form display a graceful atmosphere in this plain, harmonious space.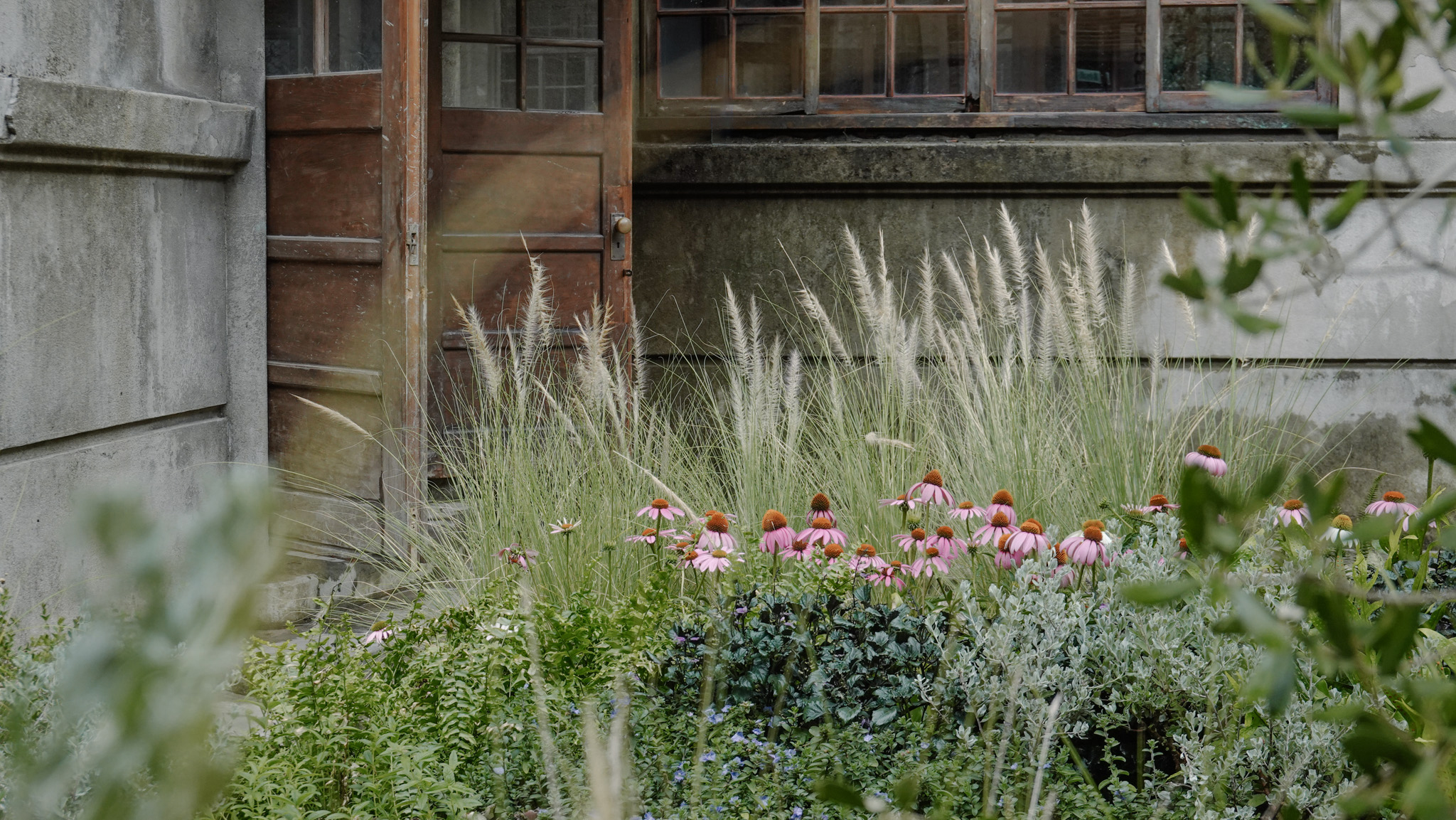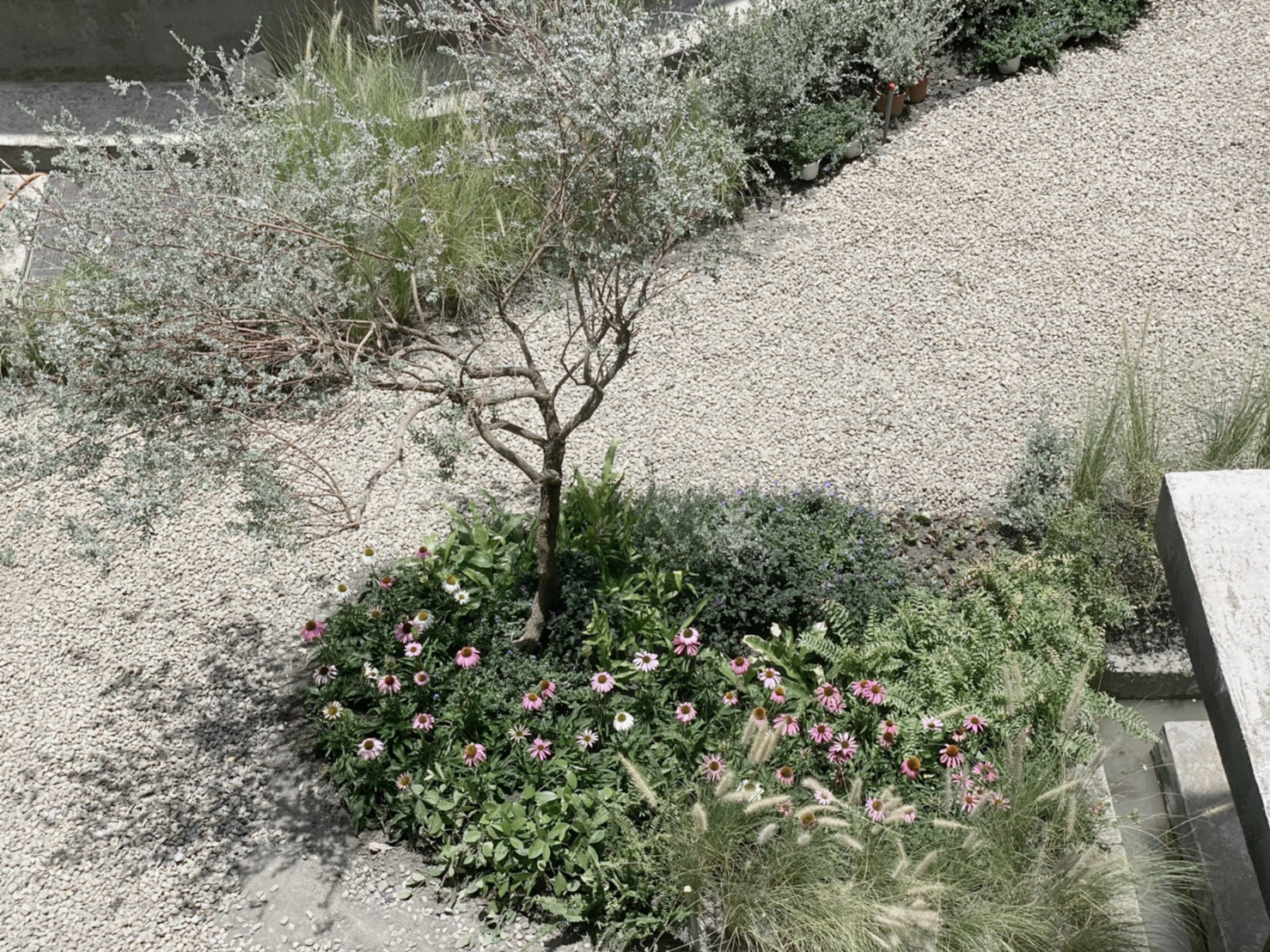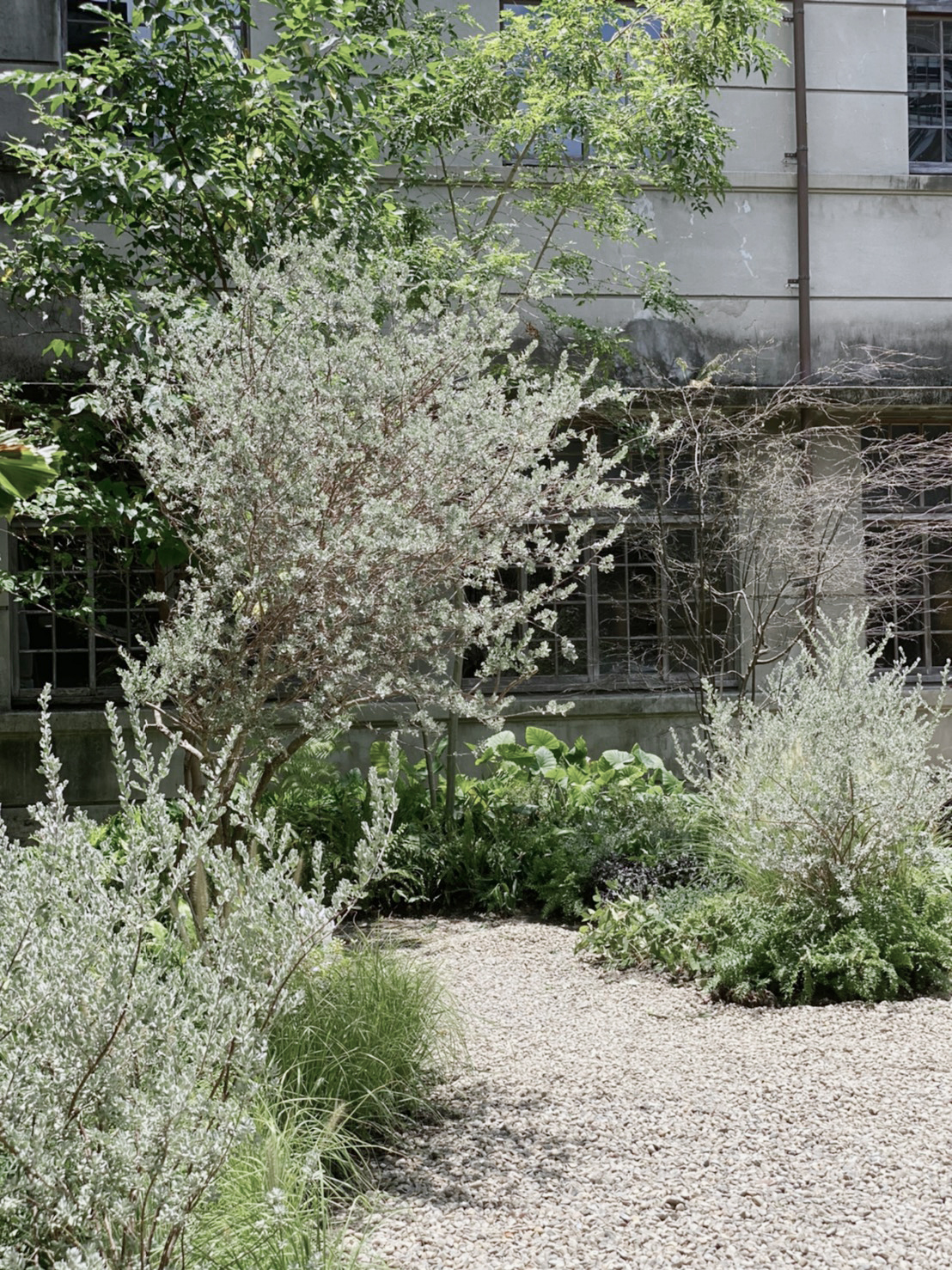 简洁的家具,让访者可以驻足停留,在花园里如同过去泡在澡堂的节奏,浄沐其中,让心情随之沉淀,慢慢地感受花园在时间中的变化,带来不同的阅读体验,是不拘一格的惬意。
Simple and plain furniture provides a cozy place for visitors to stay for a while. Enjoying the slow pace of life in the garden is how the pace in the bathhouse used to be. Bathing in the atmosphere brings a totally different reading experience.
▼沉浸在花园中,带来不同的阅读体验 Immerse in the garden, provide different reading experience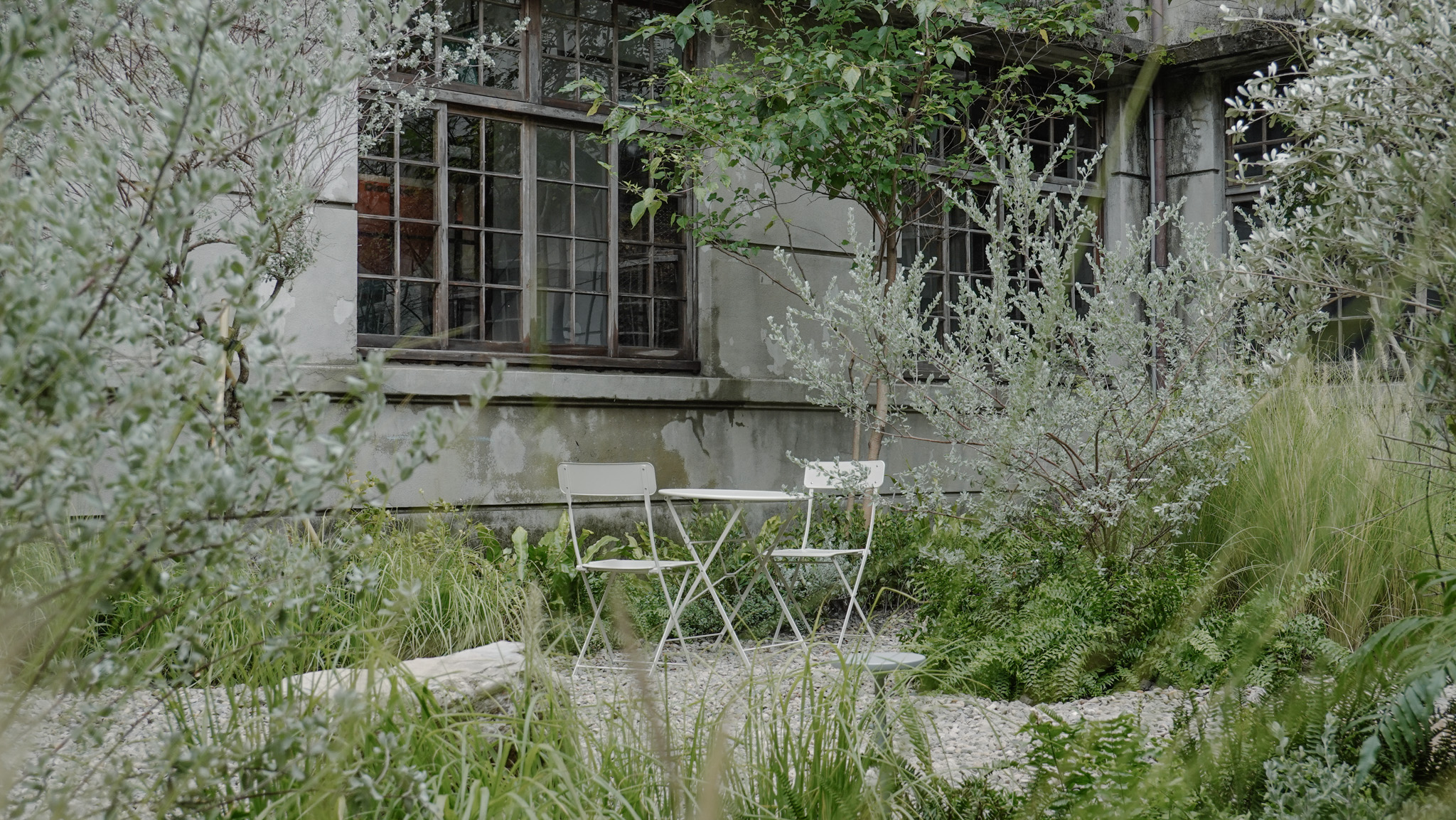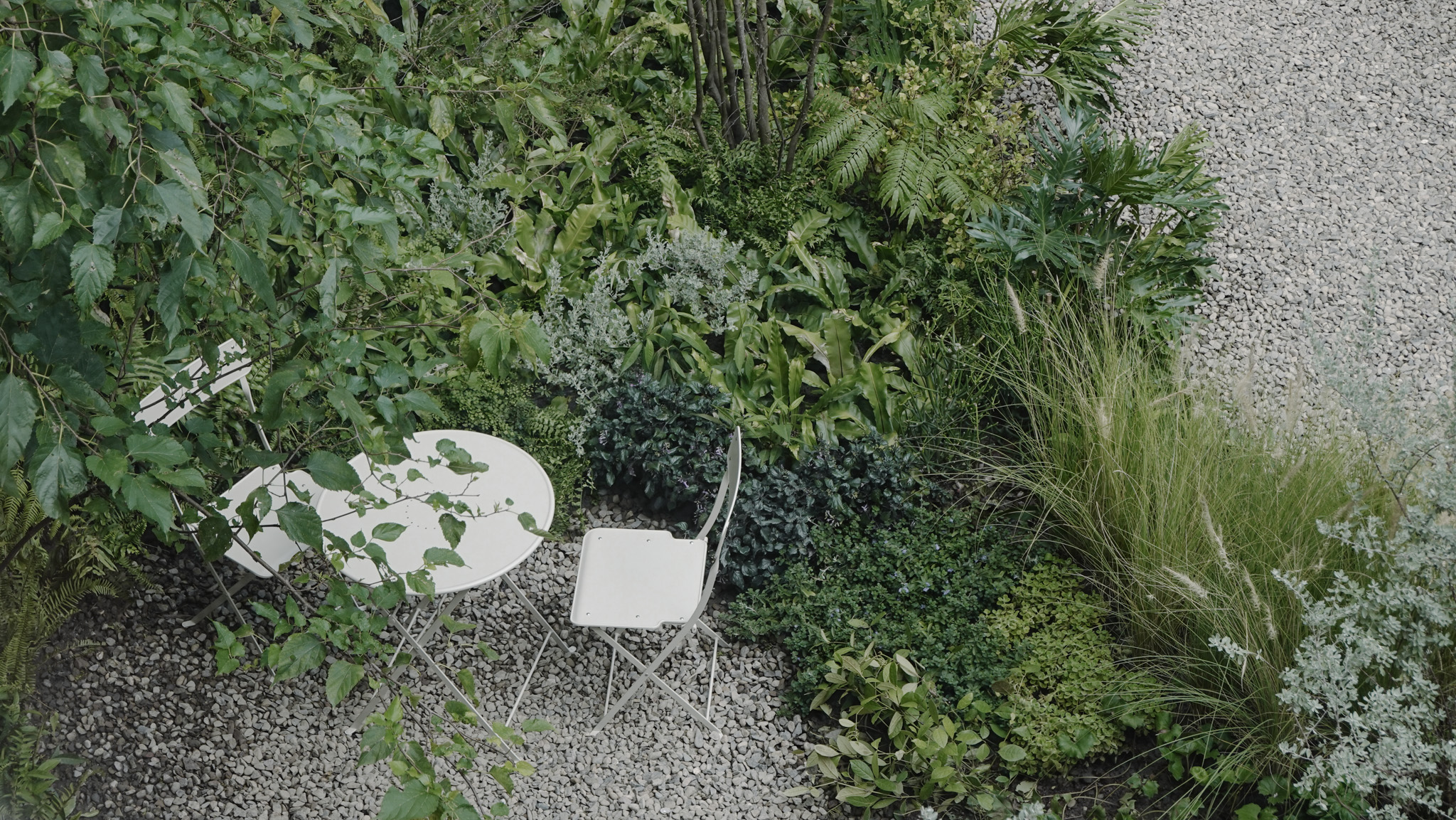 ▼当你再次合上书本,窗外已是溢出的苍翠 Greenery overflows the window when you close the book again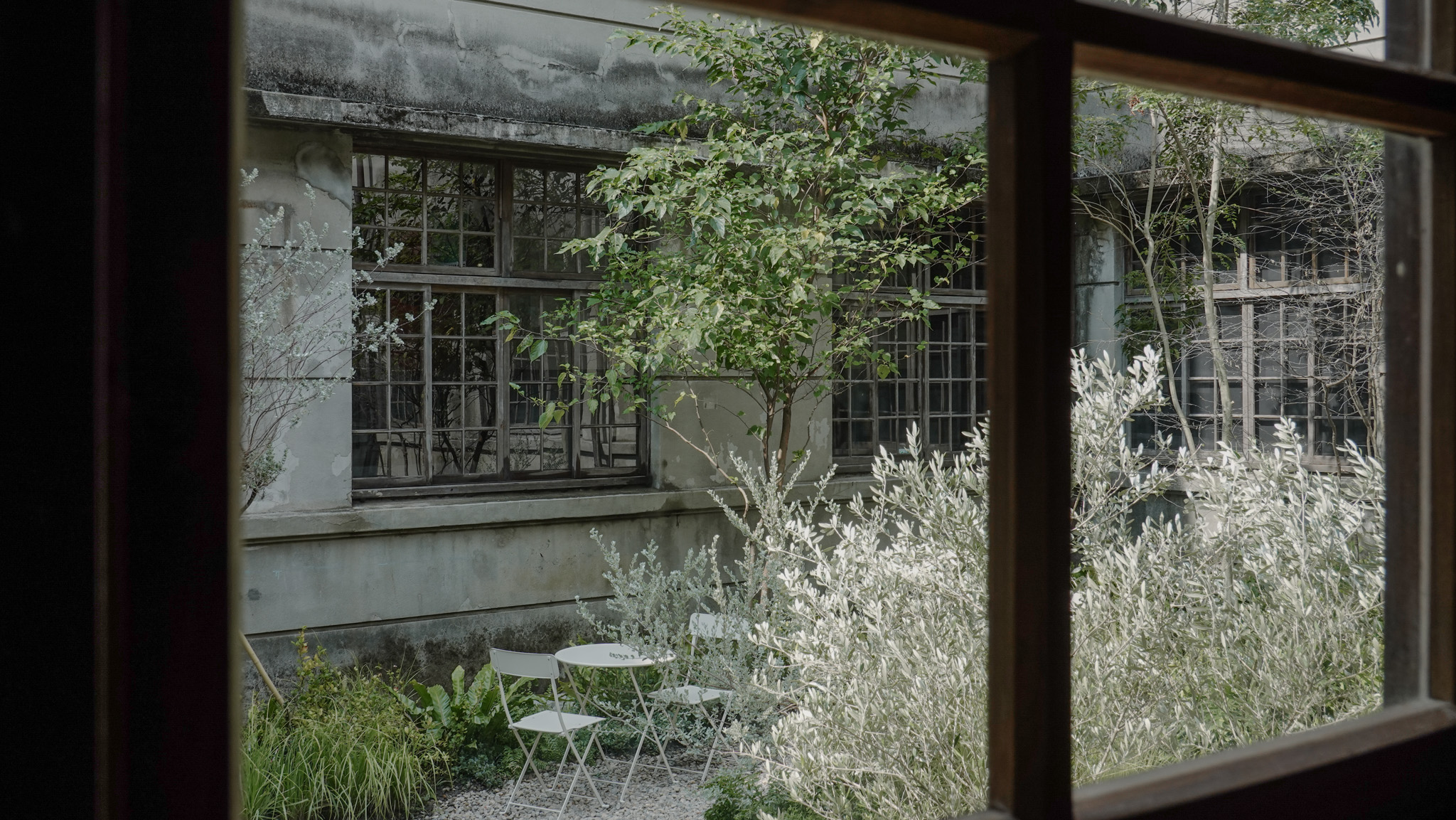 项目名称:不只是图书馆花园
完成年份:2020
项目面积:245㎡
项目地点:松山文创园区,台北
设计公司:太研规划设计顾问有限公司
公司网址:http://www.motifla.com.tw/
联系邮箱:motiflandscape@gmail.com
设计团队:太研规划设计顾问有限公司
客户/开发商:台湾设计研究院
施工:昱盛国际景观有限公司
摄影师:Motif Team
Project name: Not Just Library-Bathhouse Garden
Completion: 2020
Area: 245㎡
Location: Songshan Cultural and Creative Park, Taipei
Design firm: Motif Planning & Design Consultants
Webiste: http://www.motifla.com.tw/
Contact email: motiflandscape@gmail.com
Design team: Motif Planning & Design Consultants
Client: Taiwan Design Research Institute (TDRI)
Construction: Yusheng International Landscape Co., Ltd
Photography: Motif Team
更多 Read more about:Motif Planning & Design Consultants