本文由 Kernel Design 授权mooool发表,欢迎转发,禁止以mooool编辑版本转载。
Thanks Kernel Design for authorizing the publication of the project on mooool, Text description provided by Kernel Design.
Kernel Design:Pleno Pinklao-Charan是泰国的一个联排别墅项目,其风格灵感来源于殖民时期的建筑。景观设计共分为三个区域,分别为主入口、主公园和销售中心。
Kernel Design:Pleno Pinklao-Charan is a townhome project in Thailand, which the style is inspired by the period of colonial architecture. There are 3 landscape design areas consist of the main entrance, main park and sales gallery.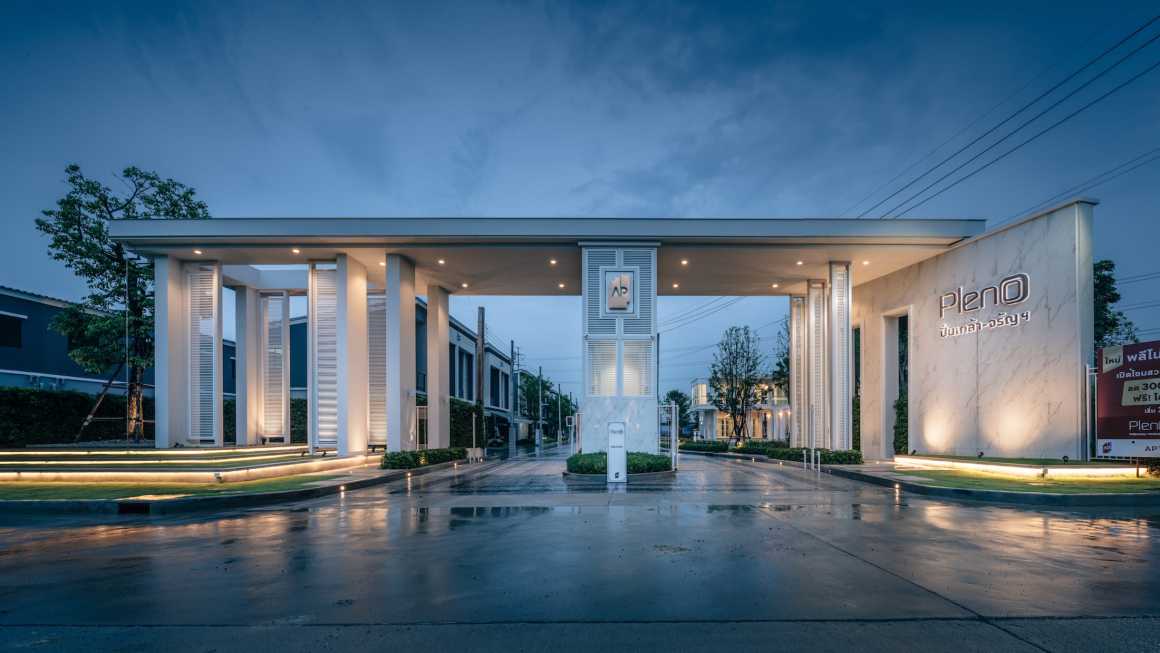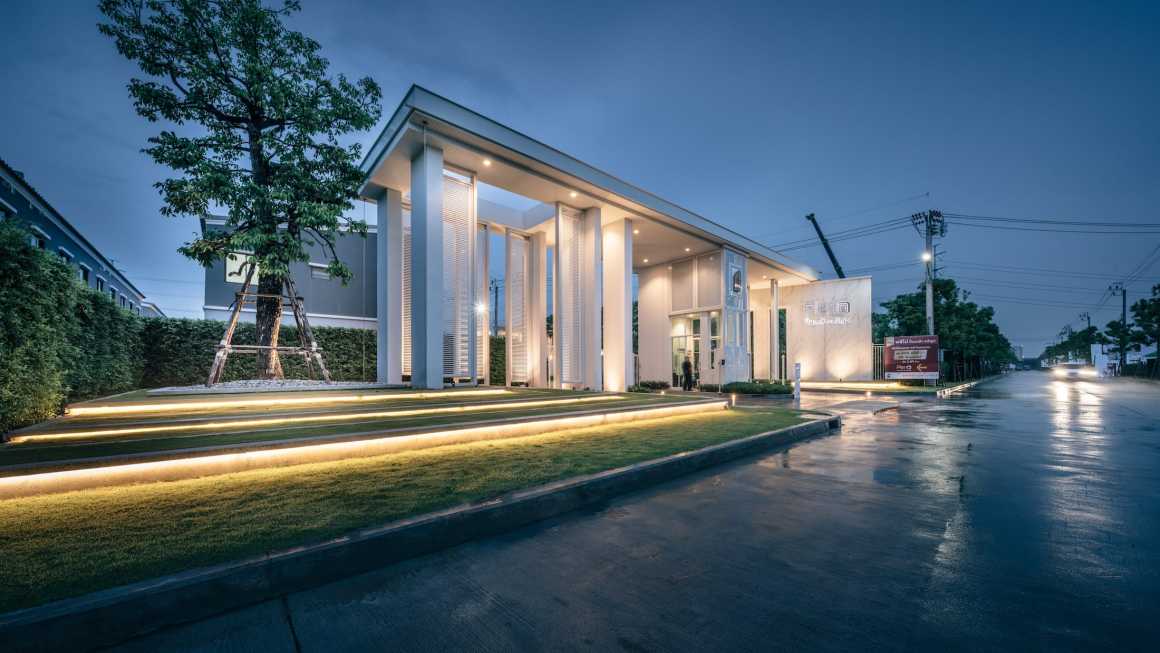 ▼平面图 Master plan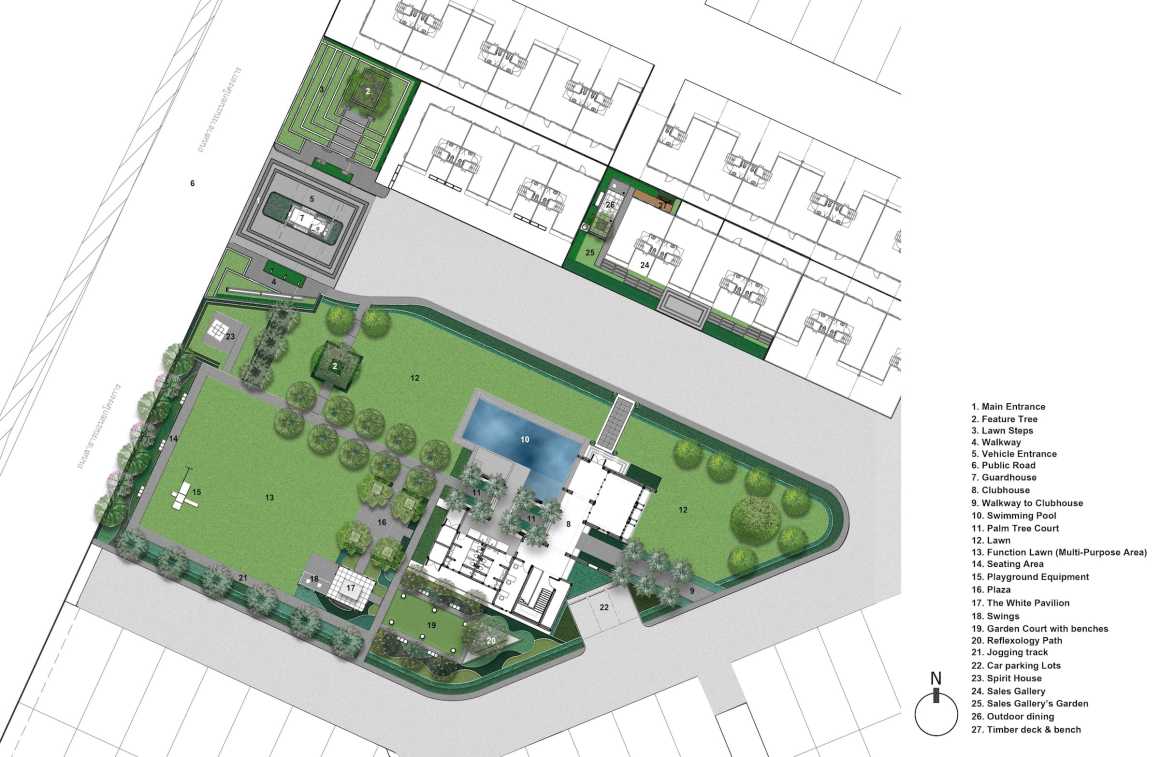 主入口道路两侧建有简单的草坪台阶,与泰国殖民时期建筑风格的正门相协调。大门左侧的一组白色百叶窗作为草坪台阶上特色树的画框,也象征了泰国殖民时期的建筑元素。在台阶的细节处理上,我们在台阶的凹进处设置了LED灯带,以便在夜间时也能凸显正门。
At the main entrance, the simply lawn steps are created at both sides of the vehicle road to harmonize with the Thai colonial architecture of the main gate. At the left-hand side of the main gate, the group of white louvers represents Thai architectural elements, acting as a picture frame of the feature tree locating on the lawn steps. In detail of the steps, the horizontal light of LED strips at the recessed steps are designed to emphasize the main gate when people pass by in the nighttime.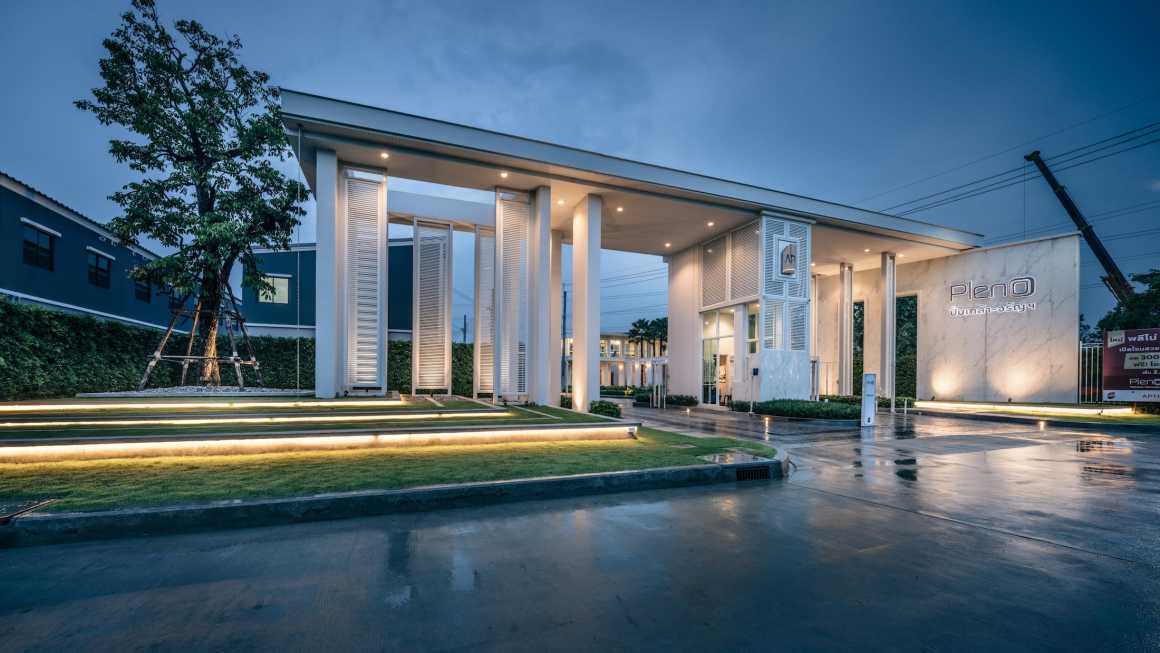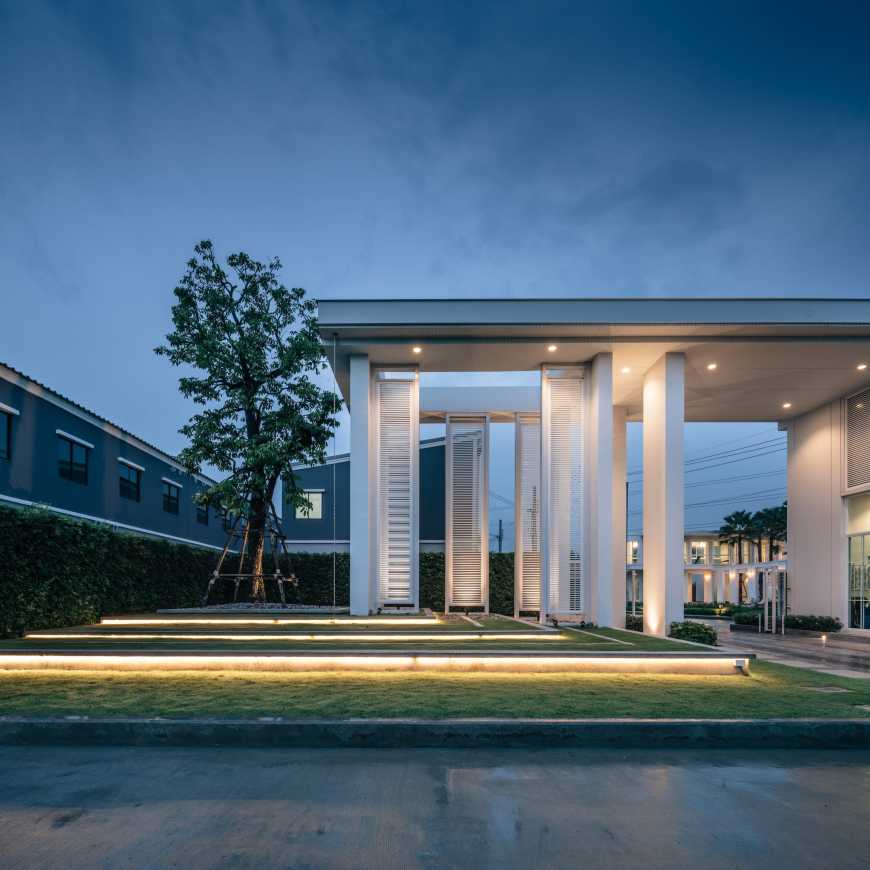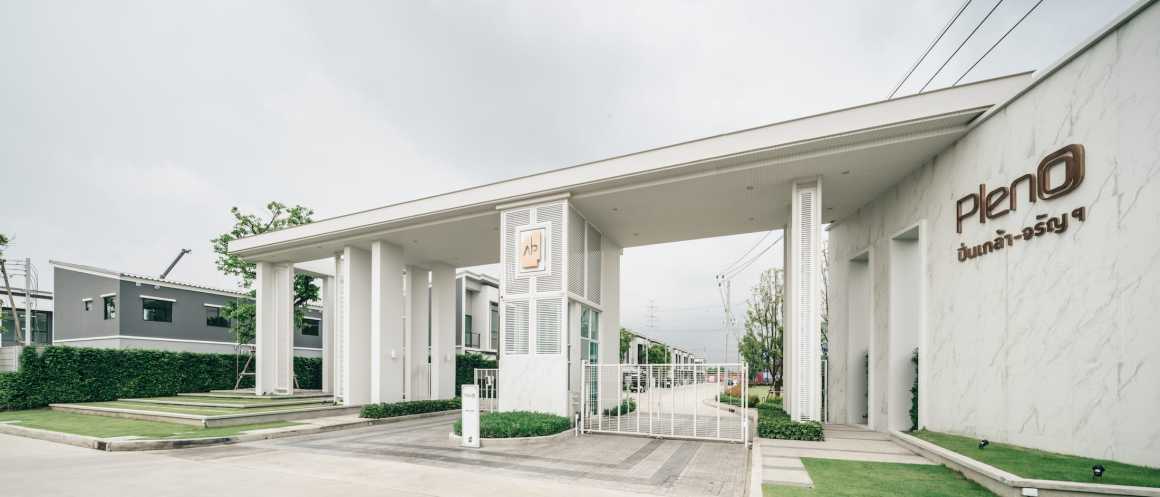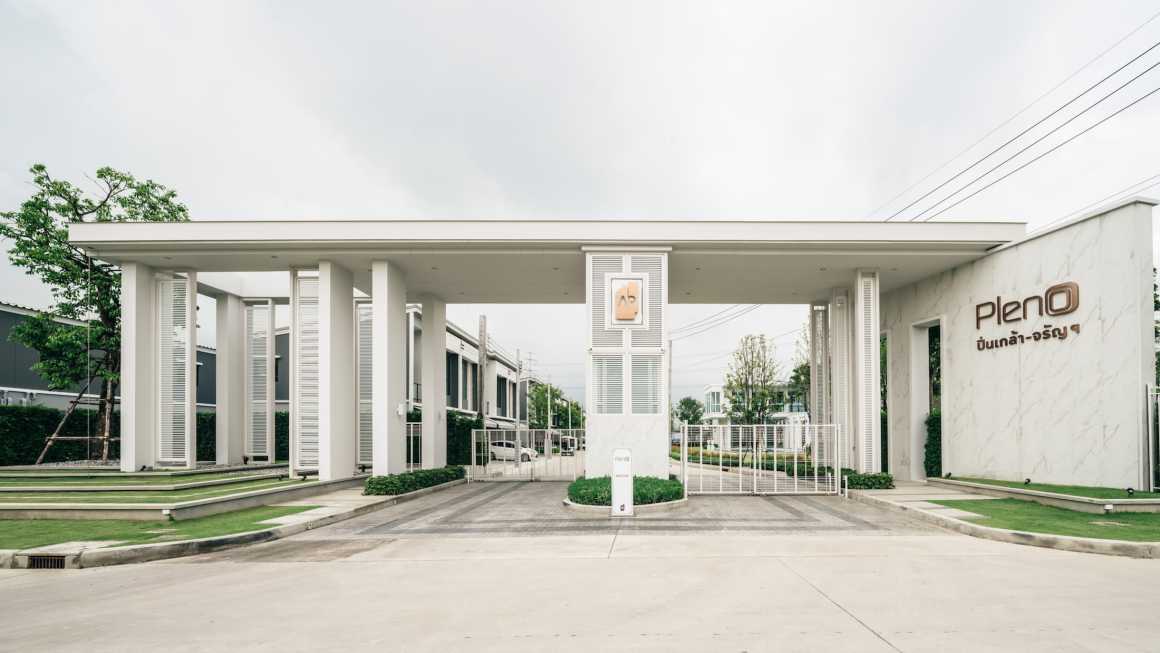 该项目的会所位于主公园内,其内部走廊内有一个隐蔽的庭院。一组蒲葵属棕榈在走廊的两侧排成一排,将人们的视线从内庭院带到主公园。根据上述概念,公园的主人行道是为了创造一个用于直线前行的主景观轴线,贯穿会所棕榈庭院的绿化带,并连接主公园。主公园内设有多个多功能区域,为儿童提供休息、散步、慢跑等各种活动空间和儿童游乐设备。
The clubhouse of this project is located in the main park, which has a hidden court inside the inner corridor. The group of Livistona palms is designed to be placed in a row on both sides of the corridor, for bringing the eye from the inner court to the main park. By the above concept, the main walkway of the park is to create a main landscape axis for walking in a straight line, passing through greenery of the palm court in the clubhouse and connecting to the main park. There are many multipurpose areas in the main park, supporting the various activities such as rest, stroll, jogging and playground equipment for kids.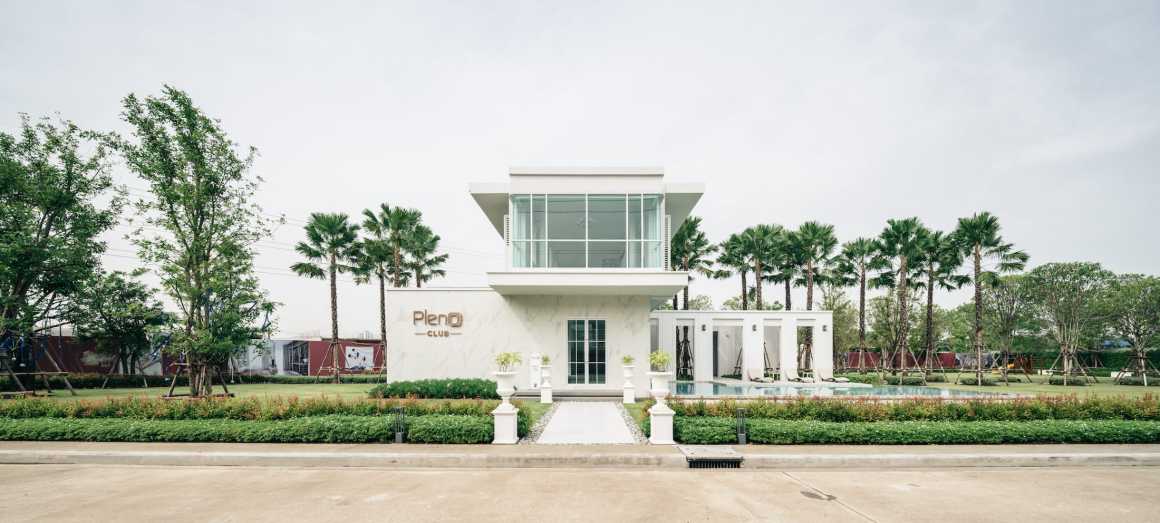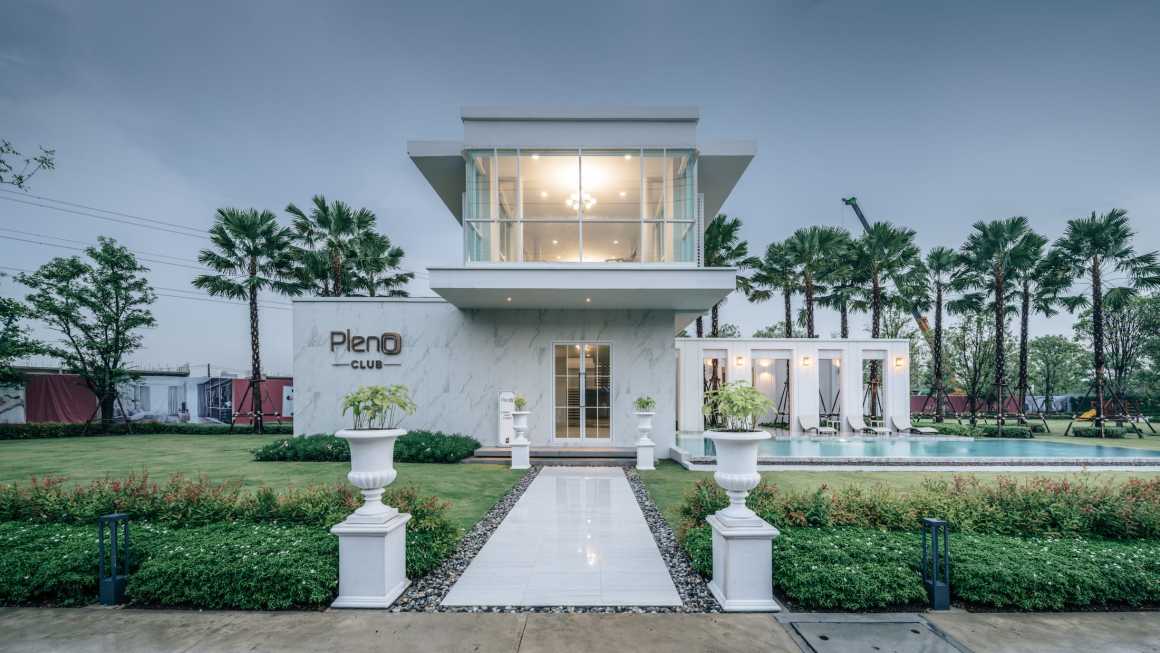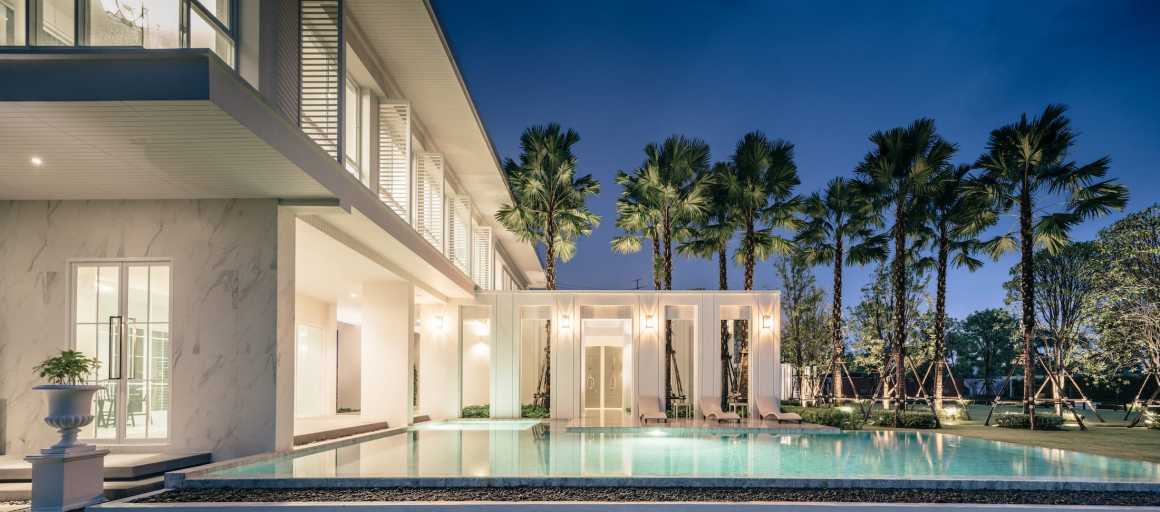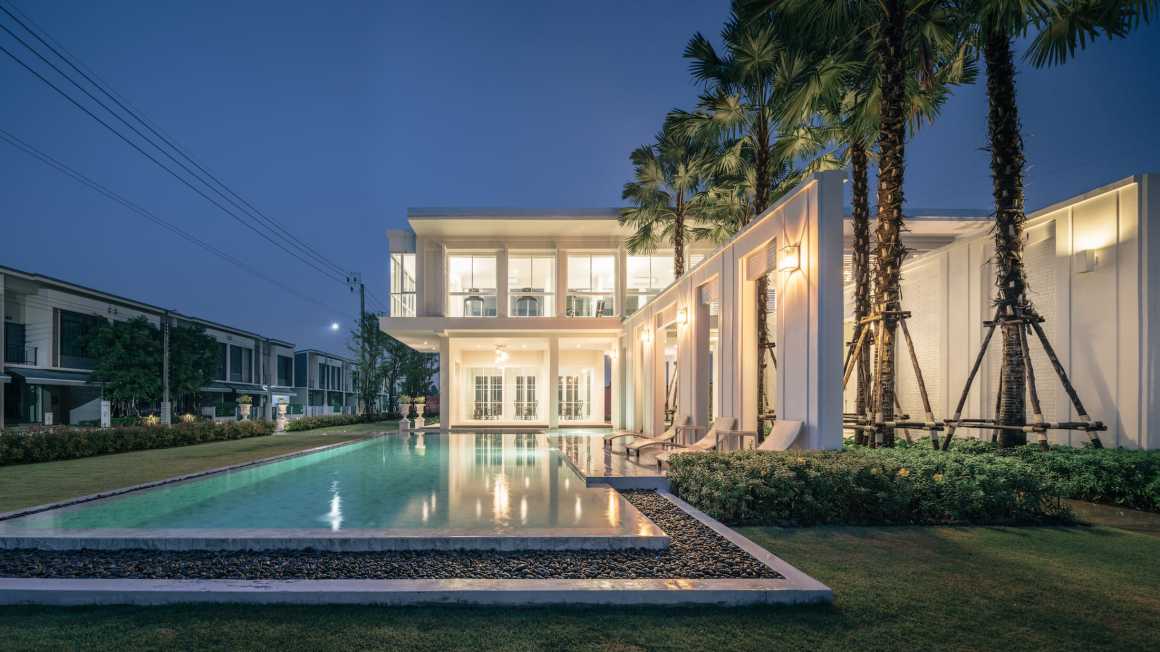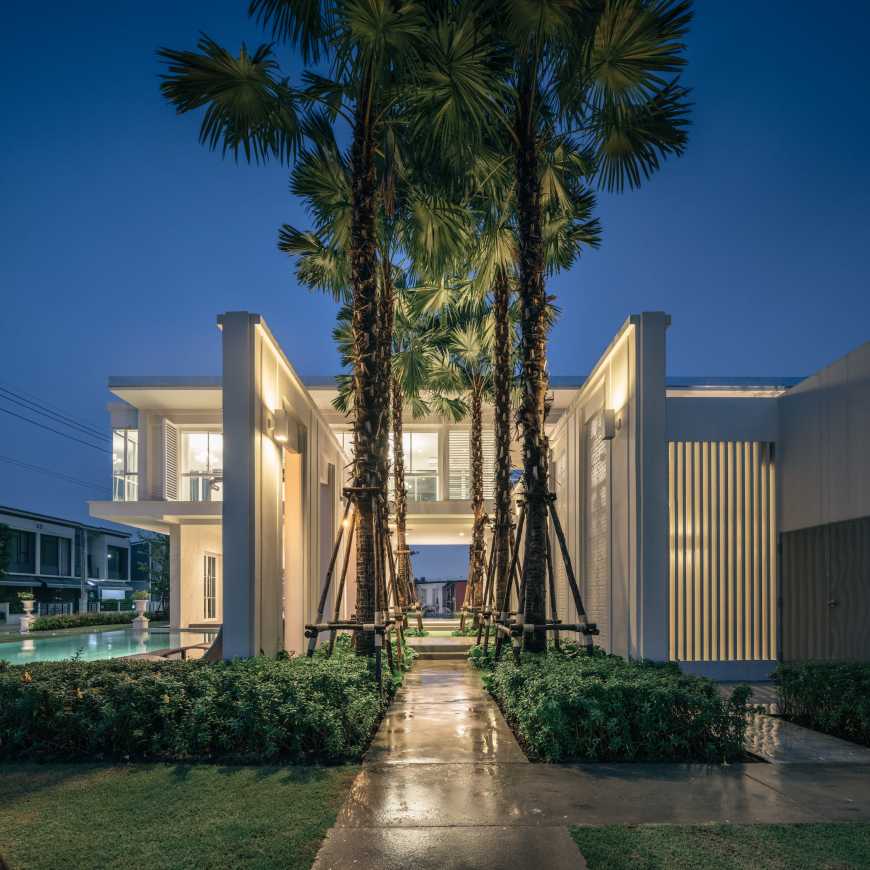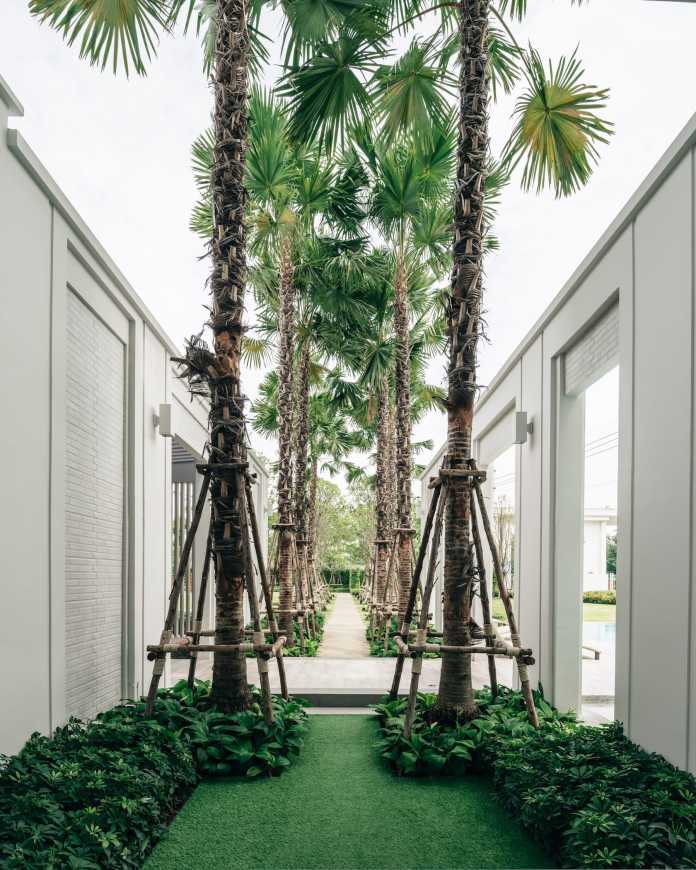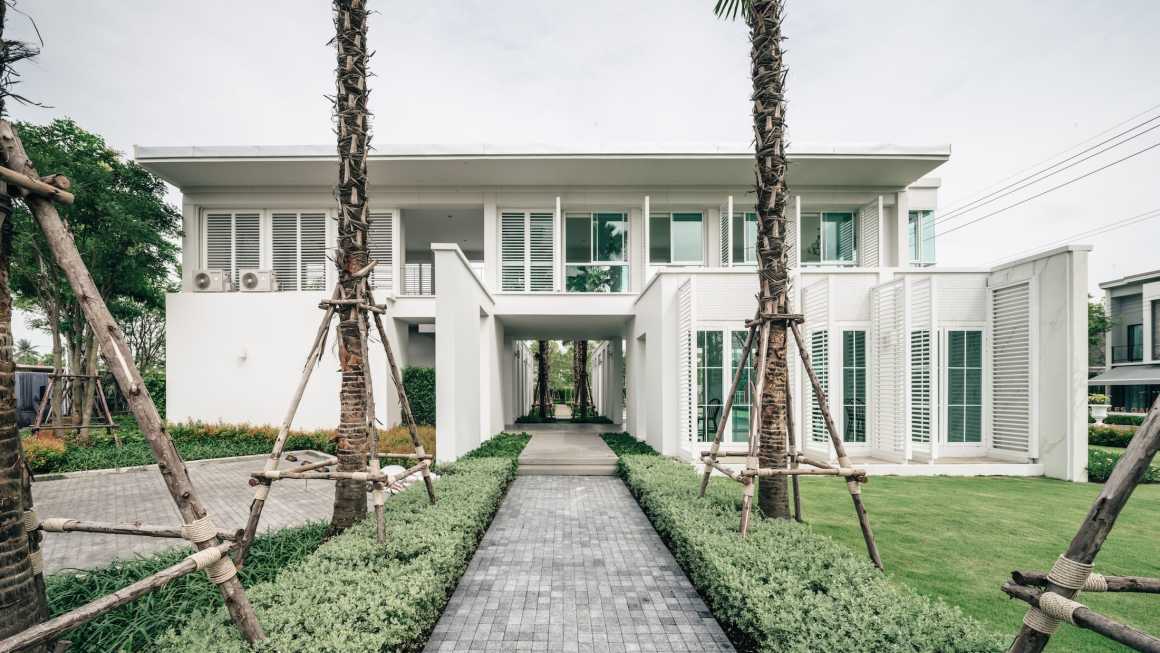 白色景观亭是该项目的主要亮点,立面饰有殖民时期的窗框图案,此外,该亭还有两个主要功能设施:合作办公桌和秋千。人们可以一起工作,一起玩耍。亭子旁边的花园庭院特色树下有一条供老年人使用的反射疗法小径,人们可以在这五彩缤纷的花朵周围漫步放松。
The white pavilion is the main highlight of the project, which is decorated with the pattern of colonial window frames at the façade. In addition, There are two main functions at the pavilion; co-working table and swings. People can work and play together. Beside the pavilion, there is a reflexology path for elders, underneath the feature tree in the garden court where people can stroll and relax around mixed colorful flowers.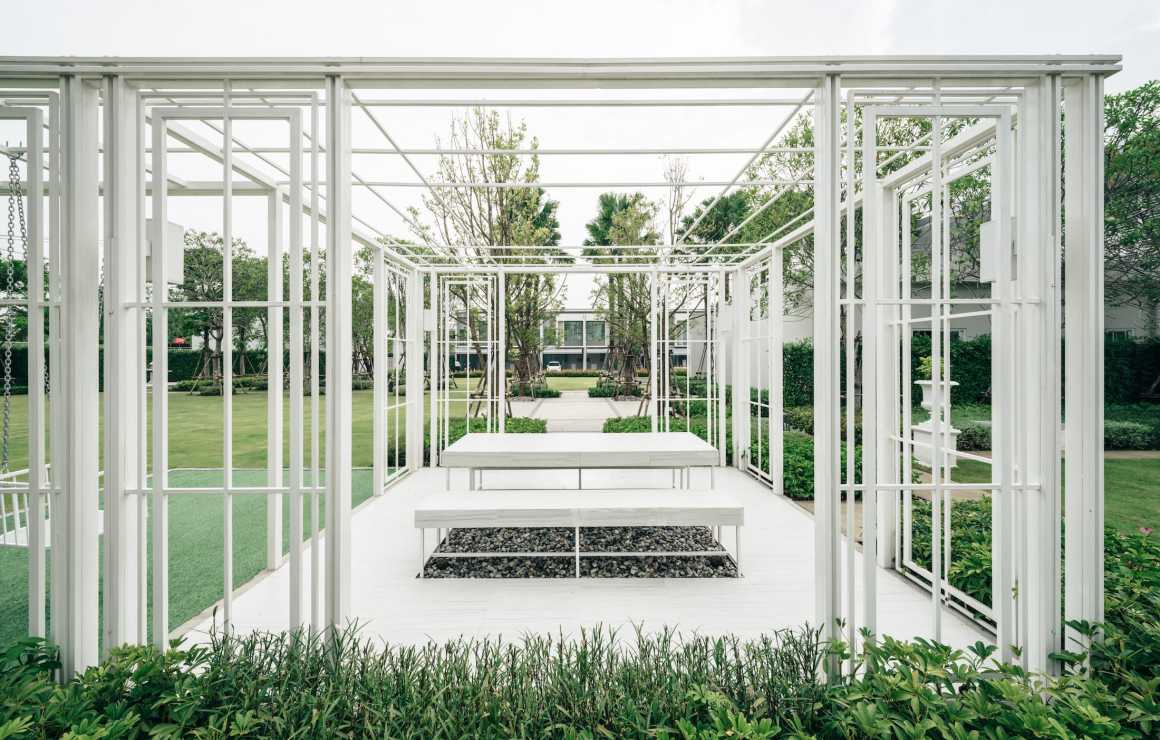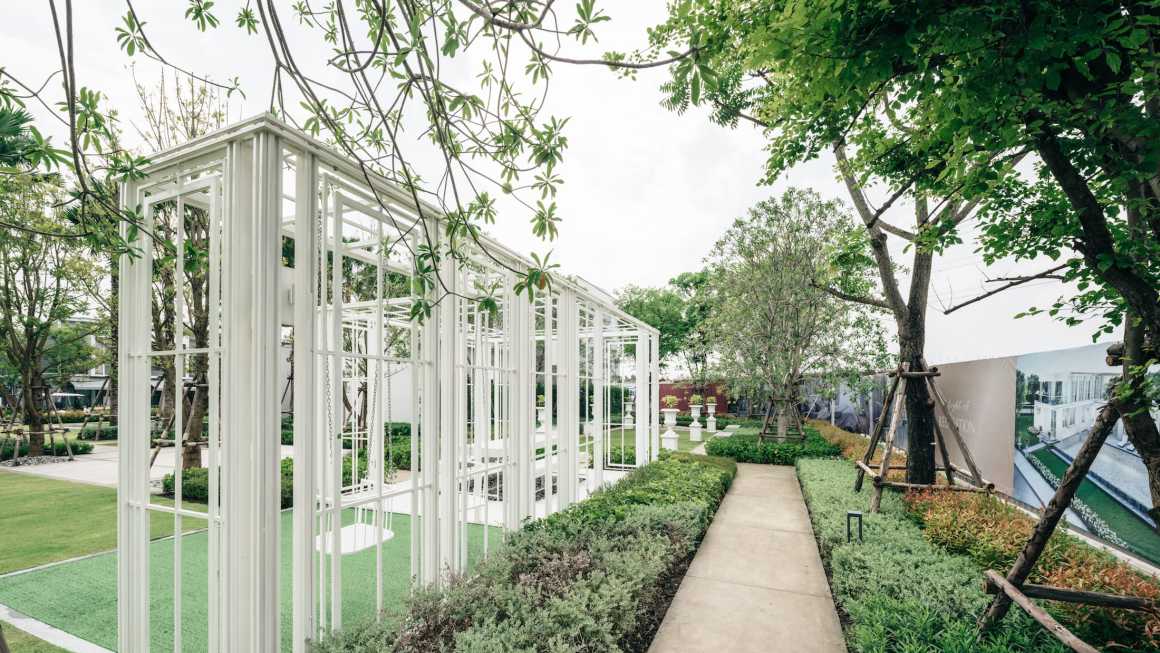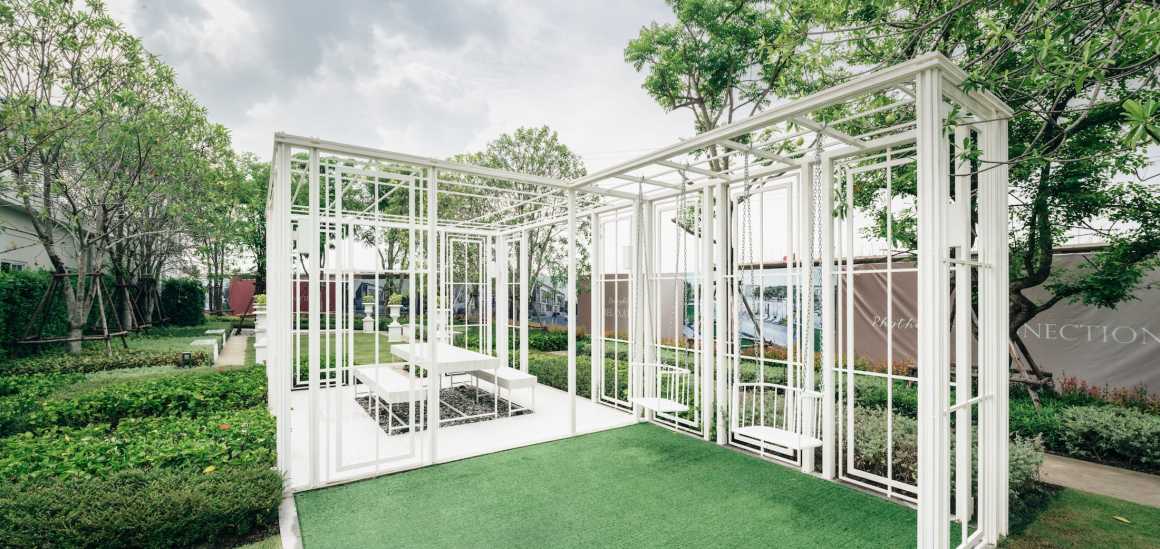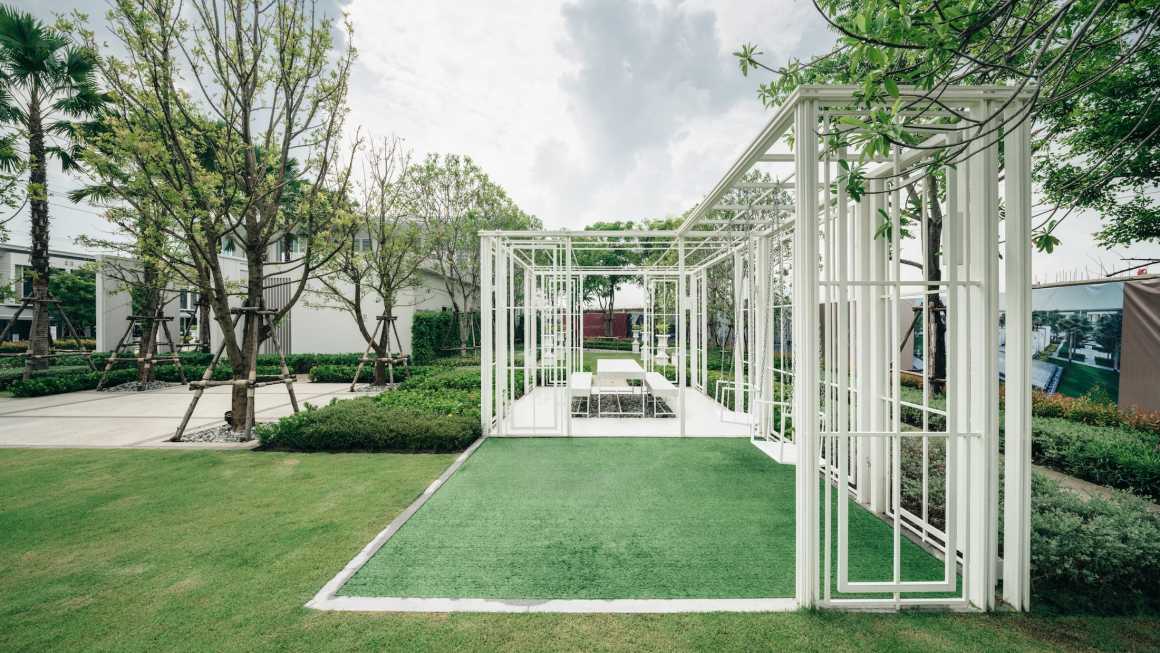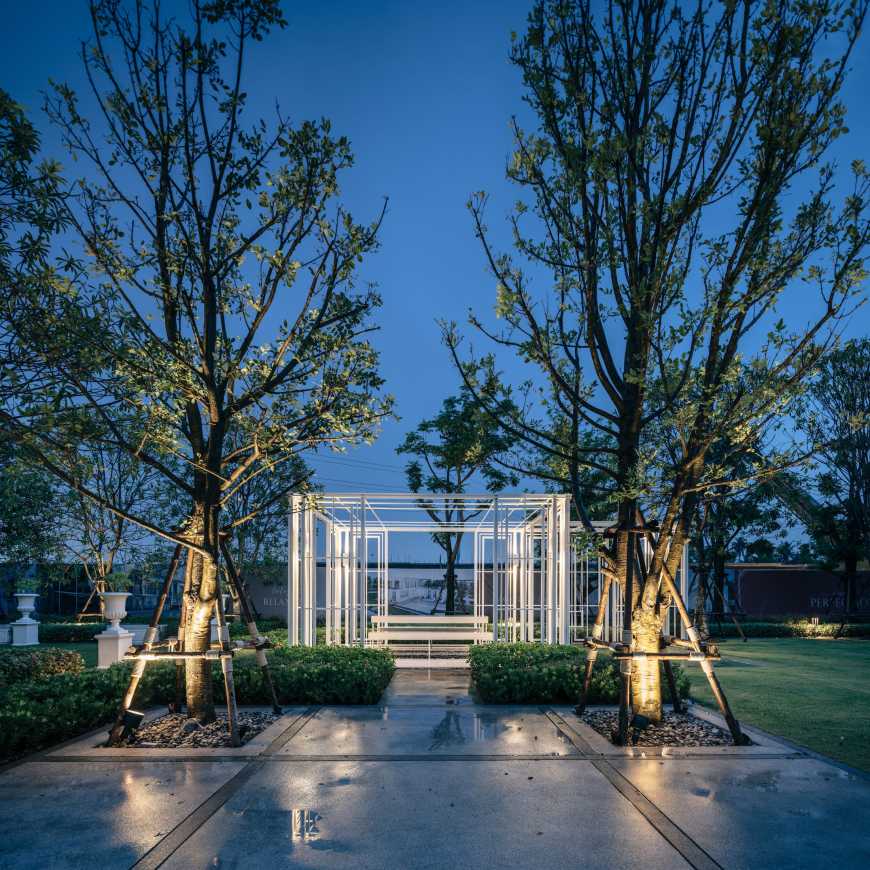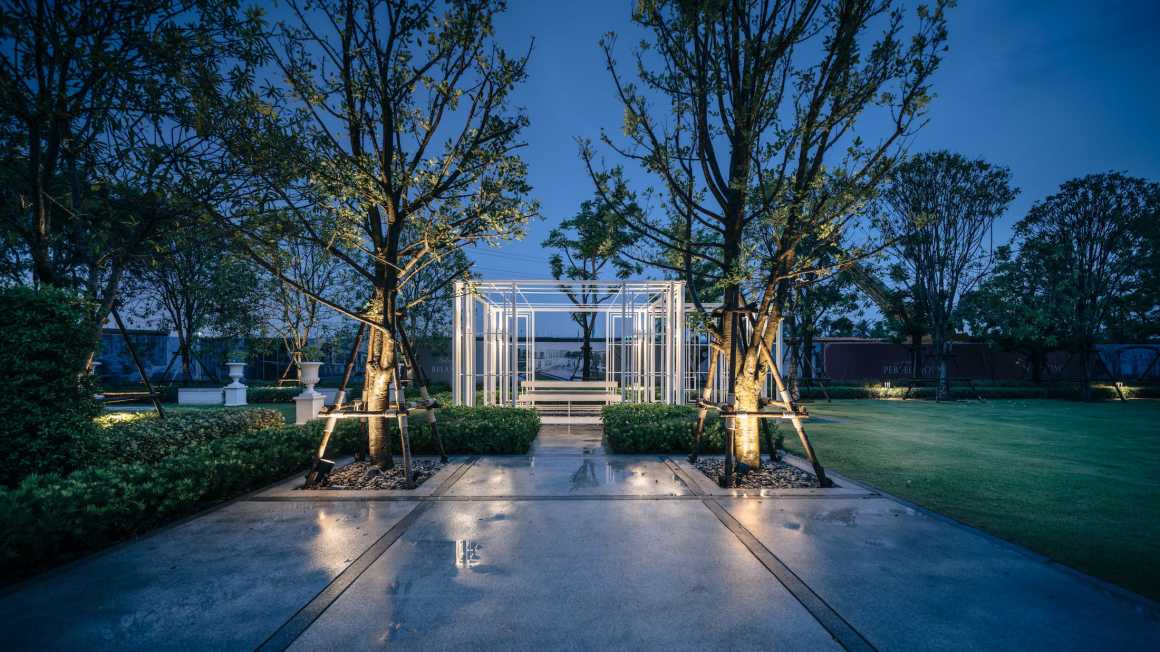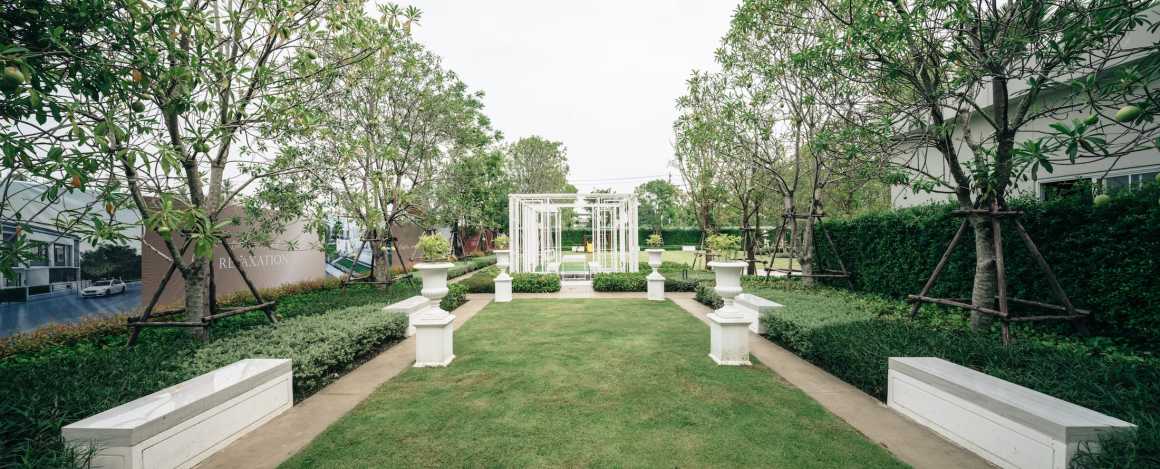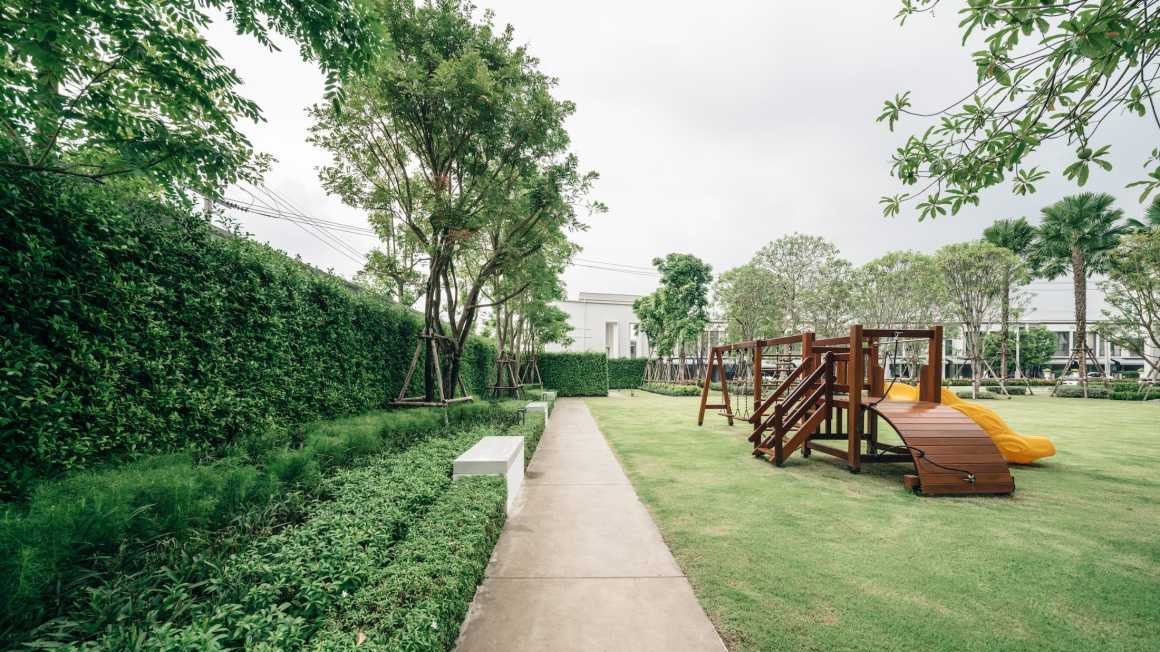 最后是销售中心,这里有一个L形户外景观空间,白色的亭子里有一套户外用餐的家具,这个亭子看起来和主公园的殖民时期的亭子很相似,室外露台区域在靠近厨房的房子后面,这里设有用于放置盆栽绿化的木凳和垂直嵌板。
Lastly, there is an L-shape outdoor landscape space at the sales gallery area. A furniture set of outdoor dining is proposed in a white pavilion that is similar look as the colonial pavilion at the main park. For outdoor terrace area, there are the timber bench and vertical panel for putting herb pots, provided at the back of the house that next to the kitchen room.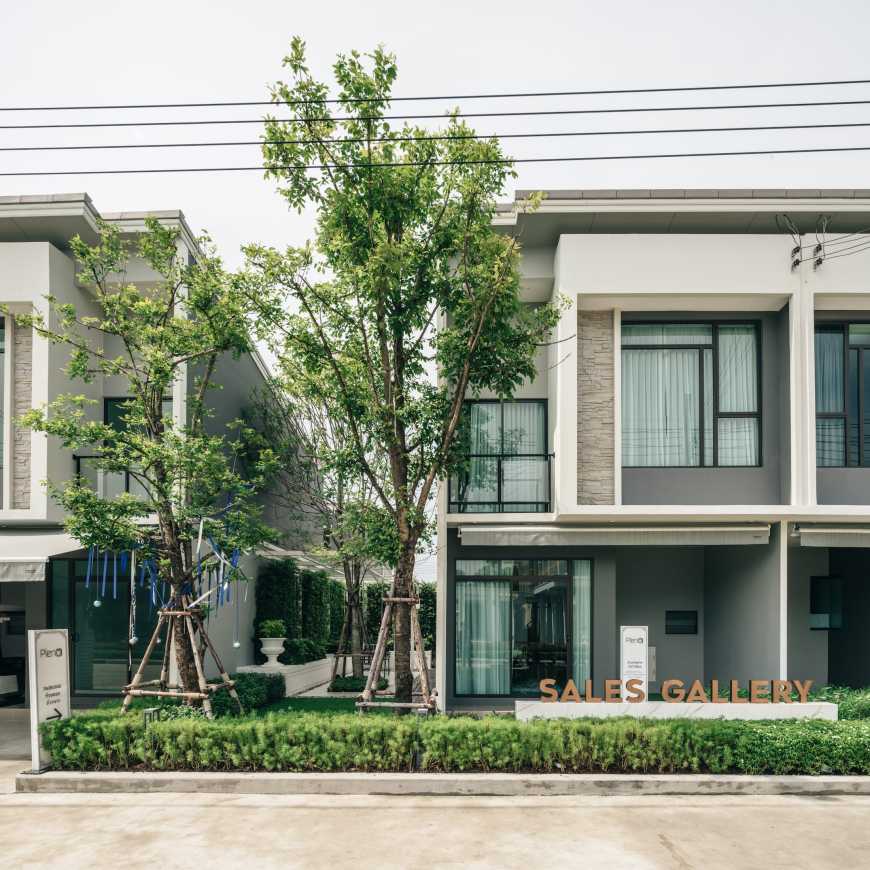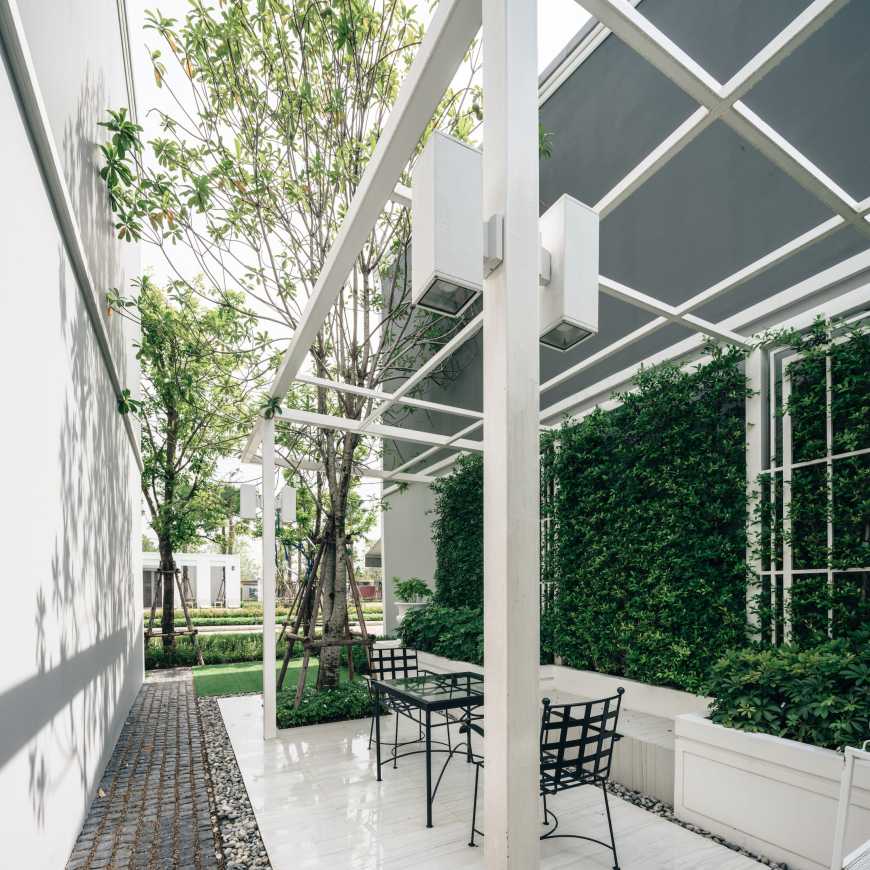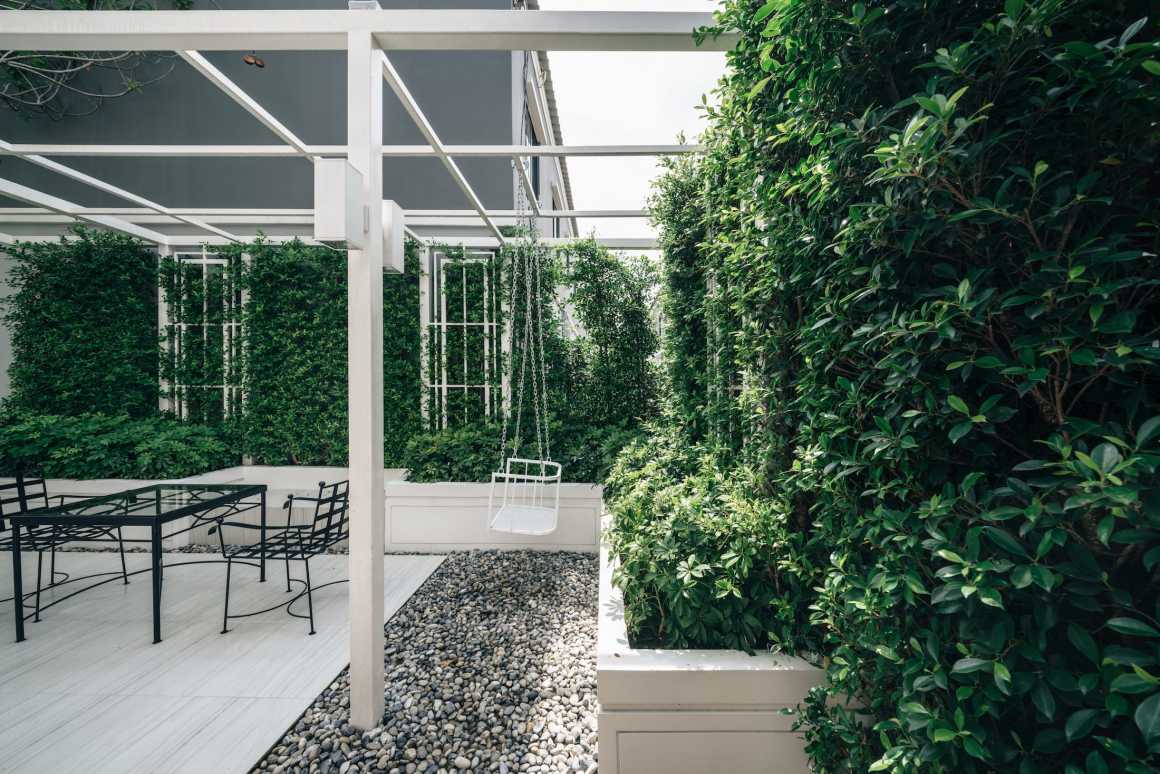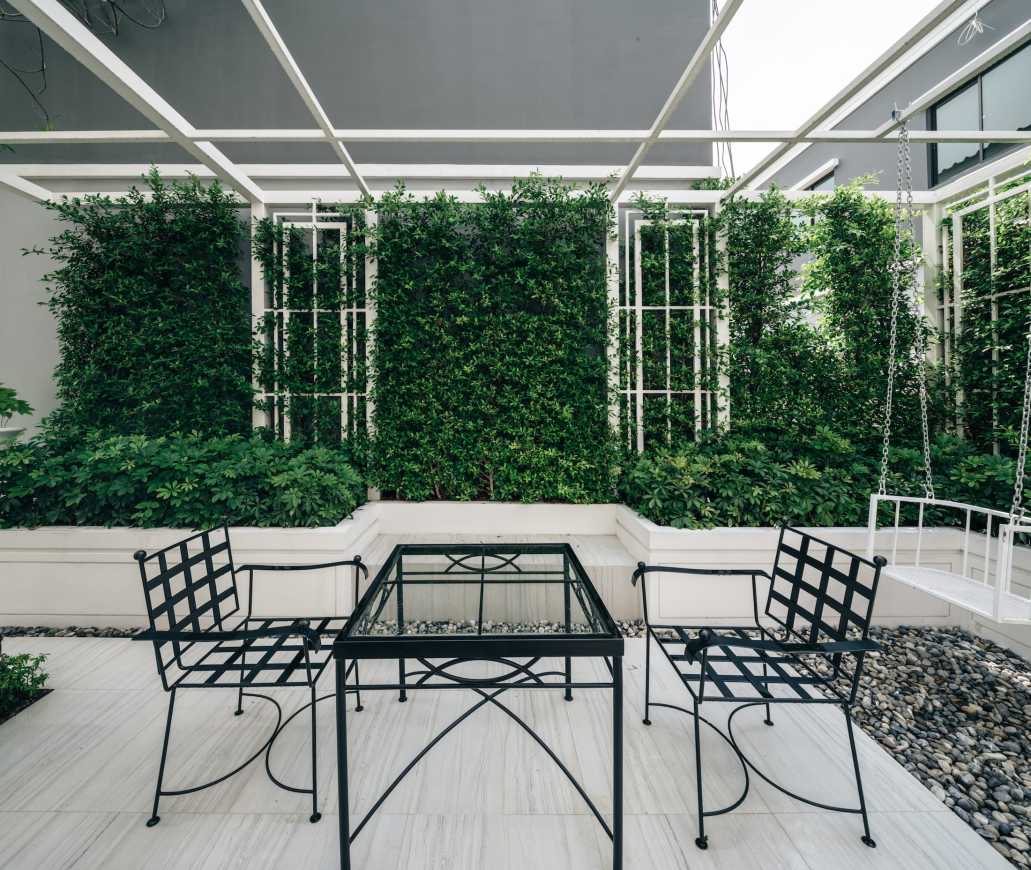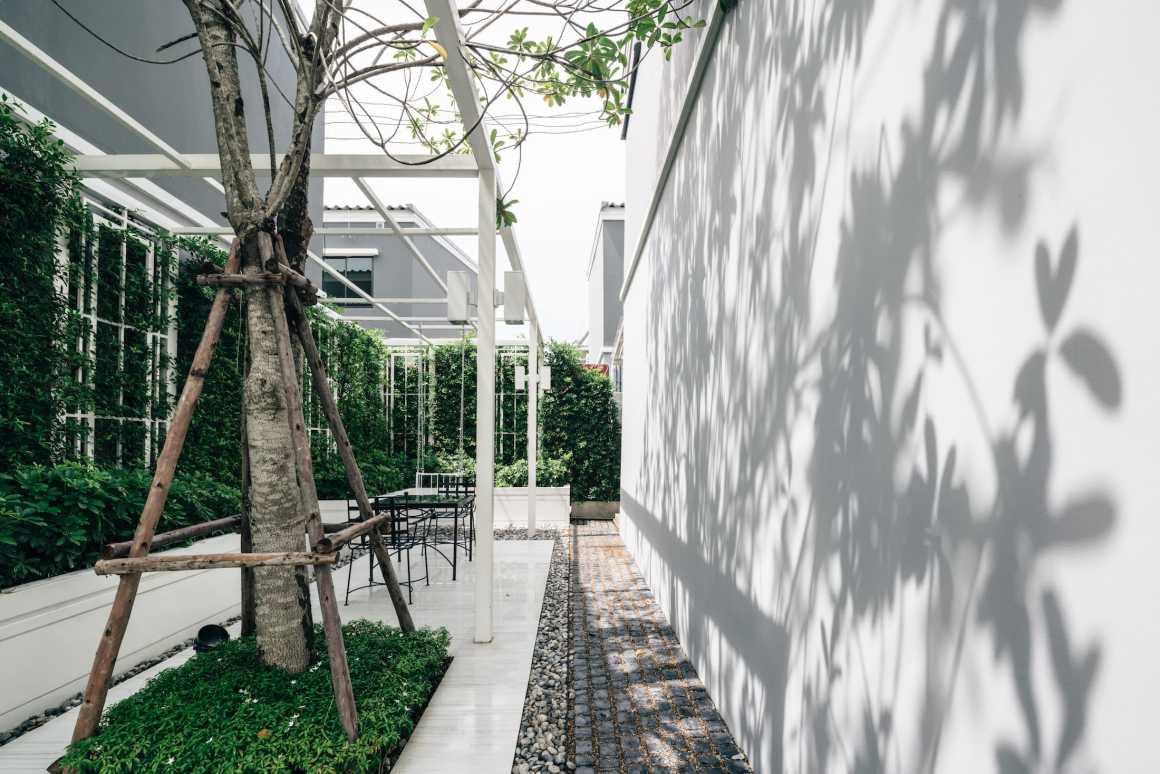 ▼景亭设计图 Pavilion drawings
项目名称:Pleno Pinklao-Charan
设计年及竣工年份:2017 / 2018年
设计公司:Kernel Design
主创设计:Ponlawat Pootai;Chaniyanan Roopkhajorn
项目地点:泰国
景观面积:2726平方米(主公园2200平方米;主入口395平方米;销售中心131平方米)
摄影:Chaovarith Poonphol Photography
建筑设计:Vorrarat Supachoke architects Co., Ltd (VSa Group)
软景观承包商:Green Space Co., Ltd.
客户:AP Thai
Project Name: Pleno Pinklao-Charan
Design year & Completion year: 2017 / 2018
Design Company: Kernel Design
Leader Design & Team: Ponlawat Pootai; Chaniyanan Roopkhajorn
Project location: Bang Kruai District, Nonthaburi, Thailand
Landscape Area: Total 2,726 sq.m.(Main Park 2,200 sq.m.; Main Entrance 395 sq.m.; Sales Gallery 131 sq.m.)
Photo credits: Chaovarith Poonphol Photography
Architect: Vorrarat Supachoke Architect Co., Ltd. (VSa Group)
Softscape Contractor: Green Space Co., Ltd.
Clients: AP (Thailand) Public Company Limited
更多 Read more about: Kernel Design