本文由 Ground Inc. 授权mooool发表,欢迎转发,禁止以mooool编辑版本转载。
Thanks Ground Inc. for authorizing the publication of the project on mooool, Text description provided by Ground Inc..
Ground Inc.:塔夫茨大学协作学习与创新中心以创新、协作和可持续为使命,融合校园学术部门和学习实验室,激发了一种新的教育模式。同样,其景观设计也以一种新的可持续发展策略为特色,为用户创造了多种户外社交空间。
Ground Inc.:With a mission of innovation, collaboration and sustainability, the Collaborative Learning and Innovation Center at Tufts University mixes academic departments and learning labs to inspire new models of education. Correspondently the landscape was designed to feature sustainable strategies that were new to Tufts and to provide a variety of outdoor social spaces.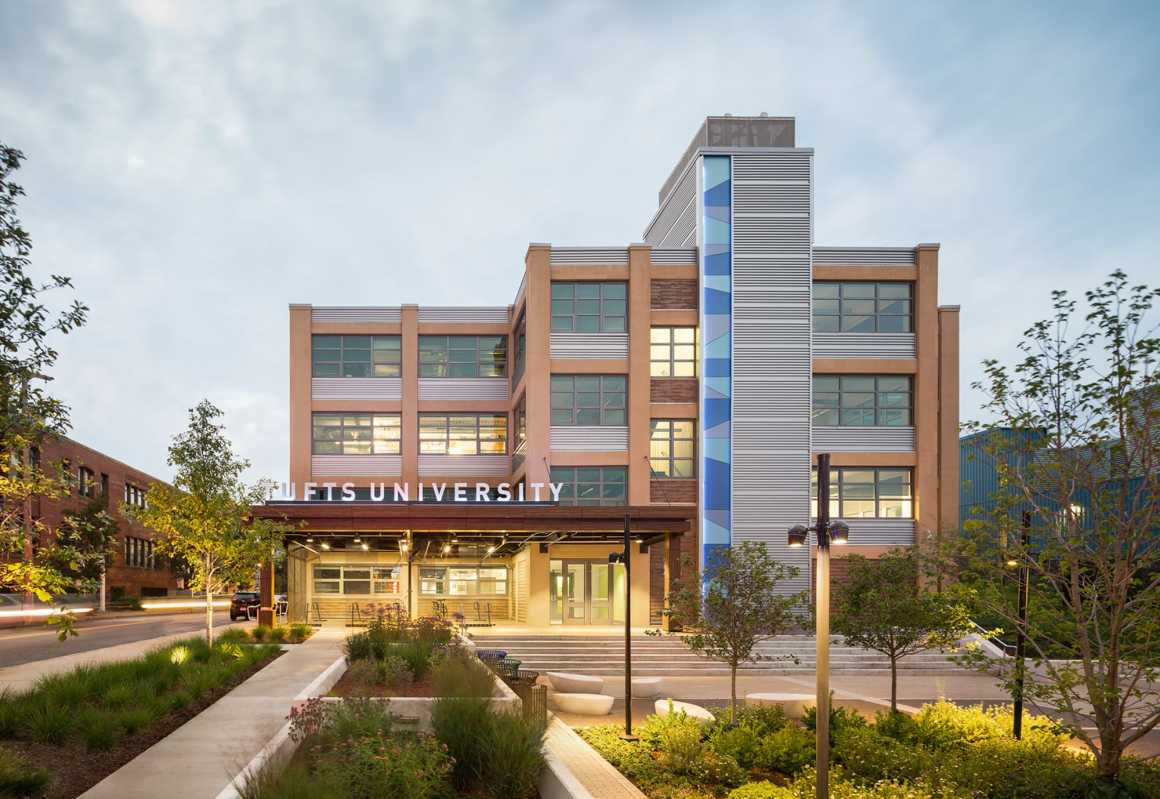 项目最初的可持续设计策略是为方便行人和自行车通行,所以改造前的沥青停车场和仓库建筑都位于较为突出的位置。通过一次高度包容的互动专家研讨会后,我们将场地改造从原规划目标转向了新的停车场,在工作室里使用了大量的物理模型模拟测试了从所有停车场到自行车停车场的各种路线效果,并最终决定将该停车场改造成一个门户袖珍广场。
Formerly an asphalt parking lot and warehouse building on a prominent site, the initial sustainable strategy was to promote pedestrians and bicycles over vehicles. Through a highly inclusive and interactive charrette, the site program was shifted away from the original plan of a new parking lot. Large scale physical models were used in a workshop to test options that ranged from all parking to only bicycle parking, resulting in enthusiastic support for the transformation of the parking lot into a gateway pocket plaza.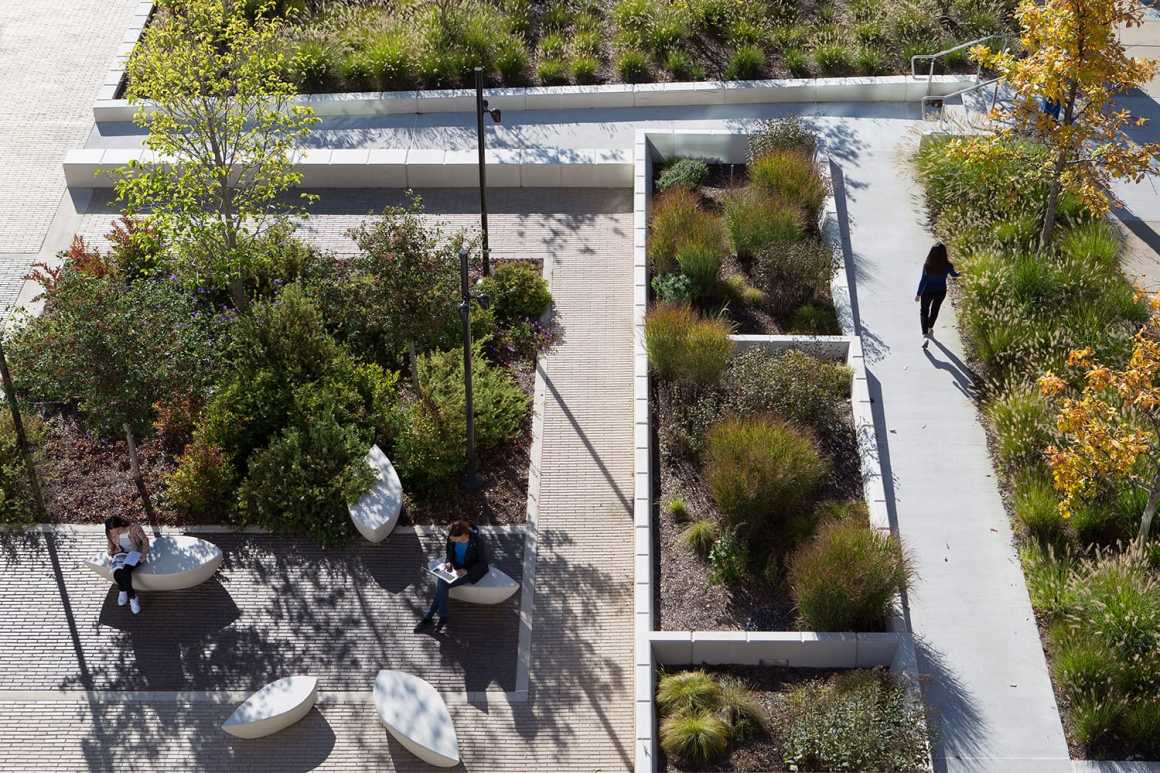 景观设计创建了一系列从休闲座位到非正式户外教室的活动空间,同时以一种巧妙实用的方式展示了最佳的管理实践。
The landscape design provides for a range of activities, from casual seating to informal outdoor classrooms, while showcasing best management practices in an artful and functional way.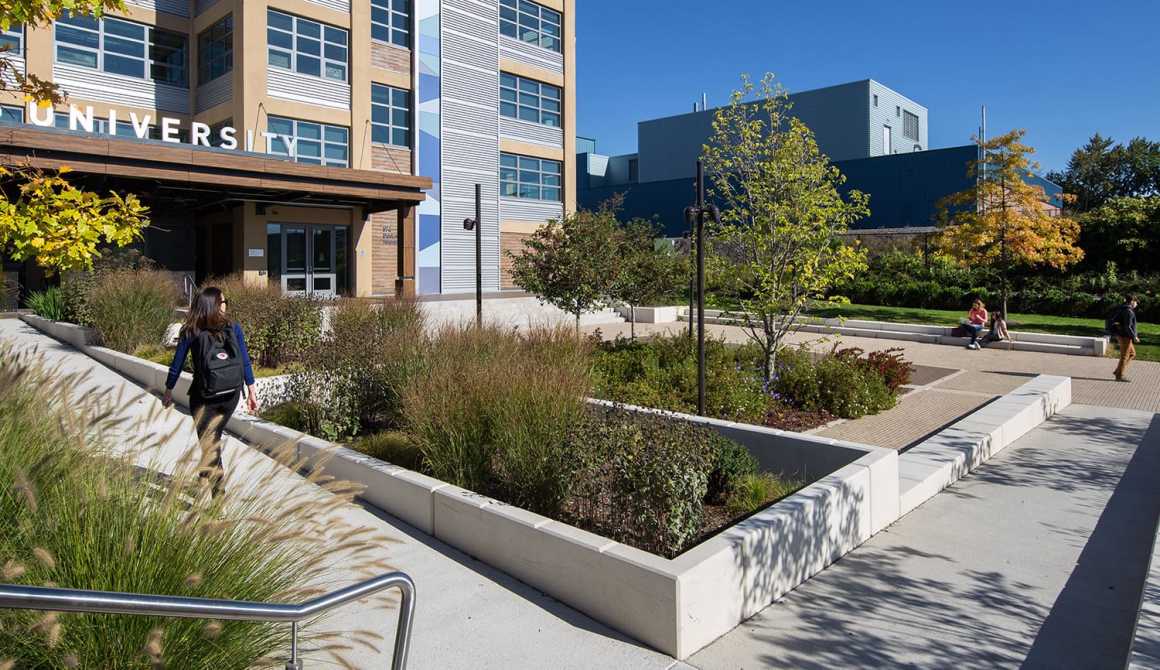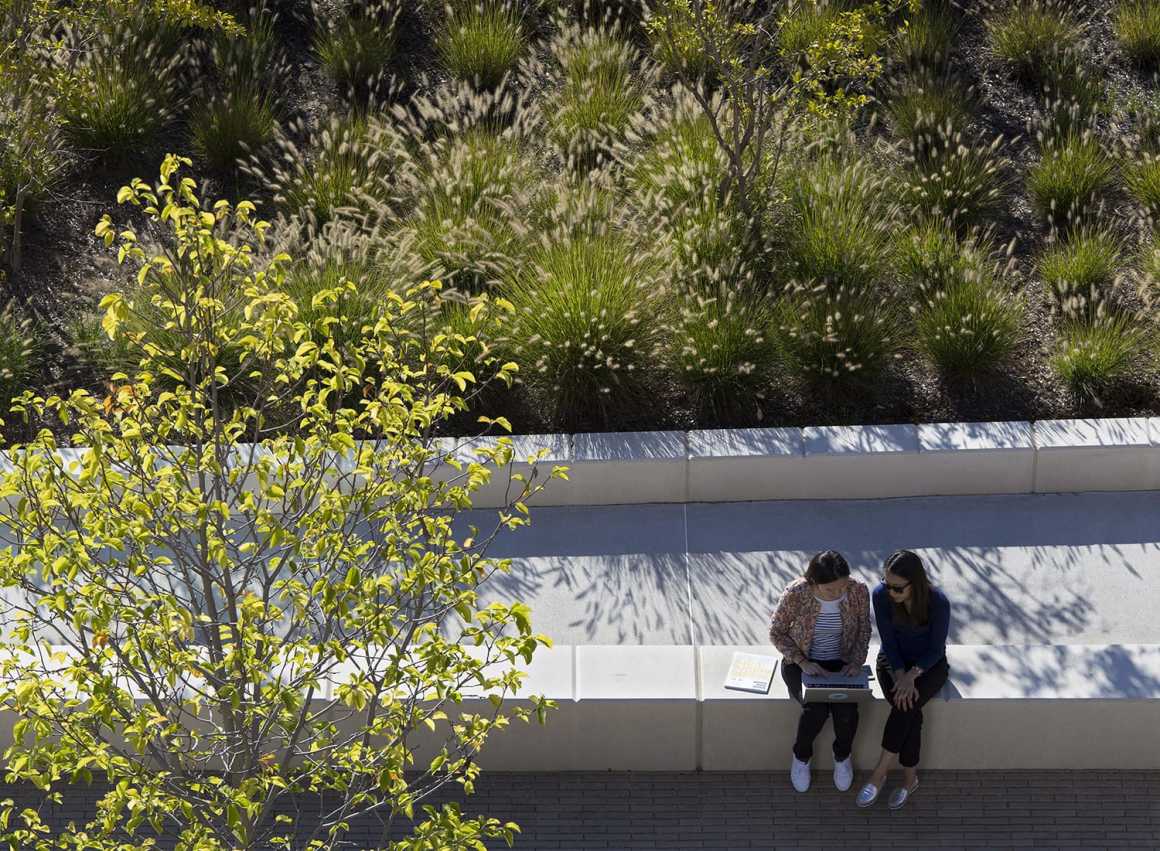 位于广场中心的分层雨水花园收集并过滤从屋顶流出的雨水,从而突出自然系统,创造学习景观。雨水花园的每一处凹地都种植了不同的植物群落,包括耐旱和抗洪性品种。
多样化的种植设计在提供季节性观赏景观的同时,也为周围的交通提供了缓冲空间。考虑到自然竞争,植物种植设计还结合了本地和外来适应性物种进行组合。小庭院中的四个"试验花园"就混合种植了四种不同的本土地被植物,用以监测它们在这种环境中的不同表现。客户也理解这种动态群落就意味着最终只有部分物种会占据主导地位,其他物种则可能会因要让位于它而逐渐消失。
A tiered rain garden at the center of the corner plaza collects run off from the roof showcasing the filtering and movement of the water; thus highlighting the natural systems to create a learning landscape. Each bay of the rain garden is planted with a different mix that includes species tolerant to both inundation and drought.
Textural and varied planting provides seasonal interest and a buffer from the surrounding traffic. The planting uses a mix of native and adapted species with natural competition in mind. Within the smaller courtyard four "test gardens" were planted with four different mixes of native groundcovers to try out their performance in this setting. The client understood that the dynamic nature of these communities meant that some species will eventually dominant while others may give way.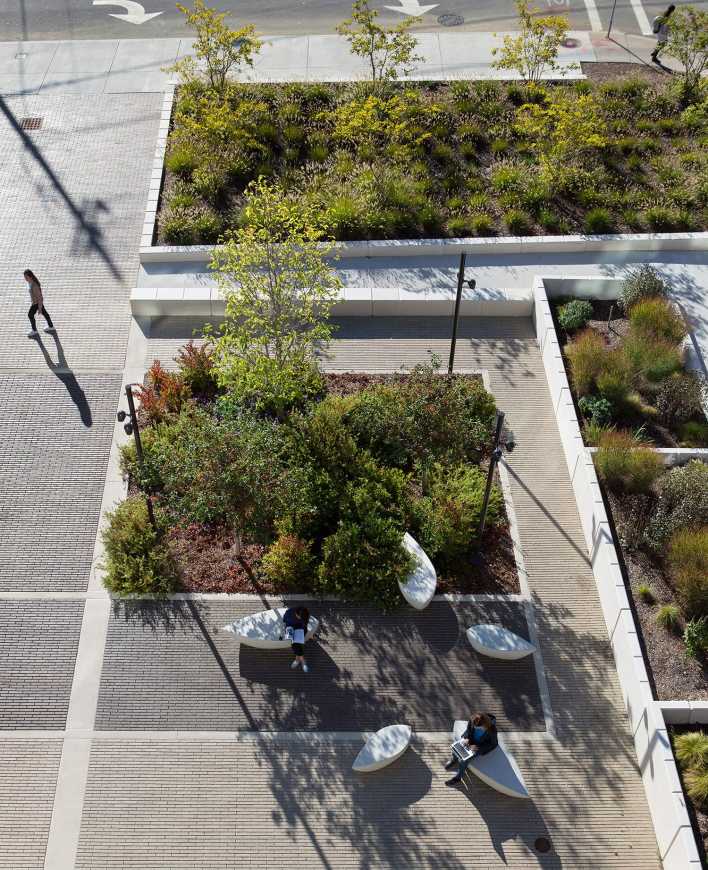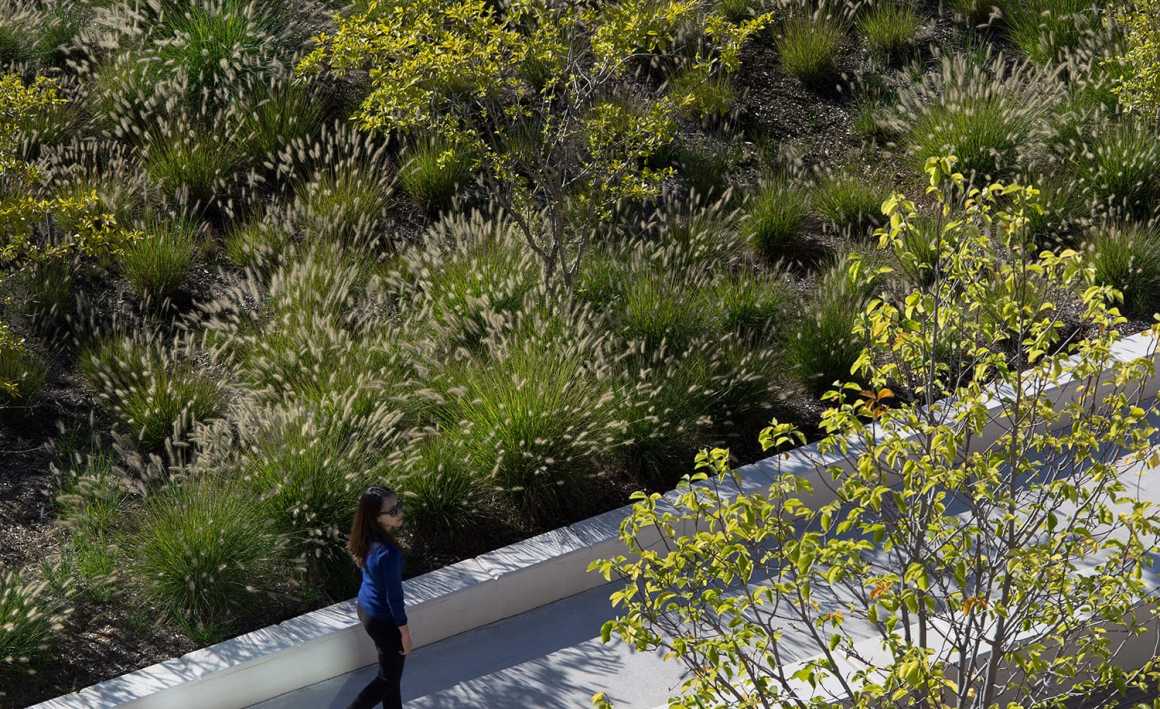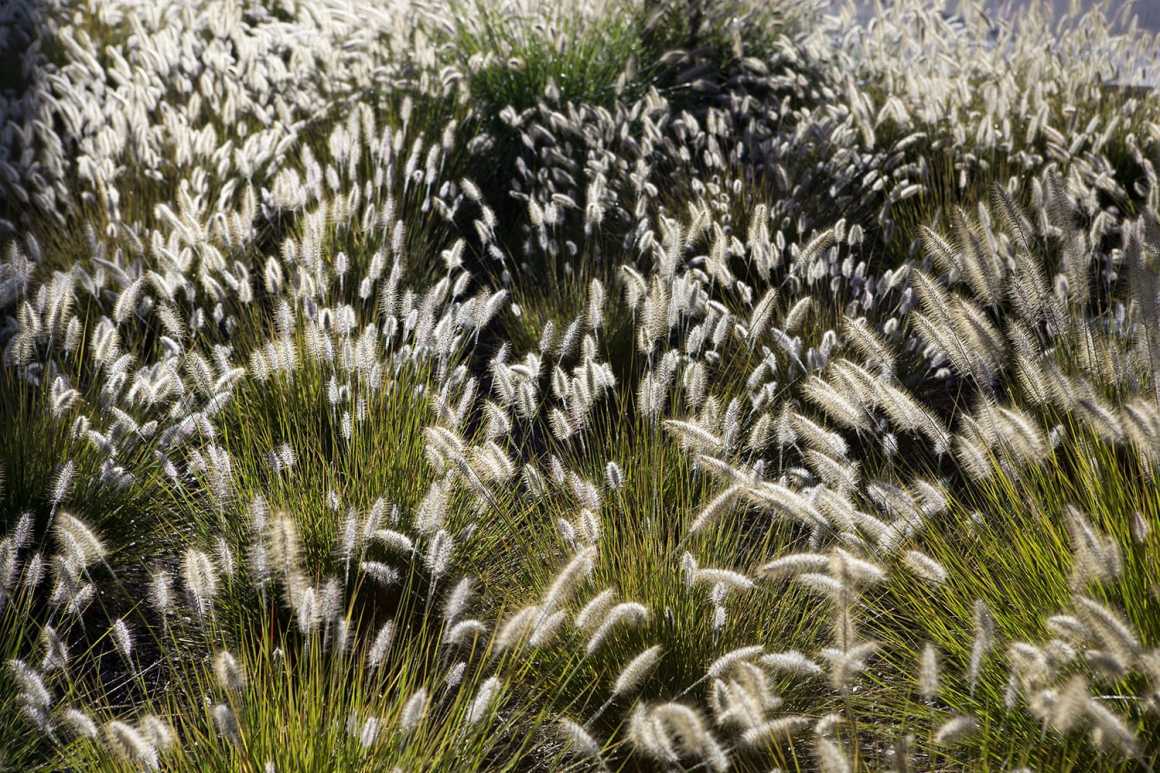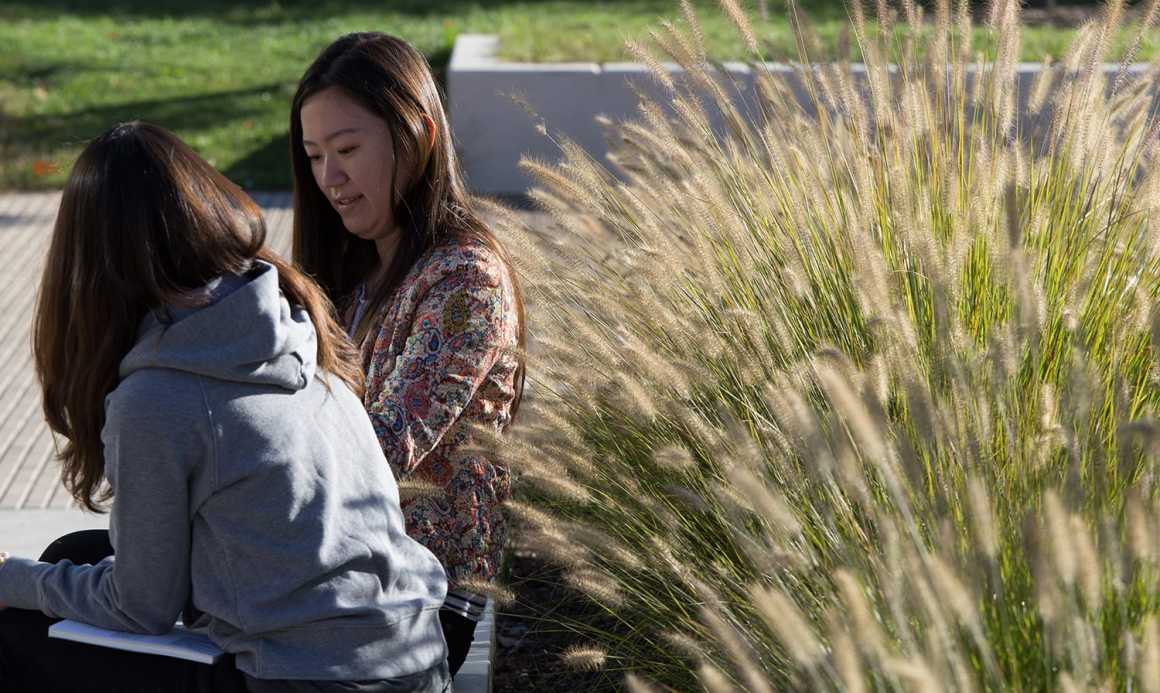 我们在整个设计中使用了两种色调的透水砖铺装。基于场地中两条宽阔消防通道的硬性需求可能会改变空间的特性,我们采用了一个策略,即在广场区域内使用一个特殊的结构底基层整合消防车道,同时在地面上保持连续的行人通道。
Permeable brick pavers in two tones are used throughout the design. The requirement of two wide fire lanes threatened to change the character of the spaces, but a strategy was found to incorporate the fire lanes within the plaza areas using a special structural subbase, while on the surface having a continuous pedestrian character.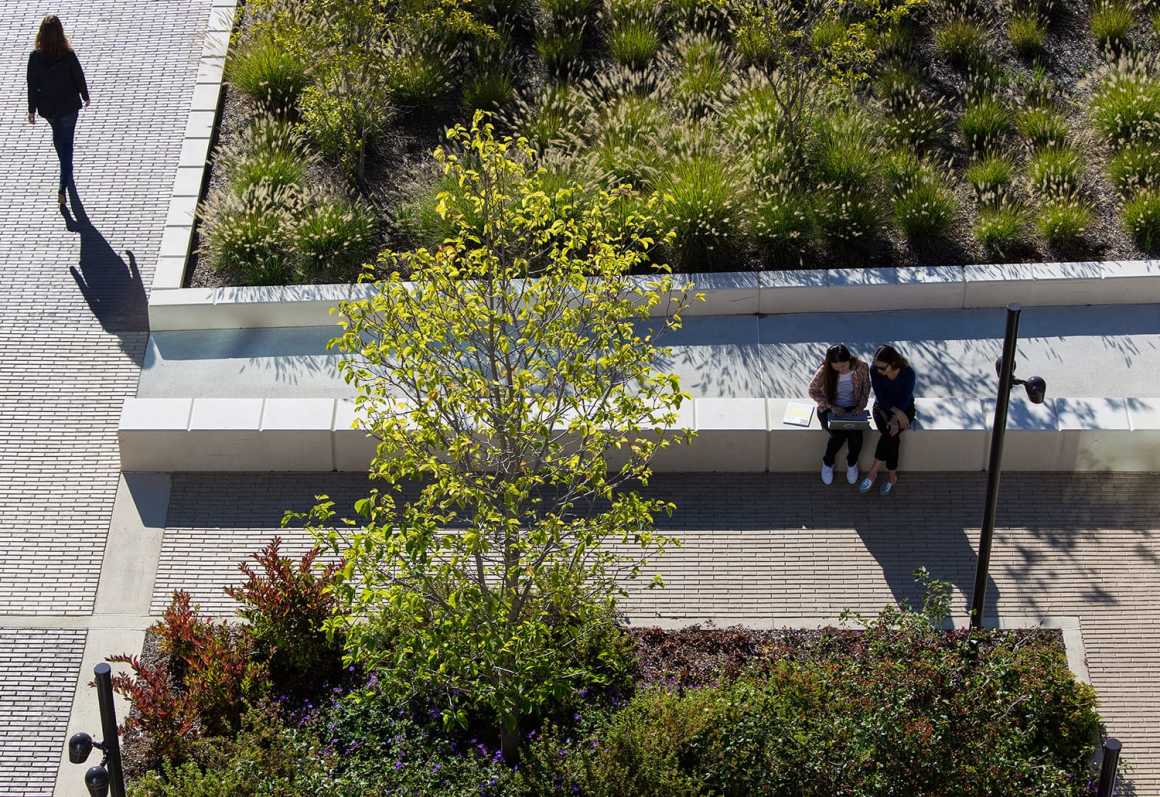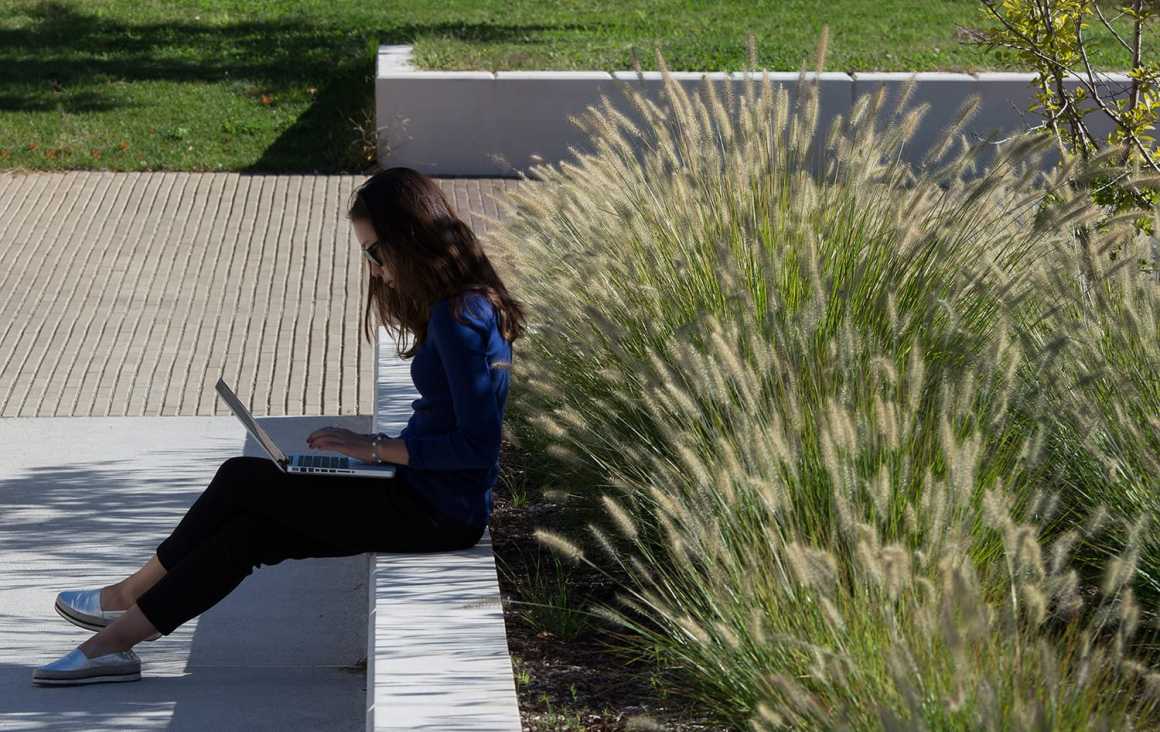 雕塑式的座椅墙和定制的叶状长椅为学生提供了课前集合或看书放松的空间,它们所使用的相同材质也统一了整体设计;滑板障碍物投影在墙壁上是塔夫茨大学的LOGO;建筑两端的入口侧有两个带顶的自行车停放区,代表塔夫茨对倡导使用自行车作为交通工具的坚定承诺。
Sculptural seatwalls and custom leaf shaped benches offer areas where students can gather before class or relax with a book, their material giving a unified character to the overall design. Skateboarding deterrents are subtly cast into the walls, in one location in the form of a Tufts logo. At either end of the building two covered bicycle parking areas flank the entries, signaling Tuft's strong commitment to bicycle use for transportation.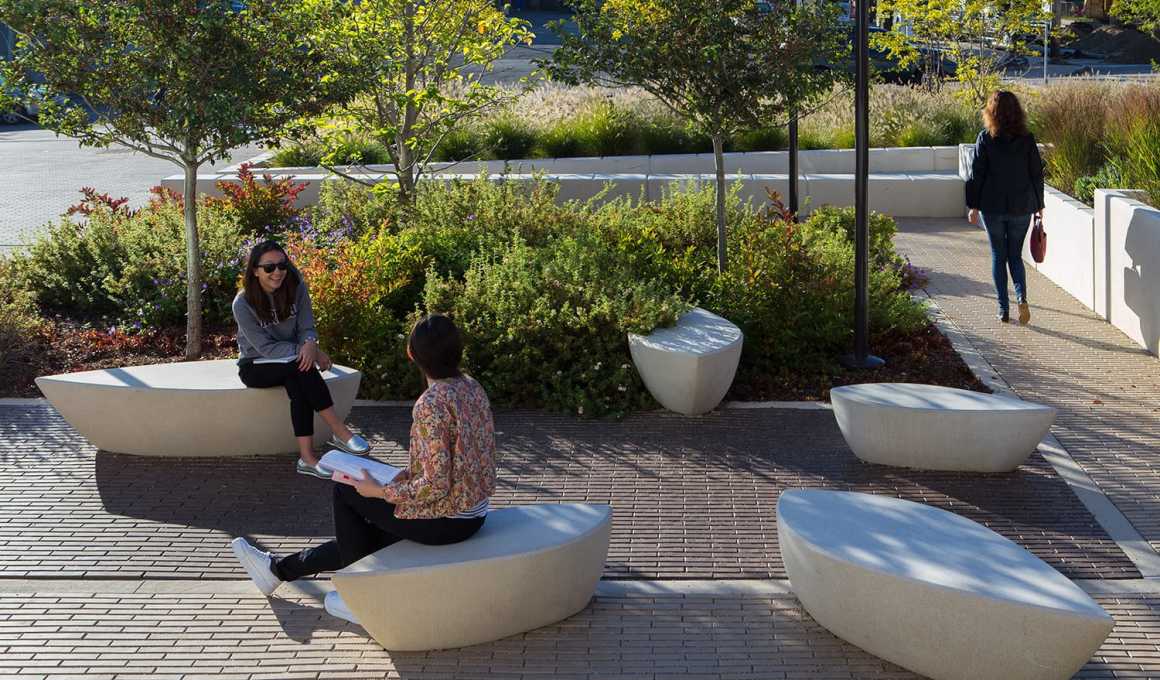 塔夫茨创新中心与相邻的仓库建筑通过一个小庭院相互连接,仓库现已被改造成了一家餐厅,其新增的串灯和可移动桌椅为人们提供了充满活力的季节性户外使用空间,并帮助将大学建筑融入邻近的住宅结构中。
A smaller courtyard connects the Tufts Innovation Centre to an adjacent carriage house building that has been transformed into a local restaurant. String lights and moveable tables provide for lively outdoor seasonal use and help knit the university building into the adjacent residential fabric.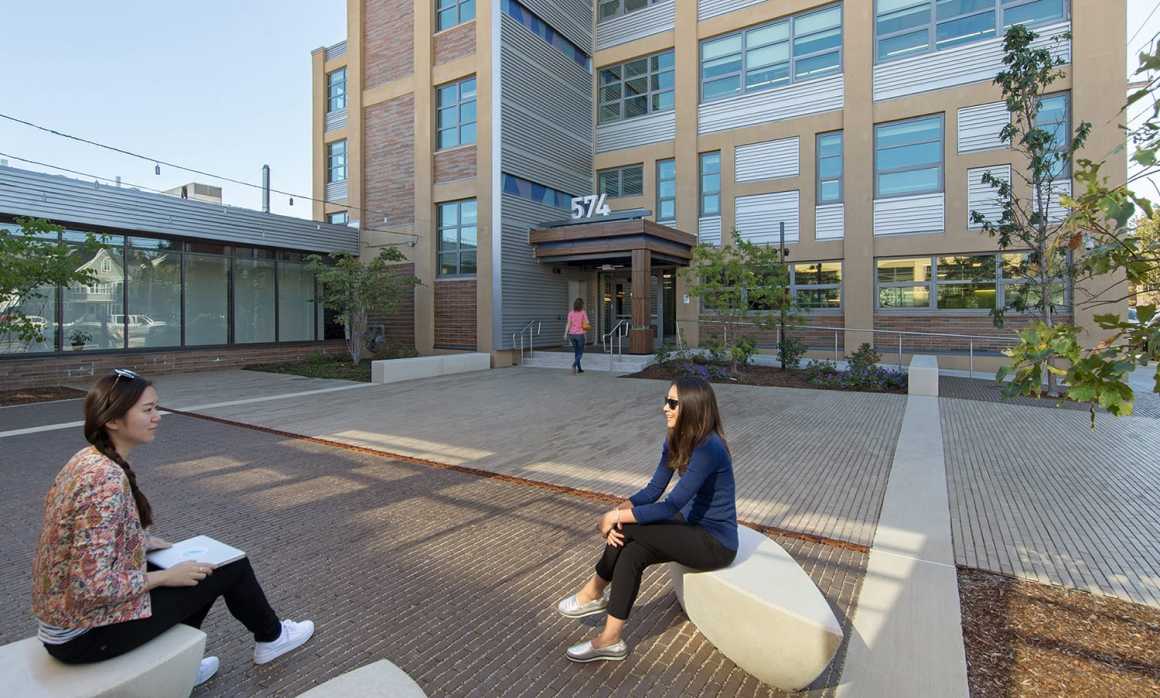 景观设计:Ground Inc.
文字说明:Cesare Cascella
地点:美国 马萨诸塞州 梅德福
客户:塔夫茨大学
建筑:ADD Inc.
项目年份:2015年
项目图片:Trent Bell, Chuck Choi
奖项:2019年BSLA优秀设计奖
Landscape design: Ground Inc.
Text description: Cesare Cascella
Location: Medford, MA
Client: Tufts University
Architect: ADD Inc.
Year: 2015
Photo Credits: Trent Bell, Chuck Choi
Awards: 2019 BSLA (Boston Society of Landscape Architects) Merit Award in Design
更多 Read more about: Ground Inc.