本文由OMGEVING授权mooool发表,欢迎转发,禁止以mooool编辑版本转载。
Thanks OMGEVING for authorizing the publication of the project on mooool, Text description provided by OMGEVING.
OMGEVING: 设计的初衷是为了衬托周围历史建筑的气势,而不是与这些建筑争高下。新的广场落成以后,穿过迪斯特修道院的门房,你会看到修道院宿舍群以及它在水中摇曳的倒影。下雨天,镜面水池里就会集满广场上的地表径流,雨水汇集在一个略微凹陷的表面,形成了这个大水坑。通过这样的方式使庭院的灵活性得到了保证,也能引导院落里的积水排出,从而增加了院落在各种活动中的使用面积。
OMGEVING: Rather than competing with the surrounding historical buildings, it only works to enhance their strong presence. Walking through the gatehouse of Averbode Abbey now, after the realisation of the square's new design, one is confronted with a picturesque view of the abbots' quarters and its shimmering reflection in the water. On the rainy days the water mirror is filled up with rainwater flowing down from the square which is collected in a slightly depressed surface creating this large puddle. The flexibility of the courtyard is guaranteed with the possibility to drain the water from its resting place, thus increasing the usable area of the courtyard for various events. 
▼场地鸟瞰  Aerial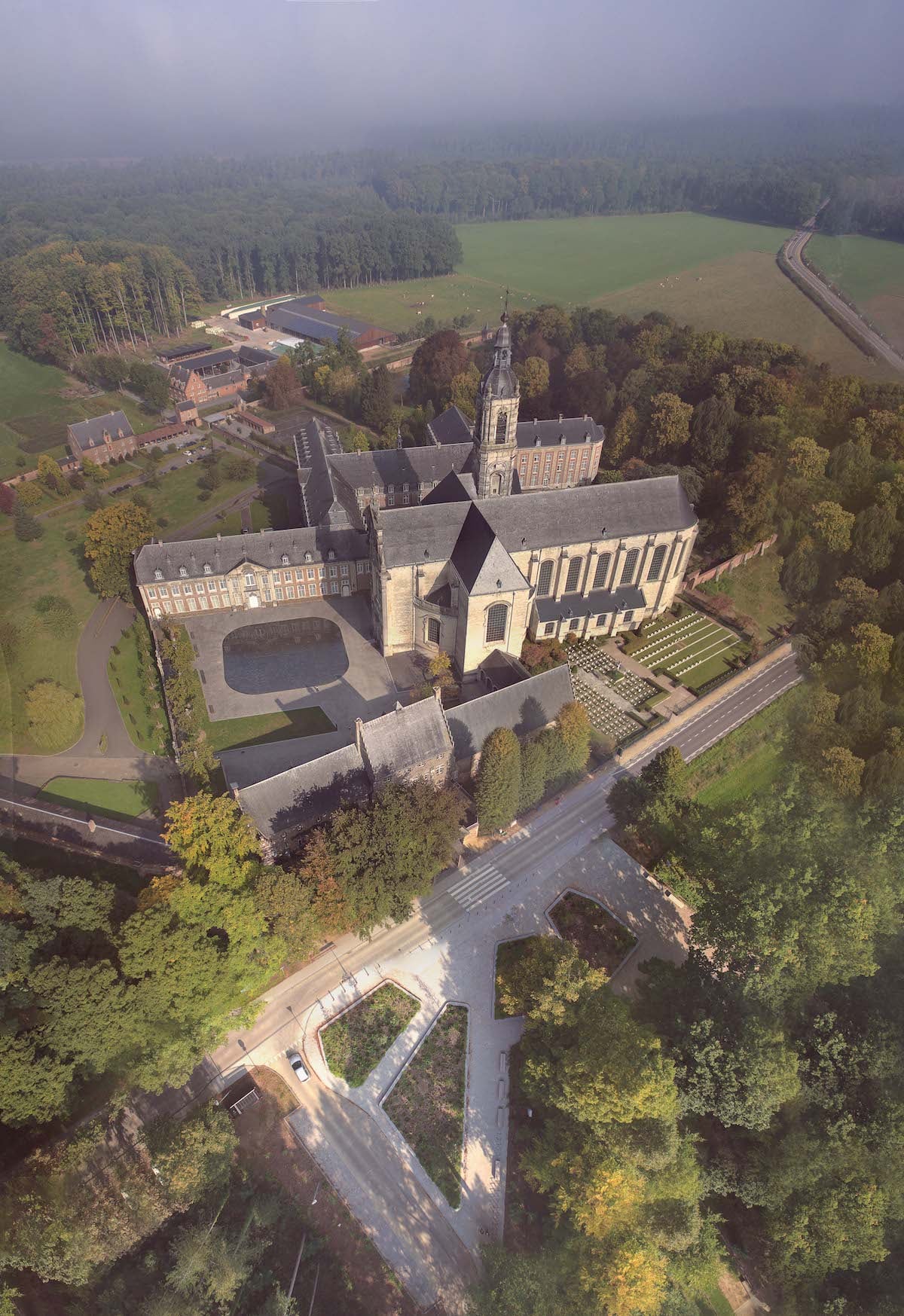 ▼广场的设计力求简洁,与周围环境相协调  The square's design strives towards simplicity and homogeneity with its context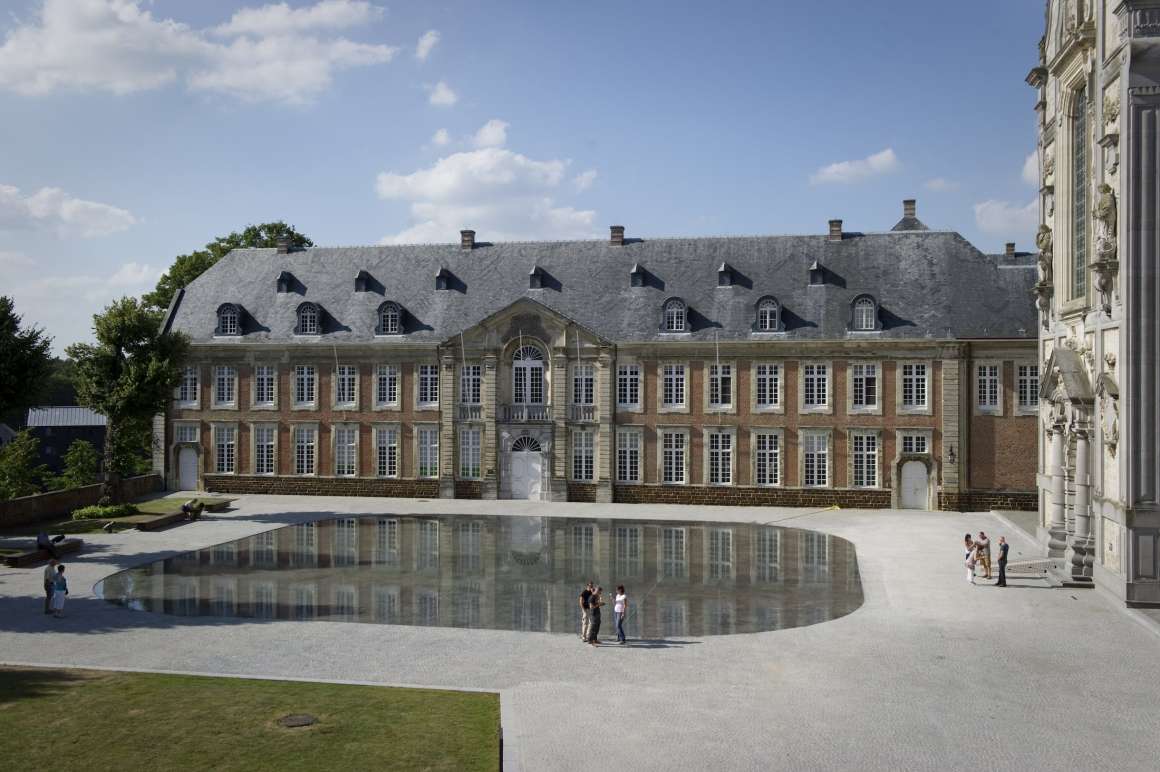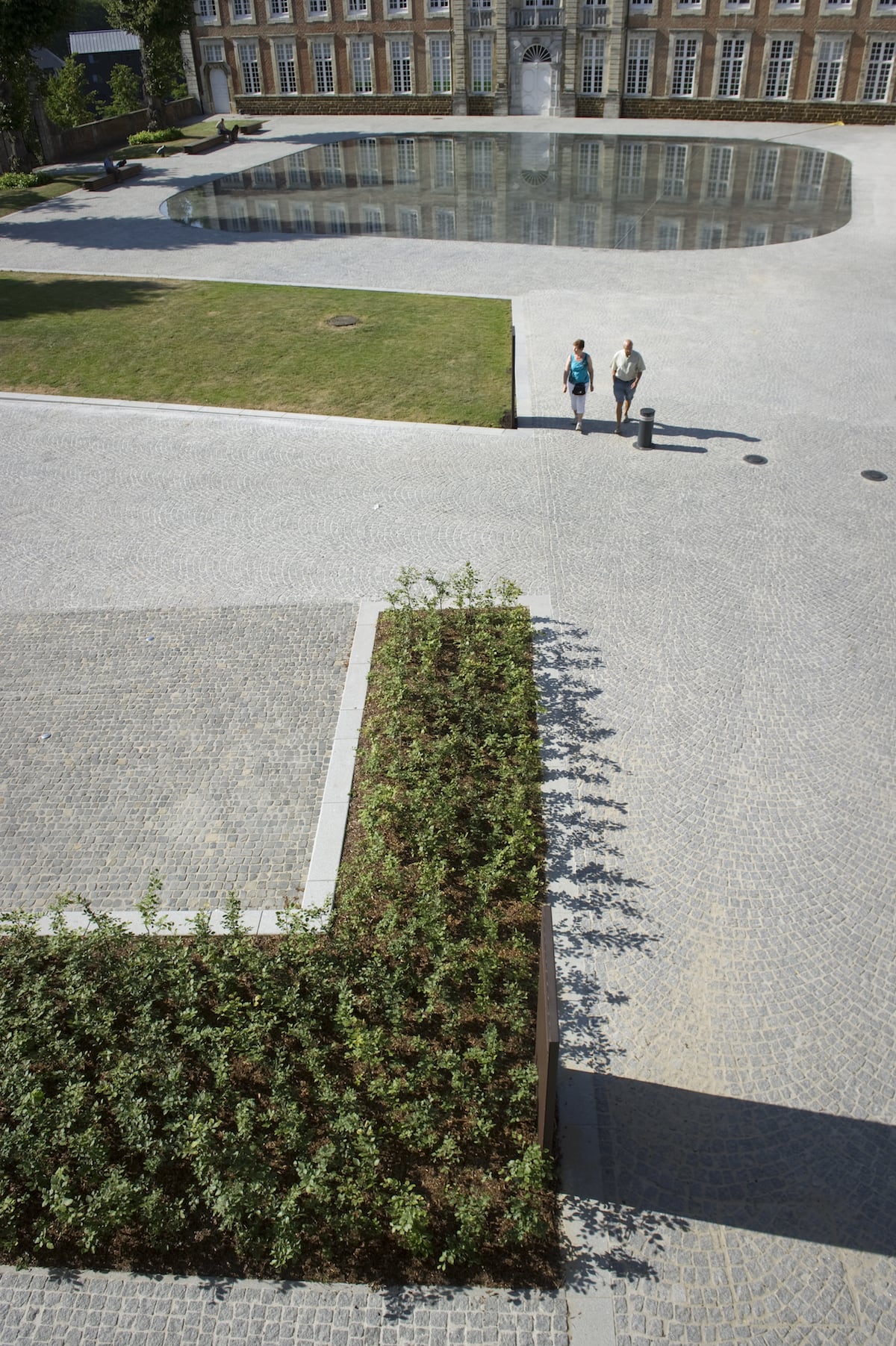 ▼平静开阔的浅水面满足人们的亲水活动  The open water mirror meets people's hydrophilic activities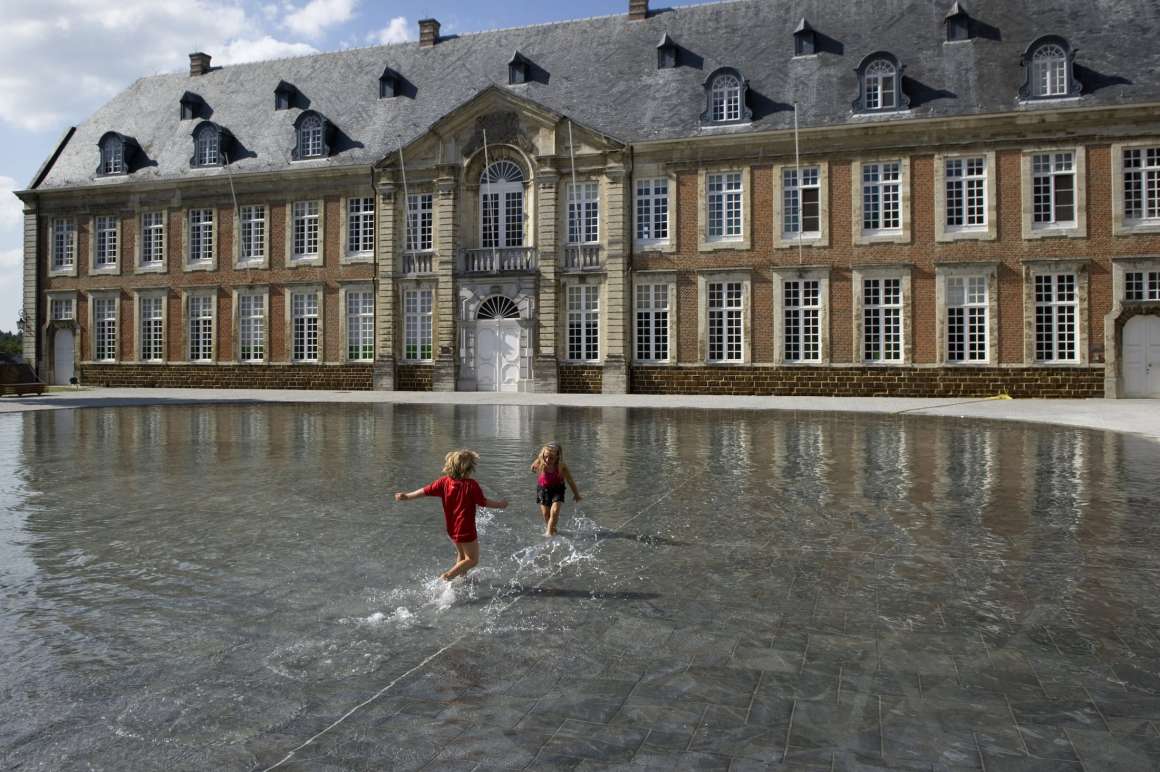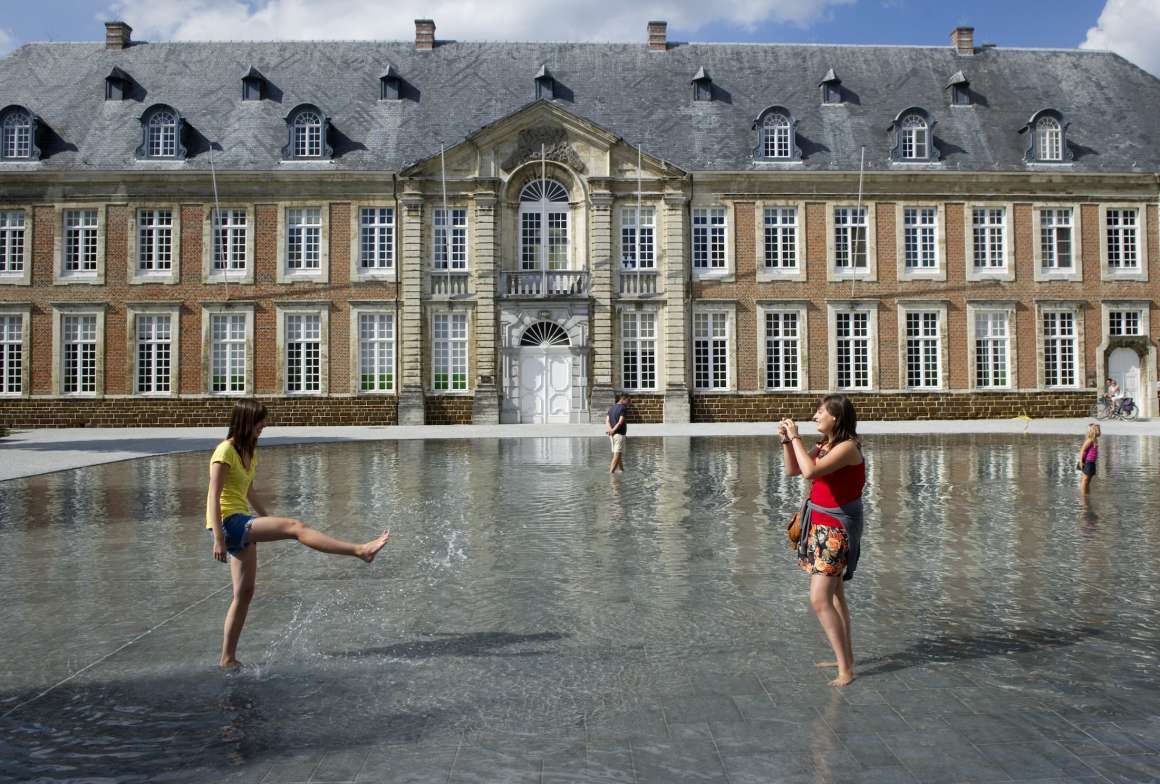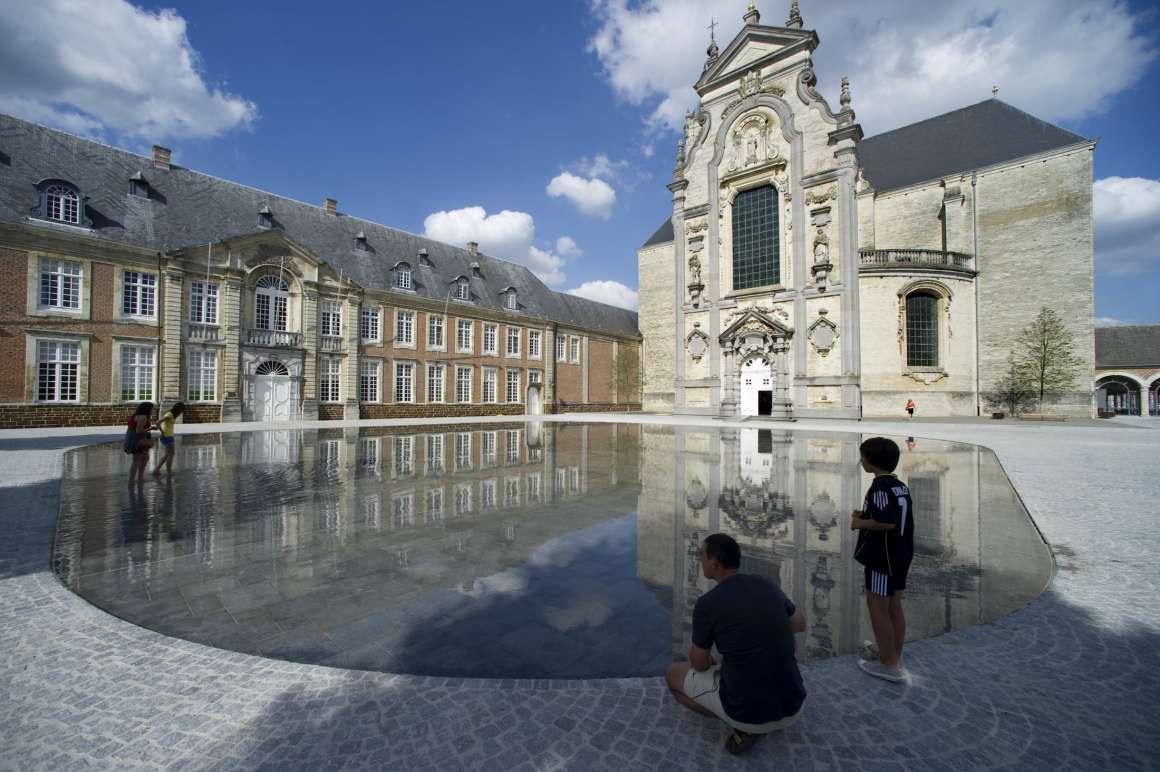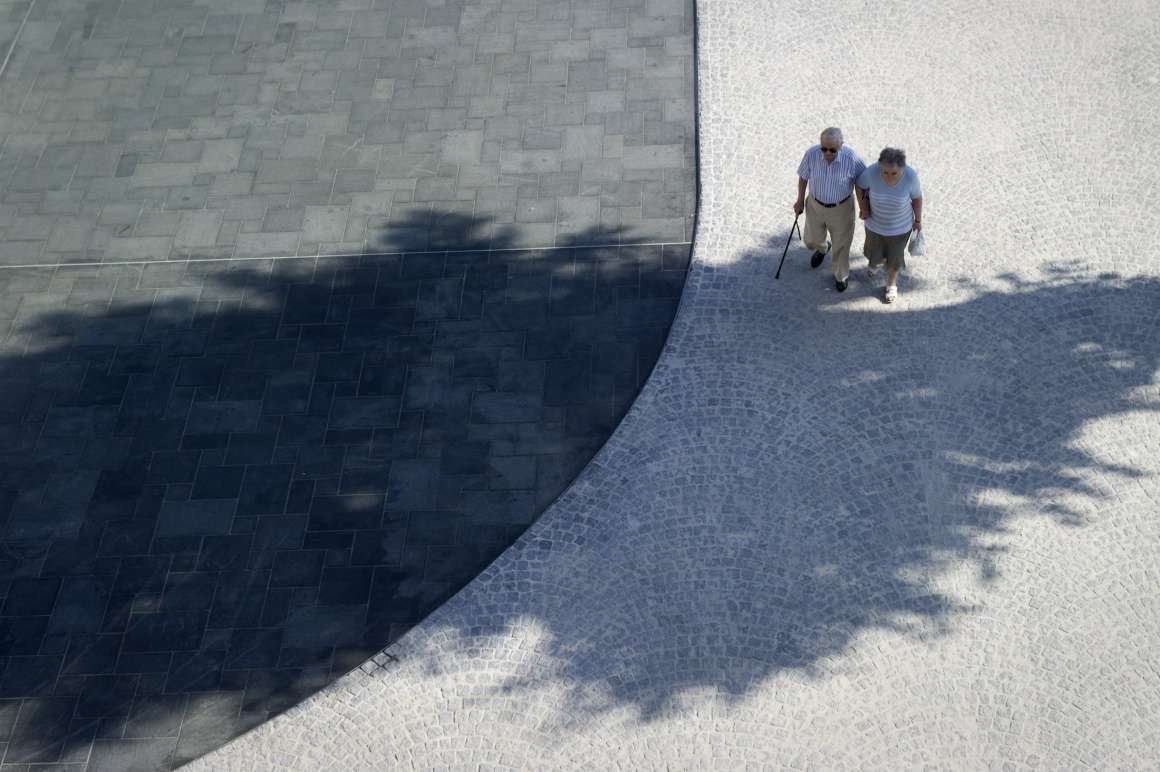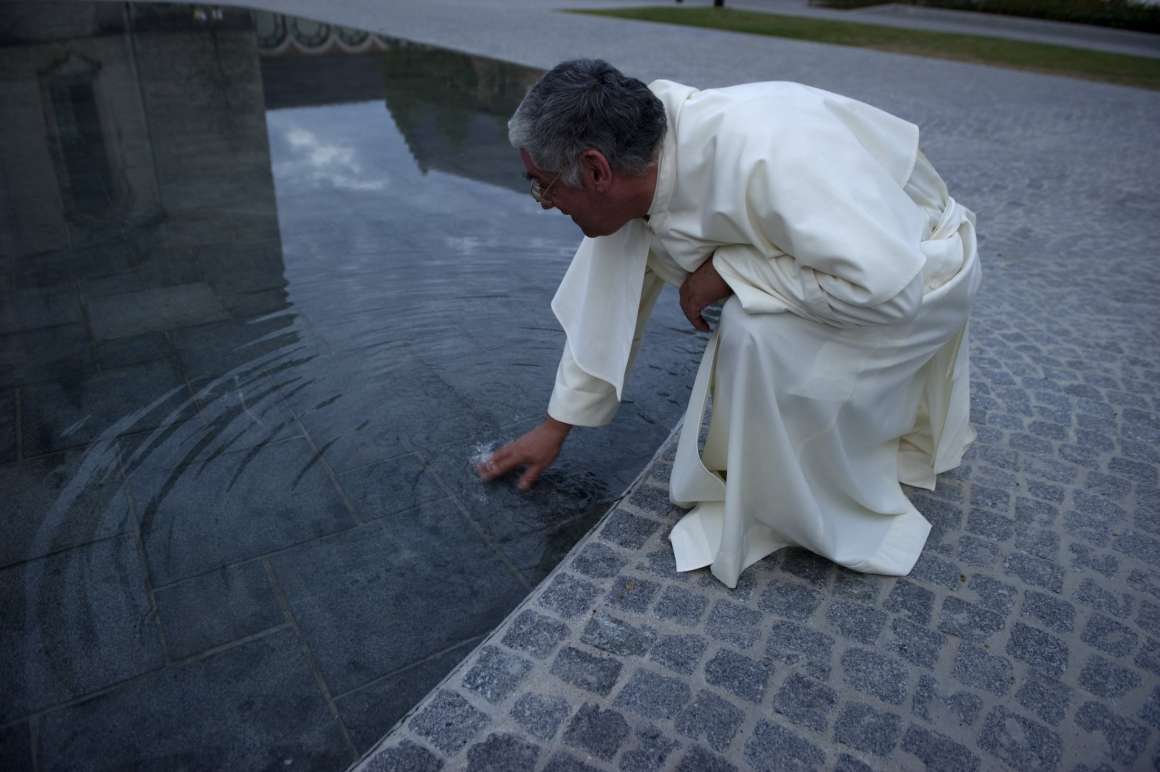 除了镜面水之外,公共空间的质量也因将古老的椴树与外墙和鹅卵石小路相结合而得到改善,同时还为行动不便的游客整合了新的停车位,为那些骑行来参观修道院的人提供了足够的公共设施。当夜幕降临,教堂和周围其他建筑反射的光线会使广场变得昏暗,所以用了LED条来强调道路的方向。
Along with the water mirror, the quality of this public space is improved by the integration of its ancient Tilia trees with old periphery wall and cobblestone path, as well as the integration of new parking spaces for visitors with reduced mobility, and sufficient facilities for those who choose to visit the abbey by bicycle. During the dark hours of the night, the square itself is dimmed by the light reflecting off of the church and other surrounding buildings and LED strips are used to accentuate the direction of the pathway.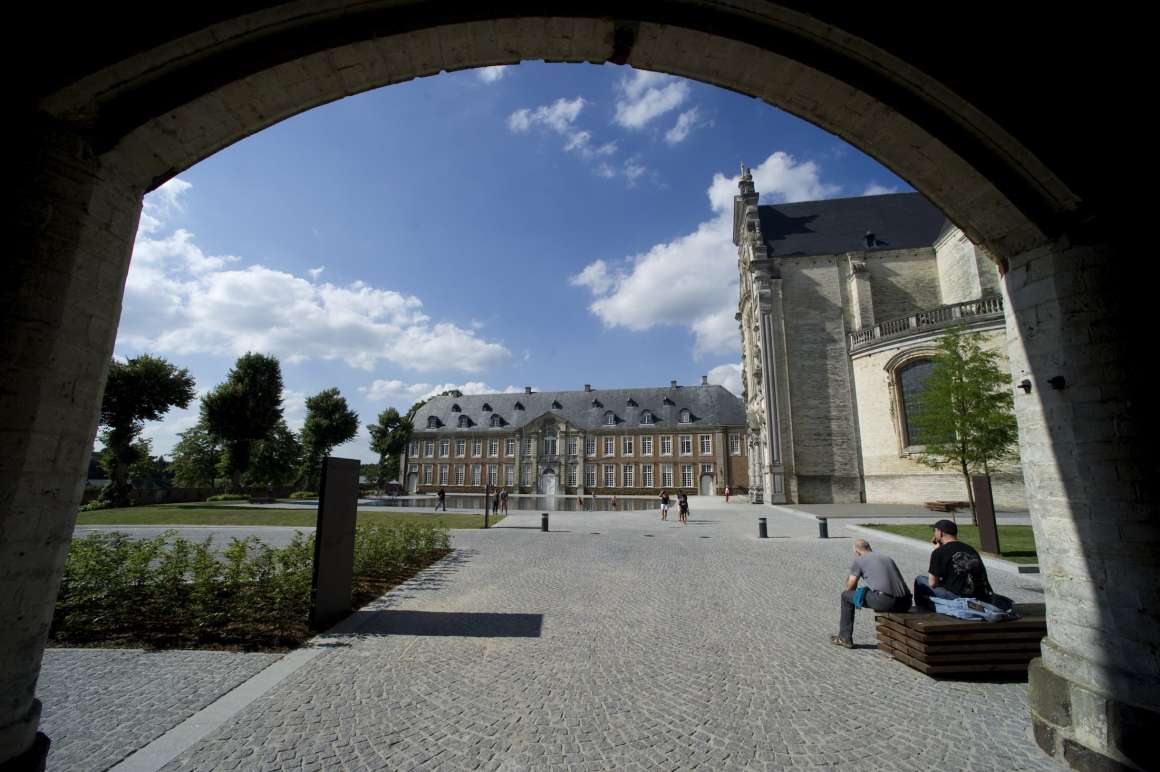 考虑到迪斯特修道院拥有丰富悠久的历史,设计师摒弃了向游客轰炸式展示历史信息的方式,选择在广场上巧妙地体现它的历史。出于对环境的尊重,所有的信息面板、垃圾箱和自行车架都是用生锈的深色钢材定制设计的,这让人想起修道院建筑立面上出现的黑色铁砂岩。
路过教堂时,人们还会想起刻在路缘石上的修道戒律:"心与灵魂合一,向着上帝前进。"
Taking into consideration the rich history of Averbode Abbey, it was imperative not to bombard its visitors with historical information, but instead to subtly introduce its history in the square itself. Hence, out of respect for the context all of the information panels, bins, and bicycle racks have been custom designed and manufactured in dark rusted steel reminiscent of the ferrous iron sandstone appearing in the façades of the abbey buildings.
Passing by the church, one can also be reminded of the monastic rule which has been engraved in the curb stone: "one in heart and one in soul heading towards God."
▼广场夜景  The night view of Averbode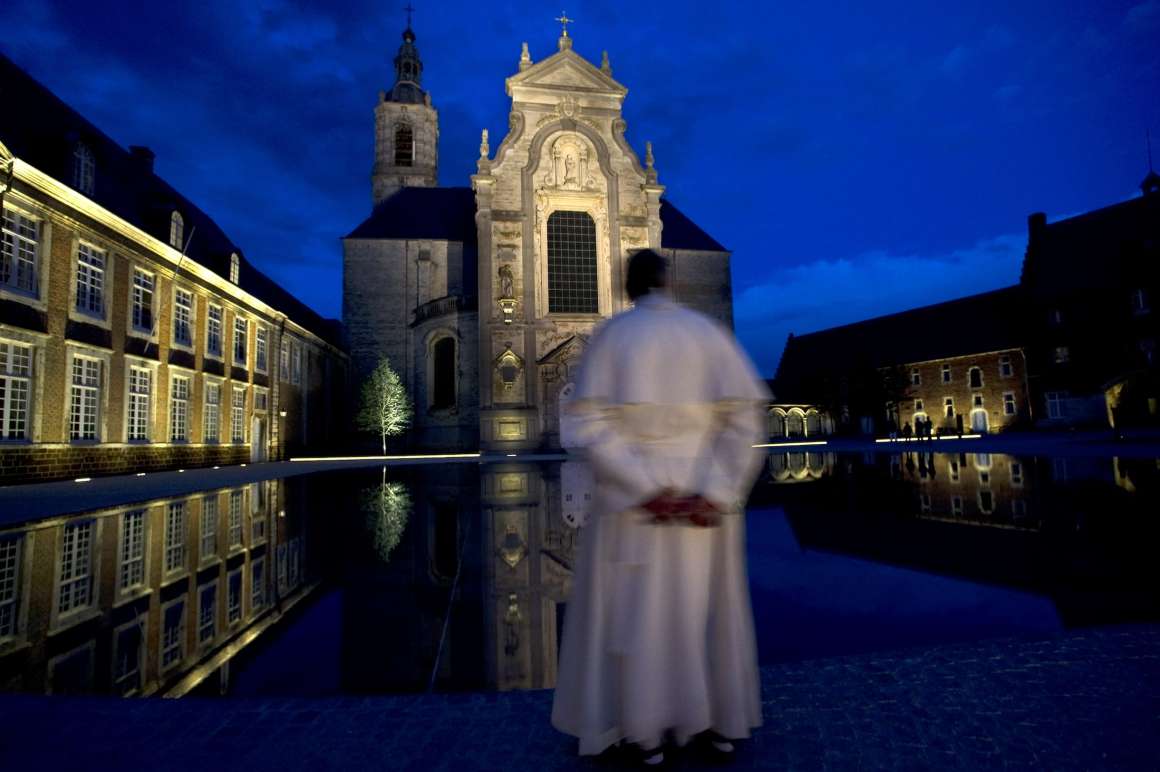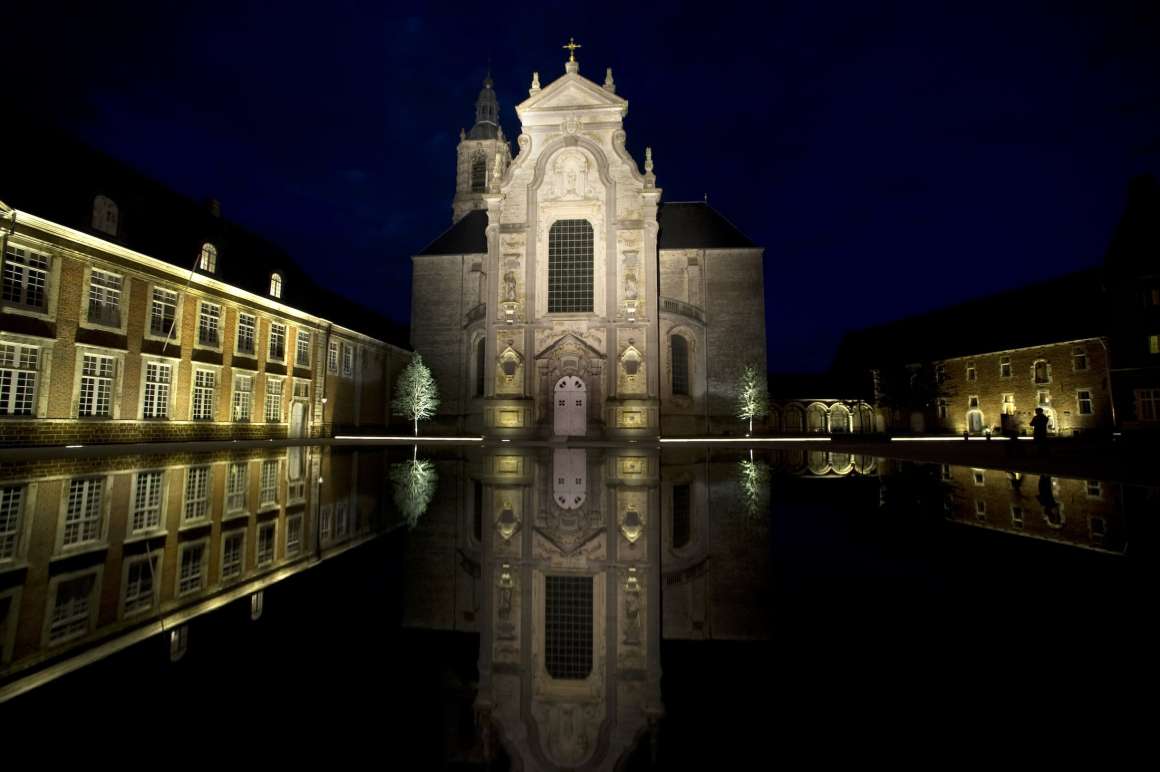 ▼平面图  Site plan
▼广场细部详图  Averbode detail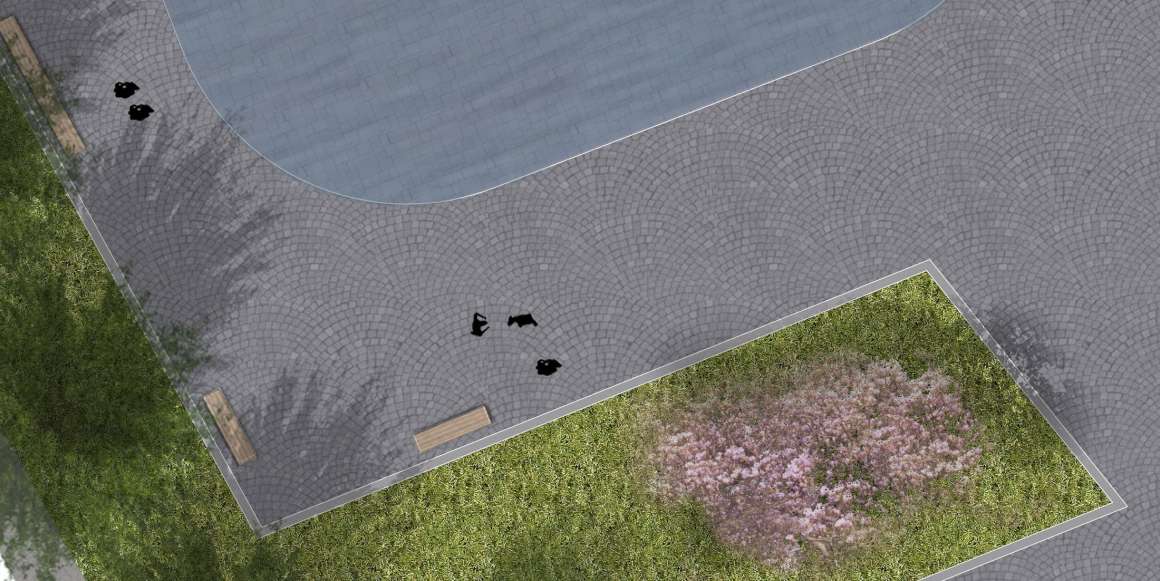 景观设计: OMGEVING
设计师: Peter Seynaeve, Tompy Hoedelmans, Koen Moelants, Luc Wallays, Evi Lefevere
城市: 比利时斯赫尔彭赫纲尔-齐克姆
街道: Abdijstraat 1
委托人: 迪斯特修道院
设计年份: 2010年
完成日期: 2012年
面积: 5.000 m²
Landscape Architecture: OMGEVING
Designers: Peter Seynaeve, Tompy Hoedelmans, Koen Moelants, Luc Wallays, Evi Lefevere
City: Scherpenheuvel-Zichem, Belgium
Street: Abdijstraat 1
Client: abbey of Averbode
Year of design: 2010
Completion date : 2012
Area: 5.000 m²
更多 Read more about: OMGEVING