本文由 Dietmar Feichtinger Architectes 授权mooool发表,欢迎转发,禁止以mooool编辑版本转载。
Thanks Dietmar Feichtinger Architectes for authorizing the publication of the project on mooool, Text description provided by Dietmar Feichtinger Architectes.
Dietmar Feichtinger Architectes:在科西嘉岛东北海岸第二大城市巴斯蒂亚(Bestia),Dietmar Feichtinger Architectes与当地建筑师Buzzo Spinelli、景观团队Insitu landscape和Sbp France的工程师一起完成了Aldilonda的滨海长廊项目,取名"海面之上(Above the Sea)"。Aldilonda位于临海的岩石之上,海拔5米,这些岩石形成了巴斯蒂亚的天然堡垒,城市也因此命名。直到现在,石墙下方的海岸只能部分能够进入。
Dietmar Feichtinger Architectes:In Bastia, Corsica's second-largest city on the north-east coast, Dietmar Feichtinger Architectes achieved the promenade Aldilonda, which means "Above the Sea" in Corsican with local architects Buzzo Spinelli, Insitu landscape and the engineers of Sbp France. Anchored in the rock, Aldilonda follows the rocky coastline five meters above sea level. The rock forms the massive natural foundation of the mighty enclosing wall of Bastia's fortress, which gave the city its name. Until now, the rocky coast beneath the fortress wall was only partially accessible.
这个滨海长廊不仅是一个通道,也是一个悬浮在大海和天空之间的新目的地,沿途是整个开放的海平面,十分壮观。弯曲的路径与巨大的岩石堡垒形成了鲜明的对比。这条长廊依附在岩石上,有些部分穿过岩石,有些部分向外突出提供额外的空间。
More than a path, a destination with new perspectives on the open sea, suspended between sea and sky, Aldilonda becomes a spectacular event. A softly curved path contrasts the massive fortress and the rock on which the bastion is founded. The path nestles against the rock, leans against it, breaks through it, widens out and offers places to linger.
长廊结构巧妙地融合在岩石之中,跨越海岸丰富的自然景观,Corten金属制成的红色栏杆提供了高度的安全感。栏杆尽可能提供了最大的透明度,含铁岩石与栏杆的锈红色相互呼应。
Sensitively, the construction blends into the rock, the rich natural space of the coast are carefully traversed. At the same time, the red band of the railing made of Corten steel offers a high sense of security above the surf. The bars offer maximum transparency, the iron-bearing rock harmonizes with the rusty red of the railing.
长廊的部分区域覆盖着通透的铁网,为游客提供了体验大海的空间,还有向海面突出平台。当巨大的海浪穿过岩石上的不锈钢格栅时,可以减小冲击力。 设计团队在La Seyne sur Mer进行了水力测试以确定海浪的冲击力(每平方米14吨)。
The sea can be experienced through the area covered with a transparent grid. The balcony is exposed to the surf; when the waves are high, the water passes through the stainless-steel grating on the rock, reducing the massive force of the water. Hydraulic tests in a basin in La Seyne sur Mer were necessary to determine the force of the wave impact at 14 tons per square meter.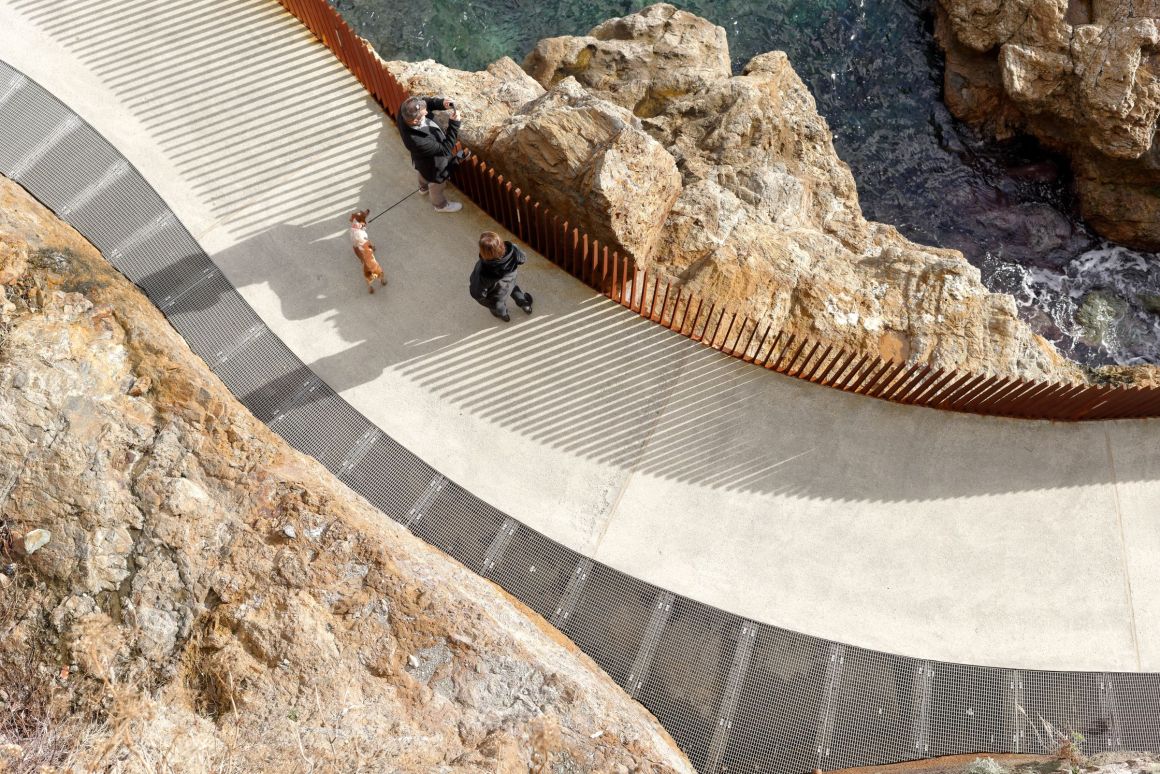 ▼长廊入口空间 Entrance
▼平台 Platform
▼夜景 Night view
▼平面图 Plan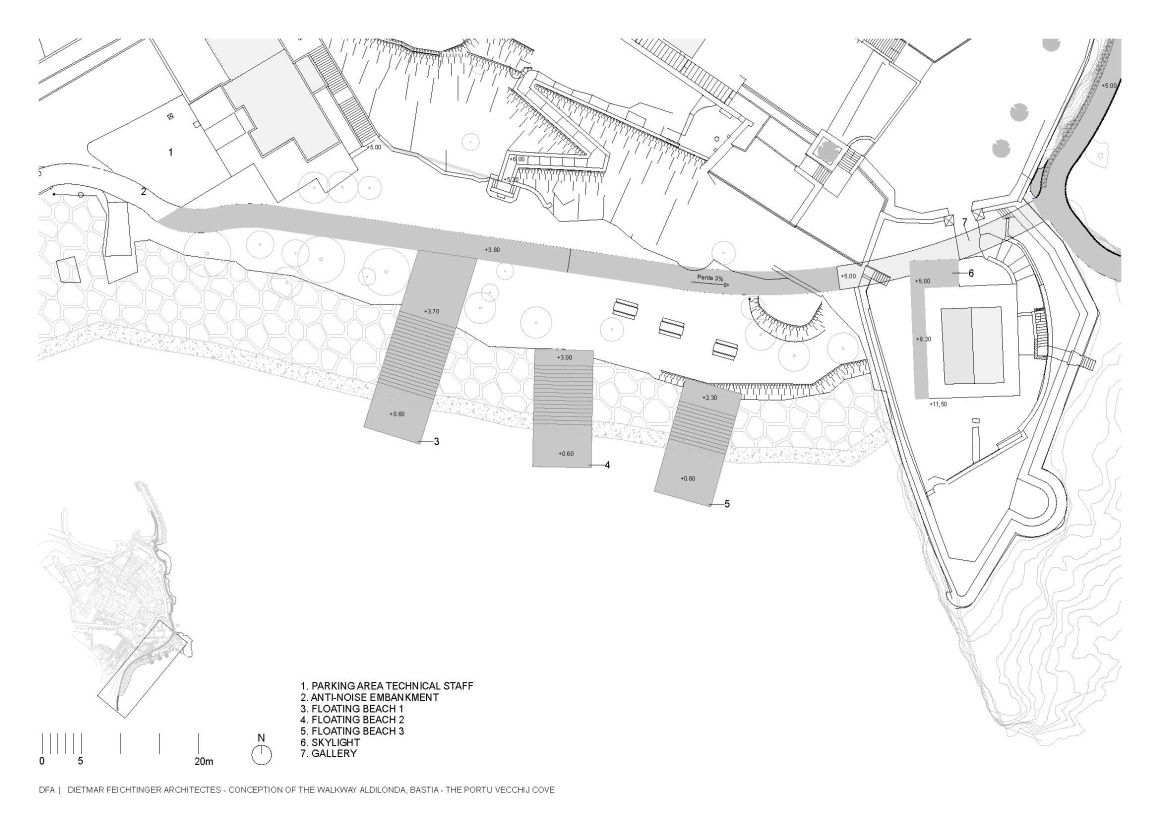 ▼立面图 Elevation
▼剖面图 Section
▼细节图 Detail
项目名称:Bastia Aldilonda cheminement
项目地点:法国,巴斯蒂亚
完成时间:2020年12月
总长:450m
建筑设计:Dietmar Feichtinger Architectes
设计团队:Dietmar Feichtinger, Jan Feichtinger, Miguel Piedras Lobo, Arthur Royer
当地合作设计师:Buzzo Spinelli Architecture
景观规划:IN SITU  paysage et urbanisme
工程团队:SBP France BET structure
客户:Mairie de Bastia
Project name: Bastia Aldilonda cheminement
Address: Citadelle de Bastia, France
Completion: Dec.2020
Total length: 450m
Architecture design: Dietmar Feichtinger Architectes
Team member: Dietmar Feichtinger, Jan Feichtinger, Miguel Piedras Lobo, Arthur Royer
Local partner architect: Buzzo Spinelli Architecture
Landscape planning: IN SITU  paysage et urbanisme
Engineers: SBP France BET structure
Client: Mairie de Bastia
更多 Read more about: Dietmar Feichtinger Architectes