本文由 Kendle Design Collaborative 授权mooool发表,欢迎转发,禁止以mooool编辑版本转载。
Thanks Kendle Design Collaborative for authorizing the publication of the project on mooool, Text description provided by Kendle Design Collaborative.
Kendle Design:该项目基地所独具的特点与挑战,包括陡峭的边缘、海拔明显下降的天然沙漠层、崎岖的地块条件以及为建筑围护结构设计带来了更大限制的山坡分区。而客户希望在海拔最低处、一个类似于山坡的位置,建造一个能看到山景和山谷的家庭住宅,所以我们将住宅分为两层,主要的生活空间和主卧套房布局在第二层,以提供壮丽的山景、山谷和城市景观,同时连接包括儿童套房和客房以及室内室外活动区域的底层空间。
Kendle Design:This site posed unique features and challenges including a natural desert wash with an abrupt edge and a significant drop in elevation, a corner lot condition which imposed larger setbacks as well as Hillside Zoning that imposes greater building envelope restrictions. The owner's goal was to design a family home with mountain and valley views similar to that of a hillside location, but on a lot with minimal elevation. Our response organizes the home in two levels with the main living spaces and master suite located on the second level affording spectacular mountain, valley, and city views, while bridging across a lower level composed of children's and guest suites along with indoor and outdoor activity areas.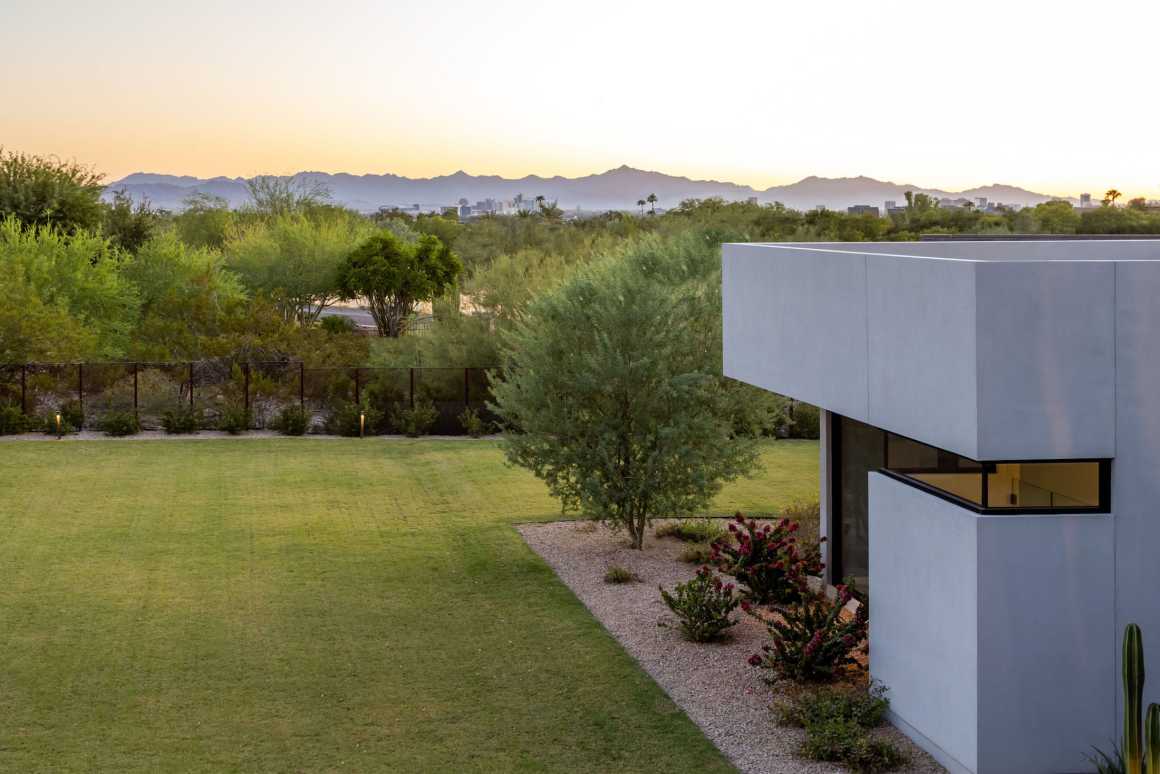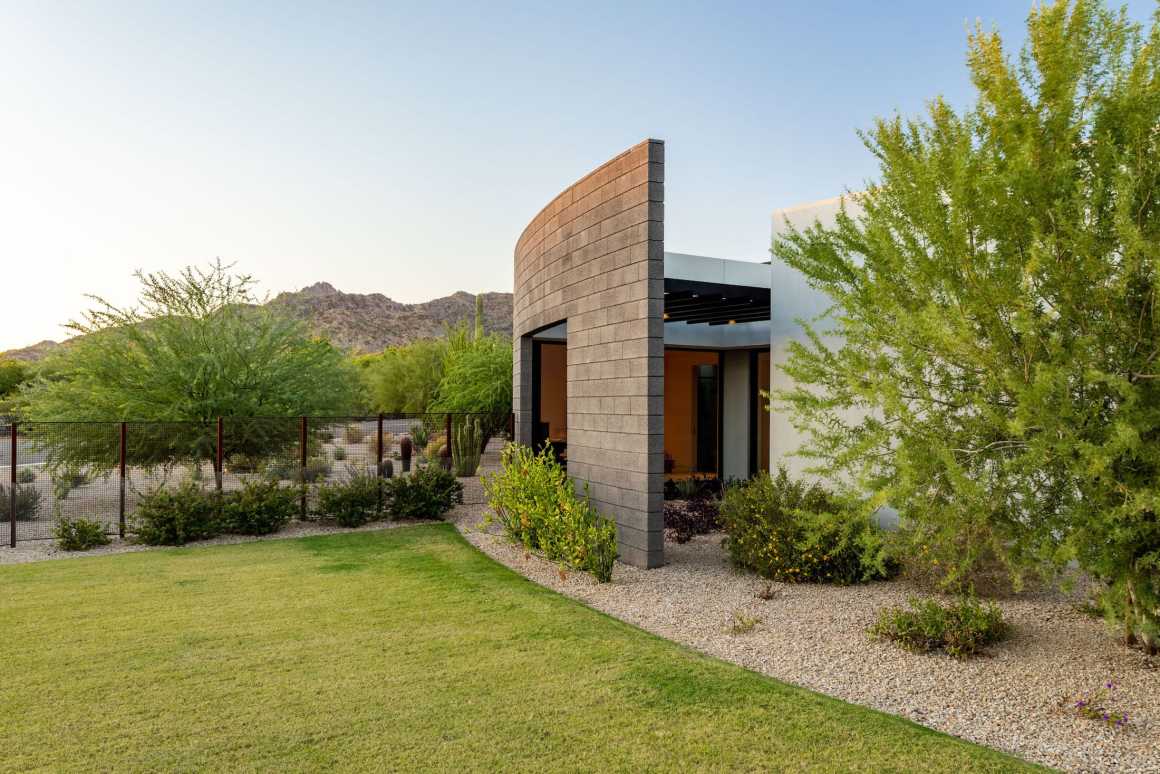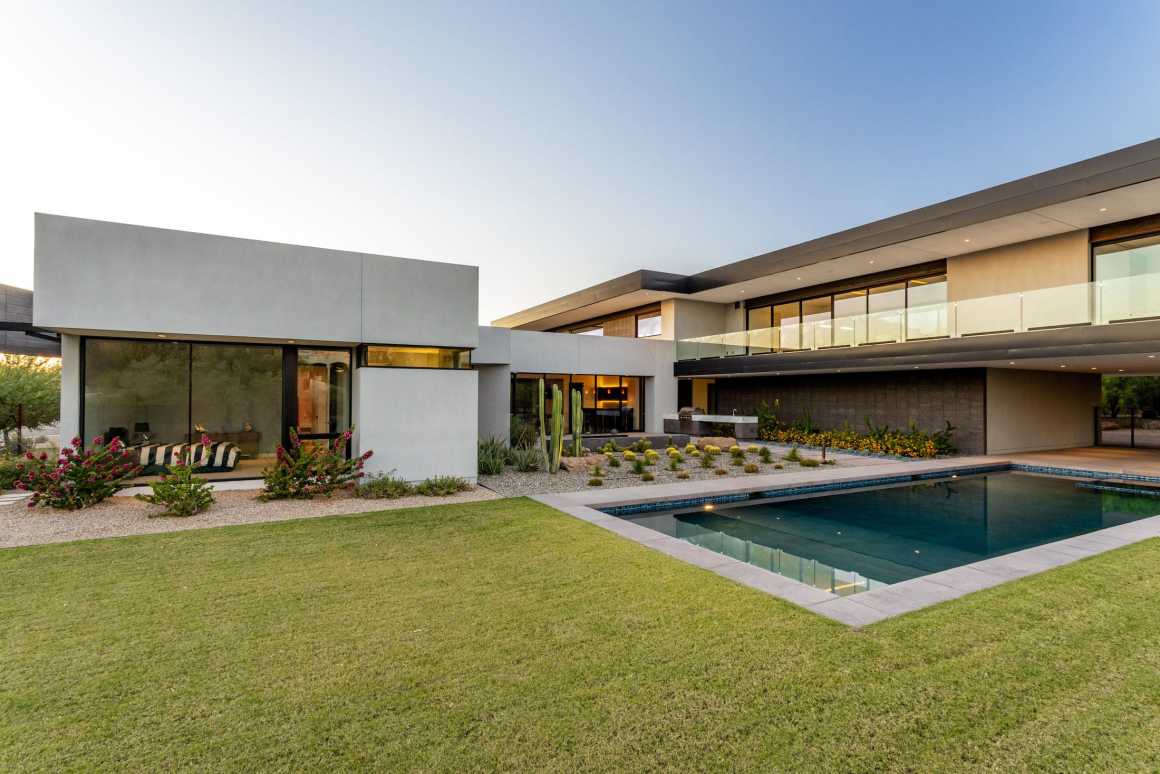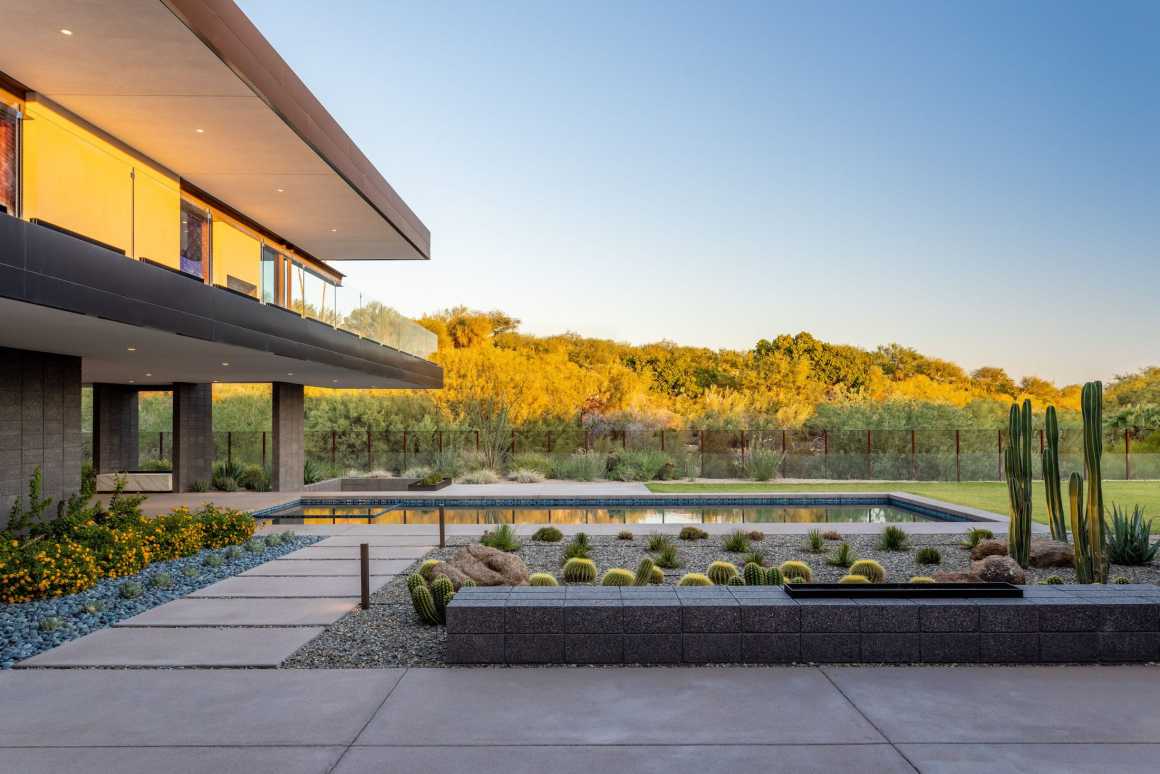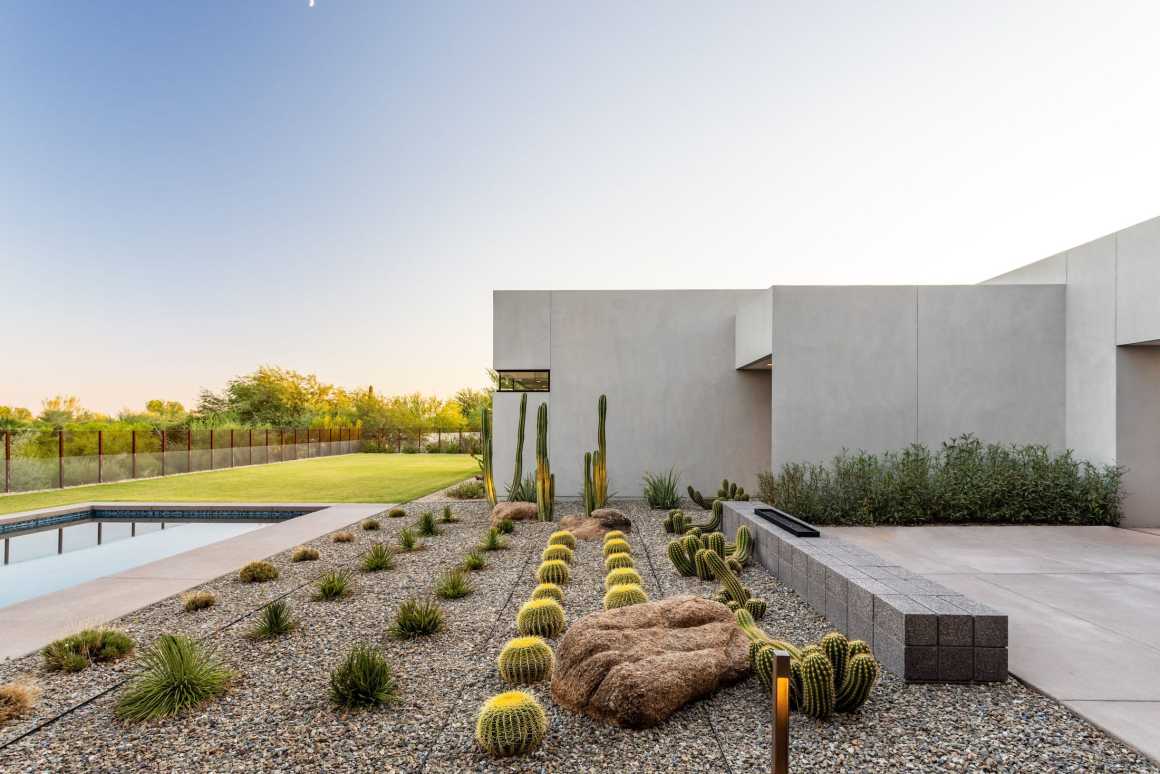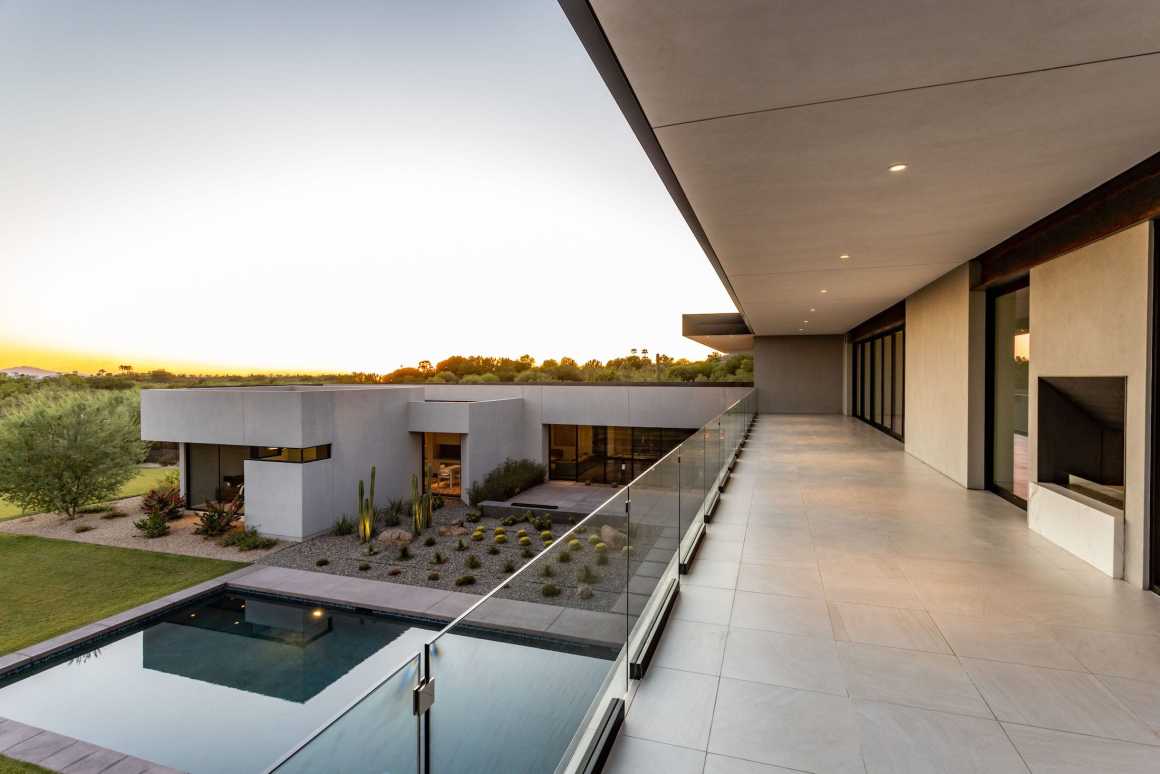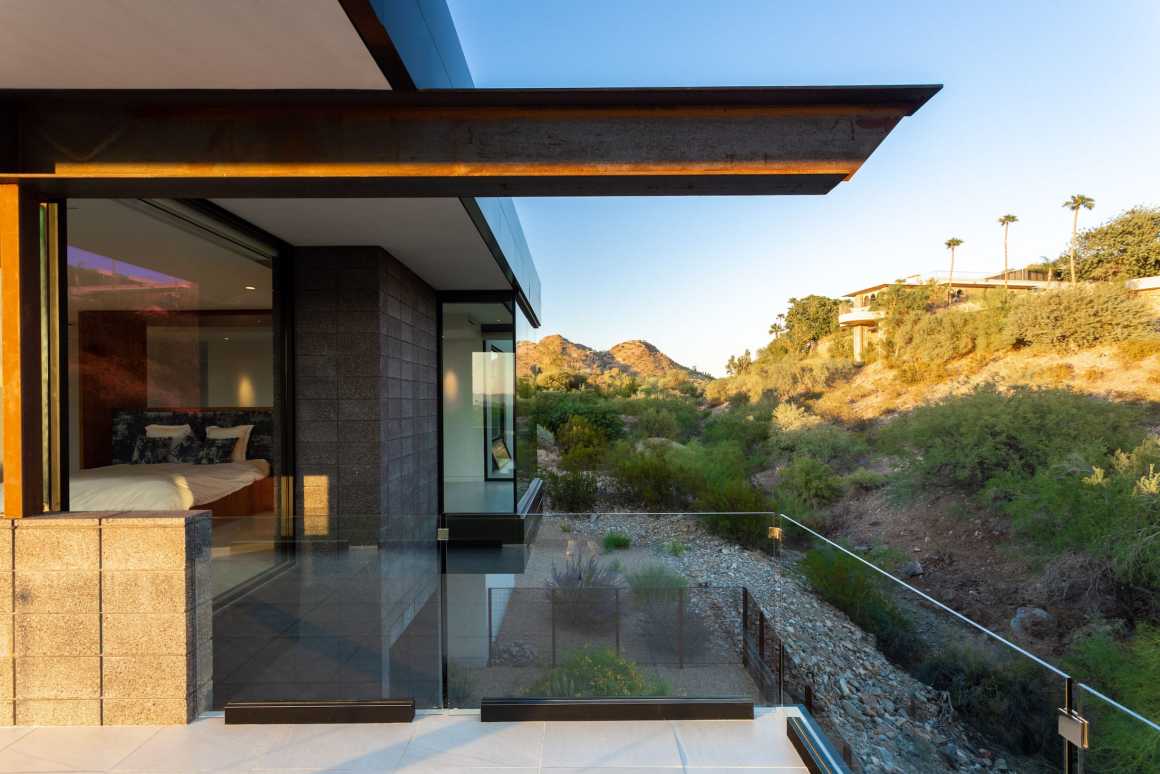 主客厅/厨房的入口序列 ENTRY SEQUENCE TO MAIN LIVING/KITCHEN
门厅、长廊在与错层的入口大厅作为正式和非正式生活空间之间的社交和特殊连接的同时,也减少了楼层之间的分隔感。
厨房的木制品遍及整个住宅,兼具雕塑艺术和存储功能,也是建筑的一种延伸。书籍搭配的胡桃木饰面增加了戏剧性和温暖感,与冷灰色材料色块和钢材形成鲜明对比,再通过界定下方空间的云浮动天花板和光罩,调节这种戏剧性与舒适之间的比例尺度。
Part foyer, part gallery, the split-level entry hall acts as a social and special connector between formal and informal living spaces while reducing the perceived separation between levels.
Millwork at the kitchen, as throughout the home, is an extension of the architecture and conceived as sculptural form as well as functional storage. In contrast to the cool gray material palette burnished block and steel, book-matched walnut veneer is used adding drama and warmth. Scale is modulated between cozy and dramatic via the inclusion of floating ceiling clouds and light coves that define the spaces below.
▼建筑外部 Exterior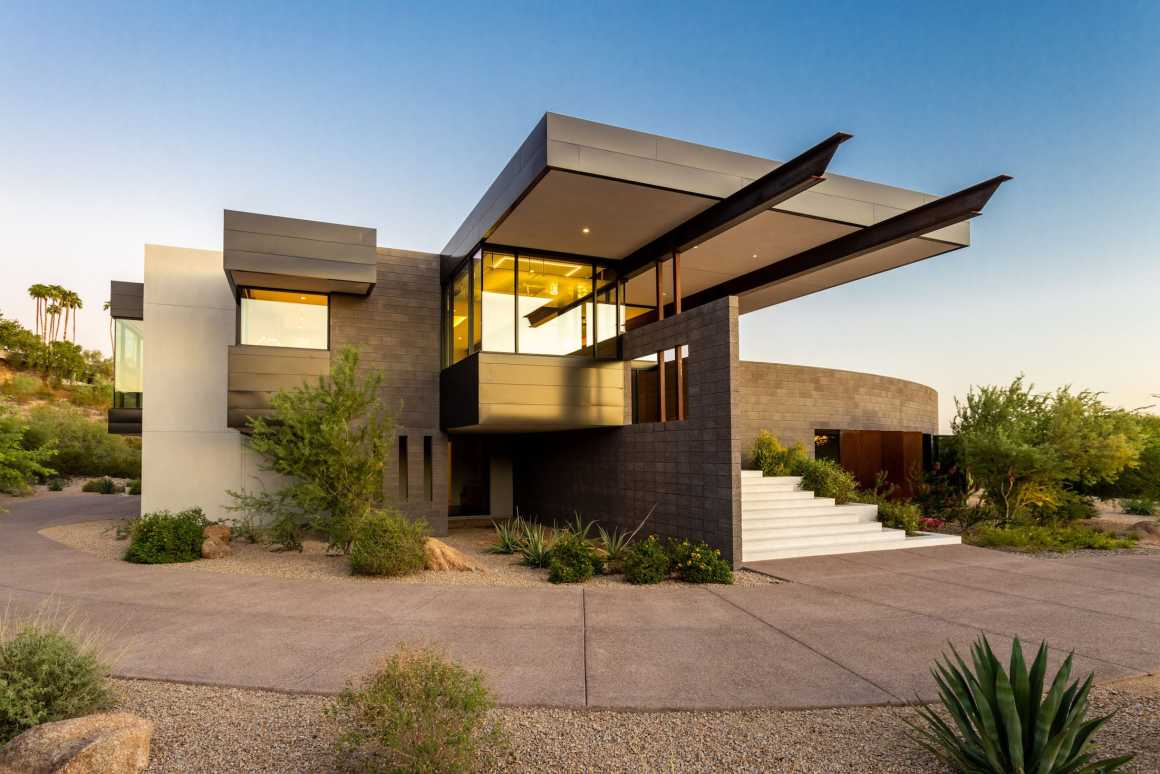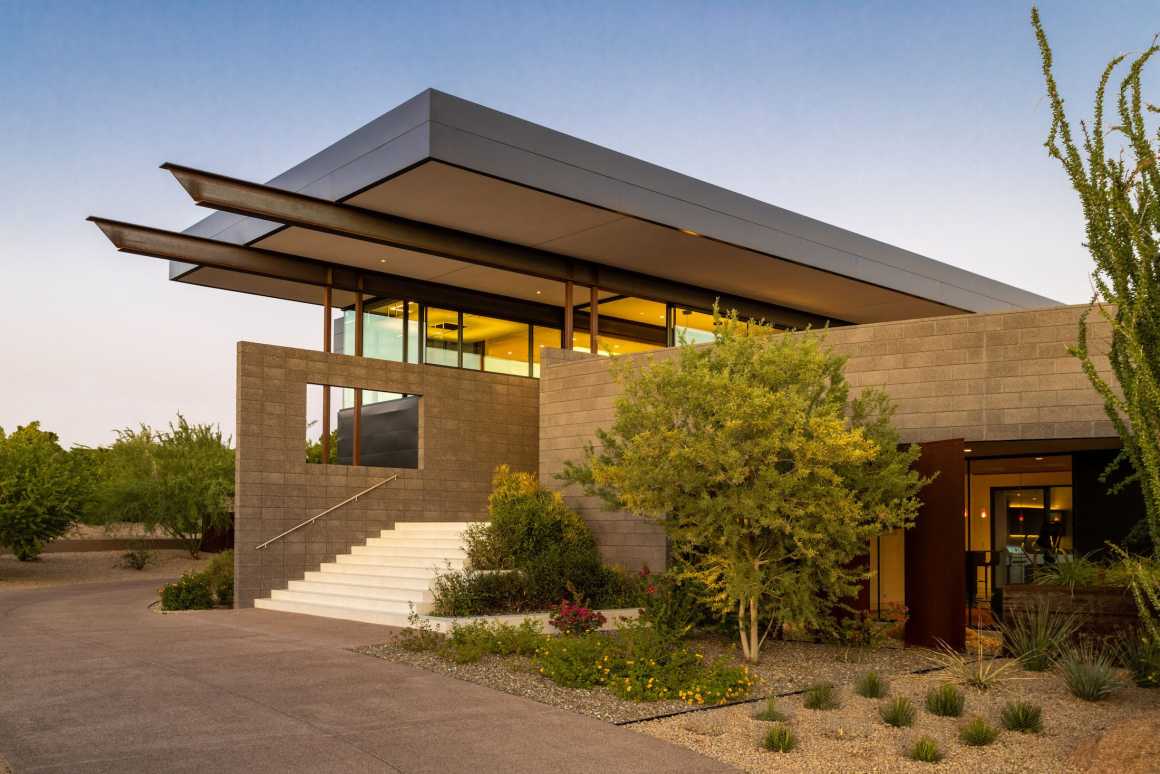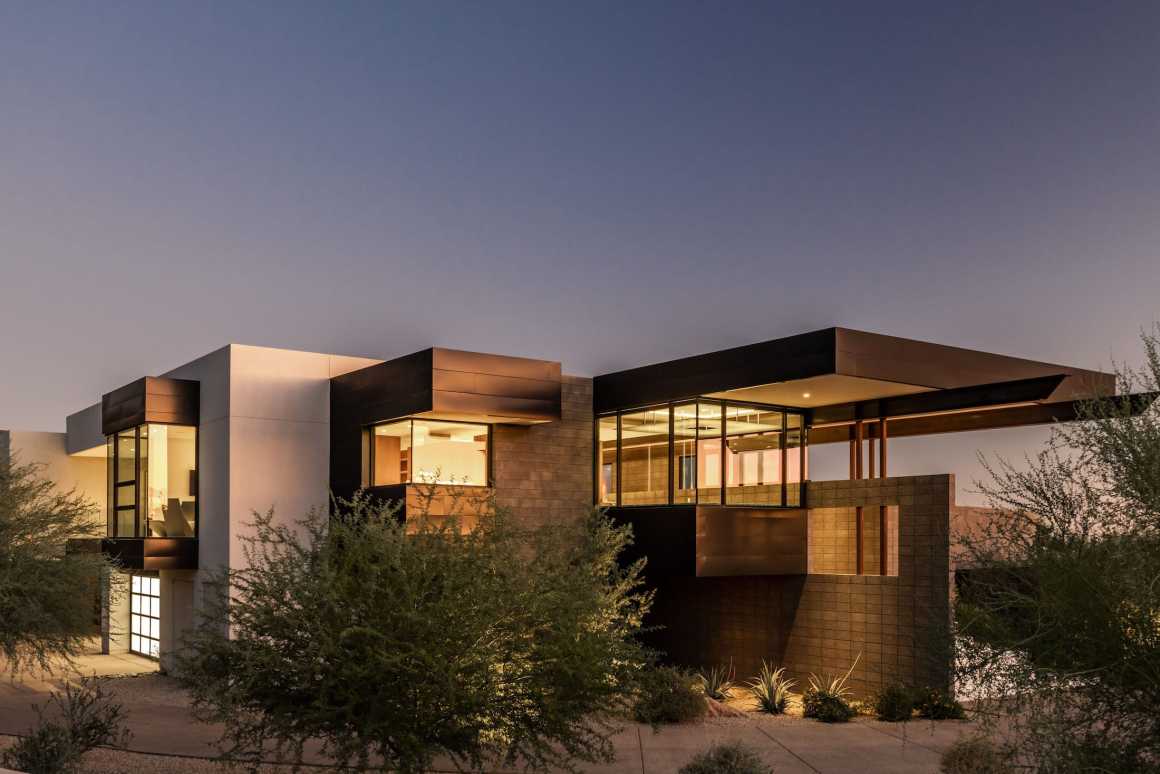 ▼后庭院 Backyard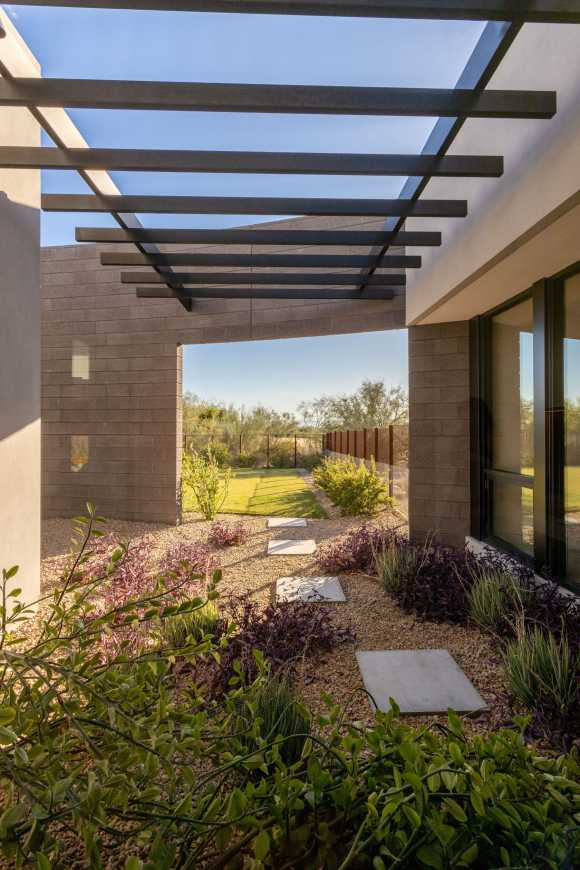 ▼住宅入口 Entry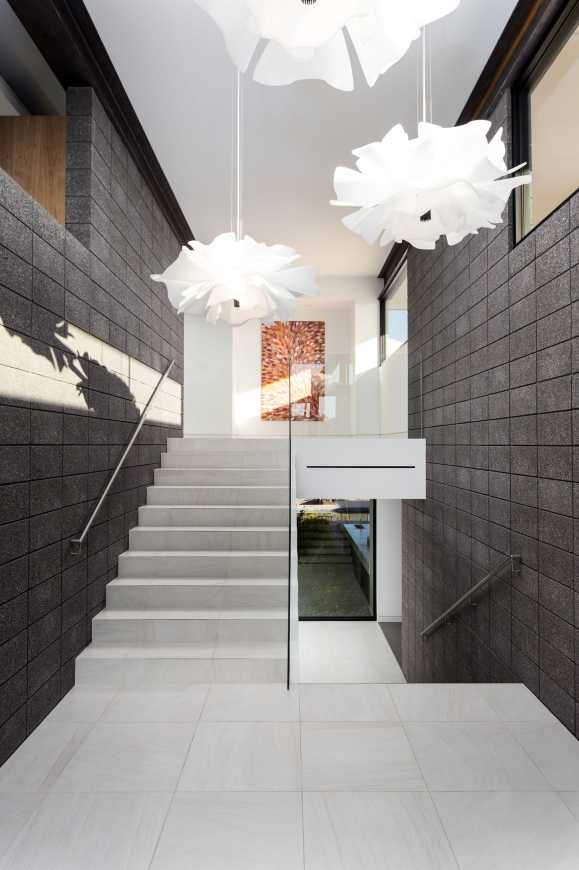 后厨房为饭前准备和饭后清理提供了充足的空间,解放了前厨房空间,使其成为一个有吸引力的社交中心。
A back-kitchen provides ample room for preparation before and clean-up after dinners freeing up the front kitchen to remain an attractive social hub.
▼厨房 Kitchen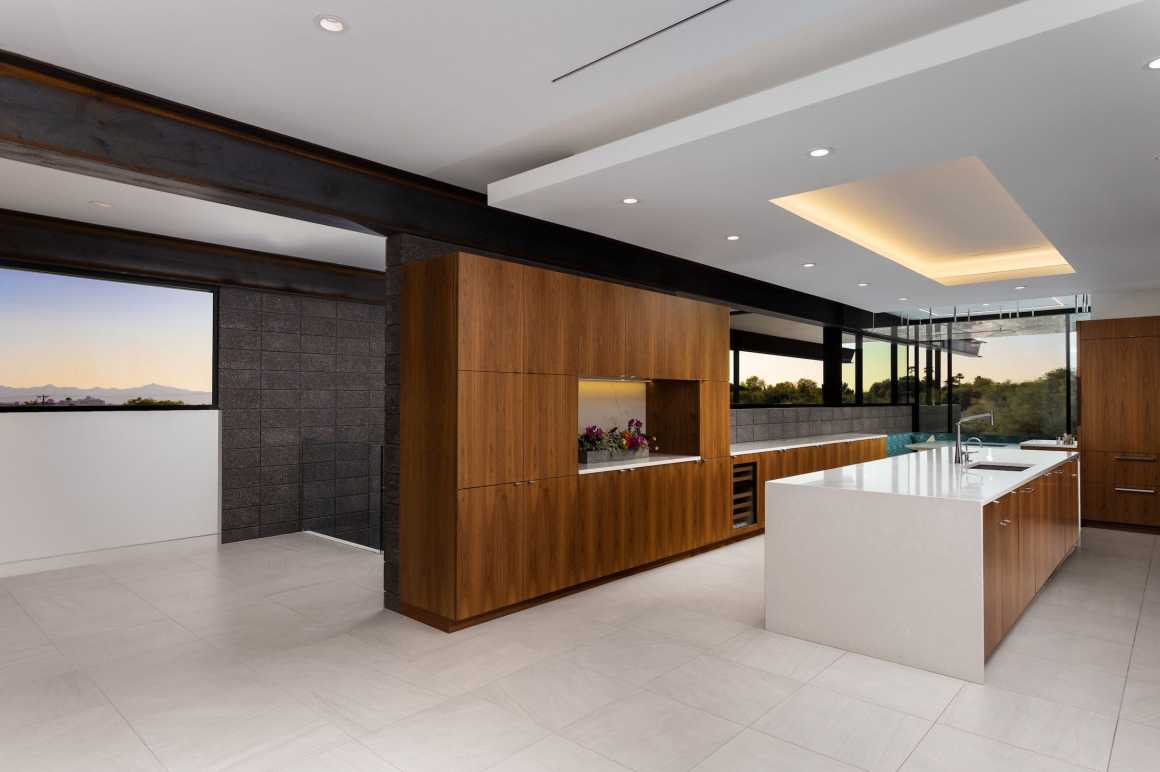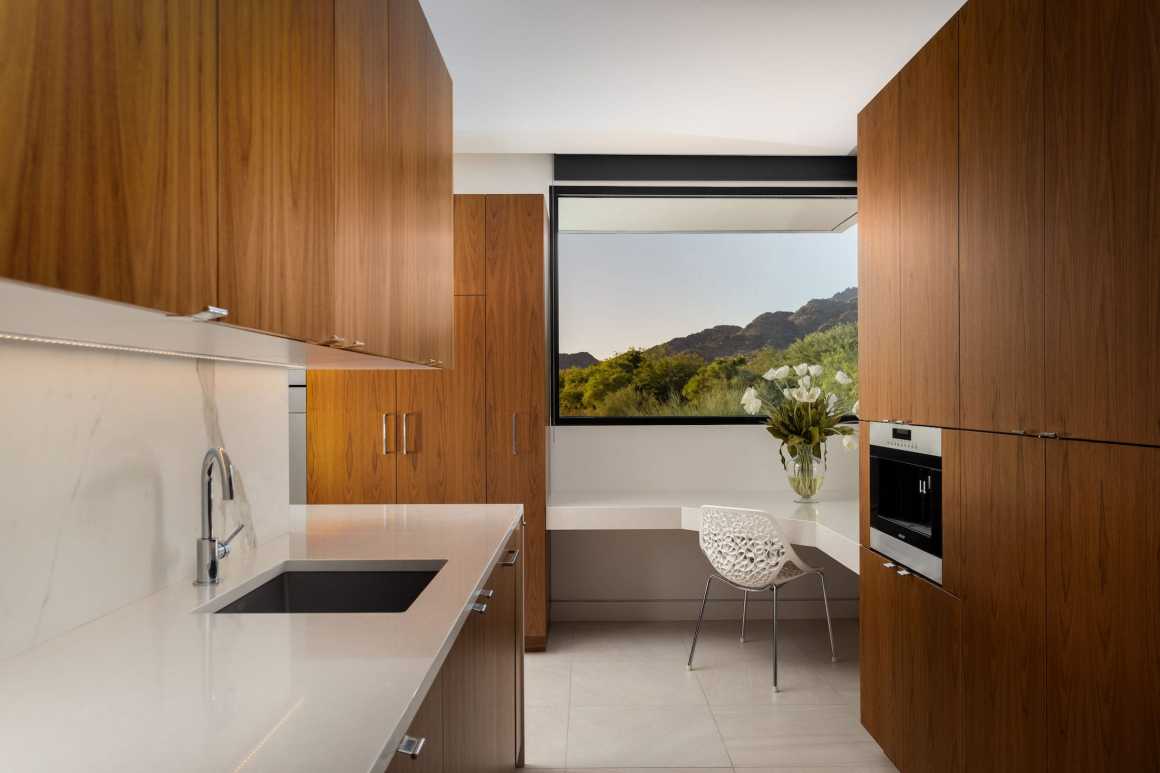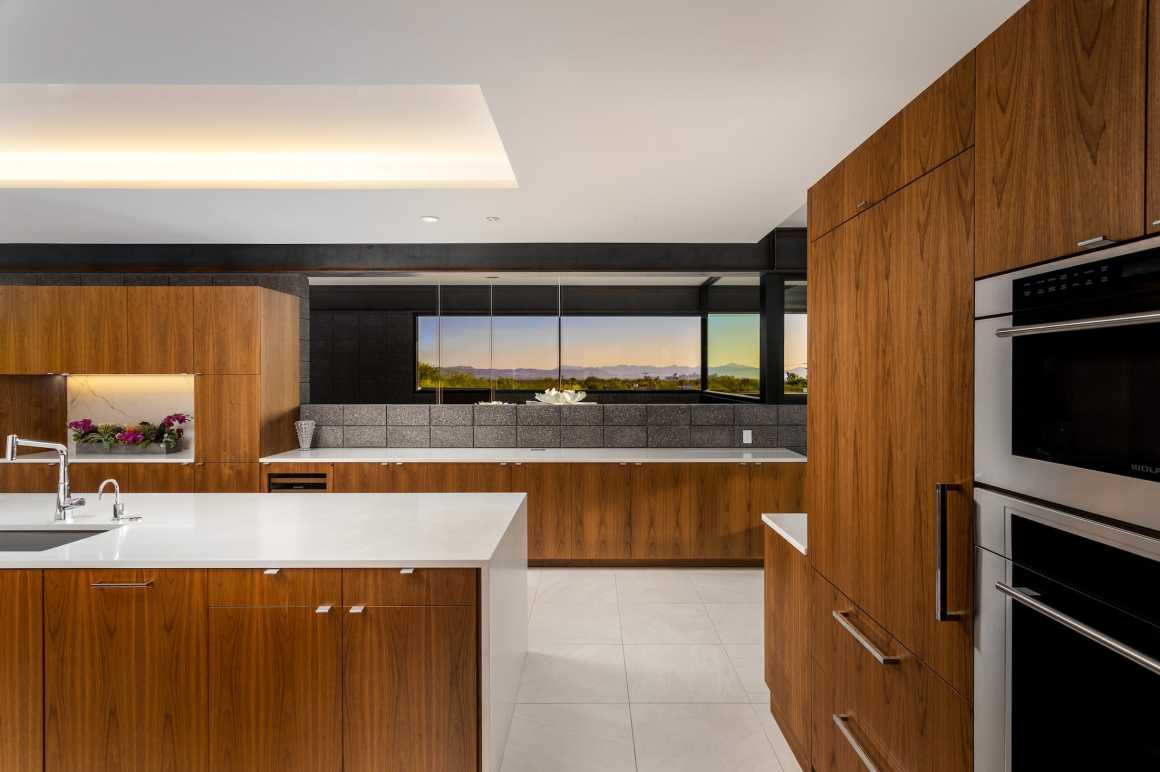 主客厅和主卧等功能空间位于住宅第二层,可以欣赏到单层设计无法提供的周边景观。
主卧套间的设计主要是为了让用户可以欣赏山谷的景色。这个用钢材和石头砌成的壁炉在为外部休息区提供温暖的同时,其内部隐藏的电视也为用户提供娱乐。
Main living and master suite functions are located on the second level to take in surrounding views not afforded in a single level design.
The master suite is designed to take in the valley views. A steel and stone fireplace conceals a TV on the inside while providing warmth to the outside sitting area.
▼客厅 Living room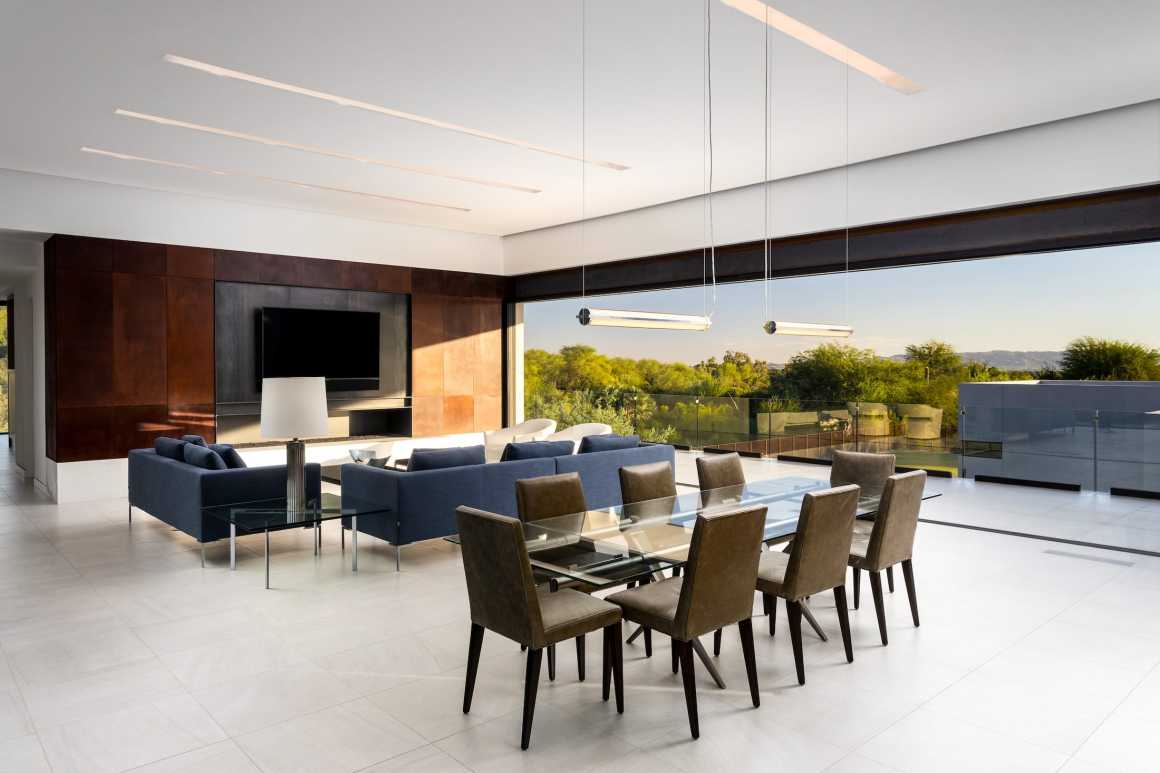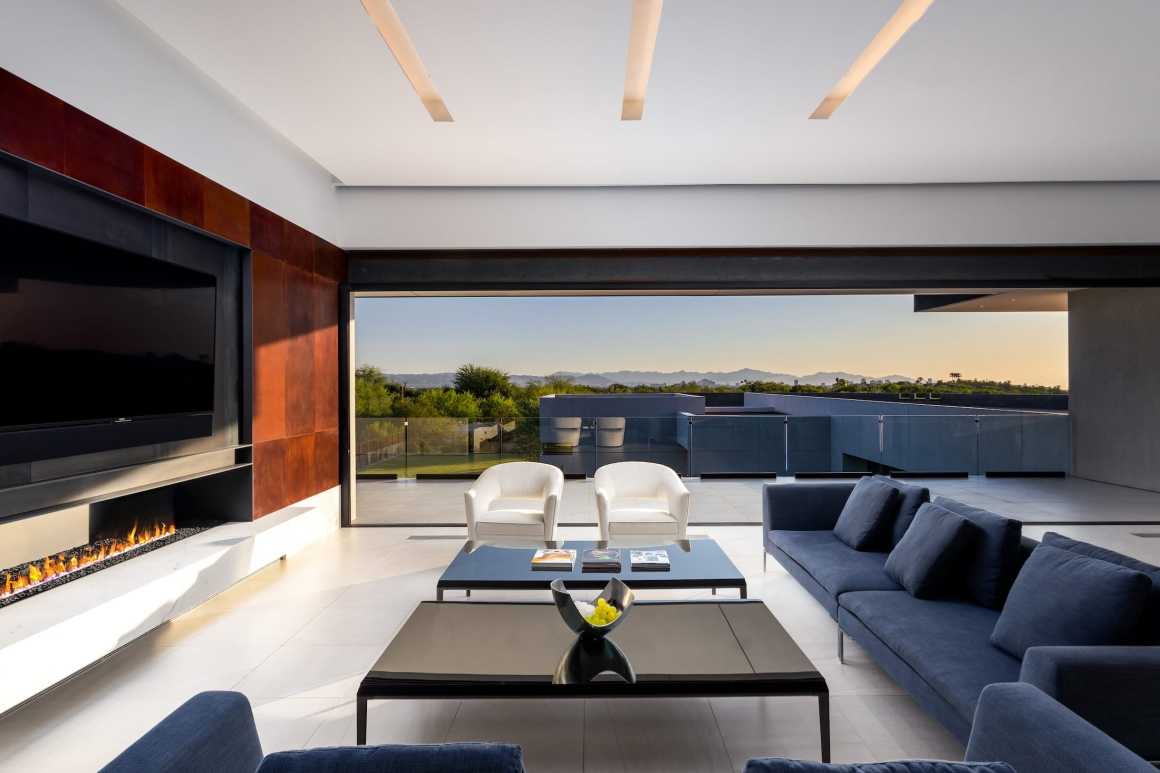 ▼卧室 Bedroom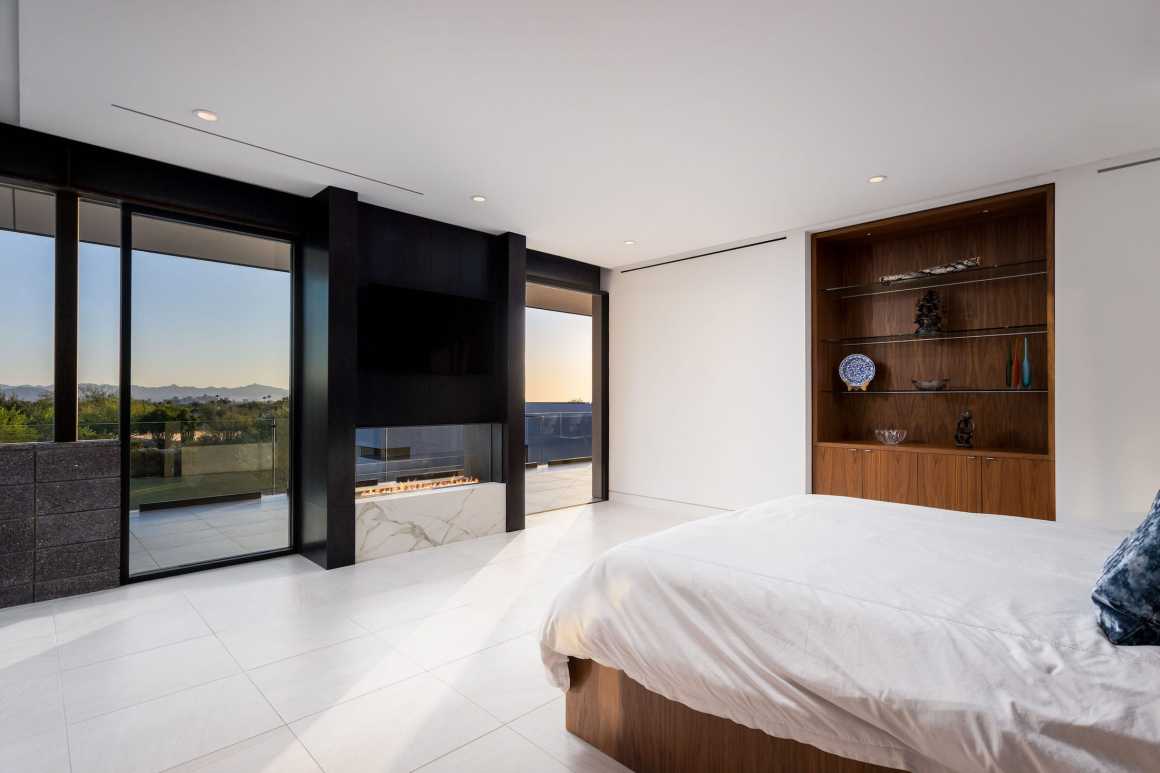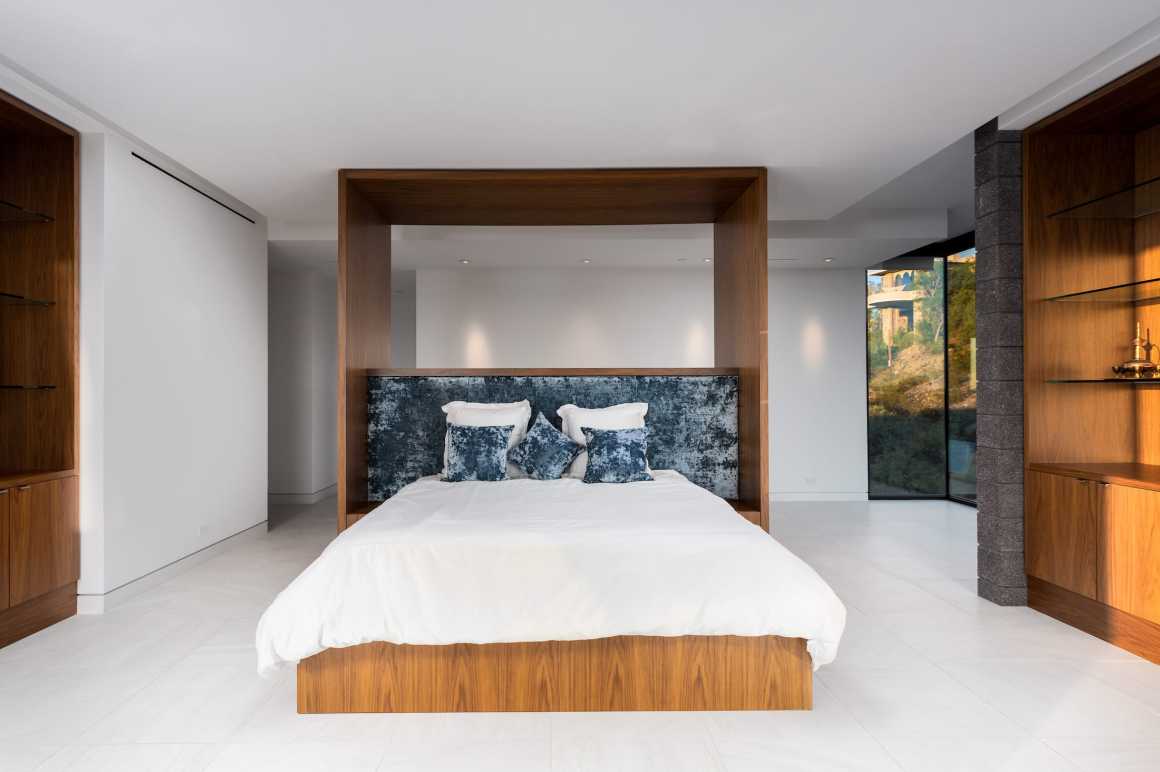 ▼办公空间 Office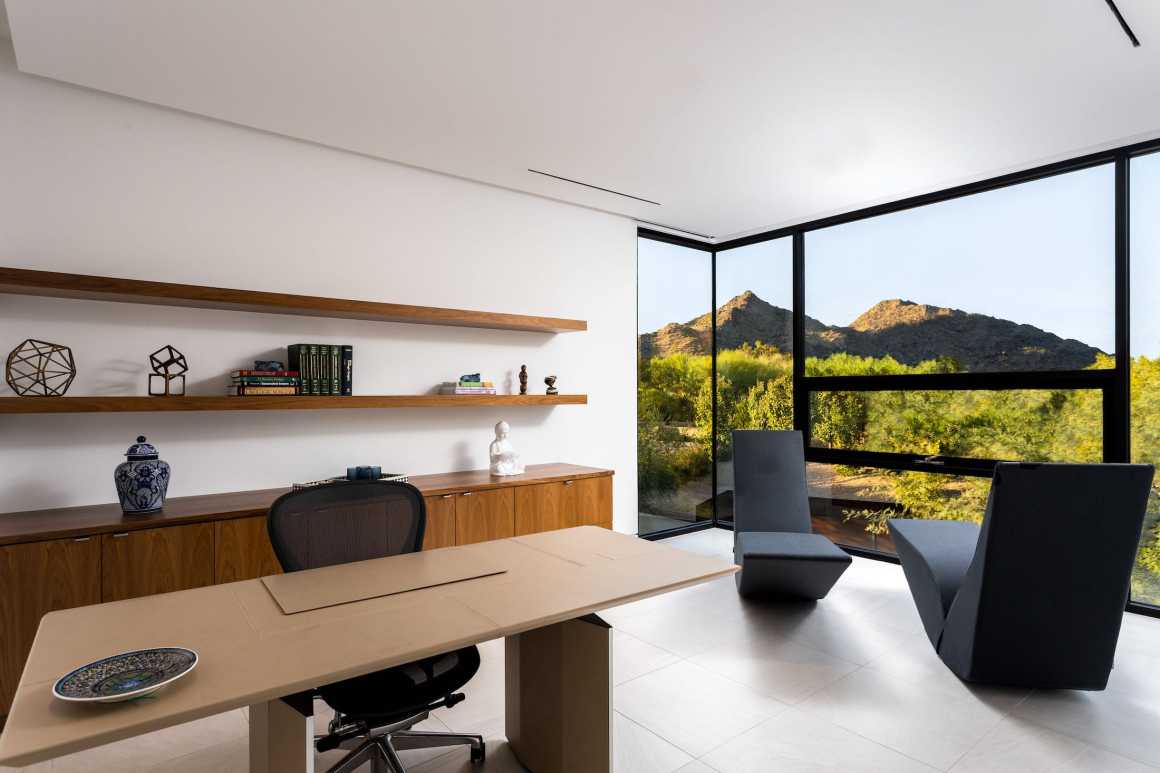 ▼浴室 Bathroom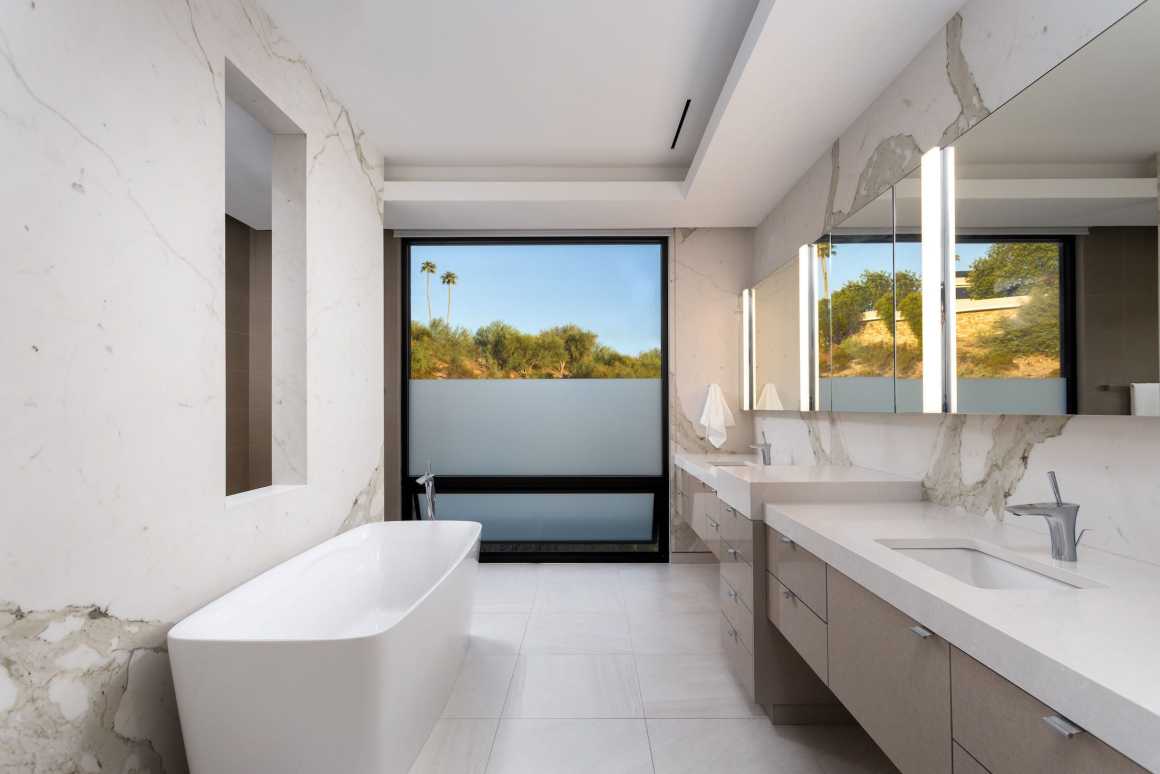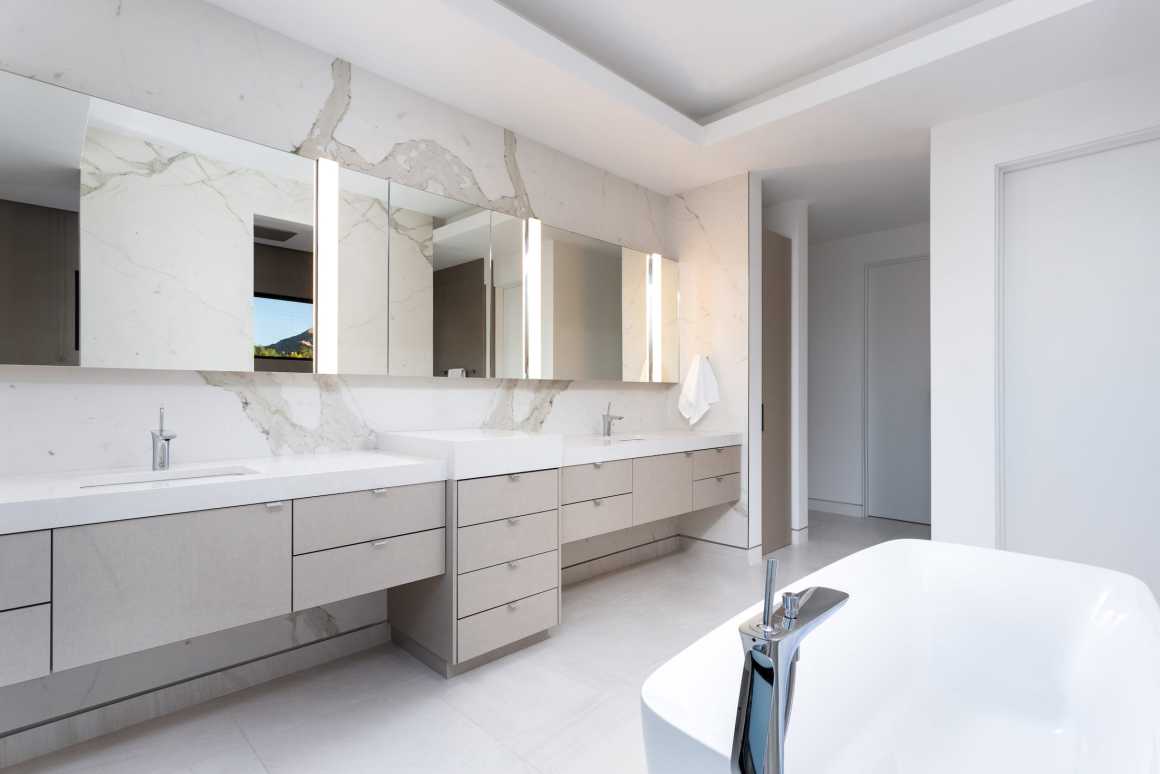 沙漠冲刷层或许会被许多人视为一个需要避免的障碍,但在这里却被打造成了一个特色节点,提供了一个观赏周围本土植物和野生动物的空间,以及拥有下面山谷畅通视野的景观走廊。
休闲娱乐和家庭区域位于住宅一层,主要集中在沿着沙漠地带的私人户外区域。
The desert wash, viewed by many as an obstacle to be avoided, is instead celebrated as a focal feature, providing a glimpse into the surrounding indigenous plant and wildlife while preserving an unobstructed view corridor towards the valley below.
Casual entertainment and family areas, located on the ground level, focus on private outdoor areas along the desert wash.
▼项目视频 Video produced by Chibi Moki Photohraphy
▼住宅首层平面图 Ground Floor Plan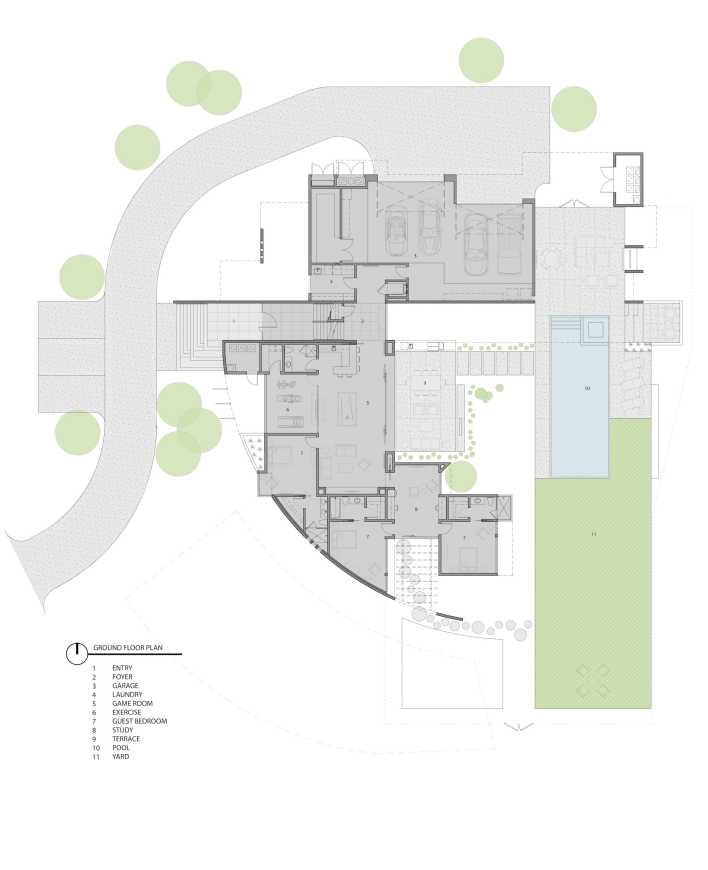 ▼住宅二层平面图 Main Level Floor Plan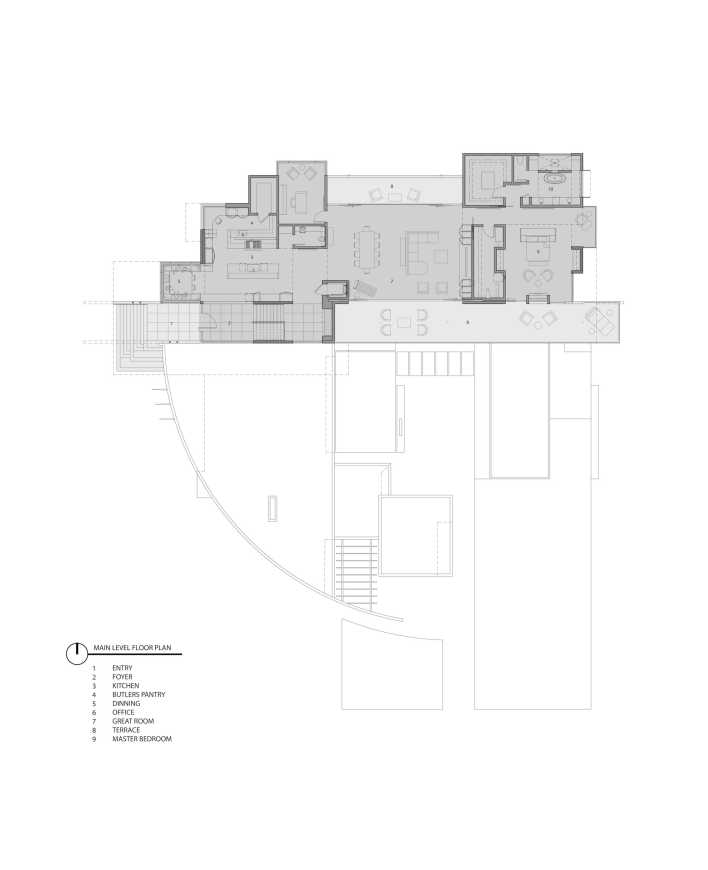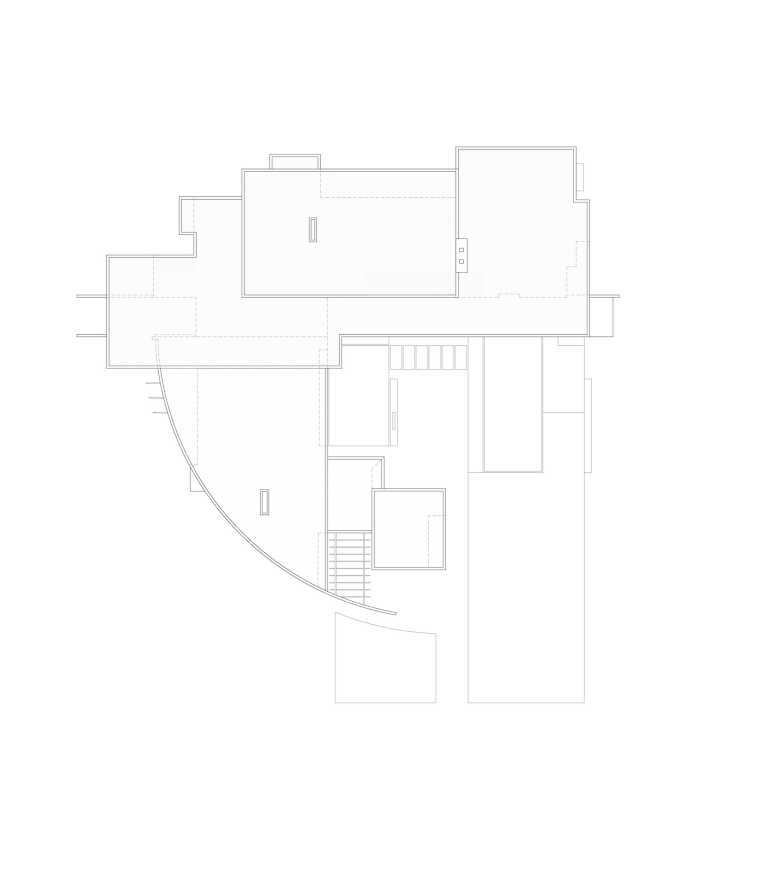 项目名称:Bridge view
建筑设计:Kendle Design Collaborative
公司网址:http://kendledesign.com
联系邮箱:Richard@kendledesign.com
项目地点:亚利桑那州天堂谷
完成:2019年
总建筑面积:7000平方米
首席建筑师:Brent Kendle
景观设计:GBtwo Landscape Architecture, Inc
室内设计:Elizabeth Rosensteel
图片:Kevin Brost
视频制作:http://chibimoku.com/
Project name: Bridge view
Architect's Firm: Kendle Design Collaborative
Website: http://kendledesign.com
Contact e-mail: Richard@kendledesign.com
Project location: Paradise Valley, Arizona
Completion Year: 2019
Gross Built Area: 7,000 square meters
Lead Architect: Brent Kendle
Landscape Architecture: GBtwo Landscape Architecture, Inc
Interior Design: Elizabeth Rosensteel
Photo credits: Kevin Brost
Videographer website: http://chibimoku.com/
项目中运用产品品牌 Brands / Products
1. Hansgrohe Faucets
2. Arcadia Multislide Windows
3. Wolf Subzero appliances
4. Subzero appliances
5. Trendstone Masnory
更多 Read more about: Kendle Design Collaborative