本文由 澳大利亚IAPA设计顾问有限公司 授权mooool发表,欢迎转发,禁止以mooool编辑版本转载。
Thanks Guangzhou IAPA Pty. Ltd. for authorizing the publication of the project on mooool, Text description provided by IAPA Pty. Ltd.
澳大利亚IAPA设计顾问有限公司:一个研究如何花时间生活的场所,坐落于长城脚下。
IAPA Pty. Ltd.: Calm Hill, is located in Beijing, at the foot of the Great Wall.
▽项目视频 Video
业主希望建筑能成为媒介,展示一种将时间归还给生活的态度,引导当代人静心思索当下。出于地域性气候的考量,相较于南方建筑的轻盈外向,北方建筑理应厚实内敛,但展示类建筑更适合以开放状态呈现。所以,建筑的内敛性与功能的开放性如何平衡、共存,是设计思考的起点。
The client hopes the building would be a carrier which could exhibit an attitude of "Giving time back to life" create a serenity life style. Due to the consideration of regional climate, compared with the lightness and extroversion of southern buildings, northern buildings should be thick and restrained, but exhibition buildings are more suitable to be presented in an open state. Therefore, how to balance and coexist between the introversion of architecture and the openness of functions is the starting point of design thinking.
▽ 半山·半水·半宅·半院 概念图 Concept
▽项目鸟瞰 Aerial view of the project
▽建筑与周边环境 Architecture and Surroundings
▽ 河岸对面远观立面 Facade View Across the River
▽ 外立面 Facade
▽ 外立面局部 Facade Detail
入口屋檐至外向内倾斜,有外向打开的意愿,且达成压入口低视线高度的目的。屋檐下两扇大开大合的碳化木趟门,"合"则承载餐厅和接待空间大门的功能,"开"为庭院营造的重要元素。天朗气清时,木趟门开启,移至庭院侧,我们有意识去遮挡内庭,收窄可视范围。光线、水、植物和风便从趟门之间的空隙钻了出来,引人步入屋檐,一览究竟。
Given the geographic location of the site, introvert architecture is the common form, however the client wishes to have some degree of extrovert architecture to demonstrate an attitude of life style, how to balance these two forms is the point of our design.
▽ 入口 The Entrance
▽ 中庭庭院鸟瞰 Aerial View of the Atrium Courtyard
▽ 中庭庭院 Courtyard
我们希望打破仅以摆放物件或图片资料传递信息的单一展览模式,让建筑本身成为展品,在建材上选用火烧板、毛竹、片岩等在地材料输出地域文化;控制流线,限定人顺着空间曲折游移,感知建筑所传达的信息。
We hope to break the conventional exhibition mode of conveying the information by simply showing objects or pictures. We used locally sourced the material such as charred timber, mao-bamboo, schist stone which representing the local culture. The material complements the building, creates an environment with rich perspectives of immersive, multi-sensory experience.
▽ 侧庭院水景 Courtyard Water Feature
▽ 二层休闲区动图 Leisure Area on the Second Floor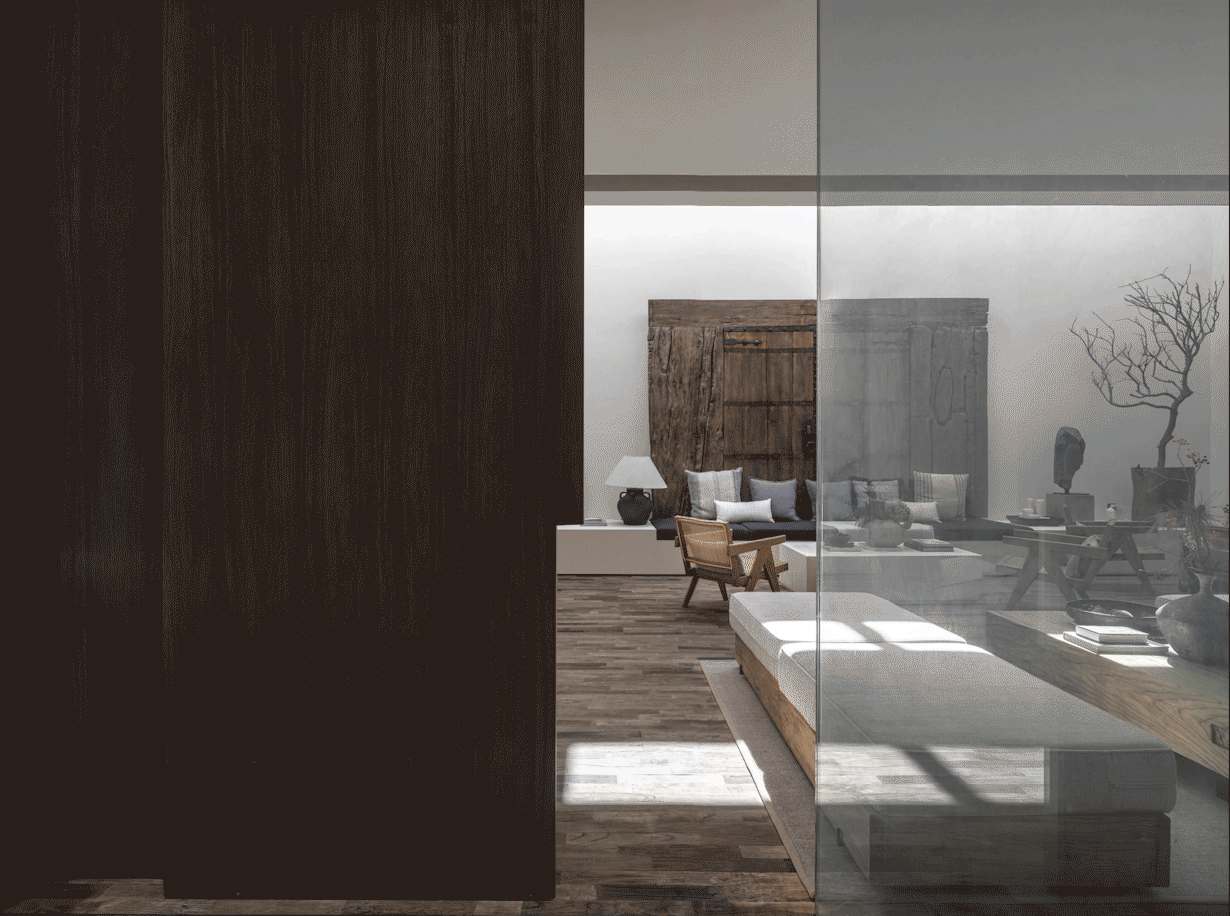 ▽ 二层休闲区 Leisure Area on the Second Floor
高低错落不同比例的窗洞构成、组合,将空间里的人和场景剪辑、组接,对面的观者被这些无序章的片段吸引,便有了各自脑中的精彩剧情。
The window holes with different proportions form a combination, connecting people and scenes in the space. The viewers on the other side are attracted by these disordered fragments, and then they have their own wonderful story in their minds.
▽ 内庭侧大小窗洞 Window Hole
▽ 阳光透过窗洞斜照而下 The sun shines through the window
▽ 黑色金属梯与庭院的关系 Black Metal Ladder
▽ 顶层观景平台 Rooftop
▽ 一层餐厅 Restaurant
从田中央回望建筑,白房子浮于稻穗之上,纯粹的斜墙围合成长条型的洞口,是一幕观与被观的"戏剧"。而白房子里被遮挡的"戏",又在引人回到其中。
Looking back at the building from the middle of the field, the "White House" floats on the rice spike. The diagonal wall is a composite strip of openings, it has provoking people's curiosity and attracting people back to inside to found out what is happening.
▽ 东侧稻田园景 Esat Side Rice Field
▽ 茶室 Teahouse
半山半水半分田,半宅半院半方庭。酒饮半酣正好,花开半时偏妍。建筑与景各占半分,适度退让,彼此留有余地,是克制;又相互嵌套,渗透,连结,是平衡,带来无限可能。
The concept of "half" allows architecture and landscape to be divided into two parts. Moderate concession, leaving room for each other, is restraint. They nested, infiltrated, connected, balanced, and made everything possible.
▽ 卫生间 Washroom
▽ 北侧入口 The North Entrance
这是我们所希望达成的——建筑内、外穿插游走,让人自发走出户外,去探索发现,再回到建筑中,享受一段精心策划的多层次感官体验。
This is what we hope to achieve by walking inside and outside of the building, so that people spontaneously go out of the outdoors to explore and discover, and then come back to the building to enjoy a well-planned multi-level sensory experience.
材料运用 Material usage
▽ 白色肌理漆 White Texture Paint
▽ 片岩堆砌而成的景墙 Wall made of schist
▽ 水景底部铺片岩 Water feature bottom paving schist
▽ 毛竹墙面技术示意图 Technical Diagram of Moso Bamboo
▽ 毛竹饰面 Moso Bamboo
▽ 火烧木 Fire Wood
▽ 锈化钢板 Rusting Steel Plate
▽ 铝格栅 Aluminum Grilling
▽ 总平面图 Master Plan
▽ 剖面图1 Section 1
▽ 剖面图2 Section 2
▽ 立面图1 Elevation 1
▽ 立面图2 Elevation 2
▽ 首层平面图 1F Plan
▽ 二层平面图 2F Plan
▽ 屋顶平面图 3F Plan
项目名称:长城脚下坐望山-花时间研究所
完成年份:2021年
项目面积:1400㎡
项目地点:中国·承德·长城脚下坐望山
设计公司:澳大利亚IAPA设计顾问有限公司
公司网址:https://www.iapa.net.au/
主创设计师:彭勃Paul Bo Peng
总监团队:余定、杨洋、叶嘉威、魏世兵
设计团队:彭影、柴正军 、孙东湧、林家善、陈阳、吴卓洪、吴沈梅、何家坚、张杰华、陈洪锋、张茜茜、刘东坡、刘恒一、何贻培、梁燕莹、陈家辉、周其锋、沈铭佳、李观达
开发商:拾得大地幸福集团
摄影师:正是文化-毛迪生、澳大利亚IAPA设计顾问有限公司
视频拍摄+剪辑:夏至、吴基(澳大利亚IAPA设计顾问有限公司)
媒体对接人:梁颖欣
联系邮箱:kenny.liang@iapa.net.au
公司办公地址:广州市天河区天河北路626号保利中宇广场A座6层
Project Name: CALM HILL – SPEND TIME FOR LIVING
Year of completion: 2021
Project area: 1400㎡
Project location: Sitting on Wangshan at the foot of the Great Wall, Chengde, China
Design company: IAPA Pty. Ltd.
Company website: https://www.iapa.net.au/
Contact Email: kenny.liang@iapa.net.au
Chief Designer: Paul Bo Peng
Director team: Yu Ding, Yang Yang, Ye Jiawei, Wei Shibing
Design Team: Peng Ying, Chai Zhengjun, Sun Dongyong, Lin Jiashan, Chen Yang, Wu Zhuohong, Wu Shenmei, He Jiajian, Zhang Jiehua, Chen Hongfeng, Zhang Qianqian, Liu Dongpo, Liu Hengyi, He Yipei, Liang Yanying, Chen Jiahui, Zhou Qifeng, Shen Mingjia, Li Guanda
Developer: Find the Earth Happiness Group
Photographer: It is Culture-Mao Disheng, IAPA Pty. Ltd.
Video shooting + editing: Xiazhi, Wu Ji (IAPA Pty. Ltd.)
Media contact person: Liang Yingxin
Company office address: 6th Floor, Block A, Poly Zhongyu Plaza, No. 626 Tianhe North Road, Tianhe District, Guangzhou
---
" 设计将时间归还给生活,将建筑与自然共生。"
审稿编辑 Maggie
更多 Read more about: 澳大利亚IAPA设计顾问有限公司