本文由 MCxA Mauricio Ceballos Architects 授权mooool发表,欢迎转发,禁止以mooool编辑版本转载。
Thank MCxA Mauricio Ceballos Architects for authorizing the publication of the project on mooool, Text description provided by MCxA Mauricio Ceballos Architects .
MCxA Mauricio Ceballos Architects:Casa Mague住宅设计充分考虑了场地周围的自然环境和历史背景。之所以选择这里,是因为其独特的微气候条件和植被环境,且临近山坡上的巨石金字塔阿兹特克仪式中心。
MCxA Mauricio Ceballos Architects:Casa Mague is a project with a design which carefully considered the surrounding nature and the pre-hispanic history of the place. The site was chosen for its unique micro-climate and large trees, near of where the aztecs carved a ceremonial center out of a mountainside.
▽项目视频 Video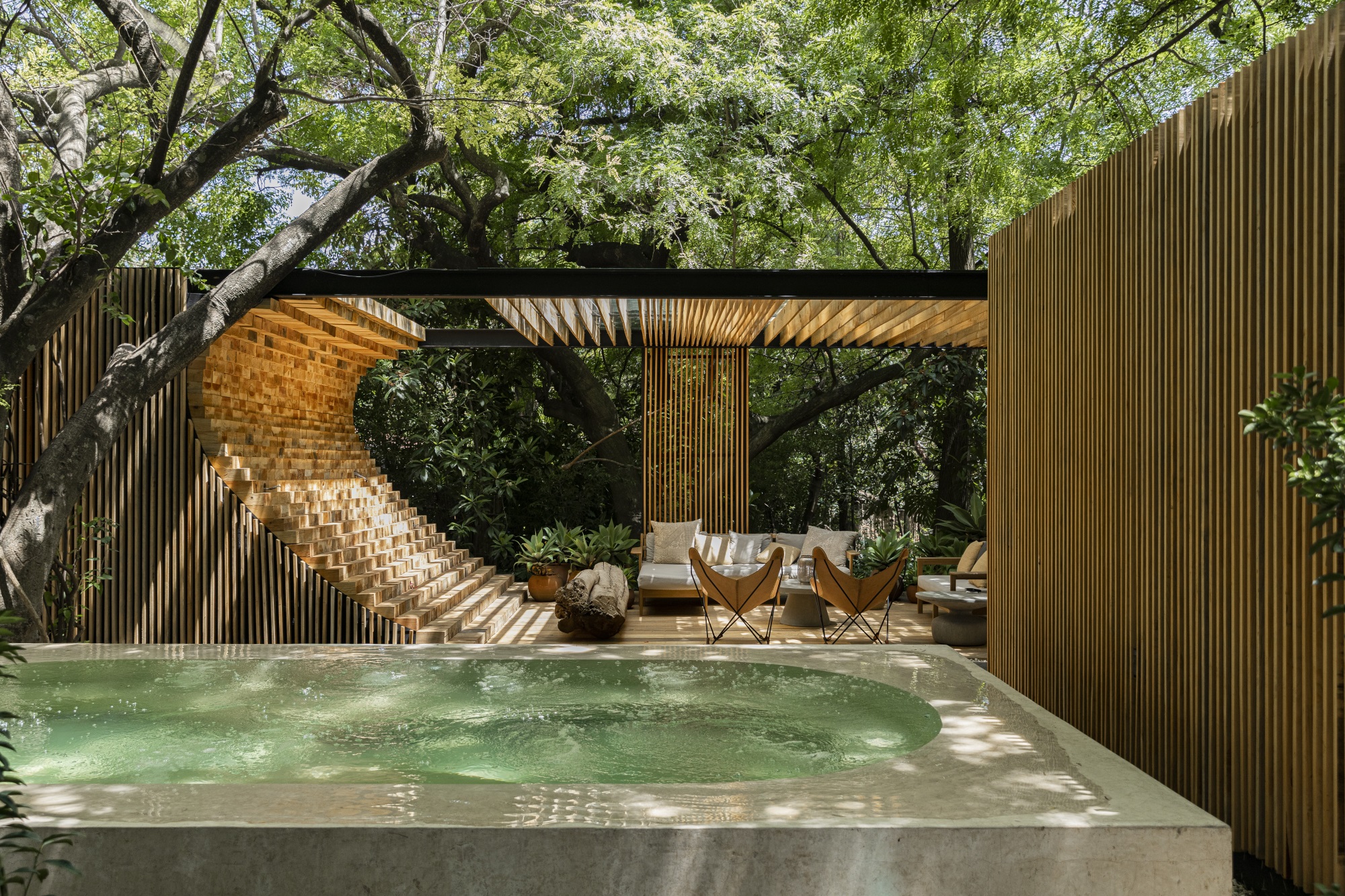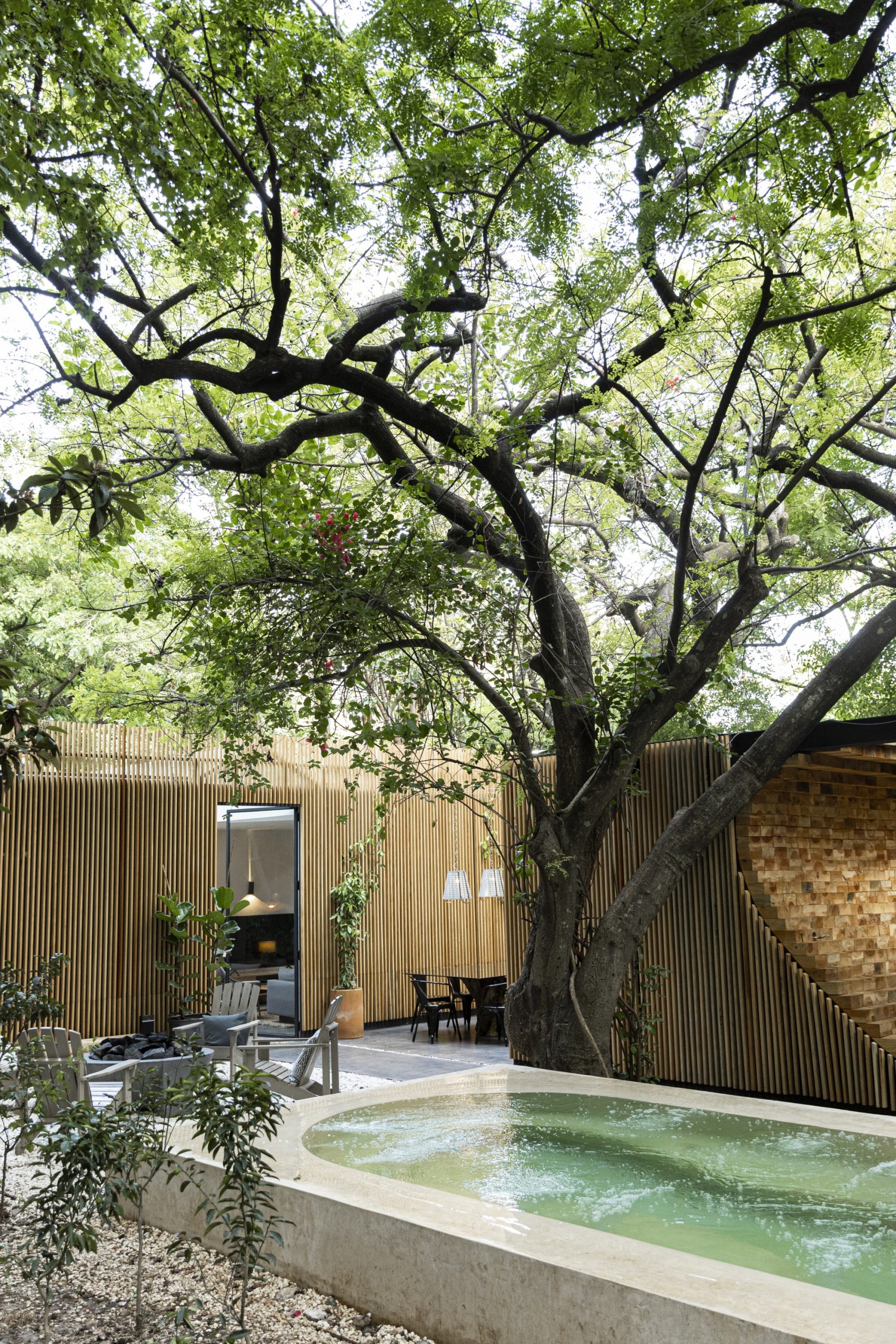 Casa Mague的设计概念基于中美洲文化中的世界观,树木从根部到树干、再到树冠都具有象征意义。该项目分为三个层次:反射地面的镜面底座,赋予建筑漂浮的外观;处于同一平面的居住空间;以及由树叶形成的天然外观。这一概念创造了一种史前语境下的现代建筑语言,它设法与自然和文化环境相融,100%尊重场地的现存植被。
The project concept is based following the mesoamerican worldview, where trees have a symbolic meaning starting from the roots to the trunks, to the canopy. The project is divided into three levels: a mirror base that reflects the ground, giving the house architecture a floating appearance. The living space, located at the same level. And the natural outer cover formed by the foliage of the trees. This concept creates a contemporary language within a prehispanic context, which manages to merge with the natural and cultural environment respecting 100% of the existing vegetation.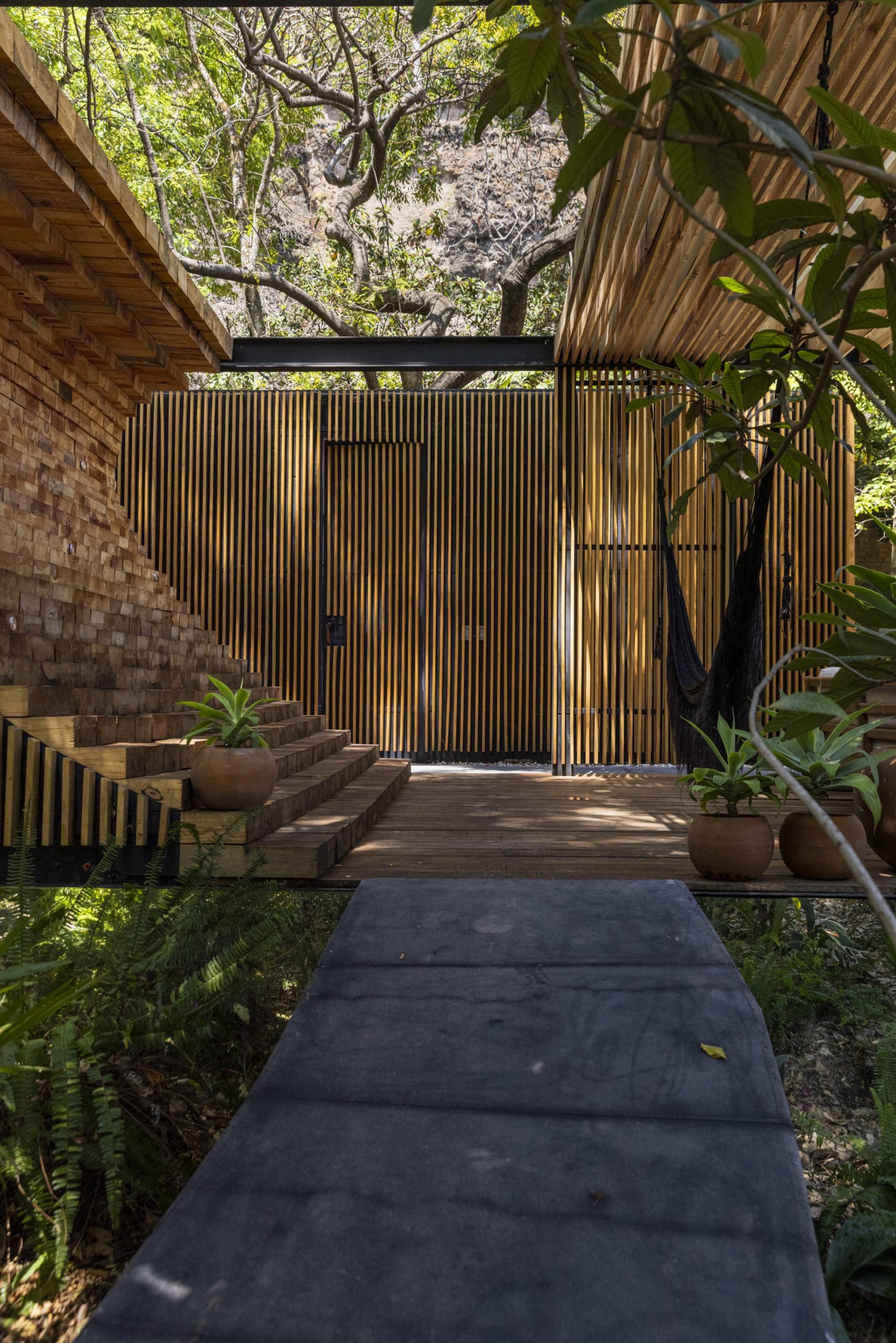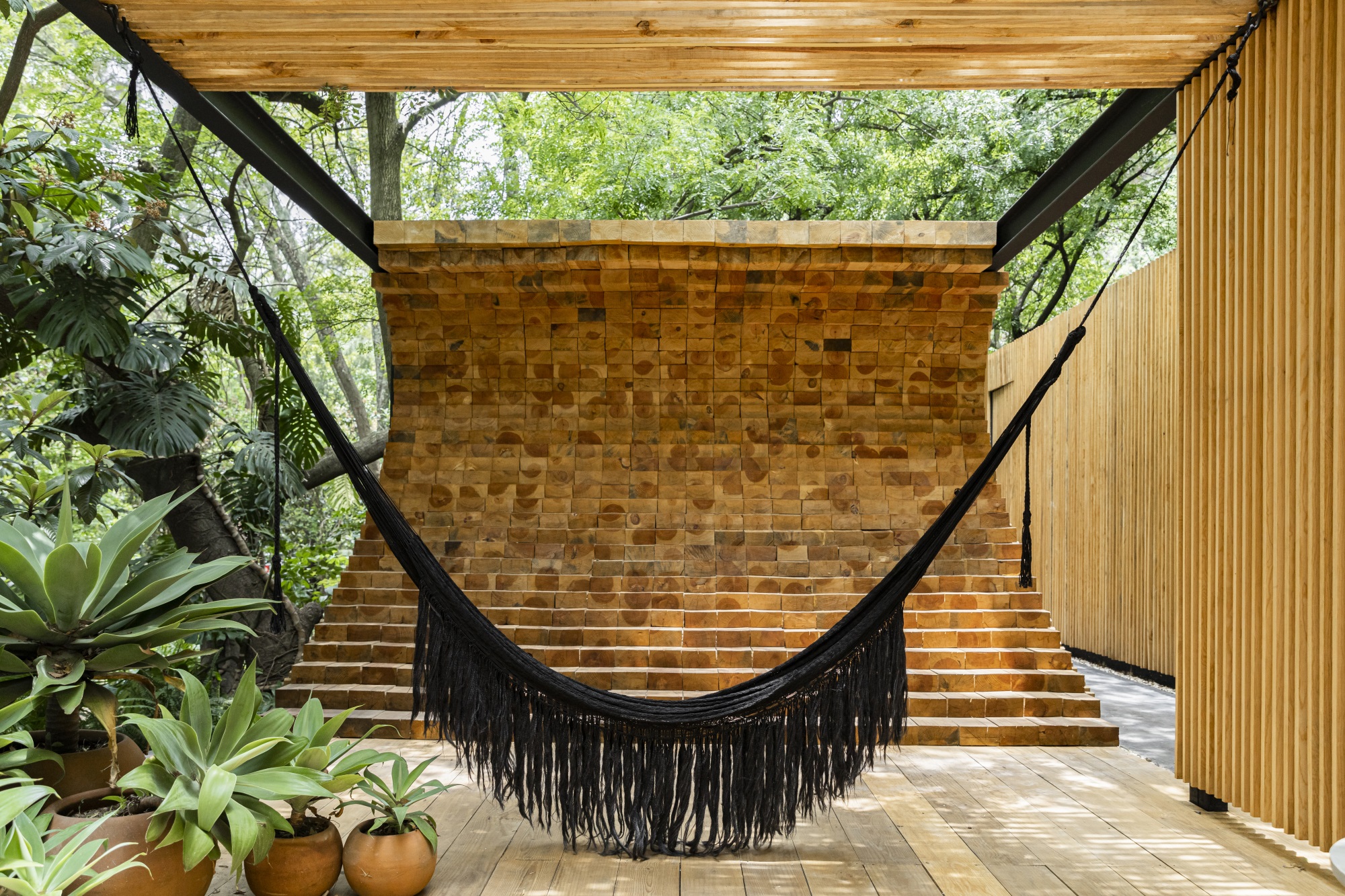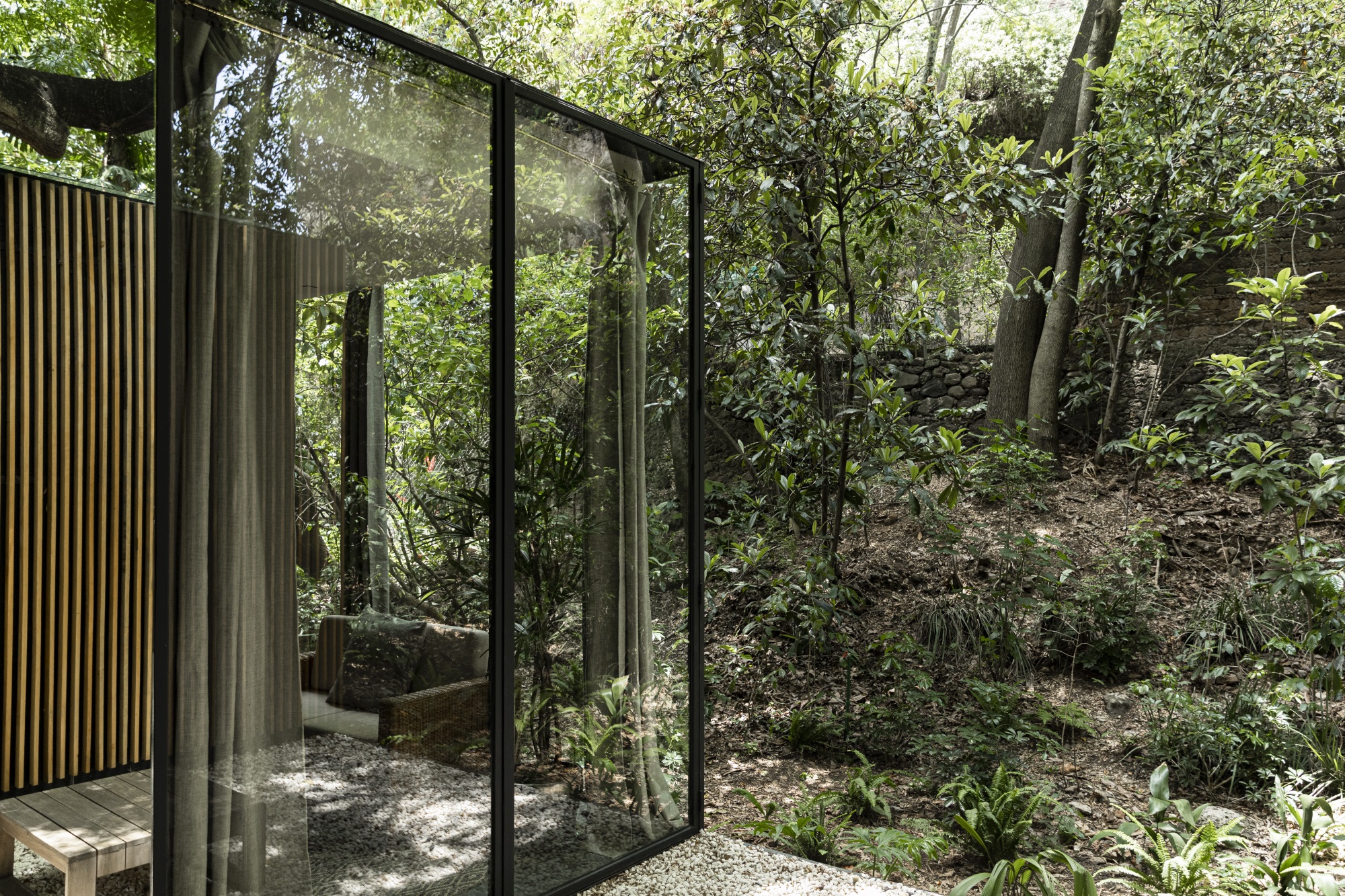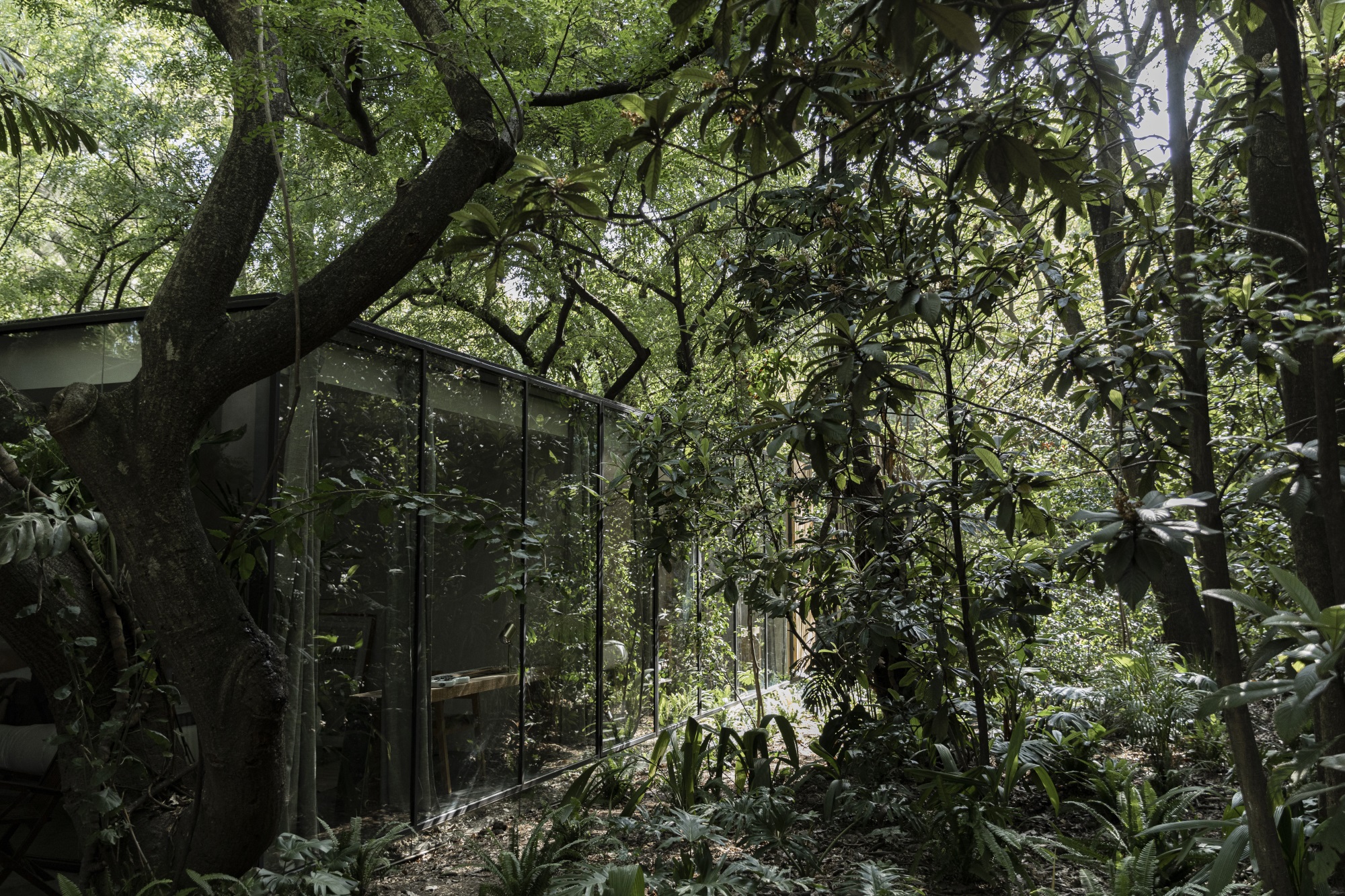 该地块上的住宅项目形成了一个围绕自然的平面。建筑为单层横跨场地,由一系列灵活的体块组成,划分了众多开放空间,包括主通道、几个露台和一个大型社交区。通过这种方式,室内外空间相融,实现了住户与自然长久的亲密接触。
The residential program on the site results in a floor plan that meanders around nature. Built upon across a single story, the house is made up of a series of flexible volumes that are divided by open spaces including the main circulation, several terraces, and a large social area. By this way, indoors becomes outdoors, achieving a lasting close contact with nature for residents.
▽自然环境整合策略 Natural environmental integration strategy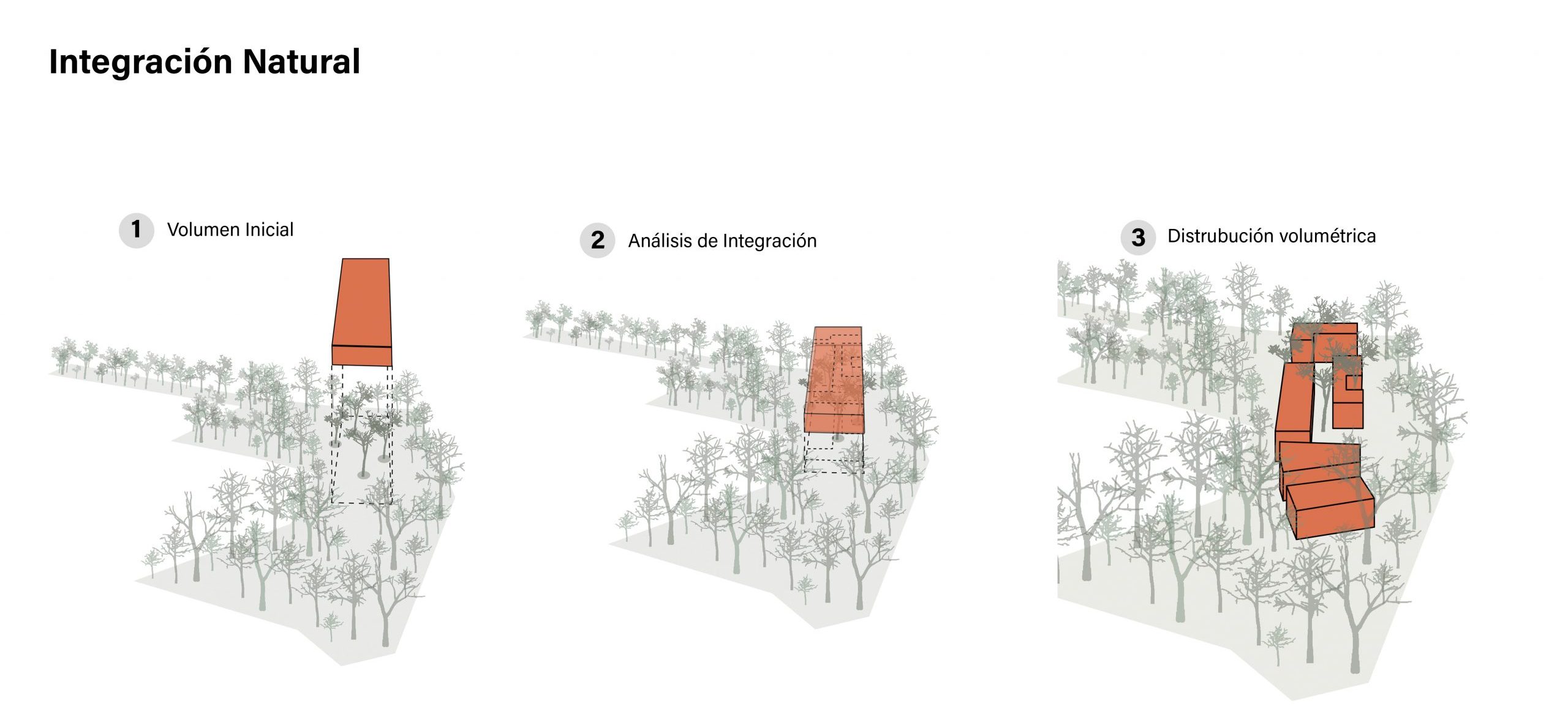 ▽主要通道 The main circulation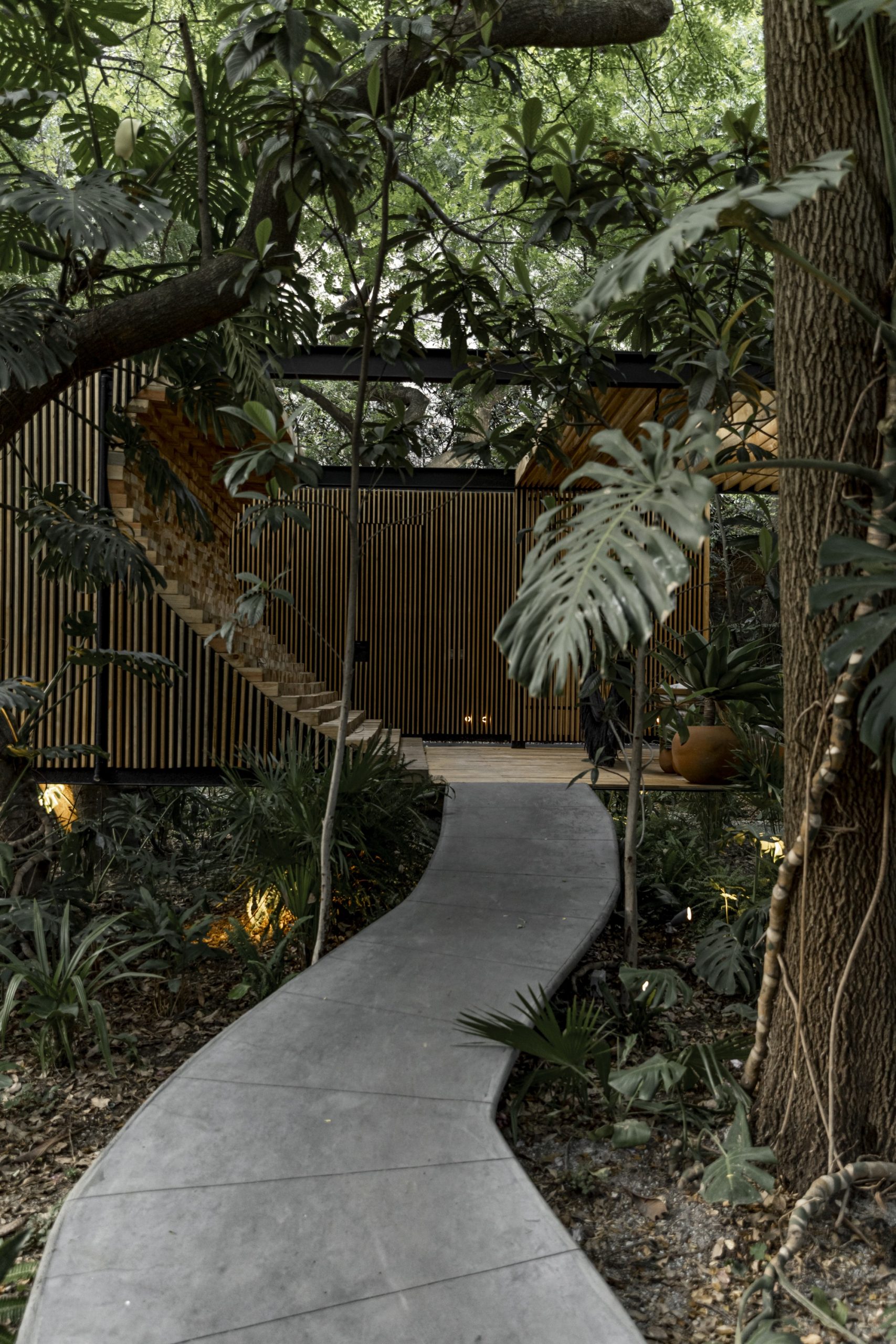 ▽露台 Terraces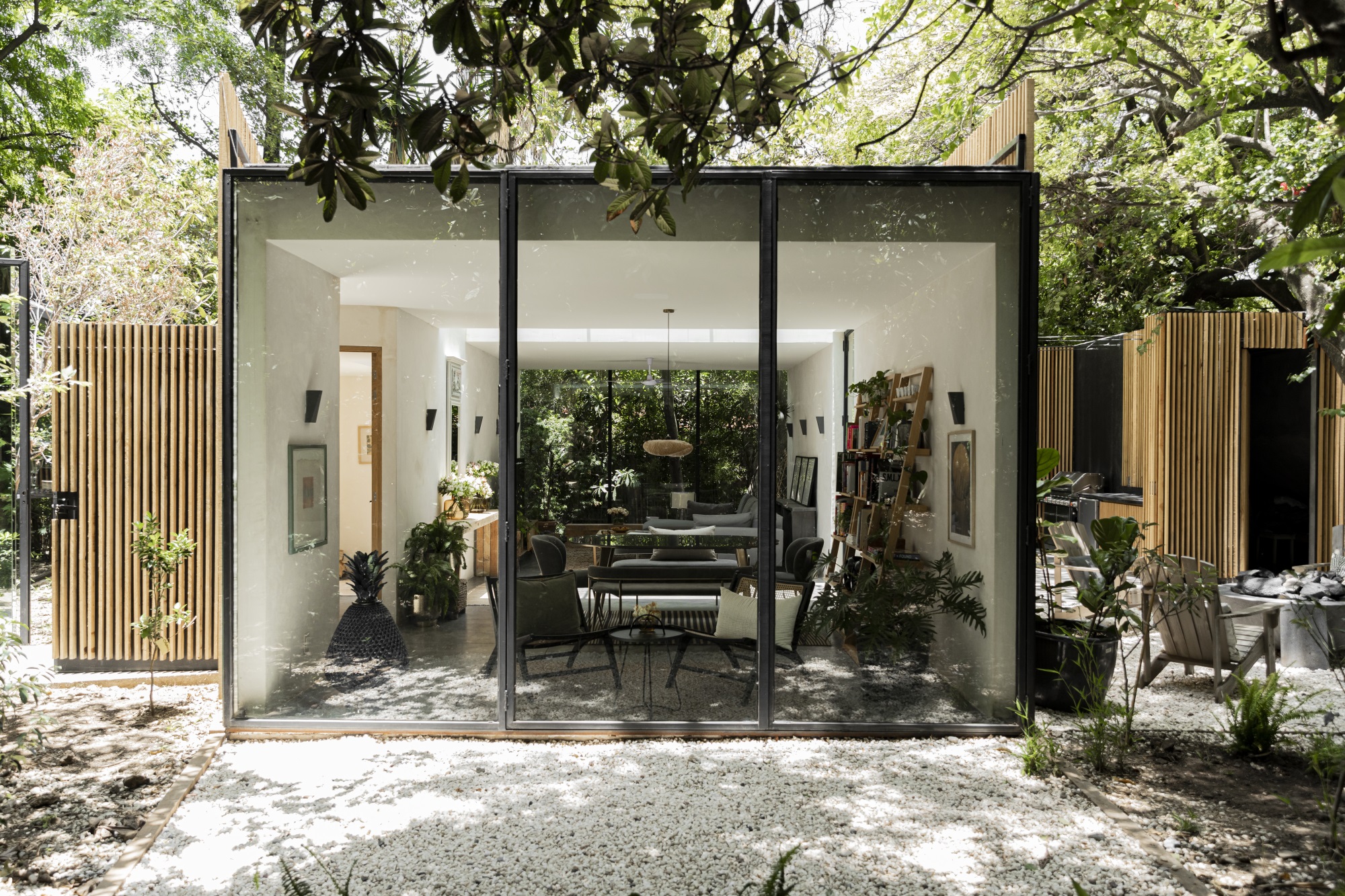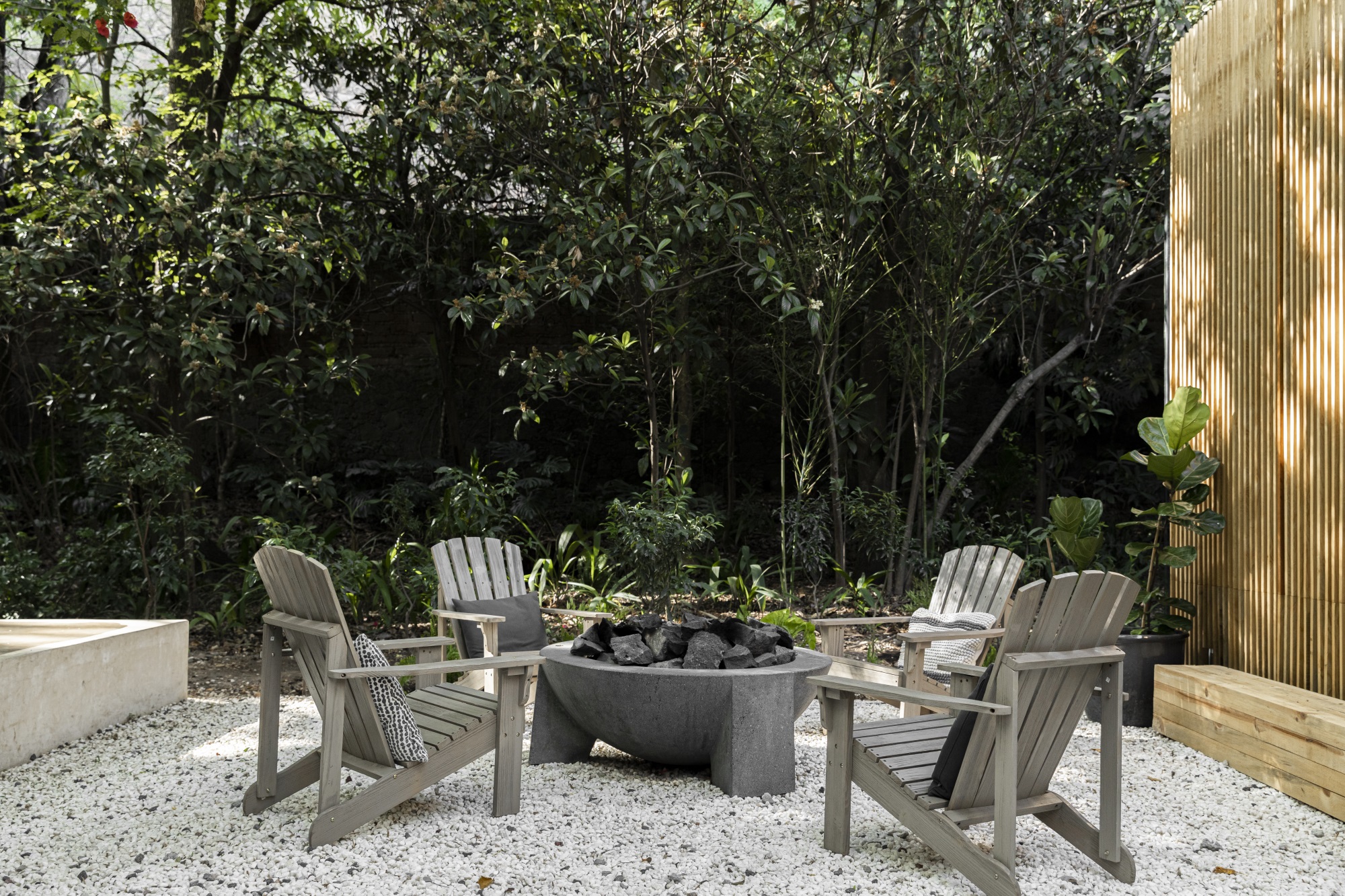 ▽社交区 Social area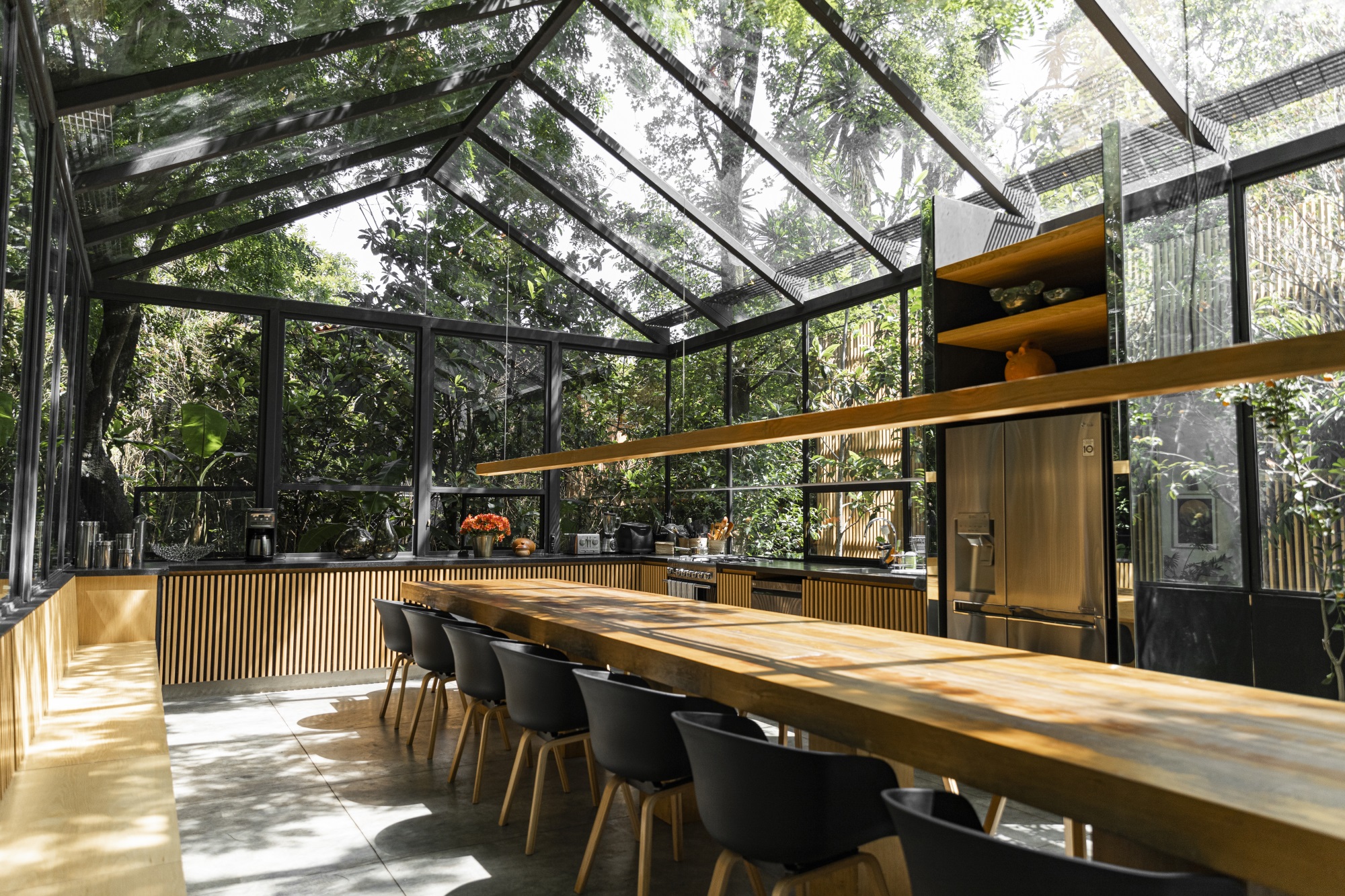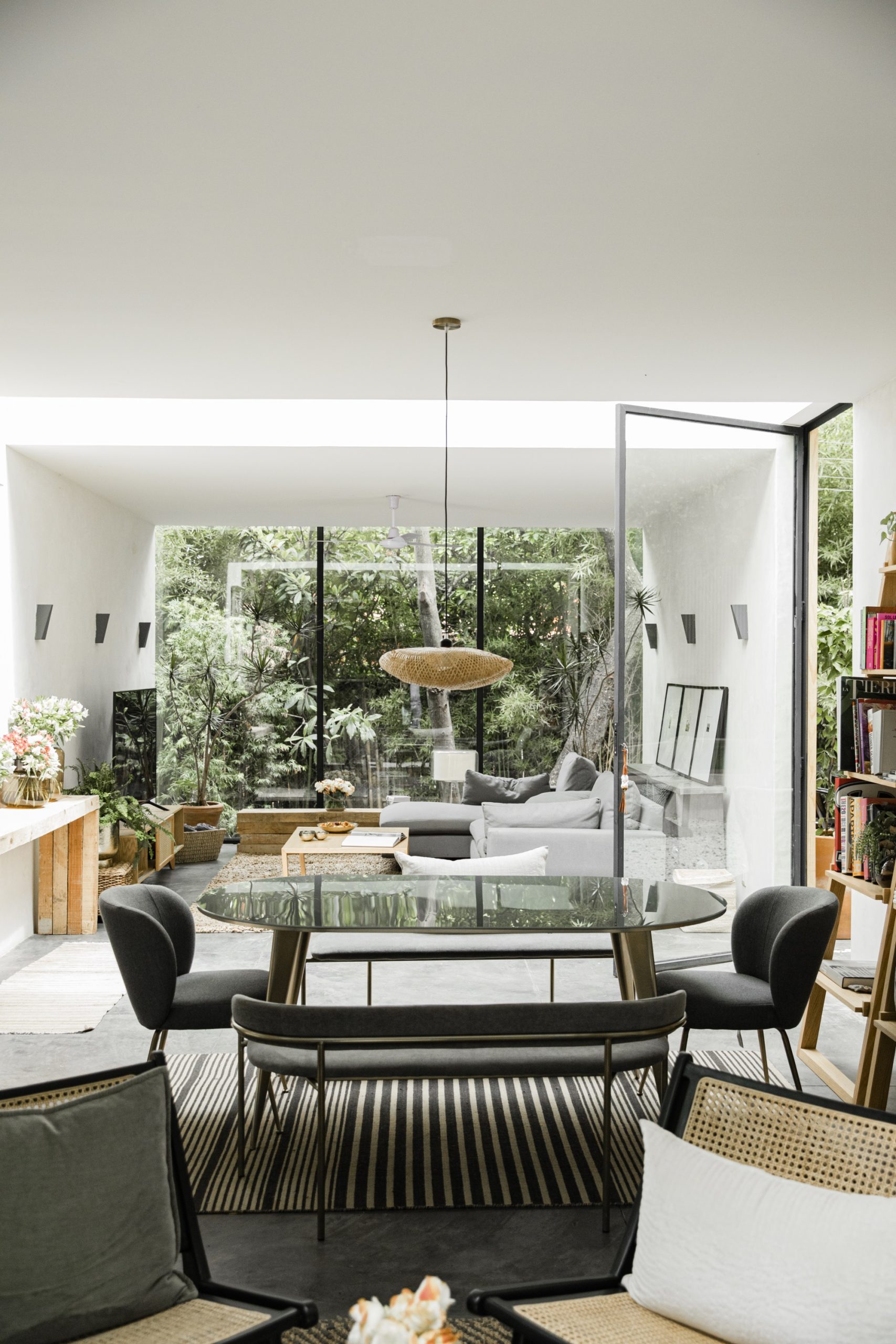 ▽室内装饰 Interior decoration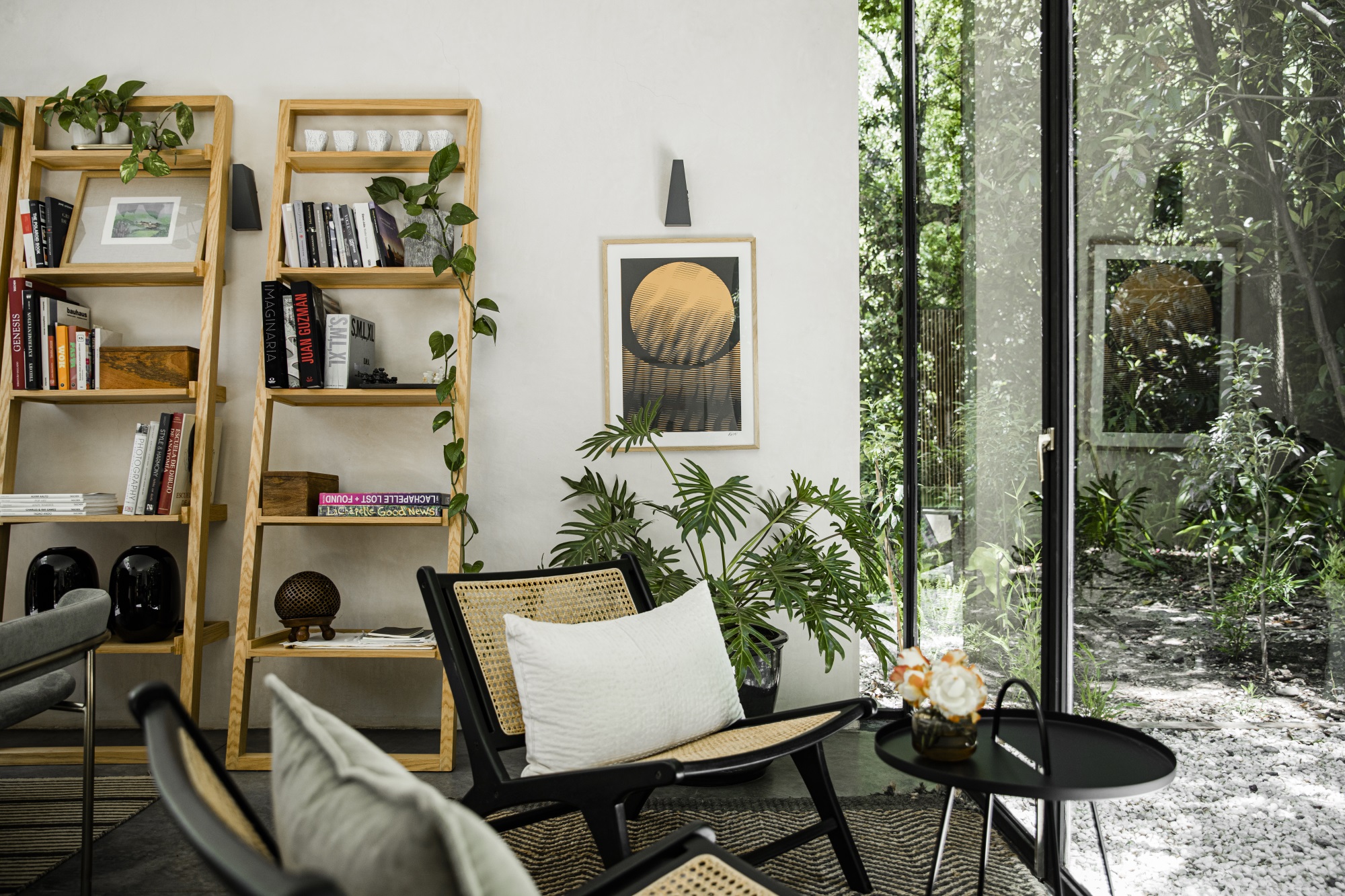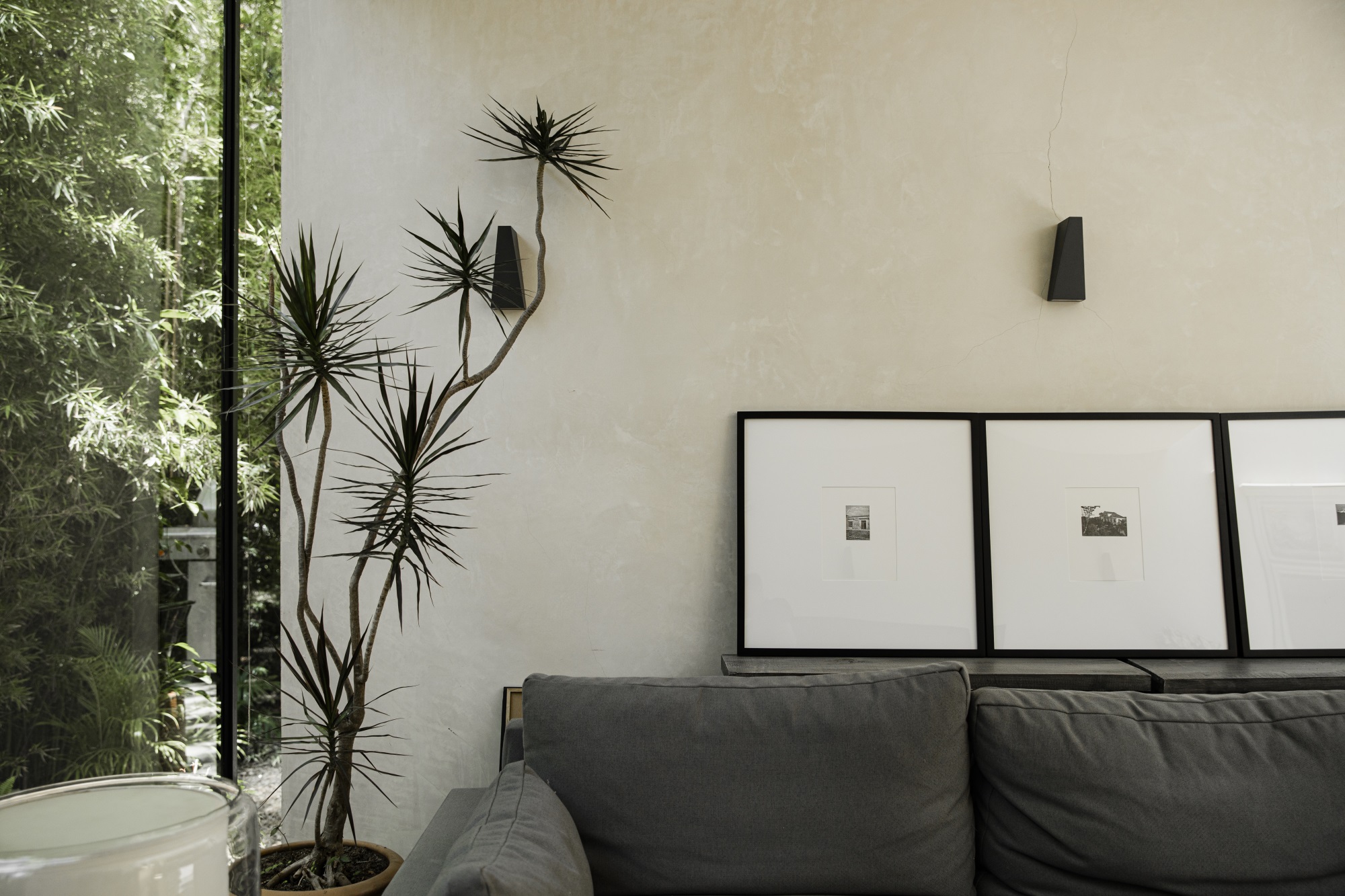 开放式的起居室成为该住宅的主要特色,向上弯曲的金字塔状木块也与附近的阿兹特克结构相呼应。设计主要采用天然和当地材料,如木材、石材和古玛雅灰泥。
The project main feature relies on the open living room which intends to echos the nearby aztec structure, by using pyramid-like wood blocks that curve up and around. The design is dominated by natural and local materials such as wood, stone and chukum (ancient mayan stucco).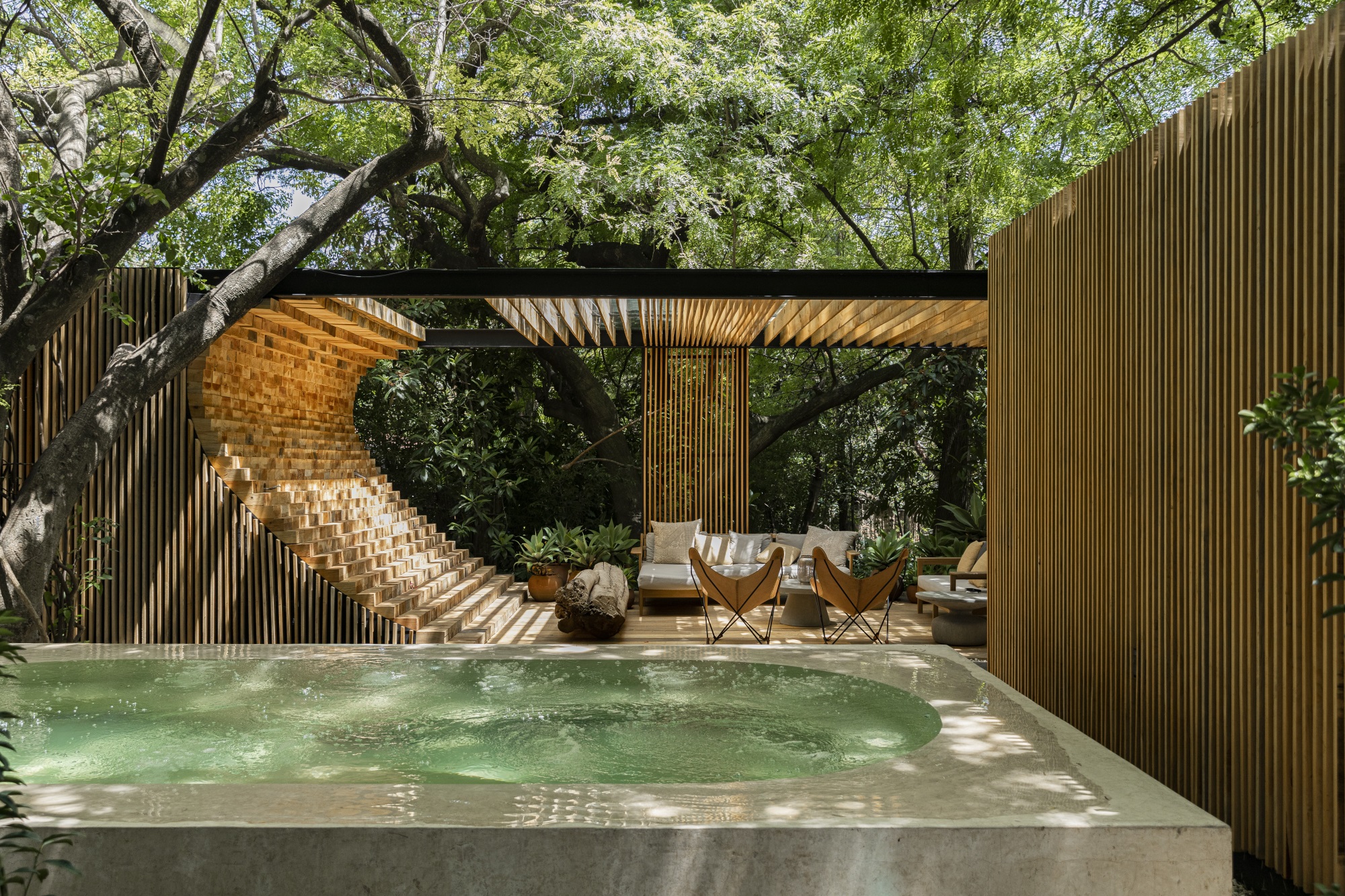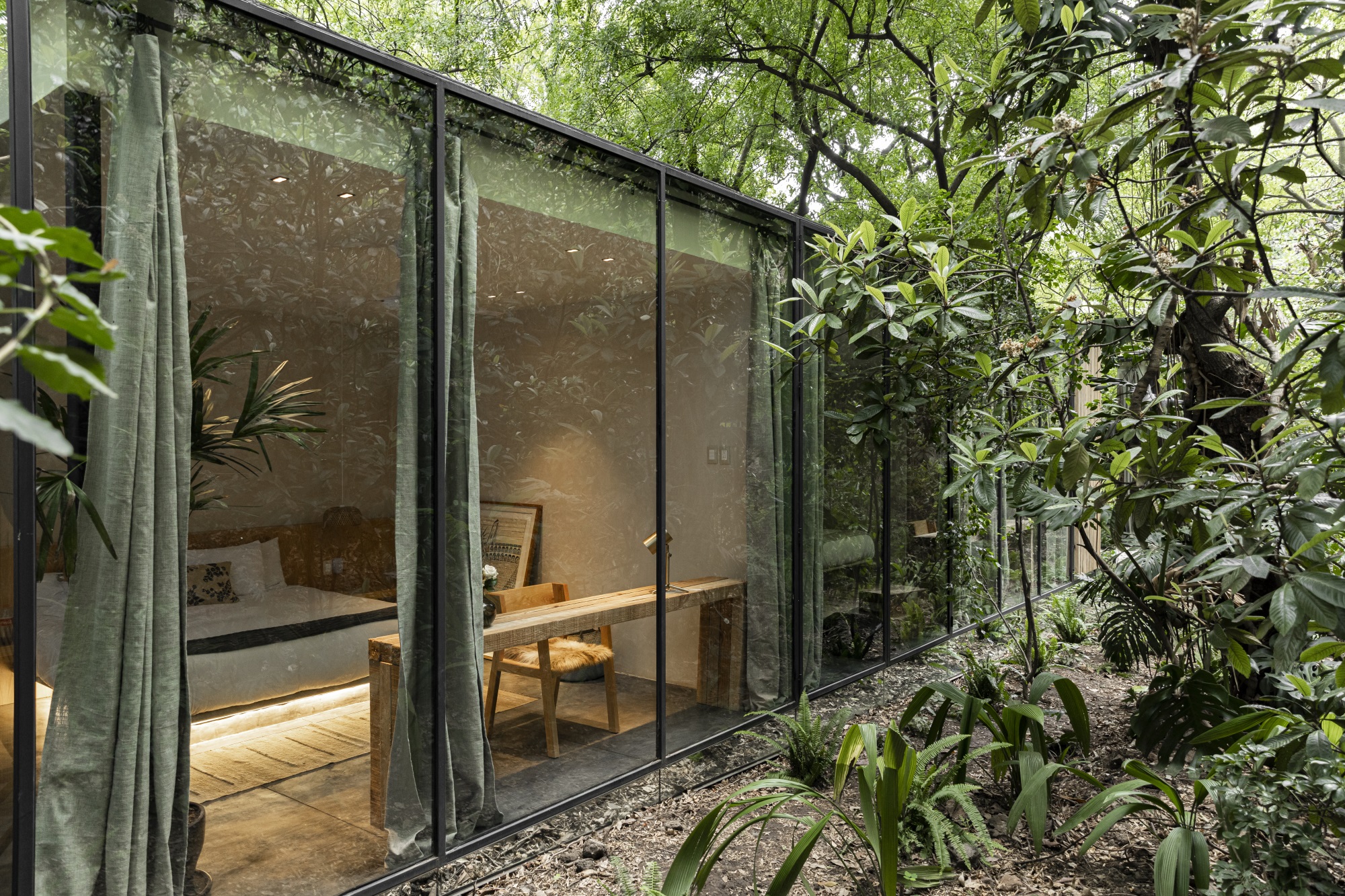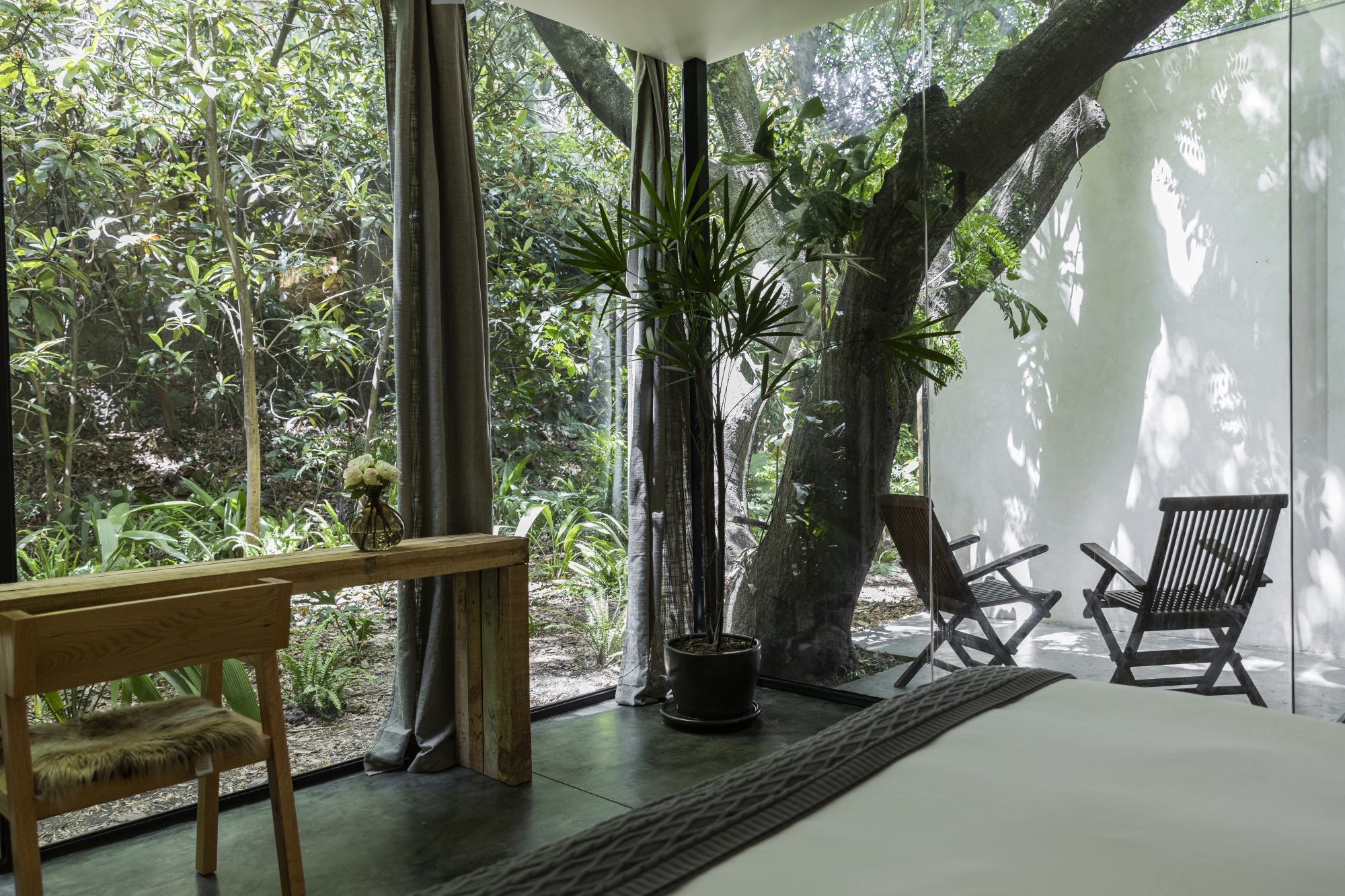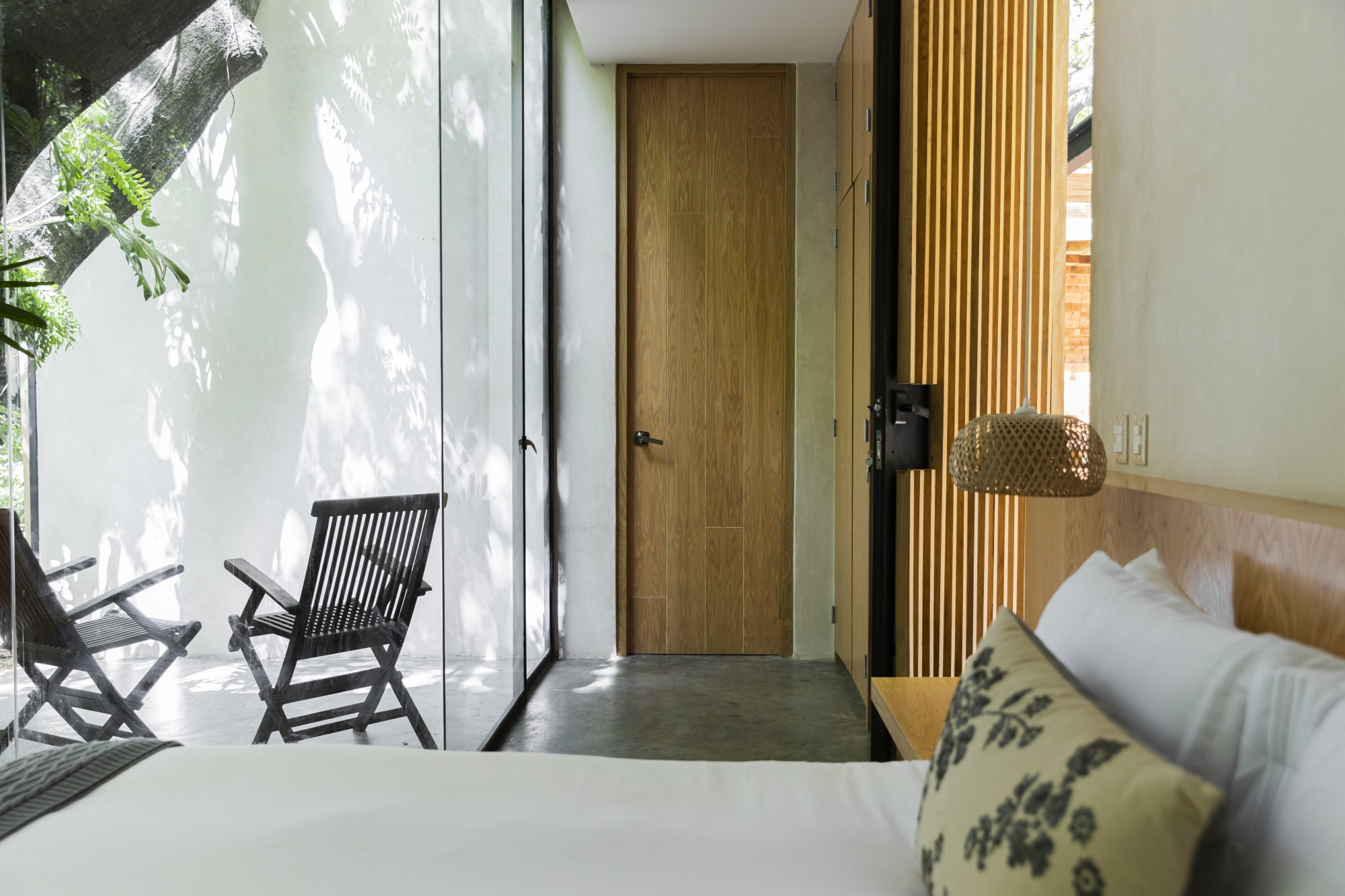 ▽天然和当地材料 Natural and local materials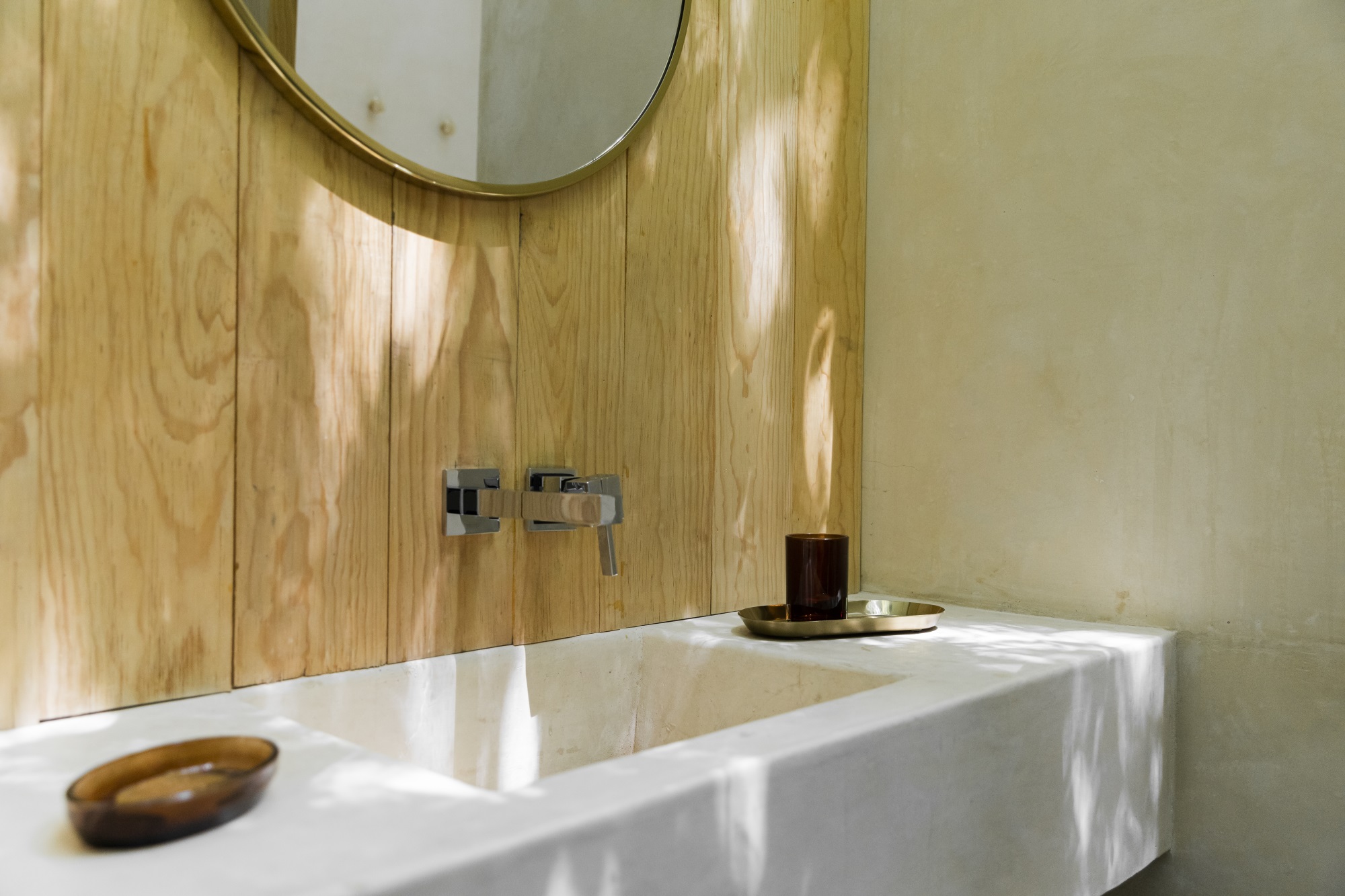 设计师优先考虑可持续性,通过雨水收集、水灌溉再利用、使用太阳能电池板和传感器减少能源消耗、利用废弃物创造堆肥、回收玻璃、铝和纸板以及仅用挥发性有机化合物(VOC)含量低的当地材料来减小人类活动对环境的影响。
Sustainability was prioritized on the project reaching a minimal footprint, by the employment of rainwater harvesting, water irrigation reuse, energy reduction consume through solar panels and sensors, waste management of for the creation of compost; glass, aluminum and cardboard recycling, and by the use of only local materials with low levels of VOC.
▽夜景 Night scene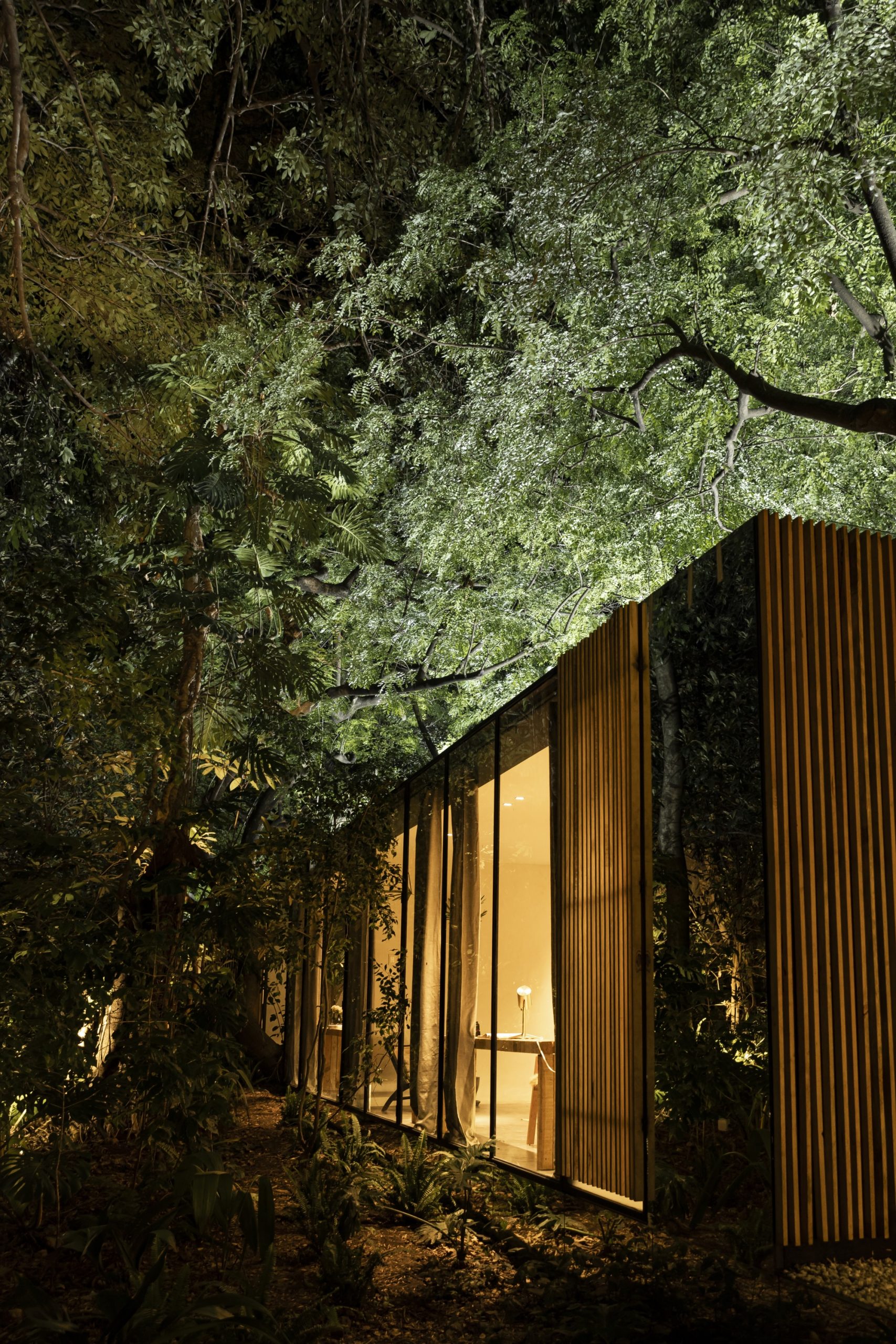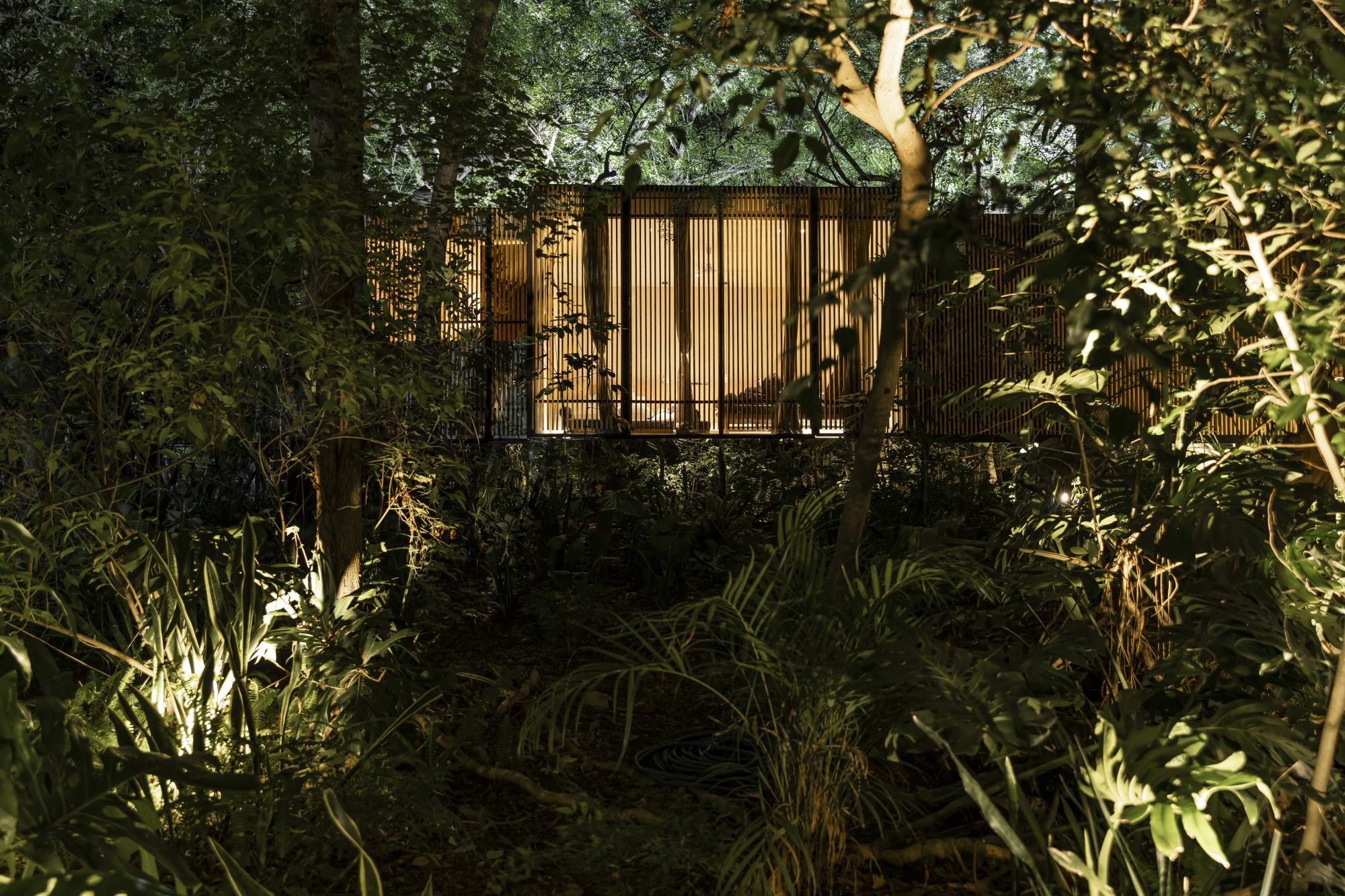 ▽总平面图 Master plan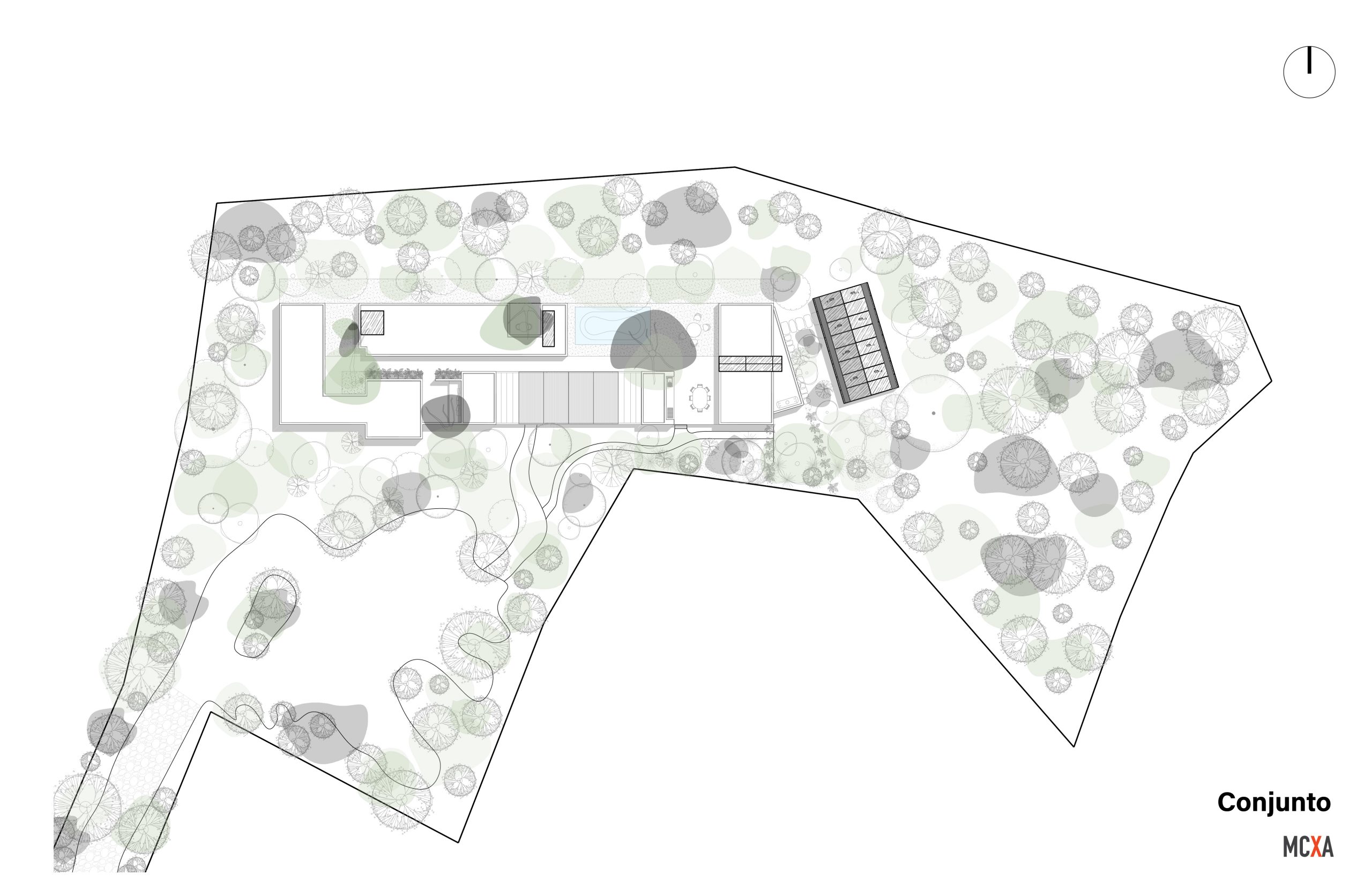 ▽植物布局 Plant layout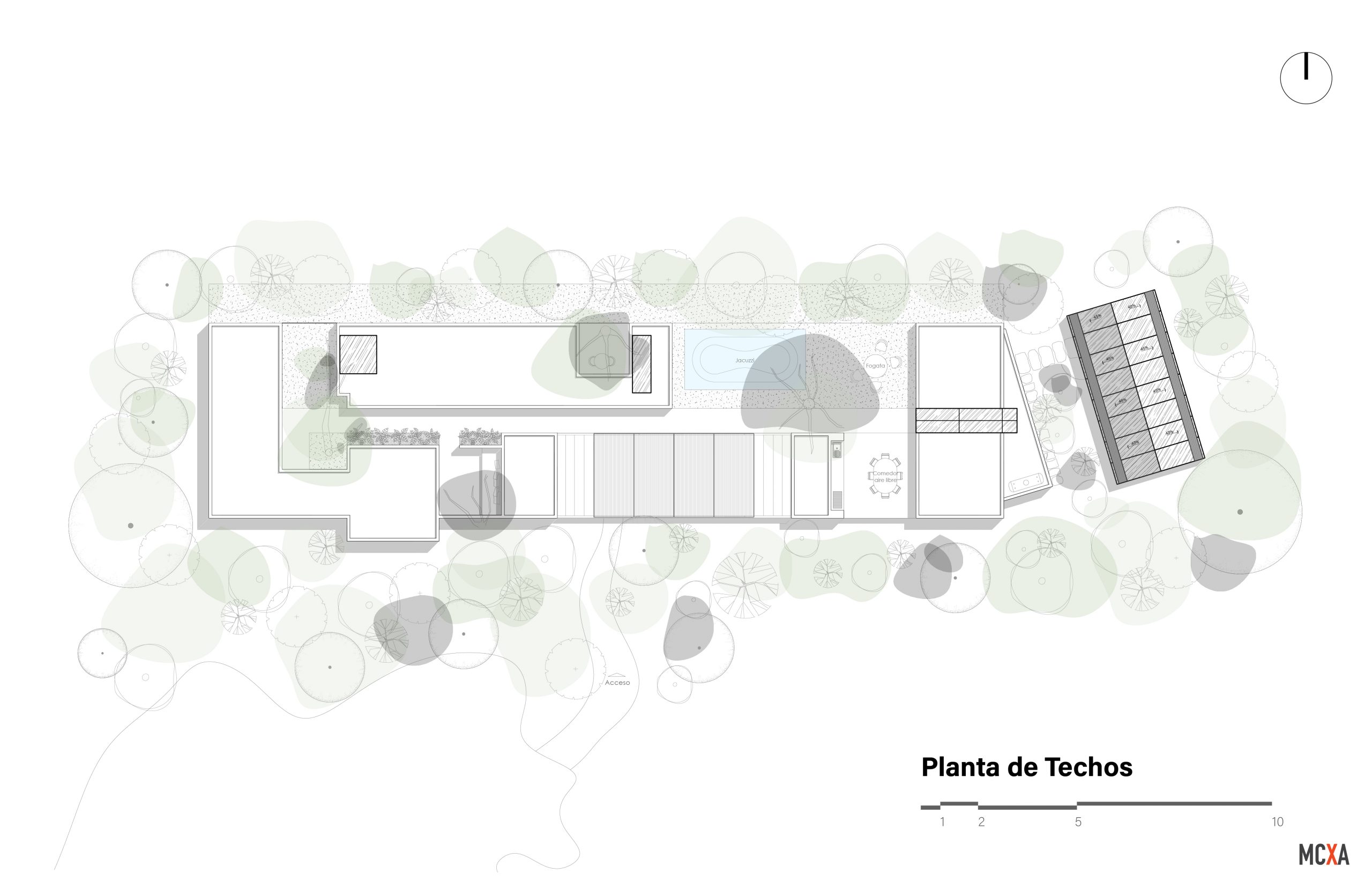 ▽底层平面图 Ground plan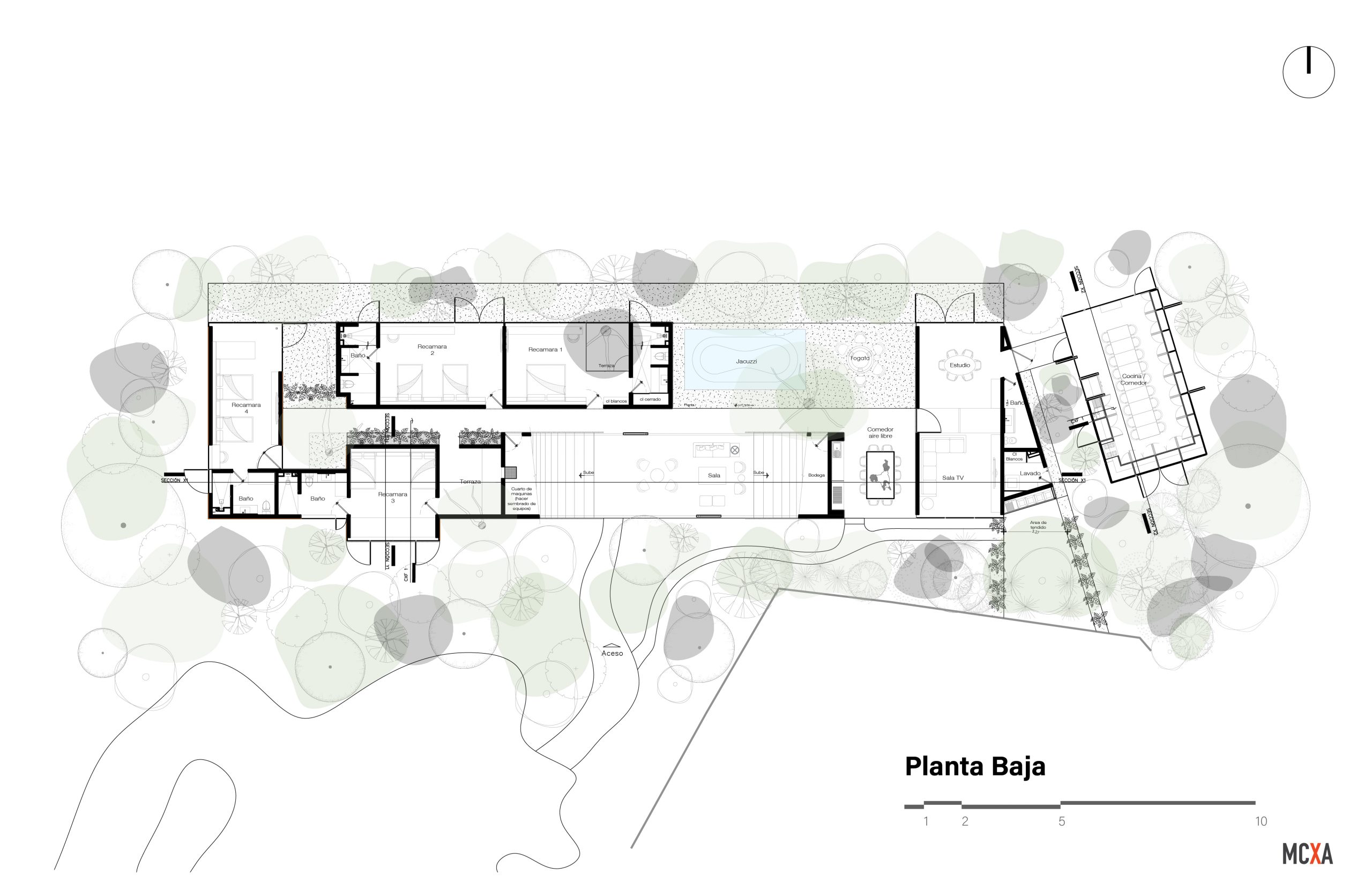 ▽建筑模型,内部功能分析 3D model, Internal function analysis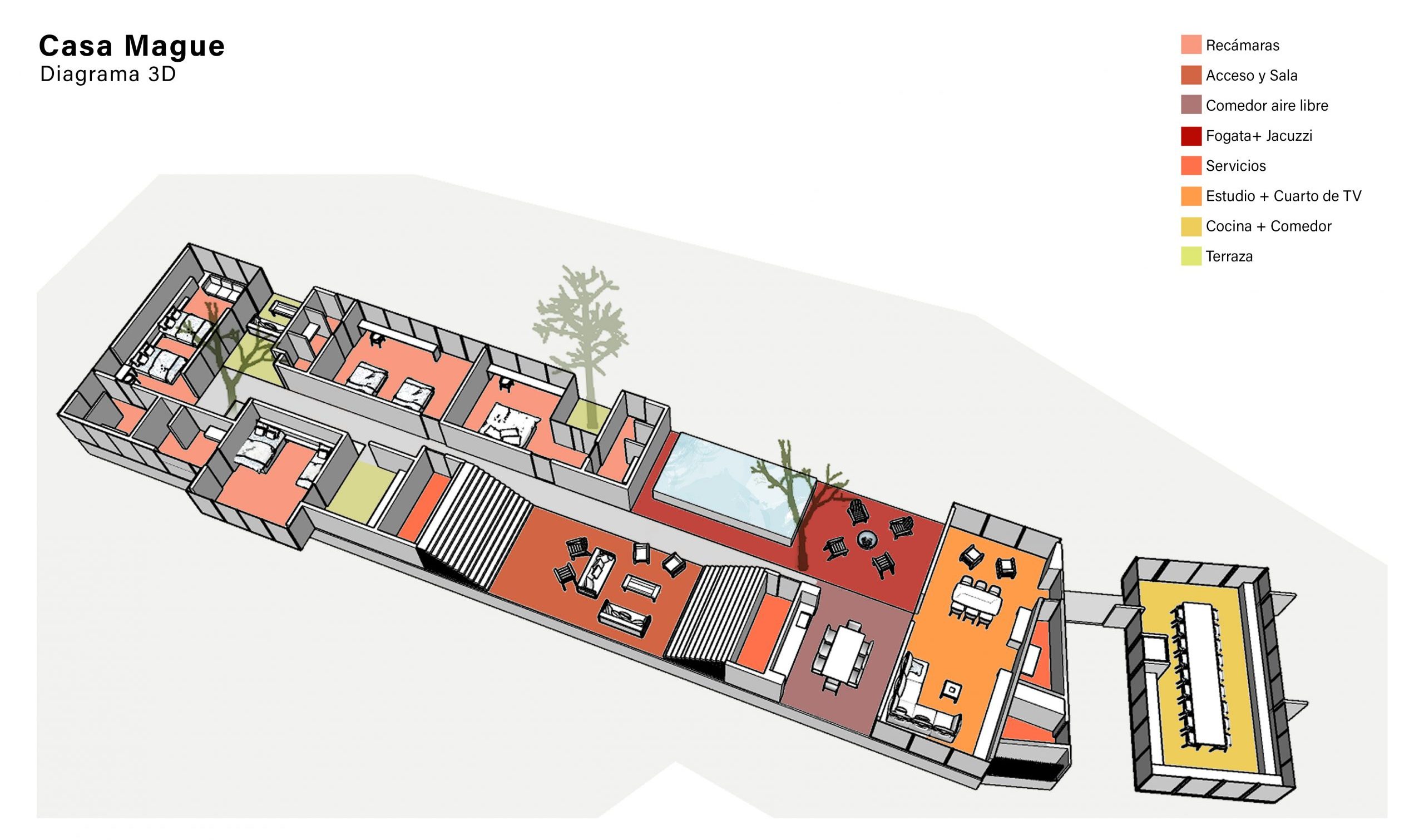 ▽立面图 Elevation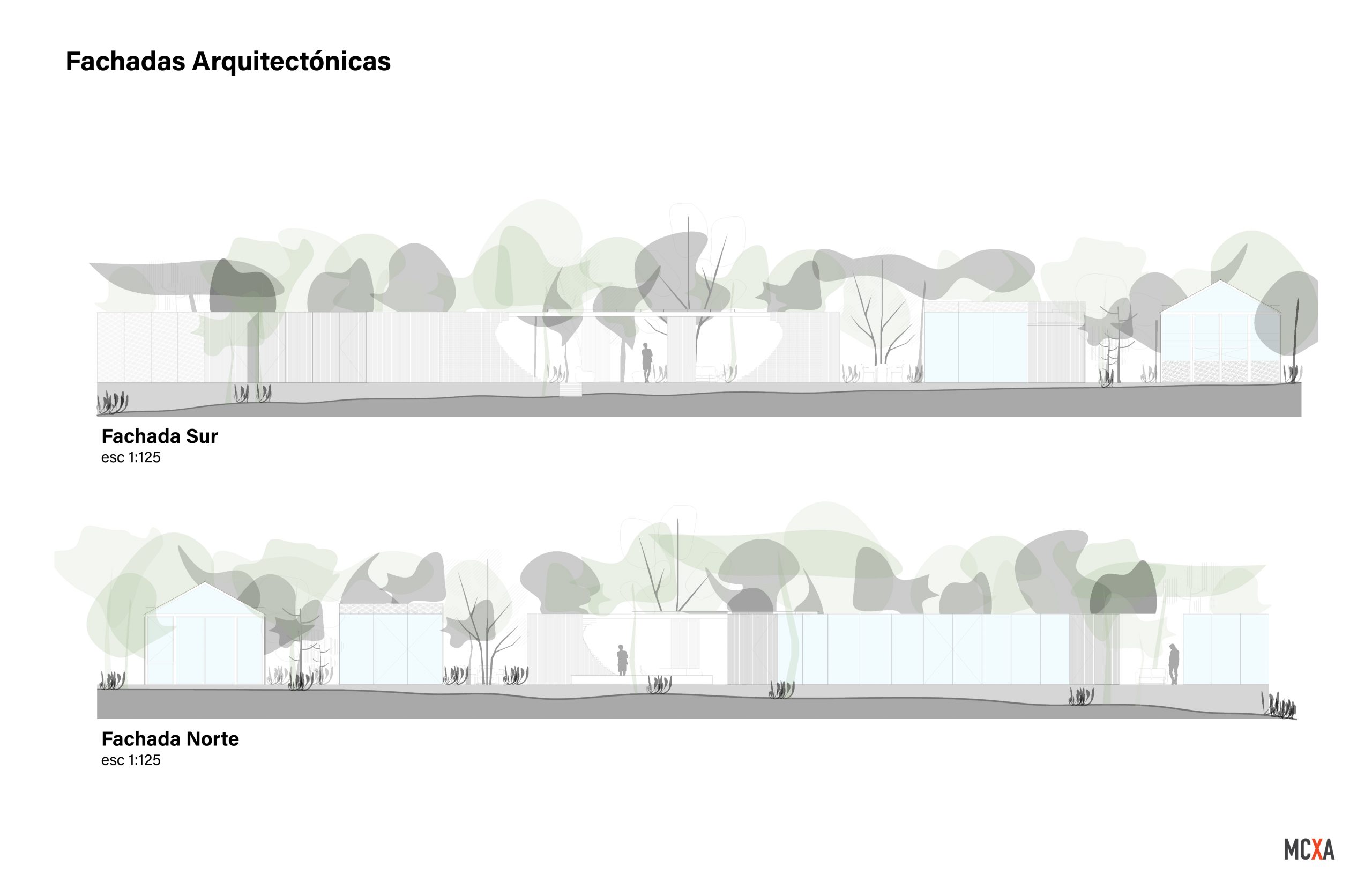 ▽剖面图 Section
▽设计细节 Design details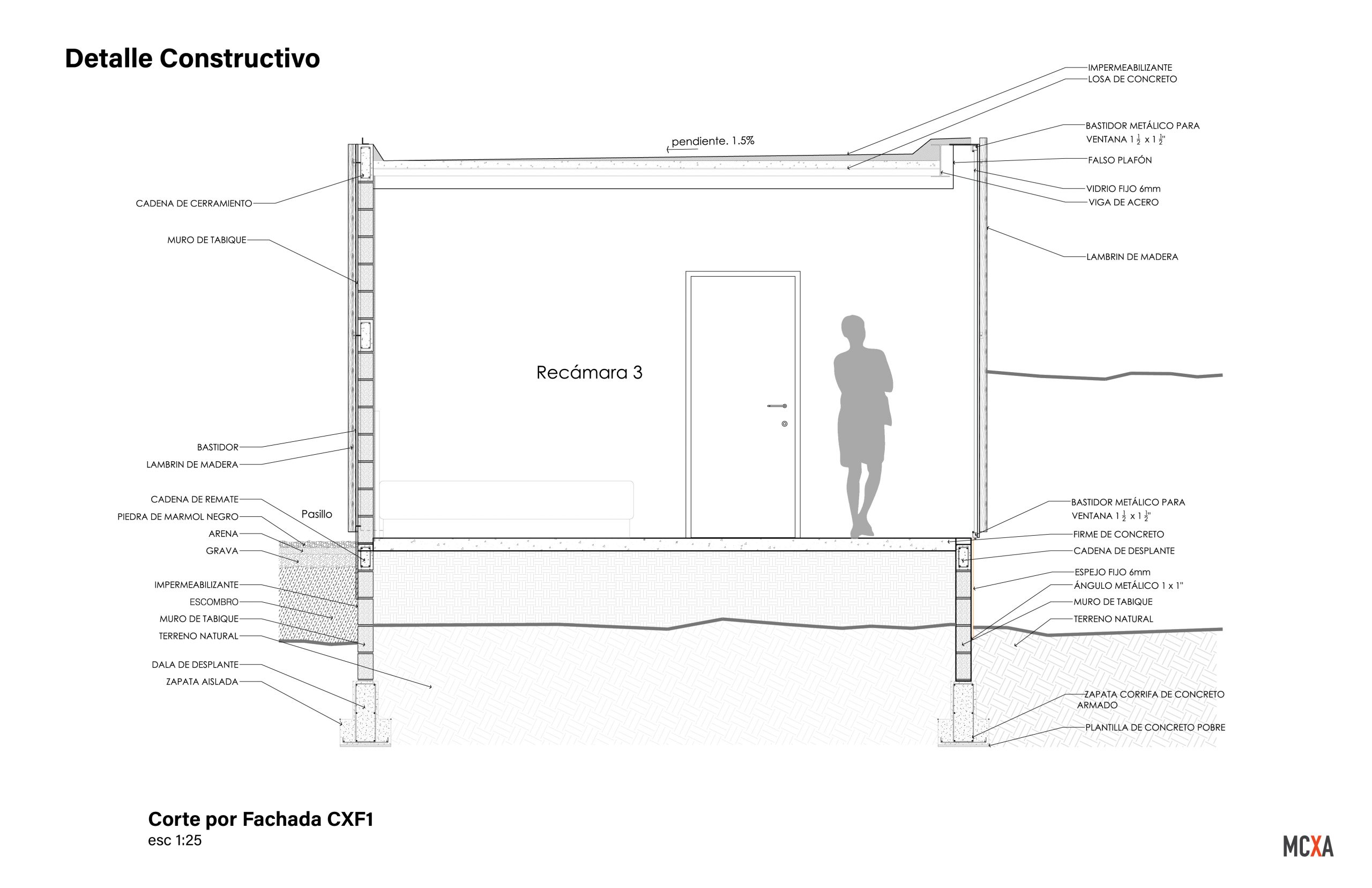 项目名称:Casa Mague
完成时间:2020年
面积:270平方米
项目地点:墨西哥州马利纳尔科 墨西哥
景观/建筑公司:MCxA Mauricio Ceballos Architects
网站:www.mcxa.group/firm
联系邮箱:info@mcxa.group, pr@mcxa.group
首席建筑师:Mauricio Ceballos、Francisco Vázquez。马可·安东尼奥·塞韦里诺
设计团队:Mauricio Ceballos Pressler、Francisco Vázquez
客户:私人
所获奖项:
2020年建筑施工与设计奖
2020年佛罗伦萨 Entremuros 奖
入围2020年 Obra del Año 奖
入围2020年居住地奖 – Mies Van der Rohe
图片来源:Diego Padilla Magallanes
Project name: Casa Mague
Completion Year: 2020
Size: 270 m2
Project location: Malinalco, State of Mexico. Mexico
Landscape/Architecture Firm: MCxA Mauricio Ceballos Architects
Website: www.mcxa.group/firm
Contact e-mail: info@mcxa.group, pr@mcxa.group
Lead Architects: Mauricio Ceballos, Francisco Vázquez. Marco Antonio Severino
Design Team: Mauricio Ceballos Pressler, Francisco Vázquez
Clients: Private
Awards :
Architecture Construction & Design Award 2020
Firenze Entremuros Award 2020
Shortlist Obra del Año 2020
Shortlist Living Place Award 2020 – Mies Van der Rohe
Photo credits: Diego Padilla Magallanes
---
"该项目设法与自然和文化环境相融,尊重场地环境。"
审稿编辑:Simin
更多 Read more about: MCxA Mauricio Ceballos Architects