怡境:华润置地悦里项目将这种对空间的思考带入更具艺术的生活模式,使美术馆不再是冷冰冰单纯作为背景的场馆,而是一处具有烟火气息的生活空间。在这个空间里,一树一花,一光一影,一明一暗,一厚一薄,一虚一实,一动一静,均是设计师对空间环境的感悟,更是直面静与光的交融哲学。
GVL:CR Land Yue Li has integrated the thoughts about space with the artistic lifestyle, creating an art gallery that is close to real life. In this space, every detail including the tree and the flower, the light and shadow, the thick and the thin, the true and the false, the activity and the inertia, reflects the designers' thoughts on space and environment. 
1、厚与薄的设计哲学  THICK / THIN
华润置地悦里项目建筑以清水混凝土和玻璃为主要材质,两种材质的厚重与薄透对比明显,打造出现代简约整洁的建筑主体。
The architecture, which is mainly built with the thick concrete and the thin glass, looks modern and elegant. 
虽然建筑的形态、空间及外观要符合必要的逻辑,但建筑的体量在景观面前以空间厚度占据优势。
Though the form, the space and the facade of the building must follow the requested standards, its volume makes it more eye-catching compared with the landscape. 
景观设计以及要表达的景观意境所担任的角色应该像化学反应中的催化剂,它能加速反应,却在最终的结果里达到干净纯粹的烘托效果。
Landscape design and the artistic conception it wants to deliver should serve as the catalyst which will help to accelerate the reactions and highlight the elegance and artistic atmosphere of the architecture.
设计手稿  Draft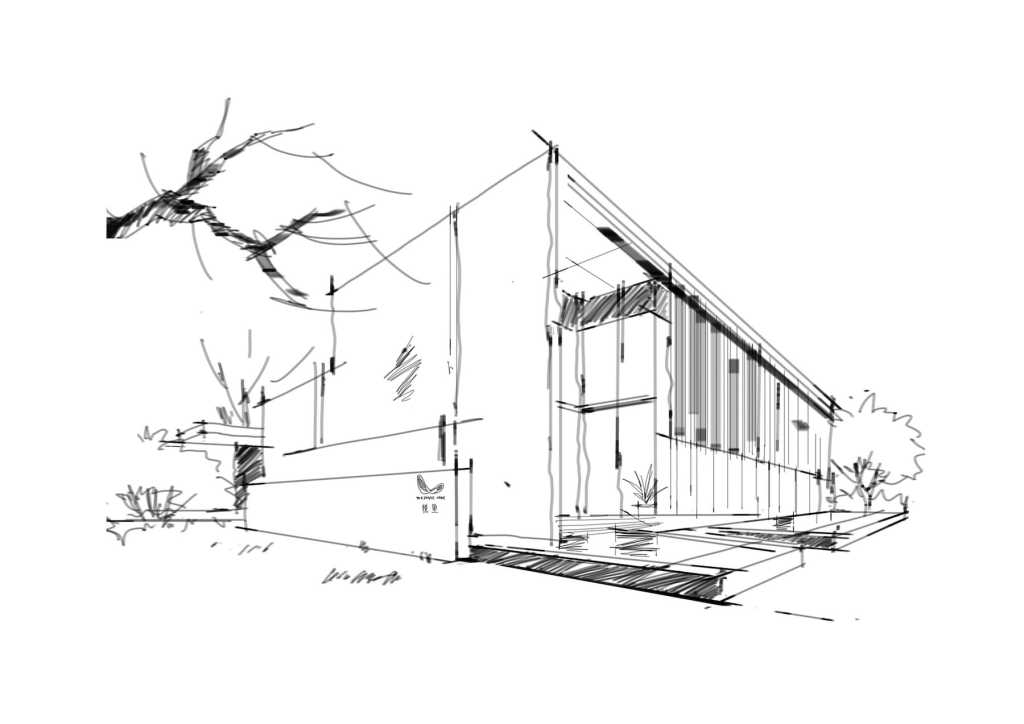 入口以完全打开的方式将建筑立面完全展示,现代建筑以荒蛮的气势一头扎进群山和森林的怀抱,空气清澈得有一丝神圣的气息,仿佛众神厌弃繁华终迁徙定所于此。
The entrance is open to present the facade of the building which is surrounded by mountains and forest. The fresh air and natural environment enhance the holy atmosphere. 
2. 虚与实的镜像空间  FALSE / TRUE
建筑的清水混凝土原色在夜色的轻抚下,淡淡吟唱着轻柔的光。穿过走廊,后场的景色仿佛被一面镜反射,有一种远离尘世的虚幻感。
The bare concrete gives out soft light in the moon, reflecting the landscape of the backyard and creating an unreal atmosphere. 
这虚实不明的不真切感,最后落脚在水池的倒影之上,犹如落入对称的异度空间。从城市中心信步可达的山水之境,从繁华之处稍却躲开便可获得的那份静谧。
The shadows finally reflect on the pool, forming a special symmetrical space which allows people to escape from the hustle and bustle and experience the rare tranquility.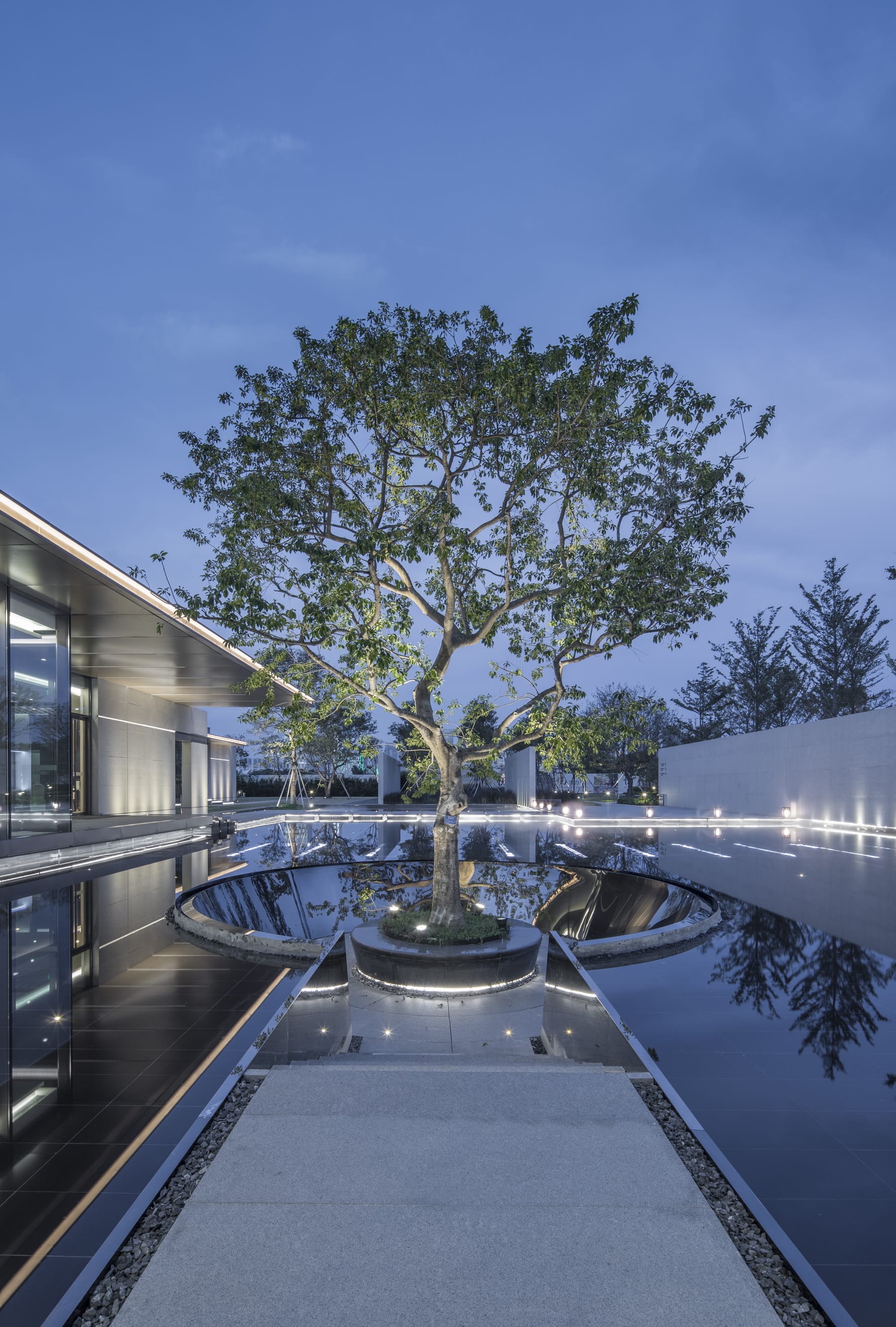 "静谧与光明之间的对话就交由镜像来呈现。"  ——路易斯康
The dialogue between the tranquility and the brightness is realized by the mirror design.   —— Louisl. Kahn 
设计手稿  Draft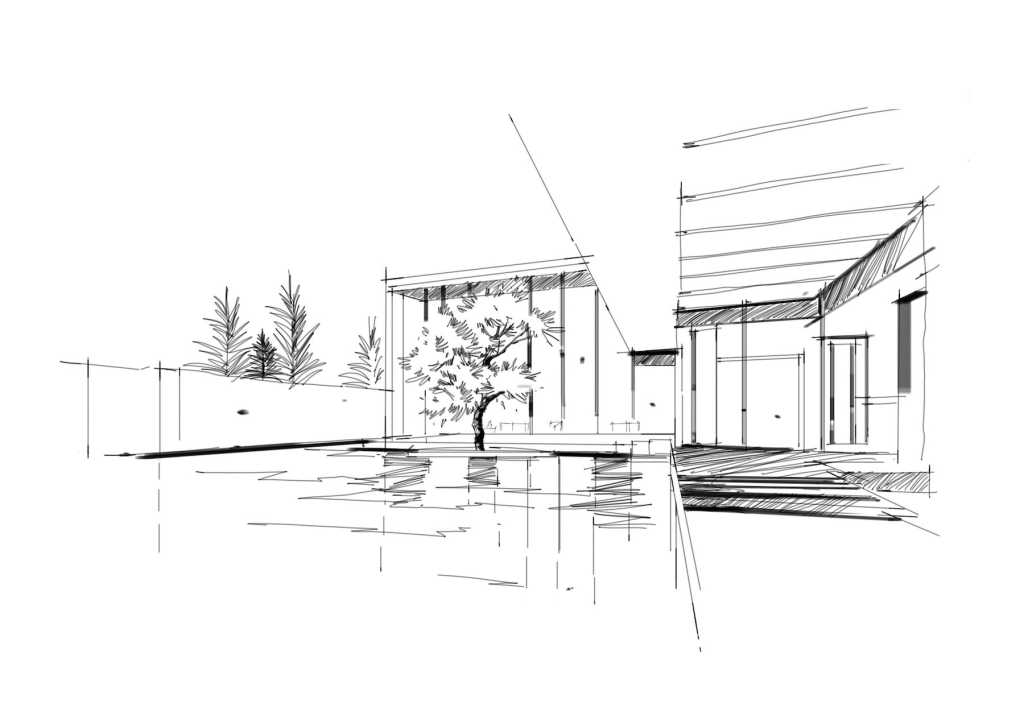 水池中心的下沉空间冷不丁地将虚实打破,镜面水依池壁倾泻而下,潺潺的流水声将这份虚实之境放大,更显悠远之意。
In the center of the swimming pool is a sunken space which is in contrast with the flowing water. 
设计手稿  Draft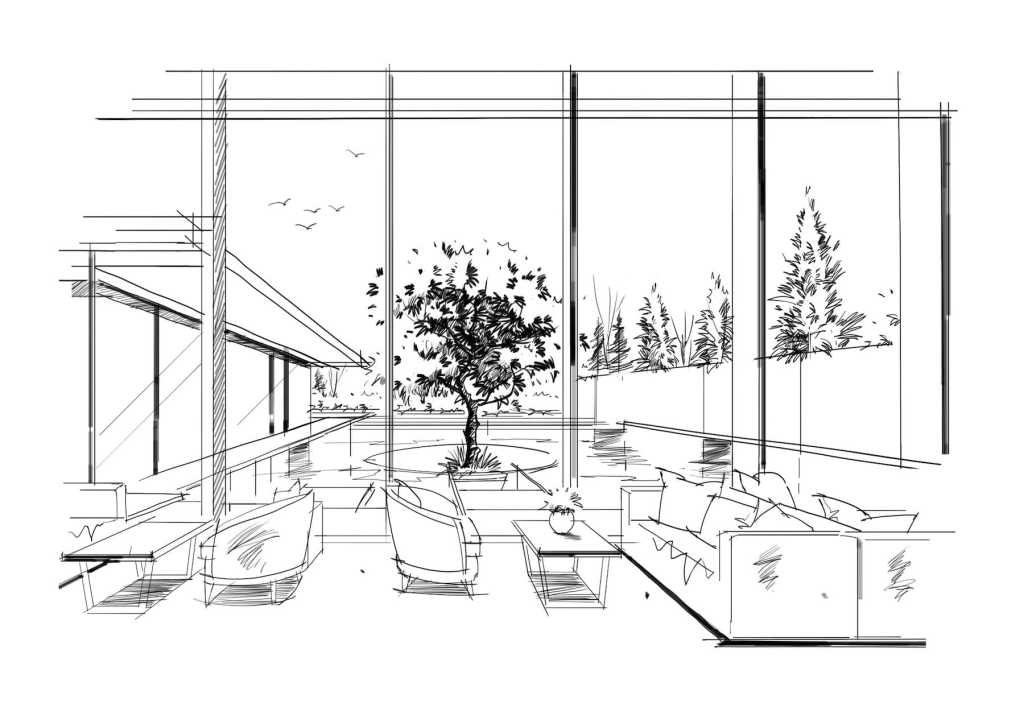 远处,象征发展脚步的刻度雕刻从水下凸现出来,时间的痕迹被瞬间定格。
In the distance, the symbolic sculpture stands out of the water, recording the trace of time. 
3. 动与静的空间魅力  ACTIVITIY / INERTIA
天朗气清之时,被框定的天空产生了光和影,后场景观也被斑驳的影子覆盖。
On the sunny days, the framed sky presents different light and shadows, sheltering the beautiful backyard.  
在庭院中,自然每天都展现一个不同的方面。庭院是在住屋中展开的生活核心,它引介着诸如光、风和雨这些自然现象,而他们在城市中正在被人们所忘却。
In the courtyard, we can experience nature from different aspects. As the center of of a house, it provides a space for experiencing the sun, the wind and the rain.  
活动区在后场深处,四周被高密植物包裹,既保证私密性又有良好的通风遮阳效果。路引采用镀铜材质,与灰砖墙面相得益彰。儿童活动区域采用波浪形地形设施,也为场地带来一丝动感。
The activity space is deep into the backyard, which is surrounded by dense plants to ensure privacy and ventilation. The cooper coated material complements the gray walls and the children's playground is designed like waves, creating a dynamic and harmonious atmosphere.  
儿童区平面  Children Area
这动静之分并非单纯衬托所得,而是城市的"闹静共生"。在人们少顷可达的地方,与环境和谐共存。
The design has reached a balance between noise and tranquility, providing people with an easy access to enjoying arts.  
华润置地悦里项目位于佛山CBD二期发展区域,极具发展潜力。在这样一个新兴的环境中找到一处现代标志性空间,并且通过景观来赋予建筑新的生活方式特点,将艺术感体现在四周点点滴滴的自然聚拢生成的格调中。
Designed to be a modern landmark, CR Land Yue Li is located in Foshan CBD with great development potential. GVL's landscape design has combined art with life, introducing new lifestyle to the architecture and expressing arts in every detail. 
总平面图  Master Plan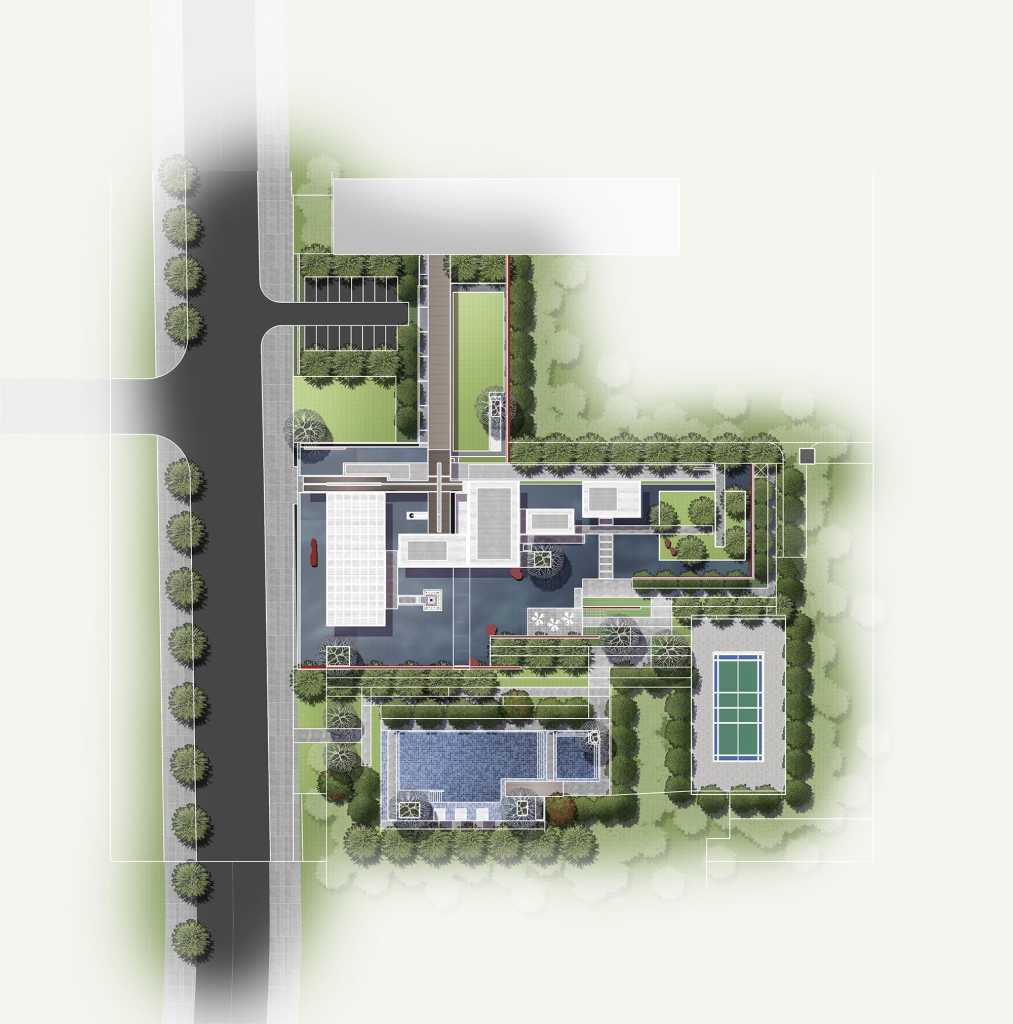 将艺术和生活相融合,寓意着这片文化开始解读现代文明,这是展示区改革式的创新,更是在进行一场地产界的文艺复兴。
The combination of art and life symbolizes the interpretation to modern civilization, which is a revolutionary attempt in exhibition areas. It will bring the"Renaissance" in the real estate industry. 
项目名称:华润置地悦里
委托单位:华润置地广州分公司
项目类型:精品住宅
项目面积:17525㎡
景观设计:GVL怡境国际设计集团
Project: CR Land Yue Li
Developer: CR Land Guangzhou Branch 
Category: Boutique Housing 
Area: 17,525㎡
Landscape Design: GVL 
更多 Read more about:GVL