本文由 GVL 怡境国际设计集团 授权mooool发表,欢迎转发,禁止以mooool编辑版本转载。
Thanks GVL for authorizing the publication of the project on mooool, Text description provided by GVL .
怡境:星空承载着亘古的历史、人类的想象,以及人类关于未来的美好寄望。一切科学、人文、艺术……都在这片璀璨与广袤下展开。设计师以"星空"主题进行设计,是向赖以生存的宇宙致敬,也表达对生活的礼赞。
GVL: The starry sky represents the internal history and holds people's imagination as well as the hope for a beautiful future. Science, culture, art….all are developing beneath the vast starry sky.Acting on the theme of "Starry Sky", the designer shows respect to the universe we live in and also extols the beauty of life.
▼10分钟,带你穿越星际,徜徉星际,拾星逐梦 Wandering Among Stars in 10 Minutes ,Wander Among Stars and Chase Dreams
星空主题活动空间 Starry Sky Theme Space
项目以"星空"为主题,打造一个充满现代感、艺术性,让人互动与沉浸其中的复合开放式活动空间。星空主题活动空间由滑板乐园、星空剧场与星空游乐园三部分组成。通往售楼部的沿线上,设计师以星座元素设计了一条星光大道,延续了"星空"的主题。
Acting on the theme of "Starry Sky", the designer has created a modern and artistic integrated space, which is open for people to interact with each other and immerse themselves in. It consists of the skateboard park, the star theatre and the star park. In addition, an avenue of stars is designed along the sales center to dialogue with the "starry sky".
滑板乐园 Skateboard Park
项目融入星球的形态结合滑板坡度的功能,设计了一个滑板乐园。滑板运动更刺激、躁动,且具备极强的社交属性,有效点燃整个星空运动公园。
Inspired by the shape of stars, a skateboard park is designed to activate and brighten up the whole space.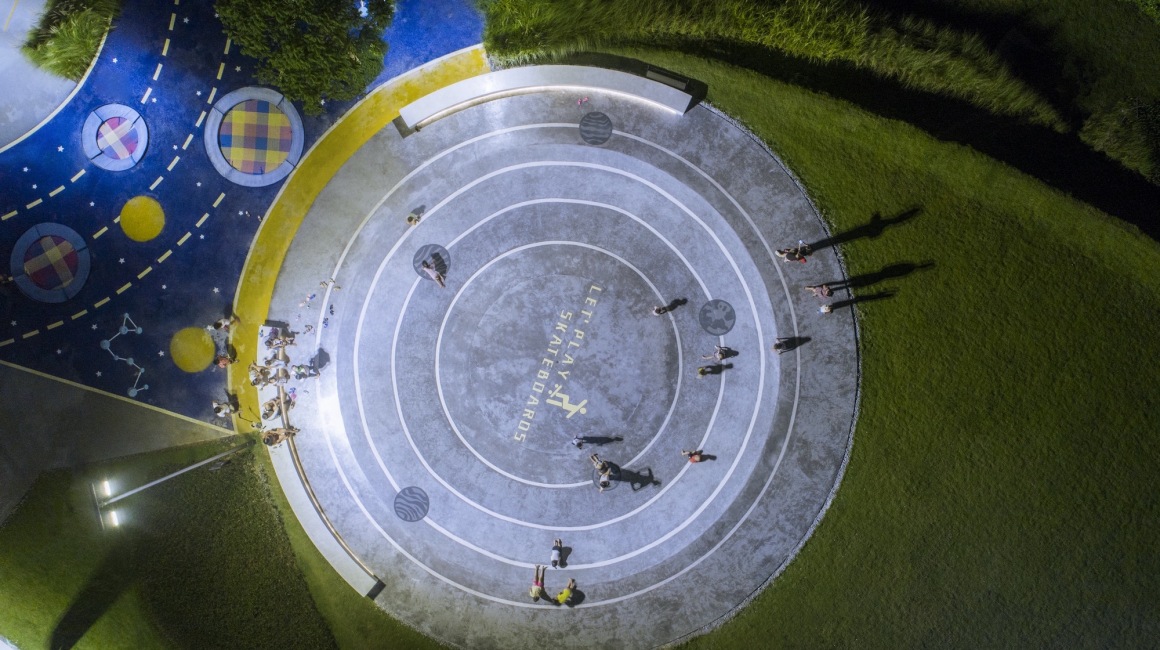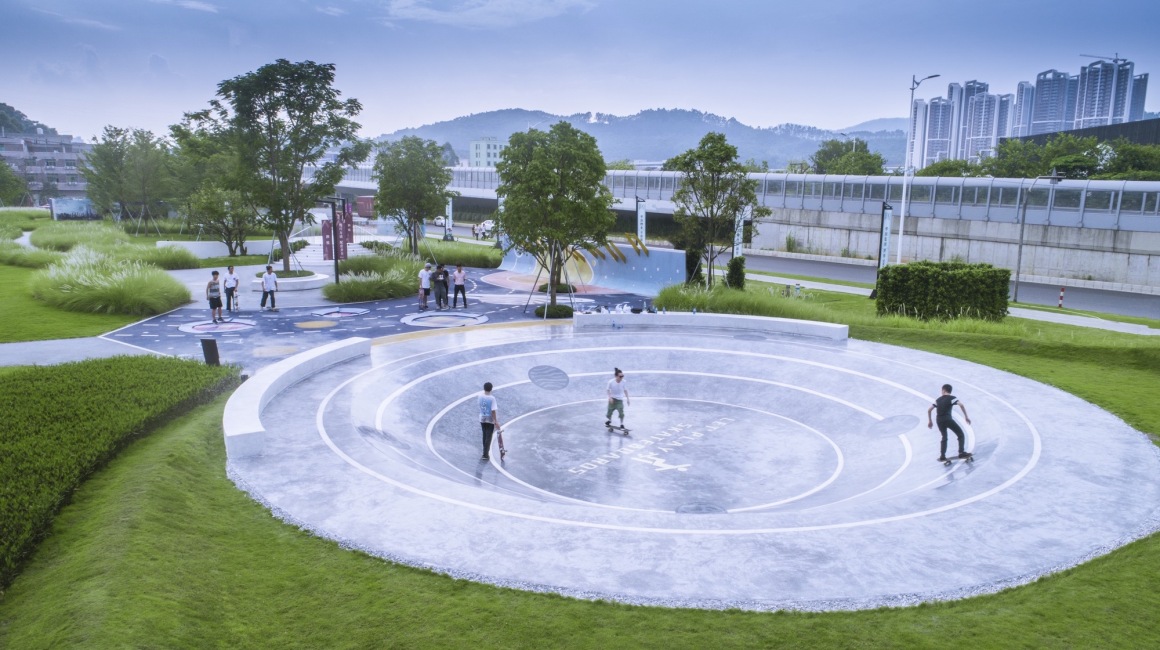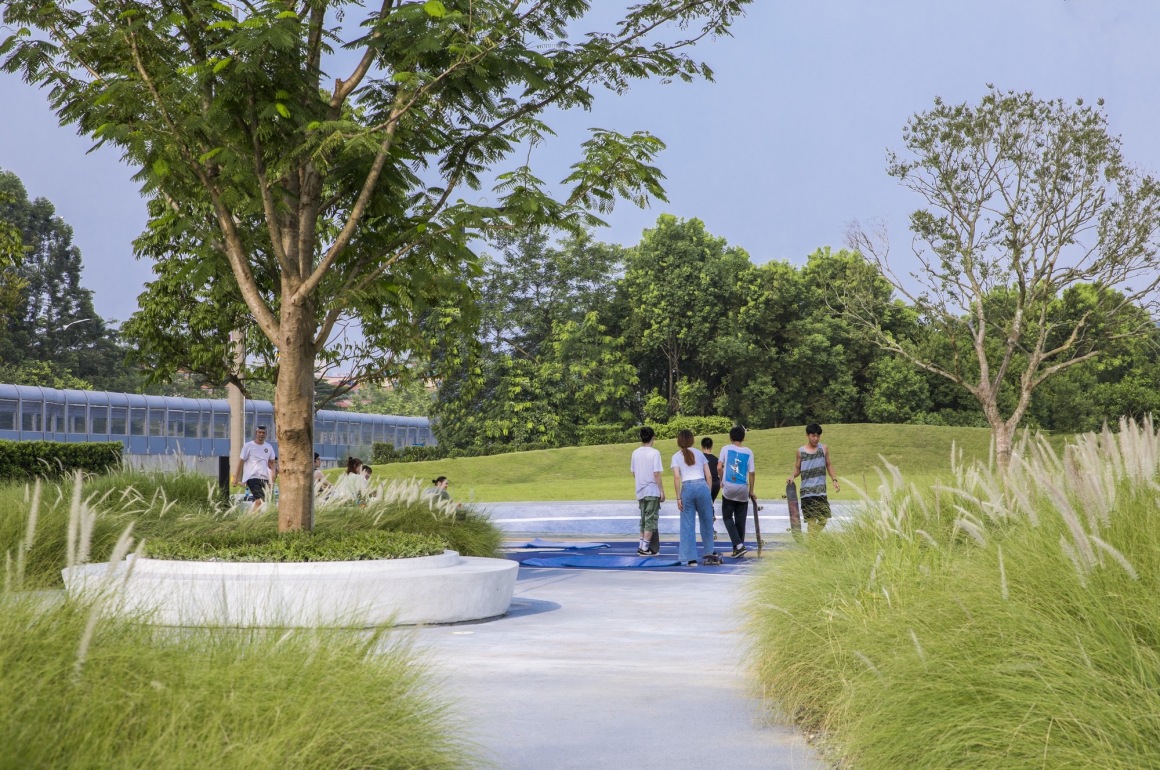 ▼星轨绕行,驰骋逐梦 Chase Dreams along the Star Trails
星空剧院 Star Theatre
星空剧院由星空科普区与远眺台组成,以白色作为主色调,未来感十足。场地提供了各色的互动装置,大人孩子充分浸入,认知与体验星空。
In the Star Theatre, there is the star science zone and the observation platform. The futuristic space is dominated by white and equipped with various facilities for visitors to learn about and experience the starry sky.
▼星空剧院广场 Star Theatre square
白色作为主色调的墙面潜入色彩斑斓的星辰,在夜晚散发出迷人的光泽。
White gives priority to tonal metope to dive into the stars with colorful, sending out a charming burnish in the evening.
拾级而上,远眺台可与全场地产生充分互动,更可以作为休憩停留的空间。
Up on the observation platform, visitors will have a good view of the whole space and have a rest here.
星空游乐园 Star Park
深蓝的宇宙画布上,有金灿灿的太阳、绮丽的星球,环形的星轨,还有被光照亮的尘埃。设计师将孩子们的星空梦以游乐园的形态呈现,加入蹦床与健身墙等游乐元素,提供了可尽情欢乐的空间。
On the "canvas" of the universe, there is the golden sun, the gorgeous stars, the circular trails and the illuminated dust to realized children's dream about the starry sky. Facilities such as the trampoline and the fitness wall are added to make the space full of fun.
▼绘出童年的星空梦境 Reproduce the Childhood Dreams
星光大道 Avenue of Stars
光年的距离被无限缩短,十二星座与繁星点点闪烁在售楼部的沿途上,形成长达50米的星光大道。仔细辨认每一个星座,感受人之于宇宙的渺小,是设计的奥妙所在。
The light-year distance is shortened. Twelve constellations and stars glisten along the road, forming a 50-meter long avenue of stars. Each constellation can be clearly recognized, allowing visitors to experience the vast universe.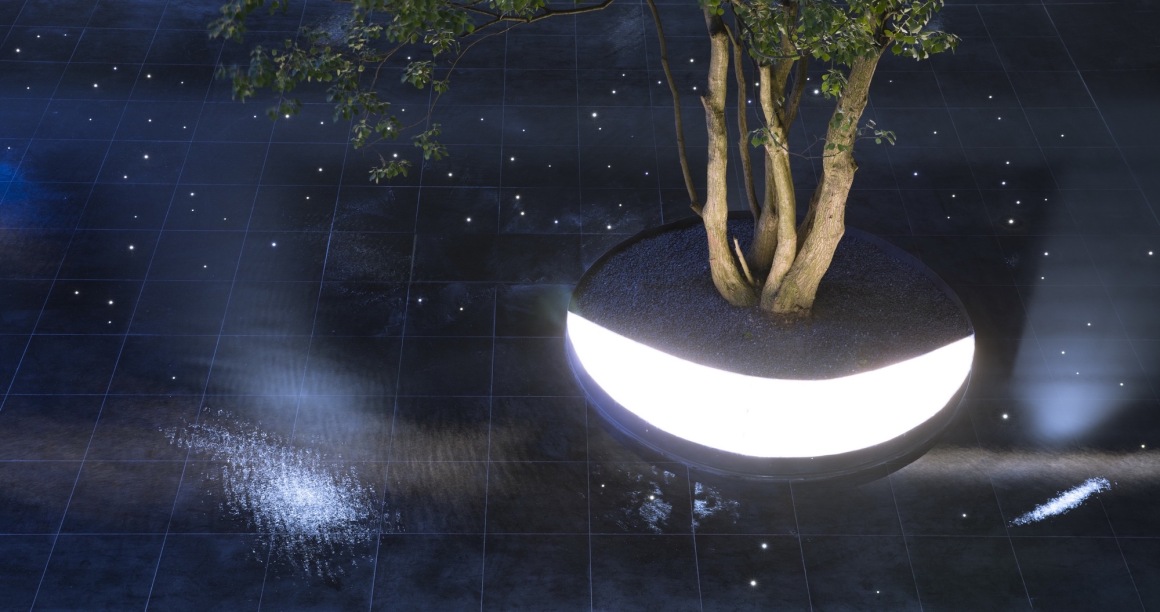 ▼繁星点点,步步生辉 Wander with Stars Glistening Along the Road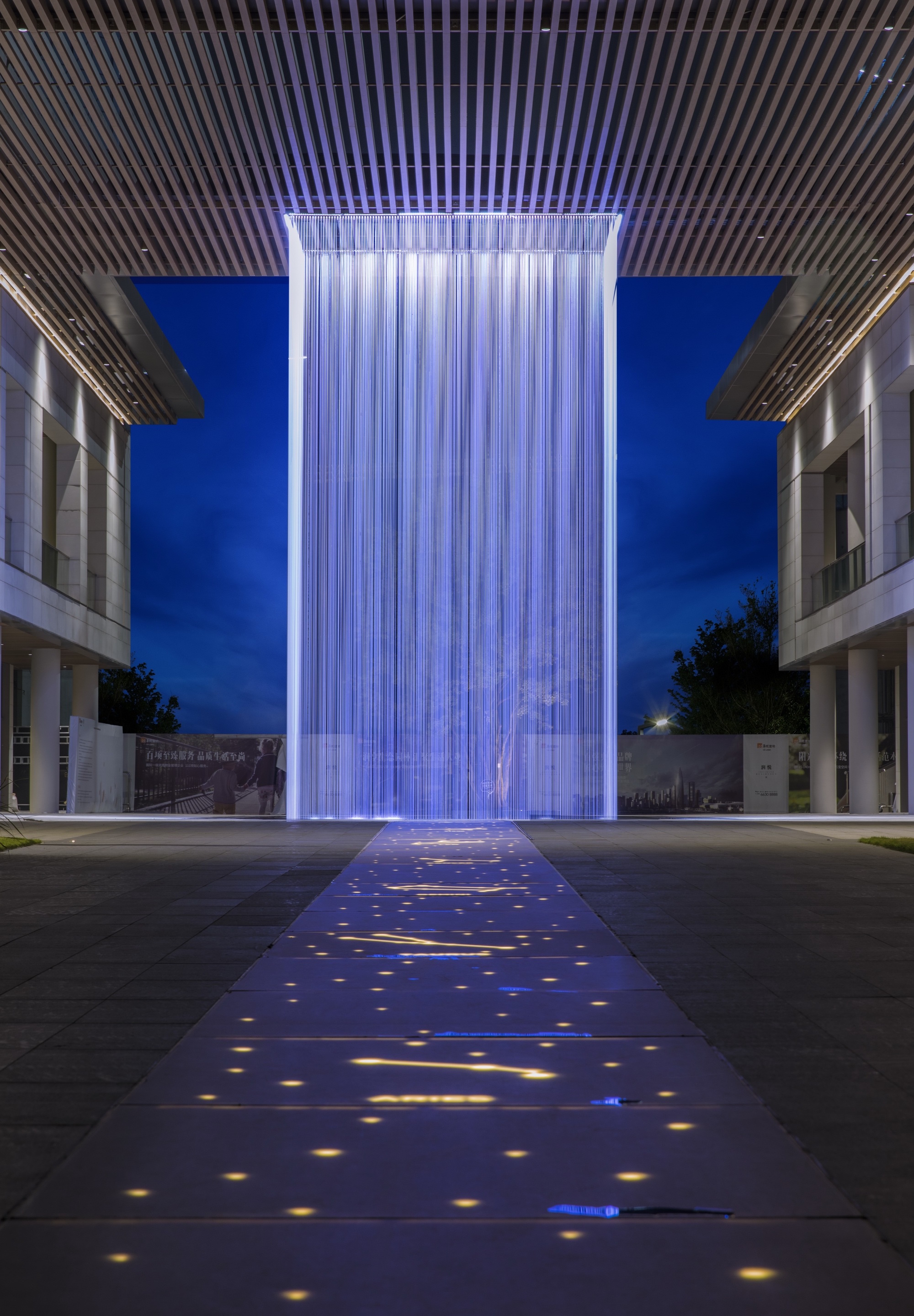 迄今为止,茫茫宇宙仍有许多奥秘等待着人们去解开,探索星际也承载着人们对未来的美好寄望。将对于星空的认知与理解浸透日常,充满自由与活力地求索,保持对未知的好奇与向往,为创造更好的生活而努力,是星空运动公园设计的初心。期待着更多人来到这里,开启探究星空的旅程。
Up till now, the universe has remained a mystery for human beings. The exploration of the stars embodies our hope for a beautiful future. Based on the knowledge and understanding of the starry sky, the designer has created the star-themed sports park, which will encourage people to explore the unknown world and make efforts to create a better life. The sales center welcomes visitors to come and start the journey of exploring the starry sky.

▼总图 Project plan
项目名称:华润置地广州润悦
委托单位:广州增城区润昱置业有限公司
项目类型:精品住宅
项目面积:22144㎡
设计时间:2018年
竣工时间:2019年
景观设计:GVL怡境国际设计集团
Project: CRland RUNYUE, Guangzhou
Client: Guangzhou Zengcheng Runyu Property Co., Ltd.
Category: Boutique Housing
Area: 22,144 ㎡
Year of Design: 2018
Year of Completion: 2019
Landscape Design: Greenview Landscape International Group
项目中的植物、材料运用  Application of plants and materials in this project
更多 Read more about:GVL怡境国际设计集团