本文由 Studio Lasso 授权mooool发表,欢迎转发,禁止以mooool编辑版本转载。
Thanks Studio Lasso for authorizing the publication of the project on mooool, Text description provided by Studio Lasso.
Studio Lasso:我们通过增强自然能量,如光、风、雨,以及通过捕捉自然变化现象中稍纵即逝的美,将空间转化为一种艺术形式,也通过结合我们内心深处的记忆赋予了空间另一个不同的维度。无论规模大小,我们都可以把空间转换成一个可以感知宇宙天地节奏的地方。
Studio Lasso:We transform space into an art form by enhancing natural energies such as light, wind, rainfall and by capturing the beauty of transience in the changing phenomenon of nature. We also give space a different dimension by combining the memories that lie deep inside of our minds. Regardless of the scale we can transform space into a place where we can sense the rhythm of the universe.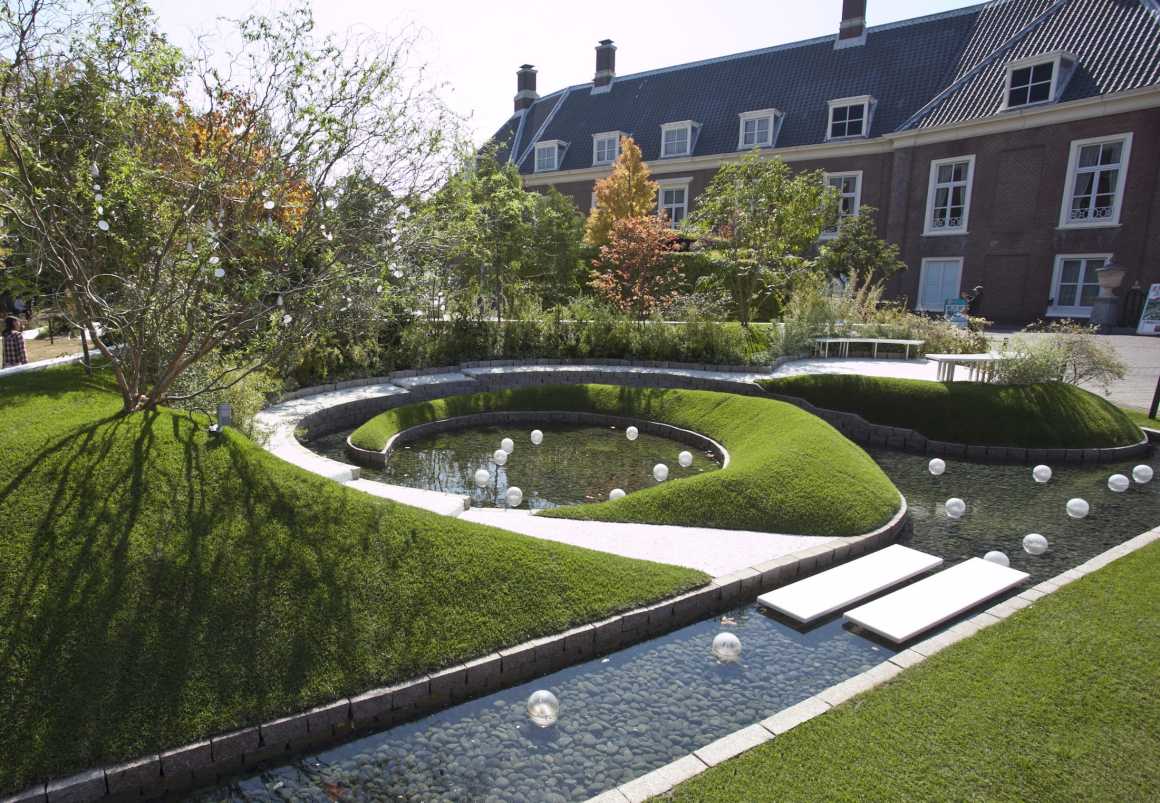 ▼平面图  Master Plan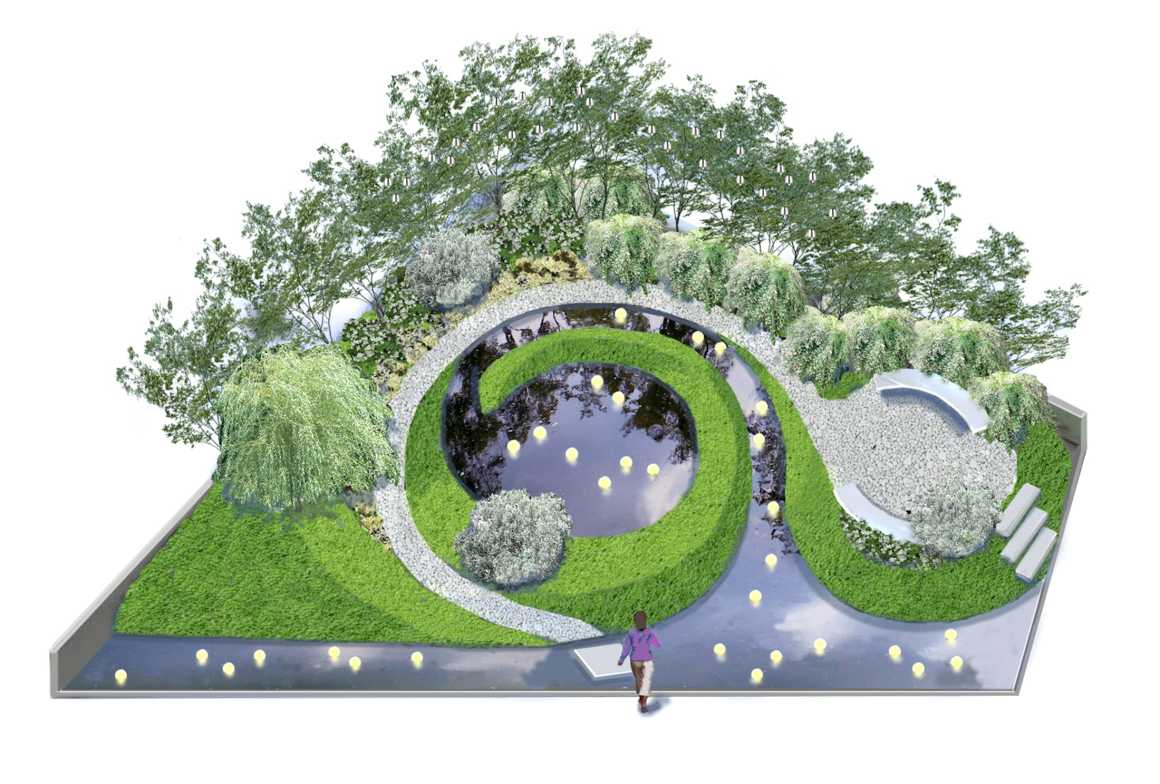 花园设计概念:我们起源于森林,自古以来就参与宇宙的循环,所有事物都是相互关联的,因为我们本身就一直在重复着灭绝和再生的循环。宇宙本身不是一个封闭的系统,而是一个类似于莫比乌斯环的相互作用的世界:向外开放,最终却又可以回到内部,据说,人类在潜意识深处就拥有这种结构。
这个花园展示了日本人过去共有的许多记忆中的风景,包括在古老仪式中表达的驱除邪恶和保护新生命的形象,比如从"横河花车"(Nagashi-bina)演变为"浮诗文化"(Kyokusui-no-utage),整个花园的记忆故事最终在长崎的一个名为"漂流的灵魂"(Shoro Nahashi)的和平寻求仪式中达到高潮。
The concept of the garden: We Japanese, having our origins in the forest, have been engaged in the cycle of the universe since ancient times. All things are interrelated as we have continued to repeat the cycle of extinction and regeneration. The universe itself is not a closed system but a reciprocal world much akin to a Mobius Loop; open to the outside but returning to the inside. It is said that human beings possess this structure deep within the recesses of their subconscious mind.
This garden portrays scenery from a number of shared memories that we Japanese used to have. This includes images of the casting away of evil and the preservation of new life expressed in ceremonies such as the Hina Doll river float (Nagashi-bina) evolving to the Floating Poem culture (Kyokusui-no-utage) and culminating in the peace seeking ceremony in Nagasaki called Shoro Nahashi (Drifting Spirits).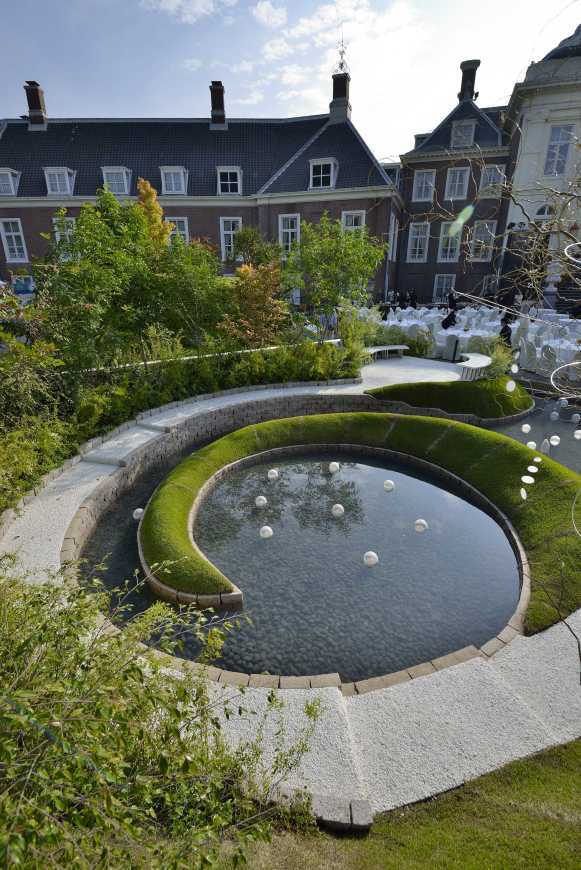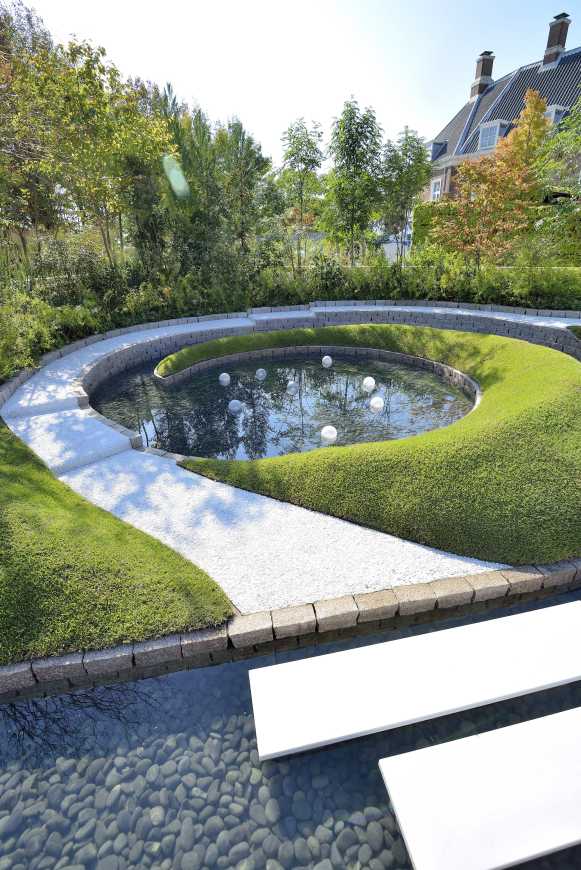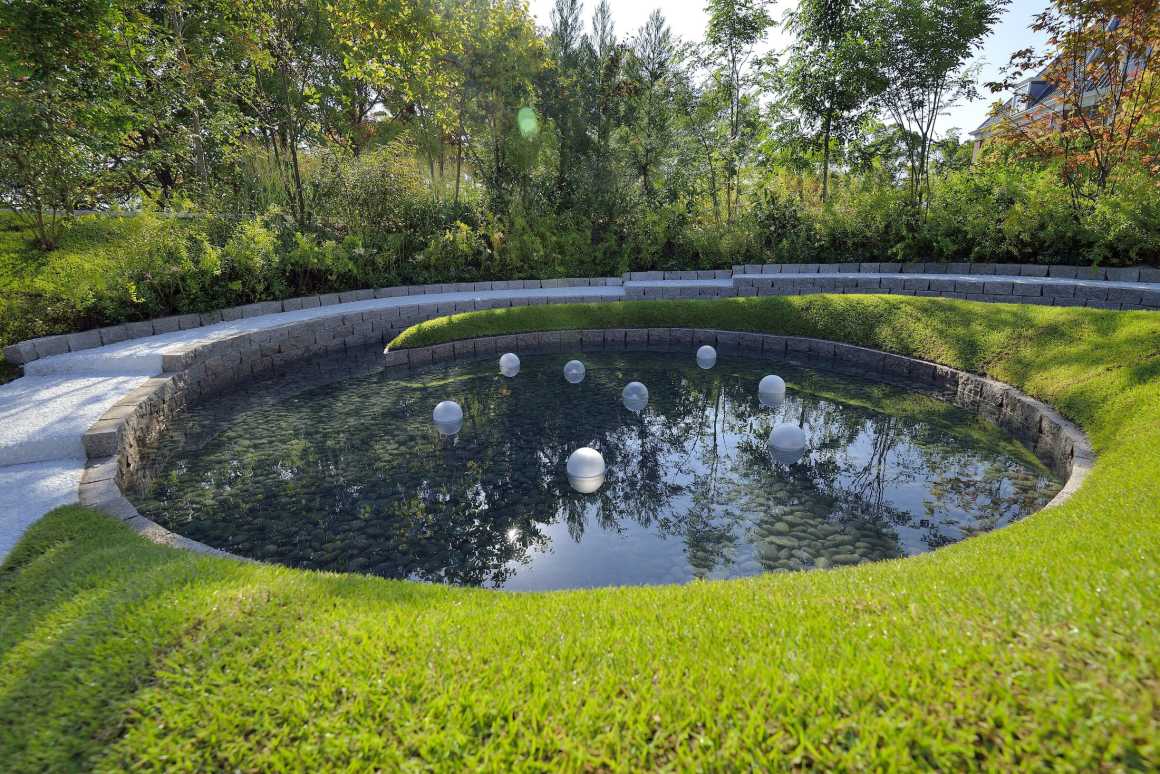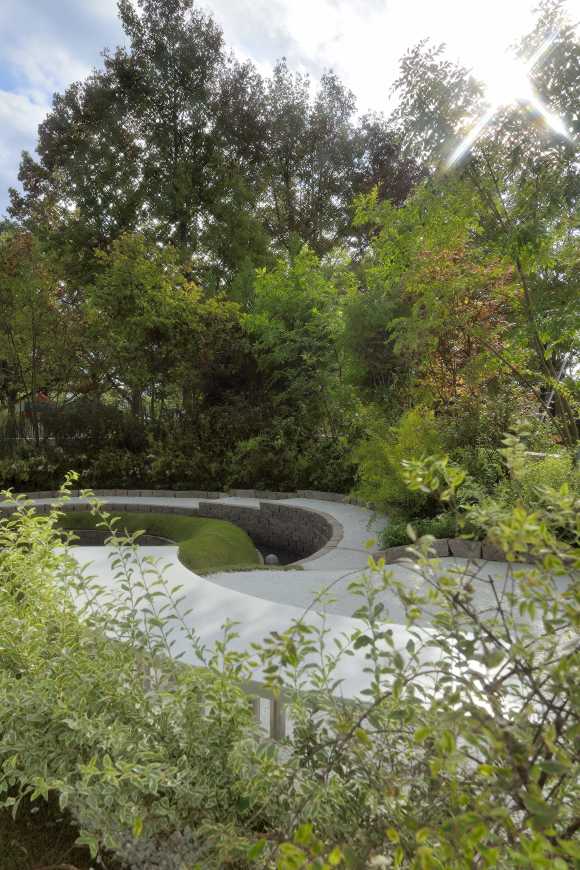 花园暗喻着广泛时间意义上的生死循环。水中闪烁的灯光和传递着风能量的风铃声音,吸引着人们的五种感官,捕捉着地球和空气的运动,这种光线和声音的洪流,曾经在葬礼上使用过,在几千年的集体记忆中重新浮现, 这是一种祈祷,与我想要在我的创作中表现出来的祈祷没有什么不同。
The garden implies the cycle of life and death over a long period of time. The shimmering lights in the water and the sound of wind-chimes that convey energy of the wind work as devises which appeal five-senses, capturing the movements of the earth and the air. A flood of countless rays of light and sounds that were once used in a funeral, which resurfaces from within thousands of years of collective memories; it is a prayer not dissimilar to that which I aim to represent in the scenery of my creation.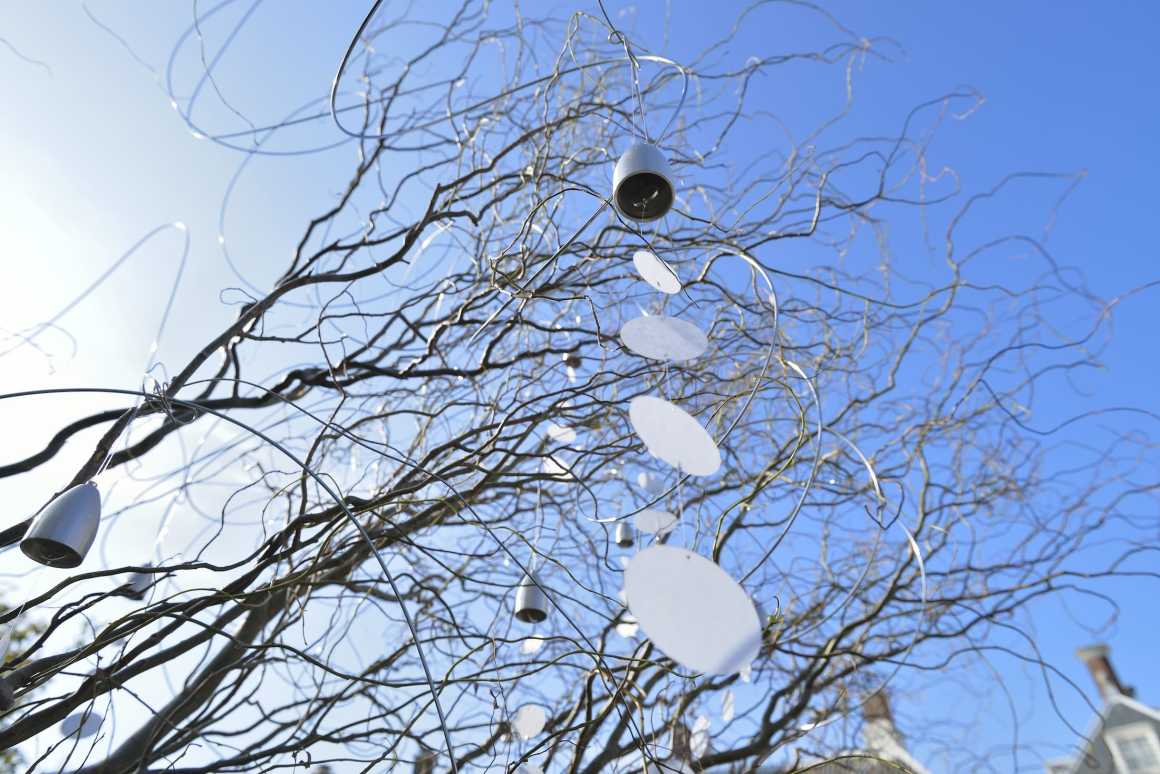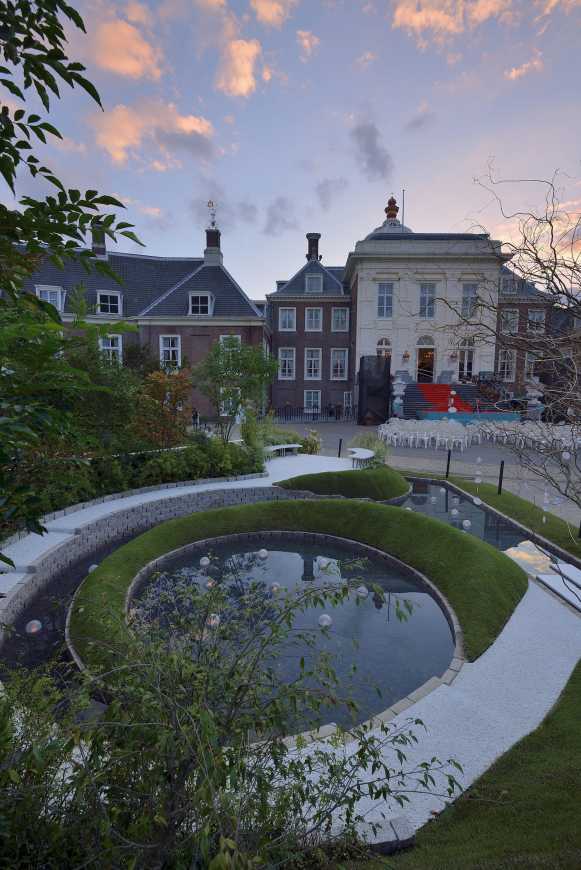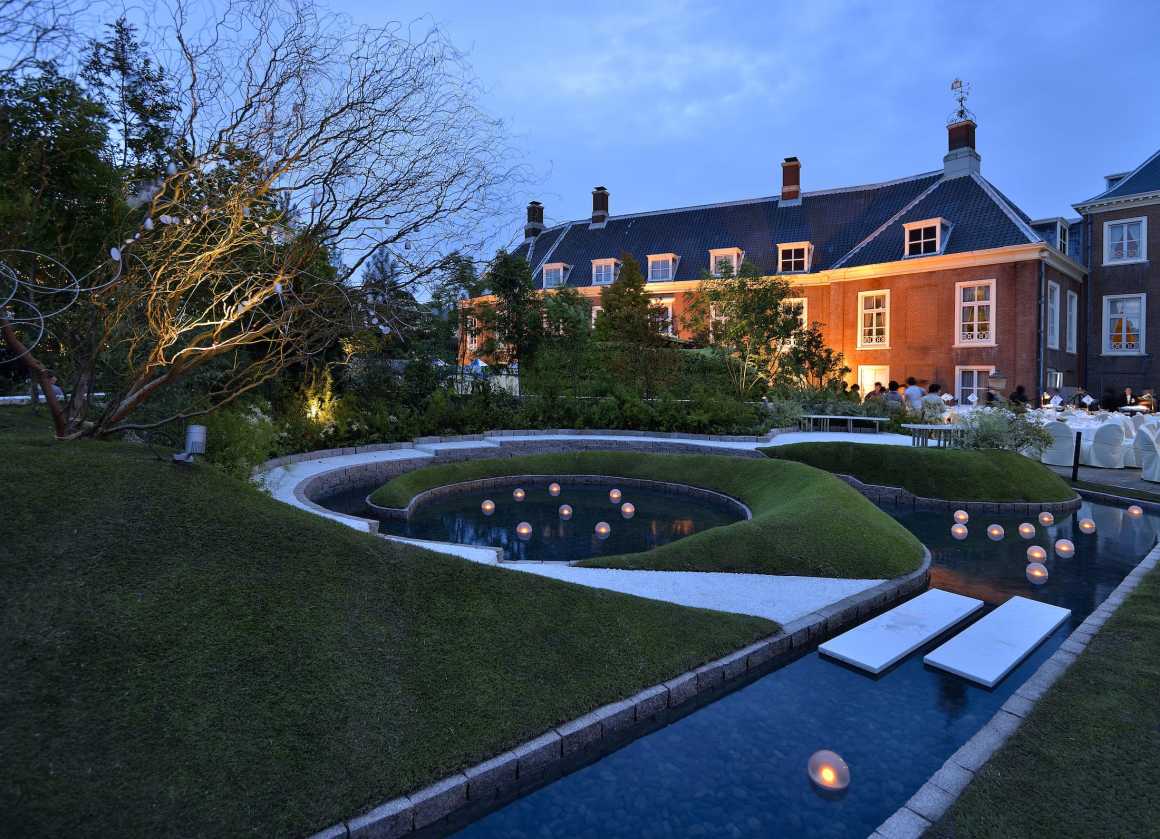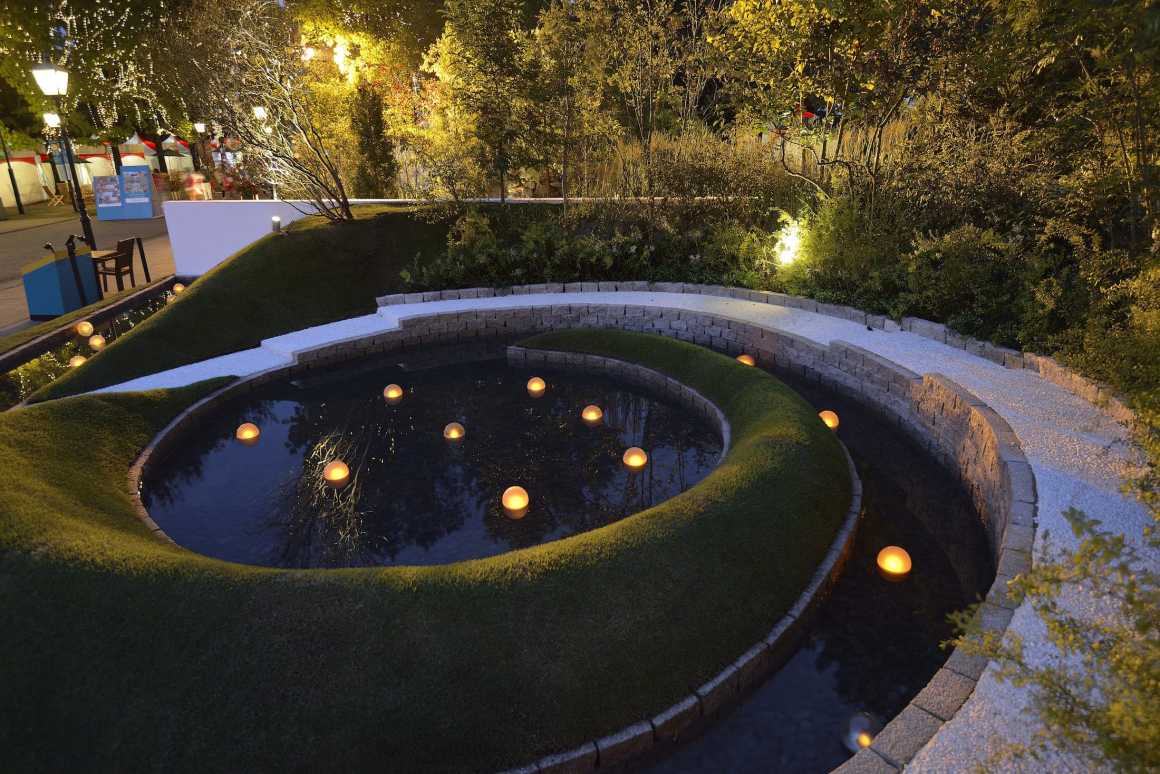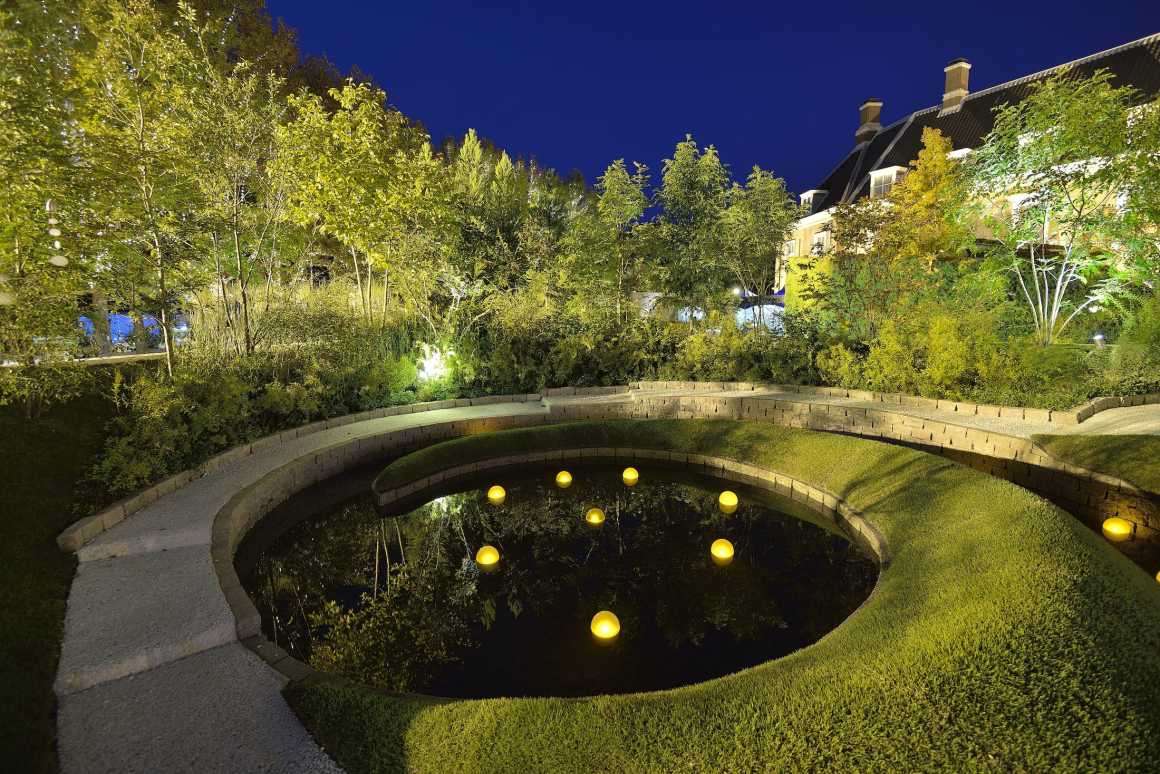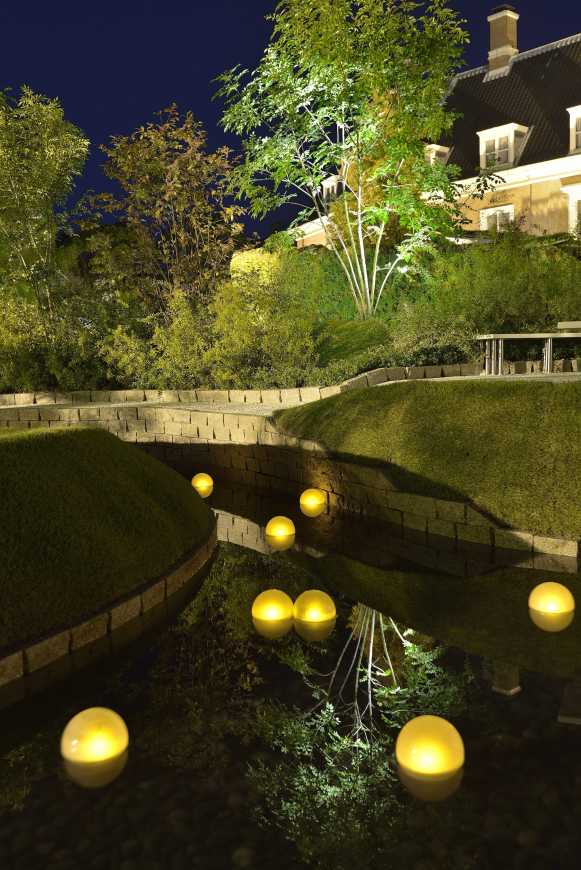 ▼种植平面  Planting Plan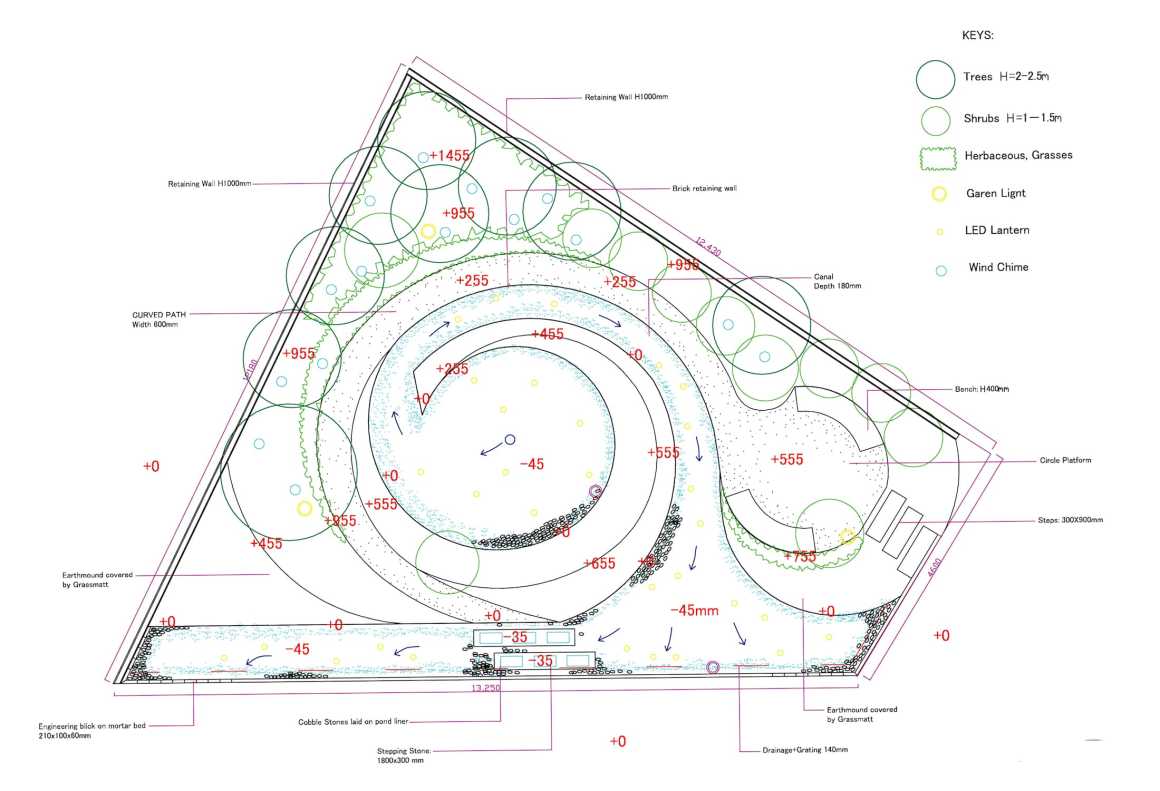 ▼剖面图  Sections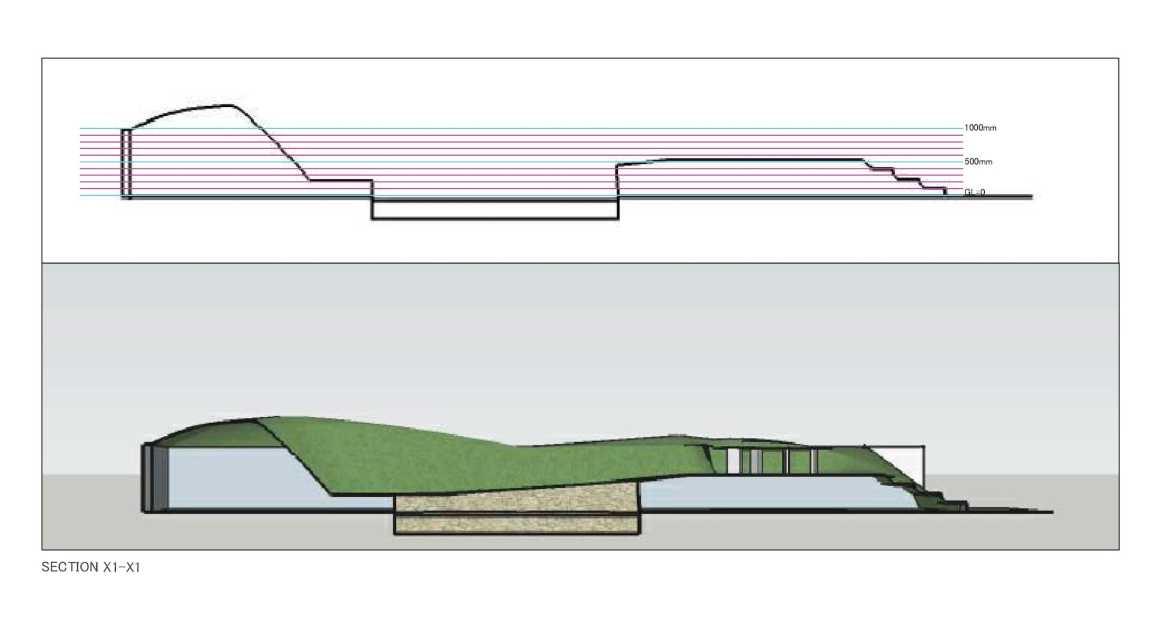 ▼效果图  Perspective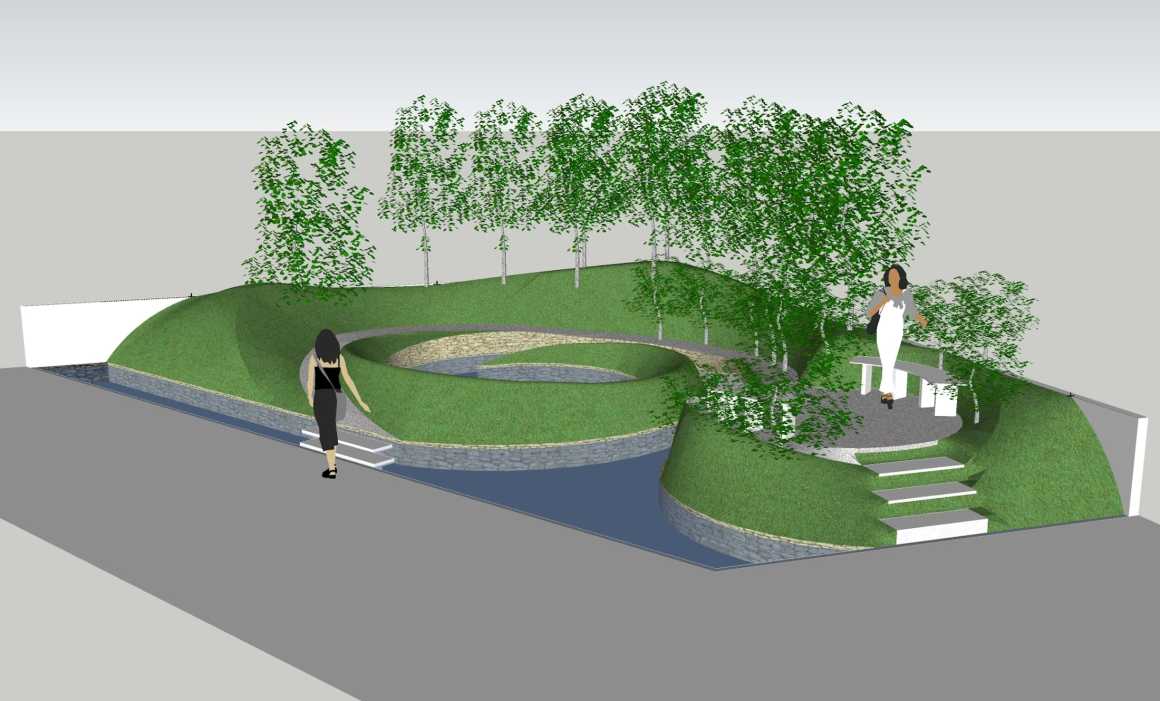 ▼粘土模型  Clay Model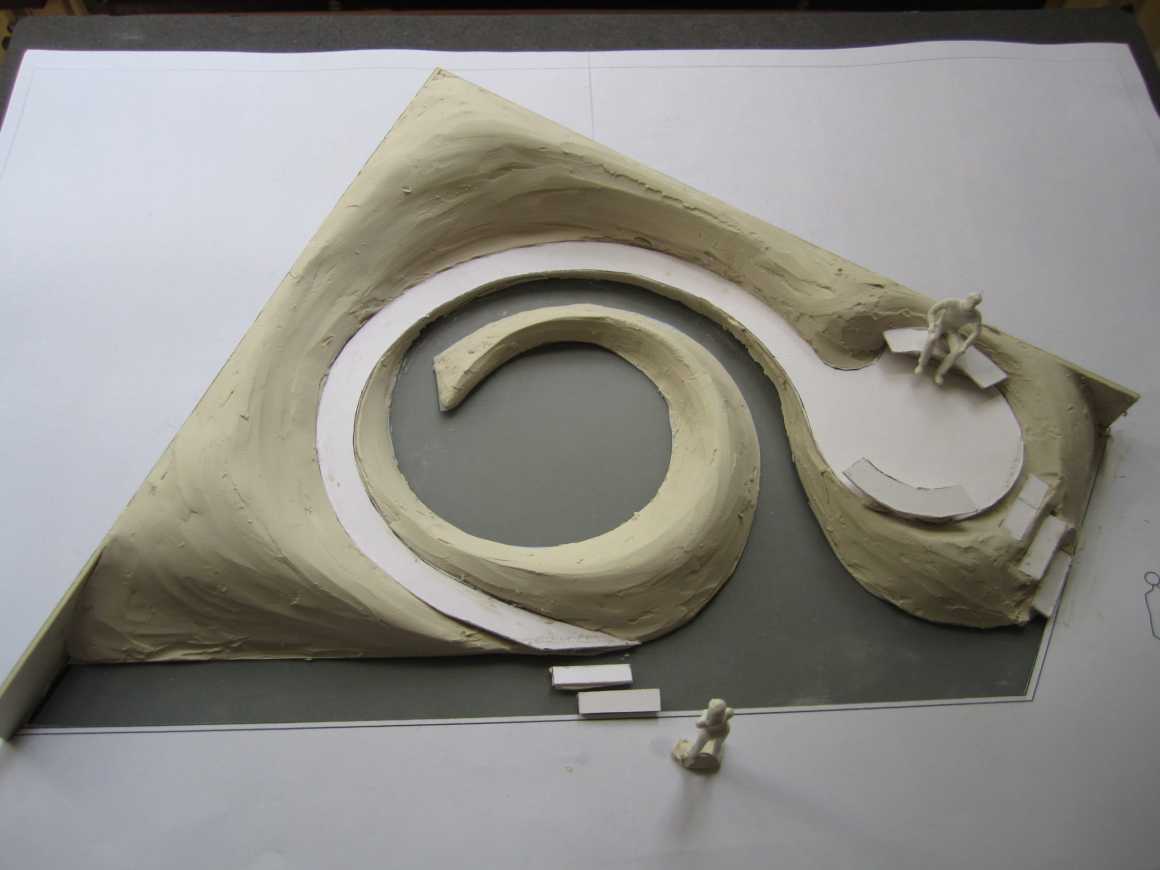 项目名称:记忆花园
竣工日期:2012年9月27日
地点:日本长崎市
面积:100平方米
客户:Huis Ten Bosch Co.,Ltd
景观设计:Studio Lasso Ltd
合作伙伴:Hanamizuki Corporation Co.,Ltd (Construction)
摄影师:Akira Takaira
Project name: Garden of Memory
Completion date: 27th September 2012
Location: Huis Ten Bosch, Sasebo-City Nagasaki-pref., Japan
Area: 100 square metre
Client: Huis Ten Bosch Co.,Ltd
Landscape Design: Studio Lasso Ltd
Partner: Hanamizuki Corporation Co.,Ltd (Construction)
Photographer: Akira Takaira
更多 Read more about: Studio Lasso Ltd