本文由Fran Silvestre Arquitectos授权mooool发表,欢迎转发,禁止以mooool编辑版本转载。
Thanks Fran Silvestre Arquitectos for authorizing the publication of the project on mooool, Text description provided by Fran Silvestre Arquitectos.
Fran Silvestre Arquitectos:这是一个包含21个平台和7个结构空间的住宅。原住宅建筑由不同时期、不同建筑体系的不同干预措施结合而成,而我们的设计目标就是为这个经历了多代更替的家庭住宅重新赋予一个新的面貌。
Fran Silvestre Arquitectos:Twenty-one plateaus and seven volumes tell the story of this house. The aim of the project is to give a new and even identity to a house belonging to the same family for several generations. The original house formed by the aggregation of different interventions at different times, with different construction systems.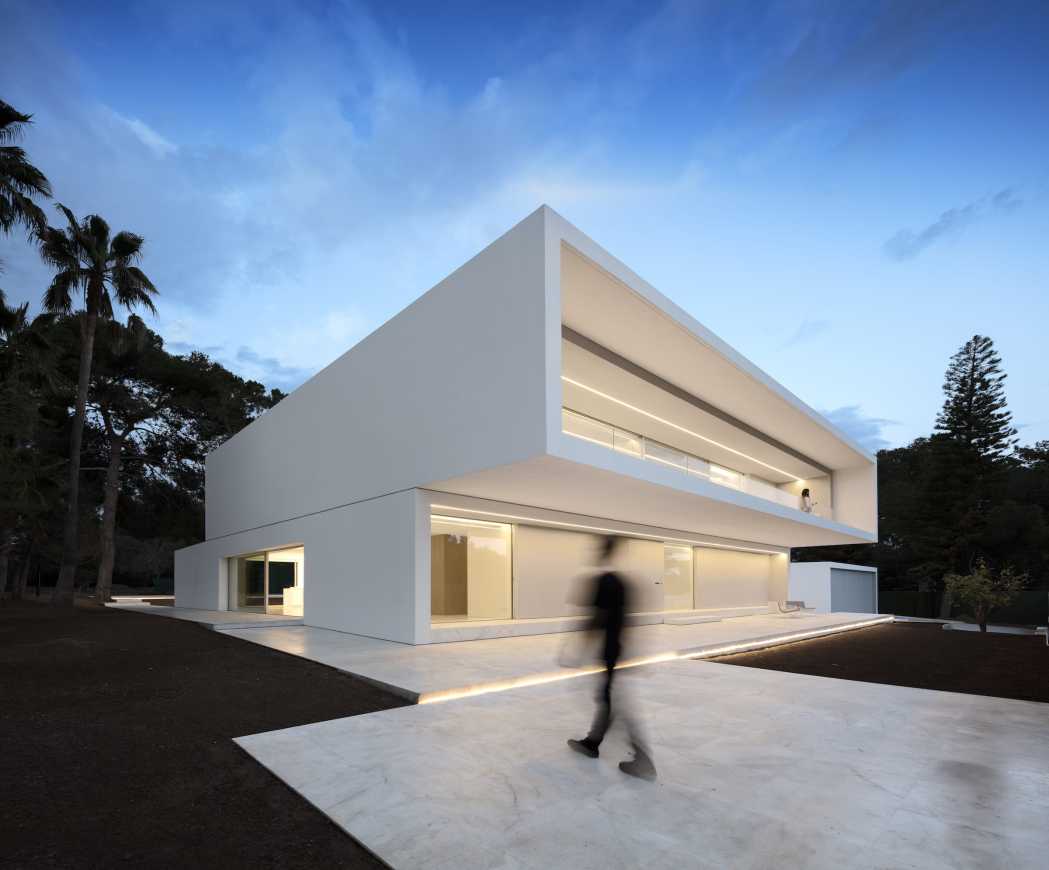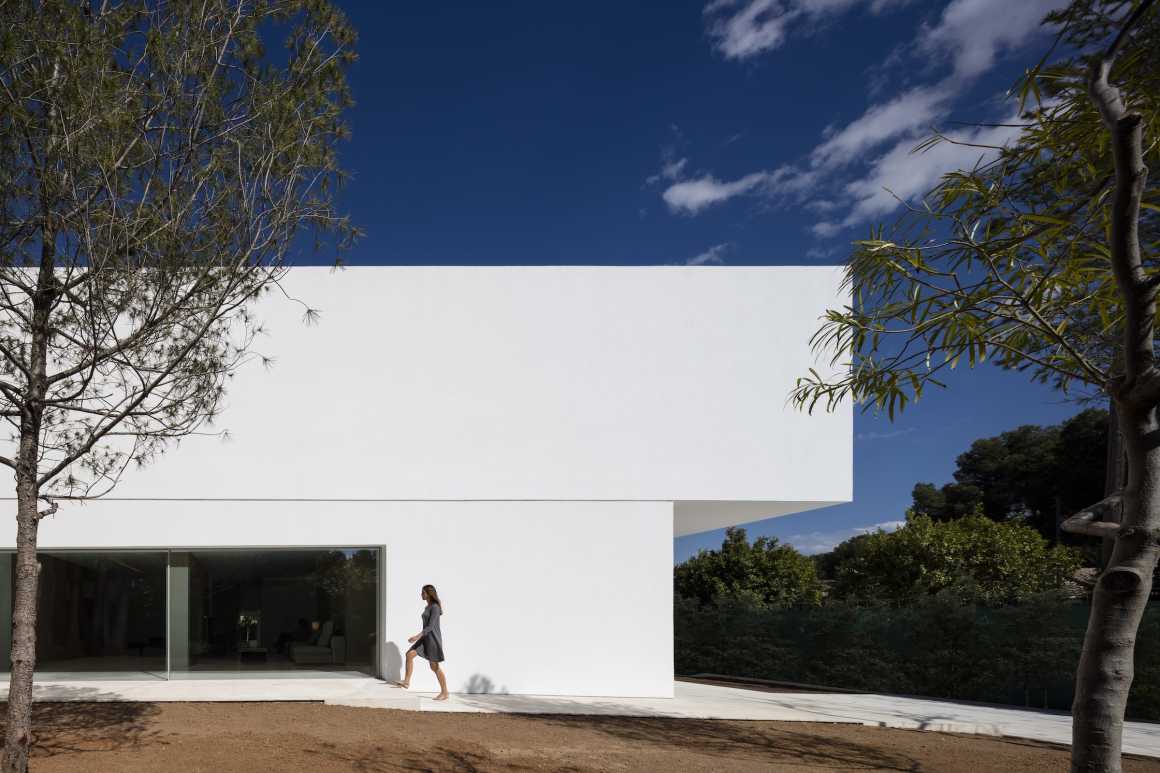 ▼项目视频 Video
这里的每个房间都代表了这个家庭住宅的某一时刻,因此,我们必须在保持其结构、空间、功能、花园和记忆的基础上,以一种全新的方式来呈现它们。
通过在原建筑的基础上再扩建一层新的结构,作为项目的新组成部分,我们创建出了一个既融入了原建筑规模,又呈现为一种像传统地中海建筑一样,结合了庭院和狭窄空间的小型休闲空间。
Each of the rooms in the house describes a moment in life of this family story. Thus it was essential to maintain the structure, spaces, uses, garden and memories, presenting them in a new way.
The further layer built in the history of this place employs new volumes used for new parts of the program. In this way leisure areas are projected, containing always the scale of the building and are presented as a sort of aggregation of small parts, which draws courtyards and narrows areas, as the traditional Mediterranean architecture does.
▼住宅整体布局 The House Layout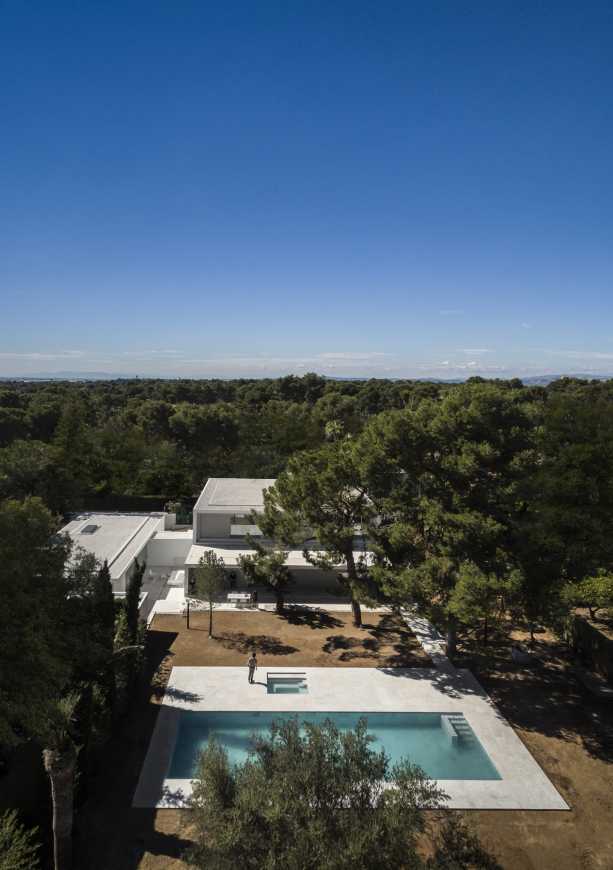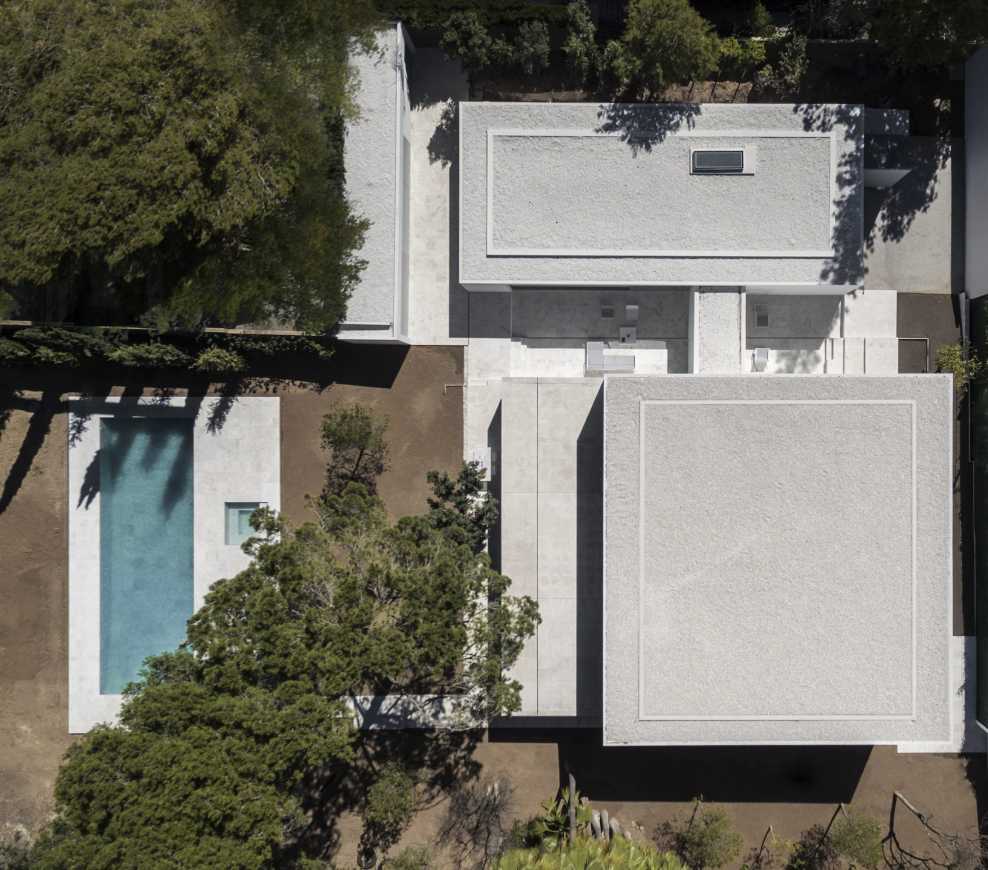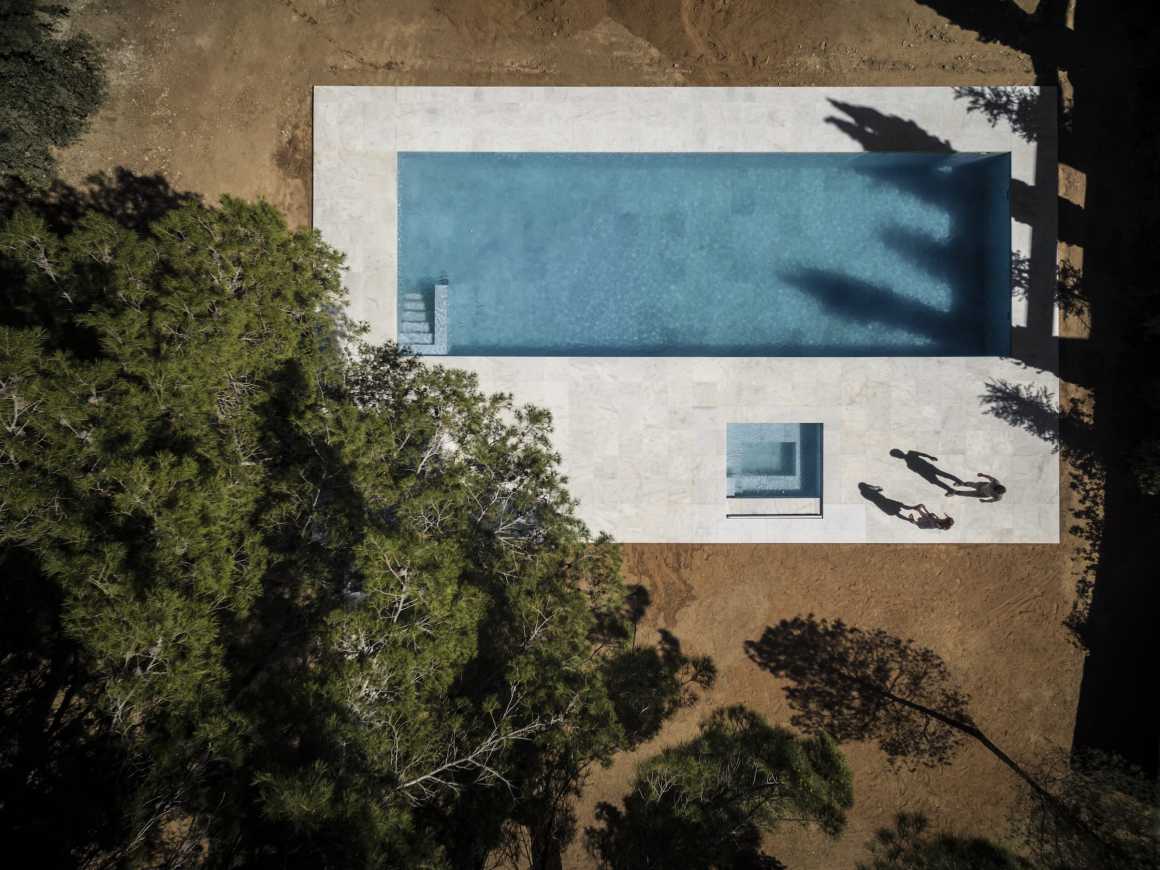 ▼暮色时分的住宅景观 The landscape at twilight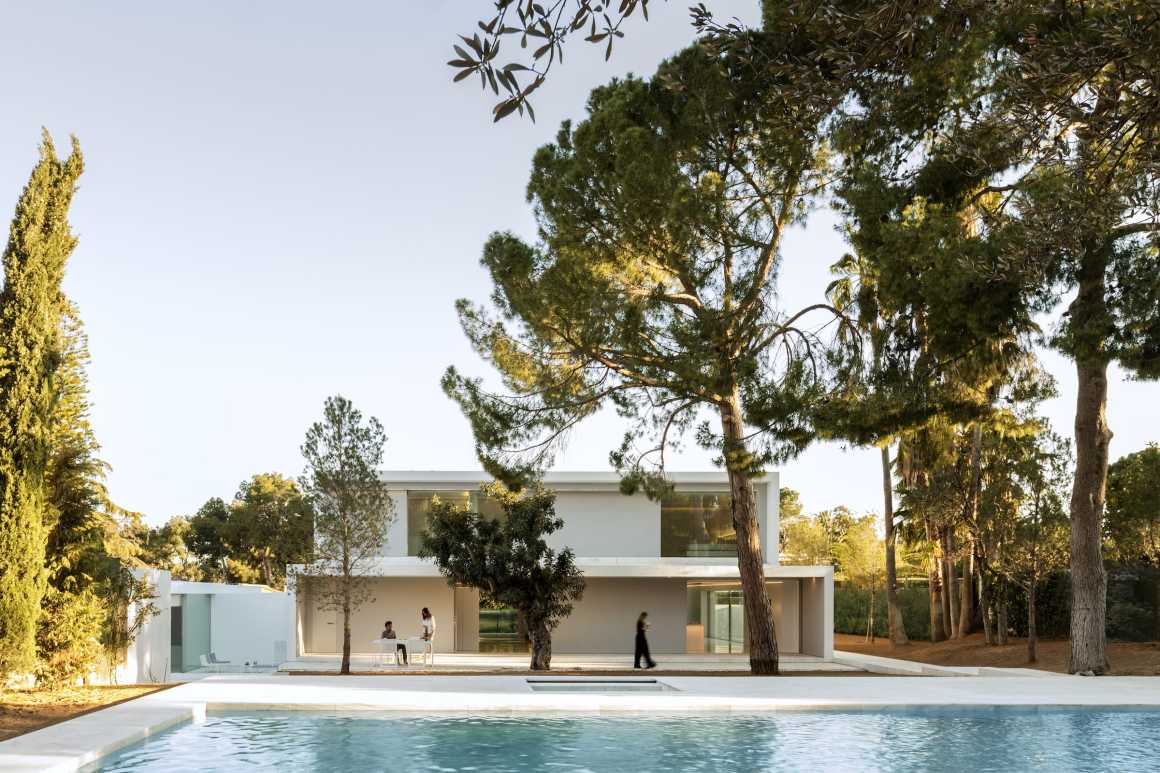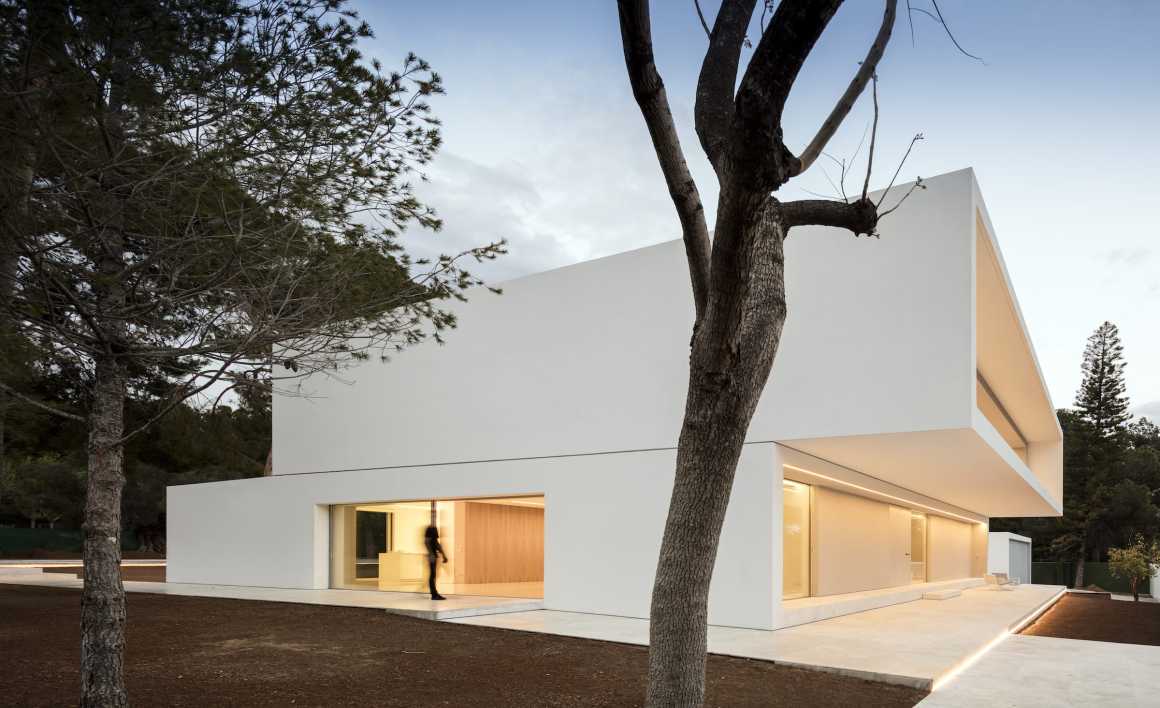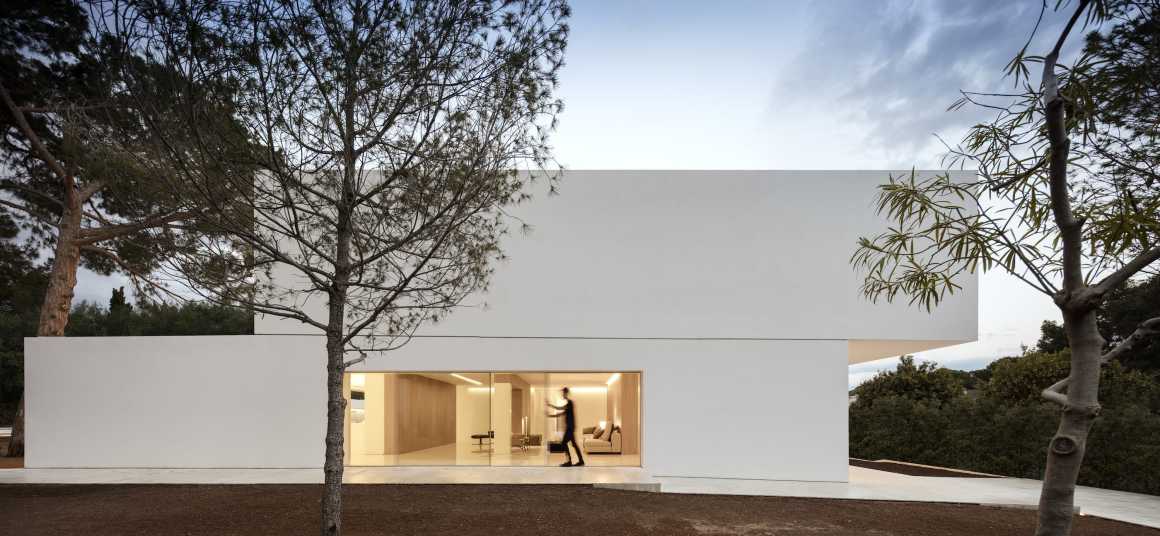 ▼住宅夜景 The night view of house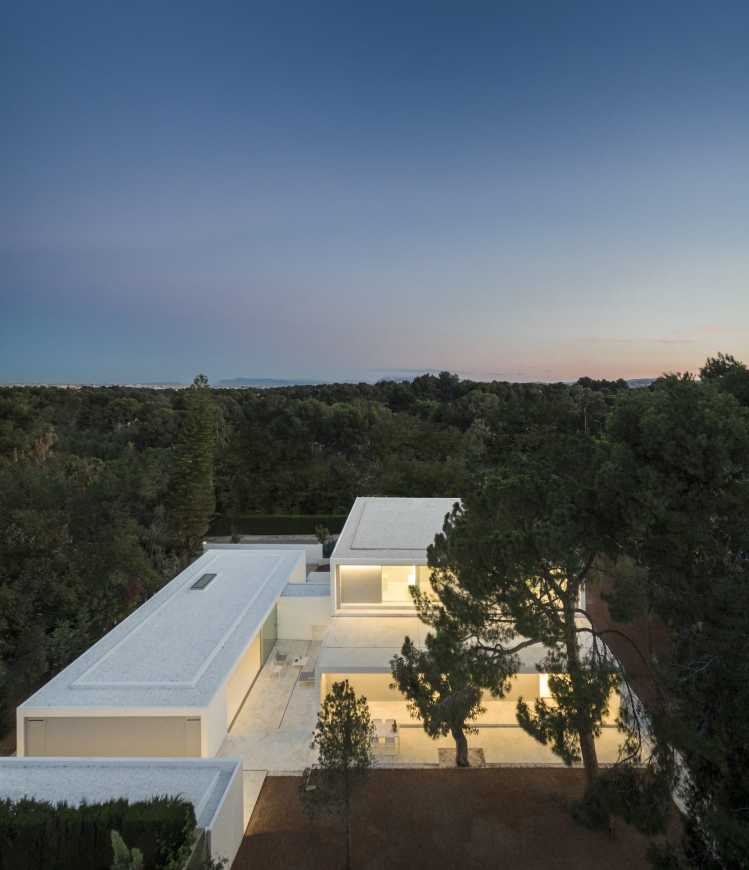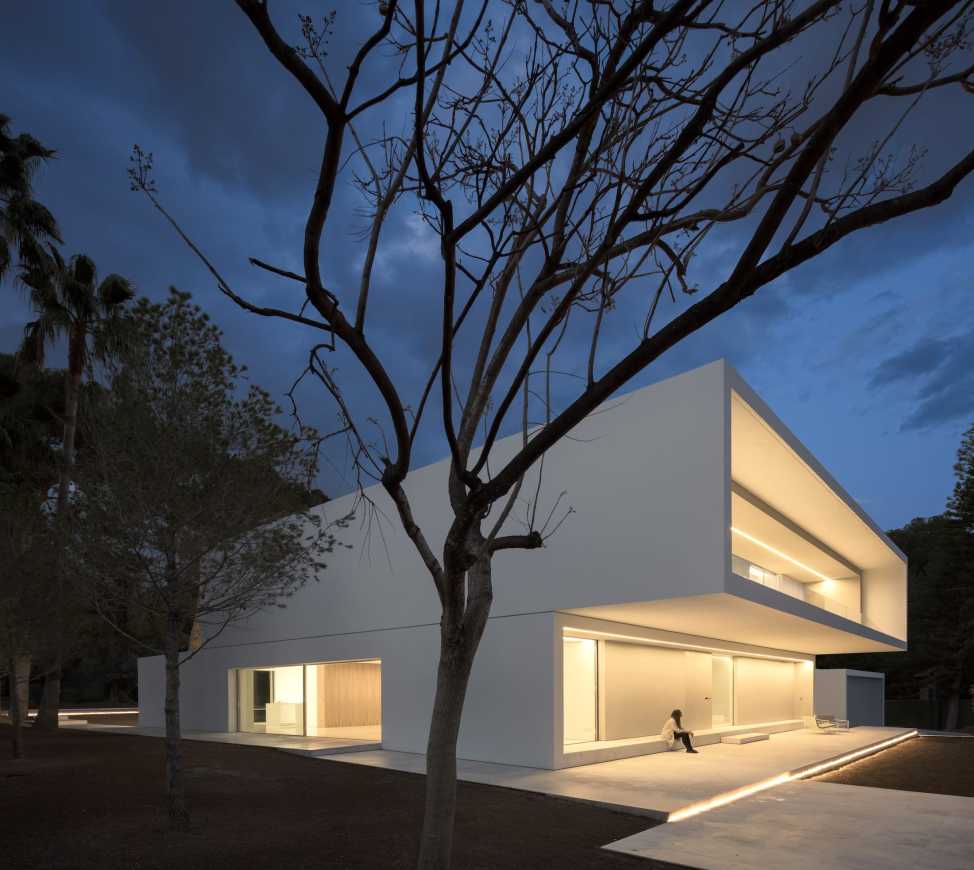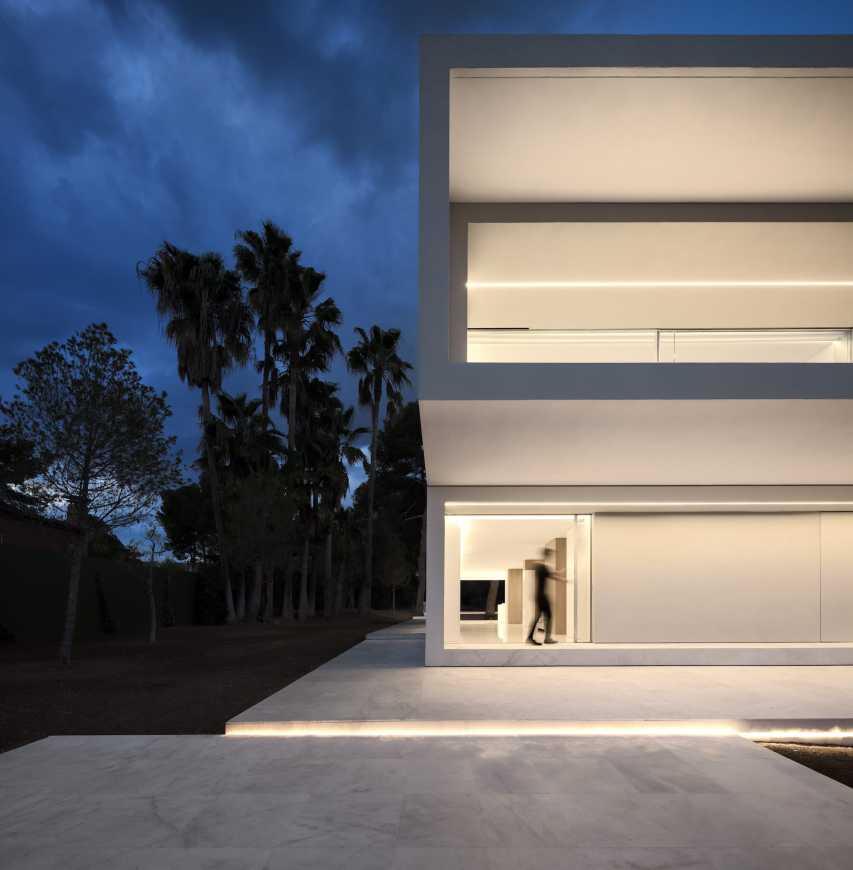 ▼扩建泳池区夜景 The night view of further layer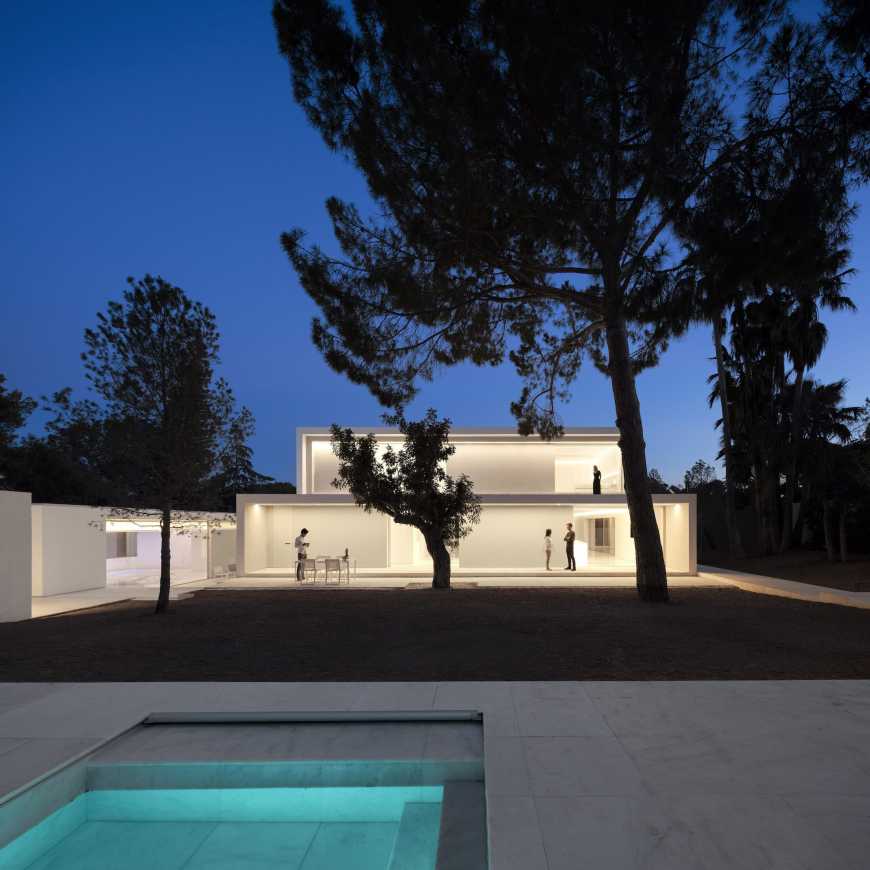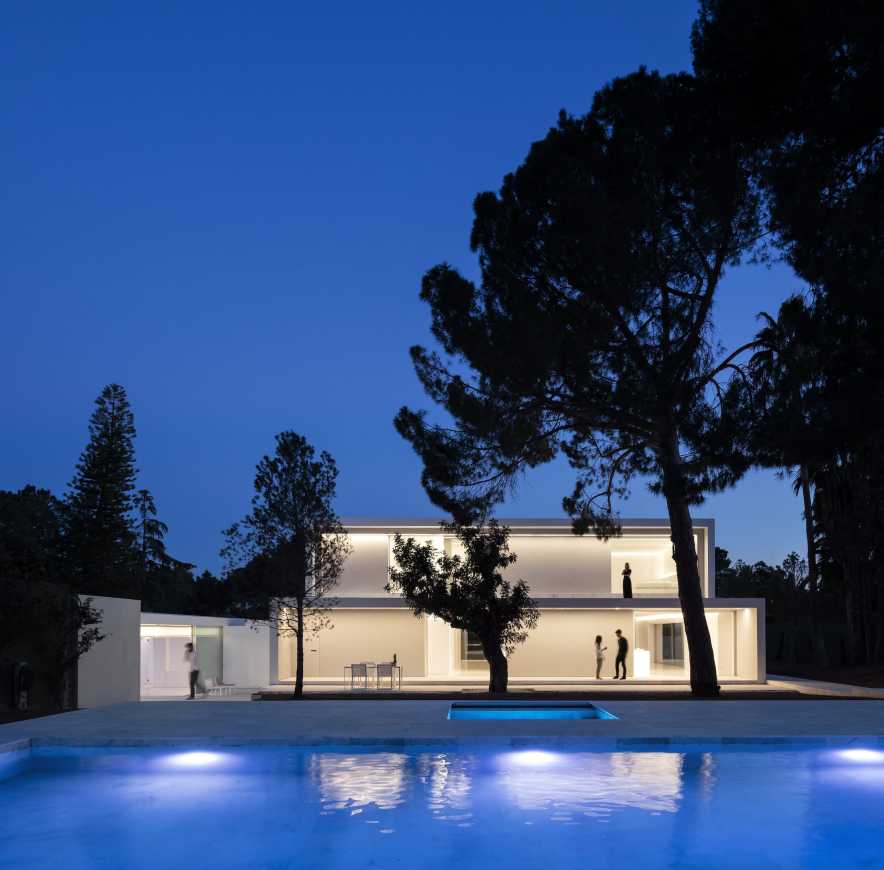 室内采用的过渡层系统,为各种大小和高度的房间创造了巨大的空间异质性。将原住宅的支撑结构隐藏在家具内部,家具统一的灰色色调也与花园中的植物树干相得益彰。
The interior respects the intermediate levels system producing a large spatial heterogeneity in rooms with a wide variety of sizes and heights. The supporting structure of the original house is housed inside the furniture that has the same gray shade as the trunks of some of the species that inhabit the garden.
▼住宅庭院 The courtyards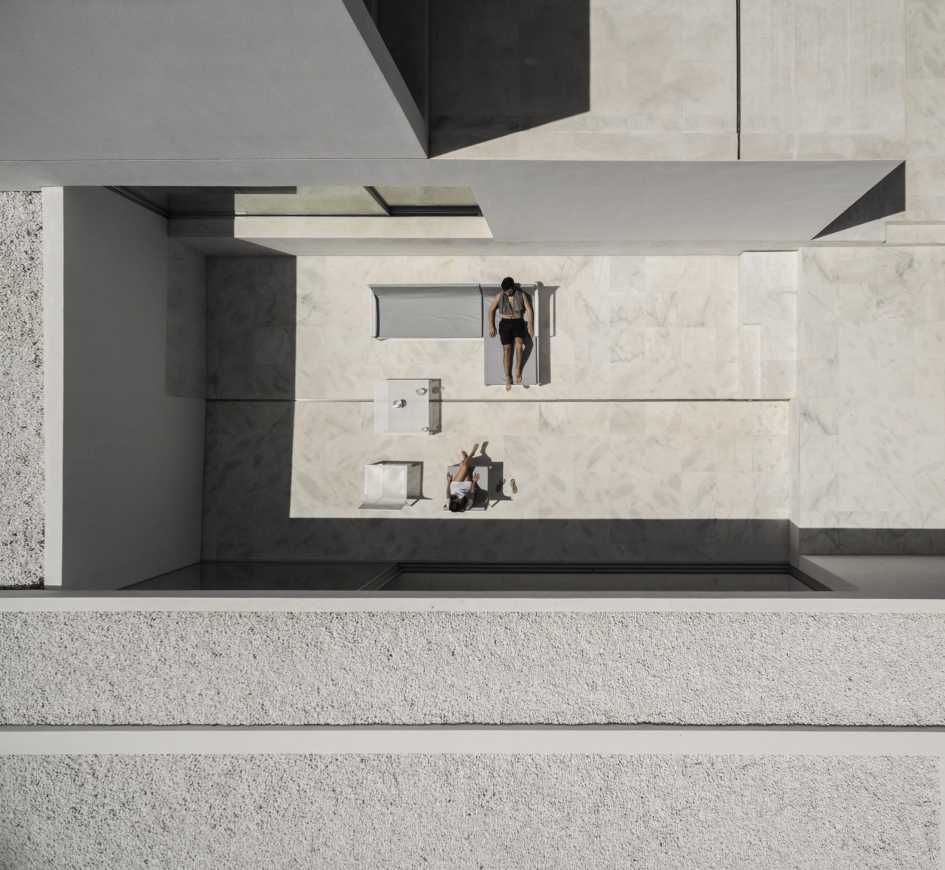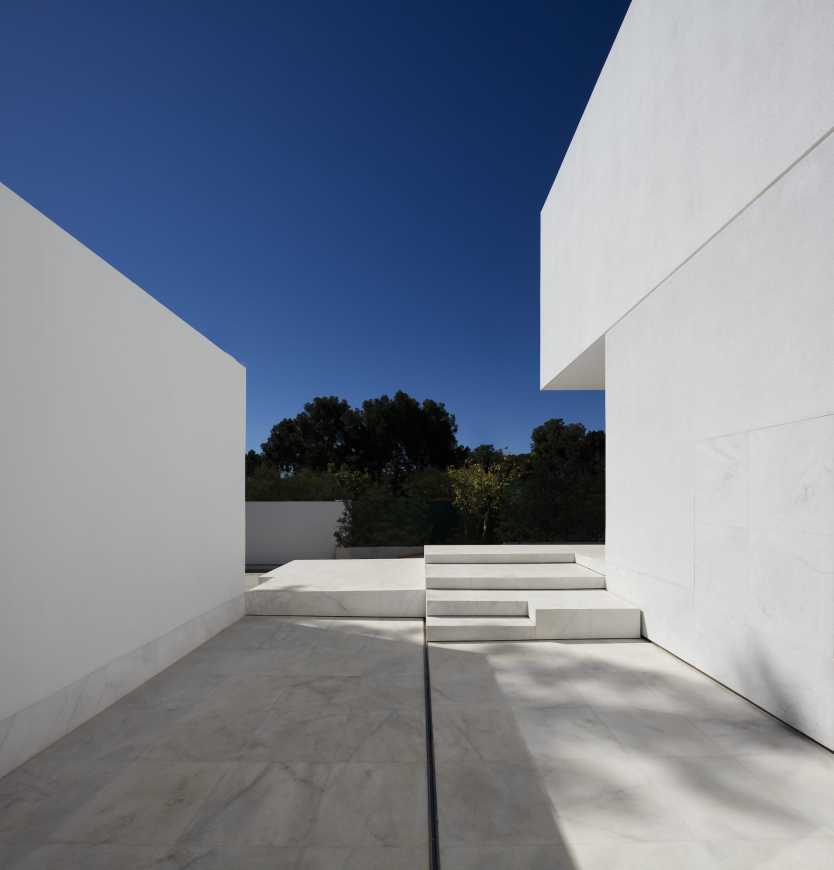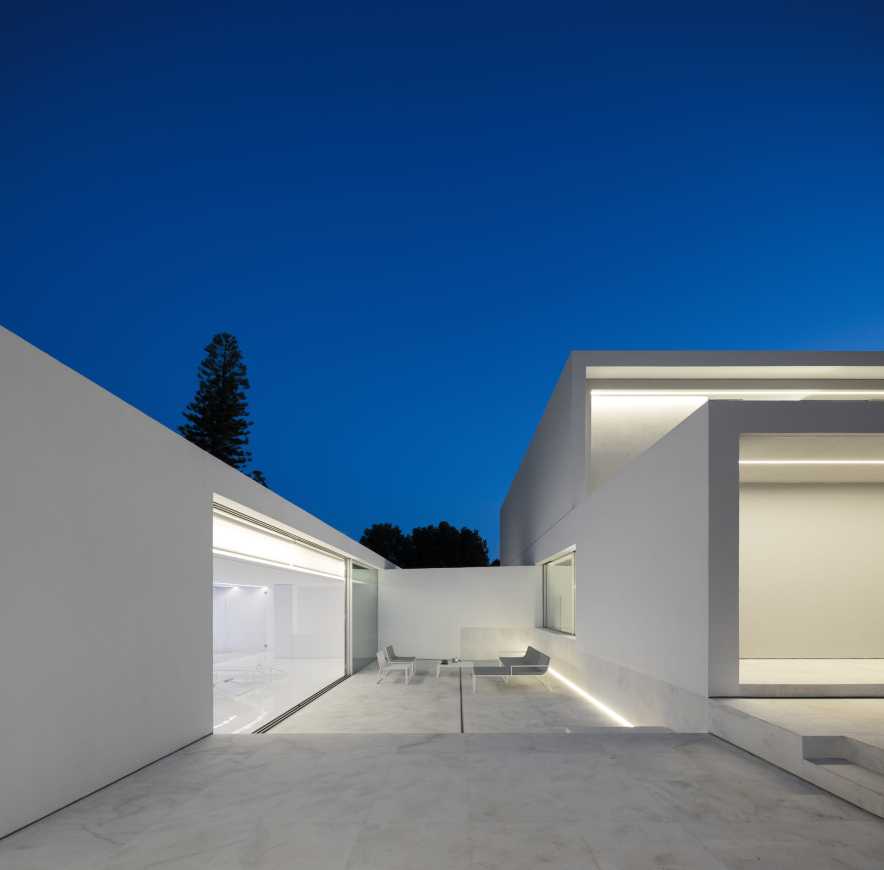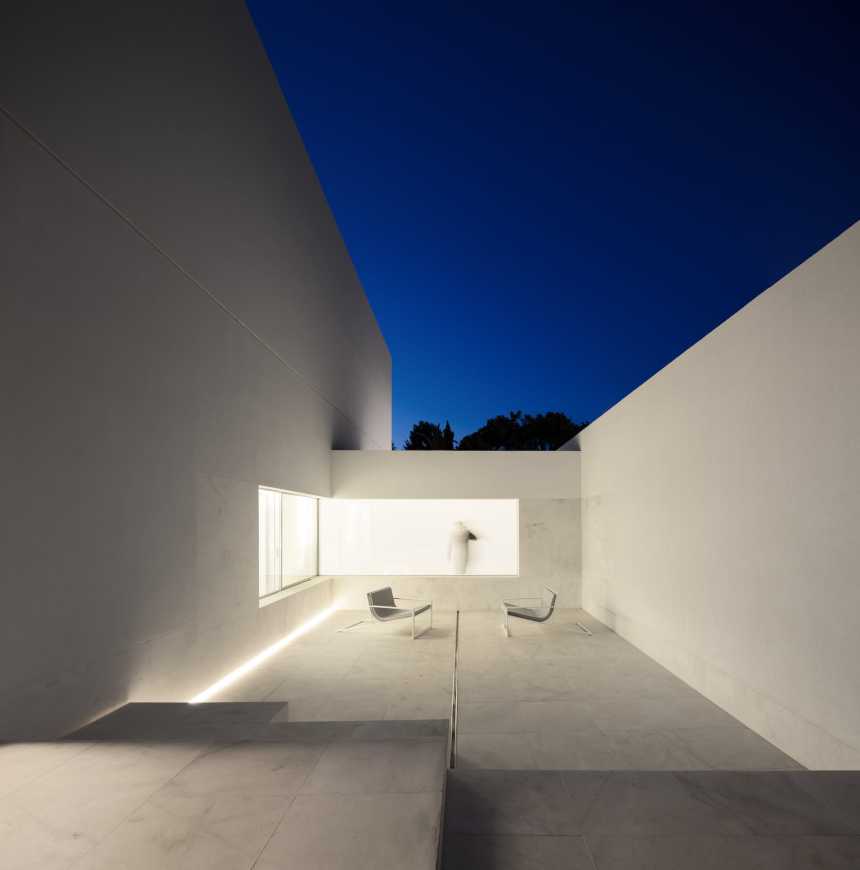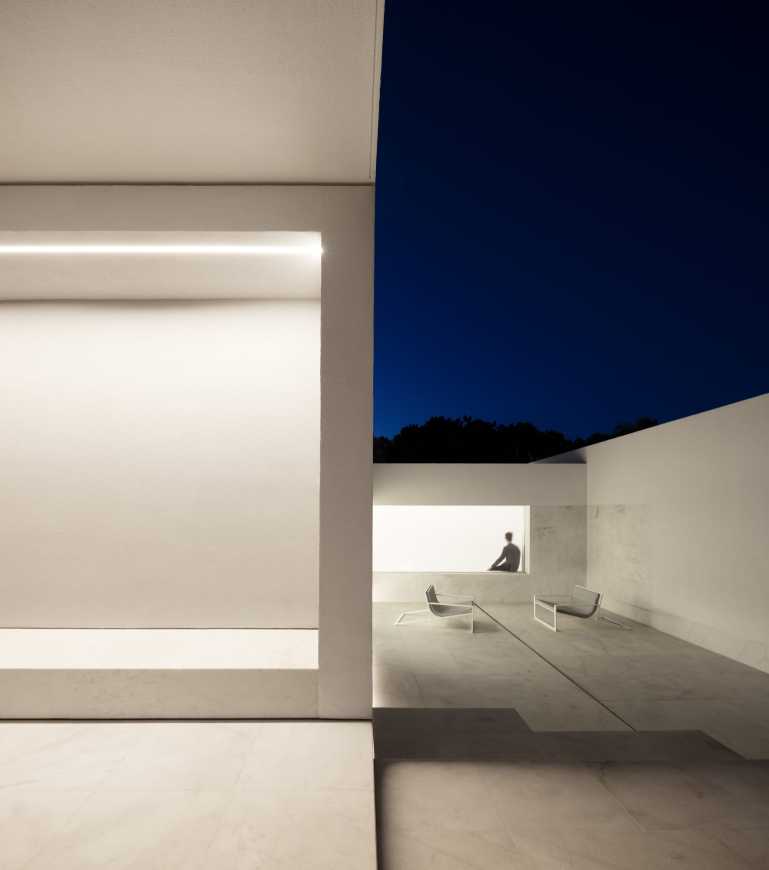 ▼车库 The garage
▼室内设计 The interior design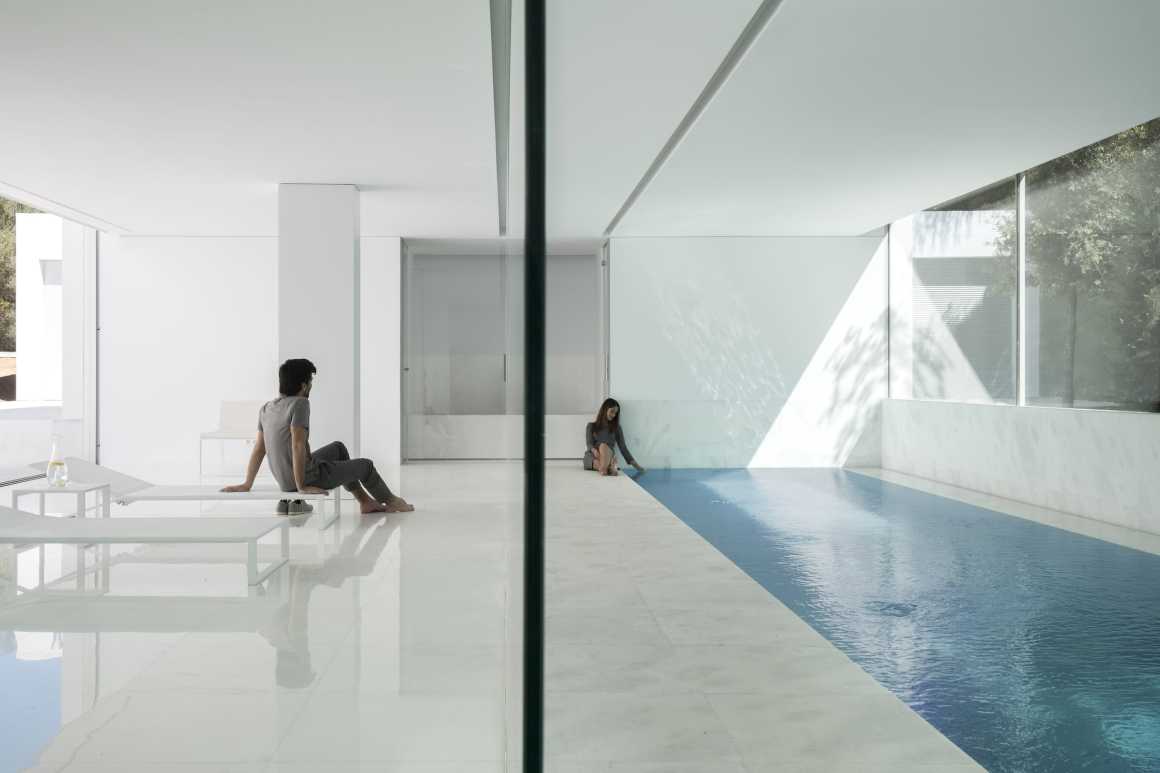 我们将这座房子织入了树林中,同时,也织入了人们对这片松林中的美好回忆。
The house is woven both among the trees and among the good memories that live in this pine forest.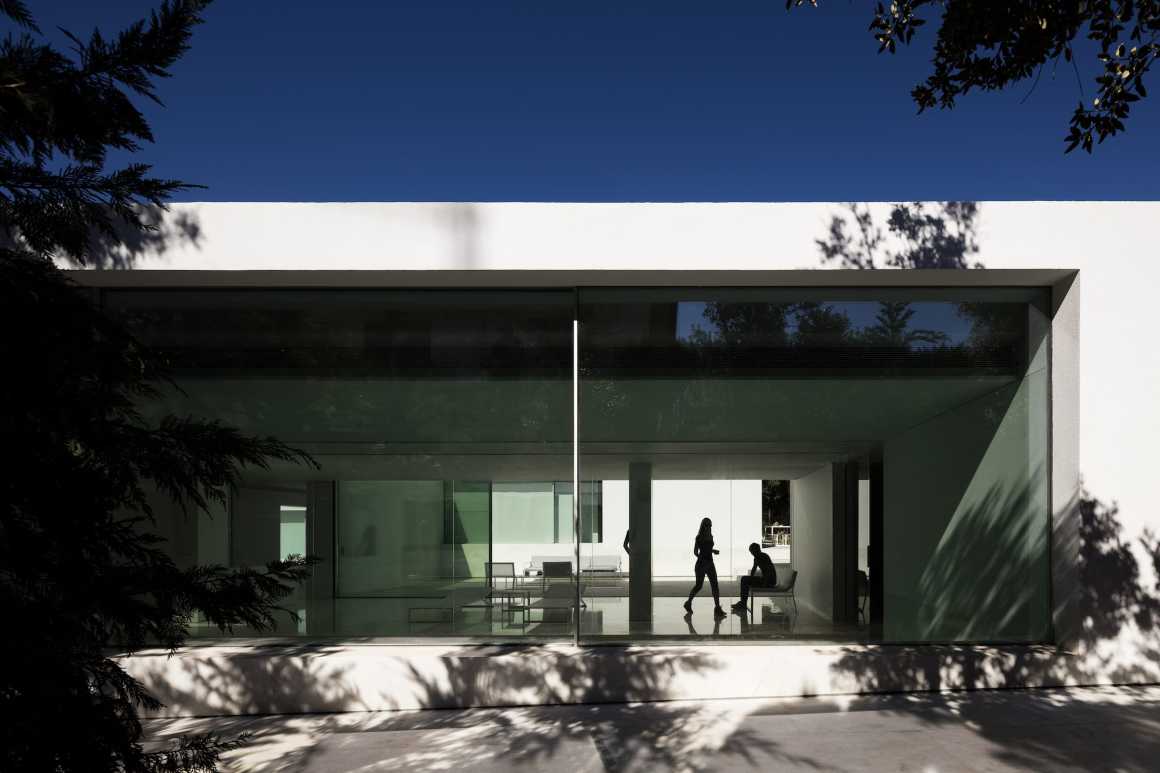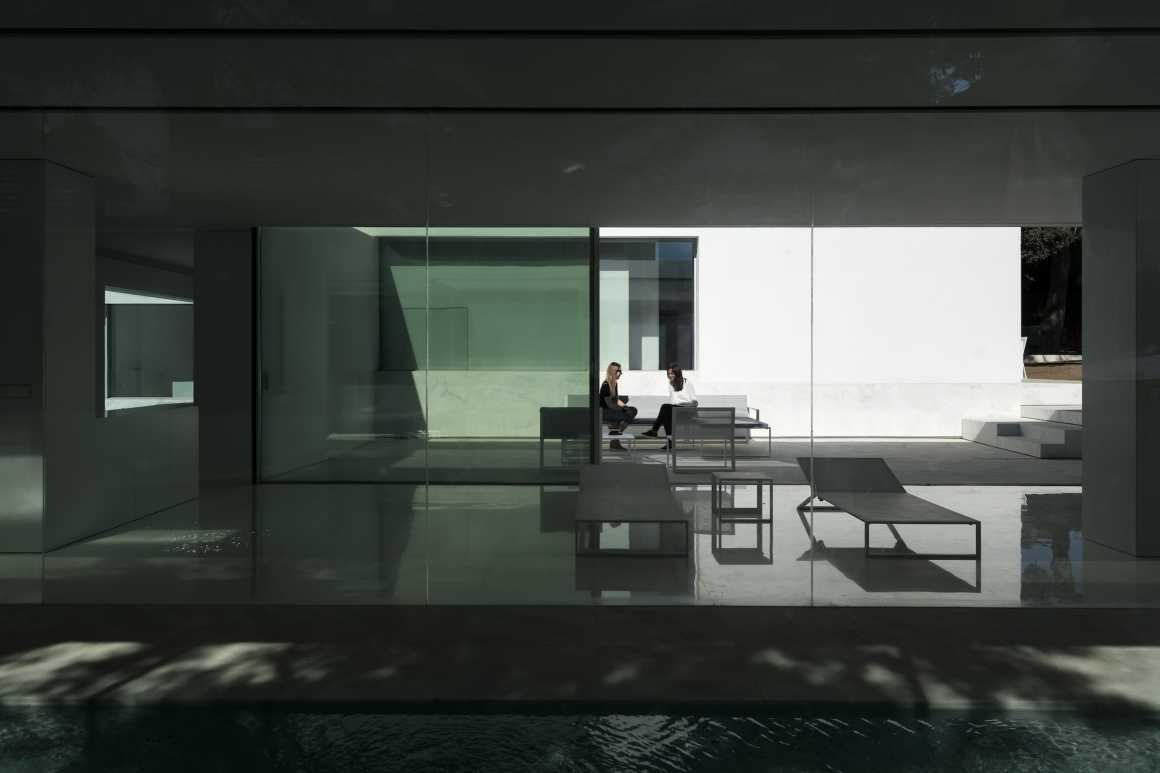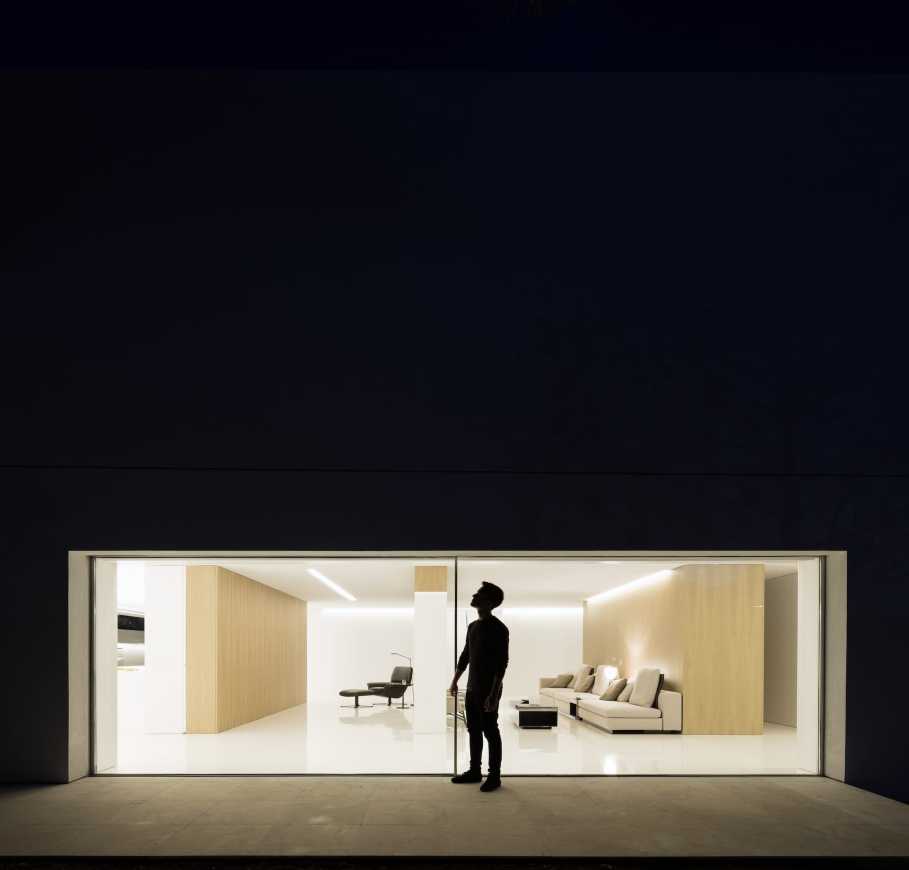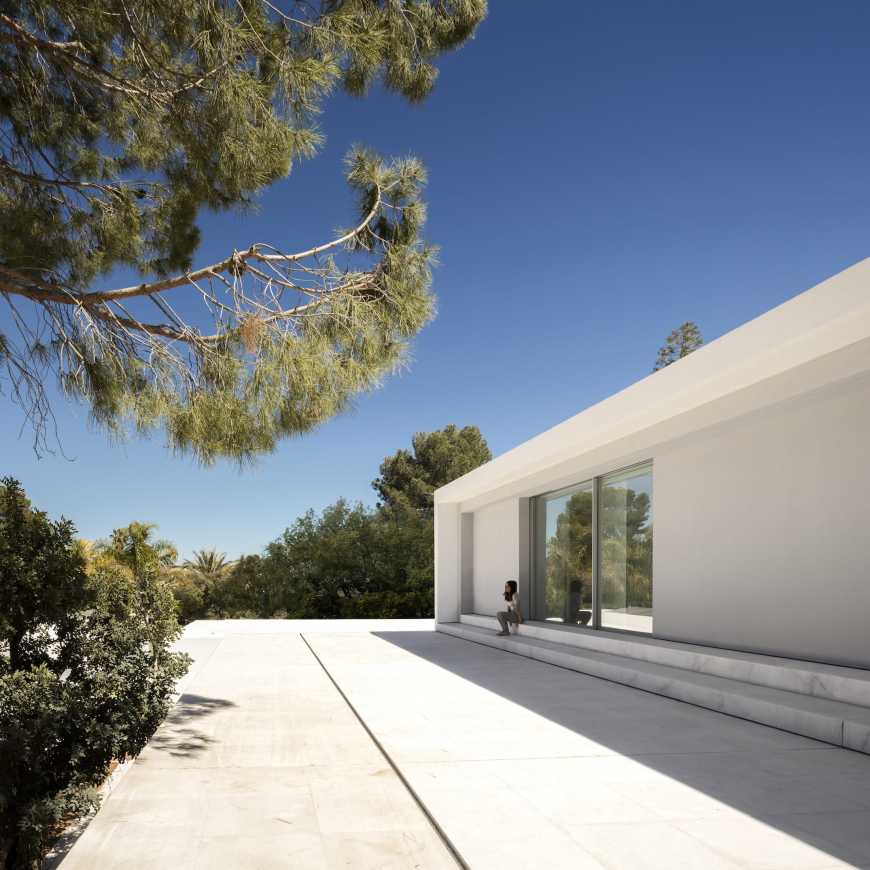 ▼设计手稿 SKETCH
▼住宅平面图 PLANS
▼住宅剖面图 SECTION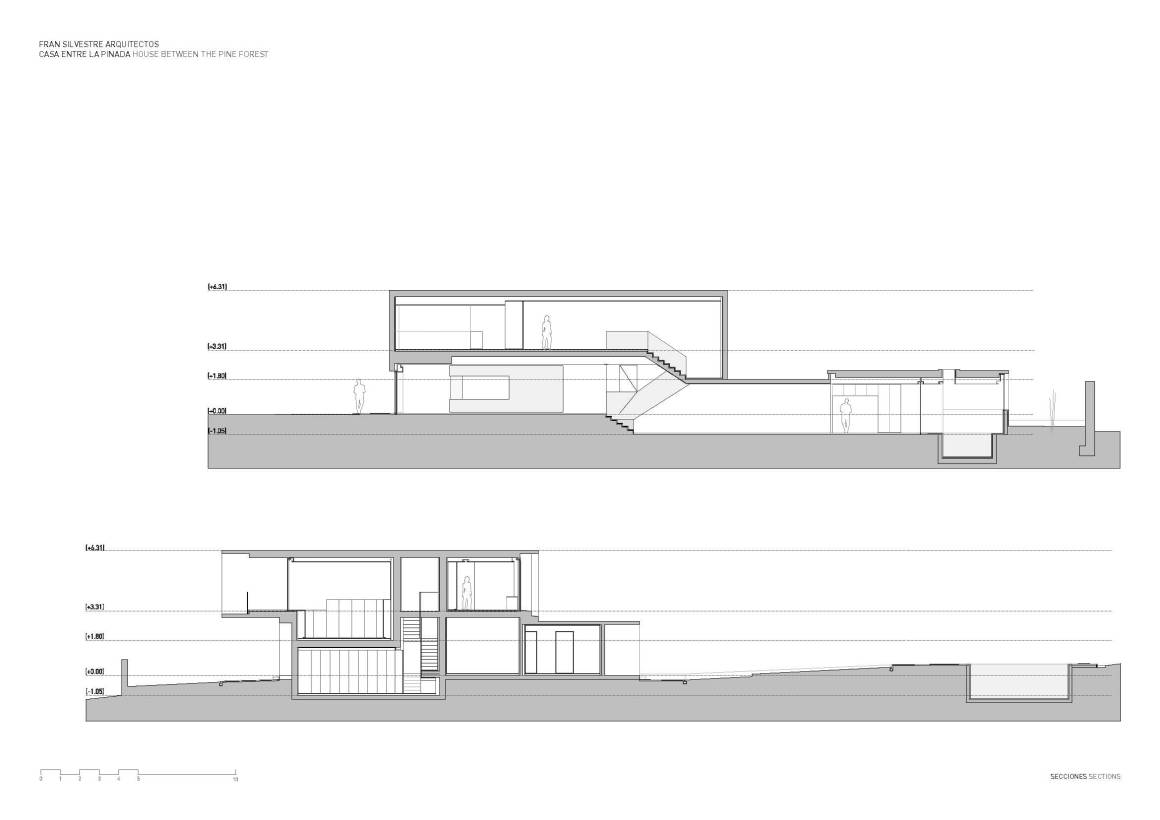 ▼住宅模型 MODEL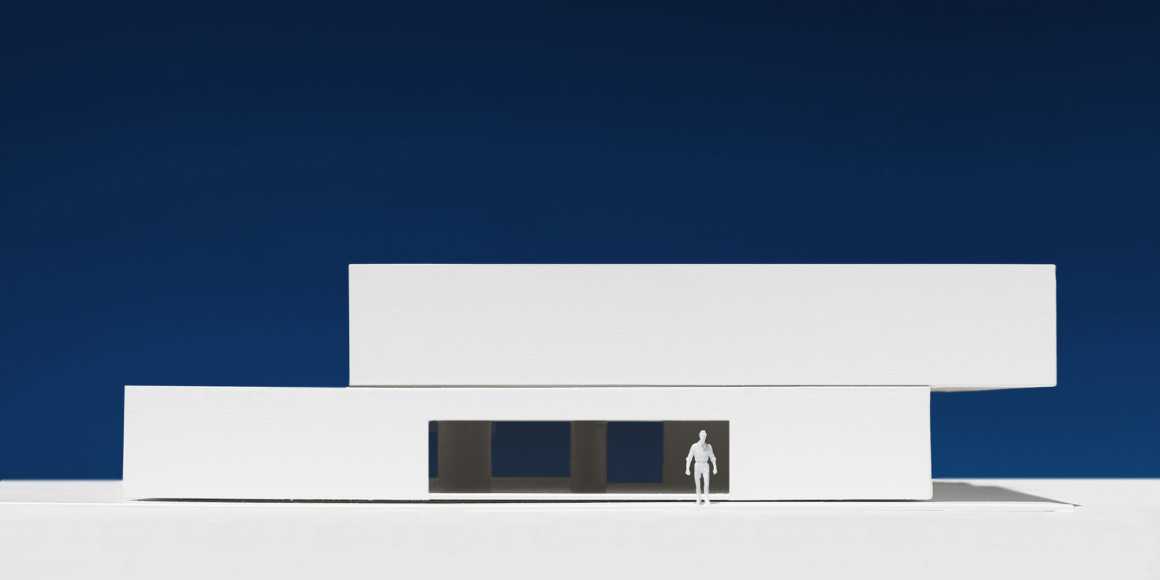 建筑设计:FRAN SILVESTRE ARQUITECTOS
室内设计:ALFARO HOFMANN
项目团队:Fran Silvestre, María Masià, Estefanía Soriano
合作者:Fran Ayala, Ángel Fito, Pablo Camarasa, Sandra Insa, Santi Dueña , Ricardo Candela, David Sastre, Sevak Asatrián, Álvaro Olivares, Paloma Márquez, Eduardo Sancho, Esther Sanchís, Vicente Picó, Erika Angulo, Alba Monfort, Ruben March
结构工程:Josep Ramón Solé | Windmill
项目经理:Studio 2
施工工程:Carlos García
摄影:Fernando Guerra
项目地点:西班牙 瓦伦西亚
场地面积:3106.52平方米
建筑面积:722.32平方米
ARCHITECTURE: FRAN SILVESTRE ARQUITECTOS
INTERIOR: ALFARO HOFMANN
PROJECT TEAM: Fran Silvestre, María Masià, Estefanía Soriano
COLLABORATORS: Fran Ayala, Ángel Fito, Pablo Camarasa, Sandra Insa, Santi Dueña , Ricardo Candela, David Sastre, Sevak Asatrián, Álvaro Olivares, Paloma Márquez, Eduardo Sancho, Esther Sanchís, Vicente Picó, Erika Angulo, Alba Monfort, Ruben March
STRUCTURAL ENGINEER: Josep Ramón Solé | Windmill
PROJECT MANAGER: Studio 2
BUILDING ENGINEER: Carlos García
PHOTOGRAPHY: Fernando Guerra
LOCATION: Valencia
SITE AREA: 3106,52 m2
BUILT AREA: 722.32 m2
家具 FURNITURE
Outdoor Furniture: Table and chairs | Blau Collection, Design by Fran Silvestre (Gandía Blasco)
Interior Furniture:
Dining room table | Metálico 280x98x73 (Porro)
Dining room chairs | Pillow (Andreu World)
Sofa | Comp. Modular Yang (Minotti)
Pouf | Yang 160×50 (Minotti)
Armchair | Prince 16 (Minotti)
Armchair | Blacke – Soft (Minotti)
Dining light | Ktribe T1 Glass (Flos)
Stool | Spaguetti (Alias)
Library table | Neta 200×100 (Dynamobel)
Library chairs | Modus executive (Wilkhahn)
工程服务 BUILDING SERVICES
Climate control: Under floor heating, Air conditioning
Electrical fitting: Mechanisms Jung serie 990
Lighting: Linear luminaire | Enrique Ferrer Plaza Lighting Designer
抛光 FINISHES
Paving:
Interior | Thassos white marble (Levantina)
Exteriors | Ibiza white marble (Levantina)
Surfaces:
Interiors | Plasterboard panels
Bathroom | Thassos white marble (Levantina)
Ceiling: Smooth plasterboard panels
Paint: Matt plastic paint
金属制品 METALWORK & LOCKSMITHING
Interior: Internal and cupboard doors | White lacquered MDF RAL (Paperma)
Exterior Windows: (Dekovent. Roberto Haba – Miguel Angel Haba)
Glazing: Double-glazed tempered glass (Dekovent. Roberto Haba – Miguel Angel Haba), Laminated tempered glass
浴室 BATHROOM
Sanitaryware: Toilet | Serie Link (Flaminia), Sanitary Fittings | (Geberit)
Bathroom taps: Pan (Zuchetti)
Lighting: Led lighting inserted in mirror
厨房 KITCHEN
Equipment: Furniture (Eggersmann), Kitchen counter (Betacryl)
更多 Read more about: FRAN SILVESTRE ARQUITECTOS