本文由metrostudio迈丘设计授权mooool发表,欢迎转发,禁止以mooool编辑版本转载。
Thanks metrostudio for authorizing the publication of the project on mooool, Text description provided by metrostudio.
迈丘设计:项目位于广东江门市,是保利在滨江新区的又一力作。场地临近天沙河支流,偏离喧嚣道路,内部阡陌桑田、鱼塘交错,其独具特色的地理环境、地域文化,造就了场地内独特的记忆。设计师从项目的场地条件提炼出"线"性的现代、简约的设计语言,在景观中进行诠释着往日那些温润的乡情。
Metrostudio:The project is located in Jiangmen City, Guangdong Province, and is another masterpiece of Poly in Binjiang New District, JIangmen. The site is close to the tributary of the Tiansha River, a little far from the noise roads. The inside is sloping, and the intertwined fish ponds. Its unique geographical environment and regional culture create unique memories of the site. From the site conditions of the project, the designer extracts the modern, minimalist design language "line" , and interprets the warmth of the past in the landscape.
产品本身 The product
项目本身是一个当地改善楼盘,将为新一代年轻人提供舒适住宅。而外部沿街空间是为政府代建,需要考虑开放性和周围居民的参与性。项目定位:年轻、时尚,而又开放、包容的空间。
The project itself is a local enhanced property that will provide a comfortable home for the new generation. The external street space is built for the government and needs to consider the openness and participation of the surrounding residents. Project positioning: young, fashion, yet open and inclusive space.
思考:如何扩大市政界面的景观效果,使之成为场地的亮点?如何处理狭长的场地空间?如何利用场地高差创造有趣的空间?如何使场地与建筑更加契合?周边围挡如何"藏"起来并适应未来施工需求? 如何创造丰富有趣的体验流线?
Thinking: How to expand the landscape effect of the municipal interface, making it the highlight of the venue? How to deal with the narrow space of the venue? How to use the height difference of the venue to create interesting spaces? How to make the venue and architecture more compatible? How do the surrounding enclosures "hidden" and adapt to future construction needs? How to create a rich and interesting experience streamline?
设计概念 Design Concept
从场地里面的线条感,结合产品的名称中"悦"音同"乐",设计师将以"乐"为场地的灵魂,注入到场地里面,营造一个愉悦舒适、年轻时尚的律动空间,一篇流动的"悦"章。景观设计在处理功能流线的基础上,着重考虑如何通过现代极简的手法表达营造外部开放空间及内部空间的起承转合。
The linear design language, combined with the name of the product, the designer will inject "yue" as the soul into the venue, creating a pleasant and comfortable, young and fashionable rhythm space. Based on the streamline of functions, the landscape design focuses on how to express the opening of the external space and the connection of internal space through modern minimalist methods.
现场实景 Site Picture
本空间共分为五个部分,空间序列的设计构成了步移景异的效果,特色的精神堡垒和特色绿色景观LOGO墙将行人吸引,走过舒适、静谧的林下空间,趣味汀步,穿过蜿蜒曲折的风雨连廊进入到内部空间。
The space is divided into five parts. The design of the spatial sequence constitutes the different landscape effect. The featured spiritual fortress and the green landscape LOGO wall will attract pedestrians, walk through the comfortable and quiet under-forest space, and path. Enter the interior space through the corridor.
▼视频 Video
入口广场 
Entrance plaza
简约、线条感强的大门设计,充满线性的灯带,向外扩散,增加入口仪式感,加上泉眼无声细流,营造畔水而居、静雅诗情。地面上线性铺装增加项目的整体调性。
The simple, strong linear gate design, with the linear lights, spread out, increase the ceremony of entrance, plus the silent springs, creating a waterfront and quiet, poetry atmosphere. Linear paving on the ground increases the overall tonality of the project.
▼雅致前庭 The front yard
▼内院开放空间 The courtyard
林下空间 The forest space
设计希望能赋予场地更多的城市公共空间的属性,使其成为一个具有包容性和开放性的场所,沿街列植着几排枝形优美的小叶榄仁,营造一个舒适、静谧的林下空间。趣味汀步、特色种植池和特色桌凳相互结合,宁静、自然、舒适。
The design hopes to create the city's public space, making it an inclusive and open place. There are rows of beautiful trees along the street to create a comfortable, quiet forest space. The funny stepping stones, the featured planting pool and the characteristic stool are combined to make it peaceful, natural and comfortable.
▼林下空间(右侧) The forest space (right side)
四周围合的白色围墙,一半实体,一半格栅,空间通透、内外空间隔而不断,形成意味深长的联系。
The surrounding white walls, half is close, half open, the space is transparent, and the inner and outer spaces are forming a meaningful connection.
▼林下空间(左侧) The forest space (left side)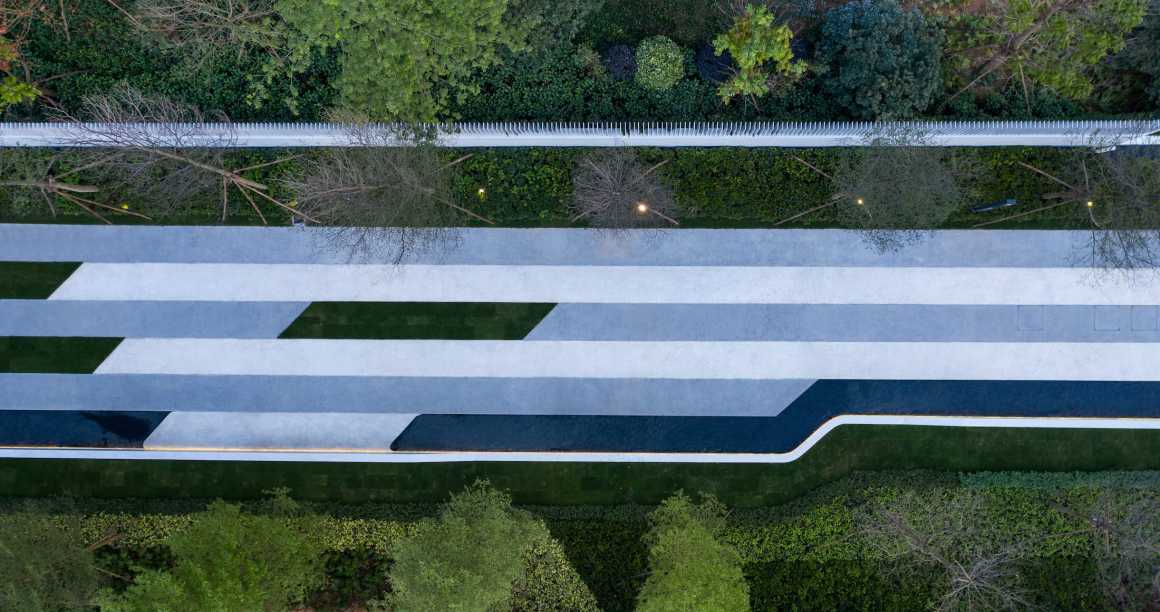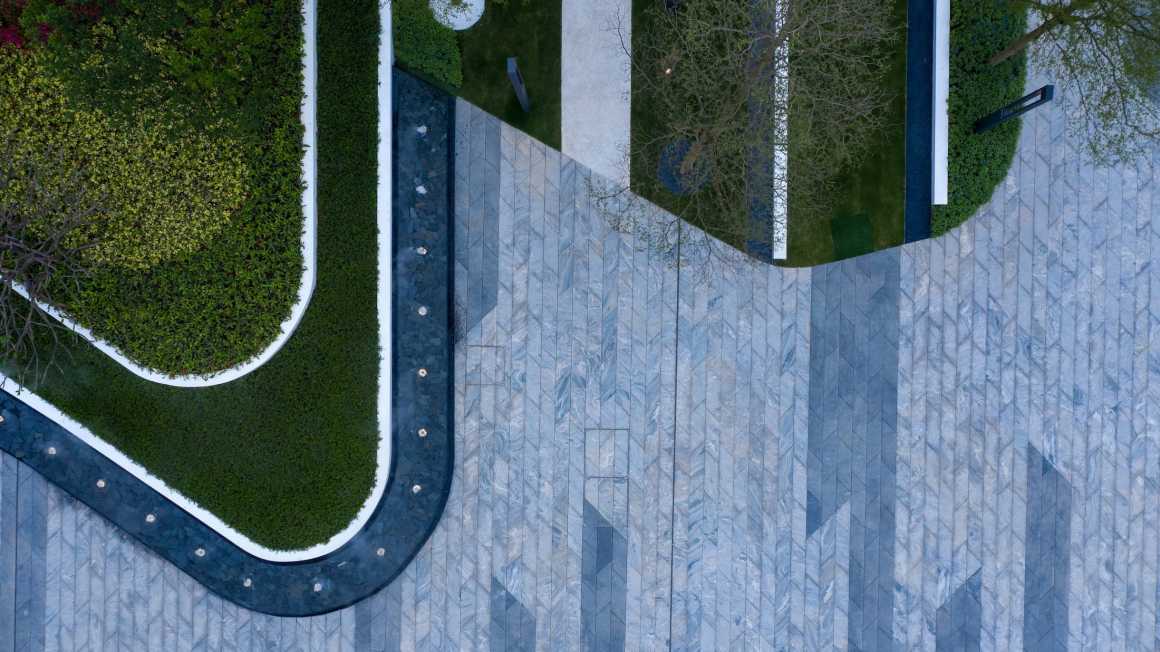 设计:Metrostudio 迈丘设计
团队:王奇、陈平、杨勇、杨要连、程慧辉、郑荣军、张茗泽、王双、彭琪
客户:华南保利
展示区面积:5640 m2
设计时间:2018年
Landscape Design: Metrostudio
Team: Wang Qi, Chen Ping, Yang Yong, Yang Yaolian, Cheng Huihui, Zheng Rongjun, Zhang Mingze, Wang Shuang, Peng Qi
Display area: 5640 m2
Design time: 2018
项目中的植物、材料运用 Application of plants and materials in this project
更多Read more about:Metrostudio 迈丘设计