本文由 Wild Architectural Objects 授权mooool发表,欢迎转发,禁止以mooool编辑版本转载。
Thanks Wild Architectural Objects for authorizing the publication of the project on mooool, Text description provided by Wild Architectural Objects.
Wild Architectural Objects:该装置由停泊在直径40米的平台中的五个巨型浮标组成,它有多种游乐方式,可满足多种不同类型的人群。弧形平台是一个令人放松的散步场所,它能让你深思它们与水的关系;装有蹦床的浮标,对于那些想要跳下去的人来说是一个有趣之地,对于那些只想躺在阳光下休息的人来说也是个好去处;你还可以在这里漫步、散步,经历一场网状桥的冒险,最后到达蹦床,然后在这里尽情地弹跳…
Wild Architectural Objects:Made up of five giant buoys moored to a deck of 40m diameter, the installation is aimed at a wide audience, offering several ideas of use. The deck is a soothing walk, which invites to contemplate the large white volumes in their relationship with the water. The buoys which host trampolines, are fun spots for those who want to jump or resting places for those who just dream of lying in the sun. You can stroll, take a walk, venture on the mesh bridges to reach the trampolines, jump and bounce constantly …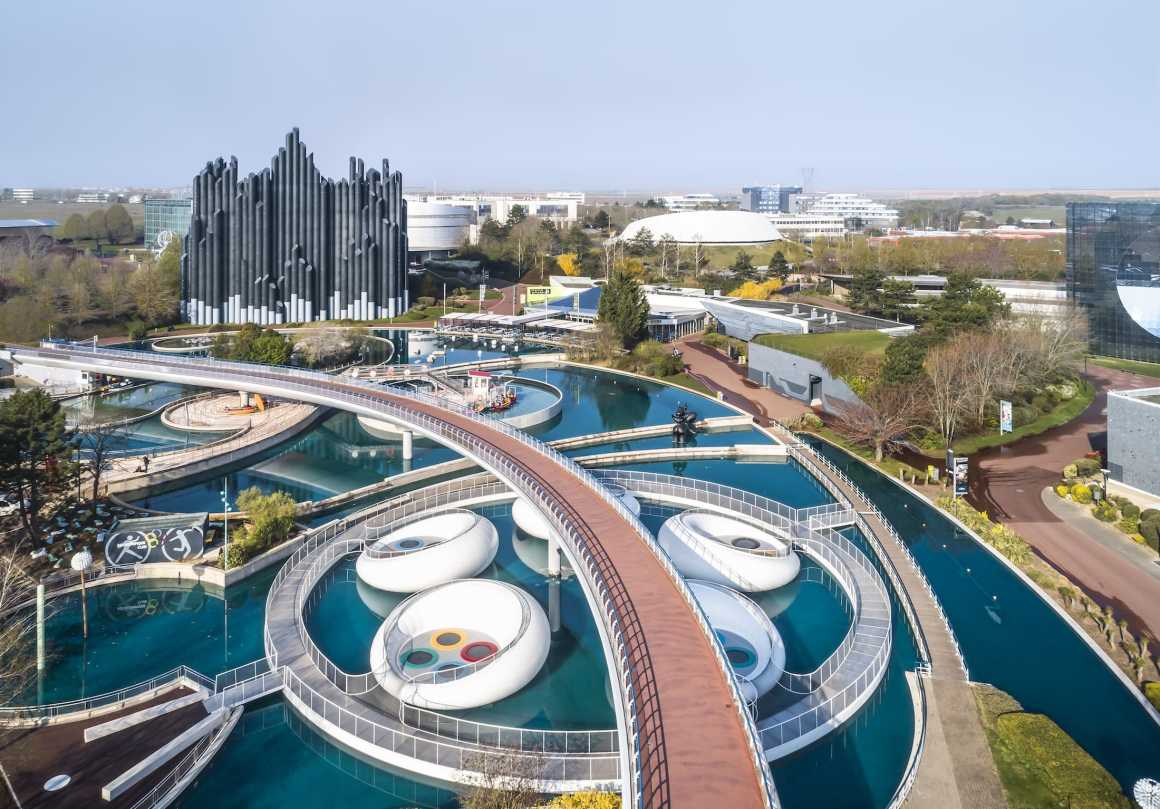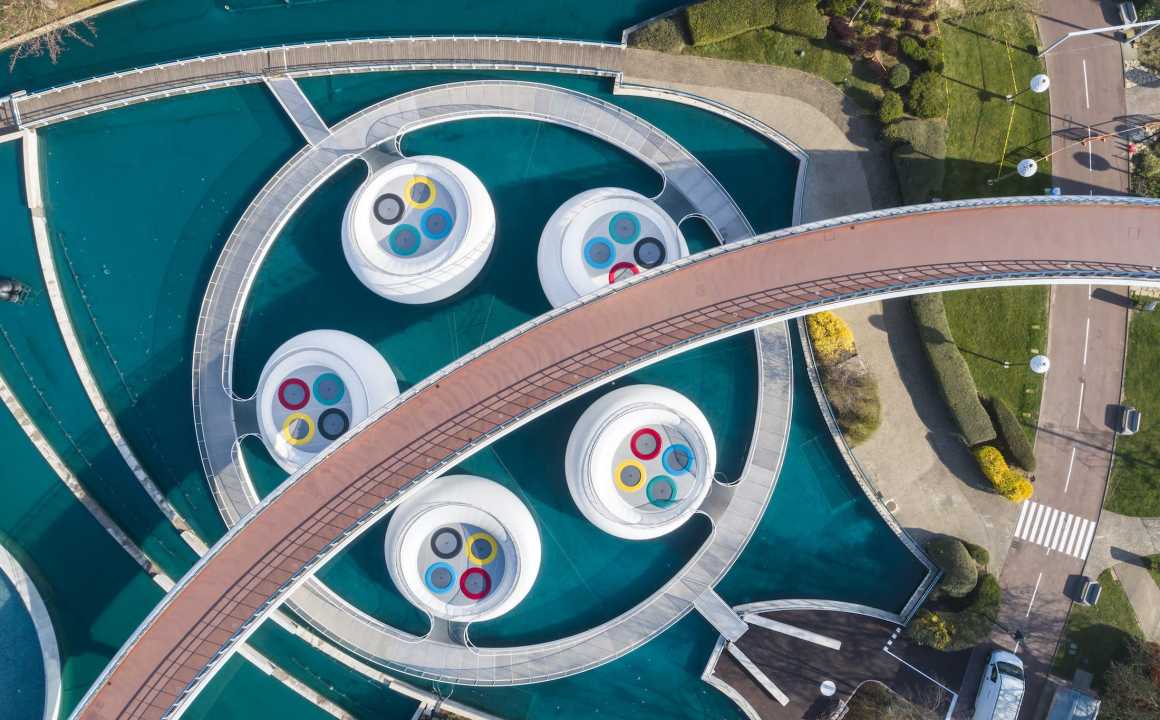 整个曲折和跳跃的过程充满活力,整个结构也对自发的运动做出反应,它与人们的快乐精神产生共鸣,并将它放大。200米长的扶手将整个设计固化,如此多的能量传递也让整个设计变得栩栩如生。
Vibrant under the twists and jumps, the whole structure reacts to spontaneous movements, it resonates with the joyful spirit of people it amplifies in return. The handrail of a length of 200m solidifies the entire design, which seems to almost come to life from so much energy transfer.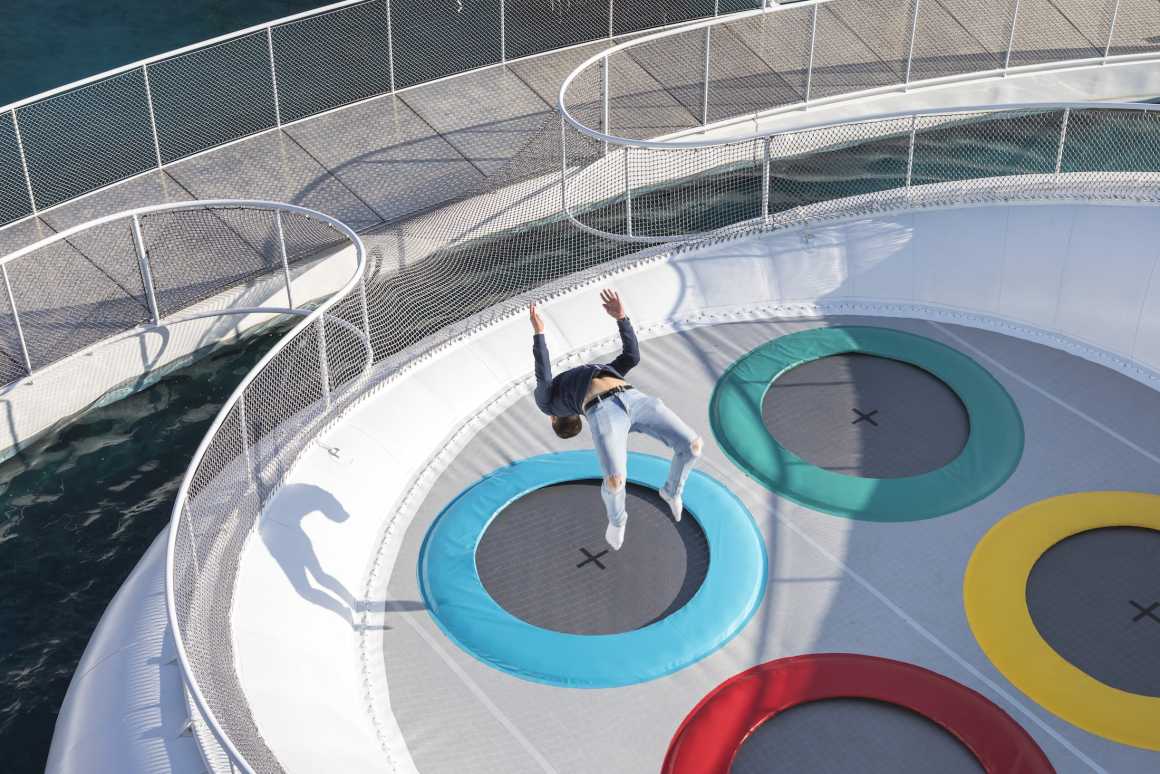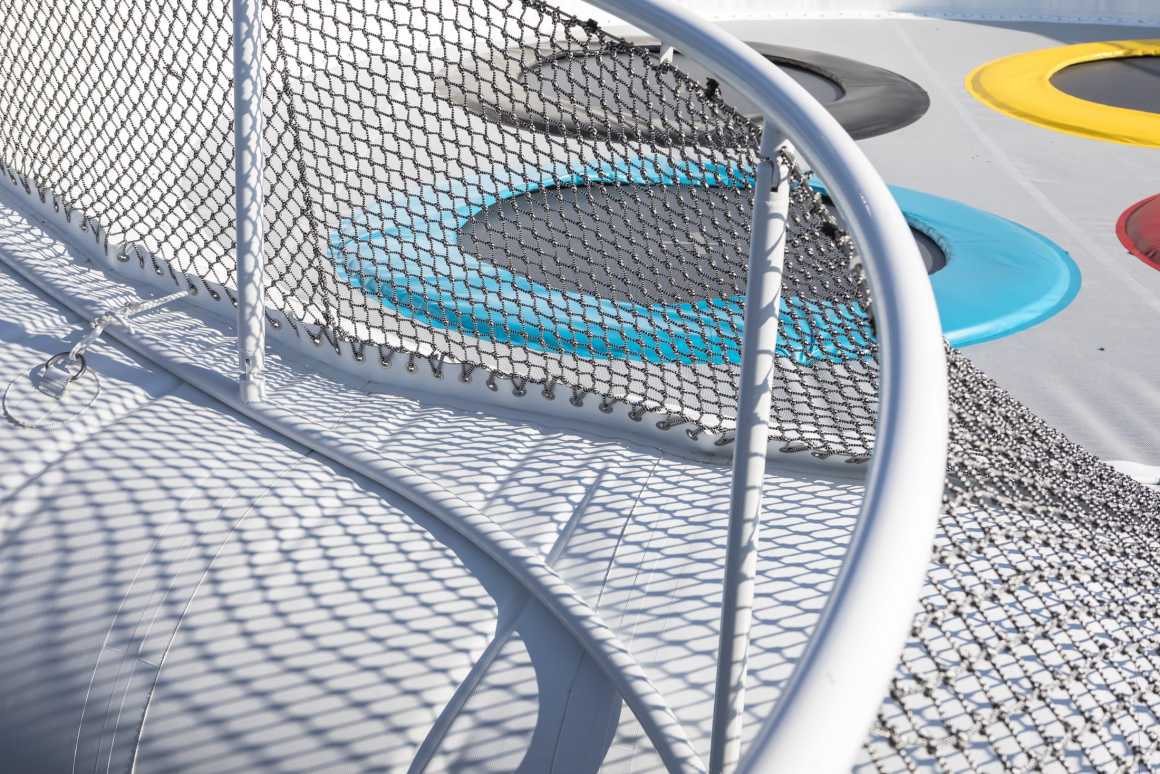 "水的魔力,动作的不可预测性,移动的快乐,创造出失重、愉悦和惊奇交织在一起的难忘时刻。"
''The magic of the water, the unpredictability of the movements, the happiness of moving, create strong moments where weightlessness, euphoria and wonder mix.''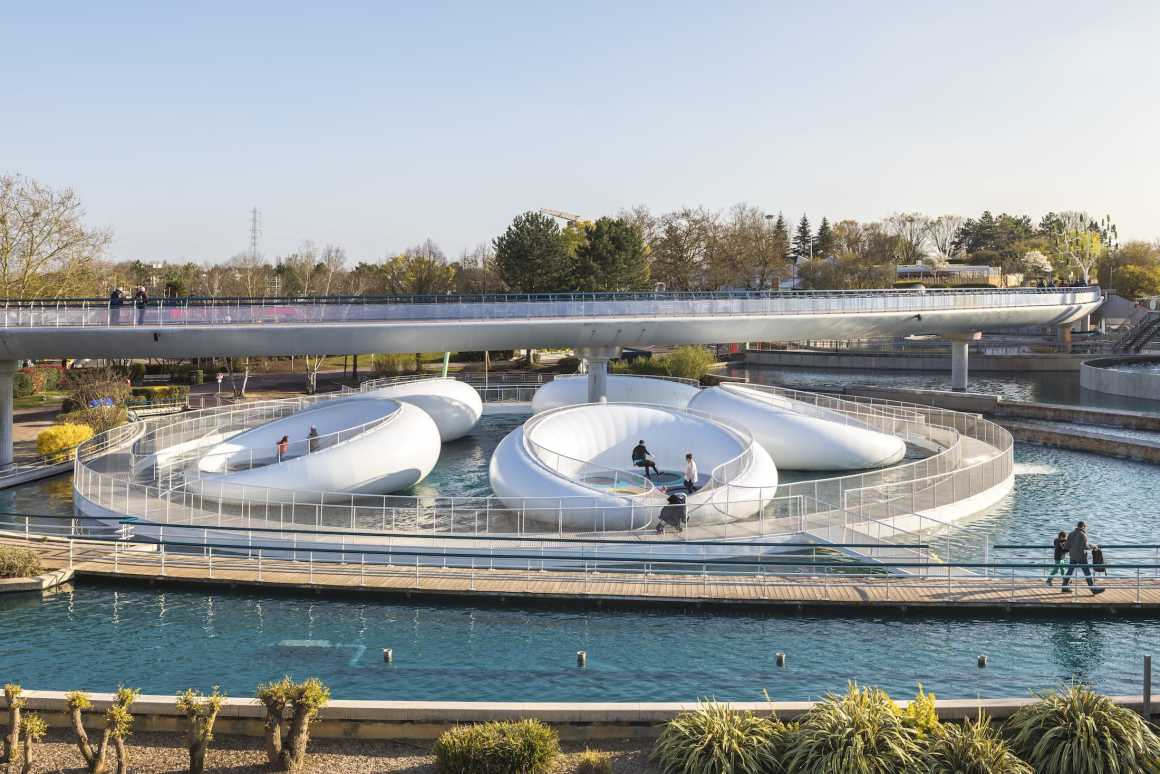 具体来说,Lily的完成共经历了500个小时的研究,1400个小时的开发以及1200个小时的现场组装。它由1000平方米的帆布、410平方米的编织网和450立方米的空气组成。漂浮式的休闲结构,由五个直径10米的充气浮标组成,由一个直径40米的圆形平台和安全栏杆相连接。
Specifically, Lily, it is 500 hours of studies, 1400 hours of realization, 1200 hours of assembly on the spot. It consists of 1000m2 of canvas, 410m2 of braided mesh and 450m3 of air. Floating leisure structure, consisting of five inflatable buoys of 10 meters in diameter, connected by a circular deck of 40 meters in diameter and one safety railing.
▼轴测图&平面图&模块平面图 Axonometric & Plan & Plan Module
▼剖面图 Sections
▼施工过程 Construction Process (all photos courtesy of WAO)
设计公司:WAO(Wild Architectural Objects)
地点:法国
项目年份:2019年
图片:Sergio Grazia
项目研究时间:10个月
建设工期:3个月
组装时间:2周
材料和产品:
1.充气结构焊接膜(Ferrari Precontraint 1302 S;白色;厚度1、2毫米;350克/平方米)
2.Ferrari Soltis FT 381蹦床焊接薄膜(灰色和黑色;厚度0.95毫米;550克/平方米;孔隙度28%)
3.充气结构焊接膜(Ferrari Precontraint 502 S;奥林匹克颜色随机)
4.保护性尼龙网(REDSINSA;混合色50%白色,50%无烟煤;厚度2.5毫米;方网眼30 x30mm)
5.可行走尼龙网(REDSINSA;混合色50%白色,50%无烟煤;厚度4.5毫米;方网眼30 x30mm)
6.定制金属配件(304不锈钢;颜色、9010;环氧喷漆)
7.定制浮动模块(304不锈钢;颜色、9010;环氧喷漆)
8.纹理铝板(自然色)
9.柔性供气软管及附件
技术配件:航空涡轮;Mides fans;数字压力指标
Design Firm: WAO(Wild Architectural Objects)
Location: France
Project Year: 2019
Photo Credits: Sergio Grazia
Duration of the studies : 10 months
Duration of the construction : 3 months
Duration of the installation : 2 weeks
MATERIALS AND PRODUCTS:
1.Welded membrane for inflatable structure (Ferrari Precontraint 1302 S; White color; Thickness 1,02mm; 1350 g / m2)
2.Welded membrane for trampolines Ferrari Soltis FT 381 (Gray and black colors; Thickness 0.95mm; 550 g / m2; Porosity 28%)
3.Welded membrane for inflatable structure (Ferrari Précontraint 502 S; Random Olympic colors)
4.Nylon mesh, for security (REDSINSA; Mixed color 50% white, 50% anthracite; Thickness 2.5mm; Square mesh 30x30mm)
5.Nylon mesh, for walk (REDSINSA; Mixed color 50% white, 50% anthracite; Thickness 4.5mm; Square mesh 30x30mm)
6.Custom metal parts (304 Stainless steel; Color RAL 9010; Epoxy spray paint)
7.Custom floating modules (304 Stainless Steel; Color RAL 9010; Epoxy spray paint)
8.Textured aluminum plates (Natural color)
9.Flexible air supply hoses and accessories
TECHNICAL ACCESSORIES: Airtech turbines; Mides fans; Digital pressure Indicators
更多 Read more about: WAO (Wild Architectural Objects)