本文由metrostudio迈丘设计授权mooool发表,欢迎转发,禁止以mooool编辑版本转载。
Thanks metrostudio for authorizing the publication of the project on mooool, Text description provided by metrostudio.
迈丘设计:溪涧、竹林、木栈道;风声、水声、竹叶声;在方寸山石间;师法自然,超脱自然;传达大自然的声音。
不争半城湖山;只居咫尺森林;隐匿在丛林深处;营造纯粹、舒适自然体验 —— 世茂璀璨里程
Metrostudio:Streams, bamboos, plank road; Wind in the space, the babble of the streams, bamboo leaves rustle in the wind; In the small nature area; Learning from nature, detached from nature; Interpret the sounds of nature.
Close to the forest; Hidden in the depths of the jungle; Create a pure, comfortable and natural experience —— Shimao Shine Mileage
项目地处泸州城西板块核心区域,紧邻未来城市核心干道,交通便利。设计挖掘场地地域特色,从瑰丽壮美的大自然提炼出山水、湖、滩、山谷、森林、花径、杉林、竹等自然元素,以自然博物馆为概念展开,通过当代艺术手法演绎,围绕"山水涧"、"浅水滩"、"听竹"、"闻杉"4个元素依次针对入口、前场、后场转换、样板房这4个区域分别进行主题设计。设计寄希望于场地本身师法自然,却超脱自然,犹如方寸山水,盒中天地一般,虽精小却能传达大自然的声音,在潺潺流动之间,带给人以回归自然的享受。
The site is located in Luzhou, Sichuan and close to the future urban core trunk road with convenient transportation. Based on the site's regional characteristics, the design gets inspiration from the magnificent nature and extracts the natural elements of landscape, lakes, beaches, valleys, forests, flower trails, metasequoia forests, bamboos. Use the natural museum as the concept, interpret around the "Natural Stream", "Shallow Beach", "Bamboos" and "metasequoia forests" to design the entrance, front yard, back yard and sample house. We wish in the small nature space, the design Learning and detaching from nature, create a pure, comfortable and natural experience.

▼视频 Video

▼总平面 Master plan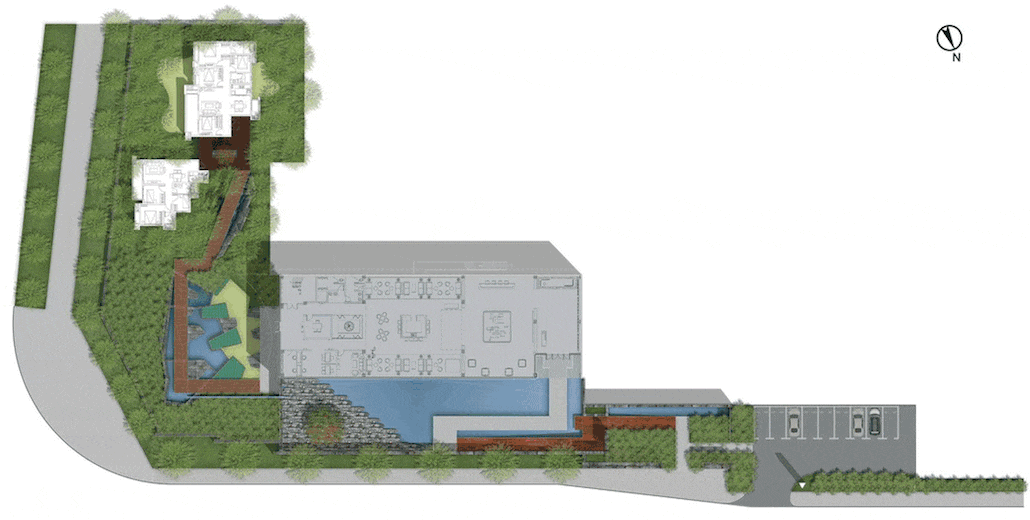 山水涧-入口 Entrance
以泸州山水为起源,穿越竹林夹道,仿似来到山前瀑布之下,有一崎岖栈道可通售楼处。竹林夹道,营造曲径通幽之感,行走于其间,满目苍翠,风声,水声,竹叶声,谱写出一曲自然与人工默契结合的乐章。
Taking Luzhou's landscape as its origin, along the bamboo forest corridor, on the side of waterfall, there is a rugged runway for sales center. Creating a sense of tranquility, walking in it, full of green. Wind, water and bamboo leaves sound compose a song of natural and artificial combination.
浅水滩-前场
浅水滩,以湖·滩为起源,通过崎岖蜿蜒的栈道,来到一片方寸湖滩之中,捕捉些许自然的灵魂于场地之中。选用姿态飘逸的鸡爪槭,摇曳在水中清丽的倒影,墙外列植的朴树枝桠分明,与自然肌理的墙体相得益彰,水中点缀些水生植物,寻求植物在场地里的光影美学,呈现了一个静远空灵的空间。
The shallow beach, originated from Lake and beach, travels through rugged and winding trestles to a square inch of Lake beach, capturing a little natural soul in the site. Choose the elegant maple claws, swaying in the water, the beautiful reflection, the plain branches planted outside the wall, complement each other with the natural texture of the wall, embellish some aquatic plants in the water, seek the aesthetics of light and shadow of plants in the site, showing a quiet and distant space.
听竹闻杉
竹与水杉,场地内部的两种主要植物,出后场之后,营造一片溪流竹林,杉林栈道,纯粹且干练,挺拔且积极向上,无过多的修饰,清新自然。游走其中,在清脆悦耳之间,潺潺流动之间,给人以回归自然的享受,移步异景,每一步都是发现,每一步都有惊喜,所有的琐碎与疲惫都不存在。
Bamboo and Metasequoia are two main plants in the site. After coming out of the backyard, a stream bamboo forest and a trestle road of Metasequoia forests are built. They are pure and capable, straight and positive, without excessive decoration, and are fresh and natural. Walking among them, between the crisp and pleasant, between the ripple and the flow, gives people the enjoyment of returning to nature, every step has surprises.
局部石头结合花境,打破硬景的尖锐感,增添场地的亲和力和活力,挺拔直立的水杉林,如同一个天然的森林氧吧,打造一个归家,融入自然的和谐共生的体验感。
Local stone combines with flowers, breaking the sharp sense of hard scenery and increasing the affinity and vitality of the site. Upright Metasequoia forests, like a natural forest oxygen bar, create a sense of experience of home and harmony with nature.
▼施工过程 Construction process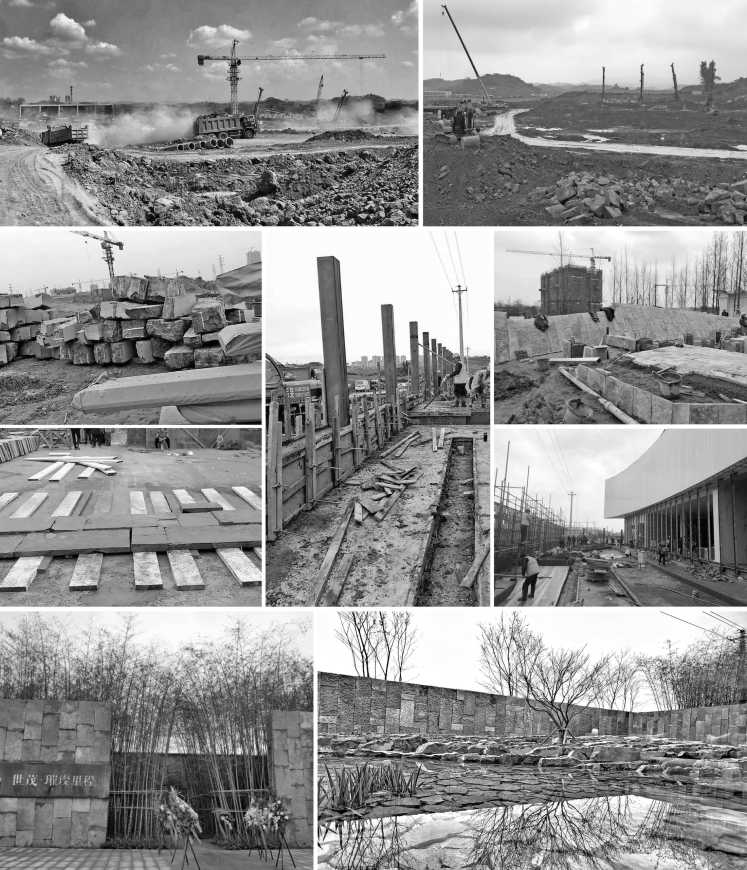 ▼设计过程 Design process
项目名称:泸州世茂璀璨里程
设计:Metrostudio 迈丘设计
客户:世茂集团西部地区公司
地点:四川泸州城西新城片区
面积:48294 m2
设计时间:2018年
Project name: Luzhou Shimao Shine Mileage
Design: Metrostudio
Client: Shimao group
Location: luzhou new city area, sichuan province, China
Area: 48,294 m2
Design time: 2018
项目中的植物、材料运用 Application of plants and materials in the project
更多Read more about:Metrostudio 迈丘设计