本文由 Esrawe Studio 授权mooool发表,欢迎转发,禁止以mooool编辑版本转载。
Thanks Esrawe Studio for authorizing the publication of the project on mooool, Text description provided by Esrawe Studio.
Esrawe Studio:疫情时代,人们慢慢重新走上街头,我们需要创造和发现更好的方式来重新融入我们的社会生活,重新点燃有意义的社交,享受与家庭和朋友之间联系,分享我们的新想法。
Esrawe Studio:  As we are slowly going back to the streets, we have the need to create and discover better ways of reintegration to our social life, reignite meaningful connections, enjoy family and friends and share new ideas.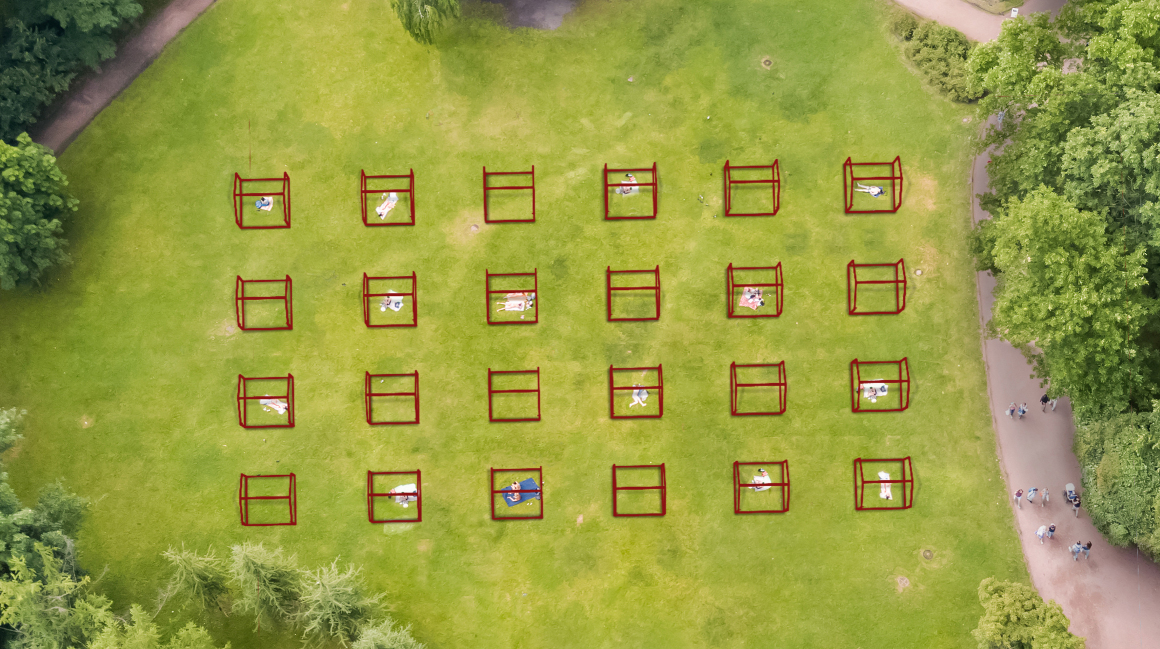 Mi Casa Your Casa('你我之家')街头艺术装置诠释了我们社交联系的永恒本质,虽然最初它的设计旨在激活亚特兰大高等博物馆及其周围环境之间的新关系,但现在它不仅改变了公共空间,而且还在周围的社区之间建立了联系。在亚特兰大之后,这个装置就开启了新的旅行,后面被陆续放置在了几个不同城市和国家博物馆、街道和公园里进行展示。甚至在2017年,它作为救济手段,成为了某些墨西哥地震中失去家园的家庭的临时避难所。
Mi Casa Your Casa has proved the timeless essence of connection, since its beginning it was set to activate a new relationship between the High Museum of Atlanta and its neighborhood, not only transforming the public space but building a bond between the community surrounding it. After being in Atlanta, the installation became itinerary and was placed in several museums, streets and public parks in different cities and countries. At a certain moment it also worked as a relief becoming a temporary refuge for some families that lost their homes during the earthquake of 2017 in Mexico.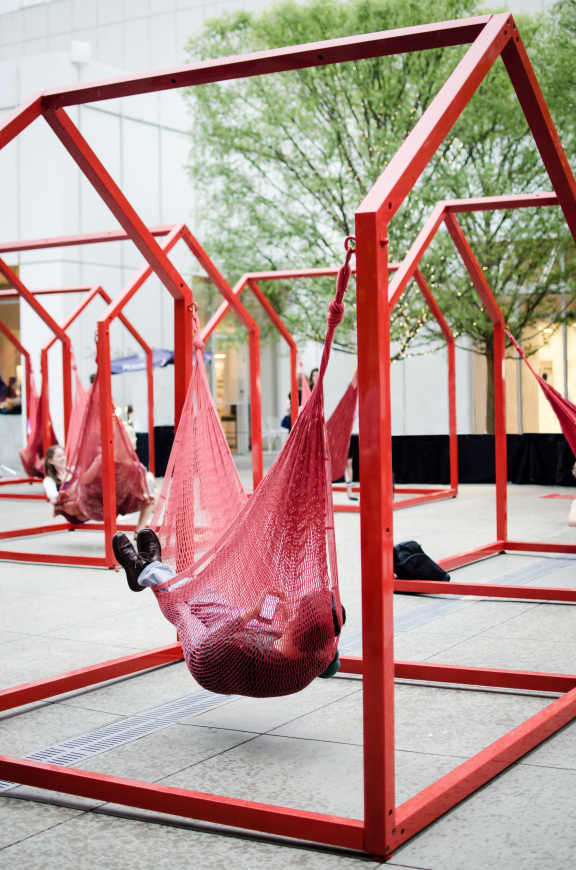 这个装置通过感性又好玩的设计来激活公共空间,它的核心是展示人类互动的价值以及未来的社交趋势。
This installation activates public spaces through emotional and playful design, it shows the value of human interaction, the tendency to socialize is behind and at the core of the project.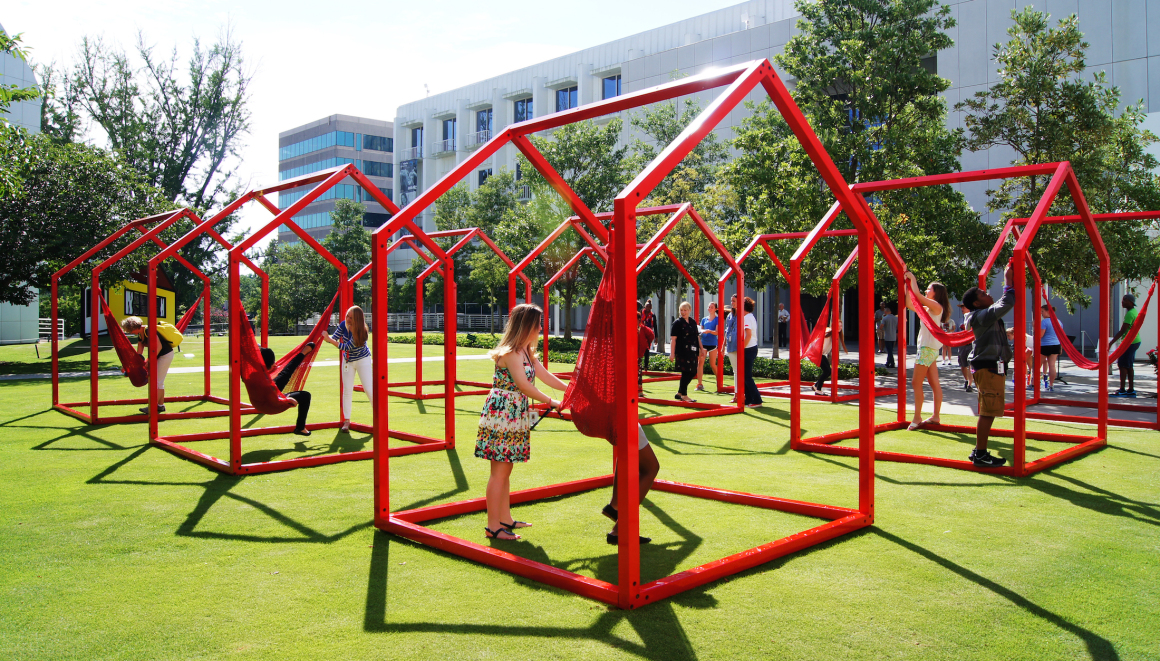 ▼项目视频 Video
塑造融合的社区是设计的一项重大任务,这需要想象力和开放的心态,最重要的是要有共同创造和嬉戏的精神。
Shaping integrated communities is a major task that needs to be tackled with imagination, an open mind, and most importantly, a co-creative and playful spirit.
我们选择了所有观众都能识别的最基本的形状或象形图案,一个与温暖、舒适、安全和欢迎理念相关的形状。基于其形状,该装置可在多种场合进行重新配置,且能主持多种活动,但需要考虑到建议的社交距离。
We chose the most basic shape or pictogram recognizable by all audiences, one that will relate to the idea of warmth, comfort, safety & welcoming. Because of its shape, the installation has the possibility to be reconfigured in multiple scenarios and be able to host multiple activities but considering the recommended distance.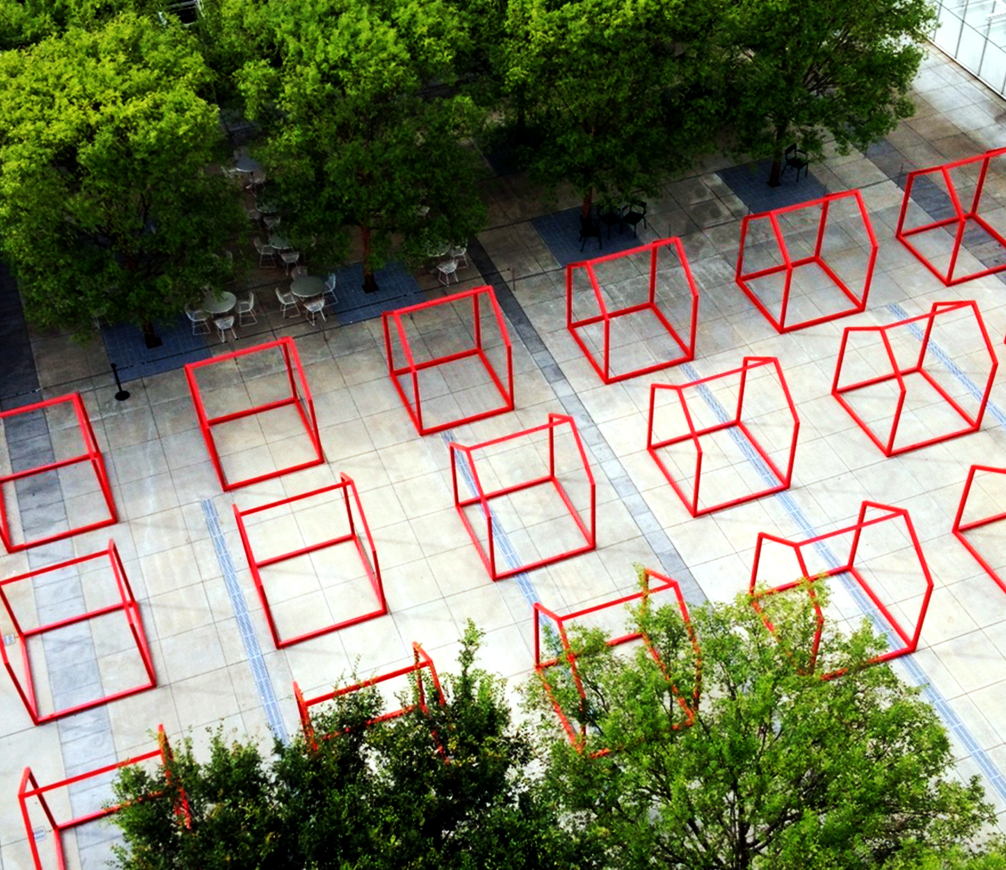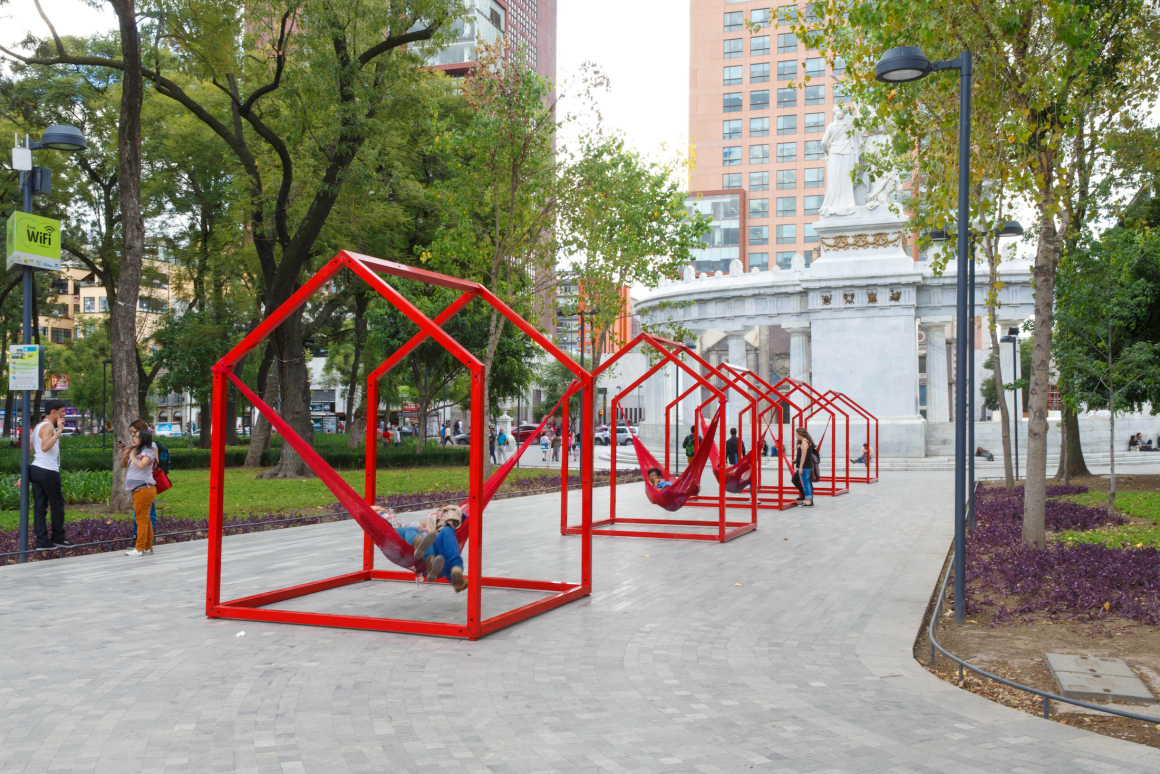 该装置激活社交的基本原则是,创建能让大家居住、玩耍、一起享受音乐的空间,这样每个人都能观察自己和对方,互相学习和娱乐,创造一种独特、完整和有价值的新生活方式。设计未来就意味着要将想法付诸于行动。
The essential principle of activation, we create that which enables us to inhabit,
 to play, to make music together,
 to observe ourselves and each other,
 to learn, to celebrate; to live and experience
the world in unique, whole and valuable new ways. Designing the future means bringing ideas into action.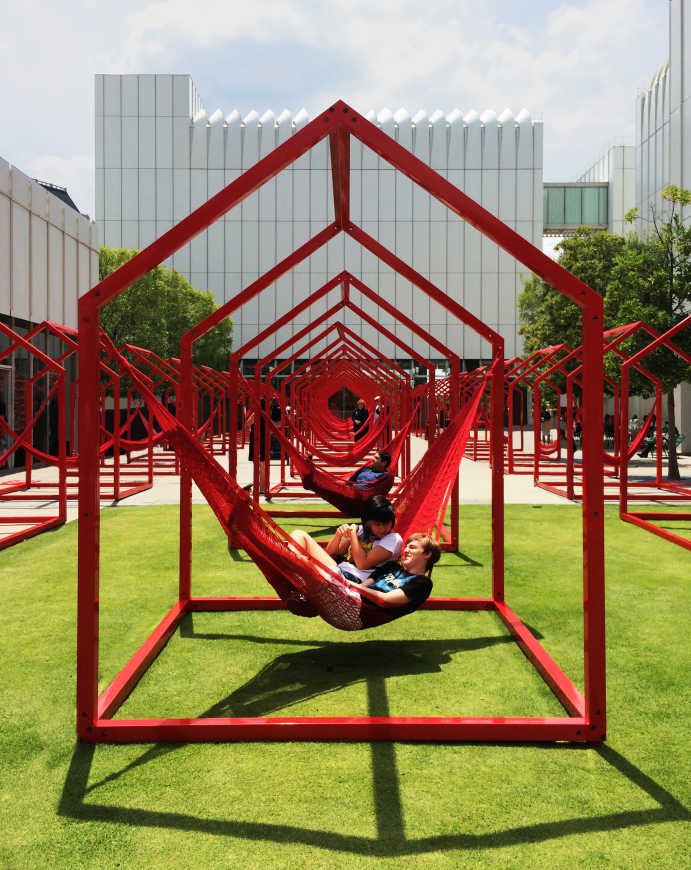 '你我之家'是几何形状中一种强烈而微妙的象征符号,它将使我们建立一个独特的标志性作品,一个能与观众持续对话,且能不断变化和变异的作品。
Mi Casa Your Casa is a strong and subtle symbol in a geometric shape that will allow us to build a unique iconic piece, one that creates a continuous dialogue with audiences and capable of continuous changes and mutations.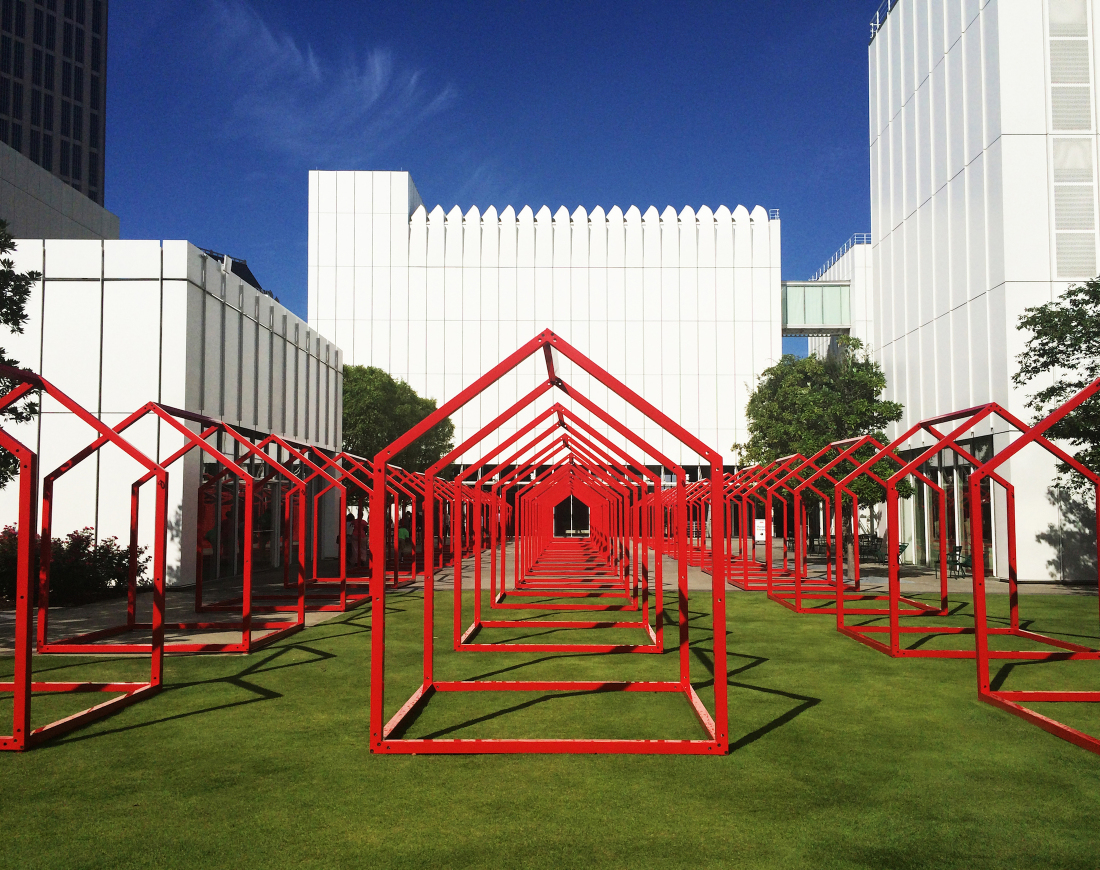 一个充满生命力的画布……
A living canvas…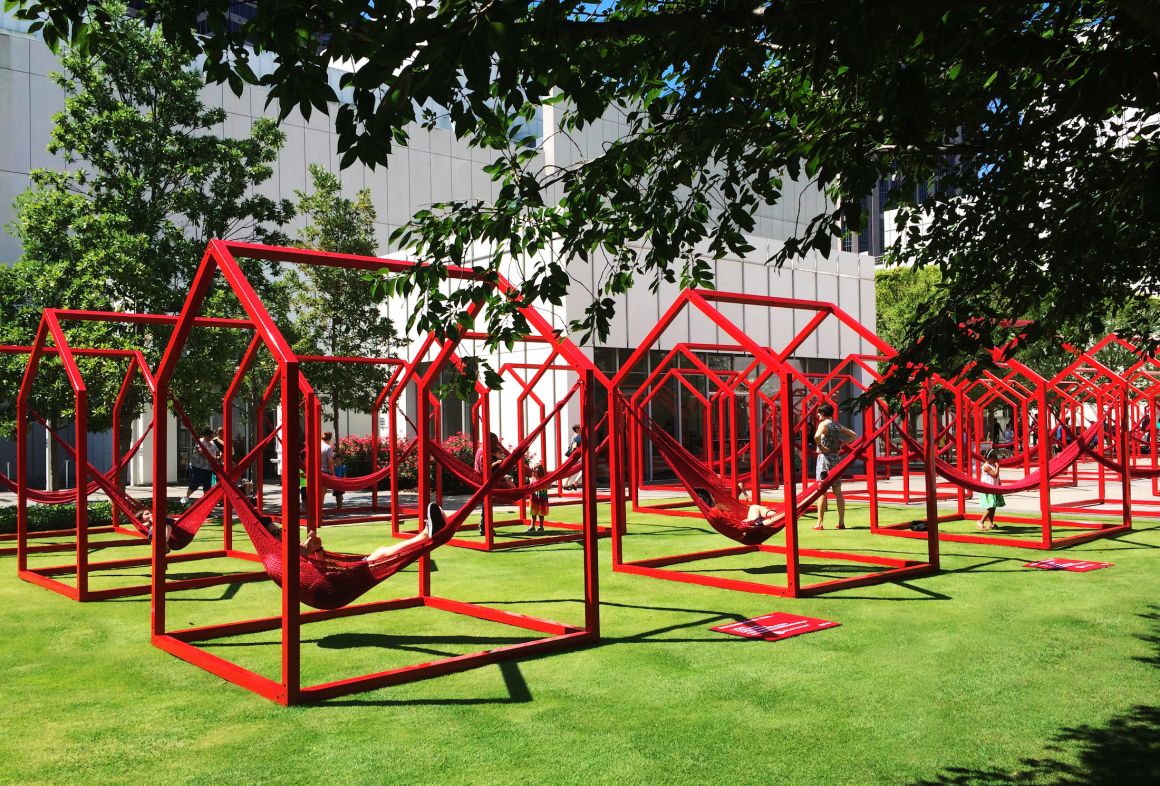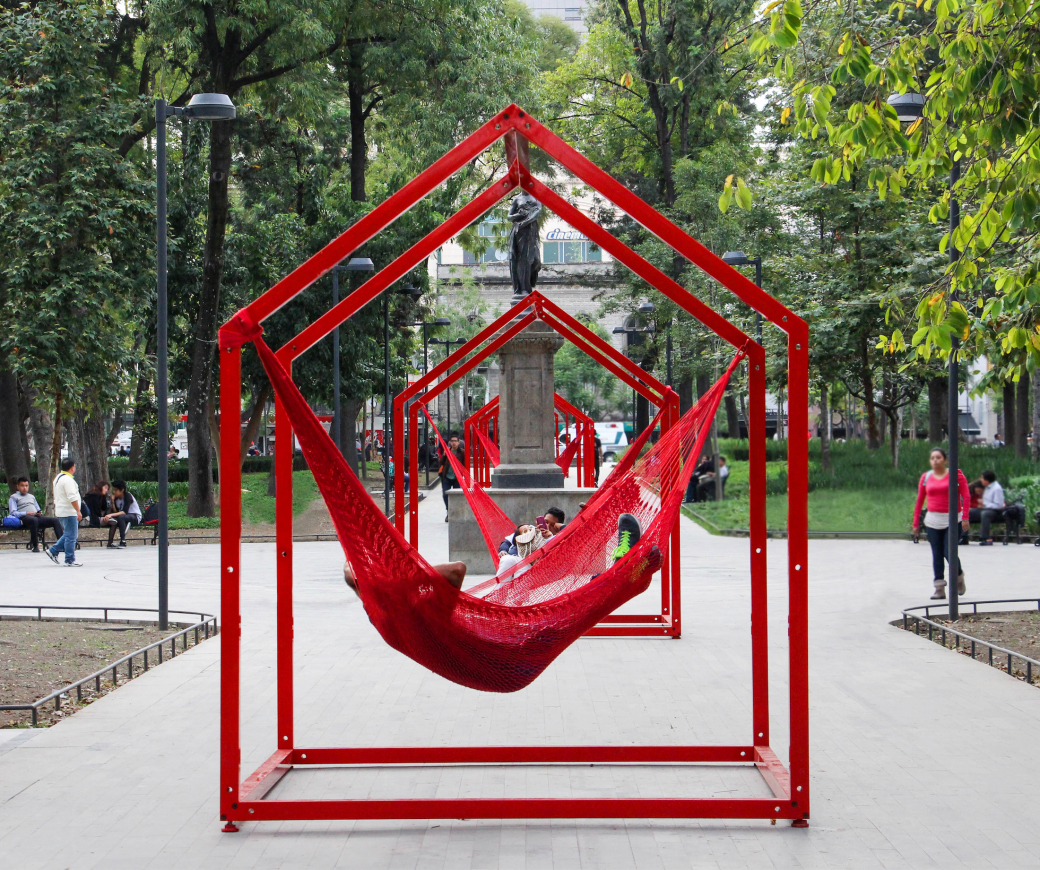 该装置可作为以下多种空间使用:作为居住空间,作为被观赏的舞台,作为作为社交互动的一部分,作为学习的演讲空间,作为另人惊叹生活画布。总之,它旨在通过感性又有趣的设计激活未来。
The module program guidelines: The object as a SPACE to be inhabited, The object as a STAGE to be observed, The object as an INTERACTION PIECE to become a part of it, The object as a WORKSHOP to Learn, The object as a CANVAS to be amazed. Activate the future through emotional and playful design.
▼多种使用方式 The module program guidelines
▼效果图 Render
▼空间利用 The module program
装置设计:Esrawe + Cadena | 2014
概念和创意指导:Hector Esrawe和Ignacio Cadena
项目指导:Javier Garcia-Rivera
原型:Magsa
生产:Disemo
设计团队:Esrawe Studio + Cadena概念设计团队
效果图
秋千:10个模块:Think b | stock.adobe.com
夜景:9模块:アンタレス| stock.adobe.com
空结构:24个模块:Watman | stock.adobe.com
配件结构:24个模块:Francis Valadj | stock.adobe.com
图片:由亚特兰大高级艺术博物馆提供、Jose Ignacio Hipolito、Sergio Bejarano
Installation: Esrawe + Cadena | 2014
Concept and Creative Direction: Héctor Esrawe and Ignacio Cadena
Project Direction: Javier García-Rivera
Prototype: Magsa
Production: Disemo
Design Team: Esrawe Studio + Cadena Concept Design Team
Visualization images
Render: Swings, 10 modules: Think b | stock.adobe.com
Render: Night, 9 modules: アンタレス | stock.adobe.com
Render: Empty structures, 24 modules: Watman | stock.adobe.com
Render: Accessories structures, 24 modules: Francis Valadj | stock.adobe.com
Photography: Courtesy of Atlanta High Museum of Art, José Ignacio Hipólito, Sergio Bejarano
更多read more about:  Esrawe Studio