本文由 XO Architects 授权mooool发表,欢迎转发,禁止以mooool编辑版本转载。
Thanks XO Architects for authorizing the publication of the project on mooool, Text description provided by XO Architects.
XO Architects:风景绚丽的土耳其人街区Mouttalos坐落在帕福斯市"克提马",距海滨约2公里之遥,当地以其"特殊的岩石和天然的洞穴"而闻名,并将帕福斯市与'Up-Πάνω'和'Down-Κάτω'隔开。1974年发生在岛上的战争改变了一切,又由于土耳其裔塞浦路斯人在人口方面的变化,他们离开了自己北部地区的家园,帕福斯城的这一部分地区便成为了荒芜之地,不久之前这个地块又变成了一个"活的博物馆"。而希腊裔塞浦路斯人也是从那时候起离开该岛北部,"暂时"安家在了Mouttalos,他们正寻找机会返回他们在北部的家园,这可能会对当地的空间形式产生影响。具体一点来说,本案的干预设计在于三个关键区域, 分别是Fellahoglu街的清真寺区、Ismet Inonu主广场区和石窟区。
XO Architects: Mouttalos is a picturesque Turkish neighborhood of the so-called "Ktima" in Paphos, 2km from the coast that stands out for its' special rock and natural caves that separates the city from the 'Up-Πάνω' and 'Down-Κάτω' – Paphos. The war that occurred in the island in 1974 changed everything, and the Turkish Cypriots, with the ex-change of populations, abandoned their home to the northern areas of the island, leaving this part of the city deserted while making the area a living museum of the not so far past. At the same time Greek Cypriots left the Northern part of the island to live "temporarily" in Mouttalos ever since, since they are waiting to return to their homes in the North, with all the impact this may have on the form of space. More specifically the project intervenes on a route with three key areas, the Mosque Area in Fellahoglu street, the main square Ismet Inonu Square and the Caves area.
▼场地鸟瞰  Site aerial
为提升当地的社区公共空间质量,清真寺区更广阔的地带上建立起了一个植物园、一个小广场和一个公共展亭。Ismet Inonu广场区经过再设计,成为了能吸引居民和游客前来的一个景点,同时也缓解了交通压力,使场地空间更多的可以用于集会和娱乐活动。
In the wider area of the Mosque, a botanical garden, a small square, and a public pavilion have been proposed to enhance the previous non-existing neighborhood public space quality. Ismet Inonu square, was redesigned in-order to become a pole of attraction for residents and visitors while at the same time decongest cars to make space usable for events and recreation.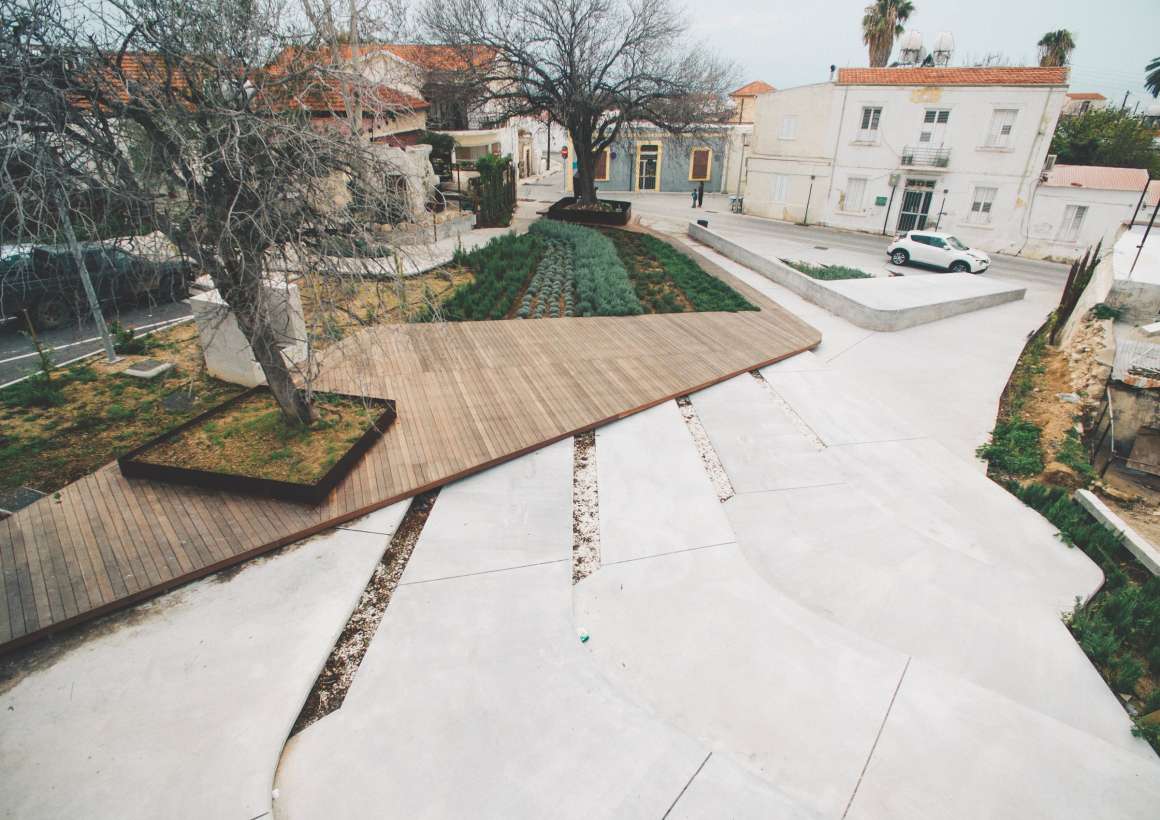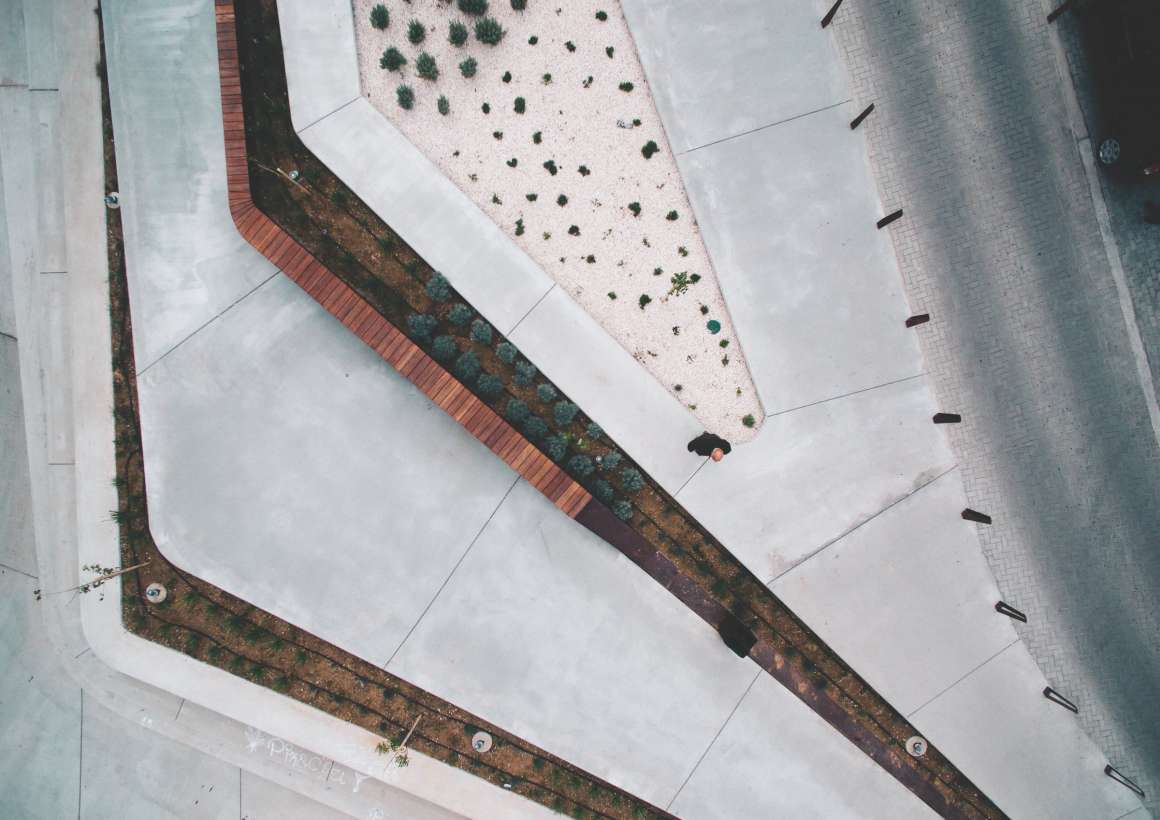 石窟公园是大帕福斯地区地貌系列的一部分,它不同于该城市的其他地方,是当地一个重要的自然和文化景观区。木质的、压土的以及混凝土的景观和小路,广场上带有小餐厅、卫生间和遮阴棚的公共展亭,都一定程度上提高了空间的利用率。
Last but not least, the caves park, which are part of the wider geomorphological aspect of the flap that characterizes the landscape of the greater Paphos area, is an important landscape of both natural and cultural importance, distinct from various parts of the city. The landscapes and trails of wood, pressed earth, concrete, and a square with a pavilion with a small canteen and hygienic spaces and shades create the conditions to enhance the usage of the space.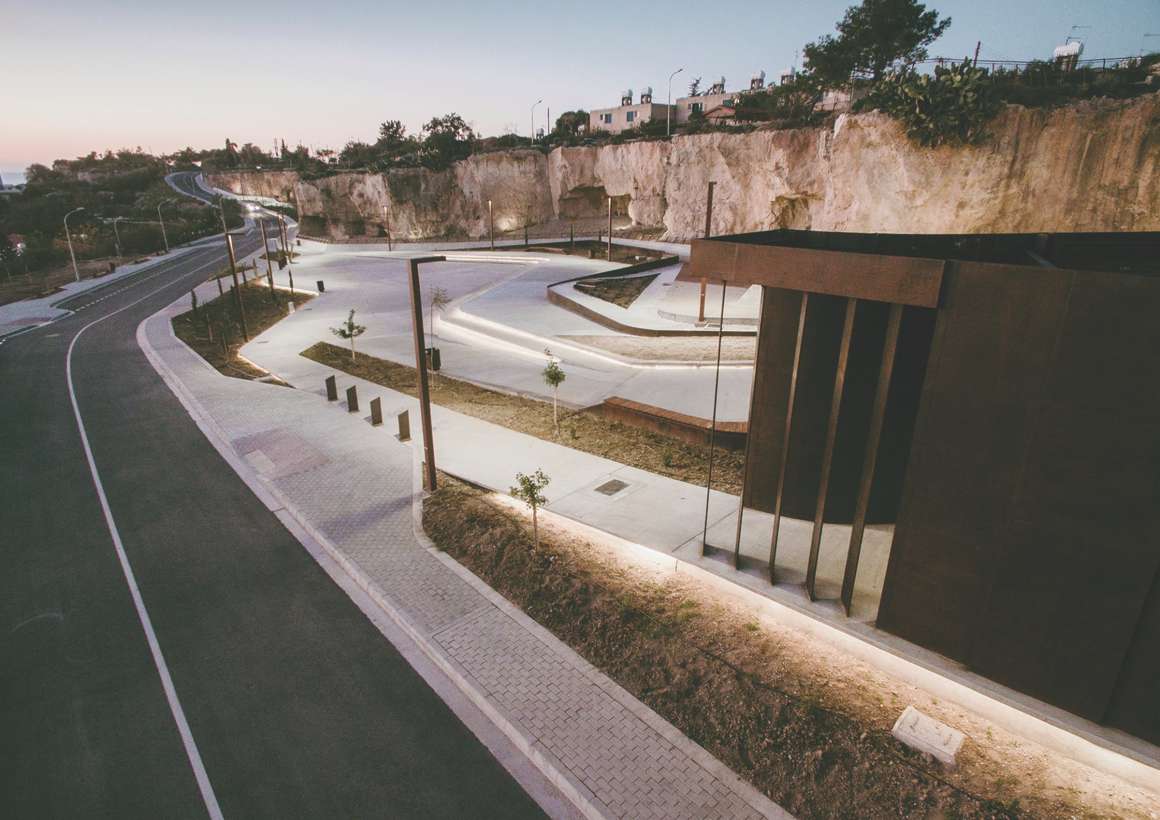 ▼公共展亭  A public pavilion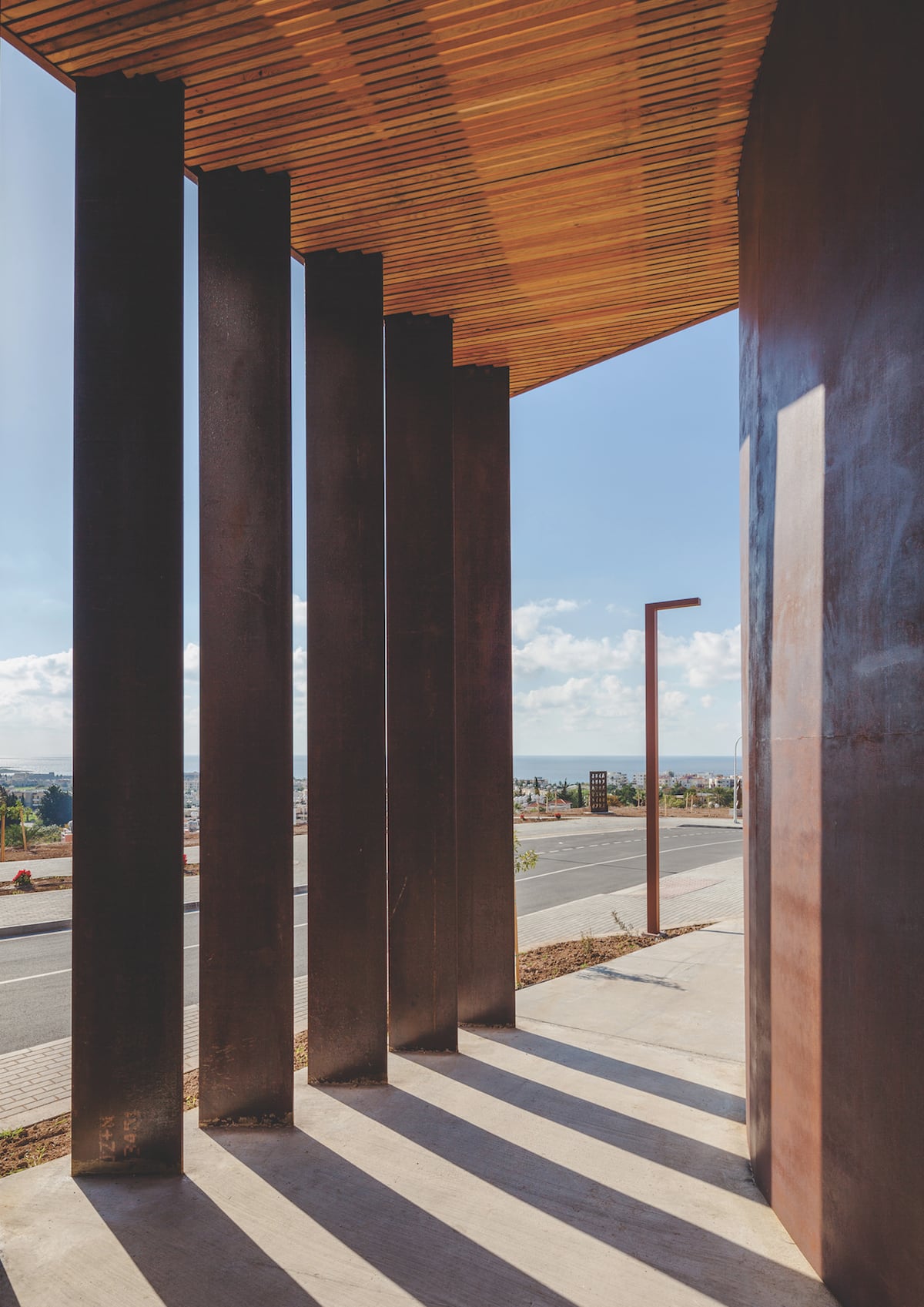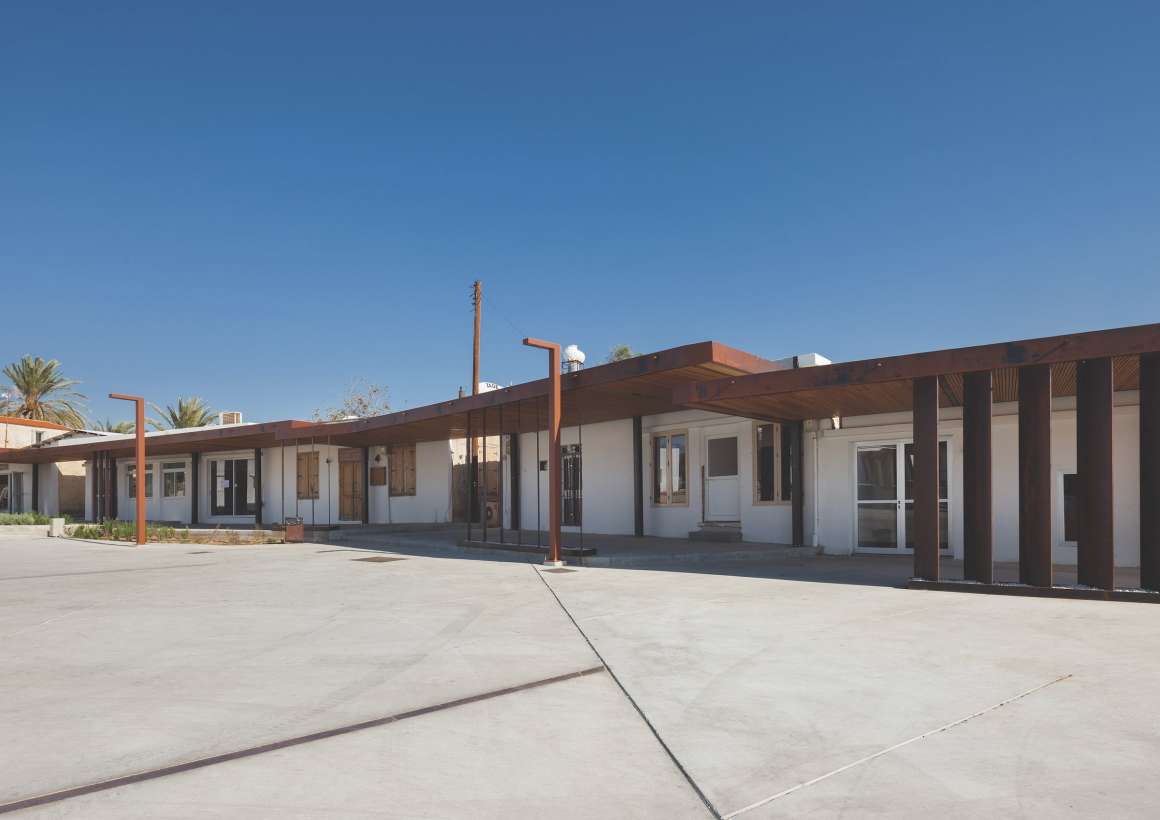 ▼设计分析  Central idea diagram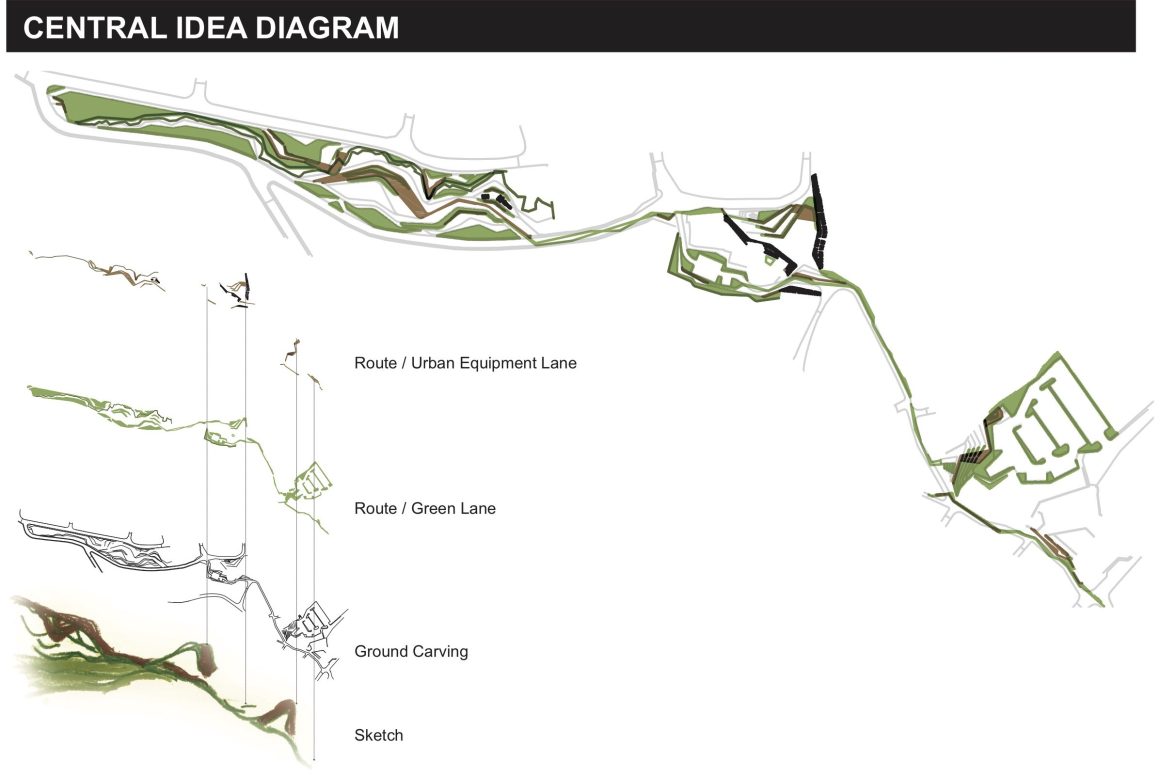 ▼场地平面  Site plan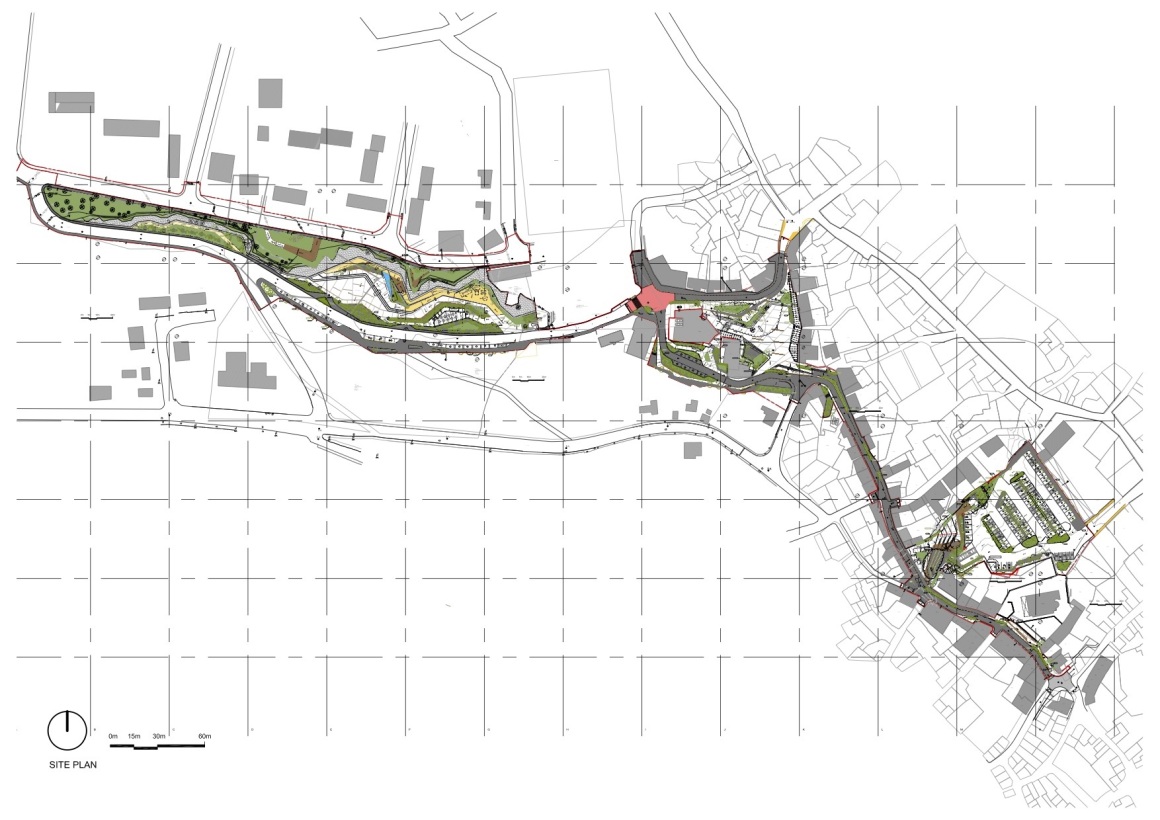 ▼植物园及展亭区平面  Botanical Garden and Pavilion Plan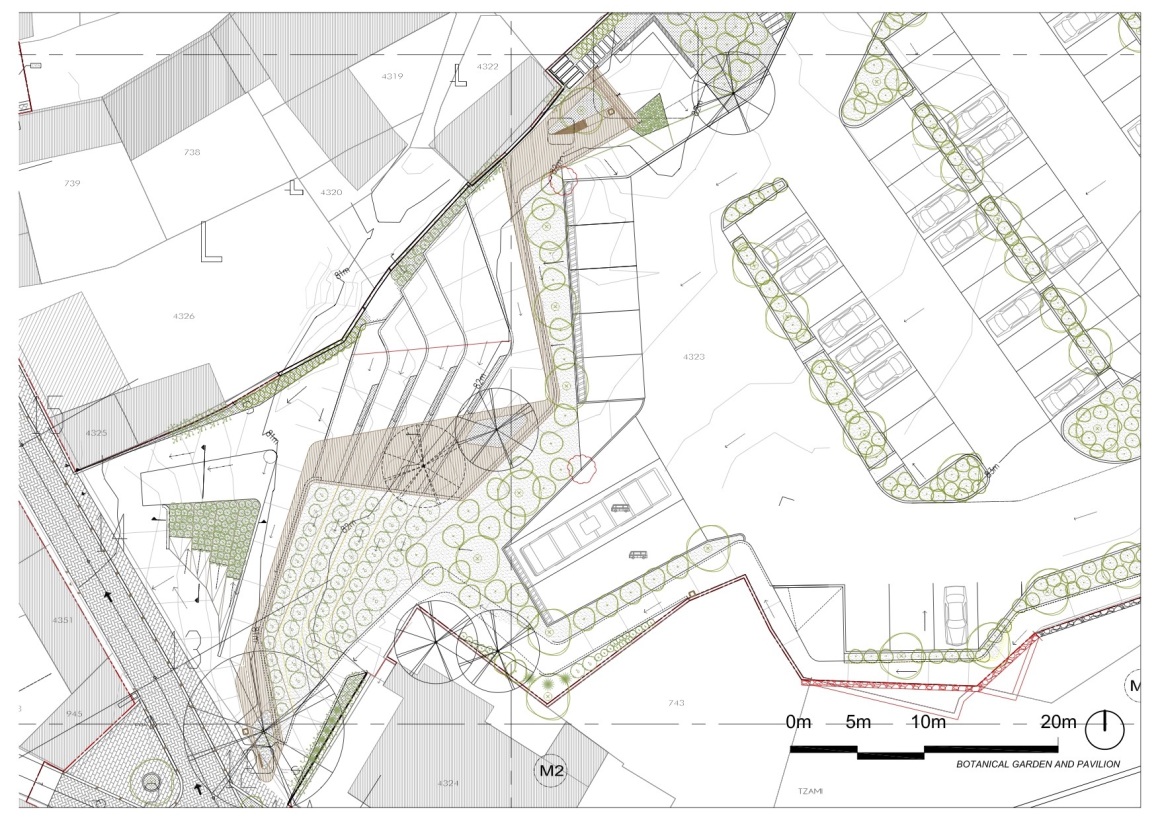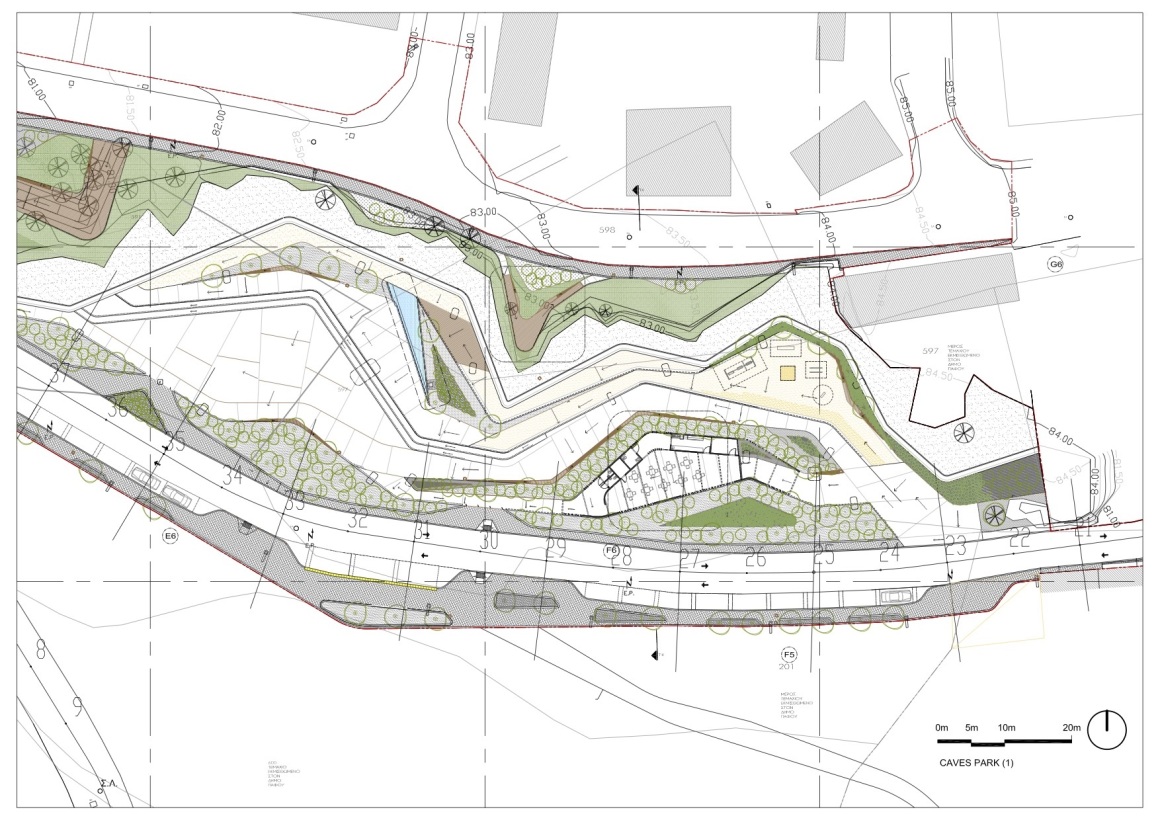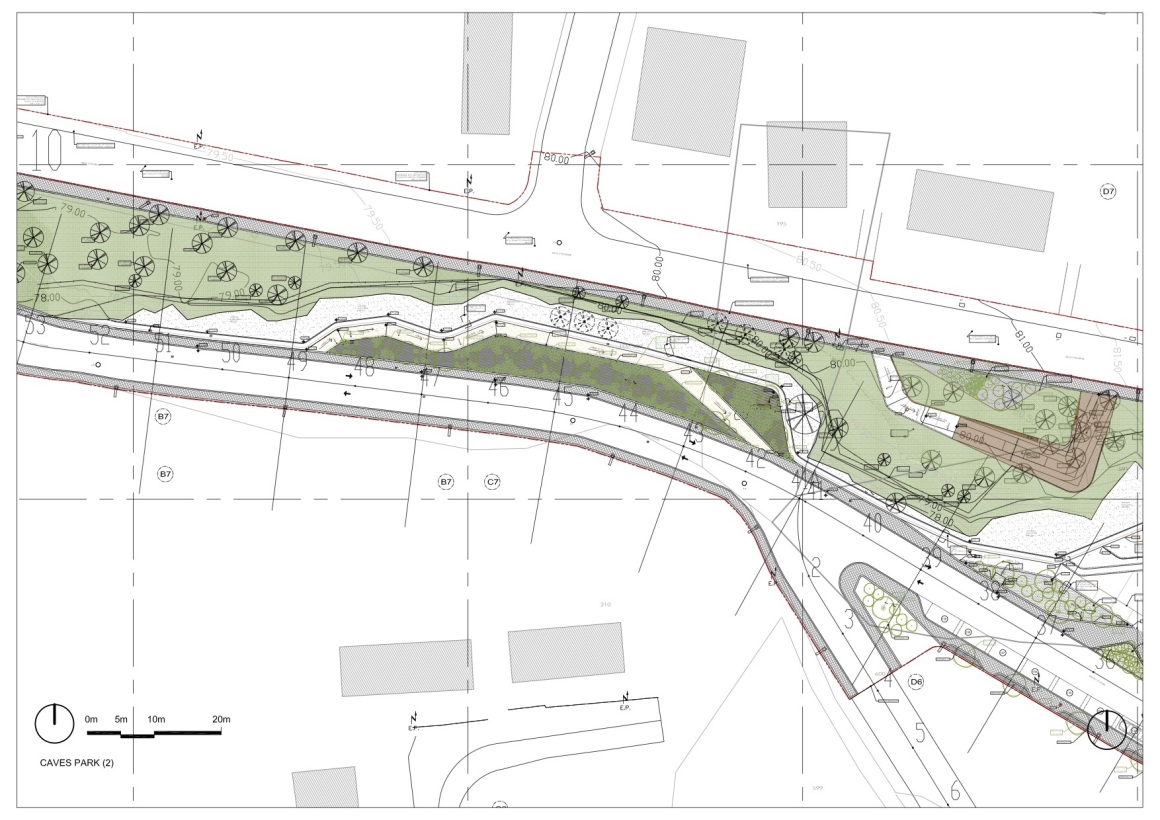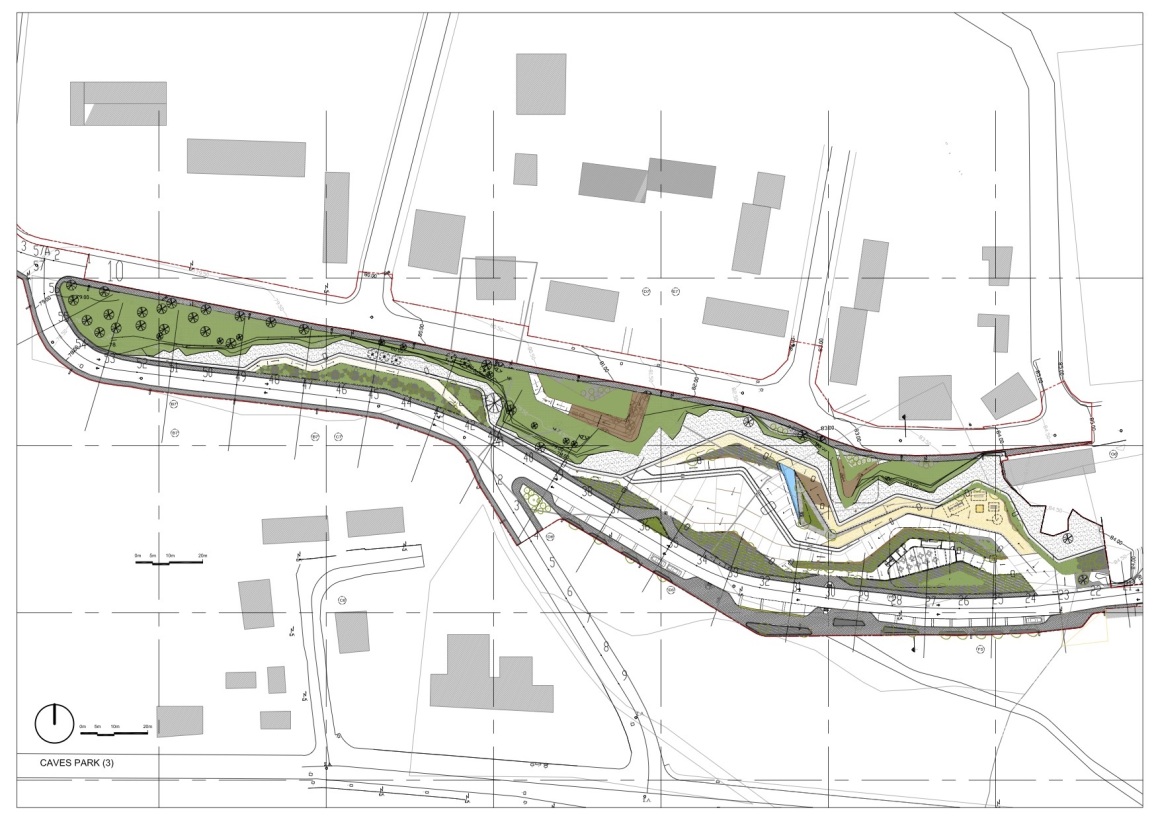 ▼Ismet Inonu广场平面  Ismet Inonu Square Plan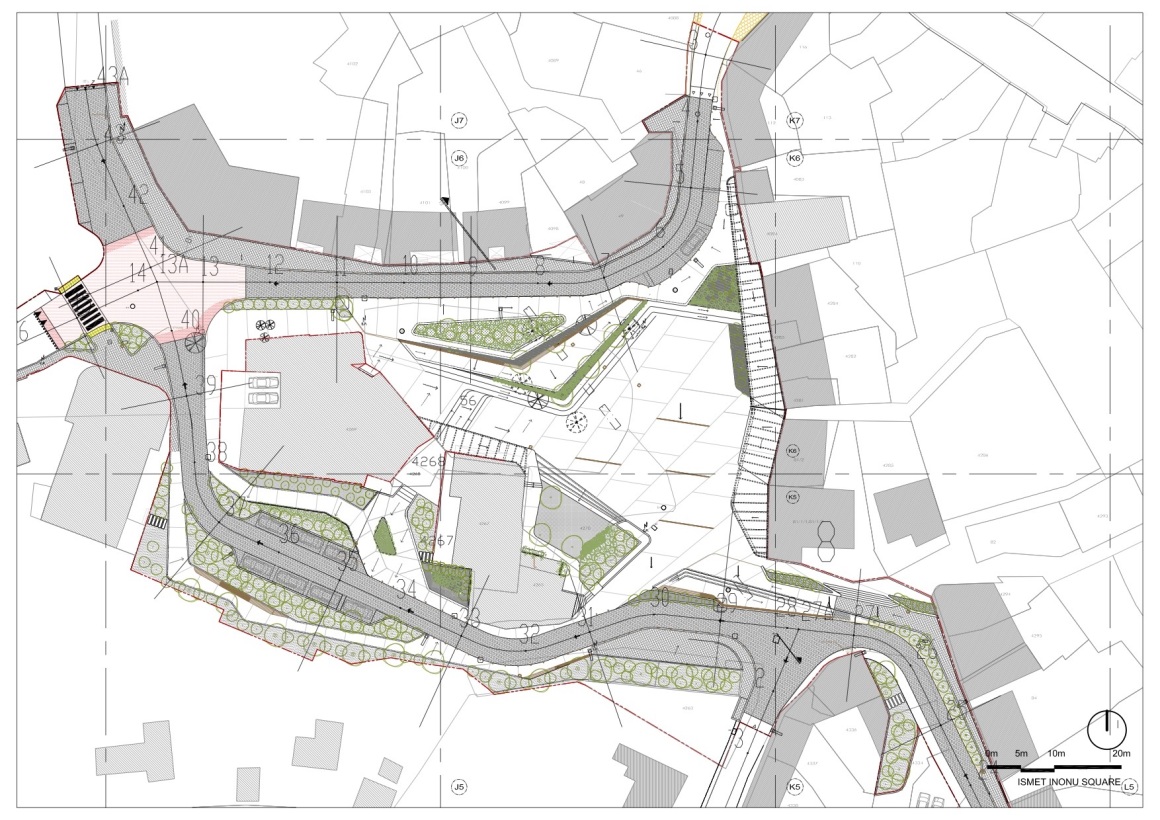 ▼清真寺区周边平面  Mosque Surrounding Area Plan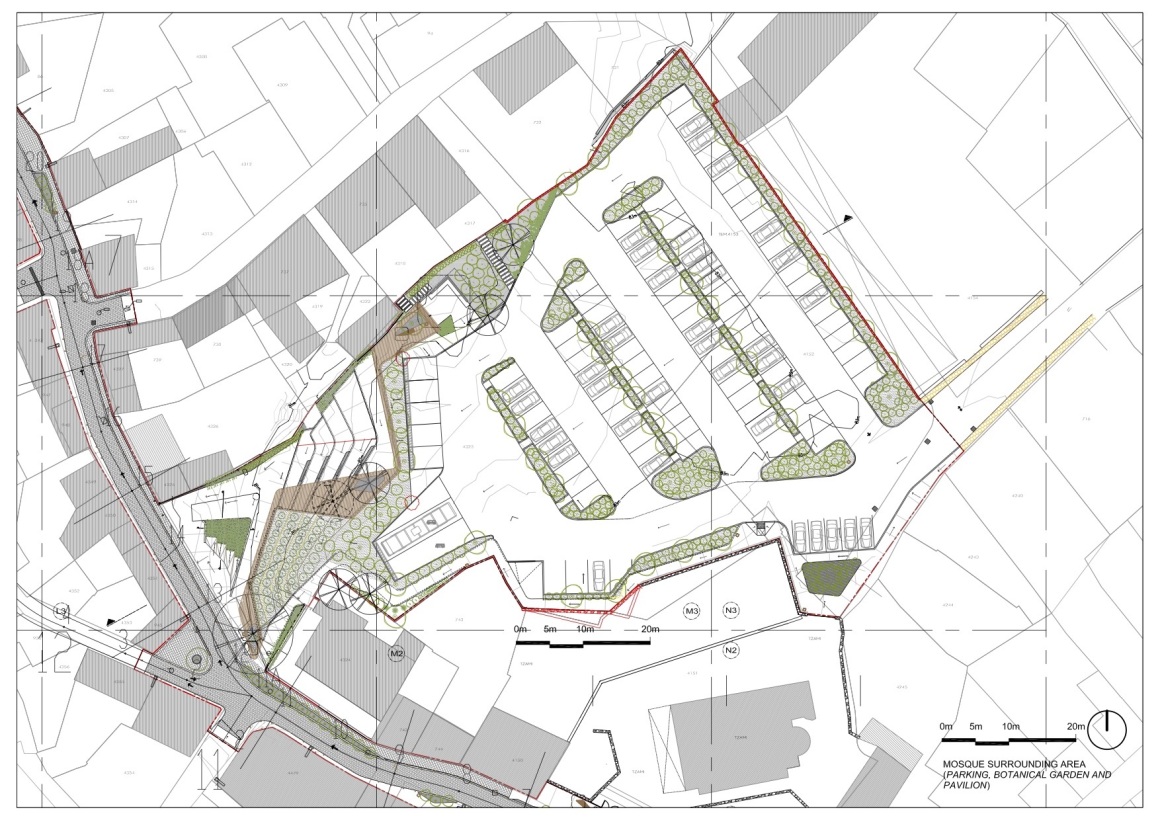 Name of the project: Mouttalos District Redevelopment
Architects / authors: XO-Architects and Sigma & Co., Chryso Onisiforou (1983 Cyprus) & Iliana Socratous (1982 Cyprus)
Client: PAFOS MUNICIPALITY
Name of the photographer(s): Creative Photo Room and Vasos Athinodorou
Location: Paphos, Cyprus
Year of completion: 2017
Total area: 30000m2
Site area: 30000m2
Collaborators:
Structural engineering: Georgios Yiannikos, Electrical: Tereza Panagiotou, Mechanical: Kostas Tourvas, Quantity surveyor: Nicholas Onisiforou, Collaborator (external):Dimitris Papaioannou
Contractors and suppliers on the project:
Main contractor: Miltiades Neophytou Civil Engineering Contractors & Developers Ltd

Other subontractors:
KS SOCRATOUS, Α.Karamanos Meta Works Ltd , G.j.Renovation , Skoutaris Steel Ltd , Green Forest , AMFIAROS LIMITED, AIR CONTROL LTD.
Read more about: XO Architects + Sigma & Co. Architects