本文由 Reiulf Ramstad Architects 授权mooool发表,欢迎转发,禁止以mooool编辑版本转载。
Thanks Reiulf Ramstad Architects for authorizing the publication of the project on mooool, Text description provided by Reiulf Ramstad Architects.
Reiulf Ramstad Architects: 项目的设计目标是把从海岸走向海边的路强调出来,设计的主要概念是为了促使人们放慢脚步,让道路本身成为聚焦体验感的一个场所,这种有缓和的、有节制的方法能使人产生思考。
Reiulf Ramstad Architects: The objective of this project is quite simply to single out and magnify the experience of walking from the roadside down to the seaside at this very special place. Therefore, a chief concern was to slow down this movement and make the path itself a means of refocusing the experiential mode: a measured, restrained approach that creates awareness.
在功能方面设计关注的是场地可达性的实现,设计者并未采用楼梯和坡道的方式来解决出入问题,而是提出了将坡道变成公共入口通道的方案,并将它发展成项目的整体特点,由于场地的坡度较大,需要的斜坡长度也比较长,这也有助于减少运动时所消耗的力。河流一样蜿蜒曲折的道路延长了步行距离,为游客提供了新的观景视角和游赏体验。
The primary functional concern was universal accessibility, instead of opting for a dual solution with staircase and ramp, we came up with the notion of making the ramp the common entryway and developing it into the integral character of the project. Because of the site's slope, the ramp needed to be very long, which also serves to create the reductive motion. The winding river of the path prolongs the approach and in so doing opens up new perspectives and experiences for the visitor.
该项目位于挪威的最北部,这里贫瘠荒凉但又美丽的景色就像在月球一样。在理想的情况下,该设施在电力输入和废物输出方面应该是可以自给自足的。主要的设计想法是在广阔的自然景观中创造出一个人为的细节,这个细节和景观本身一样永恒,能够使人们关注到游览体验的持续性和空间环境的广阔性之间的关系。
Located in the extreme north of Norway, in a landscape almost lunar in its barren and inhospitable beauty, the facility should ideally be completely self-sustainable in terms of power input and waste output. the general notion was to create a human detail amidst the vastness of the landscape that is as timeless as the landscape itself and that brings attention to the relationship between the duration of experiences and the hugeness of the spatial circumstance.
▼模型  Model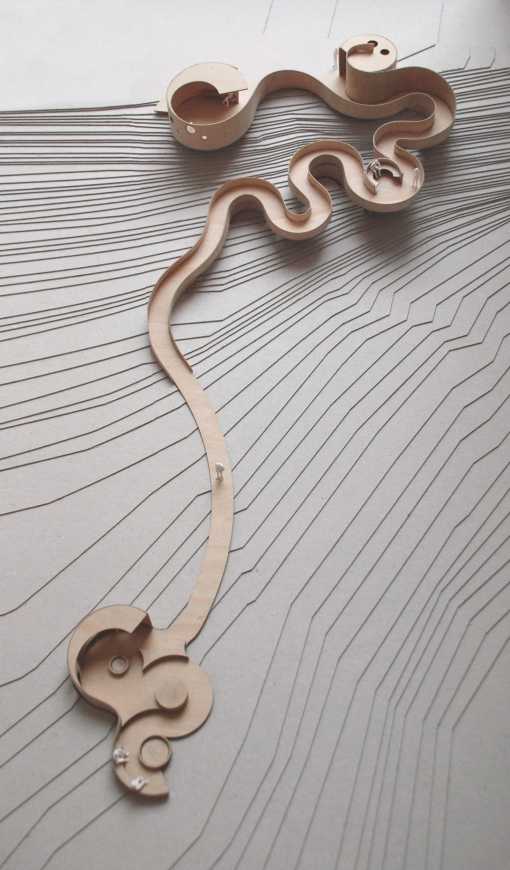 ▼平面图  Plan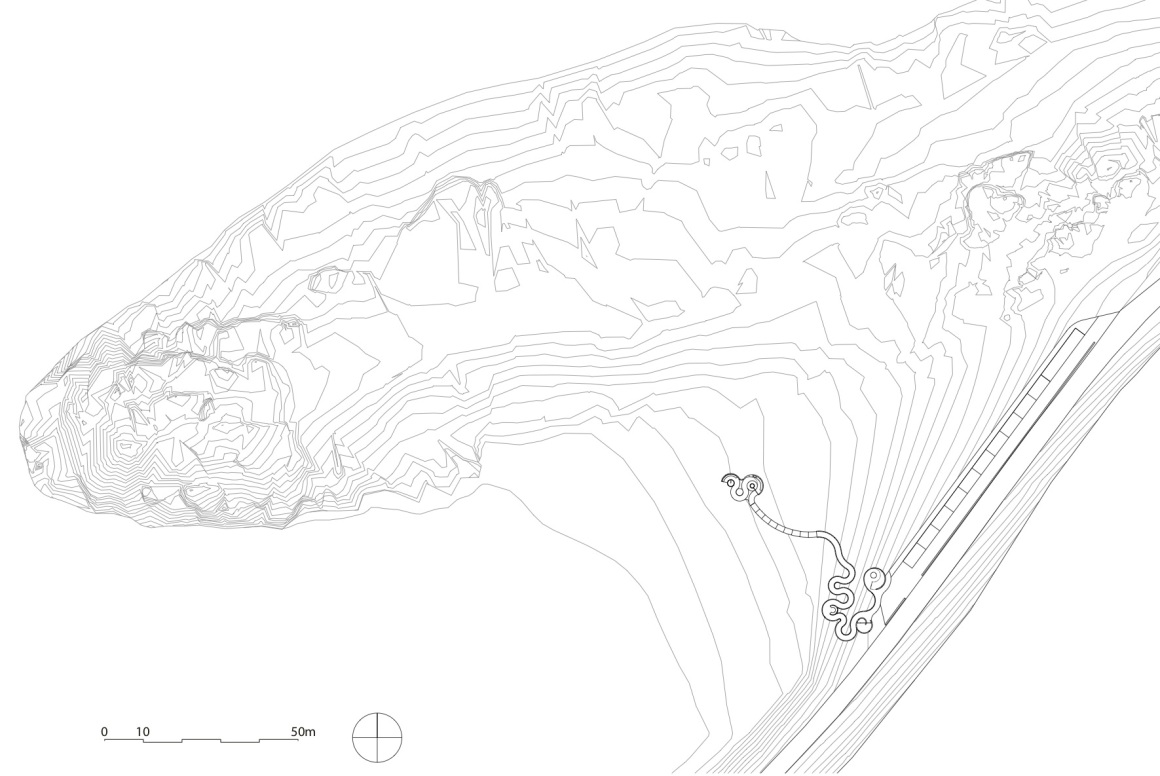 地点: 挪威芬马克
客户: 挪威公路管理局
景观面积: 10000平方米
委托类型: 直接委托(2007年)
状态: 已完成(2012年)
照片版权: Reiulf Ramstad Arkitekter
Location: Havøysund, Finnmark, Norway
Client: Norwegian Public roads administration
Size: Landscape area 10.000 m2
Commission type: Direct commission (2007)
Status: Completed (2012)
Photo credits: Reiulf Ramstad Arkitekter
更多 Read more about:Reiulf Ramstad Architects