本文由 Basis architectural bureau 授权mooool发表,欢迎转发,禁止以mooool编辑版本转载。
Thanks Basis architectural bureau for authorizing the publication of the project on mooool, Text description provided by Basis architectural bureau.
Basis architectural bureau:该项目中根据复杂地形在河岸上创建的多长廊,向人们展示出了一个如何将场地的明显缺点转化为优点的范例。
Basis architectural bureau:Creating an all-inclusive promenade on the bank of a river with a complex relief is an example of how you can turn the apparent disadvantages of a place into its advantages.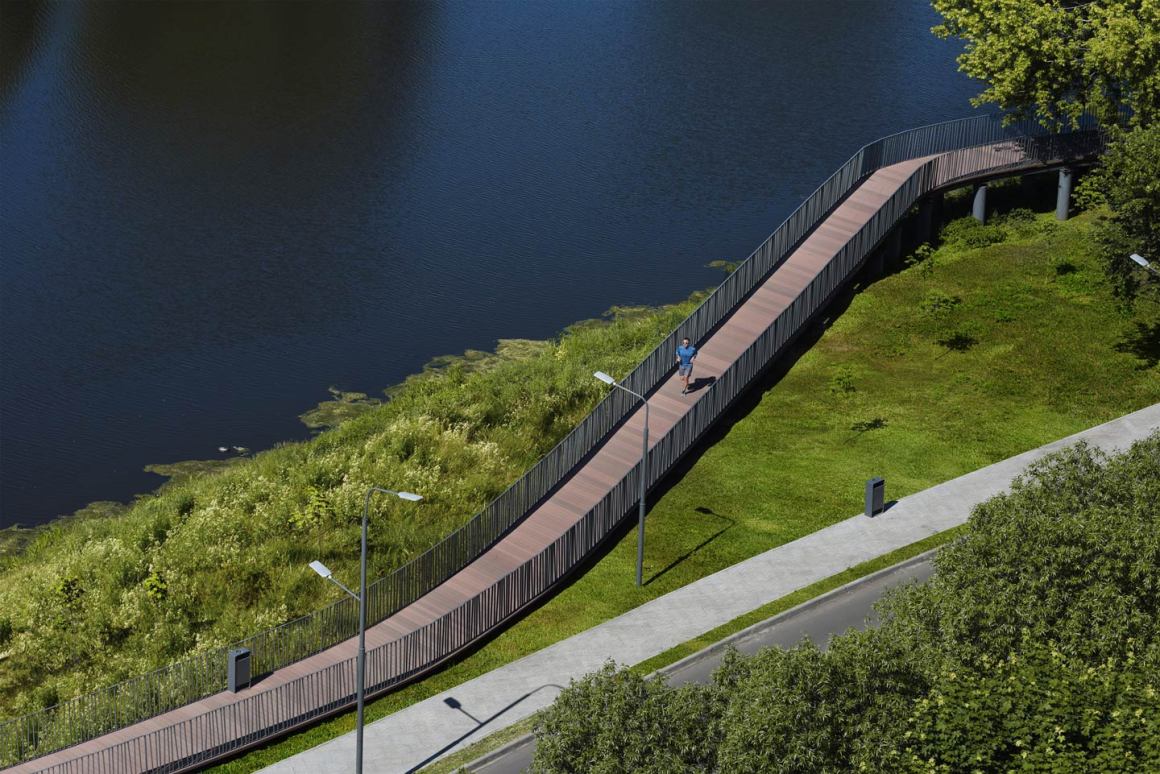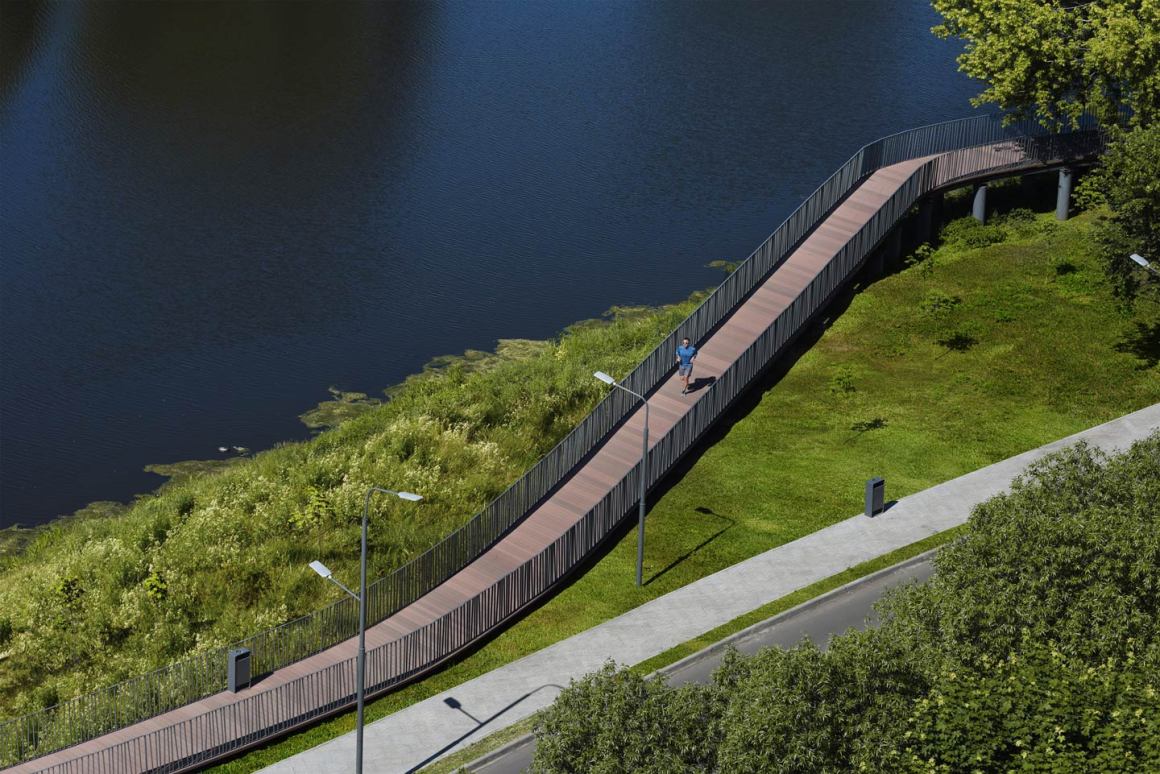 设计目标:在沼泽河岸上为各年龄段的居民创造一个公共空间。
解决方案:将Bykovka河陡峭河岸上狭窄的小路改造成一个含架空阳台和各种功能区的多功能长廊。
Objective: To create a public space on the swampy riverbank for residents of all ages.
Solution: The narrow path on the steep bank of the Bykovka river turned into an all-inclusive promenade with balconies on stilts and various functional zones.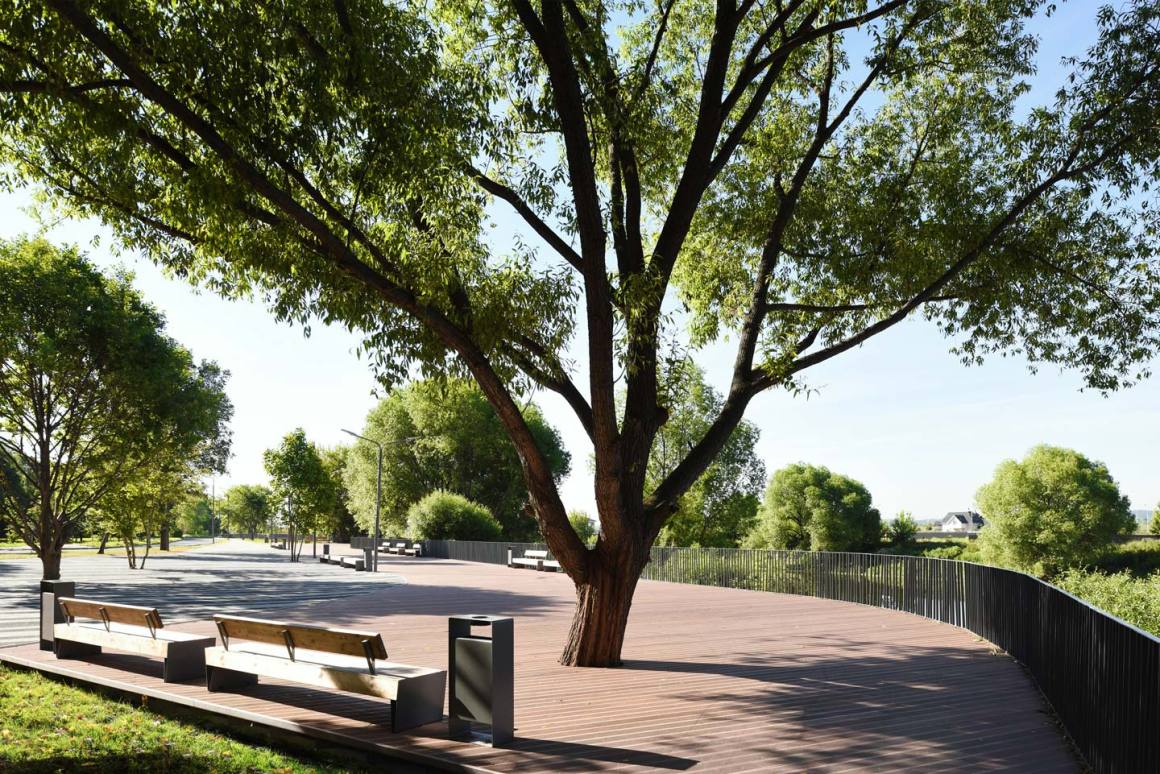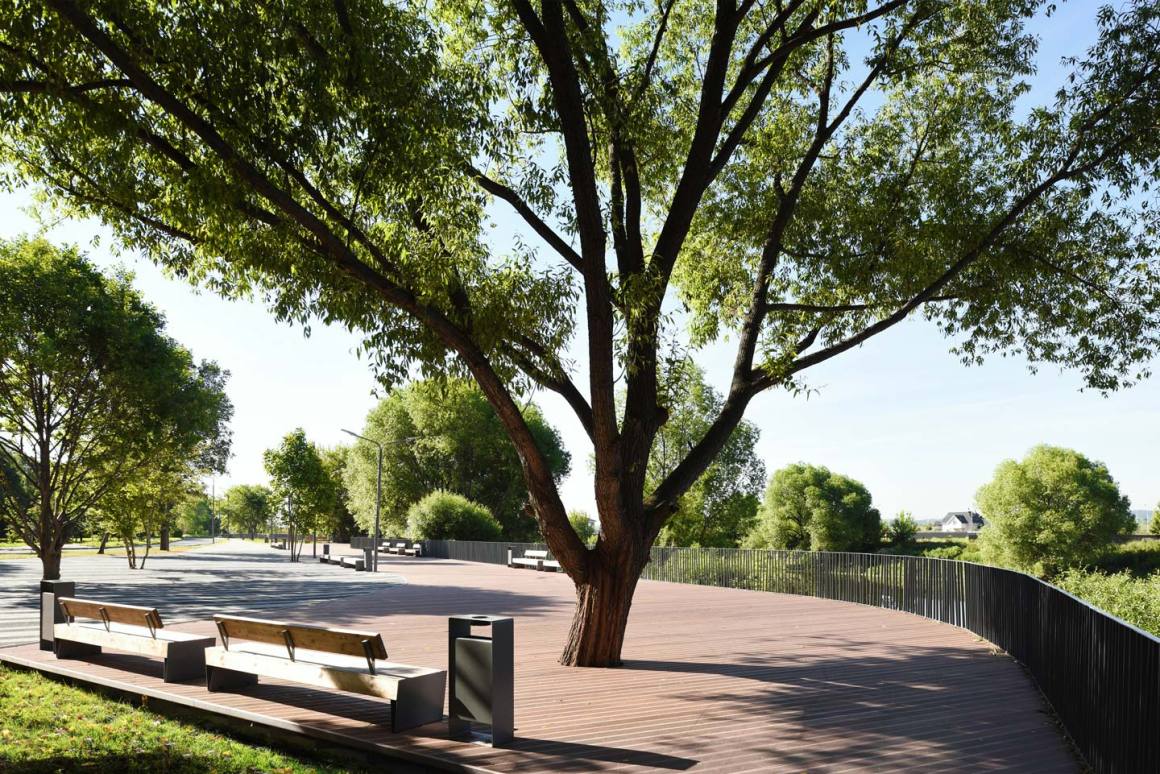 新河堤分为两个主要区域:"安静区"和"活力区"。"活力区"包括遛狗区、适合钓鱼的突出阳台、适合不同年龄人群的游乐场和活动中心区。"安静区"则是一条蜿蜒在桥上、在树木之间的长廊,既有风景优美的观景空间,也有隐蔽的休憩场所。
The new embankment is divided into 2 main zones: 'quiet' and 'active'. The 'active' area includes a dog walking area, projecting balconies suitable for fishing, a playground for different ages and a central area for events. The 'quiet' zone is a long promenade on winding bridges among trees with scenic balconies on stilts and secluded places for rest.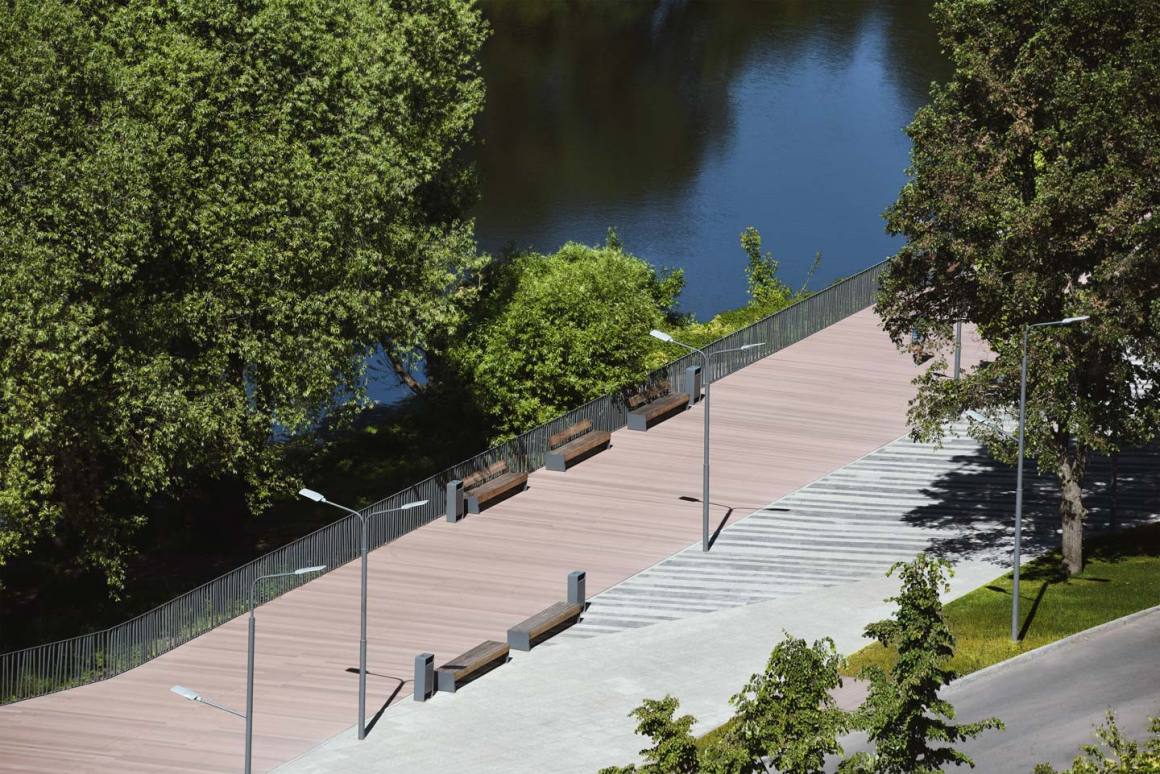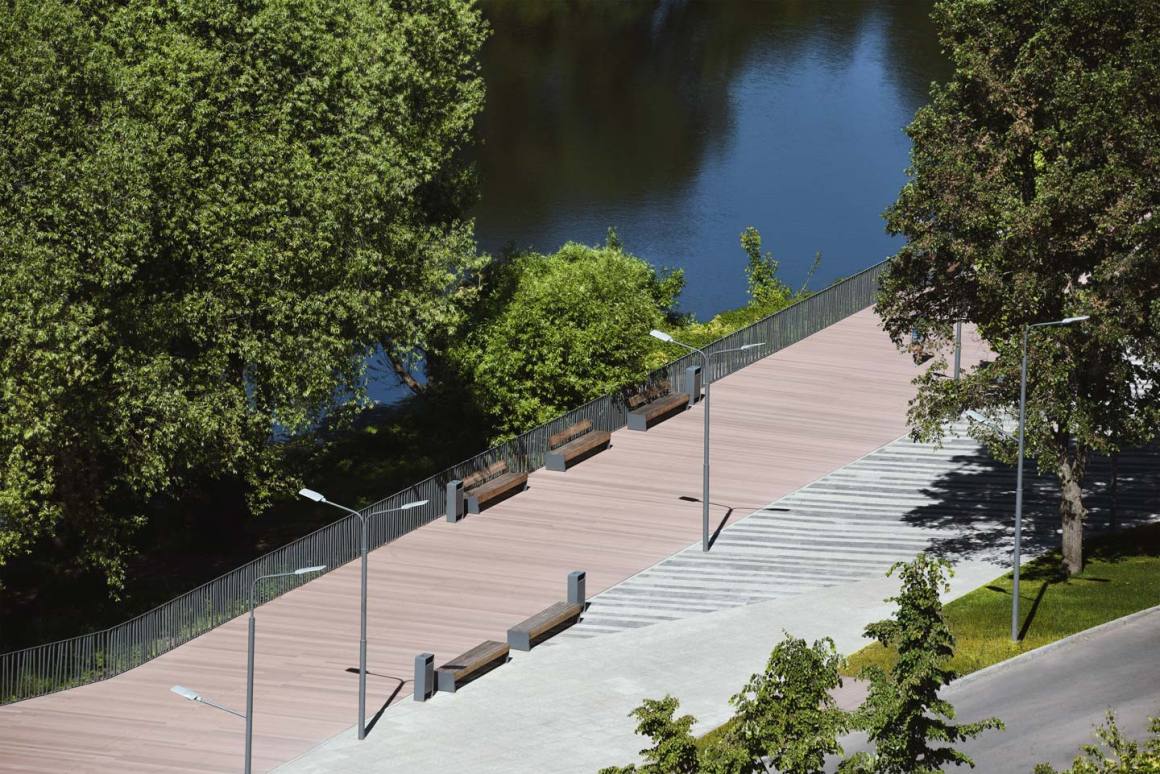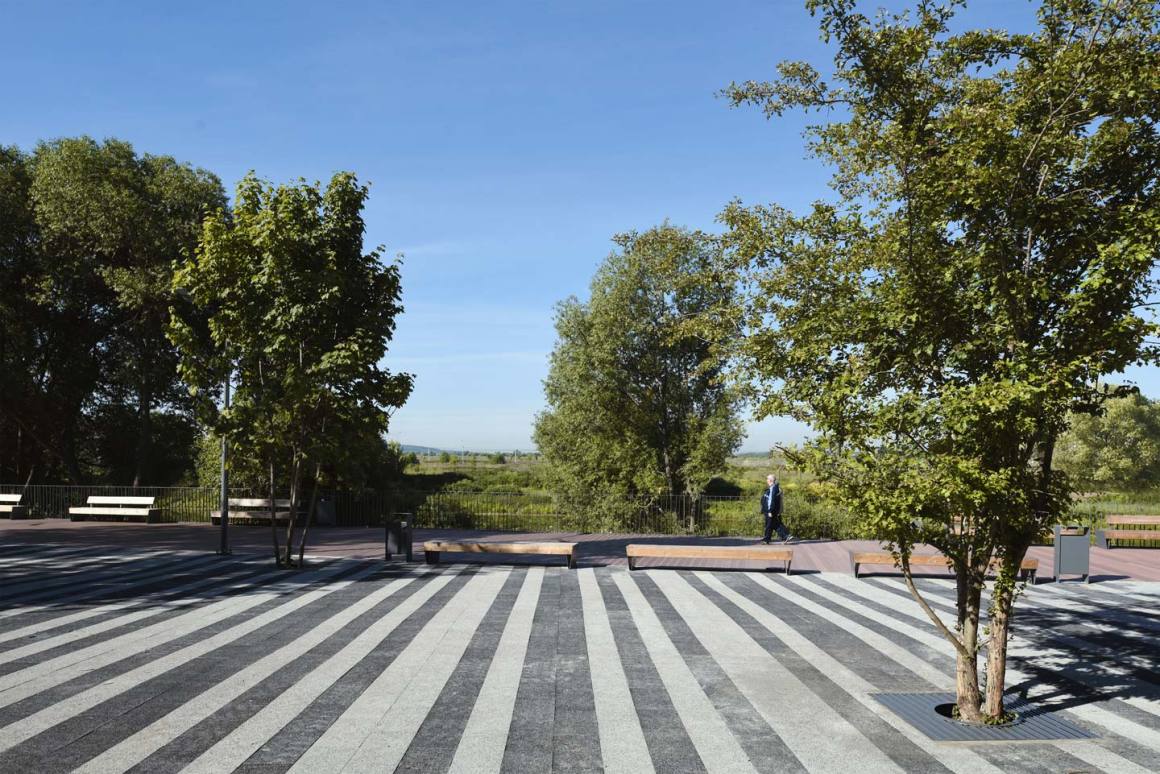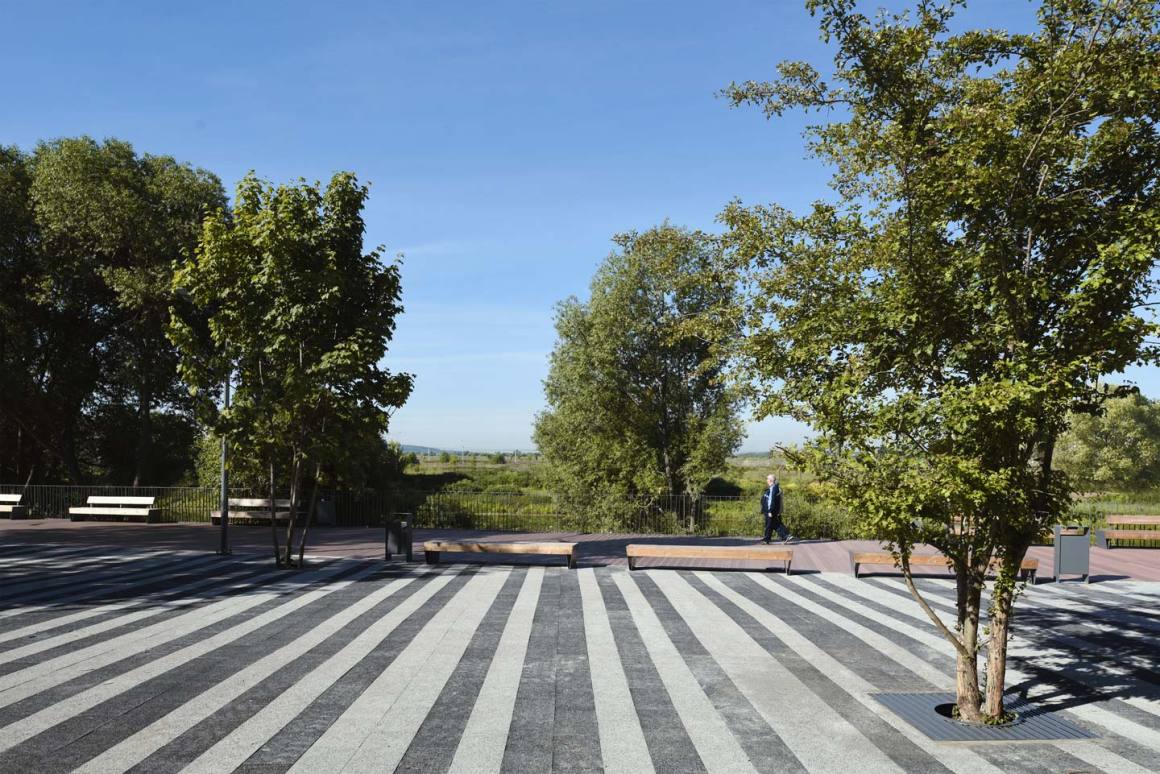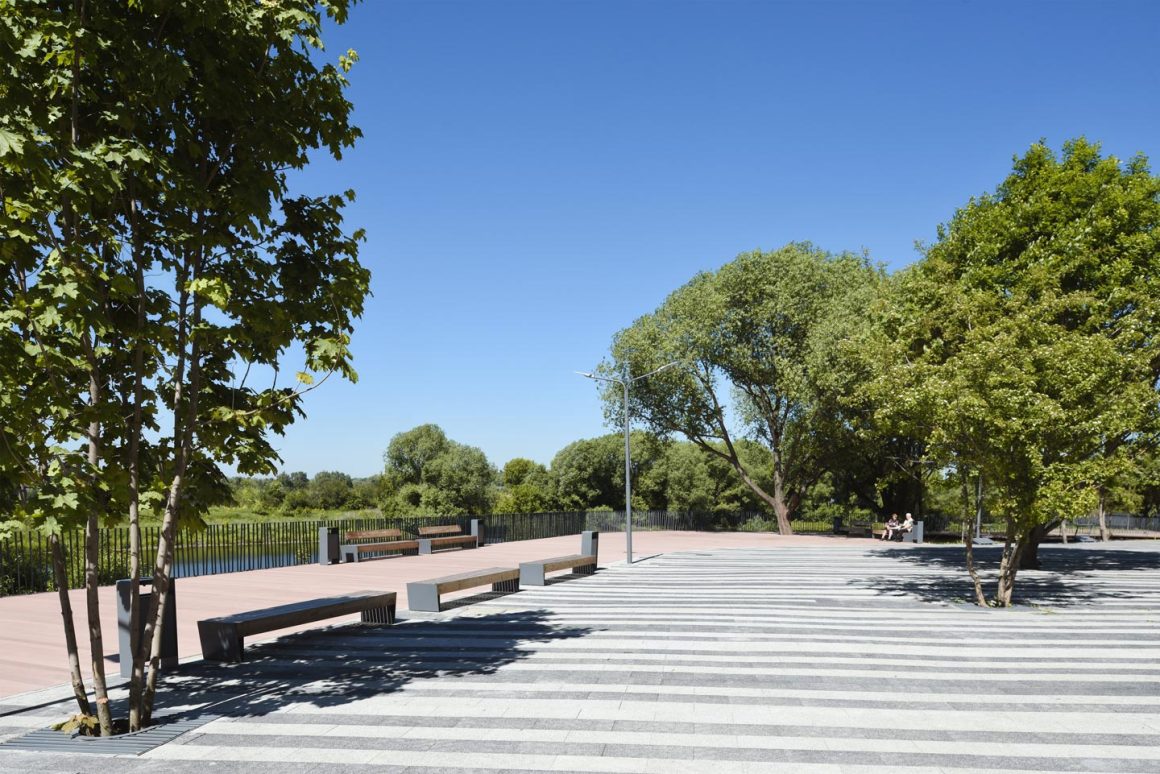 该项目的一个特色在于在地形复杂处设置的架空阳台和人行道。也正是由于这一点,我们成功地增加了堤岸的可用面积,并规划了可以看到河景的最佳娱乐区。再借助蜿蜒的木制小路,我们增加了步行路线的长度,同时为自行车和婴儿车提供了便利。主要的徒步路线的起点位于风景优美的观景台,所以几乎没有什么可以阻挡游客享受这隐秘的大自然。
A feature of the project was the installation of balconies and walkways on stilts where the relief was complex. Thanks to this we managed to significantly increase the usable area of the embankment and plan recreation areas with the best view of the river. With the help of winding wooden paths we increased the length of the walking route and made it convenient for bicycles and prams. The main hiking route goes off from the scenic balconies, so nothing prevents visitors from enjoying the privacy of nature.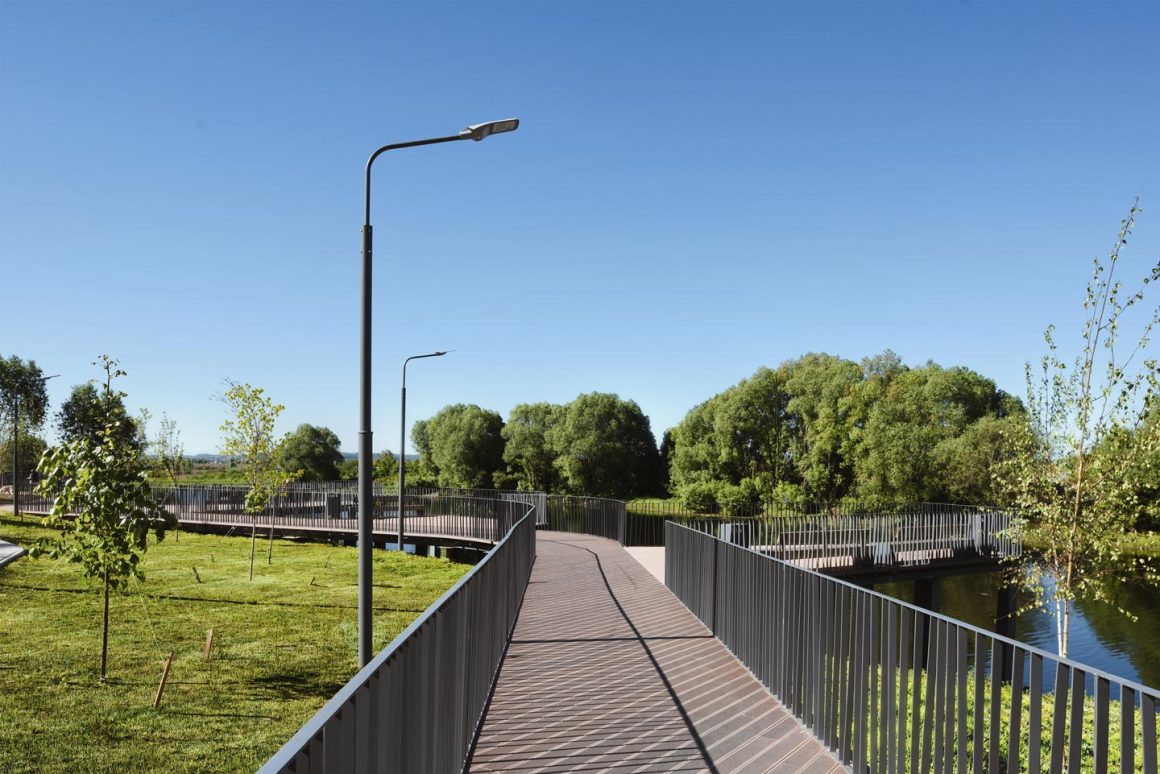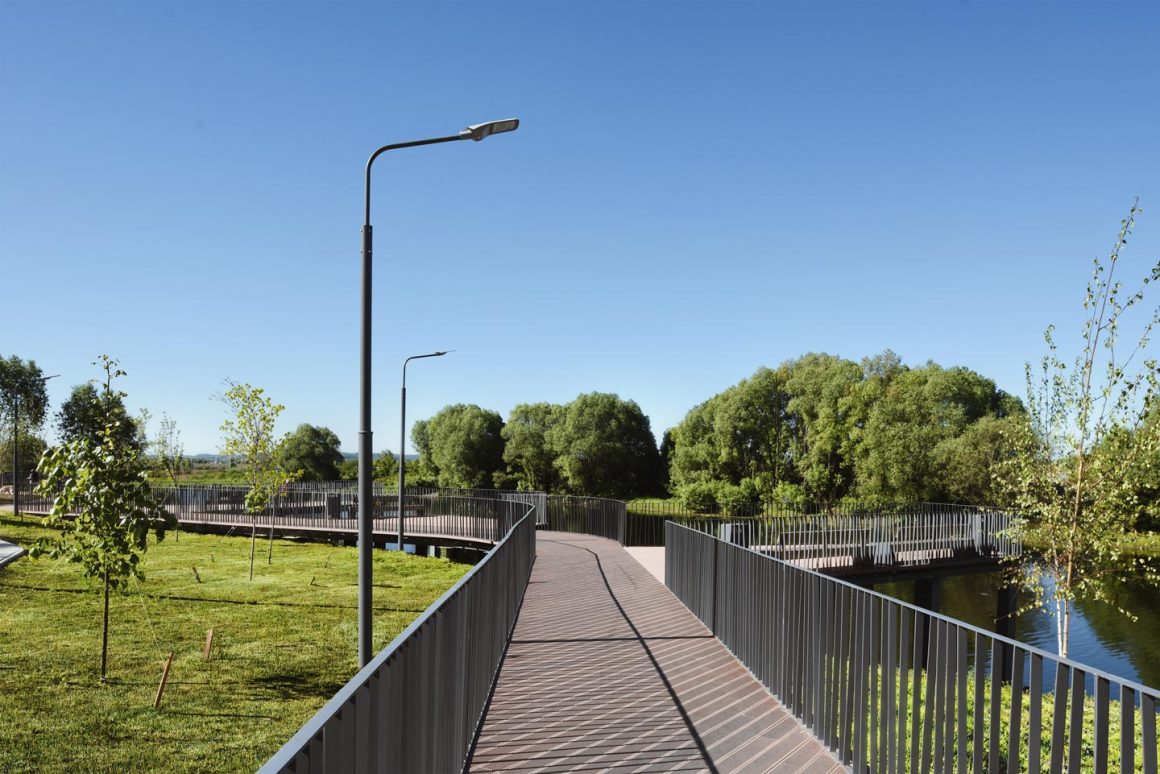 项目中使用的极简主义现代街道家具由钢和处理过的松木制成,强调了木材的自然色彩。其朴素的配色方案和基本设计,将它与自然环境巧妙地融合在一起,而这种自然性在平台周围的围栏中表现得尤为明显,因为围栏的栏杆稍微有些"不规则",长短不一。
Minimalist modern street furniture made of steel and treated pine is used in the project and emphasizes the natural colour of the wood. Thanks to its modest colour scheme and basic design, it blends in delicately with the natural environment. This naturalness is especially distinct in the fencing around the decks which have a slight 'irregularity' of the rods.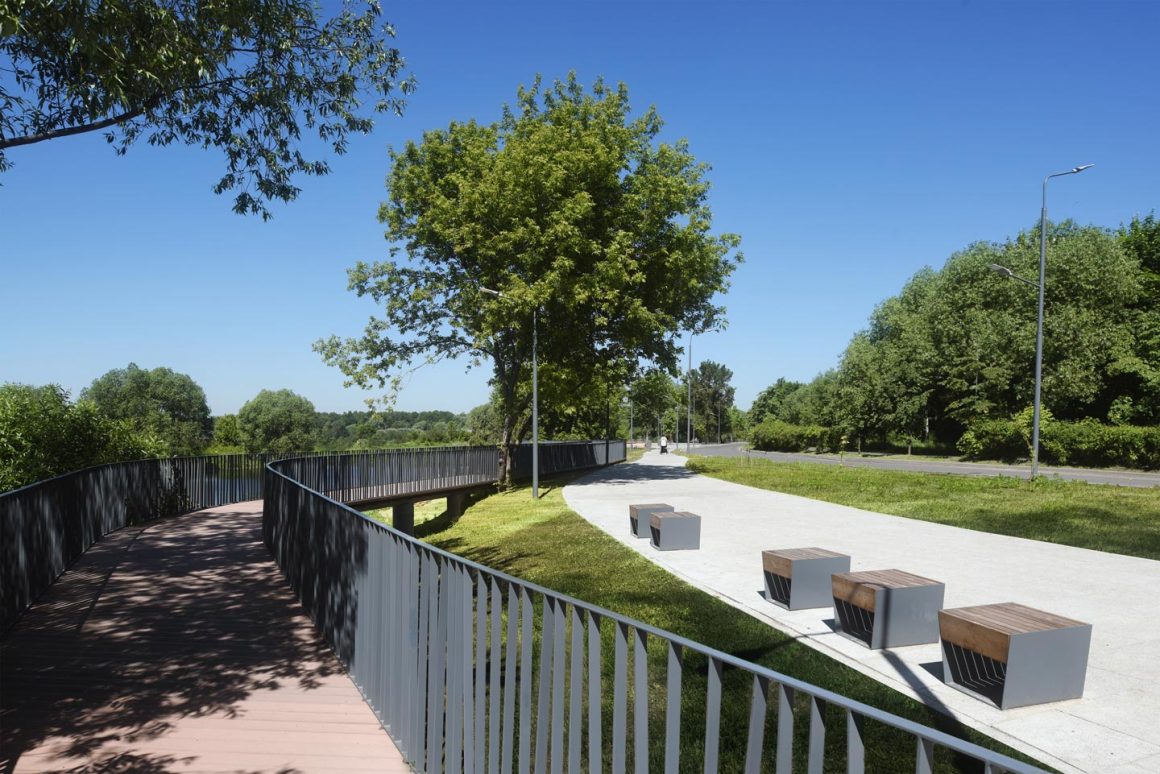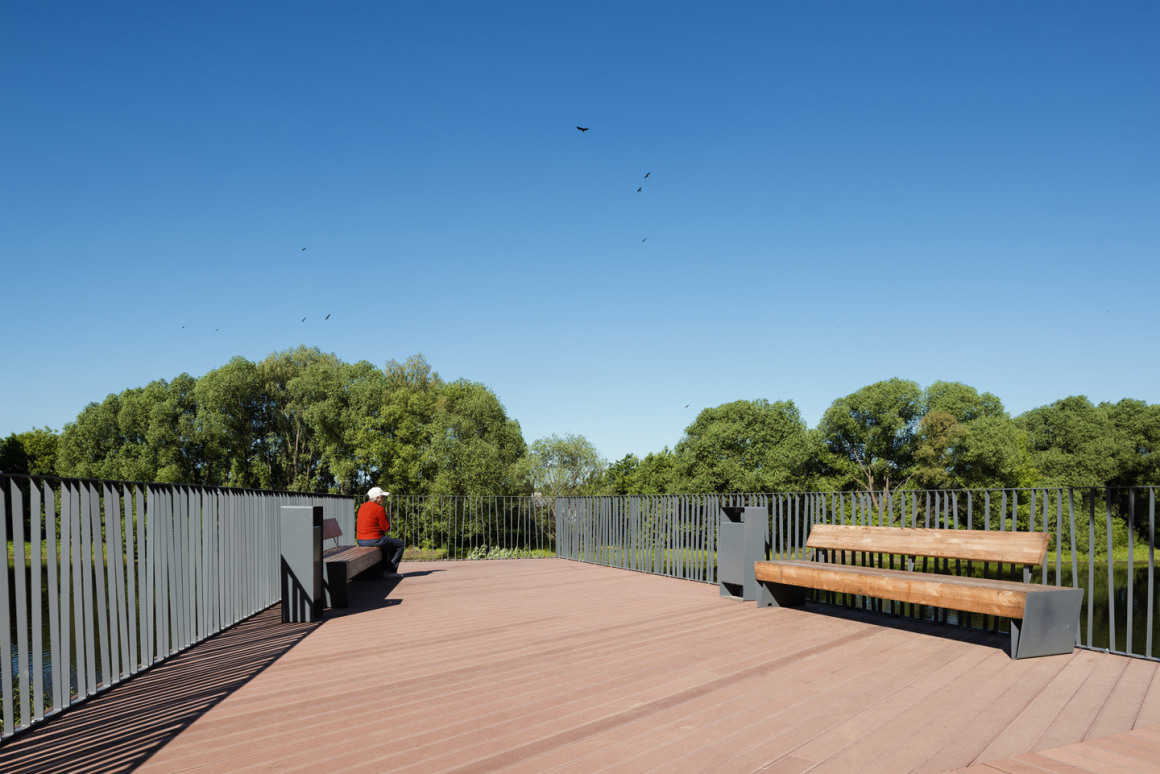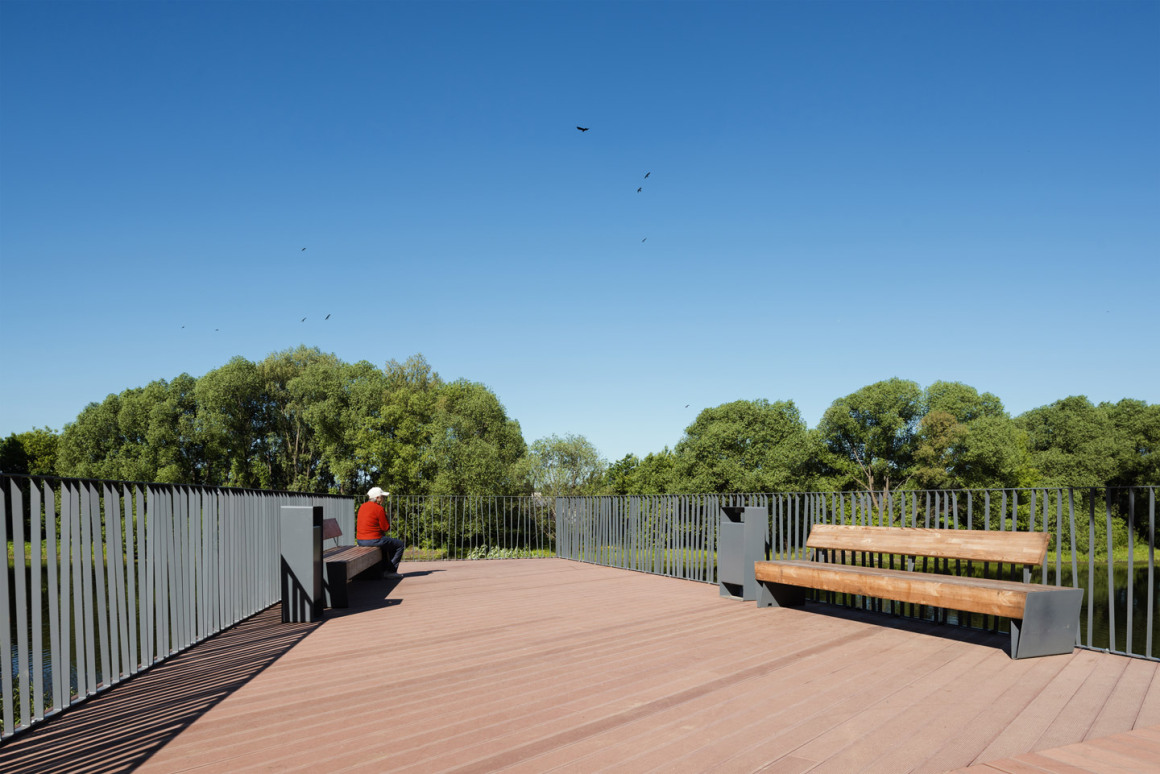 ▼项目平面图 Master Plan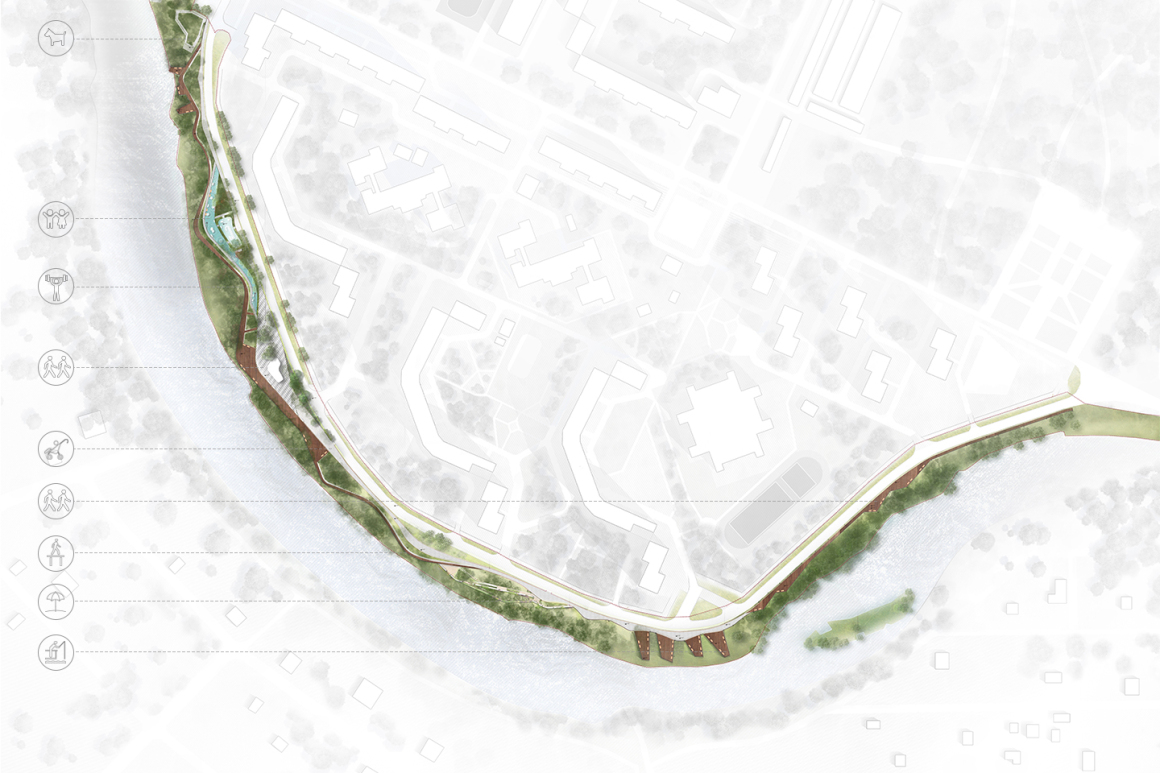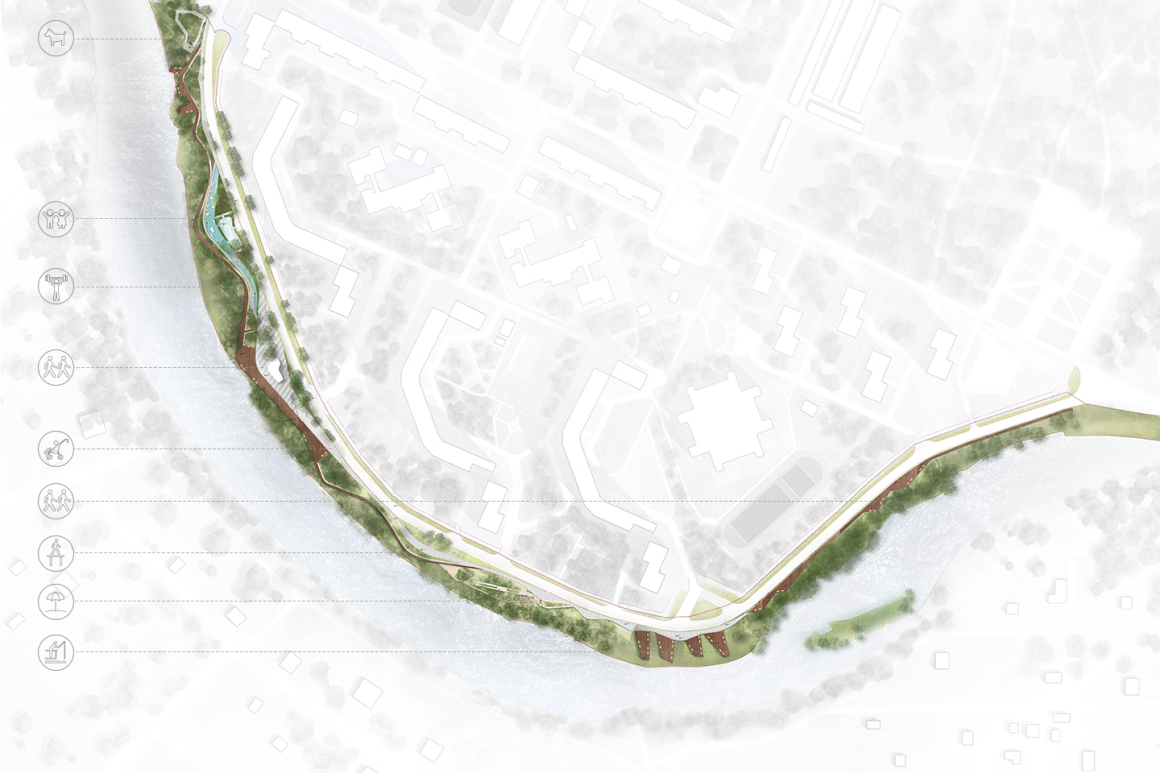 ▼项目分析图 Analysis
地点:莫斯科地区,Schukovsky
面积:5.7公顷
项目团队:Охапкин Иван, Ксения Щербина, Алена Захарова, Светлана Подоплелова
Location: Moscow Region, Schukovsky
Area: 5.7 hectares
Project team: Охапкин Иван, Ксения Щербина, Алена Захарова, Светлана Подоплелова
更多 Read more about: Basis architectural bureau