Landscape Collaboration :NYE是一个高端豪华公寓项目,位于湄南河沿着主要的BTS轻轨线路迅速增长的Thonburi一侧。由着名的泰国开发商Sansiri设计的高层建筑双塔是该地区首屈一指的住宅项目之一。为了满足客户的需求,Landscape Collaboration开发了经典现代风格的景观建筑设计,以满足高端市场不断增长的需求。
Landscape Collaboration :NYE is a high-end luxury condominium project located in the rapidly growing Thonburi side of the Chao Phraya River along the main BTS Skytrain lines. The twin towers of the high rise project by the well-known Thailand developer, Sansiri, stands out as one of the premier residential projects in the area. To meet the requirements of the client, Landscape Collaboration developed a landscape architectural design of classical modern style to address the growing demands of the high-end market.
在入口广场的水平平面上有强烈对比的线条,沿着特征门、墙壁和带有装饰的格子的垂直元素向上移动,这些元素定义了多个室外庭院和空间。
There are strongly contrasting lines on the horizontal plane of the entrance square, moving upwards along the vertical elements of the characteristic doors, walls and decorated lattices, which define a plurality of outdoor courtyards and spaces.
在地面上的双层大厅,拥有一个宁静的庭院空间,浅水面很巧妙解决了紧急车辆的通道问题。设置在浅水面边界上凹陷的座位,为位客户提供了私密、舒适的空间,地面上与入口区域无缝连接的铺装以及景观构成依旧延续了线条和条带的方式,以强调空间的延伸感,整体性,打造一个极具宏伟的开放空间。
In the double-deck hall on the ground, there is a quiet courtyard space, and the shallow water surface is very clever to solve the problem of emergency vehicle access. The sunken seats set on the shallow water surface border provide private and comfortable space for individual customers. the pavement and landscape structure on the ground that are seamlessly connected with the entrance area still continue the way of lines and stripes to emphasize the extension and integrity of the space and create an extremely grand open space.
地面上的周边景观延续了线条和线条的组合,提供了舒适的空间,提供了终极的隐私空间,同时又无缝地连接在一起,促进了项目整体开放空间的宏伟。这一项目的宏大宣言从一面巨大的绿色墙的映照中可以明显地看出,这面墙围绕着停车场的平台和两座塔的泳池悬臂。
The surrounding landscape on the ground continues the combination of lines and lines, providing a comfortable space, providing the ultimate privacy space, and at the same time seamlessly connecting together, promoting the grandeur of the overall open space of the project. The grand declaration of this project can be clearly seen from the reflection of a huge green wall, which surrounds the platform of the parking lot and the cantilever of the swimming pools of the two towers.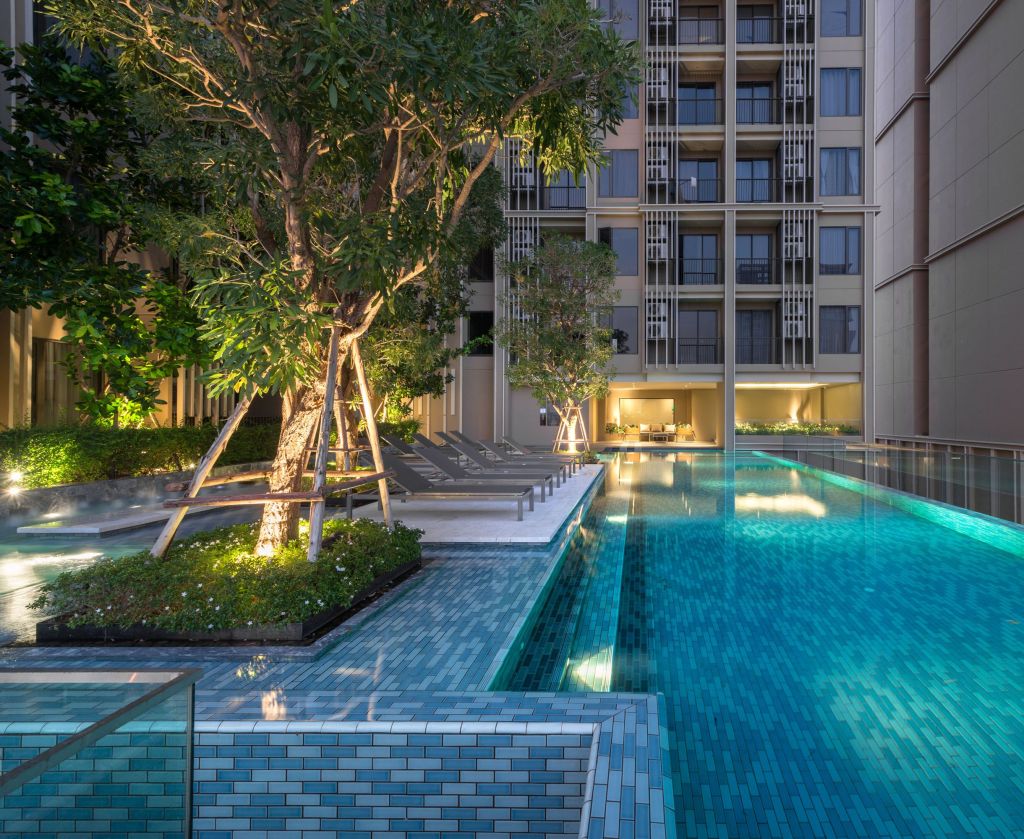 平台屋顶泳池的景观同样让人印象深刻,泳池瓷砖的水平模式与泳池对面的无限边缘相结合,给人一种"水上漂浮"的错觉。景观设计师充分利用了项目的丰富空间,利用强形式和图案来定义空间。不同尺度的格局和空间,造就了豪华的精致细节,满足了高端客户的期望与需求。
The landscape of the rooftop swimming pool on the platform is also impressive. the horizontal pattern of the pool tiles is combined with the infinite edge opposite the swimming pool, giving people an illusion of " floating on water". Landscape designers make full use of the rich space of the project and use strong forms and patterns to define the space. The pattern and space of different scales have created luxurious and exquisite details and met the expectations and demands of high-end customers.
Landscaping :Landscape Collaboration
Client:sansiri