百子里公园位于香港中环,面积为1600平方米。是属于「孙中山史迹径」的一部份,隐蔽的「辅仁文社」曾设社于此。独特的封闭式公共空间和多出入口的台地式地理位置,使百子里公园活化成为具休憩,娱乐及学习元素为一体的公共空间。
Pak Tsz Lane is revitalized into a park in Central district, retracing the old urban fabric and the veiled Furen Society. With various laneway entrances and fully enclosed open space, the terraced configuration is developed as a unique space for enjoyment, recreational and communal aspiration.
公园主要由三区组成,包括仿古特包亭,历史展览回廊及革命历史探知园。由于临近「辅仁文社」的旧有聚集地点,所以希望透过设计布局重塑百子里当年的城市空间及革命精神,而多样化的展览品及展示区设计,可以提供一条连续化的流线去感受公园独特之处,亦为整个空间营造出地方特色。
The Park comprises three main sections: the feature pavilion area, the exhibition corridor and the historical themed playarea. While the site is adjacent the old gathering place of Furen Society, the division of exhibition rooms in the Pak Tsz Lane Park design reflects the historical aspects of the site, imitates the revolutionary room, and retrospects the
spirit of revolution.
设计由不同的展览项目和空间组成,为有形和无形的遗产创造一个清晰的地址,同时给整个空间一个独特的身份,为体验提供一个连续的路径,并增强Pak Tsz Lane laneway的特色。
The design consists of various exhibition items and spaces, which create a clear address for the tangible and intangible heritage and, at the same time, give the entire space a distinct identity, providing a sequential route for experience and Pak Tsz Lane laneway characters enhancement.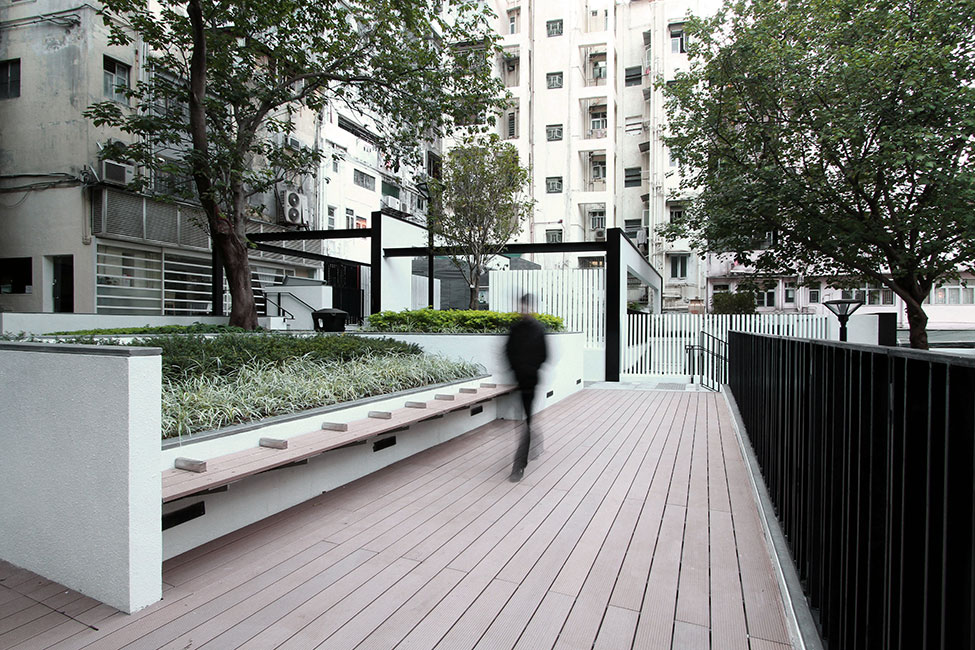 项目名称:百子里公园
项目类型:公园
位置:香港
完成年份:2009
面积:1600m2
设计公司:Gravity
Project name: Pak Tsz  Lane Parkcentral
Project type: Park
Location: Hong Kong
Completed: 2009
Area:1600m2
Design company: Gravity
更多:Gravity