本文由 STIMSON STUDIO 授权mooool发表,欢迎转发,禁止以mooool编辑版本转载。
Thanks STIMSON STUDIO for authorizing the publication of the project on mooool, Text description provided by STIMSON STUDIO.
STIMSON STUDIO:场地位于一片茂密的沿海林地上,在悬崖上俯瞰着宜人的海湾和大西洋。砾石道蜿蜒穿过林地,由缓坡向下延伸到达一片开阔的起伏草地,草地上点缀着美国冬青、东方红雪松和垂柳老树。
STIMSON STUDIO: This site is situated in a dense coastal woodland on a dramatic bluff overlooking Pleasant Bay and the Atlantic Ocean. The gravel drive weaves through the woodland and gently slopes down to arrive at an open landscape of rolling meadow dotted with groves of American Holly, Eastern Red Cedar, and a heritage Weeping Willow.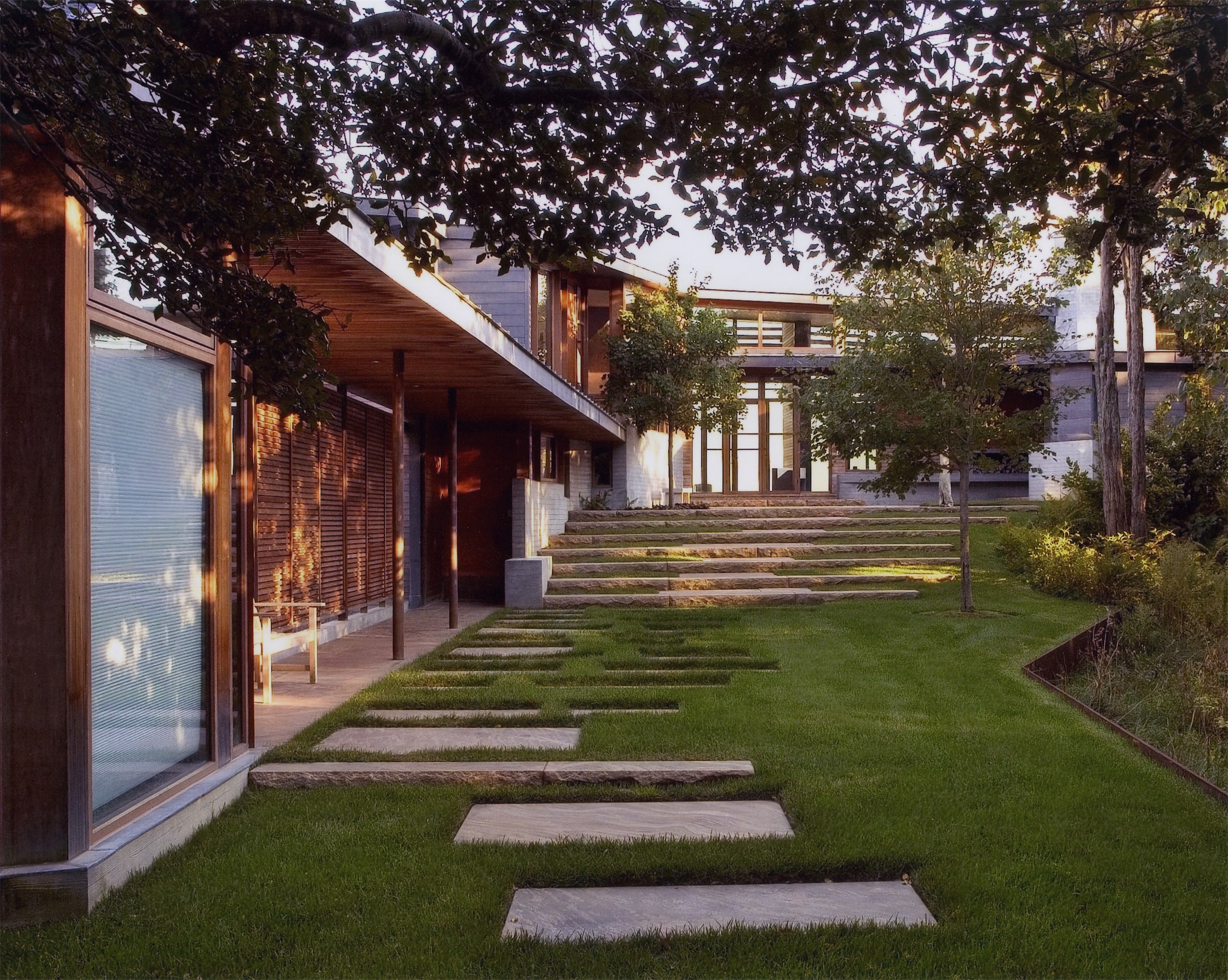 房屋、有顶过道和外屋都经过精心布置,以适应起伏的景观环境。沿着有顶过道,一条小路通向草坪和花岗岩台阶,这些台阶突出了房屋的自然地形。主屋位于场地的高点,其附近有一个沿着海边延伸的长石平台,可以更好地捕捉到海景,并得益于南面通透的视野空间。
The house, breezeway, and outbuildings are carefully sited to rise and fall with the undulating landscape. Following the breezeway, a path leads to a set of grass and granite steps that emphasize the natural topography at the house. The main house is sited at the high point of the property and incorporates a long stone terrace extending along the oceanside to capture water views and benefit from southern exposure.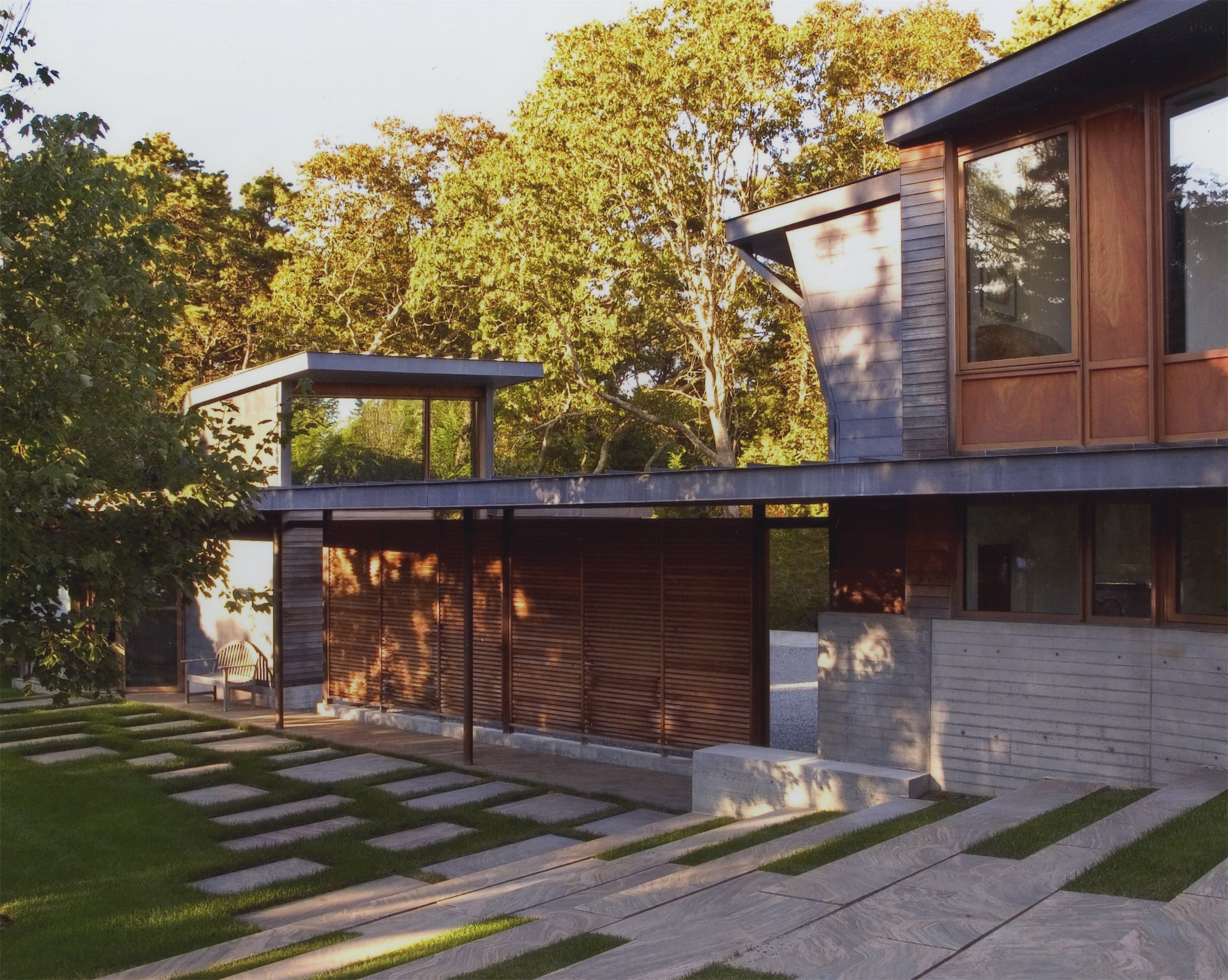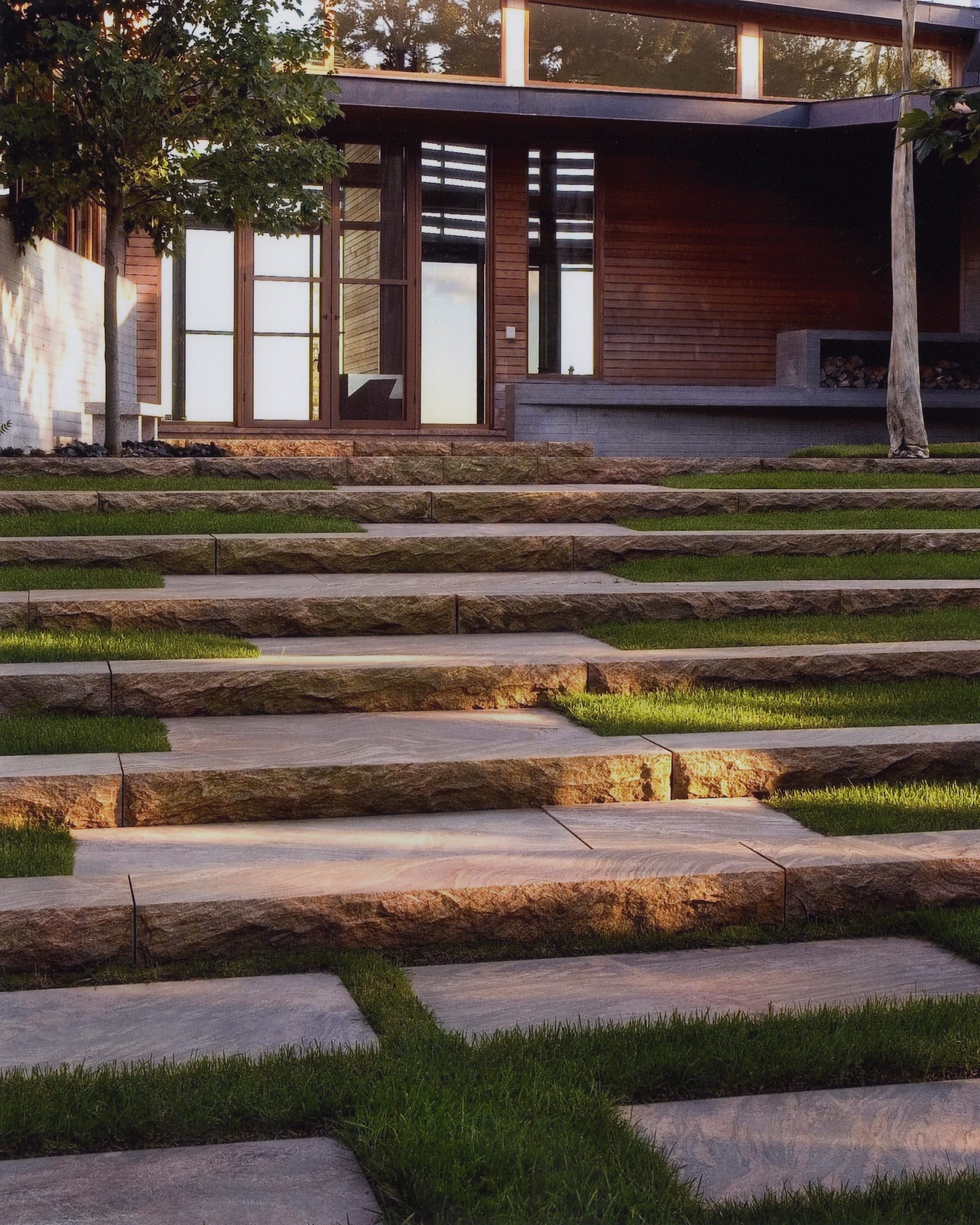 ▼长石平台上的户外躺椅 Lounge chairs on a long stone terrace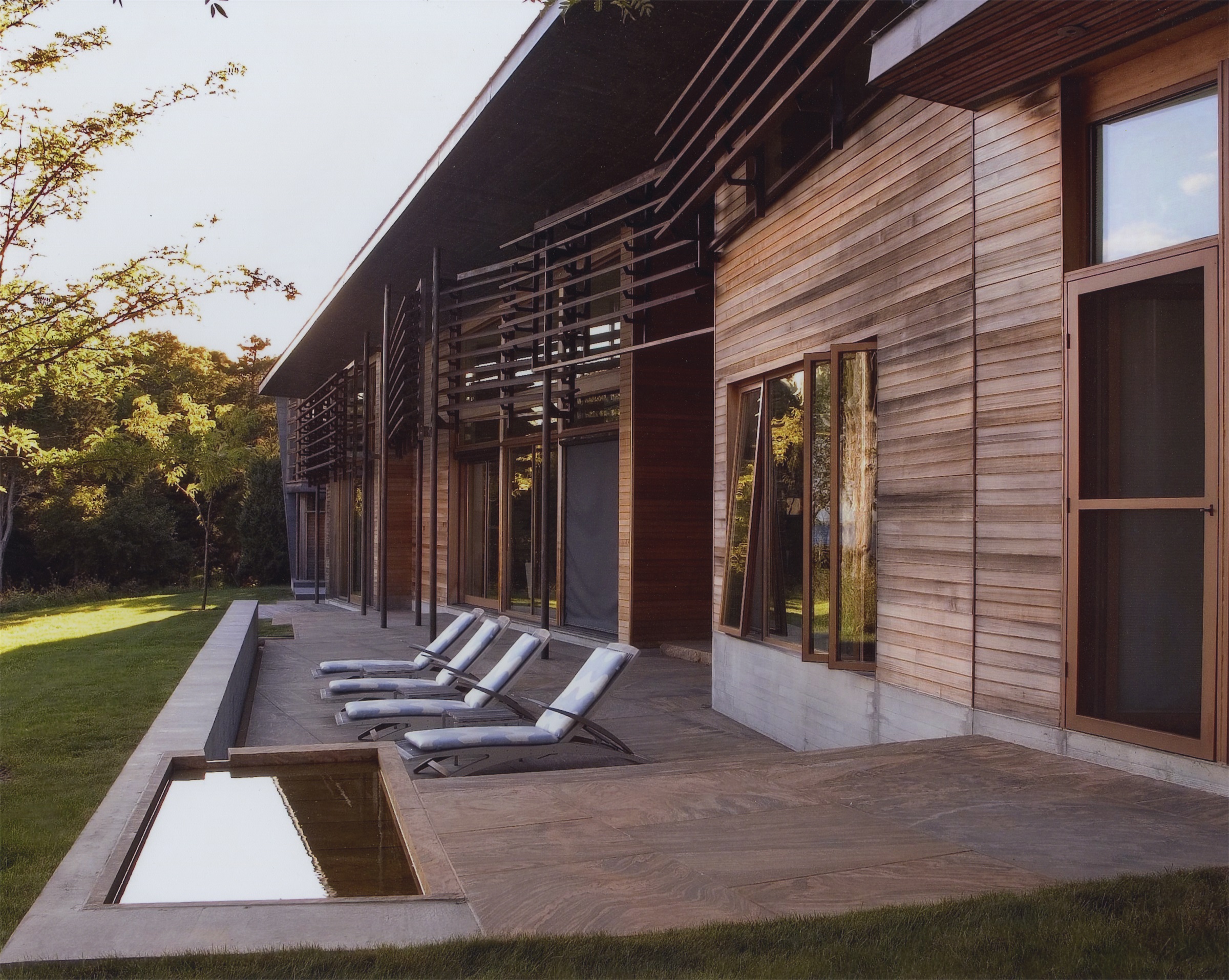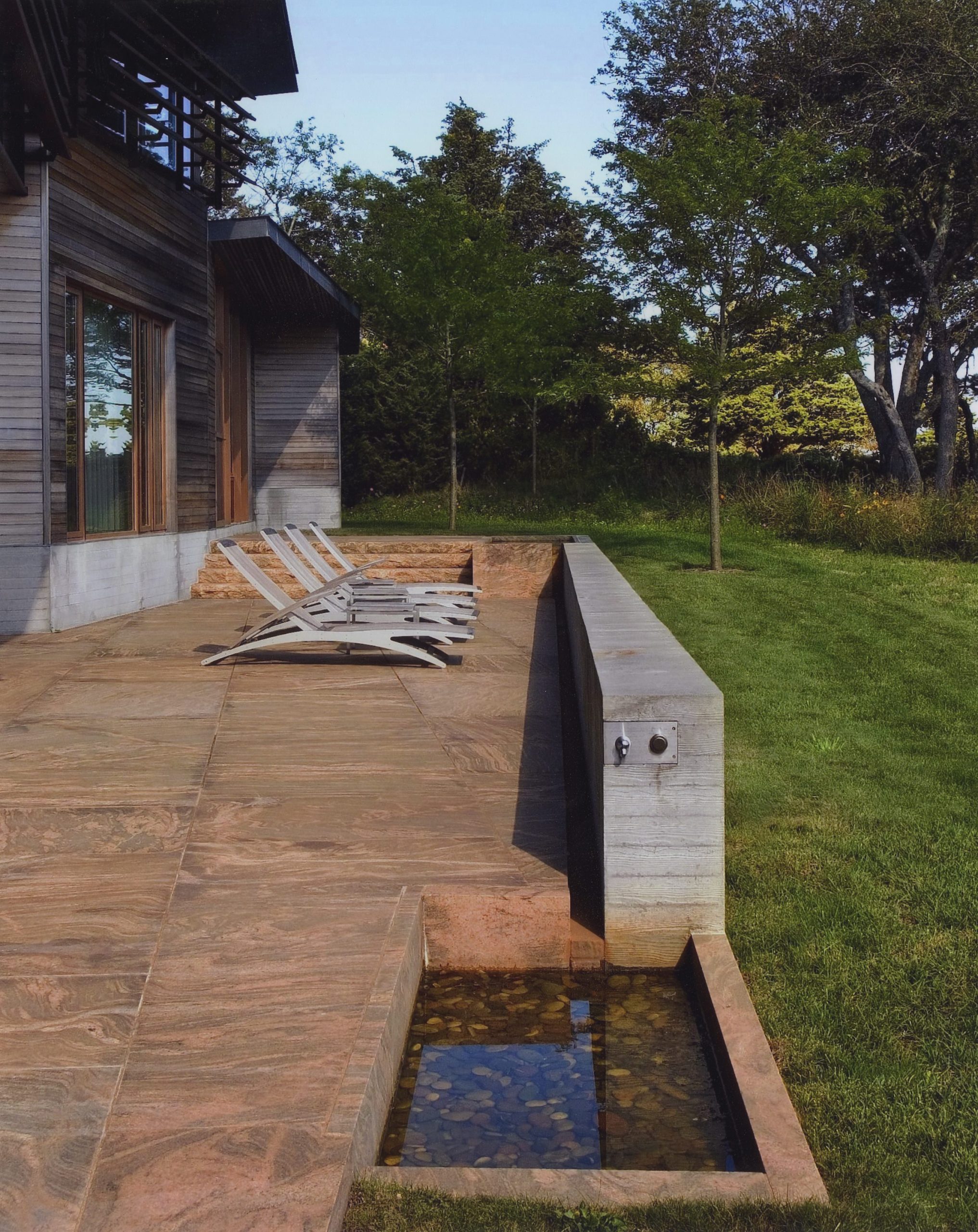 ▼阶地细节 Detail of the terrace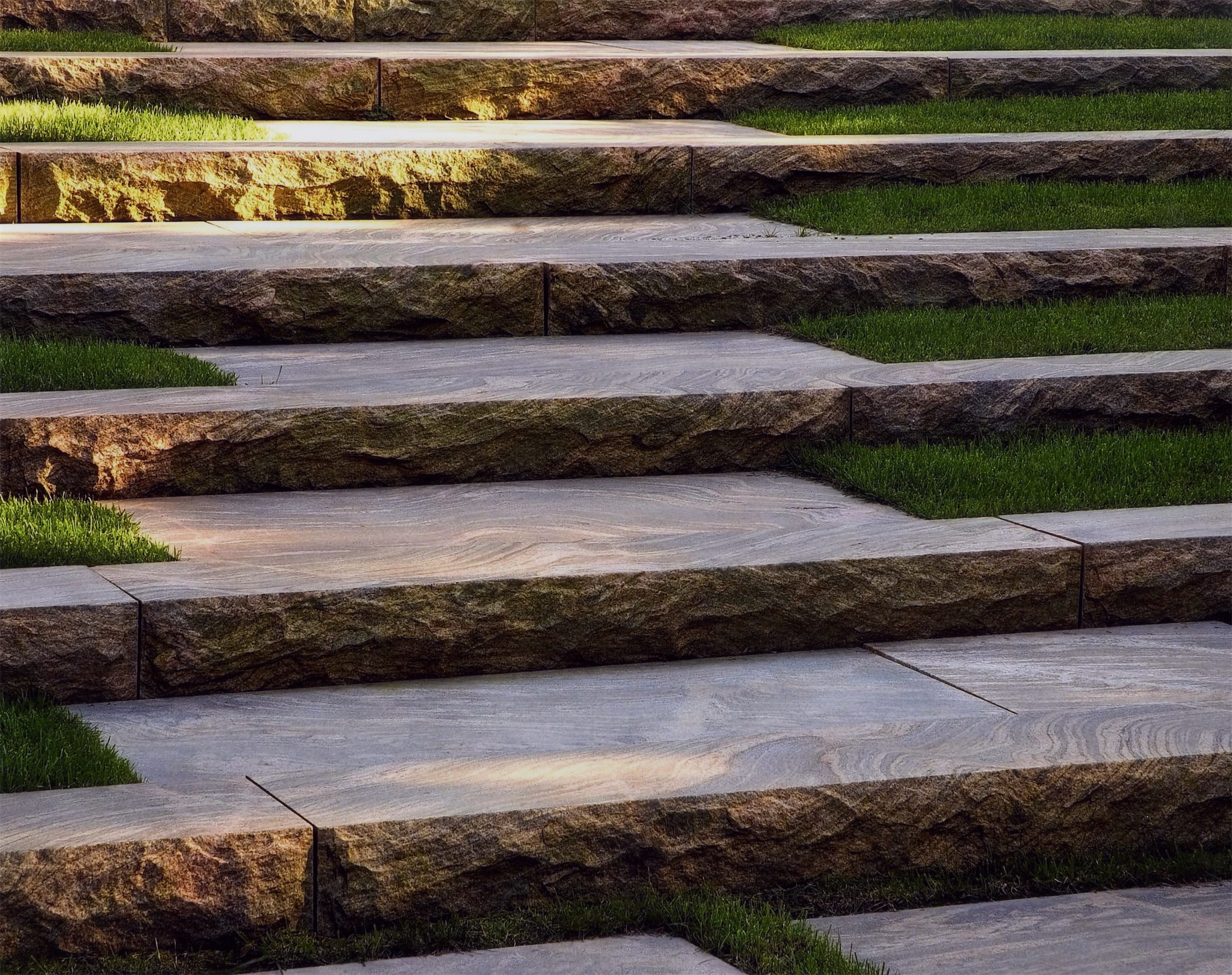 阶地由自东向西温柔延伸的灌浇混凝土墙界定,以尊重场地的既有坡面。考虑到项目的整体统一性,内部和外部空间都使用了相同的材质。有一个倒影池嵌入阶地之中,溢出到沿墙壁走向的沟渠里,然后再流入一个充满了下面海滩发现物的凹地之中。
The terrace is defined by a poured concrete wall that gently steps from east to west to follow existing grade. To unify the project, the same materials are used both within the interior and exterior spaces. Embedded within the terrace is a reflecting basin that spills into a runnel that moves along the wall and empties into a basin filled with findings from the beach below.
▼混凝土挡墙和蜿蜒穿过林地的小路 A poured concrete wall and the path weaves through the woodland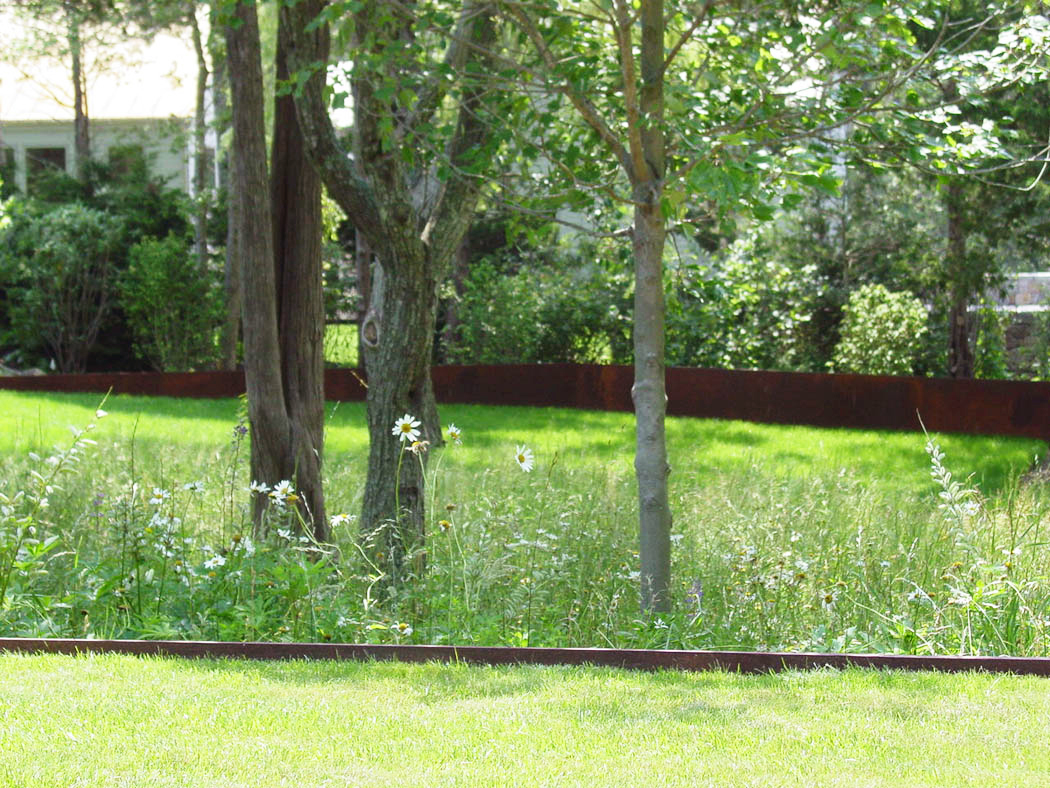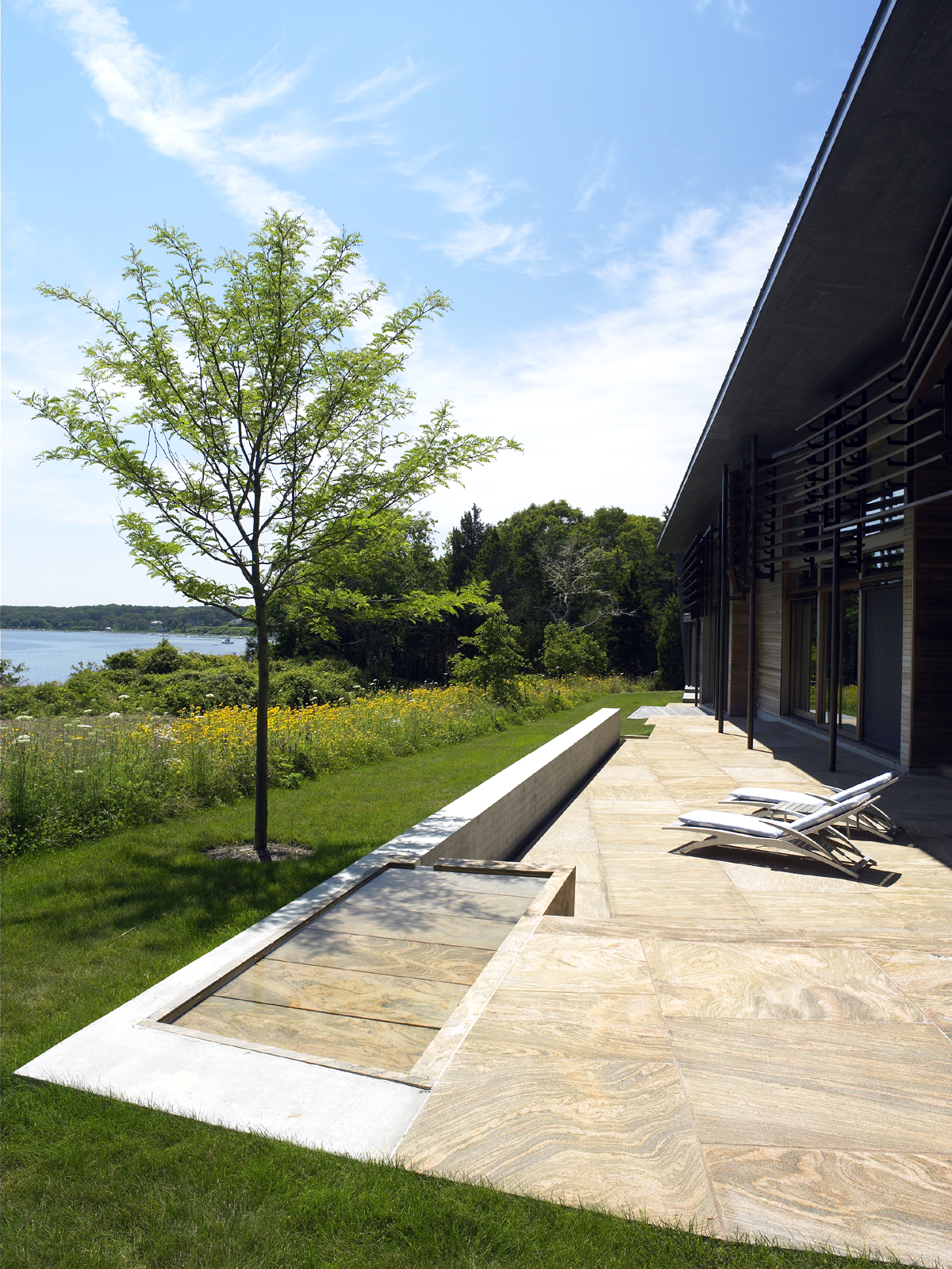 项目名称:宜人湾
完成年份:2004
面积:2 英亩
项目地点:马萨诸塞州 奥尔良
景观设计:Stephen Stimson Associates Landscape Architects, Inc.
公司网站:https://www.stimsonstudio.com
联系邮箱:info@stimsonstudio.com
首席建筑师:Charles Rose
设计团队:Stephen Stimson, FASLA, Tom Lee, ASLA
合作者:Charles Rose Architects
照片来源:Charles Mayer
摄影师网站:https://www.cmayerphoto.com
Project name: Pleasant Bay
Completion Year: 2004
Size: 2 Acres
Project location: Orleans, Massachusetts
Landscape/Architecture Firm: Stephen Stimson Associates Landscape Architects, Inc.
Website: https://www.stimsonstudio.com
Contact e-mail: info@stimsonstudio.com
Lead Architects: Charles Rose
Design Team: Stephen Stimson, FASLA, Tom Lee, ASLA
Collaborators: Charles Rose Architects
Photo credits: Charles Mayer
Photographer's website: https://www.cmayerphoto.com
---
"庭院里阶地到石板路的过渡以及石材与草地的衔接非常自然,面向海湾的长石平台拥有良好的观景视野。"
审稿编辑  Hongyu
更多 Read more about: STIMSON STUDIO