本文由 Creative Crews 授权mooool发表,欢迎转发,禁止以mooool编辑版本转载。
Thanks Creative Crews for authorizing the publication of the project on mooool, Text description provided by Creative Crews.
Creative Crews:随着城市周围的农业土地城市化,曼谷正在不断扩大。我们认为,中心致密化可以减轻进一步的城市扩张。在扩张城市边缘之前,首先应确保中心已得到充分利用。而这一目的可以通过设计实用的建筑,开发城市中被认为过于困难或无利可图的欠发达土地来达到。
场地位于市中心的心脏地带的废弃的地块,可通过一条深达6米宽的狭窄小巷进入,狭窄的小巷向场地入口方向变窄。为了开发场地,设计将部分土地退还给公众,以确保胡同宽度符合规划规定。
Creative Crews:Bangkok is perpetually expanding, as agricultural land surrounding the city become urbanised. We believe that further expansion could be alleviated with densification. Before looking beyond the city edge, it should first be ensured, the centre is fully utilised. Pockets of under developed land within the city that are deemed too difficult or unprofitable could be developed with pragmatic architecture.
Located at the heart of the city centre, the site was an abandoned plot accessed via a deep contrived 6 meters wide alley that narrows towards the site entrance. In order to develop the site , part of the land was given back to the public to ensure the alley width is in compliance with planning regulations.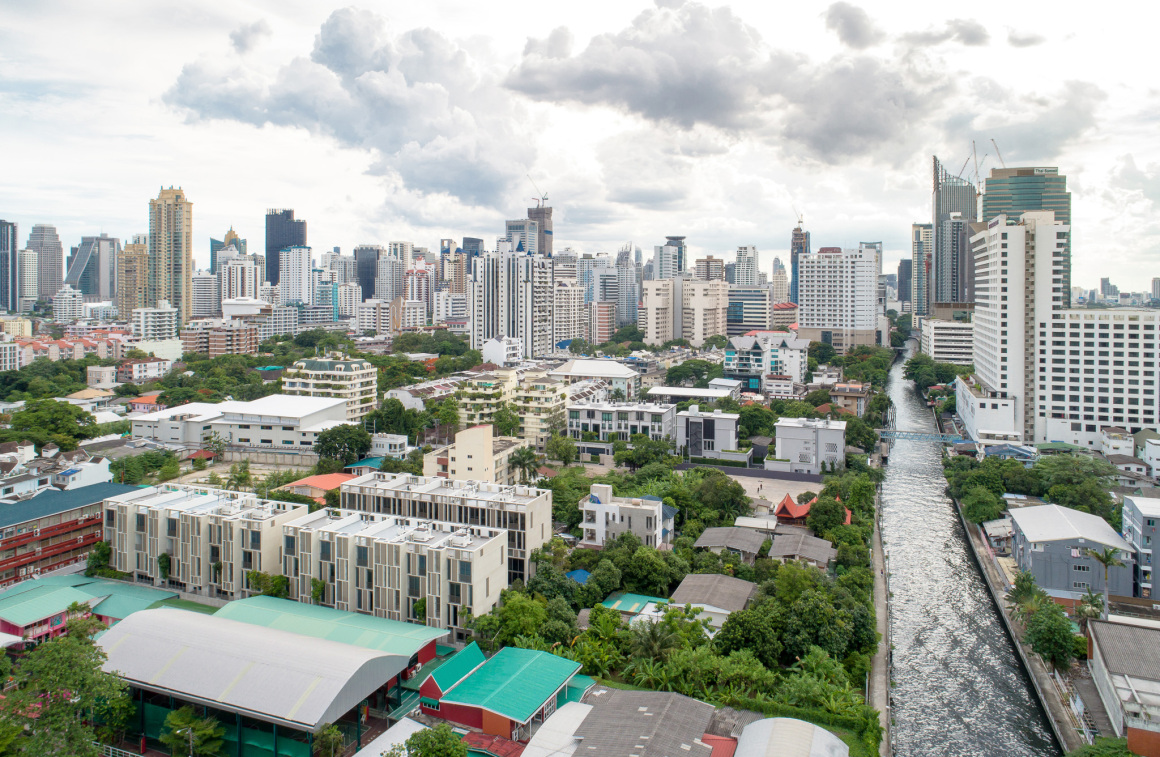 该计划的关键要素是务实地处理法规和场地限制,并创建住房开发项目,成为曼谷的生活质量的标杆。该项目遵循标准的排屋模型,房屋位于场地的两侧。
The key element of the scheme is to approach regulations and site limitations pragmatically, and create a housing development which sets the standard for quality of living in Bangkok. The project follows the standard row-housing model, with houses positioned on either side of the site.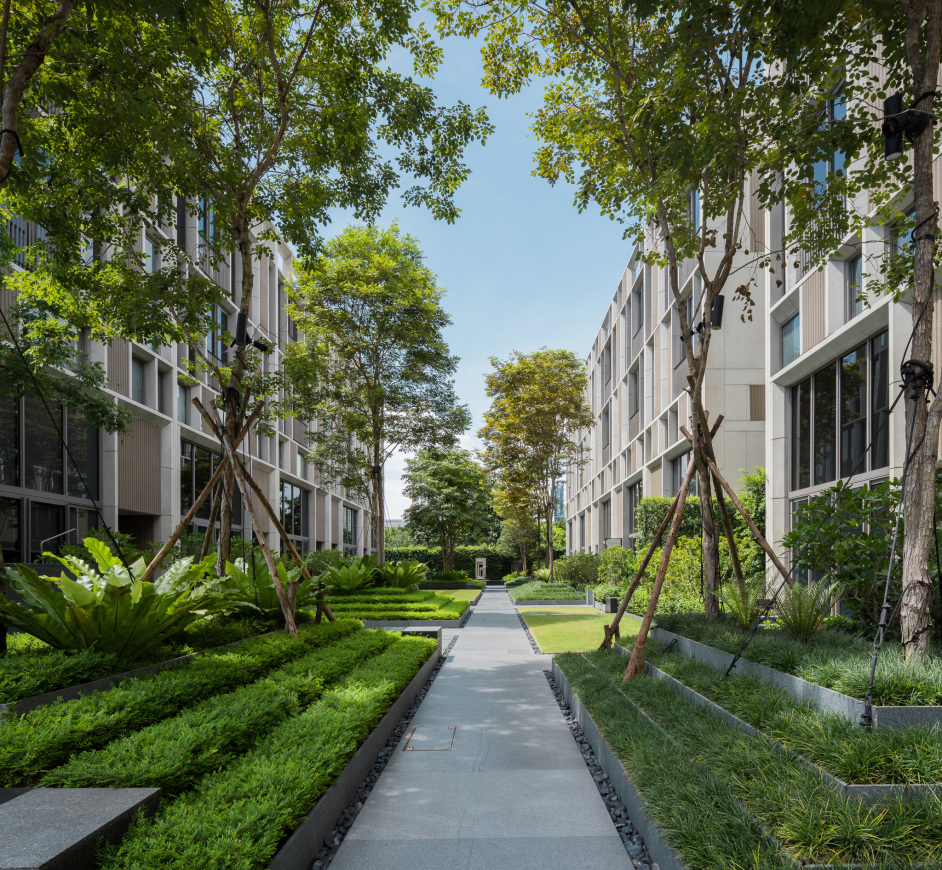 但是在两座排屋之间,代替寻常设计中的中央道路的是整整一个1 Rai的休闲公园供邻居闲逛交流。期望通过中央绿洲形成一个紧密联系社区,是整个项目的重点。这是通过将道路降低1.5 m并抬高绿色庭院所在的第一层1.2米标高来实现的。
However in place of a central road, at Quarter 39 between the houses lies a 1 Rai recreational park for neighbours to mingle. The central oasis promises to foster a close knit community that is a focal point of the whole development. This was achieved by lowering the road by 1.5m and raising by 1.2 m, the first floor where the green courtyard is located.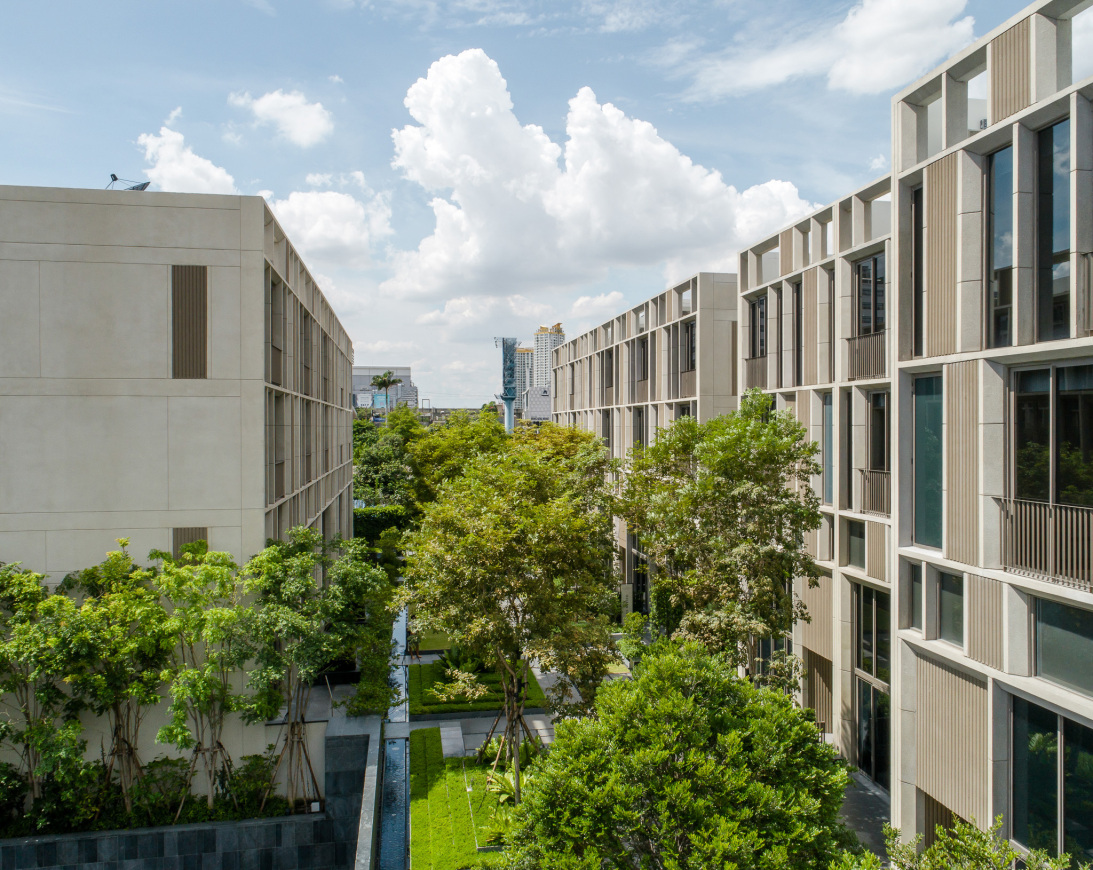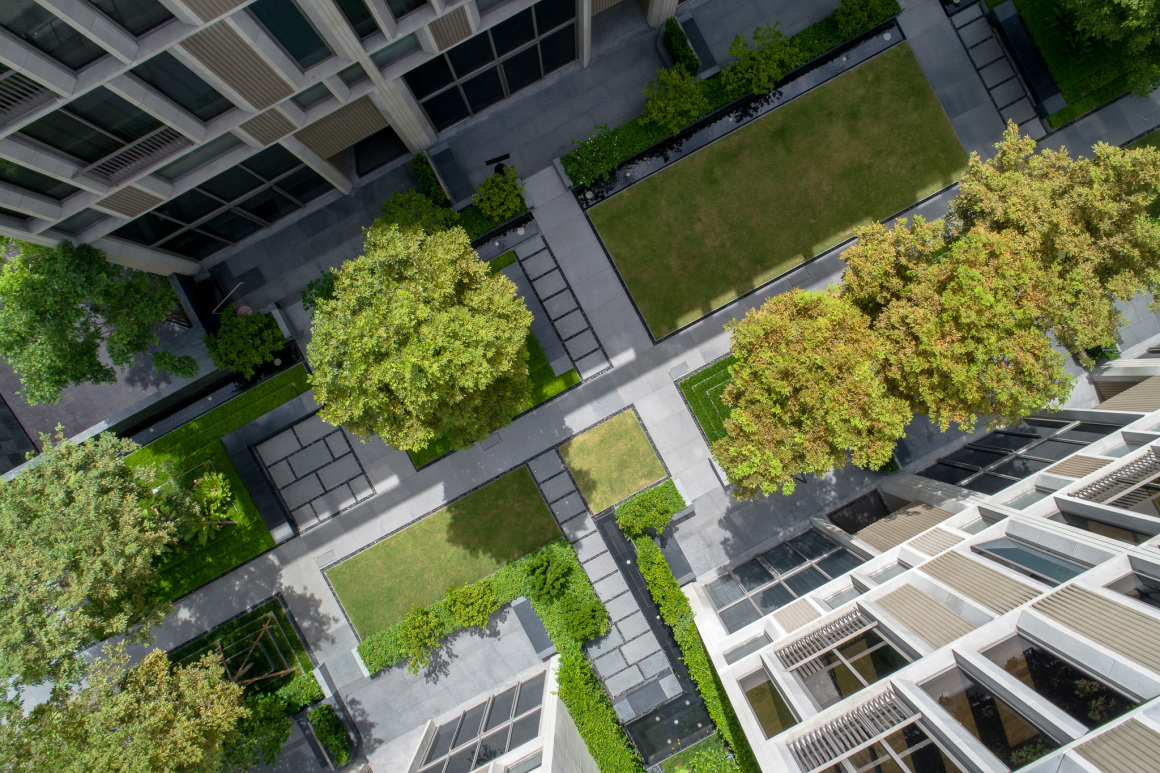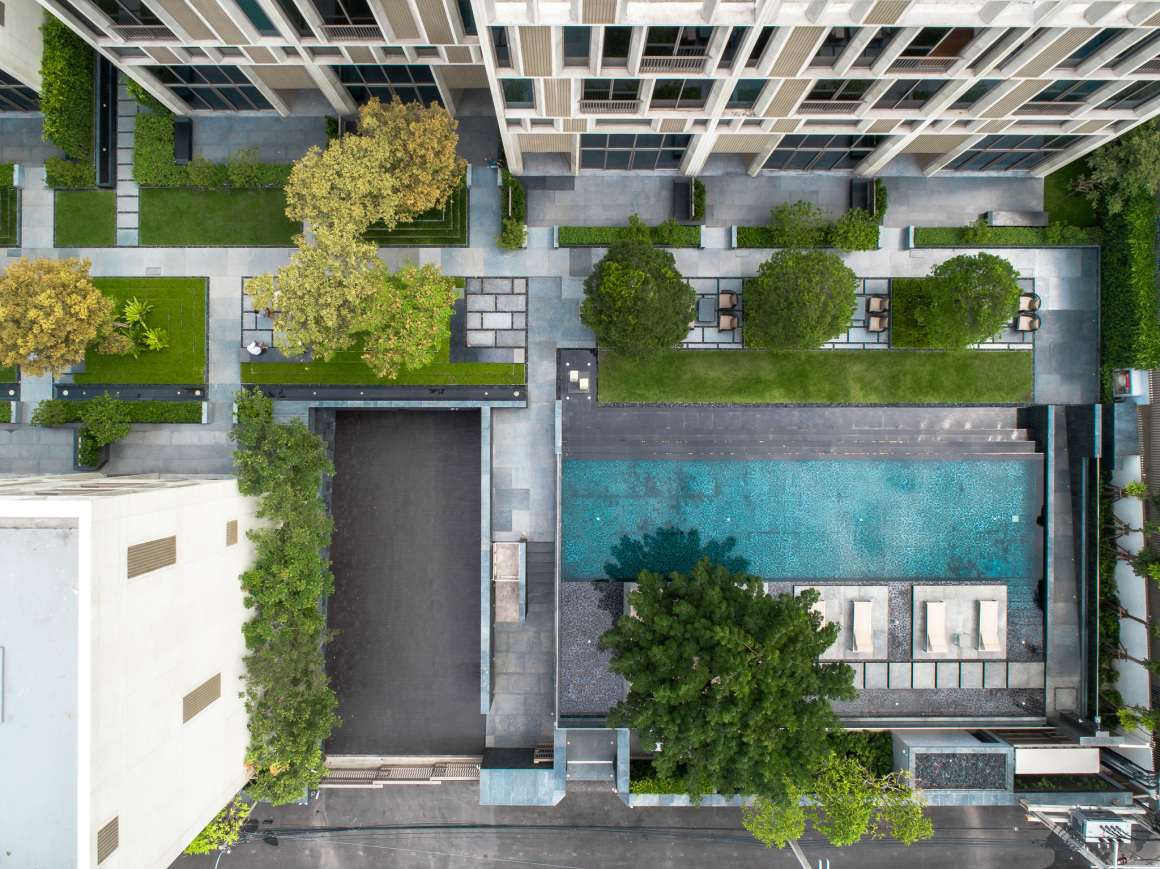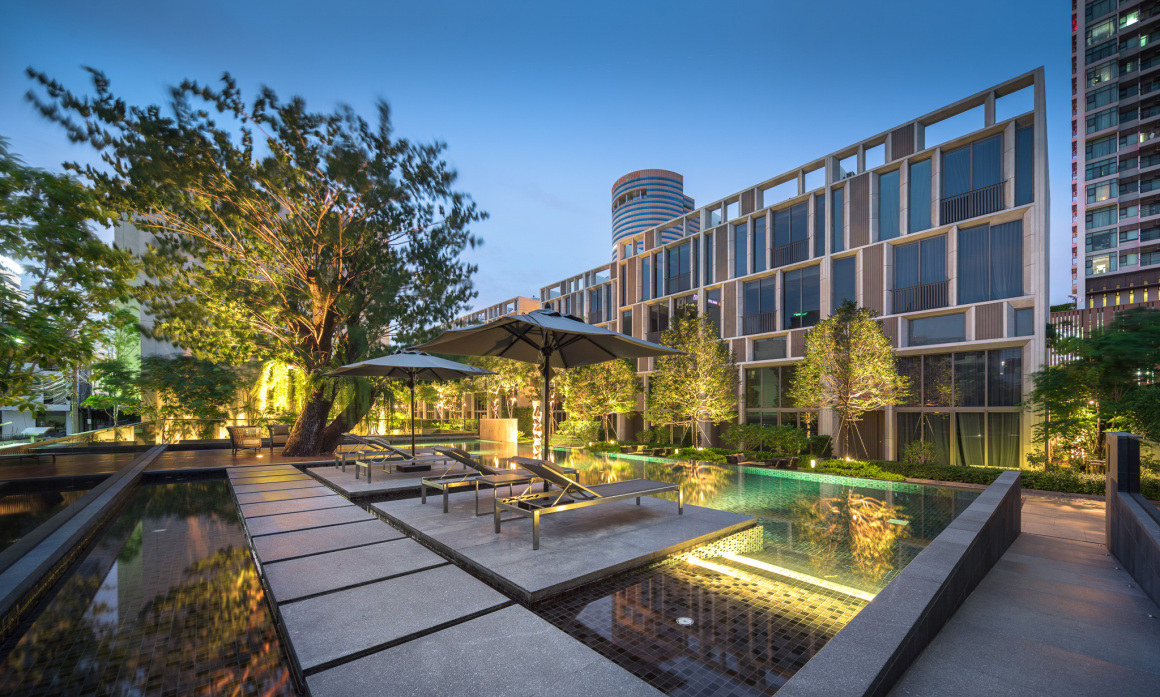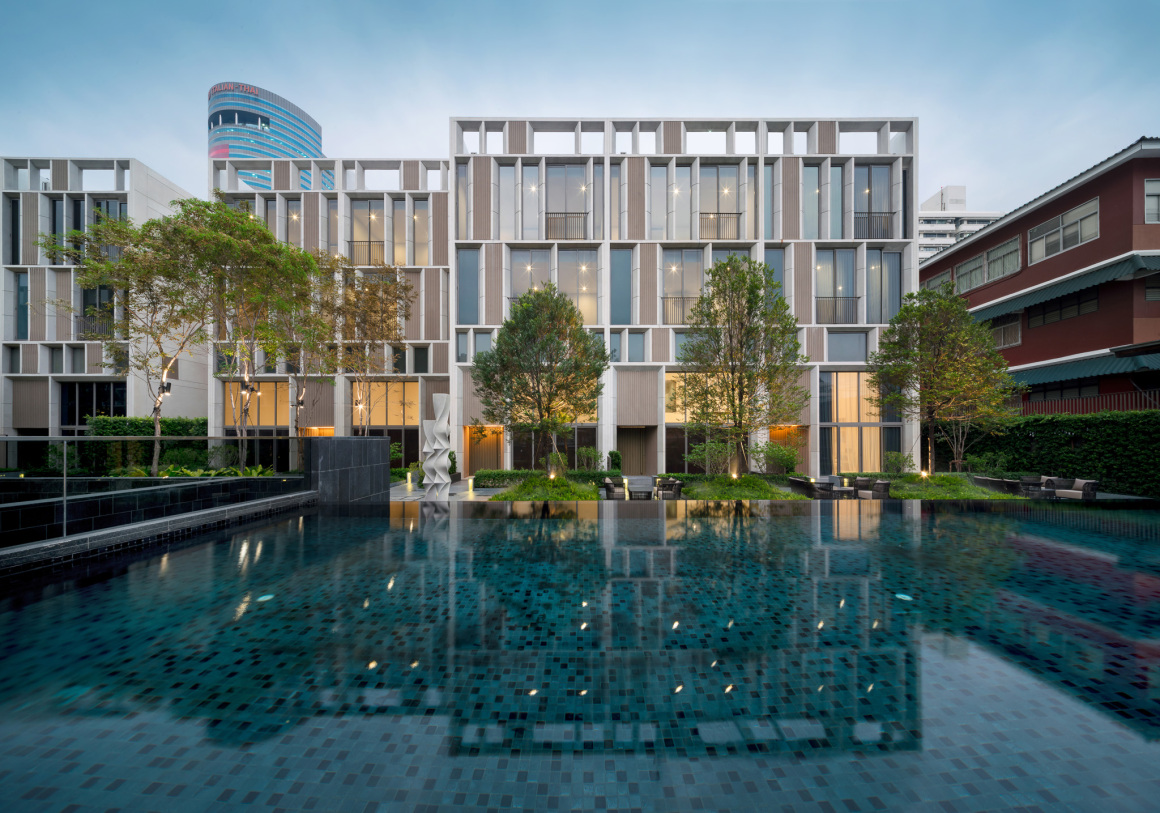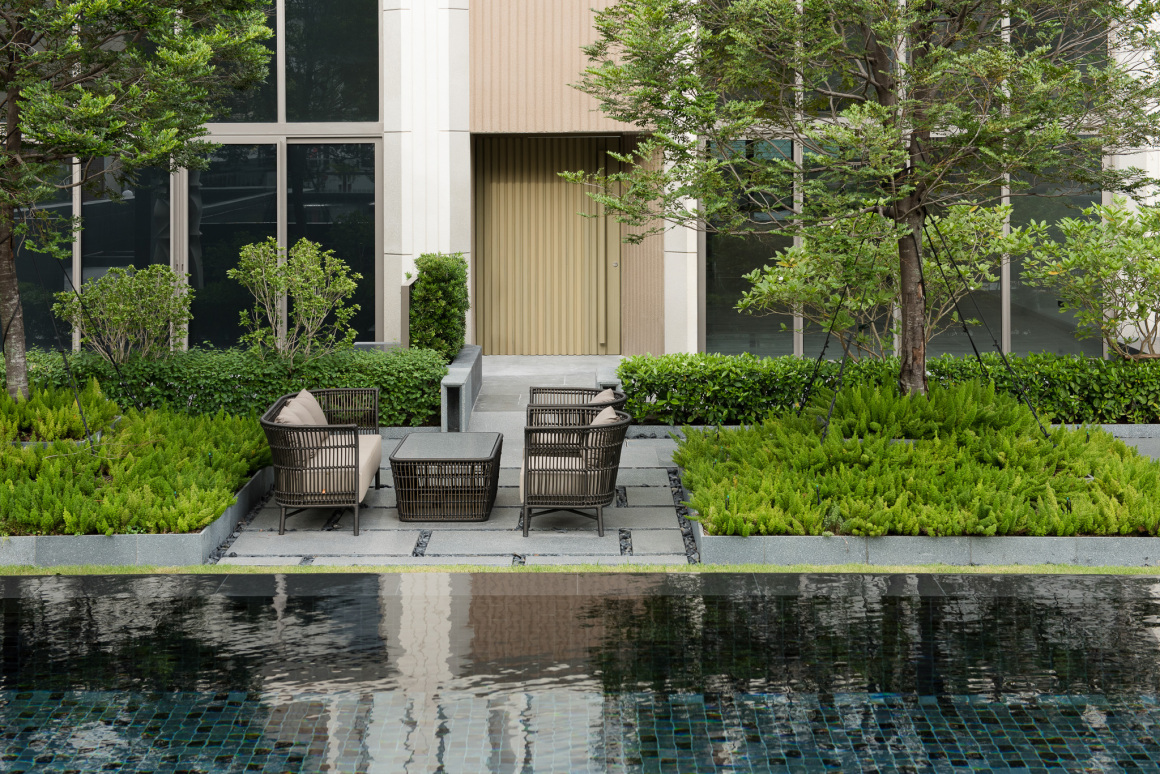 建筑外立面由夹层玻璃组成,并由梯形遮阳板翅片框起,从而提供遮阳效果并增加了私密性。内部功能决定了外立面的节奏,在这种情况下,隐私是最重要的,遮阳板的频率会逐渐增加。每个单元都设计有足够的车库,根据房型的不同,可容纳3-4辆汽车,适合中型城市家庭。三楼有一个私人内部庭院,用于自然通风和接收阳光,改善空间质量。
The façade is composed of laminated glass framed by trapezoidal shaped concrete fins that provides solar shading as well as added privacy. Internal functions dictate the façade rhythm, where privacy is preferred, the fins increase infrequency. Each unit is designed with an ample garage capable of parking 3-4 cars –depending on unit type –appropriate for a midsize urban family. There is a private internal court on the third floor for natural ventilation and lighting to improve spatial quality.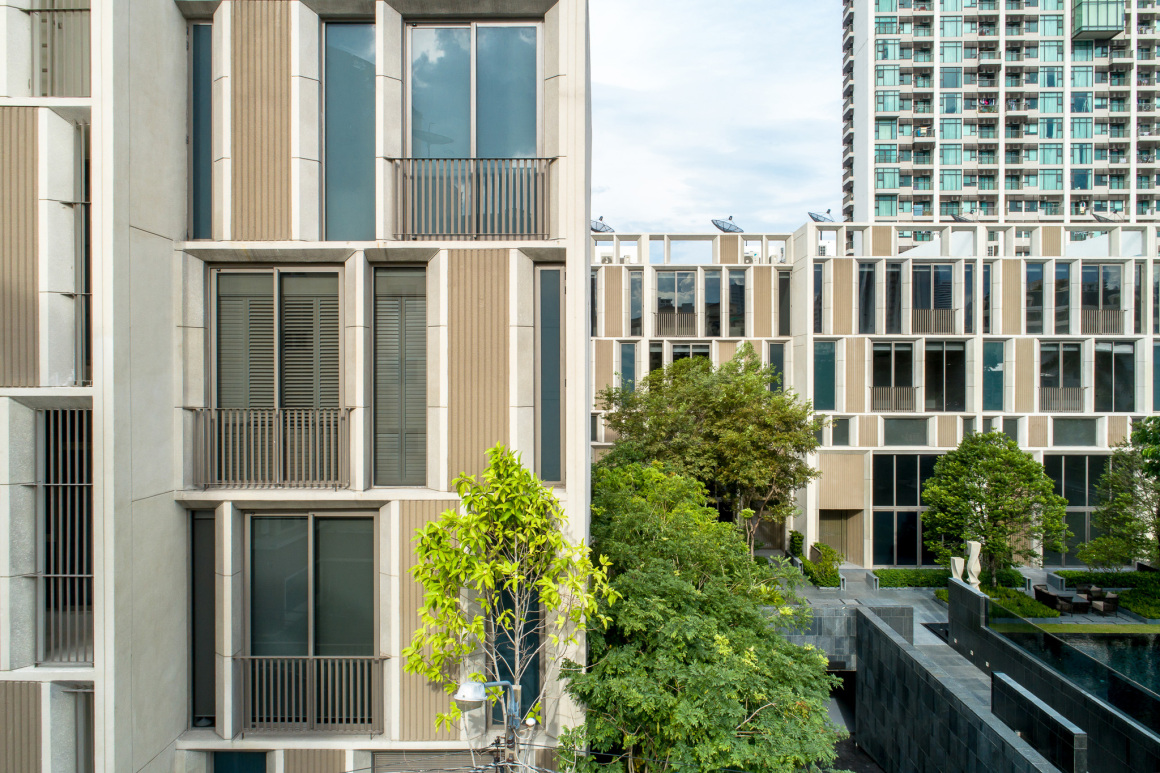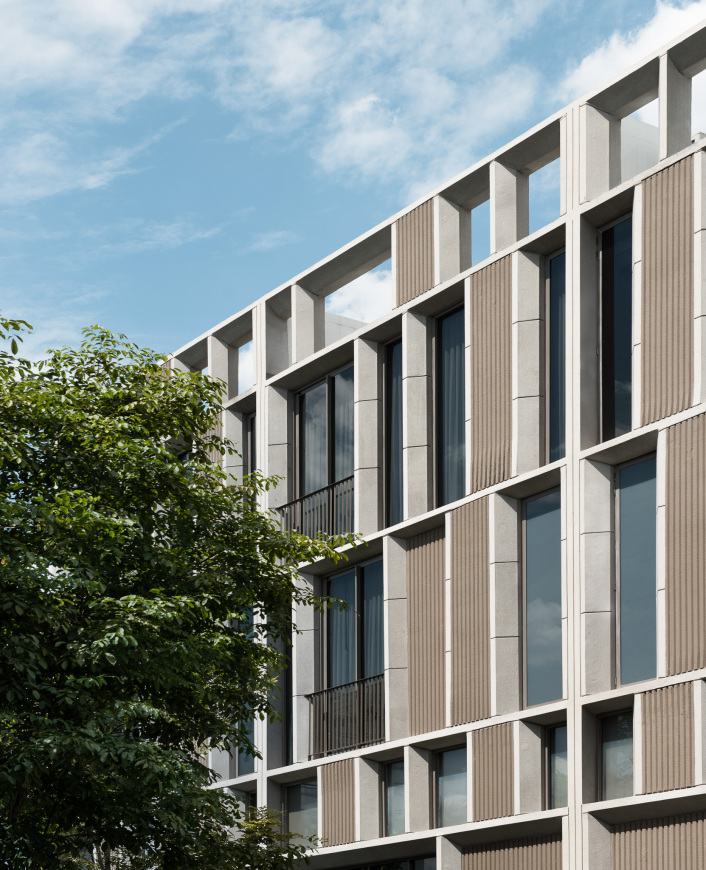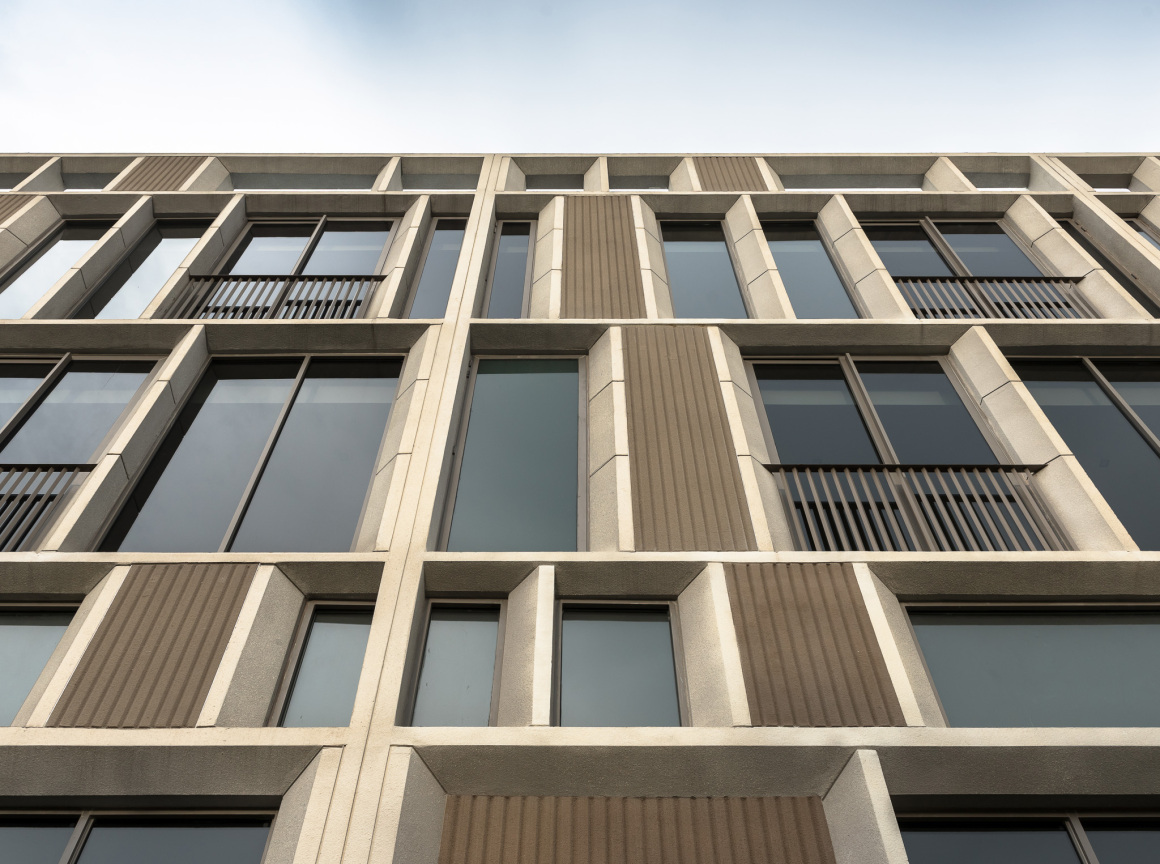 Quater39的设计考虑了其周围环境,法规,场地限制,并提供了务实的解决方案,将废弃的土地变成了城市中心的优质房屋。
Quarter 39 is a development that considered its context, site limitations, regulations, and delivered a pragmatic solution that turned an abandoned plot of land into quality homes at the very heart of the city.
▼住宅平面图 Master Plan
项目名称:QUARTER 39 公寓住宅
完成:2017年
面积:8510平方米
项目地点:泰国曼谷
设计公司:Creative Crews
公司网址:http://creative-crews.com/
联系邮箱:contact@creative-crews.com
景观设计:Shma Company Limited
客户:NYE Estate Co., Ltd.
照片:Panoramic Studio
摄影师网址:https://panoramicstudio.myportfolio.com/
Project name: Quarter 39
Completion Year: 2017
Area: 8,510 sqm
Project location: Bangkok, Thailand
Design Firm: Creative Crews
Website: http://creative-crews.com/
Contact e-mail: contact@creative-crews.com
Landscape designer: Shma Company Limited
Clients: NYE Estate Co., Ltd.
Photo credits: Panoramic Studio
Photographer's website: https://panoramicstudio.myportfolio.com/
更多 Read more about: Creative Crews