本文由 TERREMOTO 授权mooool发表,欢迎转发,禁止以mooool编辑版本转载。
Thanks TERREMOTO for authorizing the publication of the project on mooool. Text description provided by TERREMOTO.
TERREMOTO:随着夏天的临近,适合休闲的户外空间慢慢开始对人们有了特别的吸引力,尤其这座位于旧金山教会区(mission-district)、改造后降低了维护成本的住宅后院。该项目由景观公司Terremoto和建筑公司YAMAMAR合作设计,原来的后院被划分成了各种不同的活动区域,同时满足了用户的用餐、与朋友一起放松休闲或坐在阳光下阅读的改造需求。
TERREMOTO: With summer just around the corner, lounge-worthy outdoor spaces are beginning to hold a special appeal. And the backyard of this renovated mission-district home in San Francisco is a low-maintenance stunner. Designed by landscape firm Terremoto and renovation architects YAMAMAR, the backyard is separated into distinct areas for dining, chilling with friends, or sitting in a sunny spot with a book.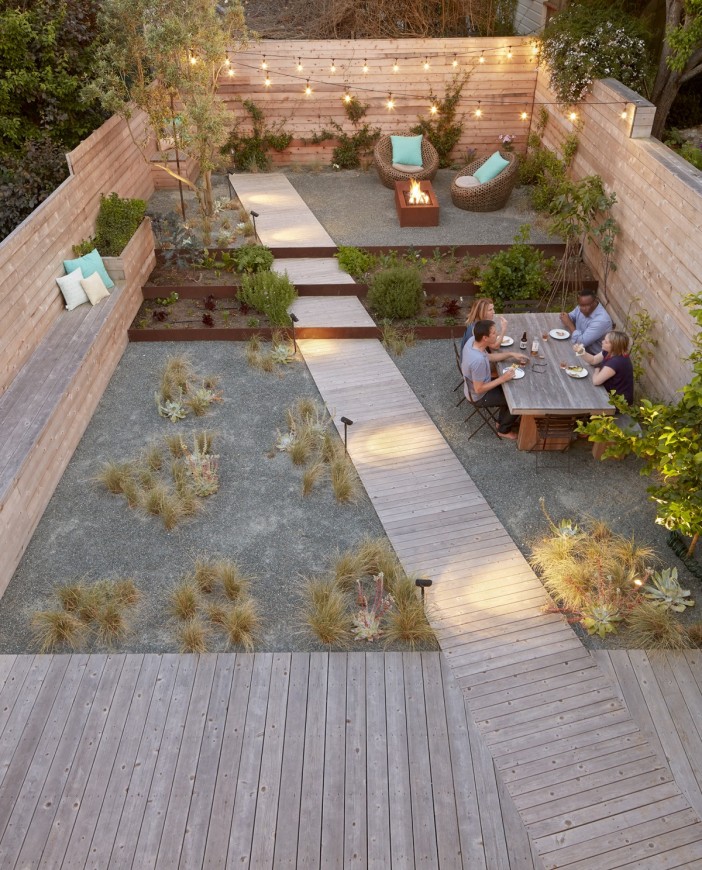 虽然院子地面铺装主要是砾石,但整个空间却被精心布局的草坪和周边繁茂的植被巧妙地软化了。水平的木围墙既为人们创造了隐私,又在视觉上暖化了空间。围墙上的嵌壁式长凳几乎占了围墙边长的一半,直接连接着厨房不远处的休闲平台。
The primary ground covering is gravel, but the space is softened with artfully placed grasses and lush pantings along the perimeter. The horizontal wood fence provides privacy while also visually warming the space. A built-in bench runs nearly the entire length of one side, ending at a deck just off the kitchen.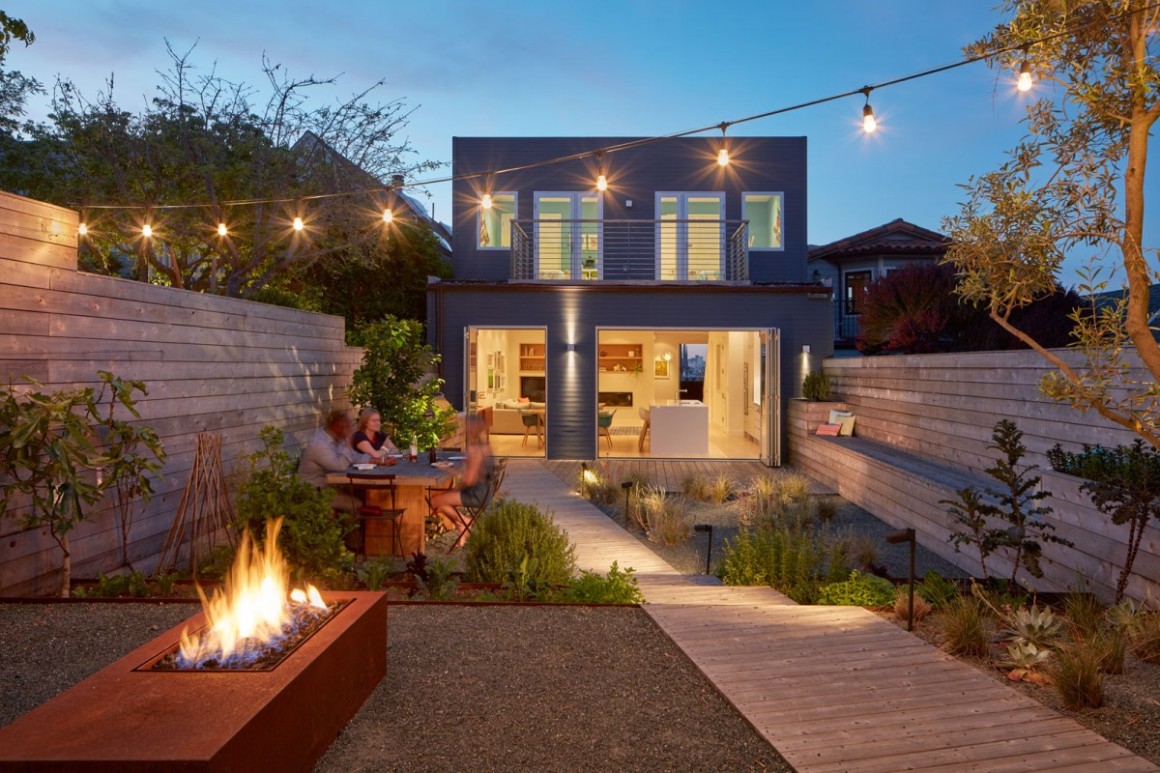 由于这个住宅后院和这座城市的大多数后院一样,是一个细长的长方形空间,故新装修的厨房将无缝地延伸至后院空间,与此同时,我们也可以使用"室内外体验"这个词作为解释,但我们已经听够了这种设计说法,所以我们不会这么做。
因此我们提出了最大限度地利用紧邻房屋的围护结构建一个后院的想法。院子里的休闲平台紧靠着围墙,创建了一个大受欢迎的娱乐空间,与围墙与长凳互接互融,而当我们走出住宅时,平台又变成了一片草地,一条木板路呈对角线贯穿后院,成全了我们与众不同的设计!
This San Francisco backyard, like most in the city, is a slender rectangle. The newly renovated kitchen will open up seamlessly onto the backyard, we could use the words "indoor/outdoor experience," but we're exhausted of hearing that phrase, so we won't.
We propose a backyard that maximizes the immediate flat envelope adjacent to the house. The deck abuts the façade and creates a welcoming civilized surface and area for entertaining. The deck becomes a fence becomes a bench. As we move away from the house the deck devolves into a meadow, and a diagonal boardwalk slices through to the back of the property which has a different program (smores!).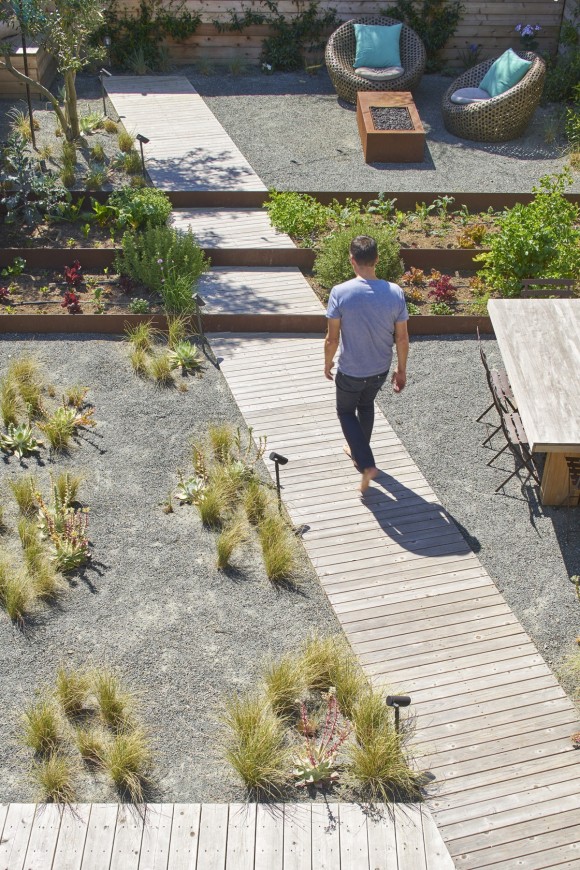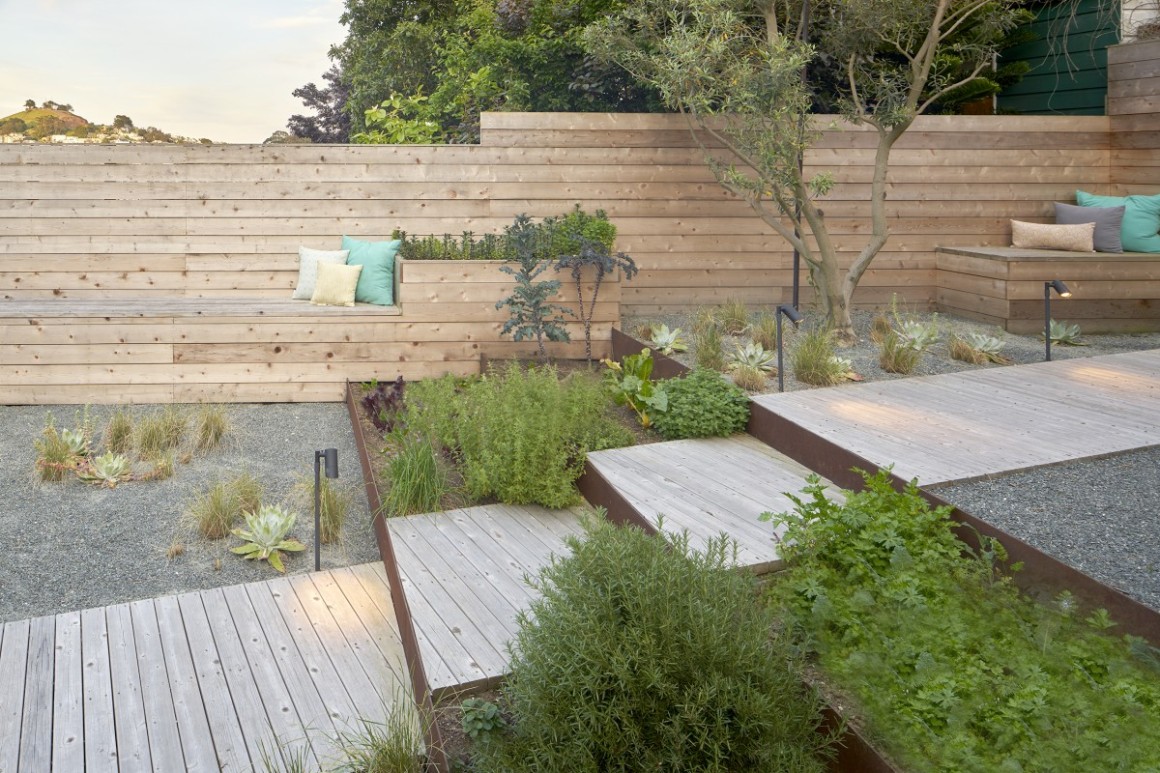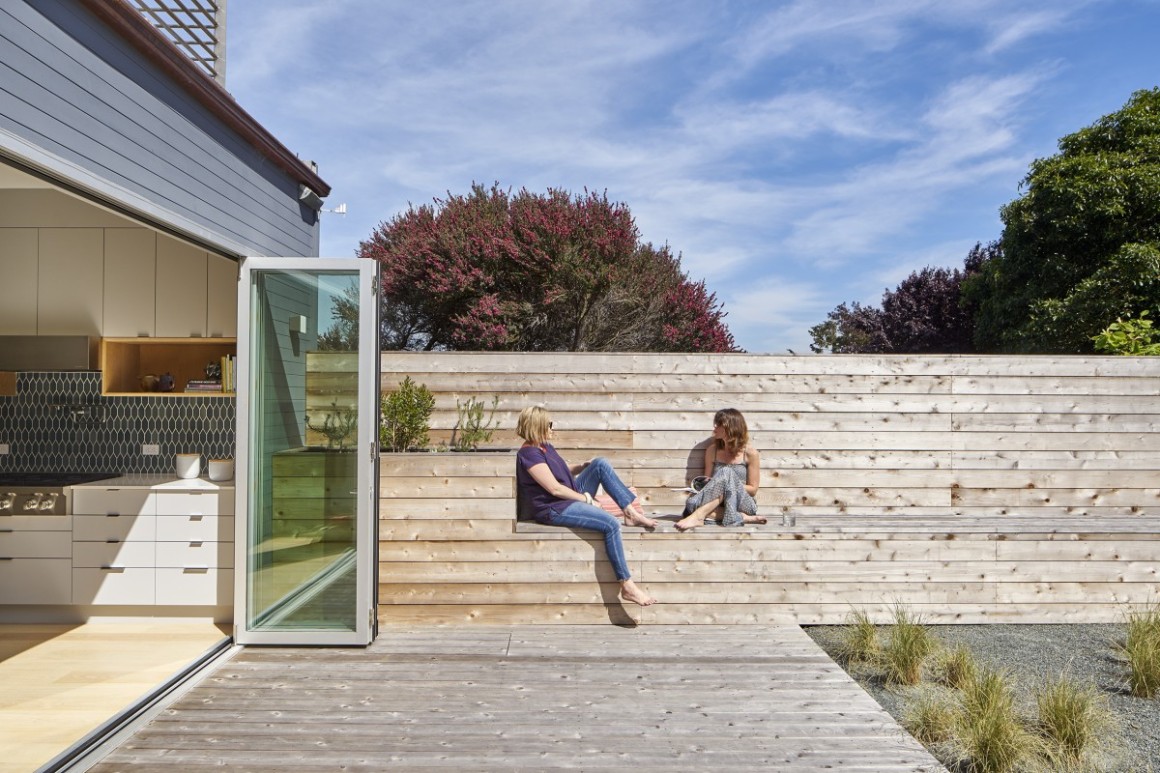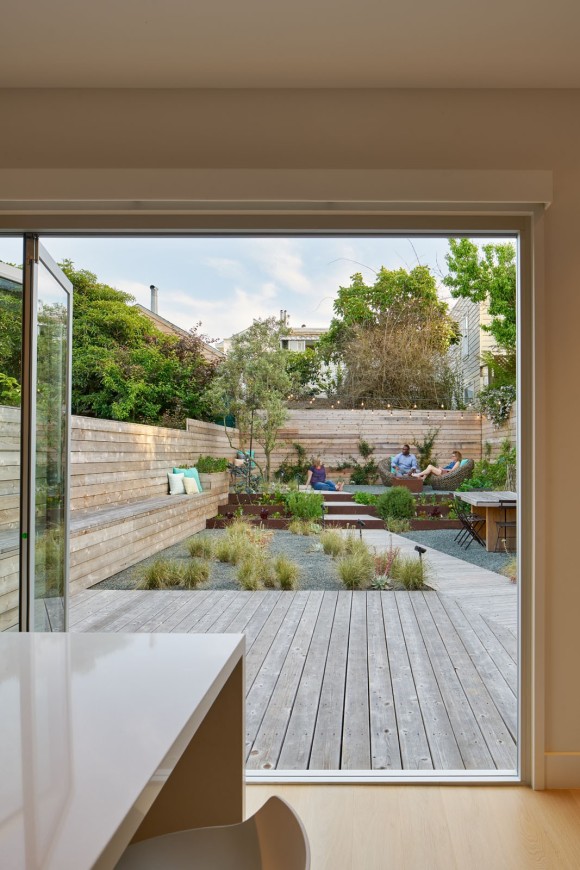 我们坚持使用最少的材料语言:清朗的雪松、耐候钢,再加上蓝灰色的分解花岗岩。辅以简单的曲线式草地种植,点缀上几棵保留下来的白色杜德利让草地(纹理)更具现代感。我们放置在庭院中的自然原木,在旧金山凉爽多雾的气候中逐渐变成了银灰色,而该景观是否会继续发展成一个优雅又纯净的铜绿,将由周围的微气候决定,已不是现在的我们能改变的了。
We keep the material language minimal: clear cedar, corten + blue-grey decomposed granite. A simple, fluid meadow planting, we add sparing chalky-white Dudleyas to make the meadow (a texture) pop. We leave the wood unstained; the cool, foggy climate of San Francisco has already begun to turn it silver. The landscape will develop an elegant, increasingly monochromatic patina dictated by the neighborhood micro-climate. It's out of our hands now.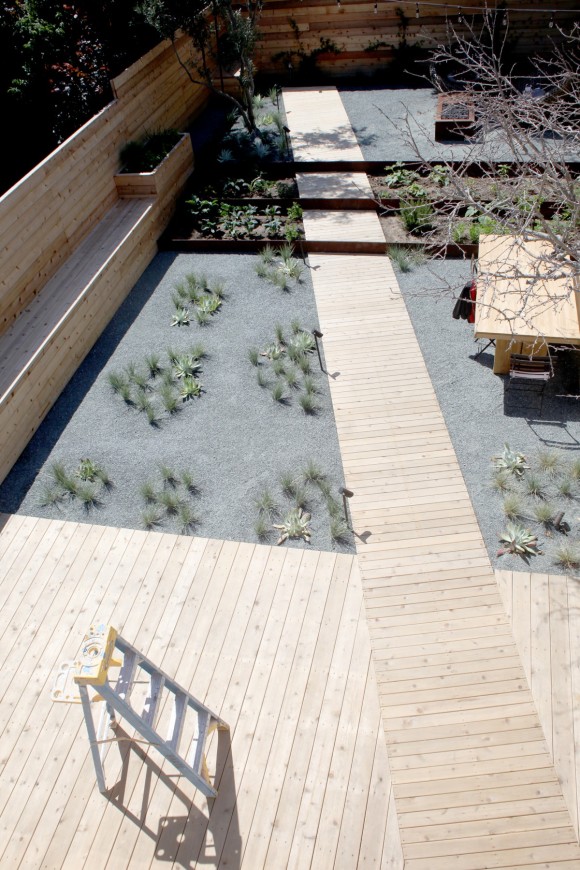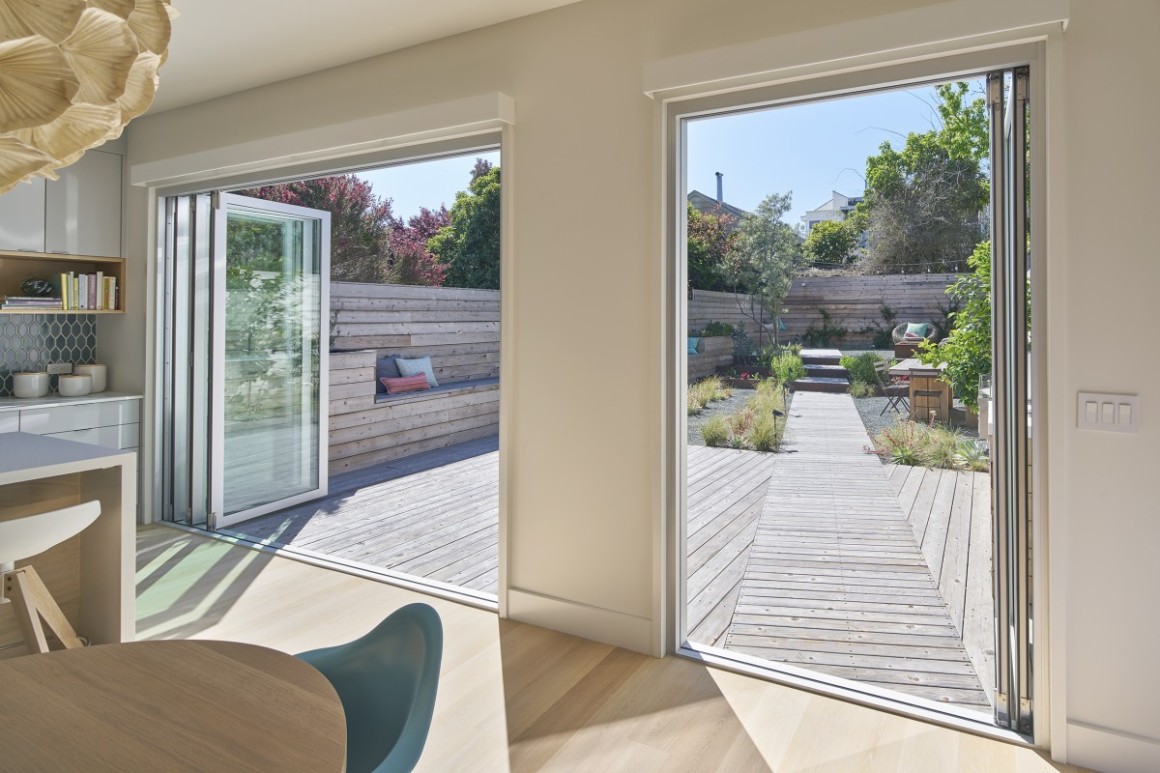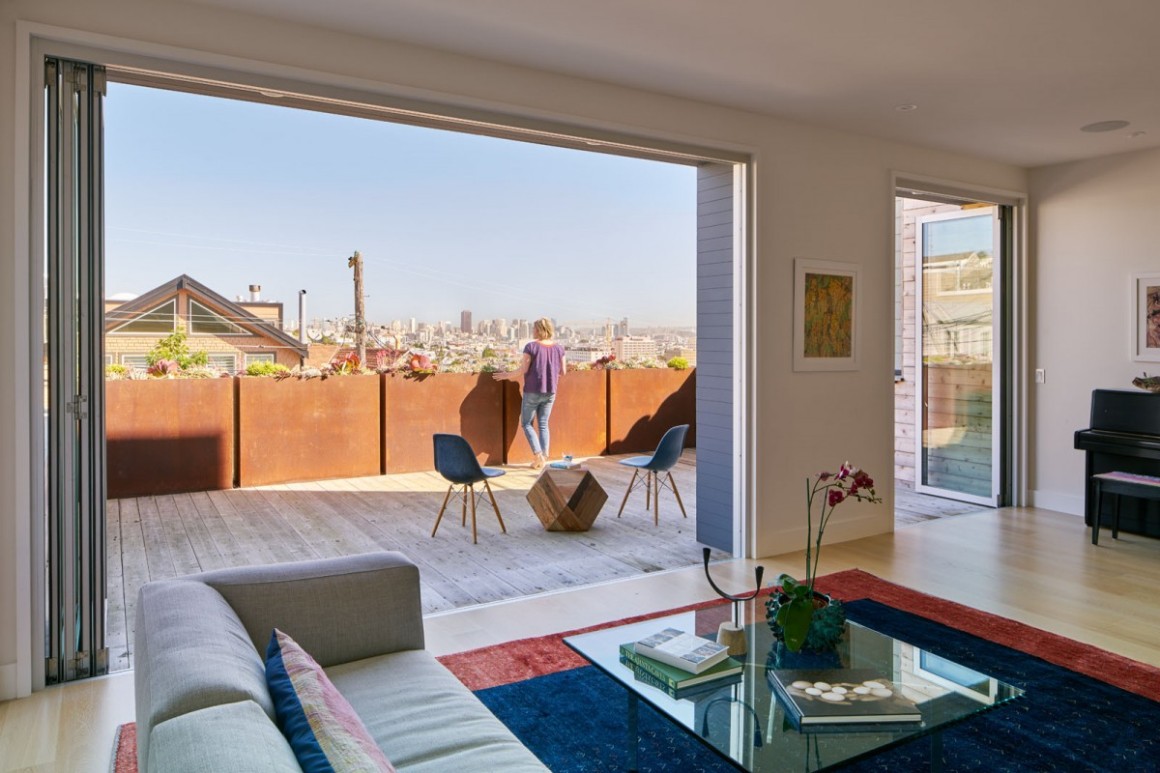 ▼施工过程 Process
Terremoto团队:Alain Peauroi + David Godshall (Alain主创)
建筑设计:YamaMar Design (David、Karen)
景观施工:McCutcheon Construction
照片:Bruce Damonte
特别鸣谢:Nadia、Maneesh
Terremoto Team: Alain Peauroi + David Godshall (mostly Alain)
Architecture by YamaMar Design, thank you David and Karen
Landscape Construction by McCutcheon Construction
Photos mostly by Bruce Damonte
Thank you Nadia and Maneesh
更多read more about:  TERREMOTO