本文由 Ontwerpbureau Pauwels BVBA 授权mooool发表,欢迎转发,禁止以mooool编辑版本转载。
Thanks Ontwerpbureau Pauwels BVBA for authorizing the publication of the project on mooool, Text description provided by Ontwerpbureau Pauwels BVBA.
Ontwerpbureau Pauwels:  在鲁汶大学(KULeuven)建筑物改造过程中,Vunt河上的部分覆盖层坍塌了。在那之前,Vunt是一条隐藏在花园和建筑物下的河流。Ontwerpureau-Pauwels受邀检查可能恢复的受损部分,并为位于河流上方的树木层提供栽种修复的解决方案。事实上,树木的根是导致坍塌的根源:树根不断向下寻找水源,导致覆盖层的混凝土开裂,最终在数年后完全坍塌。景观设计师们并没有修复坍塌的覆盖物,而是提出了一个彻底的改造方案:设计一个与水有关的体验景观,将河流很好的展示出来。鲁汶大学和河流管理者听到这个设计方案时,都非常赞同。
Ontwerpbureau Pauwels:  During the converting of a number of buildings owned by the University of Louvain (KULeuven), part of the covering of the river Vunt collapsed. Until then, the Vunt was a hidden river flowing under the garden and the buildings.Ontwerpbureau Pauwels was called upon to examine the possible restoration of the damage and a solution for the trees standing right above the covered river. In fact, their roots were at the origin of the problem : searching for water, they caused the concrete of the covering to crack and, eventually, after years to completely collapse. Rather than restoring the collapsed covering, the landscape architects proposed a thorough transformation: "unveil" the hidden water and go for a concept with a strong water related experience. KULeuven, the owners of the terrain and VMM, the administrator of the river, were excited and fully supported this approach.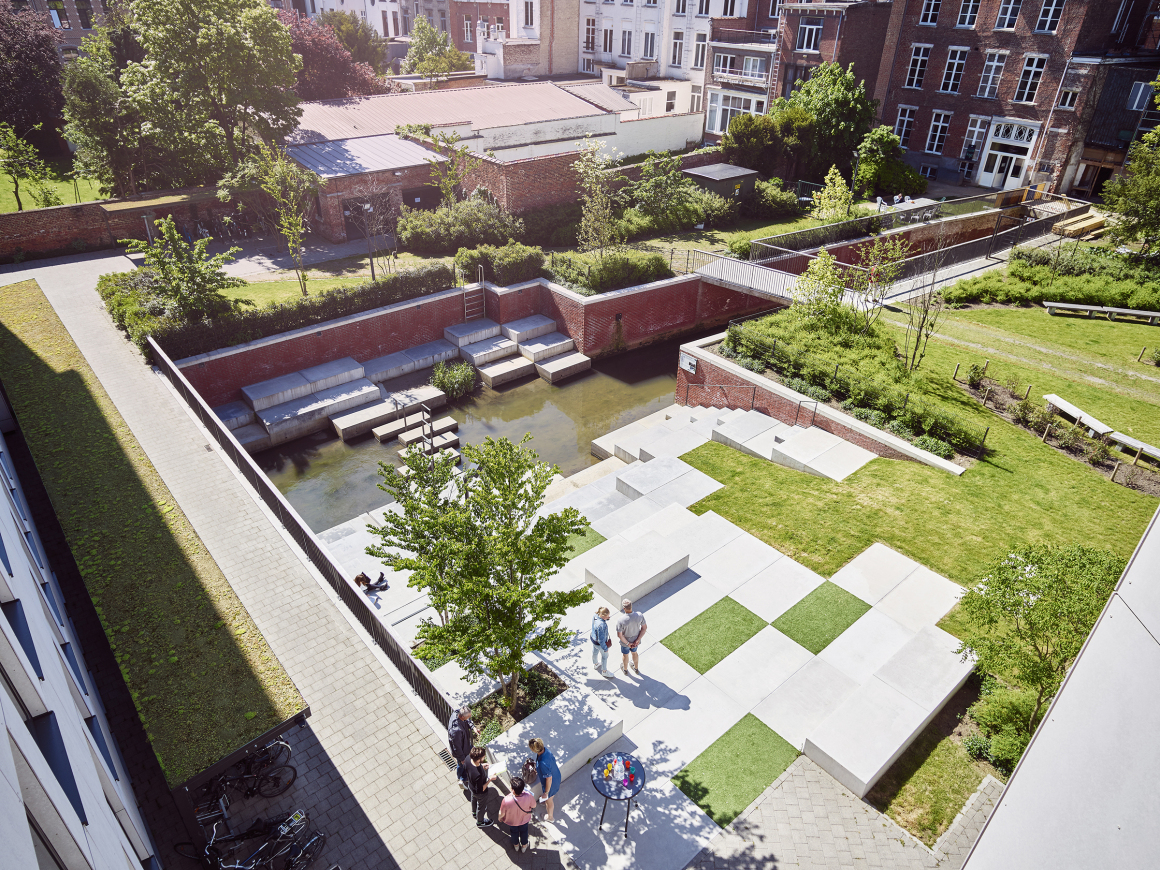 将整个河床打开后用红砖砌墙加固。在这整个花园中,能看到"曲折有致"的码头墙,以及由预制混凝板做成的错层下降的平台形成的河床空间。平台与平台间会形成一个凹空间,吸引了一众学生来这放松、晒阳光浴。
The riverbed was opened up over the entire length of the terrain and finished with masonry walls. In the garden area, the quay walls "fold open" and the riverbed is formed by playful positioned, descending terrace plateaus in prefab concrete slabs. As a result, the students can enjoy an attractive, sun-oriented, recessed relaxation area along the water.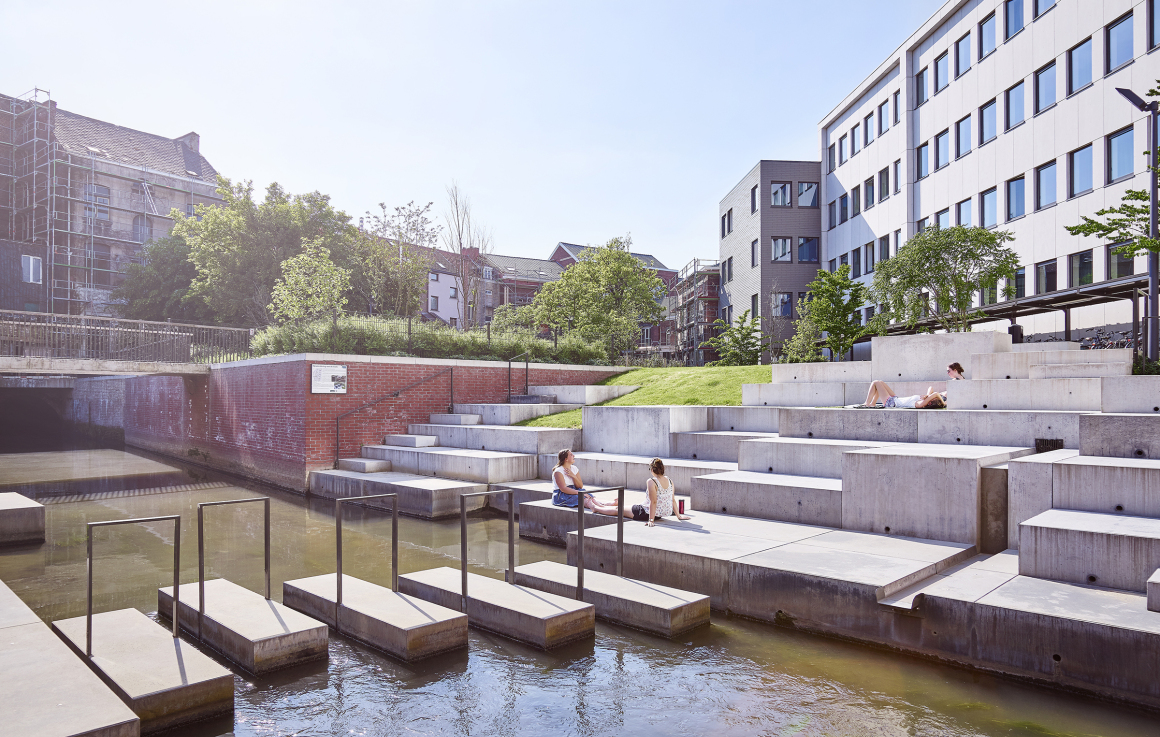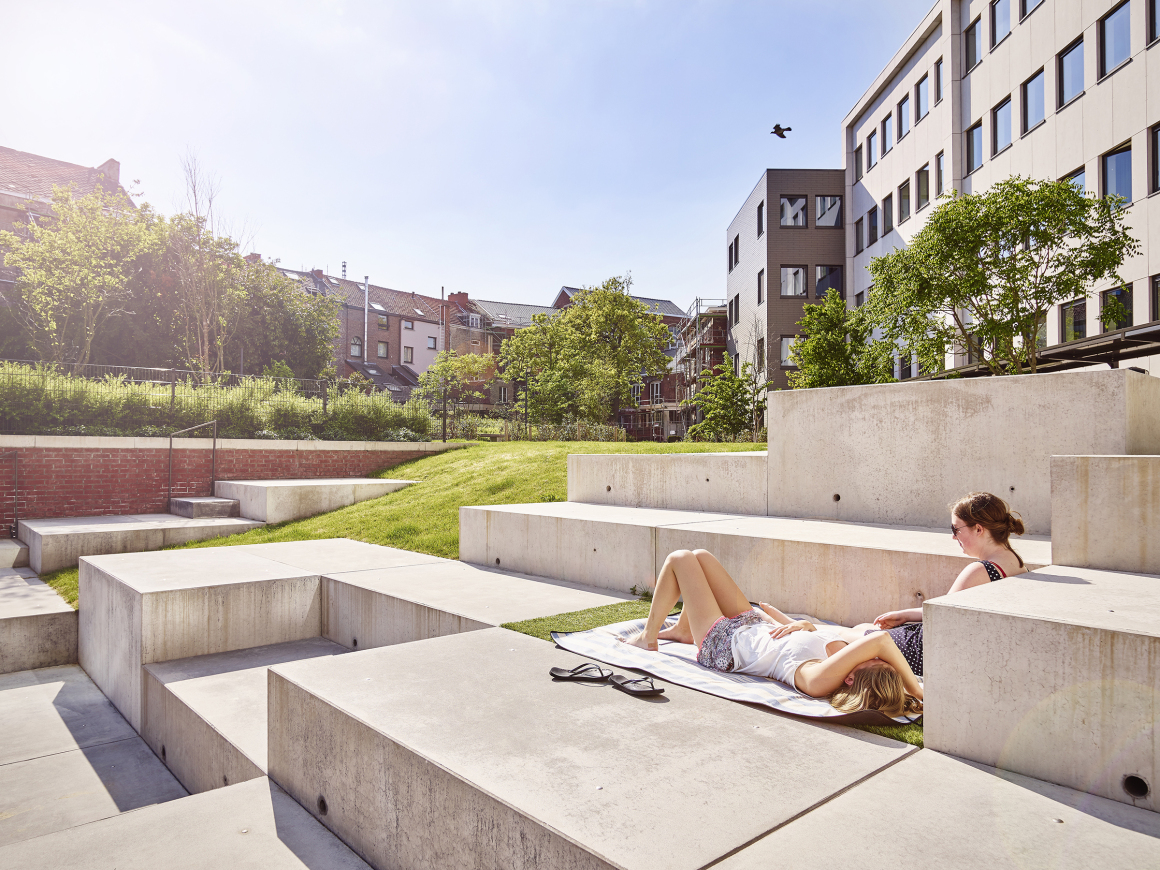 ▼平台细节detail of concrete slabs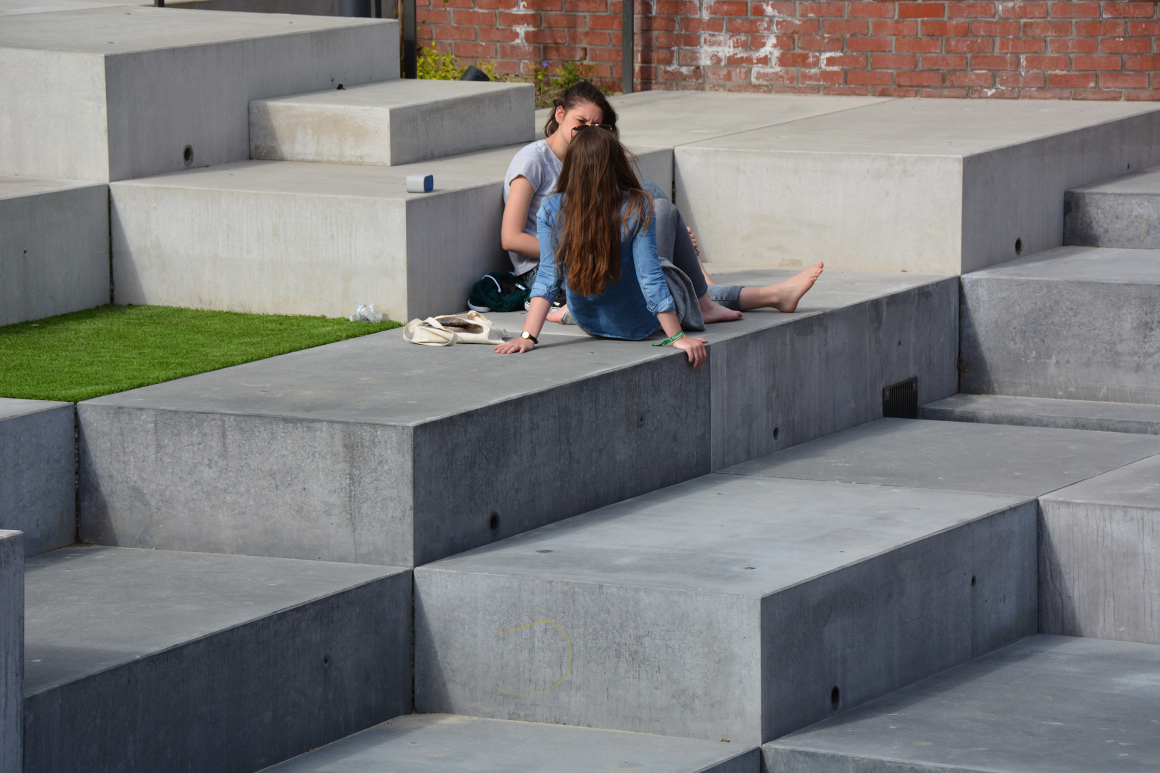 踩着水中的踏脚石能轻易的到达河流对岸。其中,混凝板平台的颜色设置在踏步下降时逐渐变暗,座位区三面由码头墙围起来。
Stepping stones offer the opportunity to cross the river "through" the water. The colour of the concrete slabs gradually darkens in the descend. The seating area is bordered on three sides by quay walls.
▼踏脚石细节detail of Stepping stones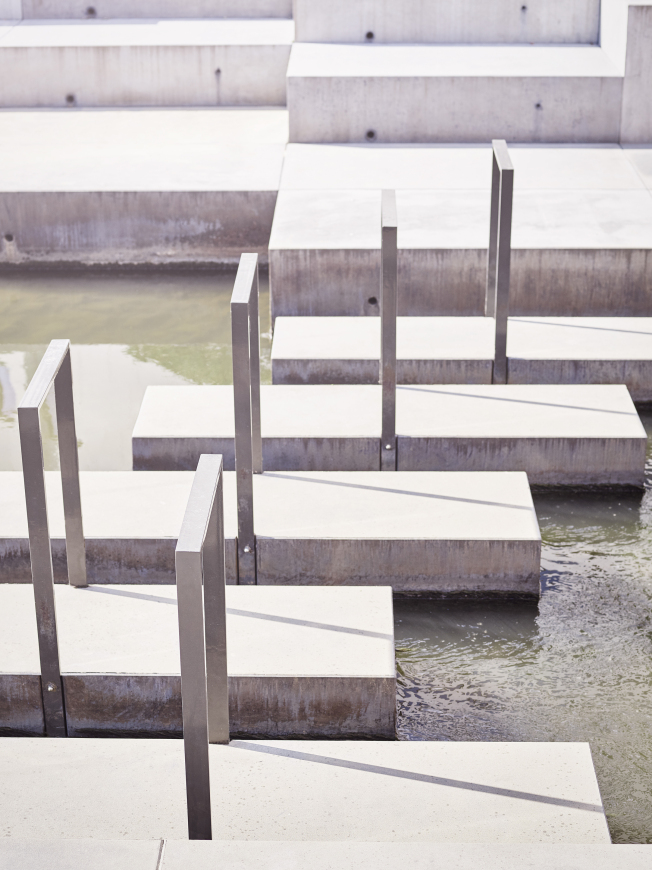 紧靠建筑物有一座带扶手的混凝土桥,骑自行车的人可由此穿过Vunt河流,进入三个有植物覆盖能停自行车的看台,这些散落在花园中的看台由水泥人行道/自行车道相互连接。
A concrete bridge with handrail, situated against the building, crosses the Vunt and leads cyclists to three covered bike stands with vegetative roofs, scattered over the garden and connected with each other by pedestrian/bicycle paths in concrete stone.
▼带扶手的混凝土桥A concrete bridge with handrail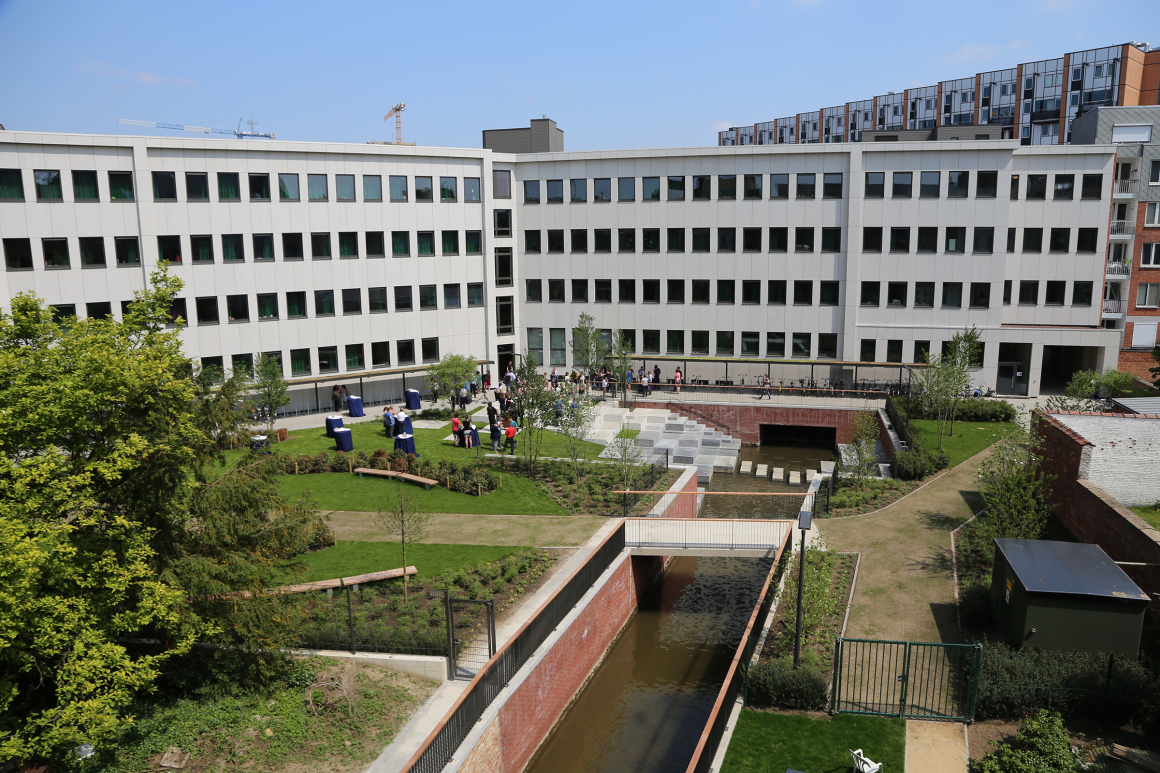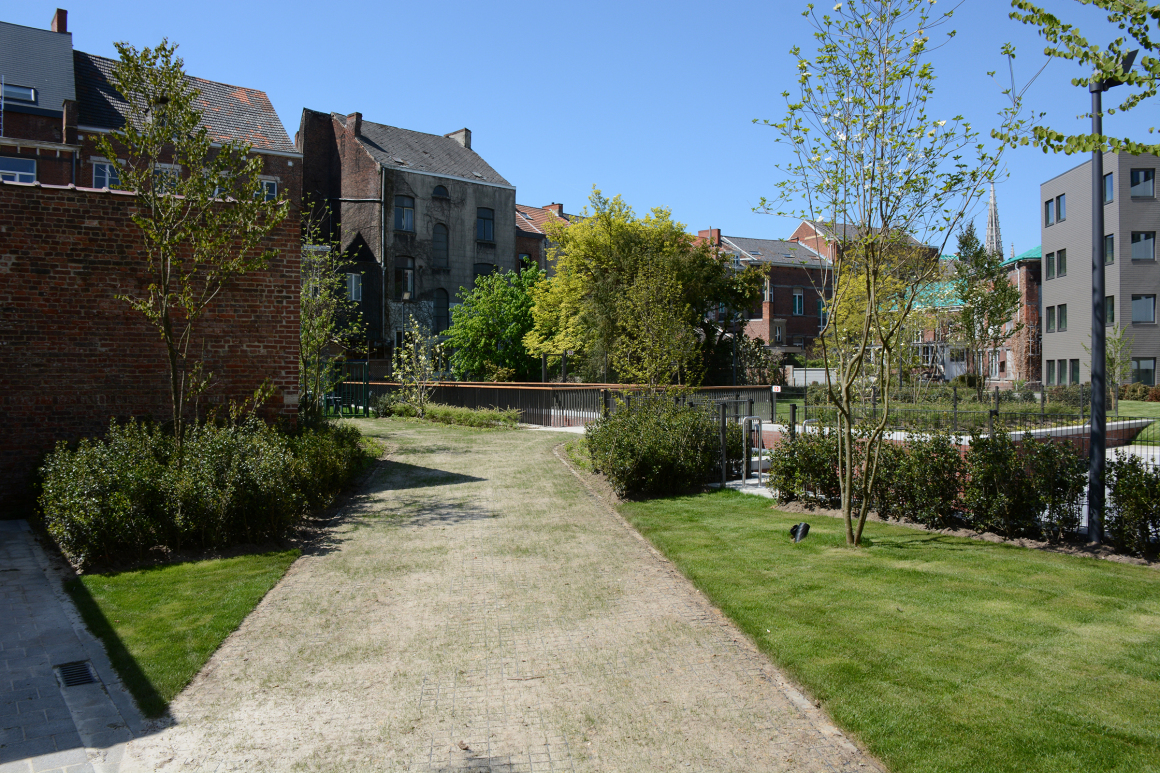 在这个开放式花园中,有各种各样的多茎树、多彩树和不同花期的植物。码头墙上也爬满了植物。草坡上的浅洼还可作为雨水的贮水和入渗场地。
The garden is conceived as an open courtyard with a variety of -predominantly multi-stemmed- trees, with different leaf colour and flowering times. Hanging plants adorn the quay walls. Shallow wadis in the grassy plateaus serve as water storage and infiltration on site of the rainwater.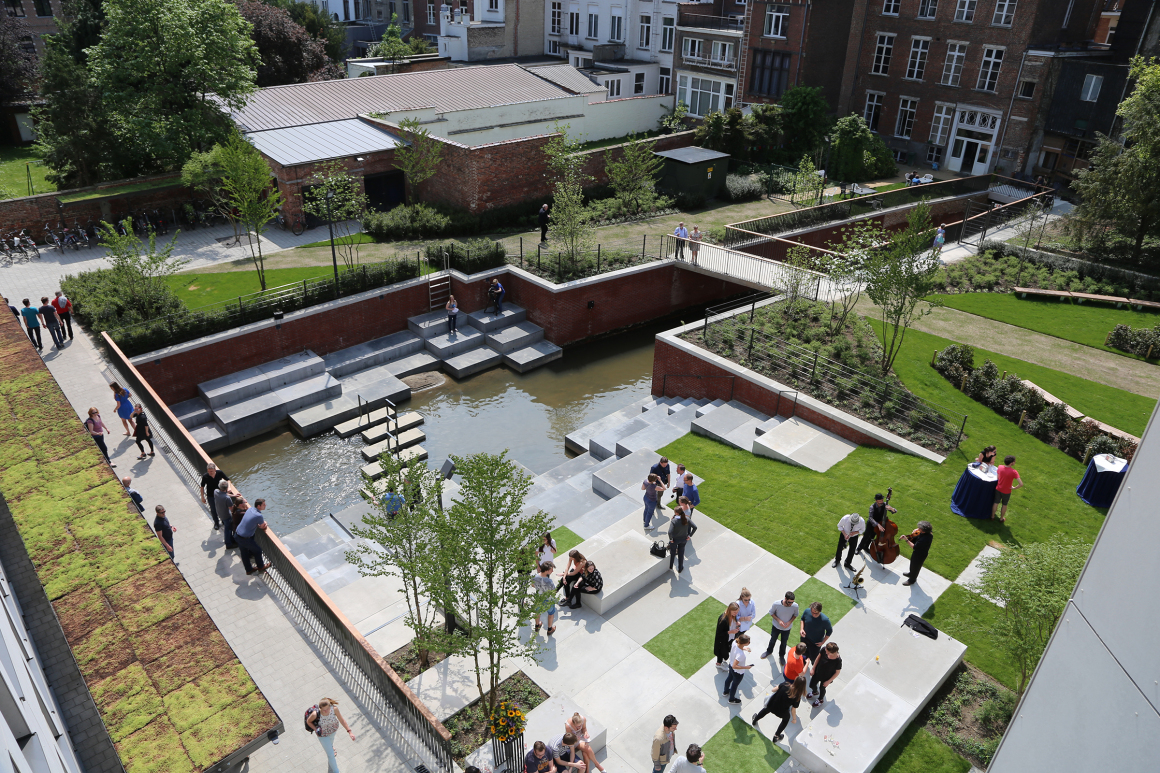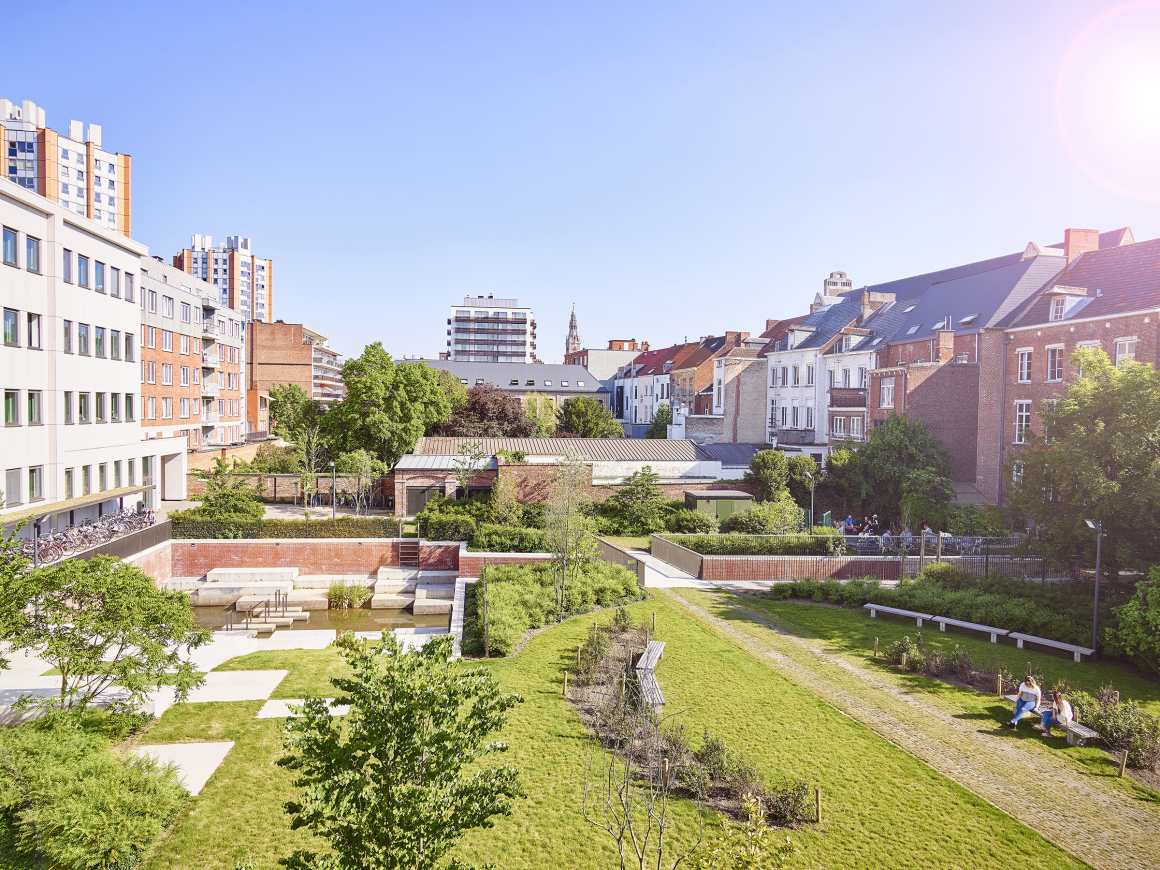 ▼平面图plan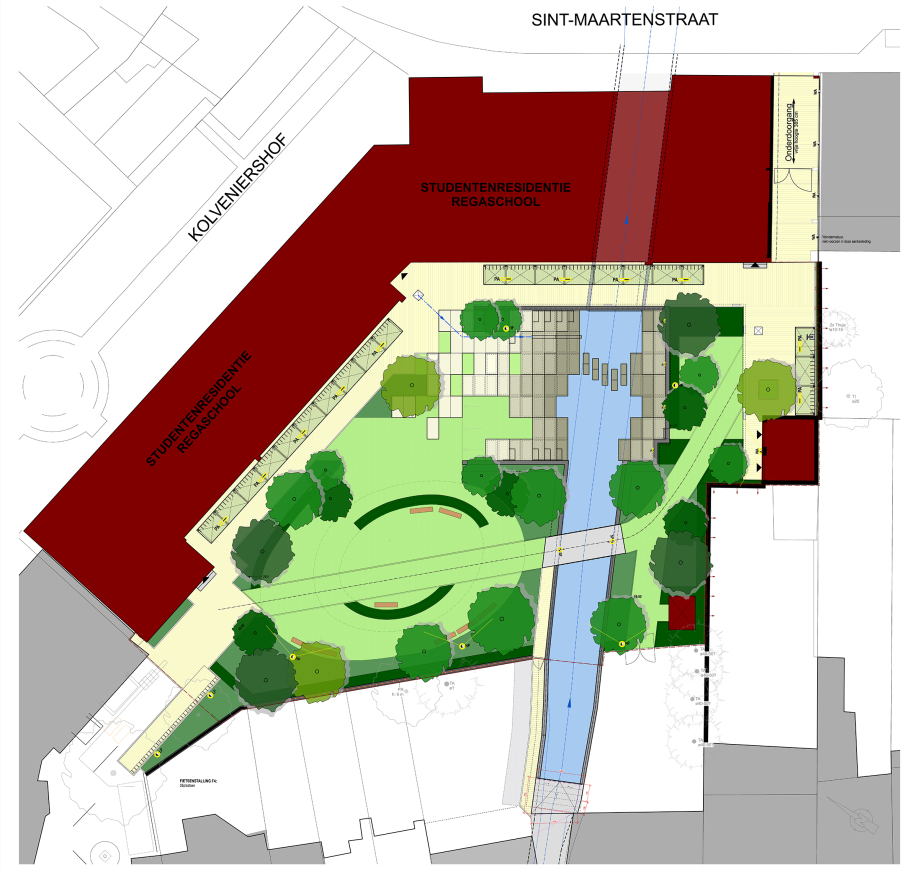 ▼模型model
公司名简称:Ontwerpbureau Pauwels
公司角色:景观设计师
公司官网:www.pauwelsontwerp.be
项目地点(街道、城市、国家):比利时,鲁汶圣马丁街55号,3000号
设计年份:2015年
建造年份:2016年
Short office name: Ontwerpbureau Pauwels
Role of your office in the project: Landscape architect
Website: www.pauwelsontwerp.be
Project location (Street, City, Country): Sint Maartenstraat 55, 3000 Leuven, Belgium
Design year: 2015
Year Built: 2016
更多read more about:  Ontwerpbureau Pauwels BVBA