本文由 Spacegroup 授权mooool发表,欢迎转发,禁止以mooool编辑版本转载。
Thanks Spacegroup for authorizing the publication of the project on mooool, Text description provided by Spacegroup.
Spacegroup:一场街头大战结束,硬性的基础设施经过软化处理从中央停车场变成了中央公园。
Spacegroup:A street battle is over. Hard infrastructure turned soft – from central parking to central park.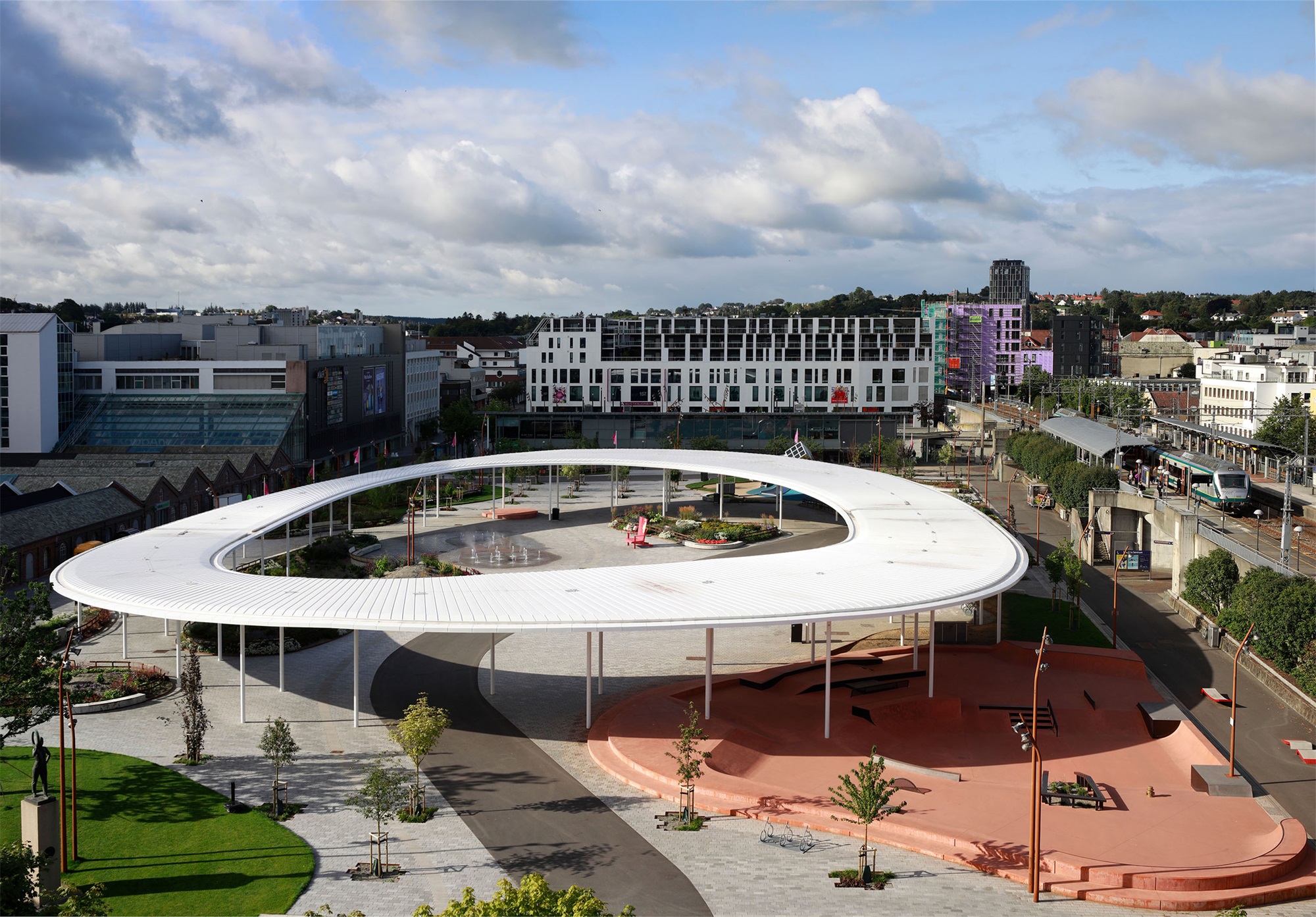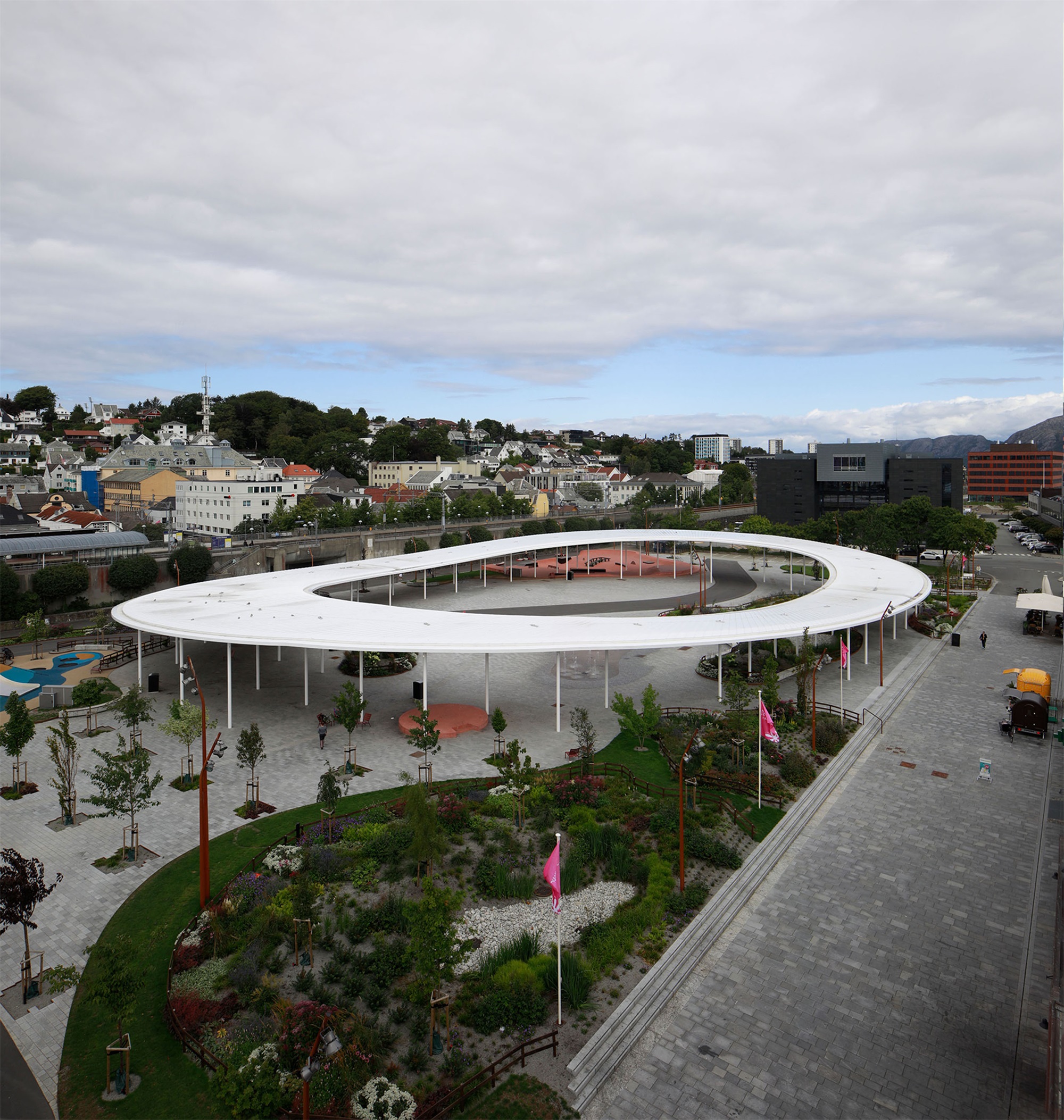 Ruten公园位于以汽车产业为主的石油城市桑内斯,夹在高架铁轨和大型购物中心之间。旧的停车场占据了城市中央一块宽敞的开放空间,但仅供车辆停放。Ruten一直是城市发展中的一个缓冲地带,有着巨大的发展潜力,就像纽约中央公园在被曼哈顿包围之前就已建成。
Sandwiched between two contexts of the (car based) oil host city of Sandnes, Ruten park is framed by the elevated train tracks and a large shopping mall. The former parking lot provided a central and generous open space protected only by its capacity of cars. RUTEN has remained a buffer in the urban development in anticipation of something bigger – as the Central Park in New York was built before the Manhattan grid was condensed around it.
▼场地外围视角 External perspective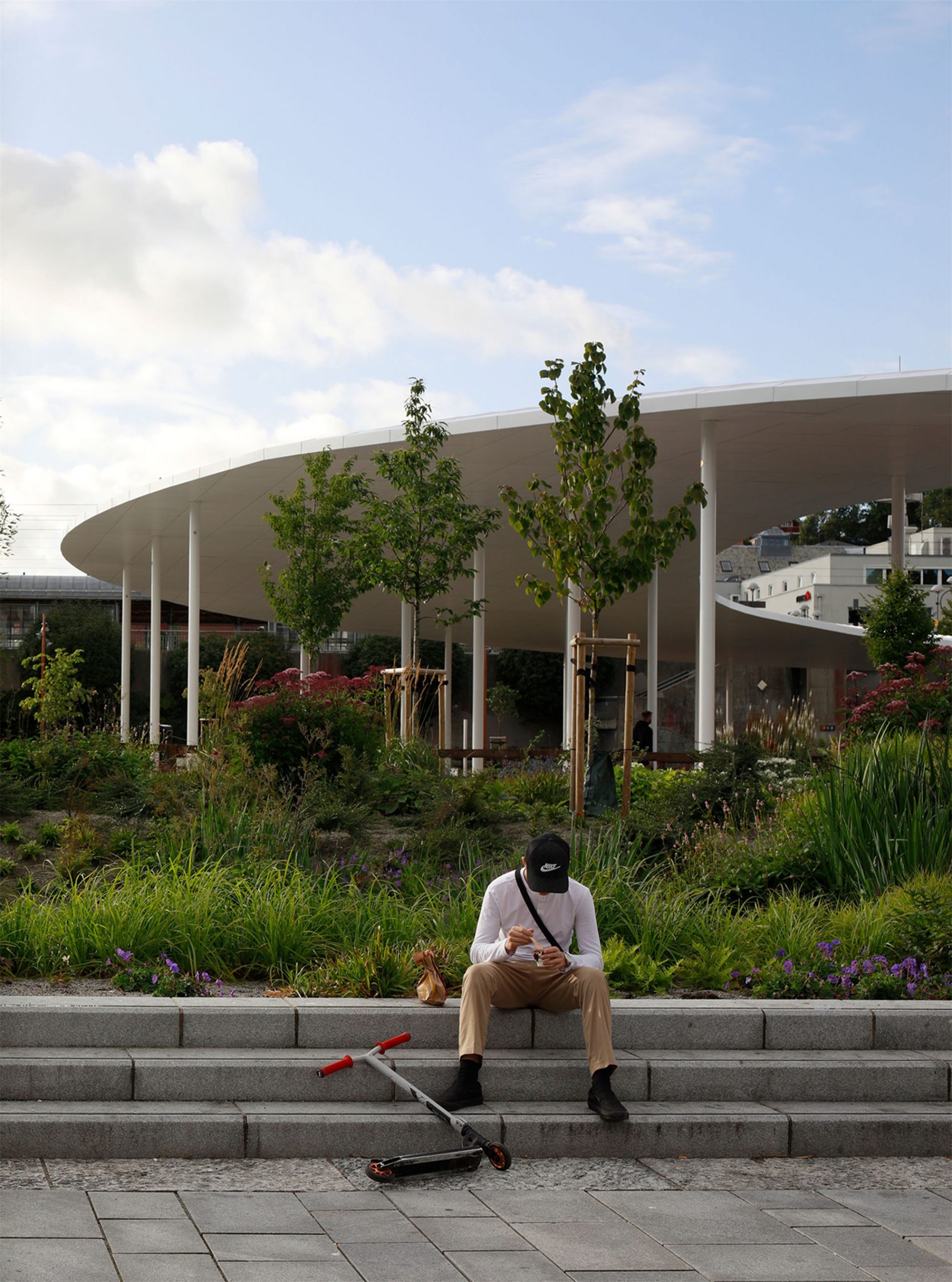 取消所有的停车场和交叉路口,这是自2012年该竞赛获胜以来的一次范式转变,也是建筑师历时9年经过大量研究、交涉、行动和大力推动完成的。
A paradigm shift since the competition win in 2012, removing all car parking and cross traffic – has been heavily pushed through by a 9-year process of locally implemented research, diplomacy, and activism by the architects.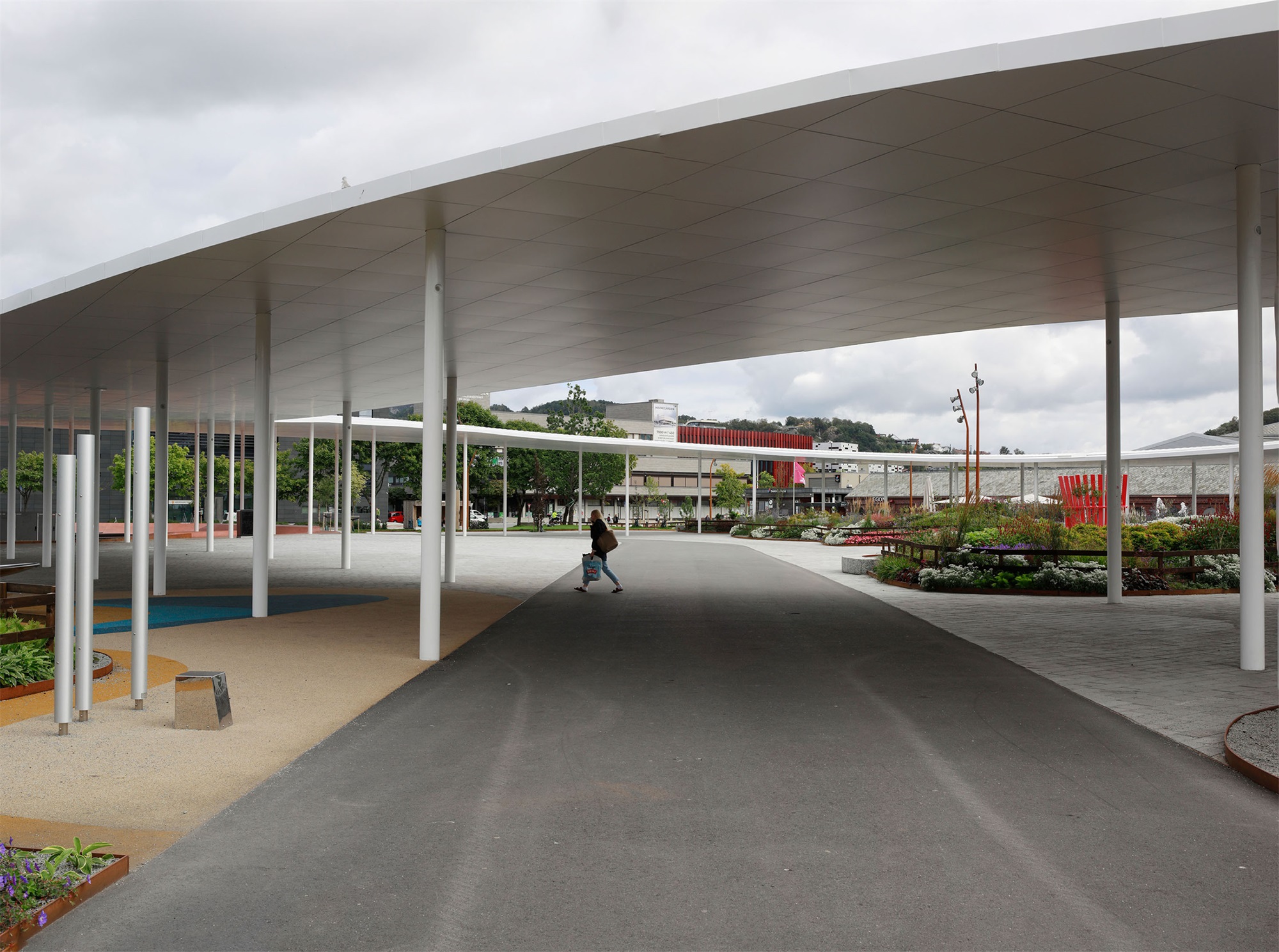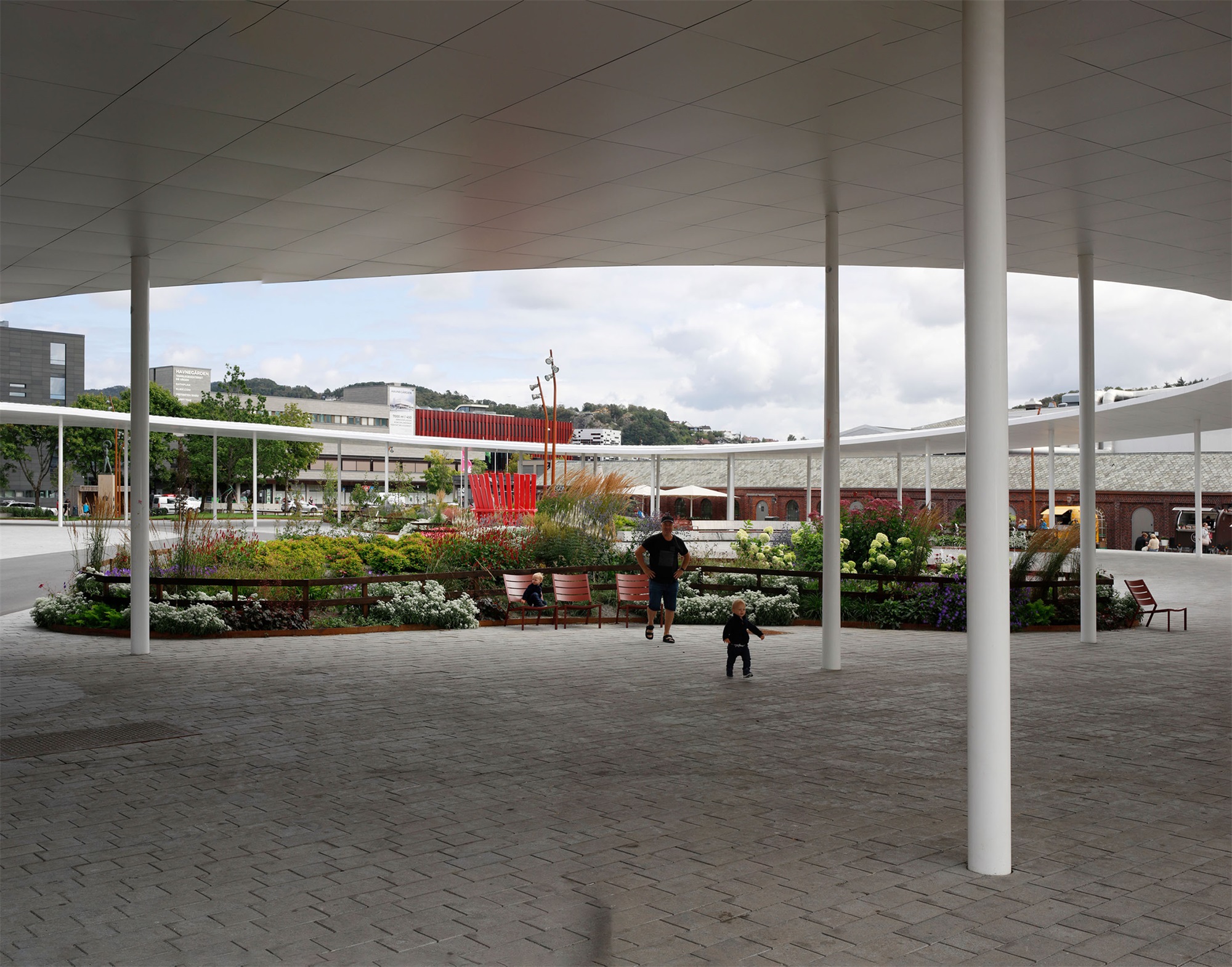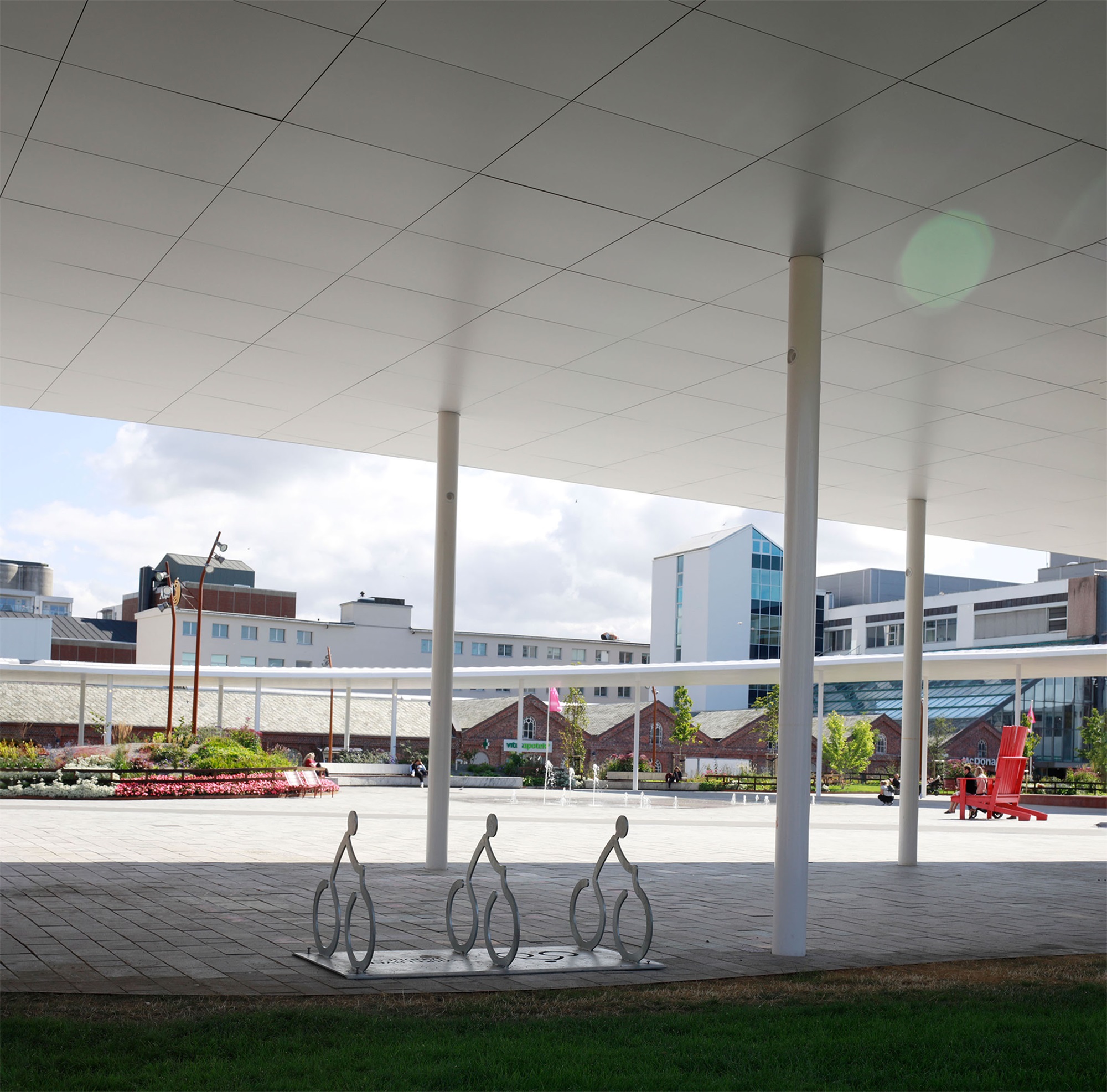 桑内斯的历史中心仍然保持着一个小规模的城市肌理,而滨水新区却有一个明显不同的尺度——按比例扩大到了现场老旧的后工业结构中。通过叠加这两个相邻的环境,新的Ruten公园适应了两者的存在,参照邻近的历史城市,一个6×6米的树、立柱和灯柱组成的格栅延伸到场地中。
Sandnes' historic center remains a small-scaled urban fabric. The new district by the waterfront has a distinctly different dimension – scaled up to the old post-industrial structures on site. By overlapping the two adjacent contexts, the new RUTEN is adapted to both. Referencing the adjacent historic city, a 6x6meter grid of trees, columns and lampposts is extended onto the site.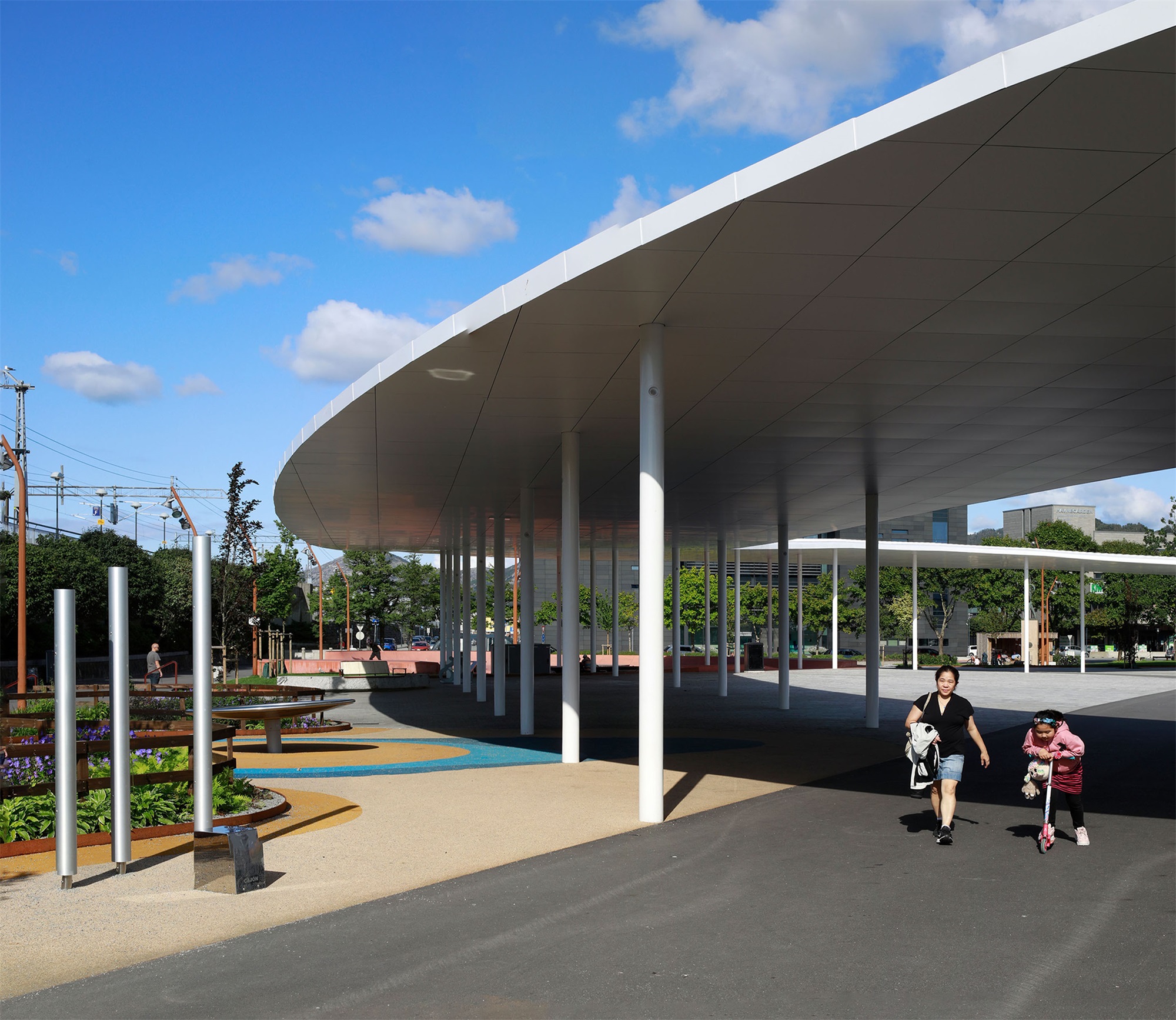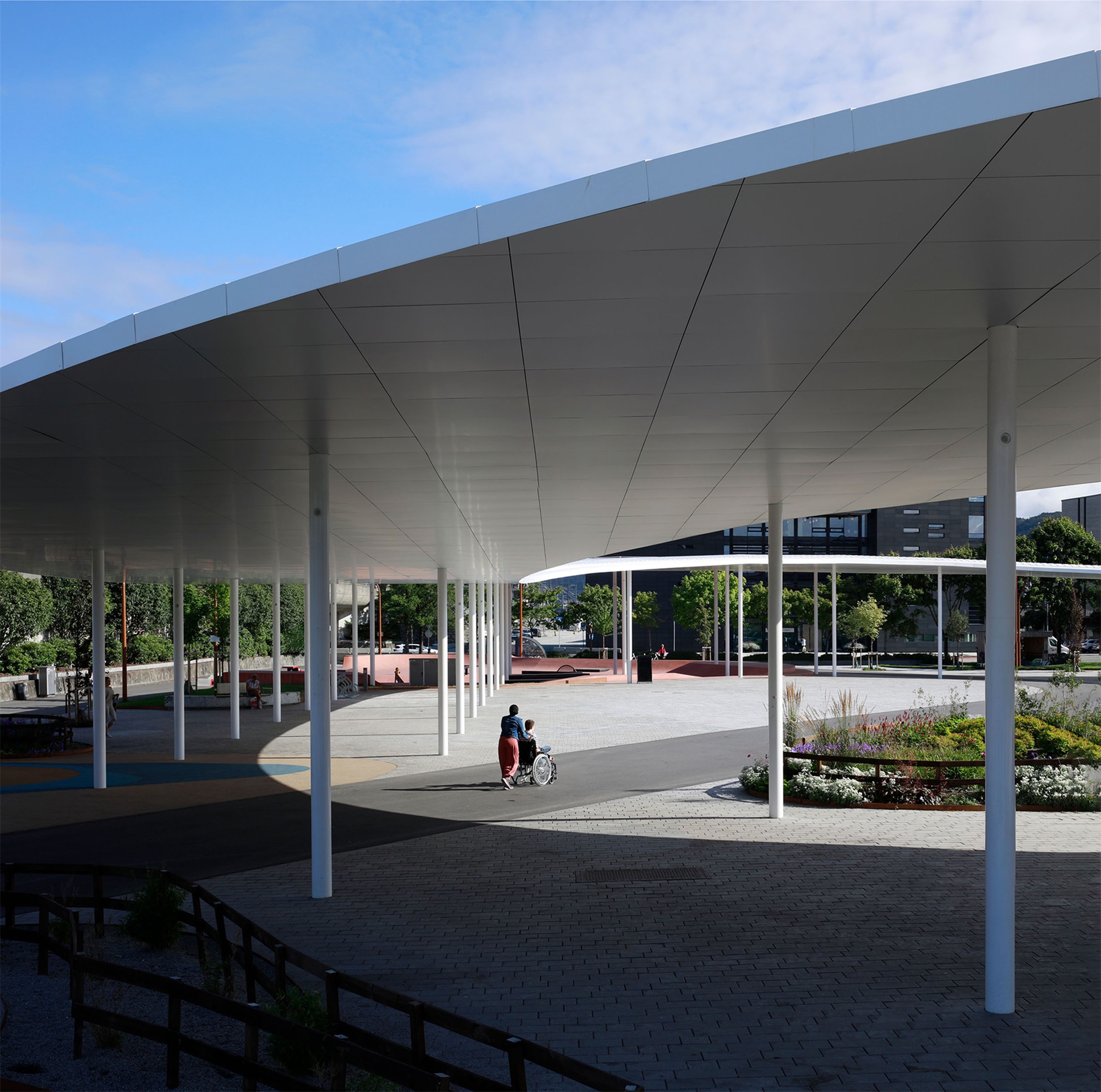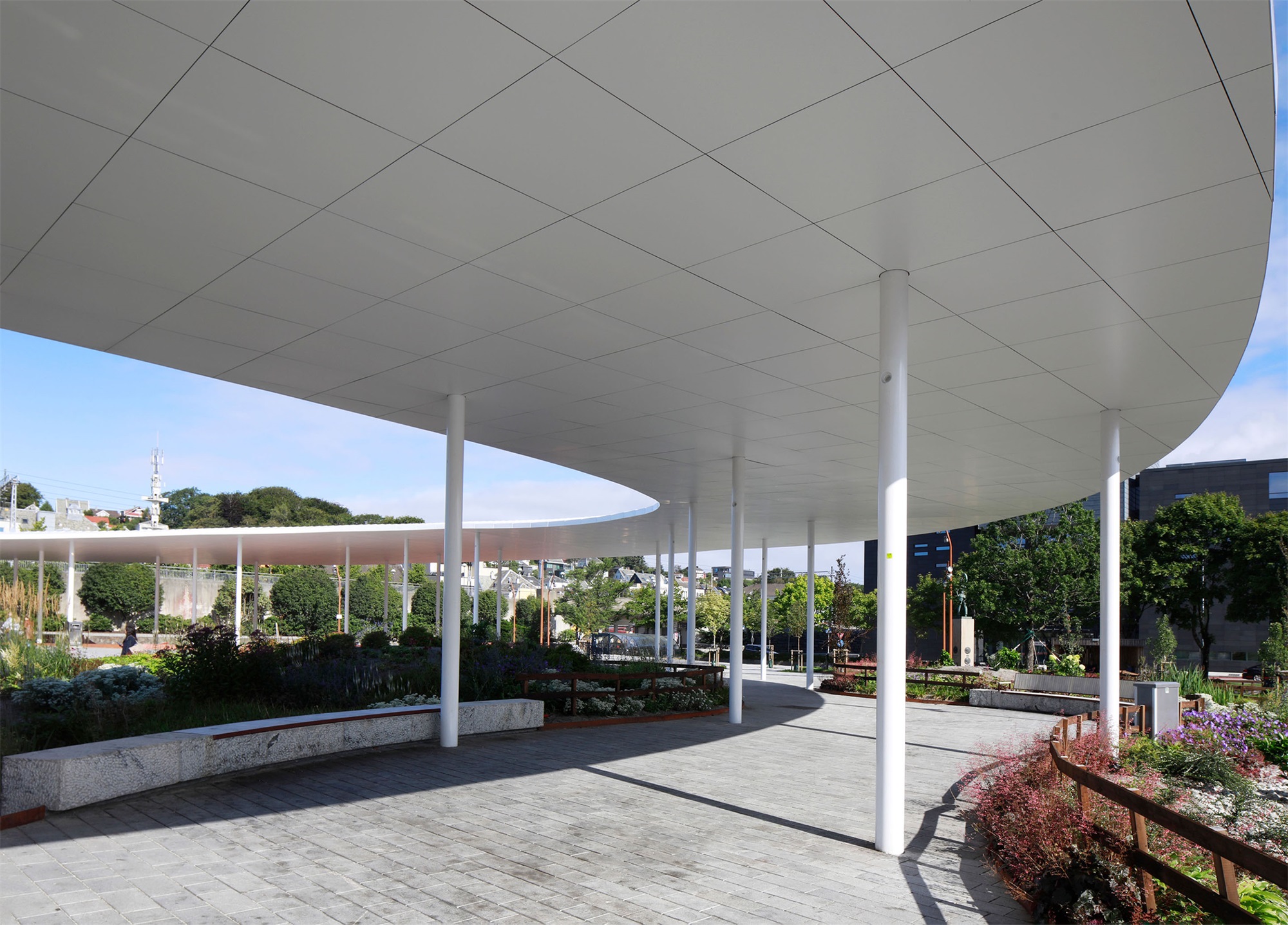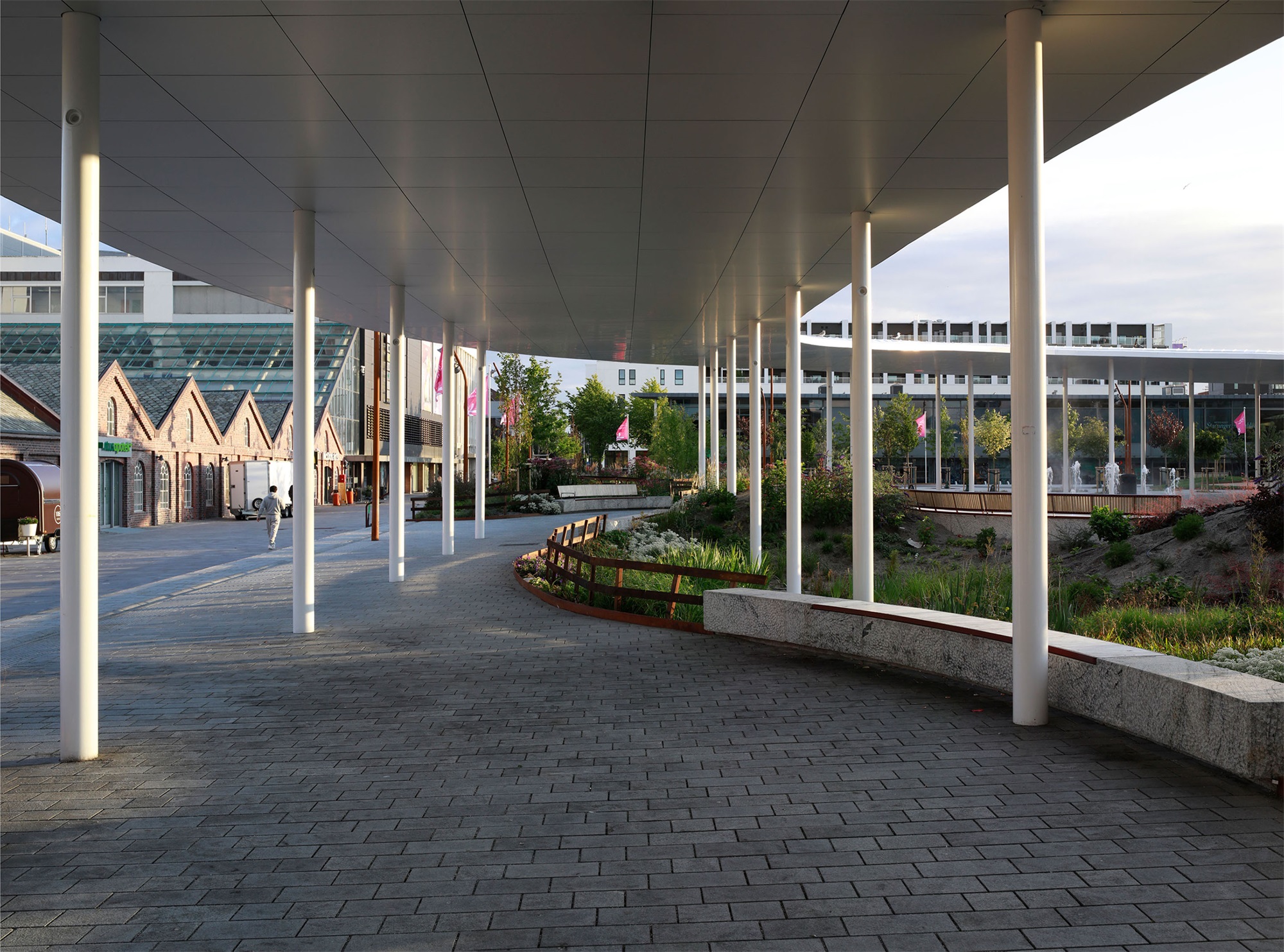 ▼缓冲植物 Buffer plants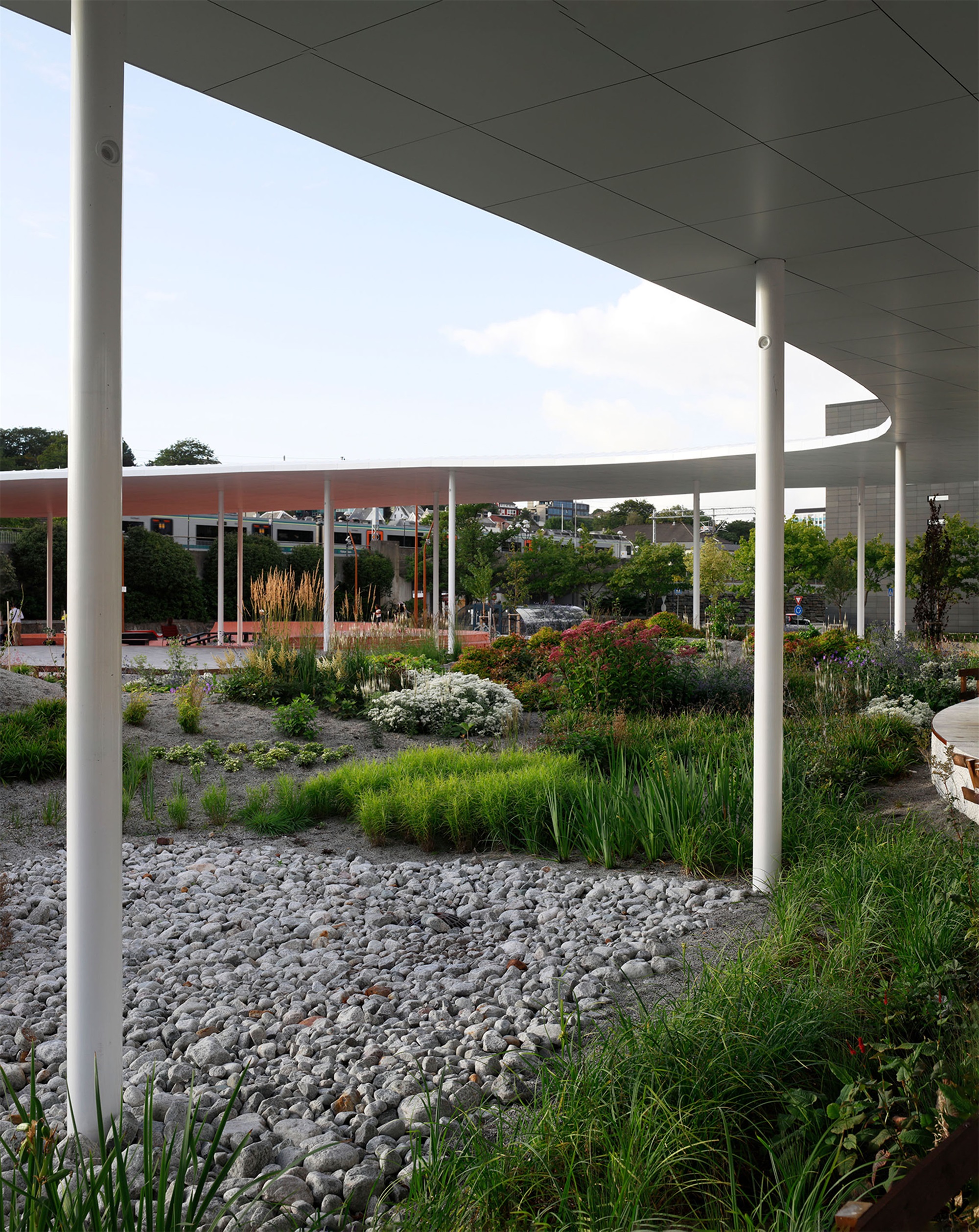 该环形结构映射了城市滨水区大规模的快速发展,这些有着深厚根基和引以为豪的地方历史的层面结合在一起,重新确立了Ruten公园作为桑内斯未来城市的自然中心和枢纽的角色。作为一个标志性的地标,环形结构为公园提供了新的身份和联系,并在光线统一的屋顶下方和内部创造了一个新的公共空间。这座浮在空中5-6米高的波浪状结构就像城市的保护伞,可以适应各种天气条件,进一步满足人们在当地每年平均228天下雨的情况下使用。
The Ring reflects the large scale of the fast-growing city on the waterfront. Together, these layers reestablish RUTEN as a natural center and pivoting point of Sandnes´ future looking city with strong roots and a proud local history. As an iconic landmark, The RING provides new identity and new connections, creating a new public space below and within the light unifying roof. As an urban umbrella the floating, undulating structure 5-6 meters above the ground celebrates all weather conditions and invites for expanded use on the local average of 228 annual rainy days.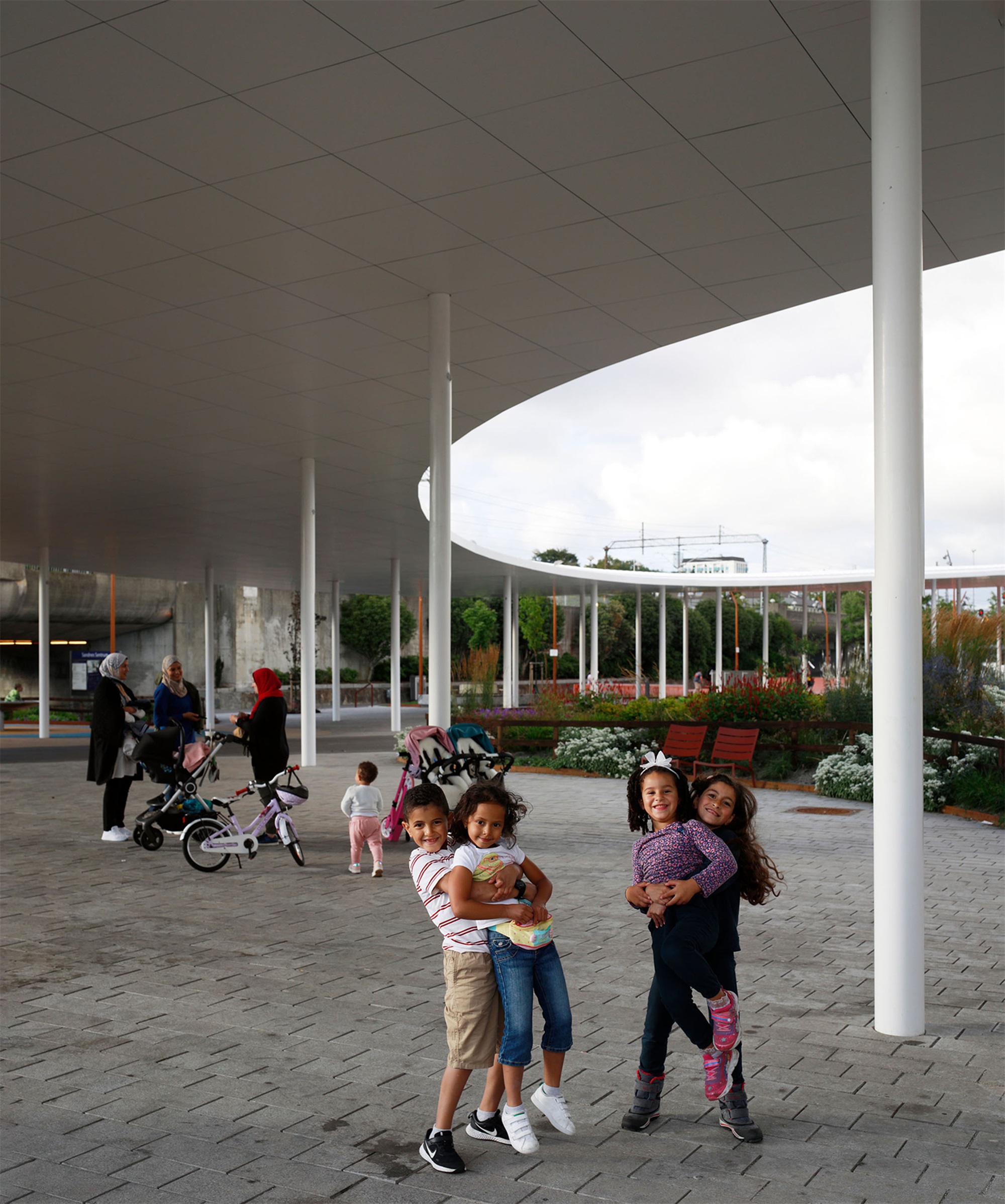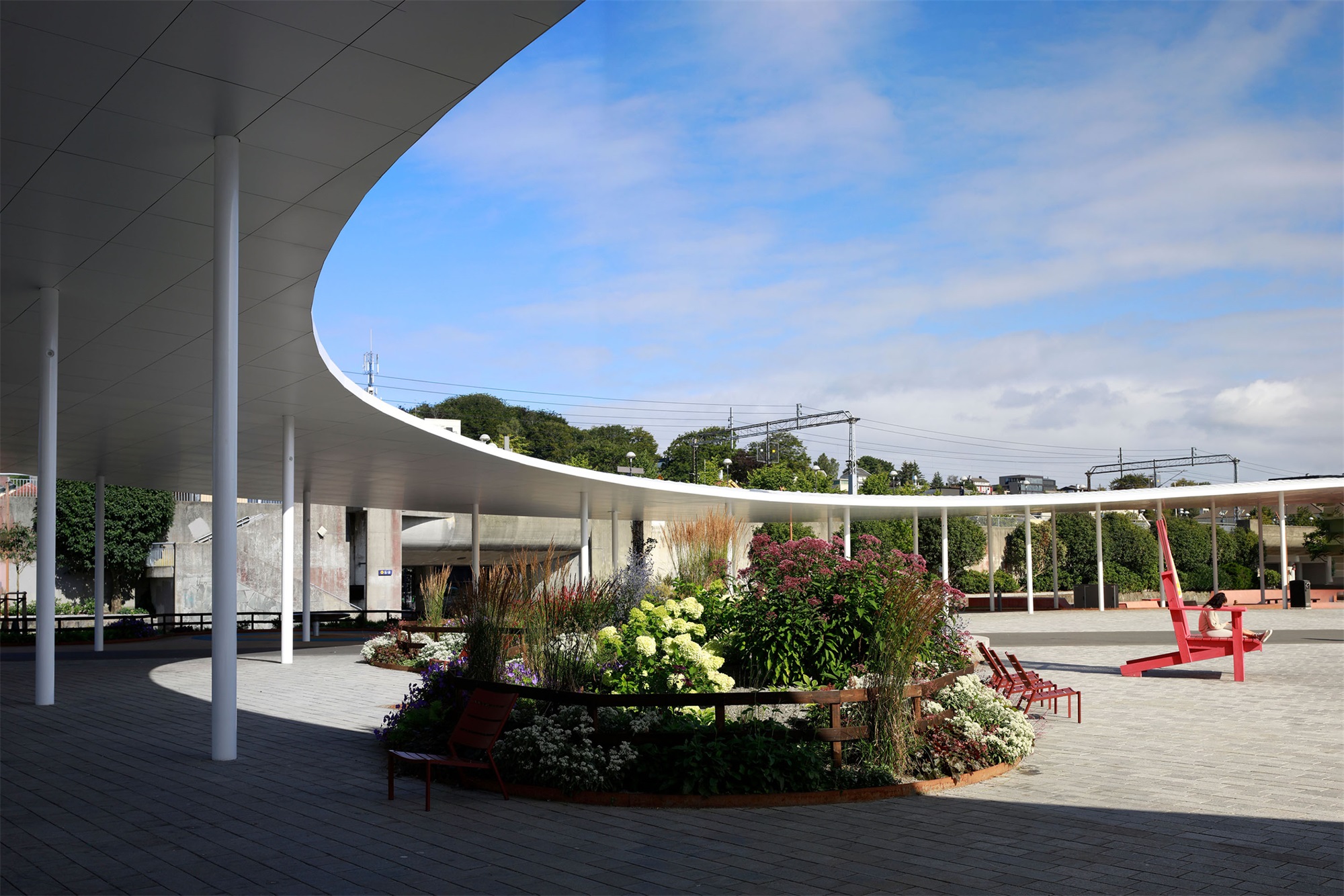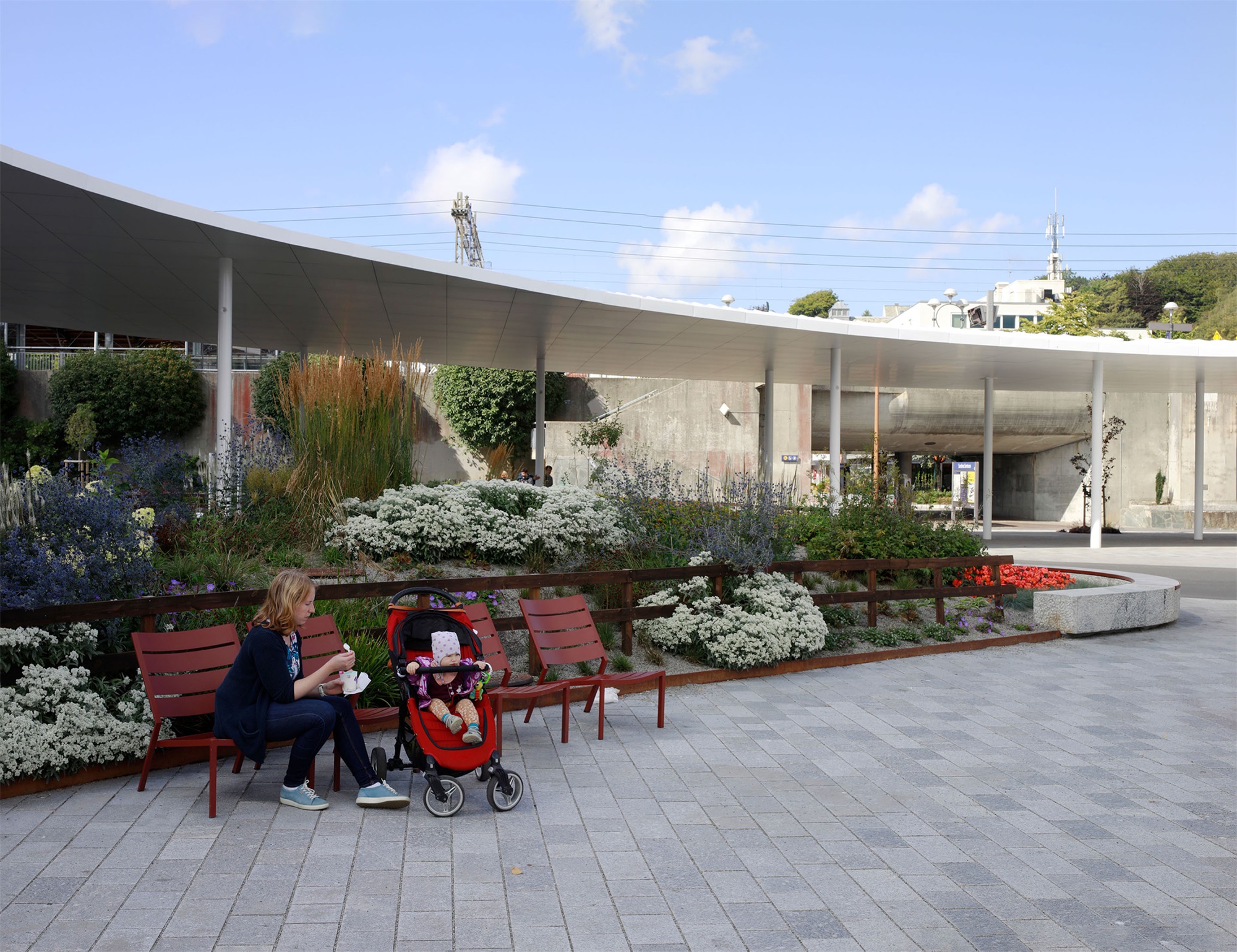 ▼公共空间 Public space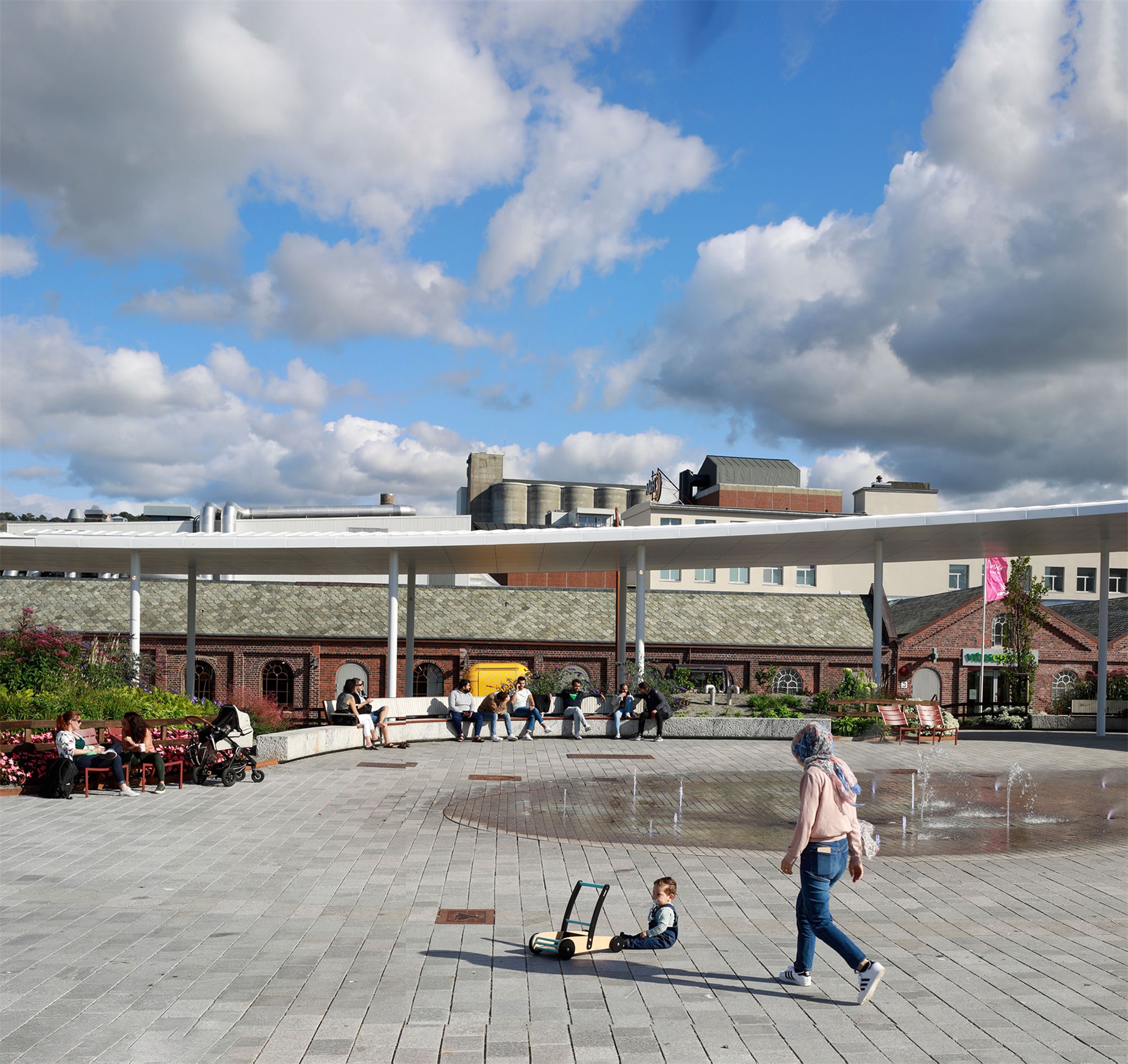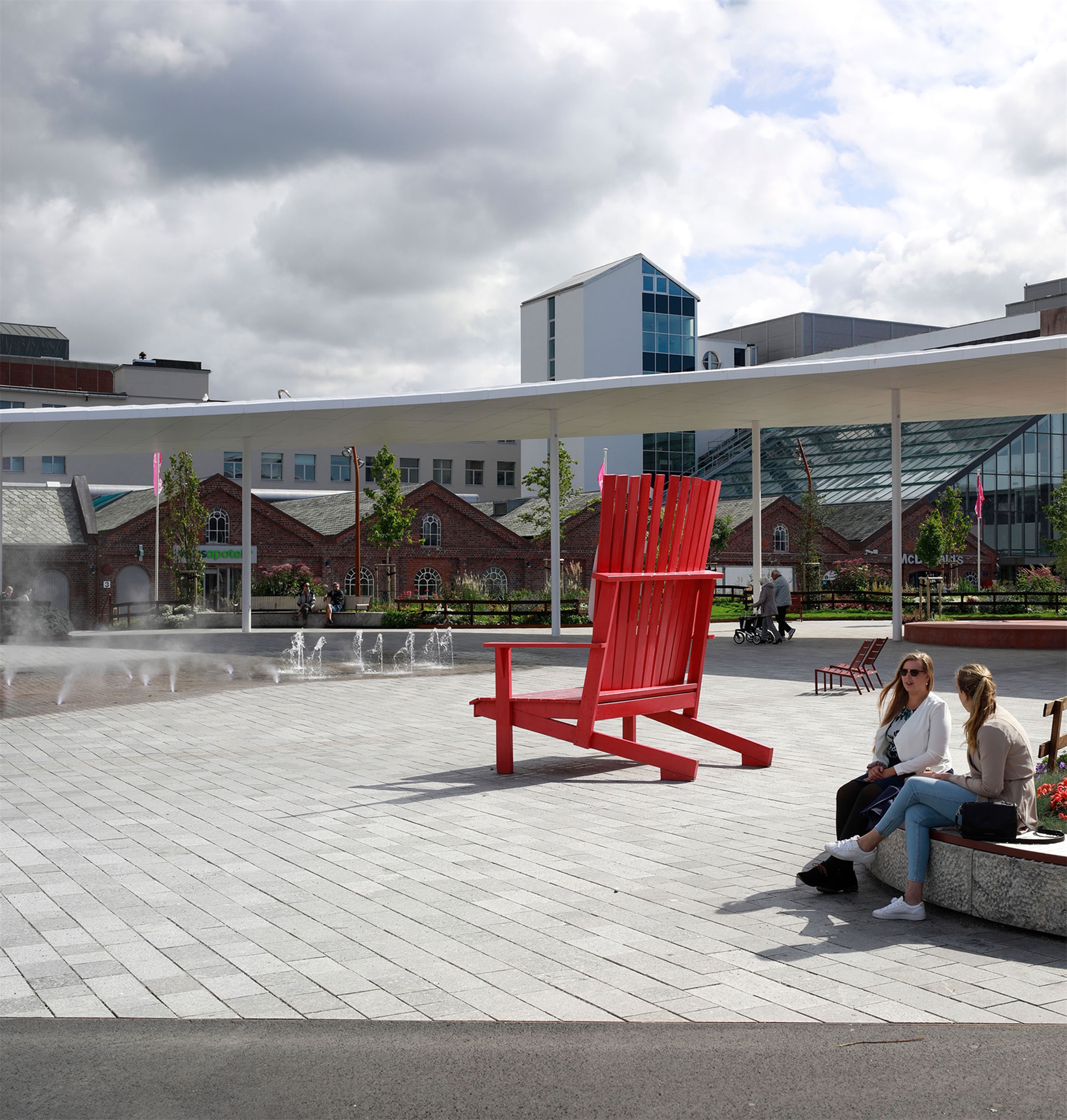 照明方案被整合在60根钢柱组成的环形结构中,110个1000流明的LED灯增强了它的亮度,射灯和专用筒灯则划定了诸如游乐场、舞台、瀑布和溜冰场等特定功能区。
The lighting plan is integrated in the 60 steel columns of the Ring, enhancing its lightness, (110 LED bulbs of 1000 lumen) with up lights and dedicated downlights defining zones for specific usage, as the playground, stage, waterfall, and the skating park.
▼灯光设计 The lighting plan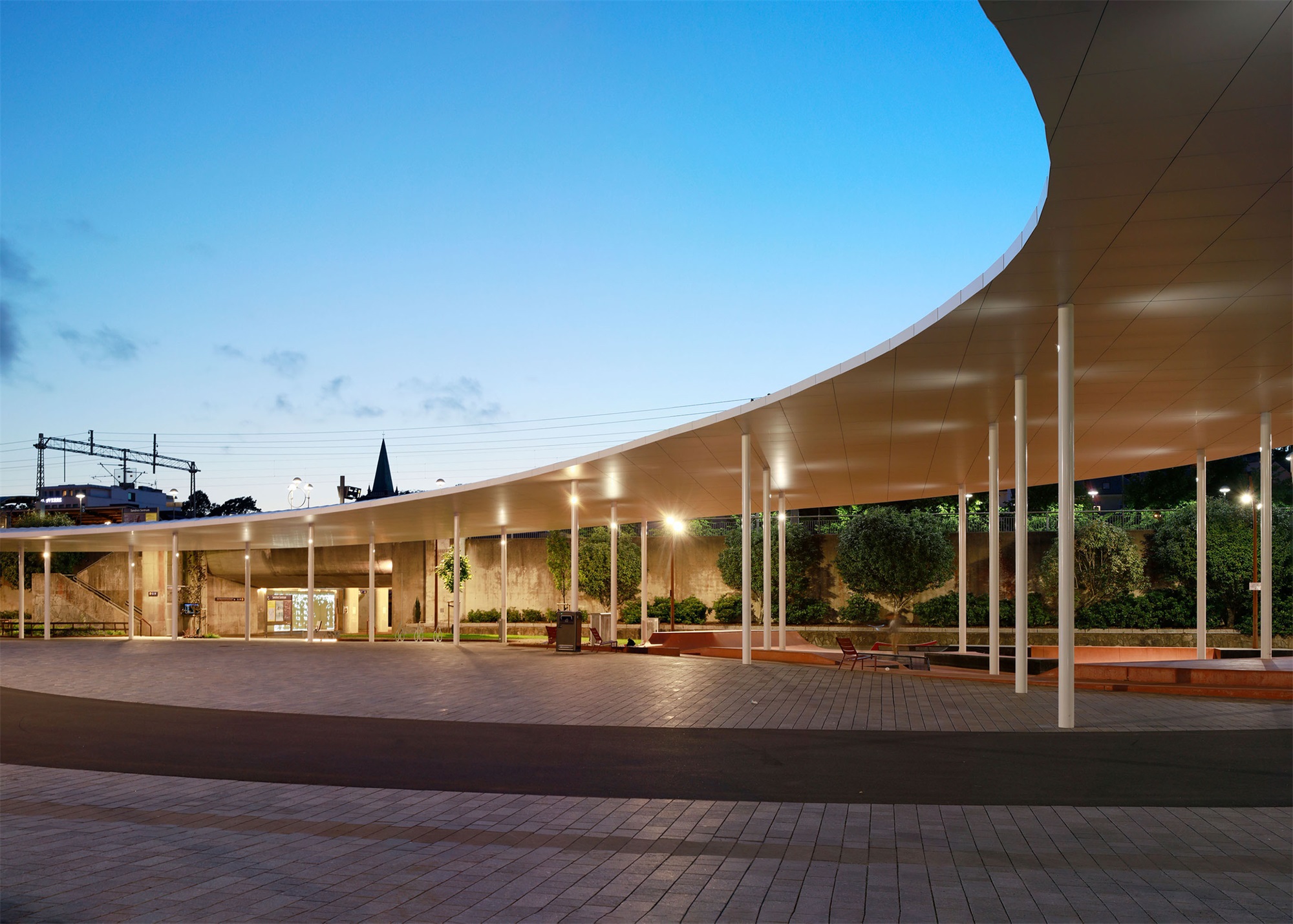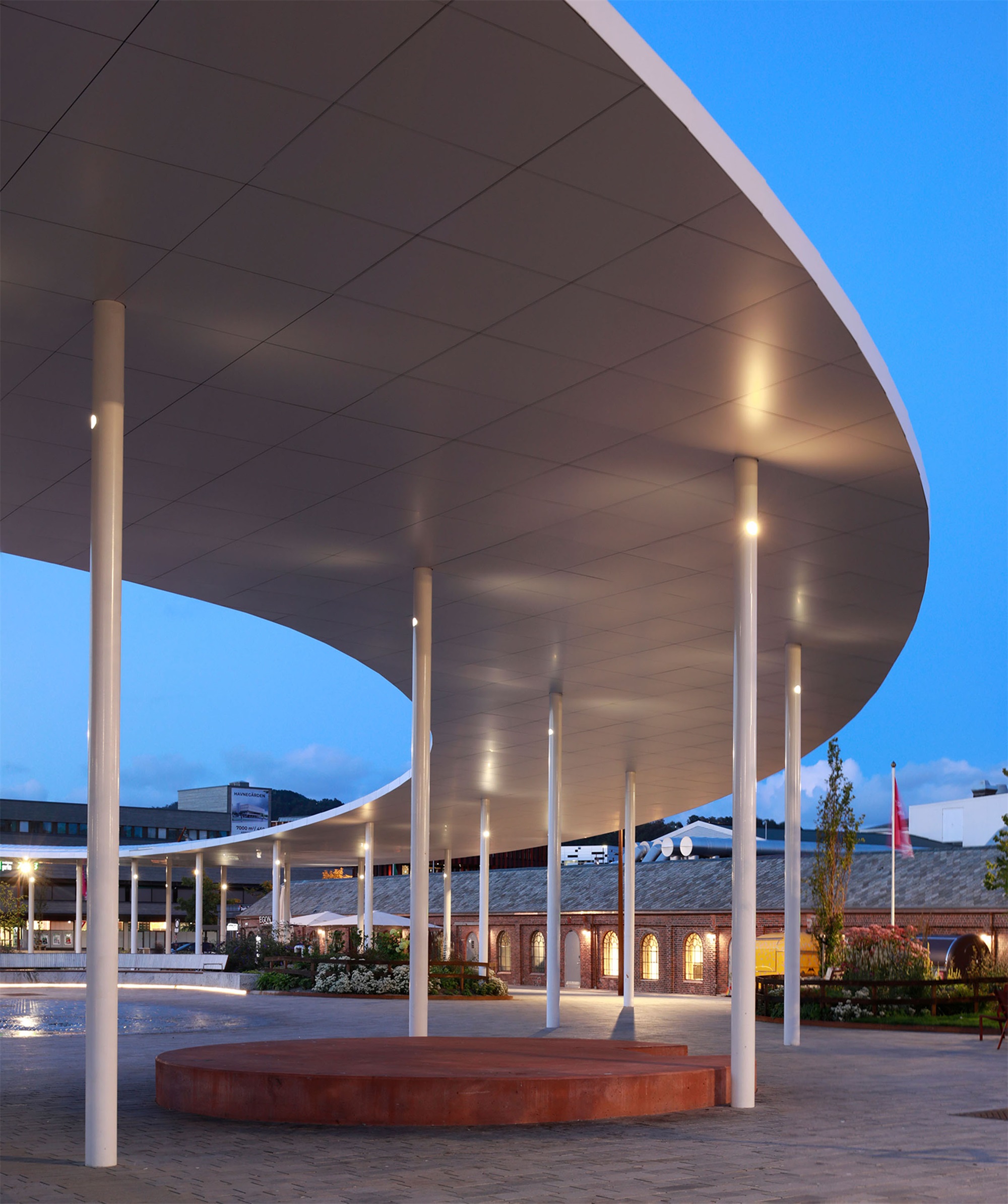 我们的策略是整合 Our strategy has been to combine
一个大型城市公园——为即将到来的人口增长和大型活动服务。
A large urban park – For coming population growth and for the big occasions.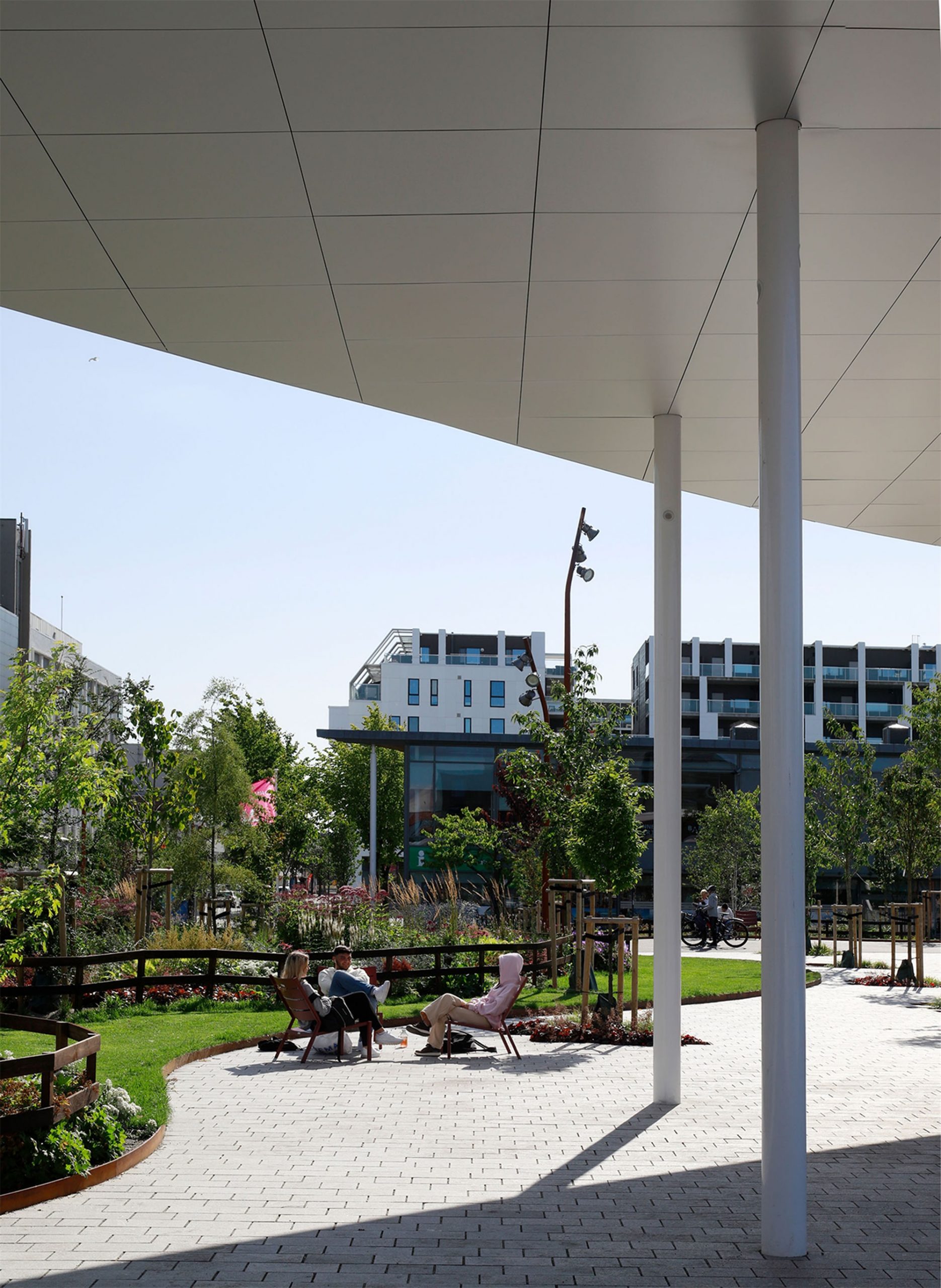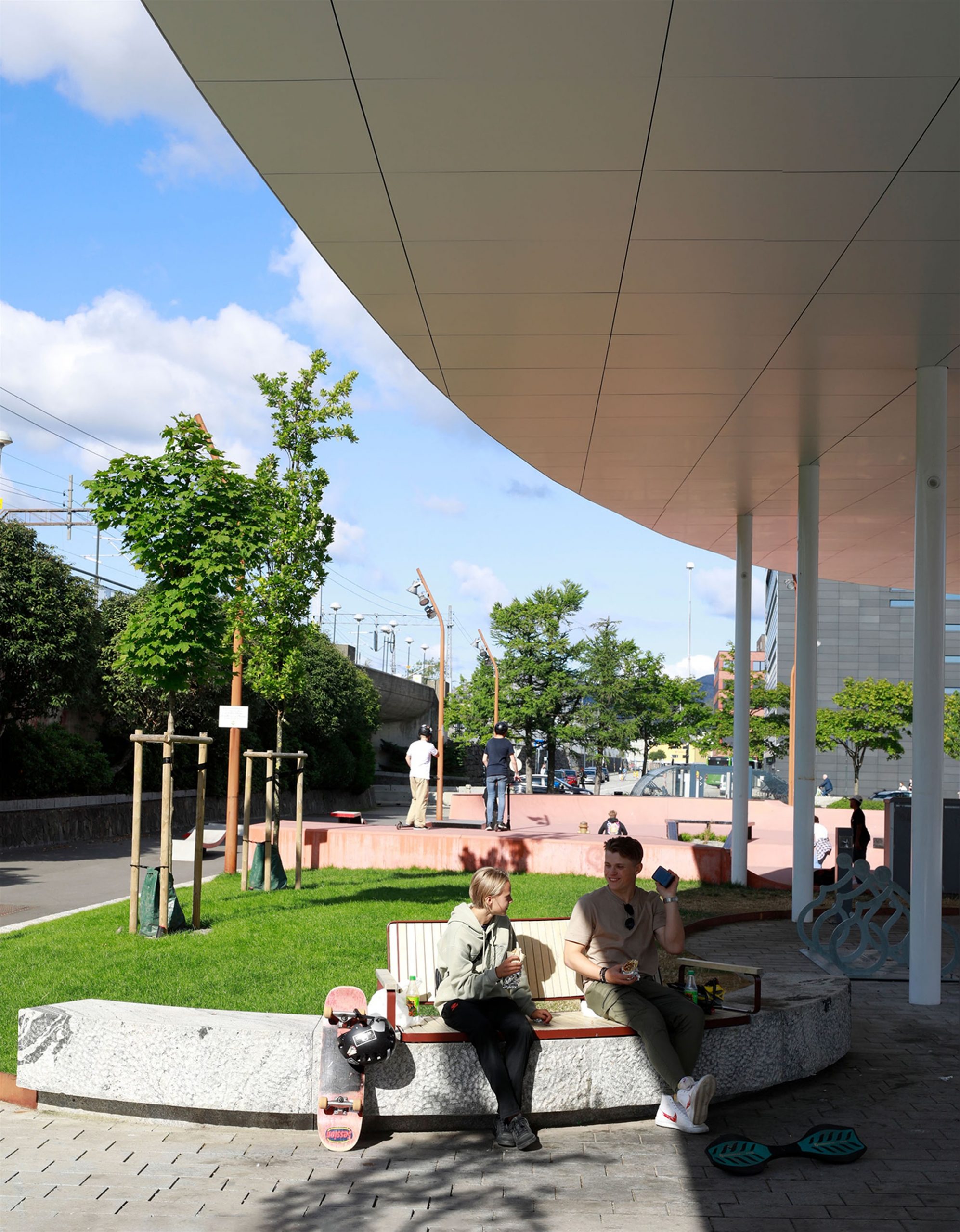 可供选择的区域——一个具有私密性和活动多样性的小型功能空间分区。
A grid of possibilities – a smaller subdivision of dedicated spaces with intimacy and diversity of activities.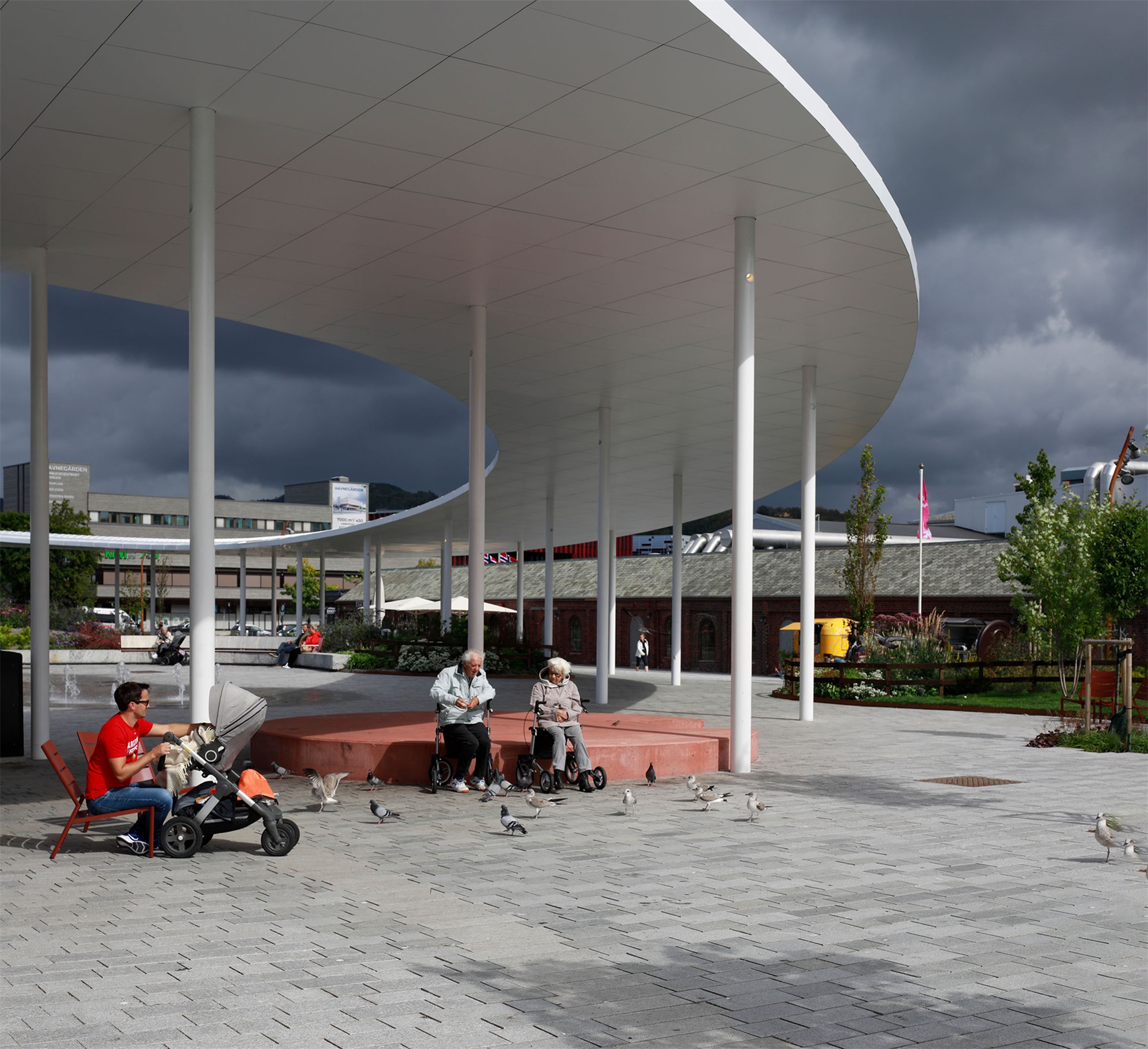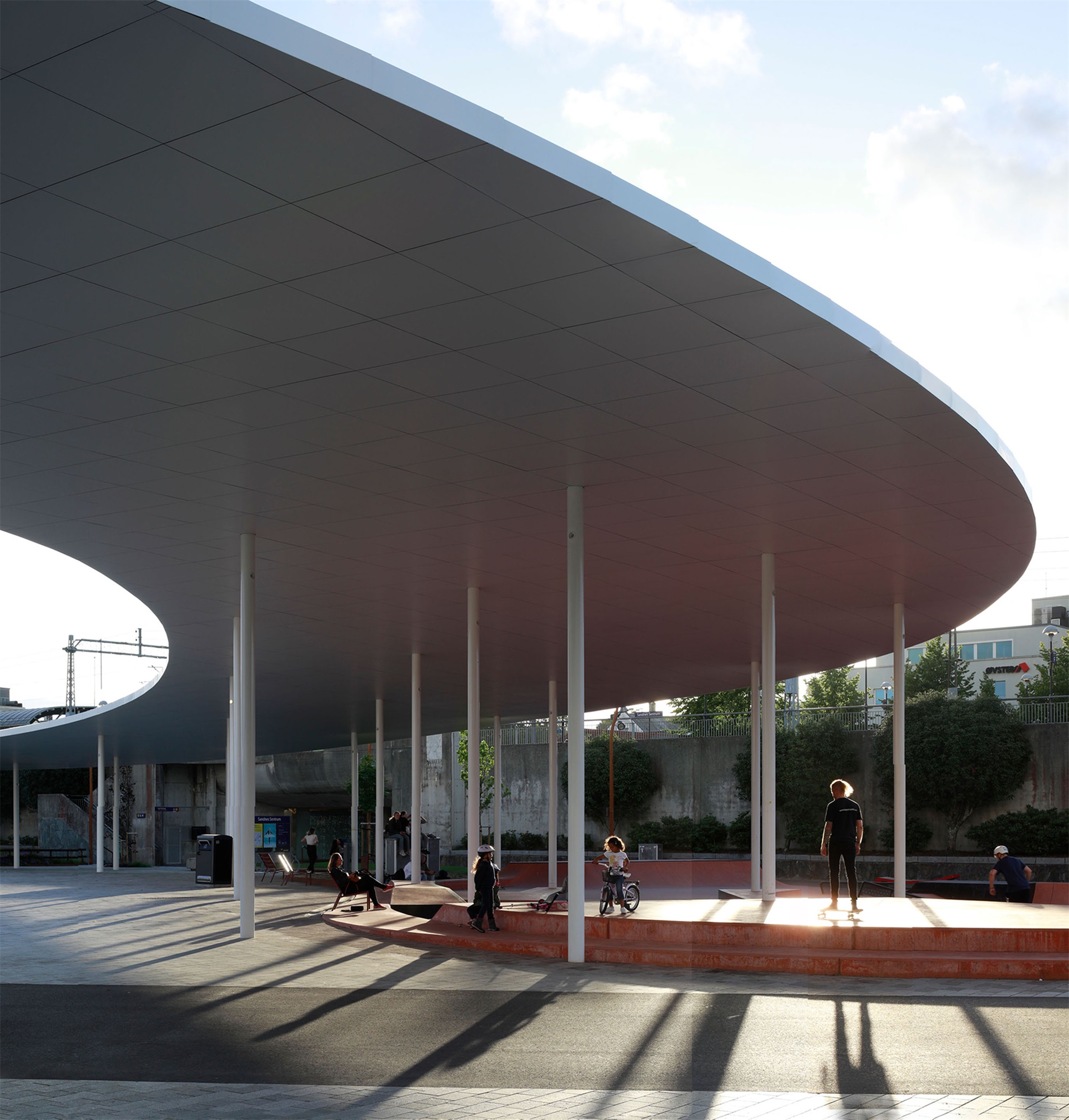 城市公园平衡了所有类型的场合,私密——开放;专用——灵活;小规模——大尺度,它允许典型的和有计划的活动发生,也鼓励自发的、非正式的和出乎意料的活动存在。
The urban park balances all occasions; Intimate _ Open, Specific_ Flexible, Small scale, large scale.
It allows for the representative and planned, as well as encourages the spontaneous, informal and unexpected.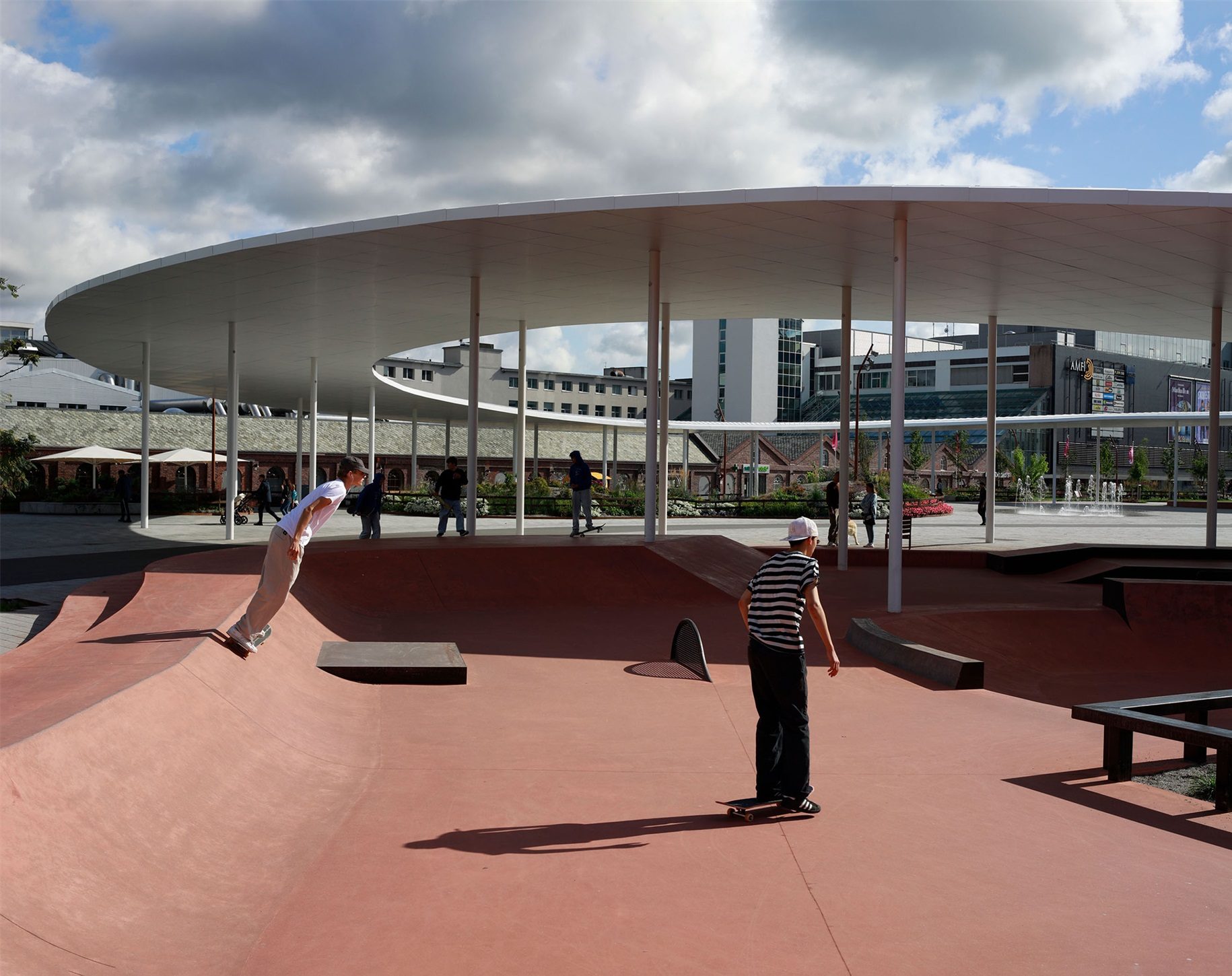 材料 Materials
耐用性铺路石材;轻便的木结构;灵活和便于维护的不锈钢;柔美的粉色混凝土;令人舒心的自然环境;防冻木质长椅;肤色和古铜色的耐候钢,以及自发的、善于社交的、运动滑行的人群。
stones for the paving (durability), wood sub-structure (lightness), stainless steel (flexibility and maintenance), pink concrete (beauty), nature(for making people happy), wood benches (for not freezing your bum), core-ten steel (color and patina), and people (for their unpredictability, social courageousness, and skateability).
▼Ruten公园区位图 Ruten Park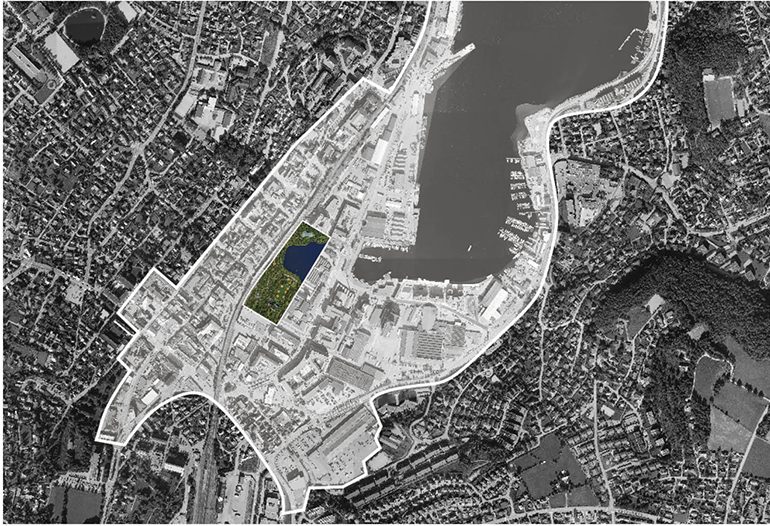 ▼结构演示 Moves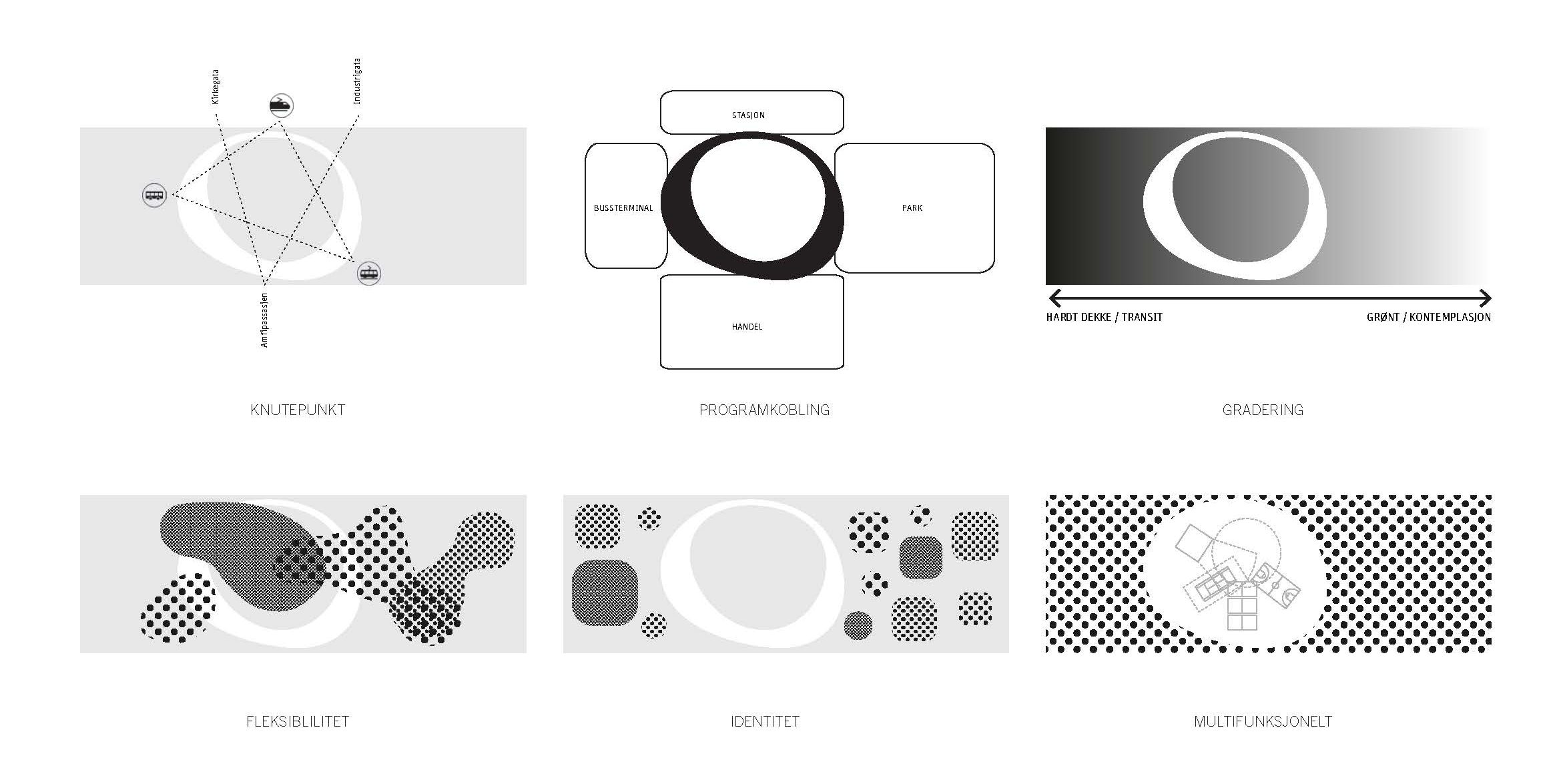 ▼景观编织 Landscape weave
▼平面叠加 Plan collage 


▼公园景观爆炸图 Exploded axo landscape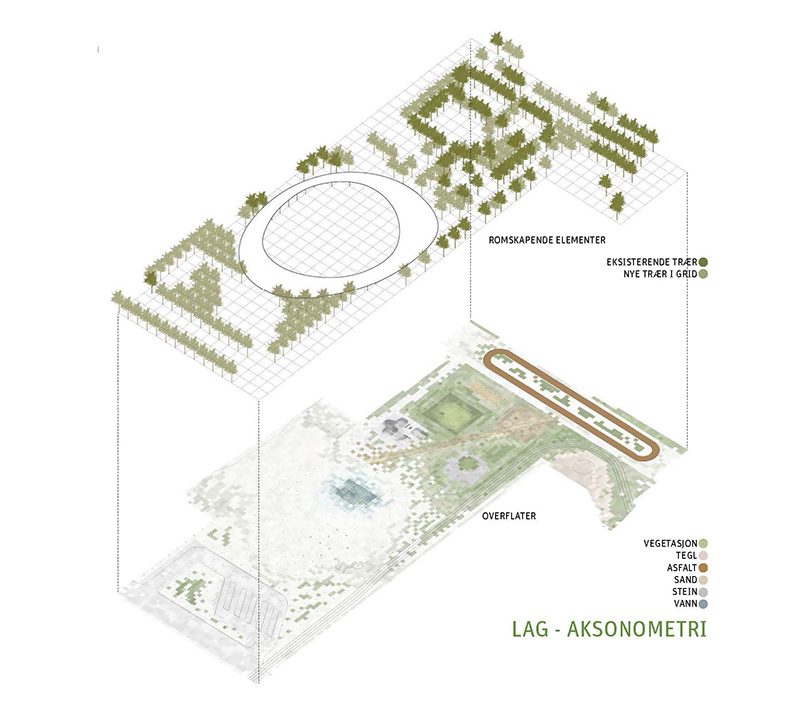 ▼植物环绕的立面 Elevation with vegetation

▼结构内部视角 View from industrigata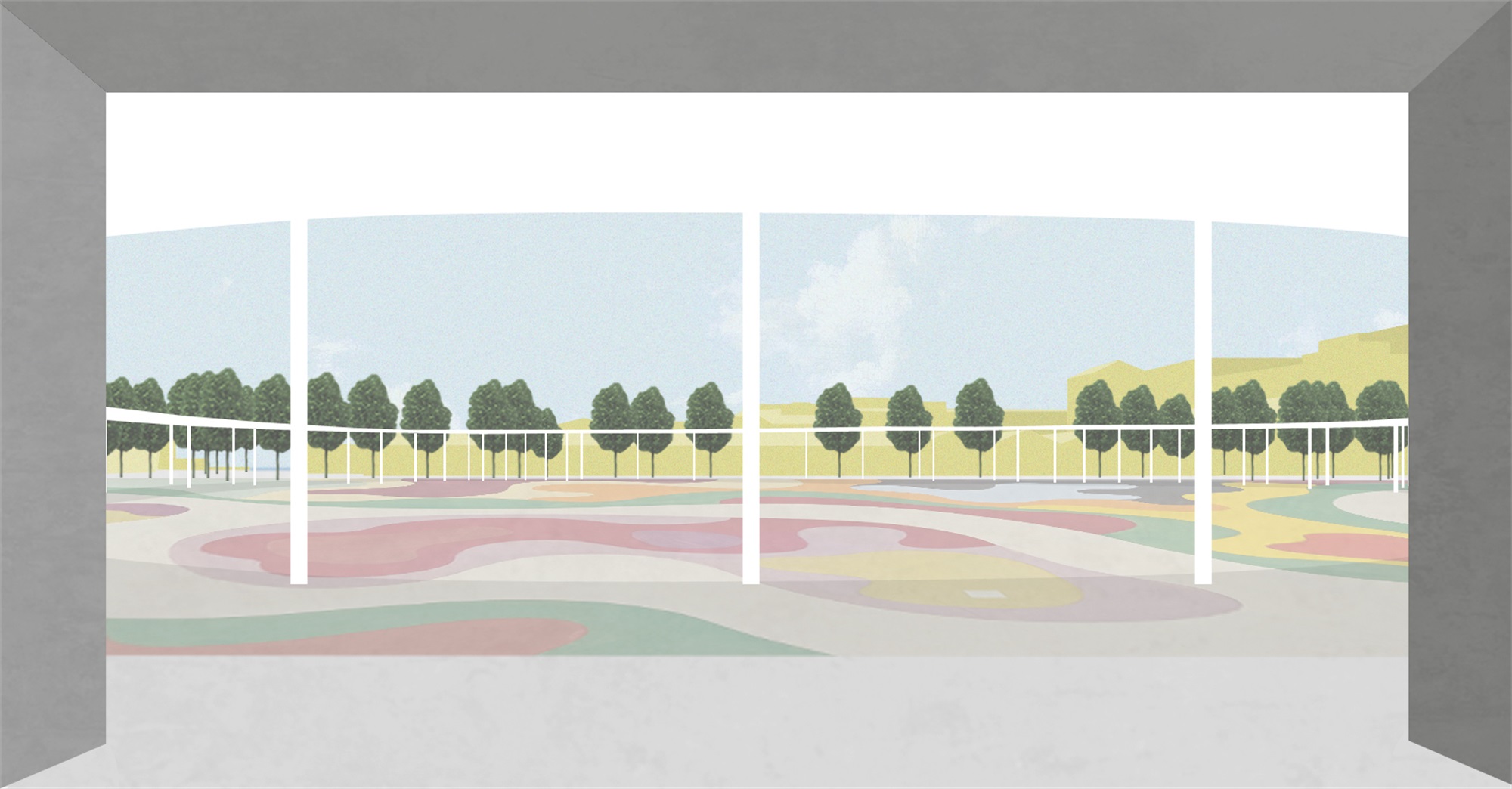 ▼不同视角的场地景观 View from kirkegata(left) and olavkyrresgate(right)
▼效果演示 Effect diagram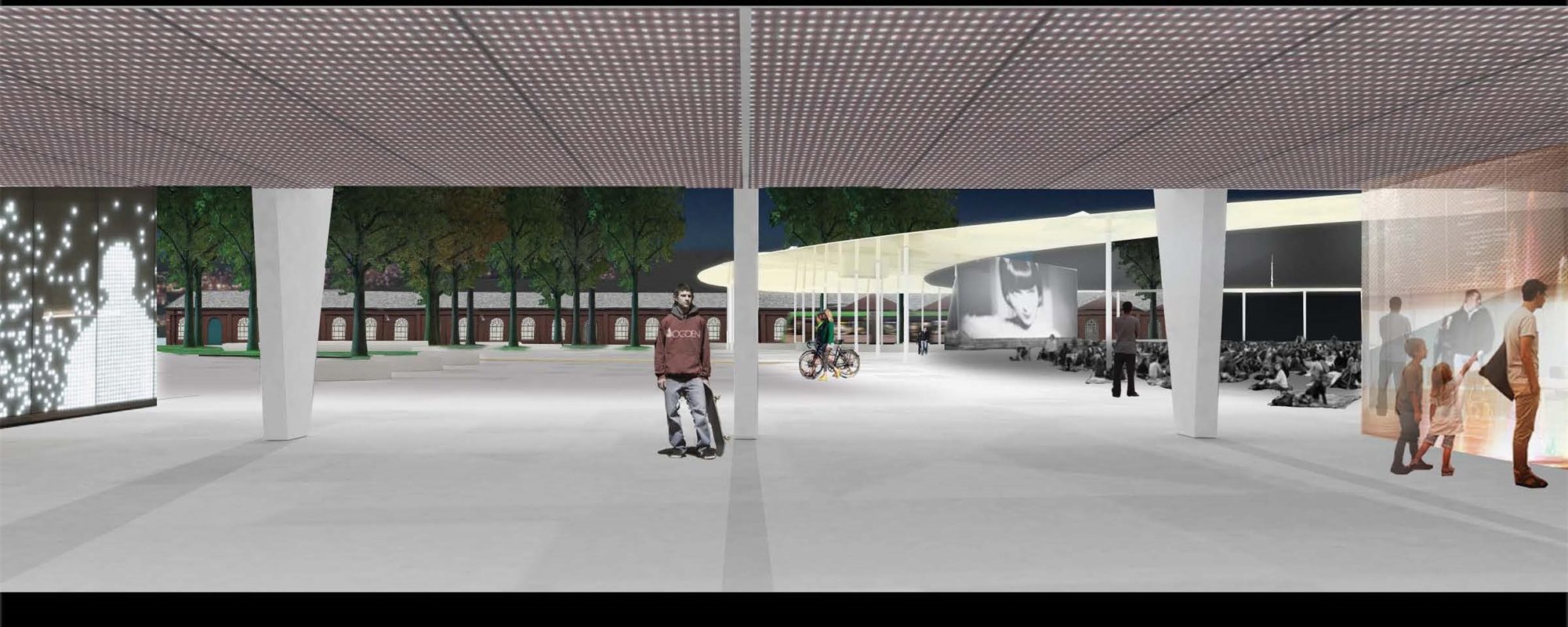 项目名称:Ruten公园
完成时间:2021年
项目地点:挪威 桑内斯
景观/建筑公司:Spacegroup
公司网站:www.spacegroup.no
联系电子邮件:gro@spacegroup.no
首席建筑师:Gro Bonesmo, Gary Bates, Floire Nathanael Daub
设计团队:Naofumi Namba, Javier Elvira López de la Cova, Aleksandra Chylinska, Marin Kulaas, Fredrik Krogeide, Jose Hernandez, Asya Guney, Anna Nilsson, Britt Alexandra Johnson, Peder Brand, Saga Andersson, Zarina Belousova, Zlatko Nikolic, Erik Solheim
客户:Sandnes Municipality
合作者:Superunion/VI(合作建筑师),Dipl.-Ing. Florian Kosche AS, Betongpark, Metallplan, Weiss, Light Bureau, Norconsult, Inside/Outside
图片来源:Ivan Brodey
摄影师网站:www.ivanbrodey.com
Project name: Ruten Park
Completion Year: 2021
Project location: Sandnes, Norway
Landscape/Architecture Firm: Spacegroup
Website: www.spacegroup.no
Contact e-mai: gro@spacegroup.no
Lead Architects: Gro Bonesmo, Gary Bates, Floire Nathanael Daub
Design Team: Naofumi Namba, Javier Elvira López de la Cova, Aleksandra Chylinska, Marin Kulaas, Fredrik Krogeide, Jose Hernandez, Asya Guney, Anna Nilsson, Britt Alexandra Johnson, Peder Brand, Saga Andersson, Zarina Belousova, Zlatko Nikolic, Erik Solheim
Clients: Sandnes Municipality
Collaborators: Superunion/VI (partner architects), Dipl.-Ing. Florian Kosche AS, Betongpark, Metallplan, Weiss, Light Bureau, Norconsult, Inside/Outside
Photo credits: Ivan Brodey
Photographer's website: www.ivanbrodey.com
---
" 大型硬性基础设施向柔性的转变——中央停车场化身中央公园。"
审稿编辑: Simin
更多 Read more about: Spacegroup