本文由 XSiTE Design Studio 授权mooool发表,欢迎转发,禁止以mooool编辑版本转载。
Thanks XSiTE Design Studio for authorizing the publication of the project on mooool.
Xsite Design Studio :  The Key Sathorn – Ratchapreuk位于曼谷吞武里区,是一个拥有超过800个公寓的居住小区,由三座公寓楼和一个停车场组成。这里闹中取静,交通便利,离曼谷的Wutthakart BTS火车站不远。小区的居住密度偏高,这种高密度住宅的户外活动区域通常被放置到小区最显眼的位置,以促进公寓销量。但这次景观设计并非从经济角度出发,而是意图为在此居住的居民打造一个舒适怡人的户外环境,并保证他们的私人生活不受外界干扰。
Xsite Design Studio :  The key satellite – ratchaprekuk is located in tunwuli district of Bangkok. it is a residential area with over 800 apartments and consists of three apartment buildings and a parking lot. It is very quiet and convenient in traffic, not far from Bangkok's wutthakart BTS railway station. The residential density of the residential area is relatively high, and the outdoor activity area of this kind of high-density residential area is usually placed in the most conspicuous position of the residential area to promote the sale of apartments. However, this landscape design is not from an economic point of view, but is intended to create a comfortable and pleasant outdoor environment for the residents living here and to ensure that their private life is not interfered with by the outside world.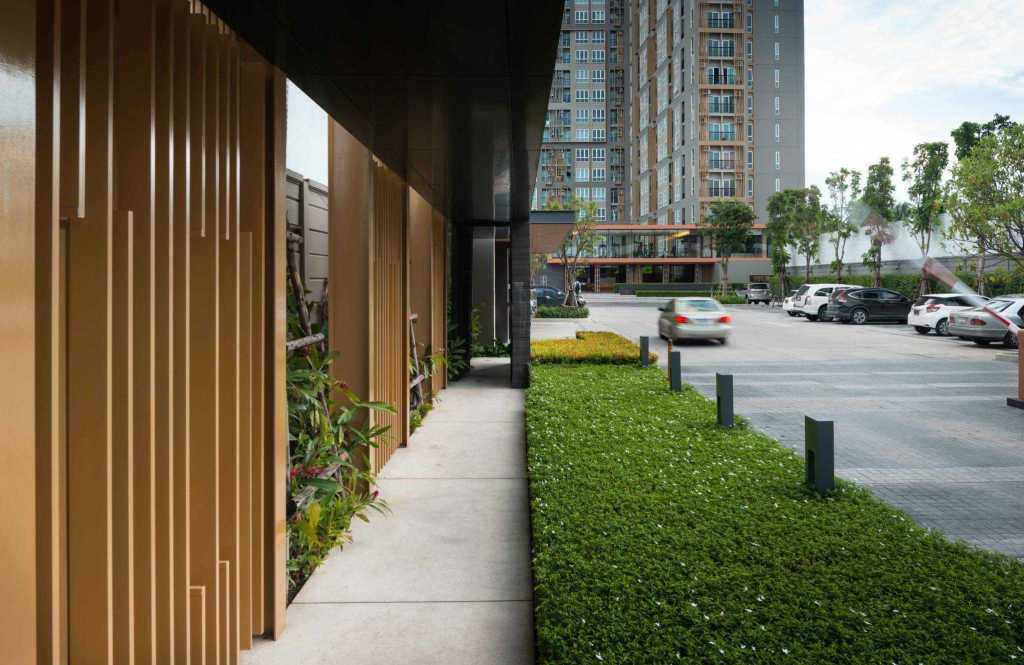 设计着重于空间氛围的营造。方案采取了小组团的形式,将不同的功能区拆散安置在场地的不同角落。花园式布局让空间节奏疏密有致,同时也限定了每一个区域的边界,保证在其中活动的居民的隐私。 So the design concept is to play with the order of approaching to each space. By an intention to create an enjoyable various experiences while walking through each area space by space with a garden design principle instead of park. So each area is placed in different spots of the site that serves the functional requirements and the limitation of spaces on ground. In the meanwhile it has to create the pleasant privacy among residents.
在场地的主入口处,大堂占据了视觉的中心位置。经过精心修建的灌木整齐地排列在路边,和步行长廊一起引导着人们前行。大堂入口处水平延伸的矮墙和矩形灌木丛造型简洁,仿佛在欢迎着人们回家。
Start from the site main entrance, there is a pedestrian walkway surrounded with clean mass of shrubs to escort people to the main lobby that is the focal point from main entrance. Low wall and topiary are placed to complement with relax horizontal line in architectural elements to create the sense of serenity, modern and yet welcome.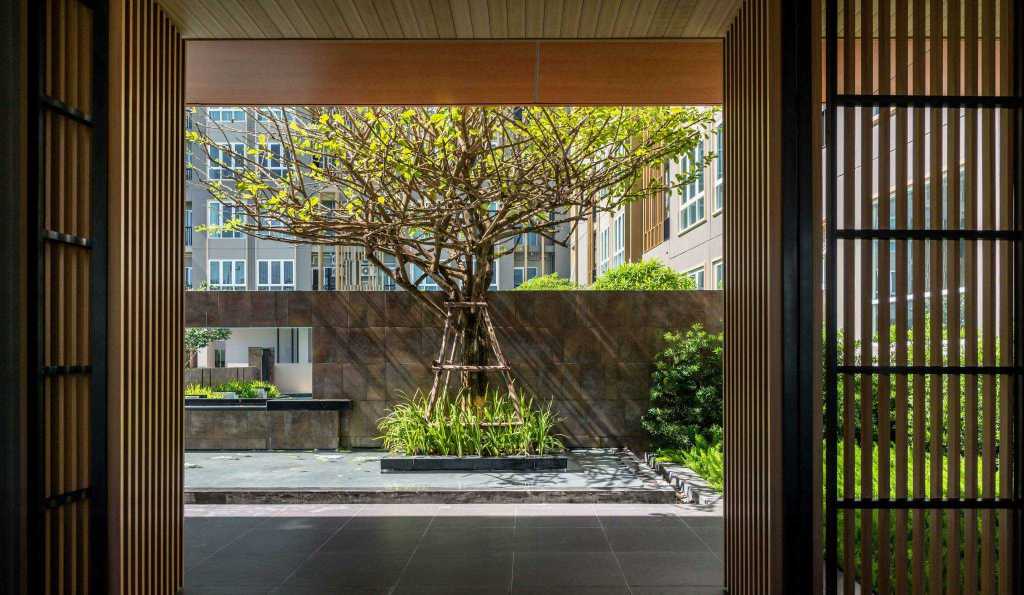 由于场地规模的限制,游泳池只能被安排在大堂背后临近入口的地方。为了保证内部空间的私密性,设计师在两个区域之间添置了一道水景墙,将入口大堂和泳池从空间上划分开来。但与此同时,视线仍可透过景墙到达泳池末端和公寓底层部分,空间趣味十足,连贯性也得以延续。
Because the area limitation so the swimming pool has to be located next to main lobby that very near the main drop off. That's why the water feature and the landscape decoration wall are introduced in this in-between area to create the curiosity, connectivity and the privacy of these 2 areas at the same time.
顺着泳池前行,跨过一条小小的水道后,便来到了位于第二栋公寓前方的主花园。造型简洁的亭子位于外侧尽端,成为花园和小区内部车道间的屏障,保护内部宽敞开阔的草坪。人们在这里所拥有的树木环绕的私密绿地空间,在熙熙攘攘的城市生活已是一种奢侈。砾石铺装的粗糙纹理和自然生长的草本植物则和中央整齐平坦的草坪产生了有趣的对比,让场地愈显生机勃勃。
From the pool across a little canal is where the main garden located as a multi purpose space for the second building. The garden pavilion with the clean simple form and a touch of welcome is placed to create the privacy for the garden from the internal road. After walked through the pavilion then it's revealed the big open lawn. That is used to create a sense of luxury for city people that lacks of green open space surround by trees and shrubs to create privacy for residential units. While the rustic surfaces of gravel steps and wild grass plants are used to create a contrast from neat big lawn to make space more lively interesting.
项目名称:The Key Sathorn – Ratchapreuk
景观设计师:XSiTE Design Studio
项目团队:主任- Thotthanet Luekijna
客户:Land and House PLC.
地点:泰国曼谷
用途:高层住宅
场地面积:12230平方米
设计:2012
完成:2014
Name of Project: The Key Sathorn – Ratchapreuk
Landscape Architect: XSiTE Design Studio
Project Team: Director – Thotthanet Luekijna
Client: Land and House PLC.
Location: Bangkok, Thailand
Use: High-rise residence
Site Area: 12,230 sq.m
Design Year: 2012
Completion year: 2014