本文由 谷创设计 授权mooool发表,欢迎转发,禁止以mooool编辑版本转载。
Thanks Gu Chuang  for authorizing the publication of the project on mooool, Text description provided by Gu Chuang .
谷创设计:蔚蓝海岸·北北美食中心(SEATOPIA·Bright & Bay Food)是远洋集团蔚蓝海岸项目的配套物业,2000多平米的建筑空间中容纳了一个业主食堂和两家特色餐厅。
Gu Chuang :SEATOPIA·Bright & Bay Food is a supporting property of Sino-Ocean Group. The 2,000 square meter building space accommodated an owner's canteen and two themed restaurants.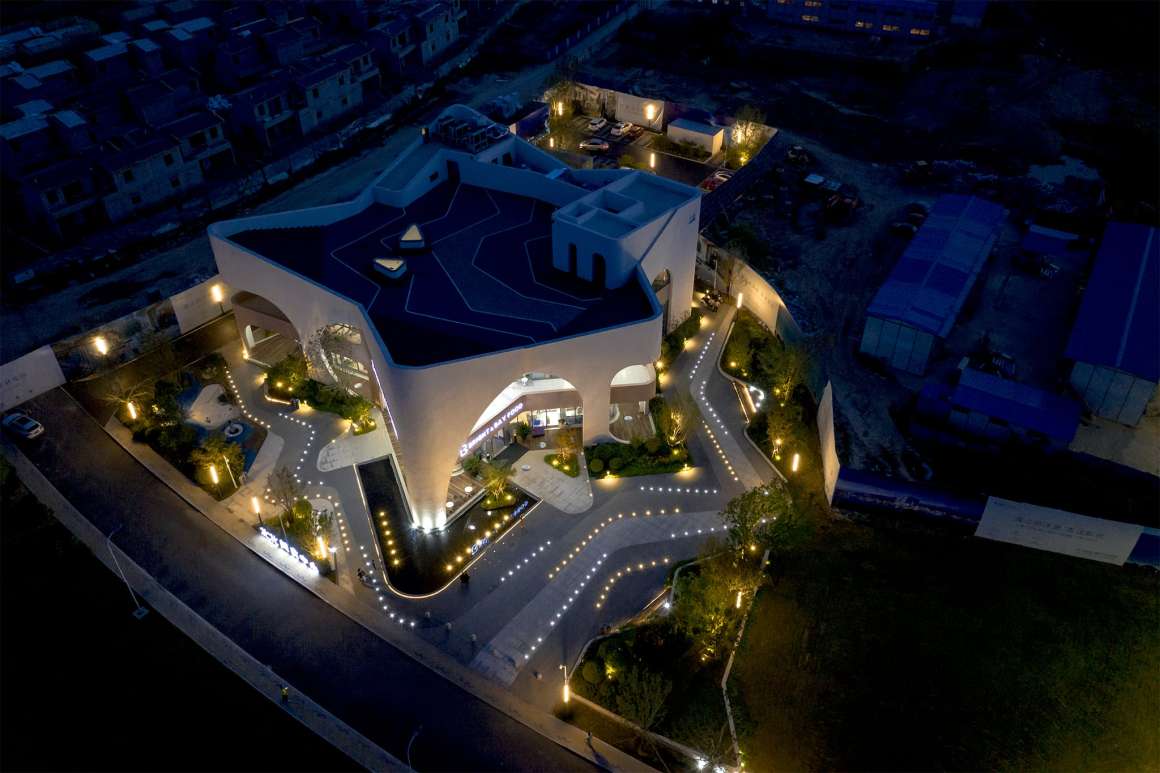 SEATOPIA蔚蓝海岸为远洋集团在北戴河新区联合开发的全资源滨海度假综合体,总占地面积7700亩,是一座人与人、人与自然、人与城市和谐共处的海岸幸福体。北北美食中心周边以度假住宅为主,东侧毗邻"万物有声"湿地公园,基地距离海滩虽不是咫尺之遥,却也将周边美景尽收眼底。
SEATOPIA is a Coastal holiday complex developed by the Sino-Ocean Group in Beidaihe New District. It covers an area of ​​3116 hectares and creates a perfect harmonious habitat for people, nature and city.Holiday houses surround the Bright & Bay Food, and the east side is adjacent to the "Sound from nature" Wetland Park. The base is not far from the beach, but hold an incredible panoramic view of the surrounding landscape.
星光海韵间的闲适时光 Leisure time under the stars of the sea
项目景观设计呼应建筑"海洋之星"的主题,以星空、海浪、沙滩作为景观元素与机理的灵感来源,在有限的空间内组织起动静相宜、闲适宜人的景观环境。
The project responds to the theme of the building "Star of the Sea." The design inspiration and landscape context come from the natural elements, including stars, the waves and the beach. They, here, are also considered as essential landscape elements. The environment organized well in a limited space is quiet and comfortable.
▼景观平面图 Landscape plan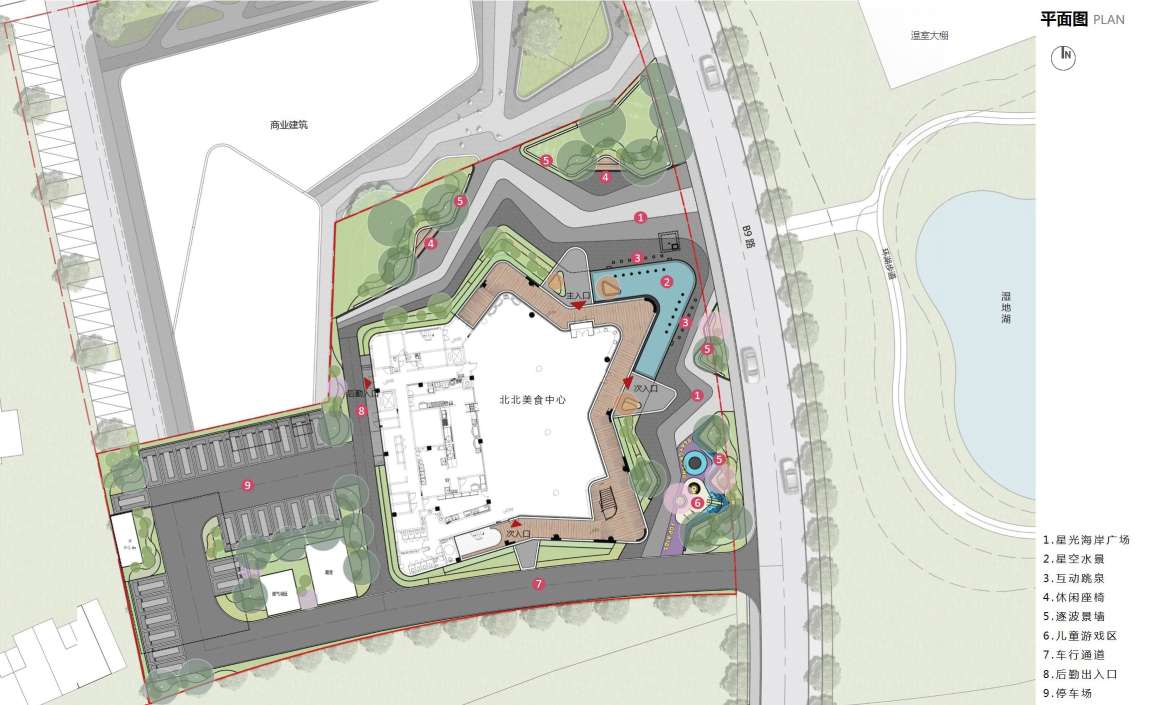 ▼景观生成图 Concept analysis chart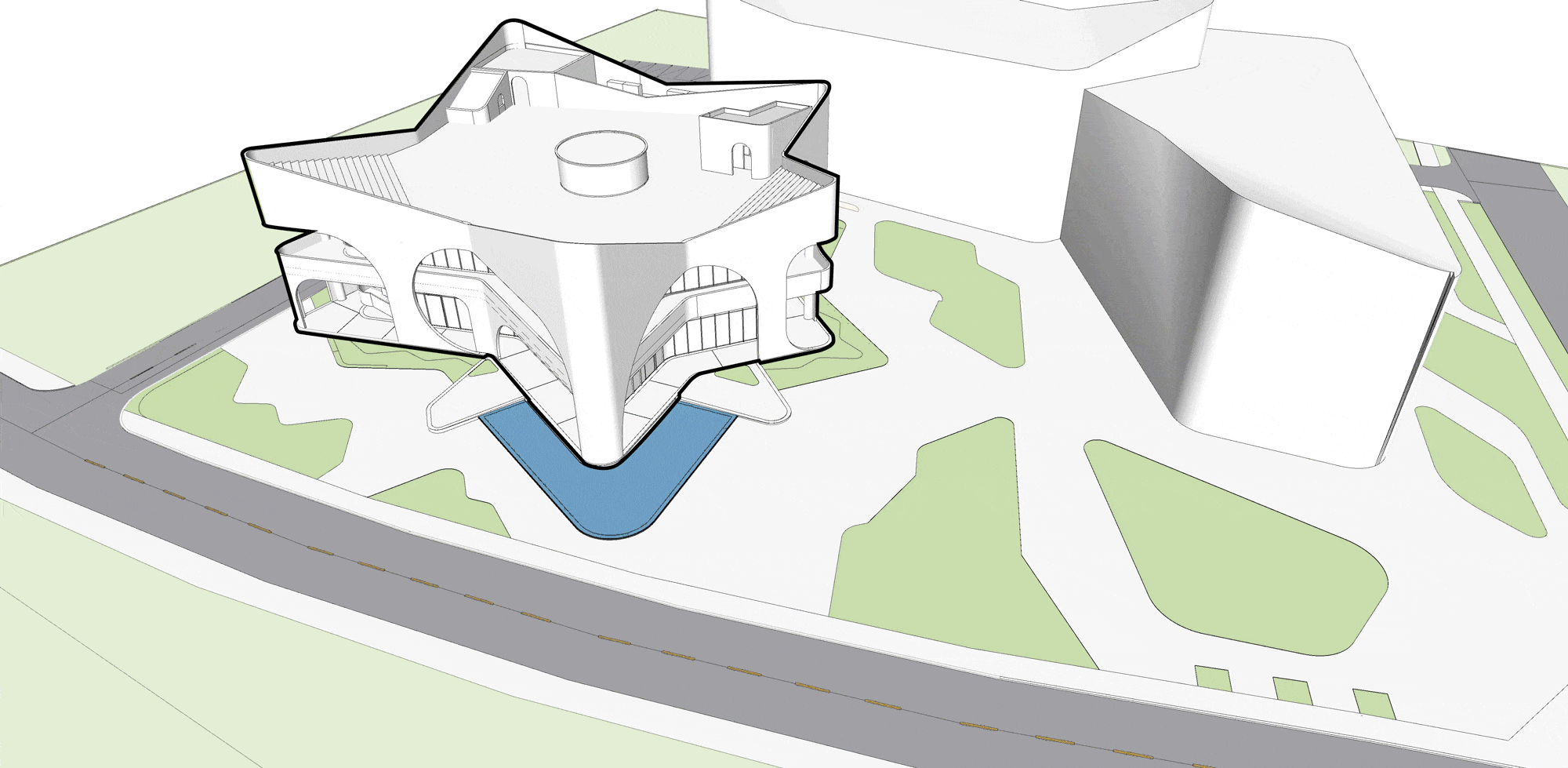 ▼流动的场地铺装设计,在引导人流的同时渲染出舒缓、静谧的海岸氛围 The pavement design presented by particular dynamic patterns creates a soothing and peaceful atmosphere while guiding the flow of people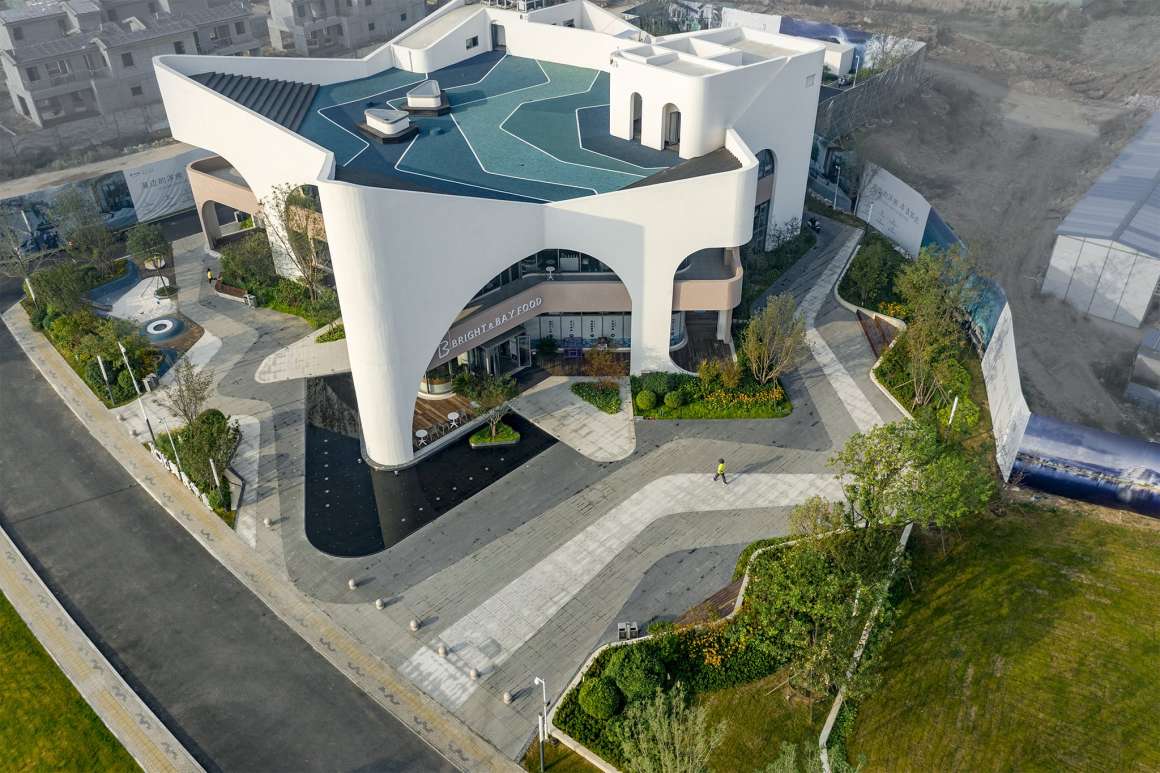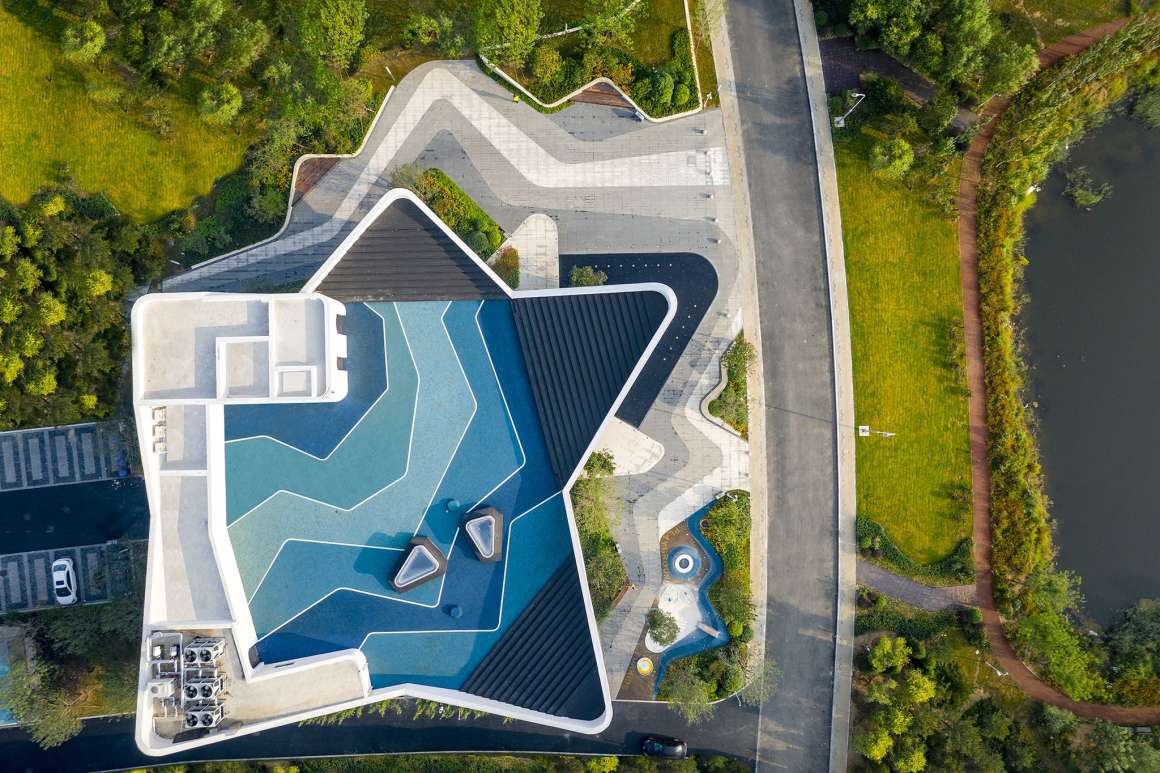 ▼"星空"水景里交替闪烁的星光灯与星空相互映衬,水天之间星光烂漫 "star lights" in waterscape alternately flashing and connecting to the stars on the Night Sky, and the romantic landscape released between water and stars
▼景墙与休息平台即是对海浪的提炼,又是建筑形态的延续 Landscape wall and rest platform are the refinement of waves, but also the continuation of the architectural form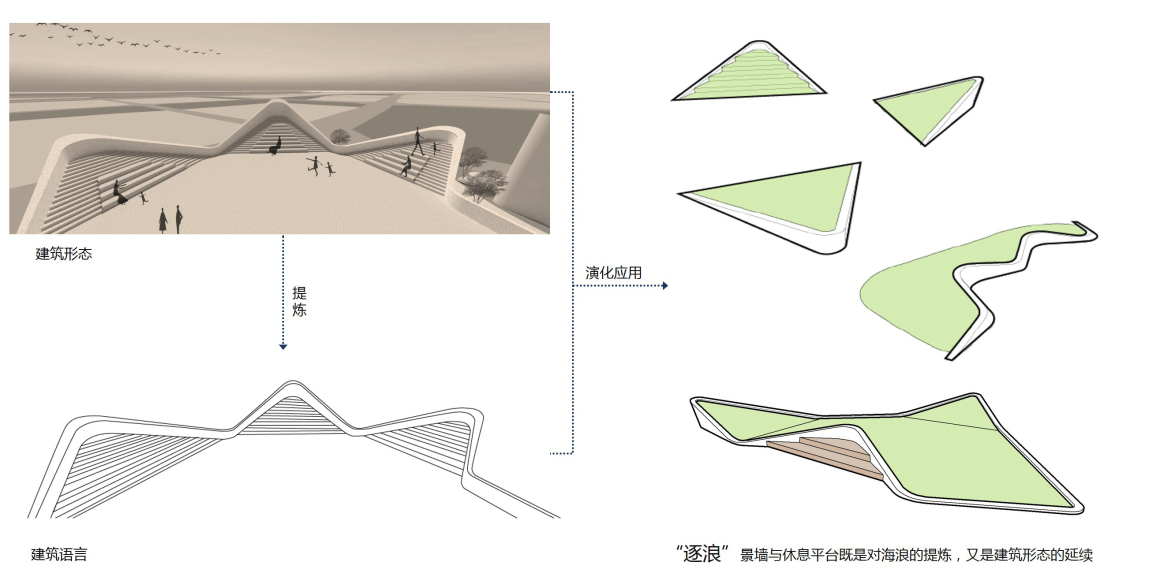 ▼"逐浪"景墙如同一线律动的海浪,在海韵广场边缘泛起一道涟漪 The "wave-by-wave" retaining walls, like the dynamic wave, create a ripple on the edge of sea-rhythm quare
茶酒蔬饭之间,尽显闲情雅致 Enjoying tea, vegetables and rice, Being leisure and elegance fully
北北美食中心的景观以简洁流畅的手法围绕建筑空间展开,在营造闲适、雅致的空间氛围的同时又不失趣味。星光水池中的互动跳泉 给人们带来小的惊喜;绿树萦绕的儿童游戏区 为园区增添小小的活力;丰富多样的景观照明 烘托出"星光海岸"的主题氛围。
The landscape of Bright & Bay Food is built to respond to the building space. It brings a relaxed and elegant experience while still keeps interesting. The interactive springs in the "Starlight" Pool bring some surprises; the children's playground surrounded by green trees produces vitality; the diverse landscape lighting visually emphasizes the theme atmosphere of "Starlight Coast."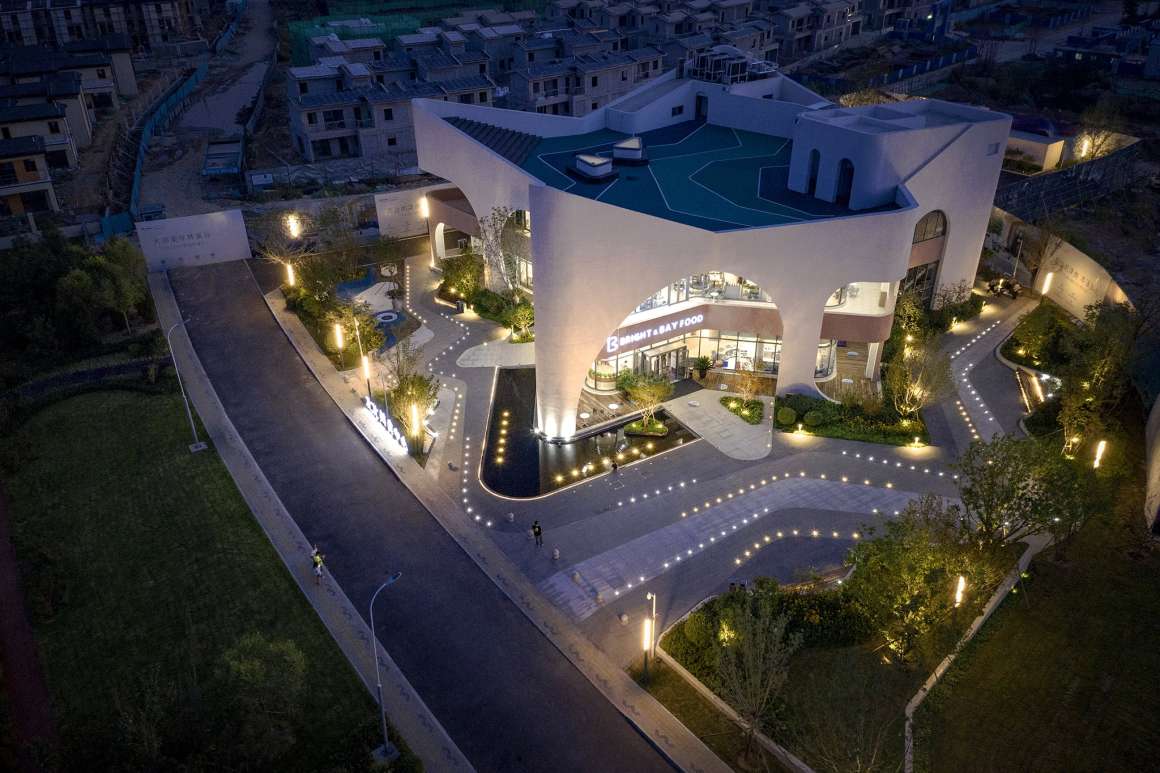 ▼建筑主入口水景 Water view of the main entrance of the building
项目名称:远洋蔚蓝海岸·北北美食中心
项目地址:秦皇岛市北戴河新区
设计面积:3895㎡
设计&竣工时间: 2018.11—2019.07
业主单位:远洋地产
景观设计:谷创生态景观规划设计(北京)有限公司
主创设计师:张桐
设计团队:左迎春、徐逸斌、张静、刘亚南
建筑设计:BENJAI彬占 事业二部
硬装设计:北京十造九物艺术设计咨询有限公司
摄影团队:ZOOM琢墨建筑摄影工作室
Project Name: SEATOPIA ·Bright & Bay Food
Project address: Beidaihe New District, Qinhuangdao City
Design area: 3895m2
Design & Completion Time: 2018.11—2019.07
Client: Sino-Ocean Group.
Landscape Design: Gu Chuang Ecological Landscape Planning and Design (Beijing) Co., Ltd.
Lead designer: Zhang Tong
Design team: Zuo Yingchun, Xu Yibin, Zhang Jing, Liu Yanan
Architectural Design: BENJAI ARCHITECTURE
Hardcover design: Beijing Material Matters Design Consulting Co., Ltd.
Photography team: ZOOM Architecture Photography Studio
项目中的材料运用 Application of materials in this project
更多 Read more about: 谷创设计