本文由 至岸景观 授权mooool发表,欢迎转发,禁止以mooool编辑版本转载。
Thanks ZAN Landscape for authorizing the publication of the project on mooool, Text description provided by ZAN Landscape.
至岸景观:每一处都在诉说着岭南的世外桃源。
ZAN Landscape: Everywhere is telling the paradise of Lingnan.
以方寸之地,见万象新生To square inch, see Vientiane new.
项目位于佛山乐从村落的一家中式茶馆,一座传统青砖建筑的天井小院中,四面墙连结在一起,创造出一个围合空间,内部环境安静私密。
为迎合茶馆的氛围,需要将古典园林的气韵融入其中,营造一个小巧精致的自然山水格局。
The project is located in a Chinese teahouse in Lecong Village, Foshan, a small courtyard with a traditional blue brick building. Four walls are connected together to create an enclosed space with quiet and private internal environment.
In order to cater to the atmosphere of the teahouse, it is necessary to integrate the charm of classical gardens into it and create a small and delicate natural landscape pattern.
用出世的心态做入世的表达,空间不在于琳琅,而在于朴质与内涵。With the mentality of the world to do the expression of life, Space lies not in beauty, but in simplicity and connotation.
院中树木形态纤细优美,枝叶疏朗,粗犷裸露的石头与自然朴素的老石条都附着时光的痕迹,让自然顺着每一片树叶、每一块石头蔓延到场地,与自然的对话也在这院内悄然发生。
The trees in the courtyard are slender and beautiful in shape, with long branches and leaves. The rough and bare stones and natural plain old stone strips are all attached with traces of time, allowing nature to spread to the site along every leaf and stone. The dialogue with nature is also quietly taking place in the courtyard.
石材的天然属性呼应了大地质朴纯粹的生命力,如同凝固的音符,让到场的宾客感受一曲无声的山野之歌。
The natural attribute of stone echoes the plain and pure vitality of the earth, just like a frozen note, making guests feel a silent song of the mountains.
到访者从迈入门廊的瞬间,一隅隐匿在小院中的幽静画卷便静静展开。
踏入景中洗手品茗,入了境,见了景,忘了俗,清净身心,开启修生养息的心灵之旅。
The moment the visitor enters the porch, the quiet picture scroll in the corner hidden in the small courtyard quietly unfolds.
Step into the scene, wash your hands and drink tea, into the country, see the scene, forget the vulgar, clean body and mind, open the spiritual journey of cultivation.
▽洗手钵 Finger bowl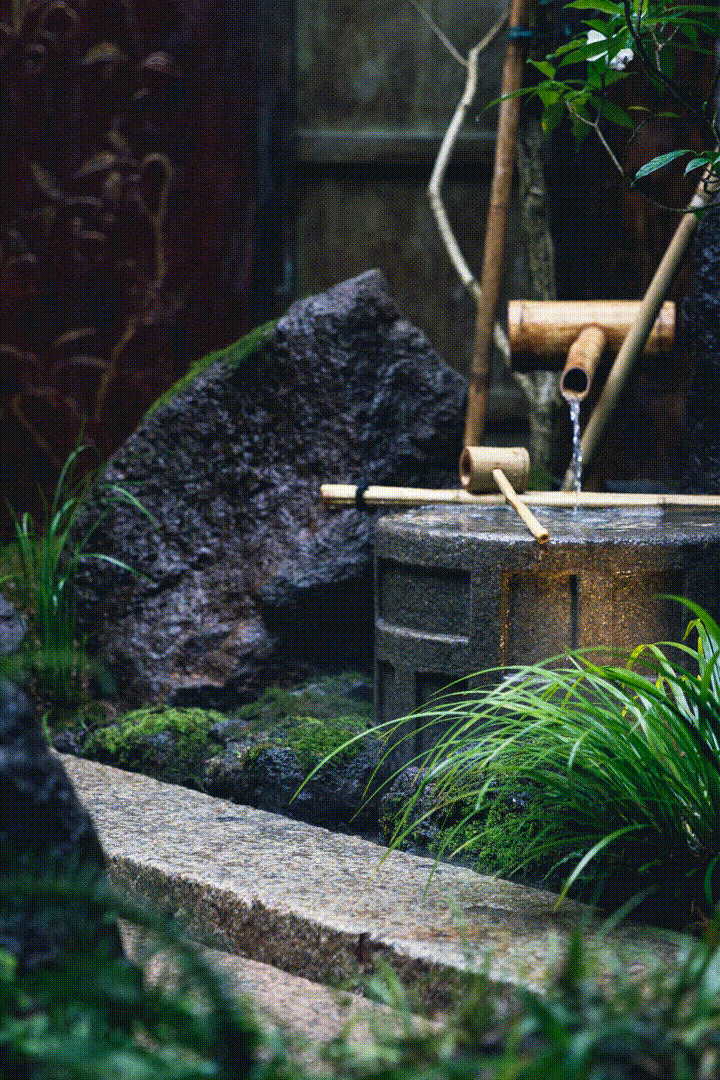 绿树为盖,沐光点缀,这是雅致生活的拆解 Covered with green trees and embellished with sunshine, this is the dismantling of elegant life.
树影、绿荫、拂水、不同的时间和气候变化可呈现出不一样的美景,让宾客得以在此释放内心的浮躁,体验到抚慰人心的园林美学。
Tree shadows, green shade, water, time of day and climate change can present different beauty, allowing guests to release their inner fickleness and experience the soothing garden aesthetics.
师法自然 良工巧匠。寻求极致的效果,对每一处细节精益求精。Inspired by nature experienced artificers. Seek the ultimate effect and keep improving every detail.
有灵魂的院子必定有其精神内核,不做千篇一律的模块化景观,回归初心,剥离不必要的约束,用心去感受过程中的质朴与宁静。
A yard with soul must have its spiritual core. It does not make a monotonous modular landscape. It returns to the original intention, removes unnecessary constraints, and feels the simplicity and tranquility in the process.
▽精致的细节设计 Exquisite detail design
从树木到石头的选择,都按自然山林的标准去做考量,尽量褪去人工的痕迹,回归自然本真。
From the tree to the stone selection, according to the standard of the natural forest to do the consideration, as far as possible to fade artificial traces, return to the natural truth.
▽选材过程 The selection process
项目名称:泗水堂
项目地址:广东佛山
设计单位:至岸景观
施工单位:至岸景观
公司网站:www.zaaan.cn
公司邮箱:zaaancn@qq.com
设计团队:杨剑宝、陆海锋
工作内容:概念设计、方案深化、工程施工
业主单位:一如院子
景观面积:14㎡
完成年份:2022
摄影师:黎舜荣
Project Name:SI SHUI TAGN
Project Site:Foshan Guangdong
Design unit:ZAN landscape
Construction:ZAN landscape
Company website: www.zaaan.cn
Email:info@zaaan.cn
Design team:Zack、Leo
Content: Conceptual design, in-depth drawing design, engineering construction
Owner unit:YIRU Courtyard
Design area:14㎡
Completion time:2022
Photographer:Shunrong Li
---
" 以拙朴的自然材料,塑造小巧精致的庭院意境。"
审稿编辑 王琪 –  Maggie
更多 Read more about: 至岸景观 ZAN Landscape