本文由 Sinato Inc. 授权mooool发表,欢迎转发,禁止以mooool编辑版本转载。
Thanks Sinato Inc. for authorizing the publication of the project on mooool, Text description provided by Sinato Inc. .
Sinato Inc.:这个项目是索尼集团户外活动"dot park"的场地设计。这次活动旨在体现索尼集团的品牌信息"make. believe",并通过现场表演、装置和研讨会来激发普通人的好奇心。
Sinato Inc.:This project was for the venue of the SONY Group outdoor event 'dot park'. This event was meant to embody the SONY Group brand-message 'make. believe', and was held to inspire the curiosity of normal people through live shows, installations and workshops.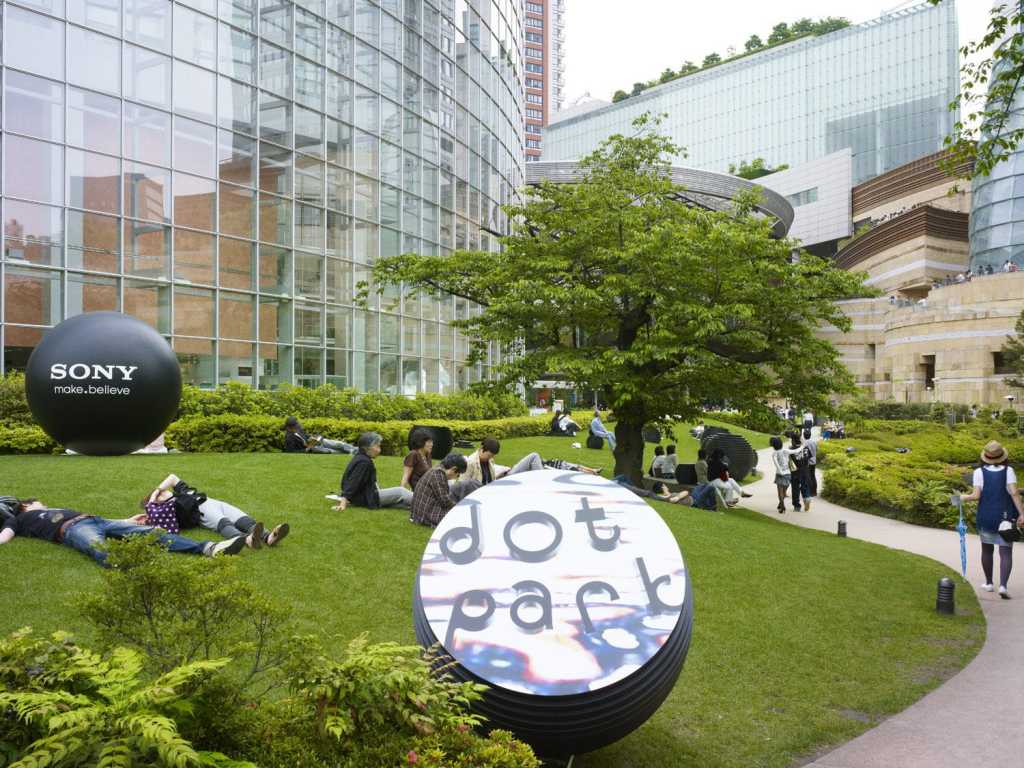 我们在户外放置了135个"点",其中包括从RoppongiHills Arena到Mori花园。这些"点"有各种各样的功能和装置,艺术家Katsuhiko Hibino的"让我们试着去……"一系列鼓舞人心的短语刻在上面。每个"点"的位置和形状通过调整尺寸、空隙和粒度参数来确定,以适应与事件空间配置相关的不同层次的关注,比如对标识规划、人流移动路径和程序的关注。
We placed 135 'dots' throughout the venue,which included RoppongiHills Arena and Mori Garden. The 'dots' have various functions and devices as well as the artist Katsuhiko Hibino's 'Let's try…' series of inspirational phrase inscribed on them. The position and shape of each 'dot' is determined by adapting the parameters of size, void and granularity to suit the layered concerns relating to the configuration of the event space; concerns of sign planning, movement paths, and program.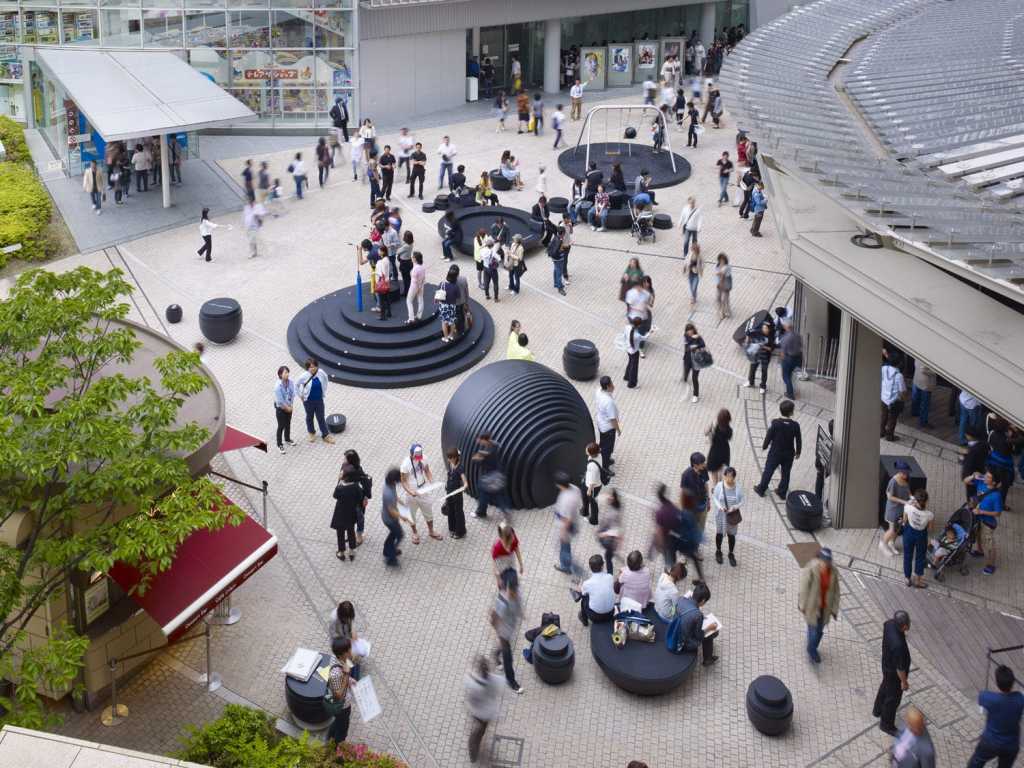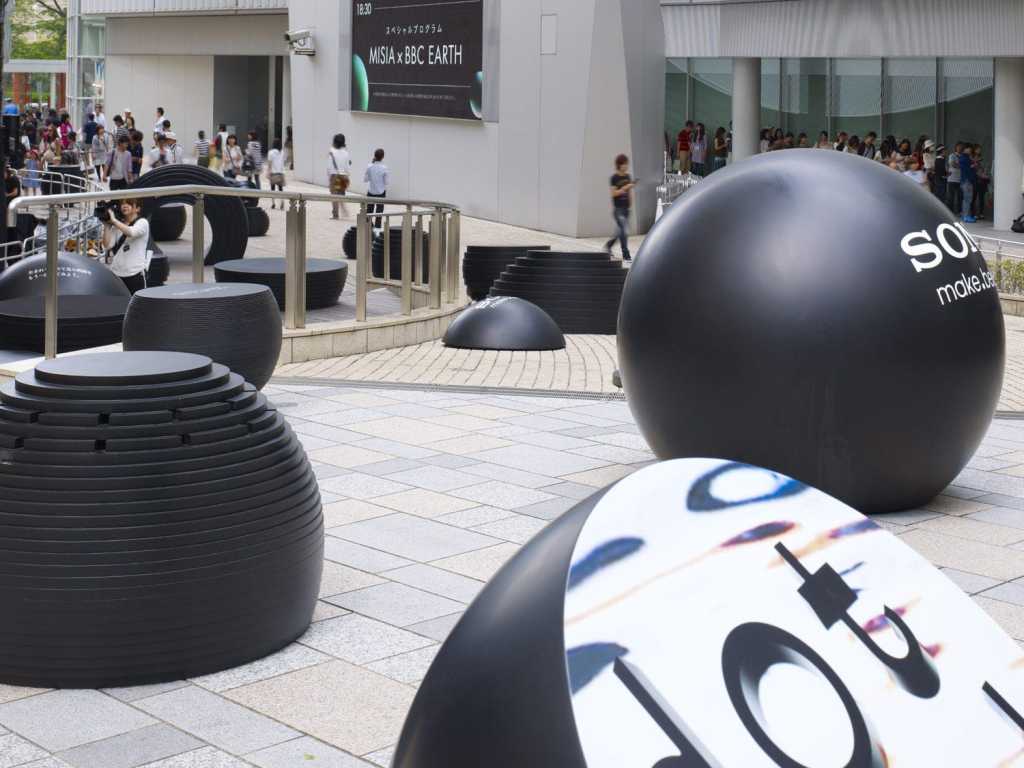 这些"点"是由逐渐分层的扁平球体组成,形成一个条纹状的半球,给人一种层次感。当用作户外家具或游戏设备时,"点"可以提供休息或游戏空间,通过分散提供一种视觉取向,在这里,人们可以体验多种自由。不仅是参观的人,而且路过的普通人也可以享受这公园般的地方。
The 'dots' are composed of flattened spheres gradually layered to create a striated hemisphere giving the feeling of a kind of gradation. When used as outdoor furniture or play equipment, the 'dots' can accommodate rest or play, providing a kind of visual orientation by their dispersal wherein the people visiting the site can experience many kinds of freedom. Not only people visiting the venue, but also normal people just passing by can enjoy the park-like place.
在现有的景观中添加一个新的点或元素会产生很大的影响,不仅仅是通过围绕游客而创造一种特定的体验,而是通过创造一种开放和同质的"环境",就好像是一个新的体验层次。这才是我们真正想要创造的体验环境。
Adding a new point or element to the existing landscape has a strong impact where, not just by surrounding the visitors and creating a specific experience, but through the creation of an open and homogenized 'condition' it is as if a new layer of experience has come into being. It is this condition that we really wanted to create.
完成时间: 2010年5月
地点: 日本东京
分类: 装置
客户: 索尼
建设: NOMURA
摄影师: Toshiyuki YANO
Completion: May.2010
Location: Tokyo Japan
Use: installation
Client: Sony
Construction: NOMURA
Photographer: Toshiyuki YANO
Award:
SDA AWARD 45th (Japan) Excellence Award
DISPLAY DESIGN AWARD 2011 (Japan) Shortlisted
Press:
EDEN FOR BOYS & GIRLS (Hong Kong)
SHOTENKENCHIKU Jul.2010 (Japan)
DESIGN NOTE #31 (Japan)
更多 Read more about: Sinato Inc.