本文由 L49 授权mooool发表,欢迎转发,禁止以mooool编辑版本转载。
Thanks L49 for authorizing the publication of the project on mooool, Text description provided by L49.
L49:该项目位于曼谷通罗区,当地高密度的综合使用空间吸引了不少国内外人群聚集于此,因此,景观建筑设计也必须依靠这一领域的优劣势,结合通罗"静谧开放"的特色,打造出独特的景观设计。
L49:In the context of Thonglor area, The density of the Mixed-use area is attractive with activities of both Thai and foreigners, the landscape architecture design Must rely on the advantages and disadvantages of this area as a design problem with the unique characteristics of Thonglor Perfect with the concept "Open Peace".
设计师通过创建独特的元素,隔断外面冗乱嘈杂,在绿树成荫的袖珍公园内创造了一个宁静空间,即由瀑布墙围合而成的植被空间,利用汩汩淙淙的水声淹没外面的混乱,放松人们的身心。
By creating distinctive elements Cut away from the outside and creating a peaceful area within a shady pocket park with vegetation and consisting of a waterfall wall that creating a relaxing sound drowned the outside chaos well.
▼轻奢优雅的品质入口形象设计 The light luxury and elegant entrance image design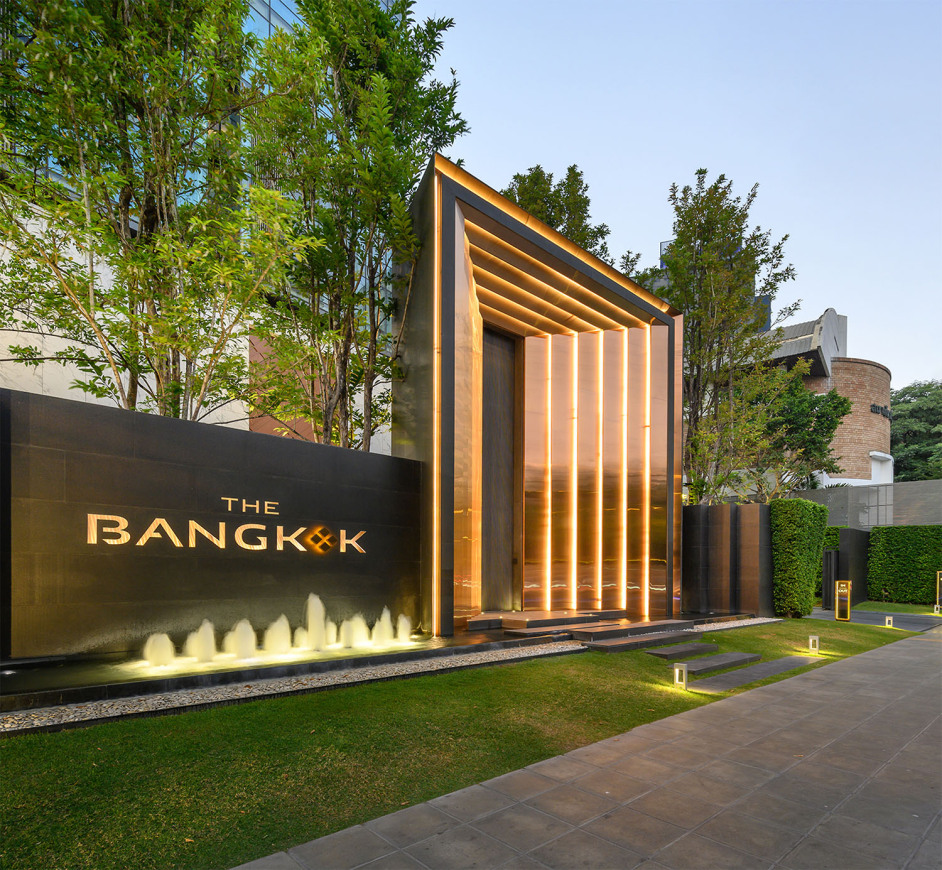 ▼入口门头材料细节 The material details of entrance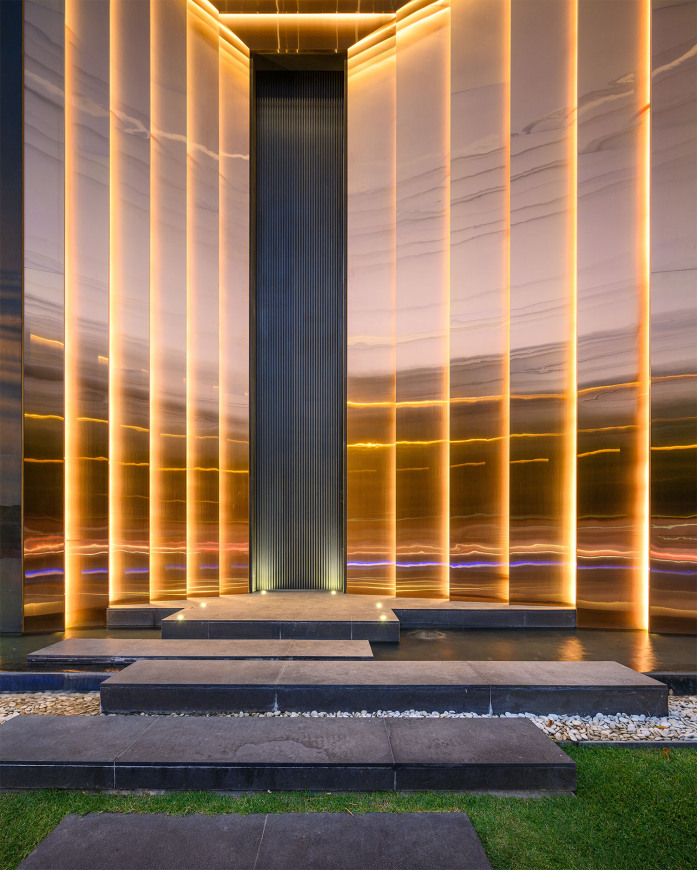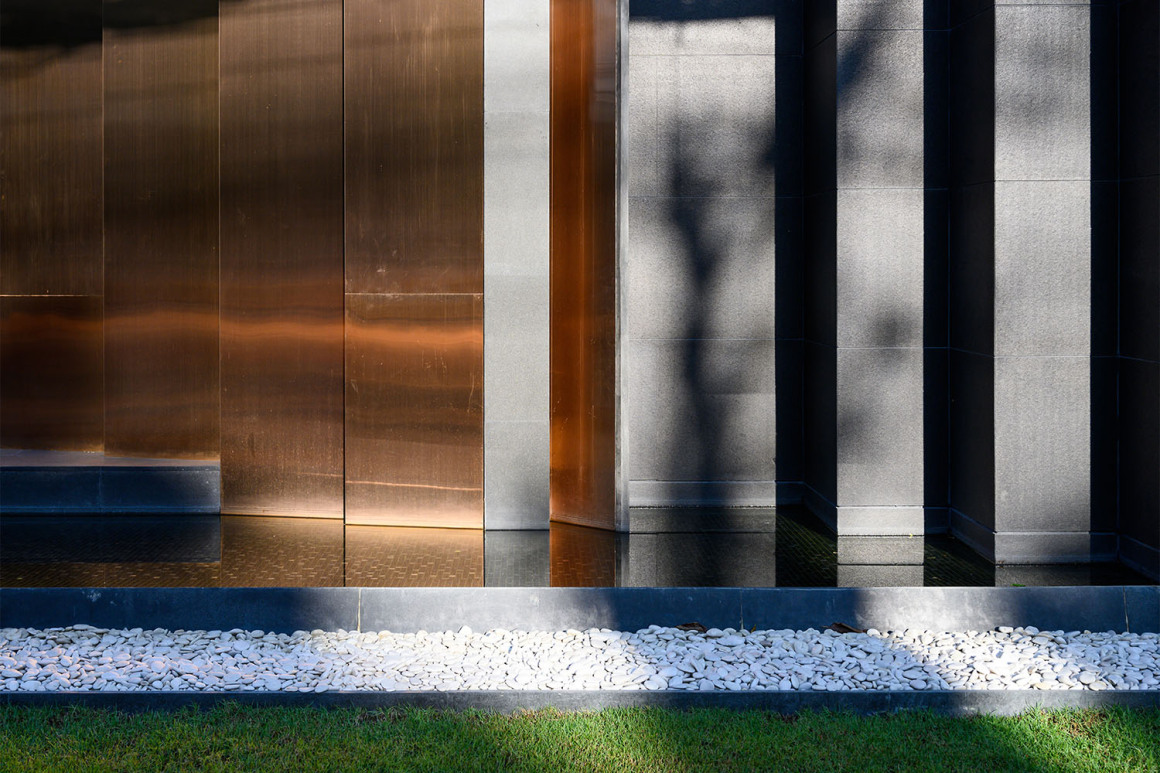 ▼从人行道上看住宅入口夜景 Night view from the sidewalk
▼从对面街道看住宅入口夜景 Night view from the opposite sidewalk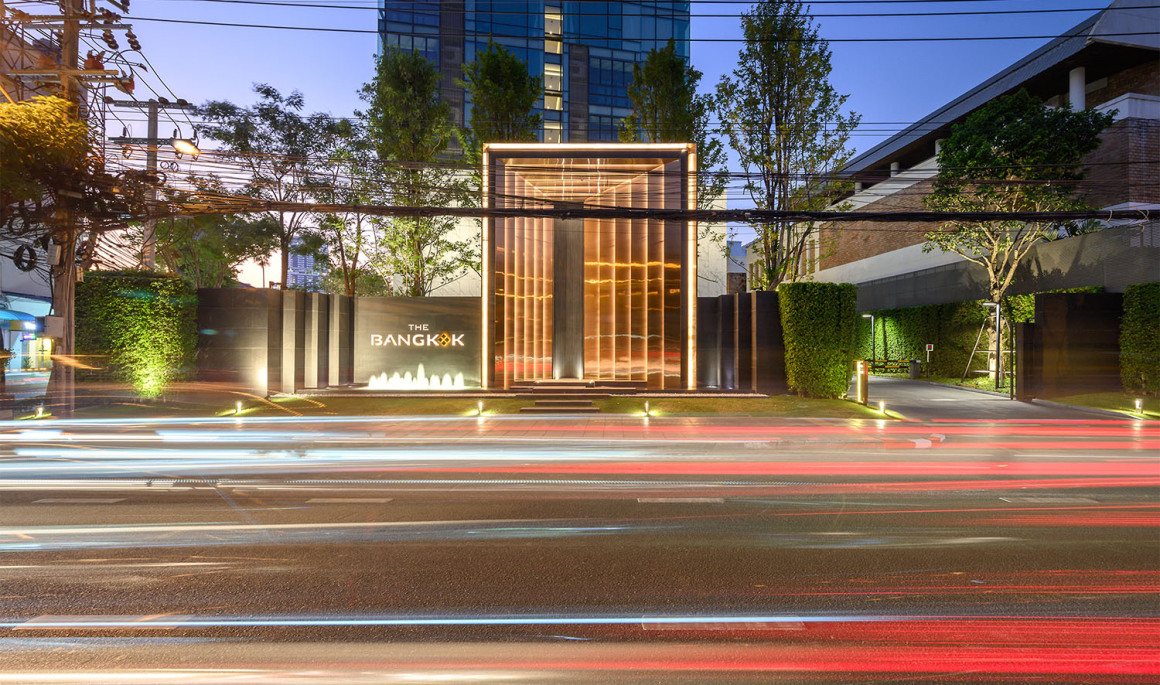 ▼进入住宅庭院看入口门头 View from the courtyard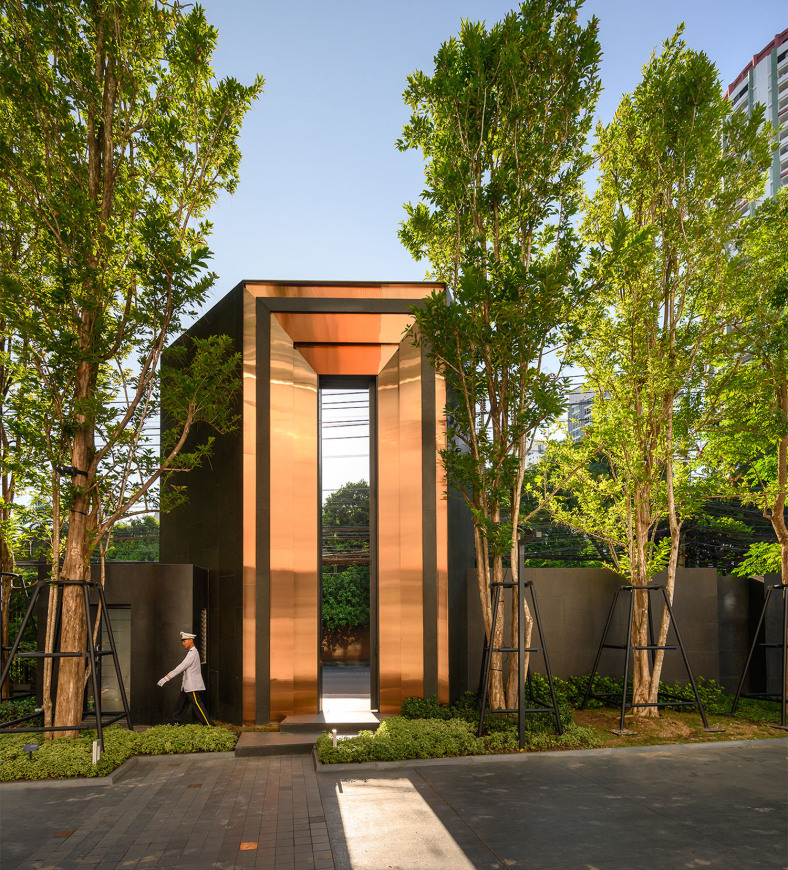 ▼住宅一层的水景庭院掩映在一片葱郁宁静之中 The waterscape courtyard on the ground floor of the residence is hidden in a lush and tranquil landscape.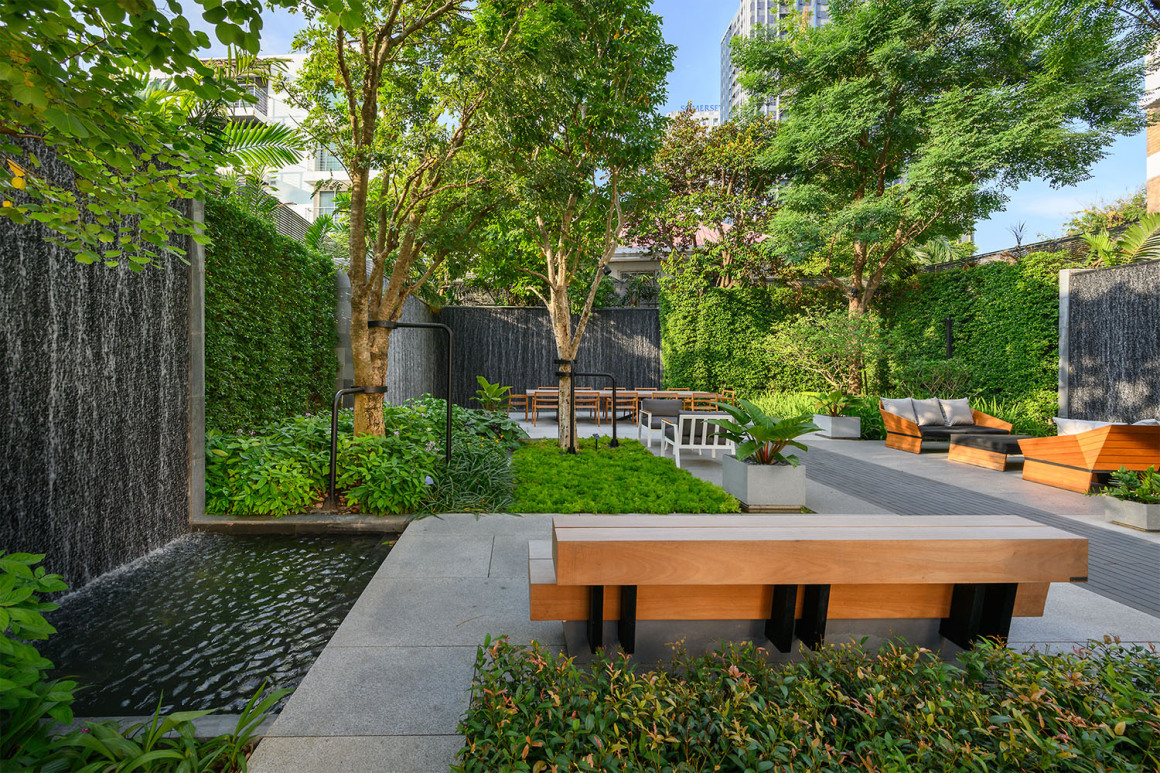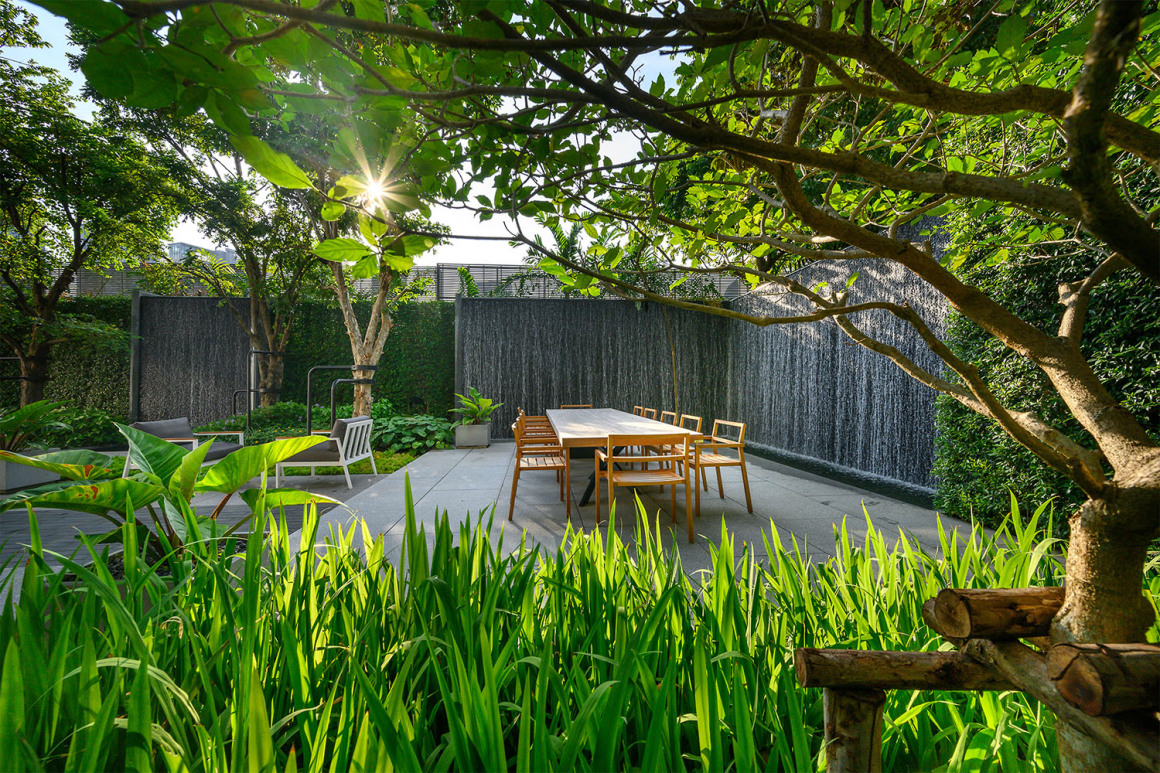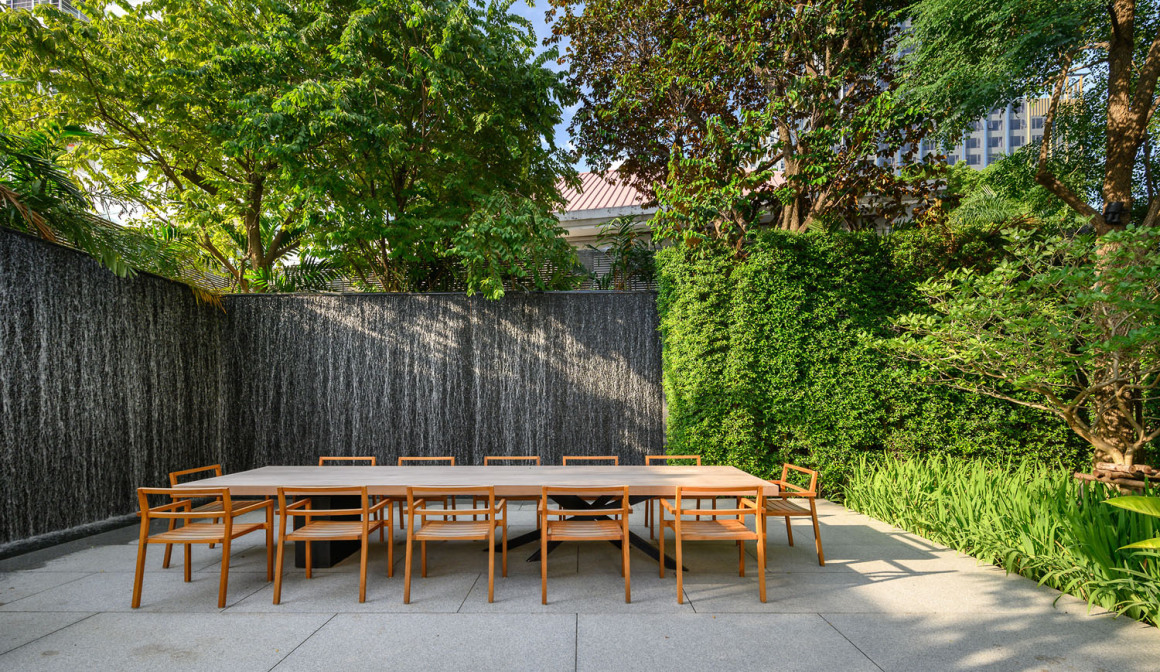 ▼瀑布墙流淌下来的汩汩水声帮人们隔绝了外界的纷乱嘈杂 The gurgling water flowing down from the waterfall wall helps people isolate themselves from the chaos and noise of the outside world.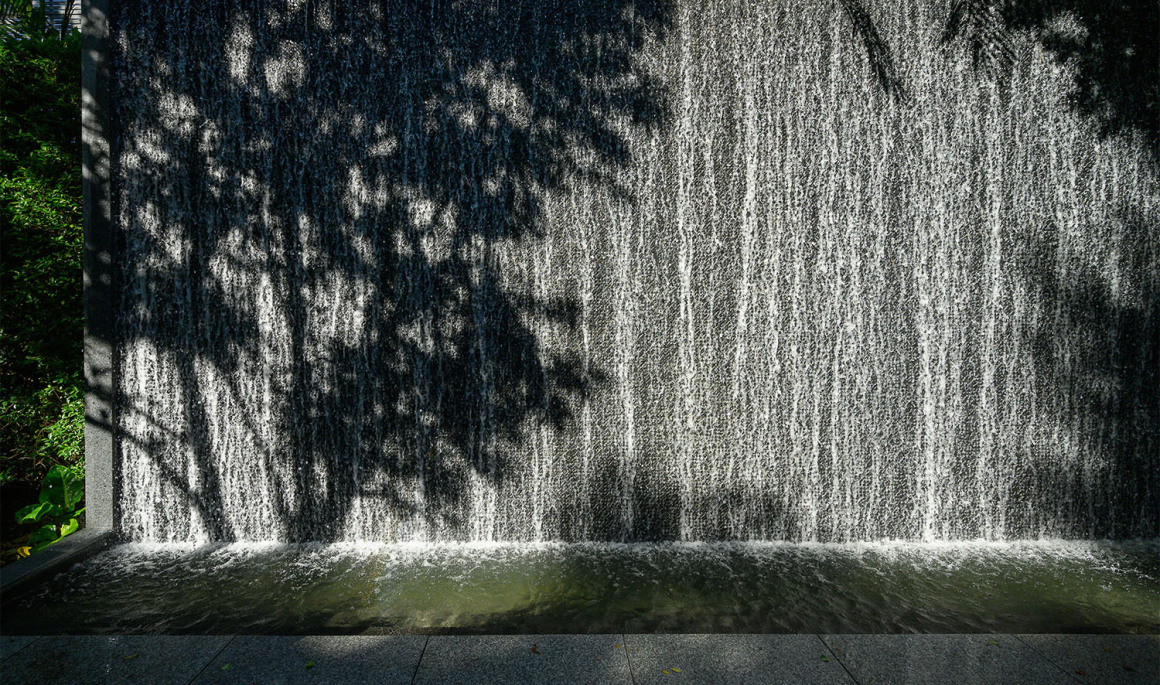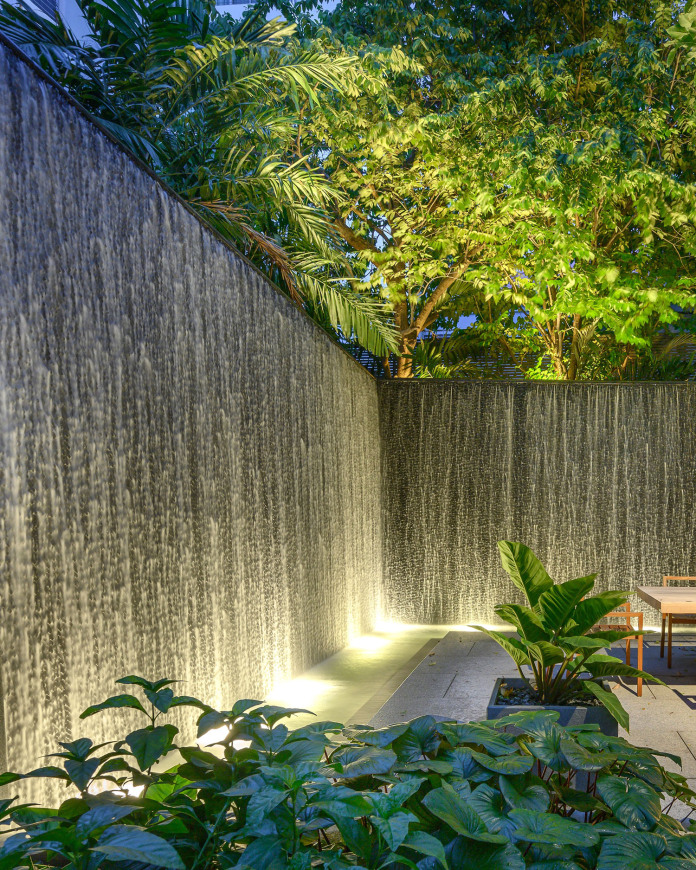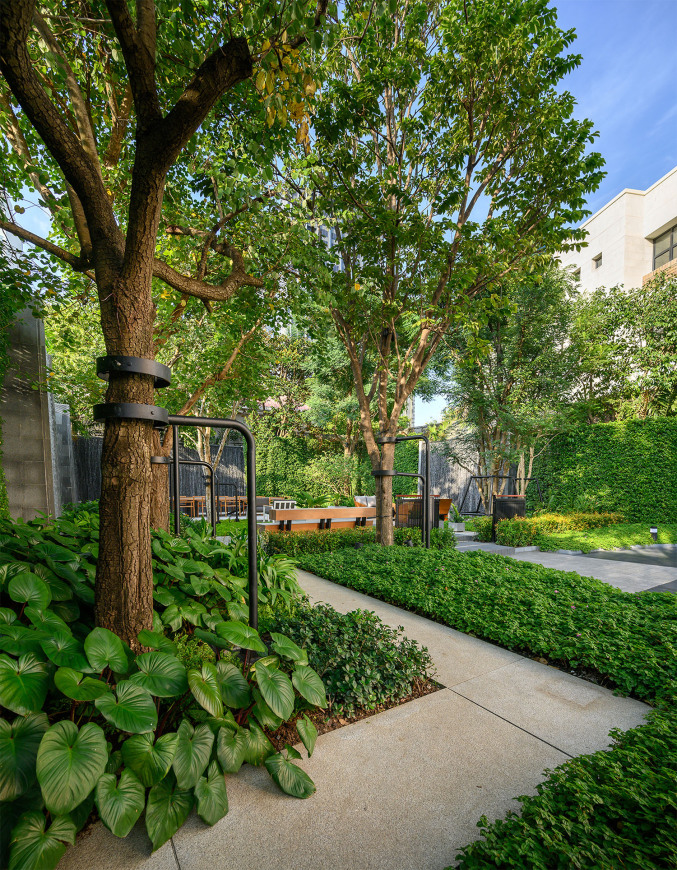 建筑屋顶上的花园层在为用户提供一个安静和私密空间的同时,也帮助人们打开了景观视野,曼谷的城市天际线也被纳入眼底,甚至最顶层的游泳池休息区,还拥有360度的景观视线,这些开阔的设计都旨在能够满足每个人锻炼和放松需求。
While the garden areas on rooftops of the building act as peaceful areas and create a privacy which opens up a wide view into the surrounding atmosphere, recognizing the Skyline of Bangkok, and on the highest floor is a resting place with a swimming pool that can embracing with the view 360 degrees, which is designed to be able to exercise and meet the usage of every relaxation.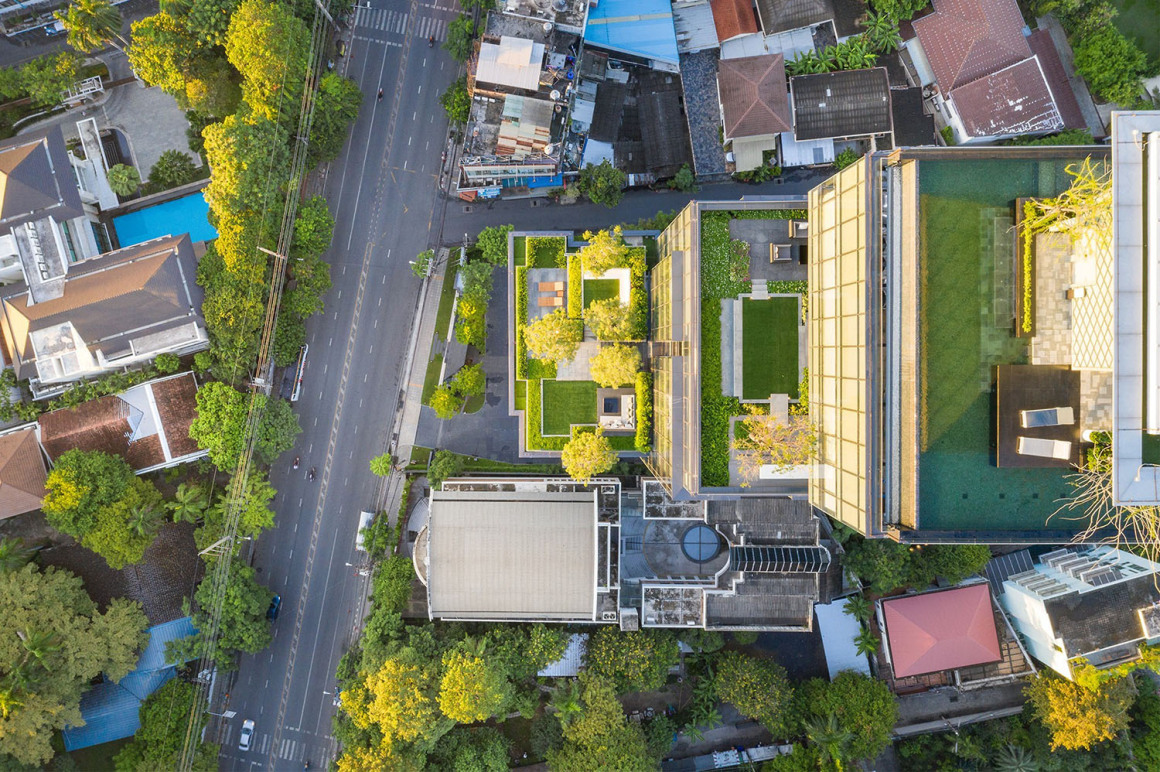 ▼屋顶花园层为用户创造了私密的休闲空间 The garden areas on rooftops of the building creates a private leisure space for users.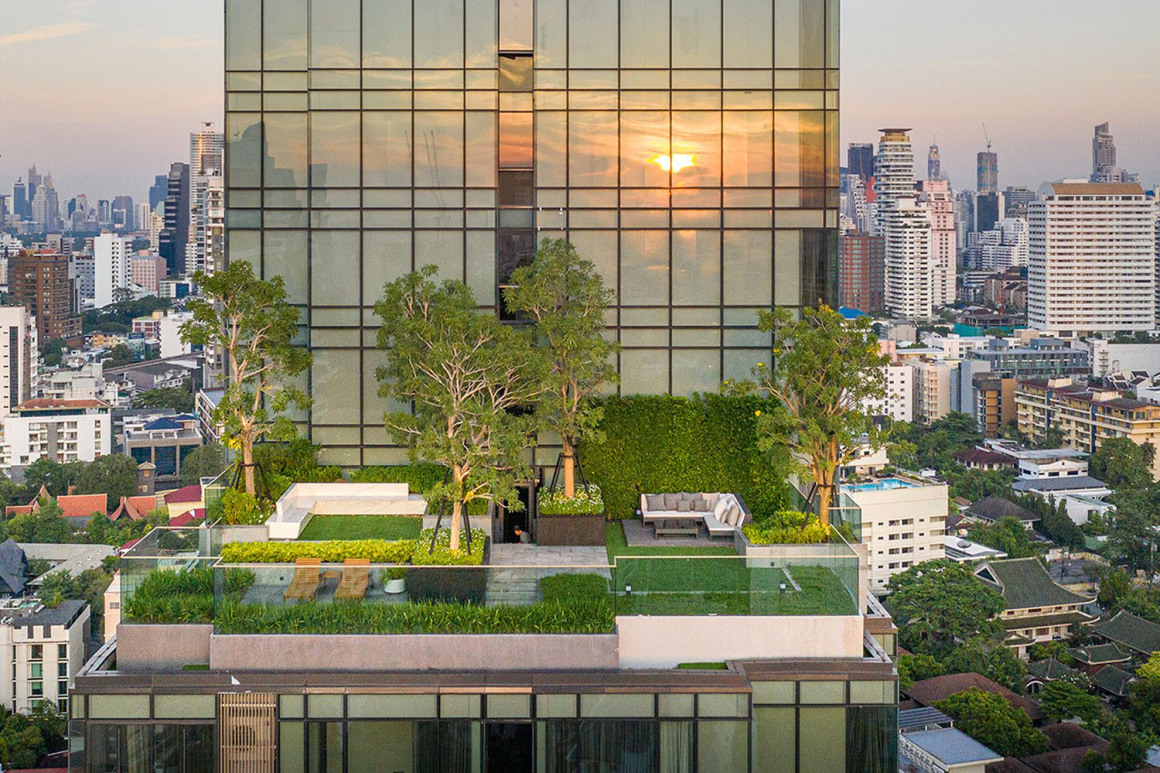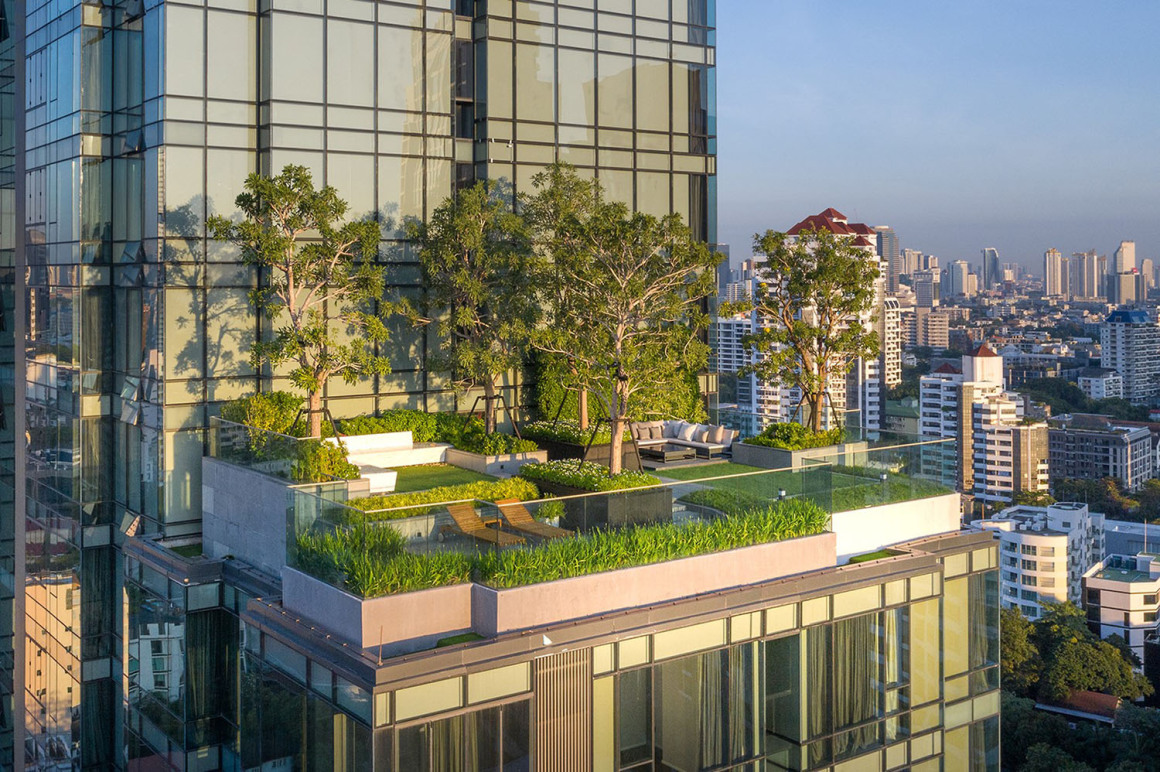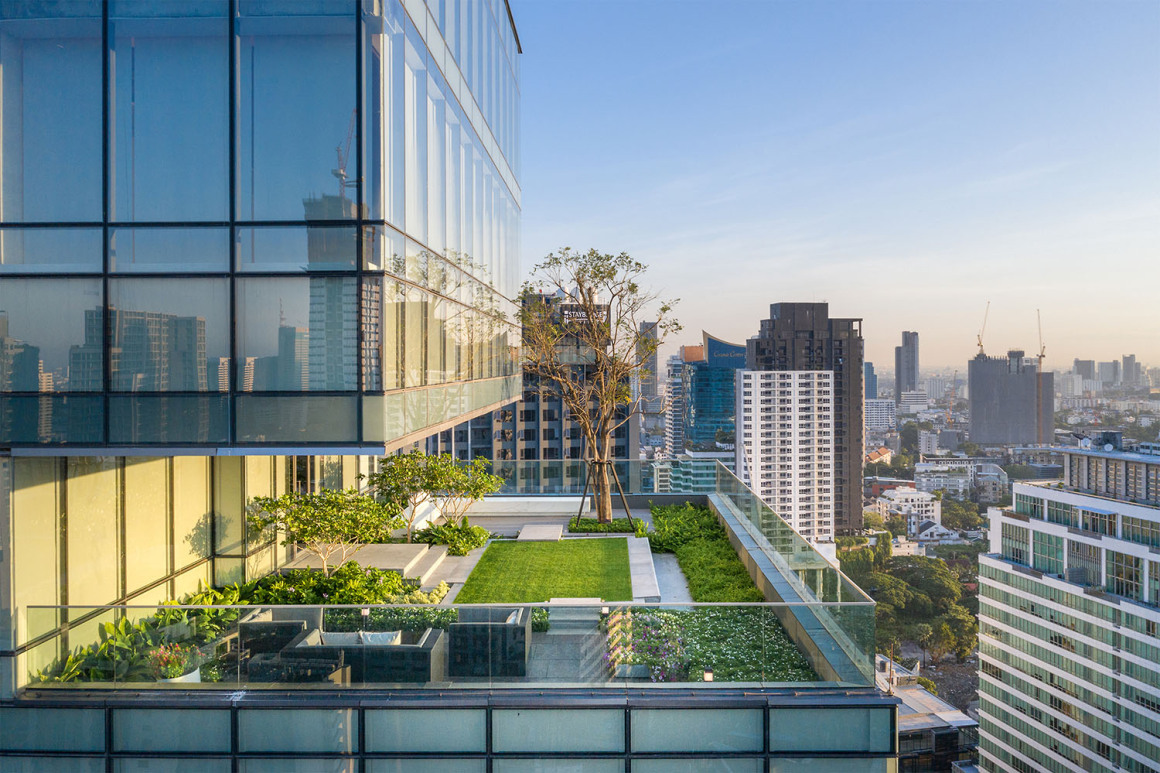 ▼开阔的景观视野,将城市天际线也纳入眼底 The city skyline is also included in the panoramic view of the landscape.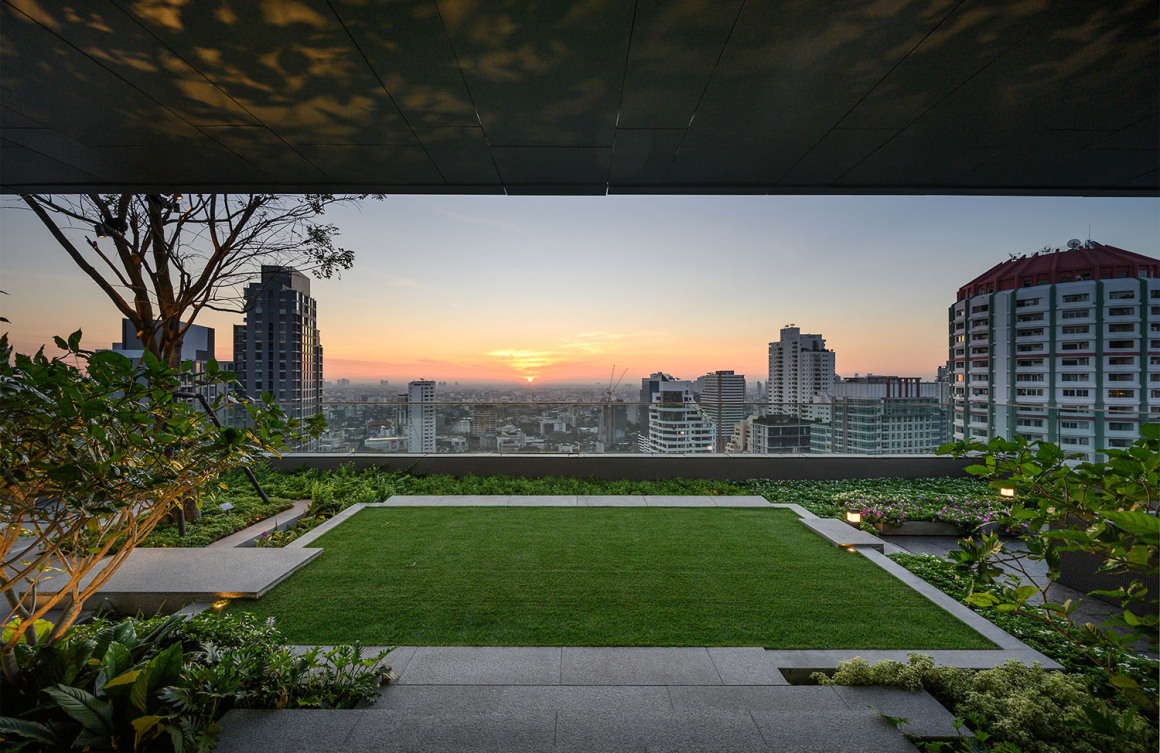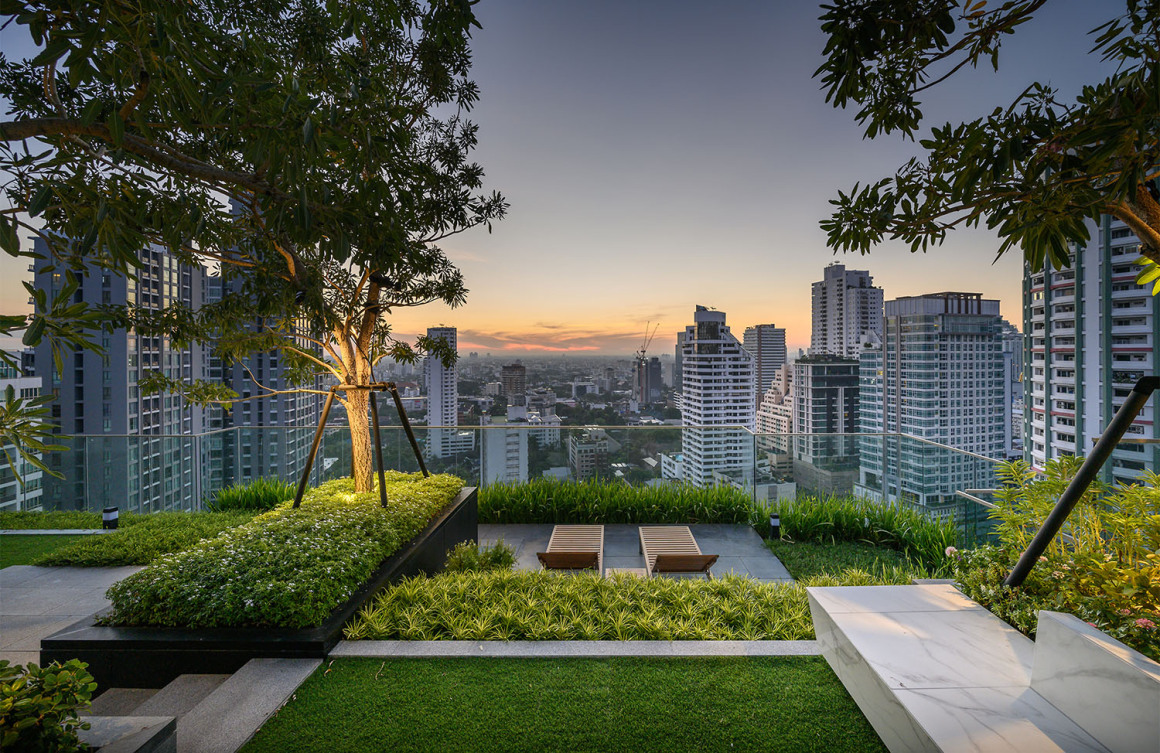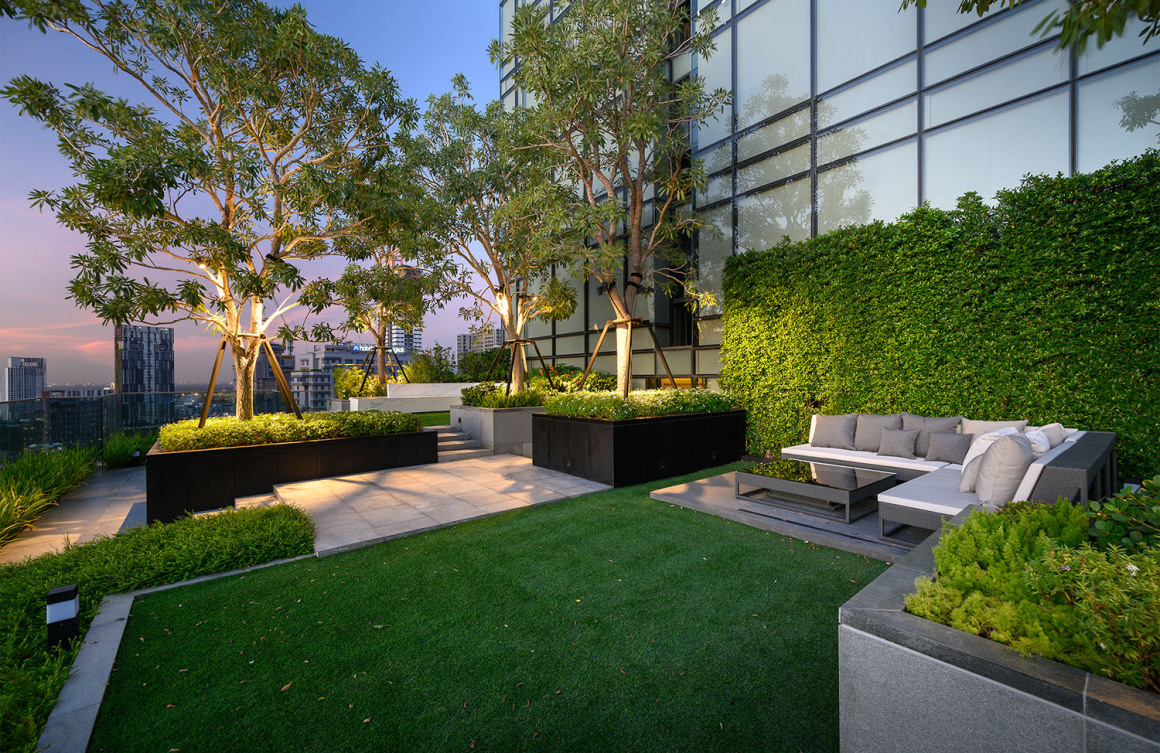 ▼建筑顶层夜景鸟瞰 The night aerial view of top floor.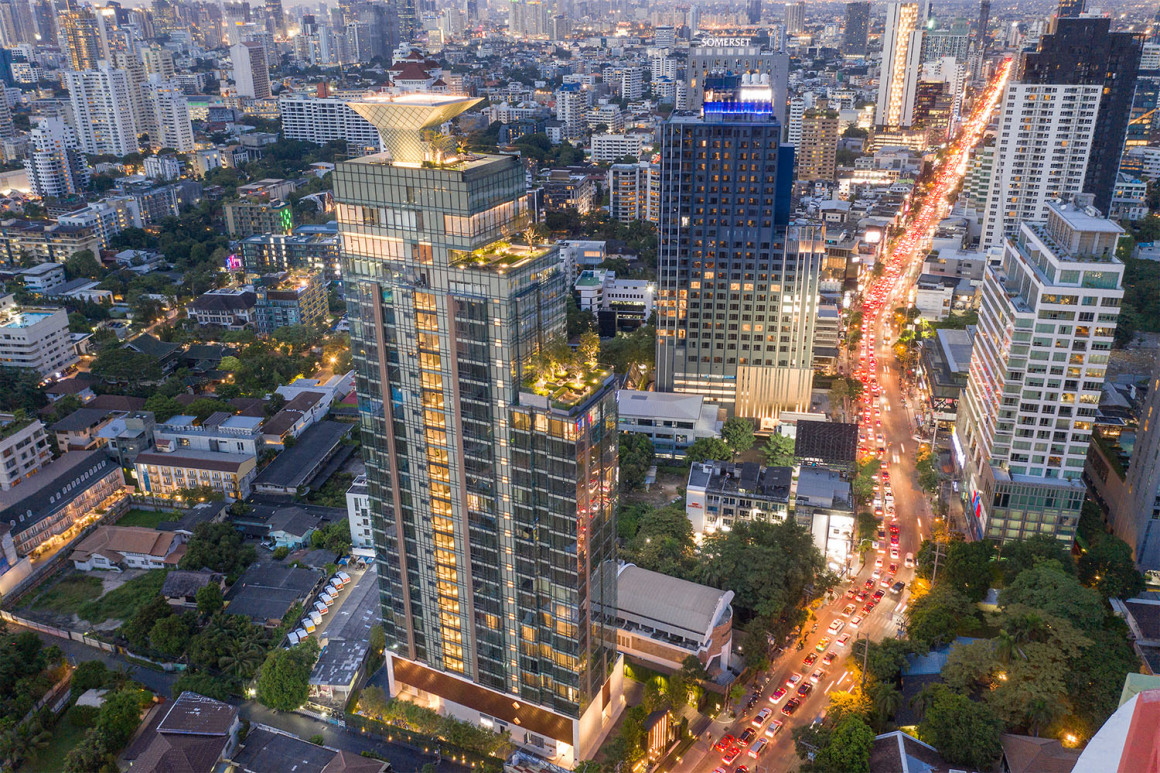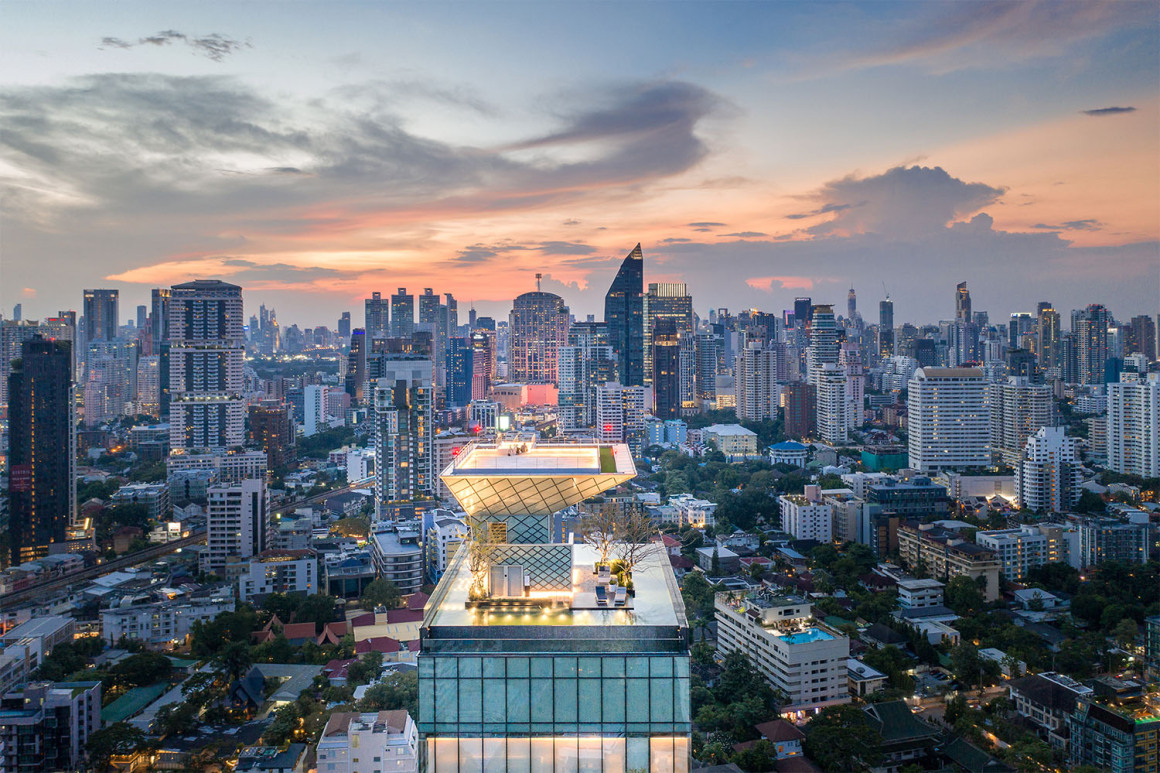 ▼建筑顶层的无边界泳池可360度欣赏周围的景观 The infinity pool on the top floor offers 360-degree views of the surrounding landscape.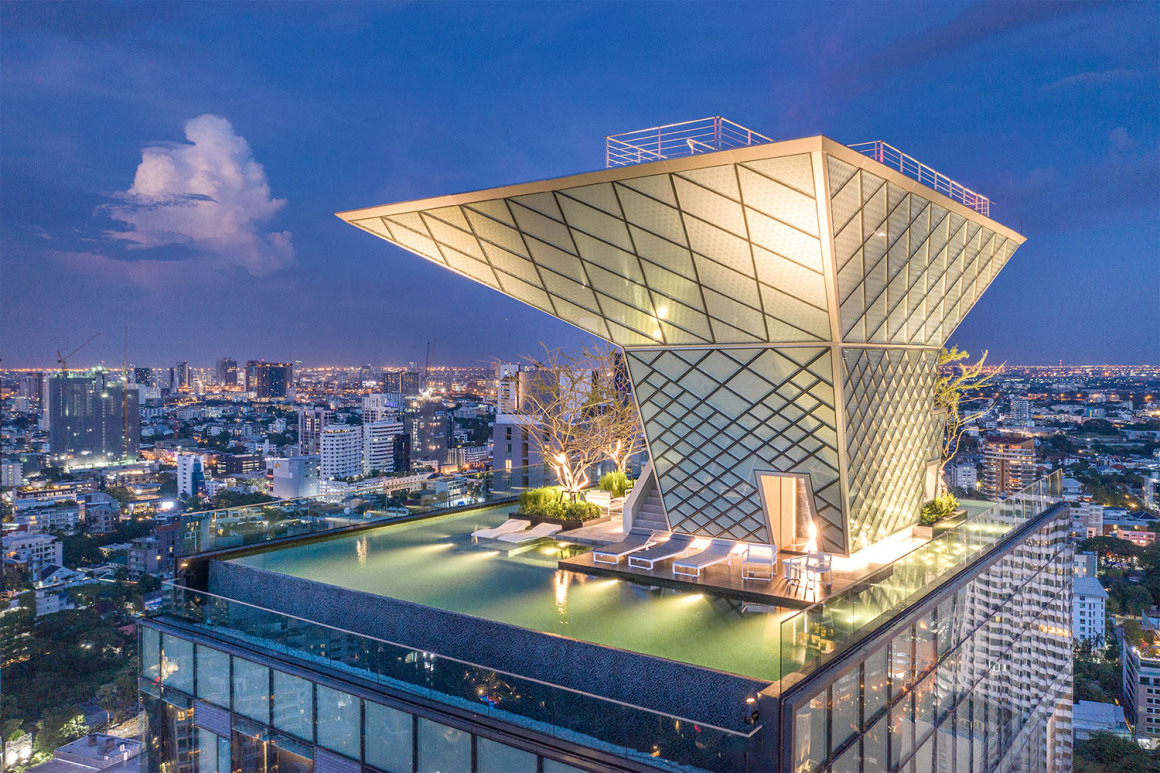 ▼顶层的全景观景台同时也起到了一定的遮蔽作用 The panoramic viewing platform on the top floor also plays a role in shielding.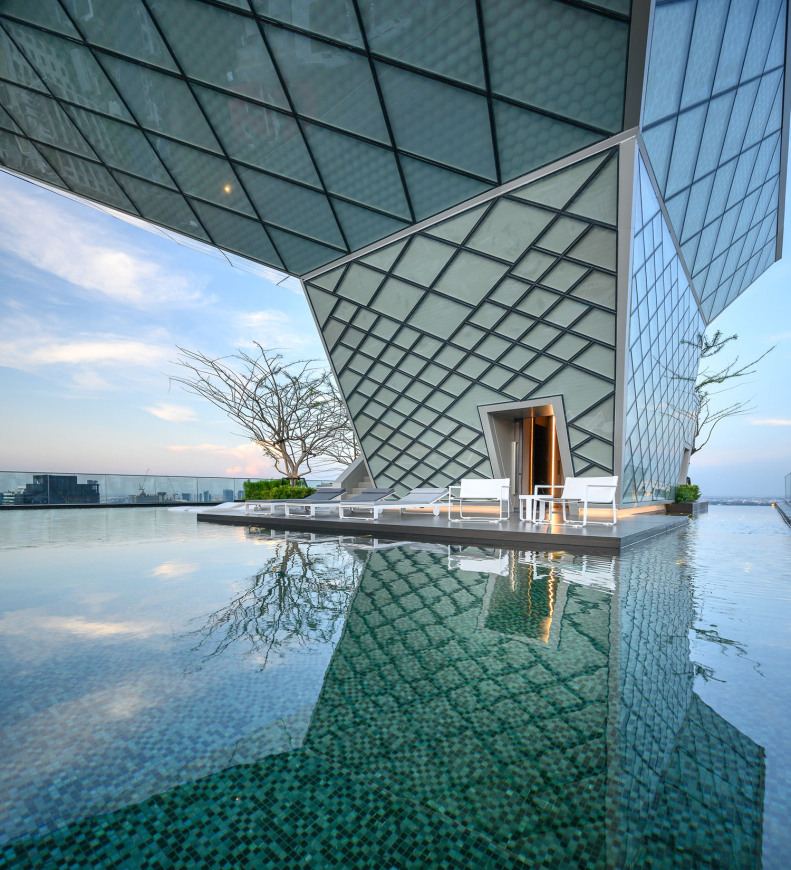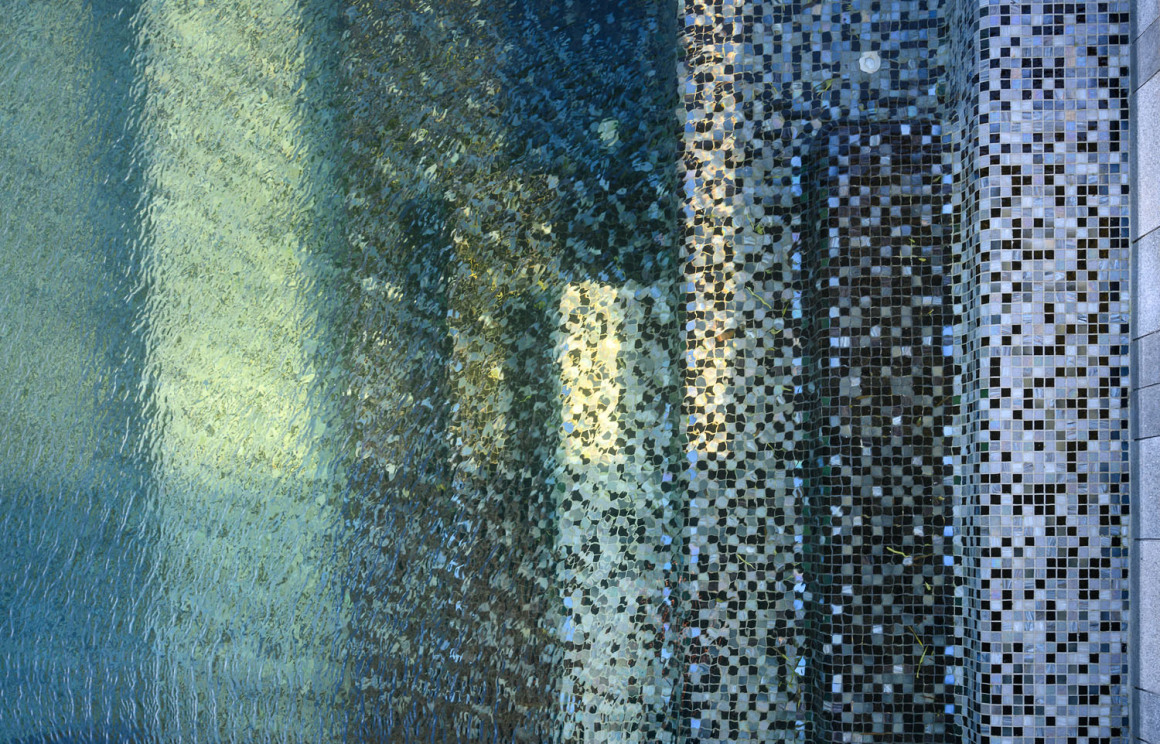 ▼景观设计分析 The design analysis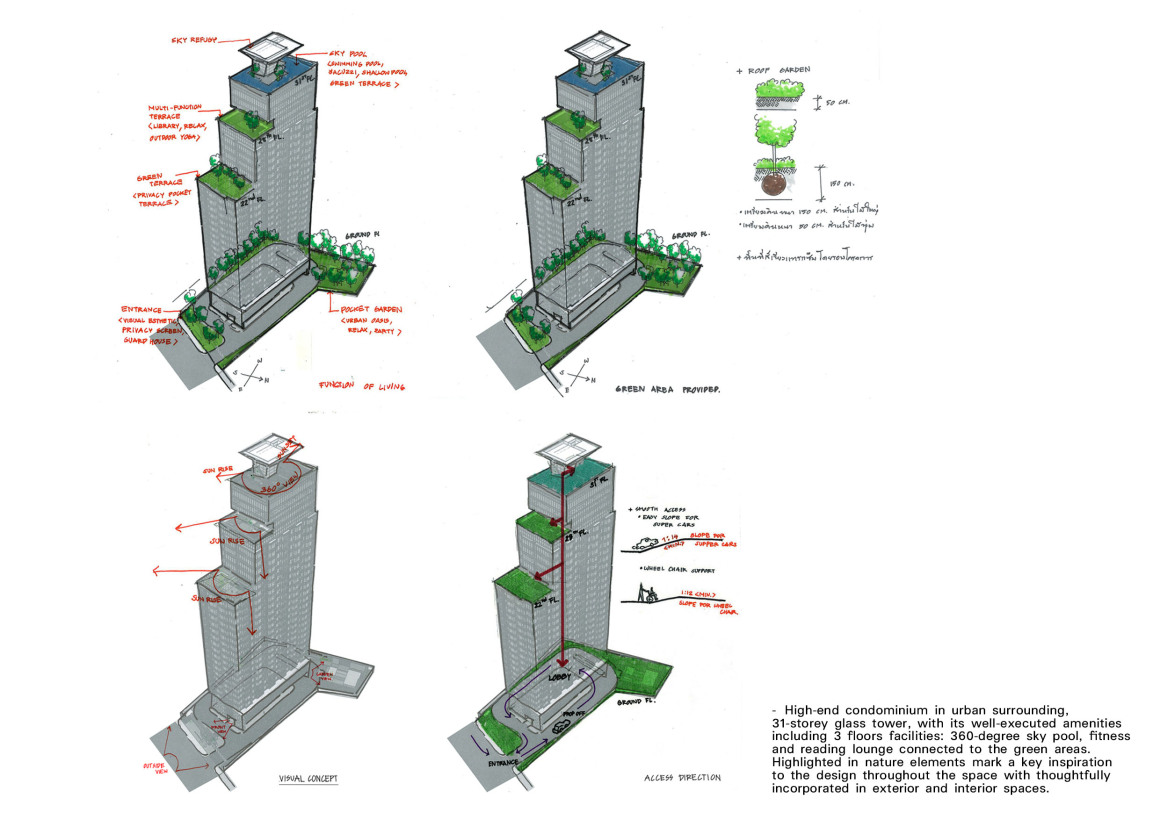 ▼地面层景观布局及流线分析 The ground floor layout and main circulation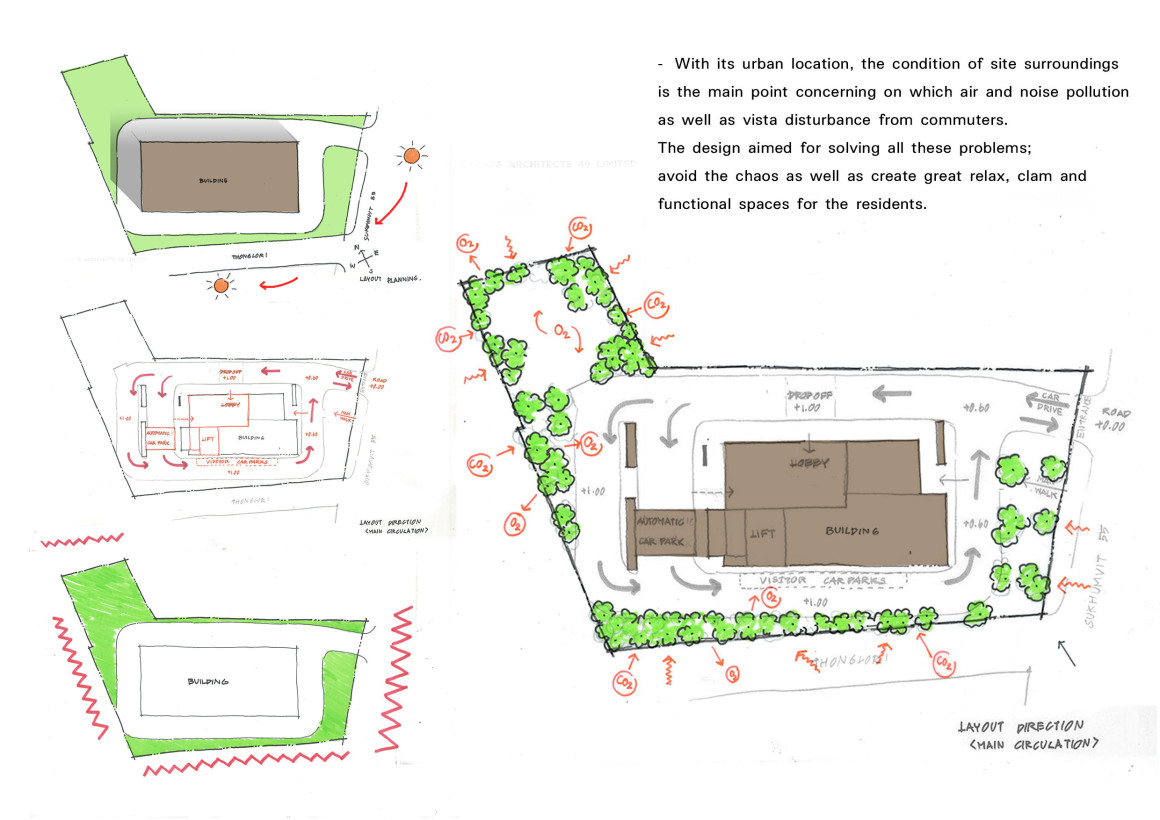 ▼设计概念 Planning Concept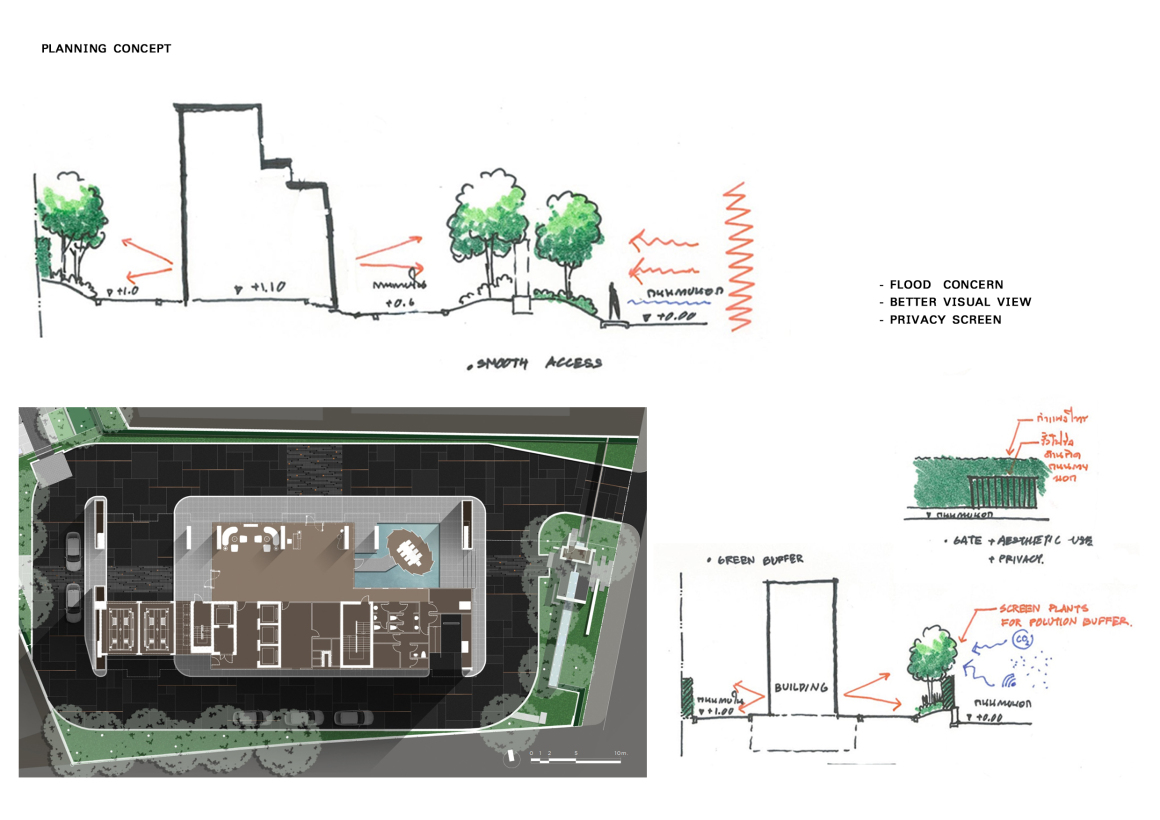 ▼主入口前场设计 Main Entrance Design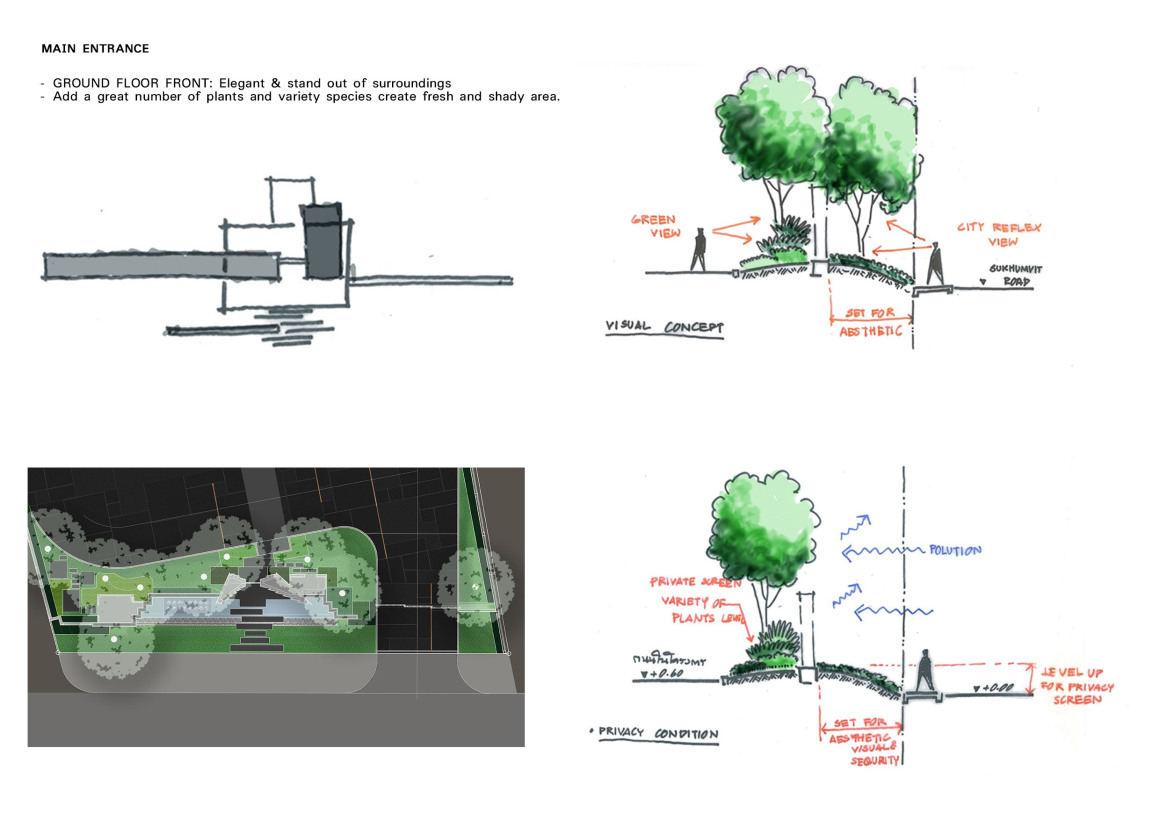 ▼水景庭院设计 Pocket Garden Design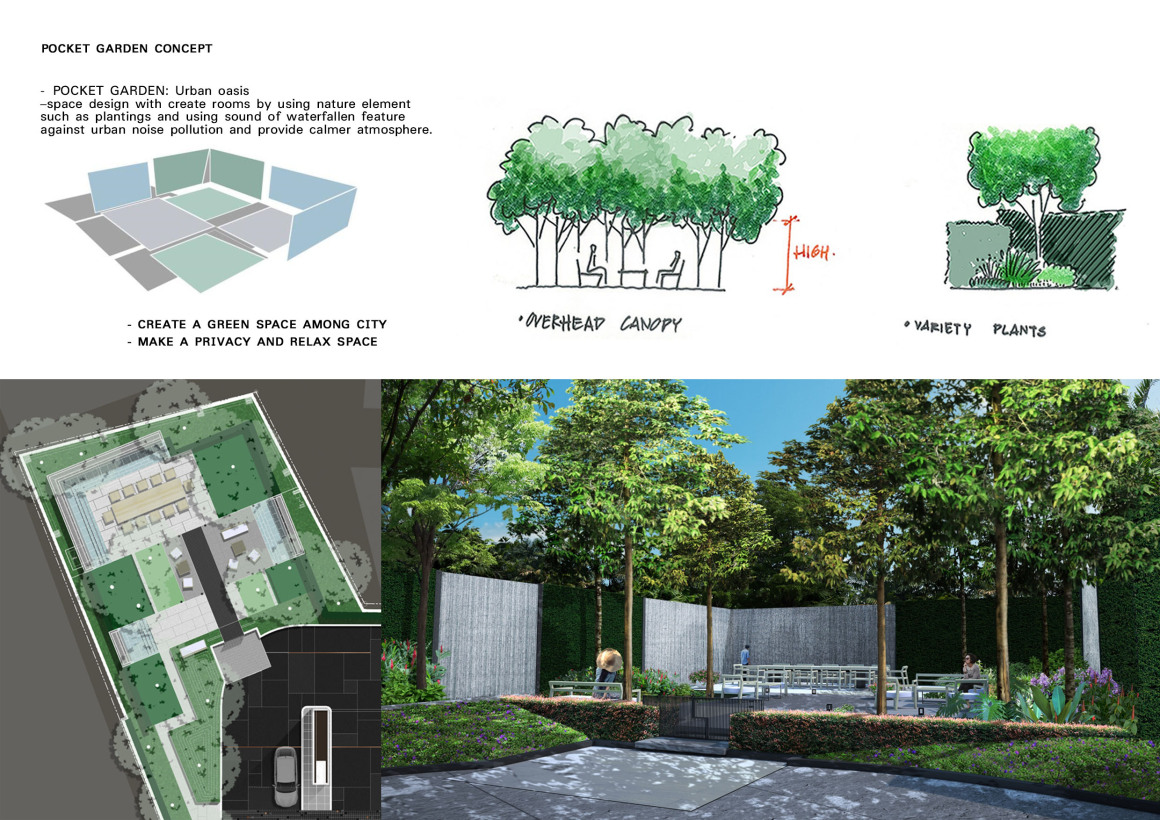 ▼两个屋顶花园层设计 Roof Garden Design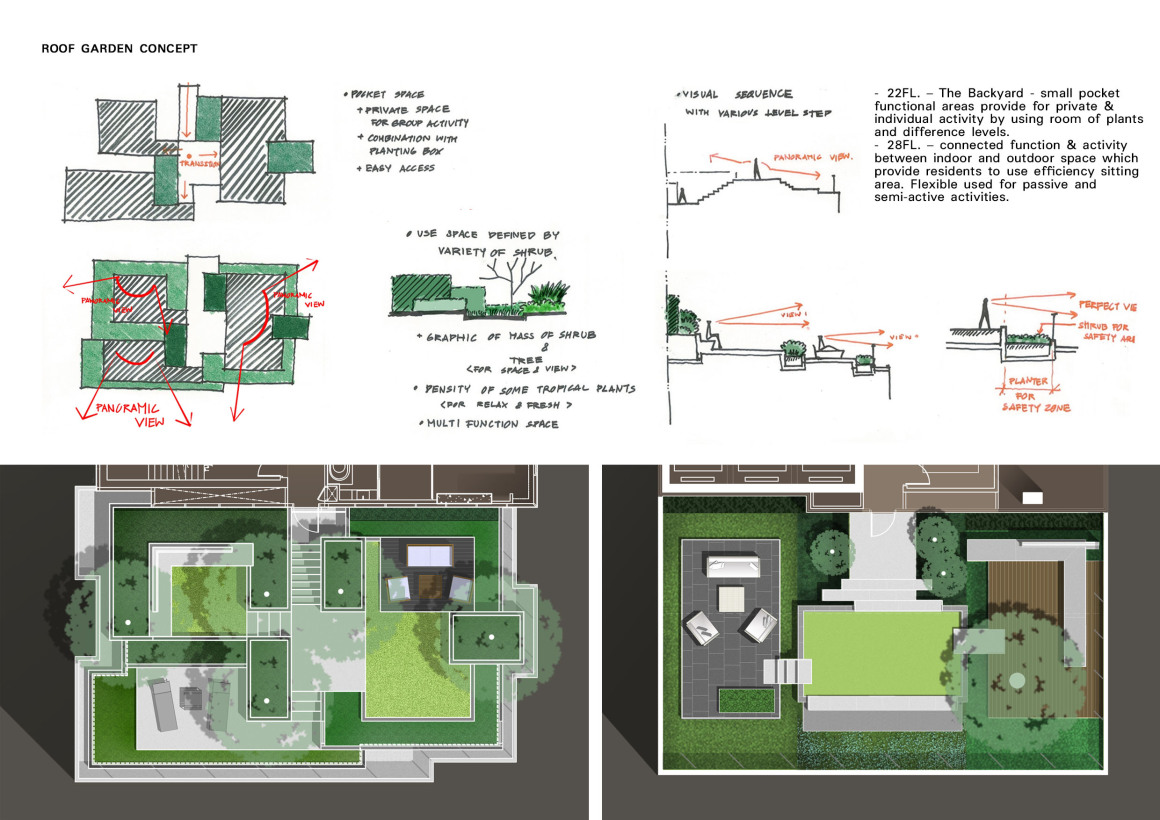 ▼建筑顶层无边界泳池设计 Sky Pool Design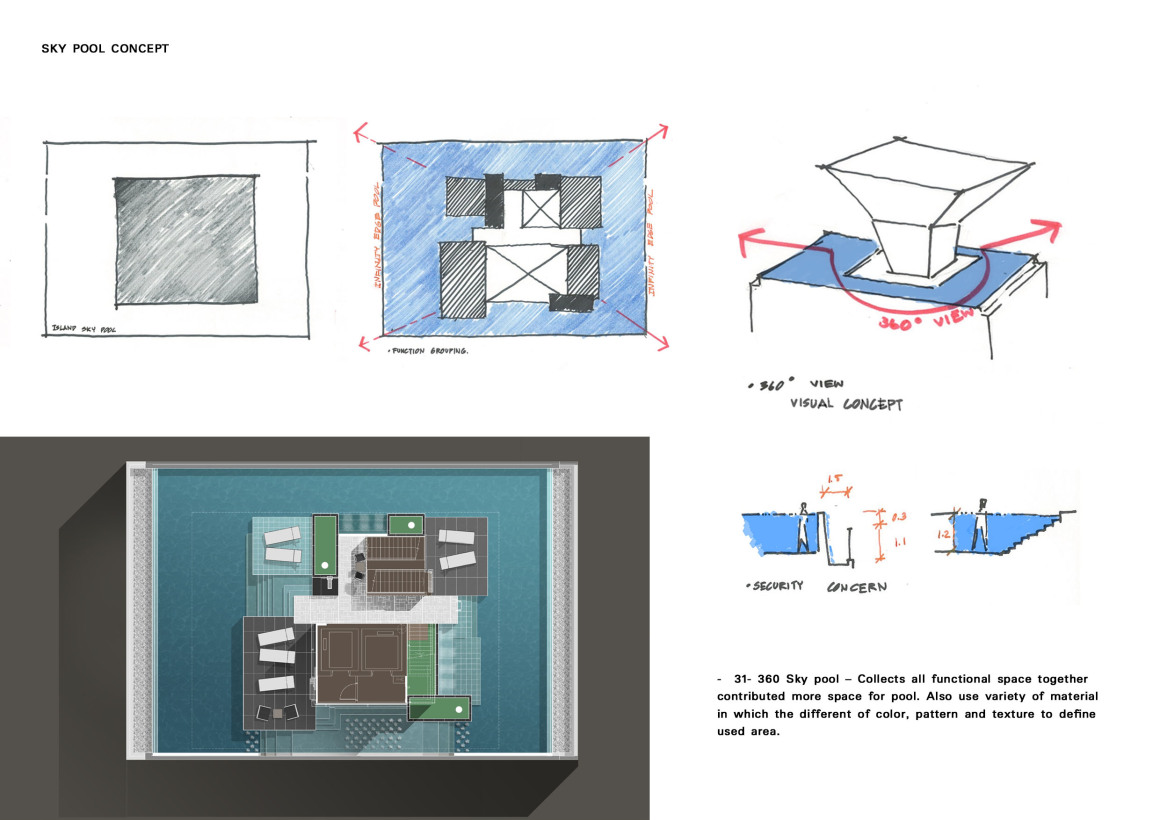 项目名称:The Bangkok Thonglor
完成:2019年
设计面积:3000平方米
项目地点:泰国曼谷
景观设计:Landscape Architects 49 Limited
公司网址:www.L49.co.th
首席设计师:Arrak Ouiyamaphan
设计团队:Charatporn Assavasoth / Witsarut Ditpae
客户:Land and Houses Public Company Limited
合作单位:Tandem Architects (2001) Co.,Ltd. (建筑设计)
图片:Rungkrit Charoenwat
Project name: The Bangkok Thonglor
Completion Year: 2019
Design Area: 3,000 sq.m.
Project location: Bangkok, Thailand
Landscape Architecture: Landscape Architects 49 Limited
Website: www.L49.co.th
Lead Architects: Arrak Ouiyamaphan
Design Team: Charatporn Assavasoth / Witsarut Ditpae
Clients: Land and Houses Public Company Limited
Collaborators: Tandem Architects (2001) Co.,Ltd. (Architect)
Photo credits: Rungkrit Charoenwat
更多 Read more about: Landscape Architects 49 Limited