本文由 desert INK 授权mooool发表,欢迎转发,禁止以mooool编辑版本转载。
Thanks desert INK for authorizing the publication of the project on mooool, Text description provided by desert INK.
desert INK 被开发商选中赢得这个400米长的海滨公园设计竞赛后,便为该项目提供了完整景观、建筑和MEP设计服务。这个创新公园的设计预算非常低,而且开发商打算在未来5年内开发该地块,所以设计还要完全可回收利用。于是,desert INK采用了典型的创新方法,在公园中融入巨大的混凝土核心石块,创造攀岩墙、艺术装置、挡土墙和运动站等活动空间。
desert INK's competition entry for this 400 m long creekside park was selected by a major Dubai developer, resulting in a commission to carry out full landscape, architecture and MEP design services for the project. This innovative park was designed to an exceptionally low budget, and is entirely recyclable due to the developer's intention to develop the plot within the next 5 years. desert INK's typically innovative approach saw the incorporation of huge concrete keystones into the park, creating climbing walls, artistic installations, retaining walls and exercise stations.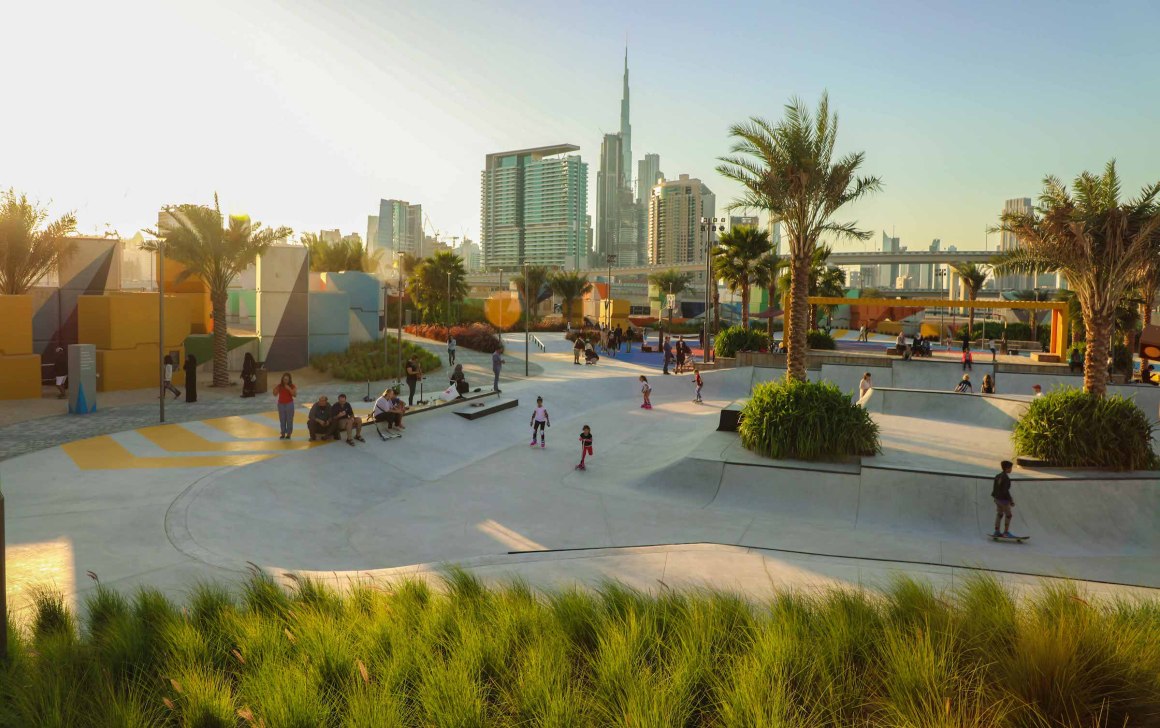 这些原本只能用于填埋的基石,通过desert INK的创新思维,从碍眼的场地障碍变成了场地主要的决定性资产。
Earmarked for landfill, the keystones were turned from an eyesore and site obstruction, into a prime defining asset by desert INK's fresh thinking.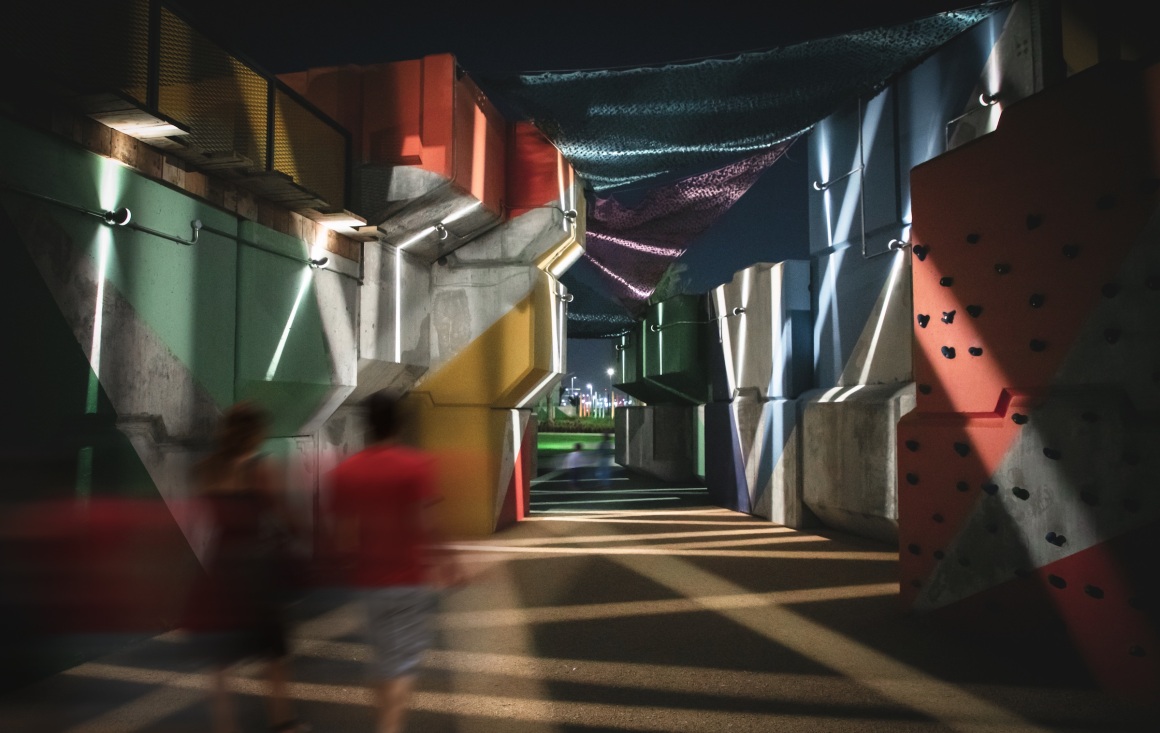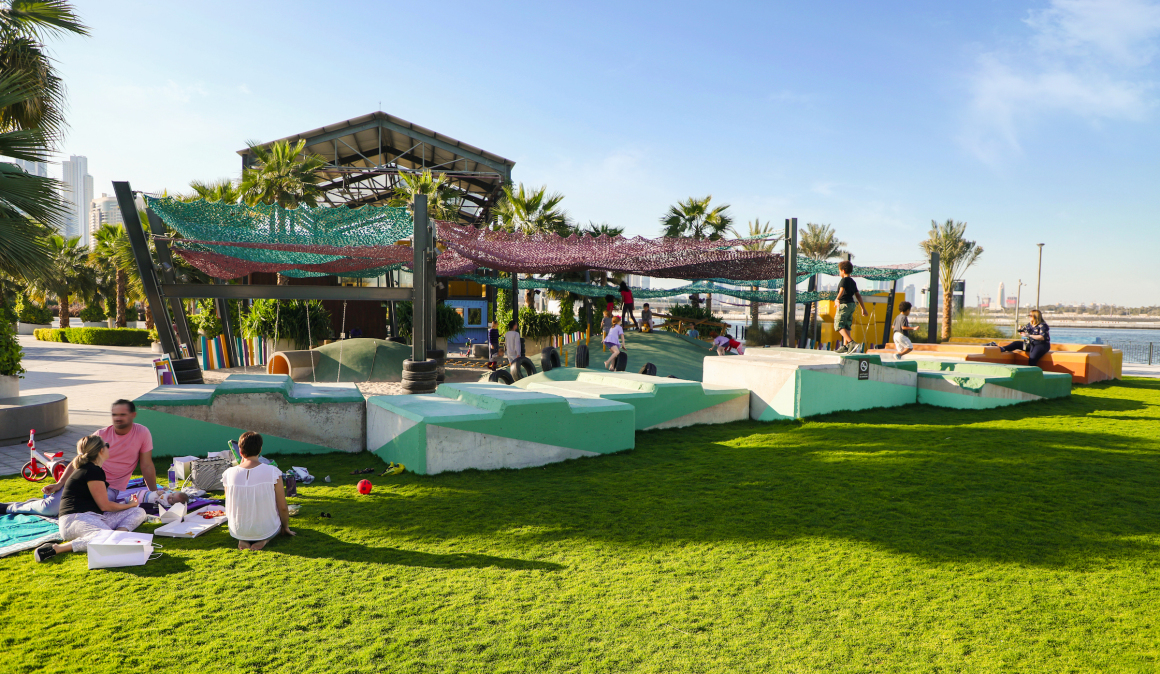 该公园的另一大特色就是desert INK设计的"仓库"结构,它集成了各种小型商业"孵化器"舱,用以推广本土食品和饮料及其它零售产品。当然其他许多景观节点,包括树屋、滑板公园和城市海滩。这个公园已然成为城市的新地标。
The park also features desert INK's design for a 'warehouse' structure which integrates small-scale commercial 'incubator' pods to promote home-grown food and beverage or retail offerings. Further attractions include a treehouse, skate park and an urban beach. This park has become a new city landmark.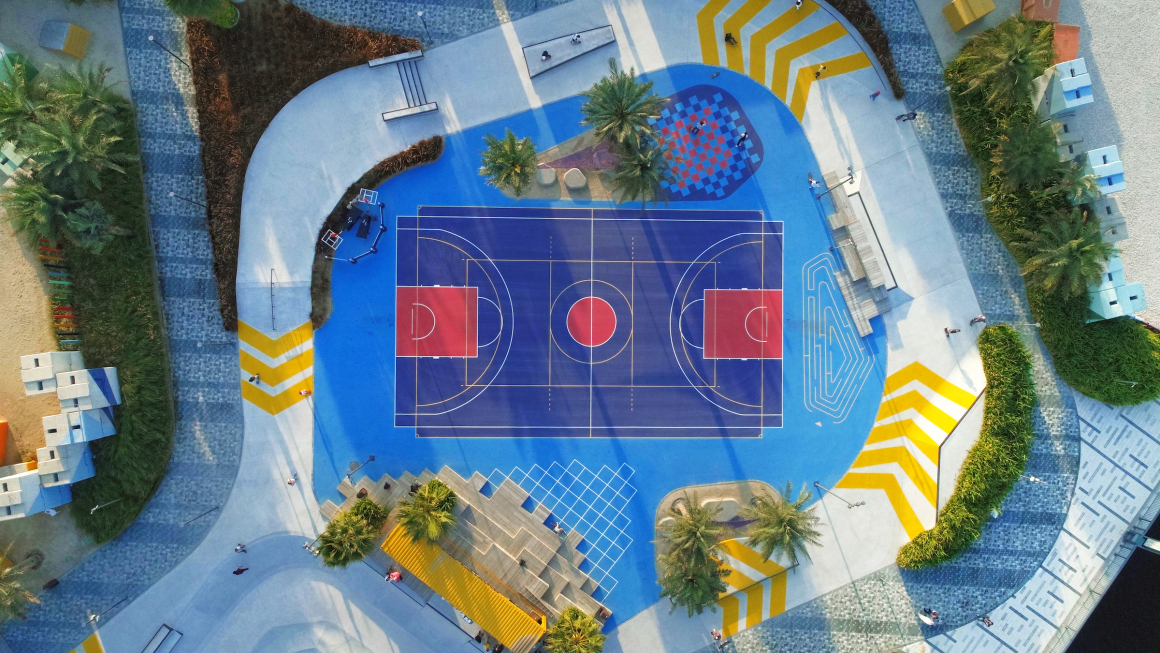 项目名称:THE BLOCK
完成:2018年
面积:25000平方米
项目地点:阿联酋迪拜迪拜设计区
景观公司:desert INK
公司网址:www.desert-ink.com
联系邮箱:hello@desert-ink.com
首席建筑师:Duncan Denley
设计团队:William Bennett, Swati Noble, Katrin Dela Torre, Ferdinand Gutierrez, Sherry Shi
客户:Tamdeen
合作方:N/A
图片:desert INK, EPIC FILM PRODUCTION LLC (无人机拍摄)
Project name: THE BLOCK
Completion Year: 2018
Size: 25,000 SQM
Project location: DUBAI DESIGN DISTRICT, DUBAI, UNITED ARAB EMIRATES
Landscape Firm: desert INK
Website: www.desert-ink.com
Contact e-mail: hello@desert-ink.com
Lead Architects: Duncan Denley
Design Team: William Bennett, Swati Noble, Katrin Dela Torre, Ferdinand Gutierrez, Sherry Shi
Clients: Tamdeen
Collaborators: N/A
Photo credits: desert INK, EPIC FILM PRODUCTION LLC (for 2 drone shots)
更多 Read more about: desert INK