本文由 Ginggaanbai 授权mooool发表,欢迎转发,禁止以mooool编辑版本转载。
Thanks Ginggaanbai for authorizing the publication of the project on mooool, Text description provided by Ginggaanbai.
Ginggaanbai:项目业主是泰国最著名的作曲家之一,他需要一个可以释放情感和培养创造力的空间。因此,设计师们将主要的关注点聚焦在了如何创造一个既开放又放松的私人空间,以及如何充分利用不平整的地形和水池,严格保护业主的隐私。
Ginggaanbai:This waterside garden belongs to one of the most famous Thai songwriters who requires a space where emotions can be freed and creativity can be grown. The designers' main focuses were how to create a private space that feels open and relaxing at the same time and also how to make most of the unleveled ground and the lagoon where the privacy of the owner is well strictly reserved.
▼项目视频 Video
第一步,我们采用了不同的砌砖设计。当外人从主路上看时,它是可爱迷人的,而它里面又是神秘玄妙的。穿过主屋,来到房子和休闲亭中间的主庭院。业主可以在这个透明的小屋旁边,度过他的悠然闲暇时光,还有无限游泳池,其边缘与水边阳台的尽头相接,与斜坡整体协调一致。
Firstly, we used brickwork differently. It is captivating for the outsiders when looking from the main road but it is mysterious what lay inside. Going through the main house, there is the main courtyard laid in the middle of the house and the living shelter. Beside this transparent shelter where the owner spends time working on his hobbies, there is an infinity pool which is in harmony with the slope from its edge to the end of the waterside balcony.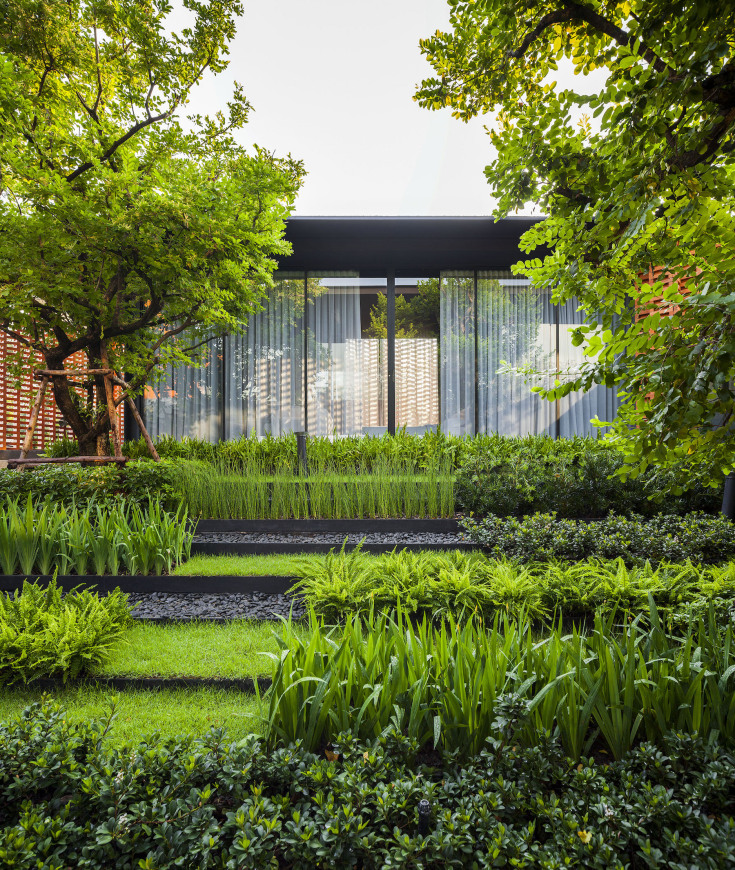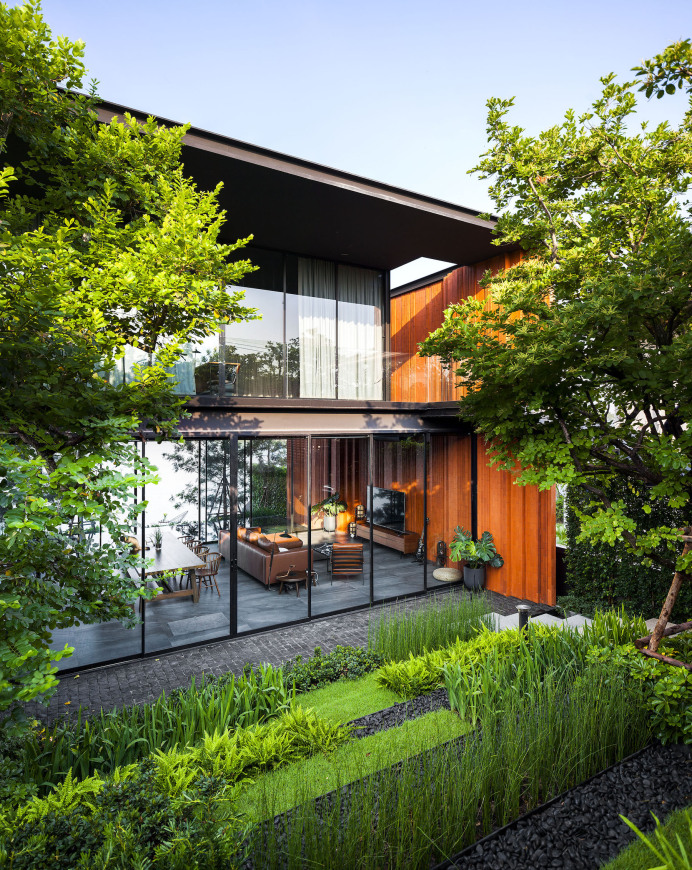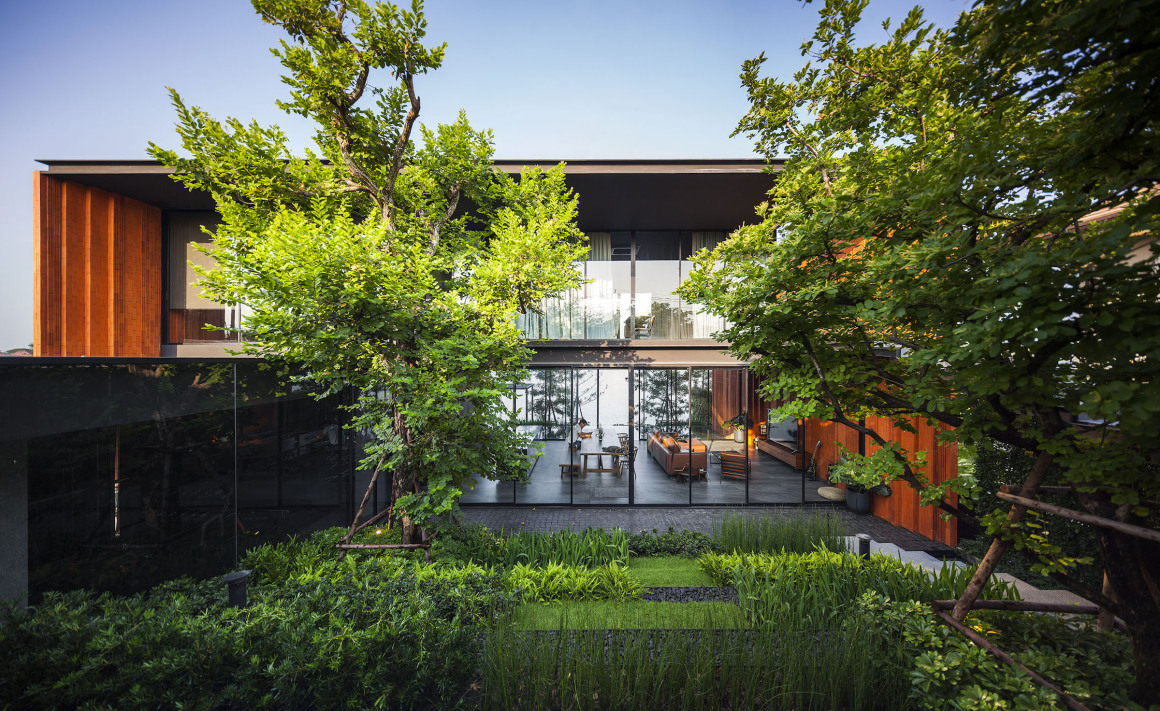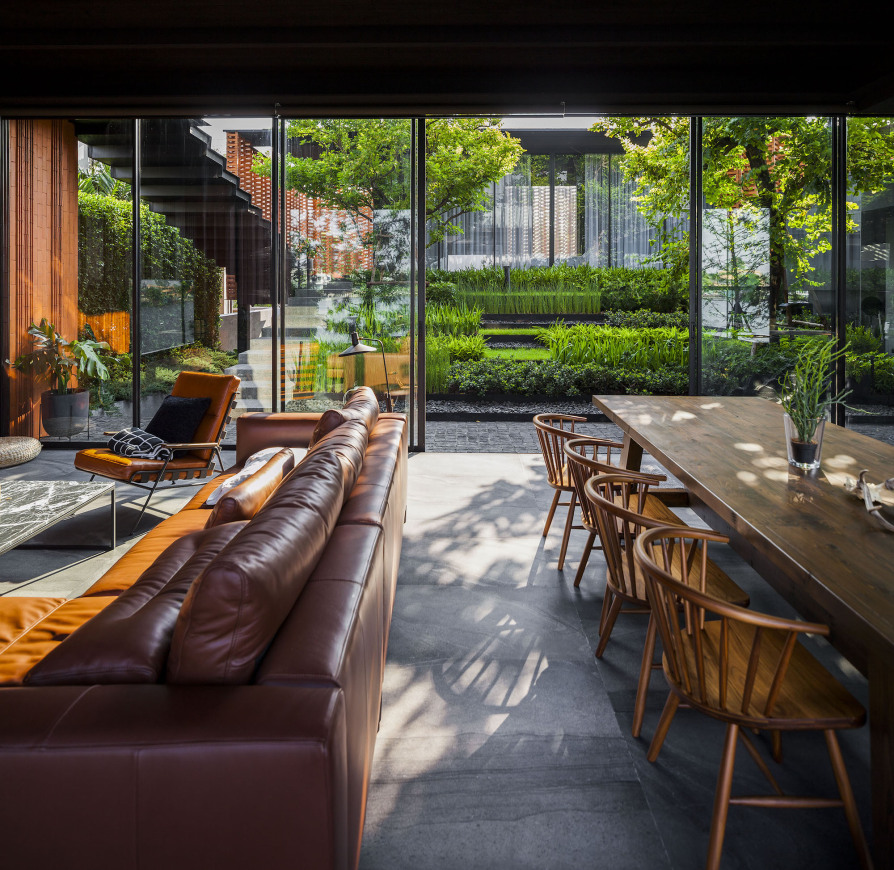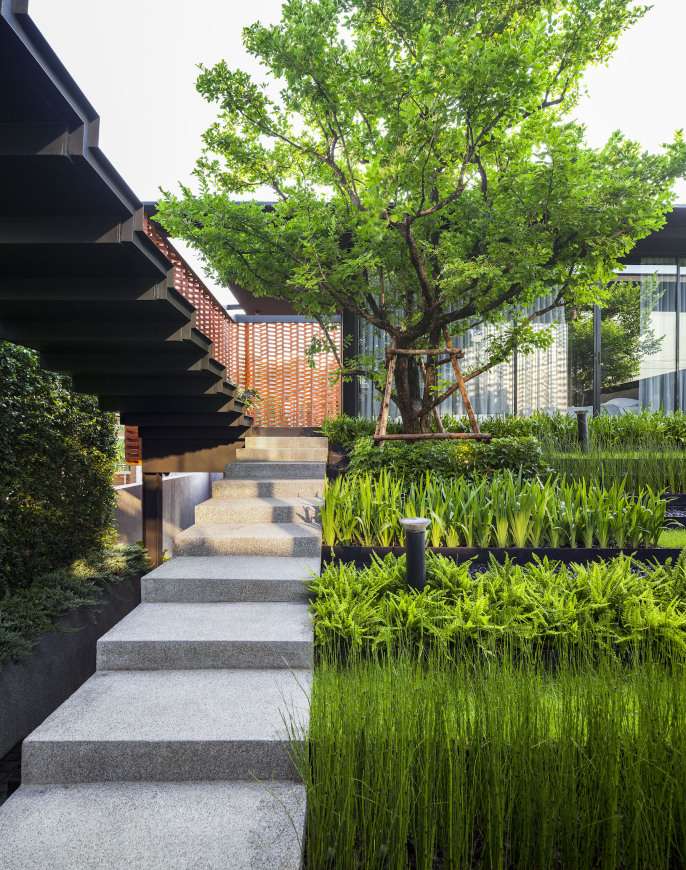 在这种硬景观之间创造软连接的方法之一就是在空间中融入不同种类的植物,它们创造出的纹理和颜色变化,以及水池循环水和黑铜种植池相互作用形成的沿不同角落流动的特别设计的水流,使这个空间成为放松和让创意和创造力生长的完美场所。
One way to create a soft connection between this hardscape is to intervene with different kind of plants all over the space. The variation of textures and colours along with the specifically de-signed water stream that travels along different corner using water circulates from the lagoon as well as black copper planting bed makes this space a perfect place to spend time relaxing and letting ideas and creativity grow.
项目名称:The Horizon scene (#gingsite1009)
完成:2020年
面积:520平方米
项目位置:曼谷10240,Sammakorn Village Ramkhamhaeng 110
景观公司:Ginggaanbai
网址:www.ginggaanbai.com
邮箱:gingoffice@gmail.com
主创:Mr.Tawatchai Sakdikul , Miss Ploytabtim Suksang
客户:Mr.Narongwit Techatanawat
合作者:WARchitect (主住宅建筑设计)
图片:Mr. Sitthisak Namkham
Facebook : 4TO2.8
Project name: The Horizon scene (#gingsite1009)
Completion Year: 2020
Size: 520 Sqm.
Project location: Sammakorn Village Ramkhamhaeng 110, Bangkok 10240
Landscape/Architecture Firm: Ginggaanbai
Website: www.ginggaanbai.com
Contact e-mail: gingoffice@gmail.com
Lead Architects: Mr.Tawatchai Sakdikul , Miss Ploytabtim Suksang
Clients: Mr.Narongwit Techatanawat
Collaborators: WARchitect (Main house architect)
Photo credits: Mr. Sitthisak Namkham
Facebook : 4TO2.8
更多 Read more about: Ginggaanbai