本文由 Shma Company Limited 授权mooool发表,欢迎转发,禁止以mooool编辑版本转载。
Thanks Shma Company Limited for authorizing the publication of the project on mooool, Text description provided by Shma Company Limited.
Shma Company Limited:ParQ 是一个综合项目,它位于曼谷主要公园——雅基蒂公园附近Rama IV路的独特位置,项目整合创新和可持续的设计,打造成为"城市森林",促进未来生活方式中工作与生活的平衡。
Shma Company Limited: Situated in a unique location on Rama IV road near Bangkok's major park, Benjakitti Park, the ParQ is a mixed-use project aiming to promote work-life balance for future lifestyle through innovative and sustainable design along with the aspiration to become 'Forest.'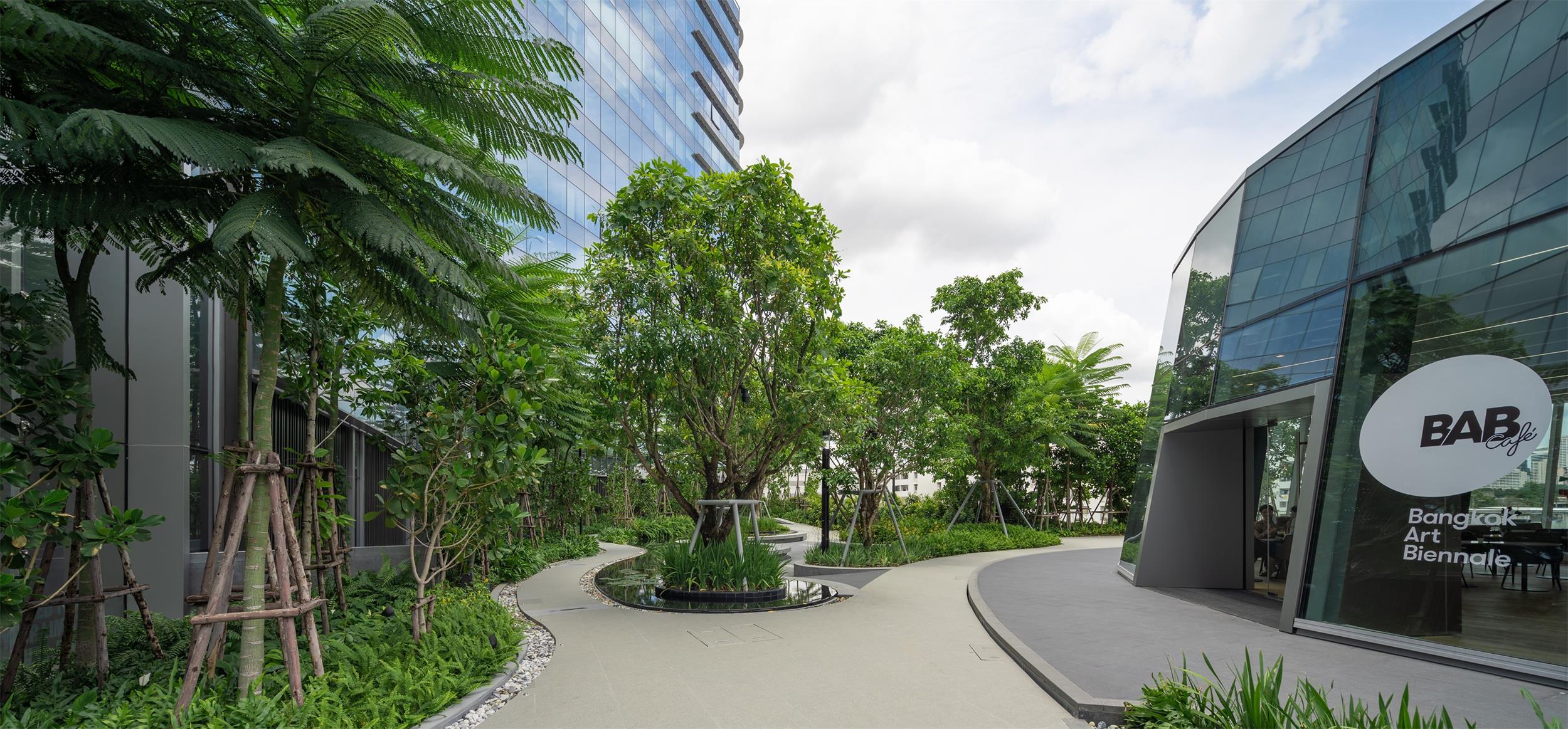 在景观设计理念的指导下,设计将附近公园的绿化延伸到项目现场。同时,它为员工和游客定义不同的使用功能,也创造出理想的小气候,并在更大范围内连接城市的绿色走廊。
The landscape design concept is basically to extend the greenery from nearby parks into the site. As a result, it helps define different functions for employees and visitors, while also creating a desirable microclimate and connecting green corridors for the city on a larger scale.
▼The ParQ入口区域 Entrance area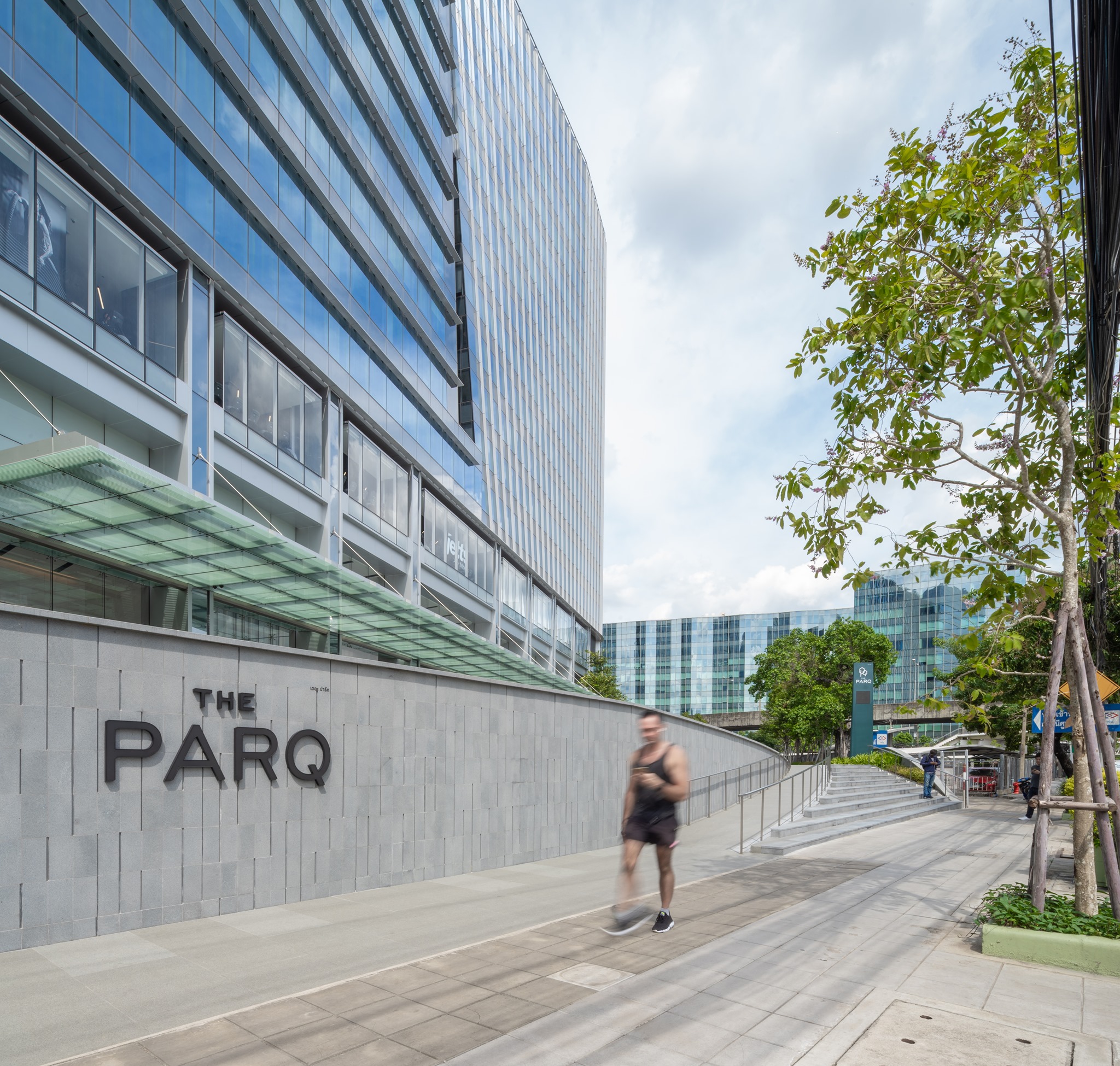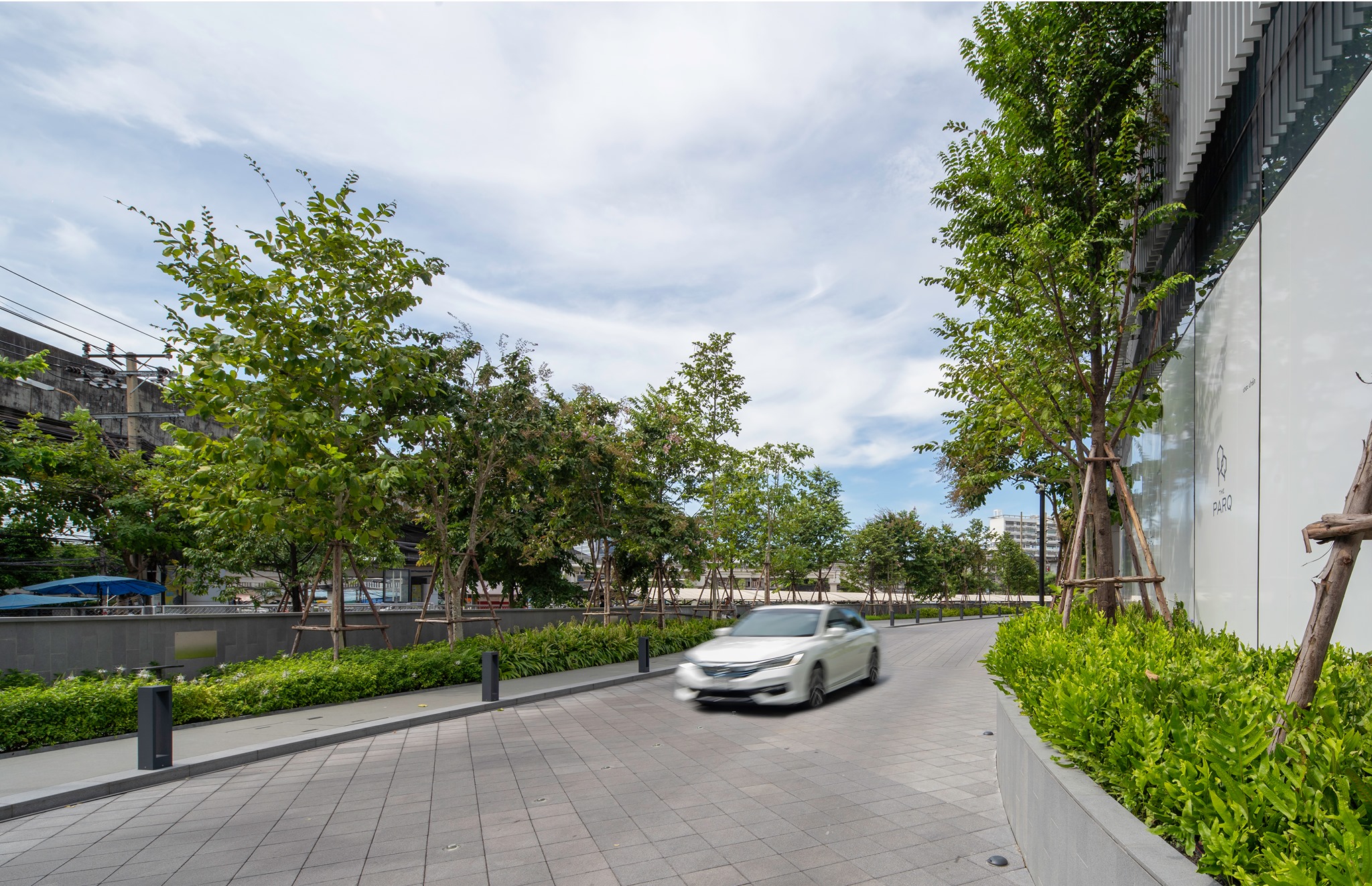 森林空间从西部的山地地形开始,创造了一系列地貌,并种植了各种密集的植物。这里集成了雨水花园,雨水被保留进一步再利用。在这里,忙里偷闲的人们可以过来休息。
The forest starts from a mountainous space on the west ground area, forming a series of landforms with a variety of dense plantings, integrated with a rain garden where stormwater is retained and can be reused further. Here, people can come to sit and hide away from the busy surroundings for a while.
▼种植了各种密集植物的森林空间 The forest space with a variety of dense plantings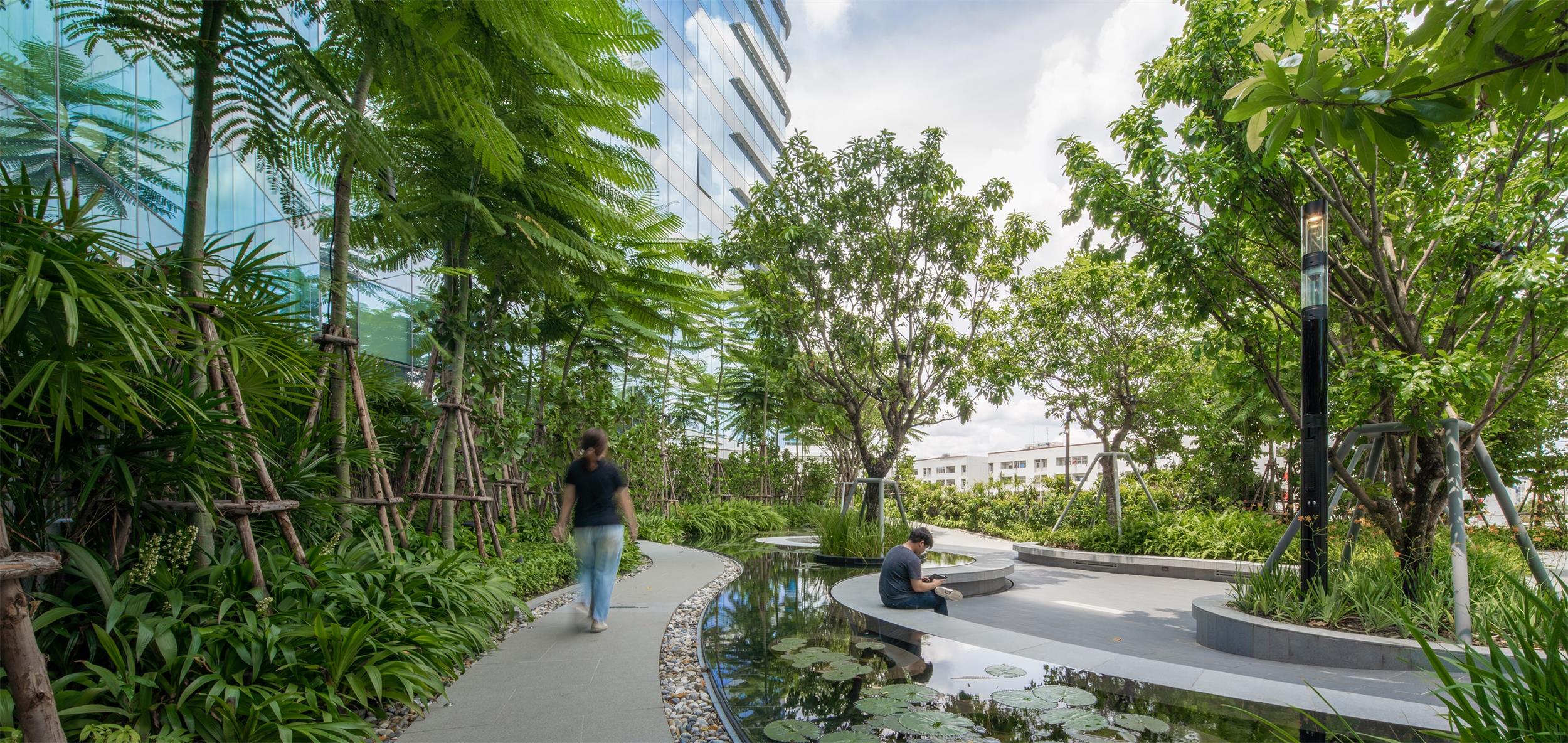 森林引出了以干溪为主的中庭空间,这是一个多功能的活动聚集空间。当小溪继续向东流去时,那里像一片草地,变得越来越开阔,周围的地形和移植的树木包围着,溪流若隐若现。节日期间这个下沉广场还可以用于露天活动,沿着场地的边缘,穿梭于高大茂密的树木之间,设计有蜿蜒曲折的特色墙,从视觉上优化了道路和森林环境。
The narrative of the forest leads to the main atrium space with dry creek, being a multifunctional gathering space for various activities. As the creek continues toward the main drop-off on the east, where space becomes more open like a meadow, surrounded by landforms and transplanted existing trees in the middle. During festive times, this drop-off plaza can also be used for open-air events too. Along the edge of the site, feature walls curving in and out between dense tall trees are designed to create visual impact to the main road and forest setting for the project.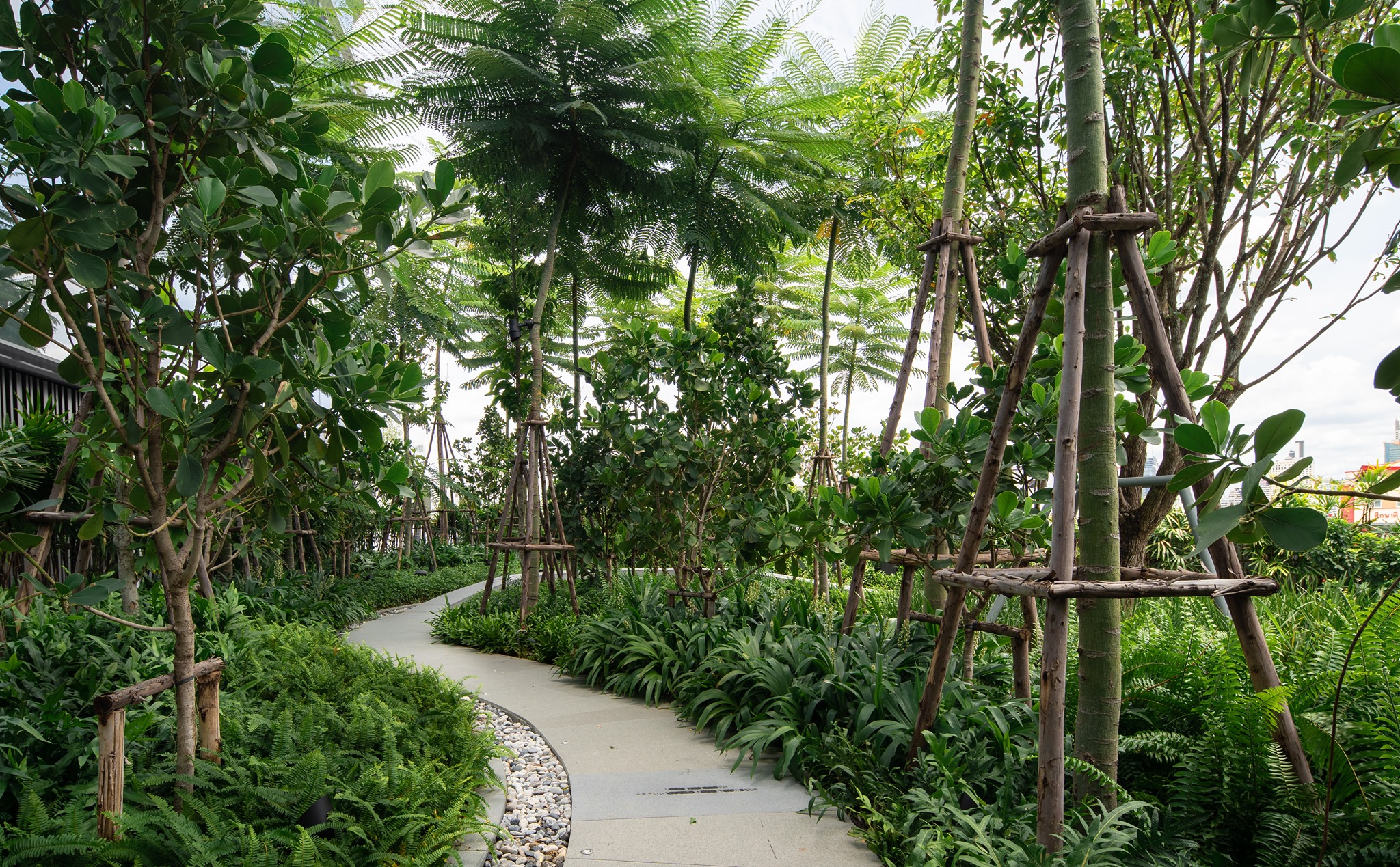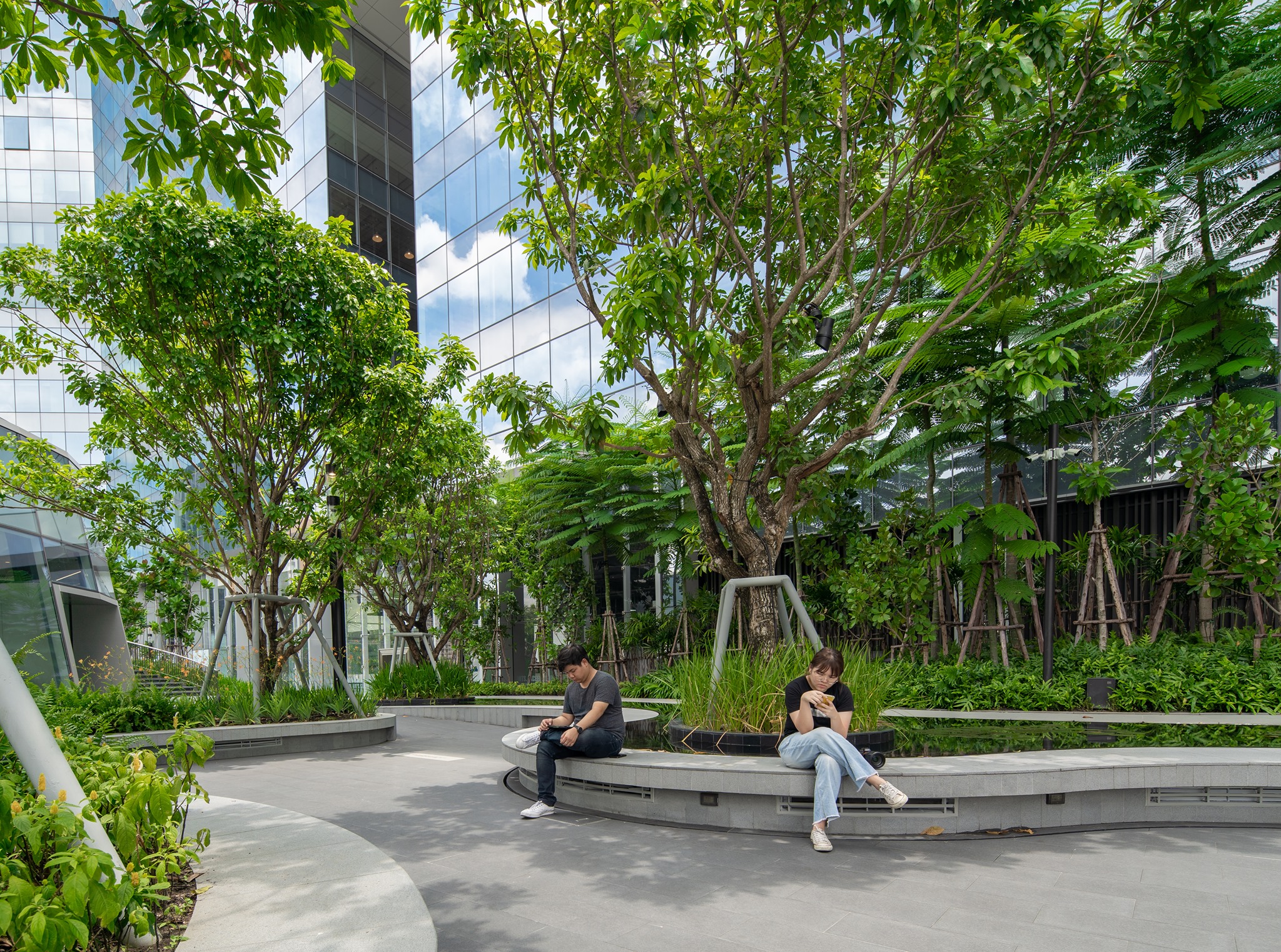 上到三楼,这里变成一个更湿润和宁静的环境,宜人的水景周围生长着热带和水生植物,在工作时间,人们可以出来休息、聚集、闲逛,甚至举行一些户外会议。同时,露台上还有一个小型城市农场,提高了城市生活的幸福指数。
Stepping to the 3rd floor, the forest narrative is translated into a more humid and serene environment as a lagoon, pleasant water feature surrounded by tropical and aquatic plants. During working time, people can come out and take a rest, gather up, stroll around and even hold some outdoor meetings. Moreover, there's also a small urban farm at the terrace, helping promote the well-being of urban life.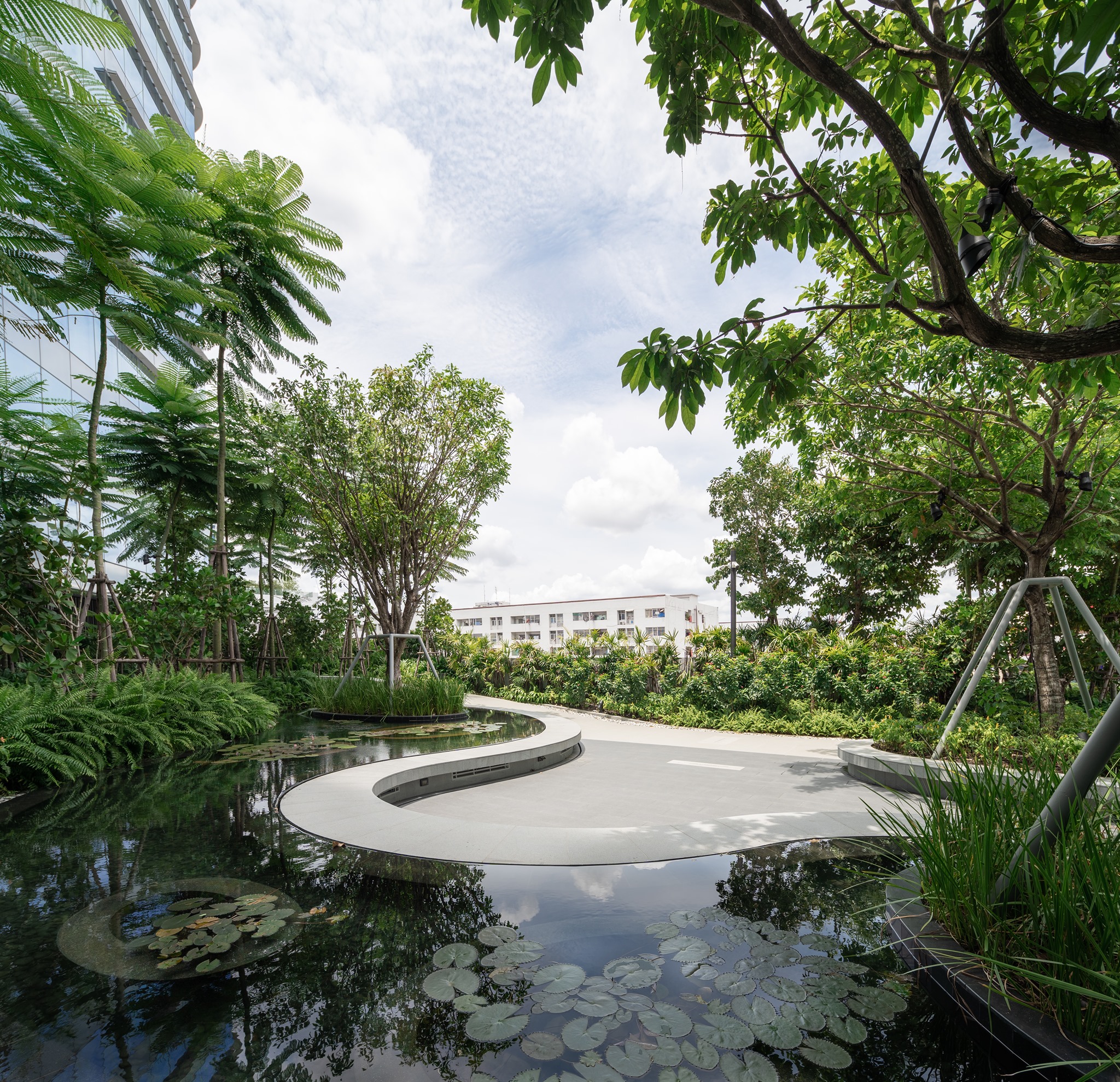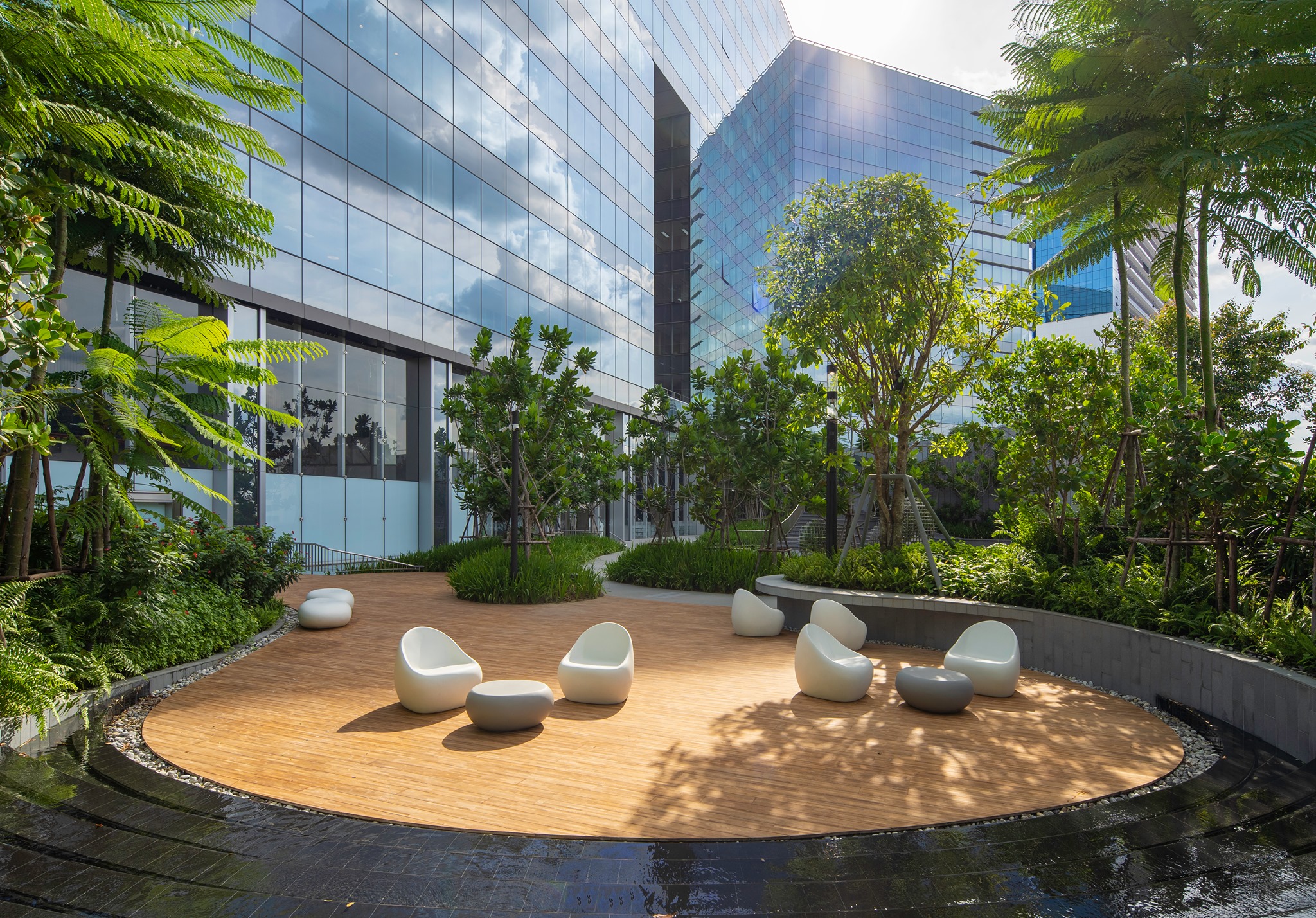 总的来说,ParQ 有着悠然葱翠的生活空间,一楼的景观与环境无缝融合,行人和自行车能够进入现场,同时也方便地连接到地铁站。通过森林空间这样的绿色环境的再设计,引导和鼓励人们利用户外空间来工作、娱乐和保持健康。崭新且高品质的城市生活,就在这里。
Overall, with the ParQ's lush living space, the landscape at the ground floor is designed to blend seamlessly with the context, allowing pedestrian and bicycle traffic to flow into the site, while also connected conveniently to the subway station. By regenerating the green environment like forest, it encourages people to use outdoor space for working, playing and staying healthy. It is a new quality urban life, happening at the ParQ.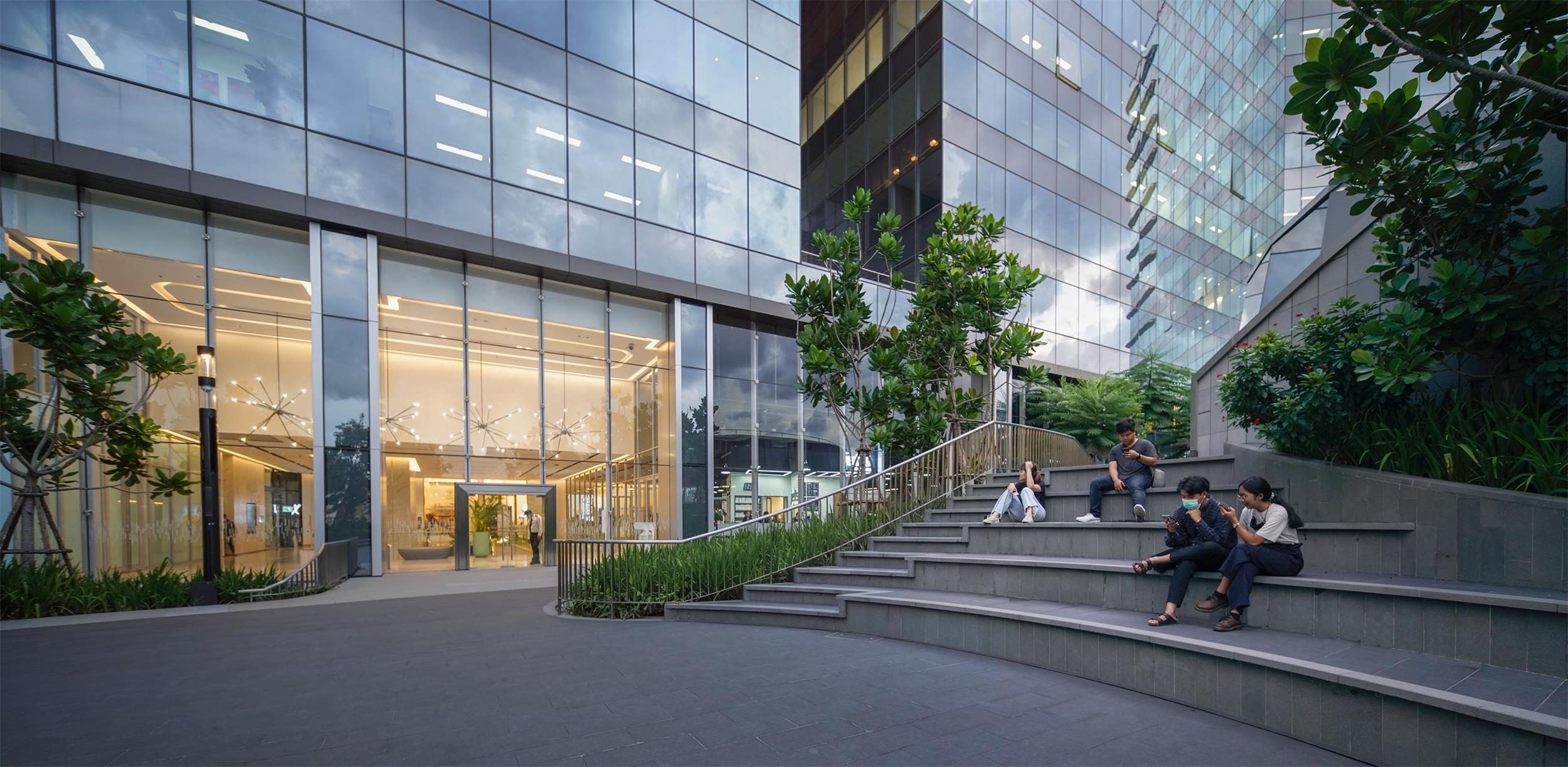 项目名称:The ParQ
景观设计:Shma Company Limited
设计总监:Yossapon Boonsom
景观设计师:Katavet Sittikit, Krongpong Piewngam, Naruephon Nateprachar, Rattanin Peewsook, Nontachai Pianchob
园艺师:Tanee Sawasdee, Nicha Loetlam
开发商:TCC Assets (泰国)
开发经理:Frasers Property Limited
建筑设计:Palmer & Turner (泰国)
机电设计:Palmer & Turner (泰国)
C&S工程:Palmer & Turner (泰国)
项目类型:商业办公综合体
场地面积:1期 38,400平方米
景观面积:7,000平方米
设计时间:2017
完成年份:2020
项目地点:泰国曼谷
图片来源:Napon Jaturapuchapornpong
景观预算:8000万
Name of Project: The ParQ
Landscape Architect: Shma Company Limited
Design Director: Yossapon Boonsom
Landscape Architect: Katavet Sittikit, Krongpong Piewngam, Naruephon Nateprachar, Rattanin Peewsook, Nontachai Pianchob
Horticulturist: Tanee Sawasdee, Nicha Loetlam
Developer: TCC Assets(Thailand)
Development Manager: Frasers Property Limited
Architect: Palmer & Turner(Thailand)
M&E: Palmer & Turner(Thailand)
C&S Engineering: Palmer & Turner(Thailand)
Project Type: Mixed-Use (Commercial & Office Building)
Site Area: Phase 1 – 24 Rai (38,400 sq.m.)
Landscape Area: 7,000 sq.m
Completion Year: 2020
Period of Design: 2017
Location: 88 Ratchadapisek Road, Khlong Toei, Bangkok, 10110
Photograph Credit: Napon Jaturapuchapornpong
Landscape Budget: 80 million
更多 Read more about: Shma Company Limited