本文由 DS+R(Diller Scofidio + Renfro) 授权mooool发表,欢迎转发,禁止以mooool编辑版本转载。
Thanks DS+R for authorizing the publication of the project on mooool, Text description provided by DS+R.
Diller Scofidio + Renfro:格林威治半岛位于伦敦东南部格林威治皇家行政区金丝雀码头附近,被泰晤士河三面环绕。这是一个历史悠久的工业遗址,也是一个正在快速转型地区,虽然现今它主要以O2竞技场而闻名,但它是一个不断发展的社区,未来还将建造15000套新住宅、一个设计区以及一个大型的中央公园。
Diller Scofidio + Renfro:Greenwich Peninsula is located in south-east London near Canary Wharf, within the Royal Borough of Greenwich, and is bound on three sides by a loop of the Thames River. A former industrial site with a rich history, it is an area quickly transforming. Although known mostly as the site of the O2 Arena today, it is an evolving community with plans for 15,000 new homes, a design district, and a large central park.
▼泰晤士河东畔效果图 Rendering–East Riverfront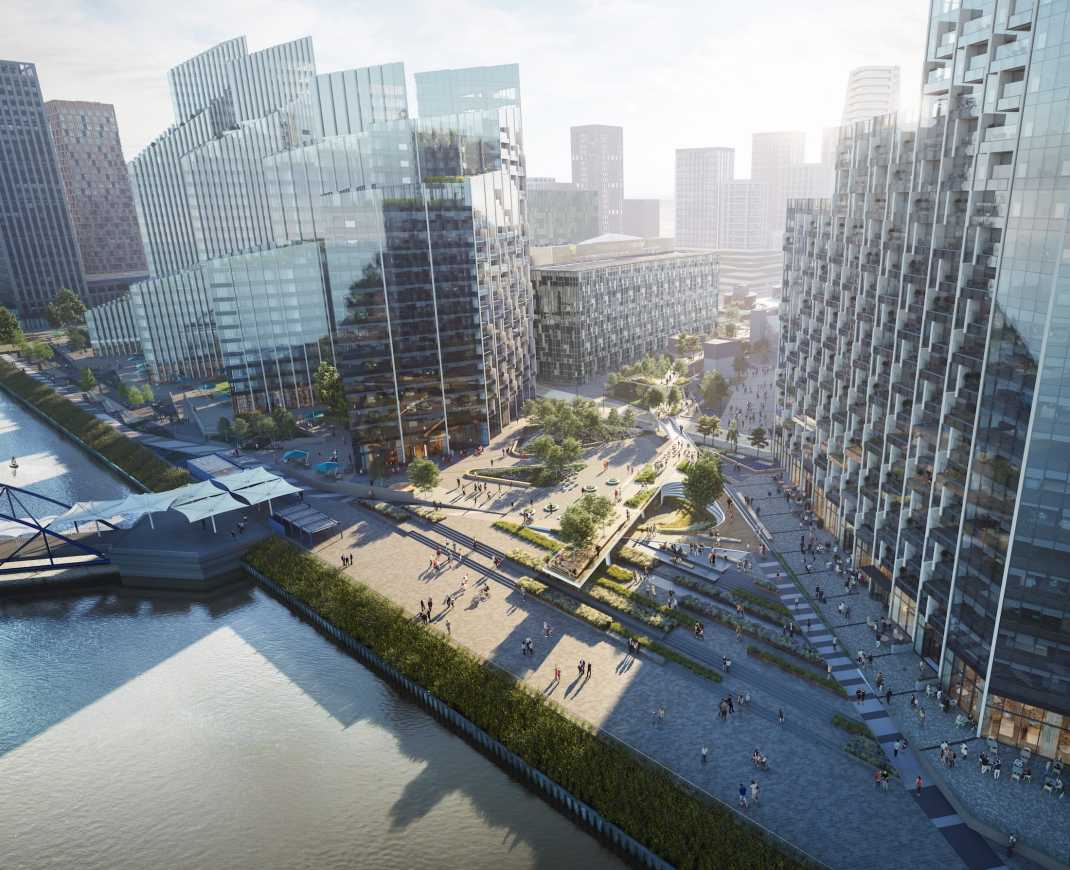 潮汐公园作为一个5公里长的公共空间和花园网路,将融入到格林威治半岛居民的日常生活中。该公园在高架走道和地面走道这两个层次都进行了规划设计,激活上下空间,为人们提供一个分层的娱乐、文化和健康网路,并通过融合不同的生态系统、新兴社区和文化机构,将南北、东西、中心与外围、城市和河流连接了起来。它同时也是一个快慢兼备的公园,既可以作为一条跑道,一条步行长廊,也可以为人们提供一系列安静的花园,以及一个社会和文化中心网络。
The Tide will be a 5-kilometre network of public spaces and gardens embedded into the daily rhythms of Greenwich Peninsula. Both an elevated and at-grade walkway, with programming split across both levels, The Tide activates spaces above and below to provide a layered network of recreation, culture, and wellness. The Tide will stitch together diverse ecosystems, emerging neighbourhoods, and distinct cultural institutions, connecting north to south, east to west, centre to periphery, and city to river. The Tide is both fast and slow. It is simultaneously a running track, a walking promenade, a series of quiet gardens, and a network of social and cultural hubs.
▼岛屿5—下沉花园景观 Island 5-View of Sunken Garden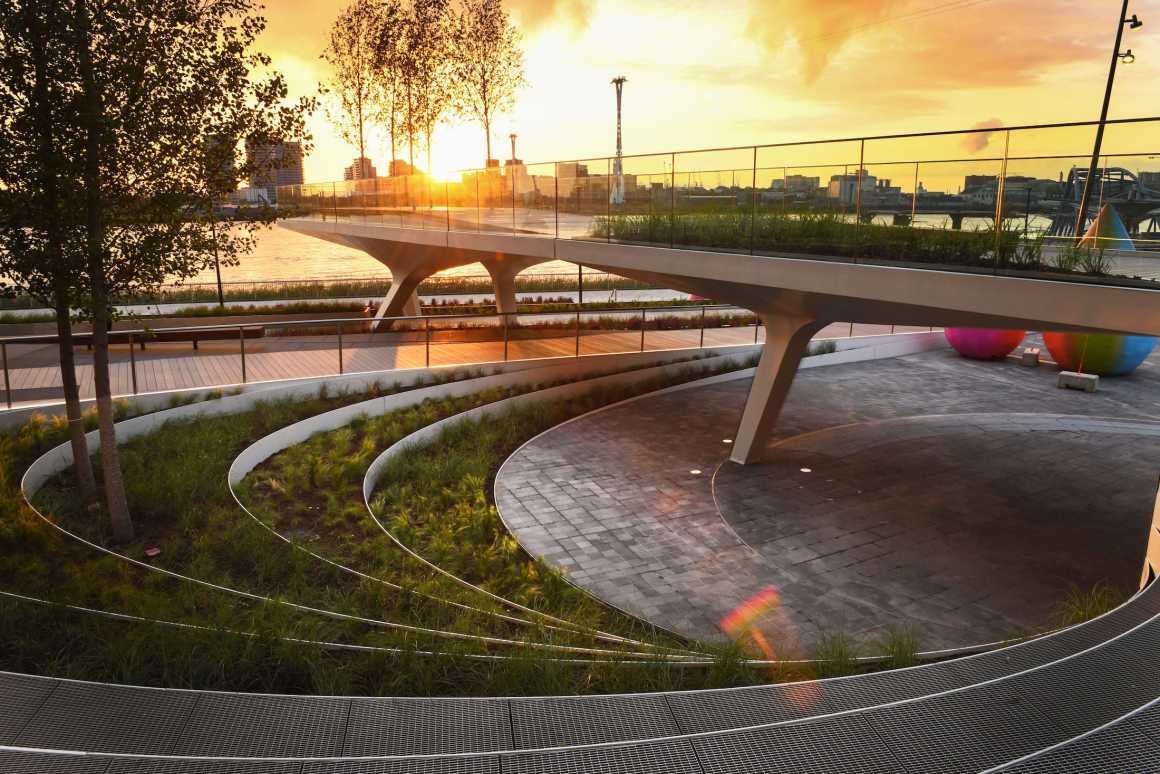 ▼岛屿5—拱形钢结构 Island 5-View of Vaulted Steel Structure below Overlook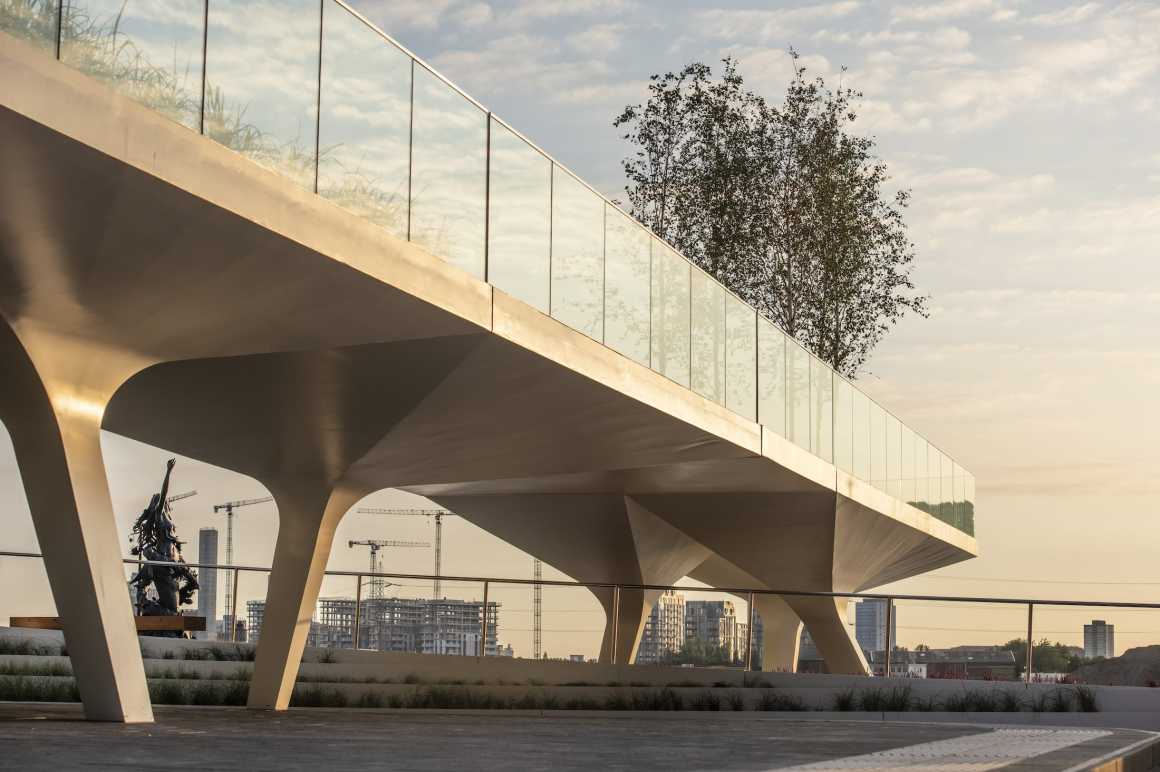 潮汐公园中的一系列抬高的岛屿景观,吸引着人们在这里放慢脚步、逗留、俯瞰半岛的生活。根据每个岛屿上不同的树木、种植及其周围的景色和声音,每个岛屿都拥有其独特的身份特征。这些高架花园被设计成一簇簇结构支撑物,形成了一系列高架种植池,可用于填充土壤并将重力负荷和水传送送到地面上。支撑着上部潮汐花园的雕塑结构也为下面的道路搭建了框架和遮蔽物,形成了作为地面层公共空间的门槛和通道的拱形亭。
The Tide is conceived of as a series of elevated, landscaped islands where the public is invited to slow down, linger, and overlook the life of the Peninsula. Each island is distinct, defined by unique trees and planting, and by their surrounding views and sounds. These elevated gardens are designed as clusters of structural supports that create elevated planter beds, containing soil and channelling both gravity loads and water down to the ground. The sculptural structure supporting The Tide gardens above also frames and shelters the path below, creating arched pavilions that mark thresholds and passages at the ground level public realm.
▼岛屿4('风中奇想'装置by Allen Jones) Island 4 (Art Installation – Head in the Wind by Allen Jones)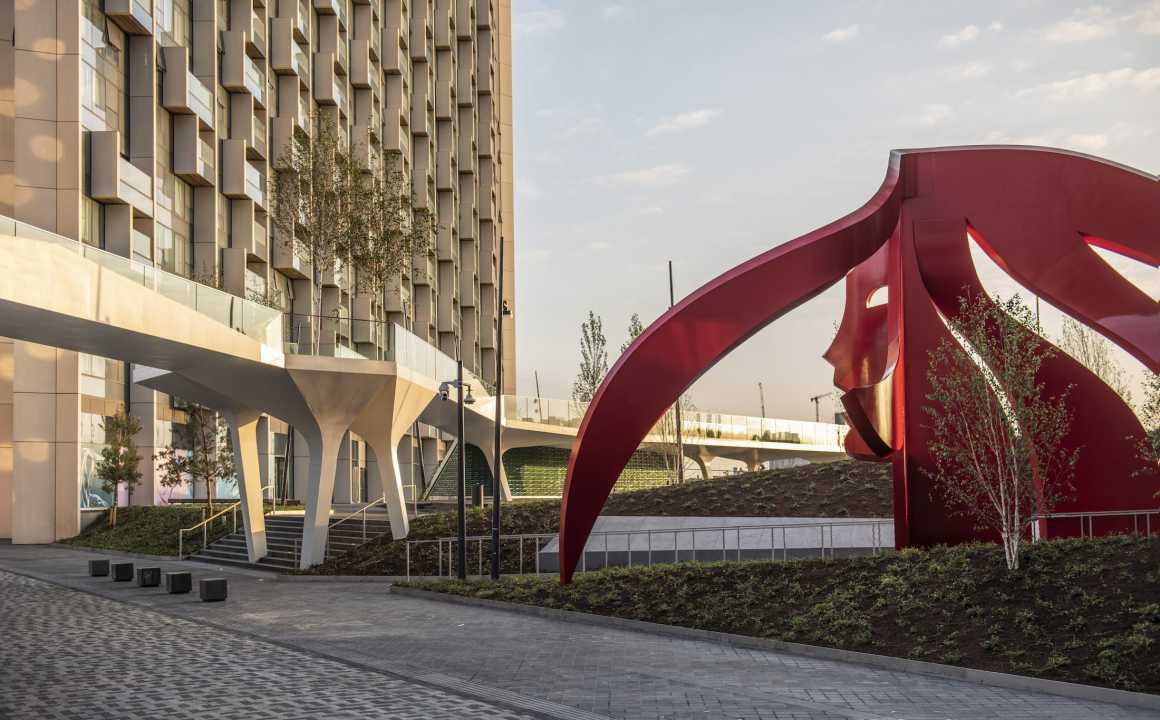 ▼高架步道和潮汐线图案 Elevated walkway and Tide Lines pattern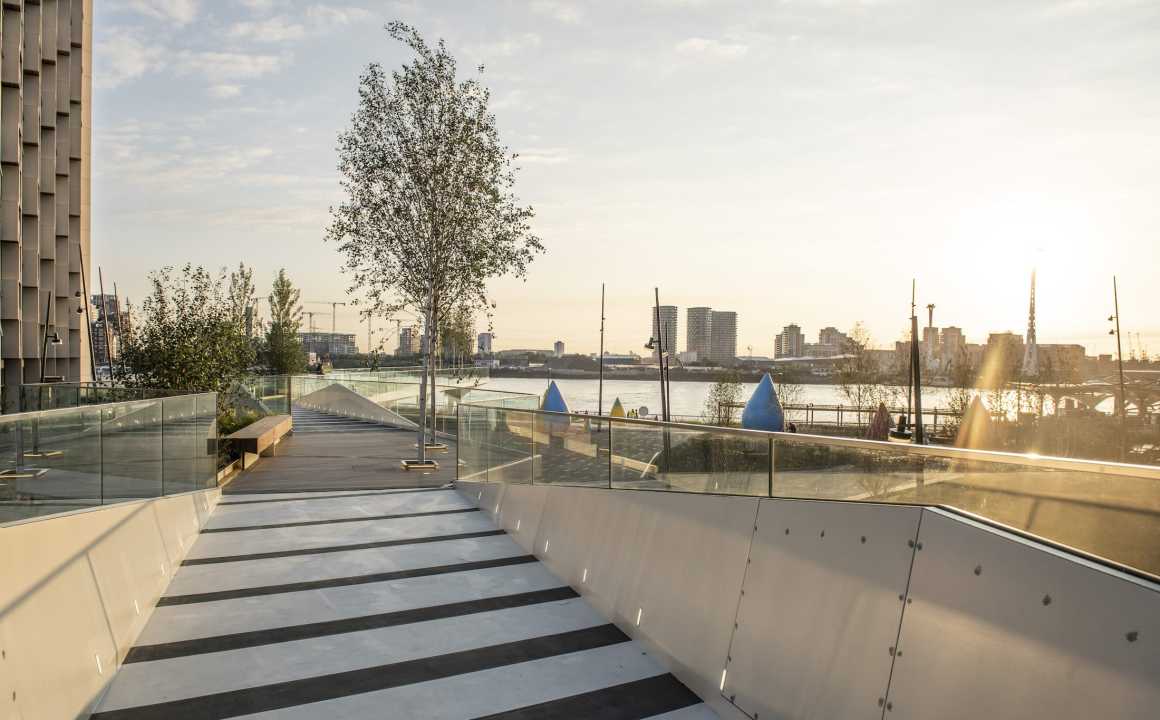 ▼岛屿1 Island 1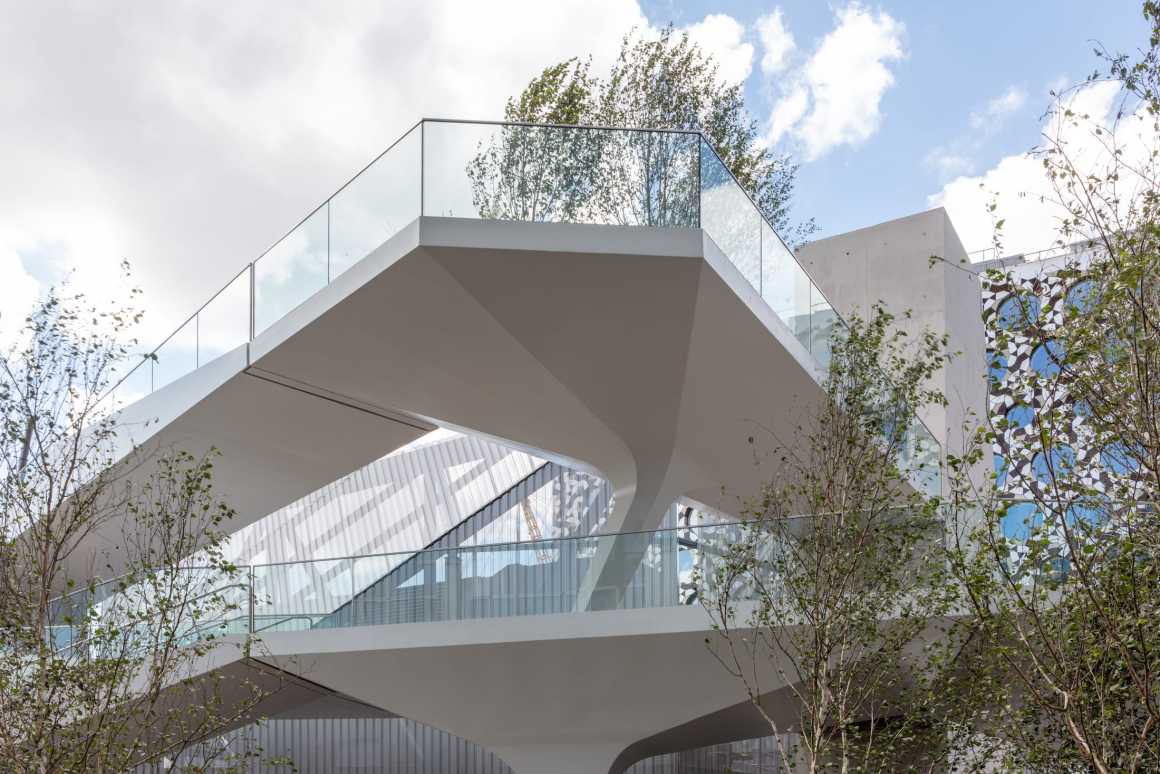 ▼岛屿1钢结构 Steel Structures, Island 1 Cluster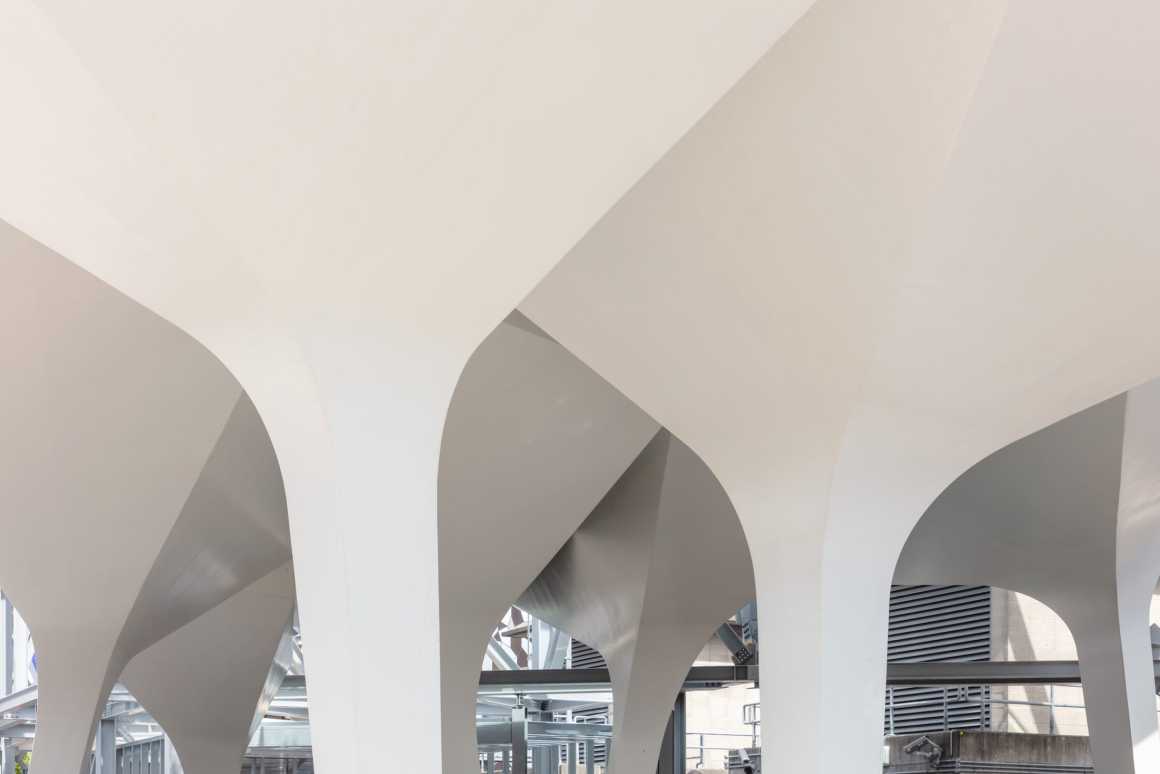 材料 Materials
潮汐公园中的材料主要由涂漆钢结构、玻璃栏杆、复合稻壳木平台、硬木长凳、粘合金属装饰、裸露混凝土,铺路石和植被组成。
The Tide's material palette is comprised of a painted steel structure, glass balustrade, composite rice husk decking, hardwood benches, bonded metal trim, exposed concrete, stone pavers, and vegetation.
▼夜景鸟瞰效果图 Rendering–Evening Aerial View Towards Thames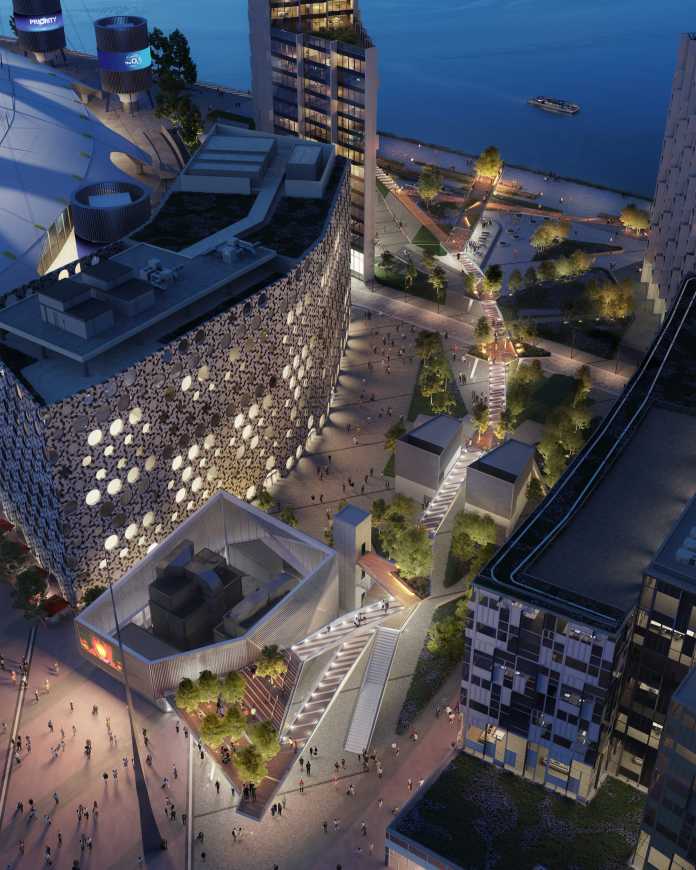 ▼潮汐公园第一阶段:岛屿1和构筑效果图 Rendering–The Tide Phase 1: Island 1 and Pavilion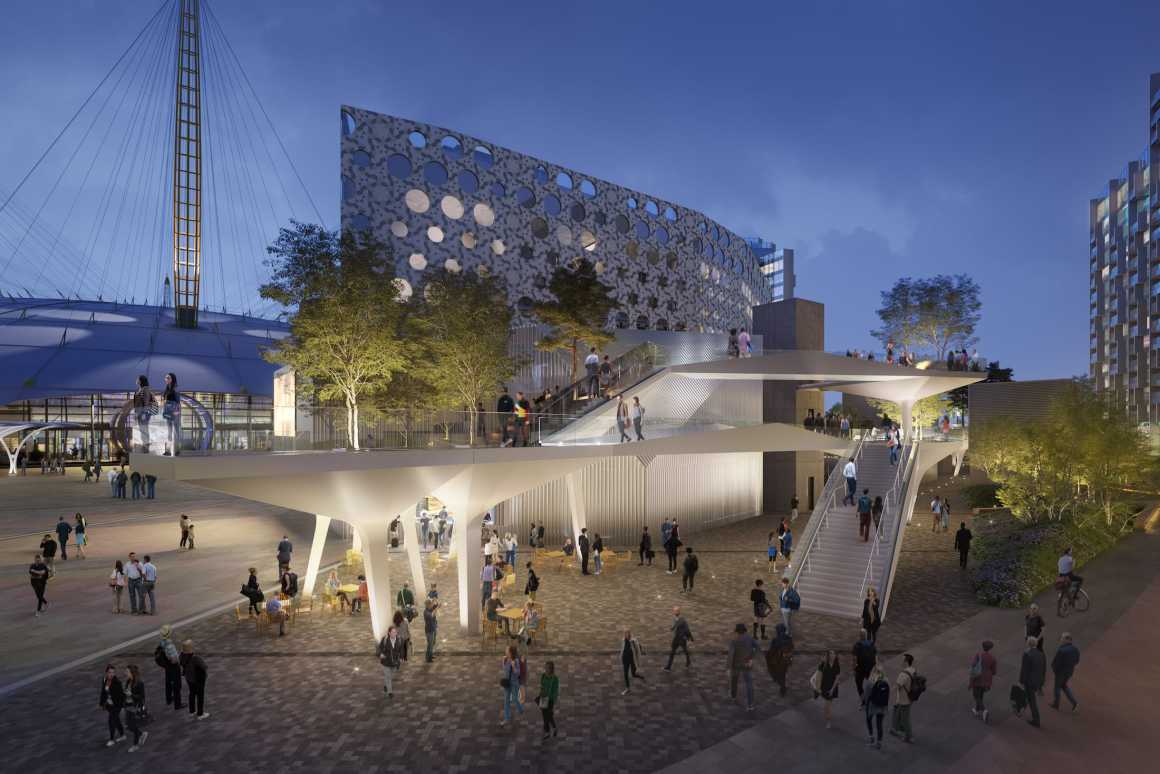 ▼潮汐公园第一阶段:高架远眺效果图 Rendering–The Tide Phase 1: Elevated Overlook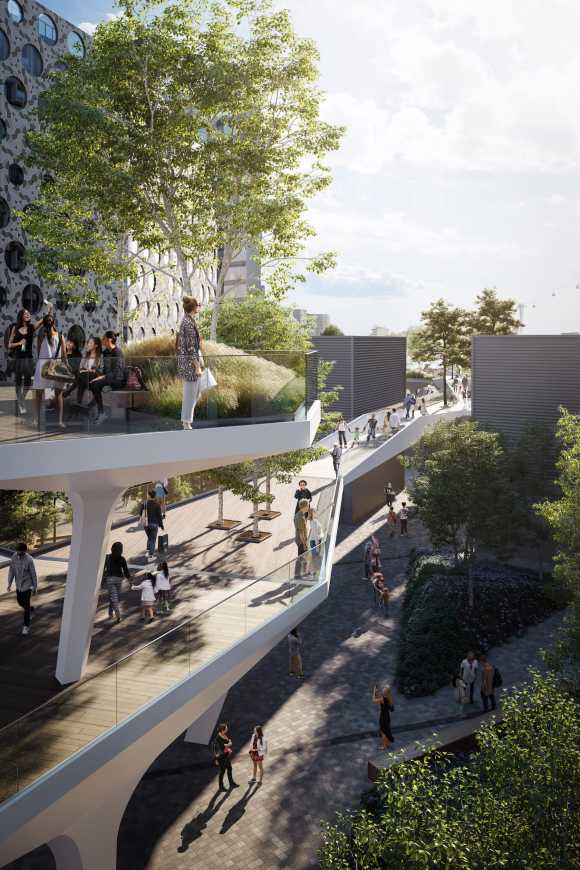 ▼潮汐公园第一阶段:岛屿5下沉花园效果图 Rendering–The Tide Phase 1: Island 5 Sunken Garden
结构支座及桥梁 Structural Supports and Bridges
潮汐公园的第一阶段工程由28个独特的结构支撑物组成,它们组合形成的三脚架状结构,支撑着上部的高架花园和人行道,同时为地面层提供遮阳和反射照明。照明、配电、数据和景观(植被、土壤、供水和排水)系统无缝地集成到每个结构中。这些岛屿通过预制钢桥连接,形成一条2.4米宽、跨度可达26米的道路。每一个支架结构和桥梁都由焊接钢板、内肋和外表皮组成,形成飞机机翼状结构,该结构重量轻,并可最大限度地减少对下方伦敦地铁站包厢造成的影响。这些定制结构由意大利的Cimolai公司制造,通过泰晤士河直接从商店运到现场,在几天内组装完成。结构元素是与AKTII的特殊建筑和结构协作设计的,使用参数化软件最大限度地提高材料效率和降低制造复杂性。最后形成了这个没有多余包层的完整的建筑和结构表达。
The Tide's first phase is comprised of 28 unique structural supports. They cluster together to form tripod-like structures that support the elevated gardens and walkways above while creating canopies for shelter and reflected illumination at the plaza level. Systems for lighting, electrical distribution, data, and landscape (vegetation, soil, water supply and drainage) are integrated seamlessly into each structural support. The islands are connected by prefabricated steel bridges forming a continuous 2.4m wide path with spans up to 26 meters. Every support and bridge is composed of welded plate steel inner ribs and outer skins forming an aircraft wing- like structure that is lightweight and minimizes impact to the London Underground station box directly below. The custom structures were fabricated by Cimolai in Italy, shipped directly from shop to site via the Thames River, and bolted together in days. The design of the structural elements was a special architectural and structural collaboration with AKTII using parametric software to maximize material efficiency and minimize fabrication complexity. The result is an integrated architectural and structural expression without superfluous cladding.
▼地面拱顶结构 Vaulted Structures at Ground Level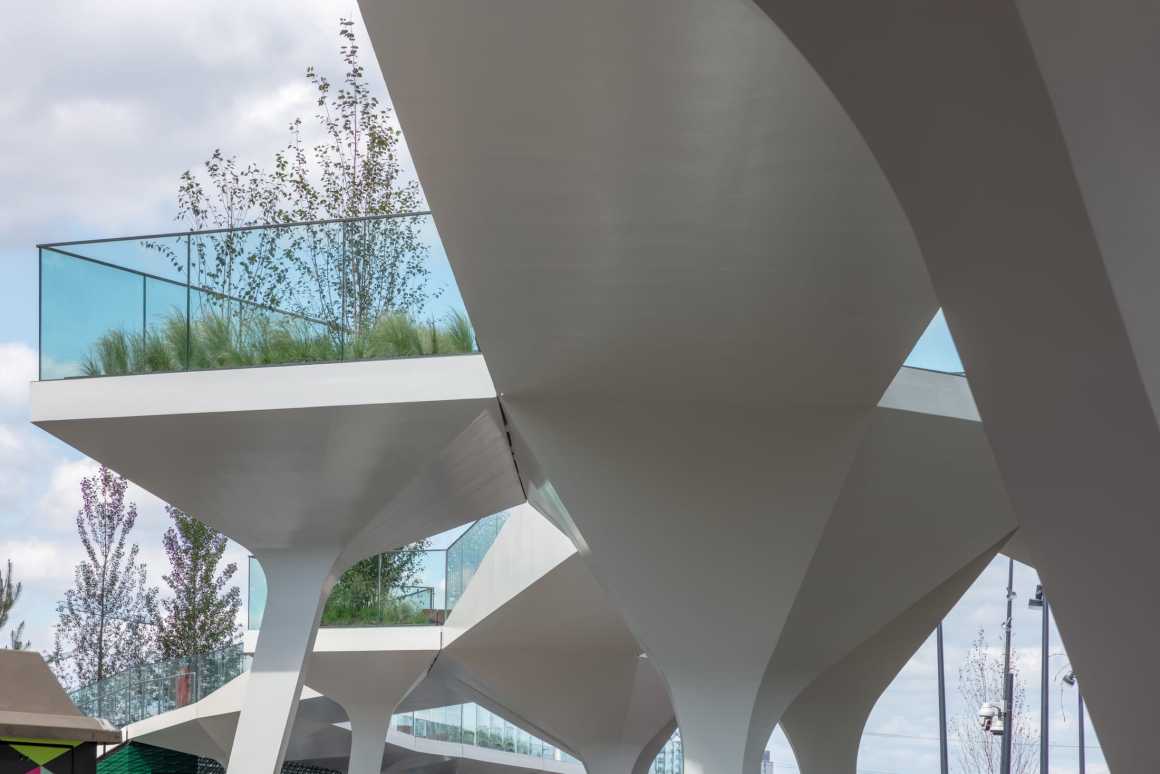 ▼岛屿2、3、4 Island 2, 3, 4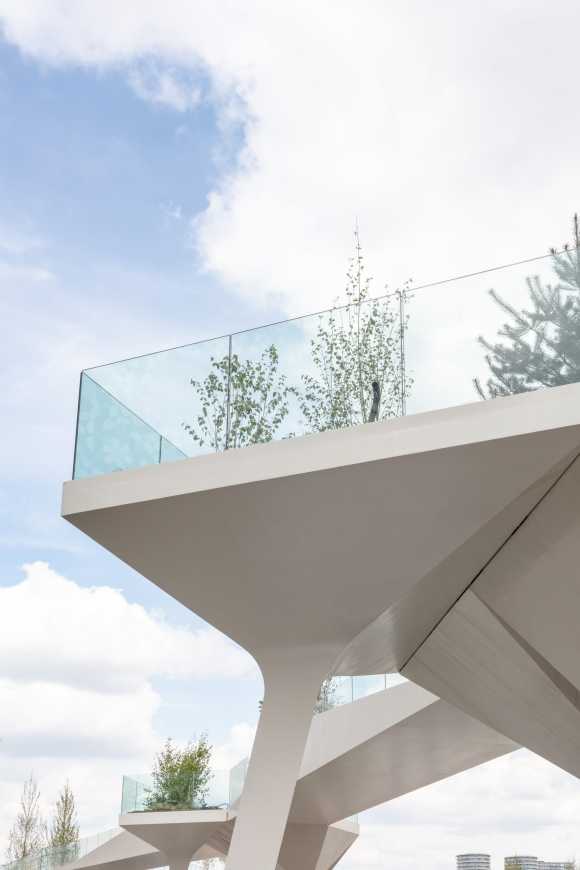 景观 Landscape
潮汐公园第一阶段种植的植物适应了当地环境。考虑到场地风向,并为了创造舒适的微气候景观,对树木种植的总体设计框架进行了优化,第一阶段在地面和高处都种植了当地的桦树和松树,沿江种植的树木则主要是本地喜水树木,如桤木、柳和杨树。地被植物、草本植物、季节性球茎和观赏草的设计,为潮汐公园增添了额外的色彩和纹理。
The plantings along the first phase of The Tide adapts to the landscape of the local context that it passes through. The overall framework of tree planting has been optimized to create comfortable micro-climates that take wind studies into account. Phase I features clustered plantings of native birch and pine at both the ground and elevated level. Tree plantings along the waterfront consist predominantly of native waterside trees such as Alnus, Salix, and Poplar. Sweeps of groundcover, herbaceous plants, seasonal bulbs, and ornamental grasses enhance the Tide's atmosphere with additional colour and texture.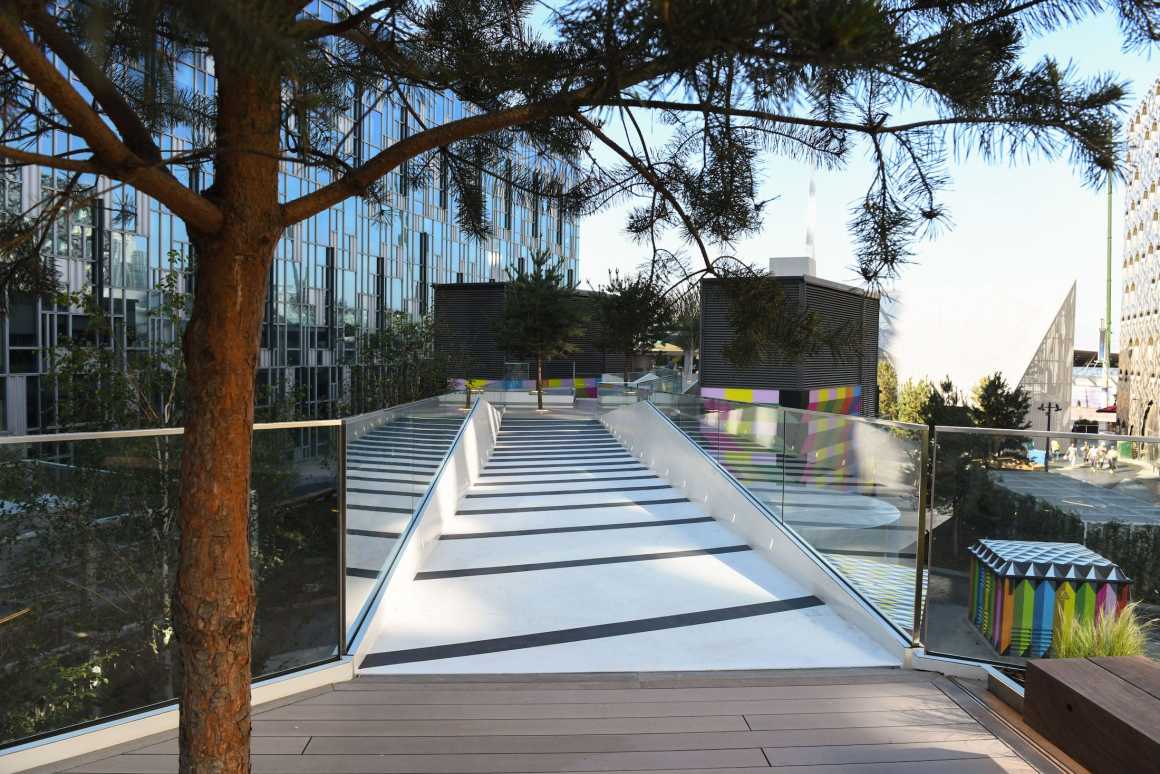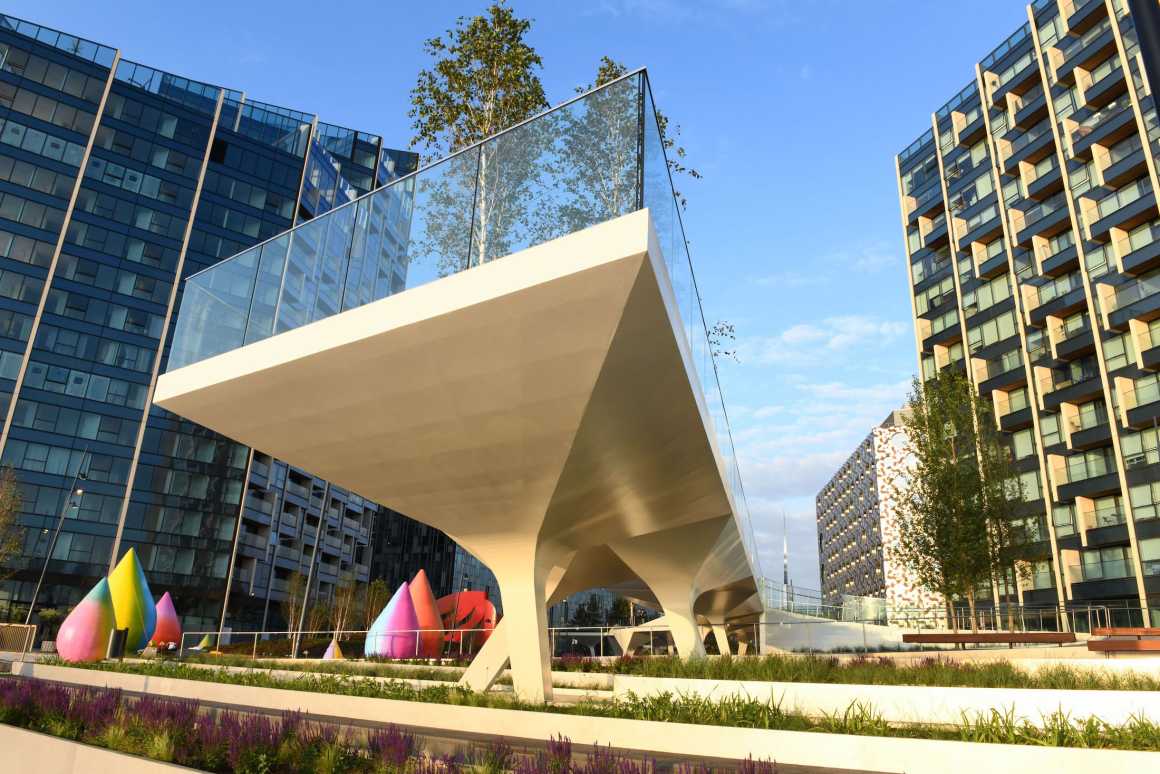 潮汐线 Tide Lines
公园的条纹线条象征着潮汐的流动轨迹,强调文化和社会目的地之间的动态节奏的同时,也可以作为定位和寻路的工具。高架部分的环氧树脂薄层渲染出连续的图案形态,地面部分则通过沥青和葡萄牙式的花岗岩铺路石表现潮汐线条。
A striped pattern marks the path of The Tide, emphasizing the tempo of movement between cultural and social destinations as an orientation and wayfinding tool. The continuous pattern is rendered in a thin layer of epoxy for elevated portions, while asphalt and granite Portuguese paving stones is used for the ground level.
▼岛屿5全景 Island 5-View of Overlook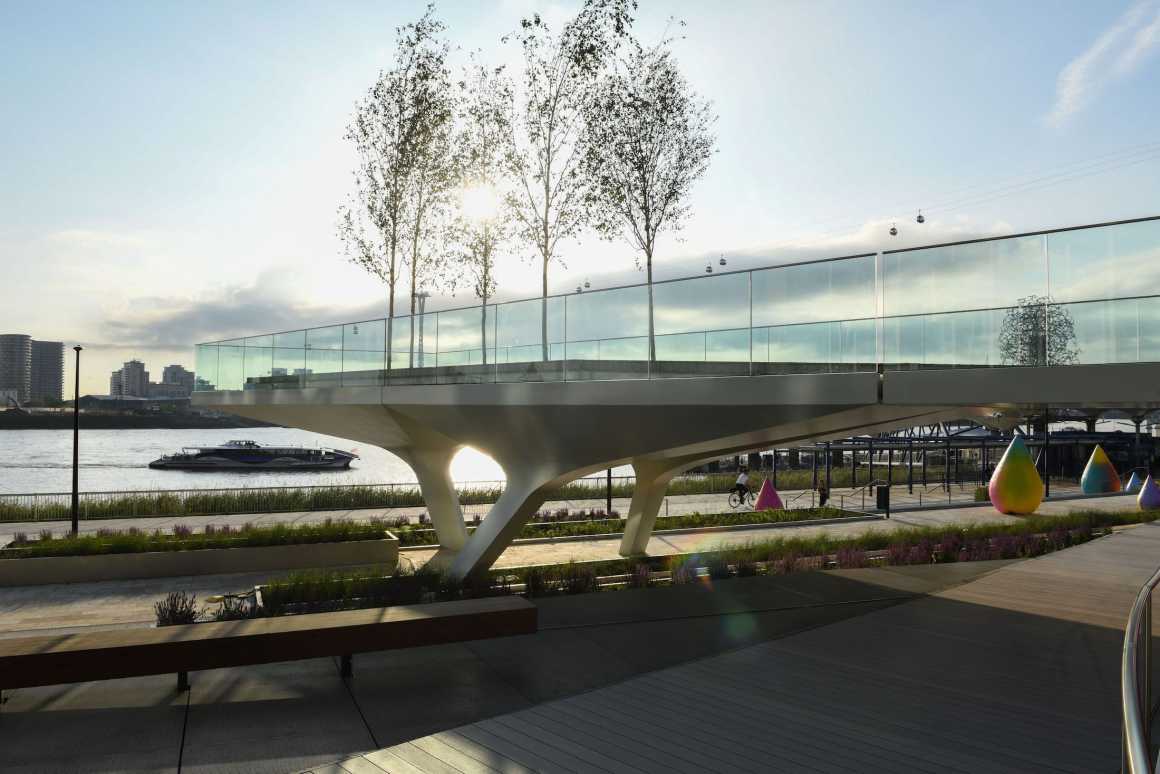 该项目第一阶段于2019年7月5日正式投入使用,其总长度为1公里,主要包括一条线性公共人行道、高架花园、袖珍咖啡馆和一个俯瞰泰晤士河的建筑海角。
Opening July 5, 2019, the first phase of the project will be 1 kilometre long, and will feature a linear public walkway, elevated gardens, pocket cafes, and an architectural promontory overlooking the Thames River.
▼潮汐公园第一阶段平面图 The Tide Phase 1 Plan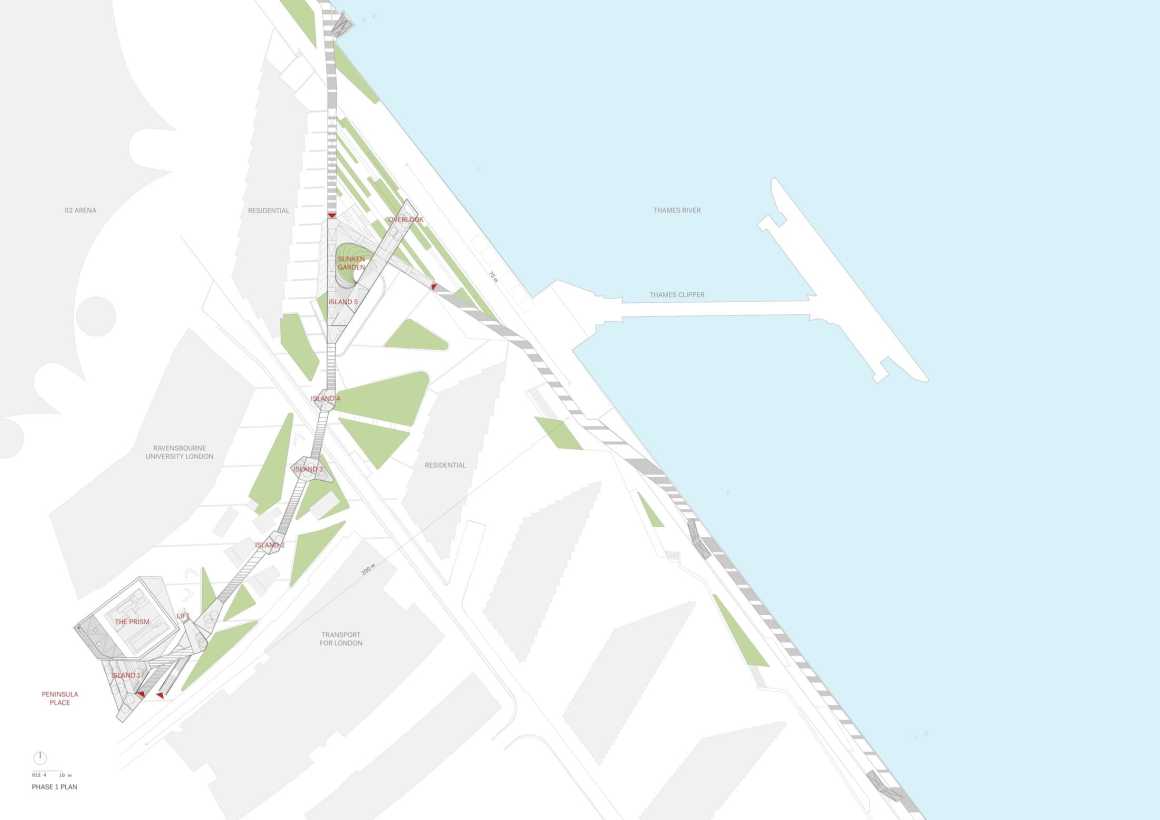 ▼立面图 Elevation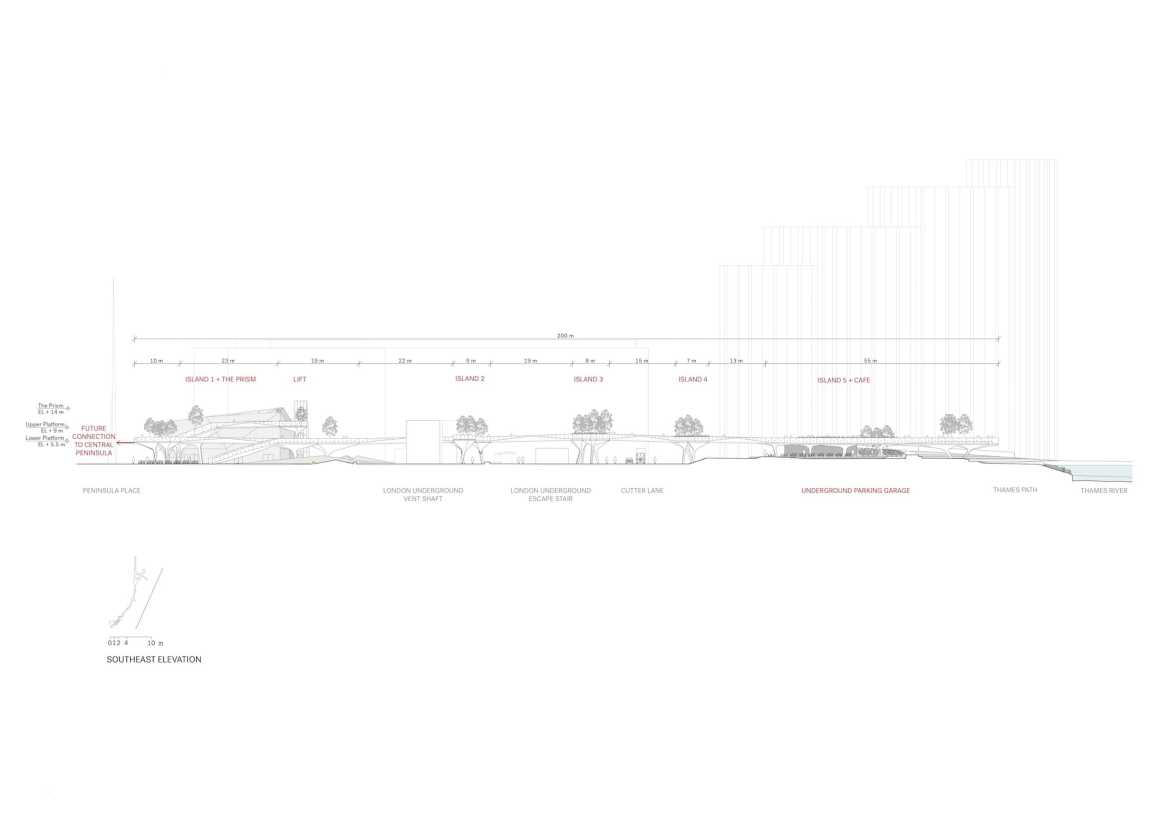 ▼岛屿3细节图 Island 3 Details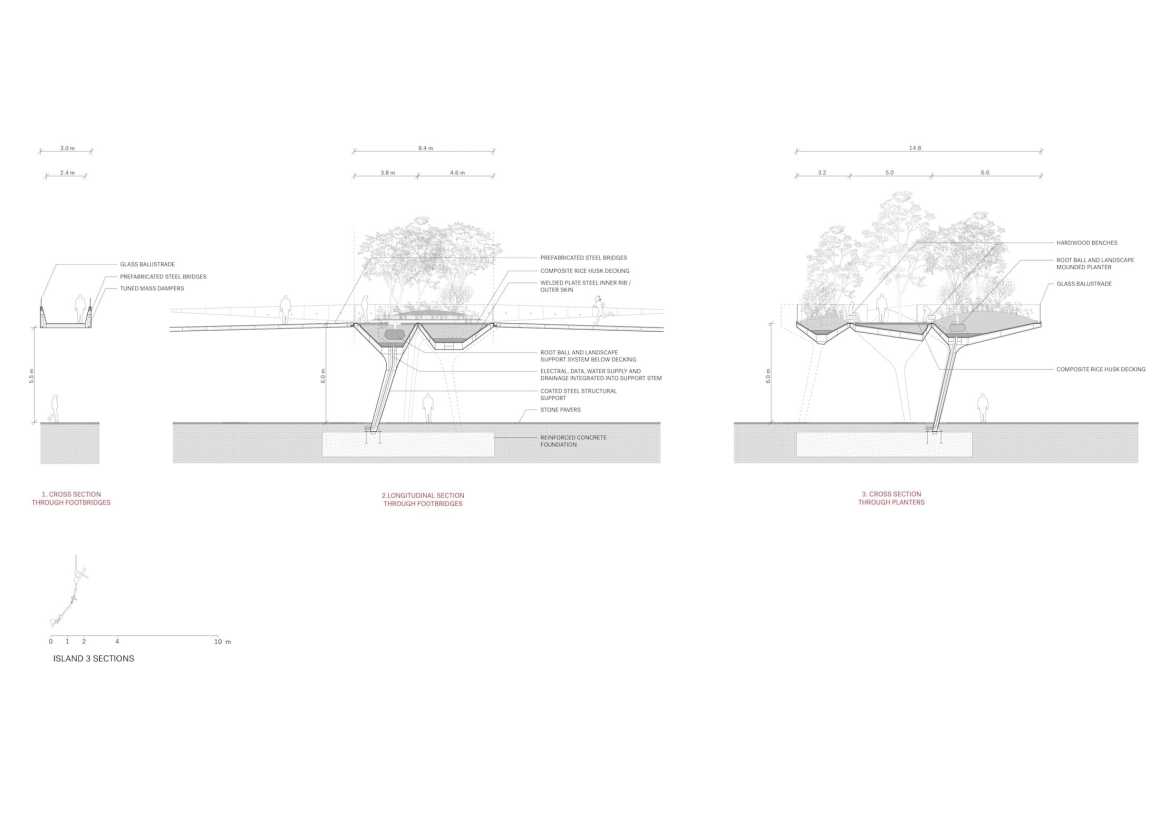 ▼钢结构成套零件图 Steel Structure Kit of Parts


客户:Knight Dragon
设计团队:Diller Scofidio + Renfro(领导)与Neiheiser Argyros合作
DS+R设计团队:Ben Gilmartin(合伙人),Elizabeth Diller, Charles Renfro, Ricardo Scofidio, Anthony Saby, Bryce Suite, Ning Hiransaroj, Alex Knezo, John Newman, Swarnabh Ghosh, Erioseto Hendranata
Neiheiser Argyros设计团队:Ryan Neiheiser(合伙人),xriina Argyros, george Piscitelli, Eleni Vagianou, Danae Haratsis, Nikolas von Schwabe, Athina Zafeiropoulou, Catarina de Almeida Brito, Thalia Chrousos, Chris lau, Kevin Larson
景观设计:Gross. Max.
结构工程(高架部分):AKT II
结构工程(地面部分):Arup MEP
灯光:AECOM
无障碍设计顾问:David Bonnett Associates
造价顾问:Gardiner and Theobold
规划顾问:NLP Planners
风险、健康和安全主要设计师:Stace
运输和通道顾问:WSP
钢铁制造商:Cimolai
遮篷和坐凳制造:Urban Street Design
制造商(高架部分):Mace
制造商(地面部分):Maylim
Owner: Knight Dragon
Design Team: Diller Scofidio + Renfro (Lead) in collaboration with Neiheiser Argyros
Diller Scofidio + Renfro: Ben Gilmartin (Partner-in-Charge), Elizabeth Diller, Charles Renfro, Ricardo Scofidio, Anthony Saby, Bryce Suite, Ning Hiransaroj, Alex Knezo, John Newman, Swarnabh Ghosh, Erioseto Hendranata
Neiheiser Argyros: Ryan Neiheiser (Partner-in-Charge), Xristina Argyros, Giorgio Piscitelli, Eleni Vagianou, Danae Haratsis, Nikolas von Schwabe, Athina Zafeiropoulou, Catarina de Almeida Brito, Thalia Chrousos, Chris Yuan, Kevin Larson
Landscape Designers: Gross. Max.
Structural Engineers (Elevated Portion): AKT II
Structural Engineers (Ground Level Portion): Arup MEP
Lighting: AECOM
Accessibility Consultant: David Bonnett Associates
Cost Consultant: Gardiner and Theobold
Planning Consultant: NLP Planners
Principal Designer for Risk, Health and Safety: Stace
Transportation and Access Consultants: WSP
Steel Fabricator: Cimolai
Canopy and Seating Fabricator: Urban Street Design
Contractor (Elevated Portion): Mace
Contractor (Ground Level Portion): Maylim
更多 Read more about: Diller Scofidio + Renfro