本文由Ginggaanbai授权mooool发表,欢迎转发,禁止以mooool编辑版本转载。
Thank Ginggaanbai for authorizing the publication of the project on mooool, Text description provided by Ginggaanbai.
Ginggaanbai:因为花园的主人生于兔年,兔子便成了主人最喜欢的幸运标志,遍布花园各处。花园不仅是一个休闲的户外空间,也述说着他们的生活故事。
Ginggaanbai:Born in the zodiac year of the Rabbits, this lovely animal becomes a favorite and lucky sign of the owner. Not only wanting a space where time can be spent outdoor but also desires to tell a story of their life in this garden, this symbolic is places and hidden all over.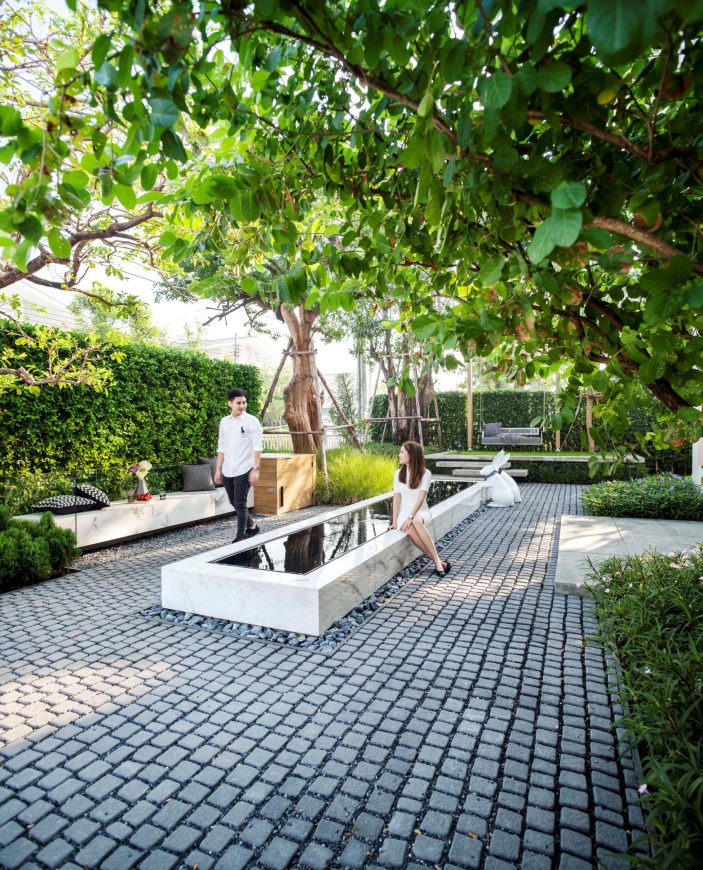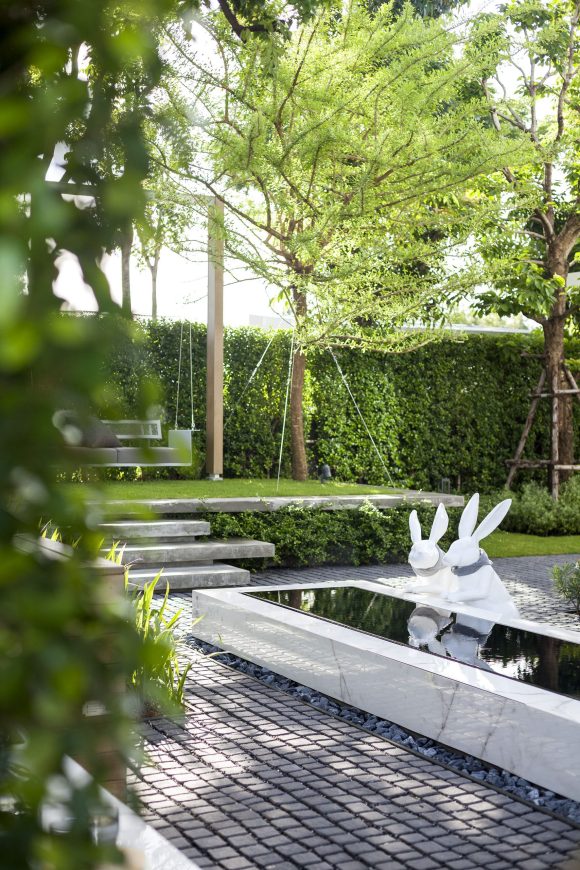 该设计方案的主题是"白色和兔子"。白色并不总是意味着"简单"。从白色室外大理石长凳到灰色的人行道,设计师玩起了白色和灰色的阴影游戏。
The main theme of this design is 'white and the rabbits'. Firstly, white doesn't always mean 'simple'. We played with the shading of white and grey on the ground, from the fitted white outdoor marble bench to the grey pavement.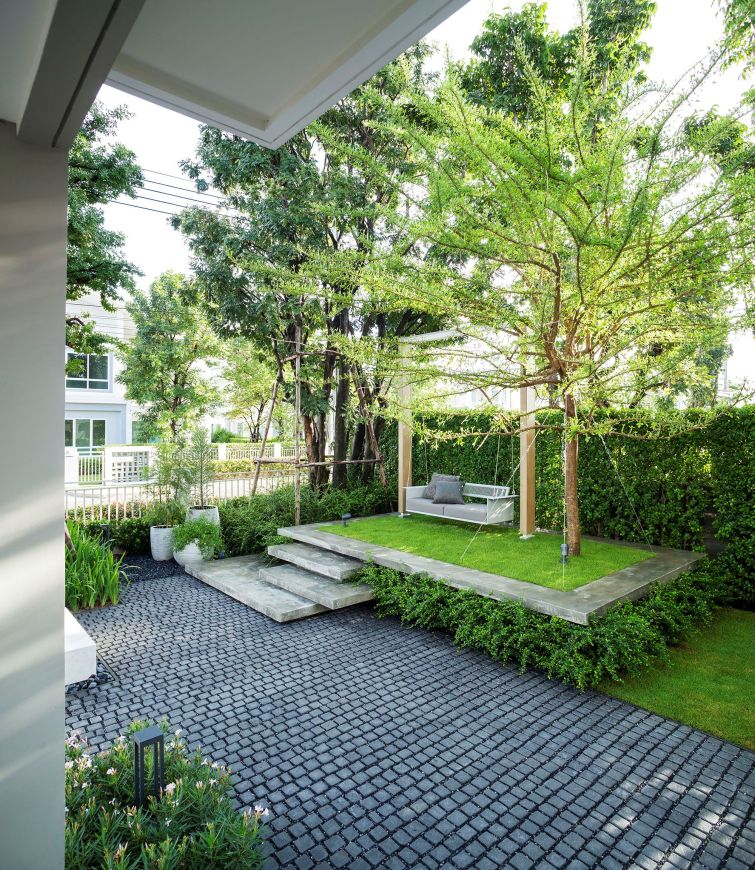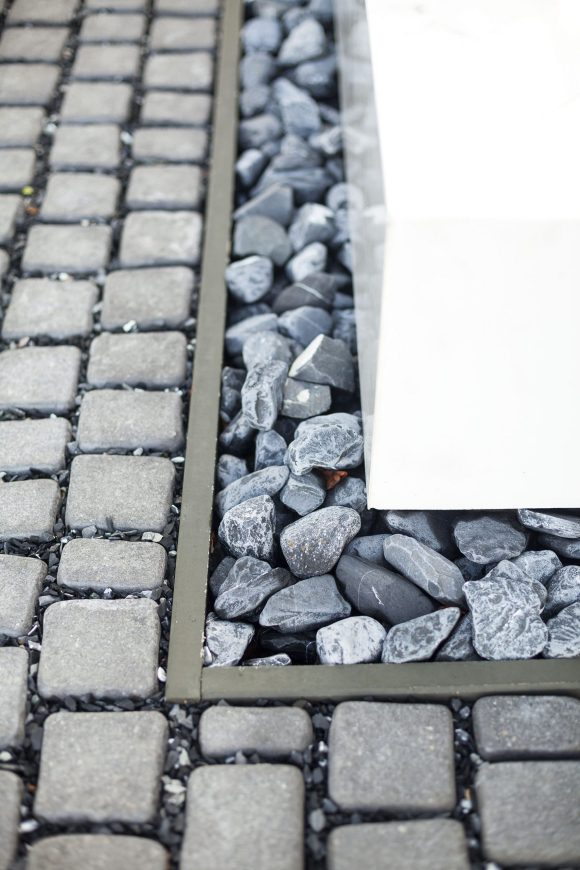 花园长凳与水景平行,面向建筑,将视线引导向Ging Gaan Bai在花园内的标志性秋千。
The garden bench is in parallel with the pond facing the main house. This allocation draws attention toward Ging Gaan Bai's signature swing inside the garden.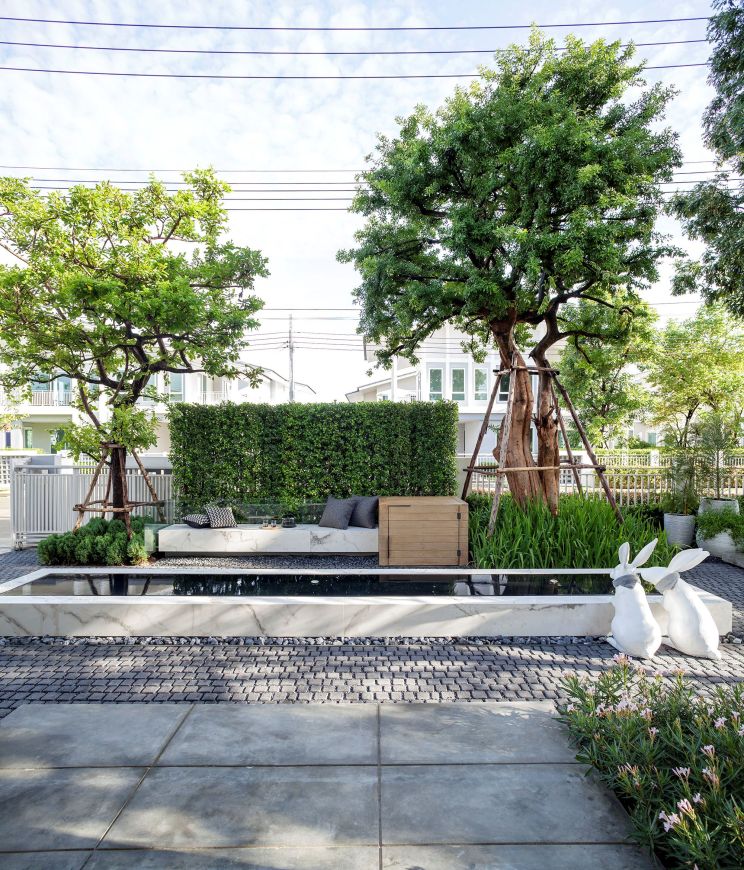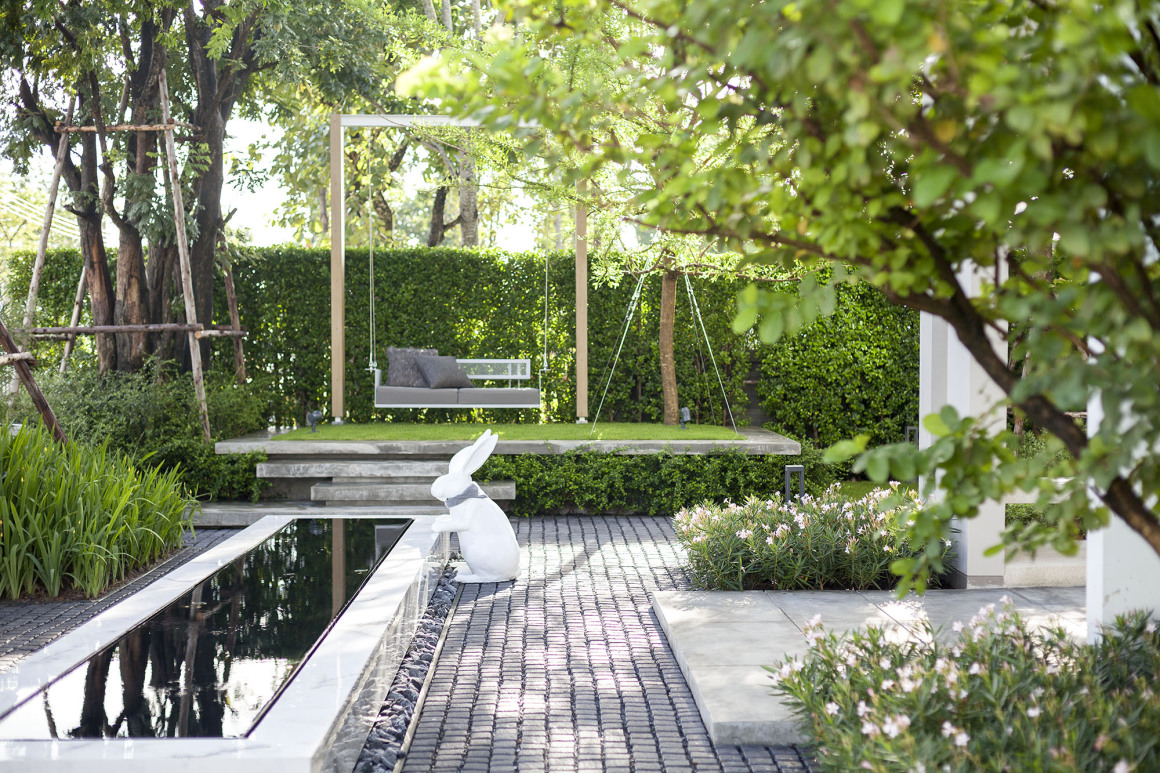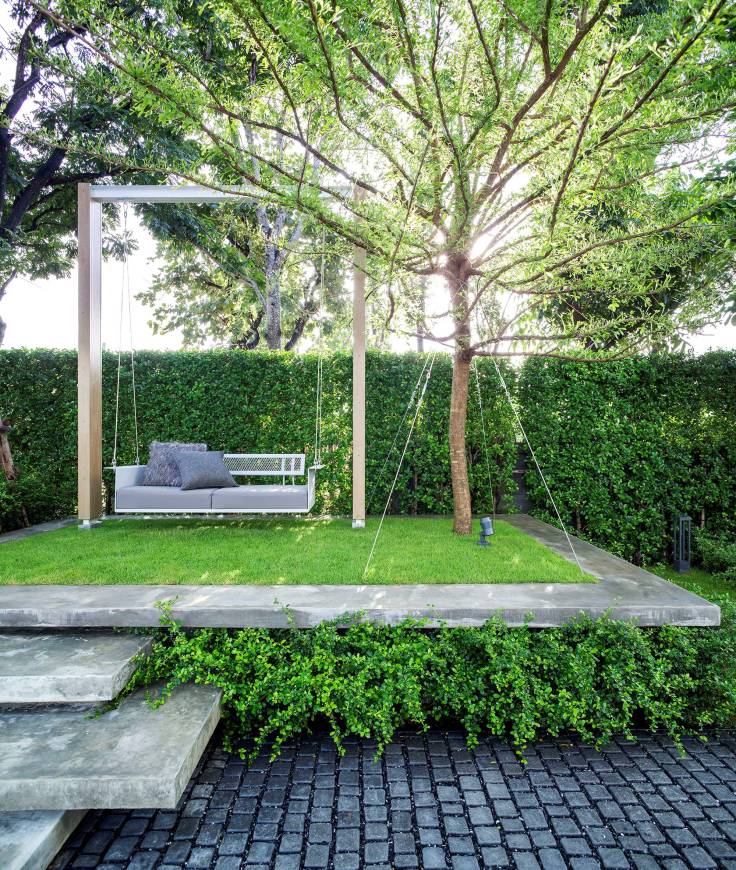 从建筑可以清楚地看到花园的风景。花园一直处于树荫下,可以随时使用。兔子照片和兔子玩偶装饰在这个口袋花园的各个角落。
The view can be seen clearly from the shelter. The garden was made shady throughout the day so it is welcoming to use anytime. Rabbit photos and rabbits dolls are decorated throughout different parts of this minimal modern garden space.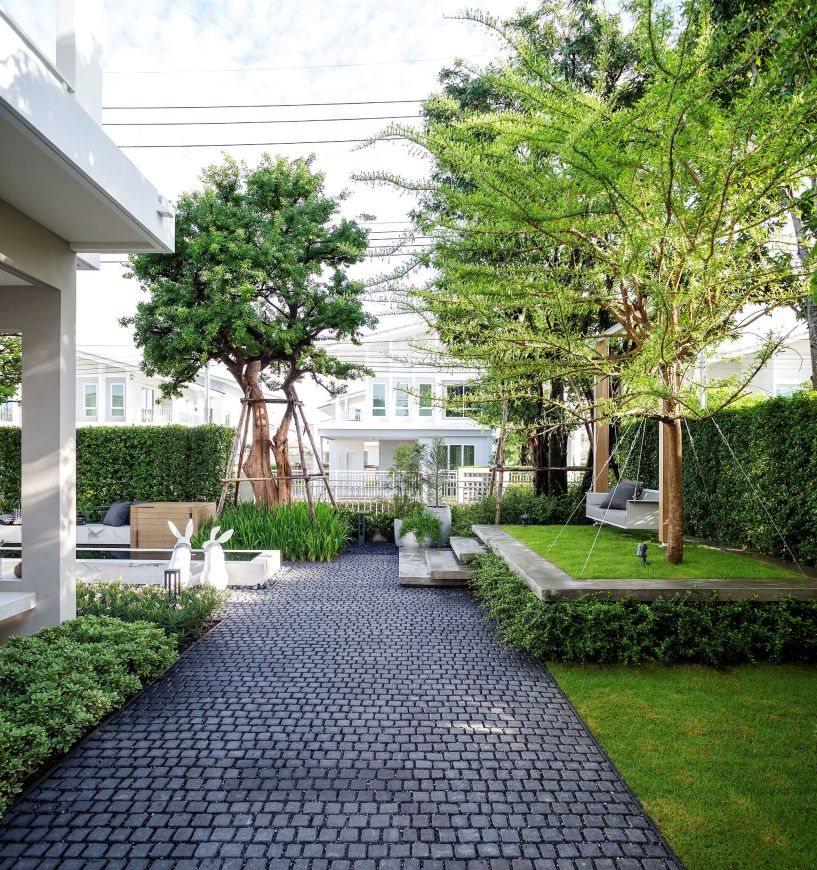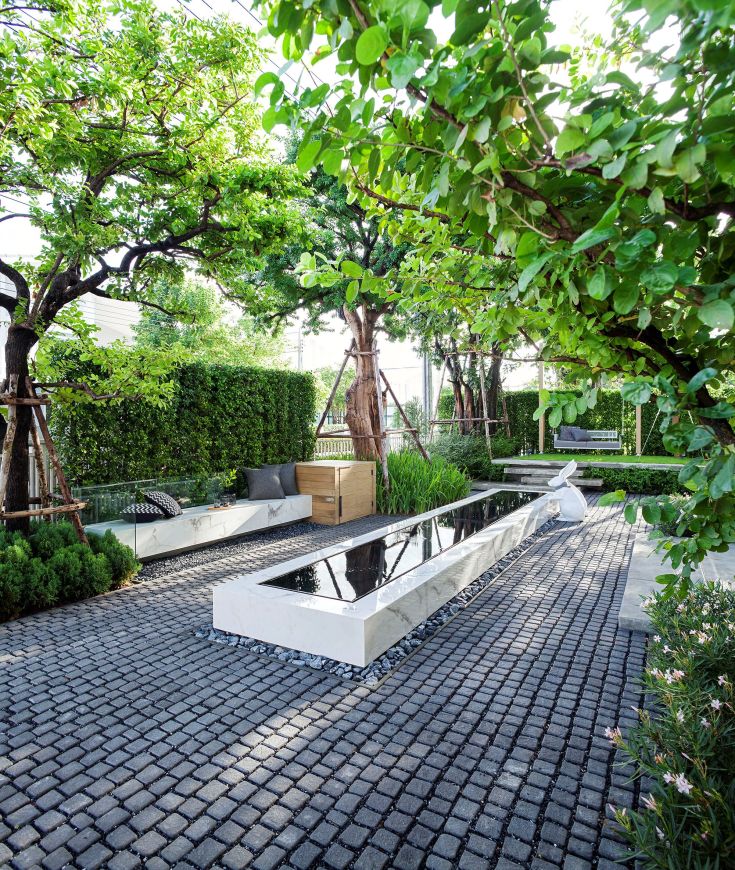 项目名称:白色童话
项目地址:泰国曼谷
完成时间:2017年
项目面积:520m2
设计团队:Ginggaanbai
设计主创:Mr.Tawatchai Sakdikul , Miss Ploytabtim Suksang
客户:Mr.Nitipat Teekamgate
摄影师:Mr. Sitthisak Namkham
Project name: The White Story
Project location: Habitia Motif Panyaindra, Samwa Tawan Tok, Khlong Samwa, Bangkok, 10510
Completion Year: 2017
Size: 520 Sqm.
Landscape/Architecture Firm: Ginggaanbai
Lead Architects: Mr.Tawatchai Sakdikul , Miss Ploytabtim Suksang
Clients: Mr.Nitipat Teekamgate
Photo credits: Mr. Sitthisak Namkham
更多 Read more about: Ginggaanbai