本文由 Park + Associates 授权mooool发表,欢迎转发,禁止以mooool编辑版本转载。
Thanks Park + Associates for authorizing the publication of the project on mooool, Text description provided by Park + Associates.
Park + Associates:THREE 11是一个坐落在汤姆森路沿线的一片狭窄地块上的单元公寓住宅项目。该项目设计主要有两个挑战:一是如何在这片狭长土地上合理布局密集的住宅建筑;另一个则是自我强加的设计任务,即尽可能多地保留场地现有的成熟树木。
Park + Associates:THREE 11 is a 65-unit development along Upper Thomson Road. The project undertook the challenge of accommodating a considerably dense residential programme on a narrow and tight strip of land. This was coupled with the self-imposed task of keeping as many of the existing mature trees as possible.
▼住宅入口景观 Entrance view
项目建筑体块设计延续了场地地块形状,并贯穿始终,同时,为避免创建效率低下的内部庭院,设计充分利用场地的后退距离,将所有单元楼朝向统一为向外,而非常规的彼此朝向式。场地北部地块旁边是一个开放的排水沟,它作为该开发项目和后面地产之间的天然缓冲区,最大化了南侧公共设施的景观空间。
The blocks adopt the shape of the land and run through its spine. This capitalises on the site setback distances, instead of creating internal courtyards which is not efficient. All units thus face outwards instead of each other. Placed closer to the north of the site, the blocks flank an open drain that serves as a natural buffer between the development and the landed properties behind. This maximises the space for communal facilities and landscaping on the south.
▼阳台视角景观 View from Balcony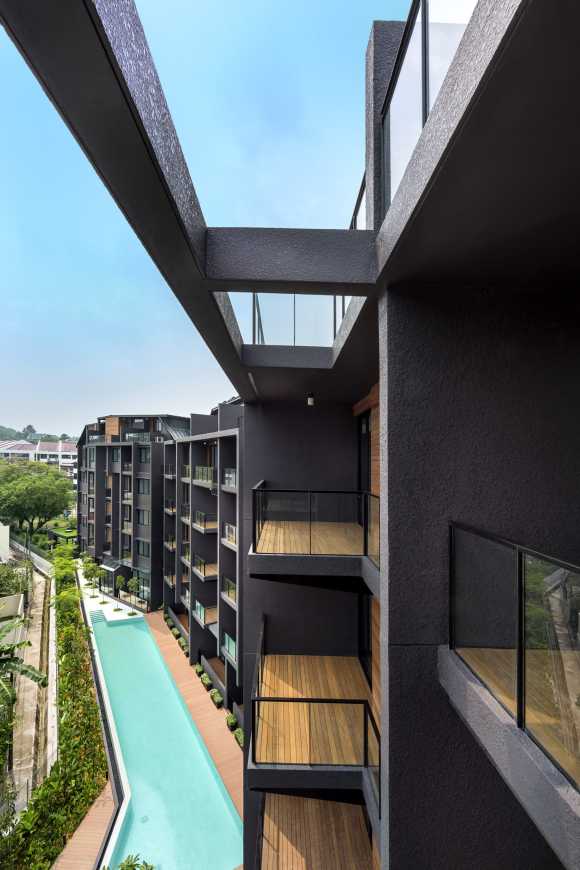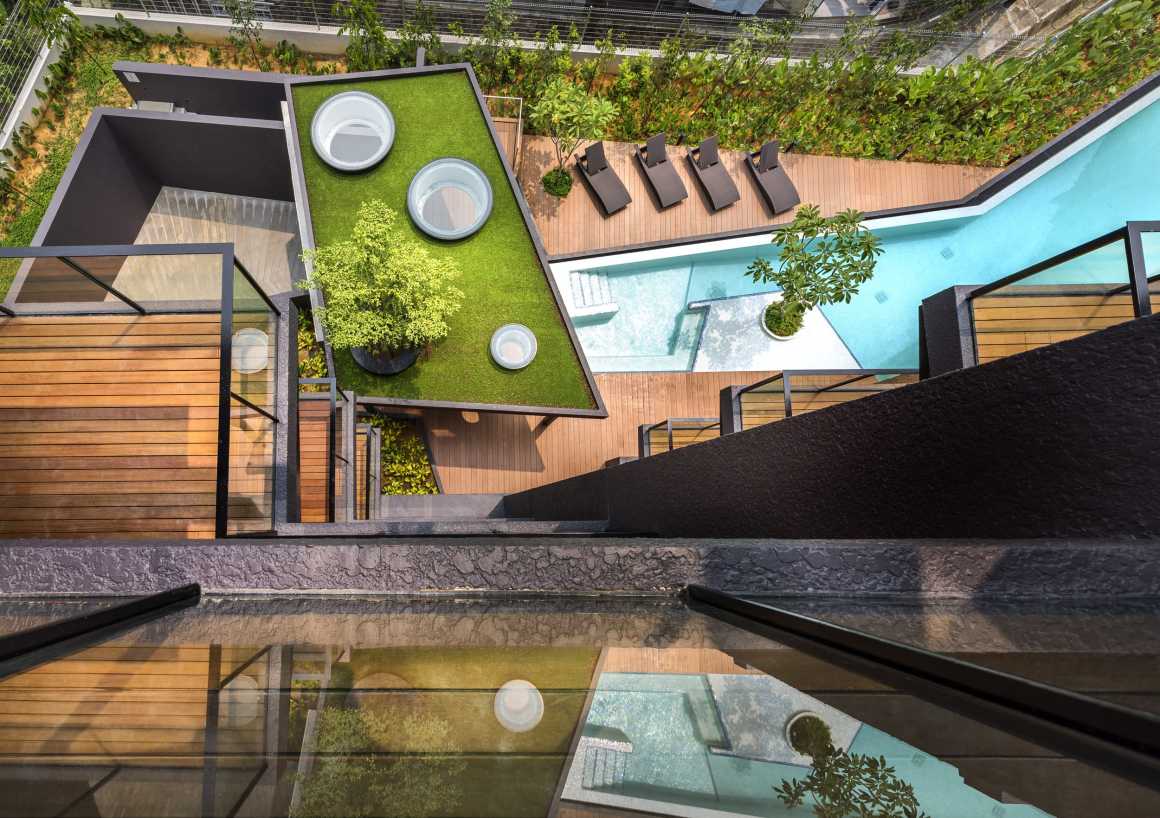 ▼泳池景观 Pool View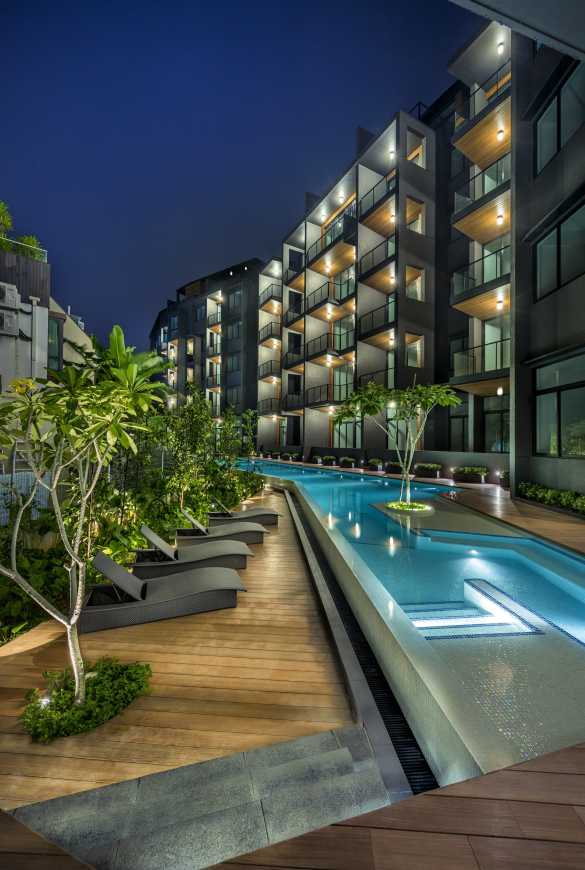 ▼泳池连廊 Pavilion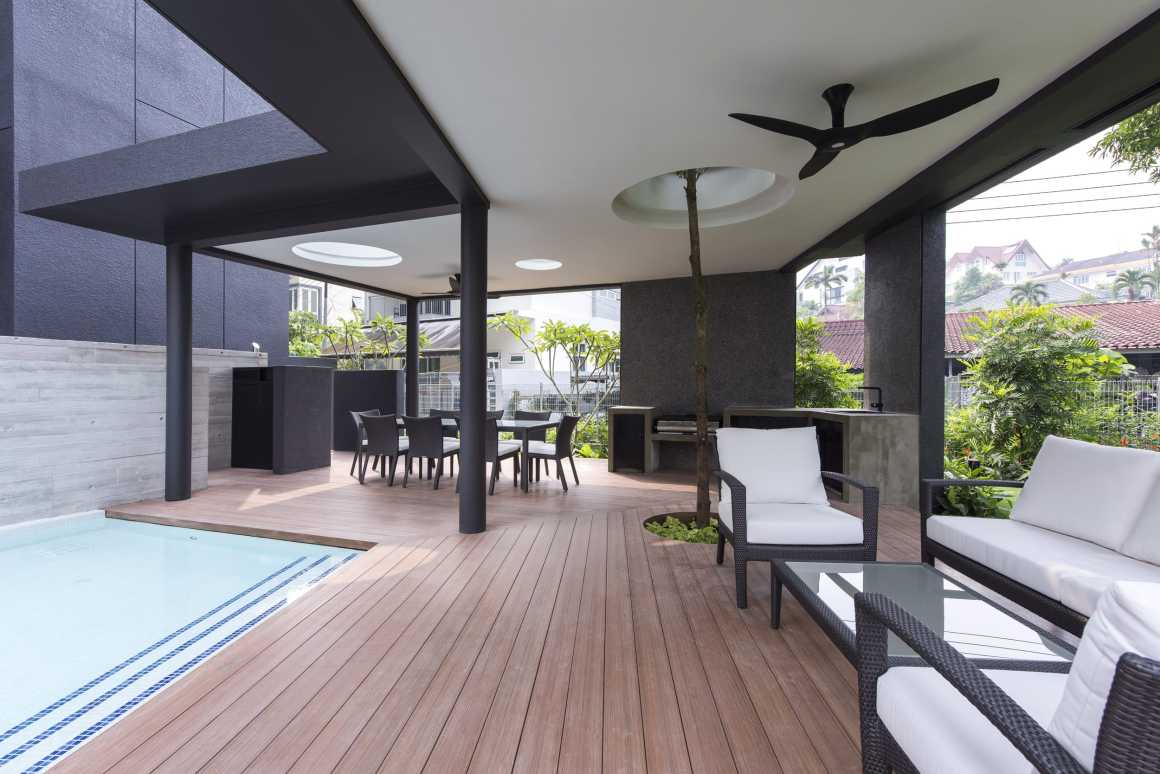 为平衡高密度的场地空间,建筑采用了简约的设计风格,其深灰色的石膏墙和暖色调的木材也与场地绿化相得益彰。项目中公共设施的动态轮廓设计灵感来源于场地的倾斜平面。对于周围场地结构和公寓墙壁之间的材料饰面,我们采用了渐进式的过渡设计:场地围墙结构选用了粗糙的纹理混凝土来呼应景观,公寓墙壁选用的材料则是有质感的灰泥墙,使公寓外观更加整洁、紧凑。
Dark grey plaster walls and warm timber are used to complement the site greenery. The architecture is kept simple, in response to the density of the plot. The dynamic profiles of the communal facilities take cue from the slanted planes of the site. There is a gradual transition in material finishes between the surrounding site structures to the apartment walls, from raw textured concrete on the periphery to complement the landscaping, to textured plastered walls to give the apartments a neater and more compact expression.
▼树木庭院 The Majestic Tree Court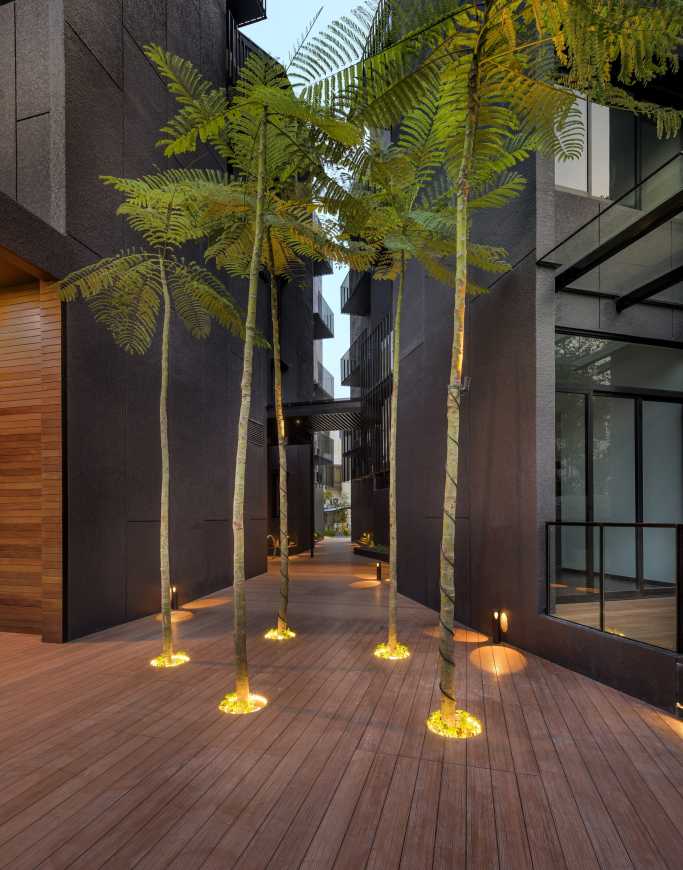 ▼景观水景和混凝土围墙 Water Feature and Concrete Enclosure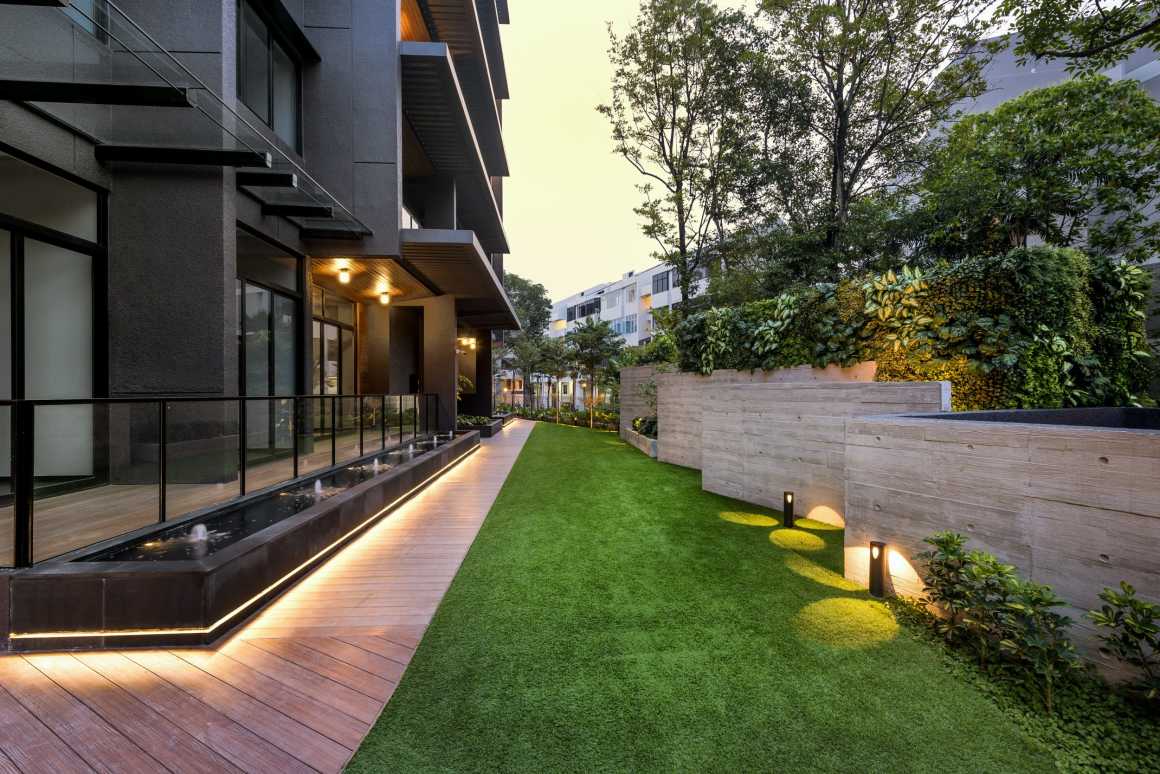 ▼森林步道 Forest Walk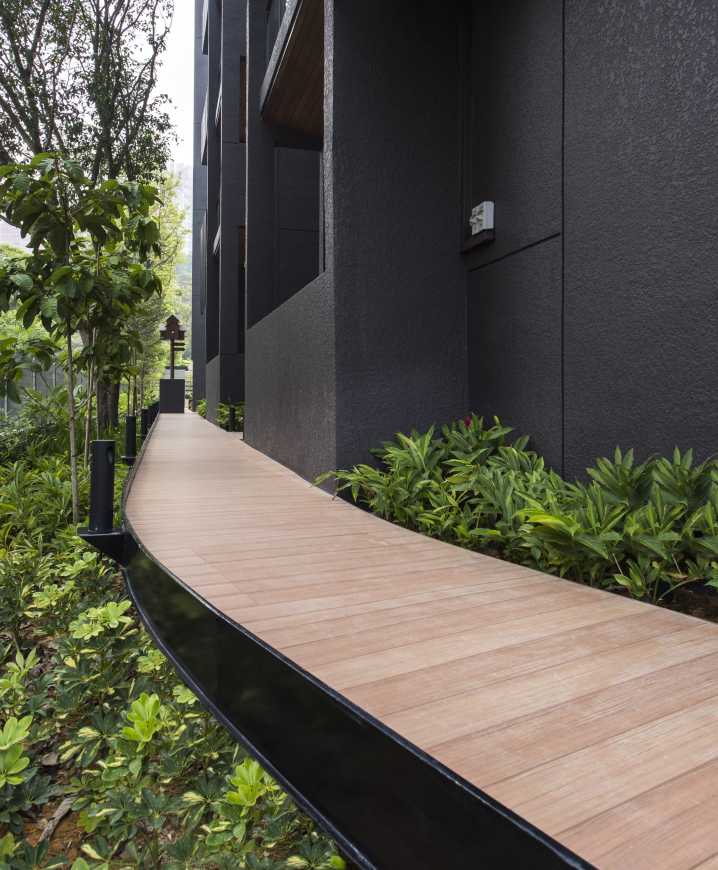 ▼森林步道和游乐场 Forest Walk and Playground
随着当今公寓住宅开发变得越来越密集紧凑,人们更加关注身体和视觉上的放松休闲,因此,我们重点规划了该项目的公共区域,并通过保留场地现有的成熟树木,替代推翻场地重新规划景观的设计模式。
​
该项目的大多数单元住宅都是南北朝向的,为模糊室内外之间的界限,我们在建筑中设置了许多可以直接看到外部开阔景观环境的大窗户和开口,实现了建筑与自然的无缝融合。
With developments and apartment units getting denser and tighter, there is a need to focus more on areas of both physical and visual respite. As such, large attention was given to the common areas, and many of the existing mature trees were maintained, instead of planning the landscape from scratch.
Majority of the units are north-south facing, with the ultimate goal of blurring the lines between indoors and outdoors. This seamless integration with nature is achieved with large windows and openings that direct views towards the generously landscaped surroundings.
▼入口夜景 Night View of Entrance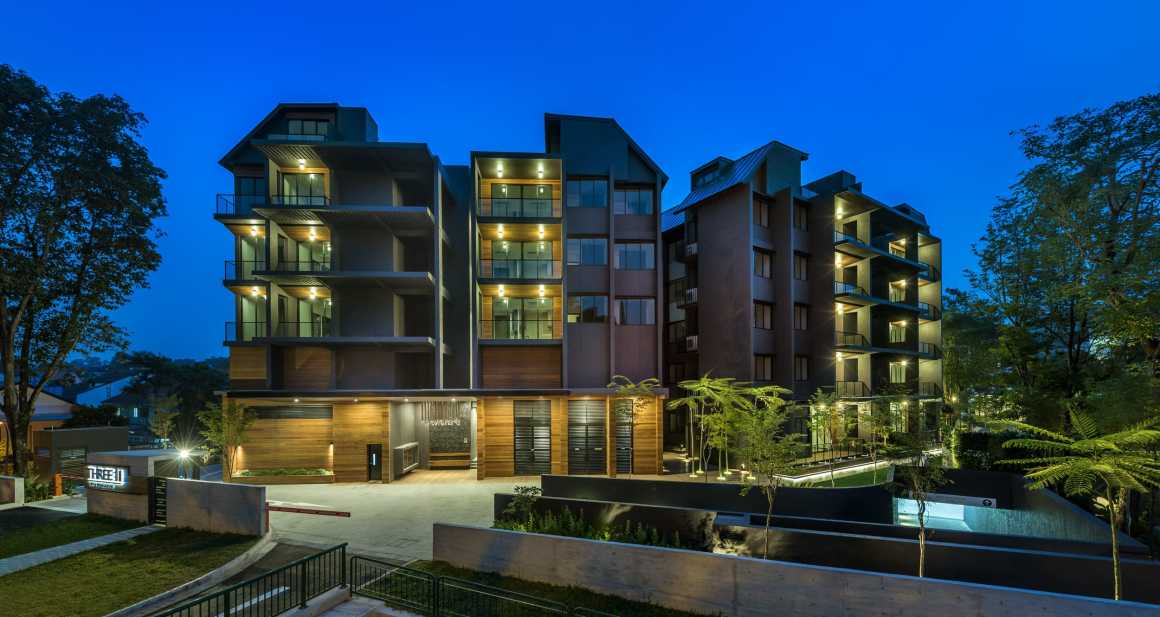 ▼入口大厅 Arrival Area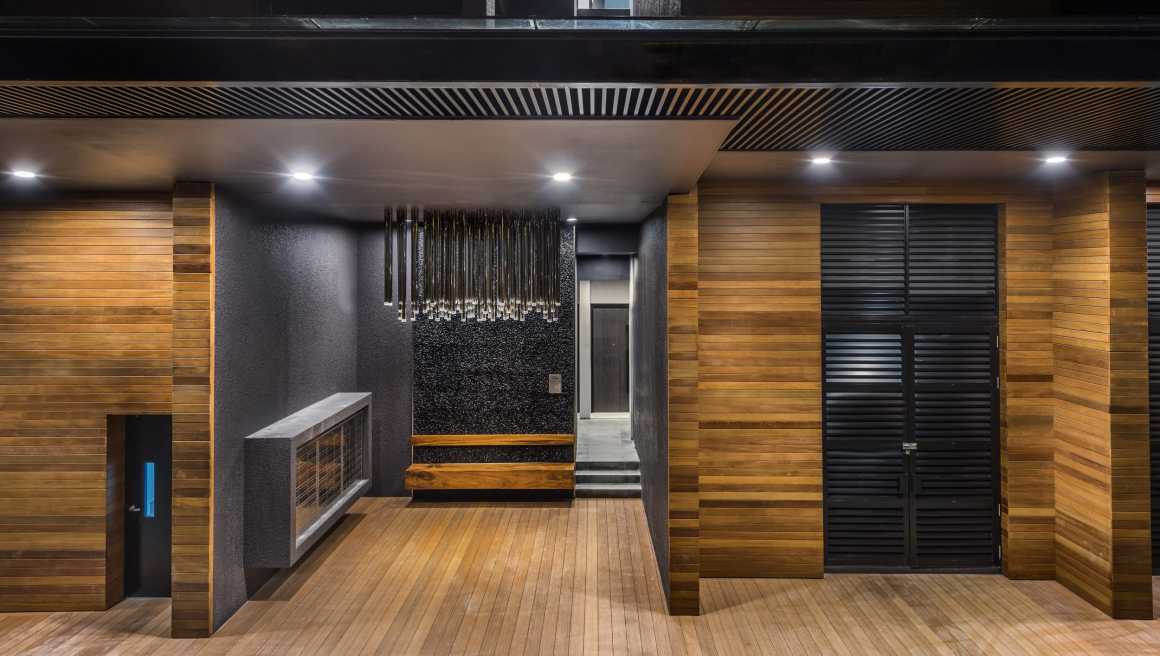 ▼项目平面图 Master Plan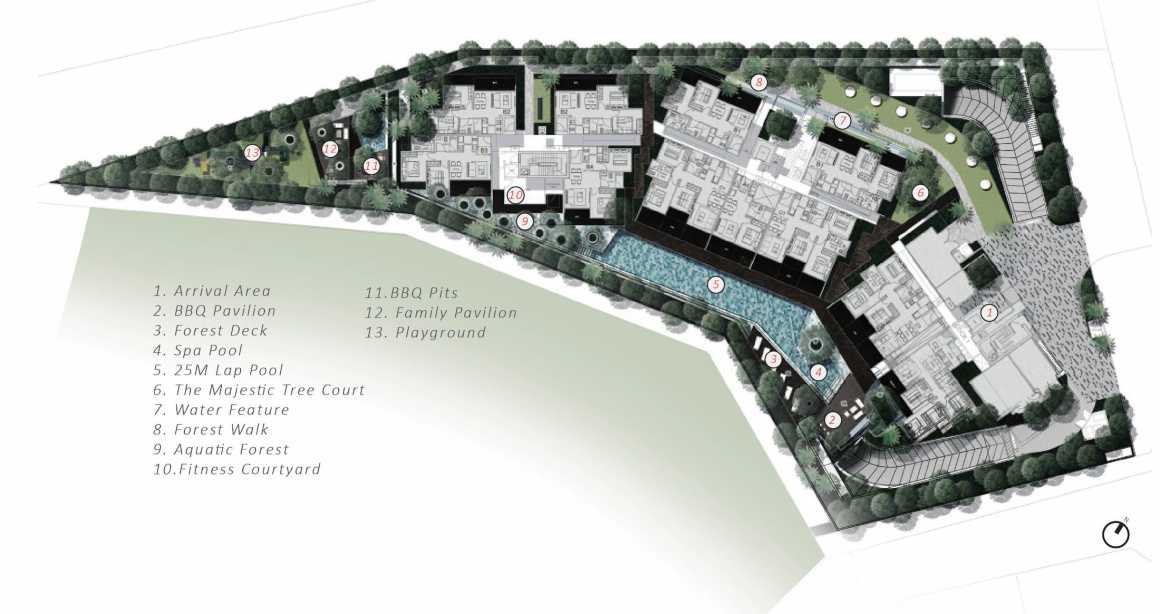 ▼项目剖面图 Section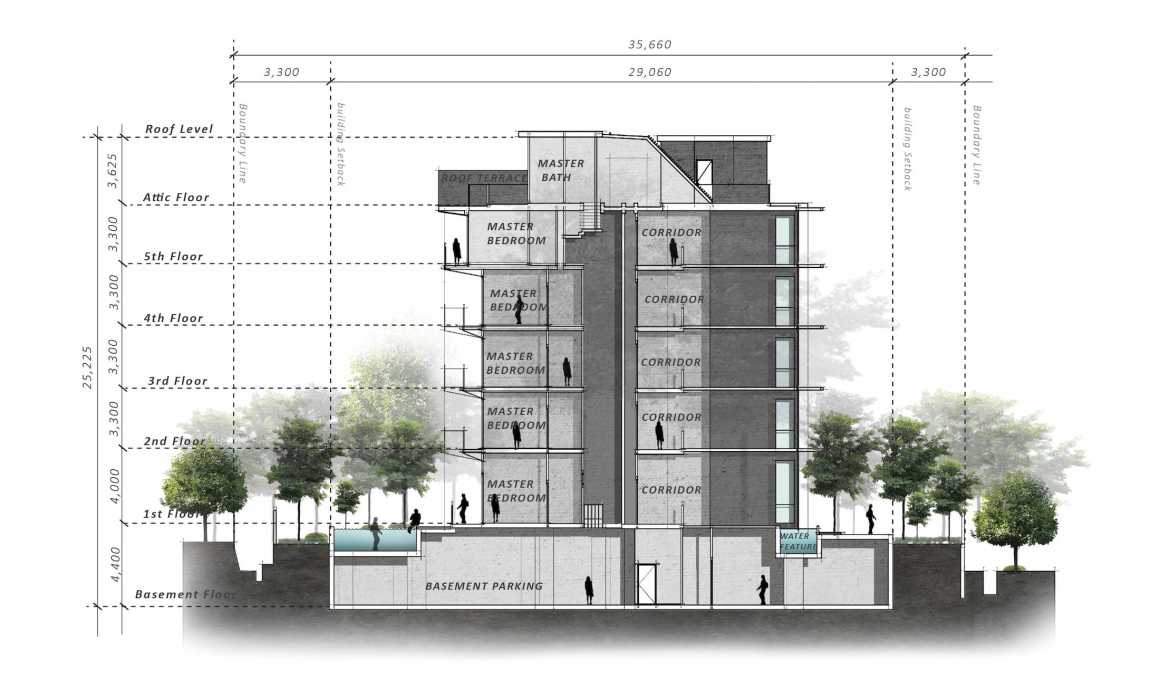 项目名称:Three 11
完成年份:2015年
场地面积:3471m²
建筑总面积:5344m²
摄影:Edward Hendricks
Project name: Three 11
Project Year: Completed 2015
Site Area: 3471 m²
GFA: 5344m²
Photographer: Edward Hendricks
更多 Read more about: Park + Associates